As part of my four flights across the Atlantic journey, I had an extended layover at Rome Airport. I was arriving in ITA Airways' A350 business class from Miami shortly before 12PM, and was departing in ITA Airways' A320 business class for Cairo shortly after 10PM.
This allowed me plenty of time to experience ITA Airways' Piazza di Spagna Lounge, which is the carrier's flagship lounge in the non-Schengen area of Rome Airport. I have mixed feelings about this lounge. On the one hand, it's modern and has an excellent selection of fresh food. On the other hand, it lacks any special amenities, and doesn't even have working showers.
Let's get into the review…
ITA Airways Lounge Rome location
The ITA Airways Lounge at Rome Airport is located in Terminal 3, in the non-Schengen area, past passport control. If you're originating in Rome, just go through the duty free shops, and follow the signage in the direction of gates E11-24.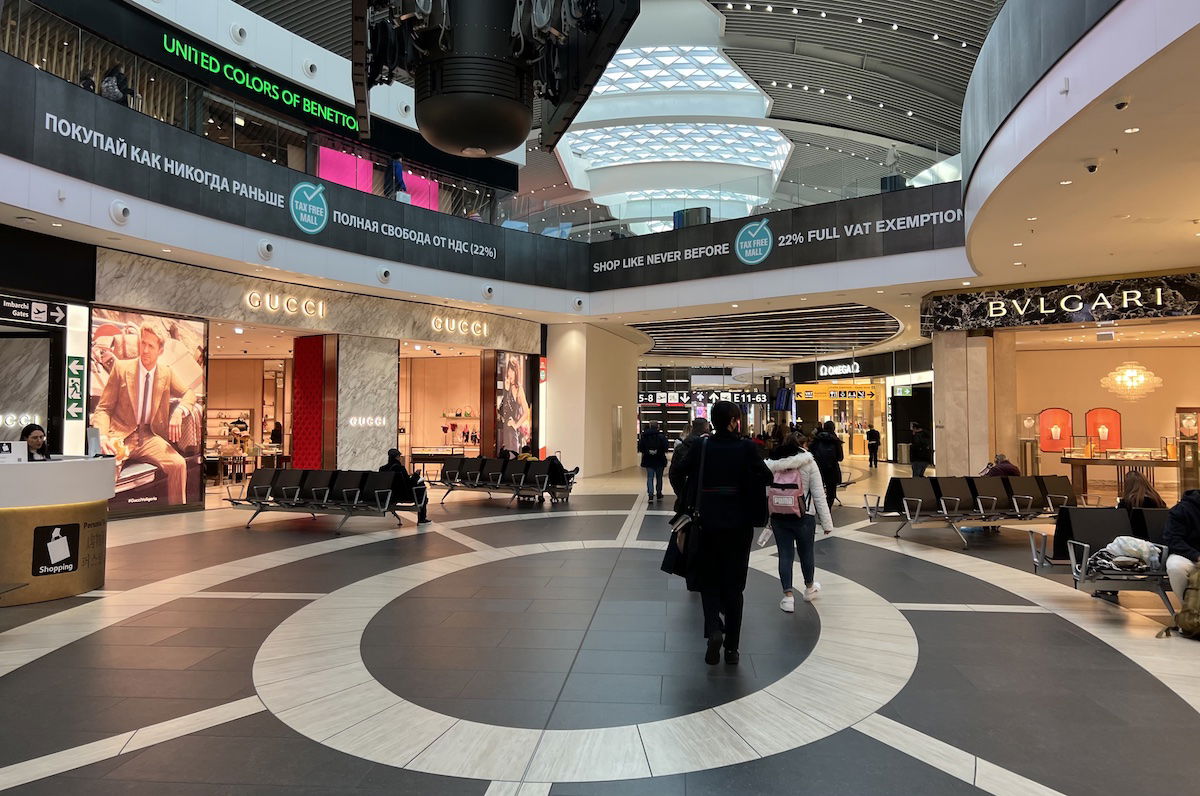 As you go deeper into the terminal, you'll see that gates E11-24 are in one direction, and there's also signage there for both the ITA Airways Lounge and Emirates Lounge. You'll want to head in that direction.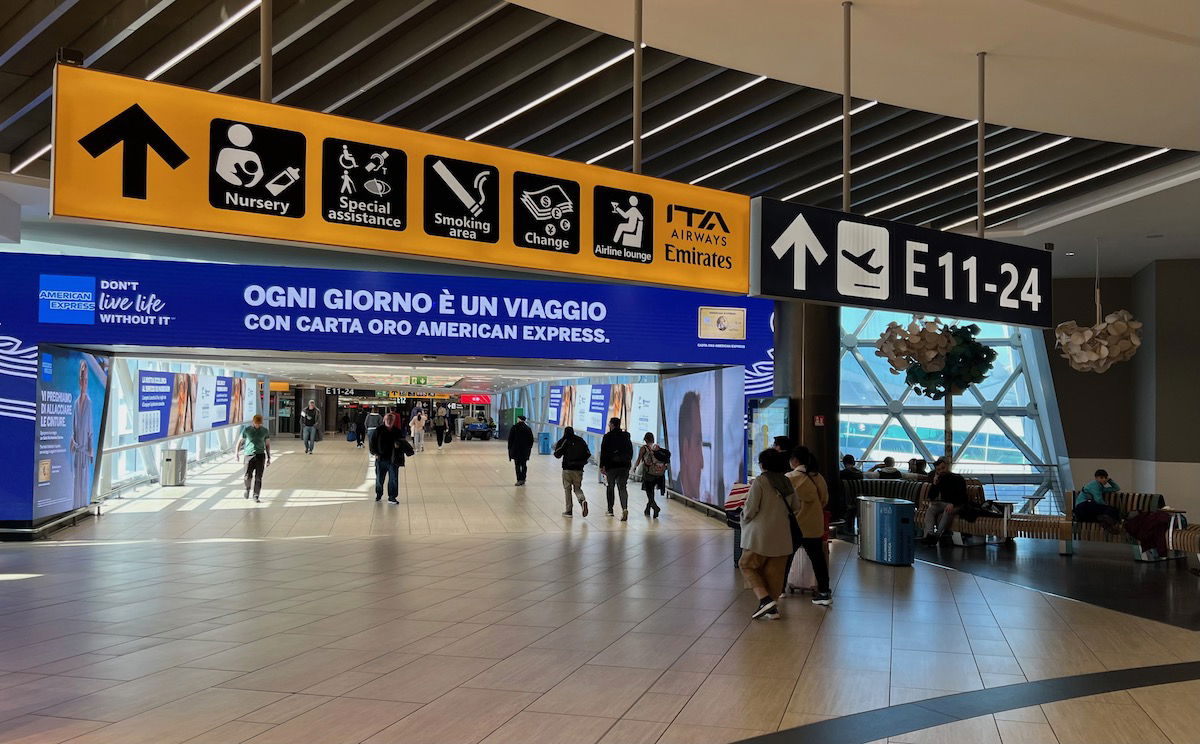 Once you go down that hallway, you'll see the entrance to the ITA Airways Lounge on the left. It's hard to miss, given its branding.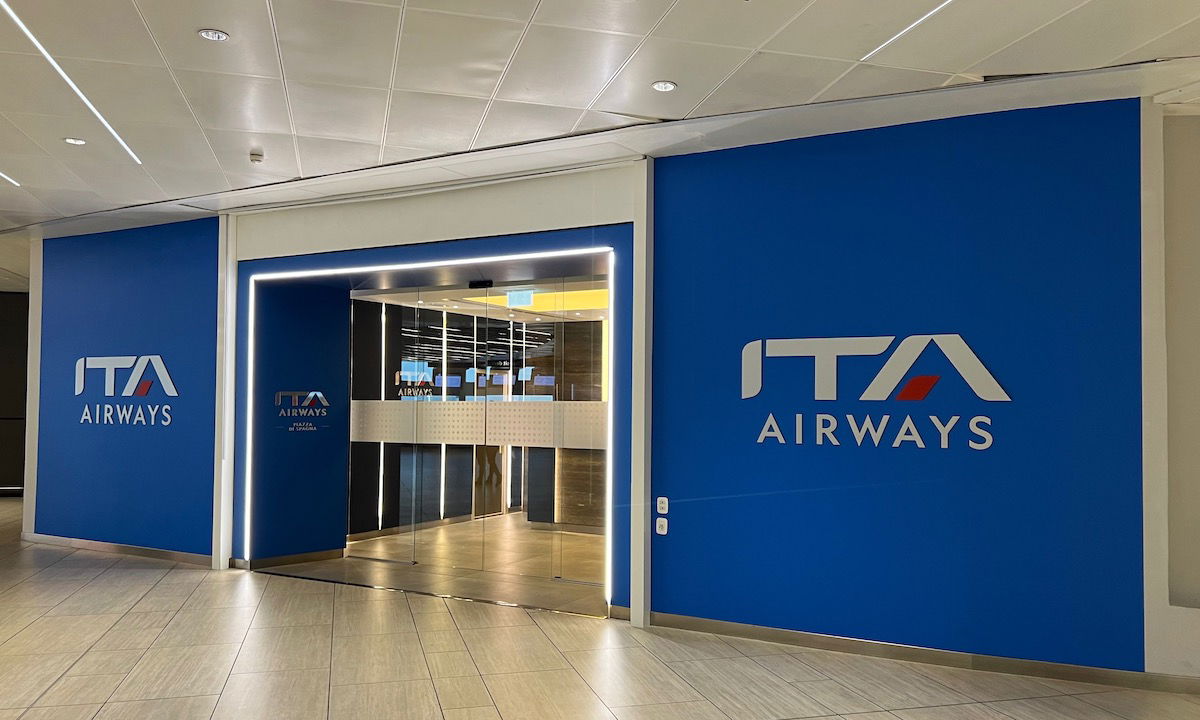 ITA Airways Lounge Rome hours
The ITA Airways Lounge Rome doesn't have specific hours, but rather is open from the first to the last ITA departure of the day. So if you're traveling on ITA, you can expect that the lounge will be open at least a couple of hours before departure.
ITA Airways Lounge Rome entry requirements
The ITA Airways Lounge Rome is a pretty standard lounge when it comes to SkyTeam lounge access policies:
The lounge can be accessed by ITA Airways business class passengers, as well as business class passengers on SkyTeam partner airlines, including Delta; no guests are allowed
SkyTeam Elite Plus passengers (including ITA Volare Premium and Executive members) on ITA and SkyTeam partners can also access the lounge; one guest is allowed
On top of that, lounge access can be purchased by other ITA passengers for 35-45 Euro per person (the lower price is if purchasing access in advance, while the higher price is if purchasing access at the airport).
ITA Airways Lounge Rome seating & layout
The ITA Airways Lounge Rome is roughly 1,000 square meters (~11,000 square feet), with seating for around 200 guests. At the moment this is plenty big for ITA's size, even during peak hours. However, the airline plans to more than double the size of its long haul fleet compared to current numbers, so I imagine this lounge could get quite crowded in the future.
Interestingly the lounge is in the space of the former Casa Alitalia Lounge. That lounge underwent a full refresh in 2018, and I believe that little has physically changed about the lounge. So the lounge feels pretty modern, but not cutting edge.
There's one large rectangular room that acts as the focal point of the lounge. This area has dozens of cafe-style tables (each seating two to four people), as well as a limited amount of high-top seating, with the self serve buffet in the center of it.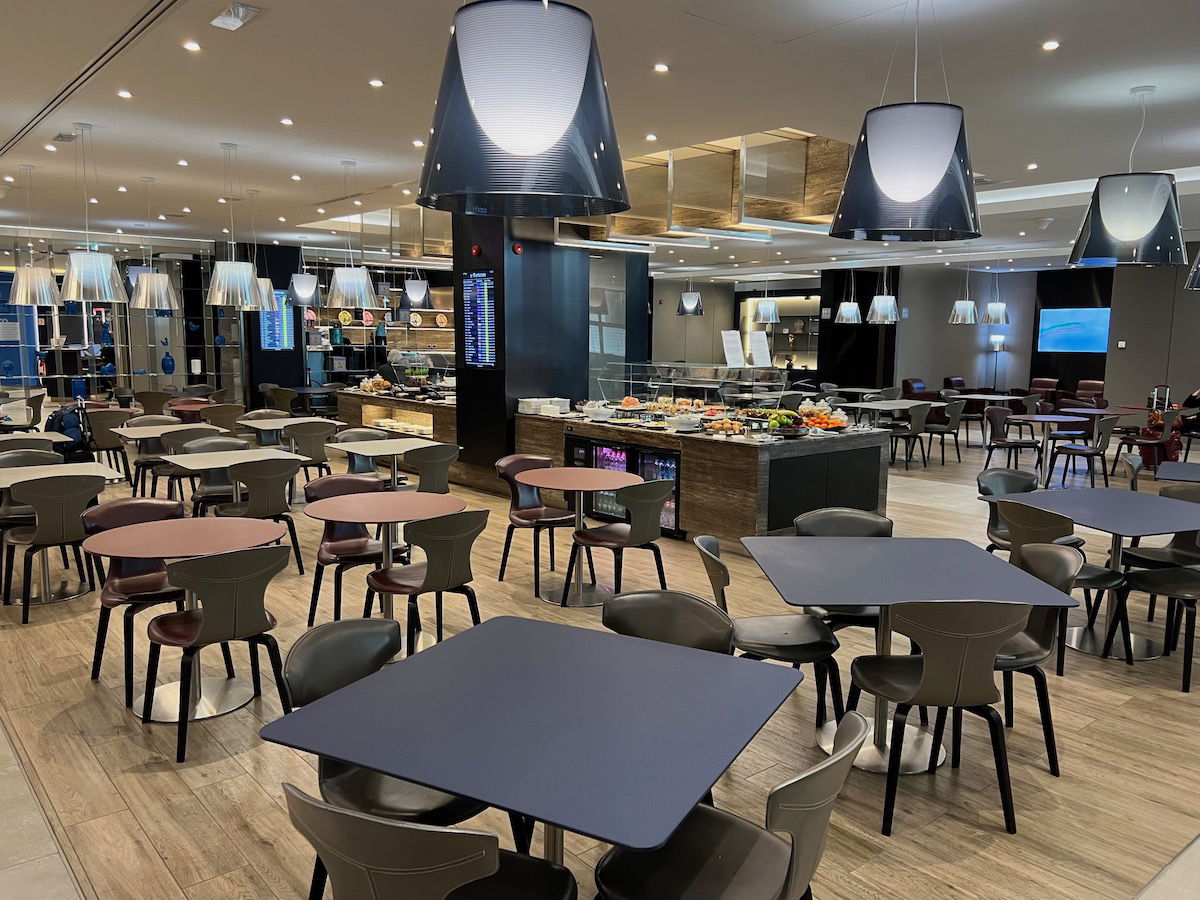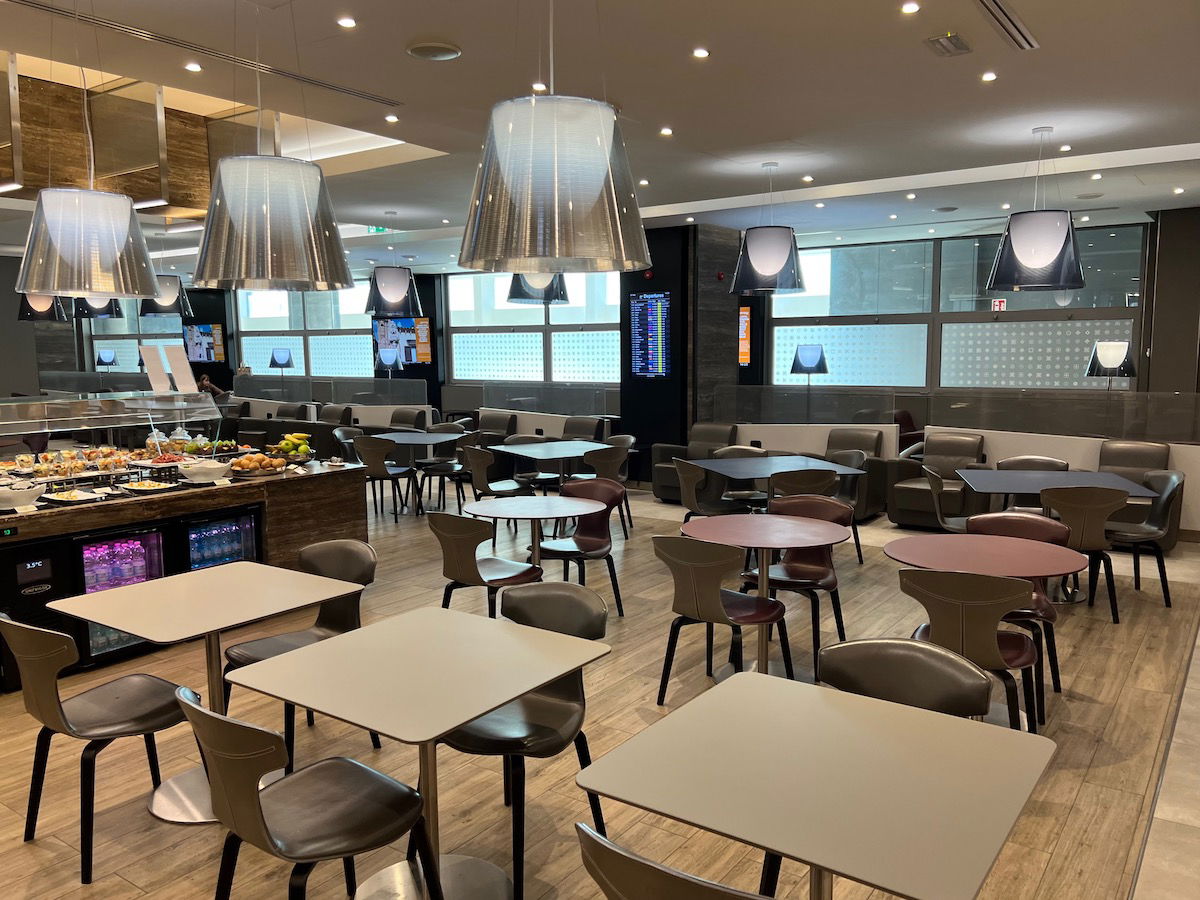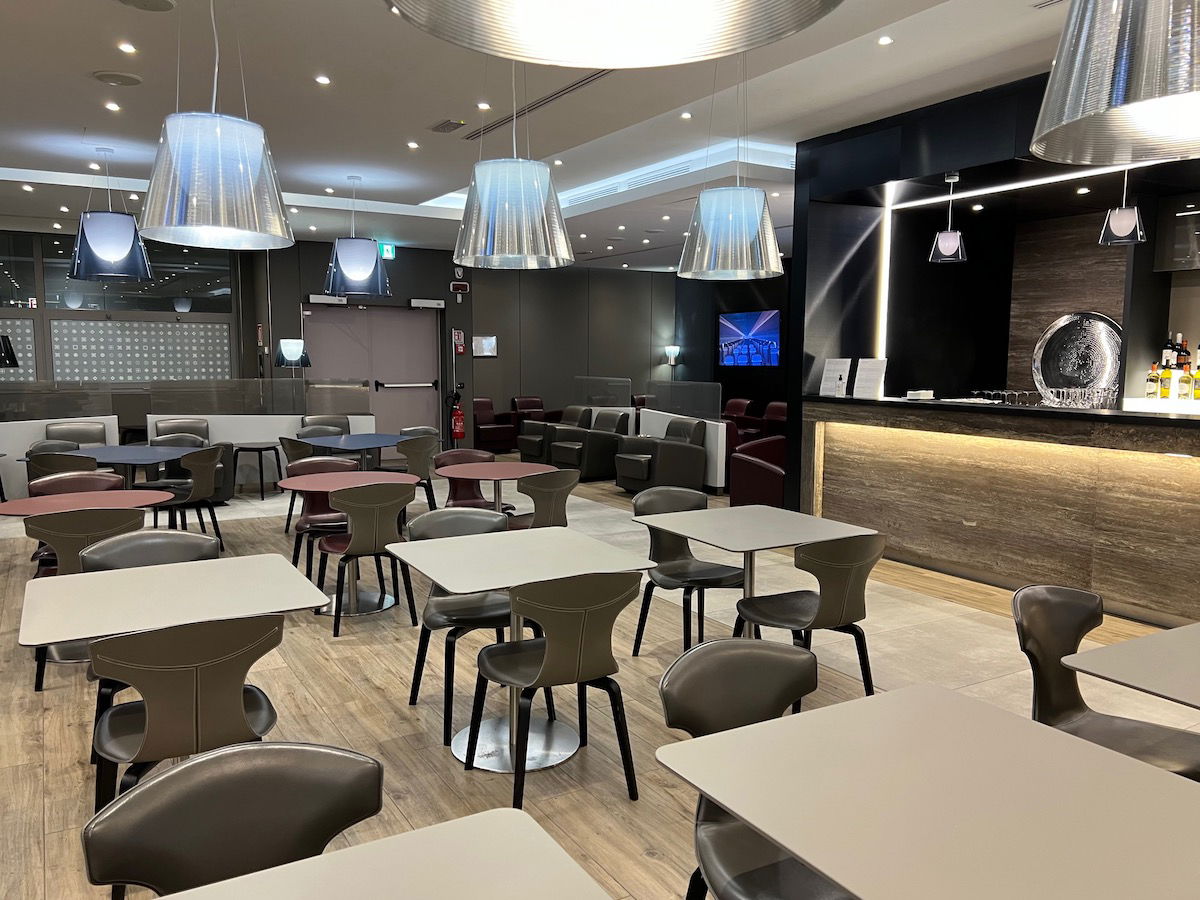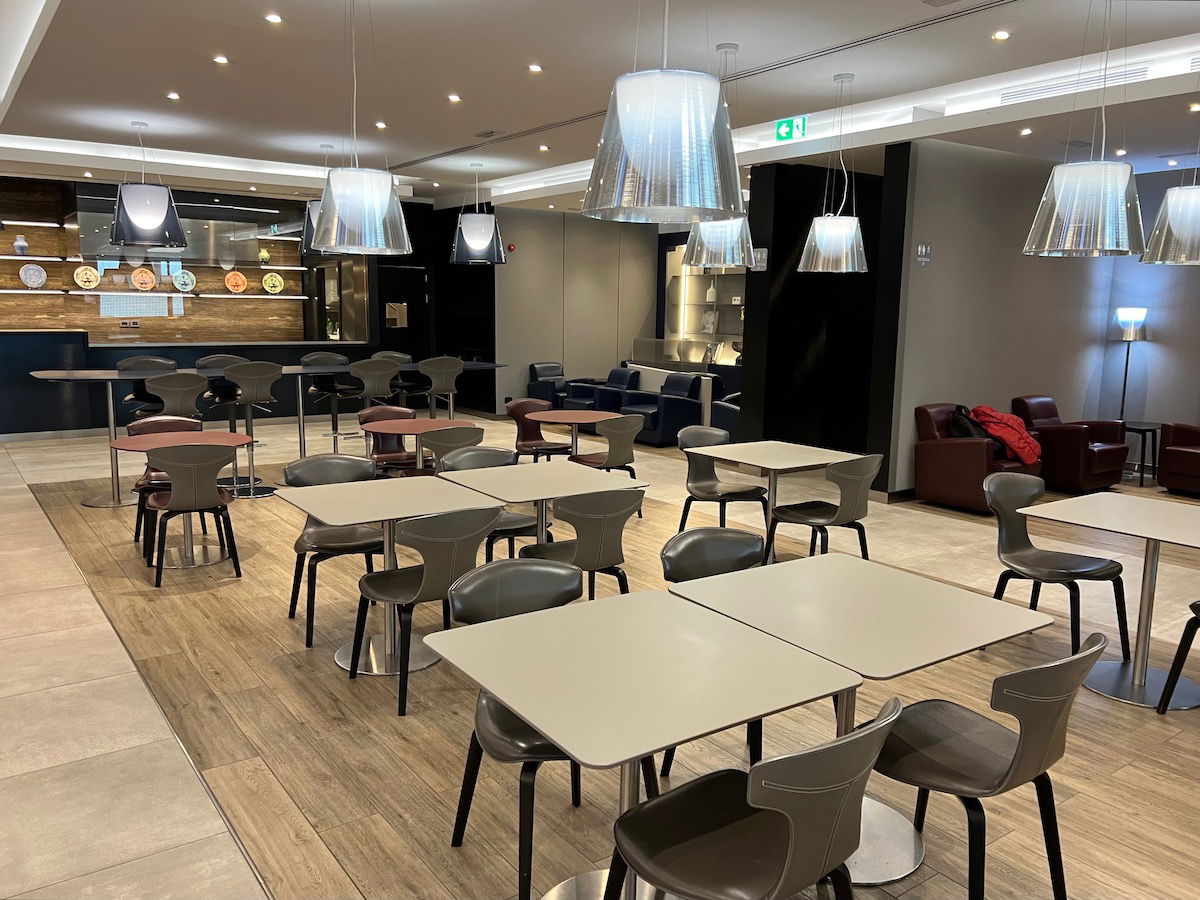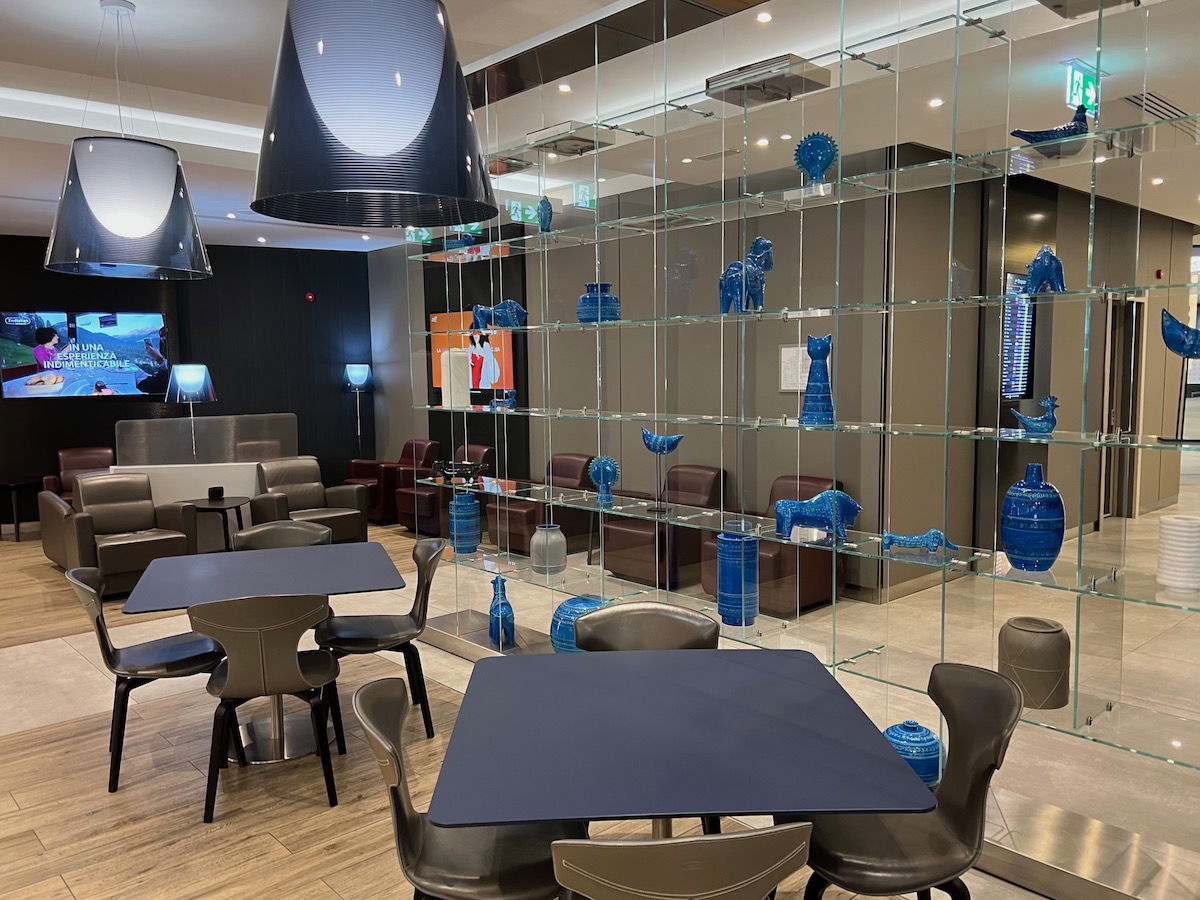 When you go into the back of the lounge, you'll see that there's a long and narrow area with seating. There are dozens of seats lined up along a center walkway, and then also seats arranged facing one another by the windows (unfortunately there are no views from the windows, or from anywhere else in the lounge, for that matter).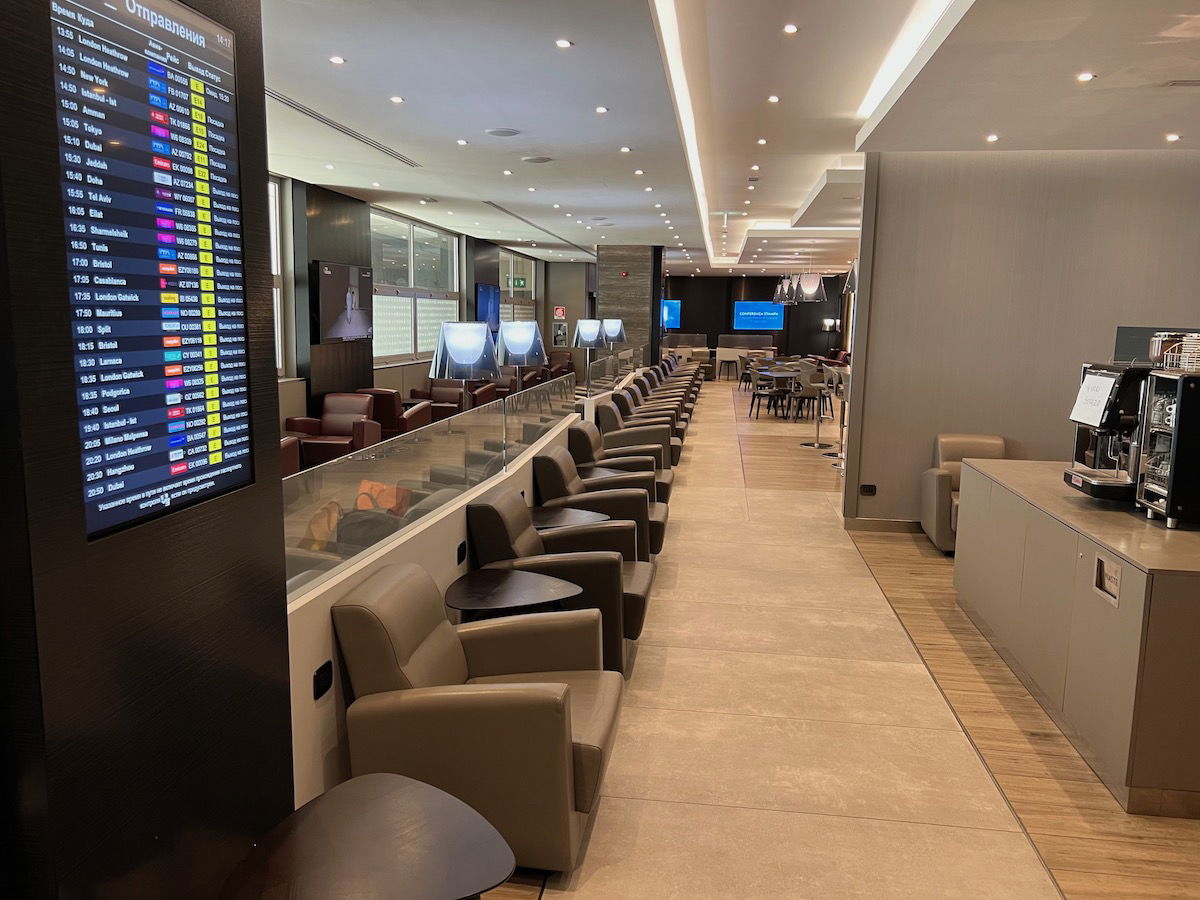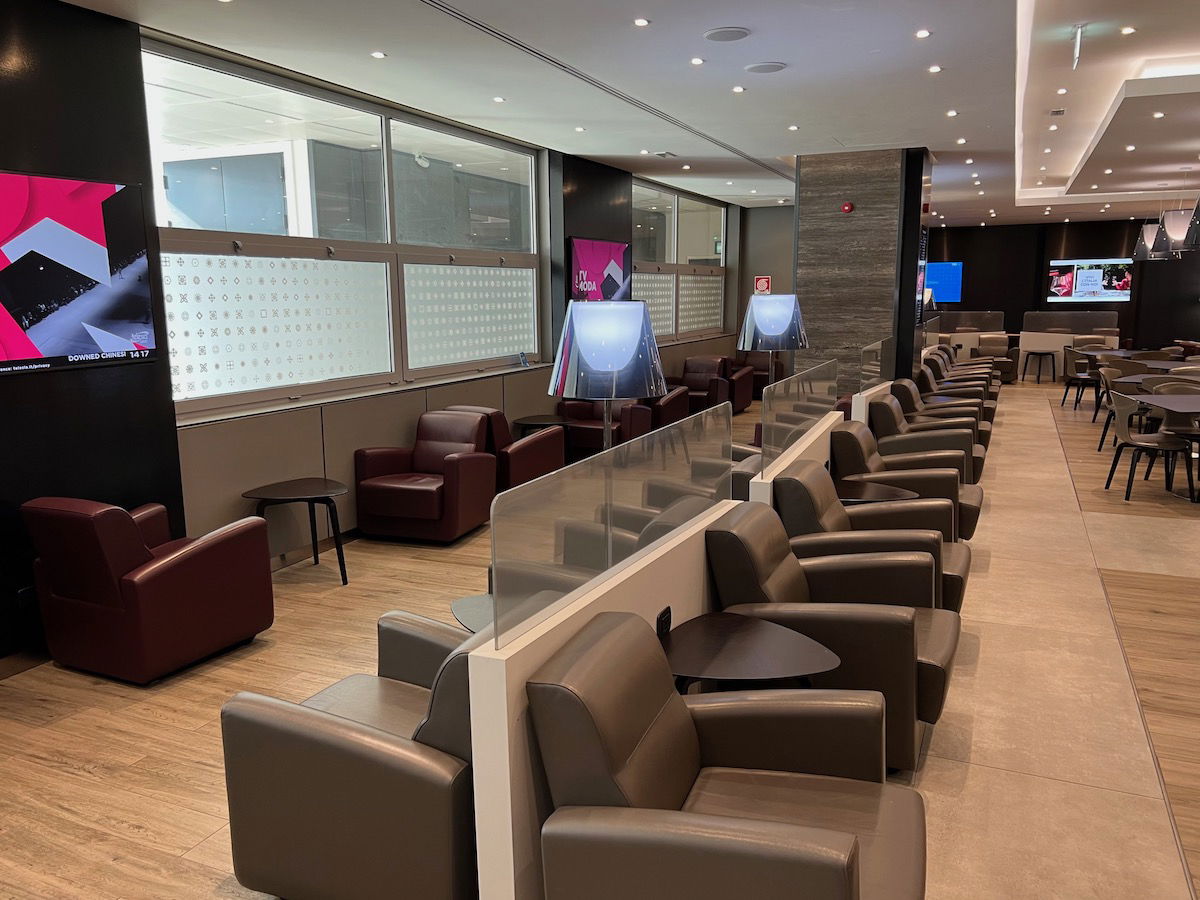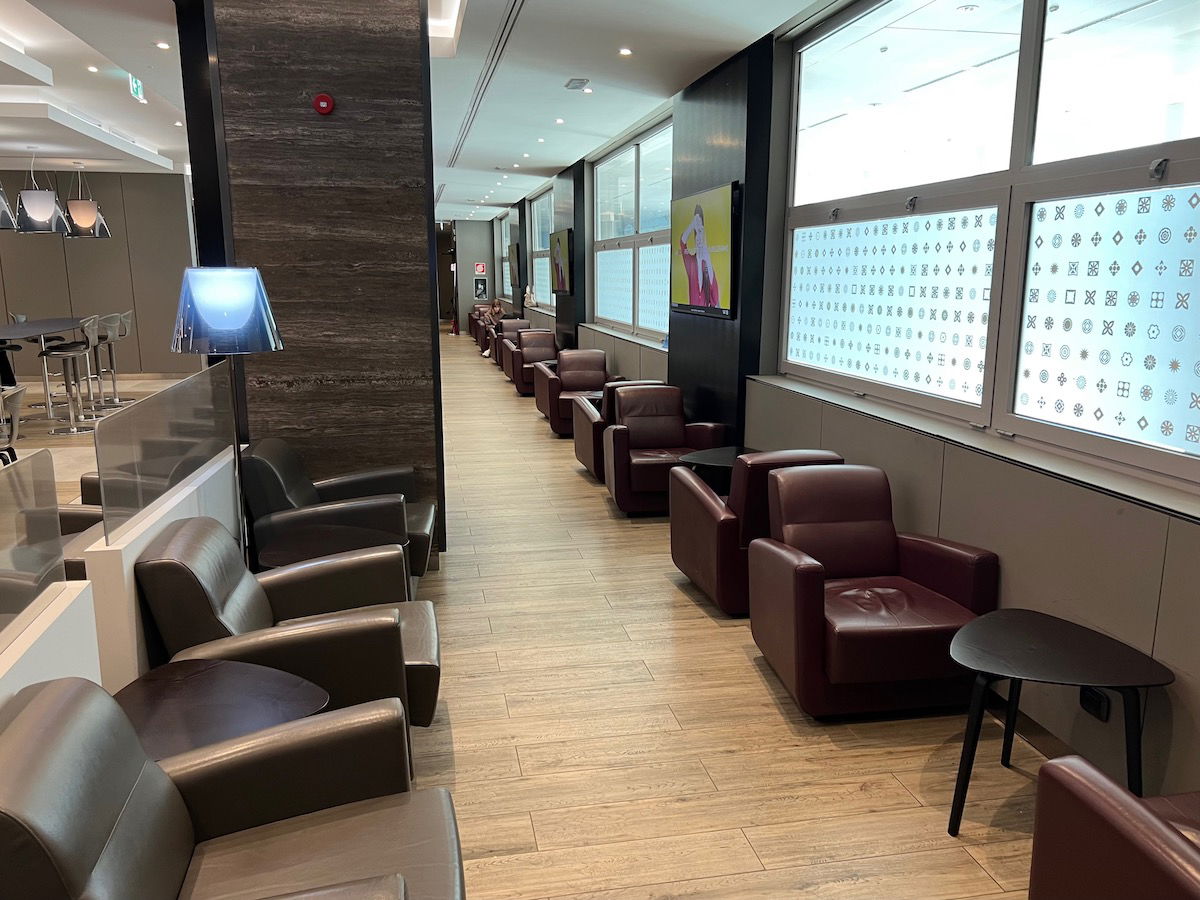 There are several smaller rooms along the main part of the lounge, each seating anywhere from a handful to a dozen people.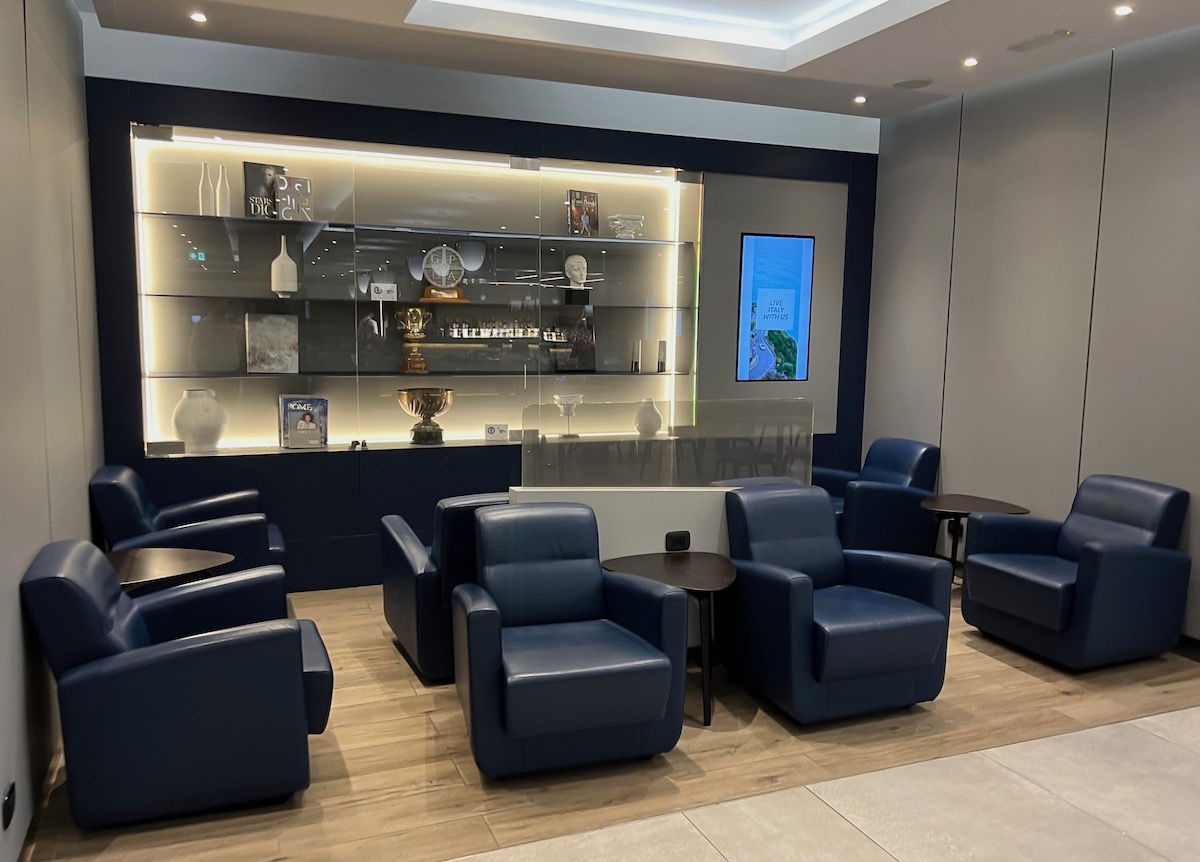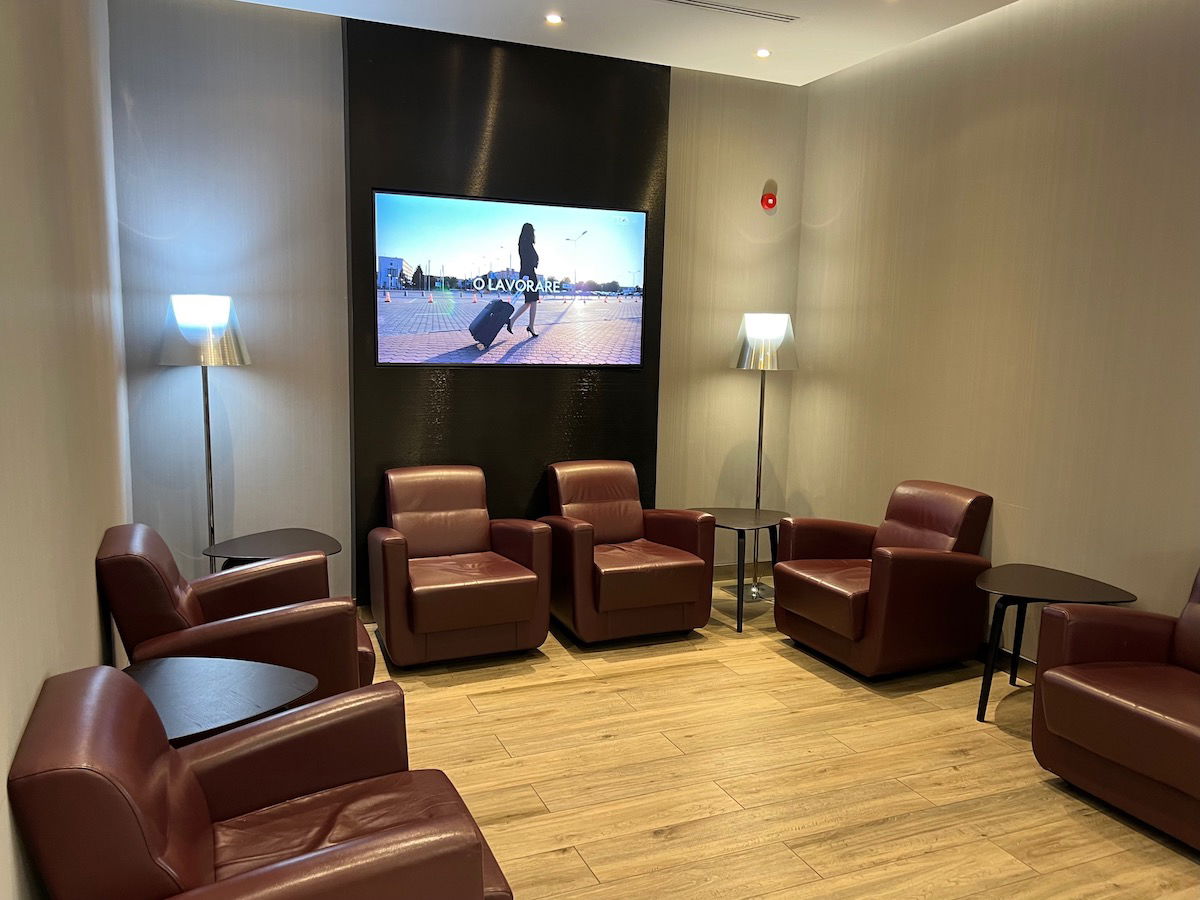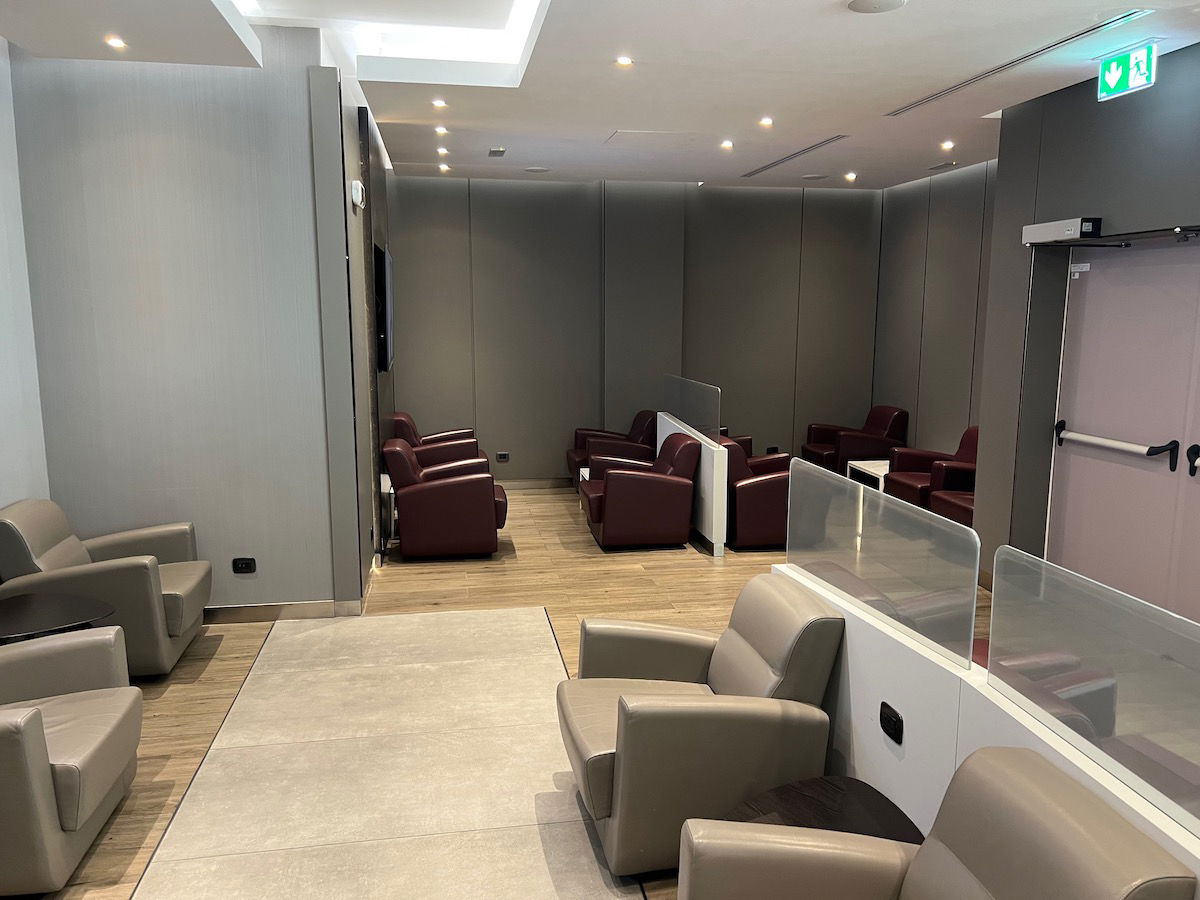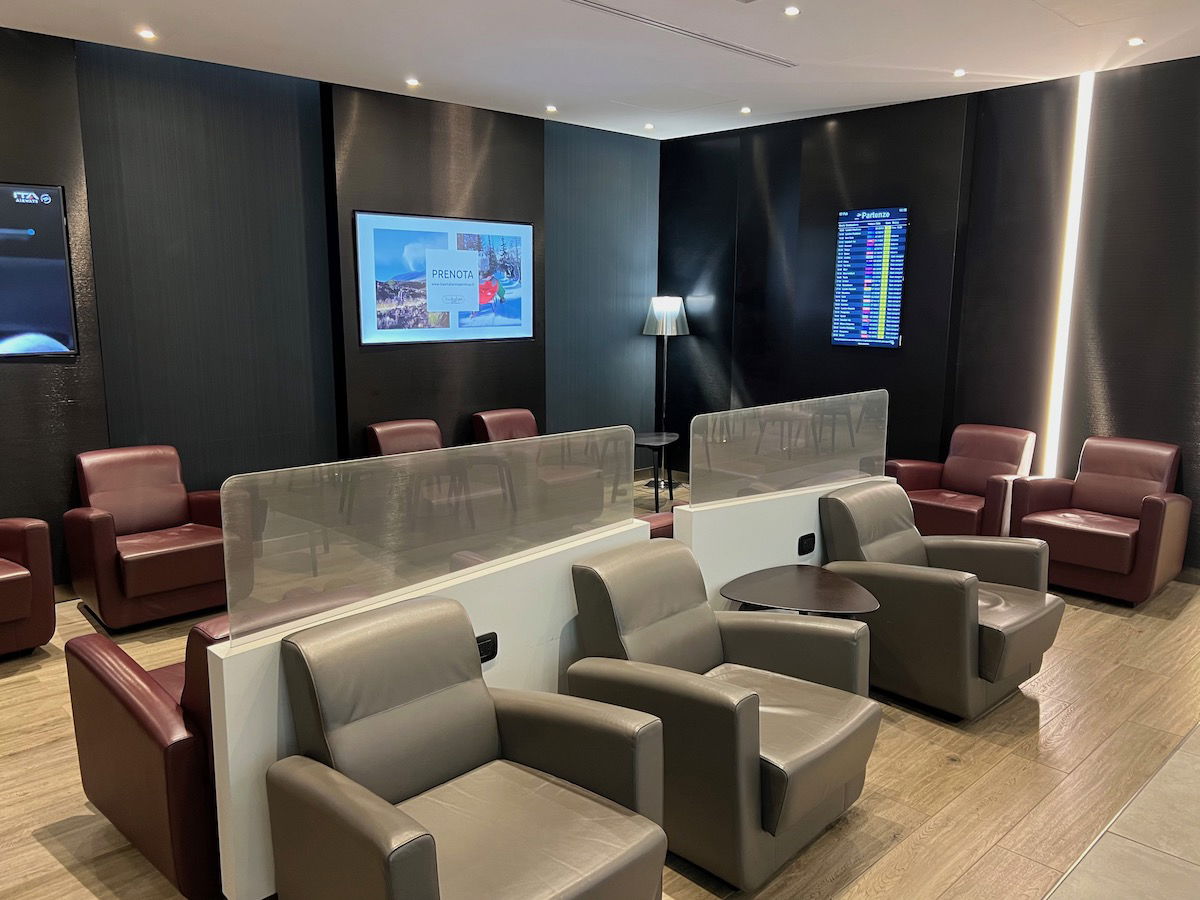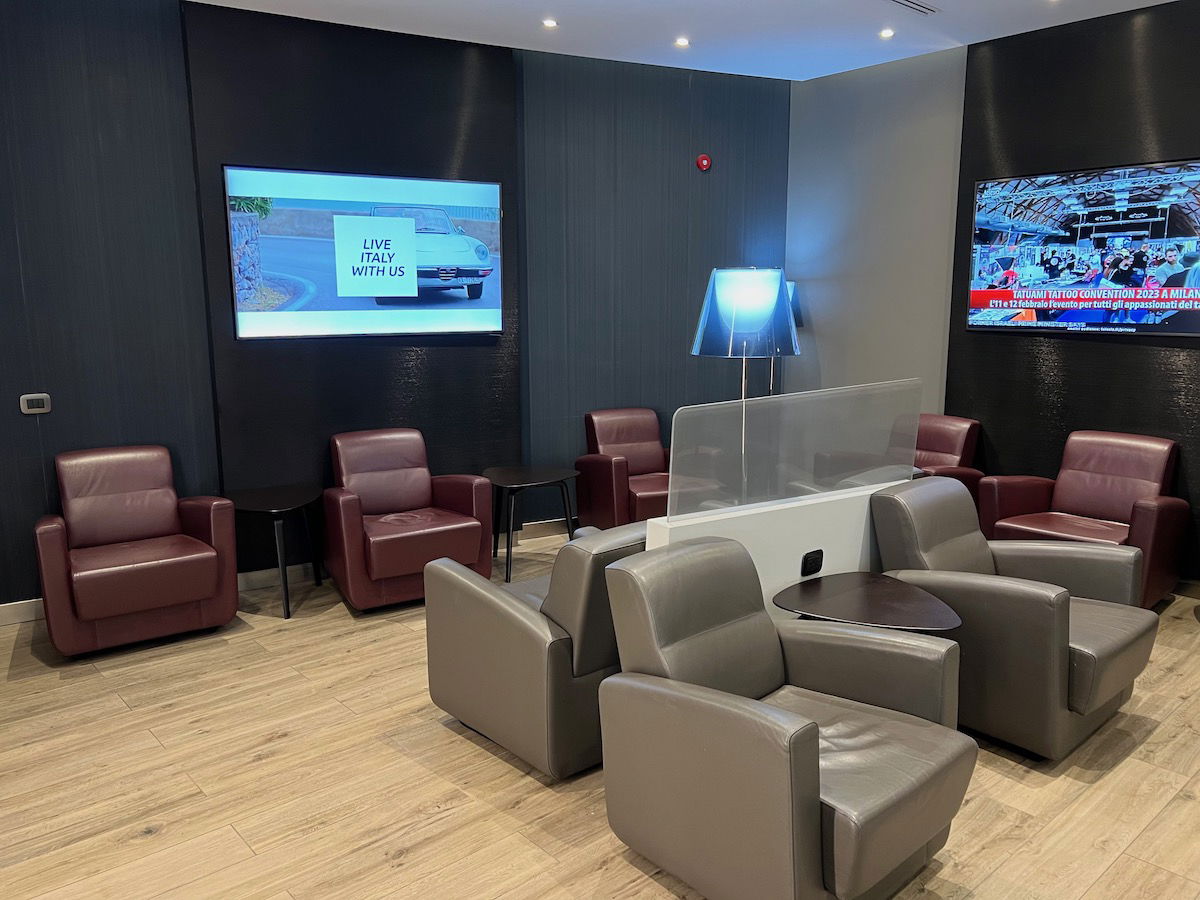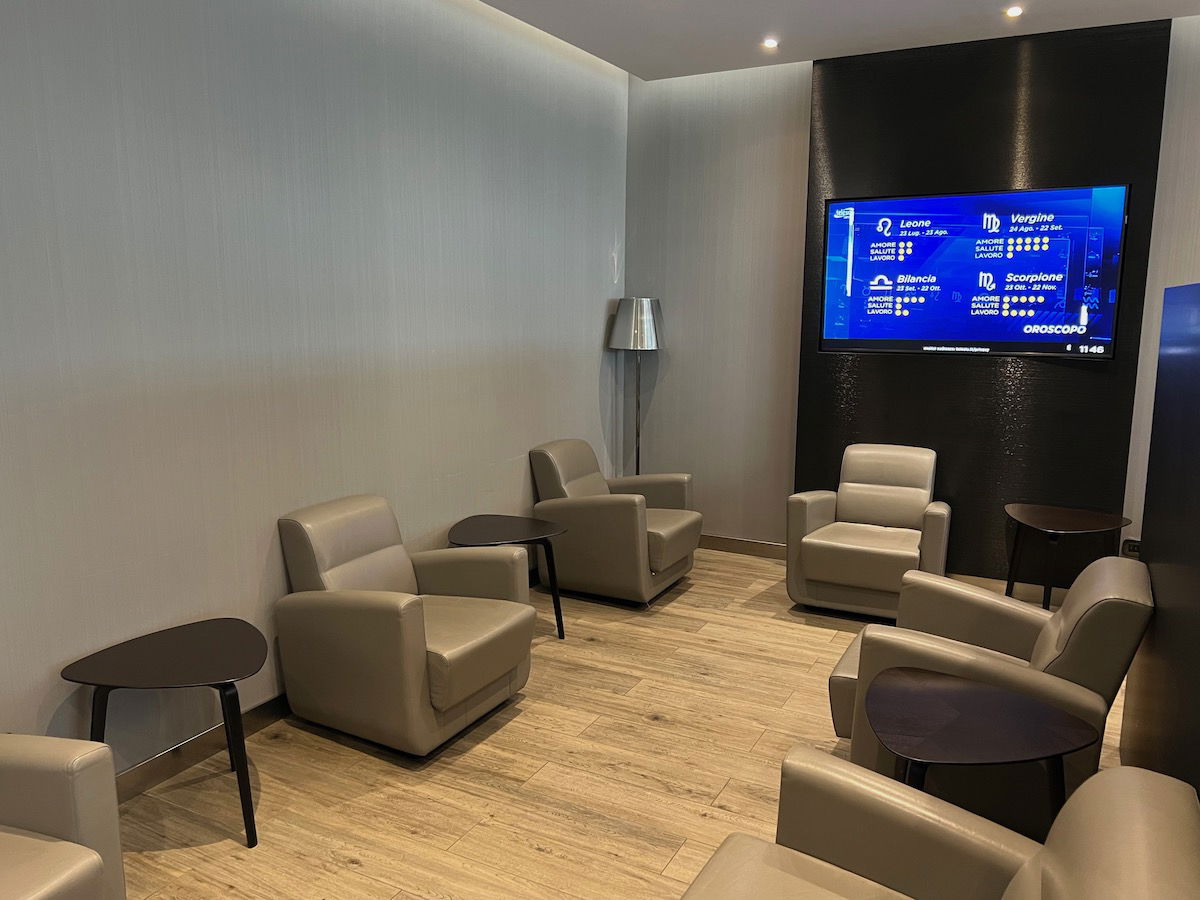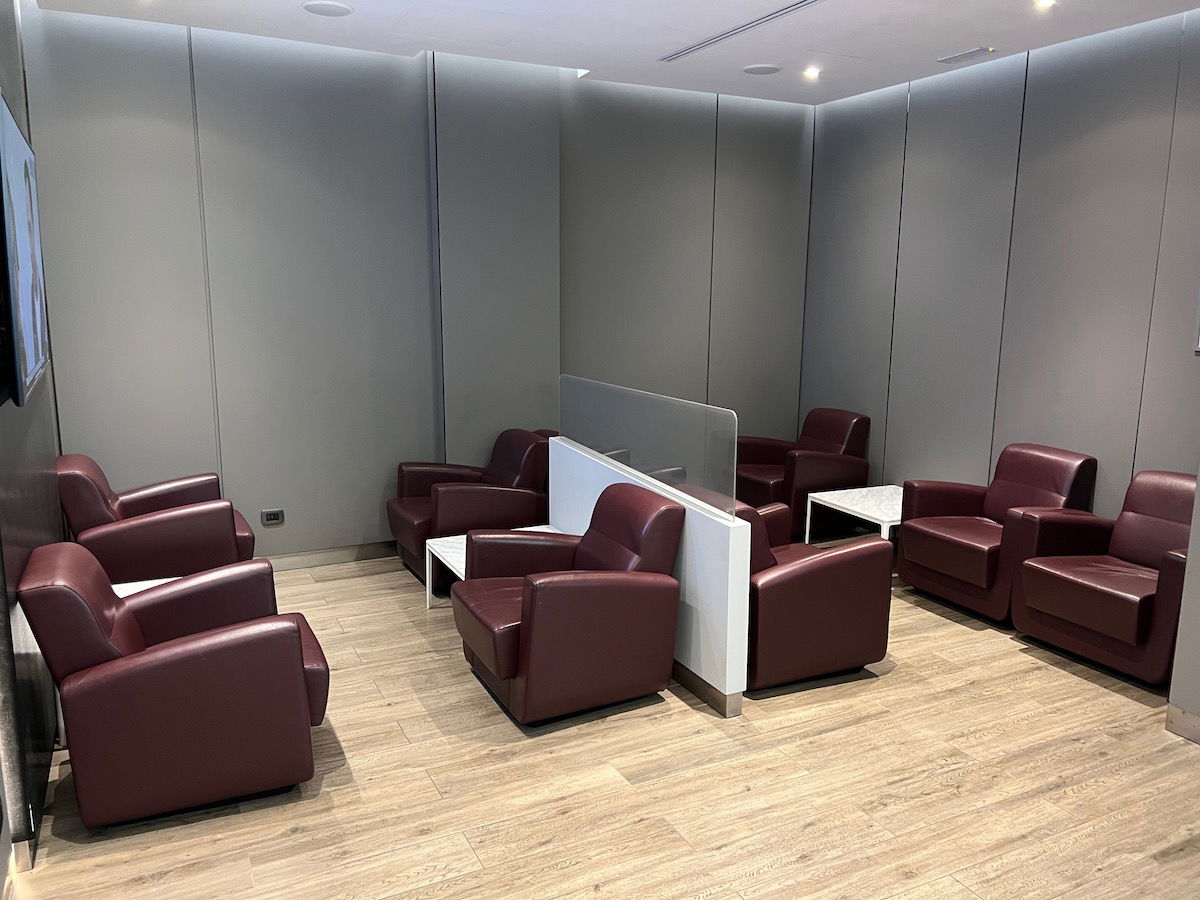 That's the extent of the lounge. I should note that outlets were fairly limited — it wasn't hard to find them in the sense that there were outlets by some of the walls, but this isn't one of those lounges where every seat has plugs.
I was a bit disappointed by the lack of variety of seating options and amenities. For example, there was no business center with workstations, no nap areas, no play area for kids, etc.
ITA Airways Lounge Rome food & drinks
One area where the ITA Airways Lounge Rome shines is with food. The tone for the great food is set with the open kitchen off to the side of the lounge, which even has a really pizza oven. There's no microwaving going on in this lounge (unlike in so many other lounges).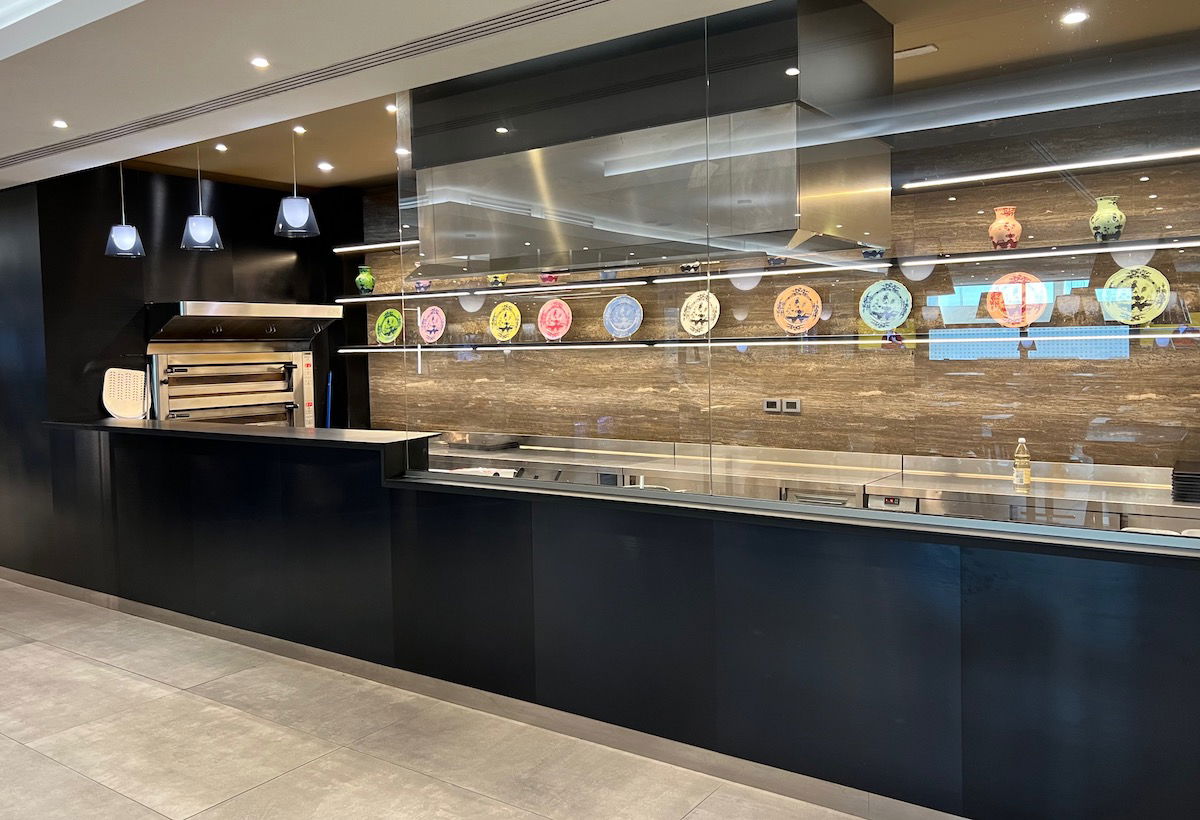 The buffet wasn't huge, but I found the quality to be exceptional. The buffet was in the center of the lounge, and was entirely self serve (though there were staff in the lounge who were constantly replenishing items, and making sure everything was looking as good as it could).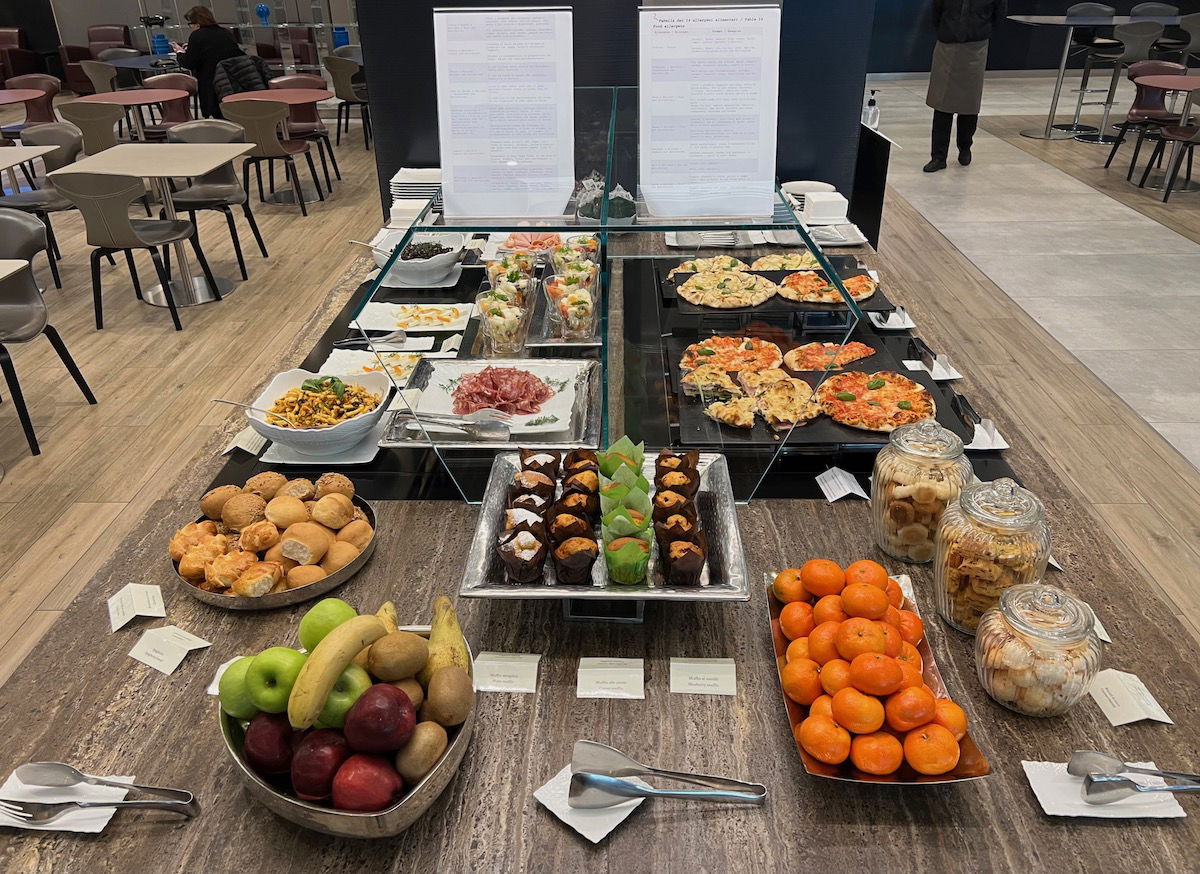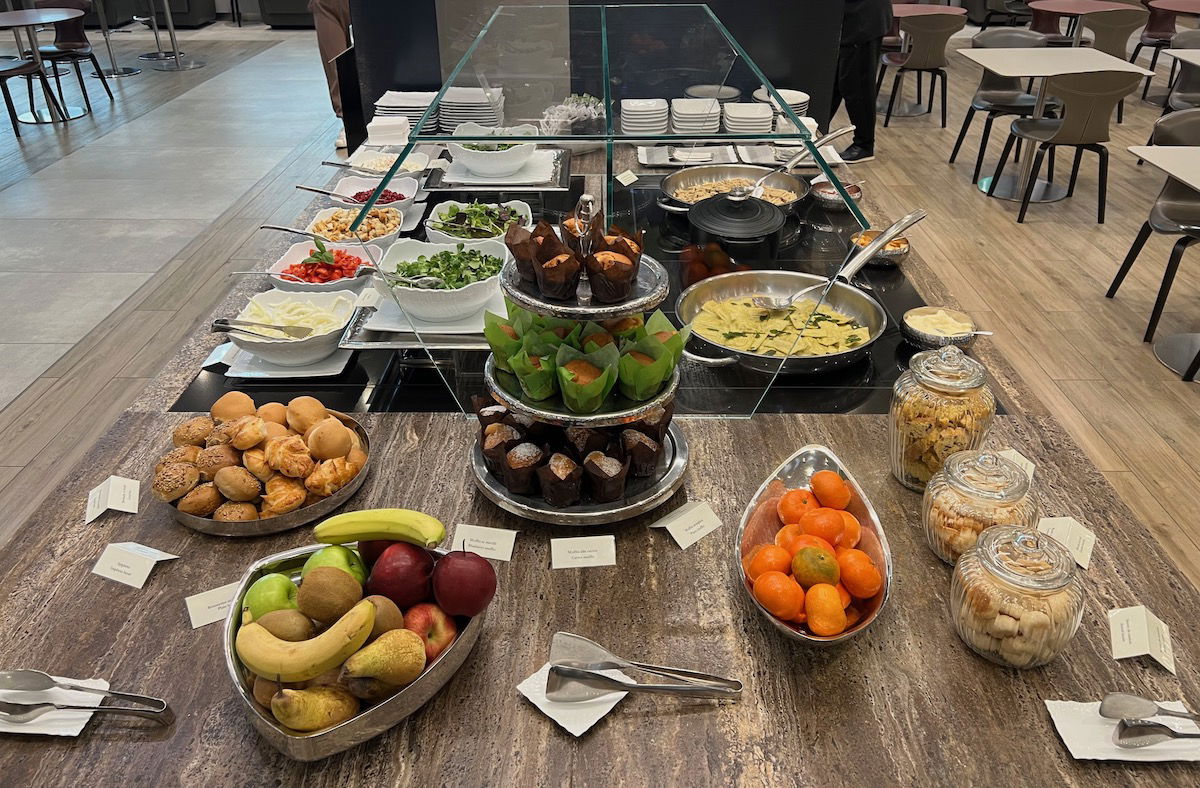 The food selection was absolutely delicious, and included a salad bar, cold cuts and cheese, all kinds of individually portioned appetizers, a couple of types of fresh pasta, soup, and the best pizza I've ever had in an airline lounge.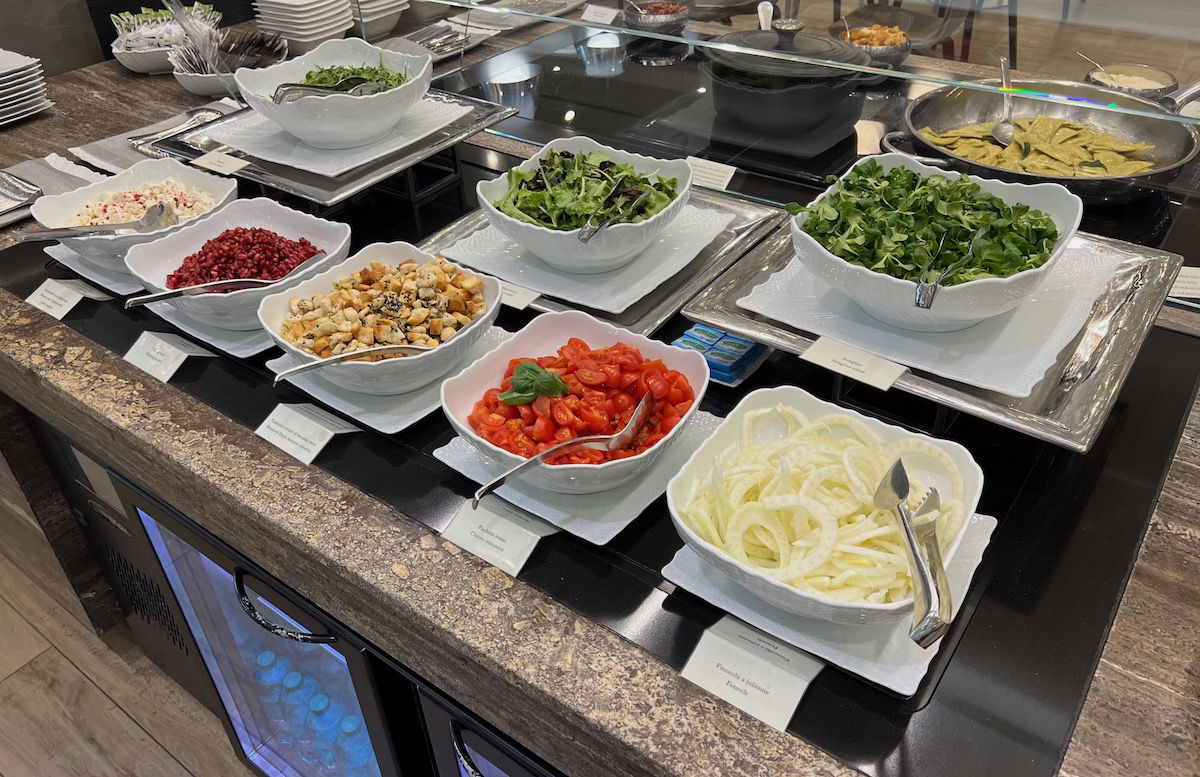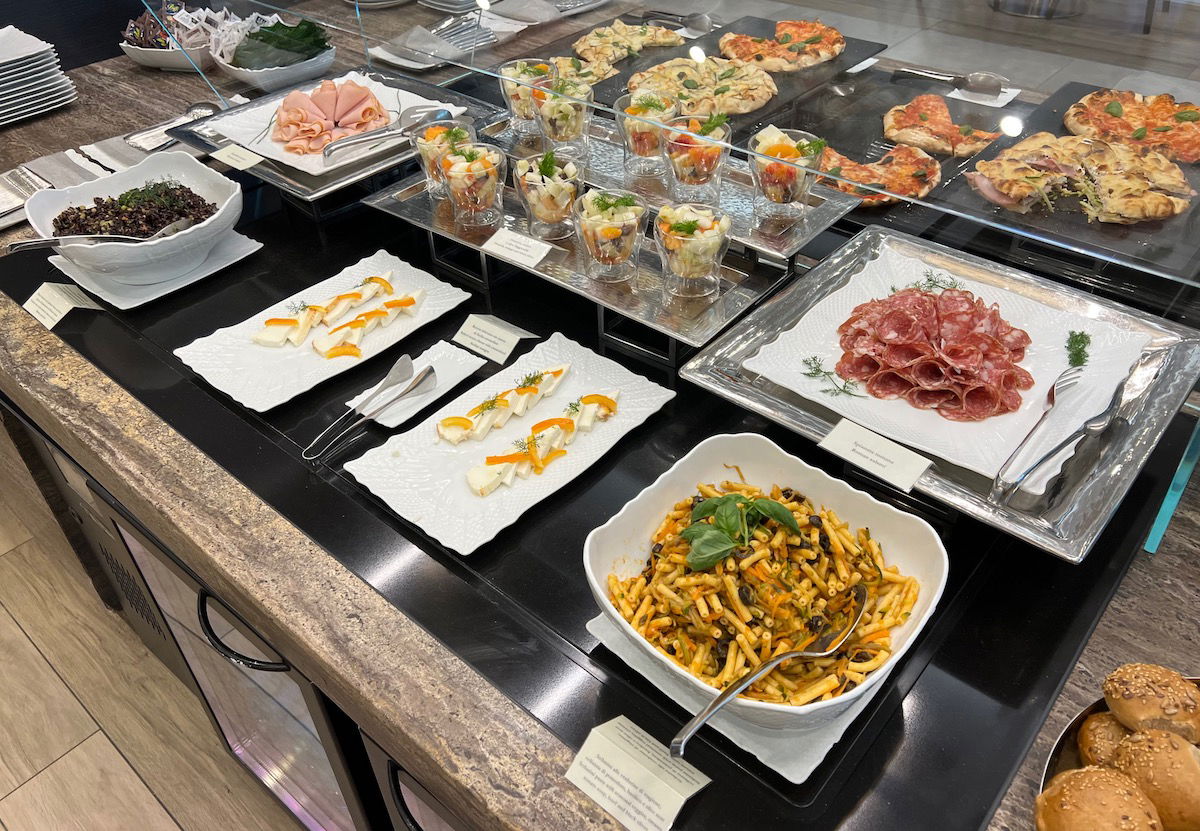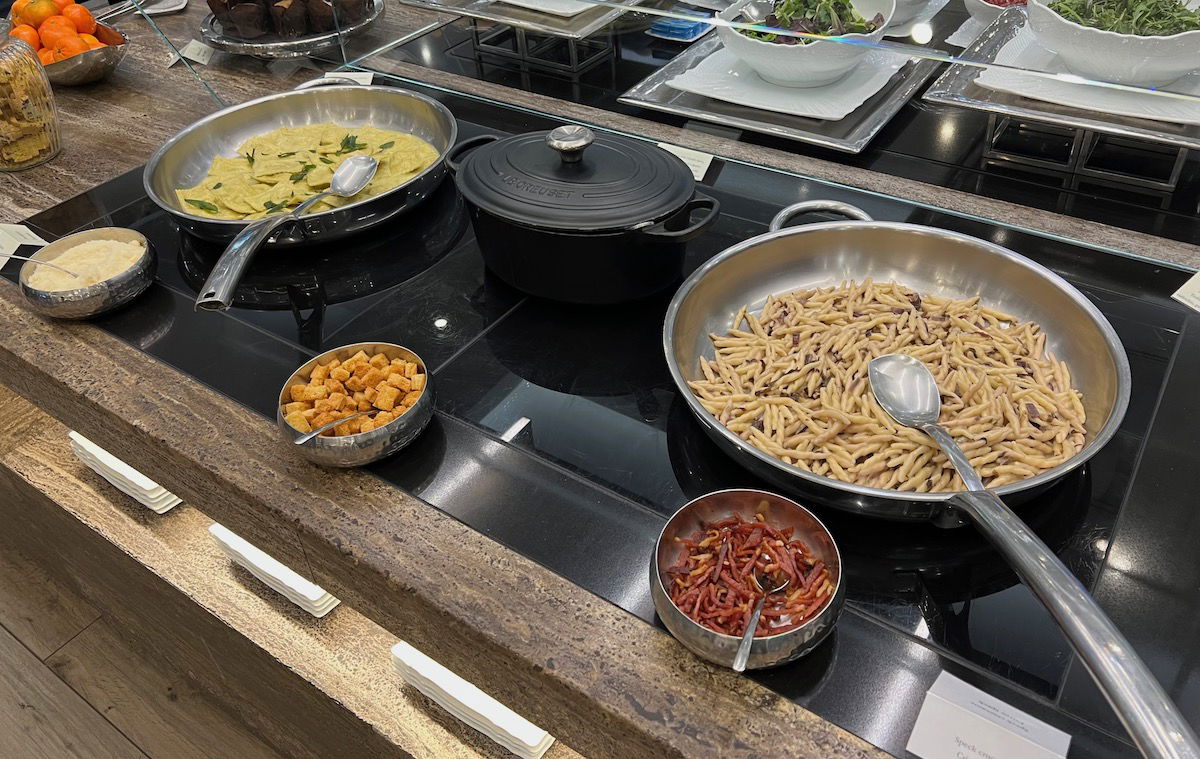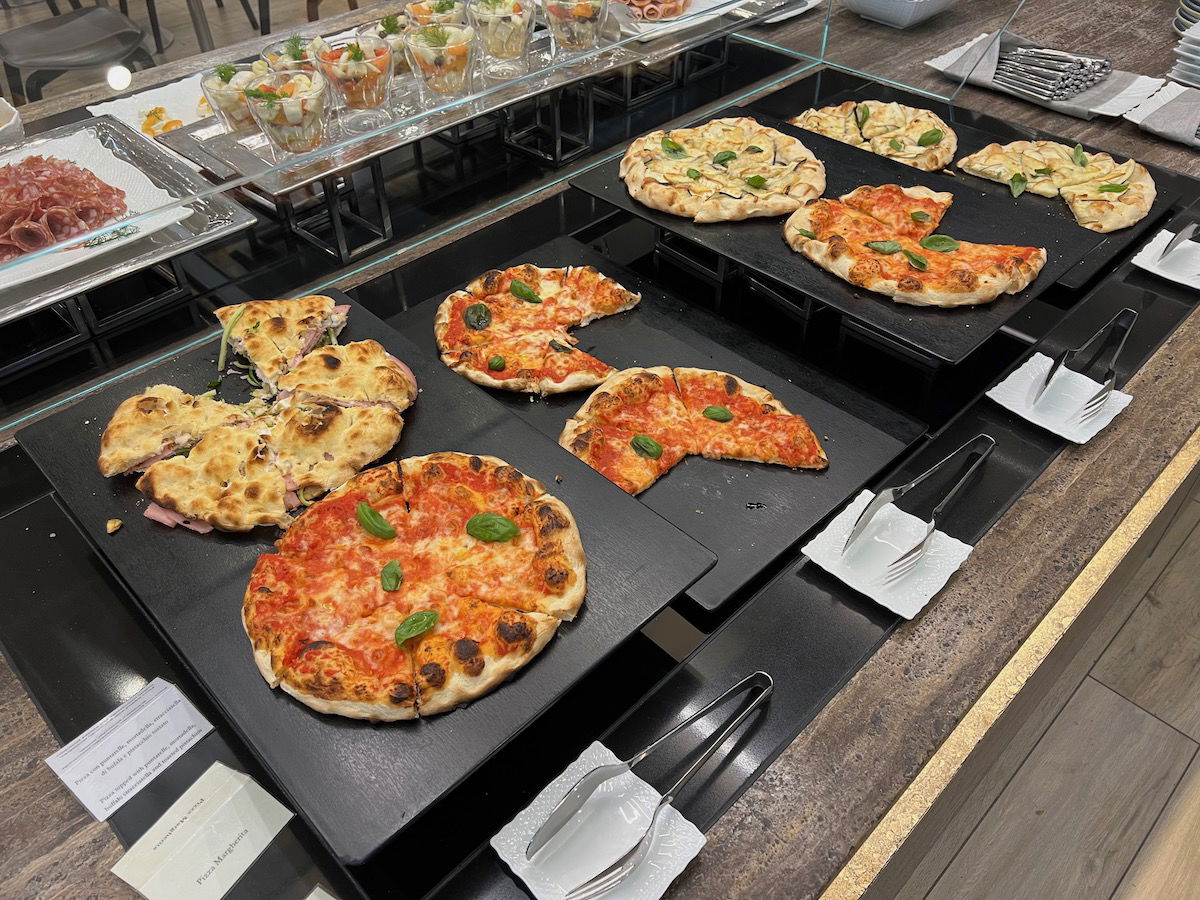 It's so refreshing to see an airline lounge serve actual restaurant quality food, rather than just some reheated food or packaged snacks, as is all too common.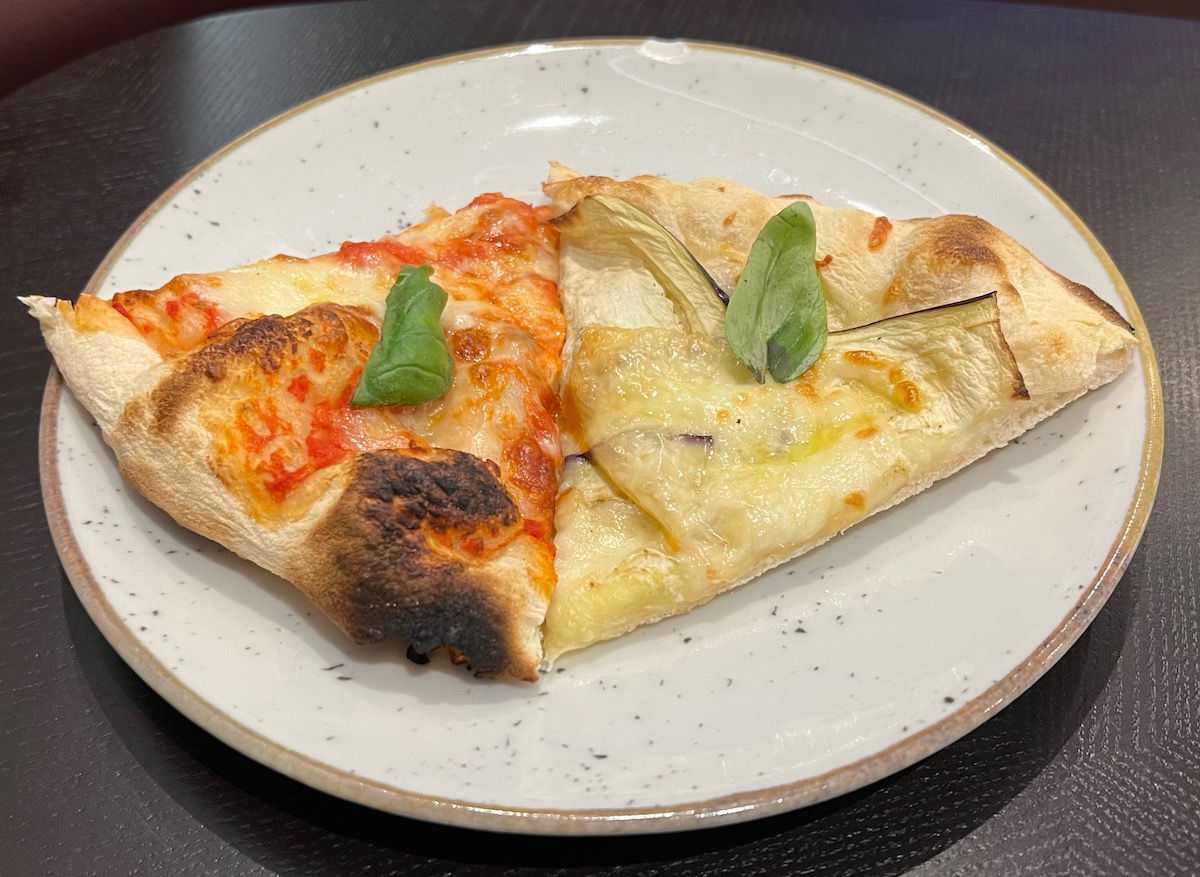 As far as drinks go, the only drinks that were self serve were the bottles of water underneath the buffet.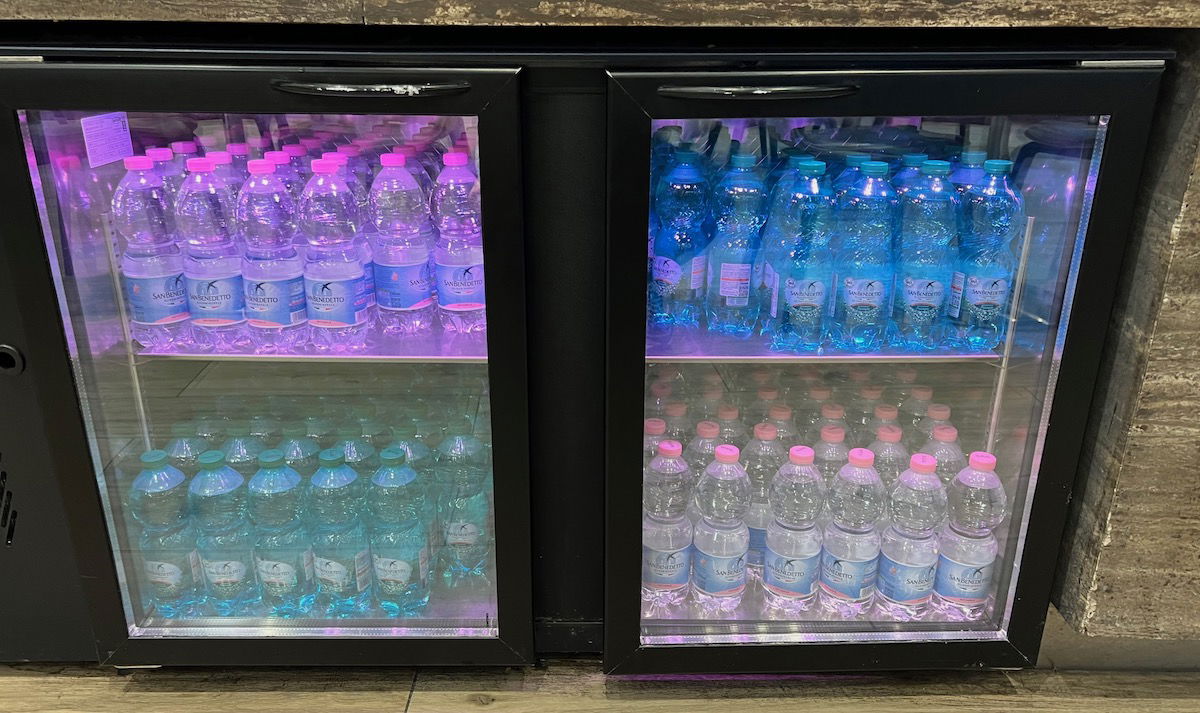 All other drinks were available from the bar. There was a selection of soft drinks, coffee, wine, beer, and cocktails.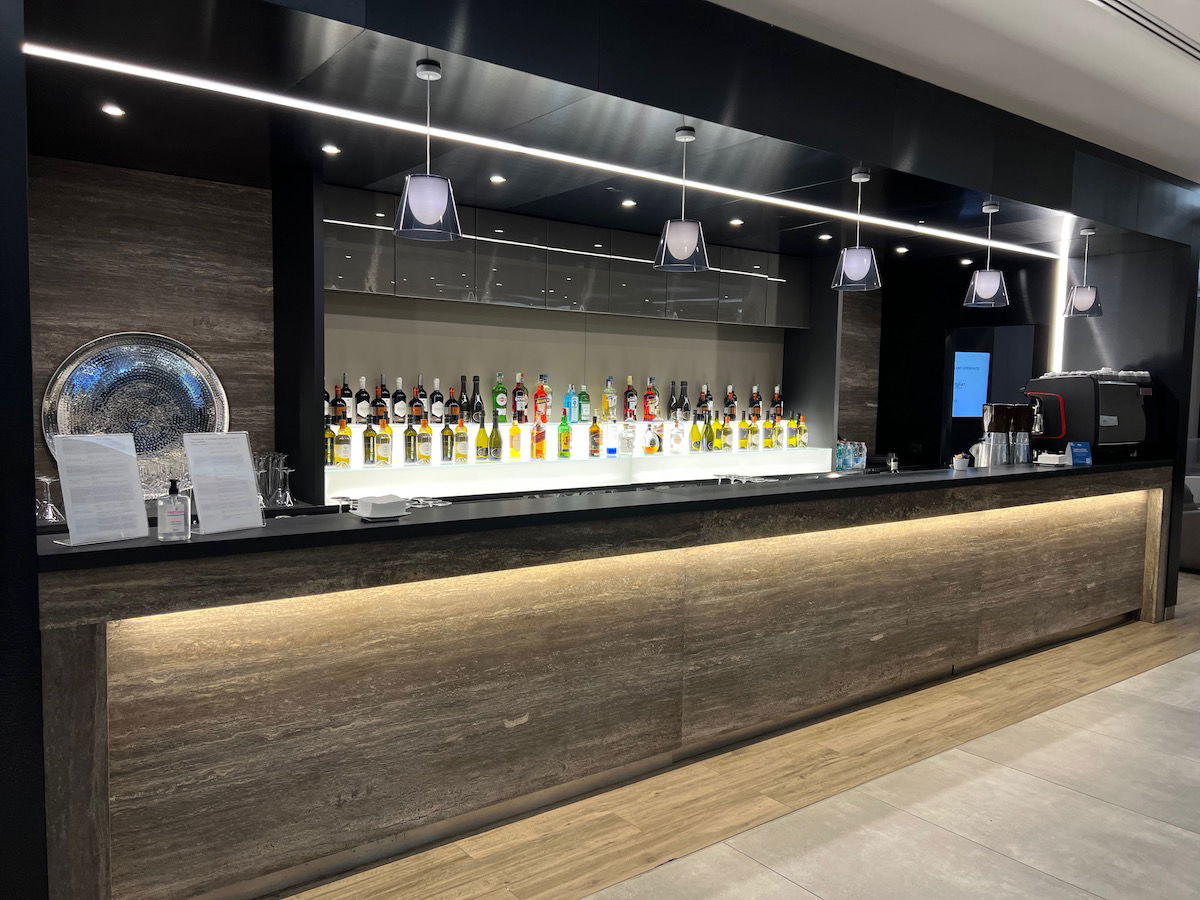 Below you can get a sense of the alcohol selection that was available.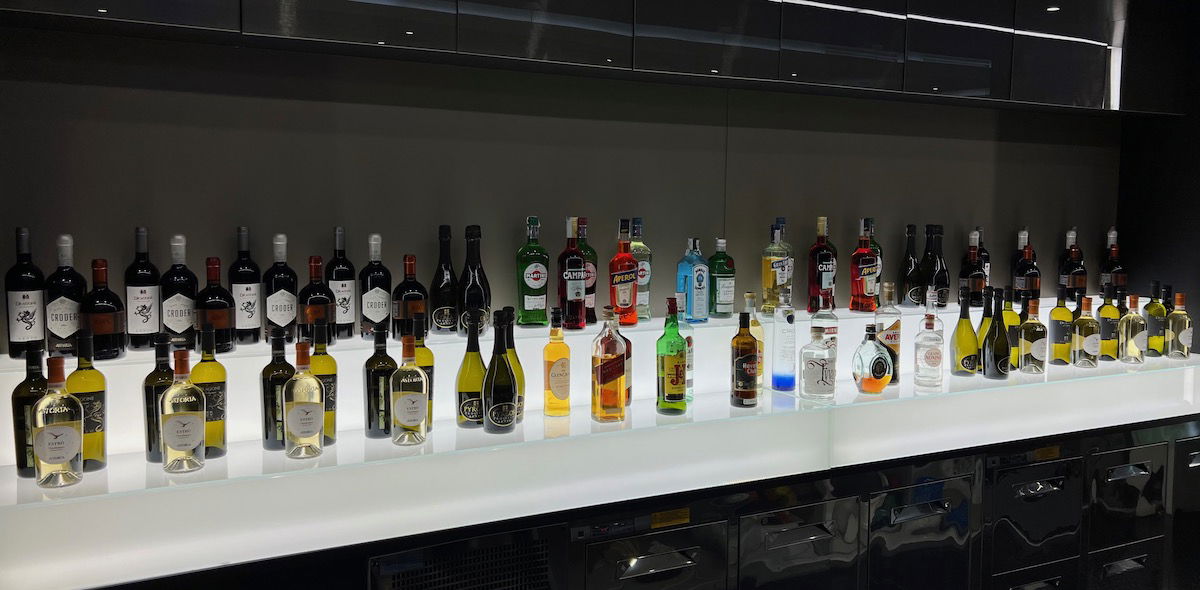 I was happiest to see the proper espresso machine, with barista-made coffees available on request.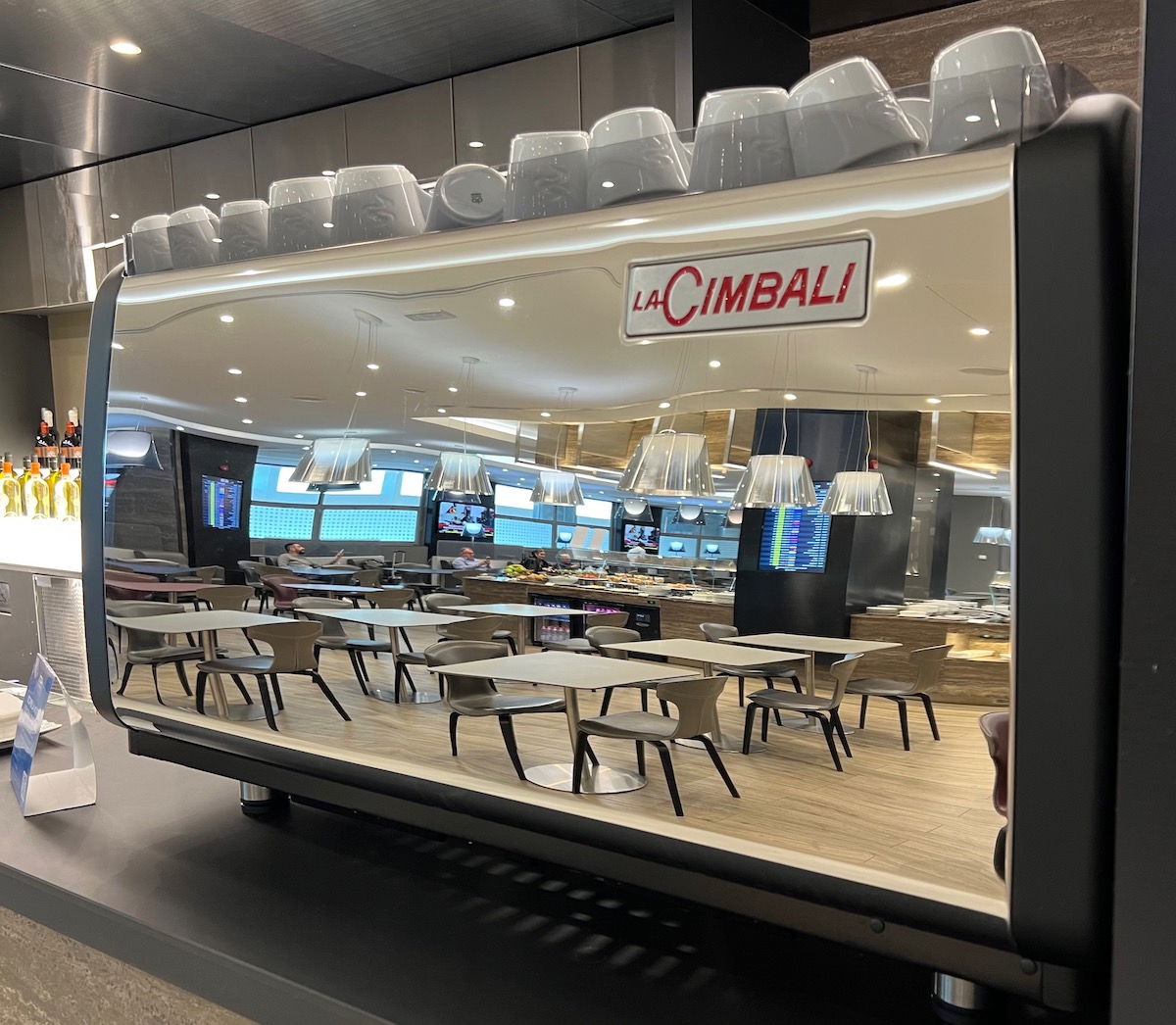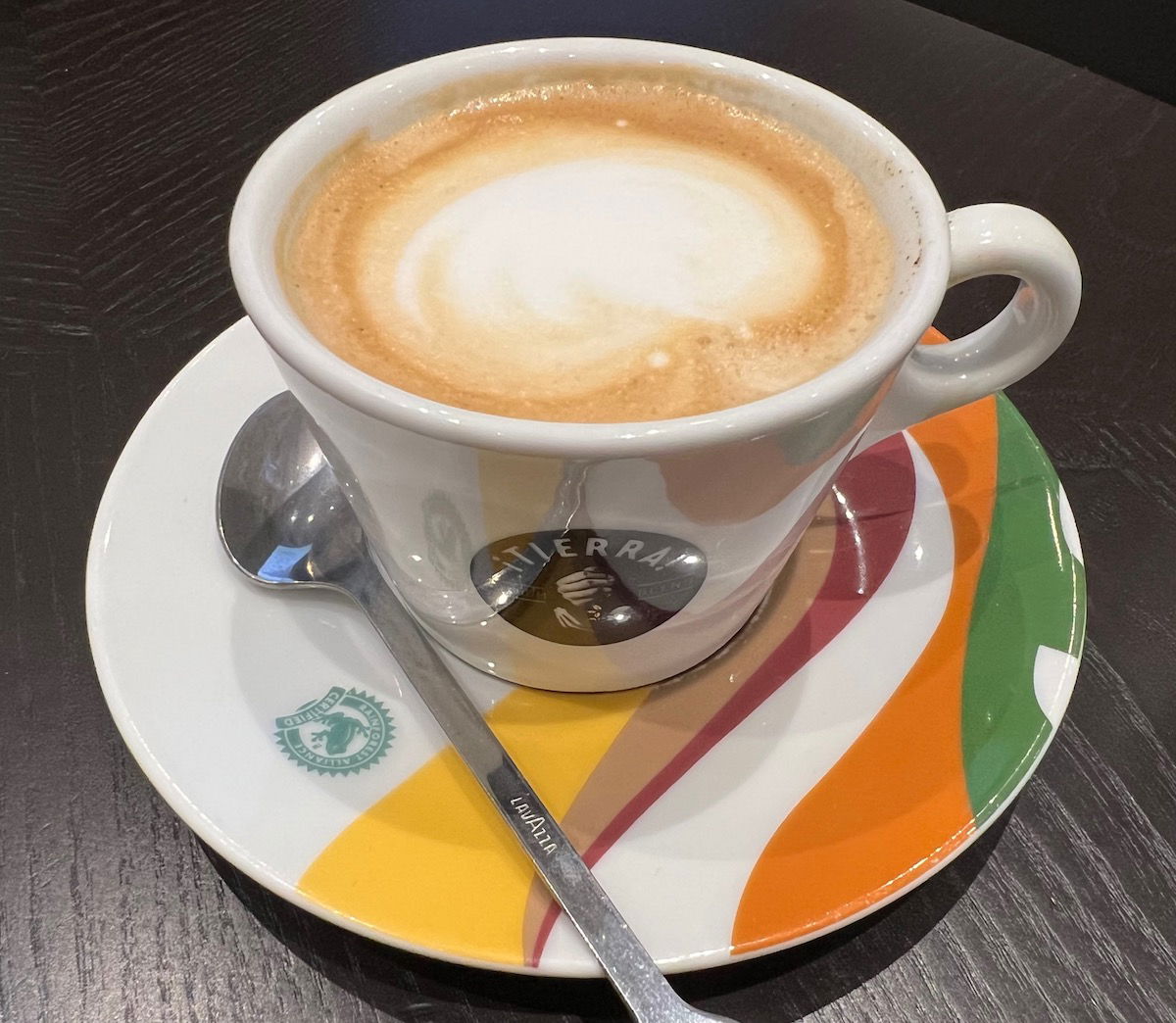 Italy is known for its incredible coffee, so I feel that it's fair to be brutally honest. The cappuccinos here were great by US standards, but paled in comparison to the drinks available at the Plaza Premium Lounge Rome, which has some of the best airport lounge coffee I've ever had.
So the coffee was good, but could be better, in my opinion.
ITA Airways Lounge Rome bathrooms
The ITA Airways Lounge Rome has bathrooms, which were well maintained. Interestingly there were no urinals, but rather just a half dozen stalls.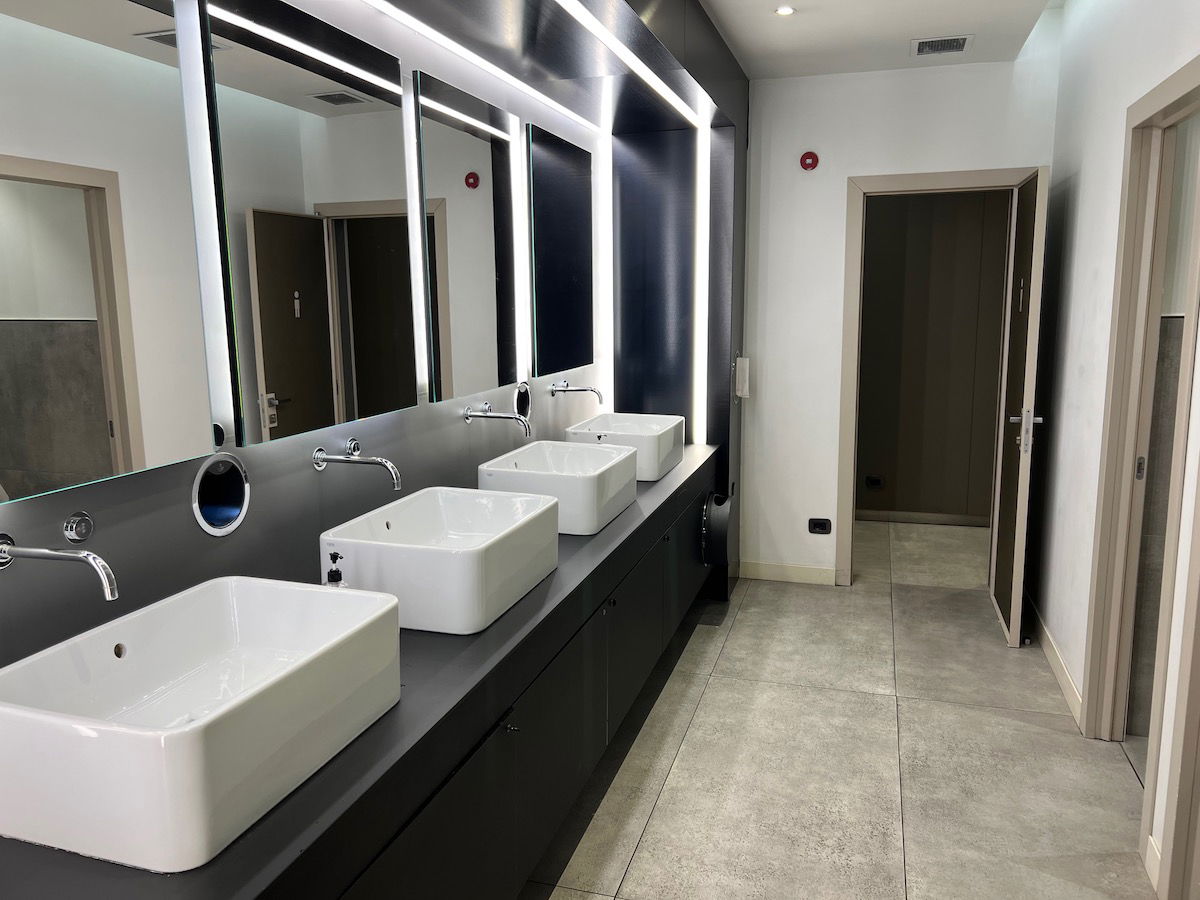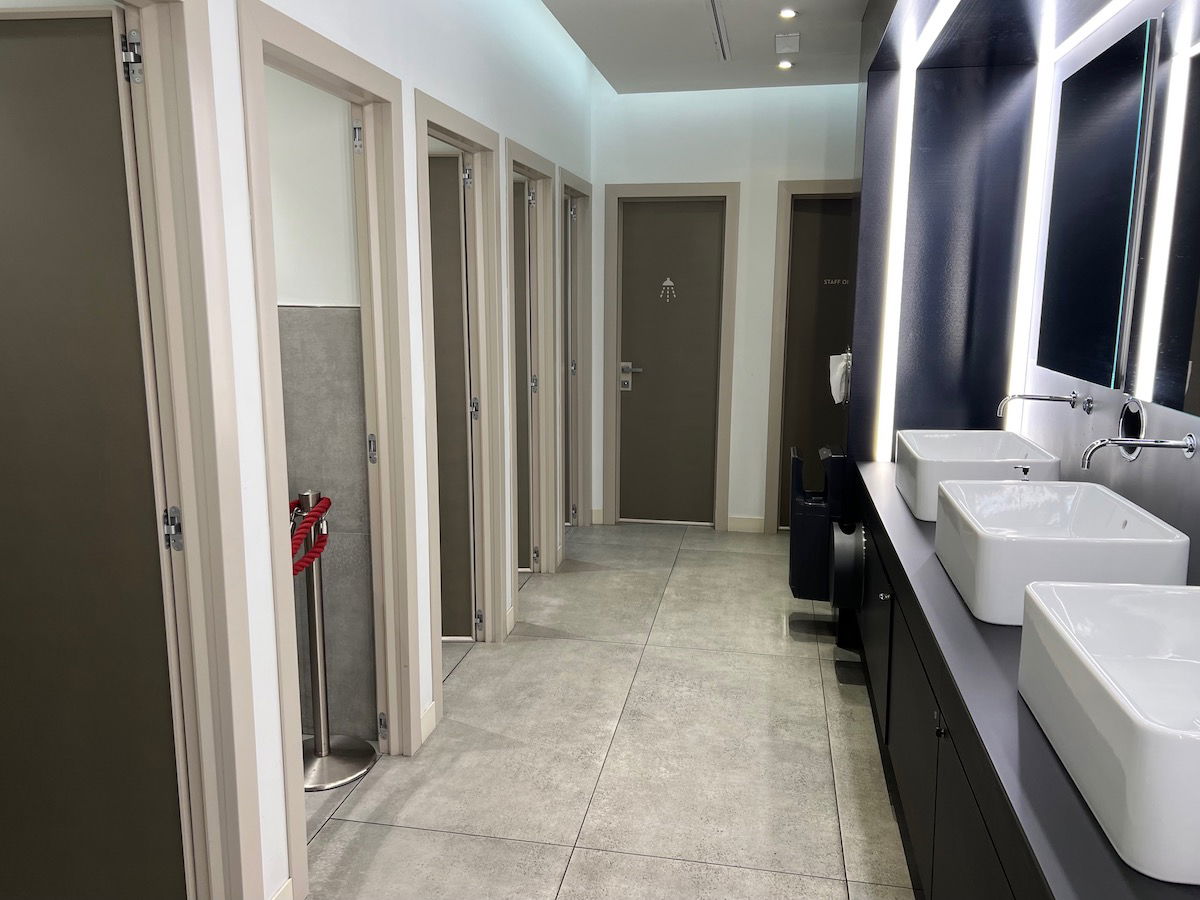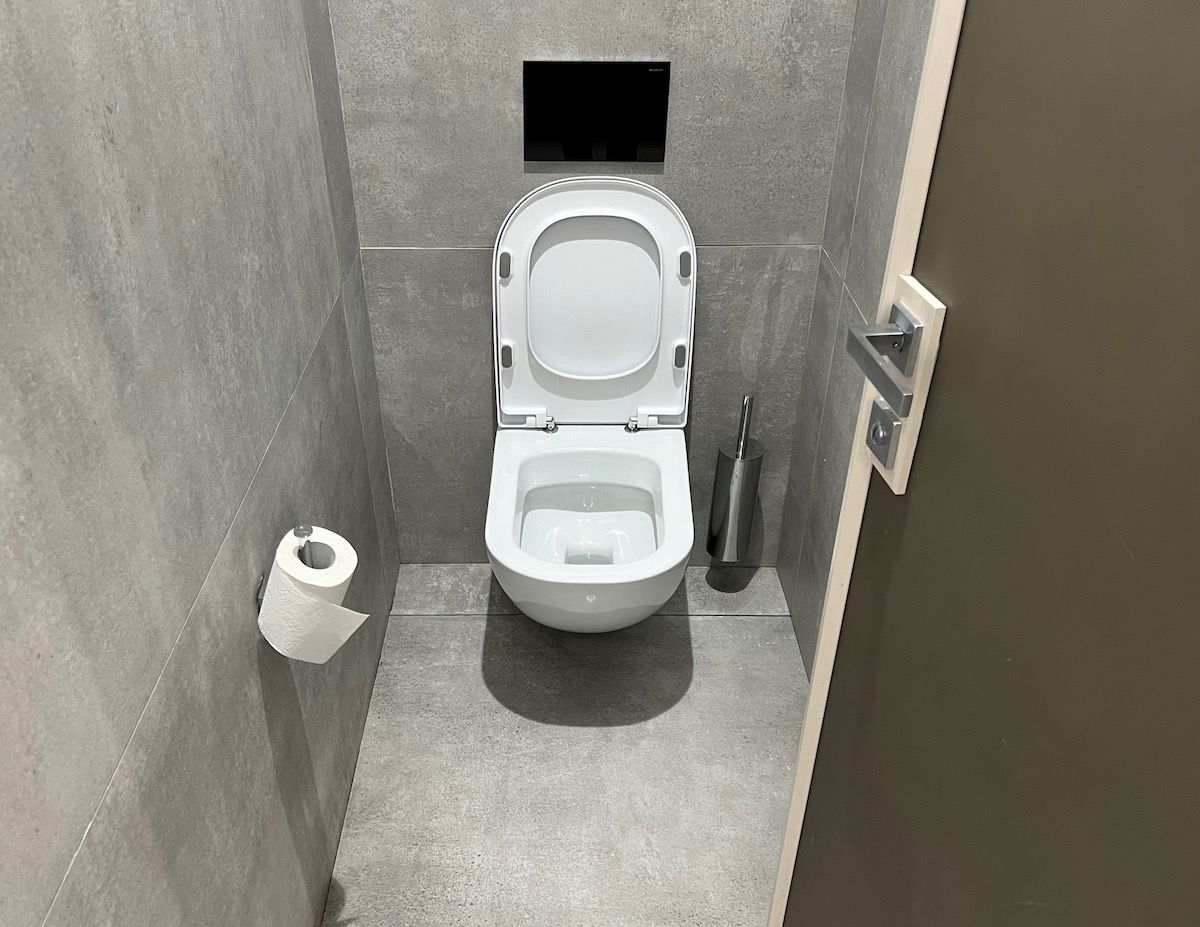 While there was a room in the back that had a shower logo on it, I asked about this at the front desk, and was informed that it's not available. It wasn't just that it was occupied, but it seems that showers aren't being offered right now. That's pretty disappointing for the flagship lounge of an airline that's selling long haul travel (some people might fly from the United States to India via Rome, for example).
Bottom line
The ITA Airways Lounge Rome is pleasant, with comfortable seating, phenomenal food, and a good selection of drinks served by a bartender. While the lounge's furniture is quite nice, I do wish there would be a bit more variety in terms of the seating options, like workstations, rest areas, etc. Furthermore, it would be nice if there were functioning showers.
Given the excellent Plaza Premium Lounge in the same terminal, I'd probably visit the ITA Airways Lounge to eat, and then the Plaza Premium Lounge to shower, relax, and drink coffee.
What do you make of the ITA Airways Lounge Rome?