During my time at Paris Charles de Gaulle Airport, I decided to check out the sole Priority Pass lounge in Terminal 2, prior to visiting the Air France Lounge. Specifically, I'm talking about the lounge at the YOTELAIR CDG Terminal 2E.
I'm a big fan of the YOTEL concept (I've reviewed the YOTELAIR Changi Airport), as these are essentially hotels (largely in airports) with very small rooms that you can rent in short blocks of time. But in addition to the 80 rooms at this hotel (which are referred to as "cabins"), the YOTELAIR at Paris Airport also has a lounge for Priority Pass members.
Okay, I have to give YOTEL credit for thinking outside the box — the company is basically monetizing its lobby, offering some seats and a small selection of light snacks and drinks to members. It's better than nothing, but that's about it.
YOTELAIR Paris Lounge location
YOTELAIR is located in Terminal 2E of Charles de Gaulle Airport, specifically at the "L" gates. Understanding the layout of Terminal 2E can be complicated, so let me explain:
Terminal 2E consists of gates K, L, and M, each of which is in a separate pier; there's a train connecting all three piers
Each of the piers has its own security checkpoint once you get off the train; the YOTELAIR is located near gates 2L, though it's before security
This means you can access YOTELAIR regardless of which gates you leave from in Terminal 2E; you'll just need to leave enough time to once again take the train to the concourse that has the gate you're departing from
However, you can't access YOTELAIR if you're departing from a terminal other than 2E
Once you clear passport control in Terminal 2E, just follow the signage in the direction of gates L and M.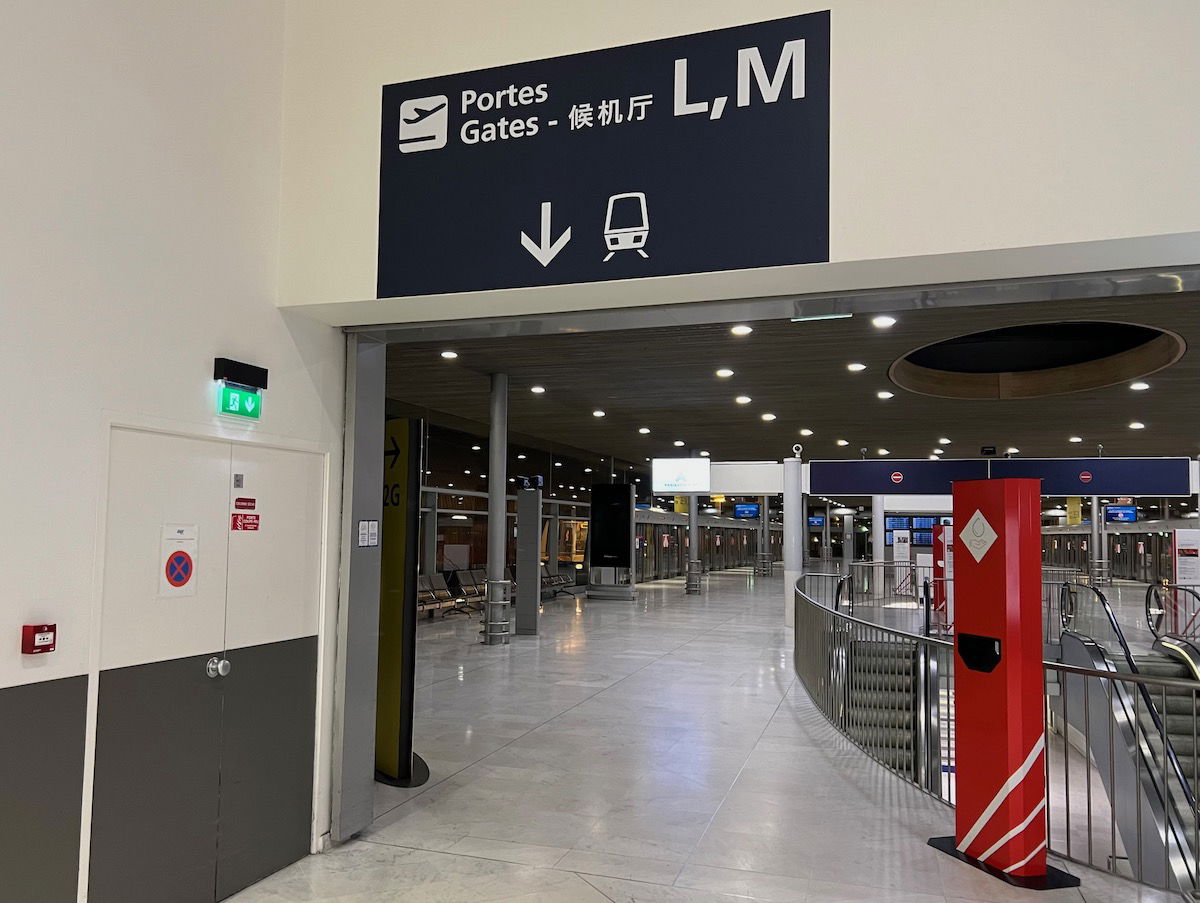 You'll then need to take the train one stop, to the L gates.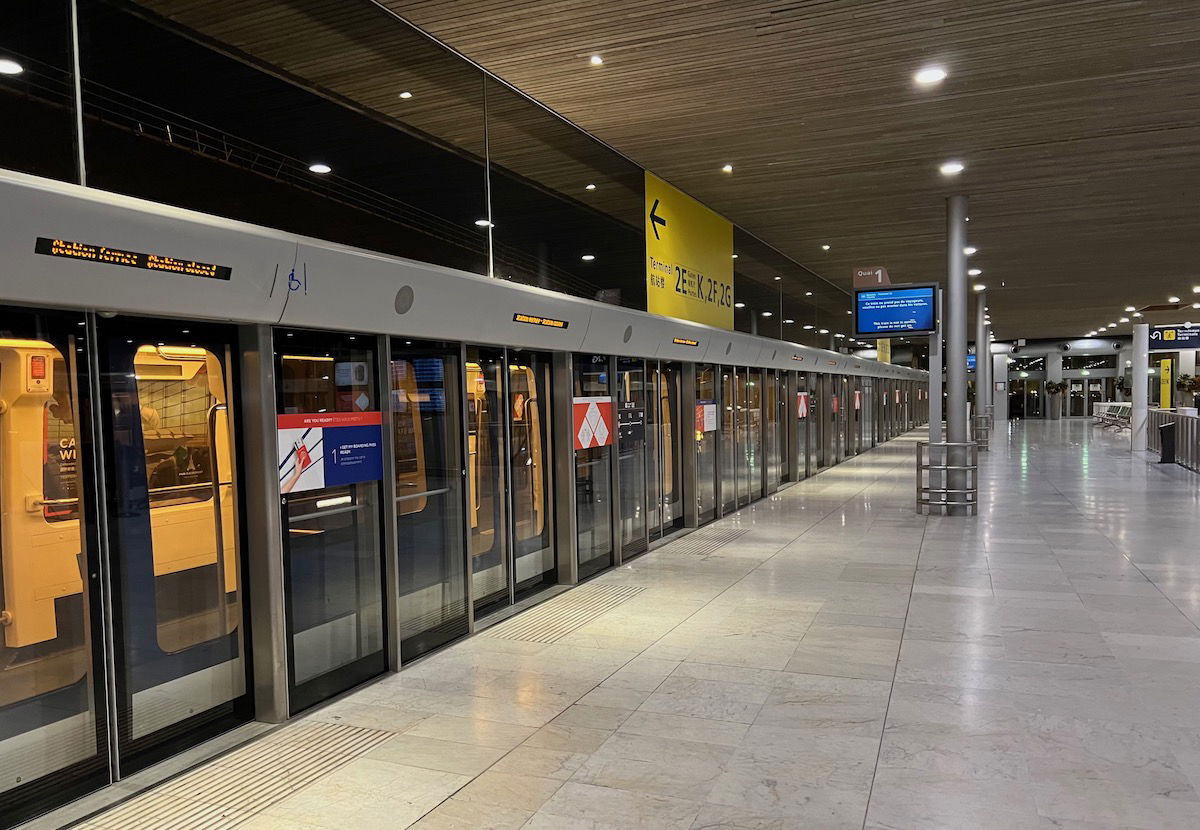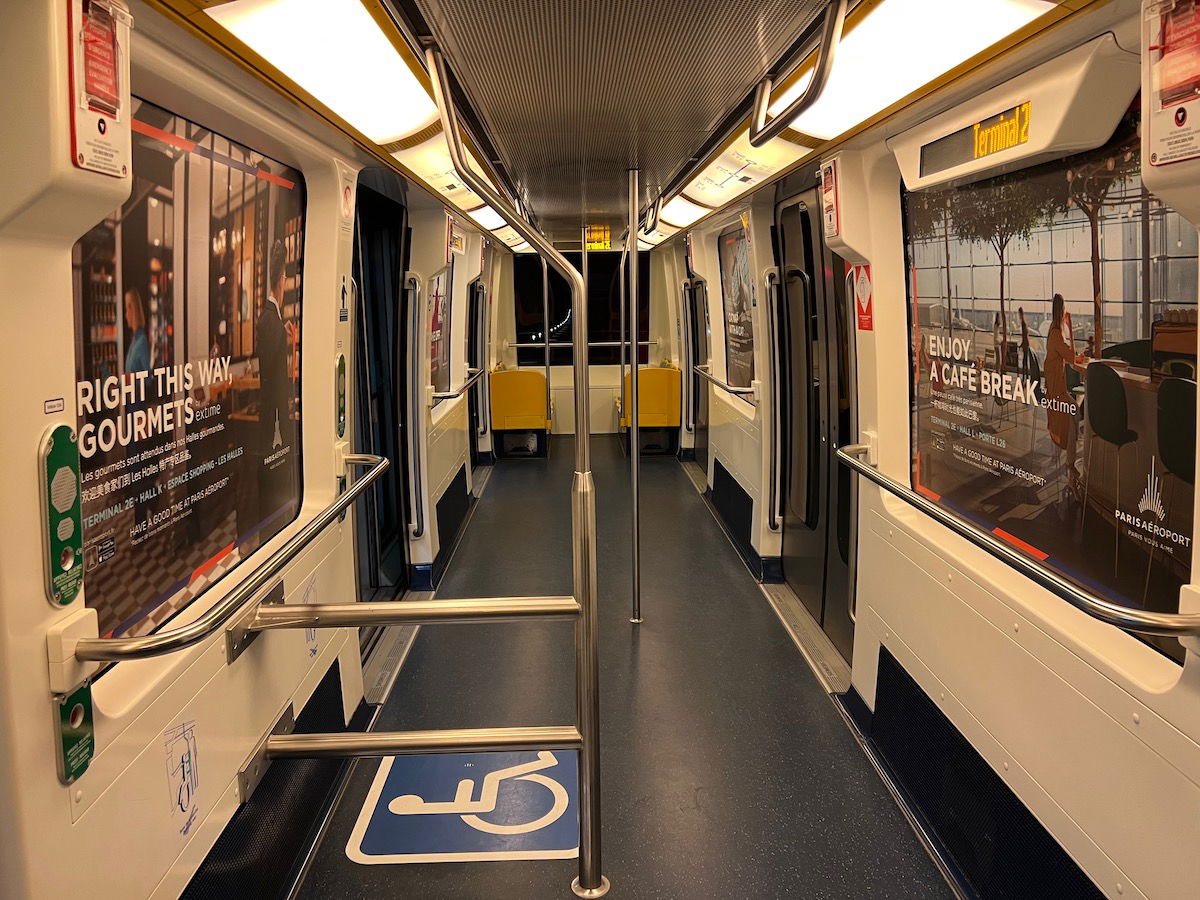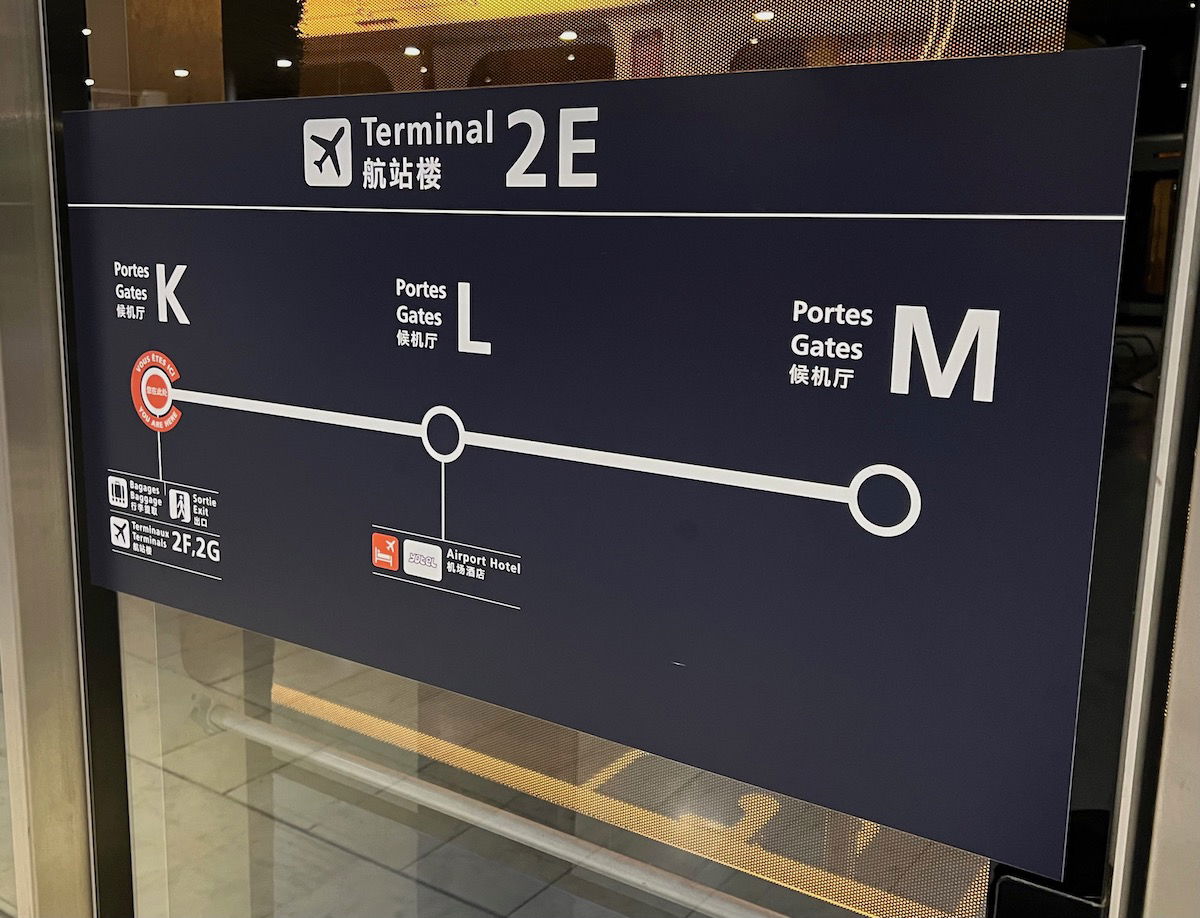 Once you get off the train at the L gates, you'll have to go up the escalators, and follow the signage in the direction of the airport hotel.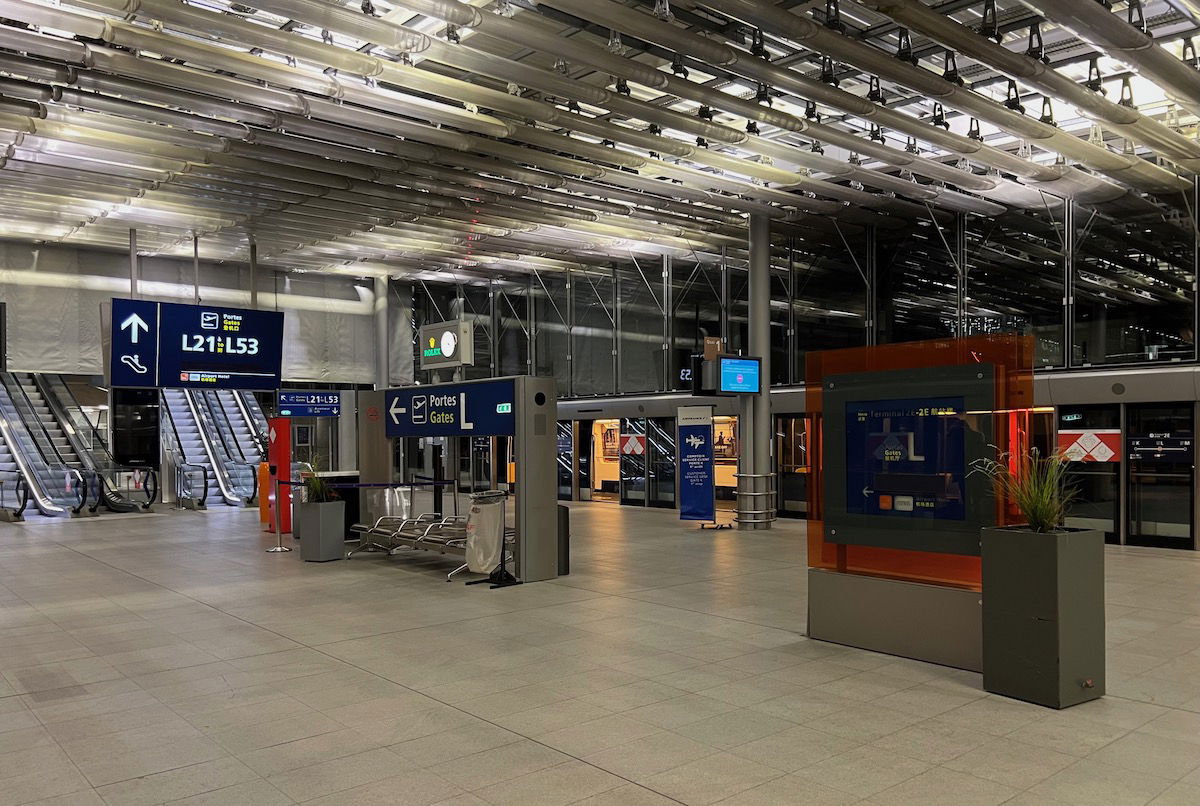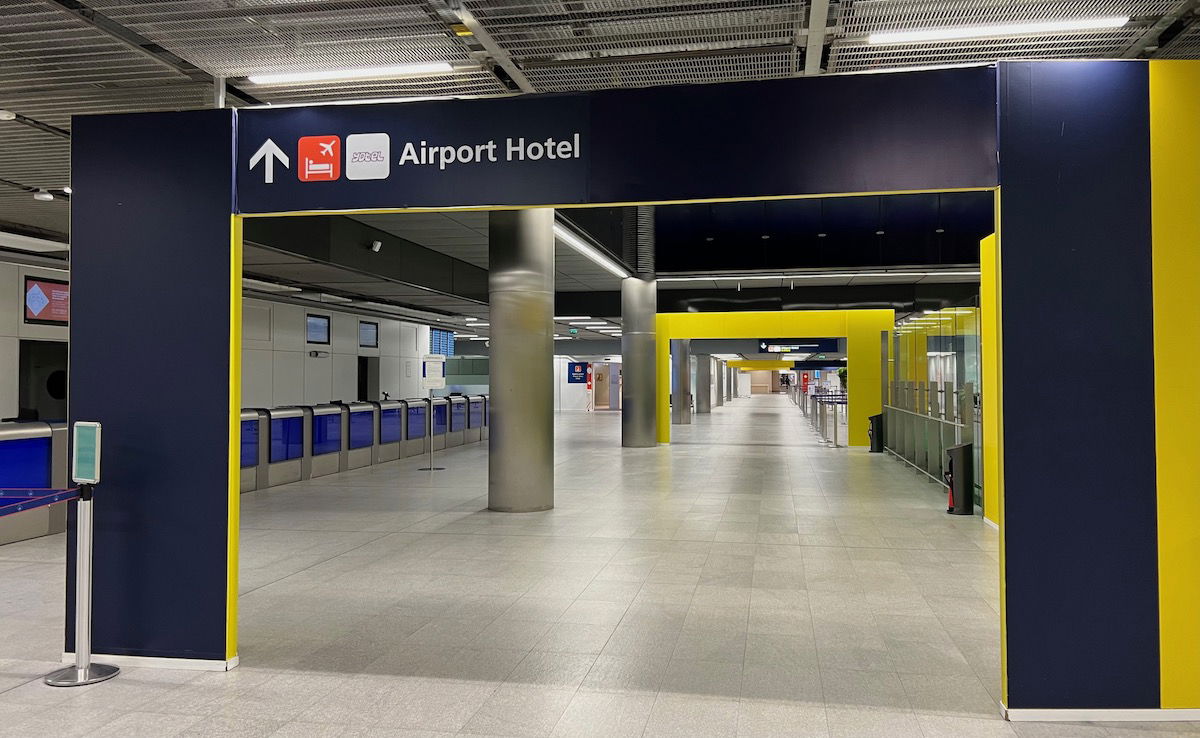 You have to walk to the very end of the concourse (without passing through security). You'll see a very long hallway, and then YOTELAIR is at the very end of it.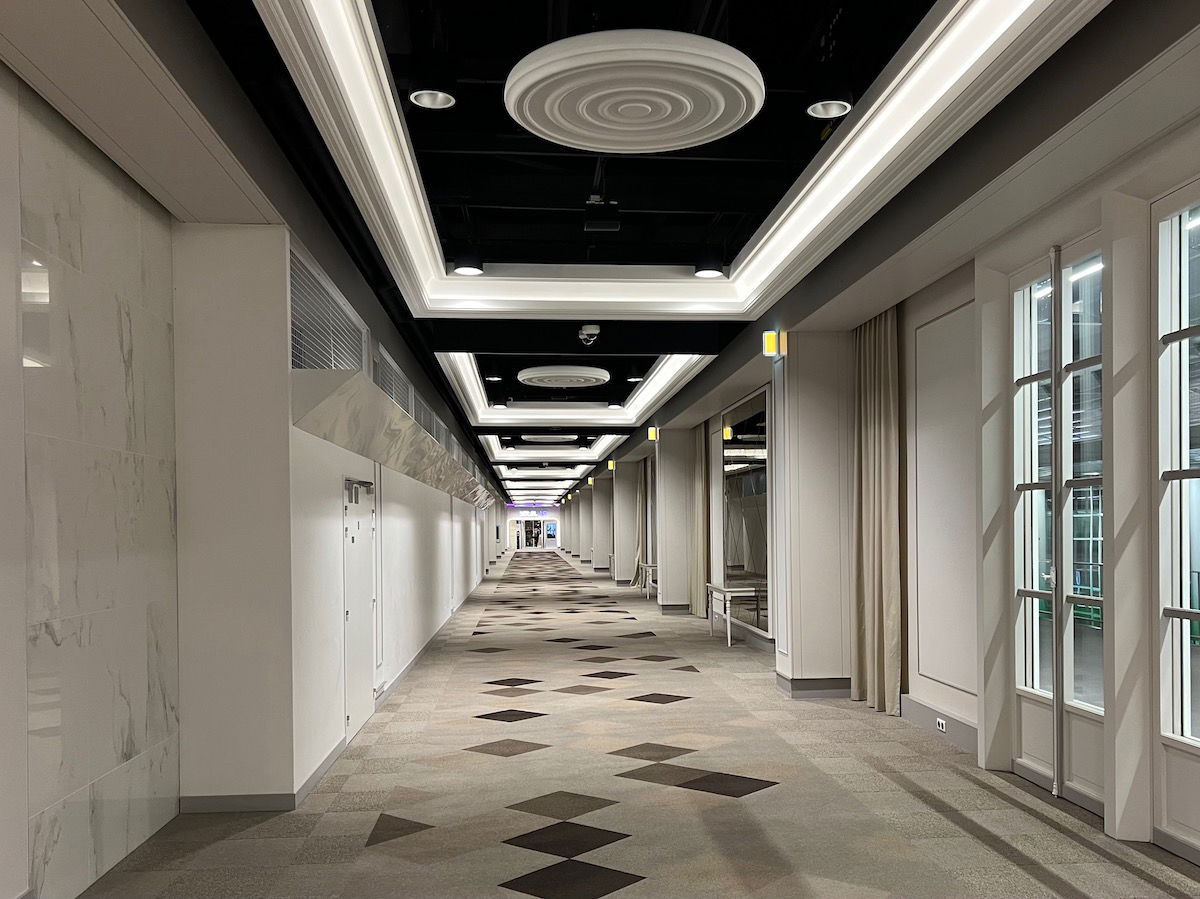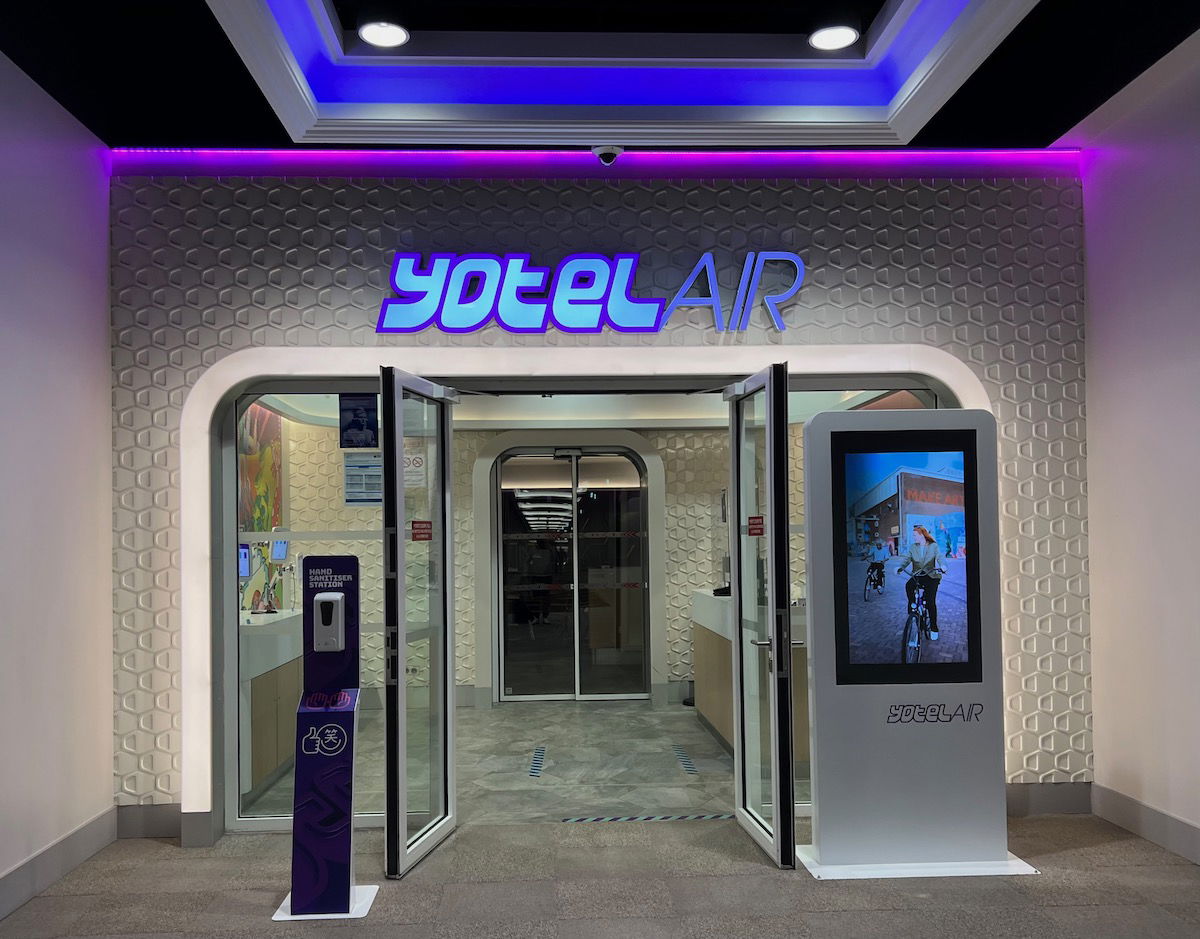 YOTELAIR Paris Lounge hours
YOTELAIR is open 24/7, as you'd expect for a hotel inside a terminal. Note, however, that the train between concourses has very limited operations during the night, should you be arriving very early.
YOTELAIR Paris Lounge entry requirements
The YOTELAIR Paris Lounge is open to Priority Pass members, and that membership comes with many premium credit cards. Visitors through Priority Pass can stay for up to three hours, and as I'll cover below, there are also limits on how much you can eat and drink.
To enter with Priority Pass, just go to the front desk at YOTELAIR (referred to as "Mission Control"), where your card will be scanned, and boarding pass will be verified.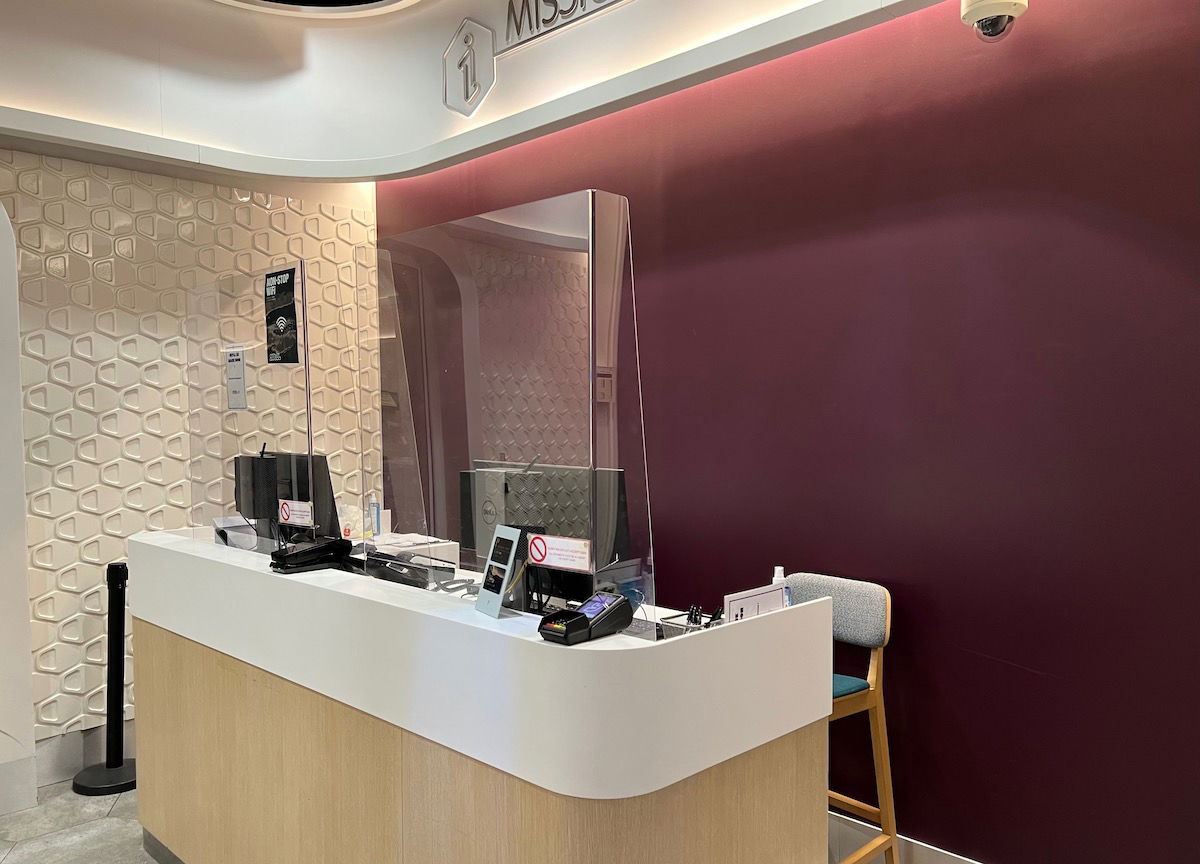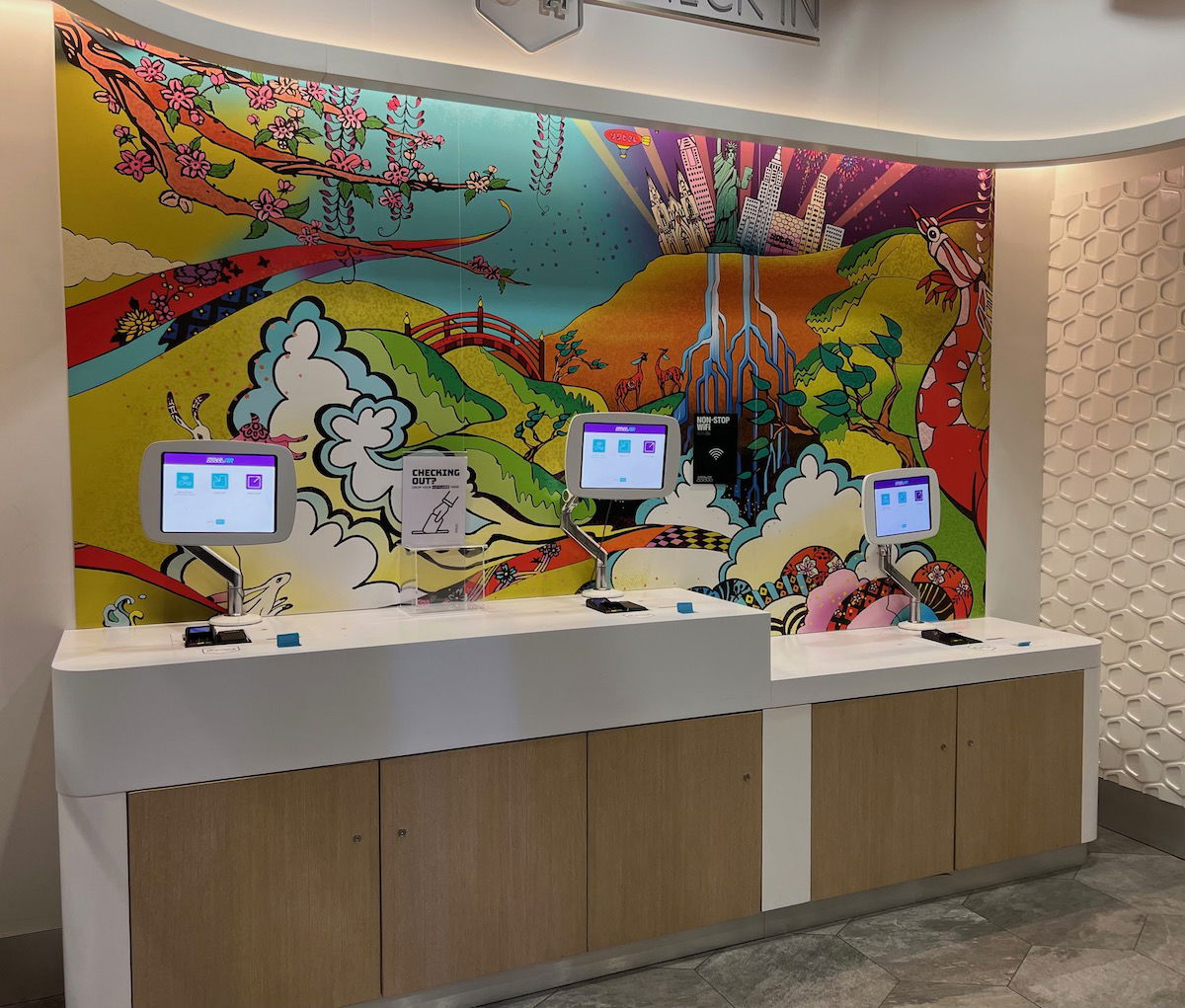 YOTELAIR Paris Lounge seating & layout
Like I said, YOTELAIR is essentially monetizing its lobby seating by being part of Priority Pass. When you enter the YOTELAIR facility, there's a large room with plenty of seating, which is what the lounge is.
There are a variety of chairs with small coffee tables, some communal tables, some counters with high-top seating, and some tables with four high-top chairs.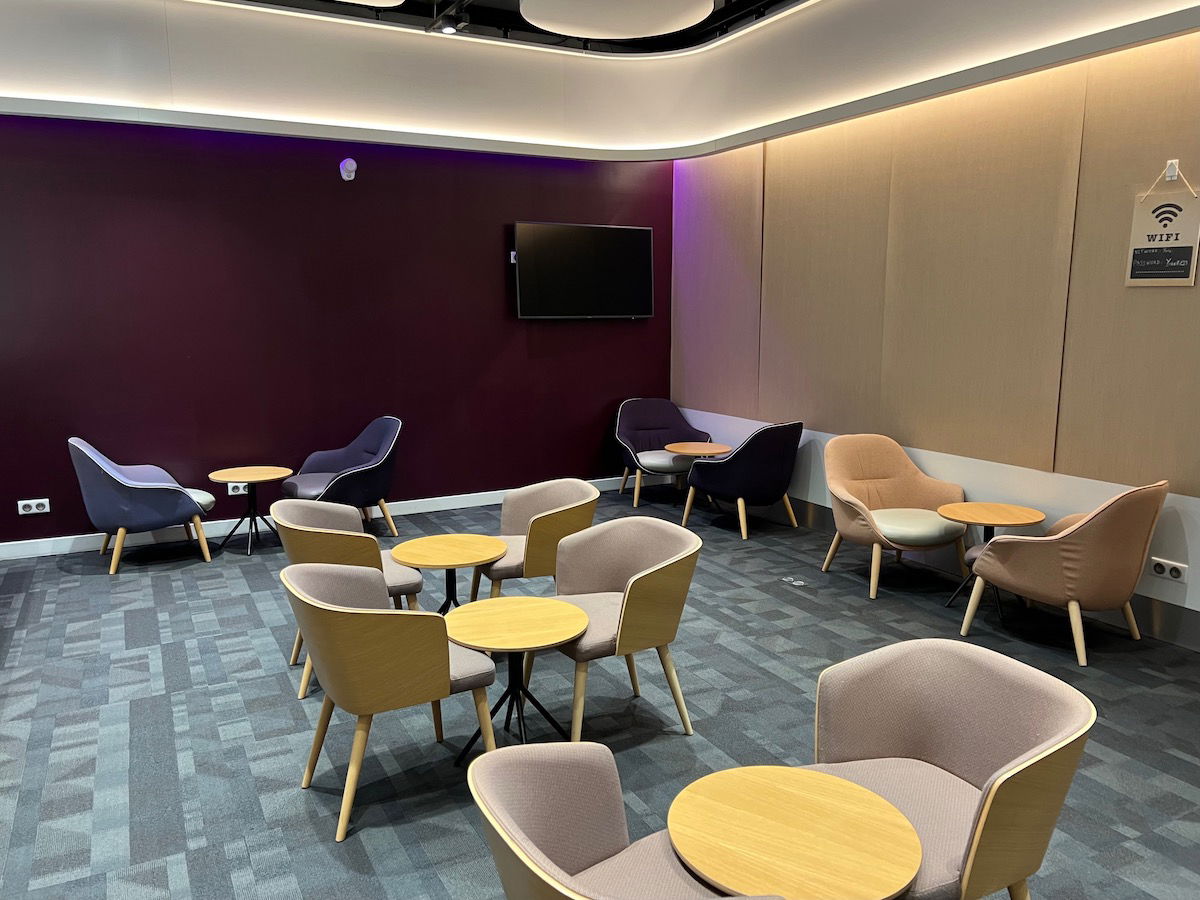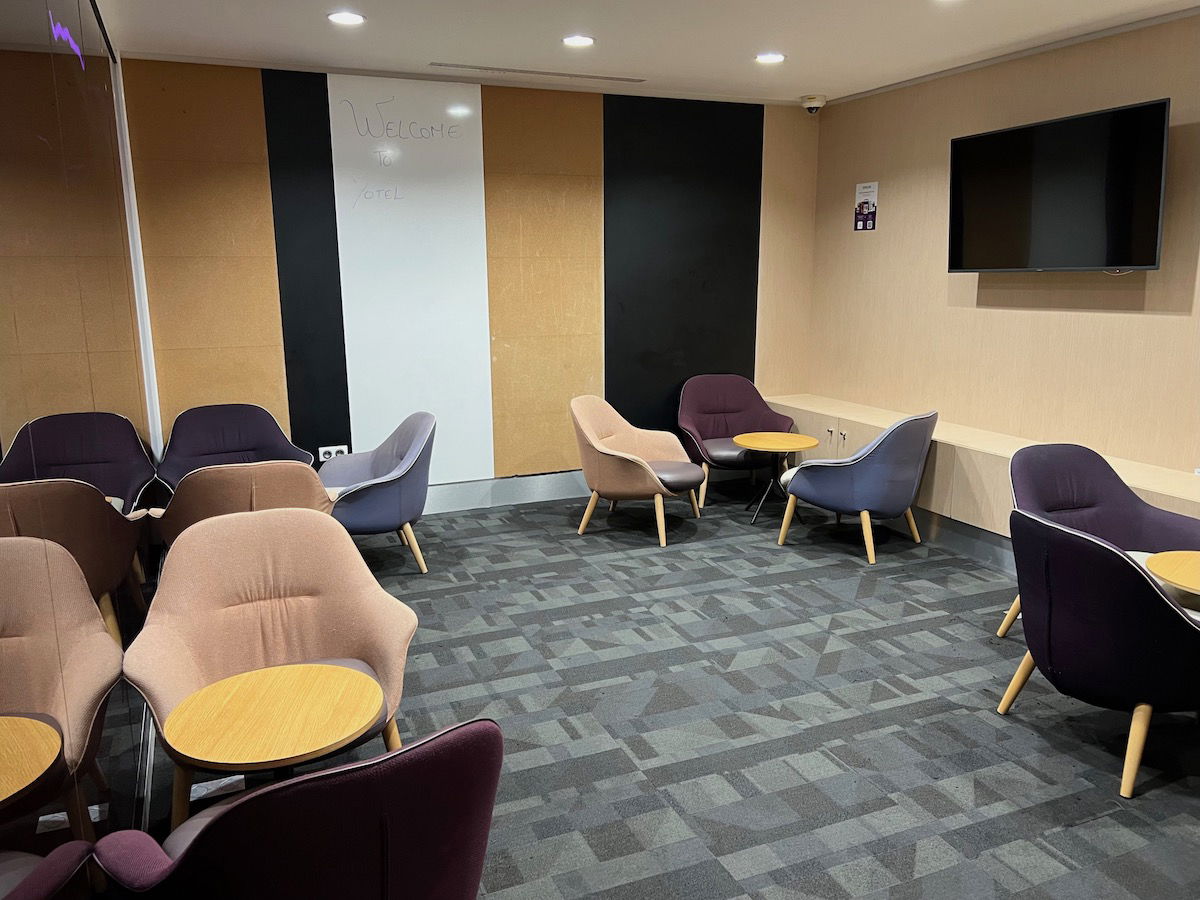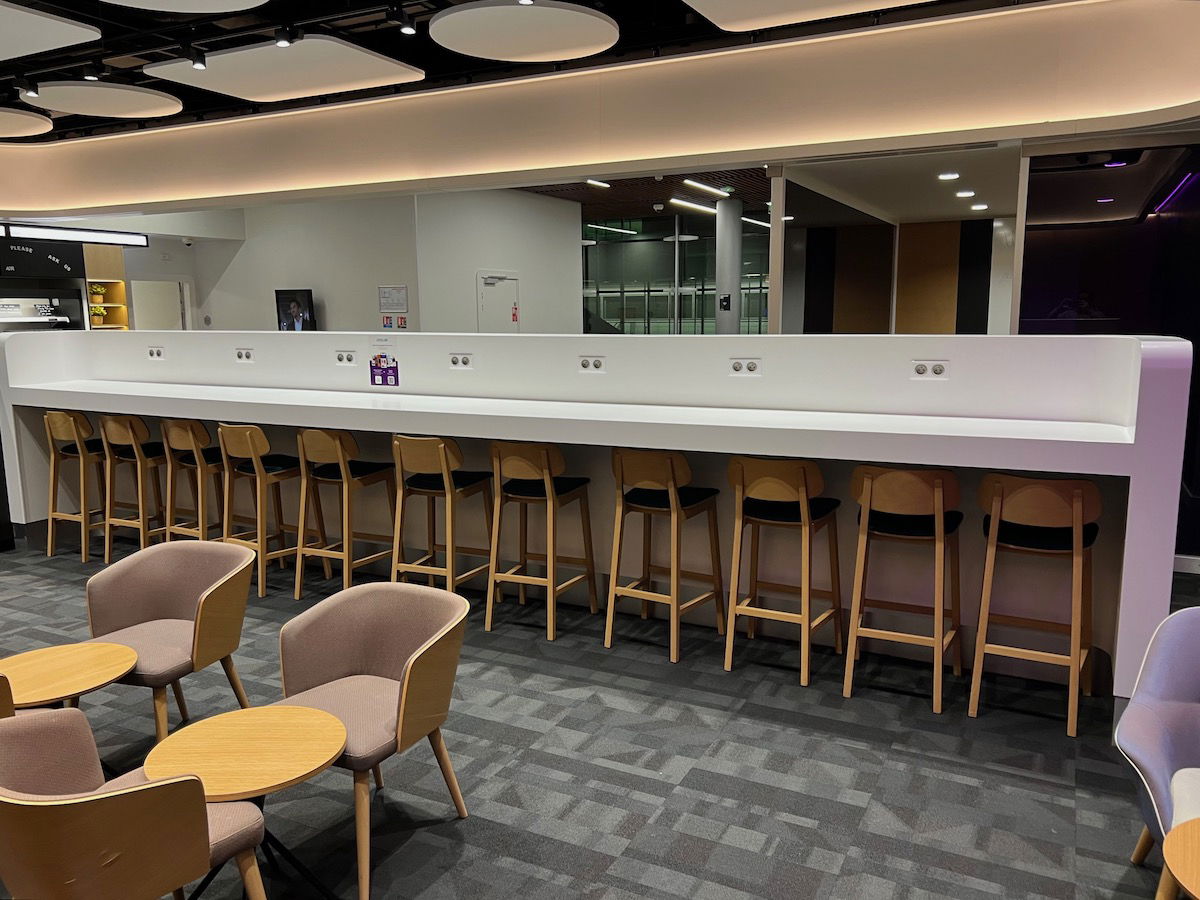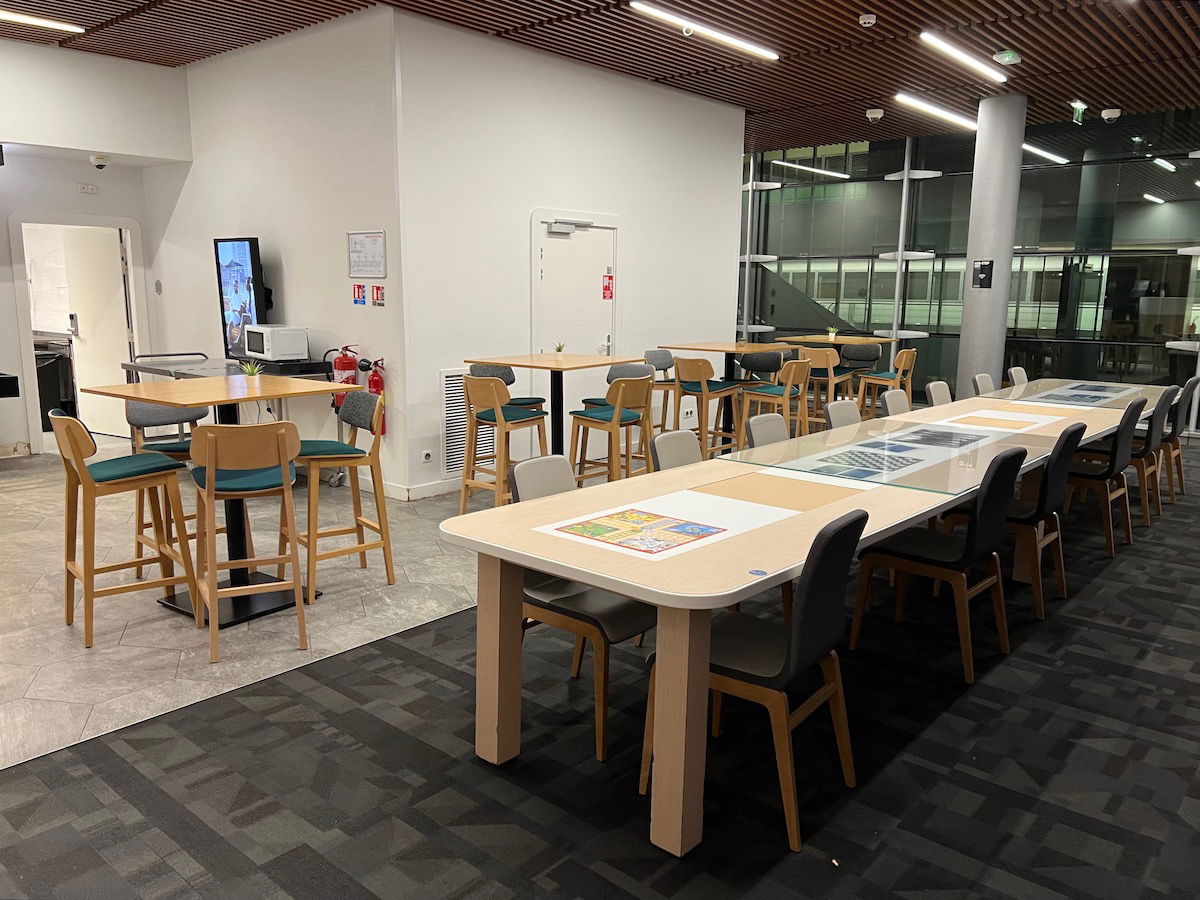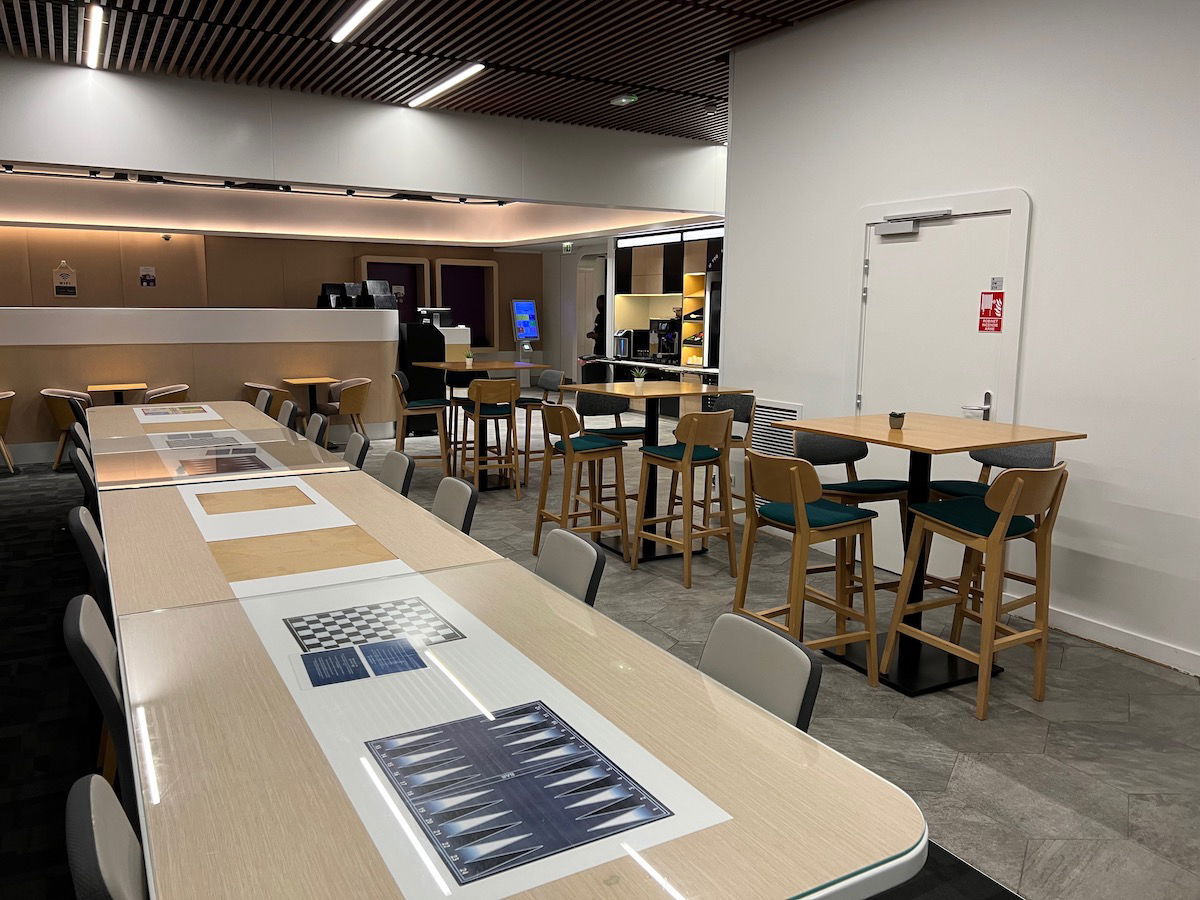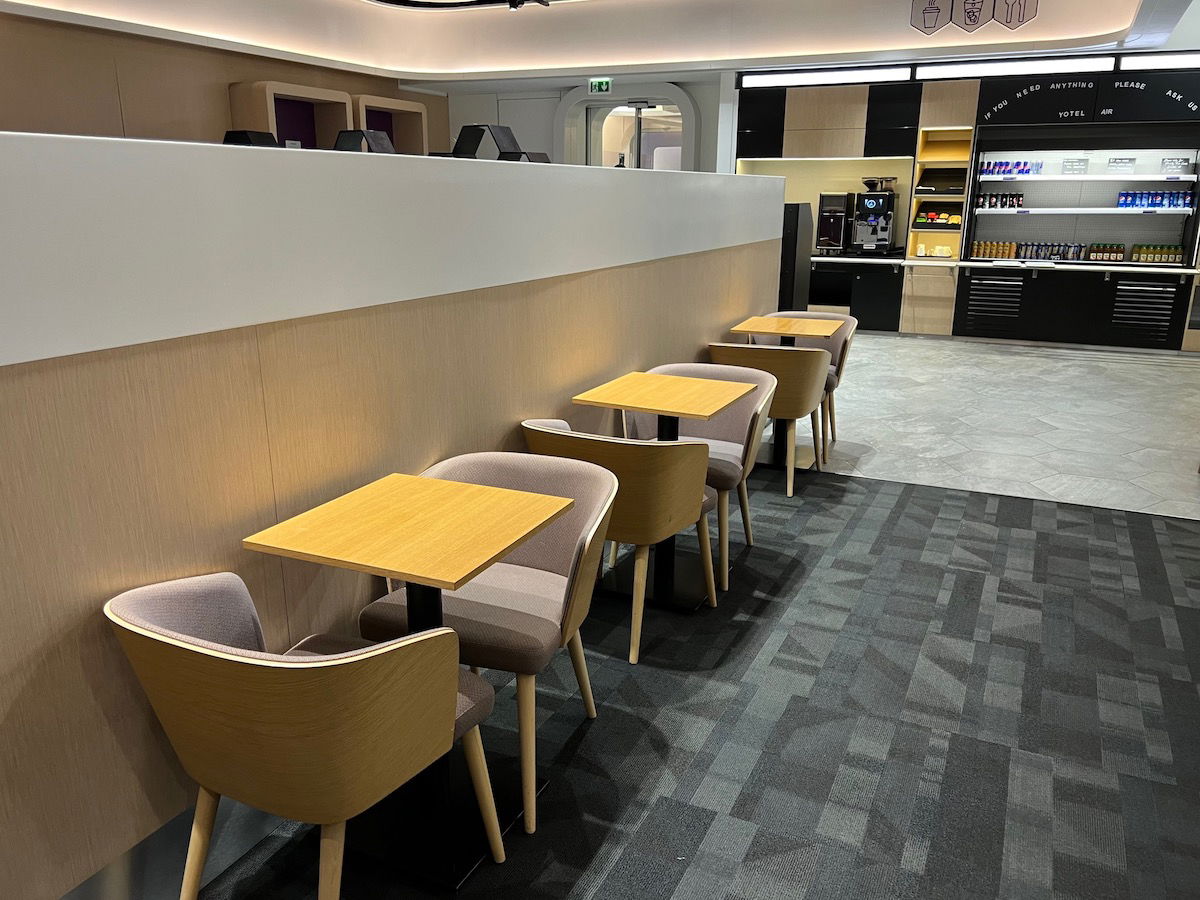 What you see above is the extent of the lounge. There's not much in the way of views, though at least it feels pretty fresh and modern. I should mention that I visited at around 5AM, so it was still empty. However, as you'd expect, it's my understanding that this place can get really busy during peak hours, given that it's the only Priority Pass option in the terminal.
The lounge also has fast and free Wi-Fi, and passwords for that are on signs throughout the lounge.
YOTELAIR Paris Lounge food & drinks
Lol, okay, so not only is this Priority Pass lounge essentially a hotel lobby, but there are also limitations on what you can consume. According to Priority Pass' website, each guest gets a €10 allowance that they can use toward food and drinks. The way it's structured is actually a bit different, though.
The lounge has a display with some drinks, a coffee machine, and a water fountain, though there's no food on display.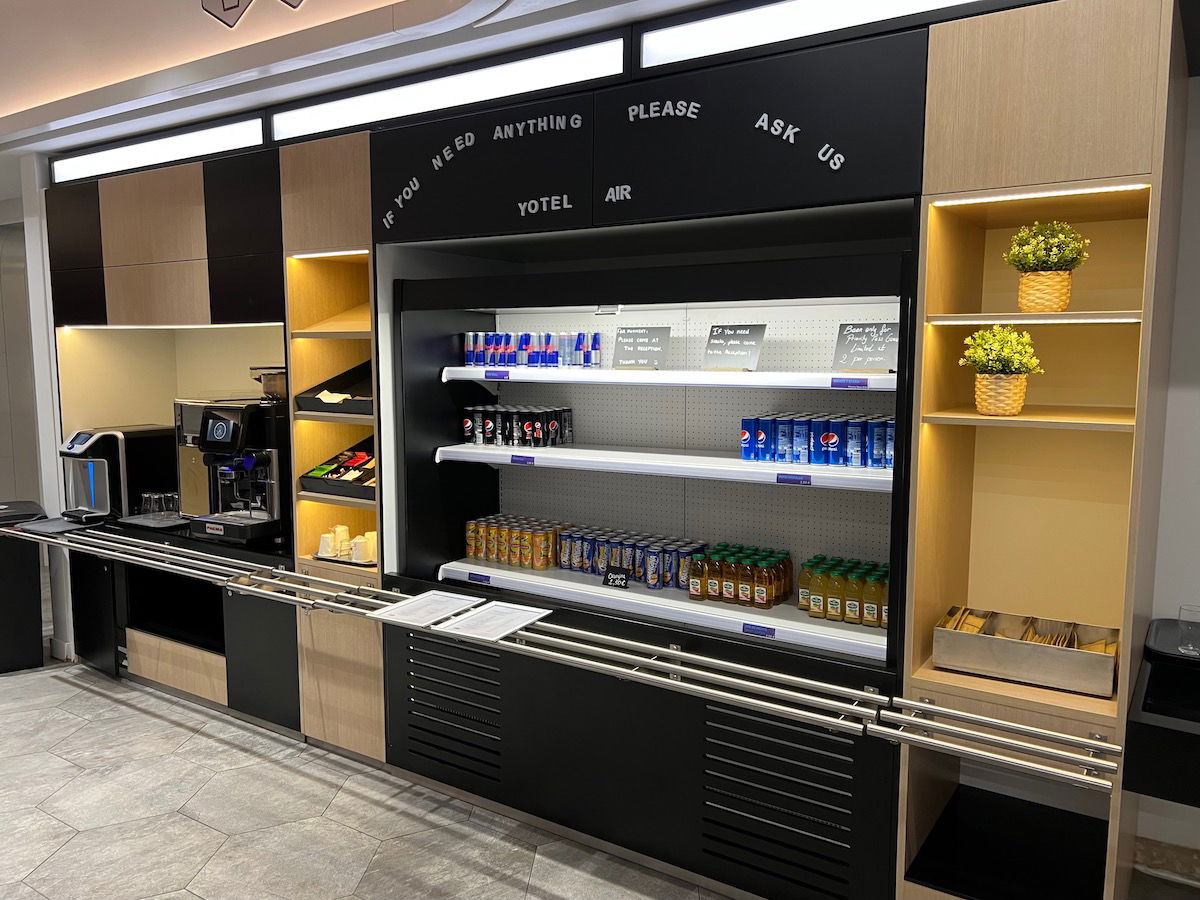 The way it works, you can help yourself to unlimited complimentary water, coffee, and tea.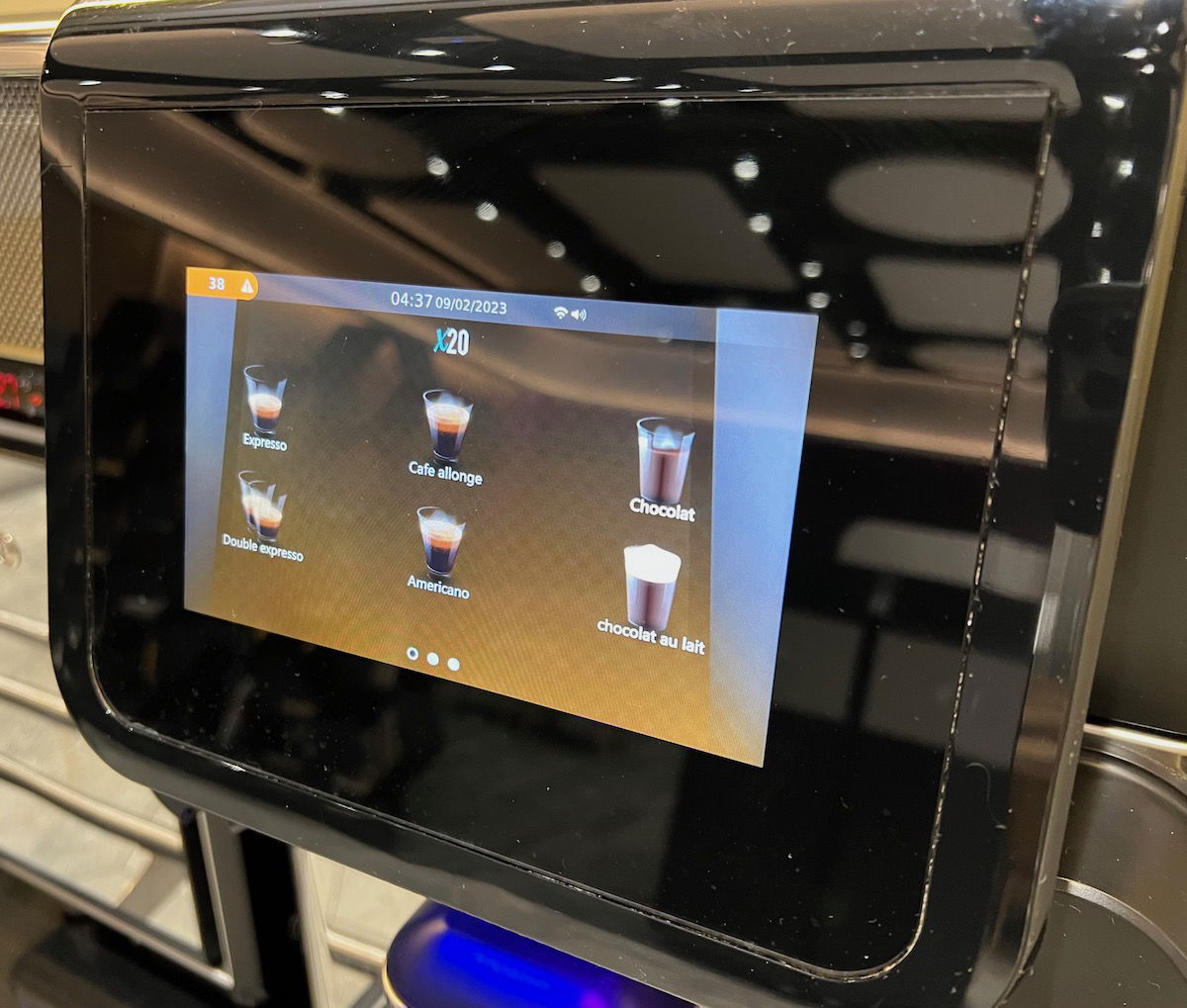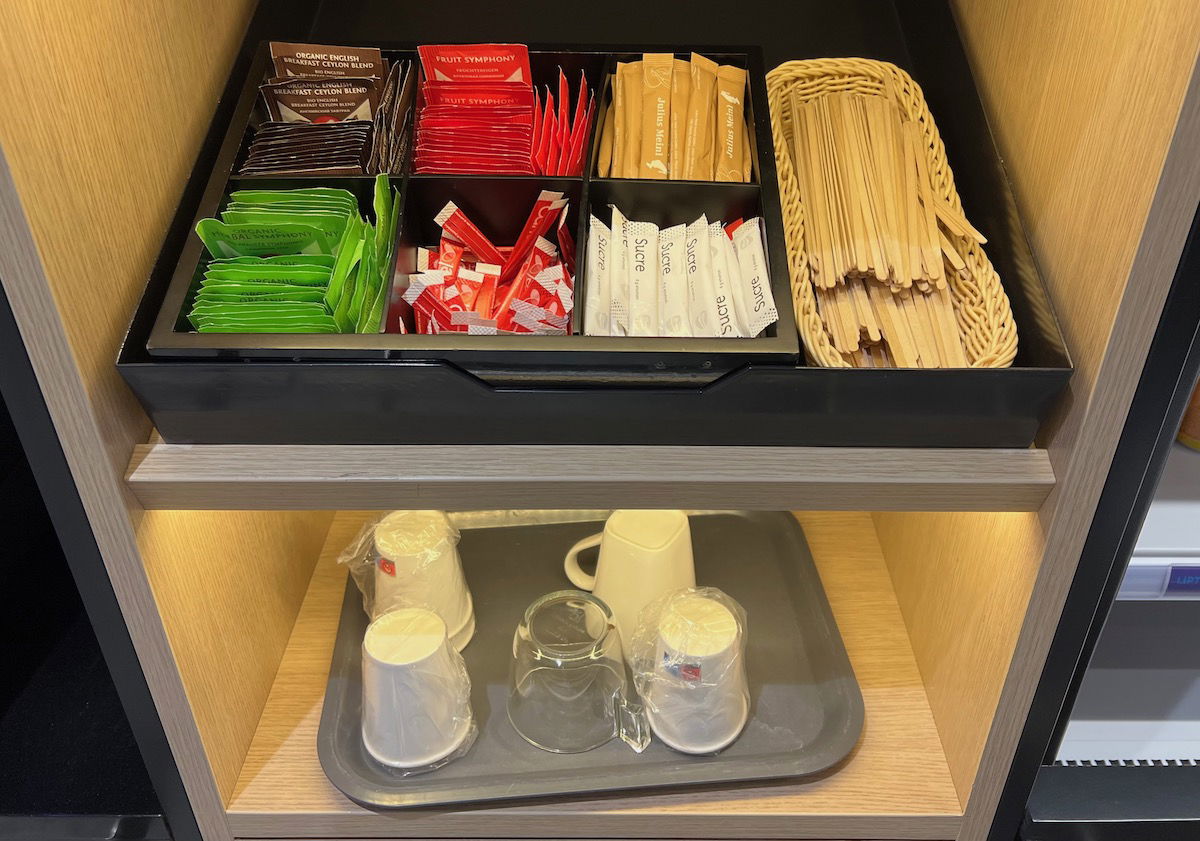 I was shown a menu of snacks with prices, and was told that through Priority Pass, I could select two options. There were also drinks available, and I was told I could select up to two of those.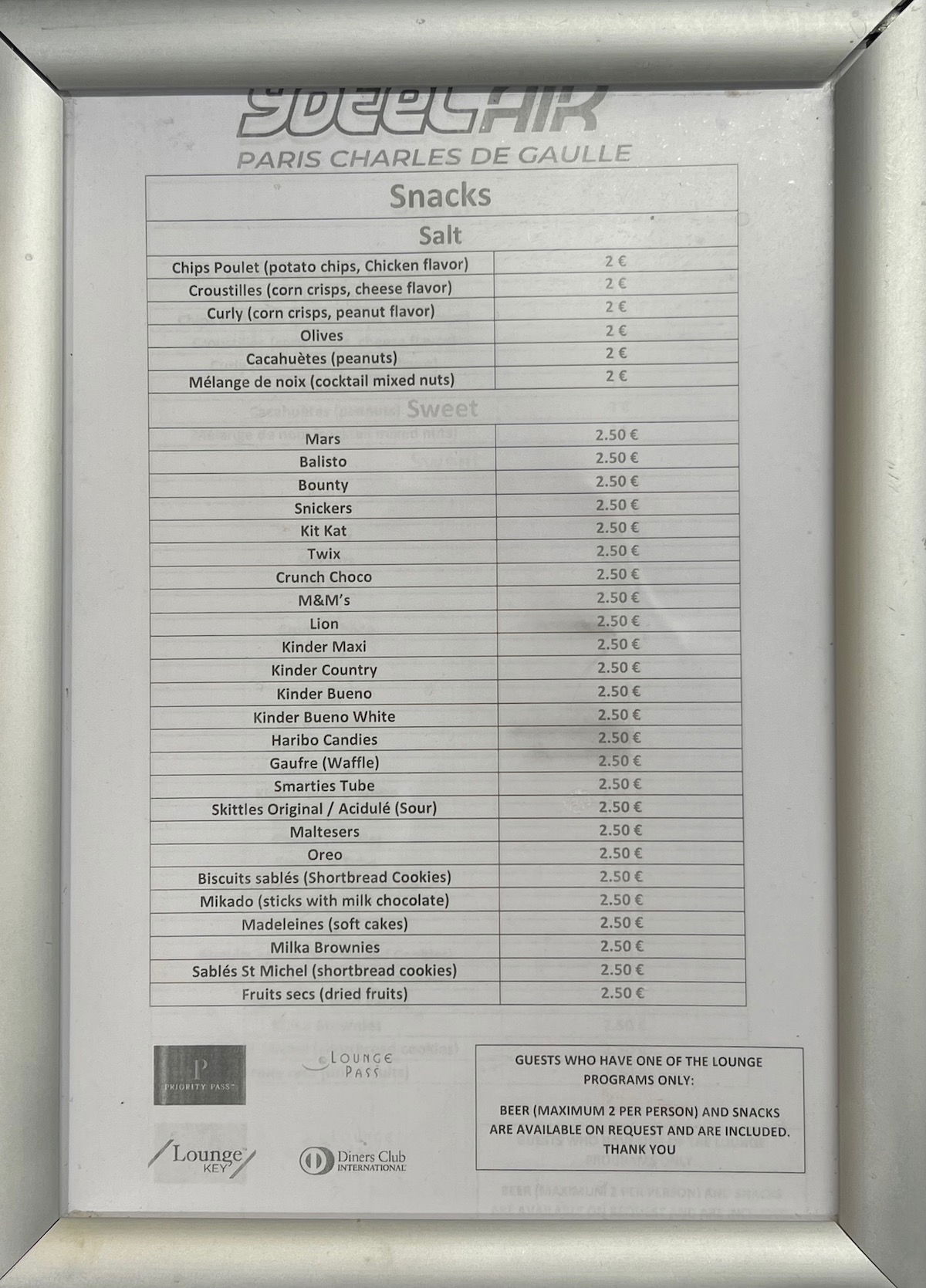 Drinks included soda, Red Bull, juice, or beer.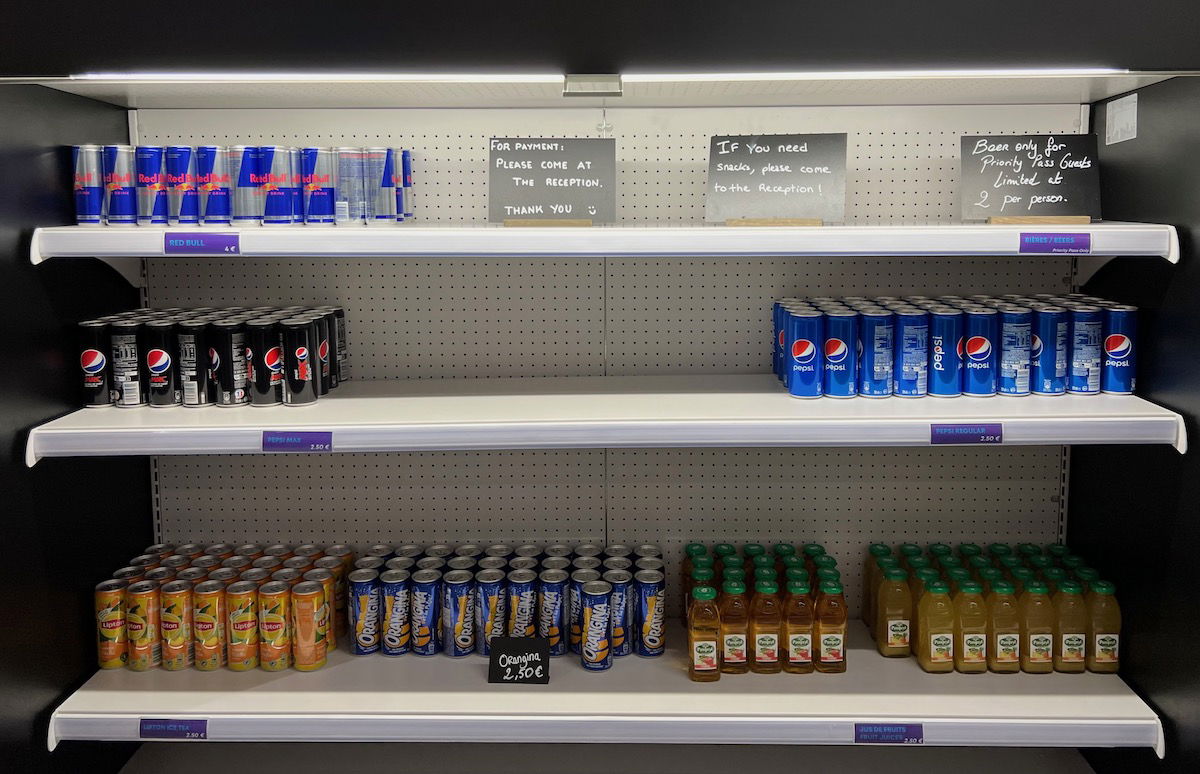 I just had a cappuccino and water to drink.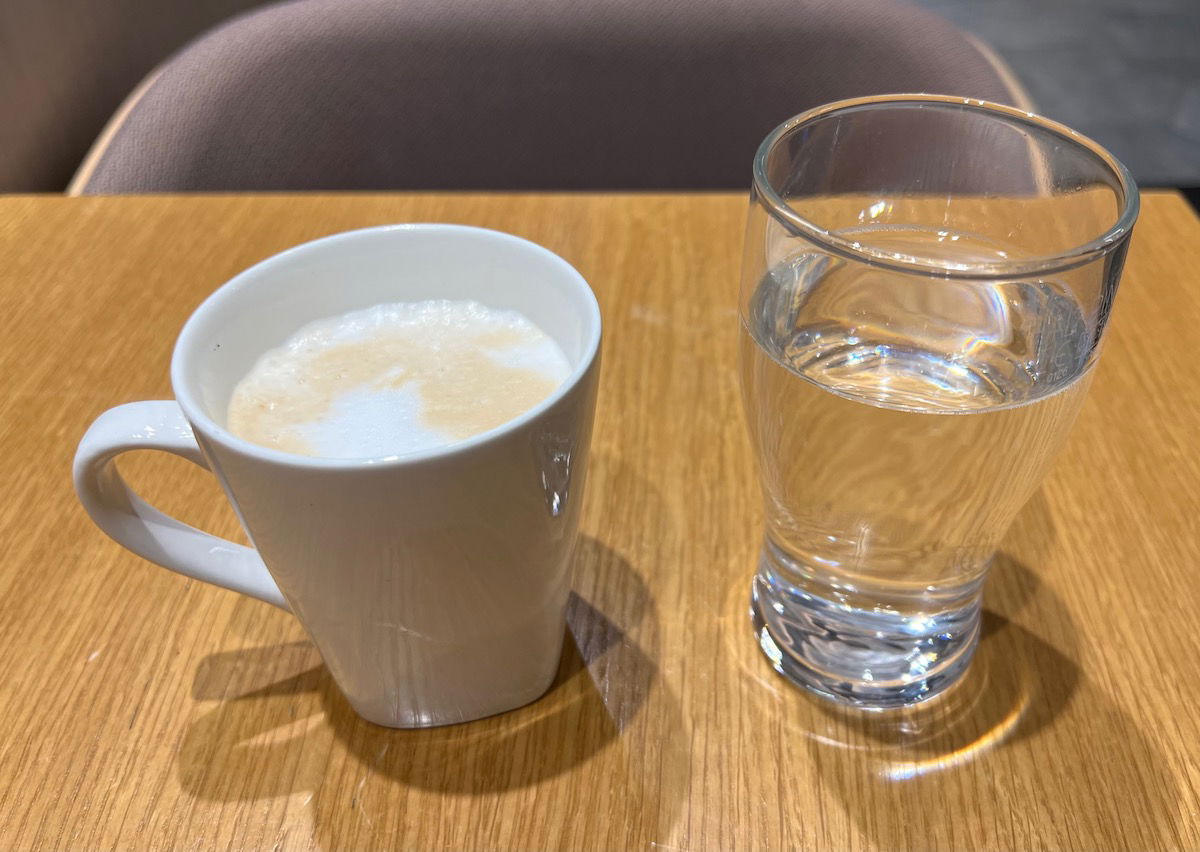 I then ordered the waffle and shortbread cookies, which were brought out of the back room, and served on a tray. Those went right in my bag, and I finally got around to enjoying them a few weeks after the trip. 😉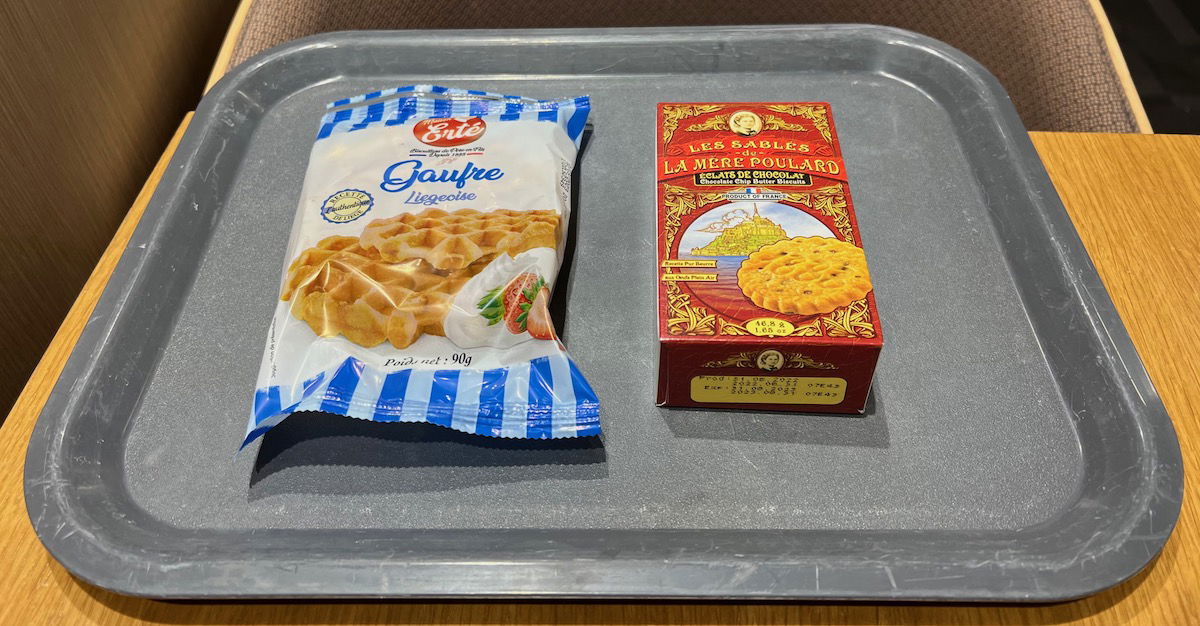 YOTELAIR Paris Lounge bathrooms & showers
YOTELAIR Paris has bathrooms for lounge guests, which were clean and large.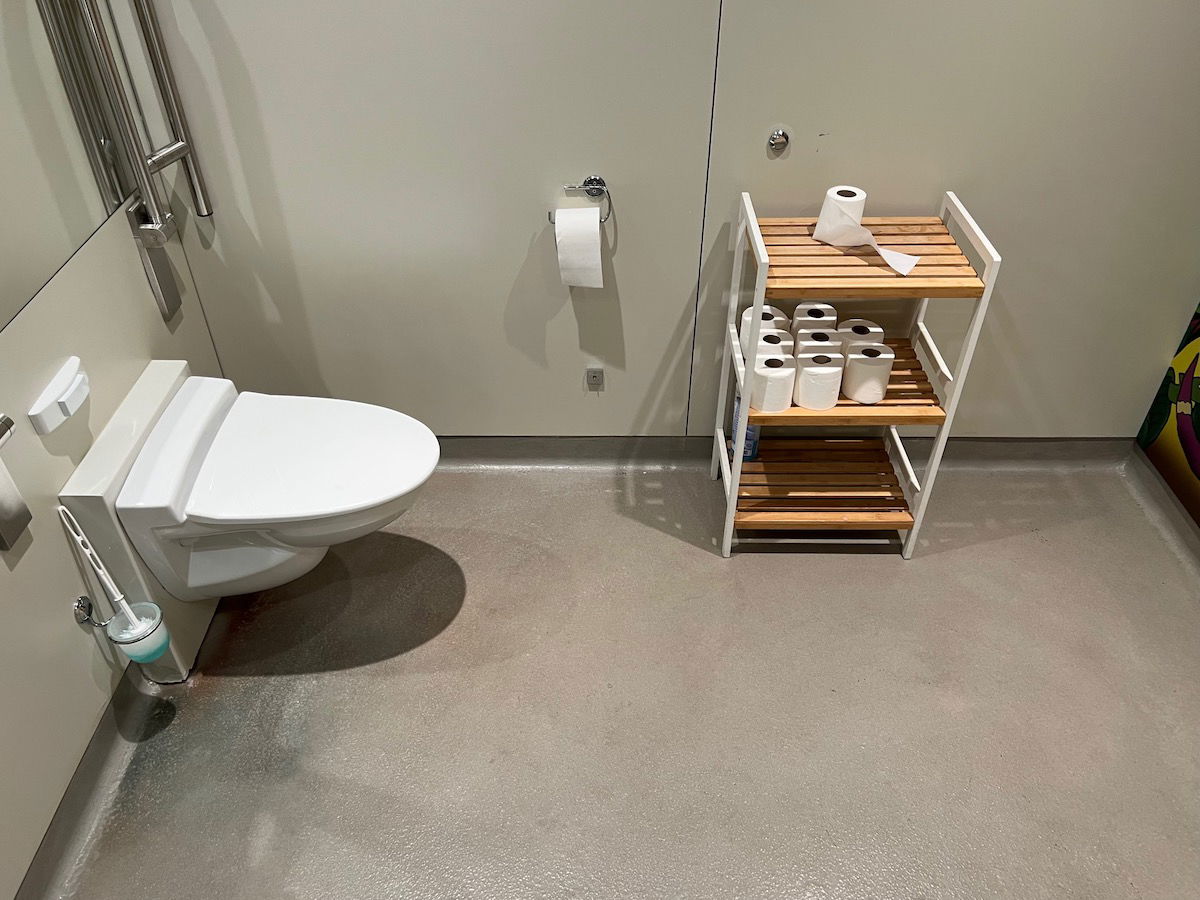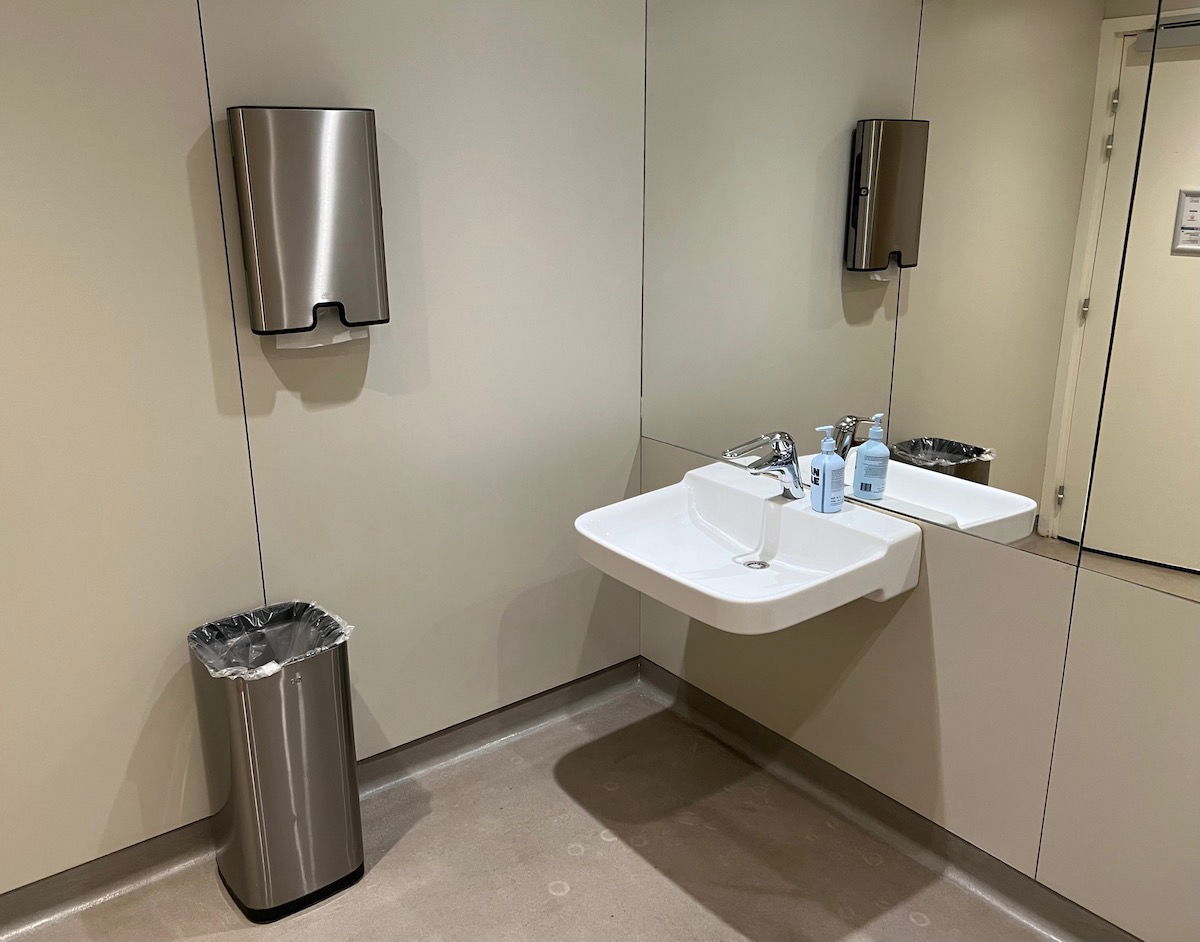 I was also told that showers could be used by Priority Pass guests, though they weren't available for the brief time that I was there.
Bottom line
The YOTELAIR Paris Priority Pass lounge is better than nothing, but that's about it. It's the only lounge located in Terminal 2E, so this airside transit hotel has essentially repurposed its lobby as a lounge that can be accessed through partner programs.
It's not just that this is physically an unconventional airport lounge, but it's also unusual in terms of its food & beverage offering. You can get unlimited coffee, tea, and water, though you can only have two snacks and drinks, for a total value of up to €10.
What do you make of the YOTELAIR Paris lounge concept?