To finish off the first portion of my four flights across the Atlantic, I flew ITA Airways' Airbus A320 business class from Rome to Cairo. While the transatlantic ITA Airways A350 flight really impressed me, this flight was a bit less favorable. Now, admittedly short haul flights from Europe are consistently nothing to get excited about, but I found ITA's product to be especially bare bones.
How I booked my ITA Airways business class ticket
While ITA Airways is a member of SkyTeam, unfortunately the airline doesn't offer any reciprocal award redemptions, so you can't redeem partner miles for travel on ITA. As a result, I had to pay cash for my ticket. Fortunately I found a reasonably decent business class fare from Miami to Cairo via Rome. Specifically, I booked the following for $1,436 all-in:
2/06 AZ631 Miami to Rome departing 8:00PM arriving 11:40AM (+1 day)
2/07 AZ894 Rome to Cairo departing 10:10PM arriving 2:25AM (+1 day)
ITA Airways business class lounge & boarding
I spent my extended layover at the ITA Airways Lounge Rome. Fortunately my flight was departing from gate E11, which is the closest gate to the lounge. Boarding was scheduled for 9:35PM, 35 minutes ahead of departure.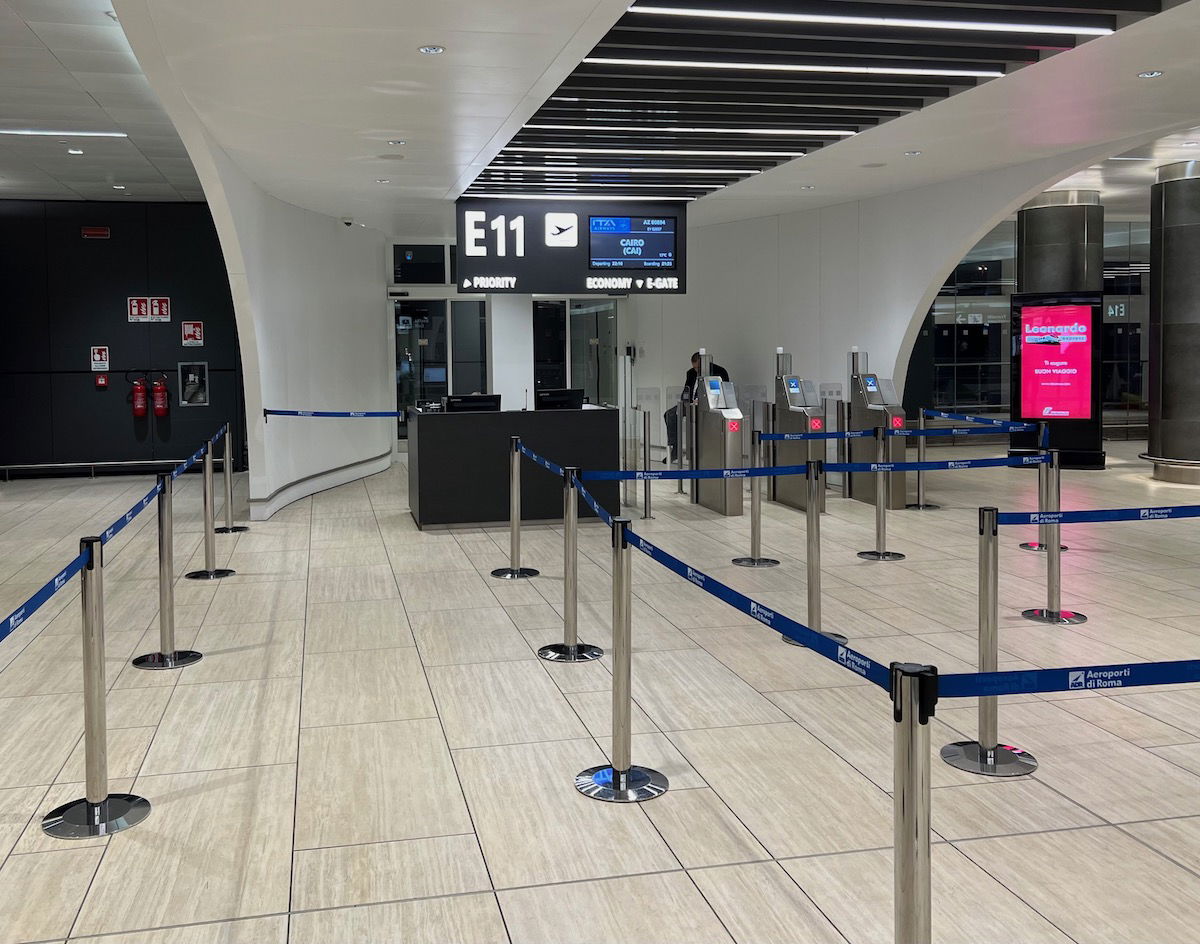 Boarding ended up being rather chaotic. It started at 9:40PM, and then those in wheelchairs were boarded first, followed by those in business class. The issue is that everyone was sent down the jet bridge at the same time, so passengers had to wait in the jet bridge for around 10 minutes while wheelchair boarding was happening (and it was pretty darn cold in the jet bridge!).
ITA Airways A320 business class cabin & seats
For what it's worth, my flight was operated by the Airbus A320 with the registration code EI-IKB, making it a roughly 23-year-old plane that previously flew for Alitalia. As is standard on narrow body jets in Europe, business class simply consisted of economy seats with a blocked middle. The size of the business class cabin can vary with each flight, just by moving the curtain. On this flight there wasn't much business class demand, as there were just six seats.
There was one row on the right side of the plane, and two rows on the left side of the plane (for this configuration, row one is only on the left side of the plane, as the bulkhead on the right side is a bit further back).
It's clear that not much had been done with these cabins in the past decade. While that's bad news when it comes to tech, it's good news in terms of ITA not having the slimline seats (with virtually no padding) that you find on so many airlines nowadays.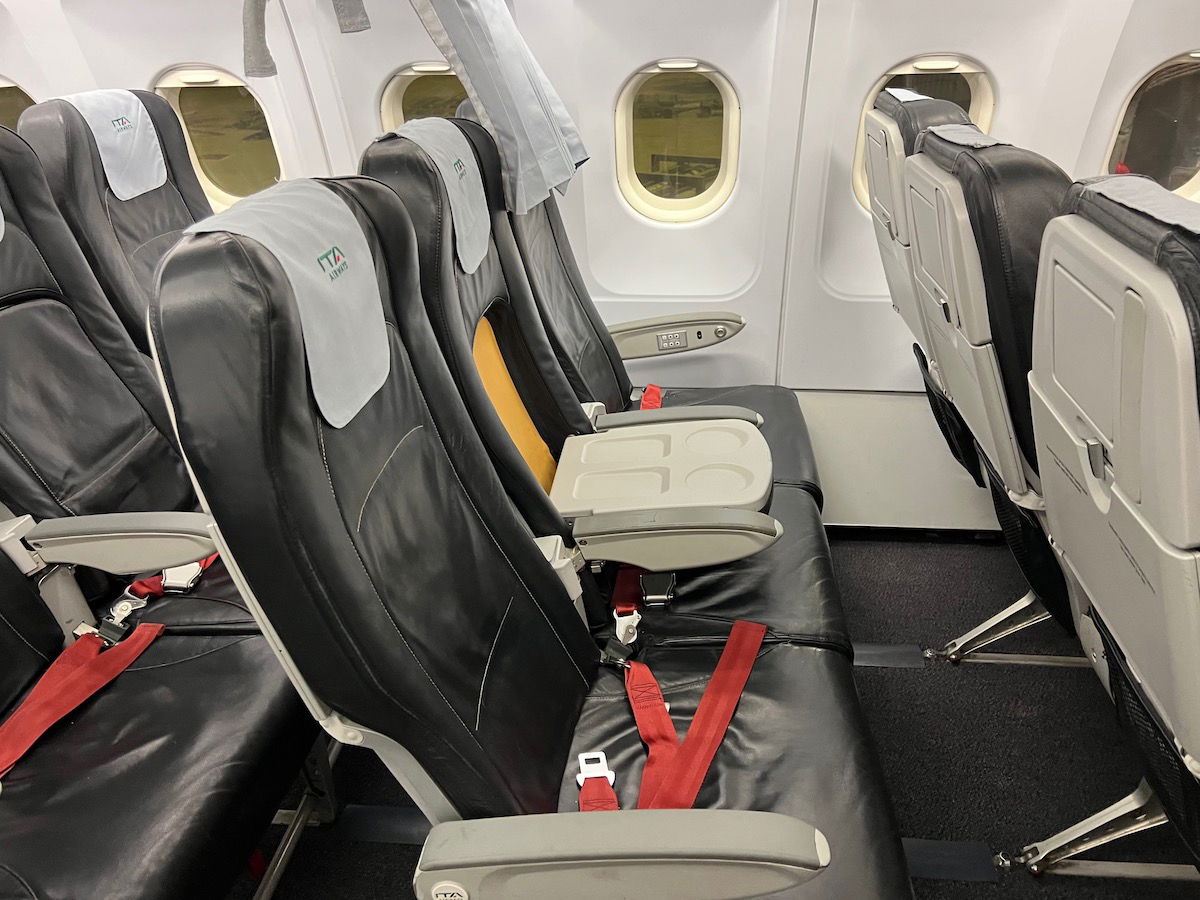 I had assigned myself seat 2F, the window seat on the right side. It seems the crew could have put a bit more effort into preparing the cabin, like placing the curtain behind the headrest, rather than on top of it.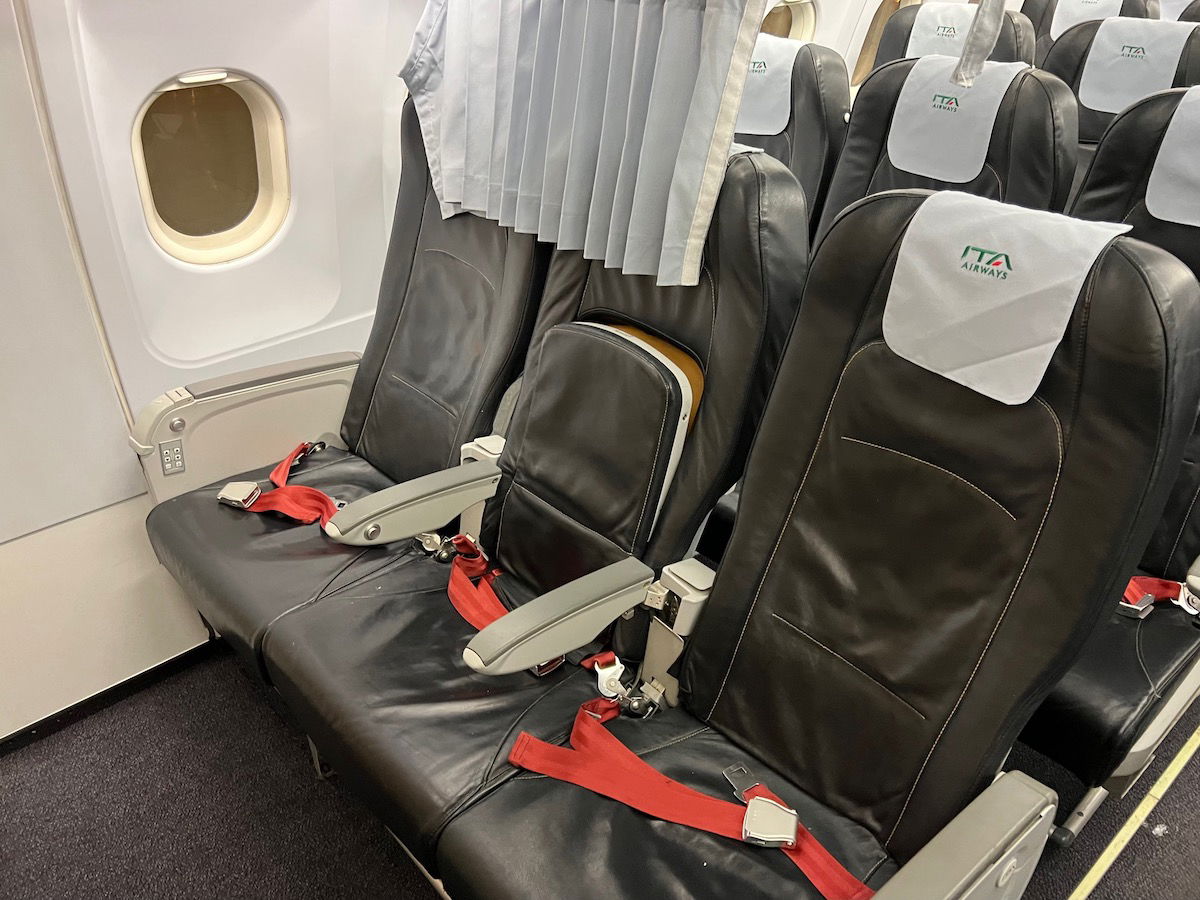 I at least appreciated that the middle seat had an extra tray that could be folded down, as many airlines have eliminated this in short haul business class from Europe.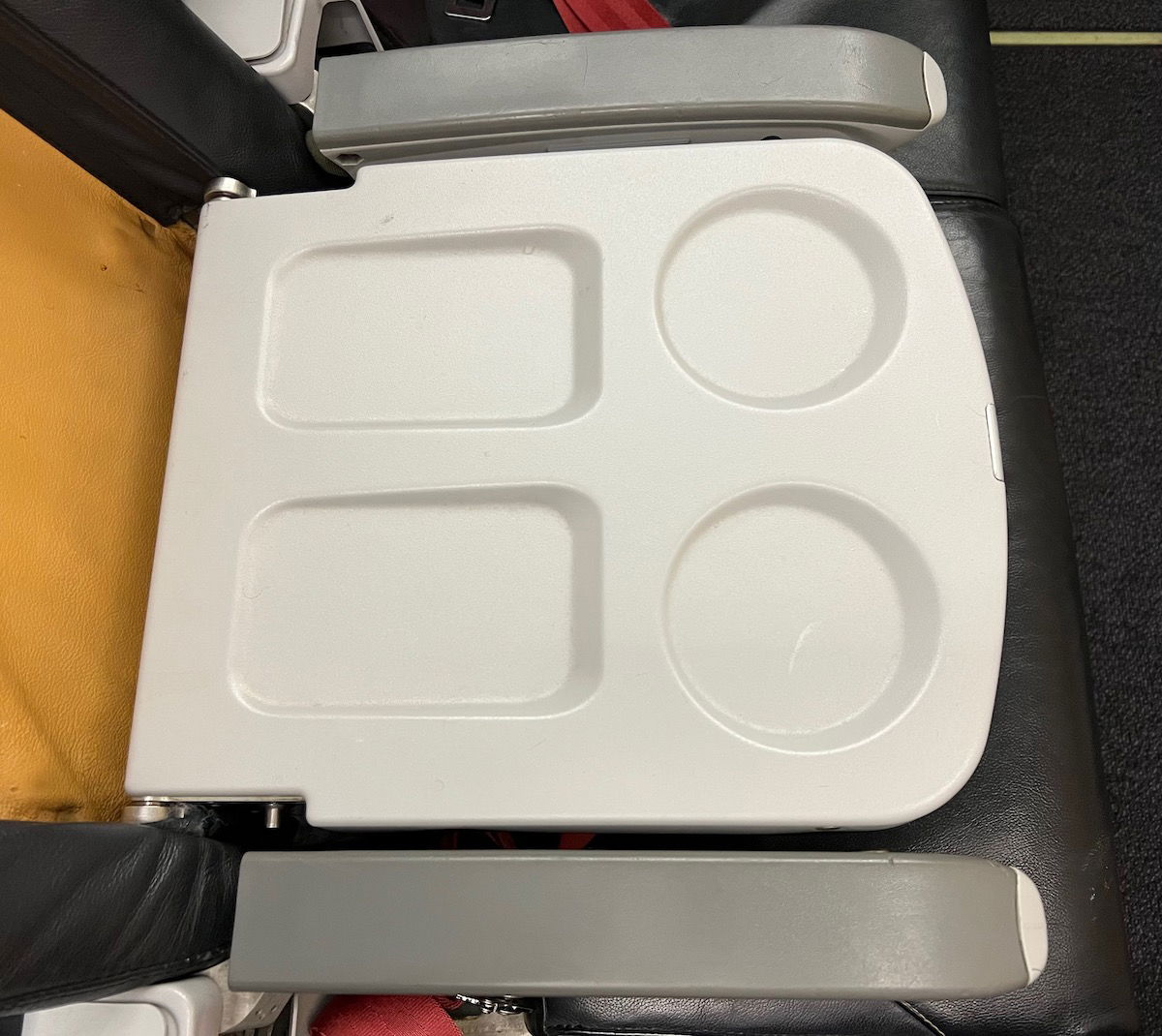 The tray table could be extended from the far armrest, given that I was in a bulkhead.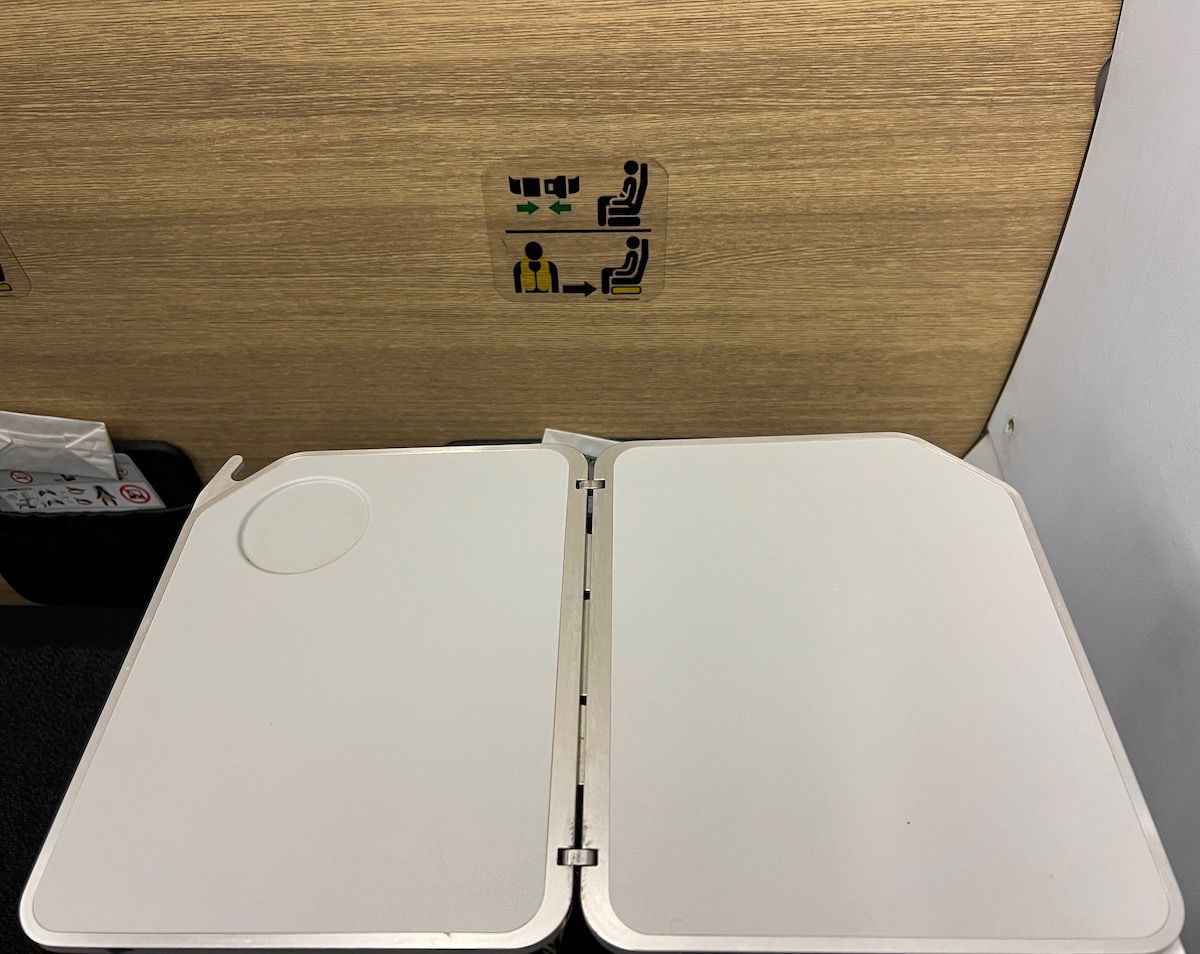 Nowadays I generally prefer bulkhead seats on short haul flights from Europe, given that the legroom is a bit better than you'll find in other rows.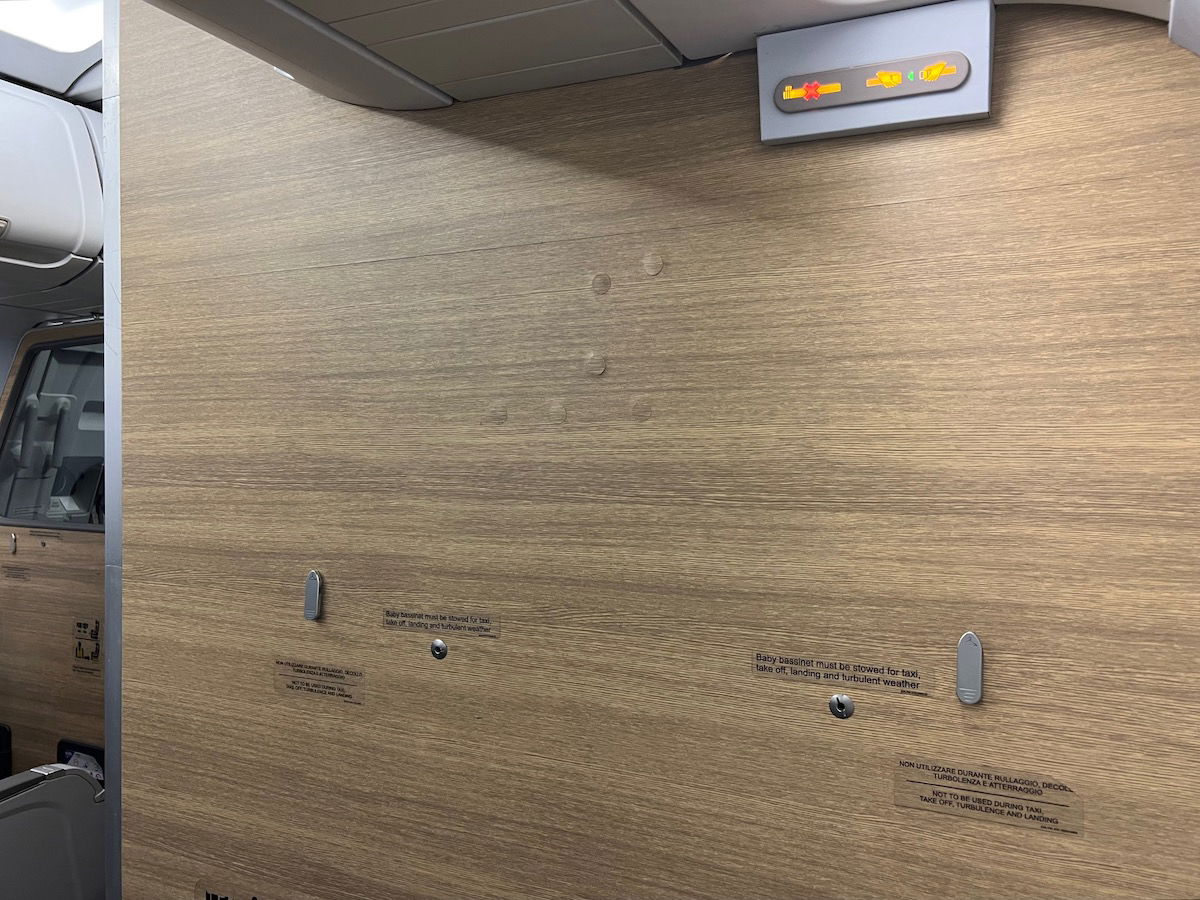 The only other seat features were the seat recline button (recline was limited, as you'd expect), and there were also buttons for audio channels, though they didn't actually work.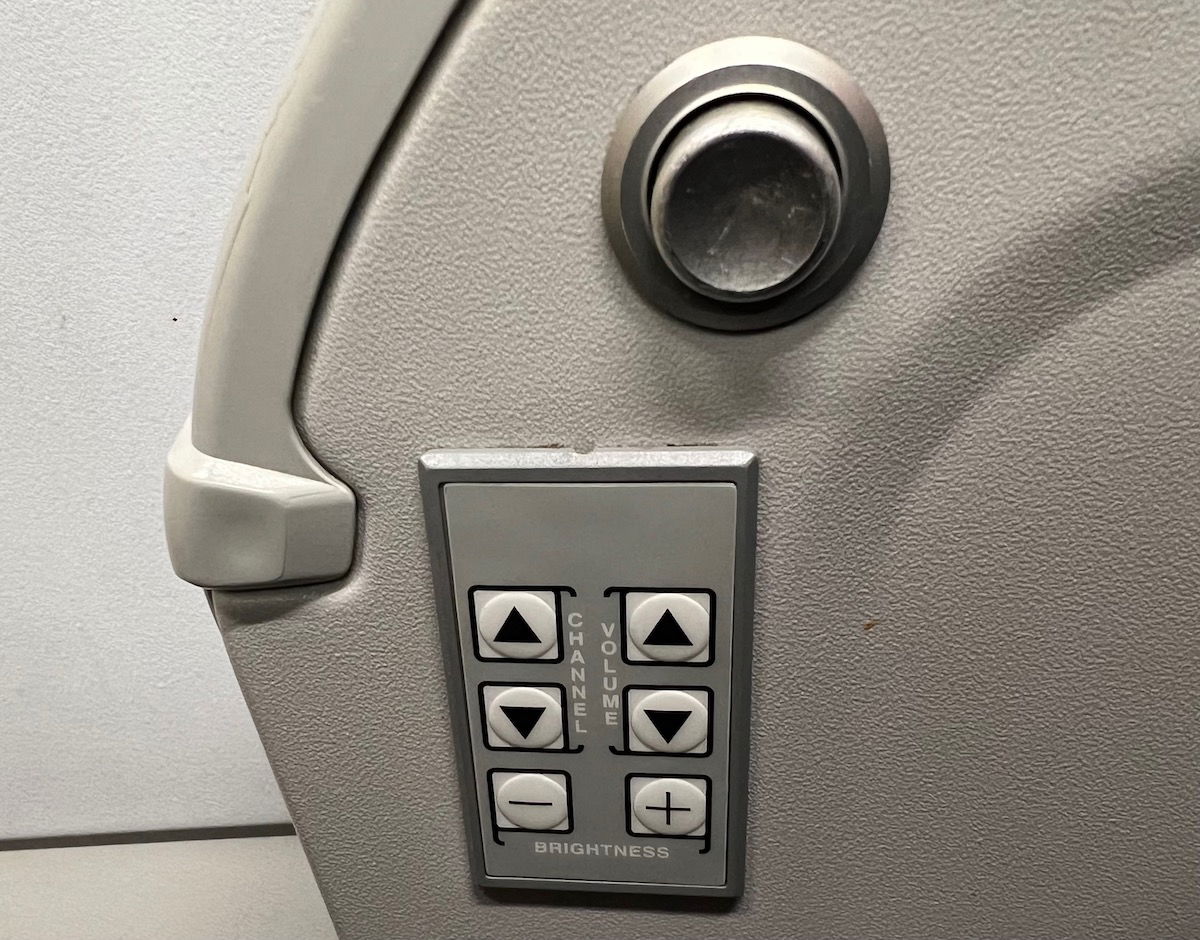 The overhead console was definitely a bit outdated, but at least there were individual air nozzles.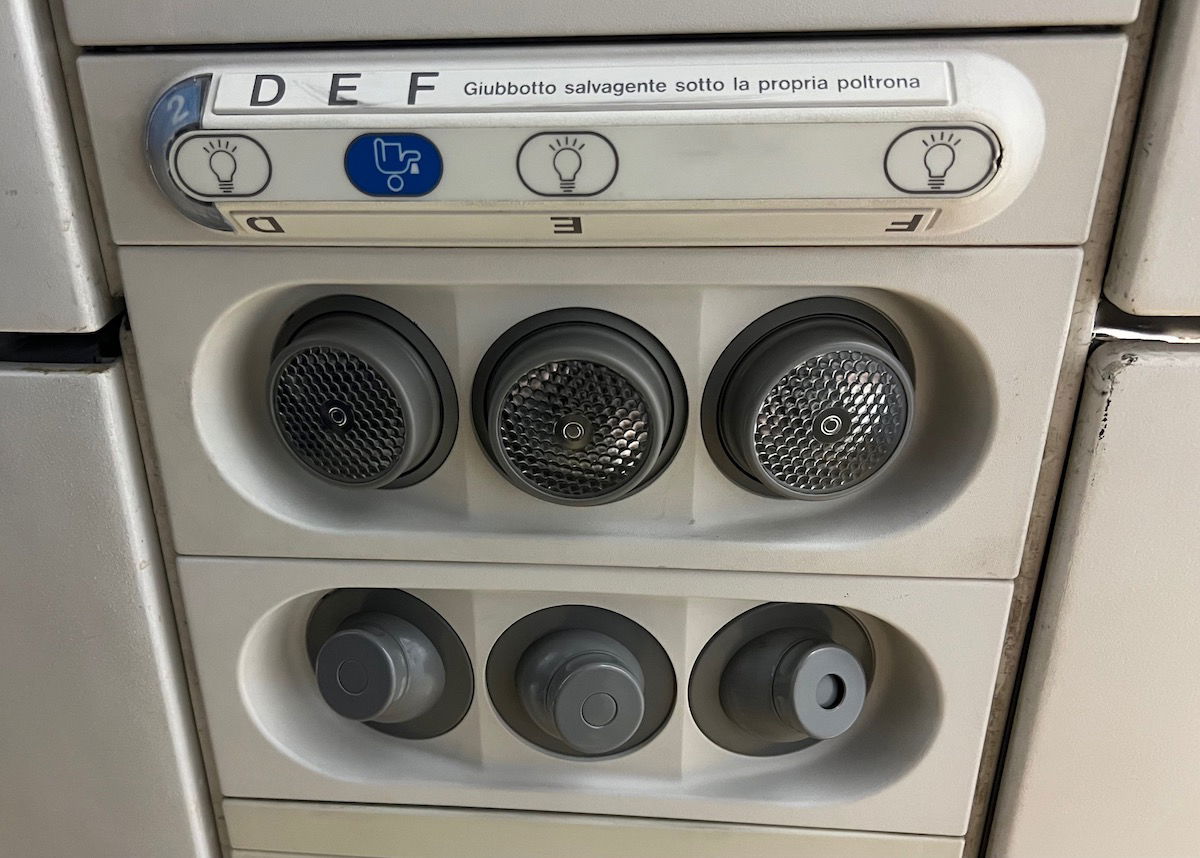 Unfortunately ITA's A320 business class is otherwise pretty no frills, with no power outlets, no Wi-Fi, no streaming entertainment, and no other inflight entertainment. That's not a huge deal given that these planes mostly operate pretty short flights, though still, we're increasingly seeing airlines introduce at least some of those amenities.
ITA Airways business class amenities
There wasn't much in the way of amenities on this short haul ITA Airways flight. There were no pillows, blankets, etc. The only real amenity was that a bottle of water was handed to each business class passenger during boarding.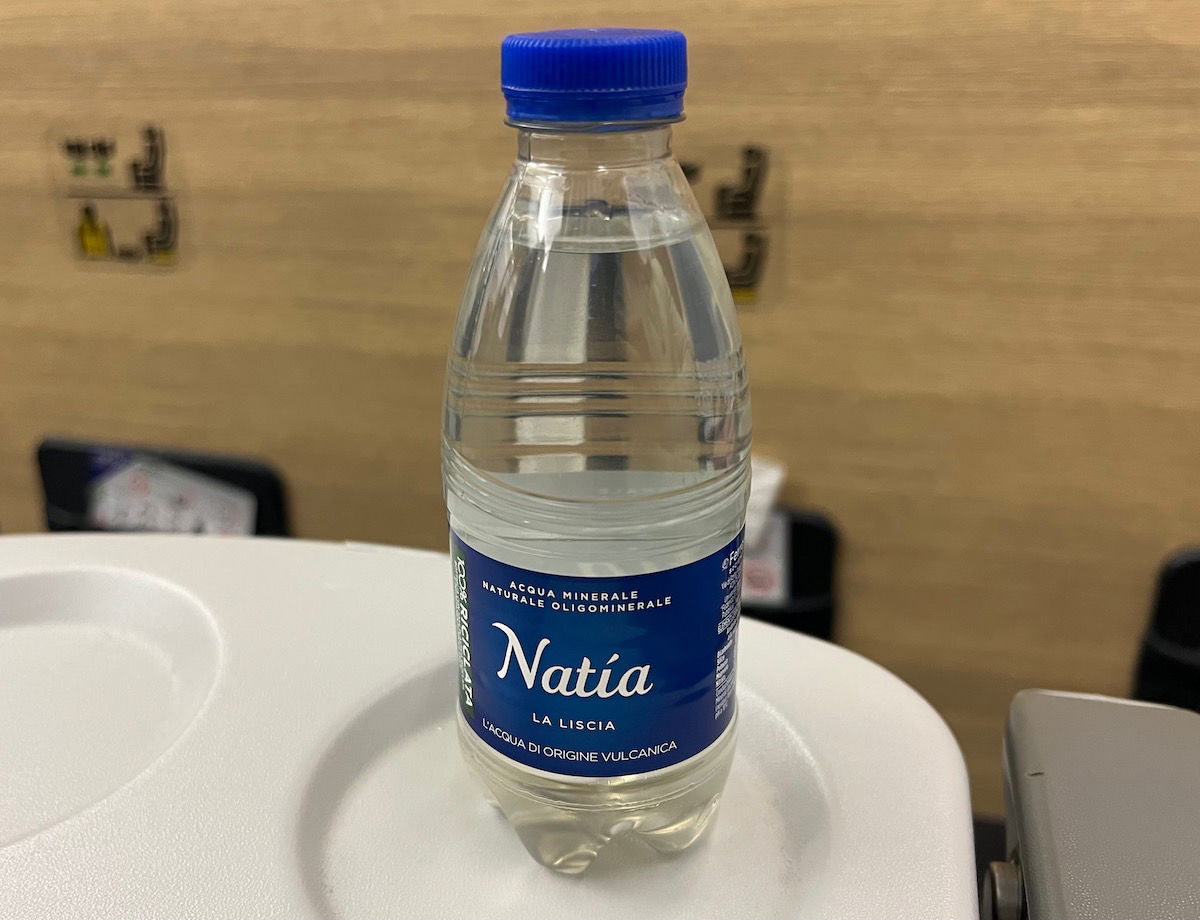 ITA Airways A320 departure from Rome
By 10:05PM boarding was completed. That was quite efficient, given that the flight was mostly full. Business class was much emptier than economy, and was only half full, with three passengers (one in each window seat).
As soon as boarding finished and the door closed, the captain made his welcome aboard announcement, informing us of our flight time of 2hr40min.
At 10:10PM we began our pushback, and at that point a manual safety demonstration was performed. At 10:15PM we began our taxi, and at 10:25PM we were cleared for takeoff.
Interestingly ITA doesn't seem to really have a culture of turning off the seatbelt sign much, at least based on my two flights. For example, the seatbelt sign was never turned off on this flight, even though it was smooth the entire way. I'm not sure I follow the logic…
ITA Airways business class meal service
About 20 minutes after takeoff the cabin manager came to each business class passenger to take meal orders. The choices were either ravioli with ricotta and spinach, or veal. I chose the former, and it was served about 10 minutes later.
The meal was reasonably good — not as good as on the transatlantic flight, but still pretty good for a short haul flight.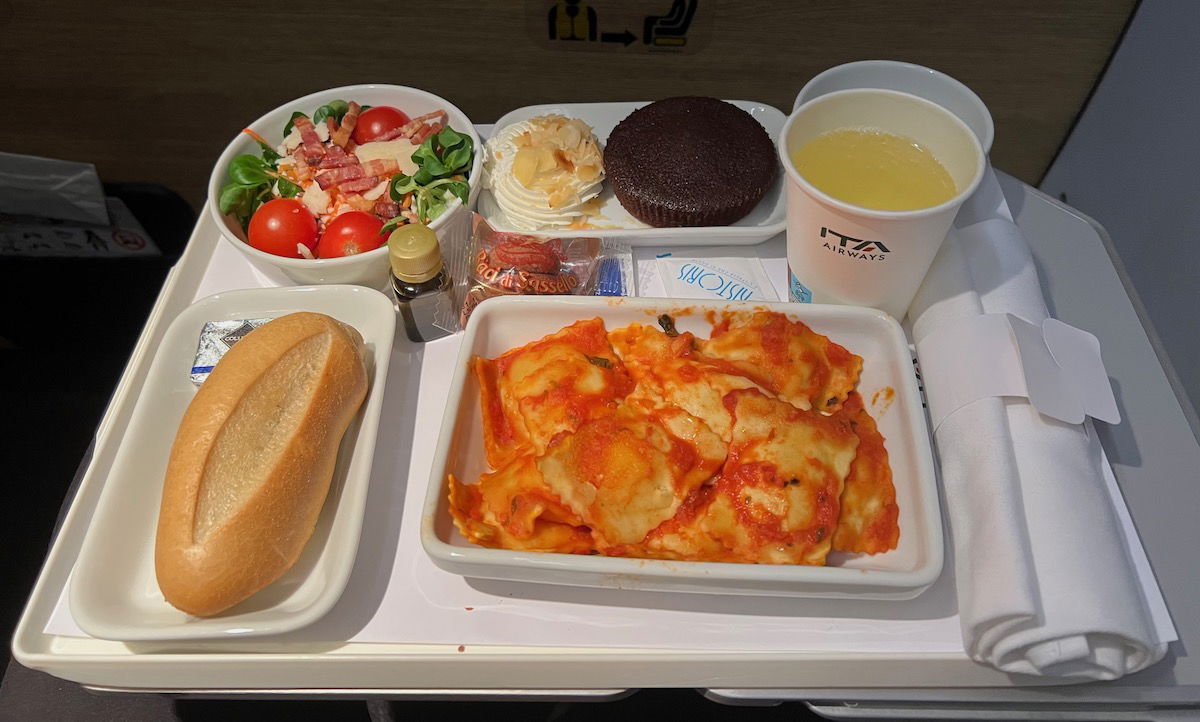 The pasta wasn't quite restaurant quality, but was better than a frozen microwaved dinner.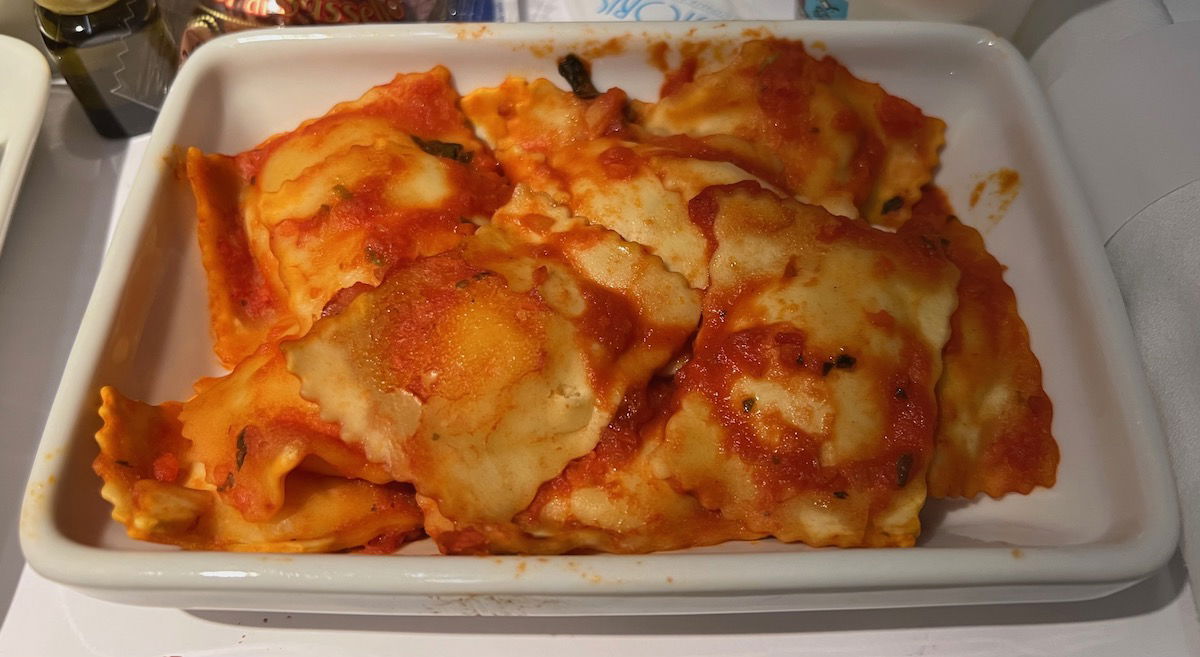 The side salad was more interesting than your typical airline one, though I don't eat pork, so I skipped it.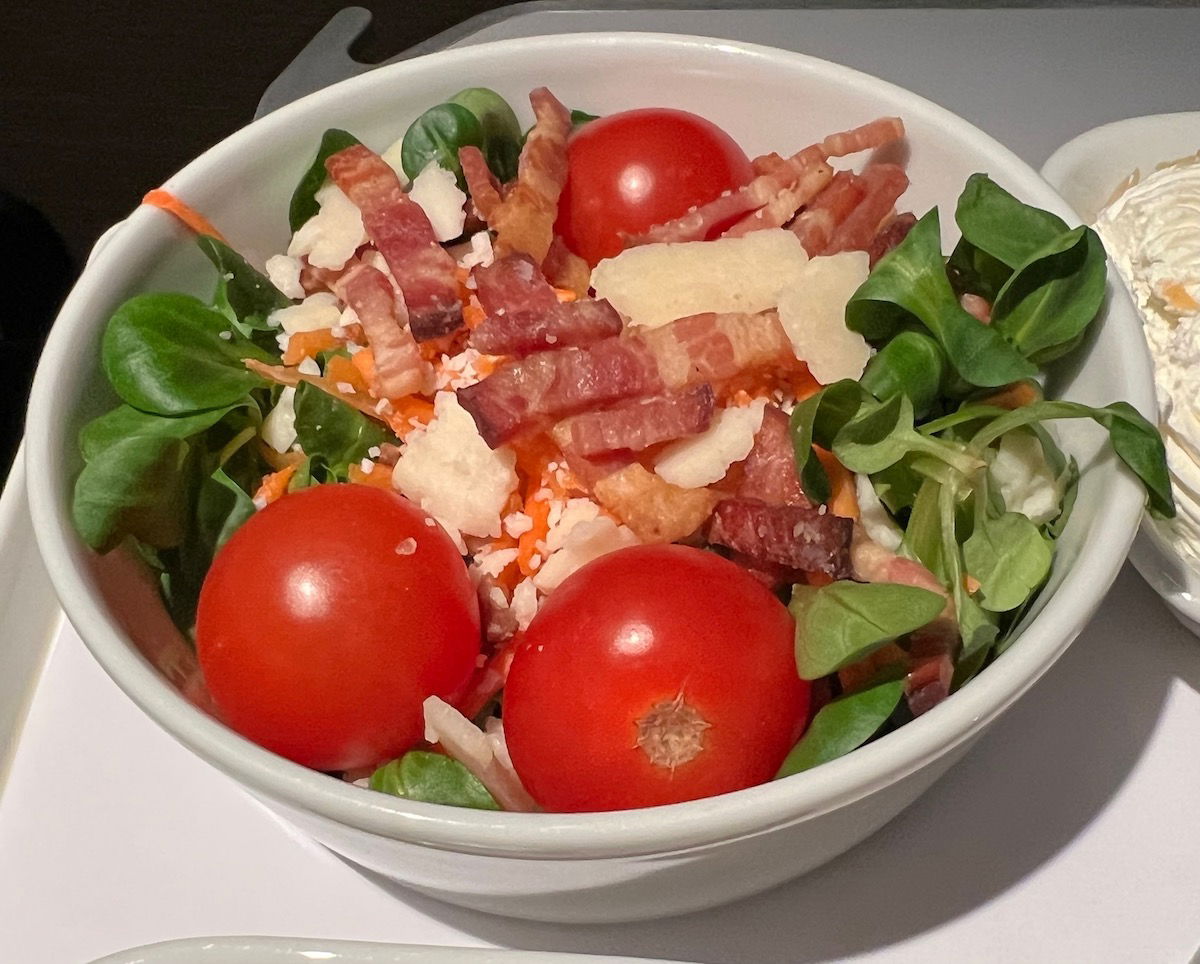 Then there was a chocolate muffin of sorts with cream for dessert.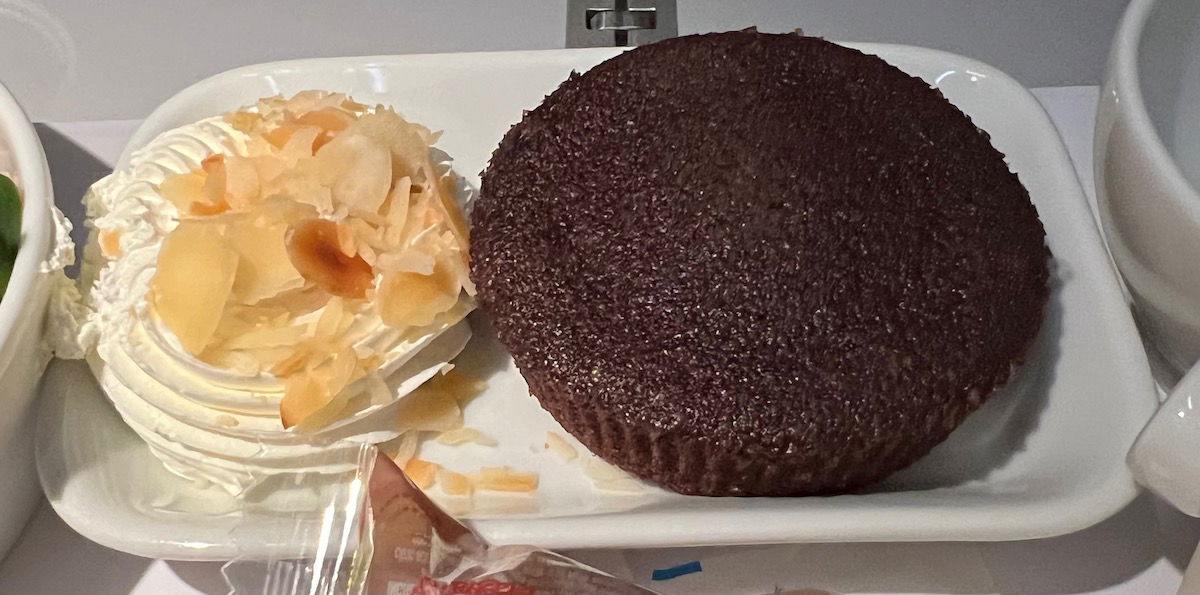 I ordered a glass of wine to go along with dinner, which oddly was served in a paper cup. Is that standard in ITA business class, or…?
At the conclusion of the meal I was asked if I wanted some coffee or tea. I ordered some coffee, and that was served in a proper cup.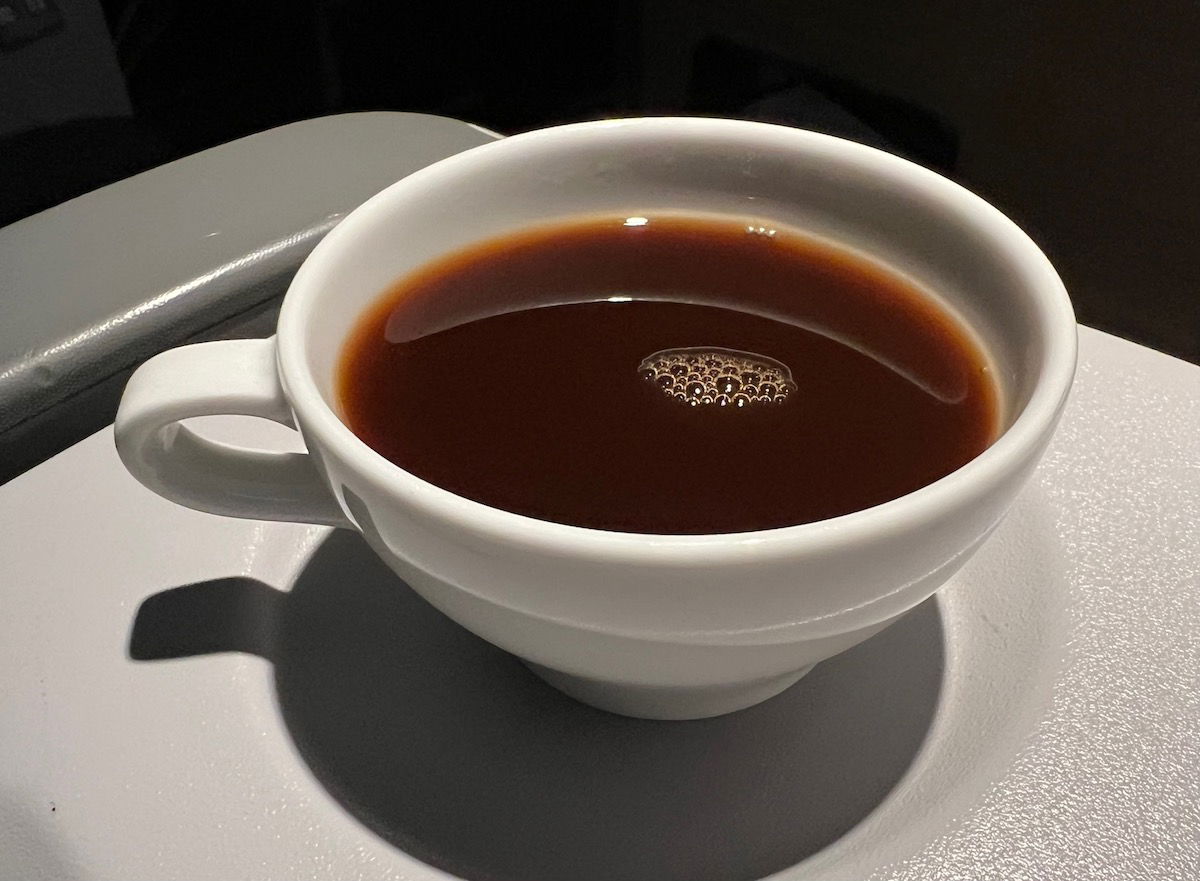 ITA Airways business class service
The service on this flight was totally okay. The flight attendants weren't as proactive, friendly, and attentive as on the previous flight, but they also weren't at all rude. They performed the service and then sat in the galley, but were responsive to the call button.
ITA Airways A320 business class lavatory
There was a lavatory at the front of the business class cabin, which was pretty basic. It also didn't seem like it was cleaned between flights, since the below picture was taken shortly after boarding.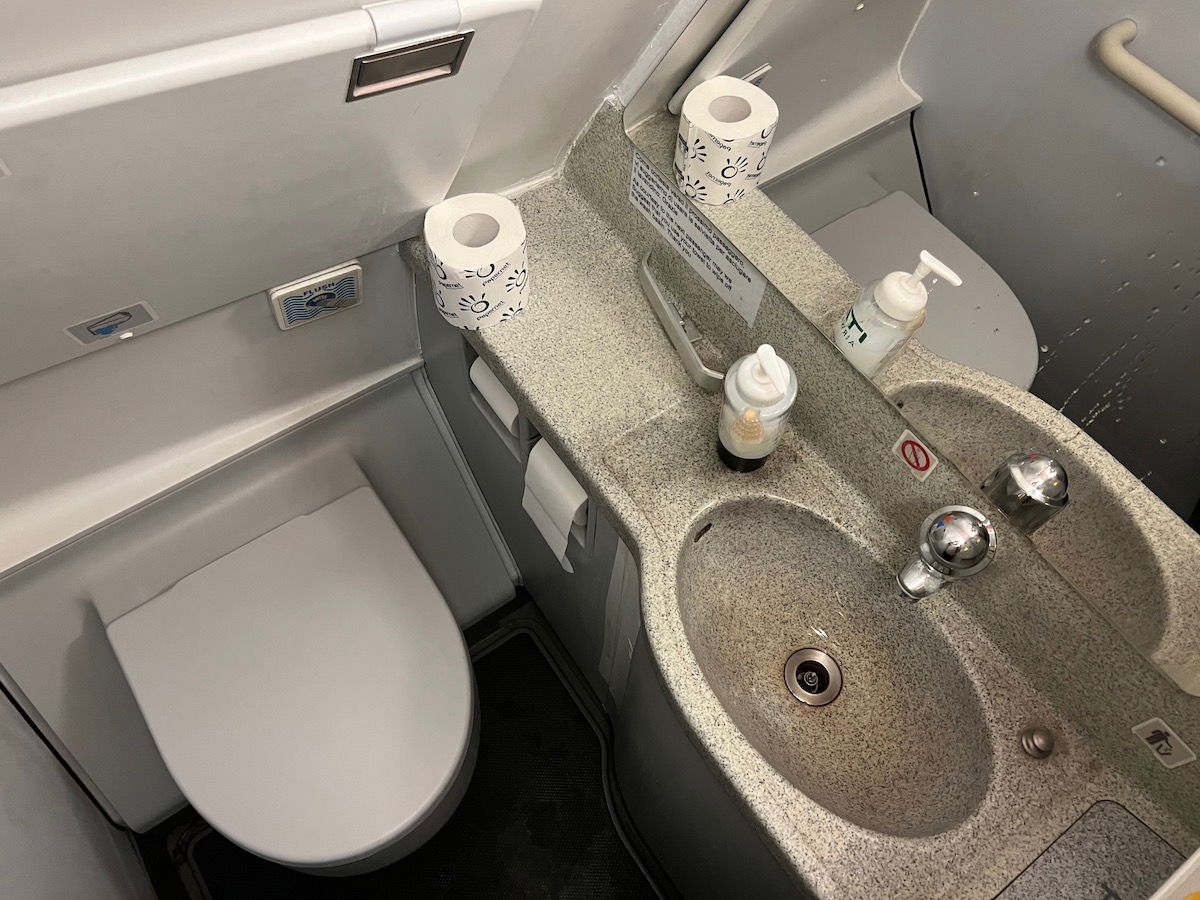 One thing that I found to be less than ideal is that ITA's curtain between business class and economy class only goes over headrests, and doesn't cover the center aisle. That's not a huge deal, except for the fact that it meant that passengers kept coming up to use the business class lavatory, and the crew didn't do much to stop it (despite announcing passengers should use the lavatory in their cabin).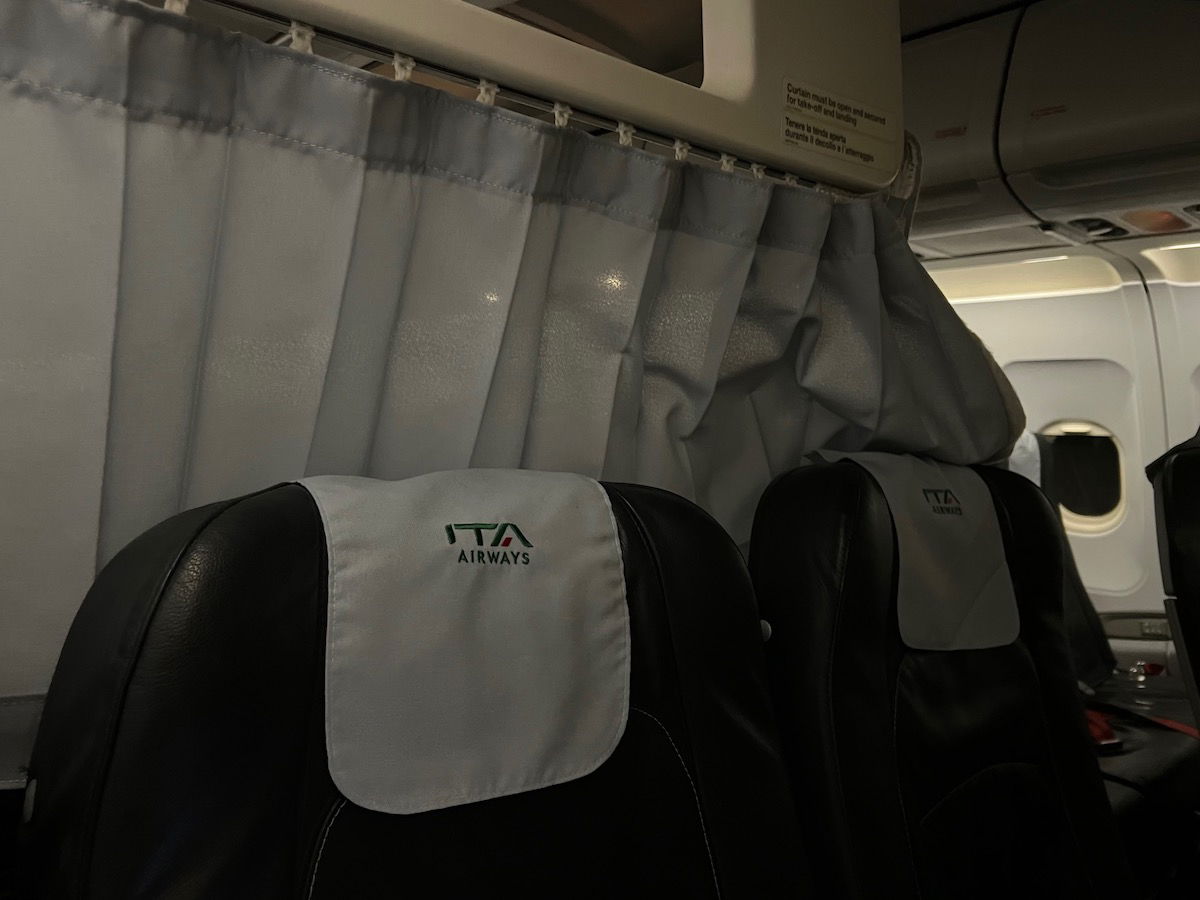 ITA Airways A320 arrival in Cairo
At 1:30AM Cairo time, the captain announced that we'd shortly be descending, and would be landing in around 30 minutes. Sure enough, we then began a pretty steep descent, and the crew prepared the cabin for arrival. We ended up touching down in Cairo at 1:55AM, and then had a five minute taxi to our arrival gate.
I was pleasantly surprised by how orderly the deplaning process was. I've flown to & from Cairo a lot, and in the past I've found that some passengers pretty consistently get up the second the plane is on the ground, and ignore crew instructions. That wasn't an issue on this flight, and I suspect that's because this flight seemed to consist mostly of Italian tourists.
Once in the terminal, my long night at Cairo Airport started…
Bottom line
My ITA Airways A320 business class flight was fine — nothing more and nothing less. I was on one of ITA's older Airbus A320s, featuring no Wi-Fi, power outlets, or inflight entertainment. While the food on the flight was reasonably good, I found it strange that drinks were served out of paper cups.
I'd happily fly ITA's A320 business class again if the price or routing were best, but I also wouldn't seek out the product.
What do you make of ITA's A320 business class?