The roughest part of my four flights across the Atlantic was my night at Cairo Airport. I've written about my experience changing terminals, and I've reviewed the EgyptAir Lounges at Cairo Airport. In this post I wanted to share a bit more background on how I ended up spending the night at Cairo Airport, and the one person who provided me with great (and slightly odd) hospitality…
My unenviable layover at Cairo Airport
As I've explained before, my goal with "pure" review trips is to review lots of experiences while minimizing my time away from home, given that we have an infant, and I'd like to spend as much time with him as possible (he's growing so fast!).
While I'd say these kinds of trips are generally pretty exhausting (especially since I'm not a good airplane sleeper), my time in Cairo was definitely the roughest part of the trip. I landed in ITA Airways' A320 business class from Rome at 2:25AM, and departed in EgyptAir's 787 business class to Paris at 9:35AM.
As I get older, I value a proper night of sleep in a bed more and more. As much as I would have loved to spend a night in Cairo (and check out the mysterious St. Regis), unfortunately there was no award availability for the remaining part of the itinerary if I didn't continue right away.
I was on the fence about what to do for my seven hour layover, especially as the Le Meridien Cairo Airport is excellent, and is right next to the terminal. I had considered booking the hotel, but:
If I landed at 2:25AM, I figured it would probably be 3:30AM before I was in my room
I don't just show up at the airport an hour before departure for flights, but rather try to arrive very early to be able to review lounges before they get too crowded; so realistically I would have wanted to leave my room by 5:30AM at the latest
For such a short stay, it just wasn't worth booking a hotel, or even leaving immigration. Well, or so I thought. When I landed in Cairo, I was tired beyond words. The night before my trip, I had gotten up at 2AM (the joys of being a parent!). Then the night after that I was on a redeye across the Atlantic. Then I had a very long layover in Rome, prior to taking the short overnight(ish) flight to Cairo.
When I landed in Cairo, I actually called the Le Meridien to ask if they had any rooms available, as I would have been happy even with just a one or two hour nap. Unfortunately I was informed they only had suites available, and those were $450+. At that point I just accepted my fate, that I'd be spending the night in the terminal.
I think the below picture roughly sums up how unglamorous these review trips can be at times, when I could instead just be in my comfortable bed at home. Not pictured is the freezing temperature in the terminal, as there was seemingly no heat, despite it being a very cold night.
I suppose this is all part of the fun and adventure, though…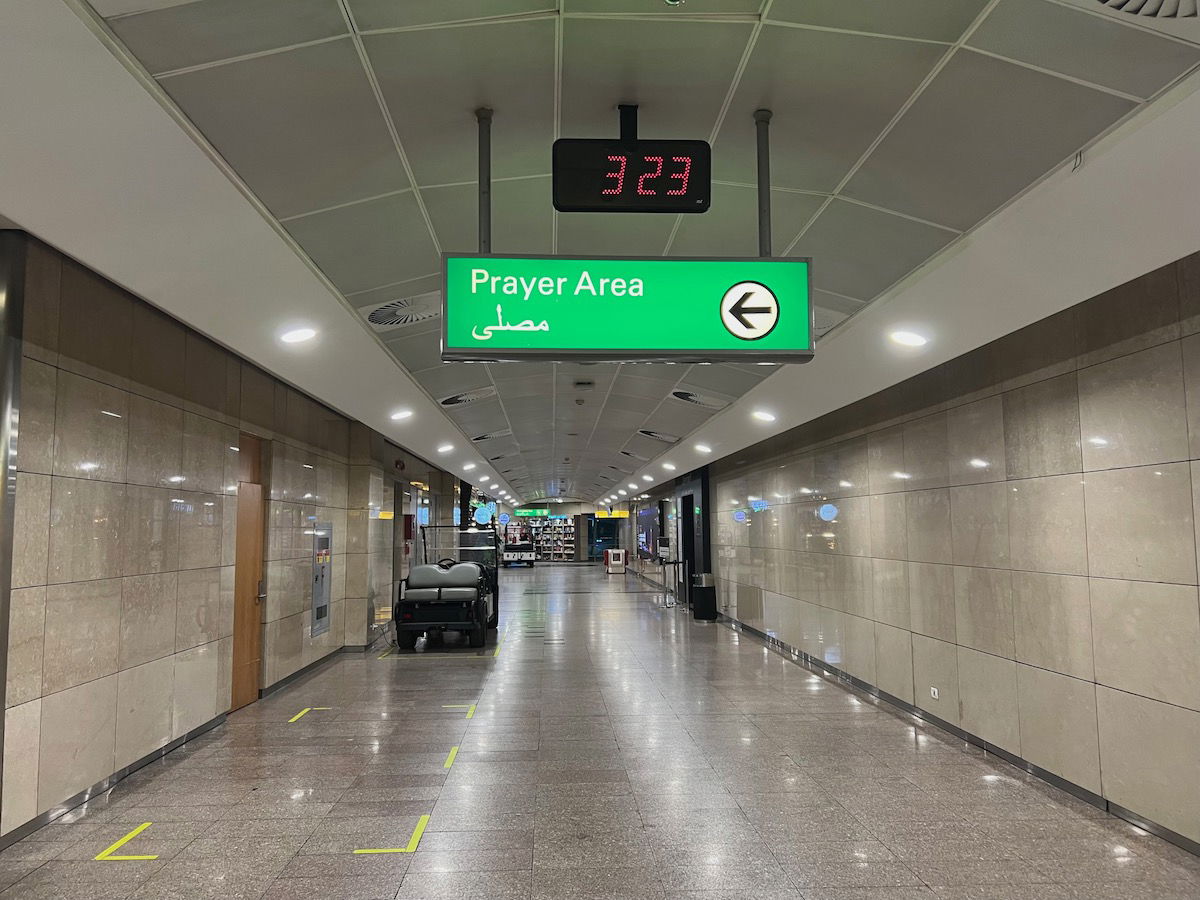 Osama, EgyptAir's great lounge ambassador
I ended up spending most of the night at the EgyptAir Almeisan Lounge, as that's the EgyptAir Lounge at Cairo Airport that remains fully open overnight.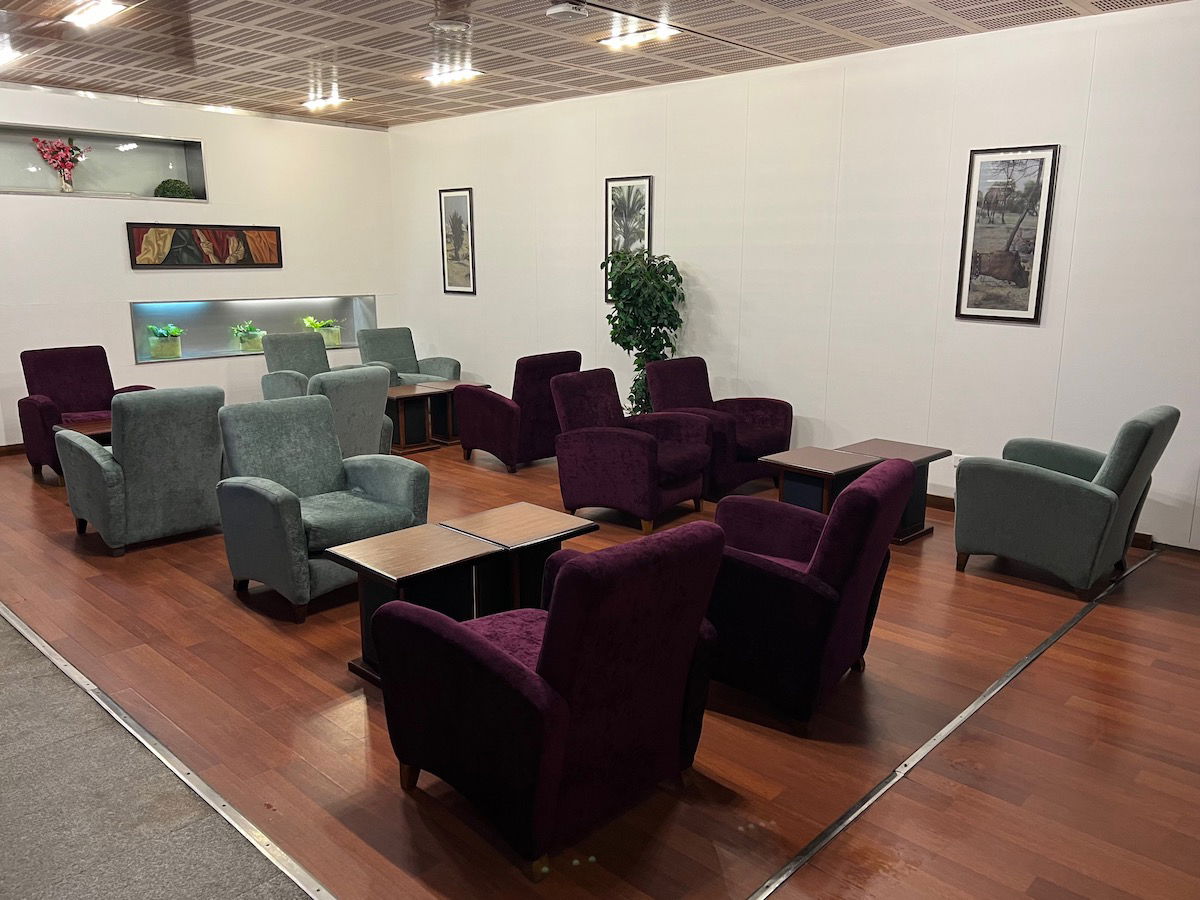 The lounge was deserted, and upon entering, I was greeted by Osama, the server working overnight in the lounge. He couldn't have been kinder, and was such a great ambassador for the airline. He was genuinely friendly, and constantly checked if there was anything I needed. He offered me delicious cappuccinos, and even proactively brought over bottles of juice, encouraging me to try them.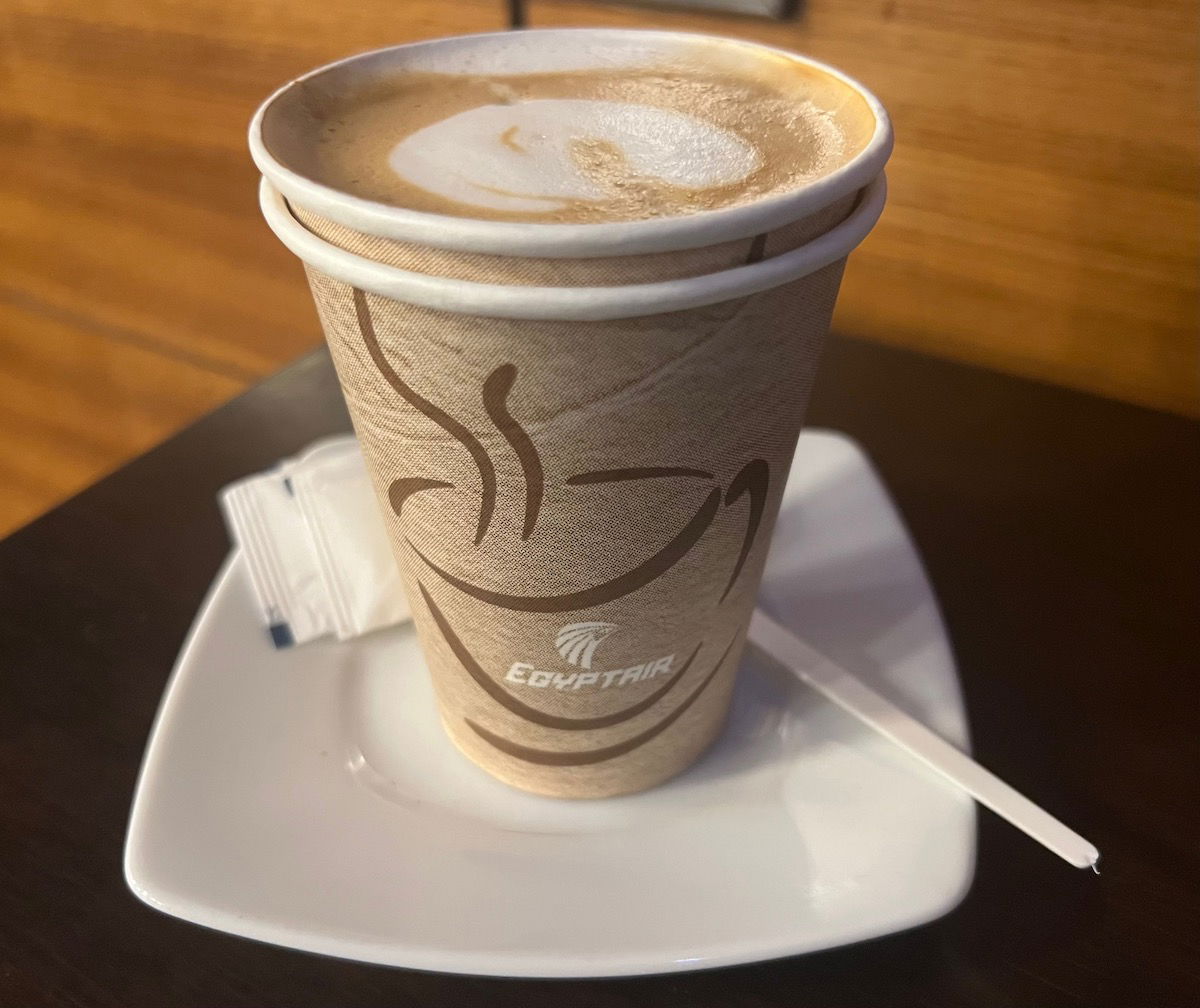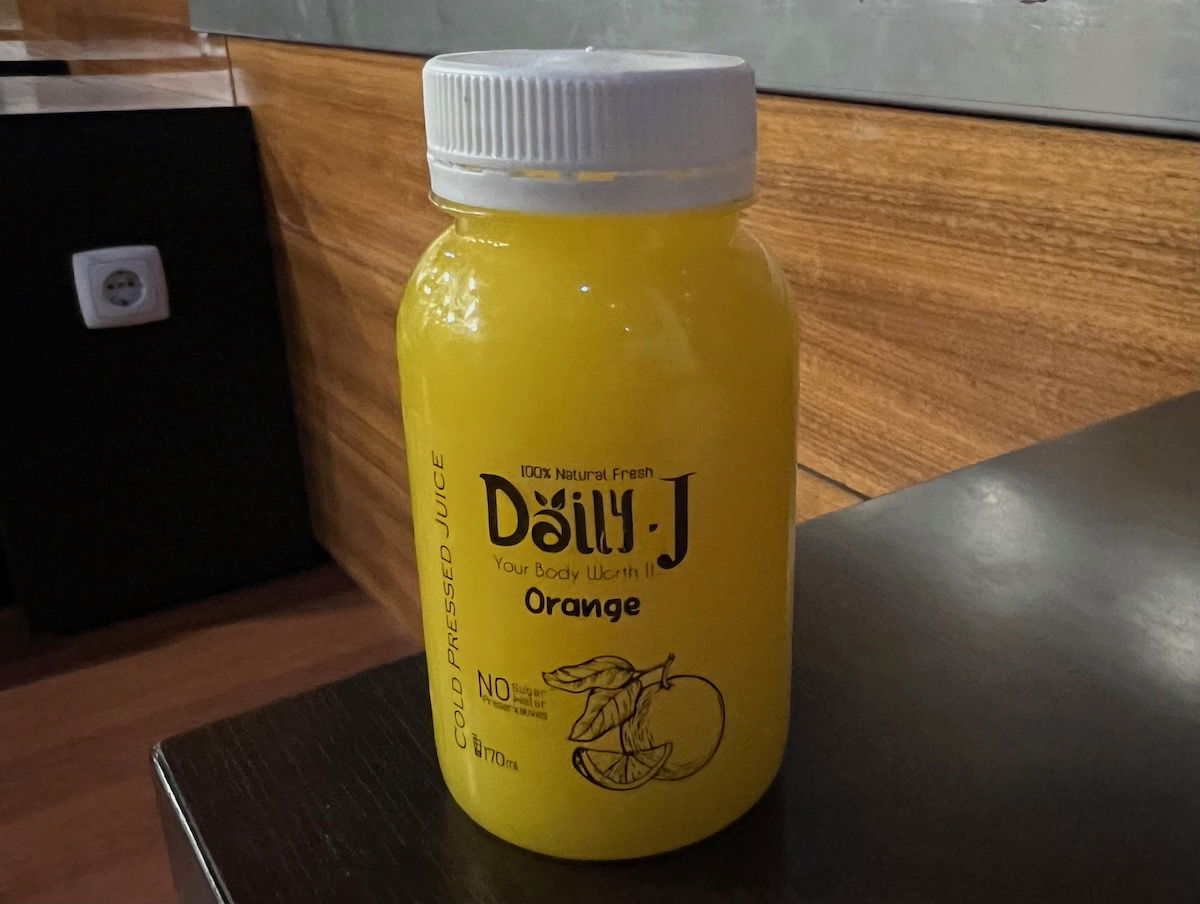 Honestly, what a friendly and awesome guy.
Things got ever so slightly weird when I started taking pictures of the lounge. I find that in North Africa and the Middle East, sometimes people will get weird about pictures, even if you are careful to avoid having any people appear in the shots.
I took some pictures of the overnight food buffet, and he came up to me very concerned. "You are taking pictures? Why?"
I explained that I just love to try different airlines, and this was my first time visiting the EgyptAir Lounge Cairo. At first I couldn't tell if he was about to tell me to stop taking pictures, or what. But as we talked more, it became clear he was just a bit confused. He probably knew the buffet didn't look particularly appealing at that hour, and was probably wondering what my motive was. Fair enough.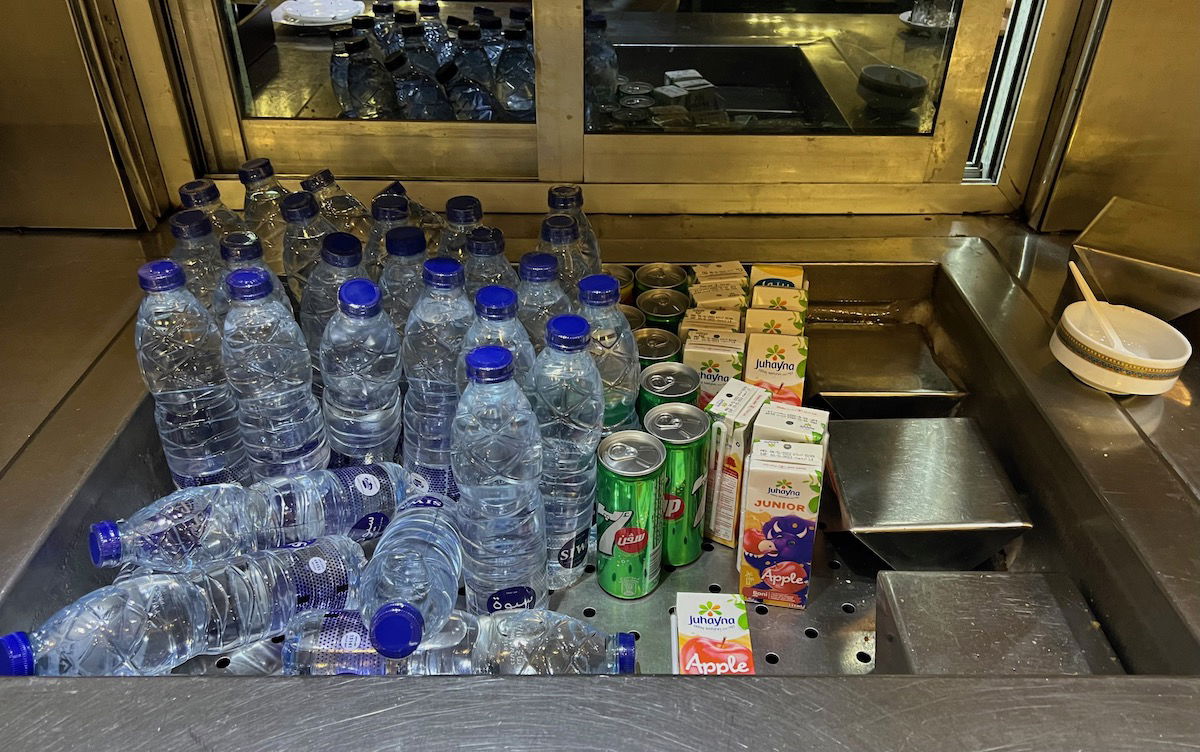 A few hours later, I was pleasantly surprised when he came back up to me and said "you must take pictures now, it is set up for breakfast." Clearly he just wanted to show off the best EgyptAir had to offer.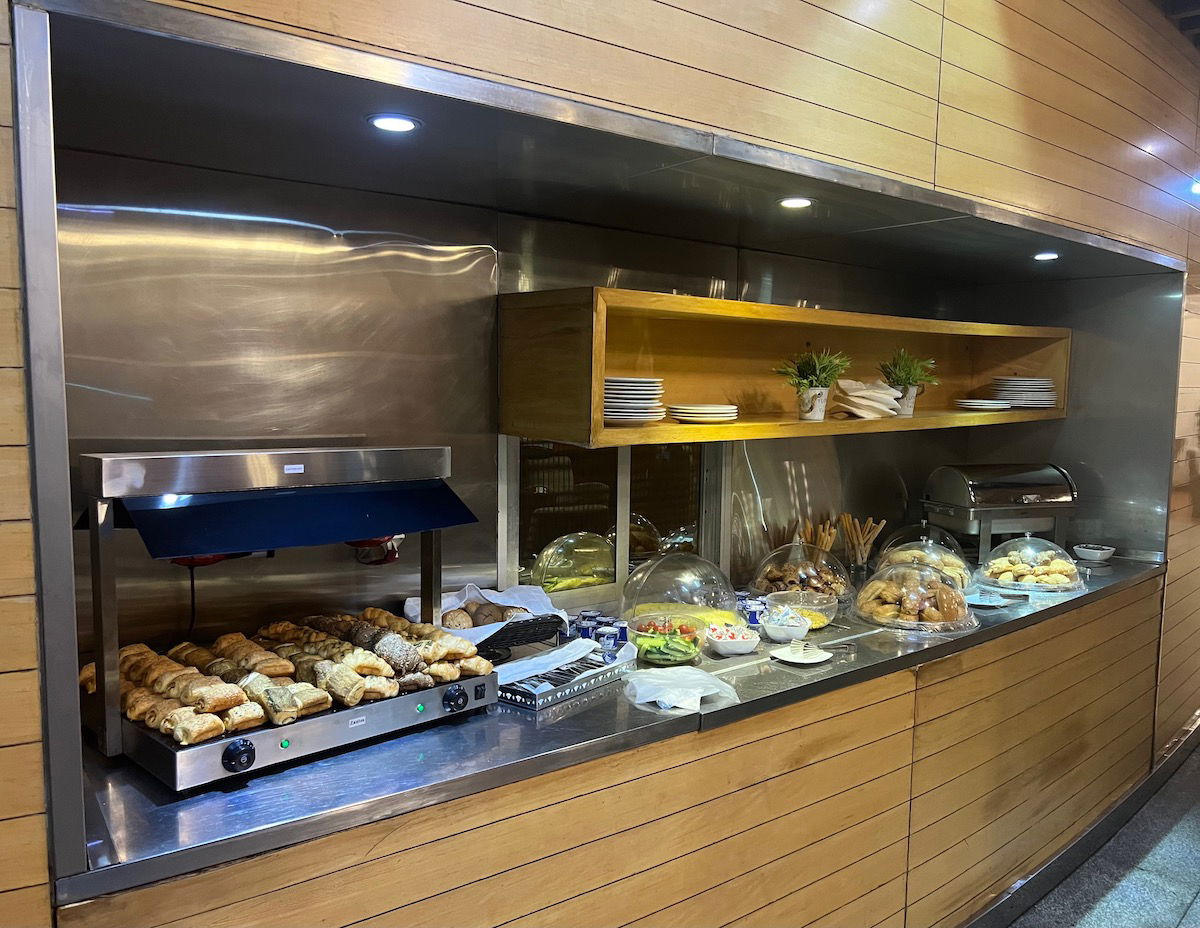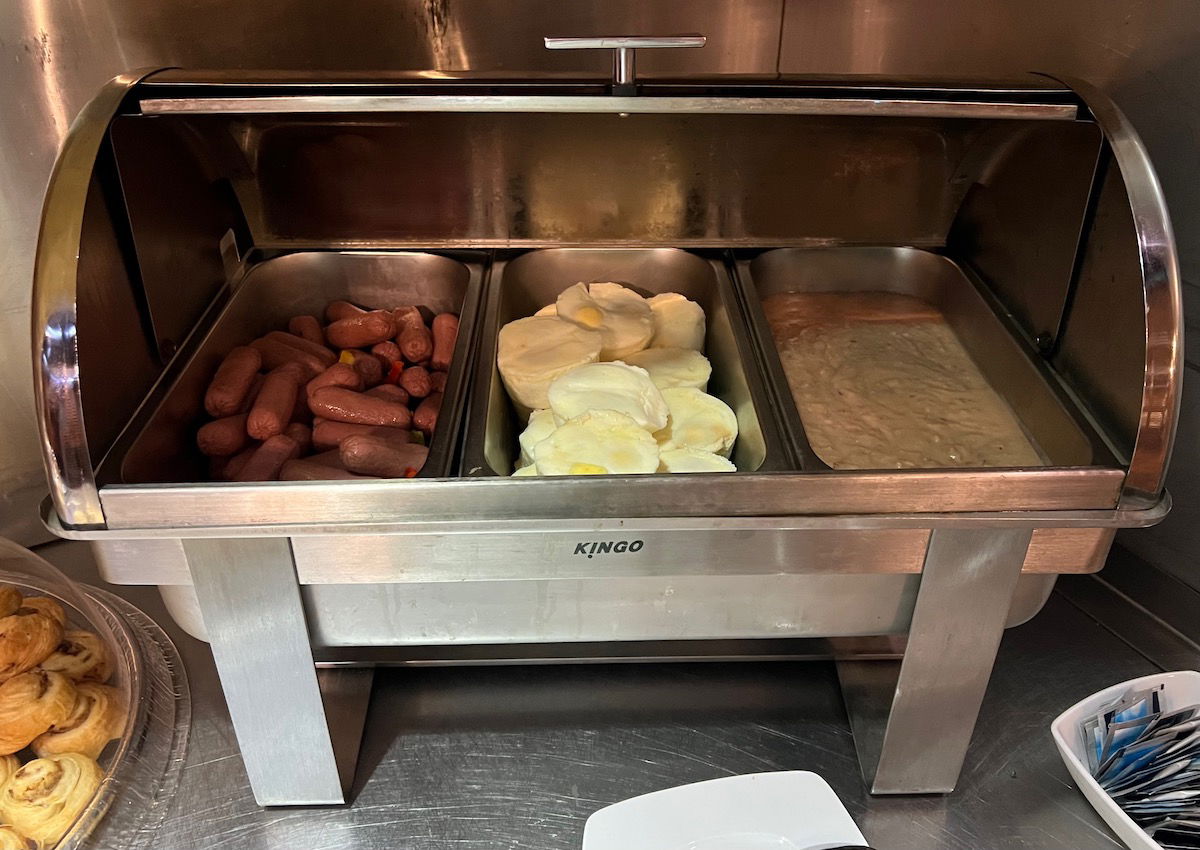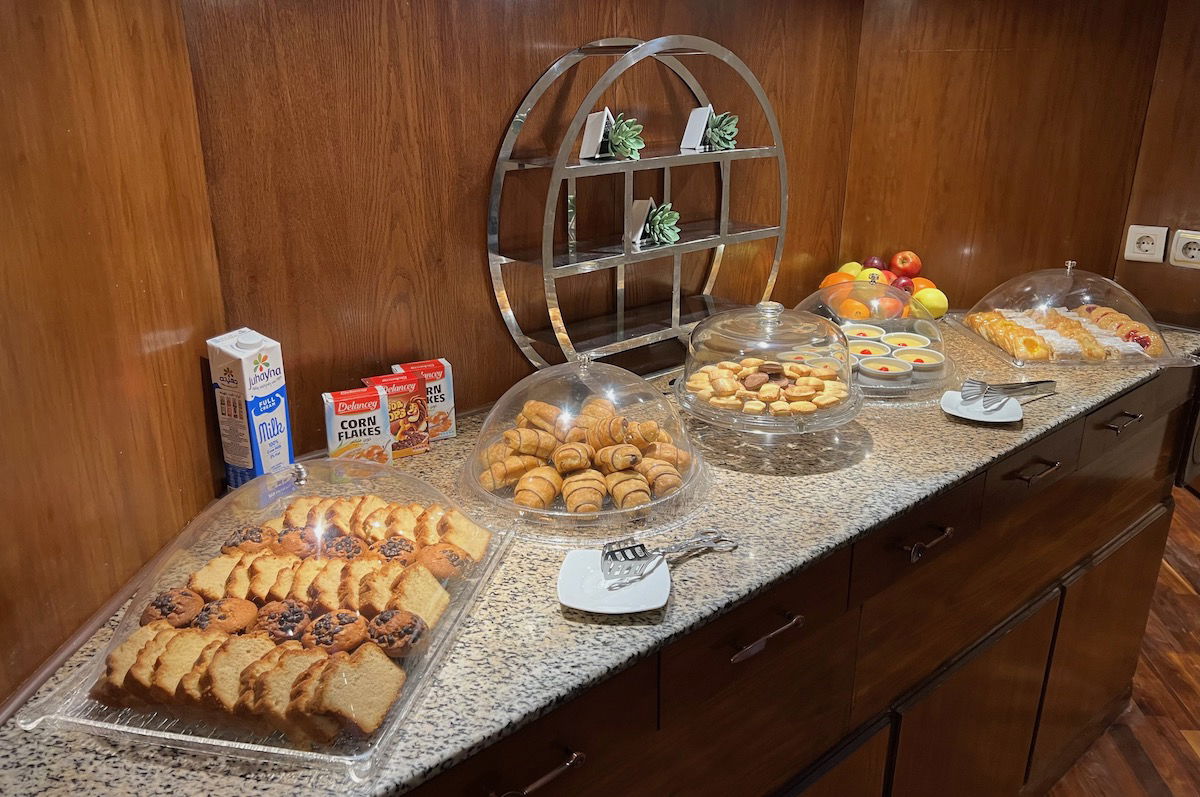 In perhaps the oddest turn of events, he then asked if I could pose for a picture standing in front of the buffet. I complied with that request, so on Osama's smartphone there's a picture of me standing in front of the buffet. Why? I have no clue…
Bottom line
Spending the night at Cairo Airport was definitely the most unpleasant part of my review trip, especially after having taken a redeye the night before, and after not having gotten much sleep the night before that.
Unfortunately this was one of those situations where there wasn't a great alternative — my layover was too short to get any real rest, and I couldn't plan a longer stay in Cairo while still finding award availability for the remaining products I wanted to review.
On the plus side, Osama in the EgyptAir Almeisan Lounge made my stay all the more pleasant, with his warm hospitality. Often when lounge staff approach me about my picture taking, it's to tell me to stop. In the case of Osama, he seemingly just wanted to show off the best the airline has to offer.
In a transit that was otherwise filled with a lot of rude people (especially the immigration officers during the transfer), Osama was a bright spot.