Hello from Rome! I just flew ITA Airways' Airbus A350-900 business class from Miami, as part of my current review trip. While I was ridiculously excited to fly with Alitalia's successor, I was expecting to come away from the flight feeling lukewarm at best. Well, the whole experience was a very pleasant surprise, with exceptional food, charming service, thoughtful amenities, and a competitive hard product.
Let me share a few highlights, and then I'll have a full trip report soon…
ITA A350s have a good but generic hard product
ITA Airways managed to acquire Airbus A350s with pretty short notice, as the airline picked up planes that were supposed to go to China's Hainan Airlines, but which the airline could no longer afford.
ITA maintained the same Collins Aerospace Super Diamond reverse herringbone seats that Hainan Airlines was supposed to have. This is a good product that you'll find on a countless number of airlines. Is it the best business class seat out there nowadays? No. Is it competitive, and a huge improvement over ITA's (errr, Alitalia's) previous hard product? Absolutely!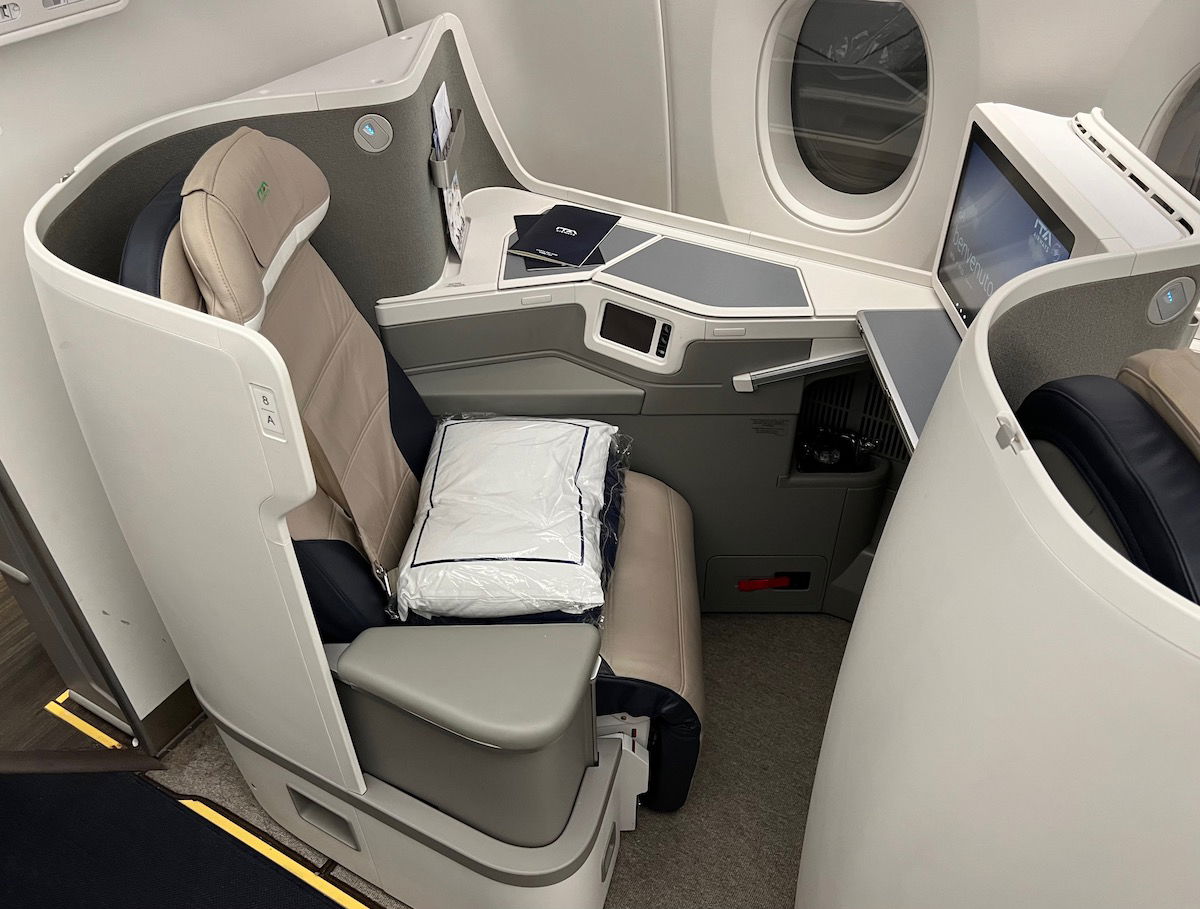 It's pretty funny how ITA has possibly the world's easiest to recognize livery (well, maybe second most, after Condor's), yet these interiors could really belong to any airline.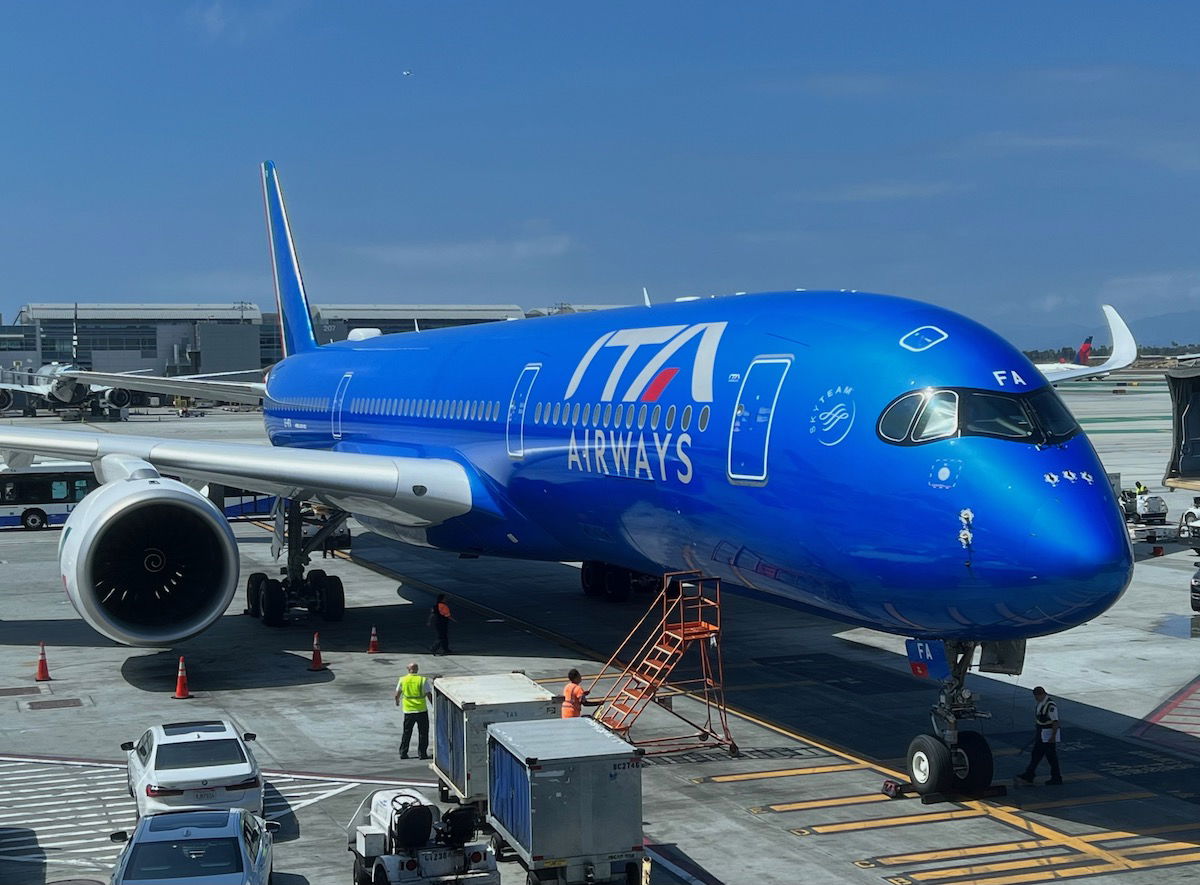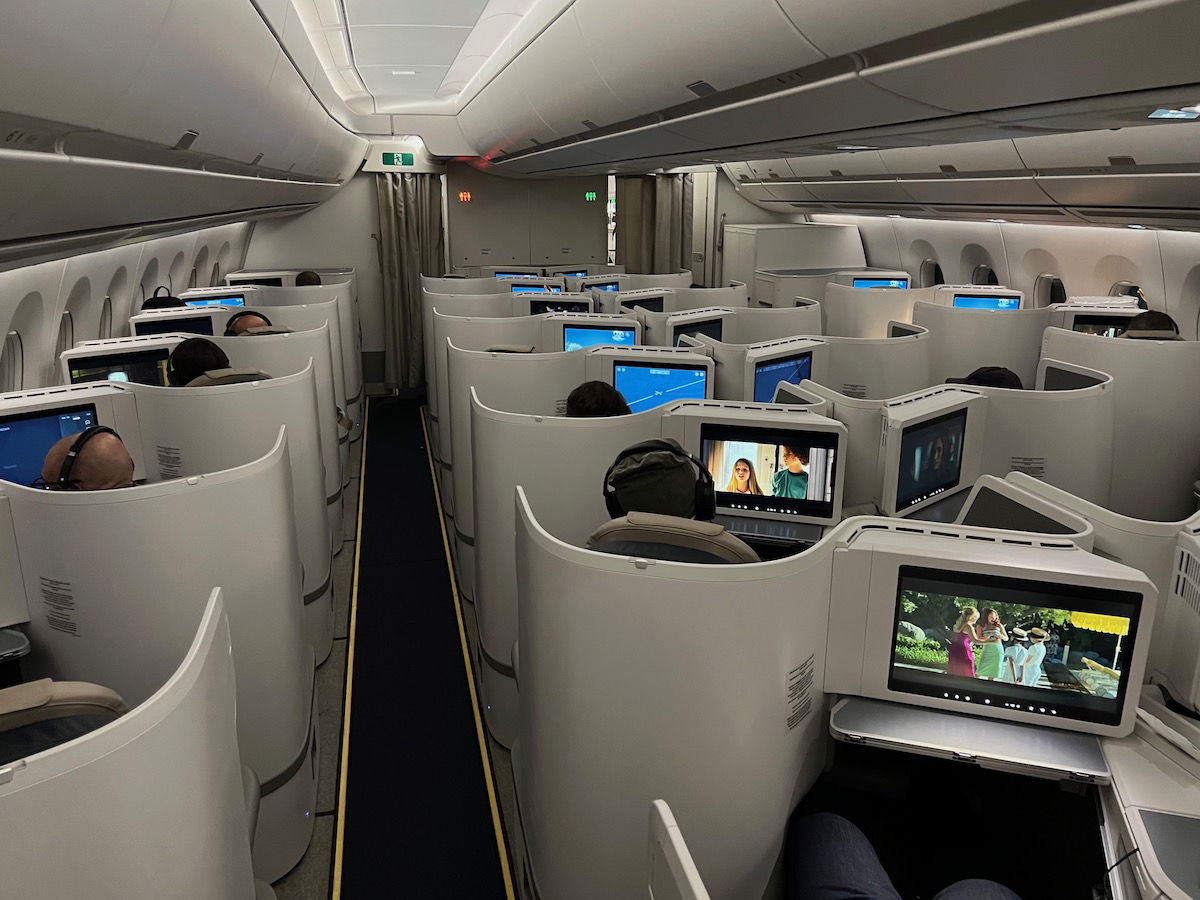 By the way, it's nice how ITA's A350s have Wi-Fi. The speeds aren't amazing, but the pricing is reasonable, at $25 for the entire flight with a 500MB data cap (which is really high).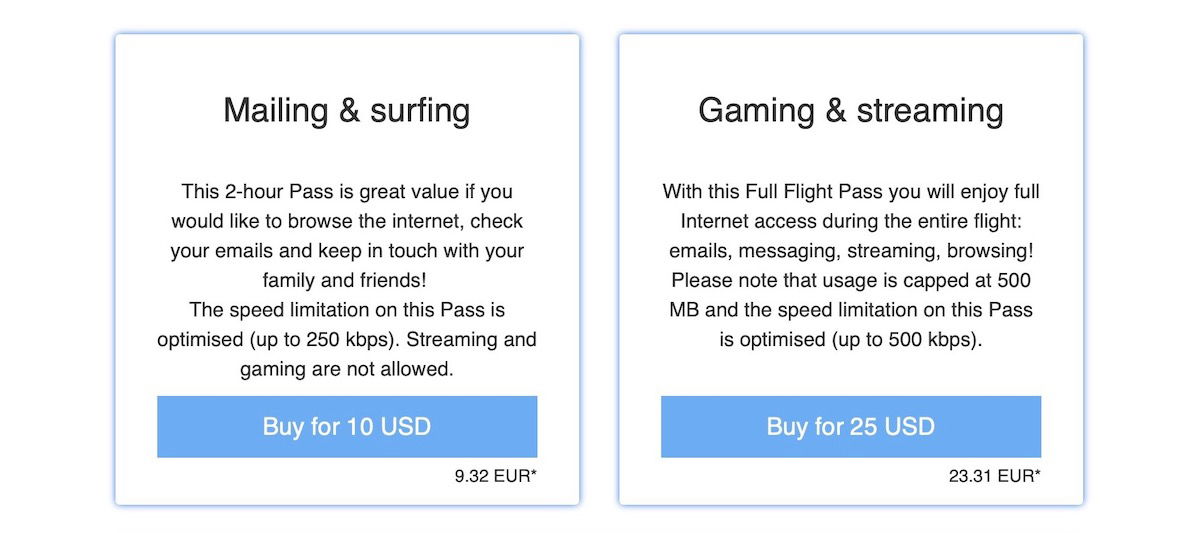 ITA's amazing business class meal service
I love the extent to which ITA embraces its Italian roots with its inflight product, and particularly with its meal service. On this nearly nine hour flight, a massive dinner was served after takeoff.
The service began with the choice of an aperitif, so I selected an aperol spritz (I love the glassware, by the way). The only part of the meal service I found strange was that this was accompanied by flavorless walnuts. That seems like an odd pairing to me. Has anyone in the history of earth ever said "this would pair great with some walnuts?" I don't think so… I digress.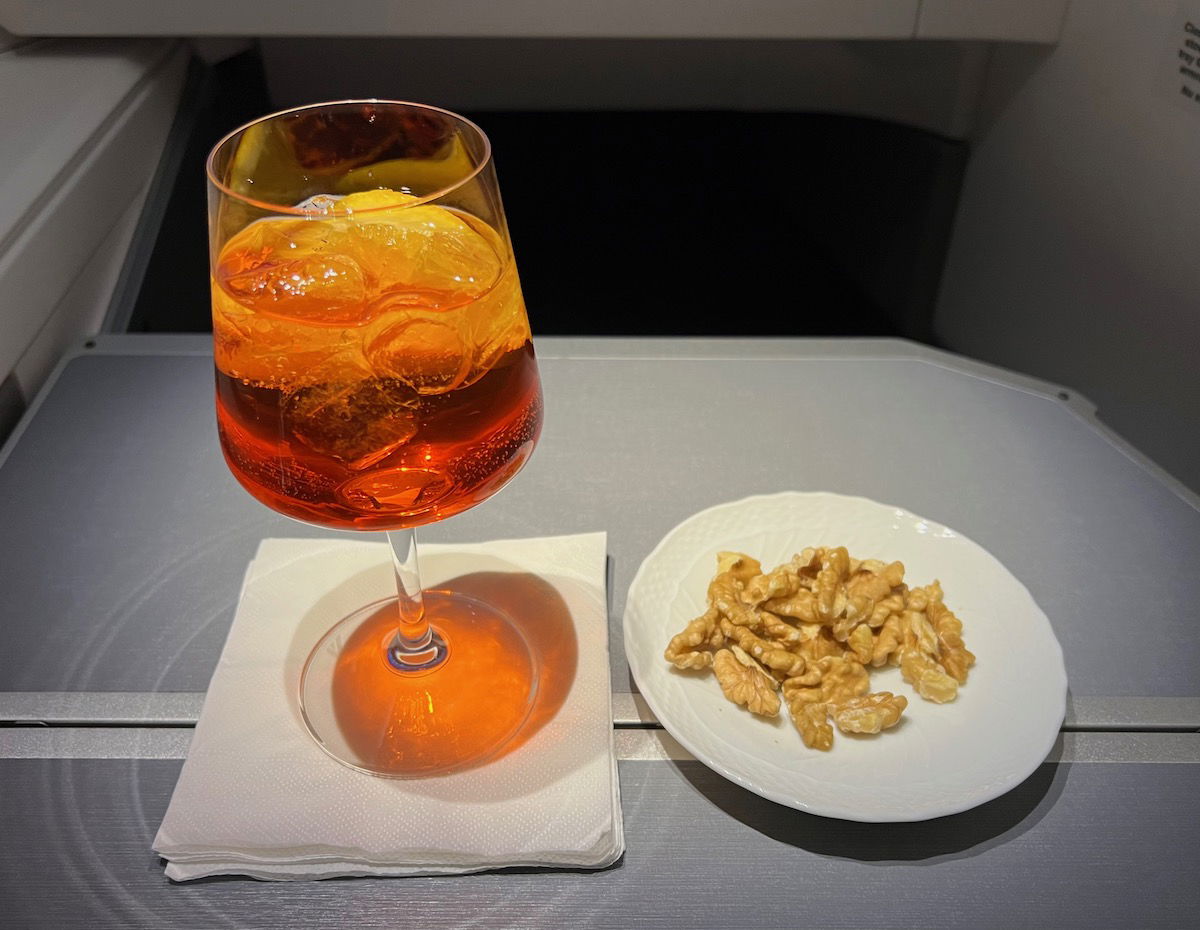 Next up was the choice of two appetizers, and I selected the prawns with a potato and carrot salad.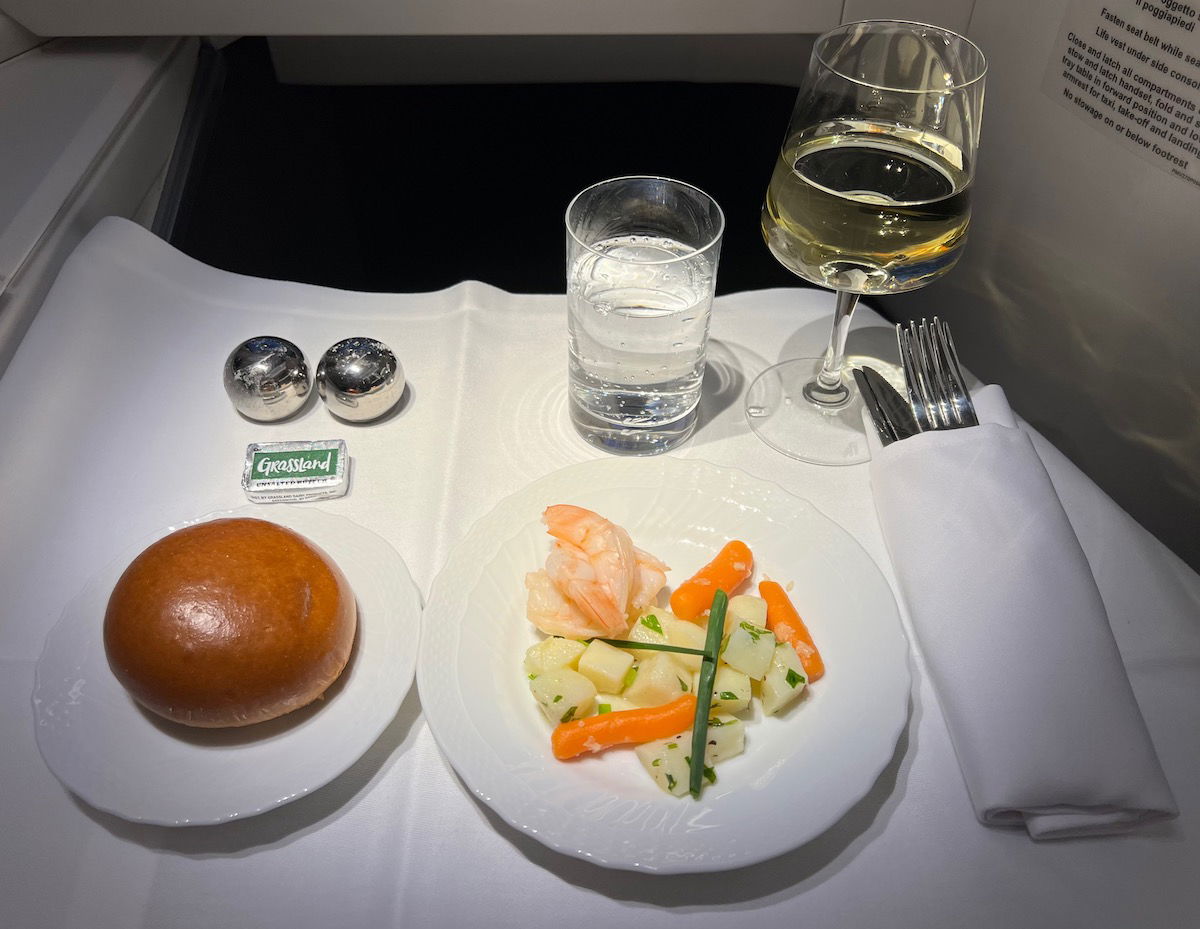 Next up was the choice of two primi (pasta dishes), and I selected the orecchiette pasta with broccoli sauce. Yum.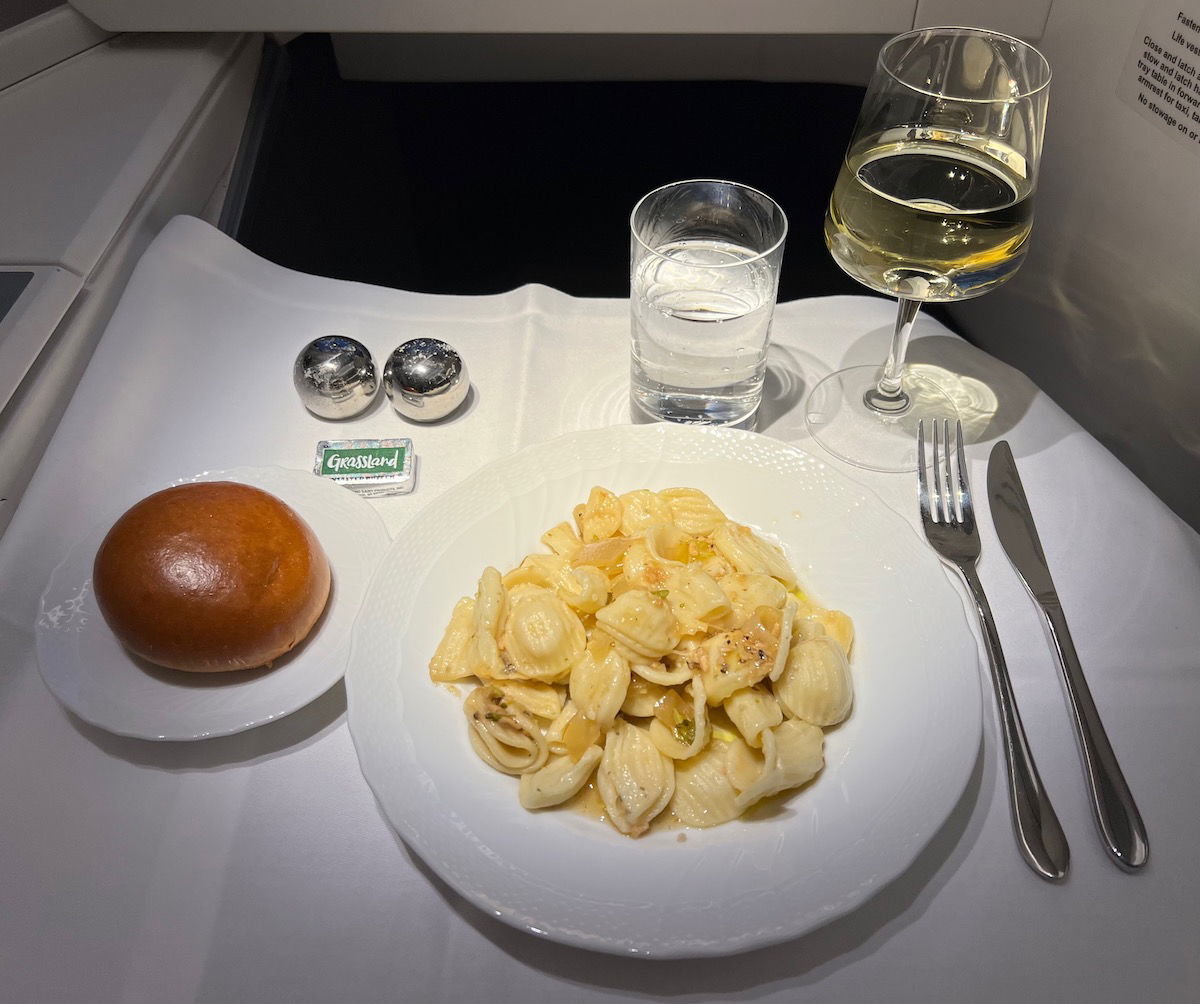 Then there was the choice of two secondi (meat or fish), and I chose the "sanremese" style fish steak with zucchini, potatoes, and buttered spinach. This was also very good.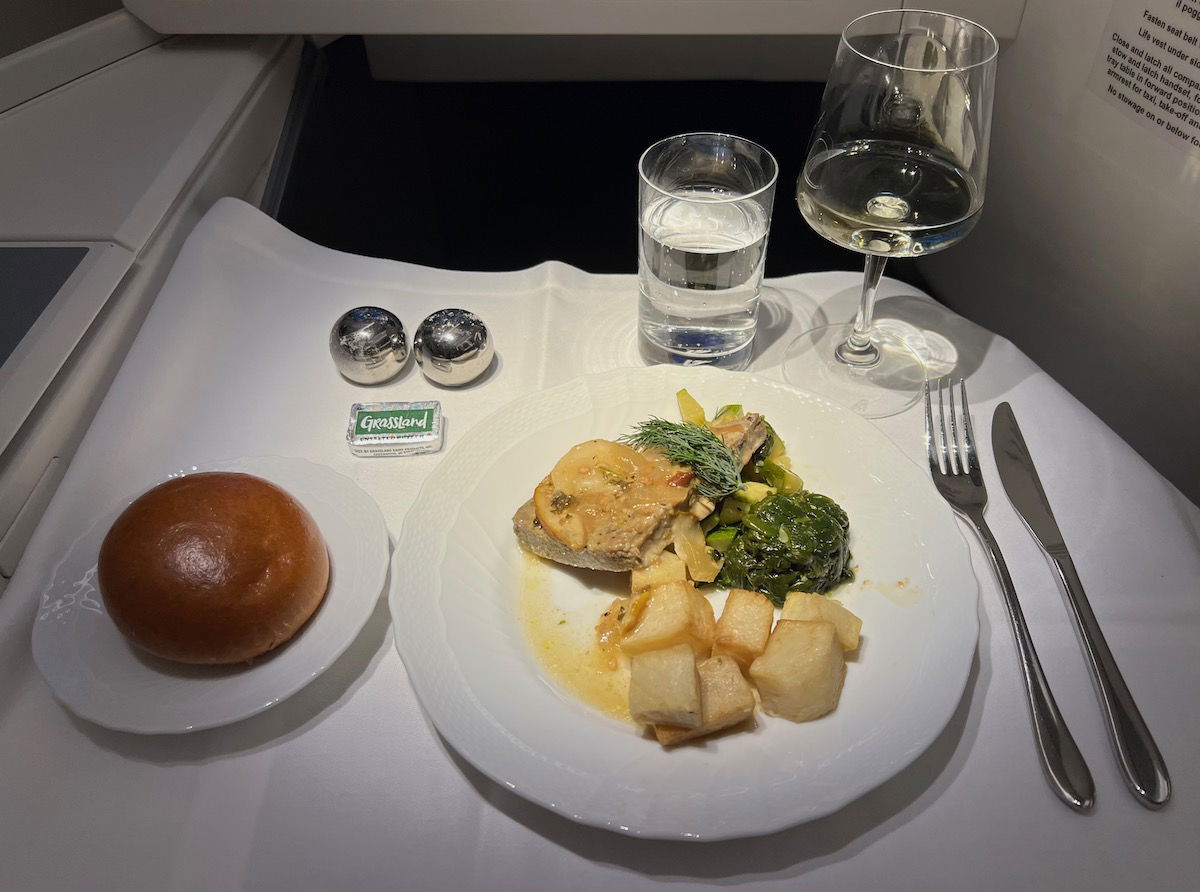 Next up was a cheese course, and unlike on so many airlines, the selection didn't seem like it was curated from Lunchables.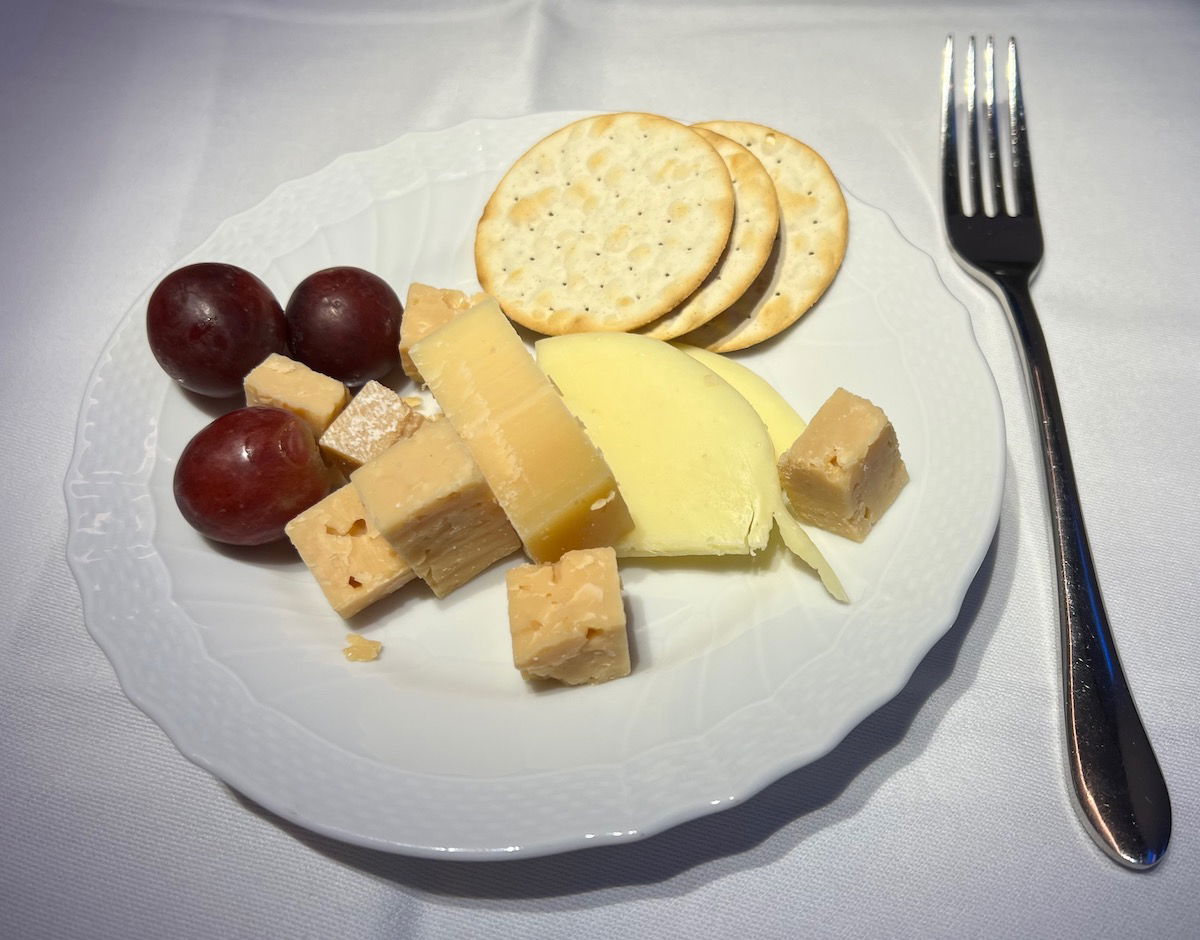 Lastly there was a small selection of cakes.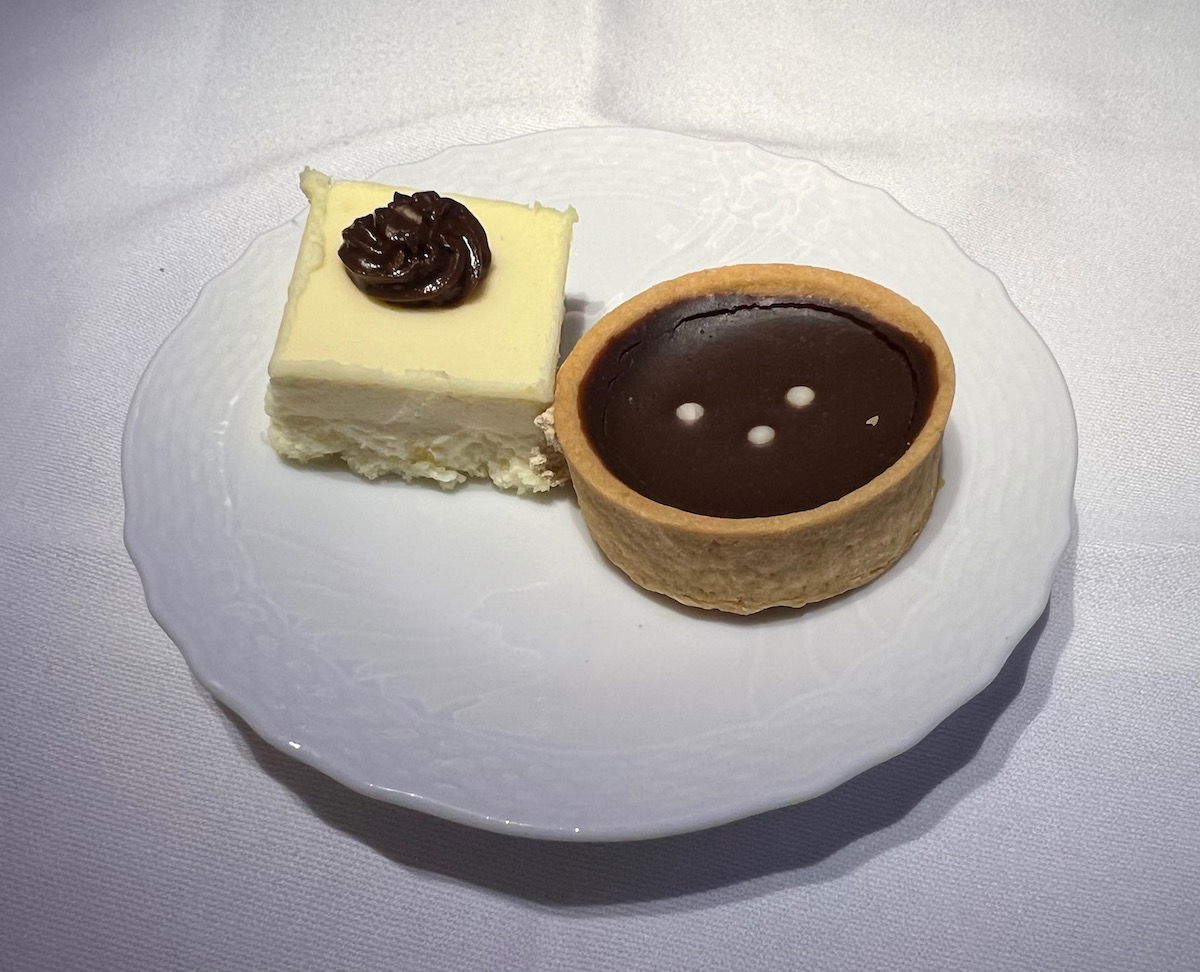 What an incredible meal! It's especially impressive when you consider this was catered at an outstation. I imagine the food is even better when departing Italy.
ITA's connection to Italy goes beyond the food, as the airline also partners with Italian brand Salvatore Ferragamo for its amenity kits.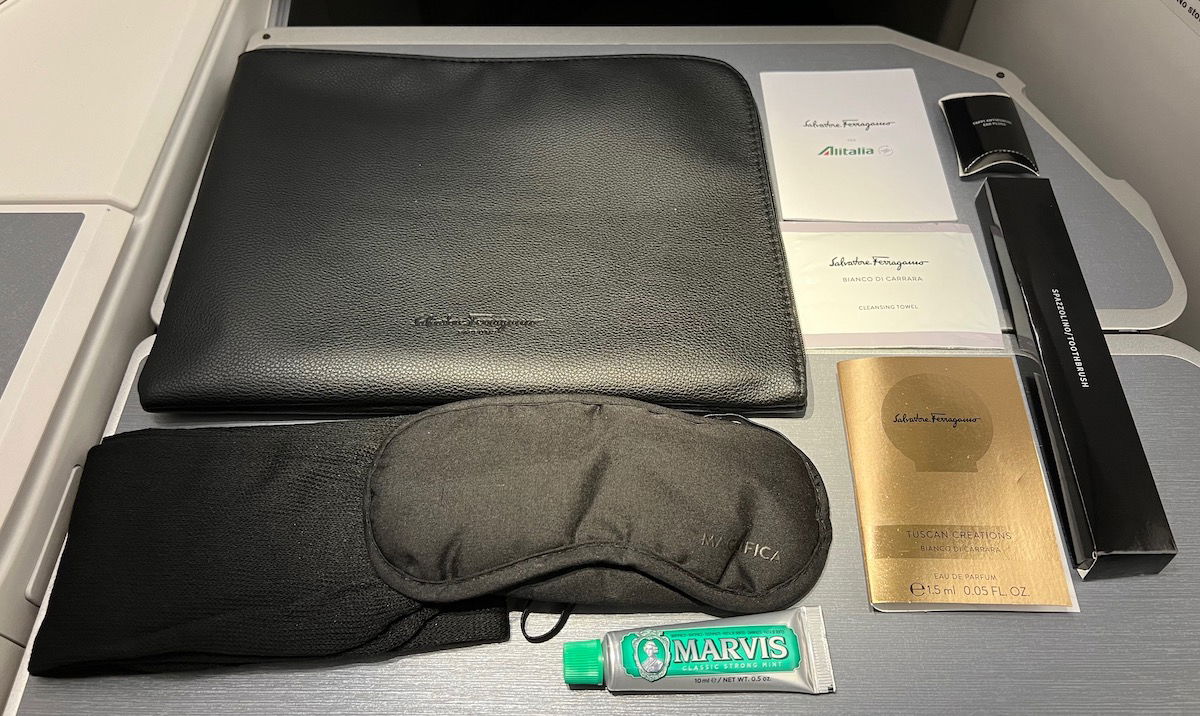 My ITA flight had friendly, genuine service
I was curious to see what service would be like on this flight. As far as I could tell, the crews had the old Alitalia uniforms on, and if I had to guess, I'd say they had all worked at Alitalia before. This was a very senior and experienced crew, and they were fantastic.
They truly seemed to enjoy their jobs, and they actually understood service flow in premium cabins which was so refreshing, after recent flights on Gulf Air and Bamboo Airways). They completed that entire meal service within two hours of takeoff, always kept glasses topped up, proactively replaced cutlery, and cleared plates as they were finished.
This isn't Singapore Airlines, where you're constantly addressed by name, and service is extremely consistent. Rather these ladies really seemed to enjoy their jobs, and they performed their duties professionally.
Best of all, they did it all in a charming Italian way. For example, before the flight I asked if the plane had working Wi-Fi. The crew member's response? "I suppose… I hope." Hah, there was just something about the fun and informal way they communicated that brought a smile to my face.
I also still felt Etihad's influence with ITA's service flow (keep in mind Etihad had purchased a stake in Alitalia, and then bailed, leading to Alitalia's demise). For example, I love how all the food is served directly onto the tray, how dishes are plated, etc.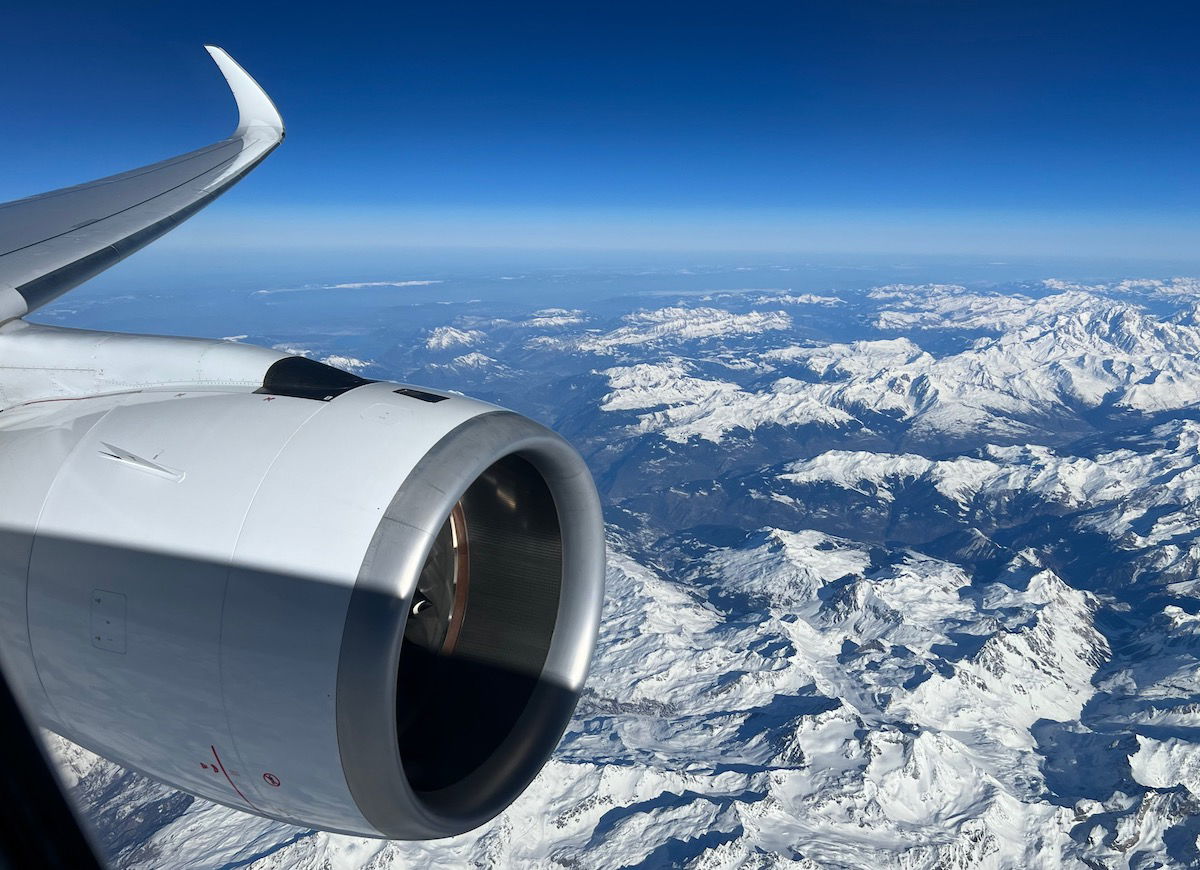 Bottom line
ITA Airways exceeded my expectations. The A350-900 felt new and modern, though wasn't anything particularly remarkable, as you'll find a similar product on many other airlines.
What impressed me most was the food, which I'd say is probably the best catering you'll find in transatlantic business class, along with Turkish Airlines. I love how everything about the service is Italian, from a pre-dinner aperol spritz, to an after dinner limoncello.
On top of that, the crew was friendly and experienced, and the amenities were quite good. I'll have a full review soon, where I'll cover everything in more detail.
It's just a shame that while ITA Airways is in SkyTeam, as of now there are no reciprocal mileage redemption opportunities. With Lufthansa Group allegedly nearing a potential takeover of the airline, maybe ITA flights will be bookable with Star Alliance miles soon enough… we can hope.
I'm curious what my experience is like connecting to the ITA Airways Airbus A320.
Anyone else impressed by ITA Airways' business class?