In the interest of full disclosure, OMAAT earns a referral bonus for anyone that's approved through some of the below links. These are the best publicly available offers (terms apply) that we have found for each product or service. Opinions expressed here are the author's alone, not those of the bank, credit card issuer, airline, hotel chain, or product manufacturer/service provider, and have not been reviewed, approved or otherwise endorsed by any of these entities. Please check out
our advertiser policy
for further details about our partners, and thanks for your support!
For the next portion of my four trips across the Atlantic, I flew British Airways' new Boeing 777-300ER first class from Newark to London. While British Airways is well known for its new Club Suites business class, the airline has also introduced new first class seats with doors on select 777s, though on a much more limited basis.
I was looking forward to this flight, not only because of the new seats, but also because British Airways has drastically reduced the size of its first class cabin on 777s, from 14 seats to eight seats. I wondered if this would lead to more personalized service, given the more intimate cabin.
Unfortunately my flight was really underwhelming. While I thought the hard product, amenities, and food, were all good, the service was among the worst I've ever had in first class, without being rude. The service was simply so unpolished and slow that I would have been disappointed if I were in business class, let alone first class.
Let's get into the review…
How I booked my British Airways first class ticket
I booked my British Airways first class ticket using American AAdvantage miles. Specifically, I booked the following flight in first class for 85,000 AAdvantage miles plus $731.20 in taxes & fees:
2/11 BA188 Newark to London departing 9:30PM arriving 9:10AM (+1 day)
While the mileage requirement is reasonable, of course the carrier imposed surcharges on British Airways sting. So I wanted to point out that there are potentially two better ways to book first class awards on British Airways:
Why did I book through American AAdvantage? Well, I really wanted to review British Airways' new first class, and British Airways is notorious for swapping planes at the last minute. With AAdvantage I could change my ticket up to departure, while British Airways Executive Club doesn't allow changes within 24 hours of departure.
That ended up really coming in handy, as I changed my award day of departure in order to get on a plane with the new first class. So booking through AAdvantage gave me the flexibility that I needed in this case, and I wouldn't have had that through the other programs.
British Airways first class lounge & boarding
In the last installment I reviewed the British Airways Lounge Newark, which is quite nice, and even has a pre-flight dining facility. Boarding was scheduled for 8:50PM, 40 minutes before the scheduled departure. So I headed to gate B55 a bit before scheduled boarding time.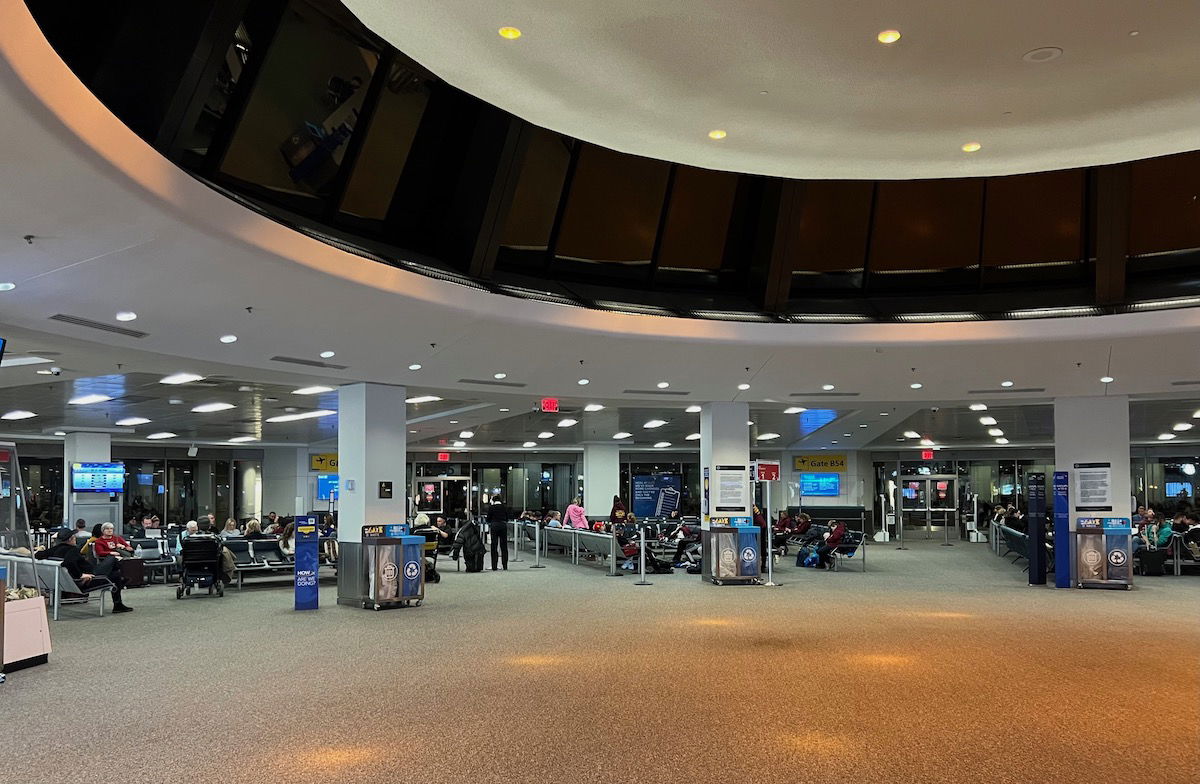 Boarding ended up starting at 9PM, with those needing extra time being invited to board first, followed by those in first class.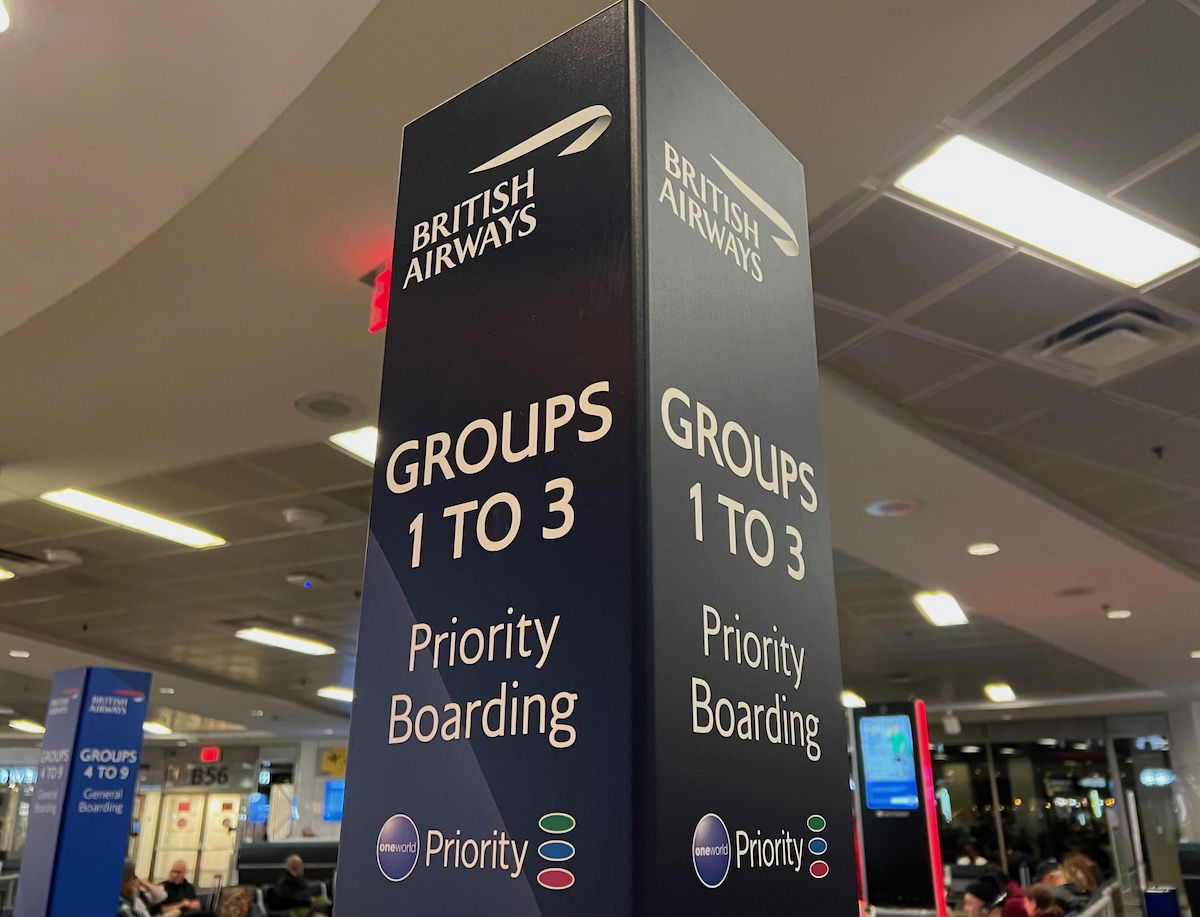 Rather annoyingly, boarding was exclusively performed through the forward door on this flight, meaning that the entire plane walked through first class. I'm guessing there was some operational reason for that, because it doesn't create a very relaxing boarding process.
British Airways 777 first class cabin & seats
My flight was operated by G-STBO, which is one of the newest Boeing 777-300ERs in service. The plane was only delivered to British Airways in November 2020.
My first impression of the British Airways 777 first class cabin was quite positive. The cabin is incredibly elegant, and I love the mood lighting, finishes, and general colors.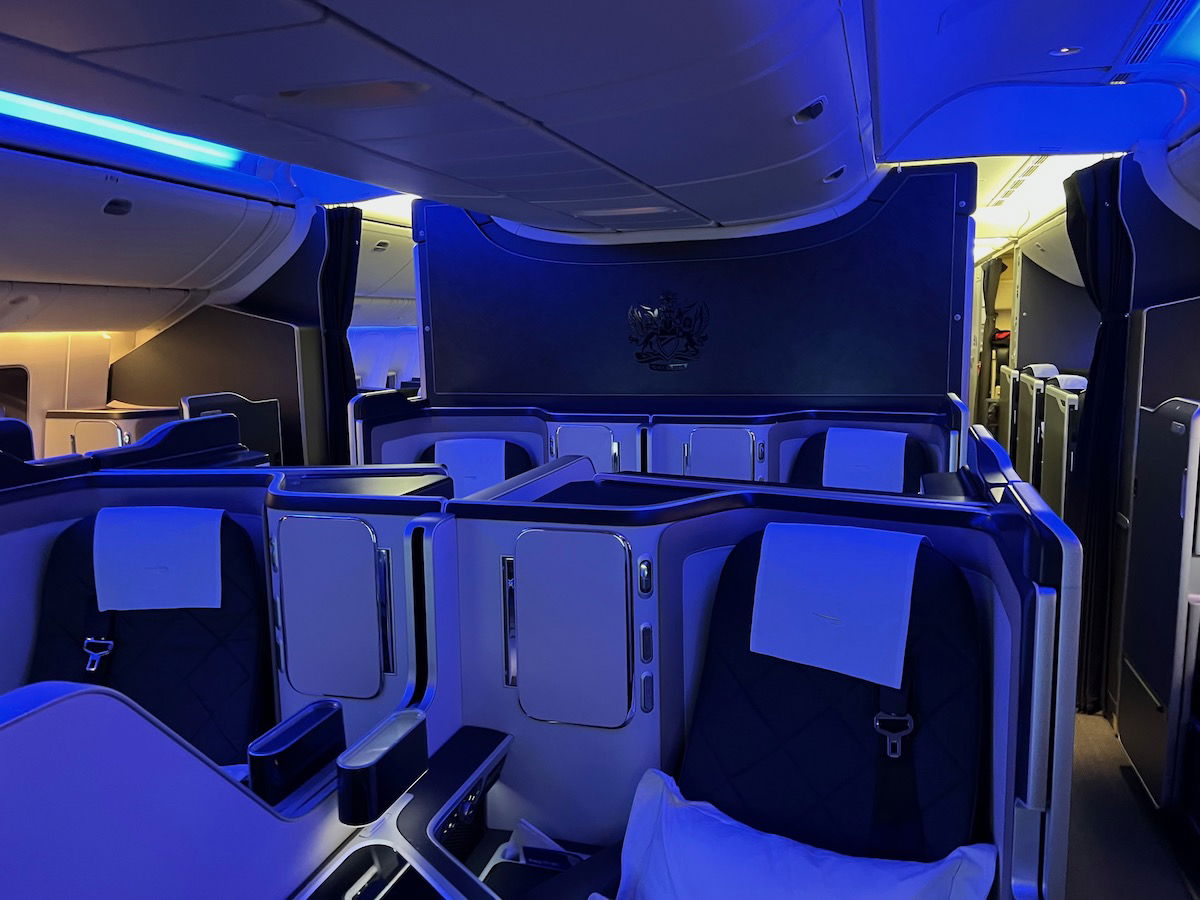 Before I talk more about first class, I quickly glanced into the business class mini-cabin located behind first class, which features British Airways Club Suites. British Airways' business class cabin on these planes is massive, with 76 seats, which are spread across three cabins. On this flight business class was just around 40% full.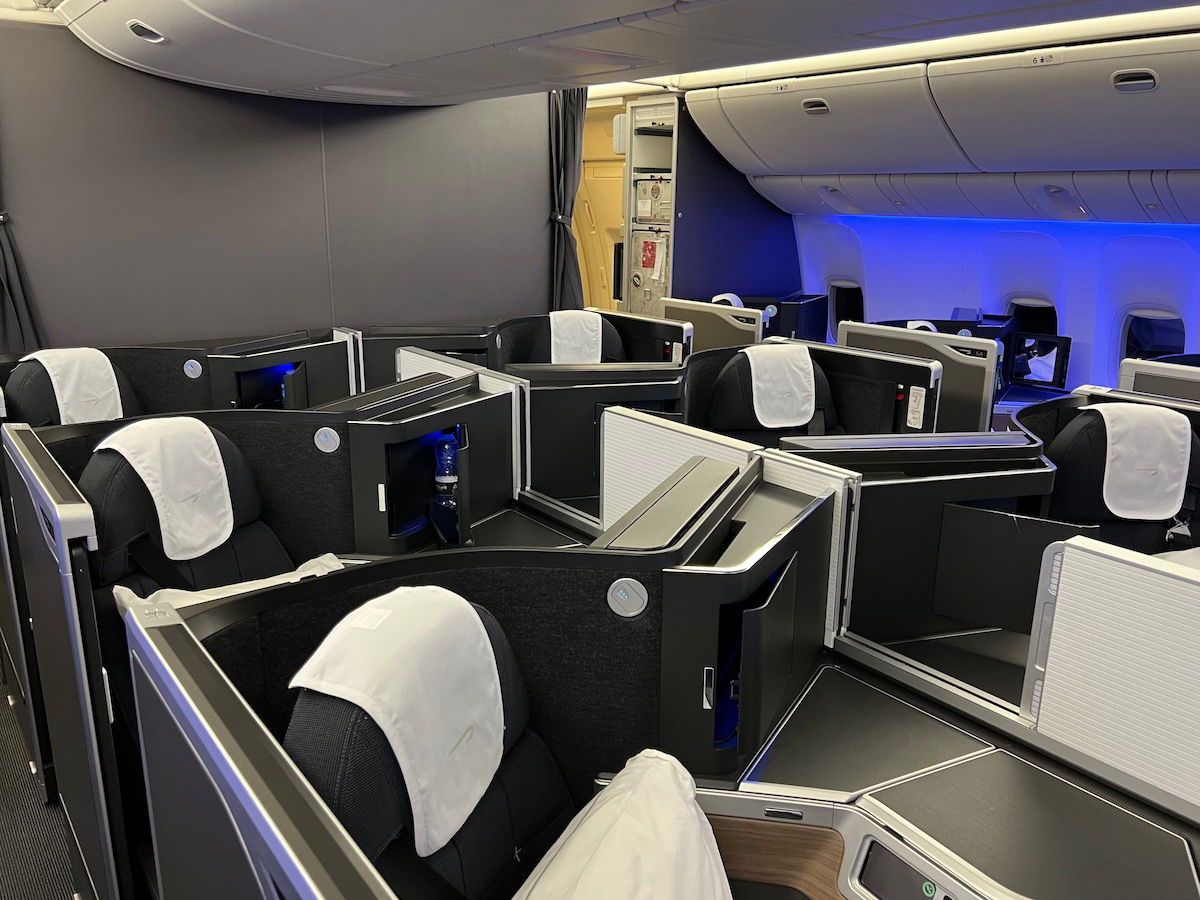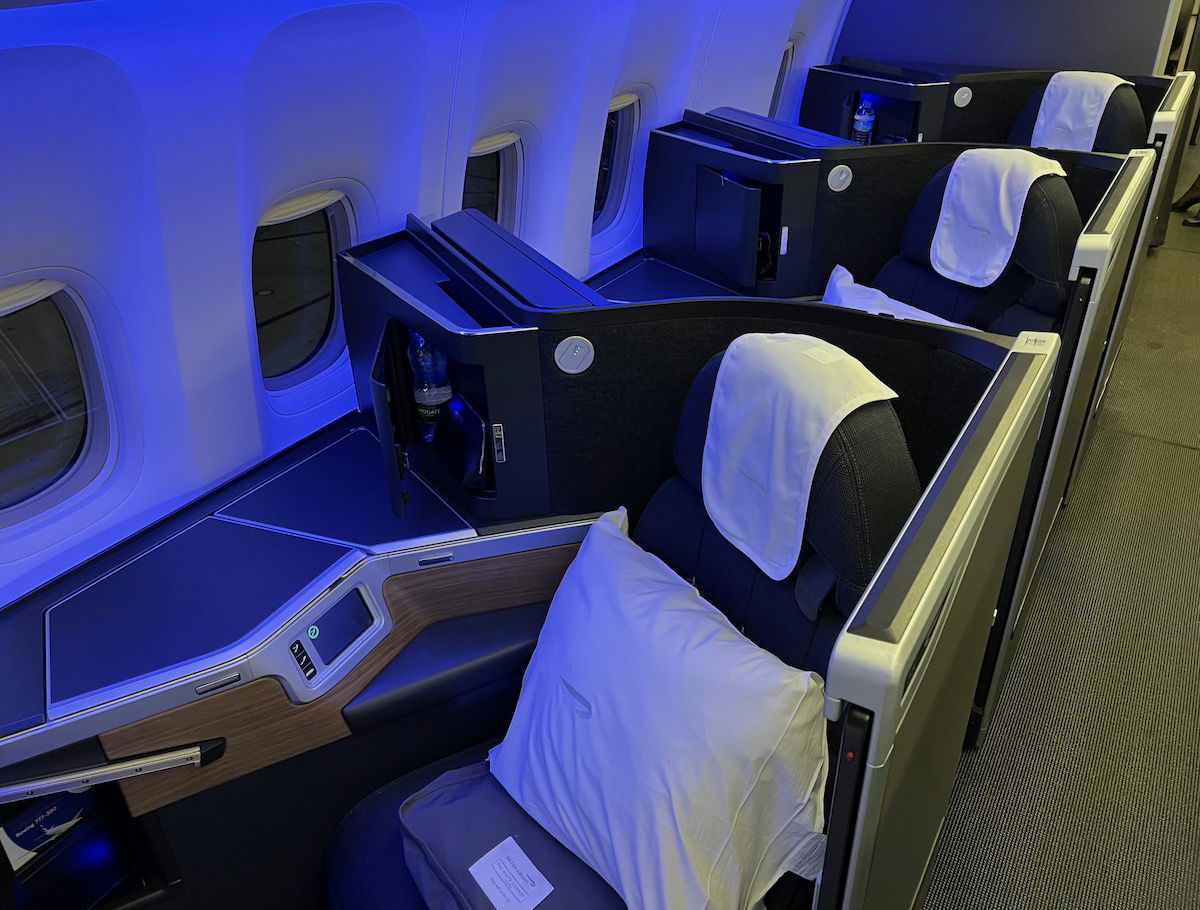 Anyway, back to first class. While I had heard some people say that British Airways' new first class is just the old product with a door slapped on, I found the changes to be more substantial than that, and there are some real functional improvements.
Those traveling together may want to assign two center seats, so they can enjoy the flight together and chat. There's a privacy partition between the center seats, which can be raised or lowered depending on your preferences.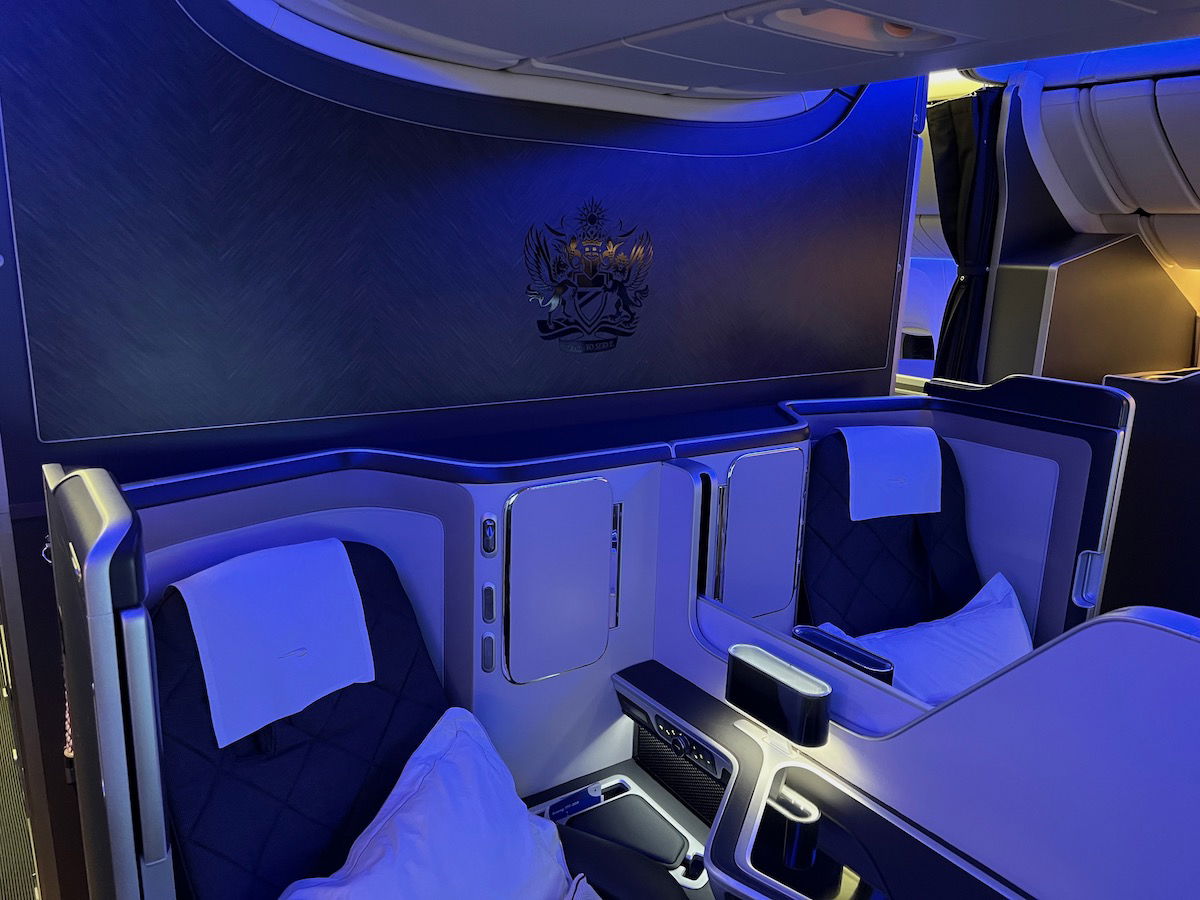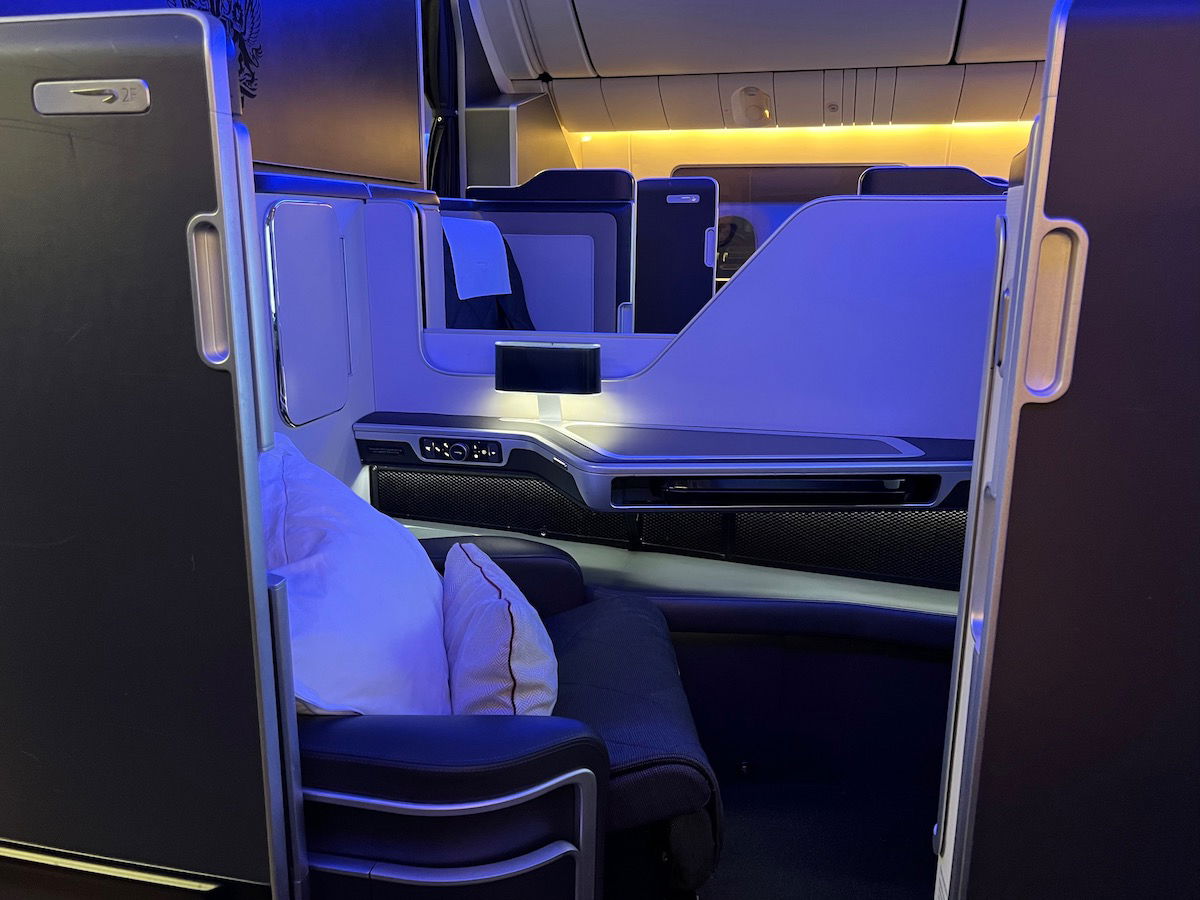 I assigned myself seat 2K, the window seat on the right side in the second row.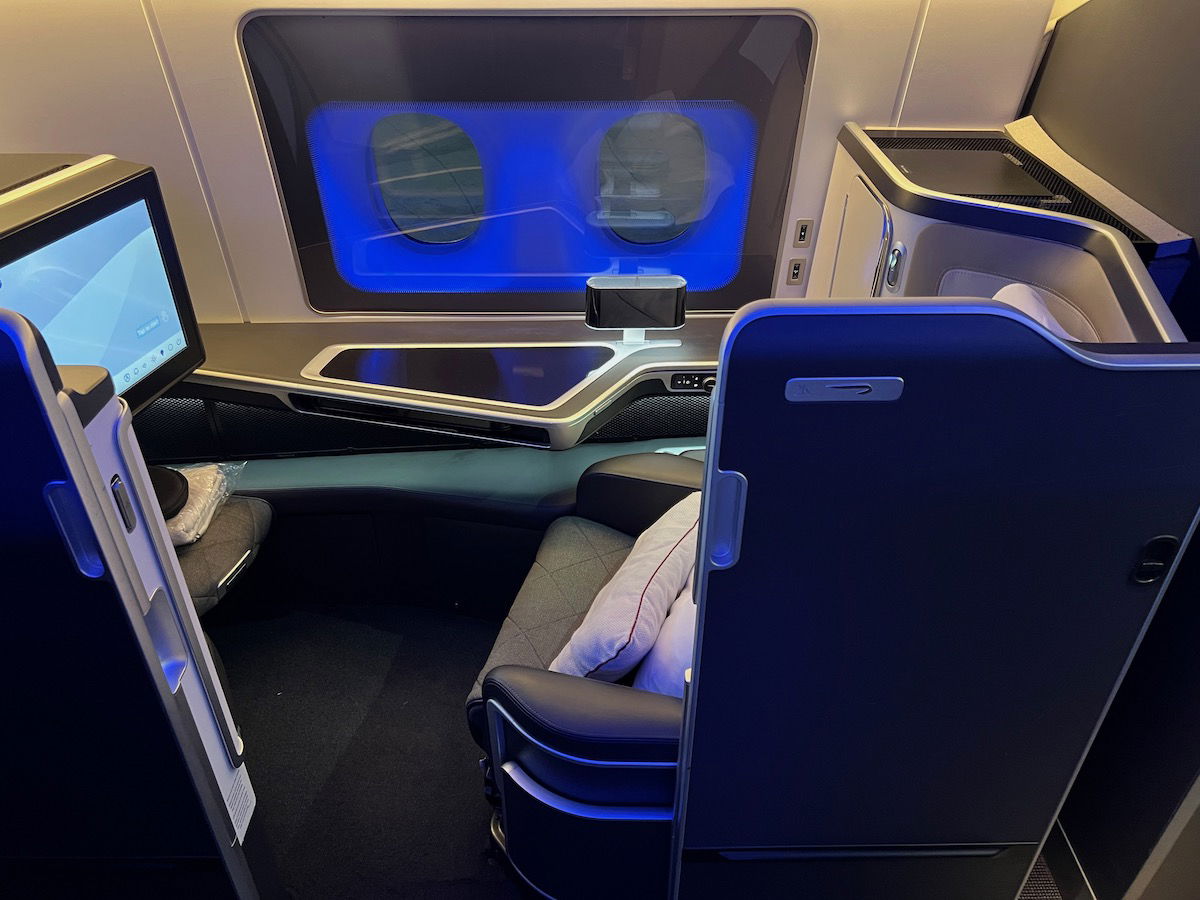 While this is far from the world's best first class hard product, I think it's plenty comfortable, and is quite competitive nowadays.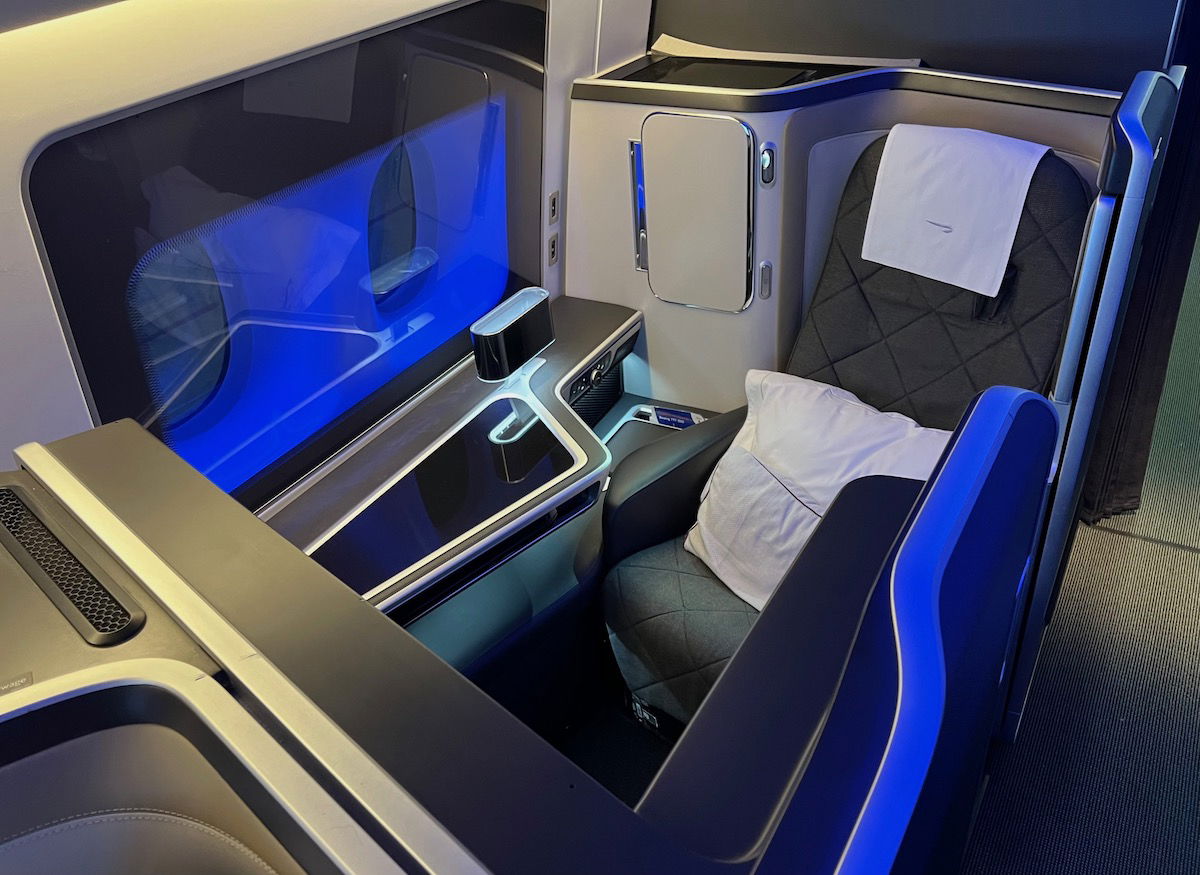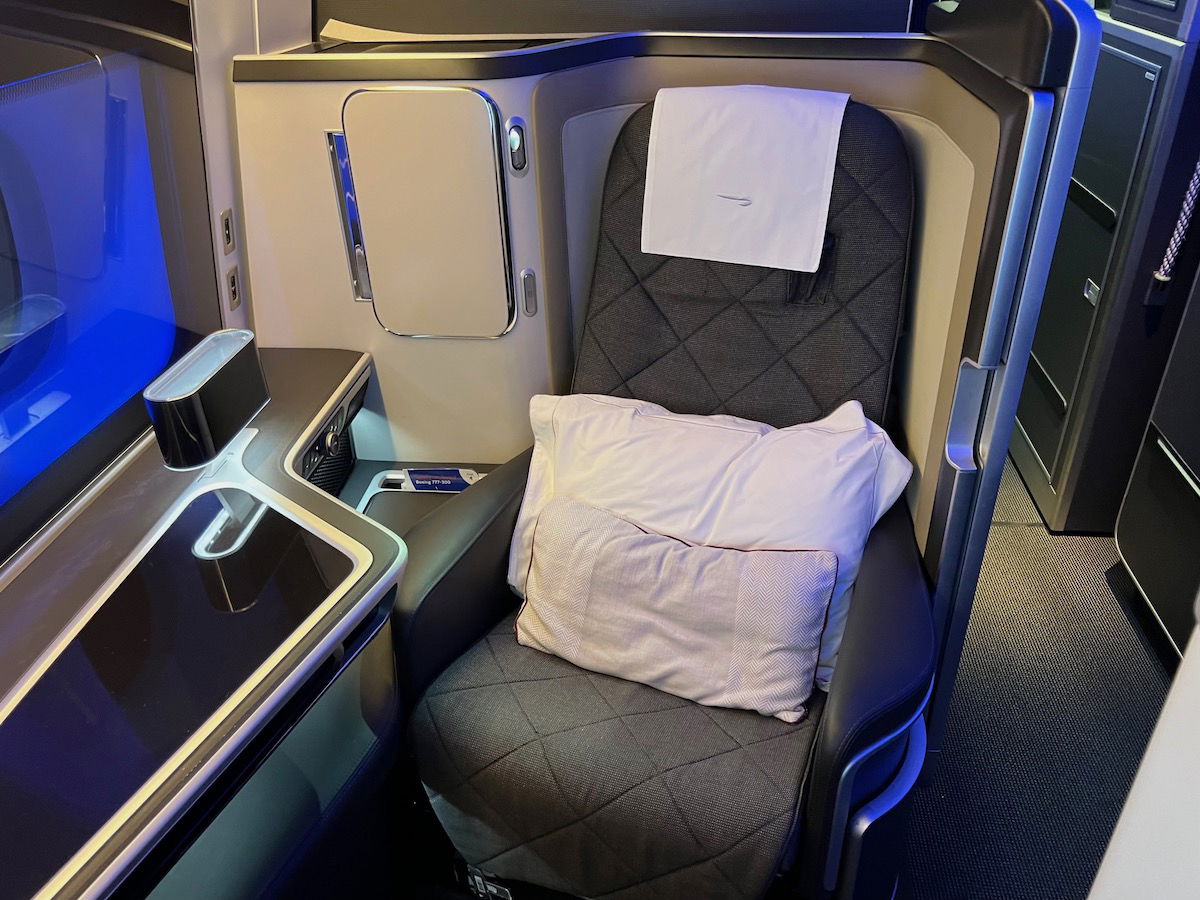 British Airways' new first class has a much bigger and higher definition TV than you'll find on other British Airways 777s, which is a much needed improvement.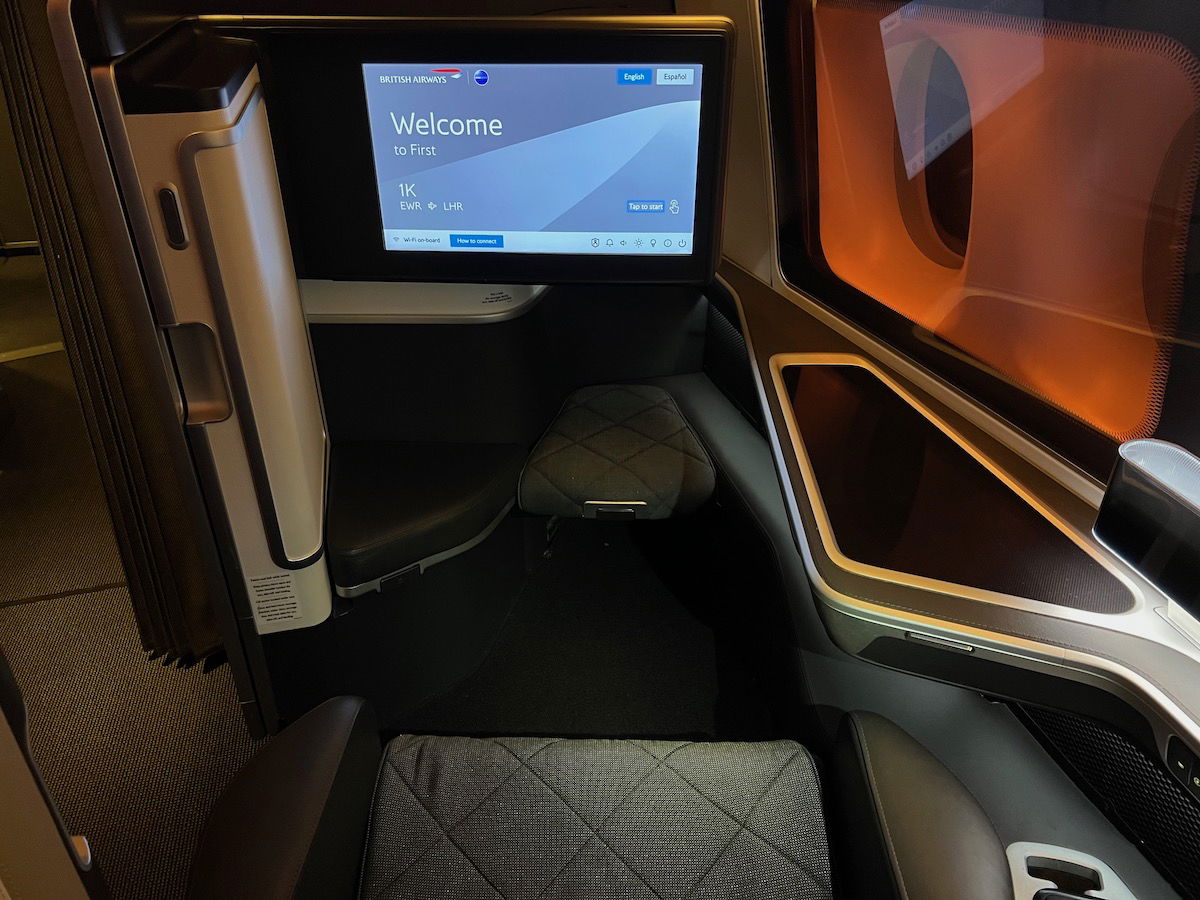 There's a console to the back right of the seat, which has storage space, plus a small mirror.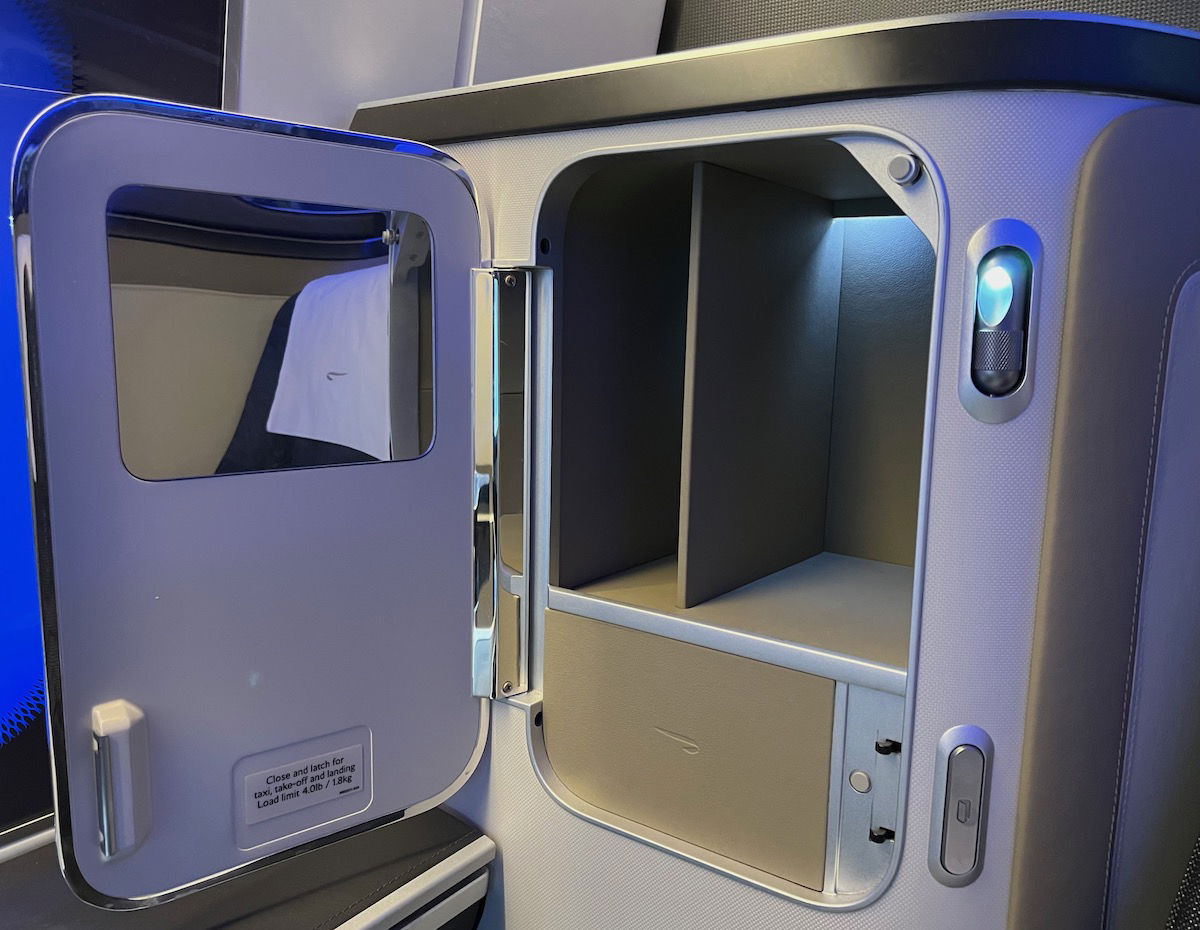 Underneath that is another storage compartment, as well as the seat controls.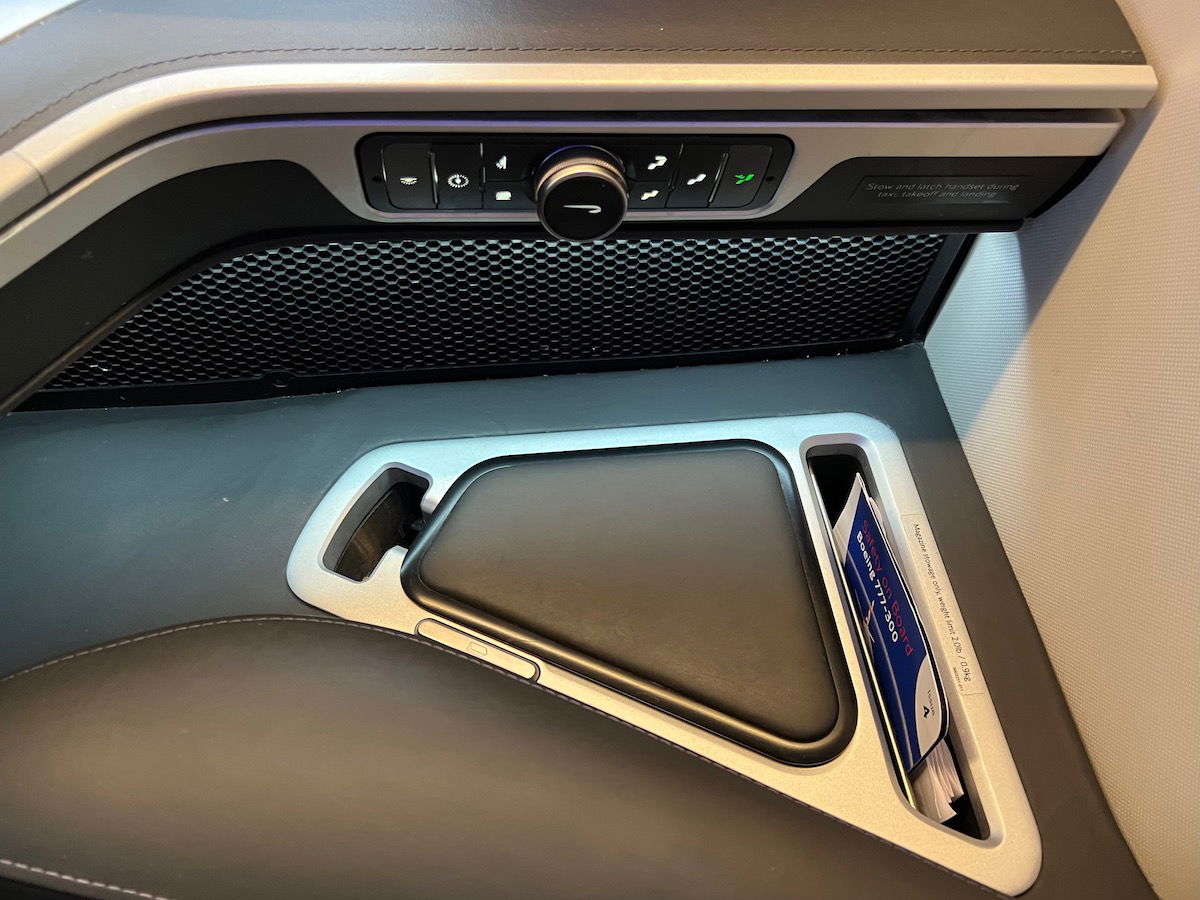 The storage compartment is fairly deep, and also contains an AC power outlet, two USB-A outlets, the entertainment controller, and headphone jacks. For a product that was so recently installed, I'm disappointed British Airways didn't add USB-C outlets or wireless charging to the seats. But I guess this is also an area where no adjustments were made compared to the previous product.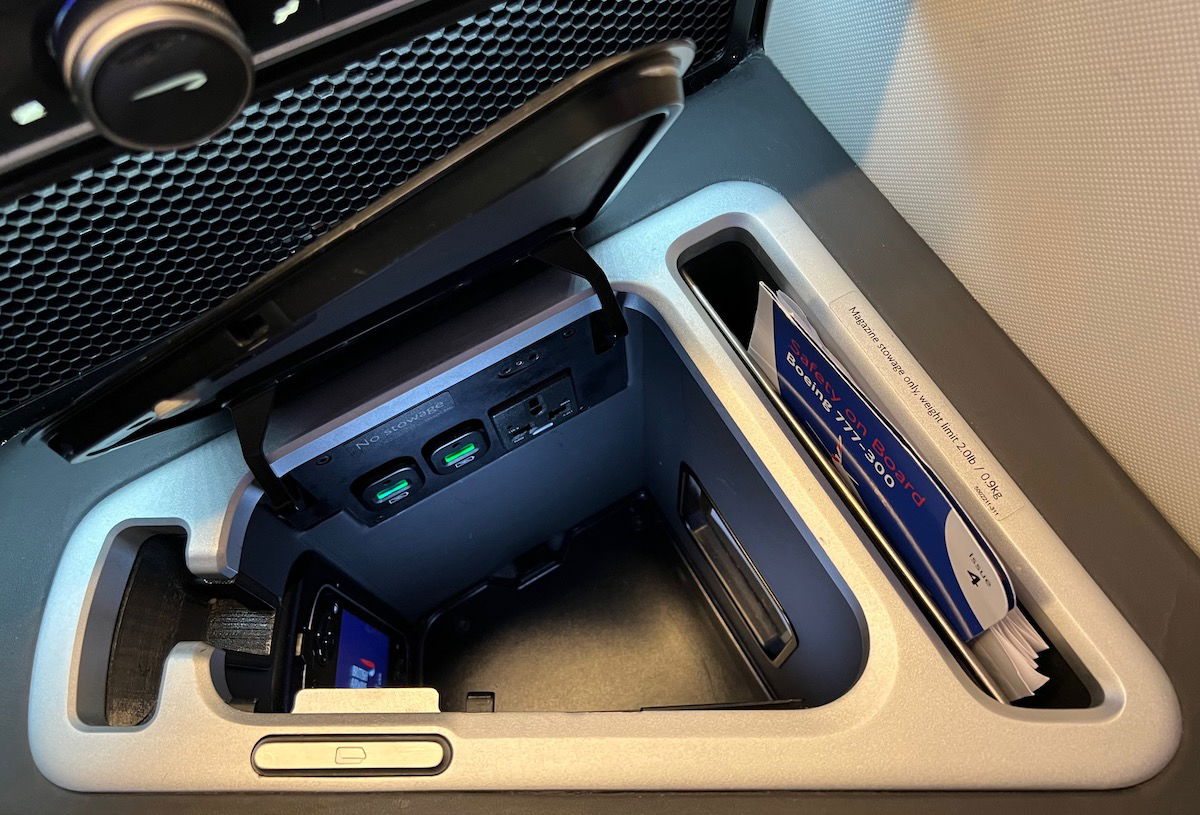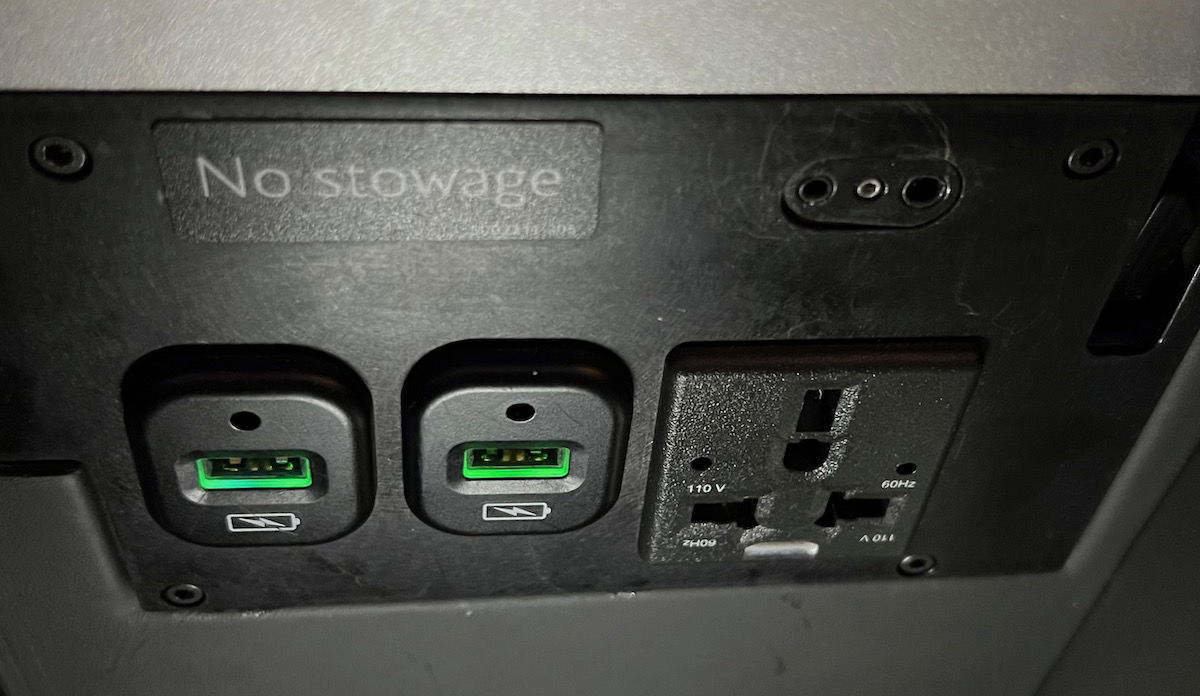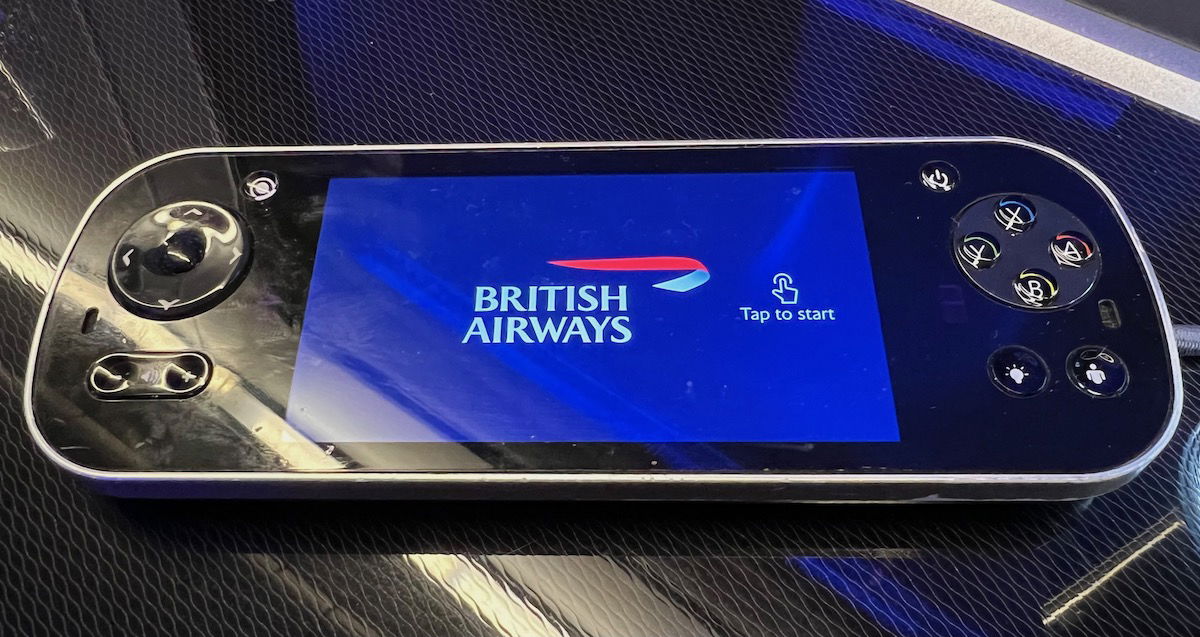 Most of the seat functions can be controlled from the panel to the side of the seat. There's a change here compared to the seat controls for the old seats, and to me this wasn't intuitive at all. With the old seats, you could just turn the knob to recline the seat, while that's not how it works anymore.
Now you first have to push the setting you want to change, and then you turn the knob. That system works perfectly well, but if you're used to the old controls, this will take some getting used to.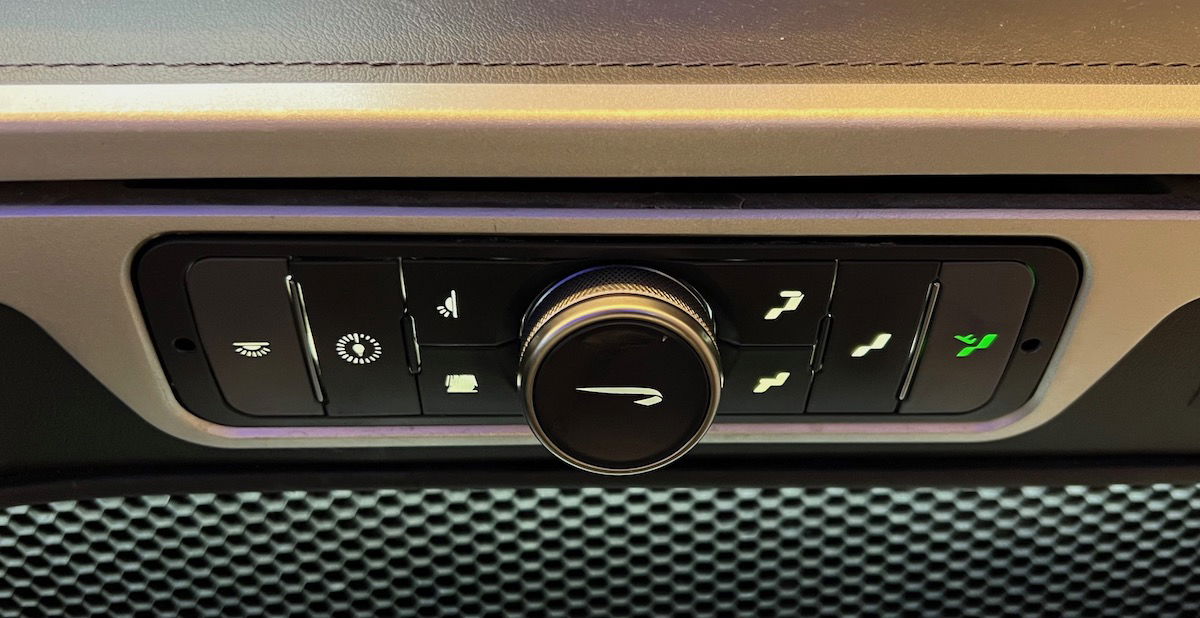 Each seat has an ottoman, and it's strictly an ottoman — this isn't a buddy seat so that two people could dine together.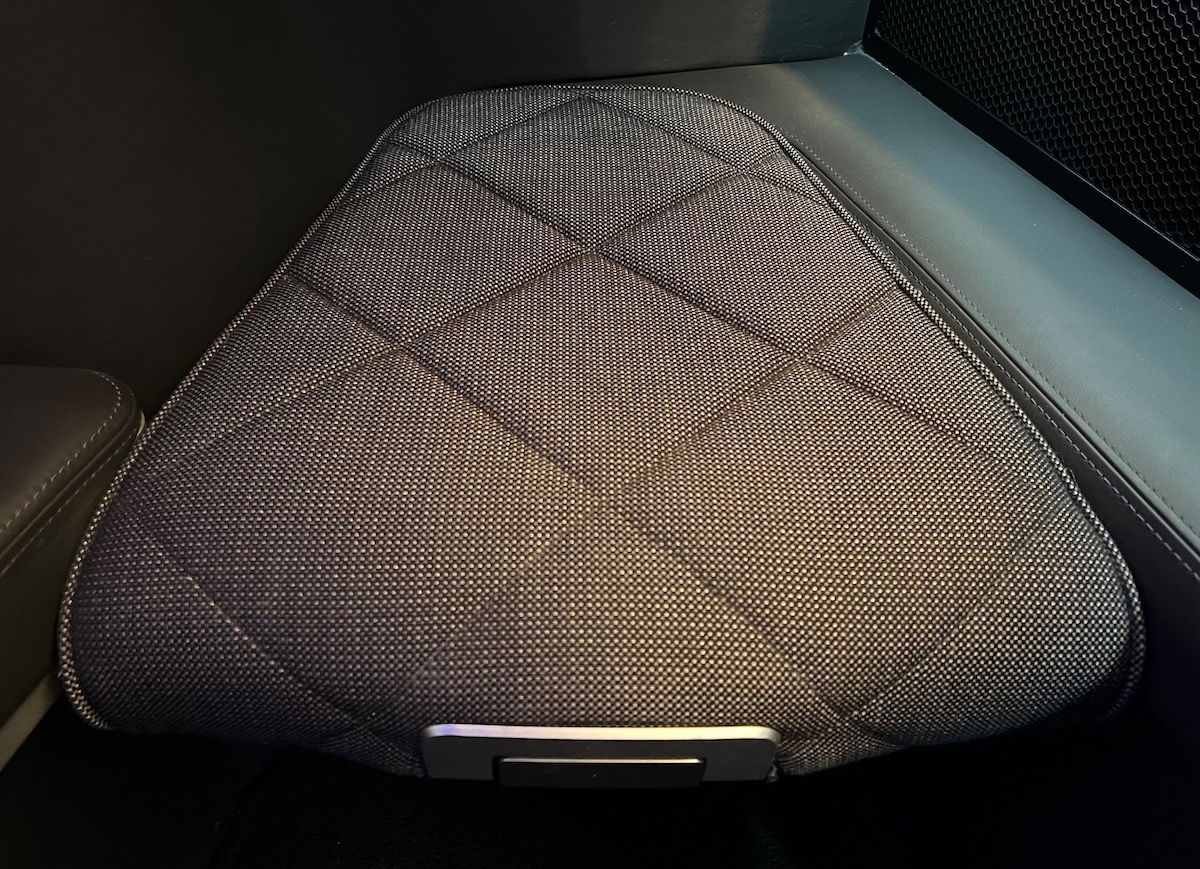 To the side of the ottoman is yet another storage compartment. This seat has no shortage of storage, that's for sure.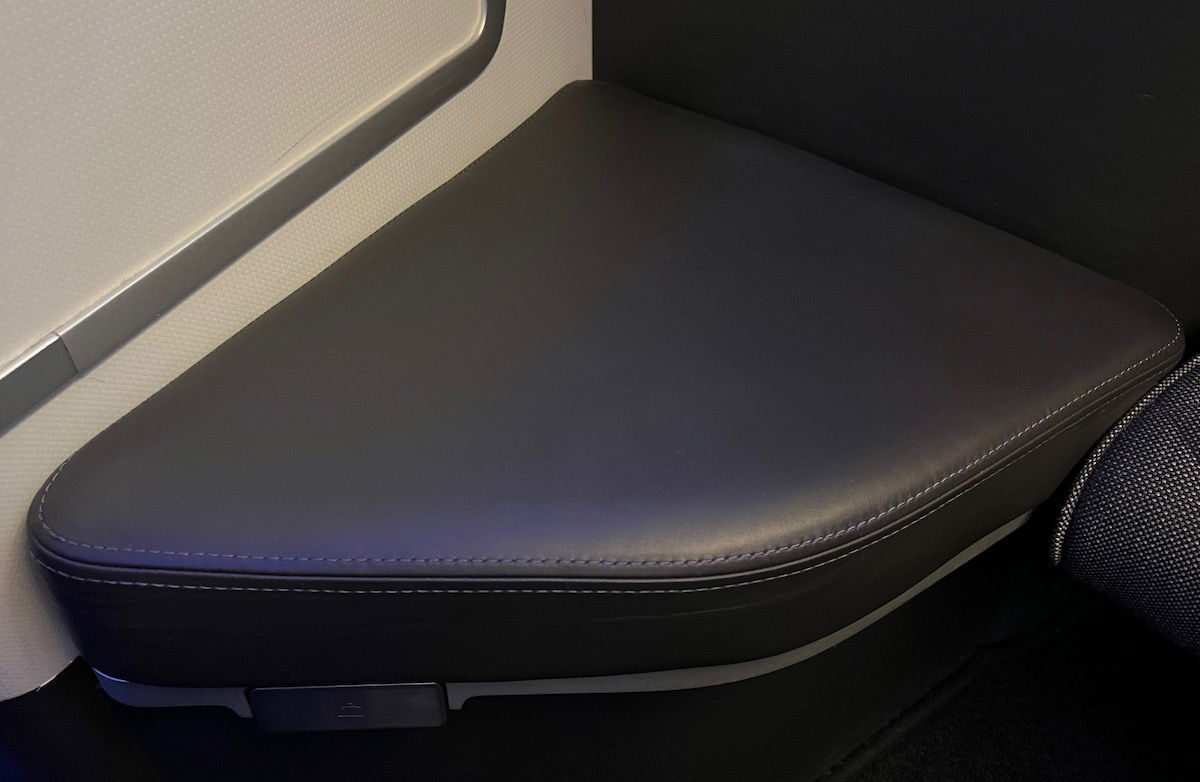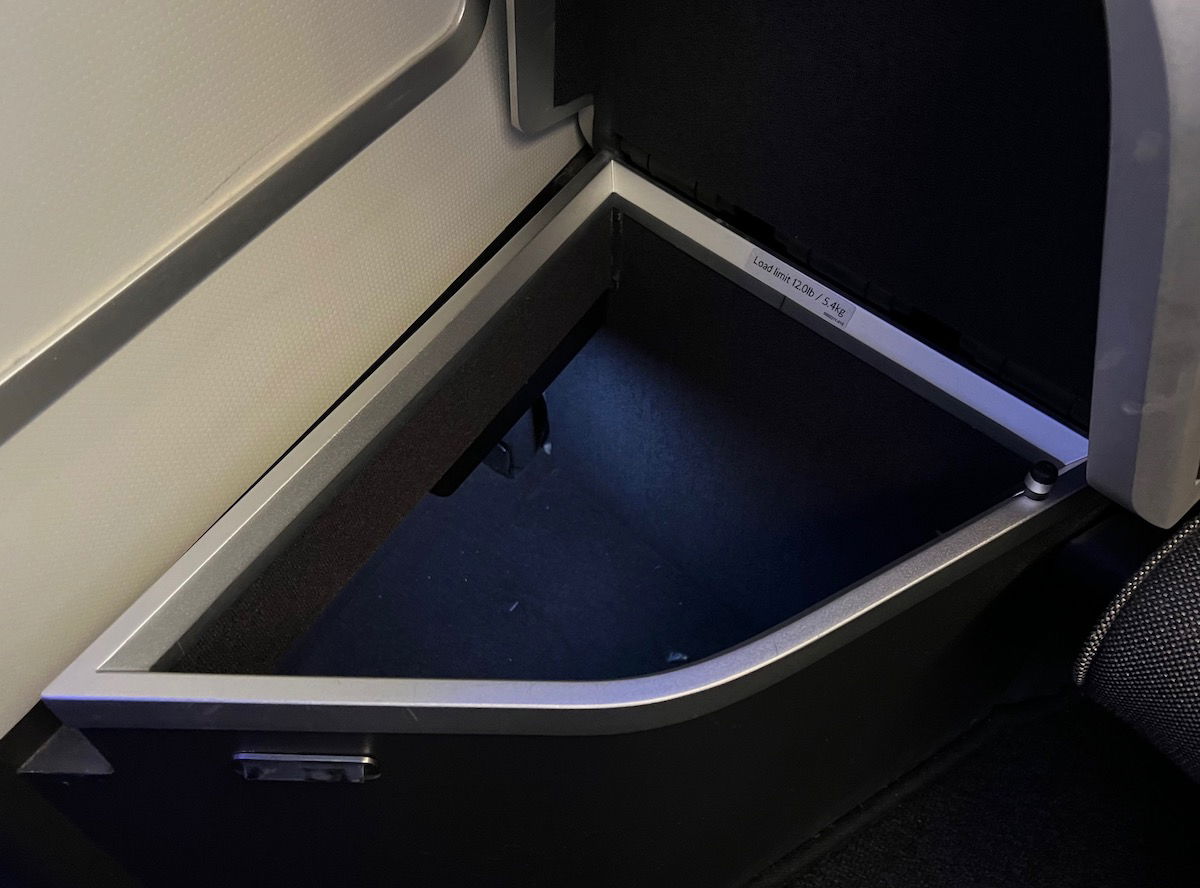 Then next to that is a pretty narrow wardrobe, which is yet another handy feature to have.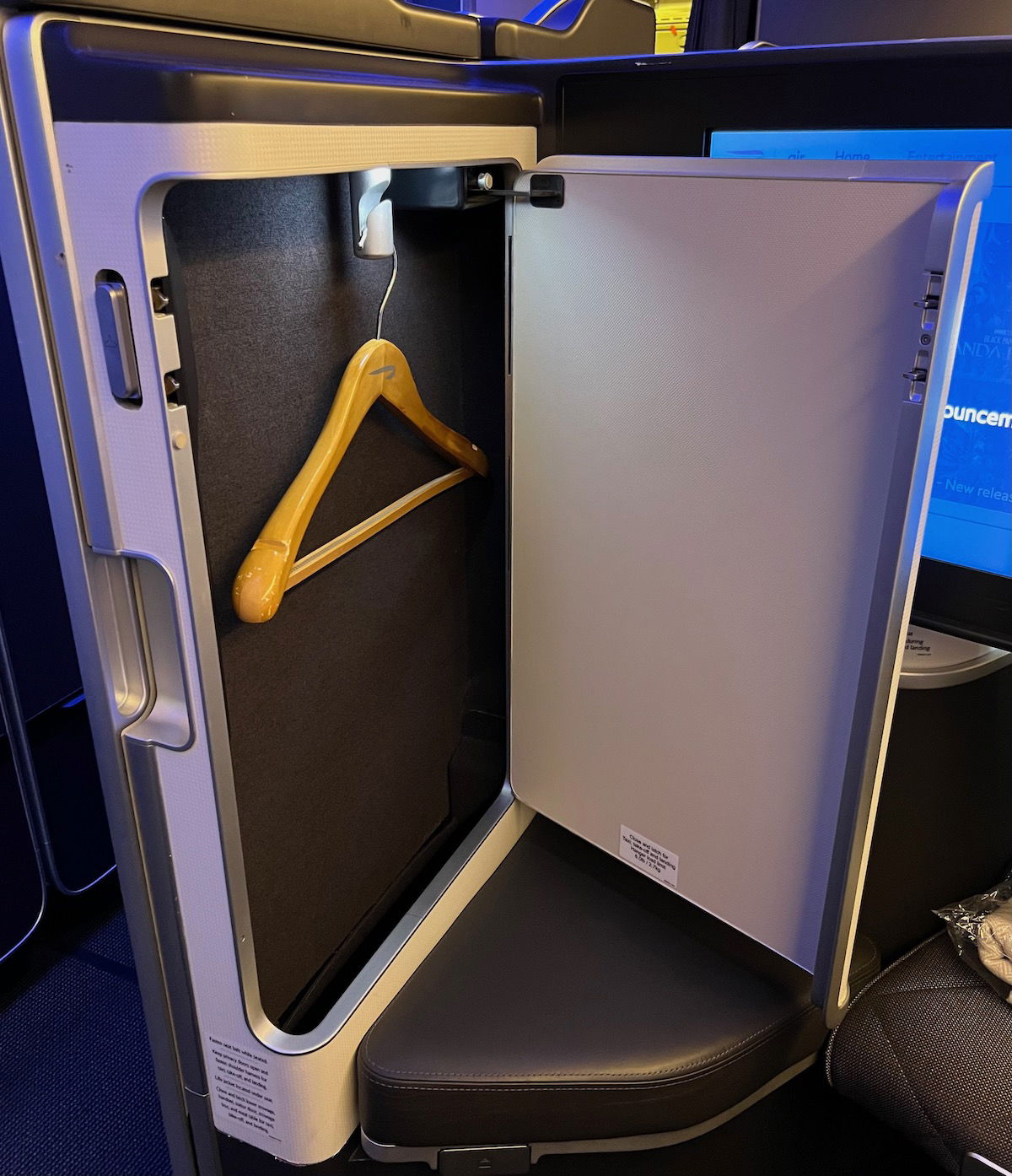 The tray table folds out from the window-side of the seat, and is one of the heaviest tray tables out there. Personally I'm not sure I love the glossy finish, but that's just a personal prefernence.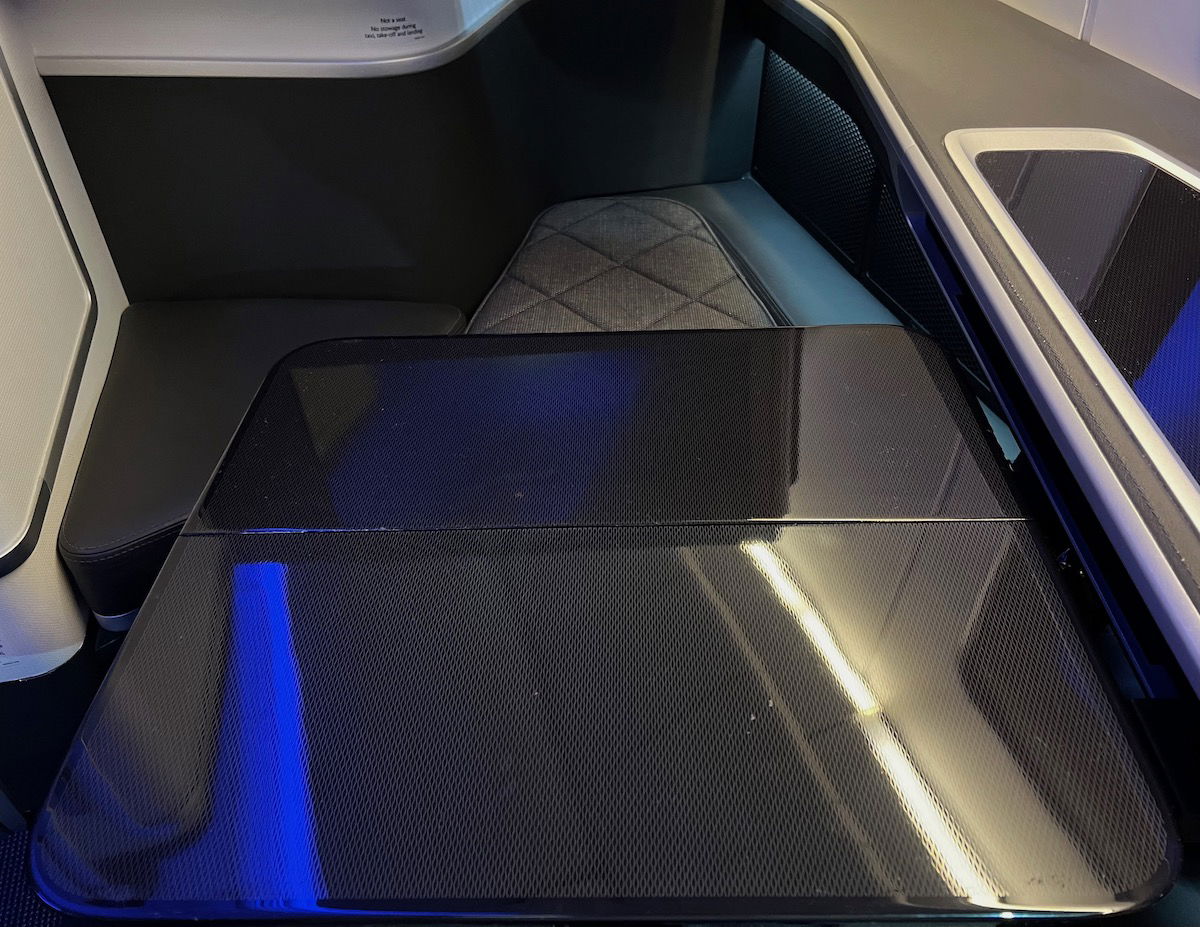 I'm a fan of how British Airways has blinds in first class to cover the windows, which can be raised or lowered. There aren't many airlines that do this, and I tend to think this looks quite nice. The catch is that it makes it much harder to take pictures out of the windows, given that you can't get a camera as close to the window, not to mention there's more glare.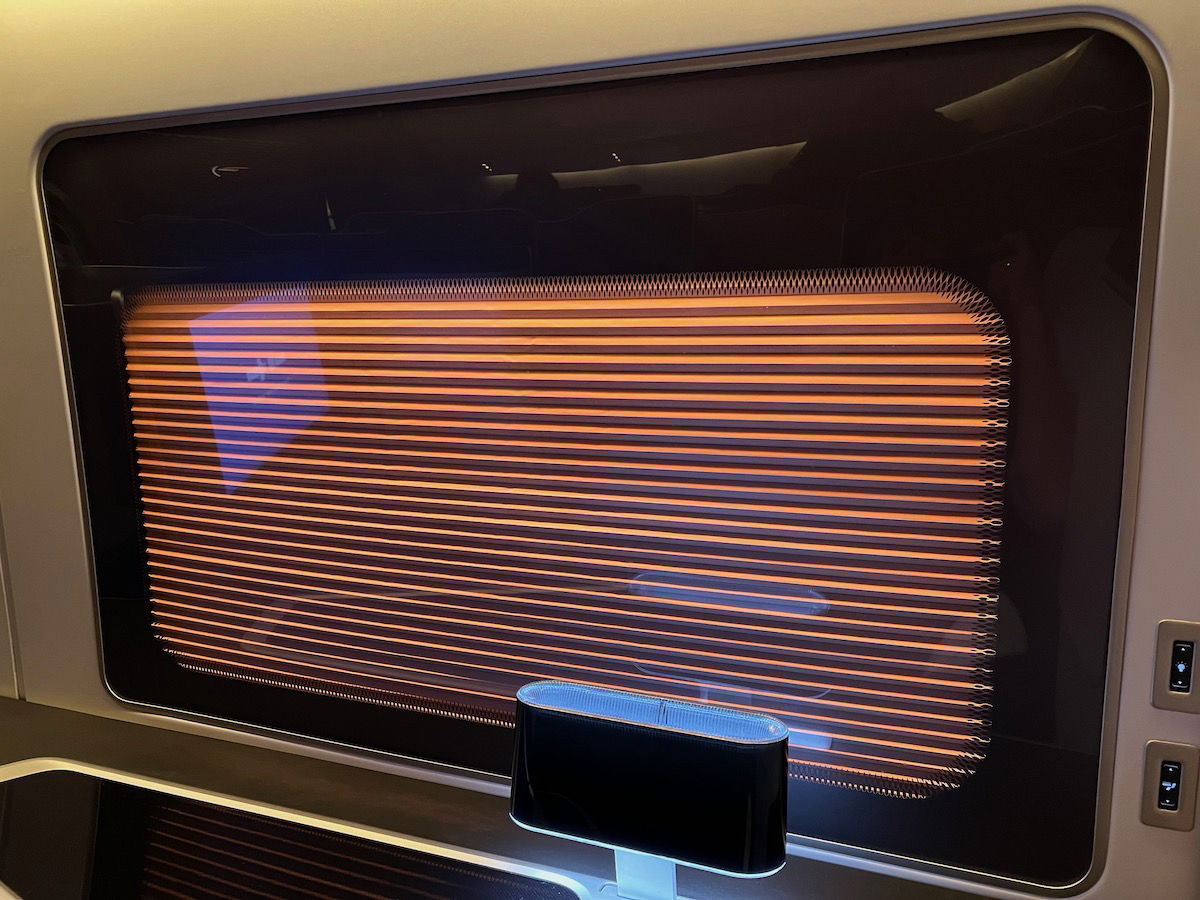 One of the other major features of the new product is the addition of a door. I found these doors to be pretty substantial and easy to use.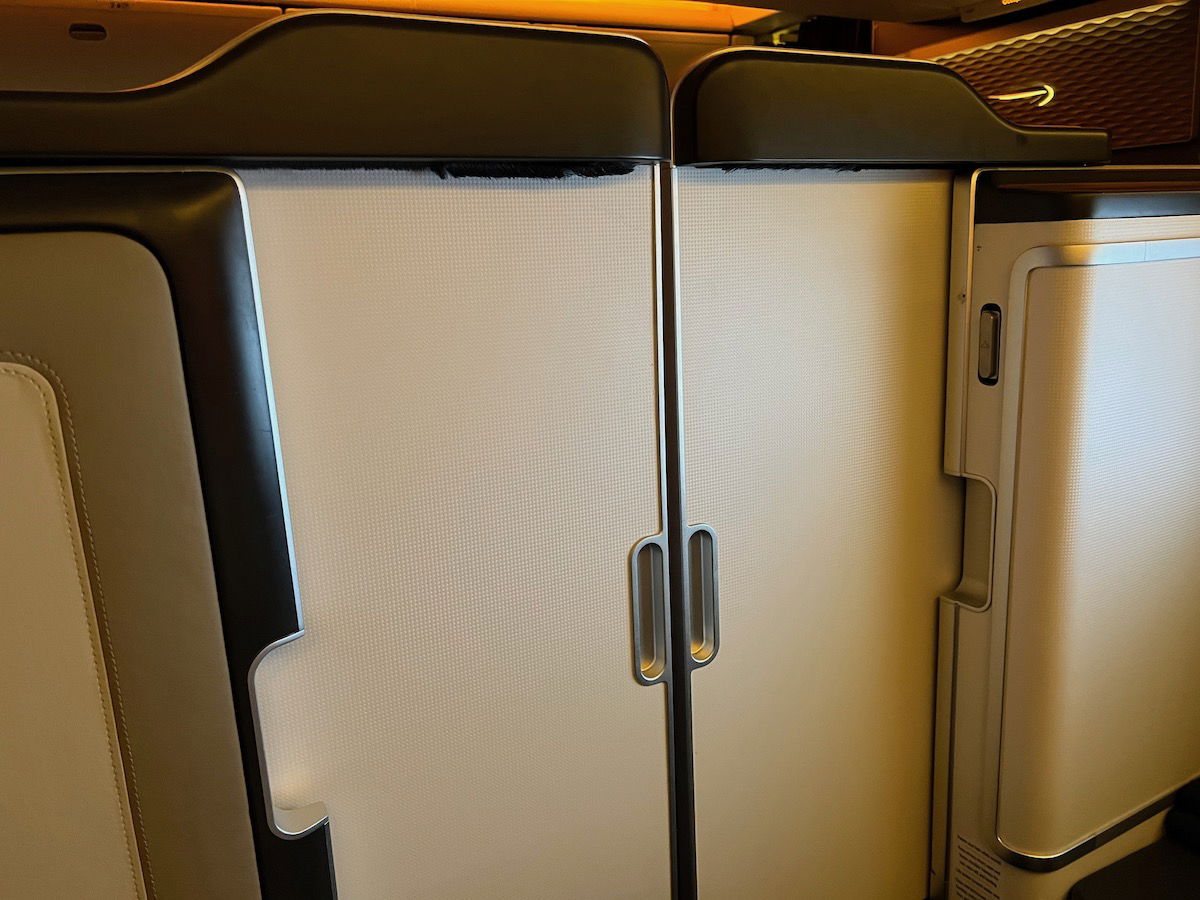 Note that they don't shut completely, though, as there is a little gap.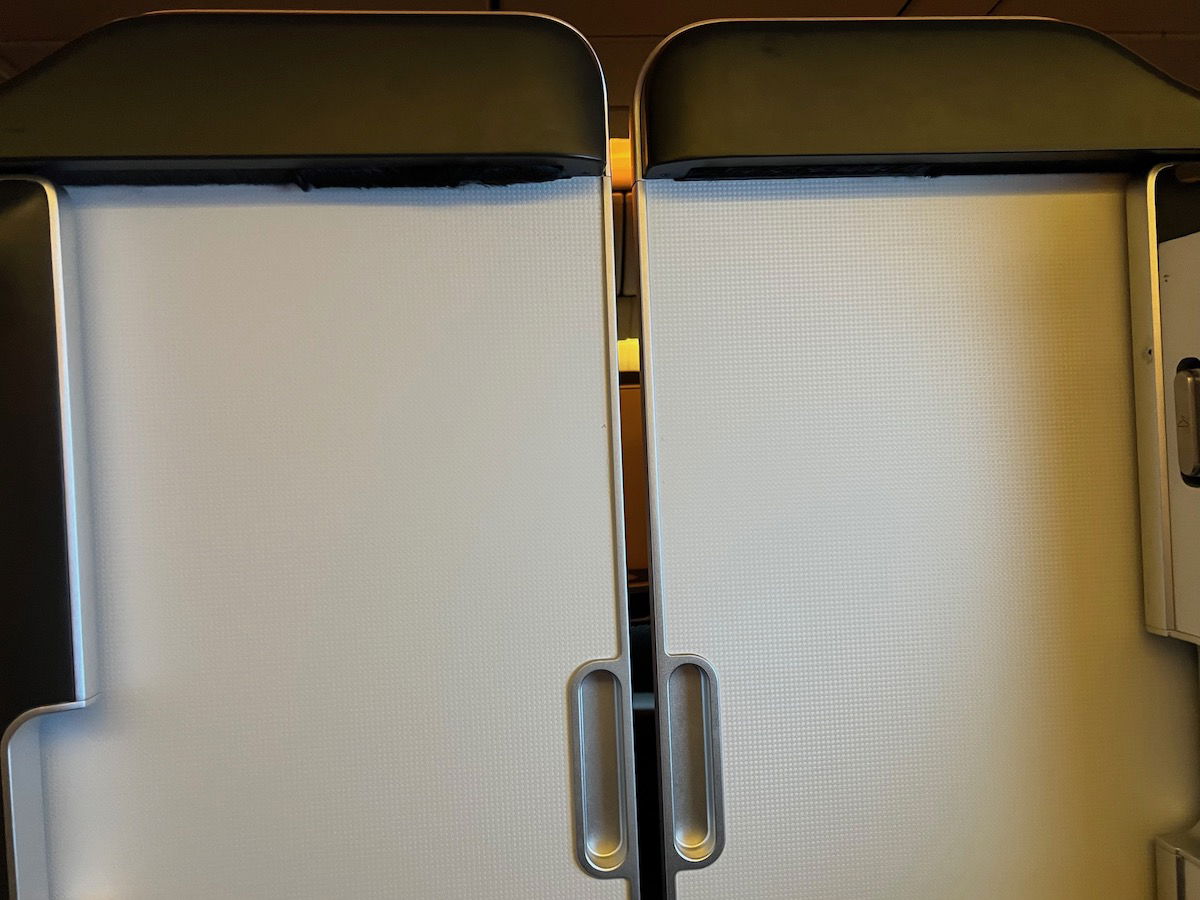 Unfortunately the overhead console just has reading lights, and not individual air nozzles, for those who care.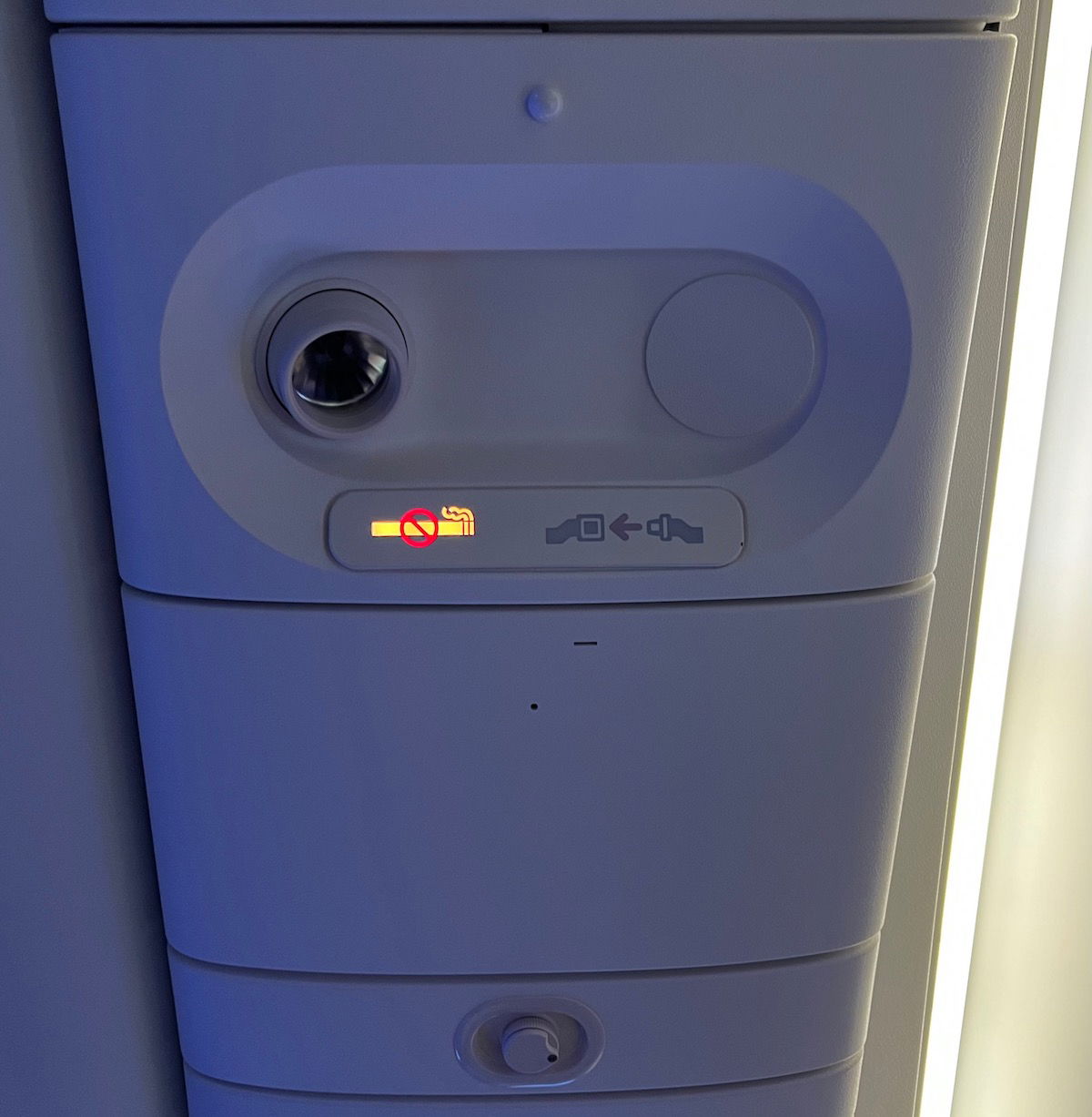 All-in-all, I was impressed by British Airways' new first class. It's evolutionary and not revolutionary, but crucially it addresses the shortcomings of British Airways' old first class, including a small and low definition entertainment screen, and a lack of privacy.
British Airways first class amenities
Waiting at each seat upon boarding were two pillows and a light blanket. The blanket is just intended for when you're lounging around, and then there's more bedding when you're ready to sleep.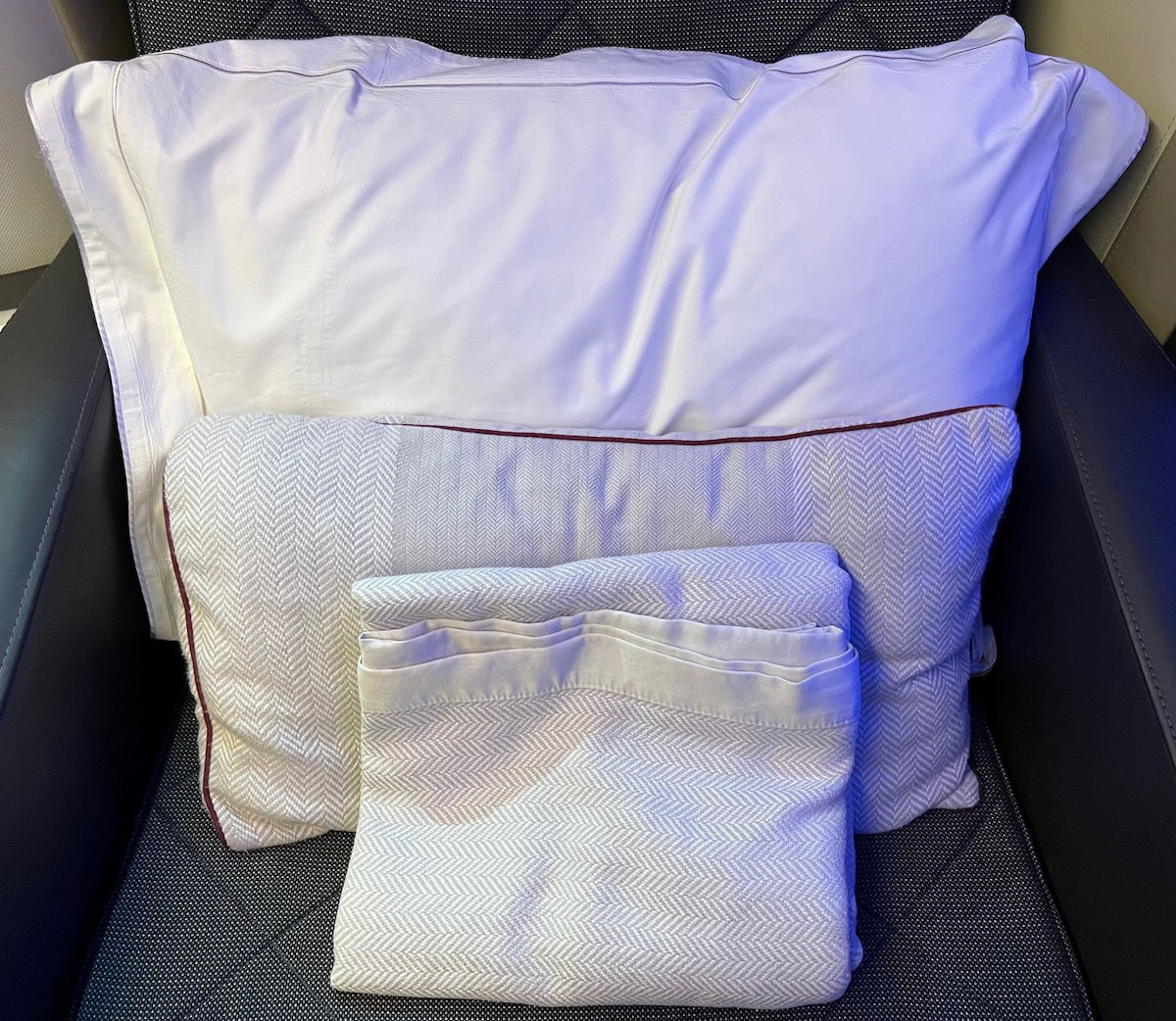 There wasn't much service during the start of boarding, but eventually I was offered a pre-departure drink. I asked for a glass of champagne, and as is standard on British Airways, I was offered the tasty Laurent-Perrier Grand Siecle.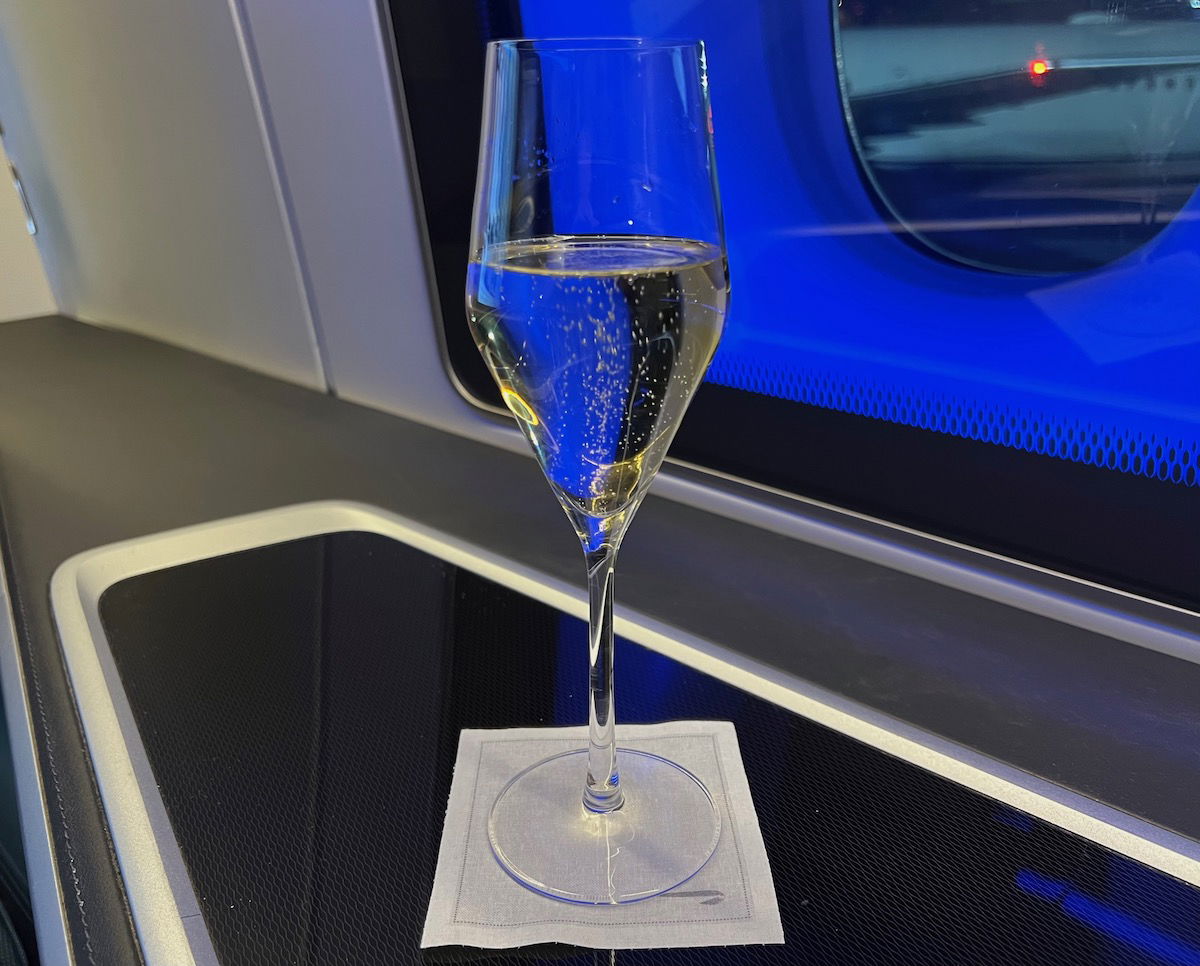 I was also presented with a very well stocked amenity kit, which contained eyeshades, socks, a dental kit, a comb, earplugs, lip balm, and several Elemis products. It's amazing how much they can stuff into the fairly small kits.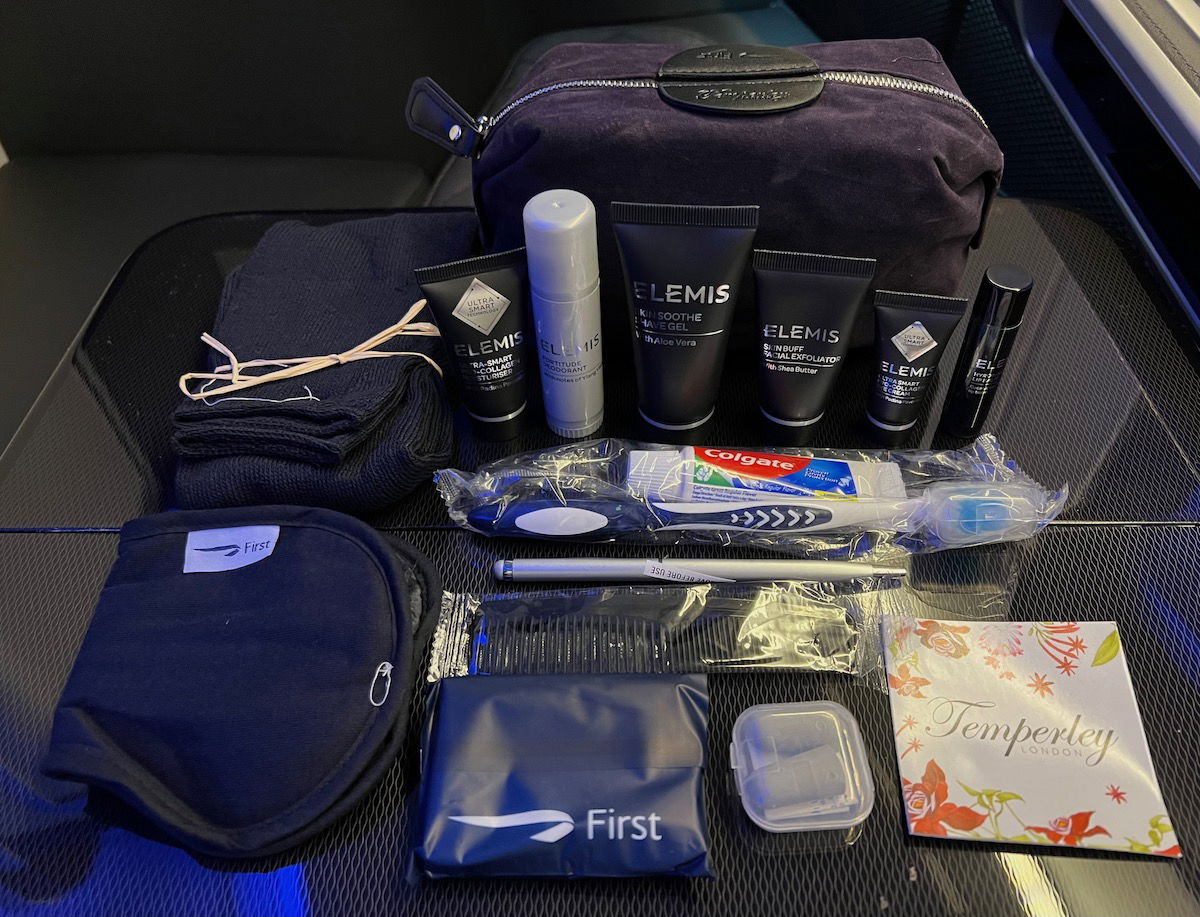 I was also offered pajamas, which were comfortable. However, I prefer British Airways pajamas from back in the day, which had more British Airways branding on them (which I love, as an avgeek).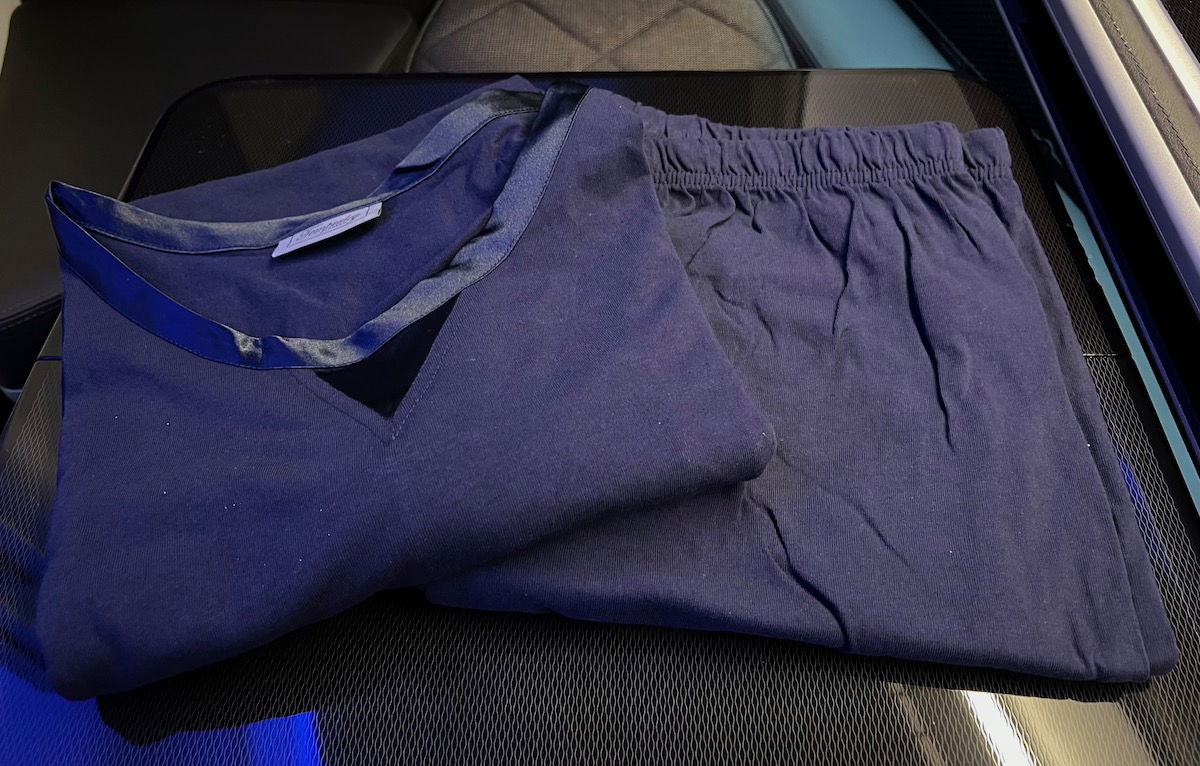 Then I was offered a pair of noise canceling headphones, which were fine, but nothing special.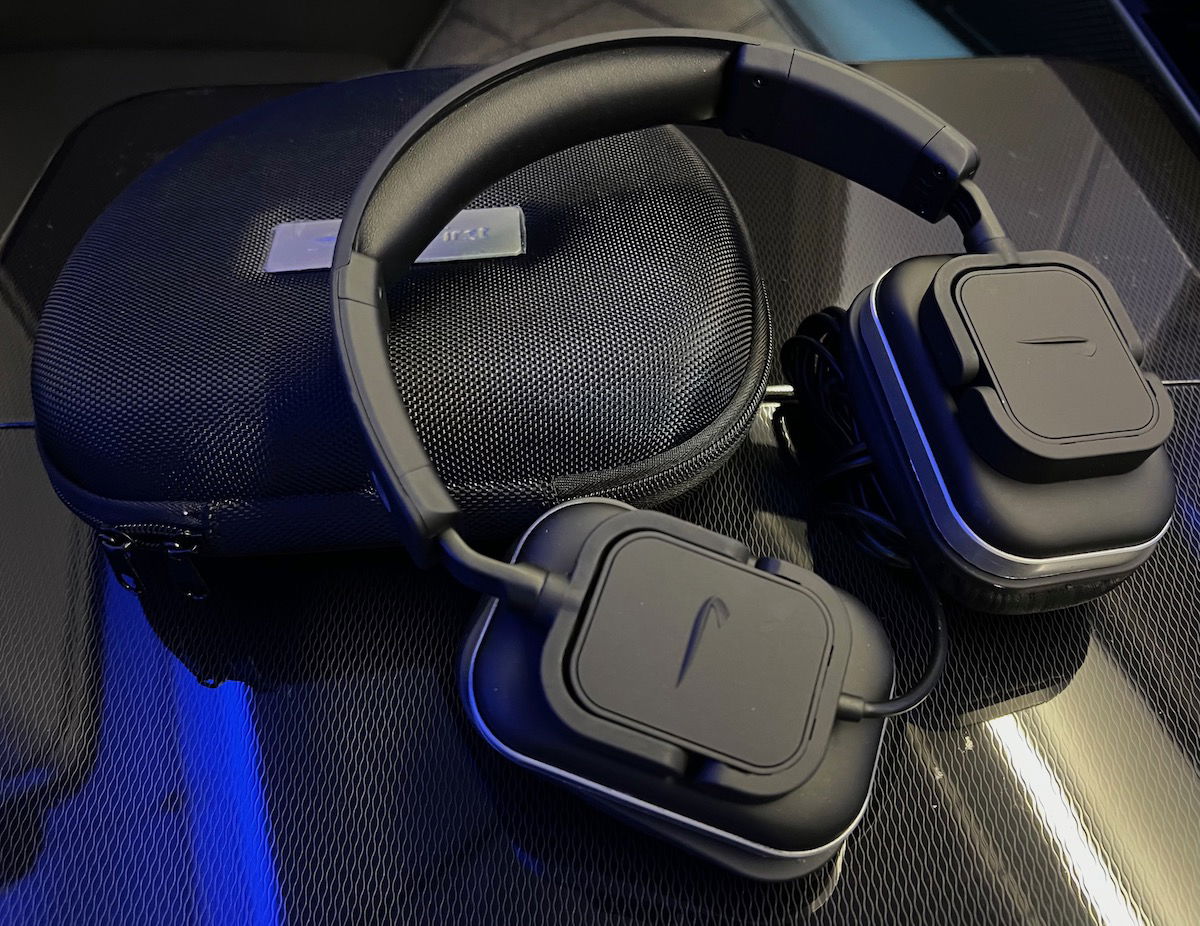 Lastly, I was presented with the menu for the flight.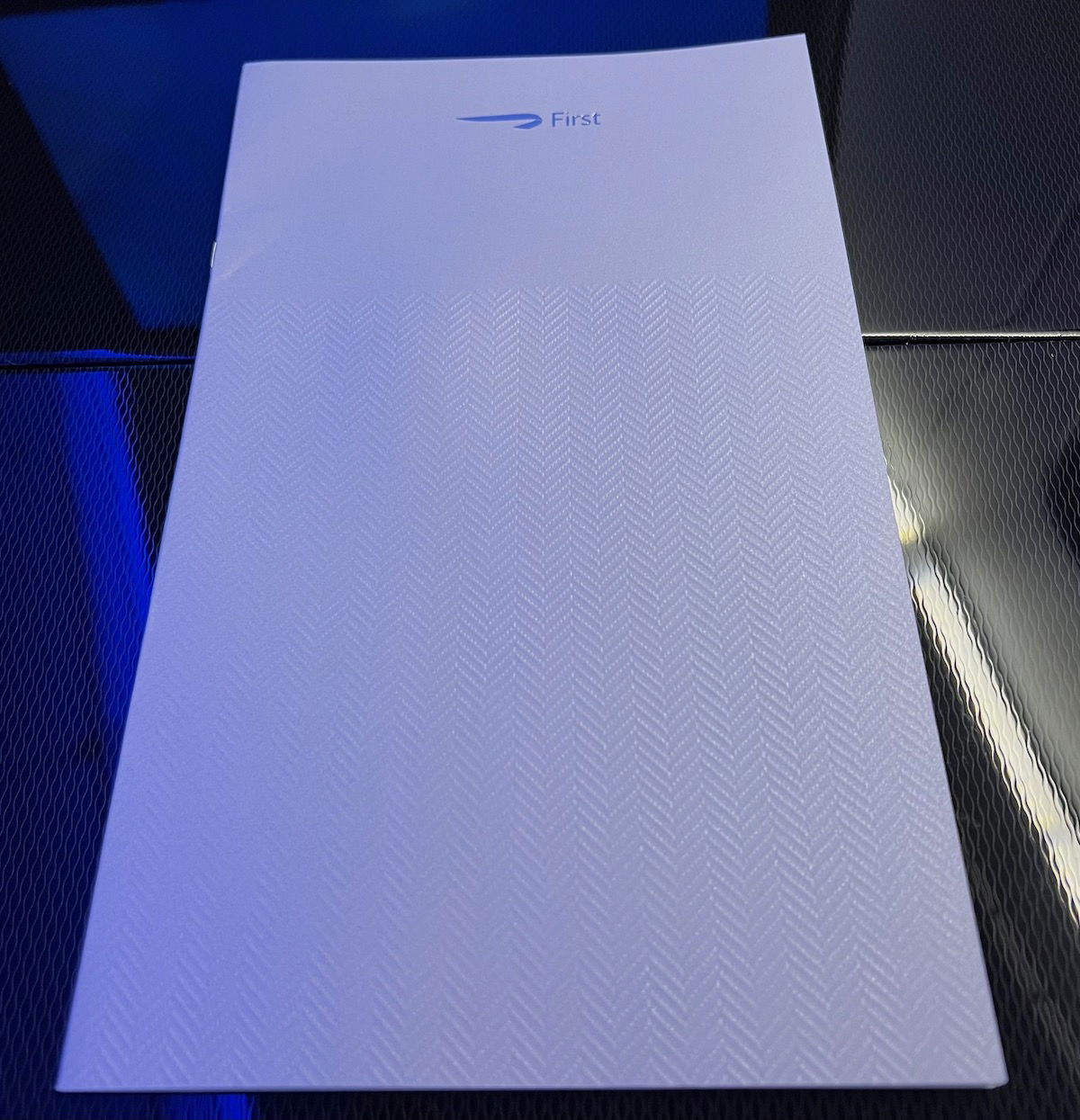 British Airways 777 first class entertainment & Wi-Fi
One awesome aspect of British Airways' new first class is the much improved entertainment system, as the screen is significantly larger and higher definition. The entertainment selection on this flight was huge, with a seemingly endless number of movies and TV shows.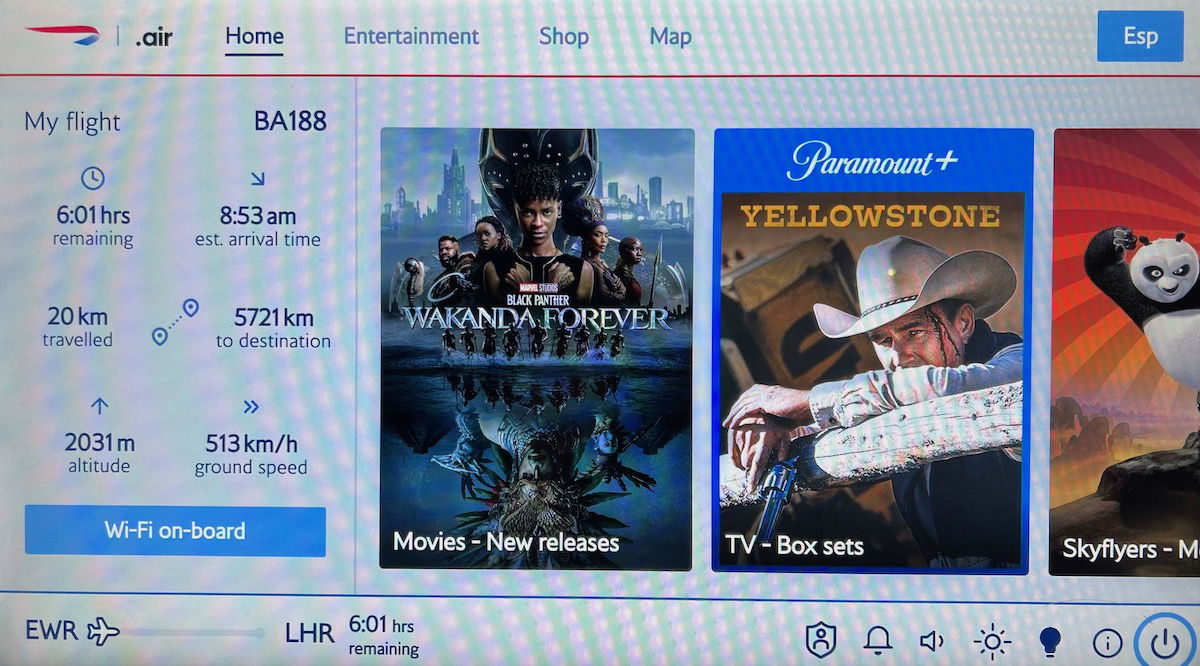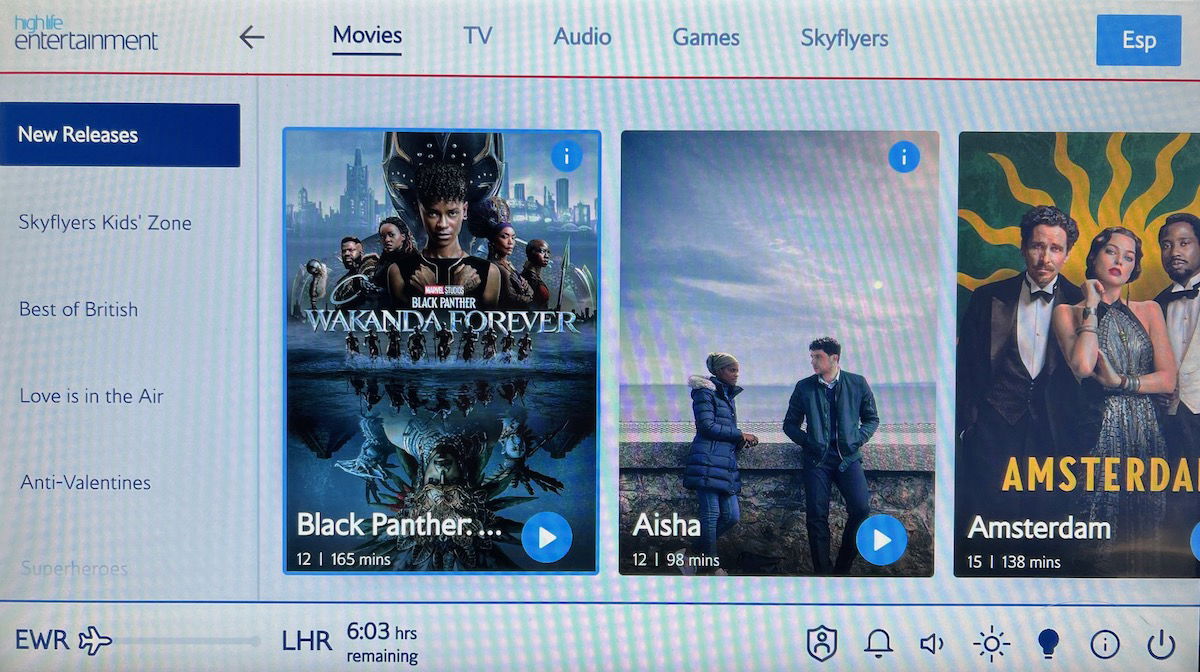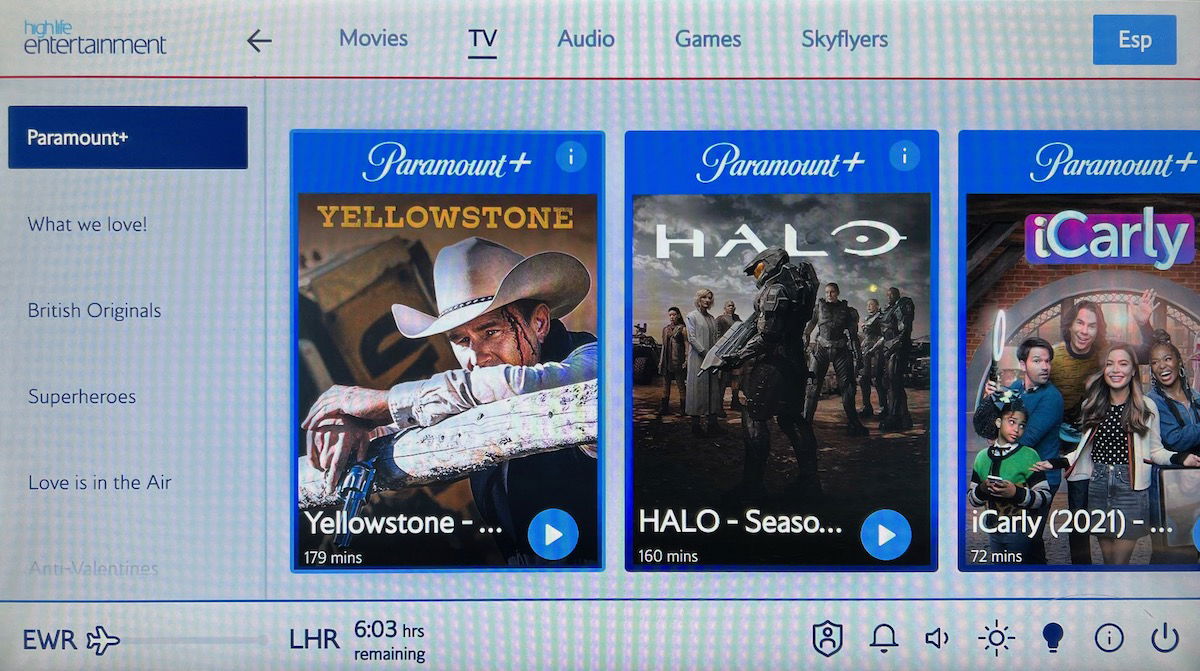 My frustration with the entertainment system was how there seemed to be a delay between when you pushed buttons and when anything actually happened. We're not just talking a delay of a few millisecond, but rather at least a couple of seconds.
I ended up watching "Bros," which was… entertaining, I think.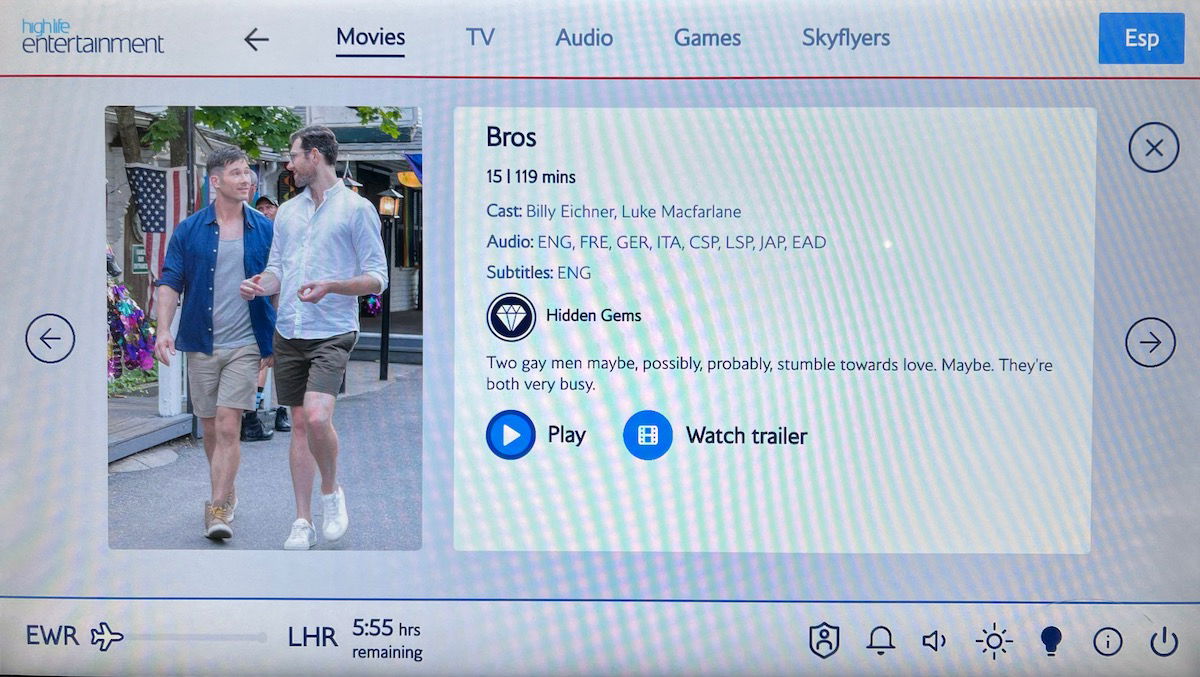 Just don't tell Ron DeSantis about it…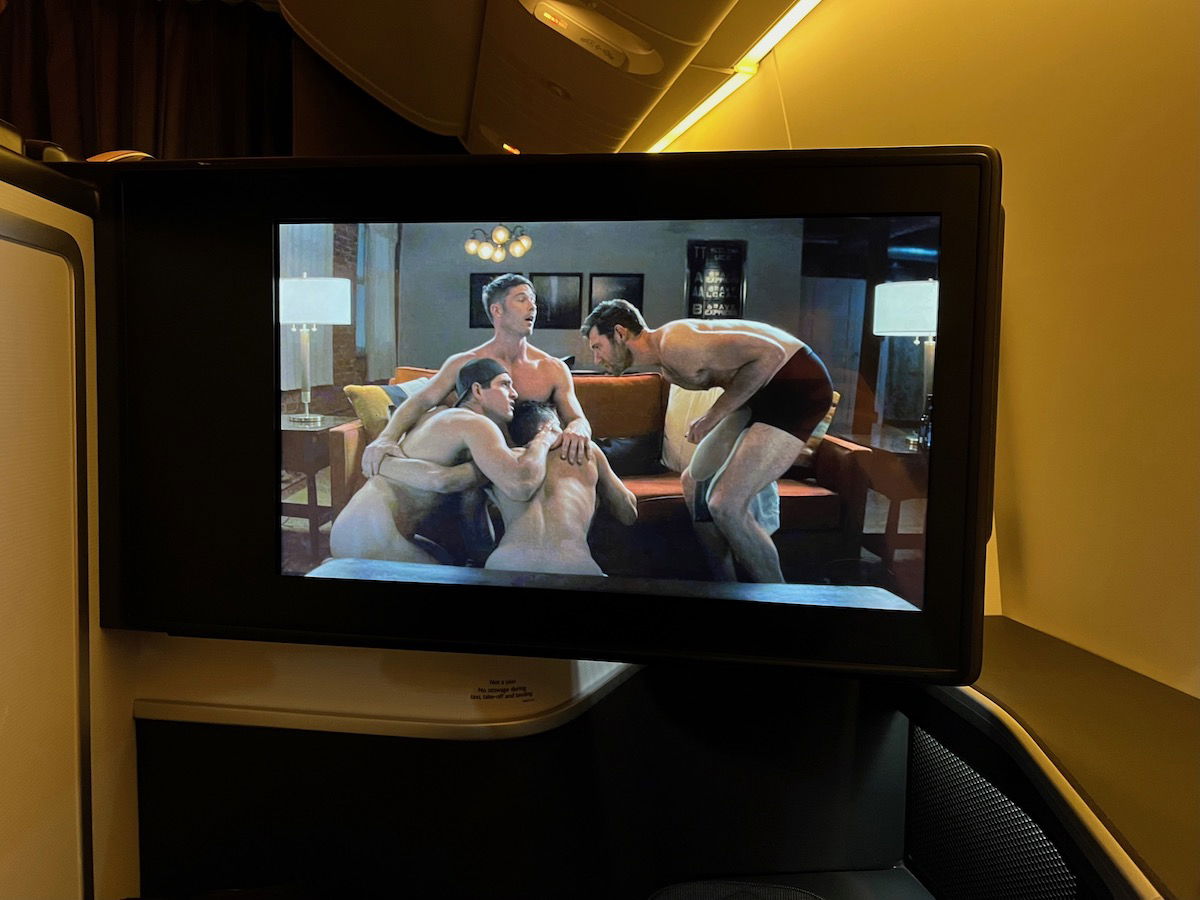 The entertainment system also had a map feature, which I always enjoy.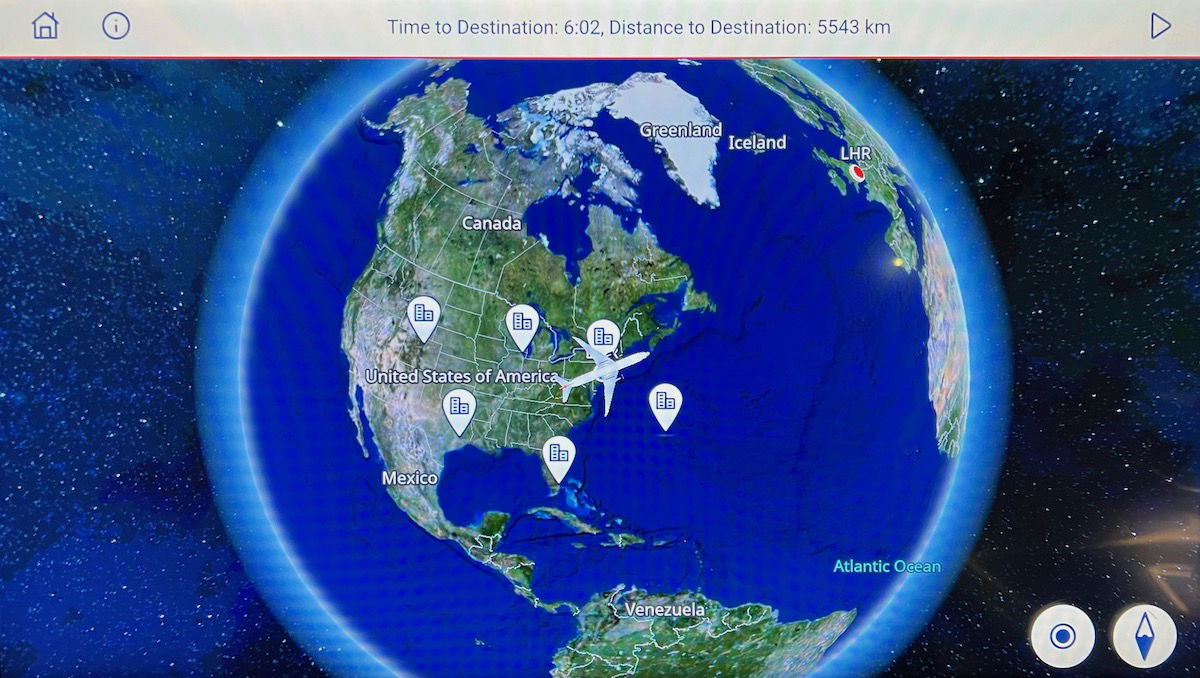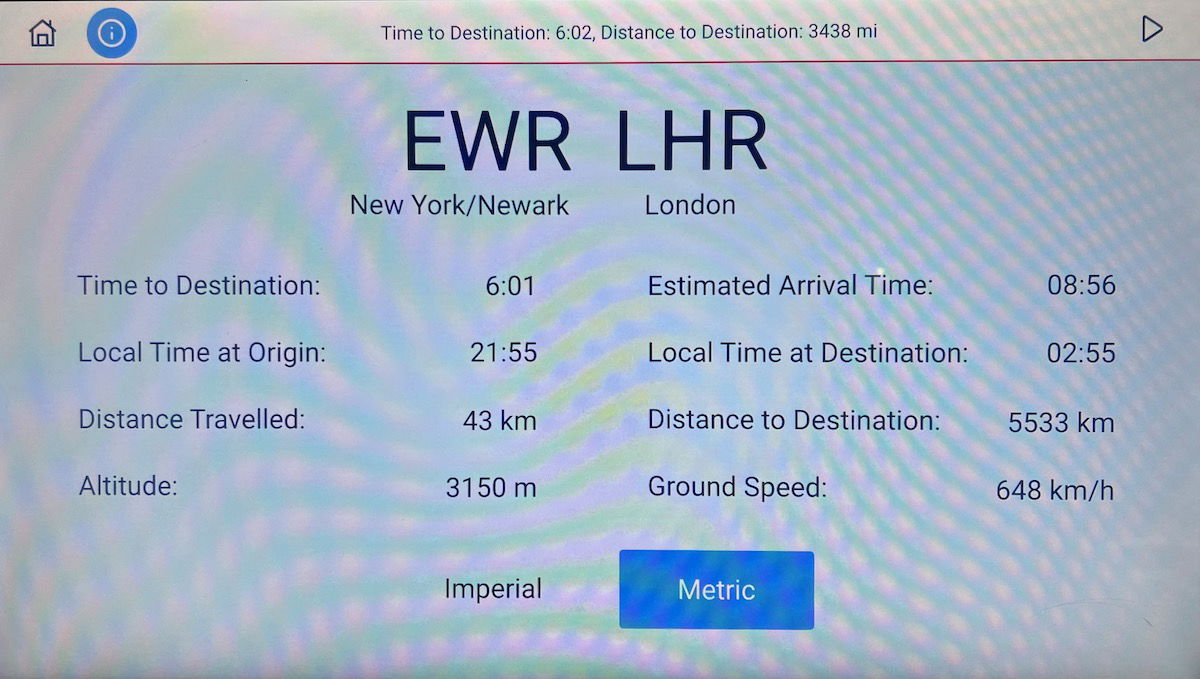 British Airways also has Wi-Fi on its refreshed Boeing 777s.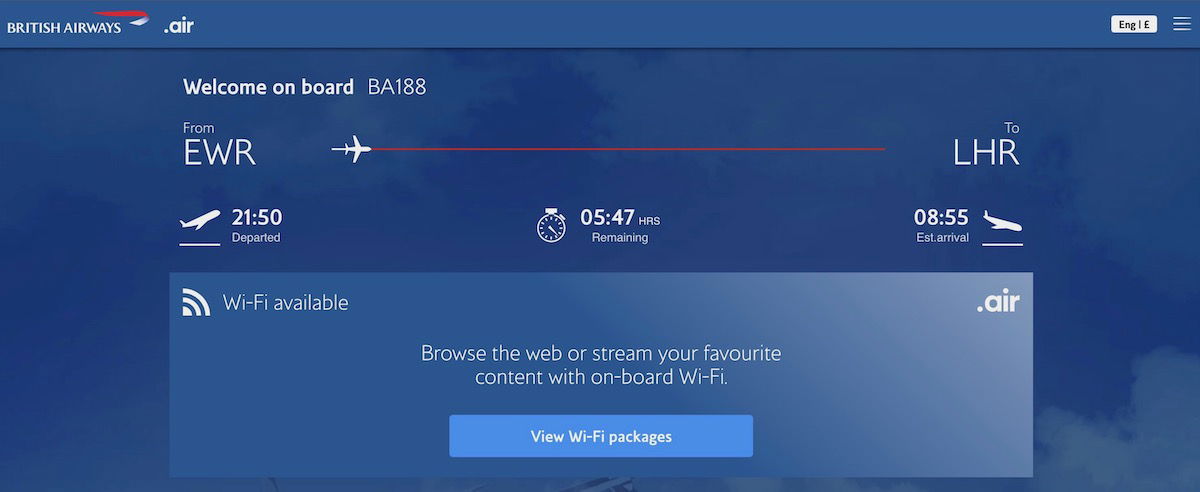 Wi-Fi is complimentary in first class, and you just have to enter your seat number and last name or confirmation code to access it. It's lovely that this is offered for free in first class.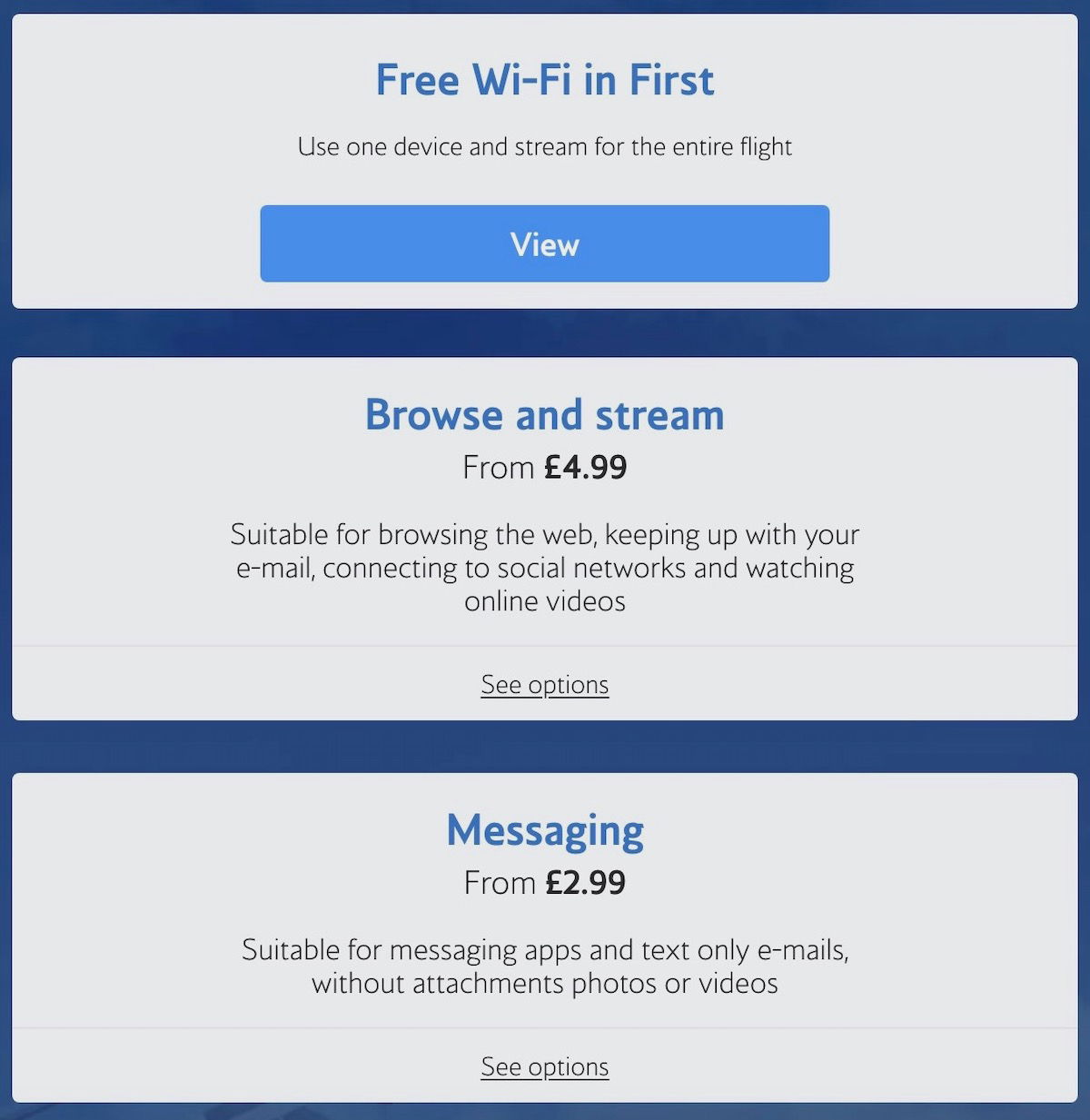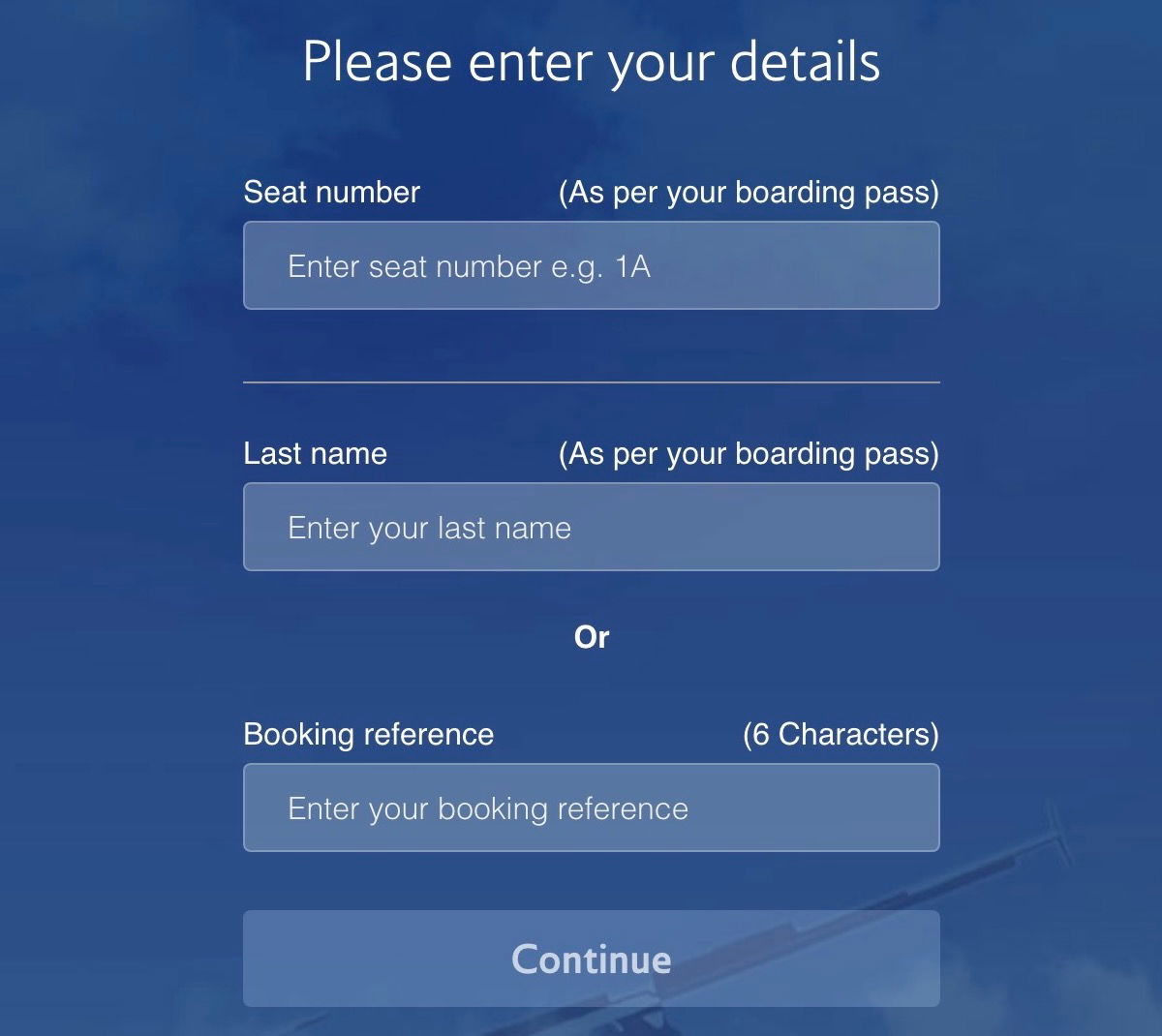 For all other passengers, pricing ranged from 4.99 GBP for the entire flight for a messaging pass, to 14.99 GBP for the entire flight for a browse and stream pass. That pricing is great, especially as there are no data caps. I also found the speeds to be quite good.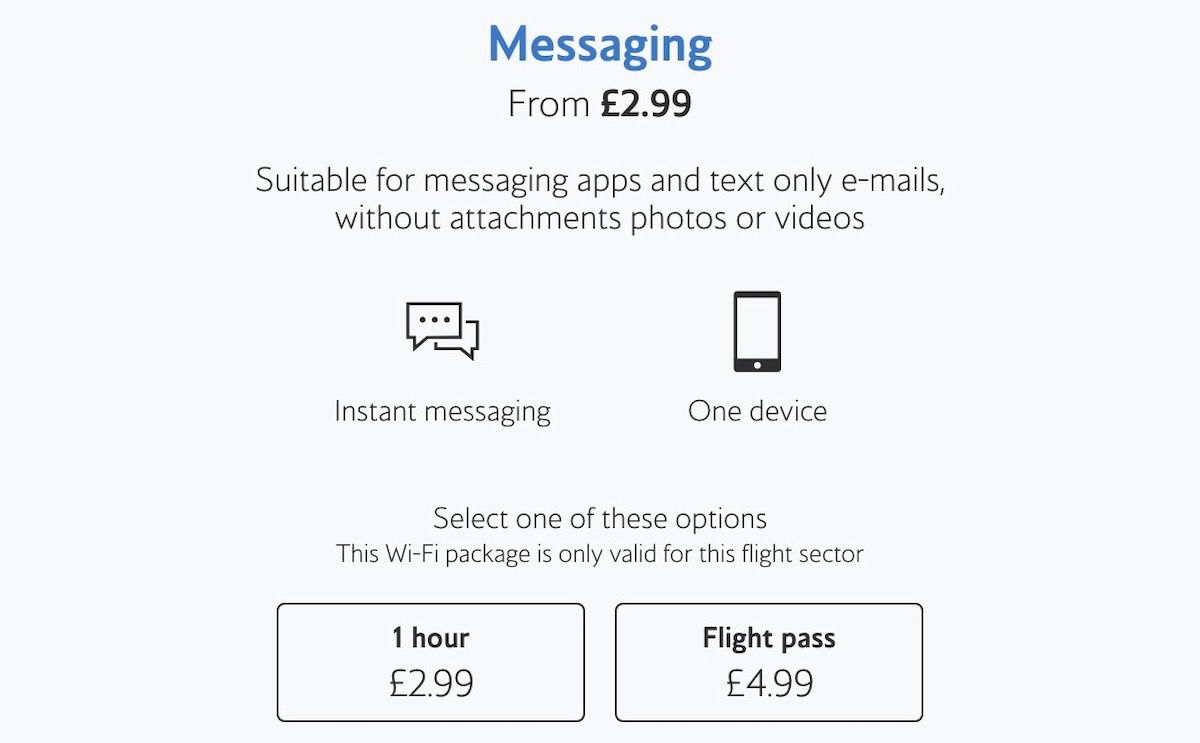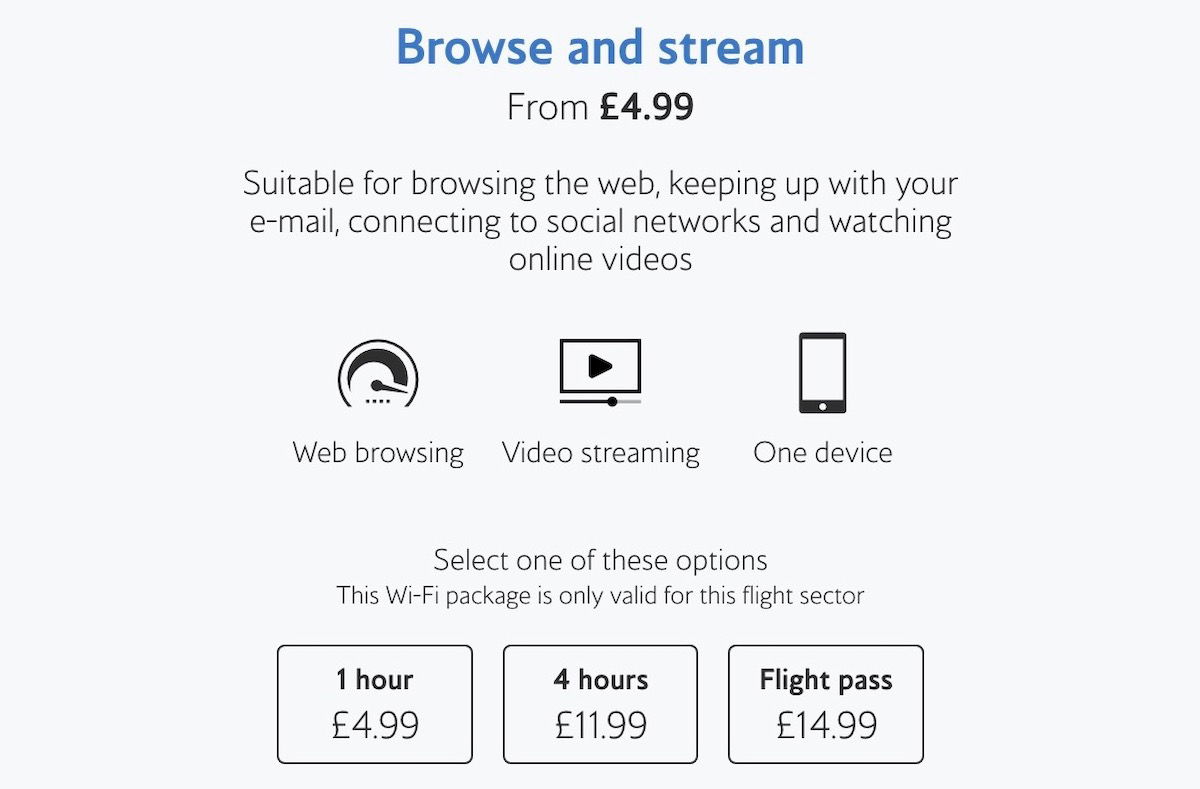 British Airways 777 departure from Newark
Boarding was pretty efficient, and was complete by 9:20PM. That's probably thanks to the flight not being very full, and British Airways also having some of the lowest density 777-300ERs in the world.
Initially five of the first class seats were occupied, but as soon as the door closed, the cabin manager moved up two passengers from the back (one was a British Airways pilot, and I'm not sure who the other guy was).
At 9:25PM the first officer made a welcome aboard announcement, informing us of our imminent departure, and our flight time of 6hr10min. At 9:30PM we began our pushback, and at the same time a manual safety demonstration was performed.
We started our taxi at 9:45PM, and five minutes later were cleared for takeoff. We had a smooth climb out, and the seatbelt sign was turned off five minutes after takeoff.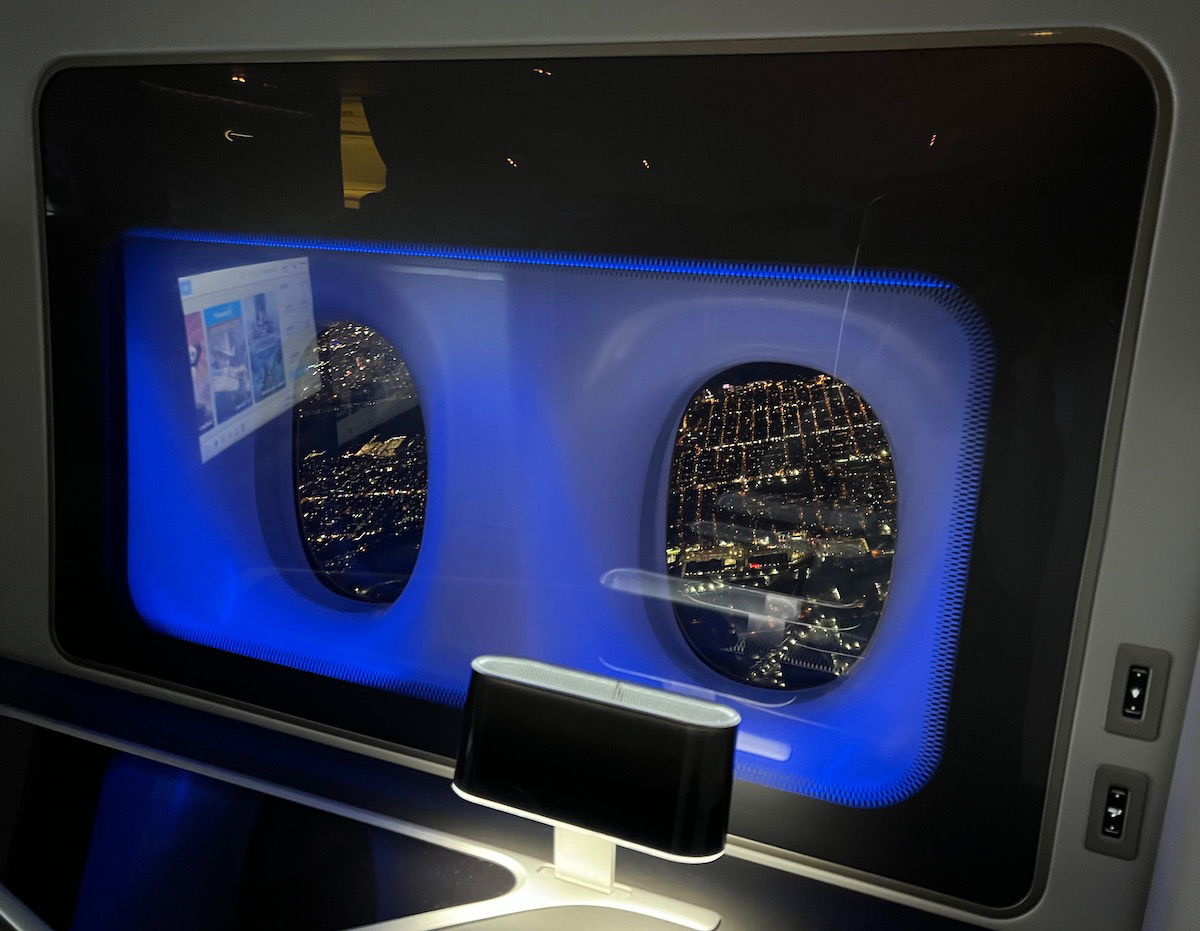 British Airways first class dinner service
As you'd expect, dinner was served after takeoff and breakfast was served before landing. East Coast to London flights really are way too short to get any real rest, let alone enjoy both meals and sleep. But of course I'm committed to reviewing as much of the experience as possible, so I took one for the team. 😉
Below you can find the British Airways first class dinner menu for the flight.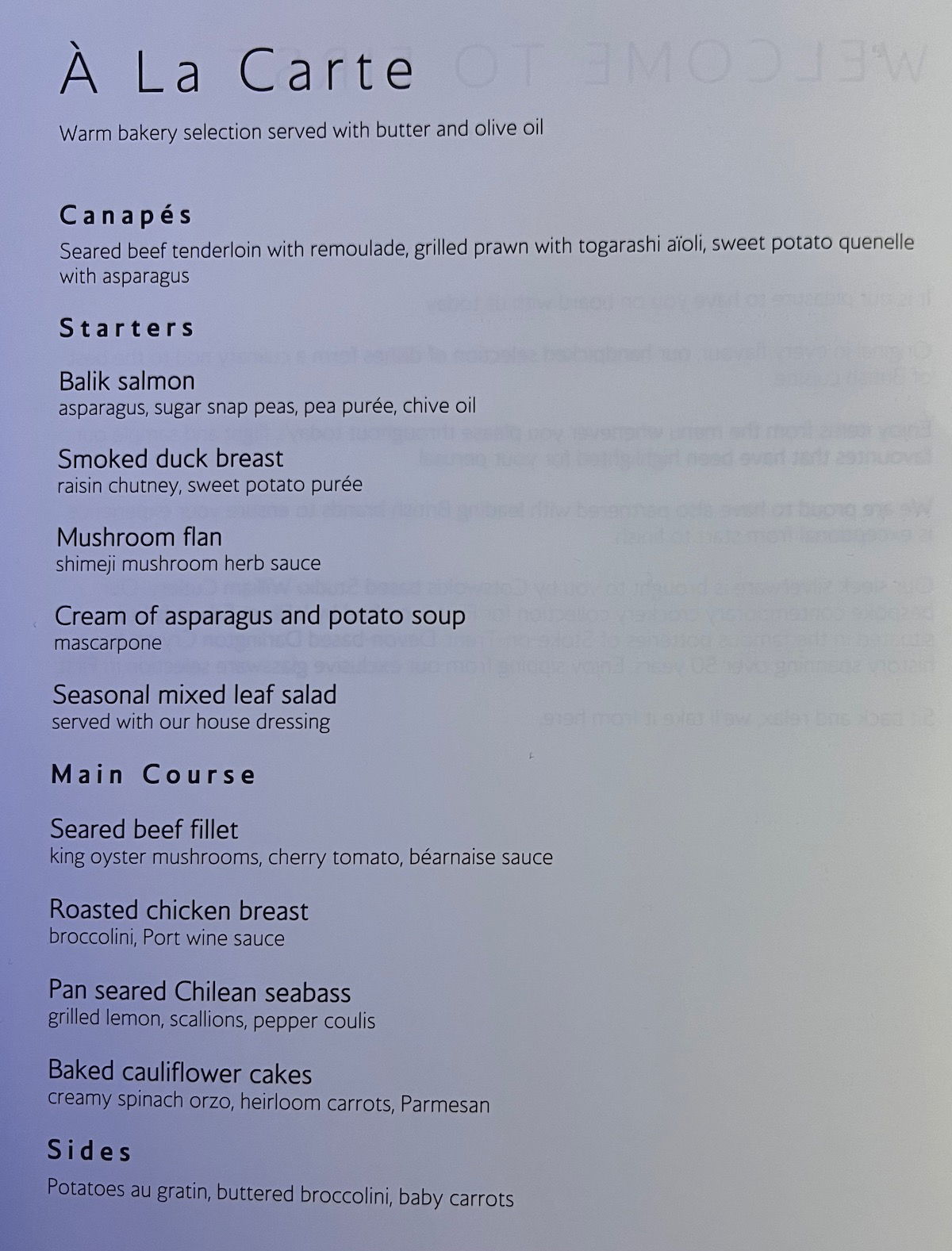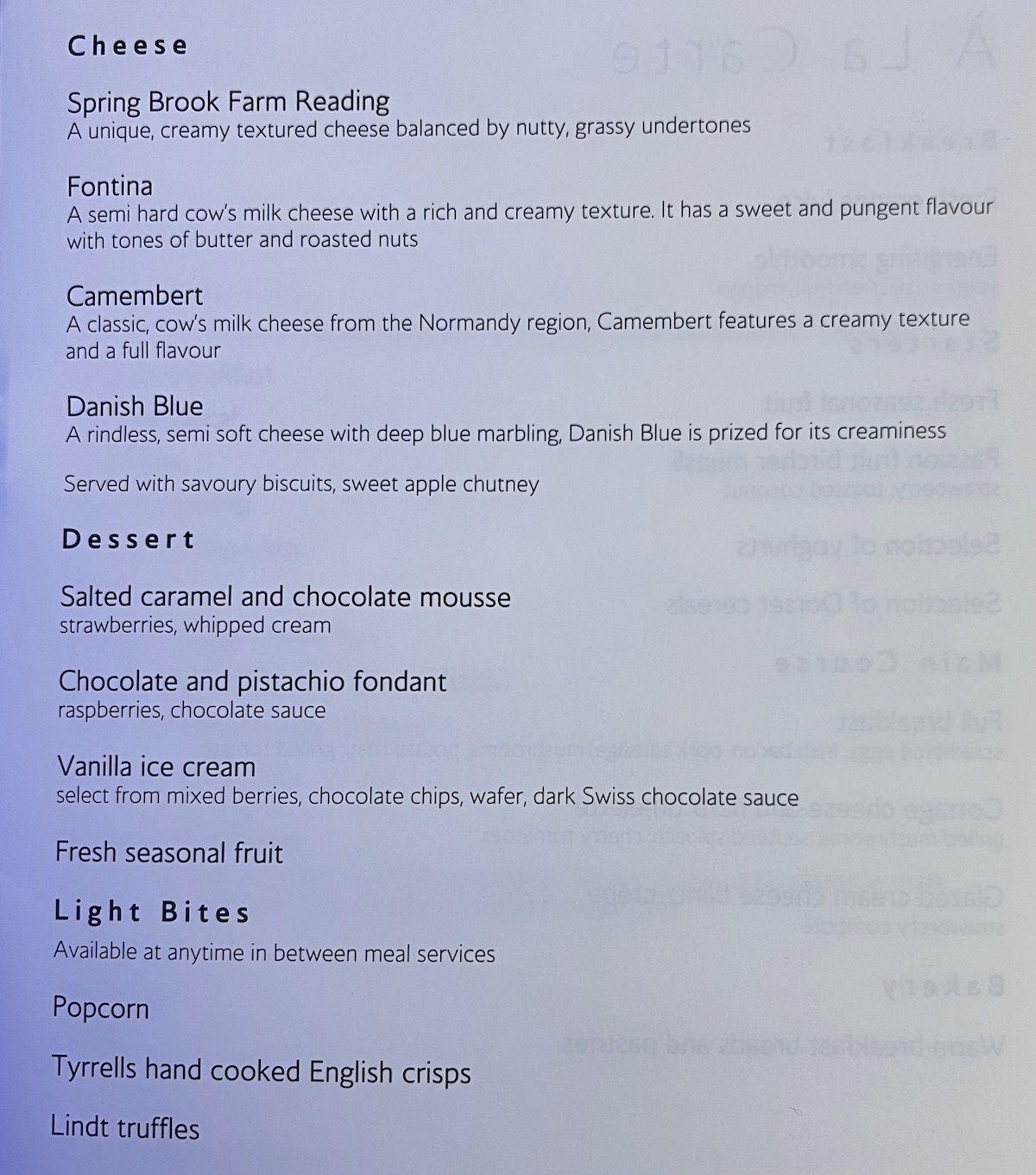 Then below you can find the British Airways first class drink list for the flight.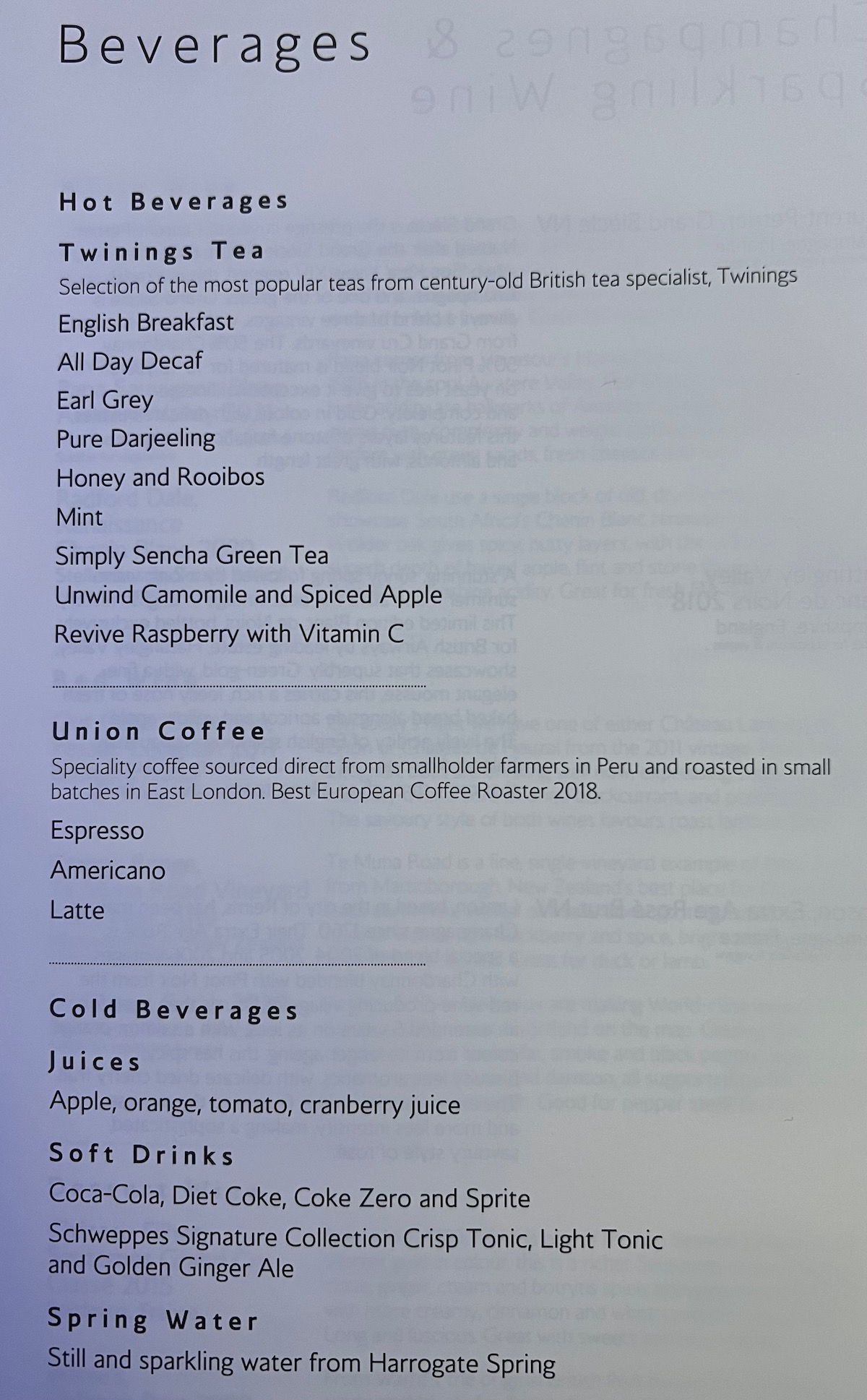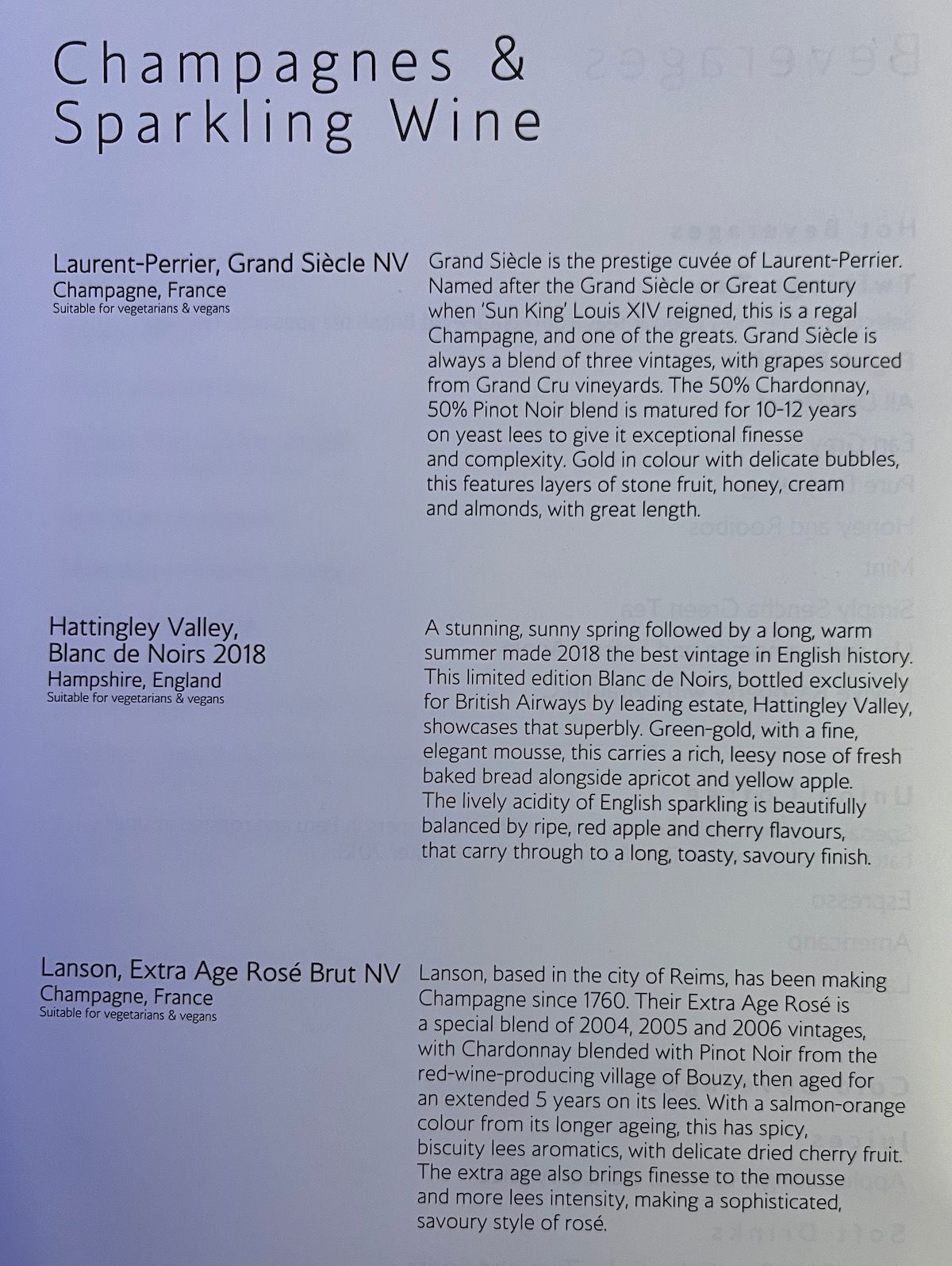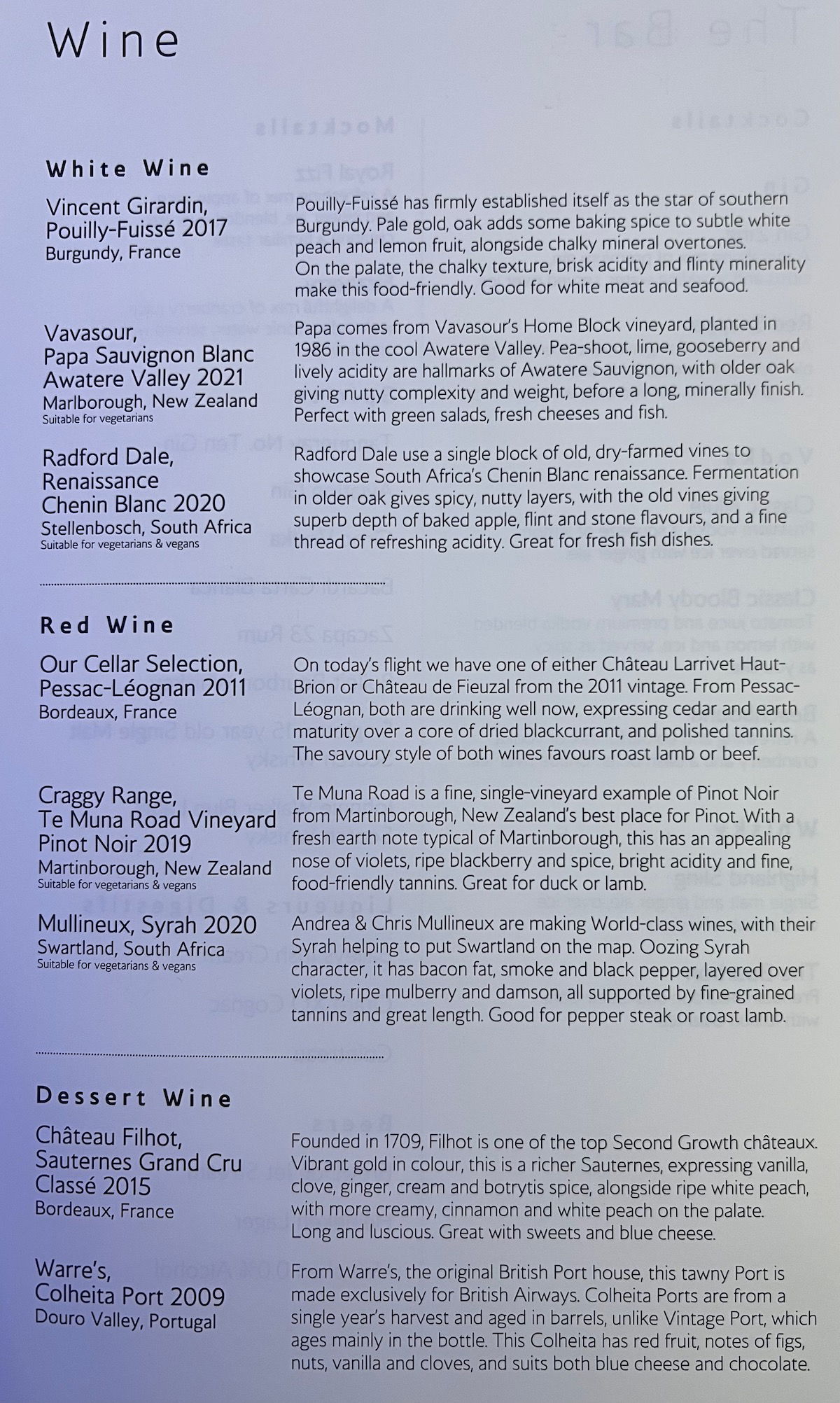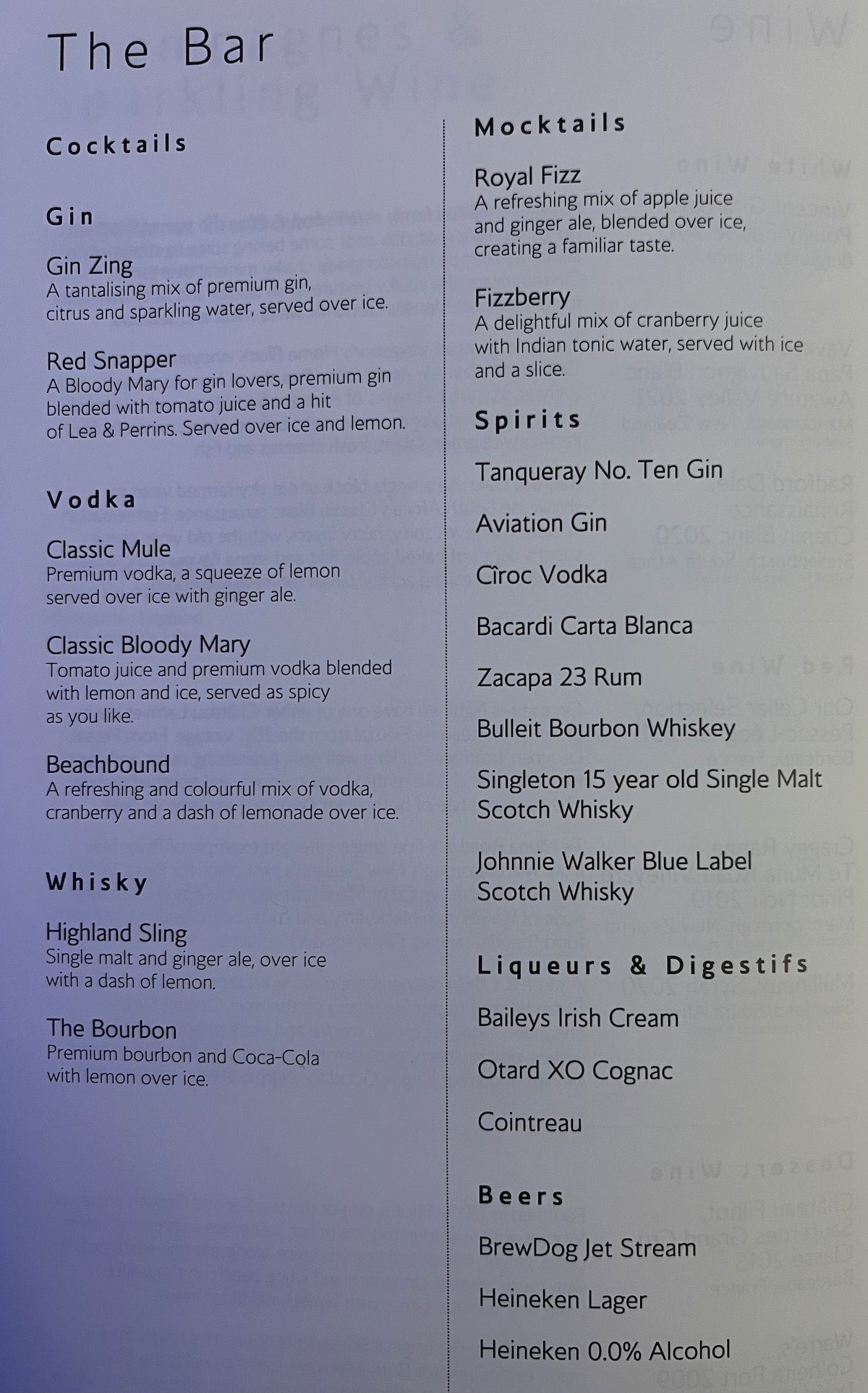 In the past I've found that British Airways flight attendants are at least rockstars when it comes to the pace at which they provide service on short transatlantic flights, given how often they work them. Well, that wasn't the case this evening.
Meal orders were taken 25 minutes after takeoff. Then the first round of drinks were served 45 minutes after takeoff. I ordered a glass of champagne, and that was served with canapés, which included seared beef tenderloin with remoulade, grilled prawn with togarashi aioli, and sweet potato quenelle. This was pretty tasty.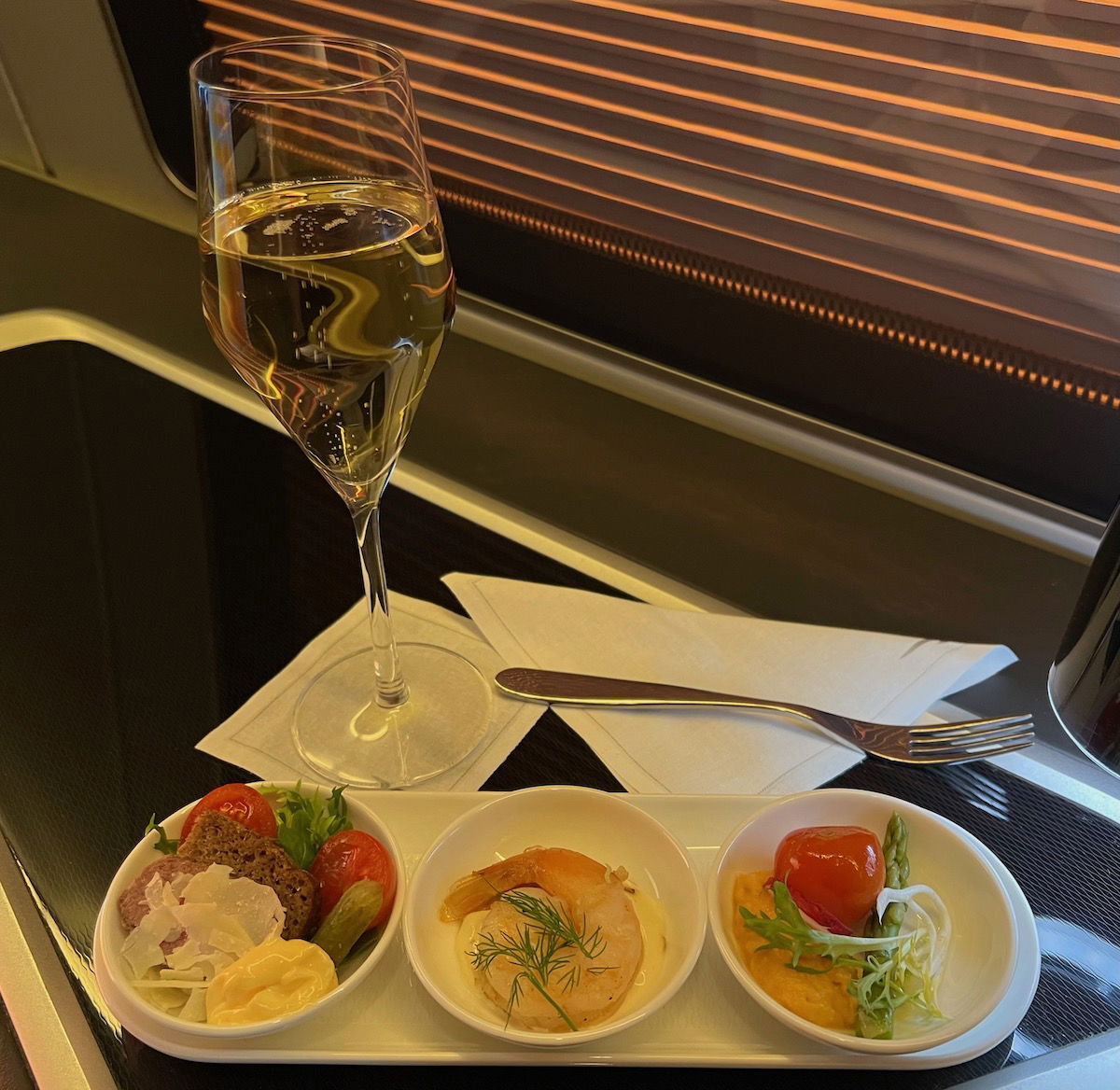 Finally an hour after takeoff, my table was set for the dinner service.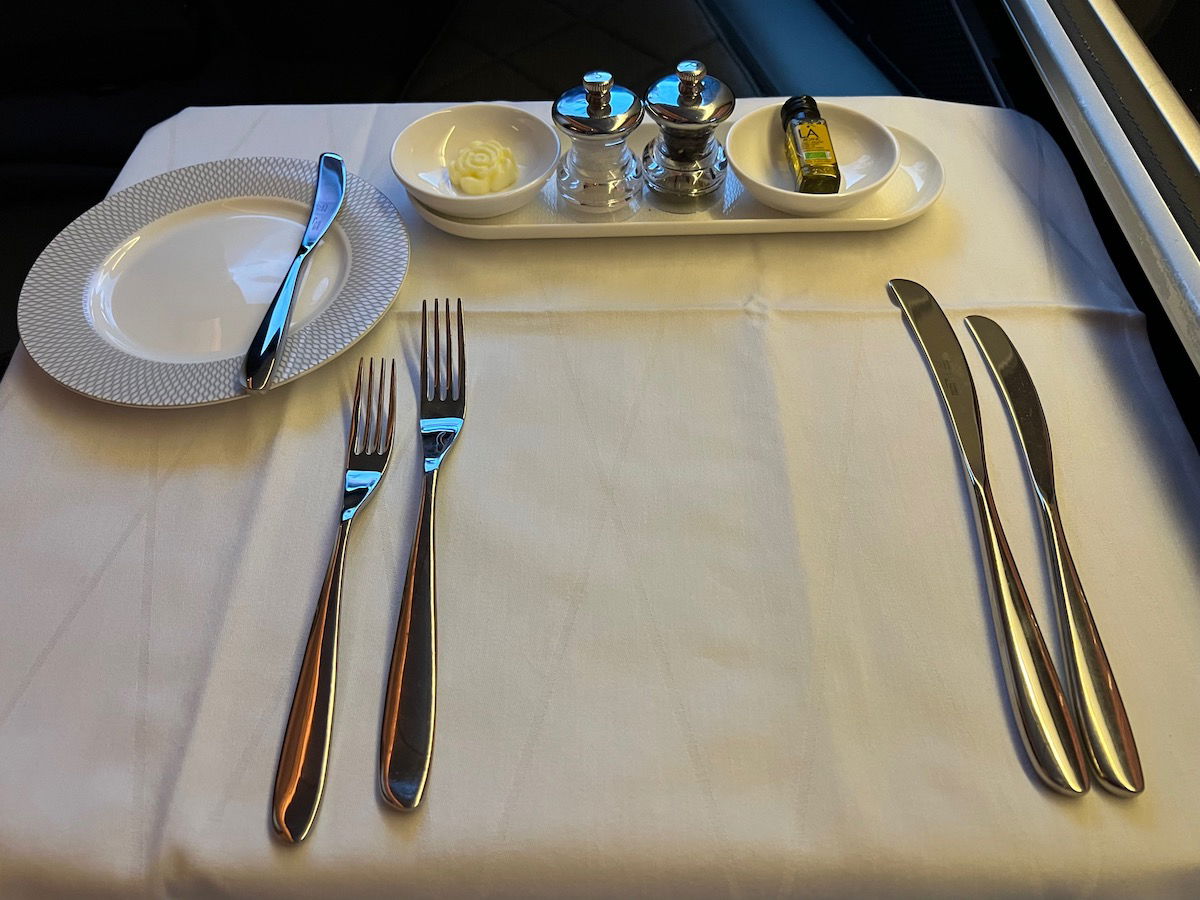 The starter was served 1hr20min after takeoff. I ordered the balik salmon with asparagus, sugar snap peas, pea puree, and chive oil. Honestly, what the heck is going on with the presentation here?! I am so confused. Is the standard really for the sauce to be served in a small plastic cup? And is that plate supposed to be garnished, or what is that mess?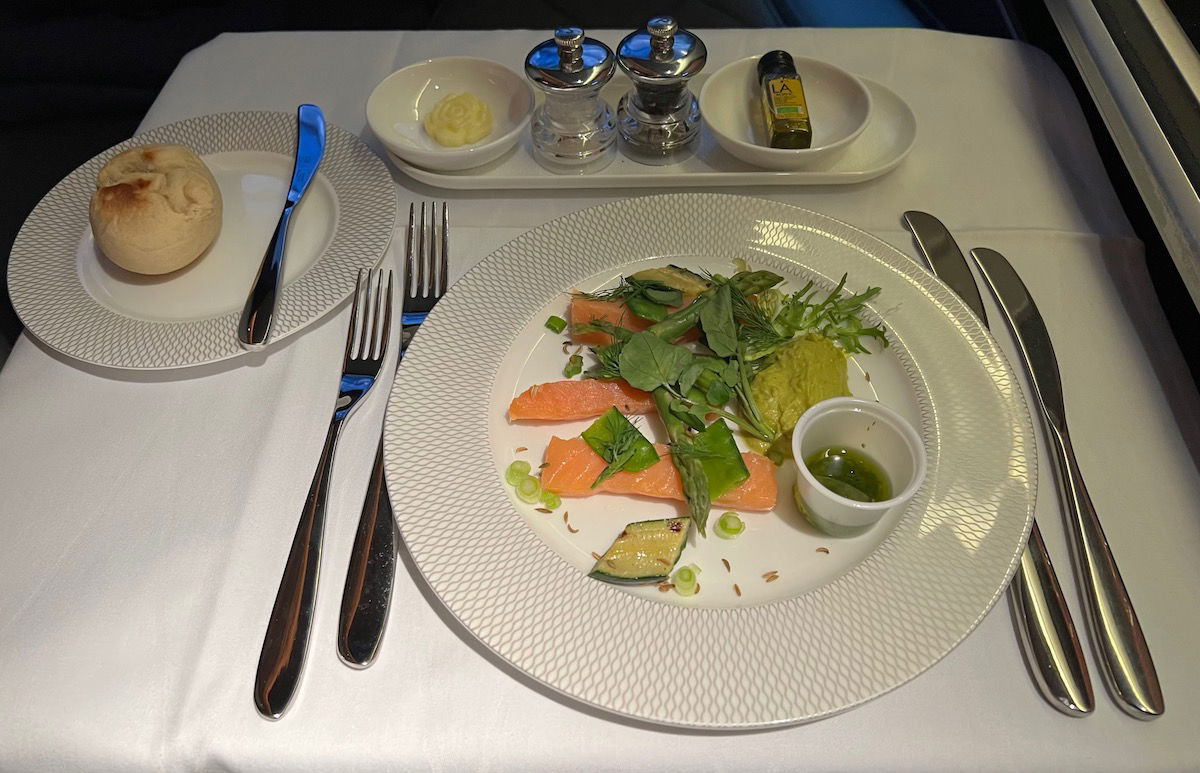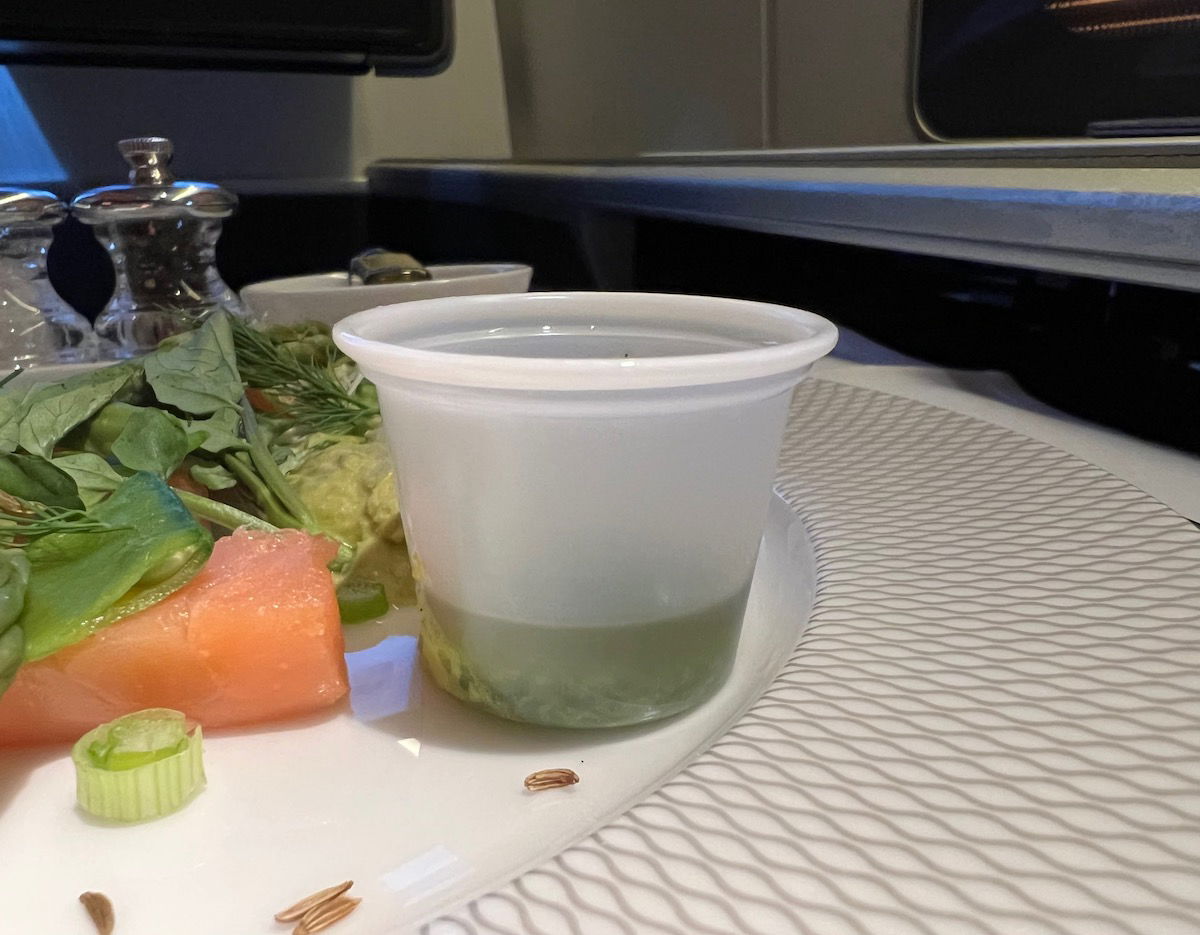 The main course was served 1hr40min after takeoff. For this I selected the baked cauliflower cakes with creamy spinach orzo, heirloom carrots, and parmesan. I've never seen cauliflower cakes on a plane before, so I was happy to try something new. The dish was quite good, and was presented much better than the starter.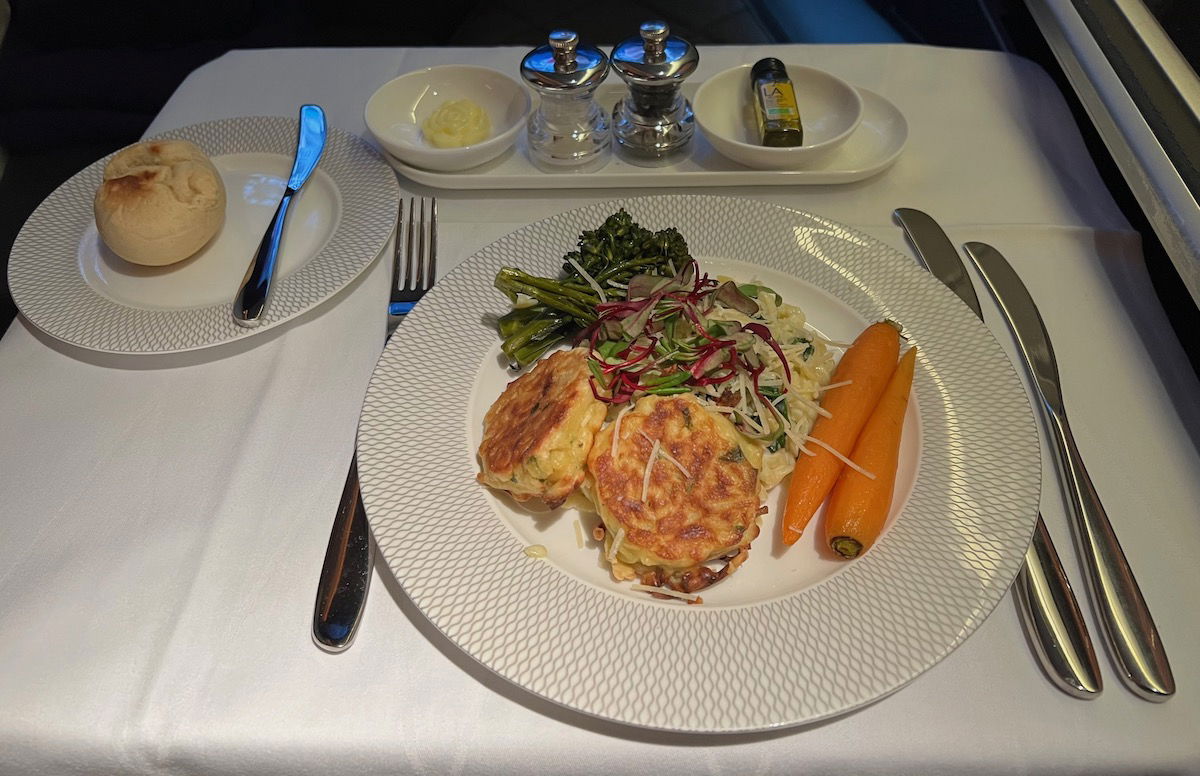 Lastly, for dessert I had the salted caramel and chocolate mousse with strawberries and whipped cream, which was delicious (naturally).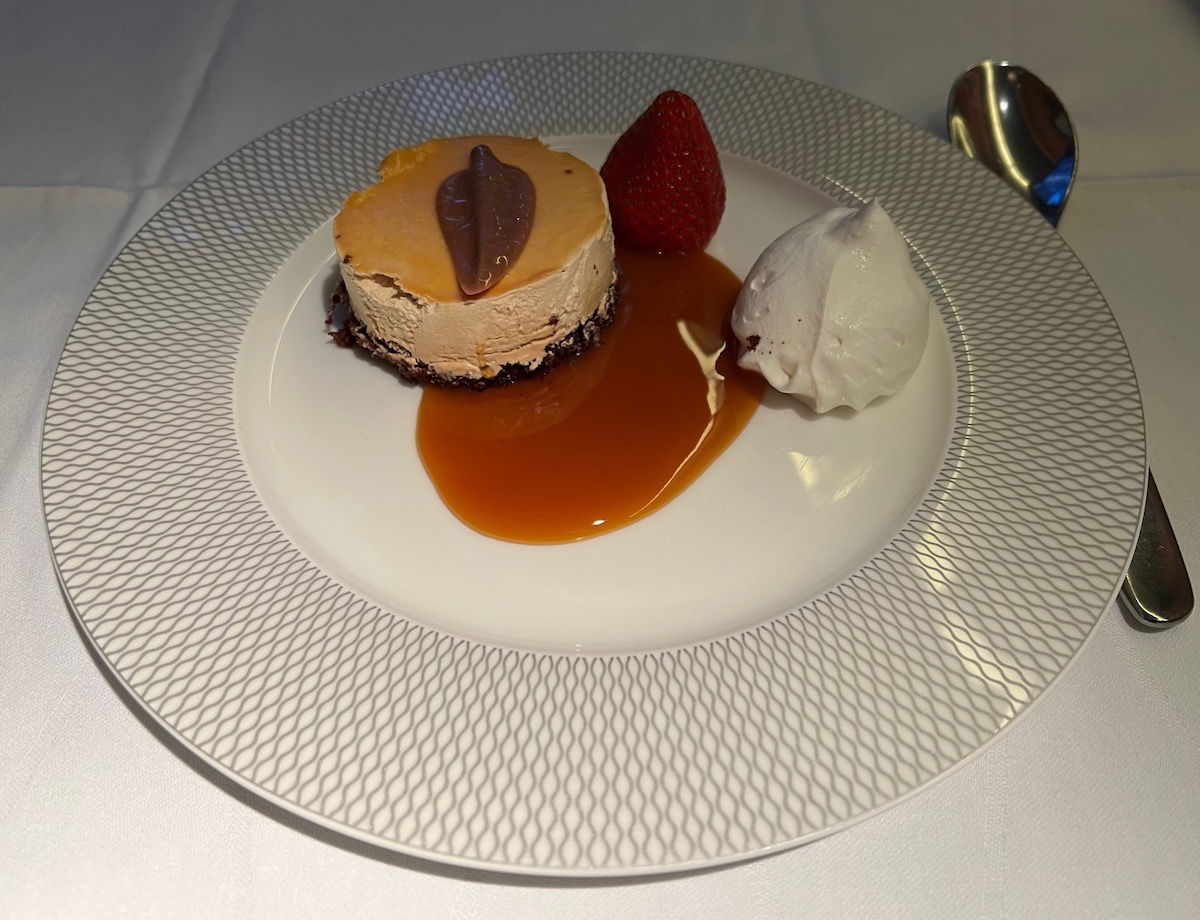 While catering on British Airways isn't quite to the same level as on other top airlines in first class (there's no caviar, etc.), the food was tasty, and I thought the presentation was pretty good too, aside from the appetizer.
British Airways 777 first class bed
After dinner it was time to sleep, so I asked for my bed to be made. British Airways offers turndown service, where a mattress pad is placed on your seat, and a duvet is placed on the bed. Typically when turndown service is provided, there's some effort to make it look neat and appealing.
I think this might just be the sloppiest turndown service I've ever received in first class on any airline. Honestly, did the flight attendant just throw everything on the seat and walk away, or…? I think this turndown service is a pretty fair representation of what service was like throughout the flight.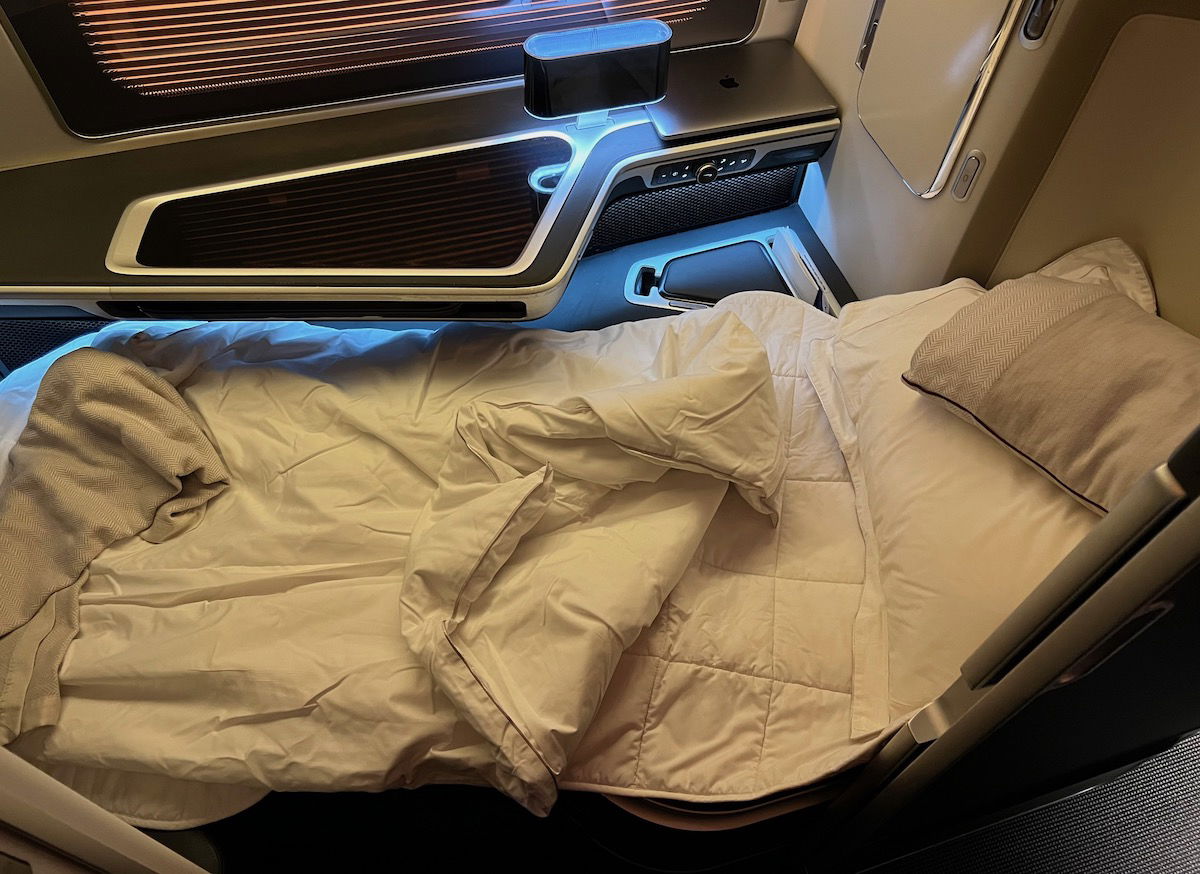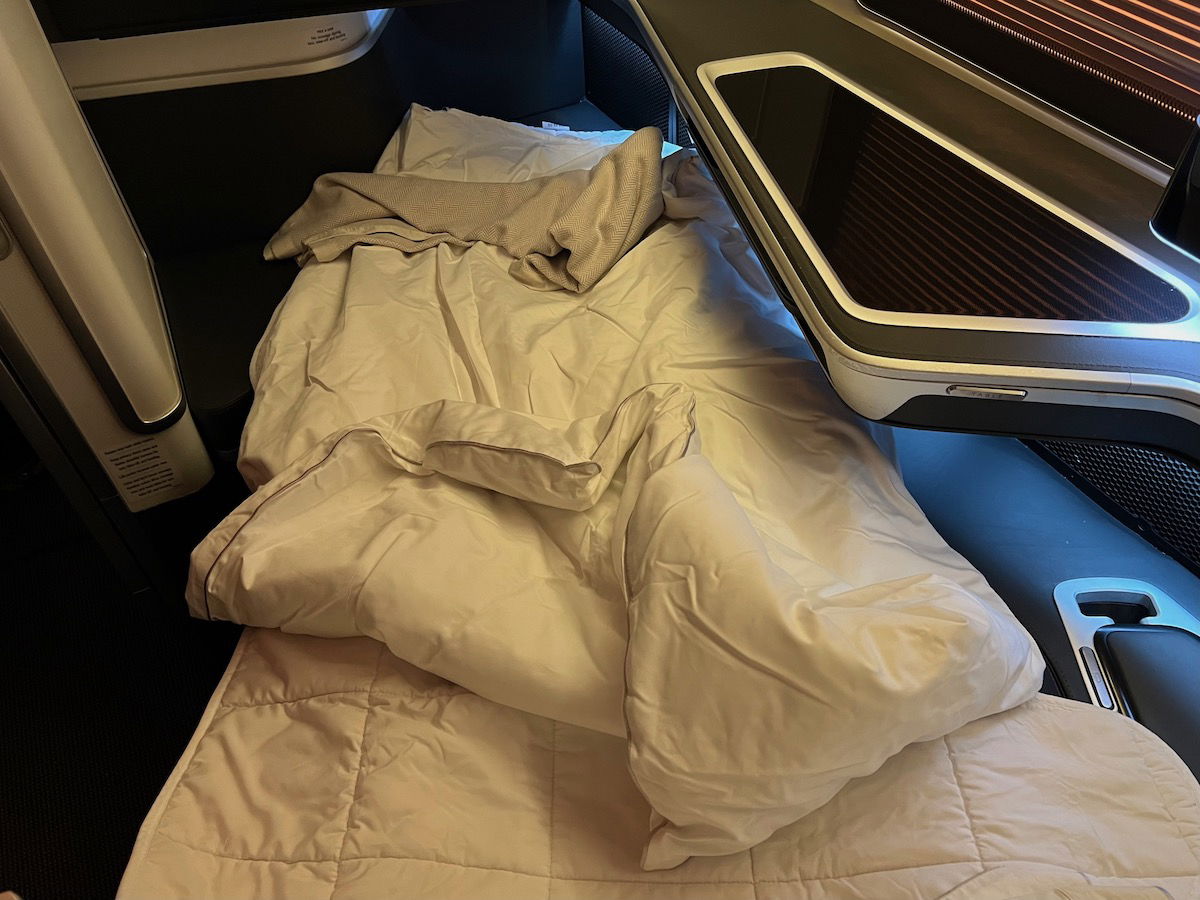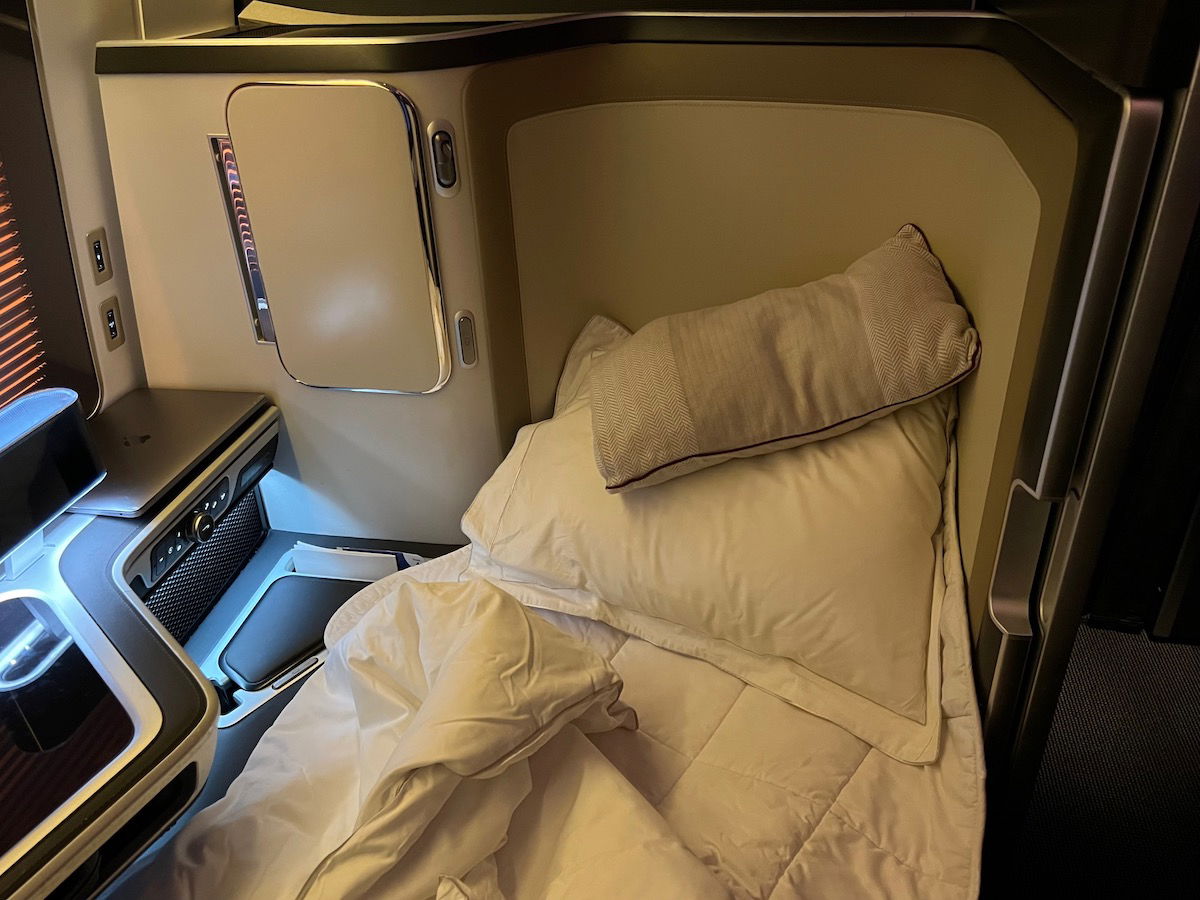 Anyway, by the time I got into bed, there were around four hours remaining enroute to London.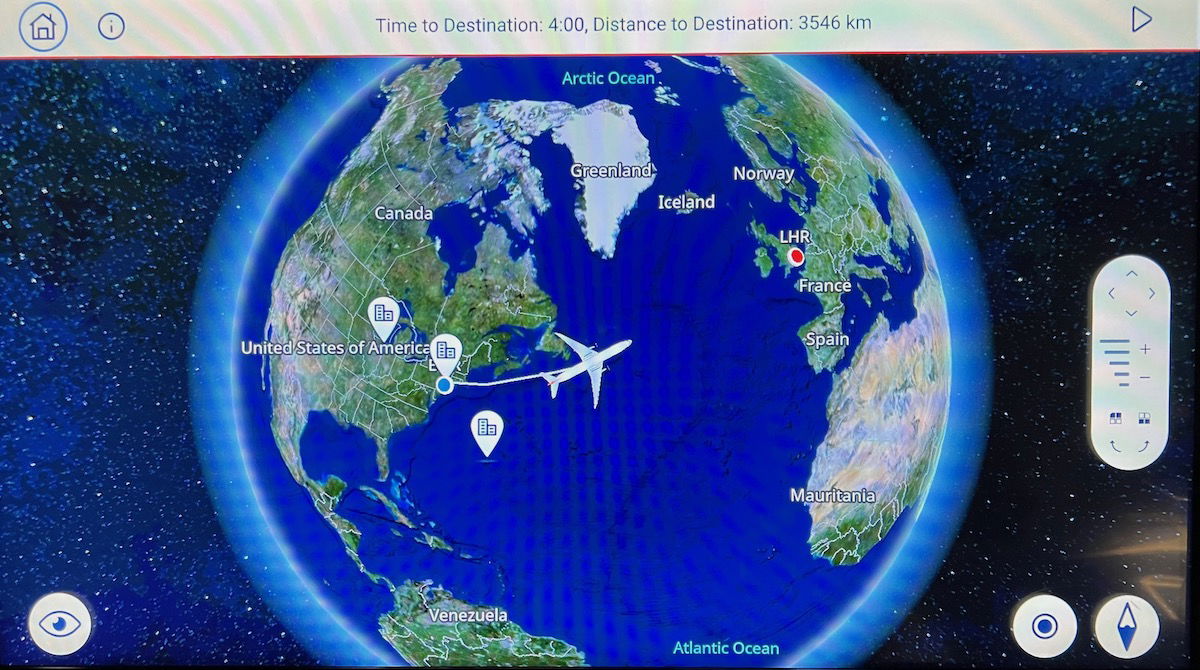 I fell asleep pretty quickly, and woke up 2.5 hours later, around 90 minutes prior to landing in London.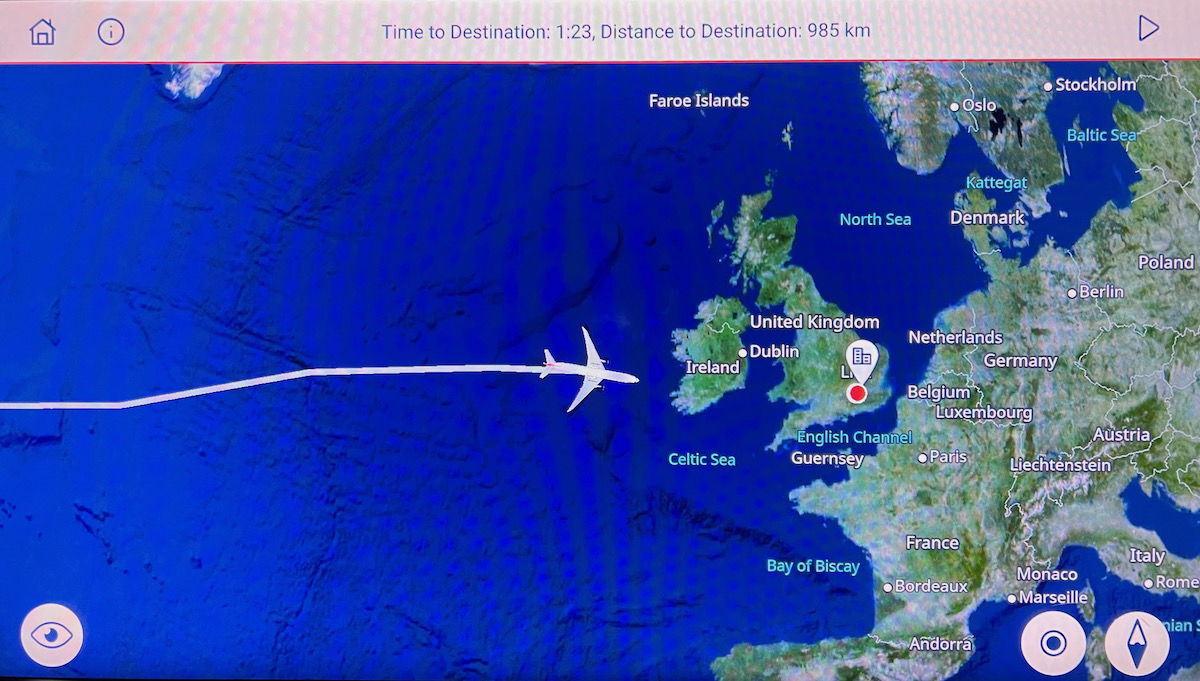 British Airways 777 first class lavatories
As far as lavatories go, British Airways has one lavatory at the front of the 777-300ER first class cabin, by the cockpit. It was a decent size and had a nice faux-marble countertop, but otherwise wasn't very well maintained.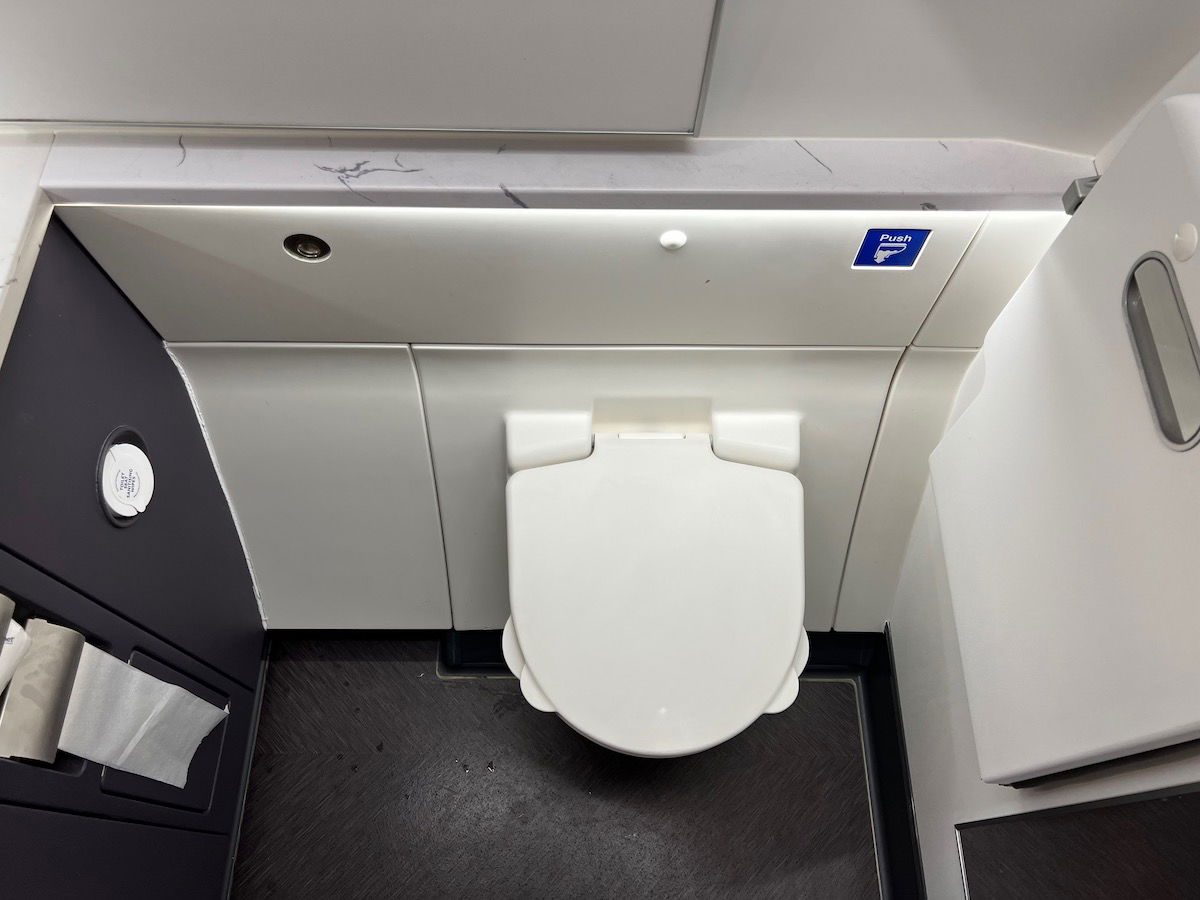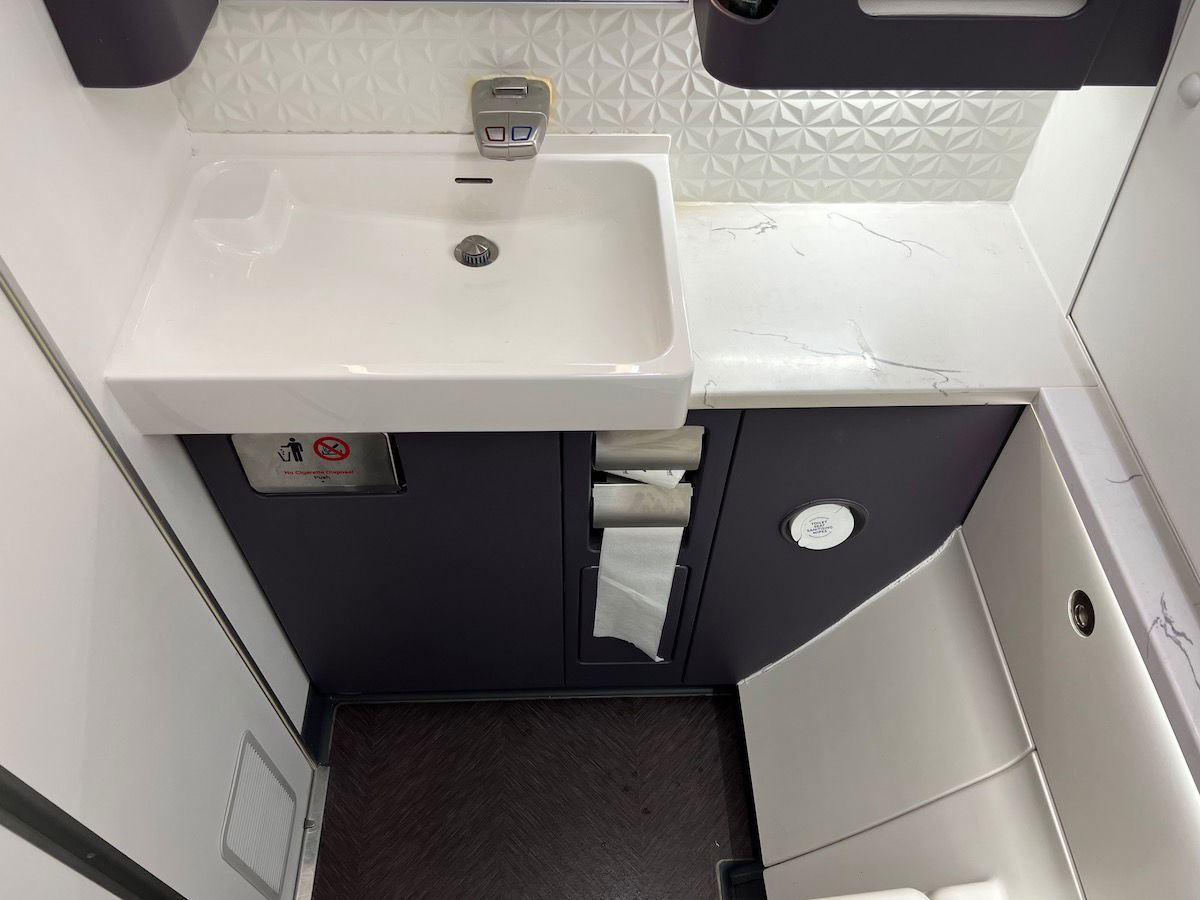 There was hand wash and hand lotion in the lavatory from Elemis.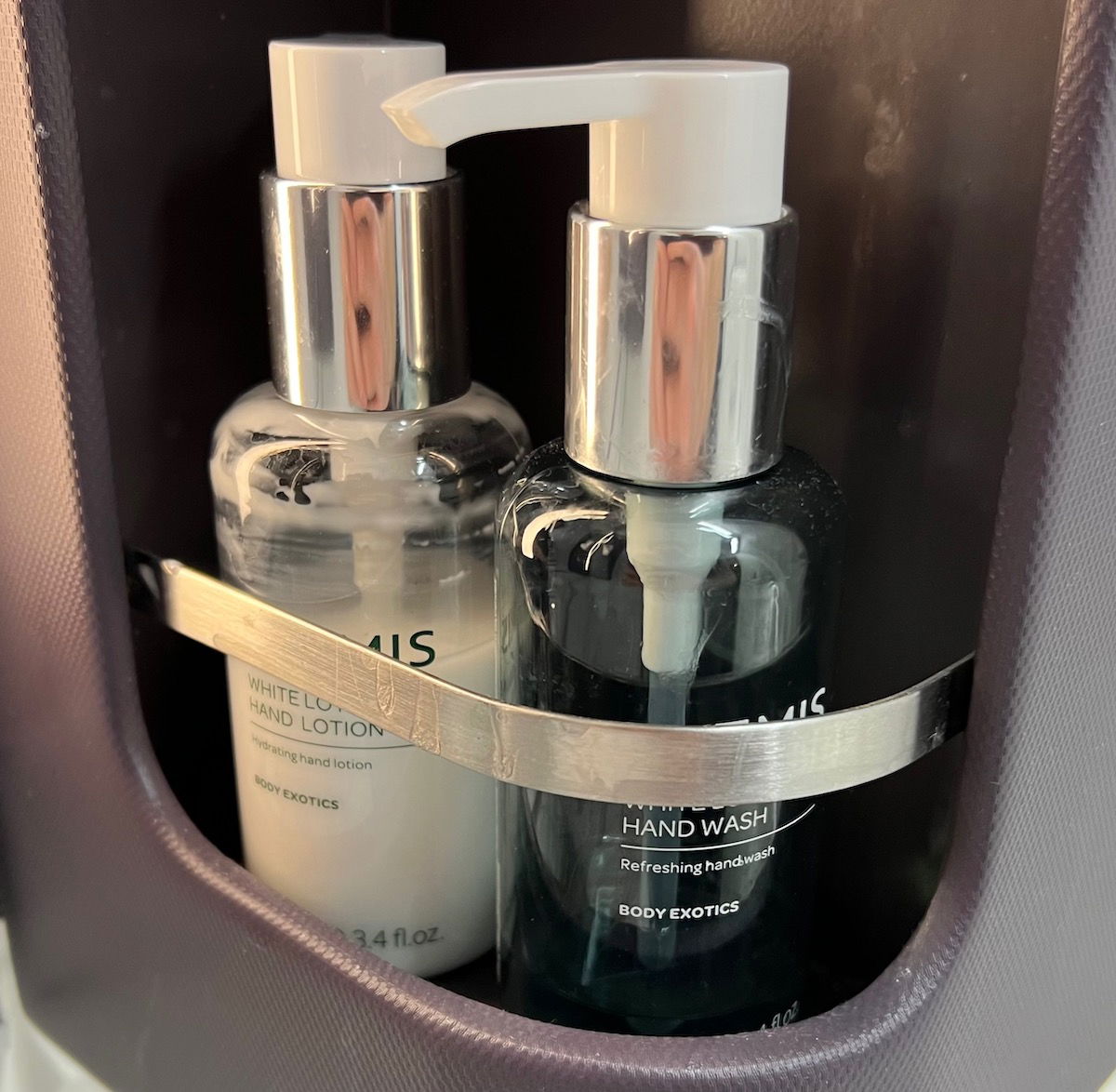 One lavatory really isn't that much, especially since it's also shared with the pilots. If you're seated on the right side of the cabin you have to walk through the galley to get to the lavatory, and the crew was super weird about it. Like, when I'd walk to the bathroom they wouldn't get out of the way, but rather would just look at me weird. Meanwhile on most Asian airlines they'd run to open the door for you…
British Airways first class breakfast
While I would have ordinarily tried to sleep longer, I figured I'd get up for breakfast, so I could review it. You can find the British Airways first class breakfast menu for this flight below.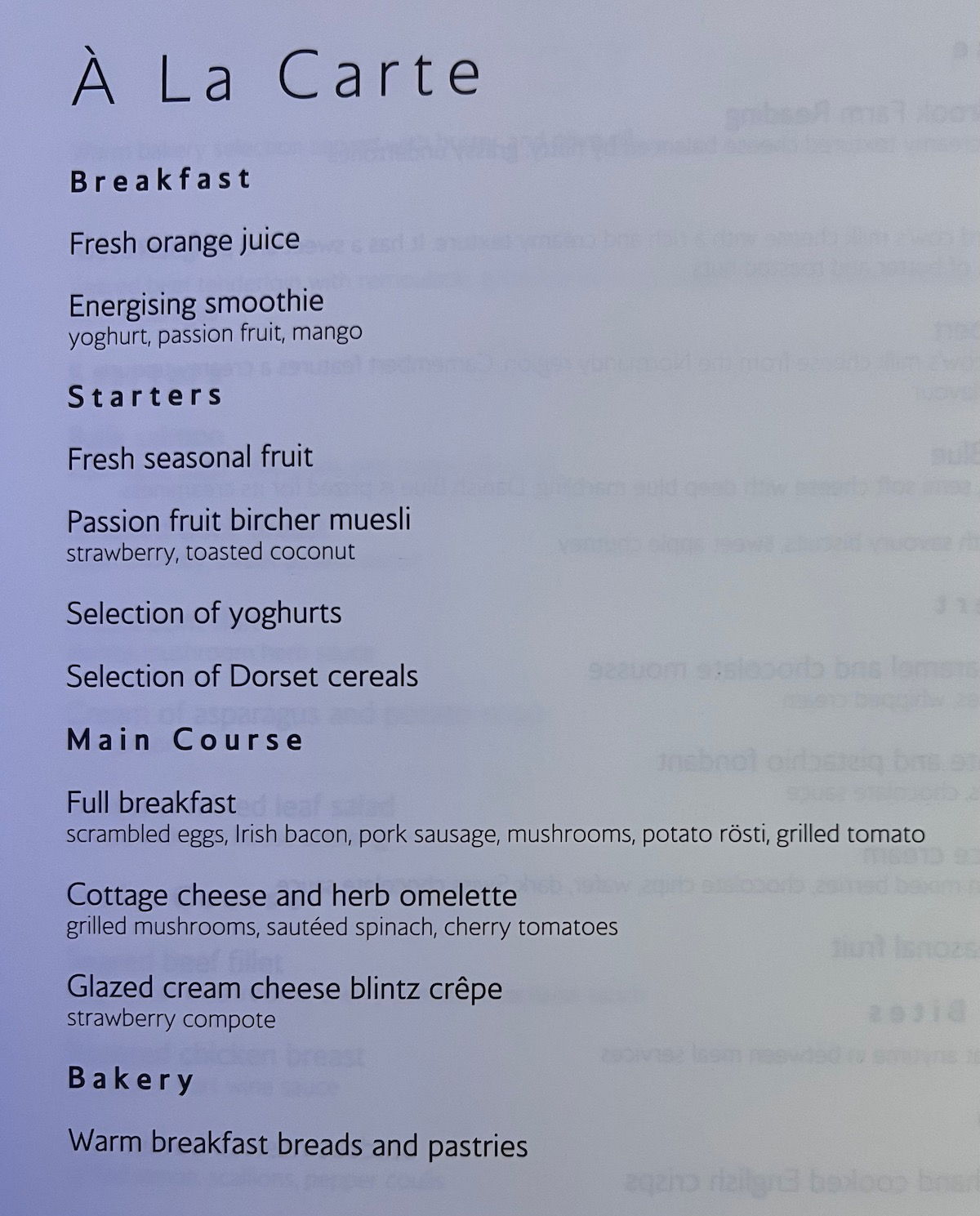 Of course I wasn't particularly hungry. I ordered a smoothie and a cappuccino to drink, and some fruit and a yogurt to eat. I quite like British Airways' glasses and mugs, and enjoyed the yogurt, passion fruit, and mango smoothie, as well as the cappuccino.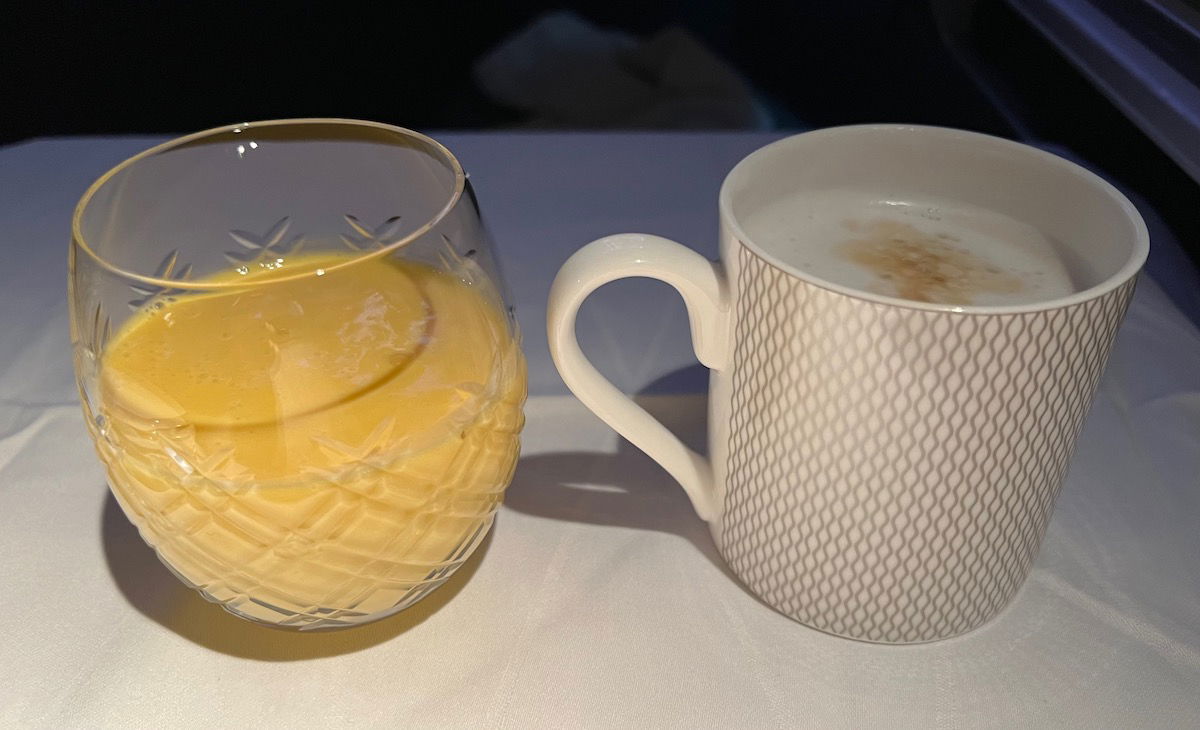 The fruit plate consisted of melon, pineapple, strawberries, and blueberries, and the yogurt was served in an Upstate Farms container.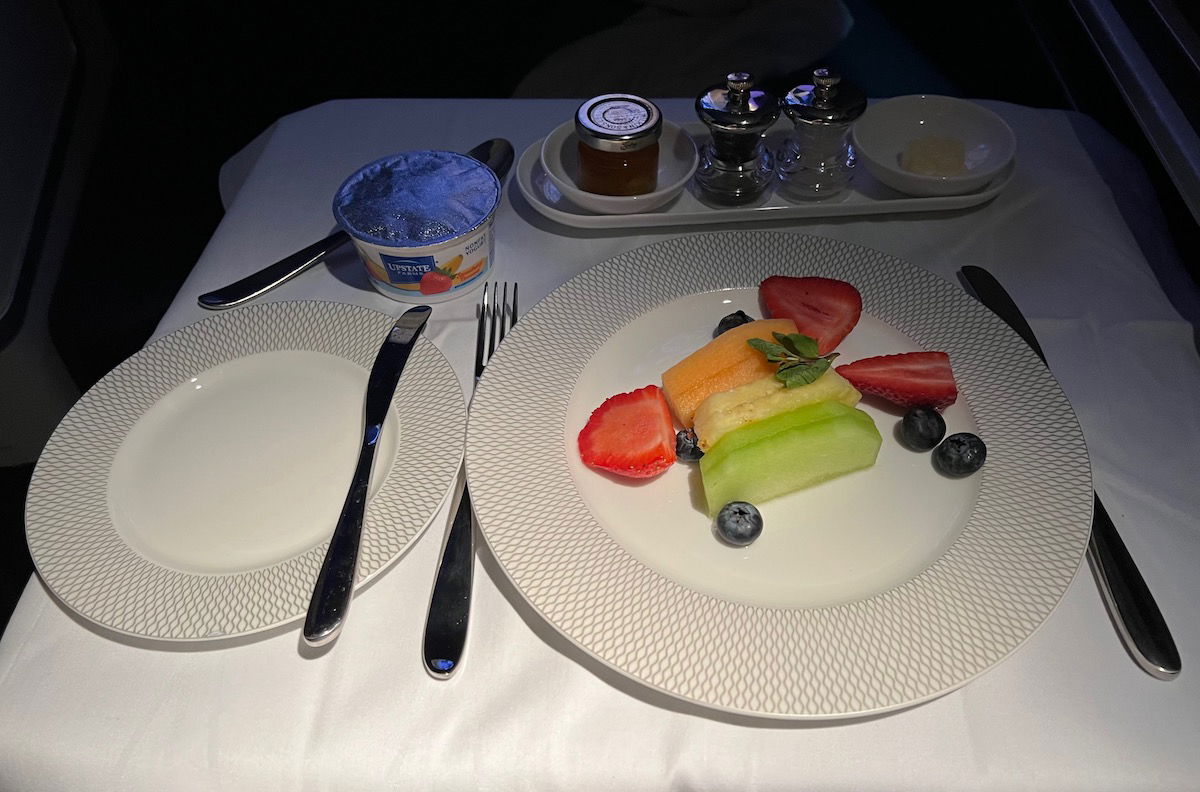 I was also offered a selection from the bread basket. I selected a croissant, though it was hard as a room and room temperature, so I didn't eat it (which was probably for the better).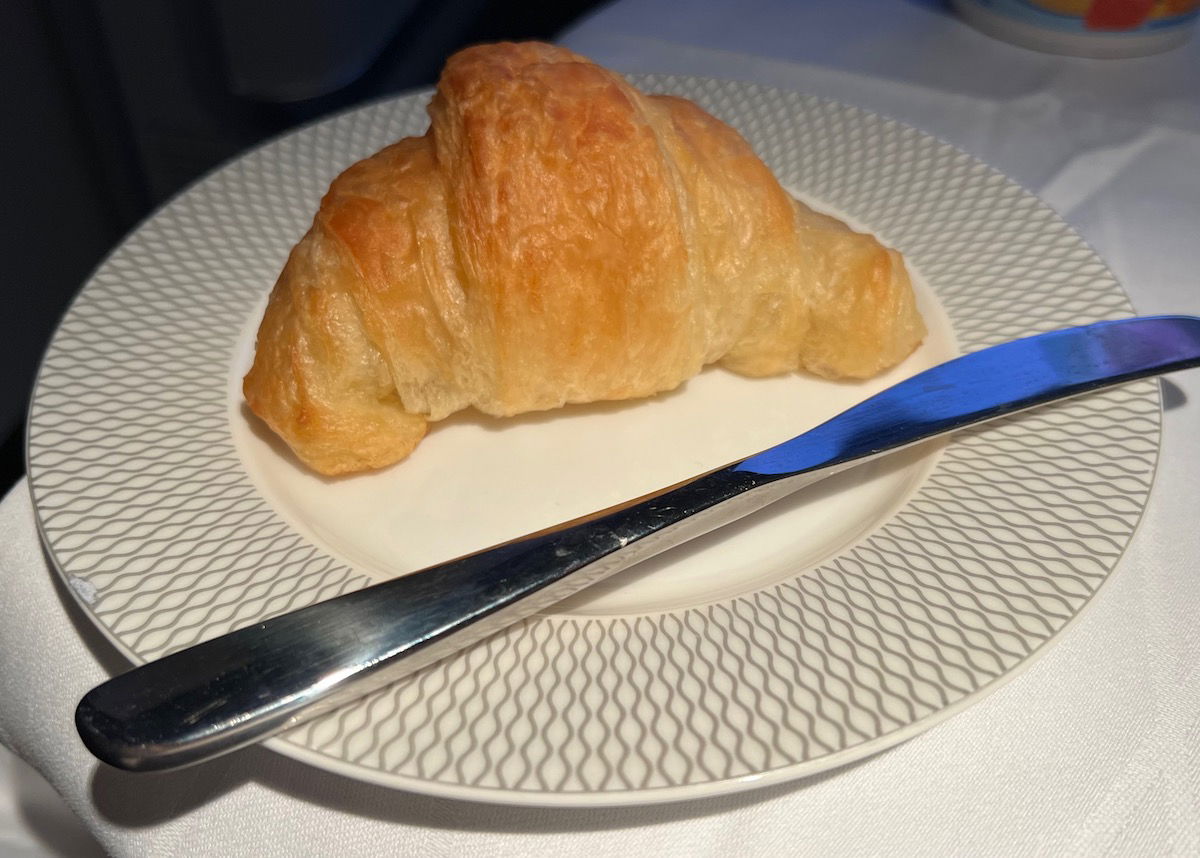 British Airways first class service
Let me start by acknowledging that this is of course a first world problem, since people always point out there are bigger issues in the world (of course there are, and I'm well aware of that, but I'm pretty sure people come to my blog for premium airline product reviews, so that doesn't seem relevant for those purposes).
I hate to say this, but the service on this flight was terrible. The most bizarre part of it is that the crew wasn't rude in the slightest, yet I walked away with such a negative impression. For those familiar with British Airways' crewing practices, it was like the crew lacked the experience and polish of the former Worldwide Fleet crews, but also lacked the enthusiasm of the Mixed Fleet crews.
I don't know how exactly to put this delicately, but it's the truth — the service level felt roughly like what I'd expect if you had two unenthusiastic fast food workers who were put in a first class cabin for the first time. Individually each problem was fairly minor, but when you add it all up, it makes for a very un-premium experience.
Among other things:
The initial meal service was outrageously slow; even though I asked to eat ASAP, my main course ended up being served 1hr40min after takeoff, which isn't ideal when trying to get some rest on such a short flight
The flight attendant poured champagne by holding the bottle by the neck, maybe an inch from the top; it's not a huge deal, but have they really not been trained in how to pour properly?!
The crew didn't address passengers by name, the inflight manager never came around to see if each passenger enjoyed their flight, etc.; for what it's worth, business class was only 40% full, so it's not even that they were super busy in other cabins
There was just zero attention to detail, from the turndown service, to plates not being cleared promptly, etc.; for example, 20 minutes after I finished my breakfast, my tray still hadn't been cleared, as no one ever came to check on me
The crew wasn't even engaging or enthusiastic; they just kind of spoke in fragments when taking meal orders, etc.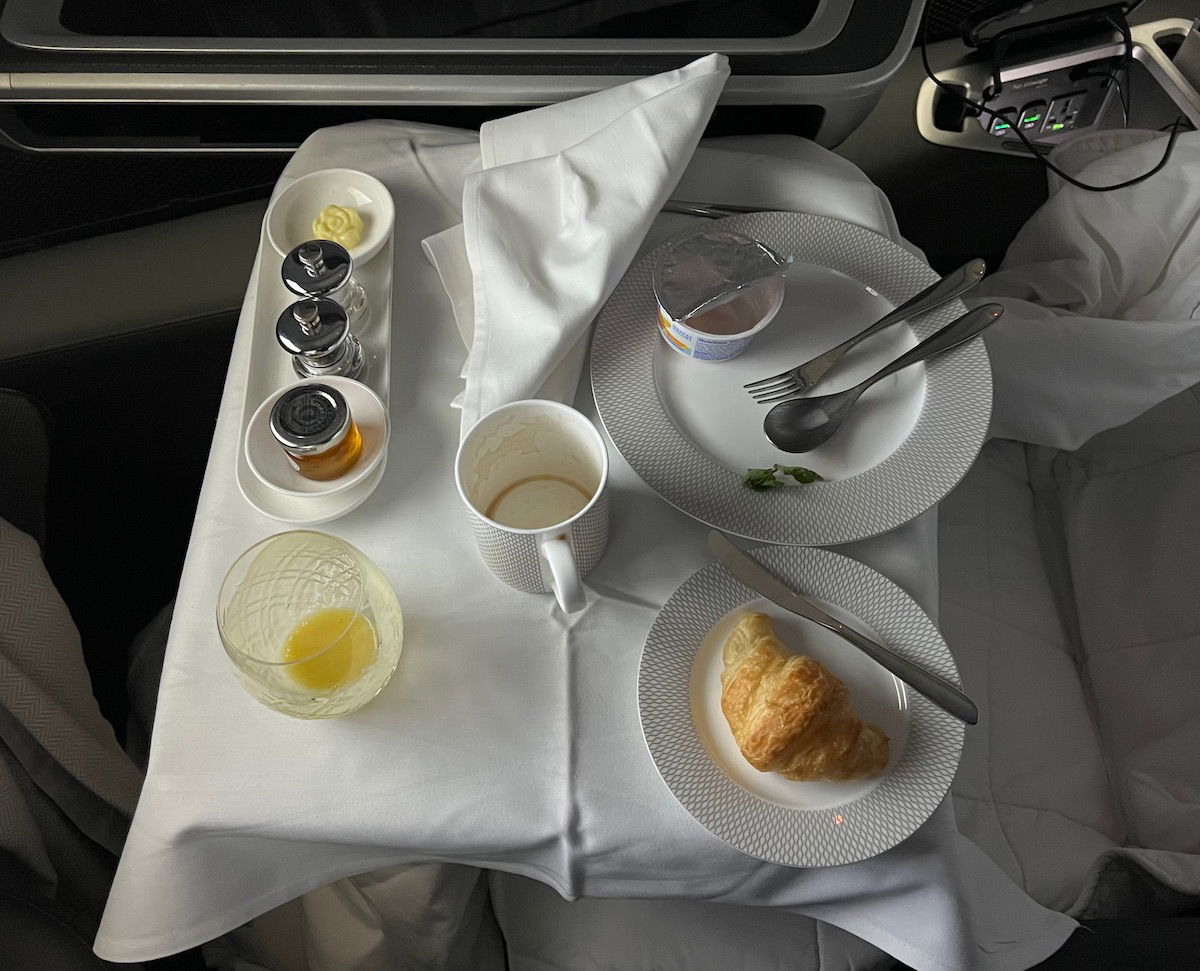 I had hoped that with British Airways now having smaller first class cabins, service would feel more attentive, though instead I experienced was the least attentive service I've ever had on British Airways. With so few passengers (and some people going straight to sleep), I don't understand how the service could be so lackluster.
British Airways 777 arrival in London
At 8:20AM London time, the captain announced that we'd soon be descending for Heathrow, and would be landing in around 40 minutes.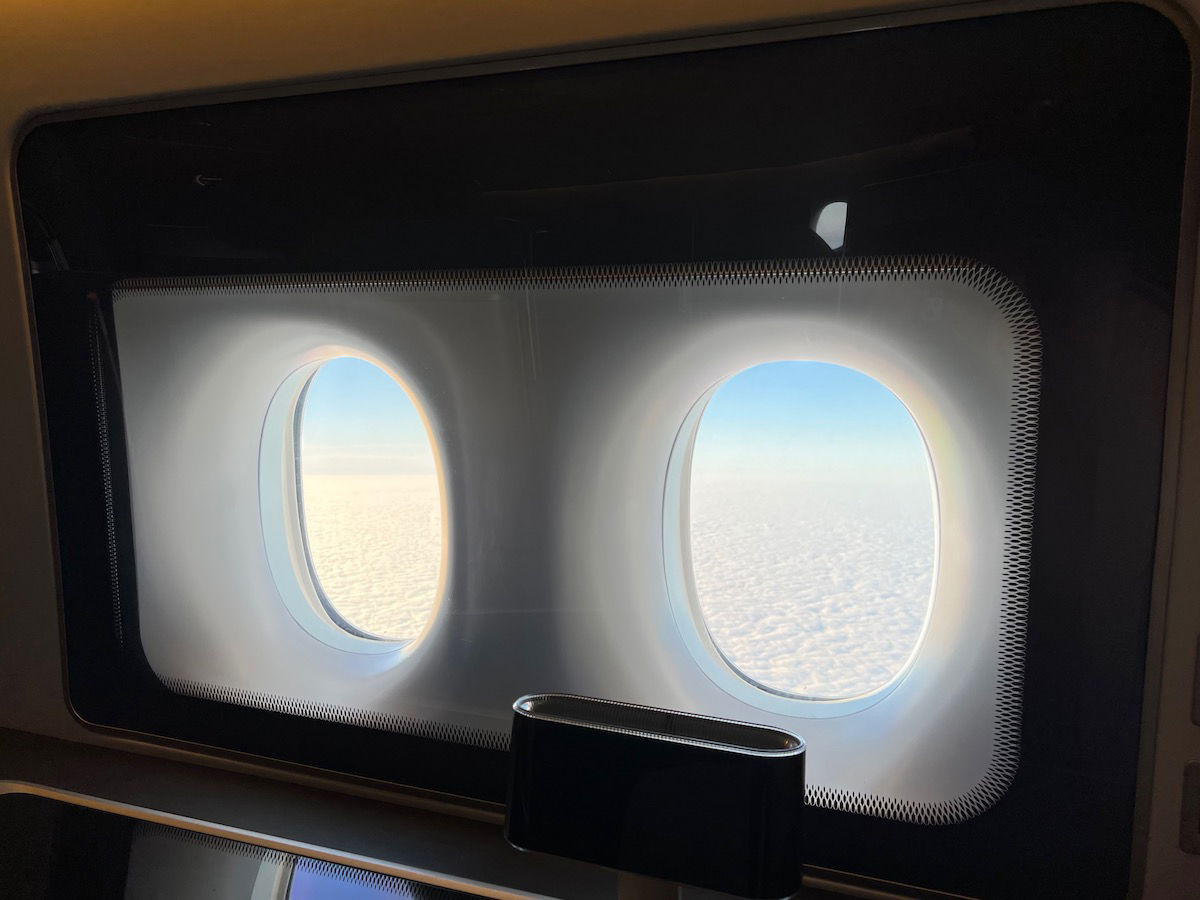 At that point the cabin was prepared for landing. The seatbelt sign was turned on about 20 minutes before landing.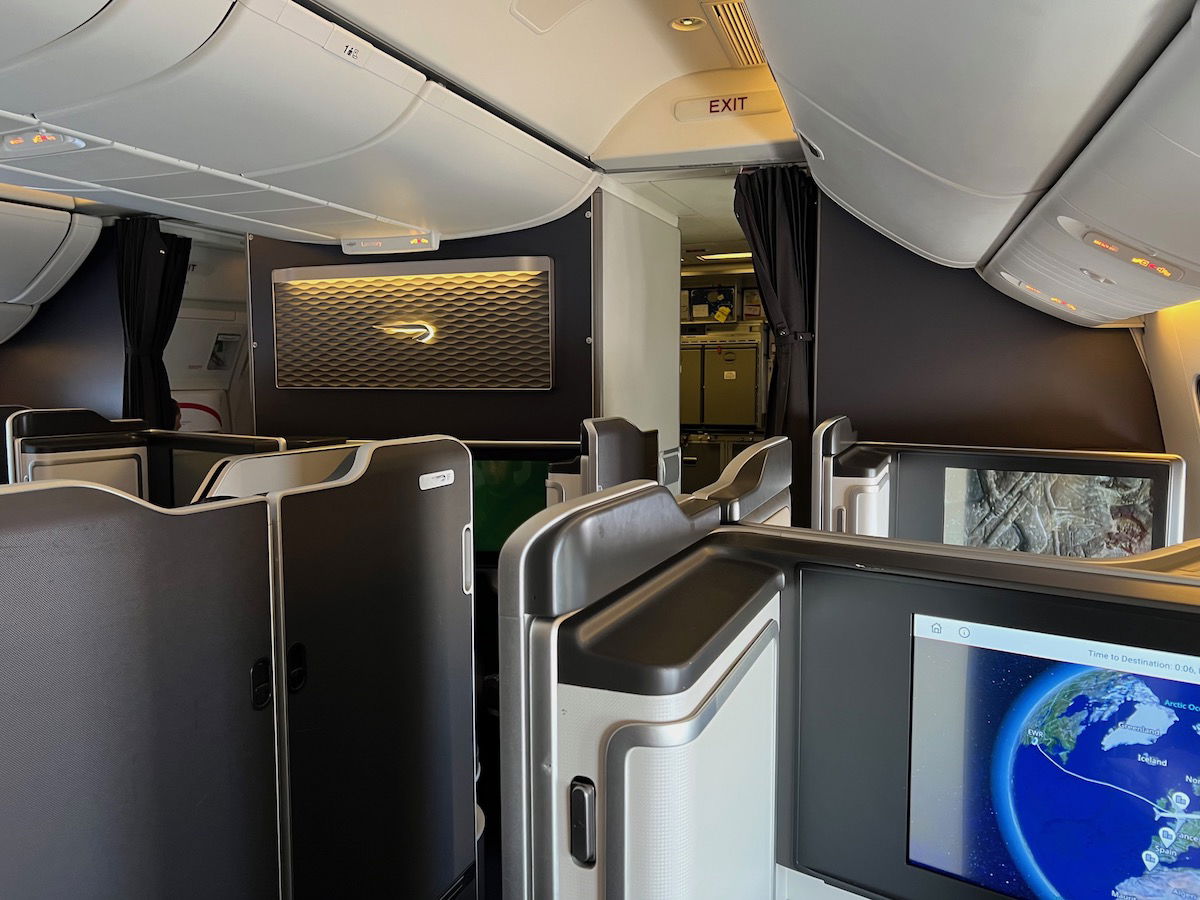 It was a smooth descent, and we ended up touching down in London at 9:05AM.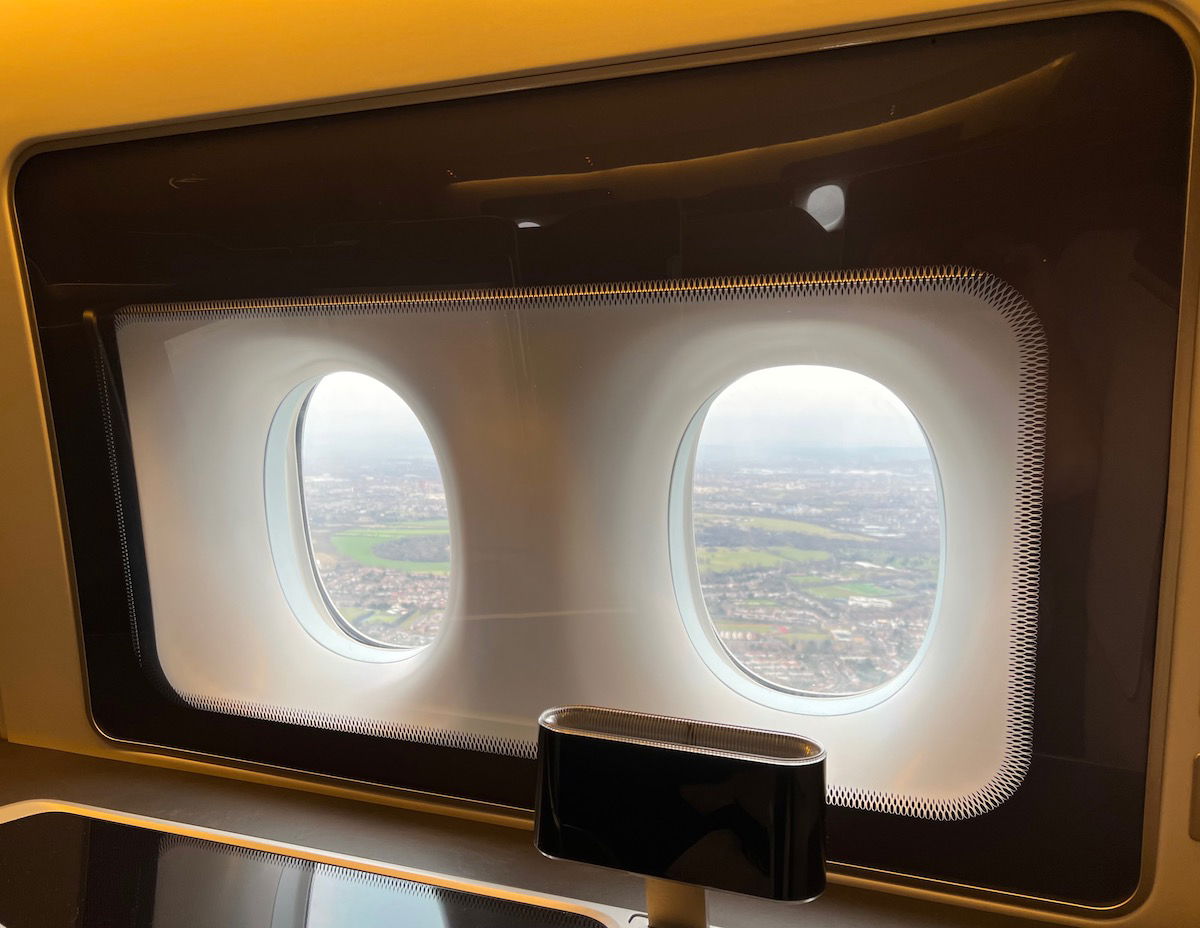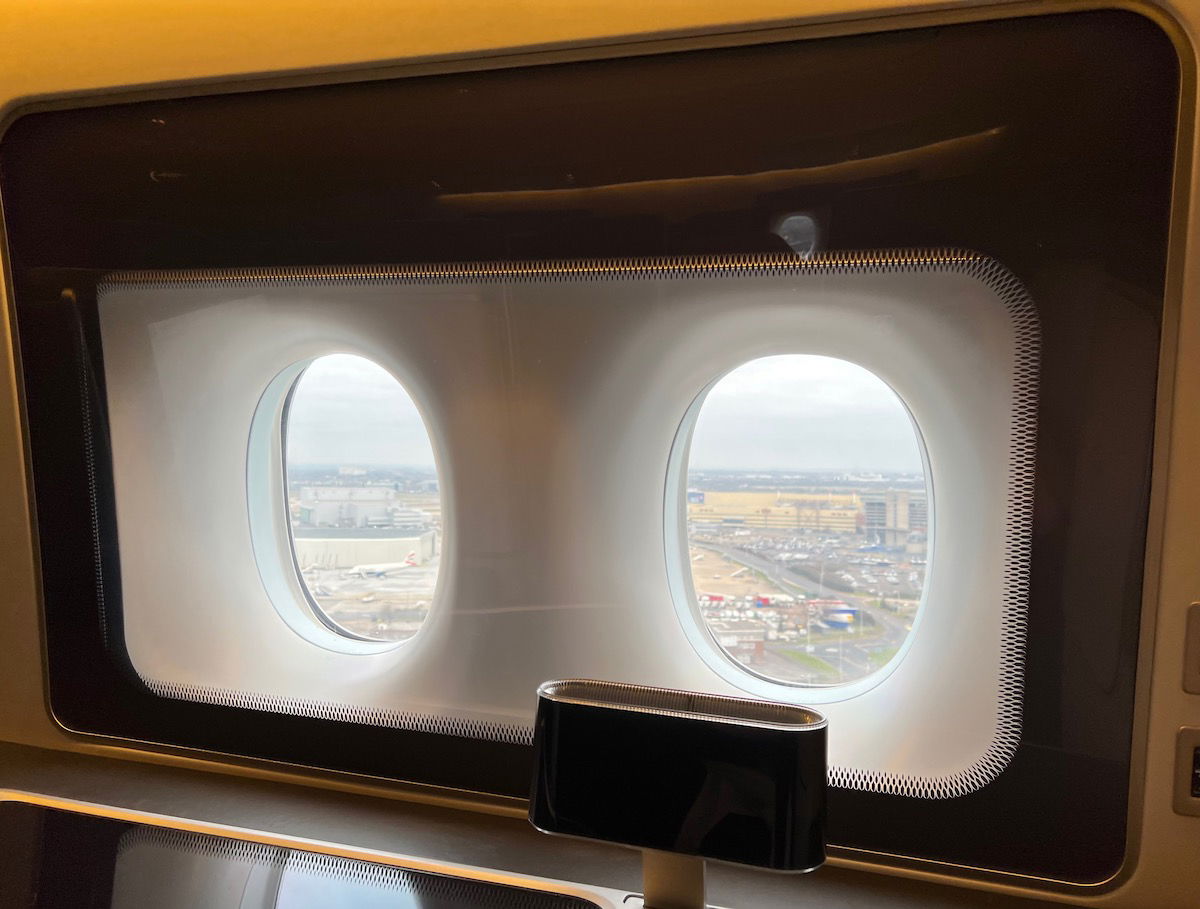 We then had a five minute taxi to our arrival gate, where we pulled in at 9:10AM. We arrived at the far pier of Terminal 5, so after going to passport control and clearing immigration, I headed to the Renaissance Heathrow Airport, where I'd be spending the night.
Bottom line
I was excited to fly British Airways' new first class. Forgetting service for a moment, the experience largely left me impressed. The new first class suite is a nice incremental improvement, particularly with a door and a much better entertainment screen. On top of that, the amenities in British Airways first class are nice (especially free Wi-Fi), and the food is reasonably good, though not as premium as on some other airlines in first class.
Unfortunately that brings us to the service. Giving this flight a 2.5 star rating might sound harsh, but the truth is that having an indifferent and sloppy crew really takes away from an otherwise premium experience. While airlines like Air France and Lufthansa aren't always perfect in first class, I've never experienced such a level of unprofessional service on those airlines.
In early 2022, British Airways' CEO stated that he wanted to make the airline more premium. While British Airways has made a lot of hard and soft product investments, the variable service on British Airways is a major area for improvement. One important aspect of a good product is consistency and knowing what you're going to get, and that's an area where British Airways fails.
What do you make of British Airways' new first class?