In a previous installment, I reviewed Virgin Atlantic Upper Class on the Airbus A330-900neo. I wanted to dedicate a separate post to Virgin Atlantic's new Retreat Suites, as this is a new product for the airline, which is exclusively available on these planes. What are these seats, and are they worth it?
What are Virgin Atlantic's Retreat Suites?
Recently we've seen several airlines introduce a special product in the first row of business class. The logic is that most modern business class products efficiently use the space to the side of the seat in front in order to minimize each seat's footprint. When you're in the bulkhead, that doesn't apply, so airlines can use that space to do something special.
In the past, airlines kind of just wasted that space, while nowadays airlines are sometimes maximizing this by creating an exclusive product that can be booked at an extra cost. That's exactly what Virgin Atlantic has done on the Airbus A330-900neo, which was recently added to the fleet.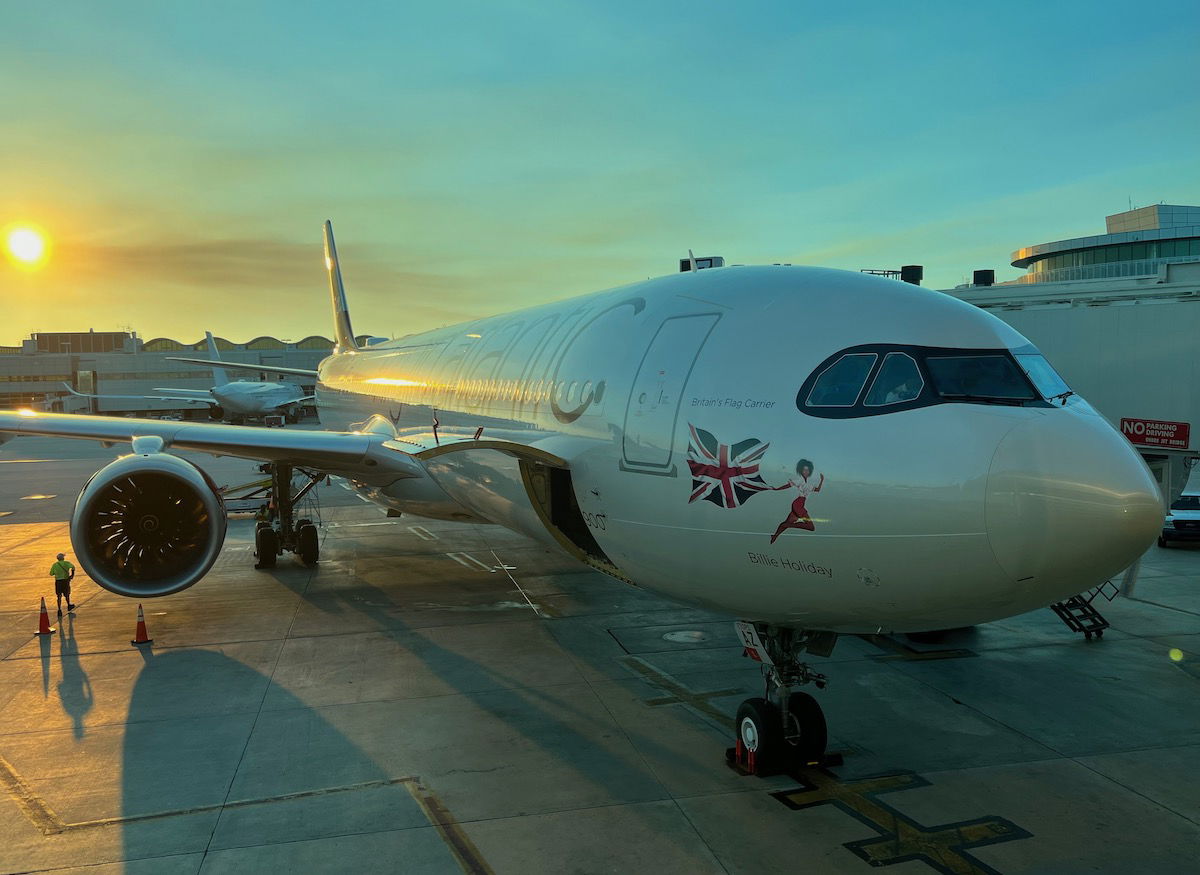 This plane features an all-new passenger experience. In addition to installing a new Upper Class product with doors, the airline also introduced Retreat Suites. Specifically, the two center seats in the first row of the cabin are special seats that are significantly more spacious than the standard business class seats, though that comes at a cost.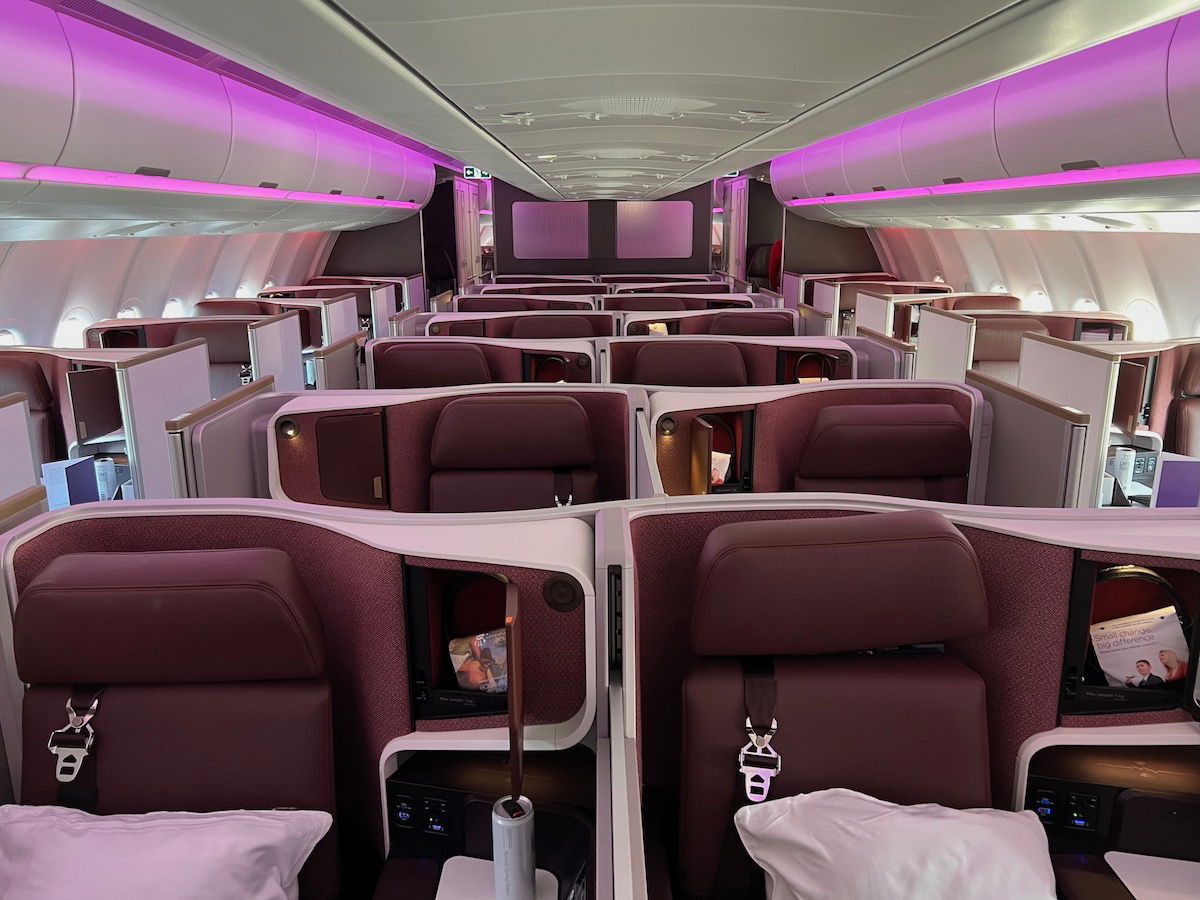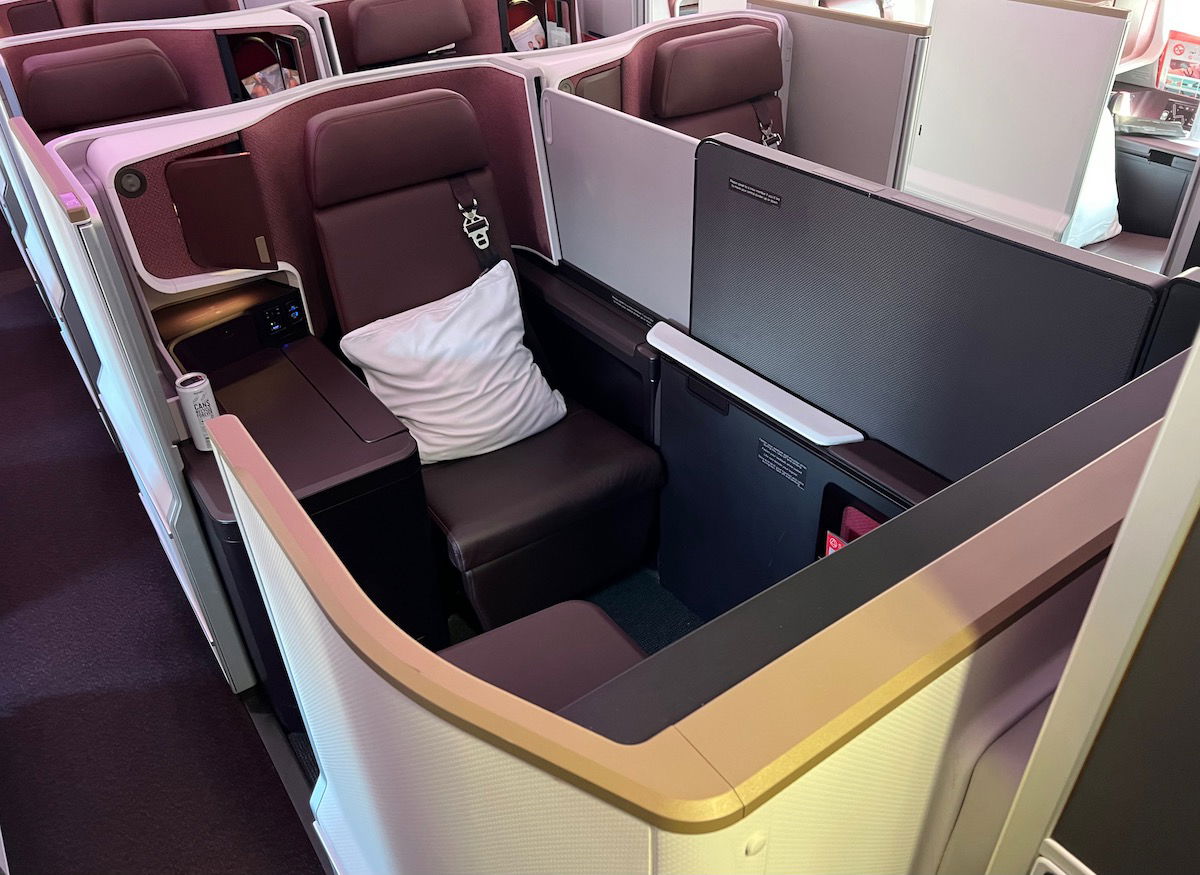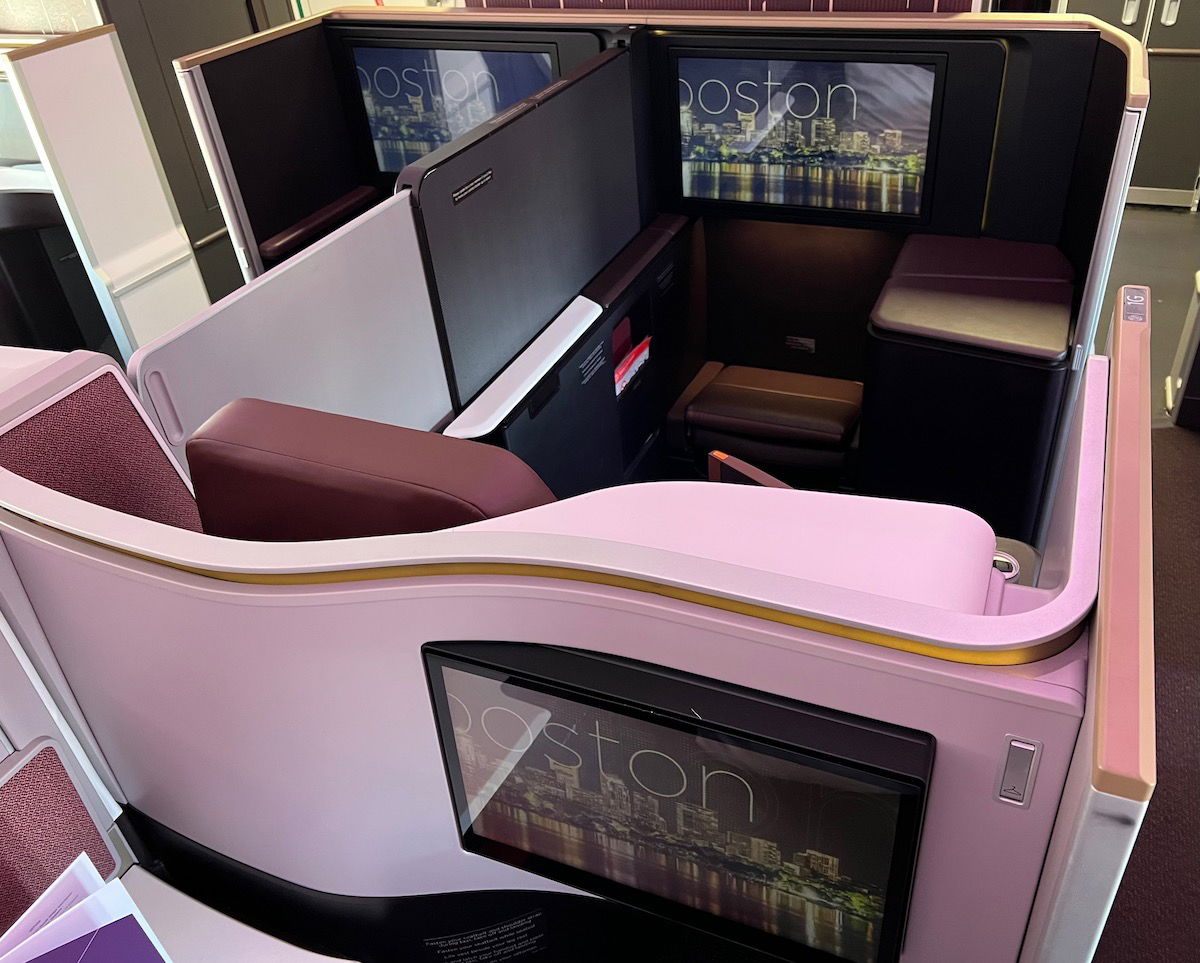 The below seatmap gives you a sense of how seats 1D and 1G are significantly more spacious.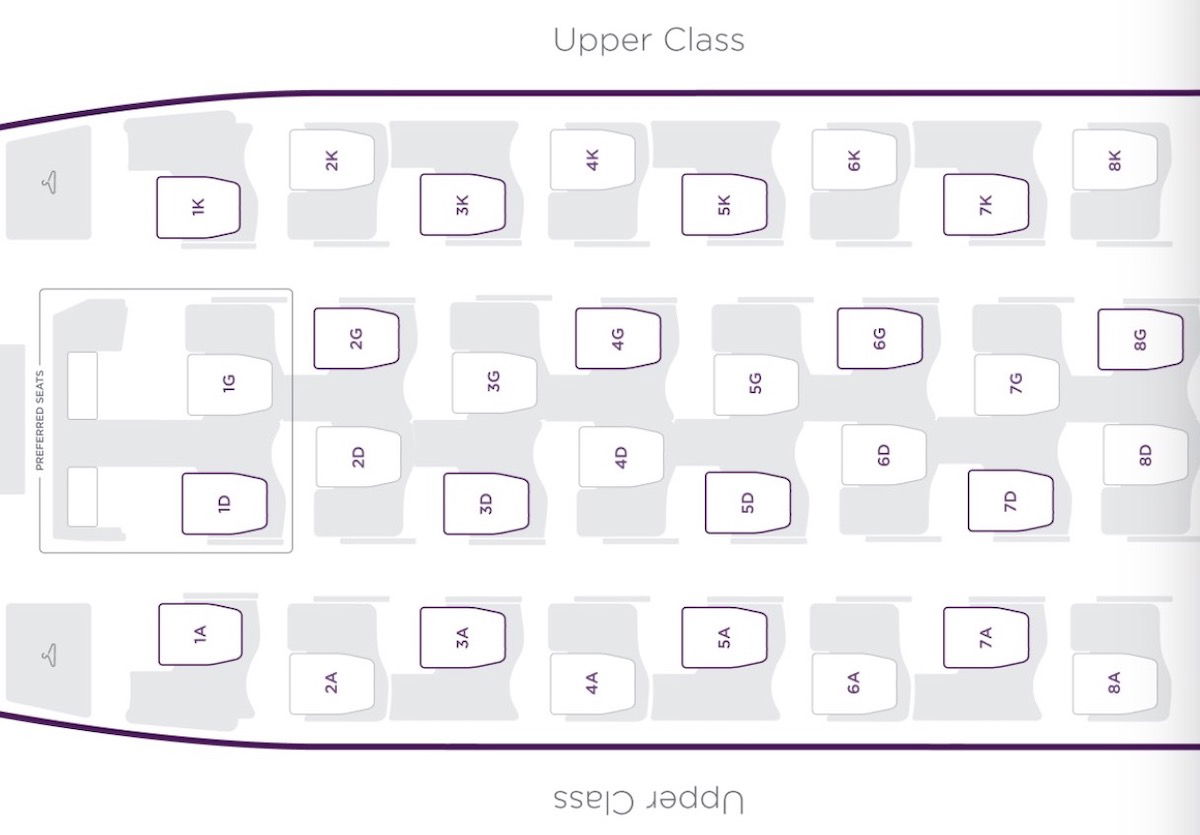 What's different about Virgin Atlantic Retreat Suites?
What makes Retreat Suites different than regular Upper Class seats? If you look at the seats themselves (rather than the ottoman), they look like pretty standard Upper Class seats.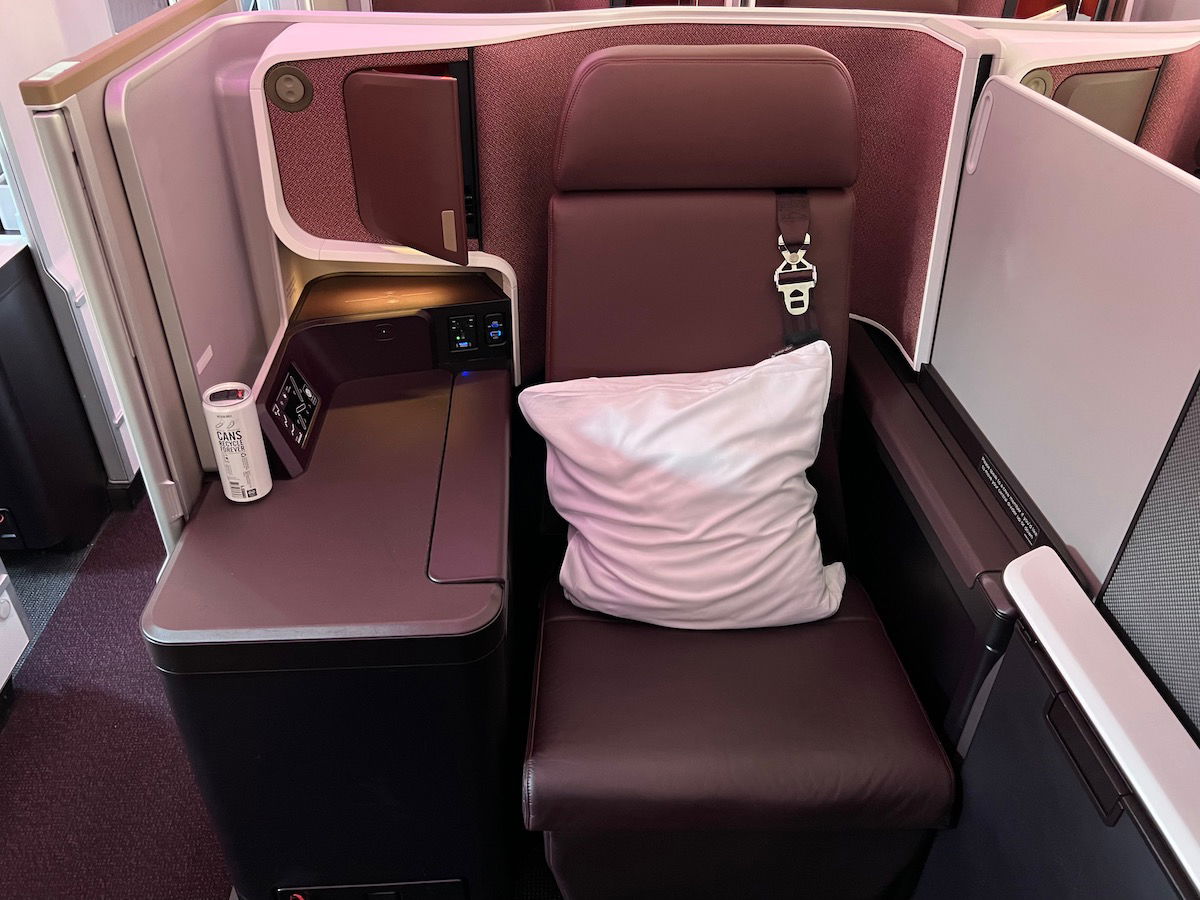 What makes them special is when you look in the other direction. As a reminder, below is what the footwell situation is for a regular Upper Class seat in this configuration.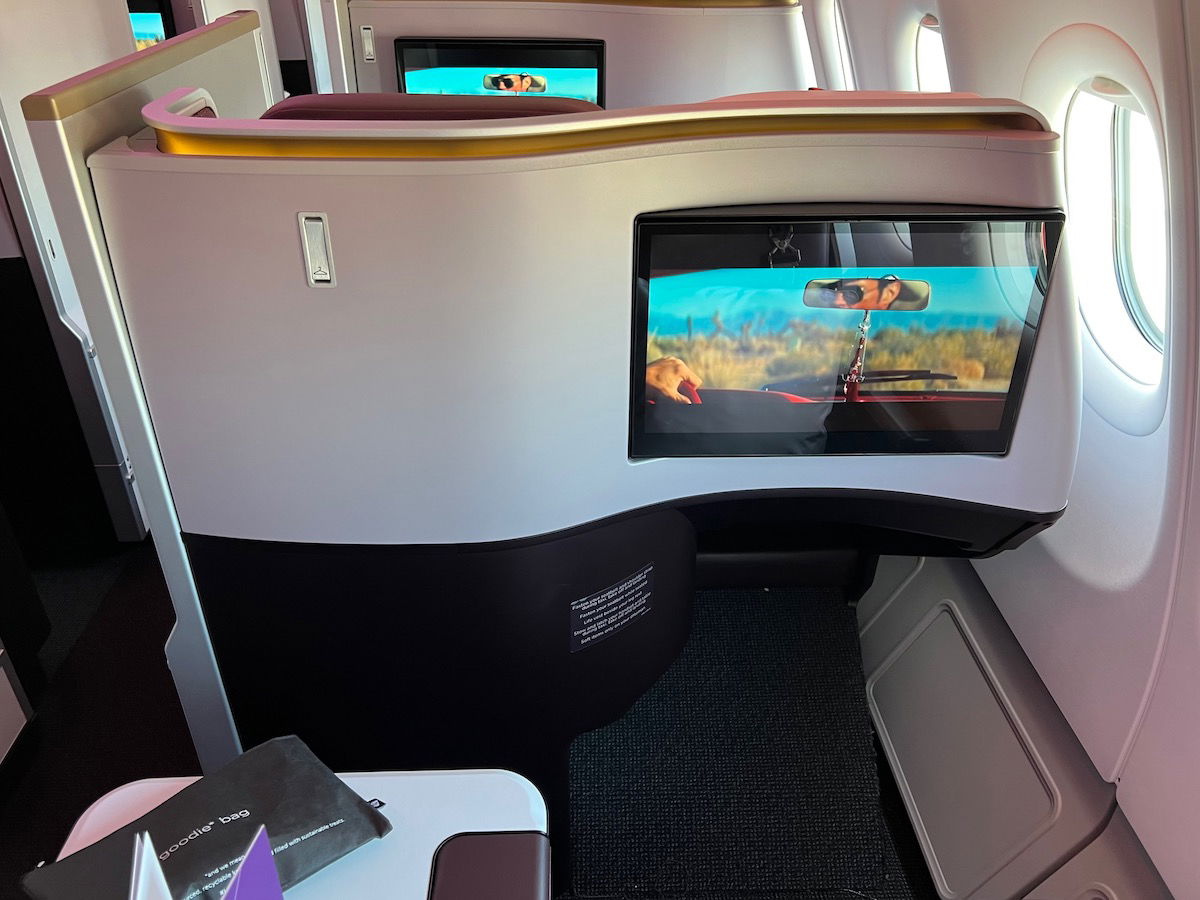 Meanwhile below is what it's like in Retreat Suites.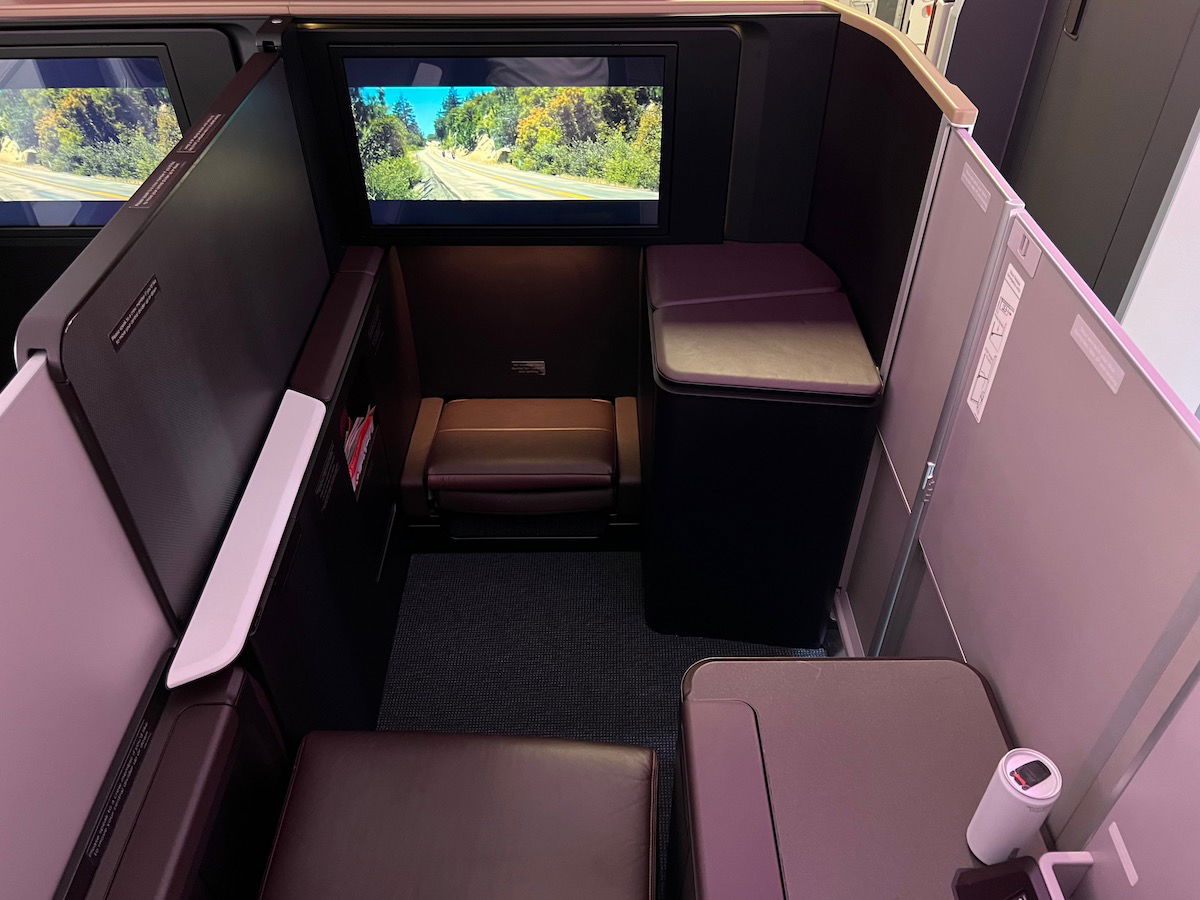 Rather than having a small footwell in which you have to place your feet, these seats have huge ottomans, which are in a completely different league than what you'll find in the other seats. These ottomans can even double as buddy seats, so that you can dine face-to-face with a travel companion, if you'd like to. The beds are also much larger, and can turn into 6'7″ beds.
Furthermore, rather than having 17″ personal televisions, the Retreat Suites have 27″ entertainment screens, so they're way larger (admittedly they're also farther away from you, due to how much space you have).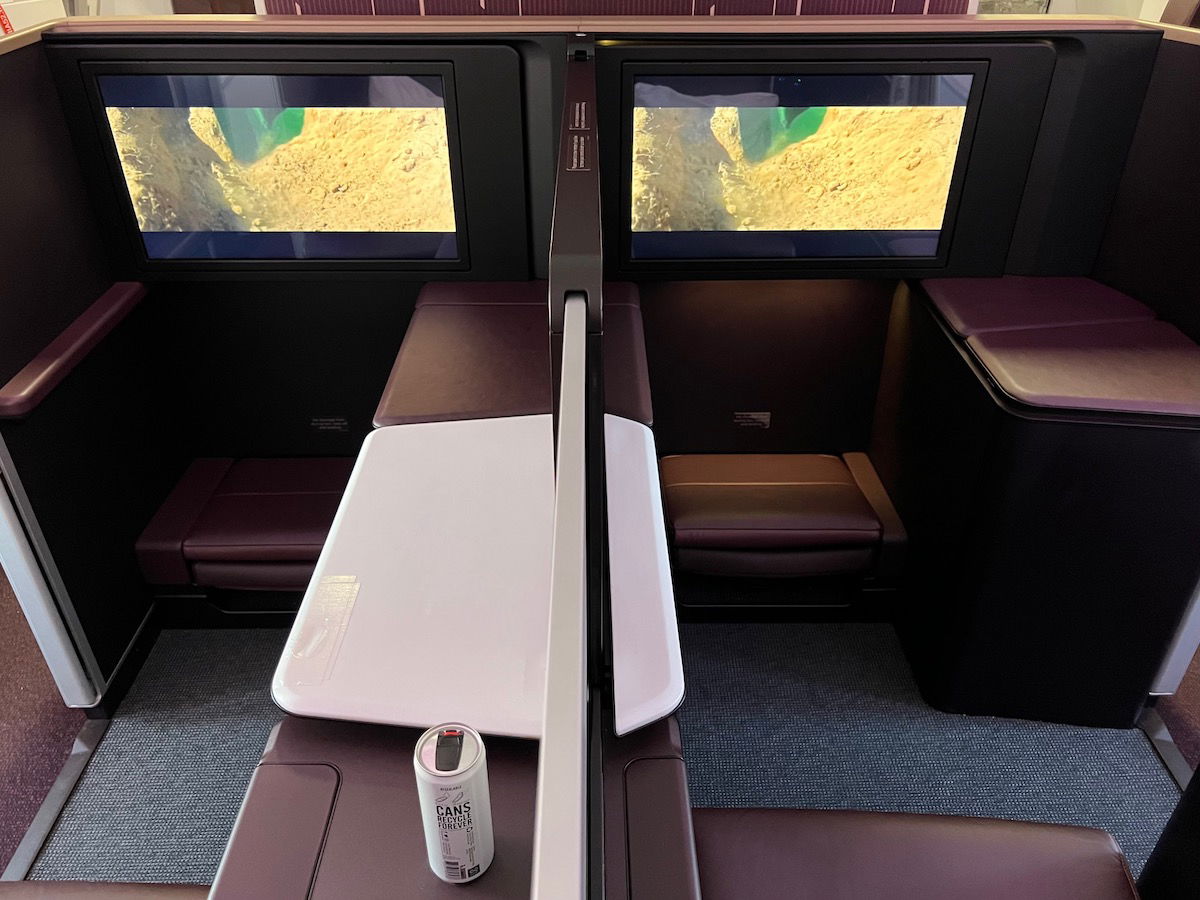 On top of that, the seats have a large storage compartment next to the ottoman, which you won't find in other seats.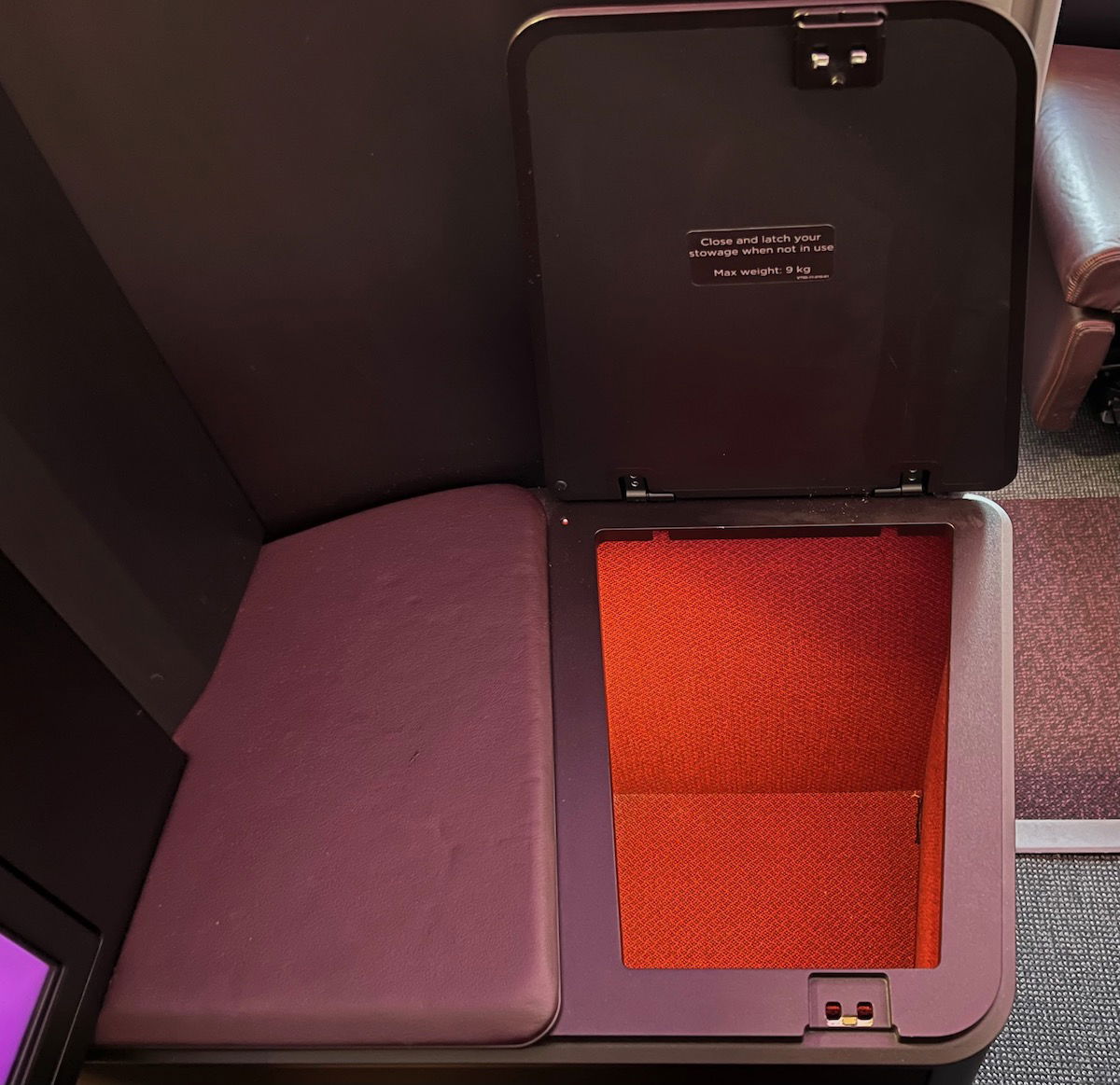 Admittedly one concern that people may have when seated in the first row of the cabin is the proximity to the galley and lavatory. For what it's worth, on the A330-900neo two lavatories are behind the cabin, and only one lavatory is in front of the cabin, and it's all the way up by the cockpit.
I imagine most crews on Virgin Atlantic try to minimize noise in the forward galley, though I can't speak firsthand as to how disruptive that is. Furthermore, on an overnight flight, some might find the light from the galley during service to be a bit bothersome (though that's also what eyeshades are for).
How much do Virgin Atlantic's Retreat Suites cost?
As it currently stands, the Virgin Atlantic Retreat Suites can be booked by anyone with a confirmed ticket in Upper Class. Starting 14 days before departure, these seats can be reserved at a cost of £200 each, one-way. So it doesn't matter if you booked your ticket with cash, or upgraded, or redeemed points, as you can assign these seats at that cost no matter what.
While there are two Retreat Suites, you can book both seats if traveling as a pair, or can book just one seat. Just go to the itinerary management function on Virgin Atlantic's website 14 days out, and you'll be able to pay to assign these seats.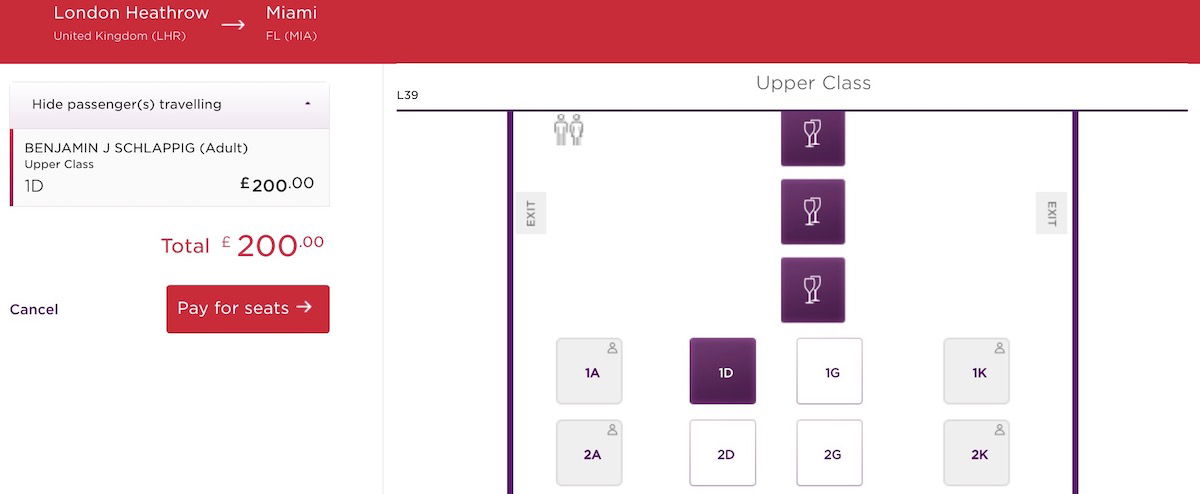 Are Virgin Atlantic's Retreat Suites worth it?
Let me of course acknowledge that I just flew in a regular Upper Class seat, though the crew did let me take some pictures of the Retreat Suite, and sit in it for a minute, to see how it feels with the door closed (they weren't occupied on this flight). So, what's my take — is paying to upgrade to a Retreat Suite worth it?
Personally I wouldn't pay for this if I were traveling alone. That's simply because I love being in a window seat, and the Retreat Suites are only the two seats in the center (I wish it were like Condor's new Airbus A330-900neos, which have "Prime" seats in the entire first row, so you can pay to select a special window seat).
Now, if I were traveling with someone, it would be a different story. I'd consider paying the premium to upgrade if traveling as a pair:
Personally I'd probably be more likely to pay to upgrade on a daytime flight, which is typically going to be longer (since it's generally westbound) and where light from the galley is less of an issue; furthermore, this gives you more time to enjoy dining face-to-face, and generally enjoy the seat's features
However, if I struggled with Virgin Atlantic's small footwells in the other seats, I think it could be worth paying to upgrade to get a better night of sleep, since you'll have a lot more space for your feet
It's also worth acknowledging that the upgrade cost will mean different things to different people. A £200 upgrade cost is probably a drop in the bucket for someone paying out of pocket for an Upper Class ticket with cash. Meanwhile if you're redeeming points and are already stretching it with the carrier imposed surcharges, adding a further £200 to the ticket might be a harder thing to justify.
Bottom line
Virgin Atlantic's new A330-900neos have unique Retreat Suites, which are the pair of seats in the first row that can be assigned for an additional £200. These seats have larger entertainment screens, significantly more legroom and a large ottoman, and offer the ability to dine face-to-face with a travel companion.
Hopefully the above is a useful general rundown of what you can expect from these seats, and whether they could be worth it.
What do you make of Virgin Atlantic Retreat Suites? Do you think they're worth it?