In the interest of full disclosure, OMAAT earns a referral bonus for anyone that's approved through some of the below links. These are the best publicly available offers (terms apply) that we have found for each product or service. Opinions expressed here are the author's alone, not those of the bank, credit card issuer, airline, hotel chain, or product manufacturer/service provider, and have not been reviewed, approved or otherwise endorsed by any of these entities. Please check out
our advertiser policy
for further details about our partners, and thanks for your support!
After a long night at Cairo Airport enjoying the EgyptAir Lounges (okay, "enjoying" might not be the right word), it was time to fly EgyptAir's Boeing 787-9 business class to Paris.
I had previously flown EgyptAir's old Boeing 777-300ER business class. I was excited that EgyptAir has modernized its fleet with new aircraft and an updated business class product. Unfortunately other than new planes, it's the same old EgyptAir…
How I booked my EgyptAir business class ticket
I booked my EgyptAir business class ticket using Air Canada Aeroplan points. This was quite a good deal, as I could book the following for 20,000 Aeroplan points plus $79 in taxes & fees:
2/08 MS799 Cairo to Paris departing 9:35AM arriving 1:25PM

Admittedly there are much more creative awards you can book with Aeroplan points, but this was still a very good value. Aeroplan points are easy to come by, as the program is transfer partners with Amex Membership Rewards, Capital One, and Chase Ultimate Rewards. On top of that, there's the Aeroplan® Credit Card (review) in the United States, which is phenomenal.
EgyptAir business class lounge & boarding
In the last installment I reviewed the three EgyptAir Lounges at Cairo Airport. Boarding for my 9:35AM flight was scheduled for 9:05AM, 30 minutes before departure. My flight was departing from gate F2, and there was a whole security checkpoint at the gate.
Even though there was a fast track sign at the entrance to the gate, there wasn't actually a separate line. So I'm not sure if there isn't fast track for premium passengers, or if you're just supposed to cut the line on your own. I just waited.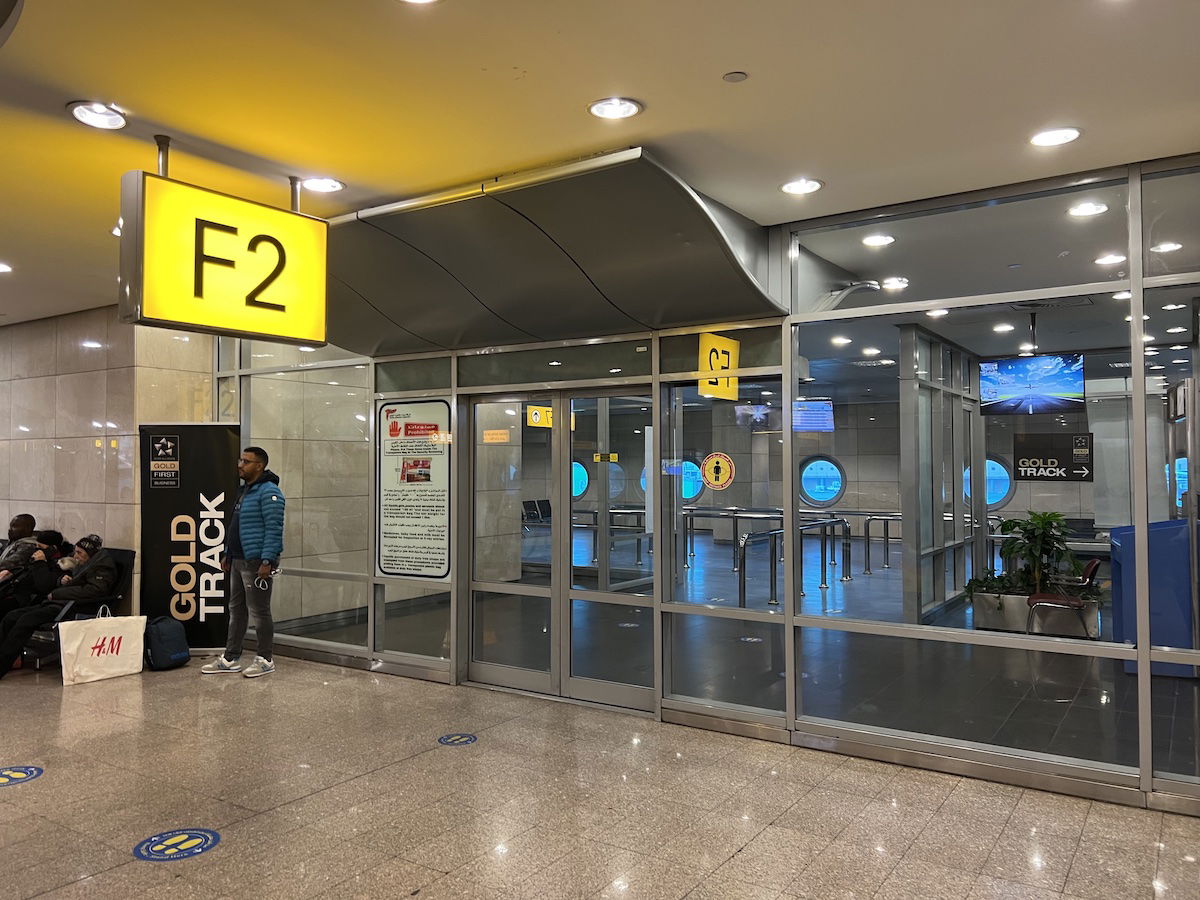 The security process at the gate took forever, as the security agents were thorough, but also didn't very clearly communicate what needed to be removed from bags. As a result, it seemed like every other bag got pulled aside for a secondary inspection.
Eventually I was in the "sterile" gate area, which had nice views of the plane.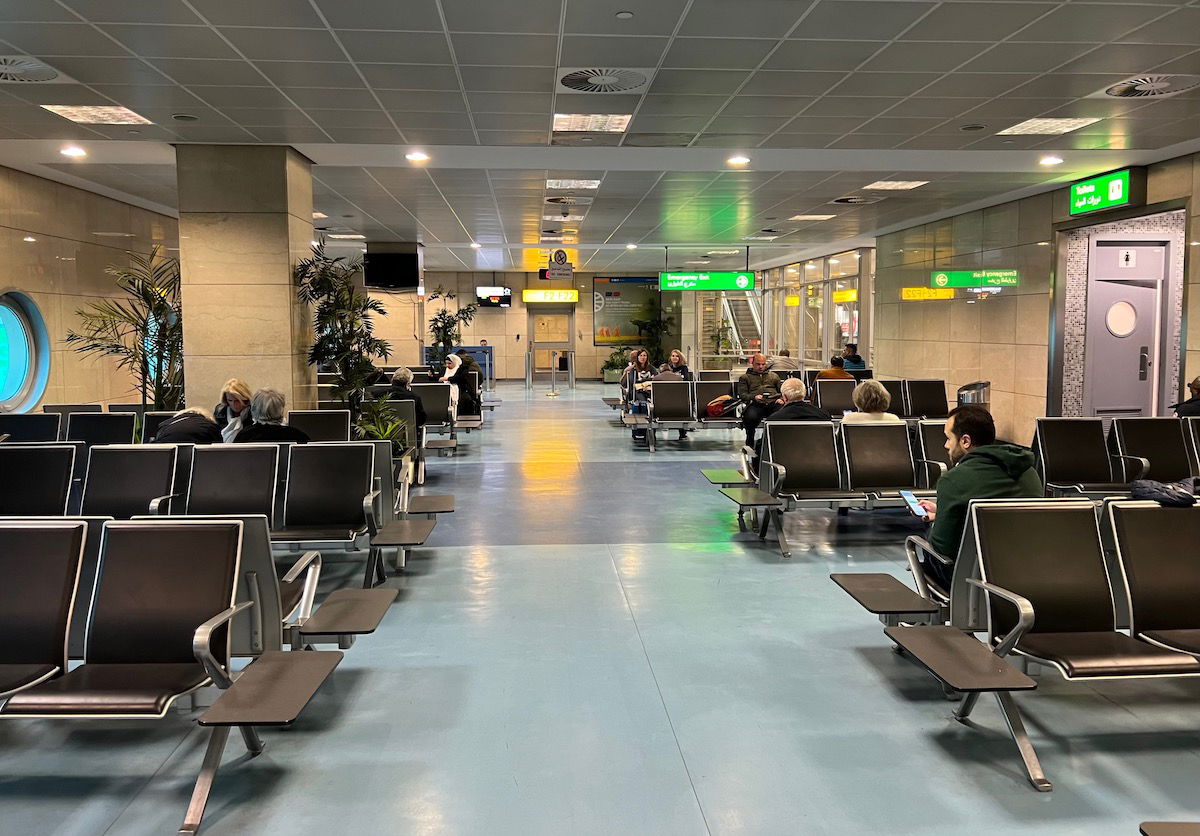 I'd be flying the nearly four year old EgyptAir Boeing 787-9 with the registration code SU-GET. I really do like EgyptAir's livery, and find it to be one of the more modern and distinctive ones out there.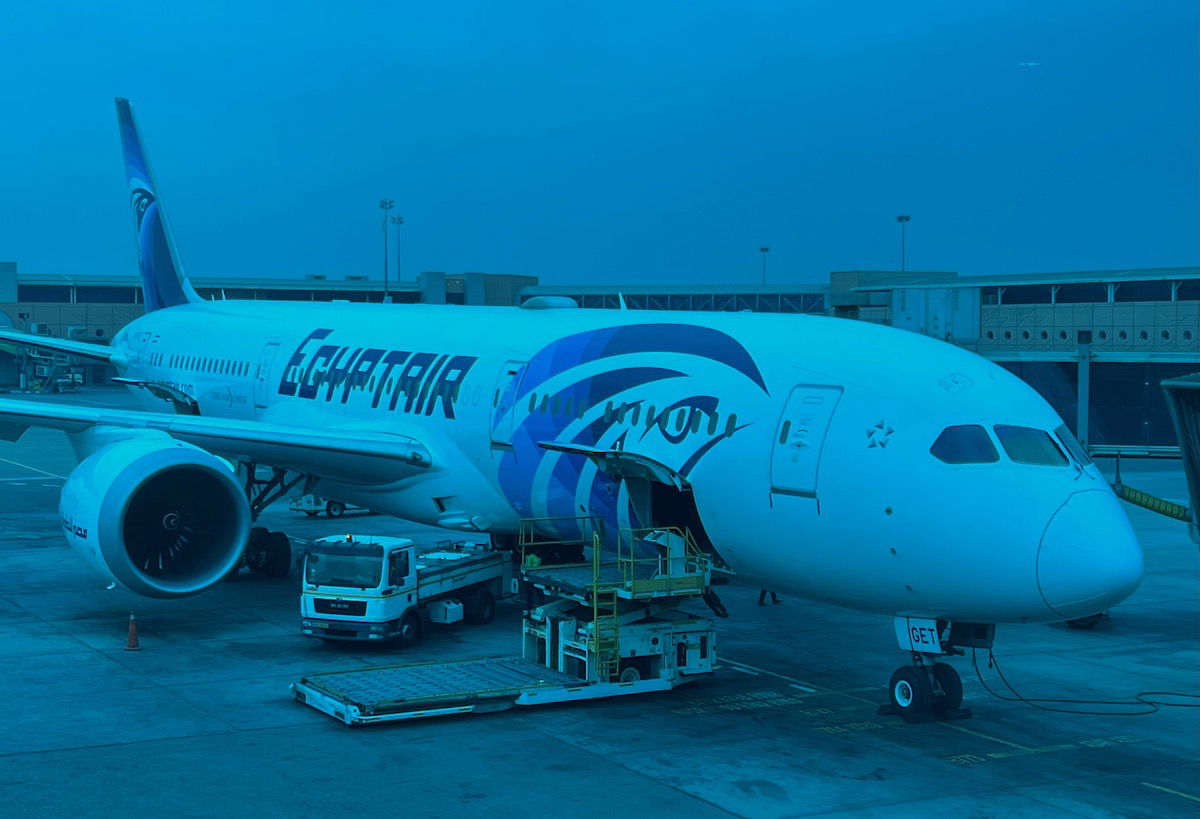 EgyptAir 787 business class cabin & seats
I boarded through the second set of doors, and then turned left into the business class cabin. Business class takes up the entire space between doors one and two, and consists of 30 seats. EgyptAir has Collins Aerospace reverse herringbone seats on its 787s, all of which are flat beds with direct aisle access.
This is a product found on so many airlines (heck, I feel like I've spent half of the past couple of months in these kinds of seats), so it should look familiar. EgyptAir's cabin finishes are pretty generic, and don't contain many airline specific touches or branding.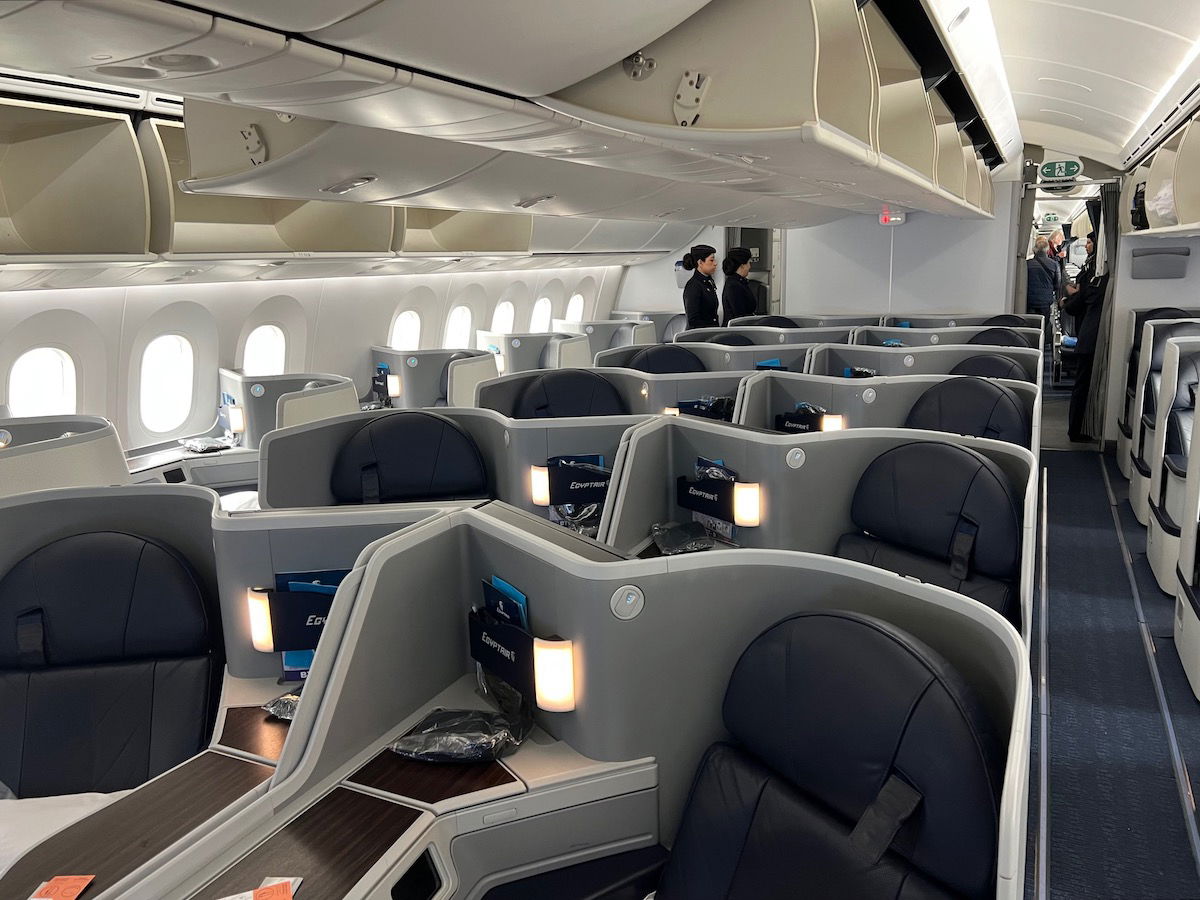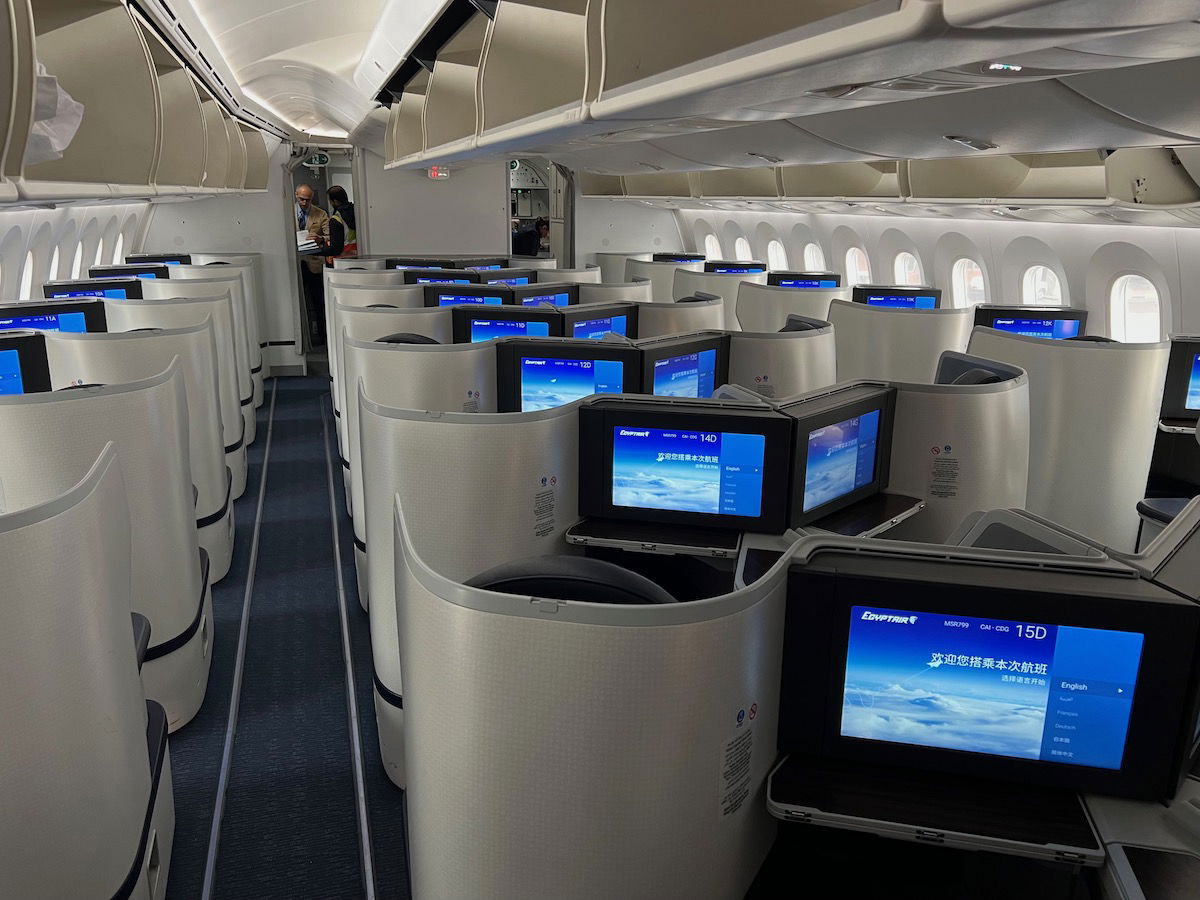 If you're traveling with someone, you may prefer to sit in the center section, so that you can (somewhat) easily communicate with them during the flight. The partitions are naturally in the lowered position, unlike on some other airlines.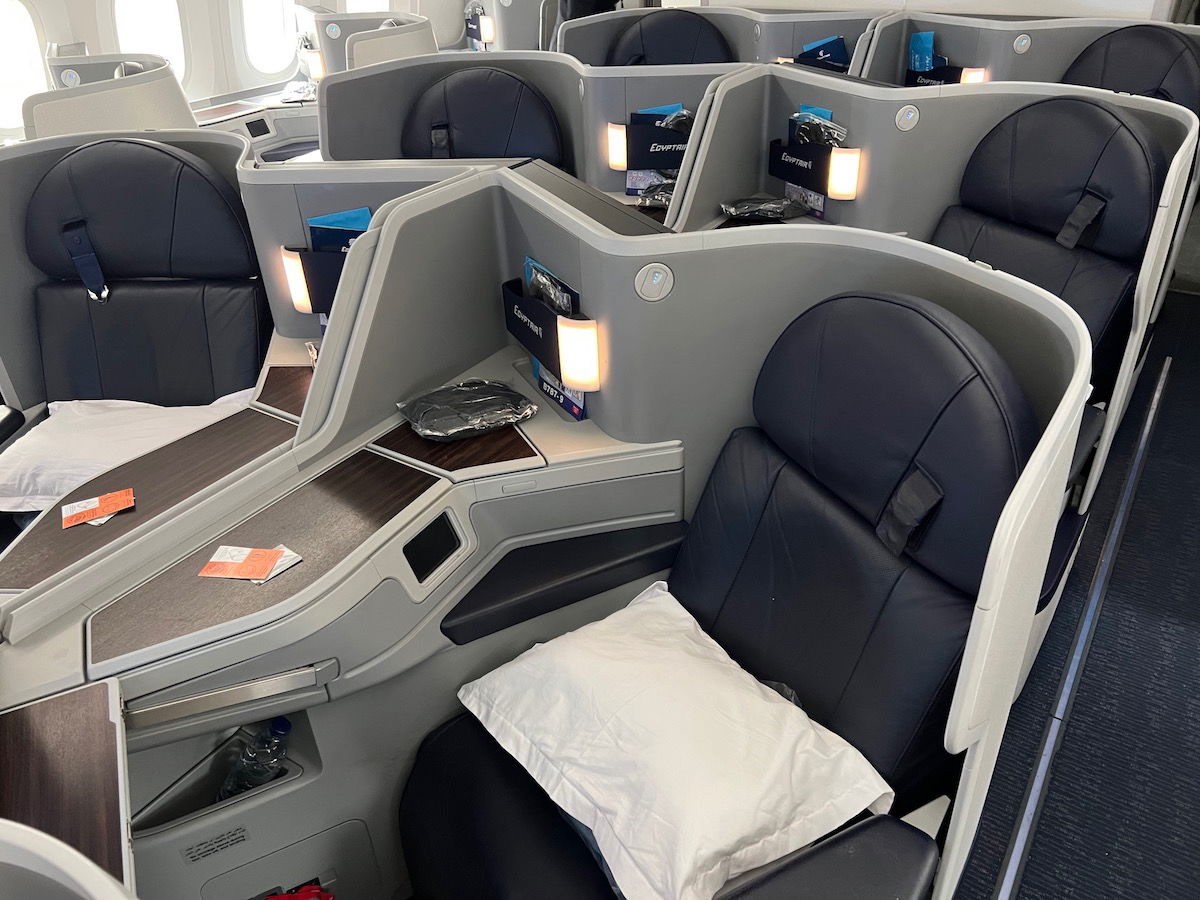 Meanwhile if you're traveling alone, the window seats are the way to go, so that you have a view while also having direct access to the aisle.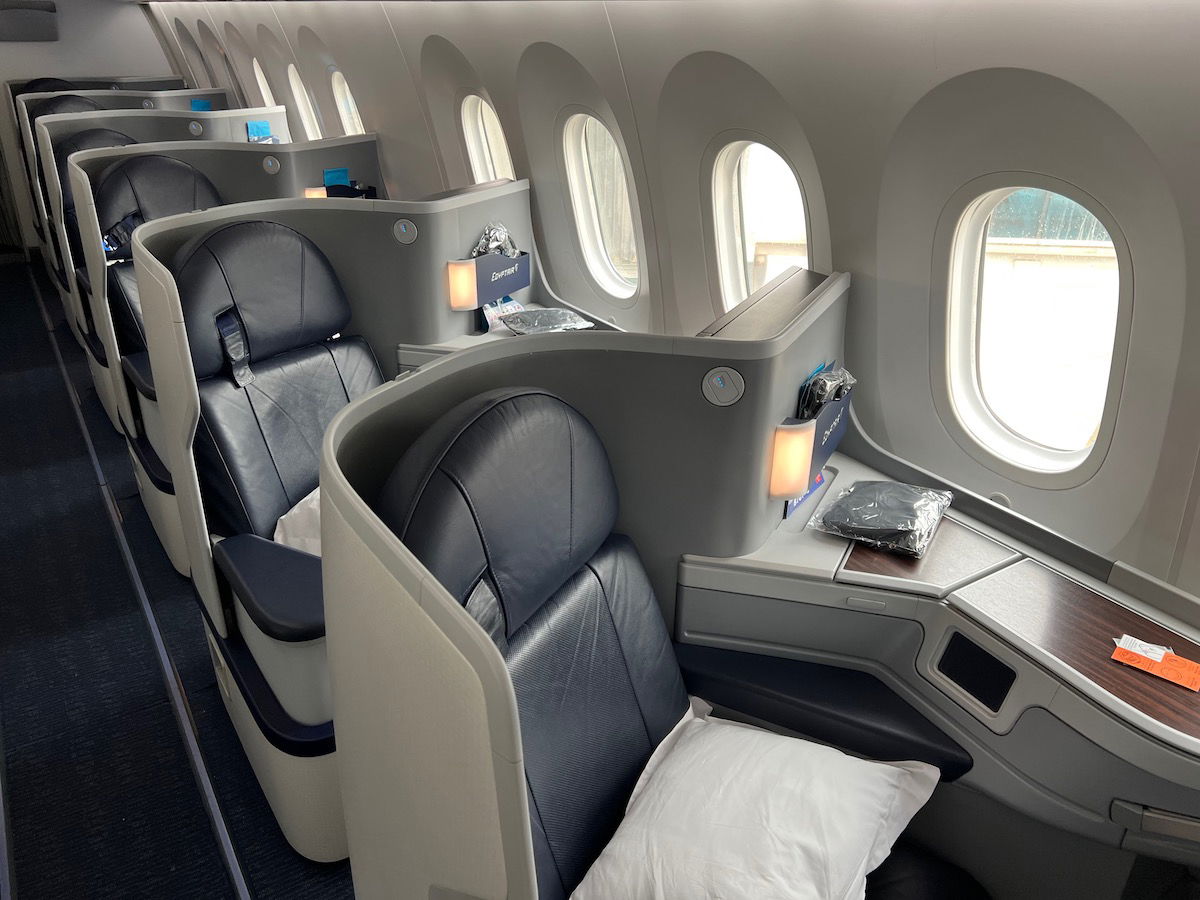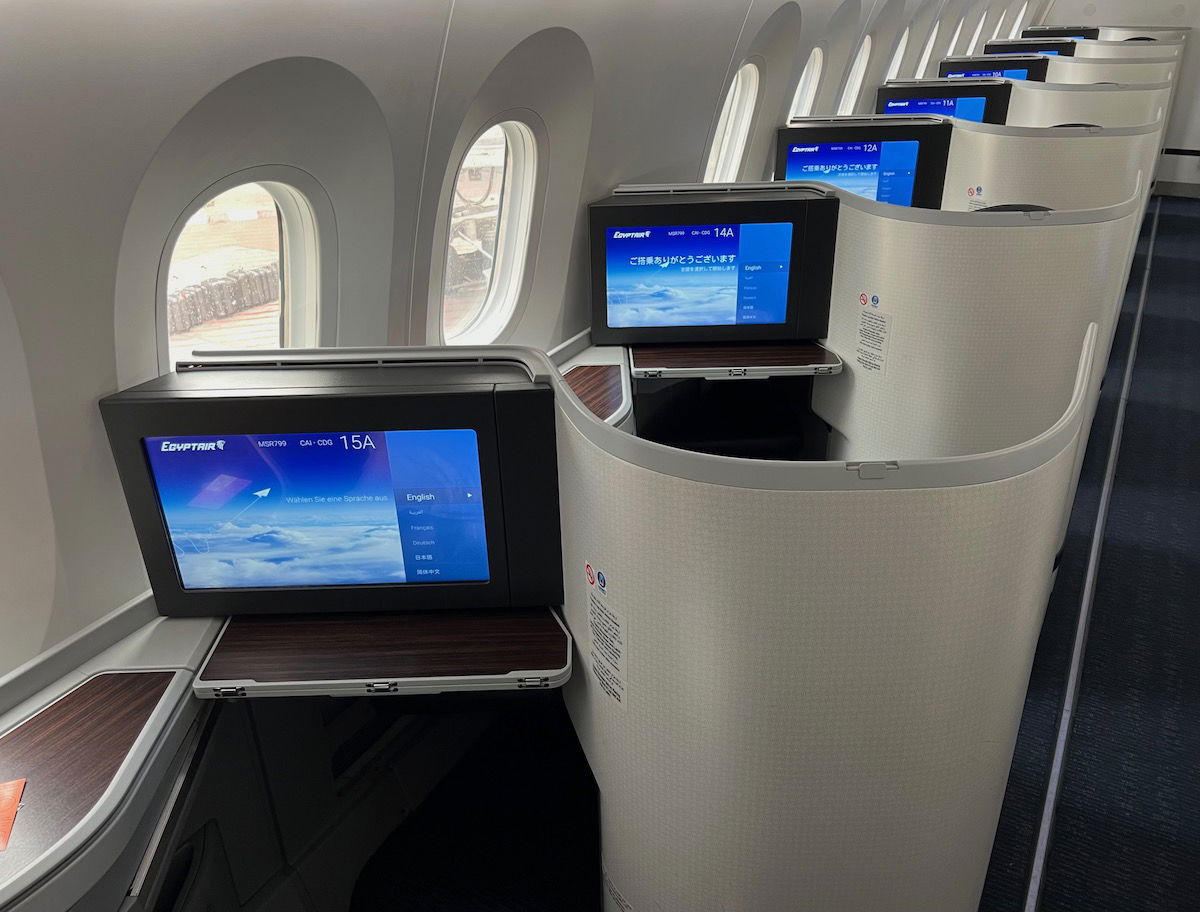 I assigned myself seat 15A, the window seat on the left side in the second to last row (I usually like to assign myself a seat in the last row, but that was taken).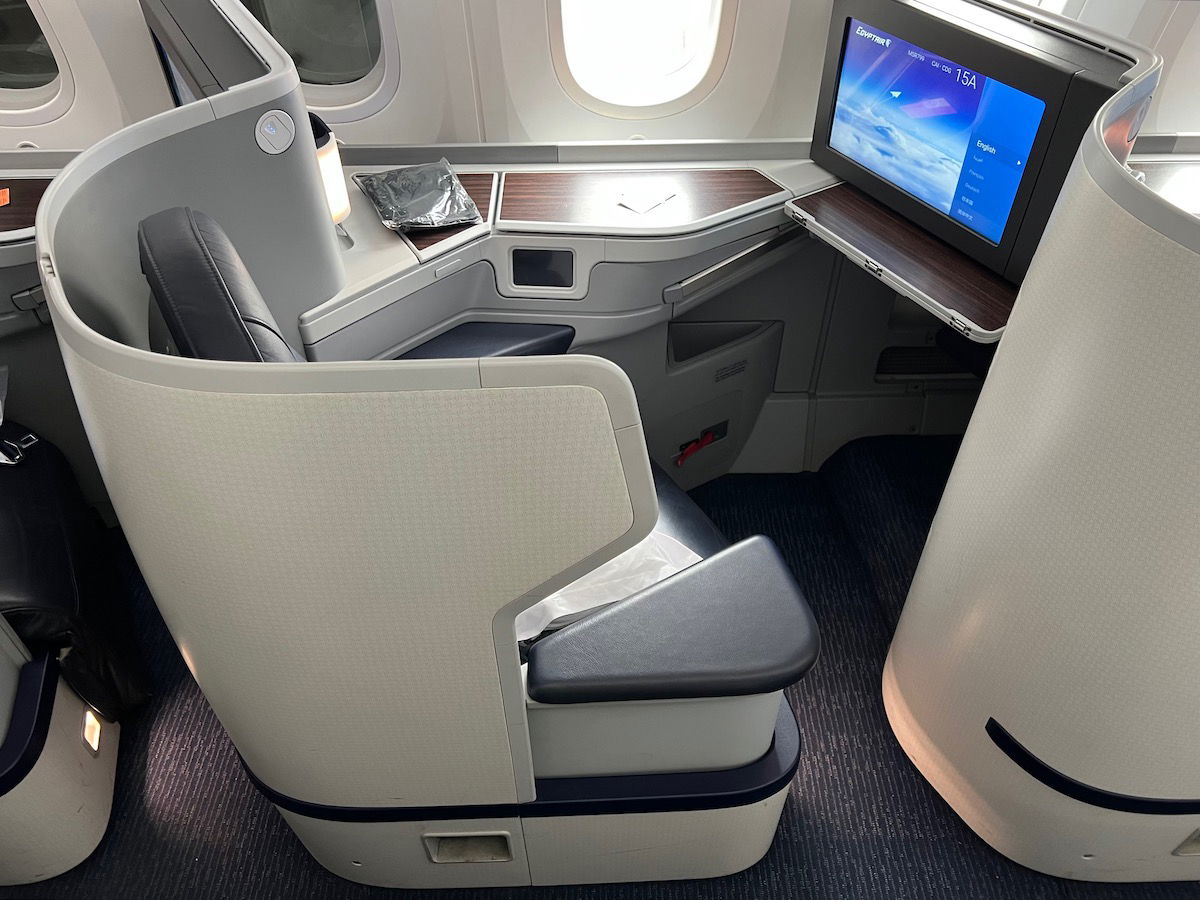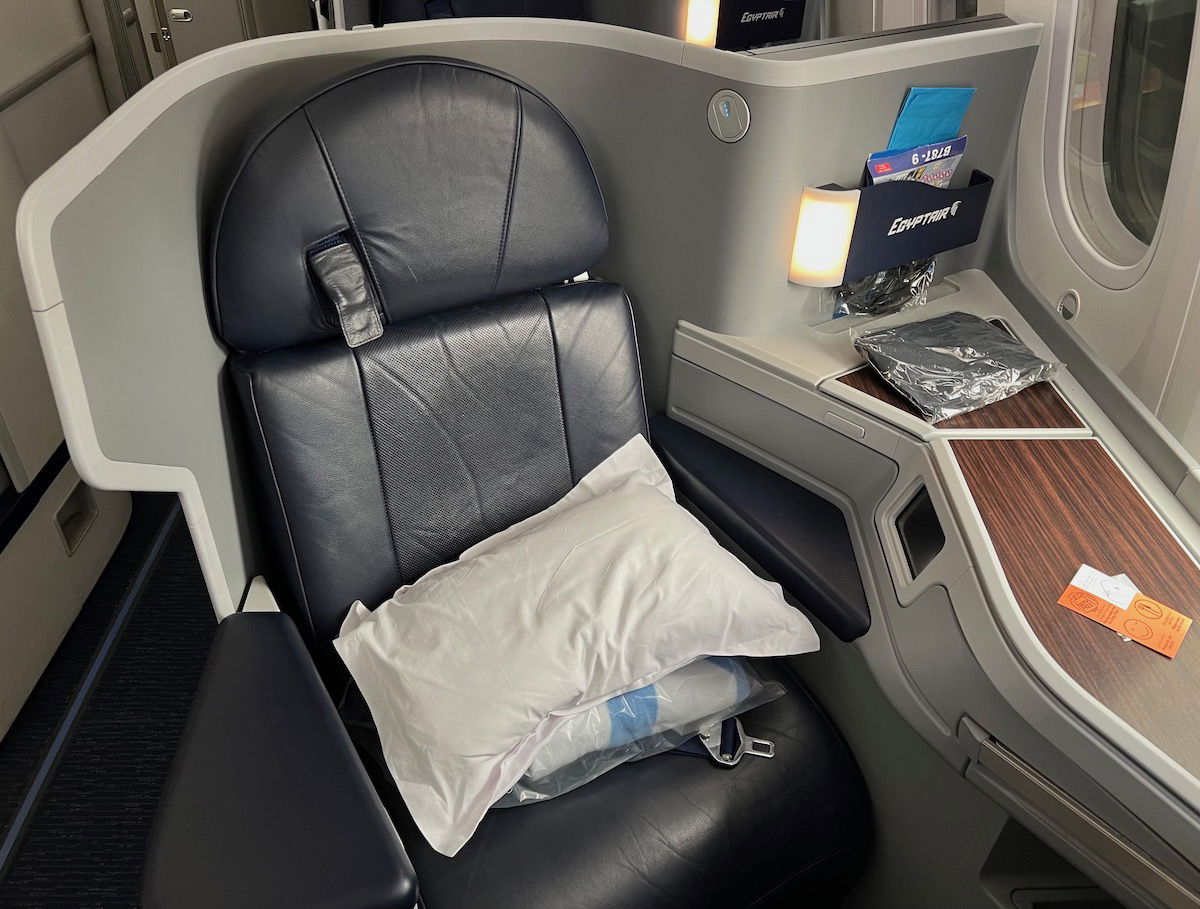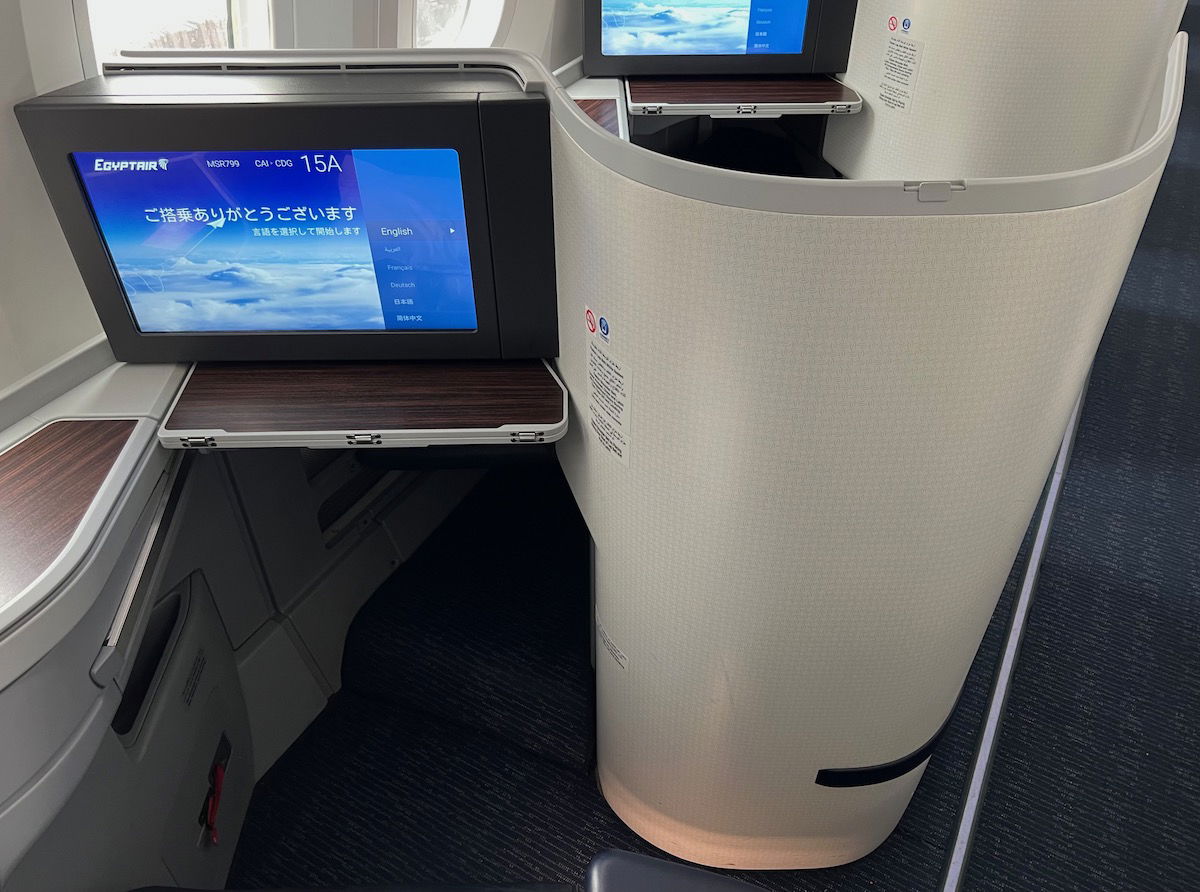 With these seats, the tray table extends out from underneath the fixed monitor, and you have to flip the tray table over to make it the full size.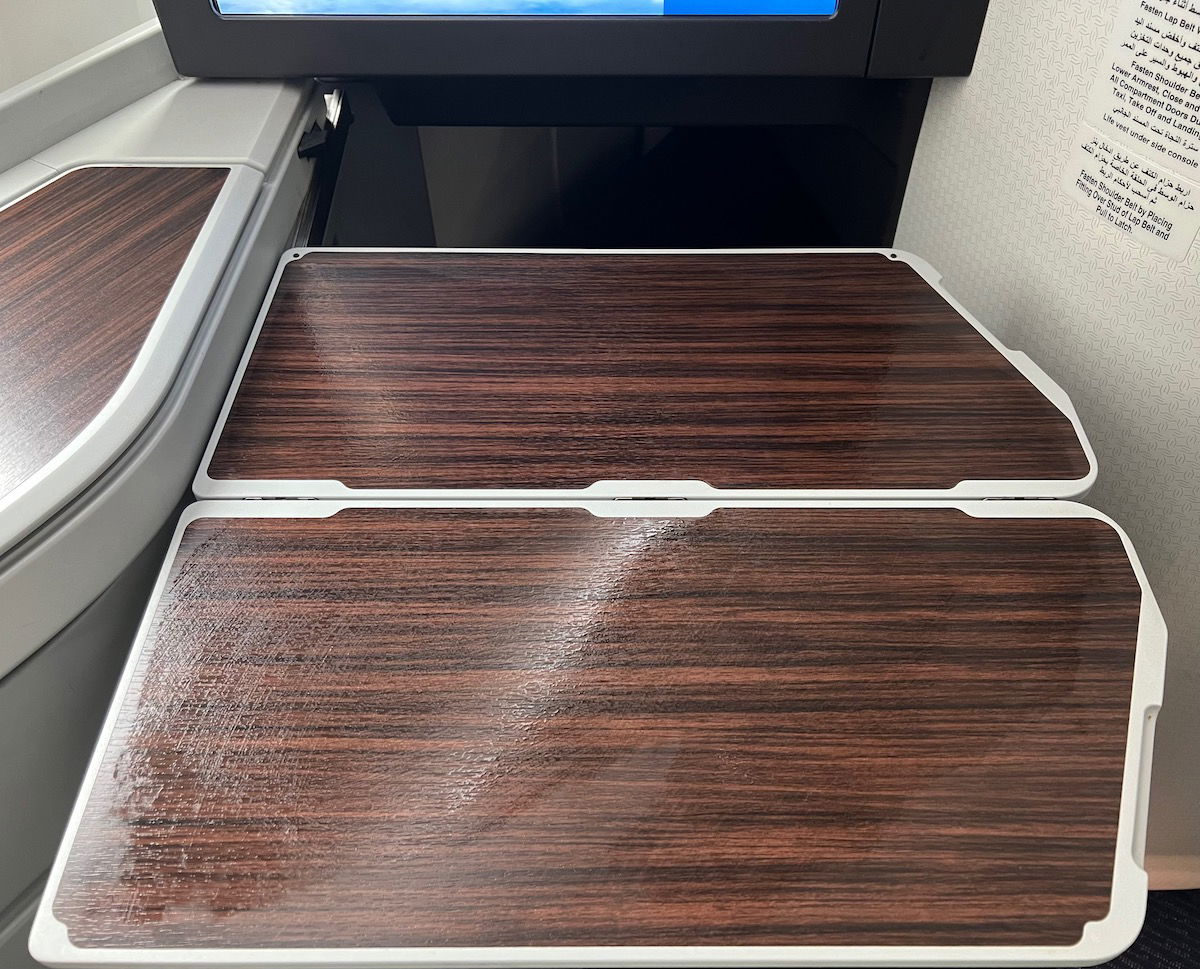 There's a counter to the side of the seat, with two separate compartments that can be opened.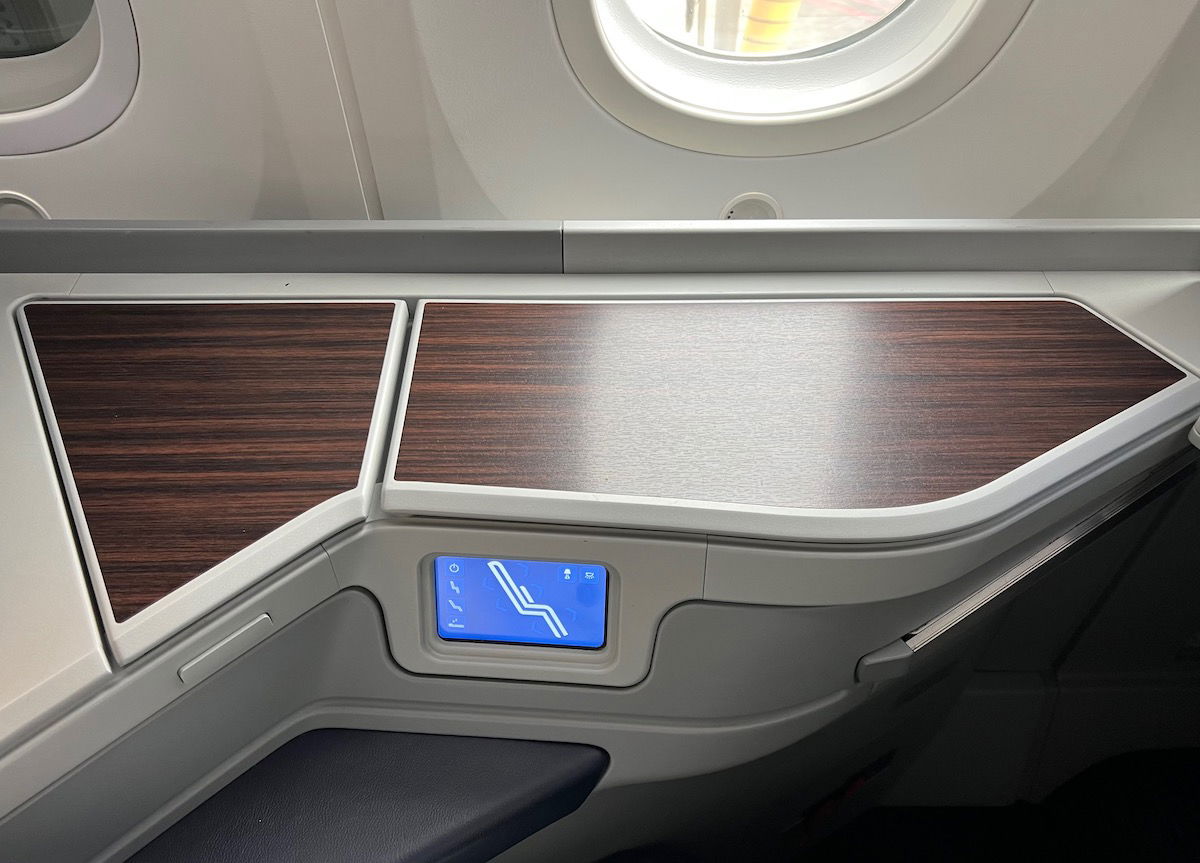 One compartment is shallow and could be used to store something small (like a phone or glasses), while the other is deeper, and also houses the entertainment controller, power outlets (AC and USB-A), and headphone jacks.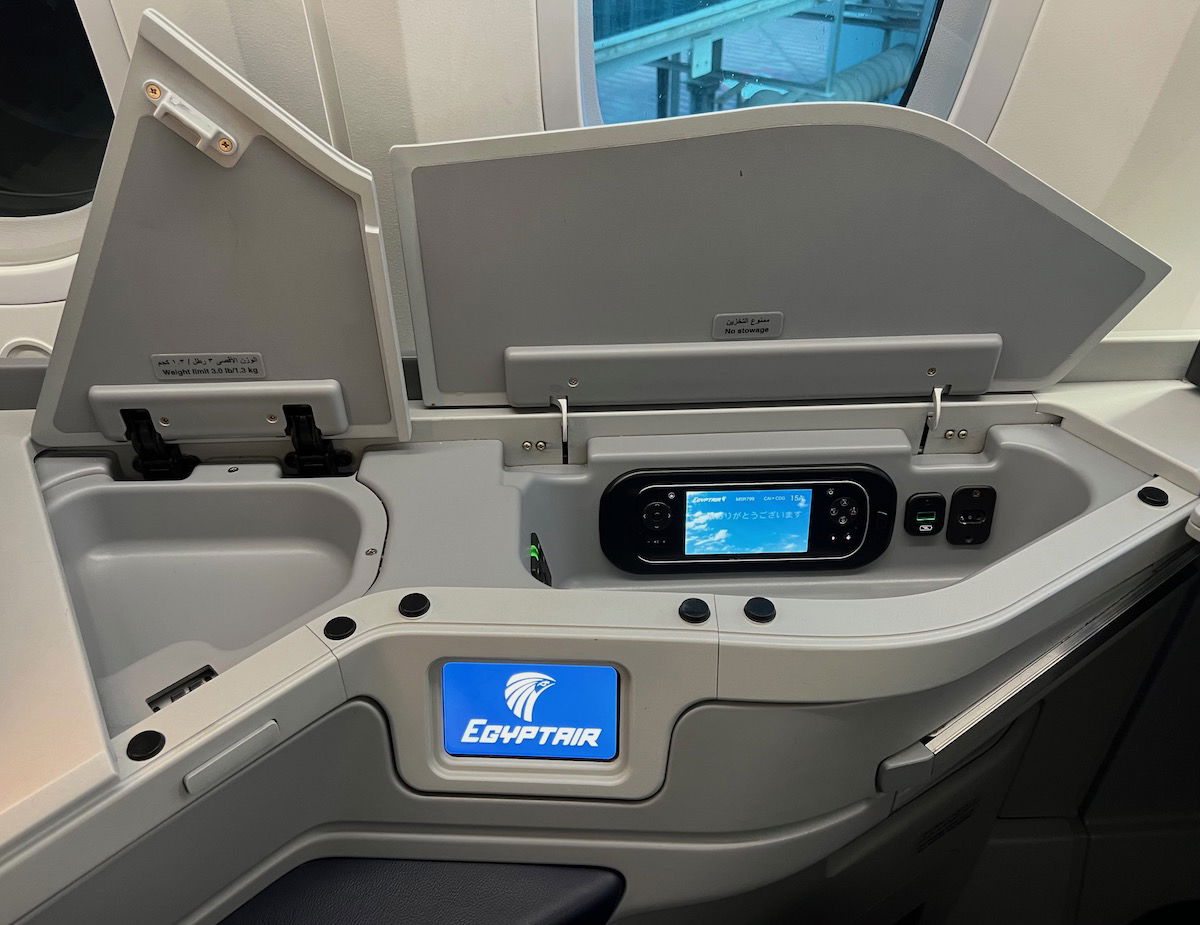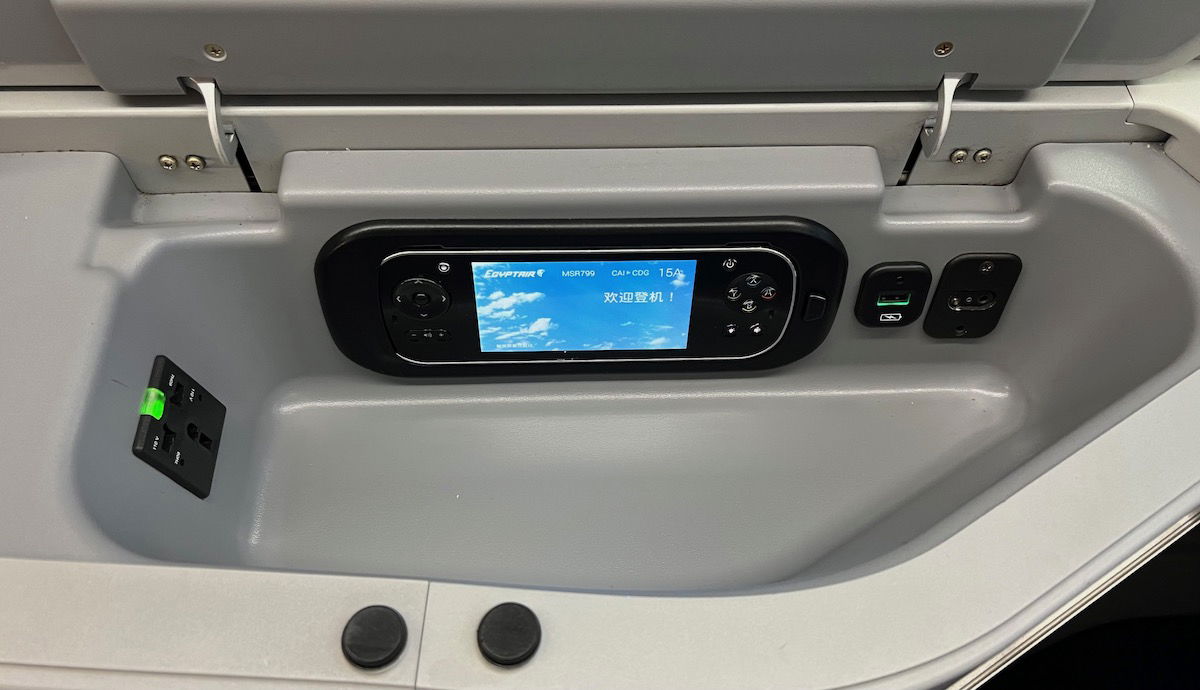 There's also a monitor underneath that for controlling seating positions.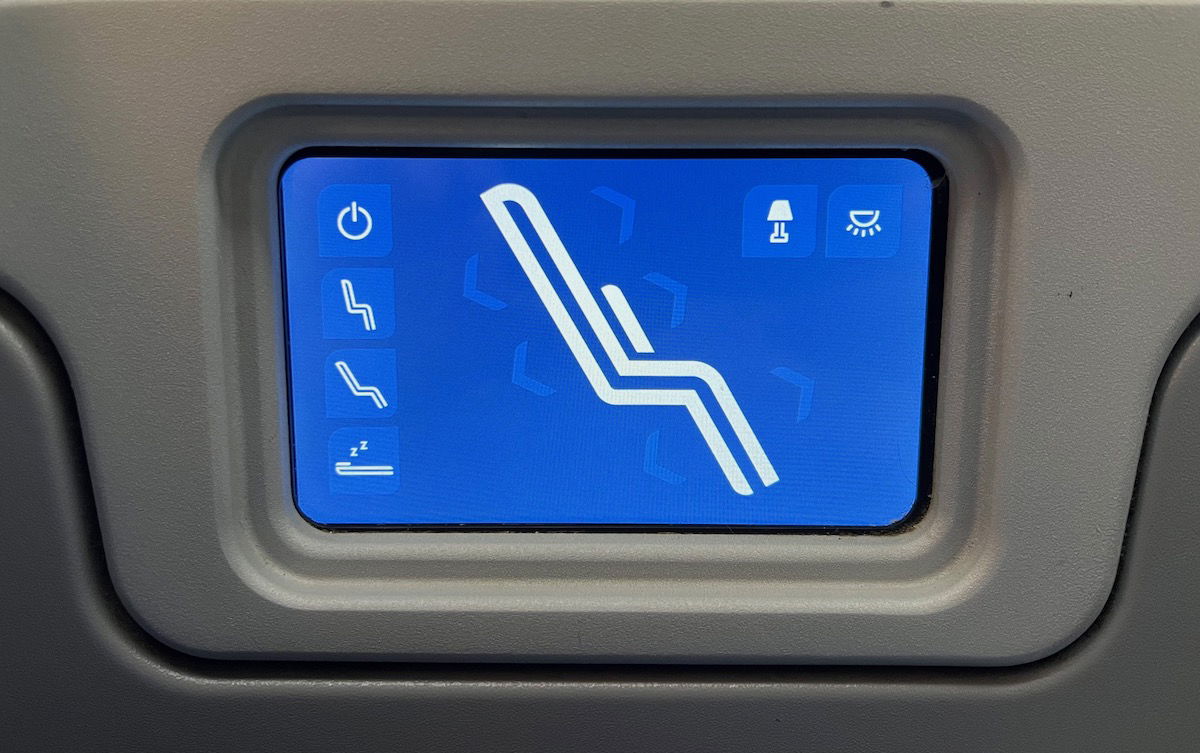 Underneath all that is a small exposed storage compartment.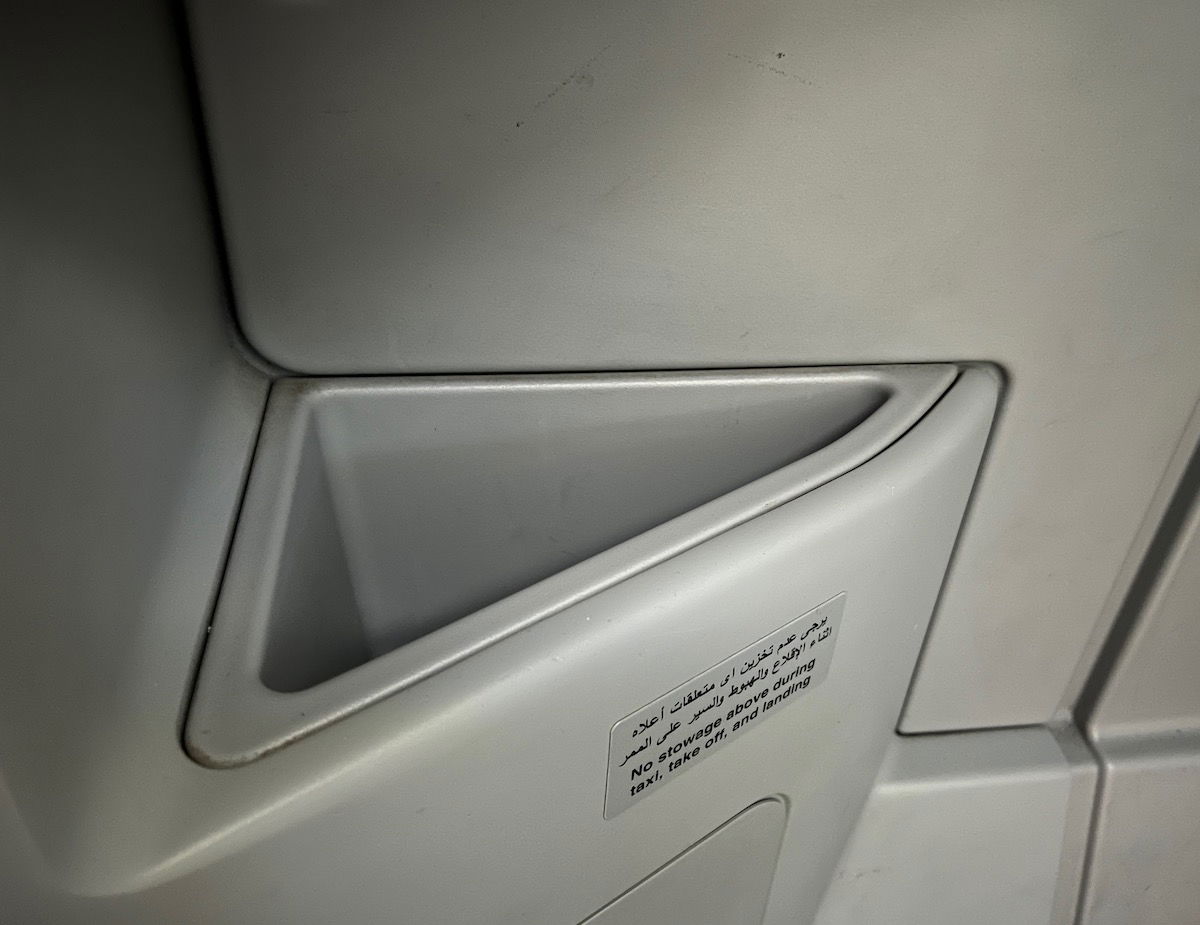 The aisle-side armrest can be raised or lowered. There's also a button you can push to open a storage compartment, where you could store headphones or a bottle of water.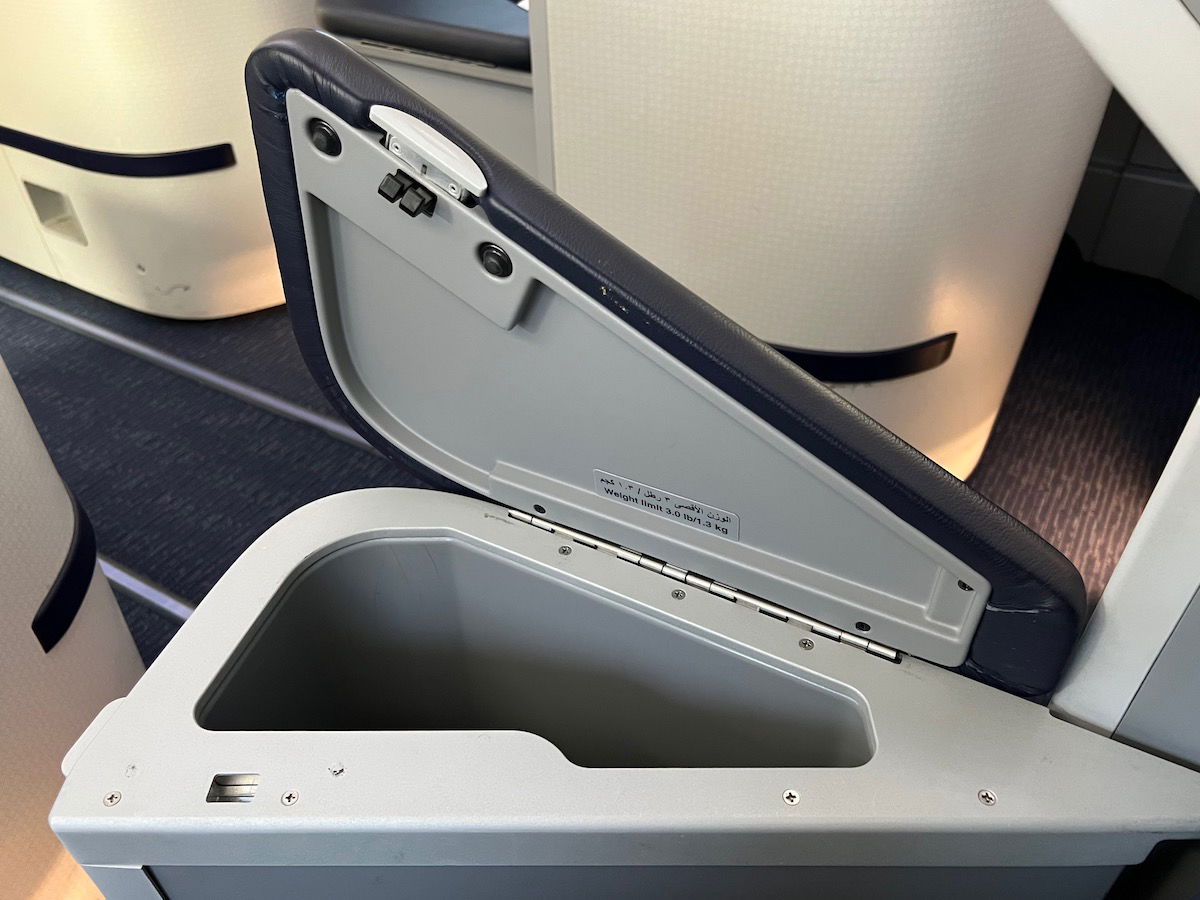 While this EgyptAir 787 had the typical modern Dreamliner overhead bins, it unfortunately didn't have individual air nozzles.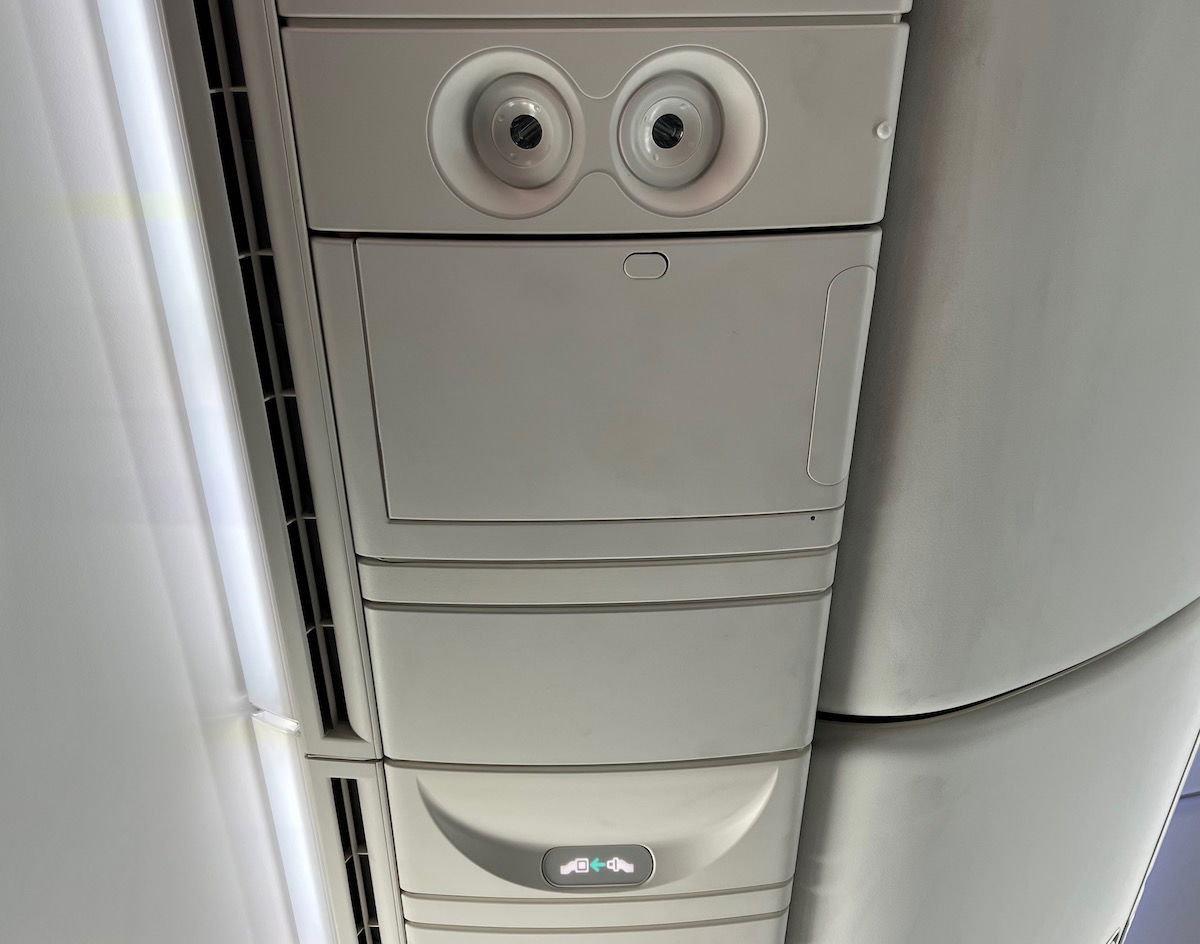 All-in-all, this is a solid business class hard product. The seat is the best part of the EgyptAir experience, and is globally competitive. If only that were true of the rest of the experience…
EgyptAir business class amenities
While EgyptAir has invested in new cabins, the airline hasn't invested in new amenities compared to the last time I flew with the airline. Each business class passenger was given a pillow and blanket. While the pillow was pretty decent, the blanket was scratchy — it was a similar material to what you'd usually get in economy, rather than some plush duvet.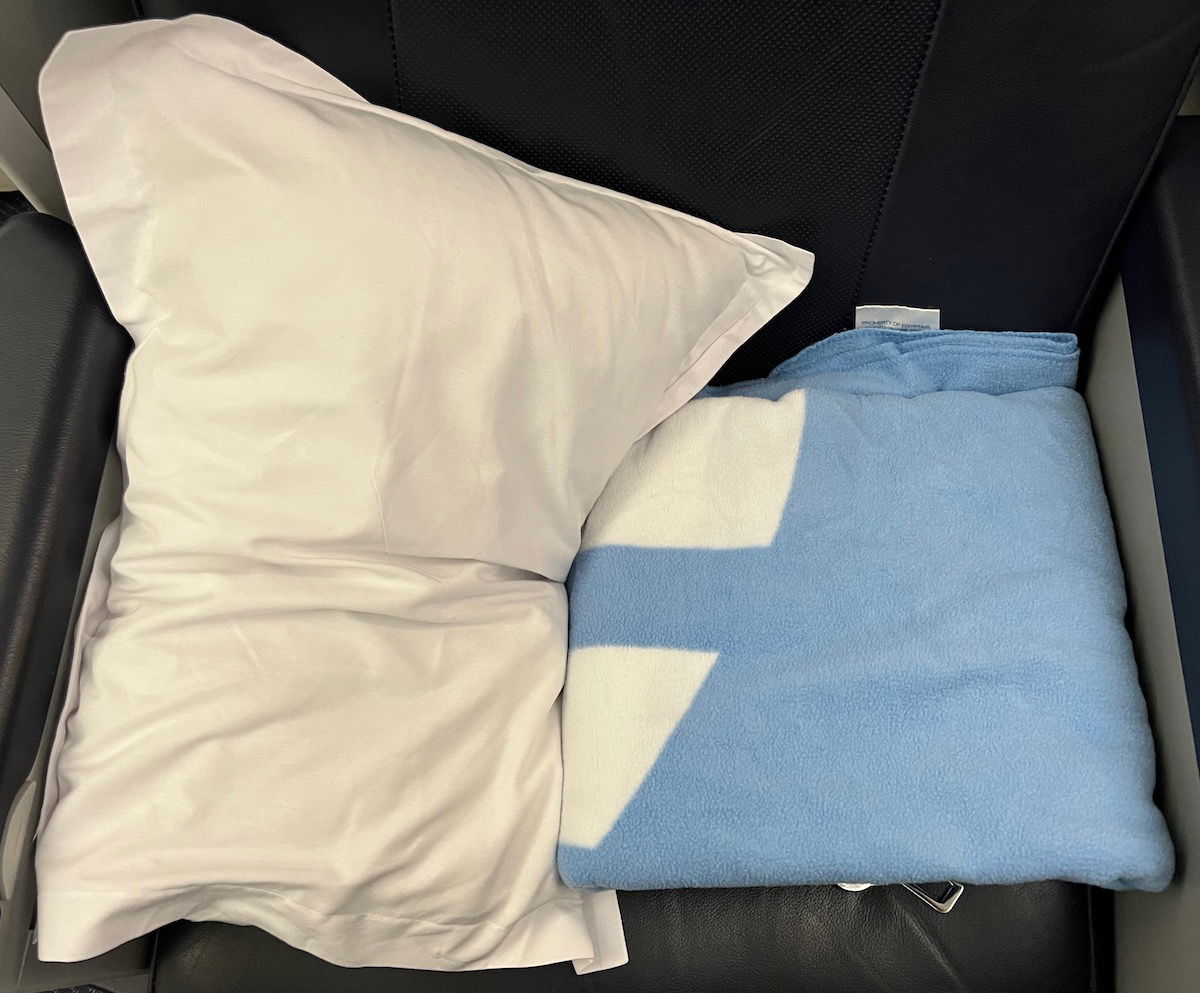 The headphones were really low quality, among the worst I've ever been offered in business class.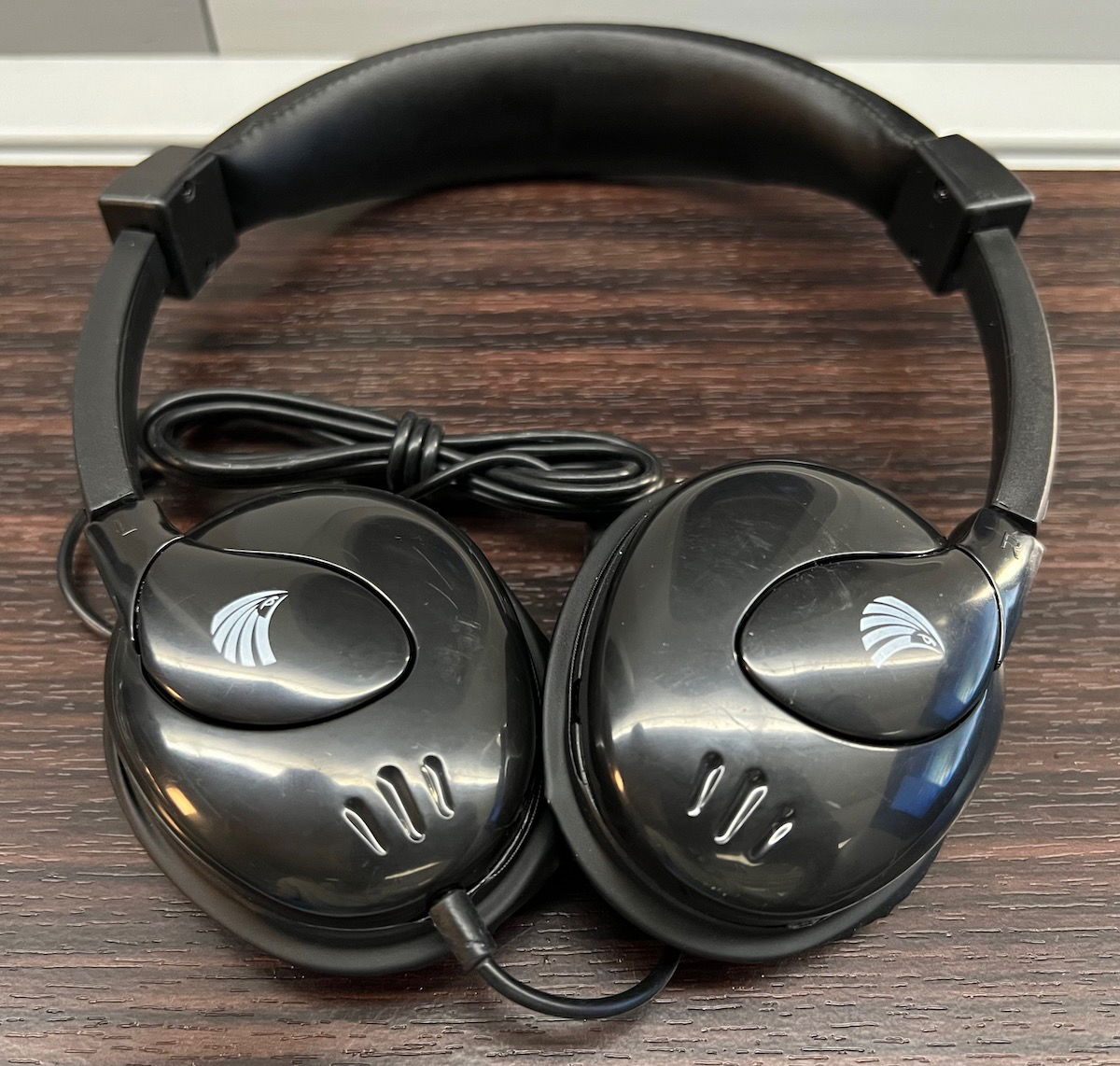 On the plus side, I was impressed that business class amenities were offered on this short 4.5 hour daytime flight. It seems that EgyptAir provides its full long haul service on these kinds of routes to Europe, which is nice. The amenity kit had lots of EgyptAir branding, and contained eye shades, socks, a dental kit, a pen, a sanitizing wipe, earplugs, and a hair brush.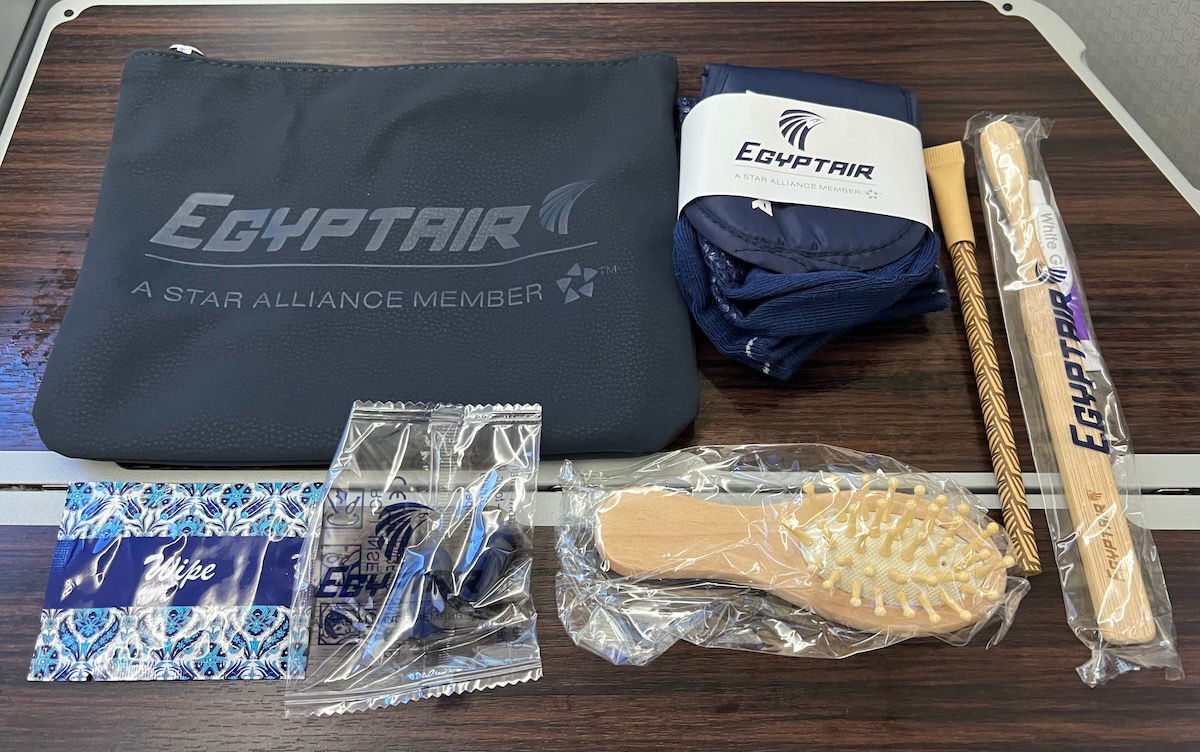 Shortly before departure, the crew handed out bottles of orange juice, which seemed to be the carrier's approach to pre-departure beverages.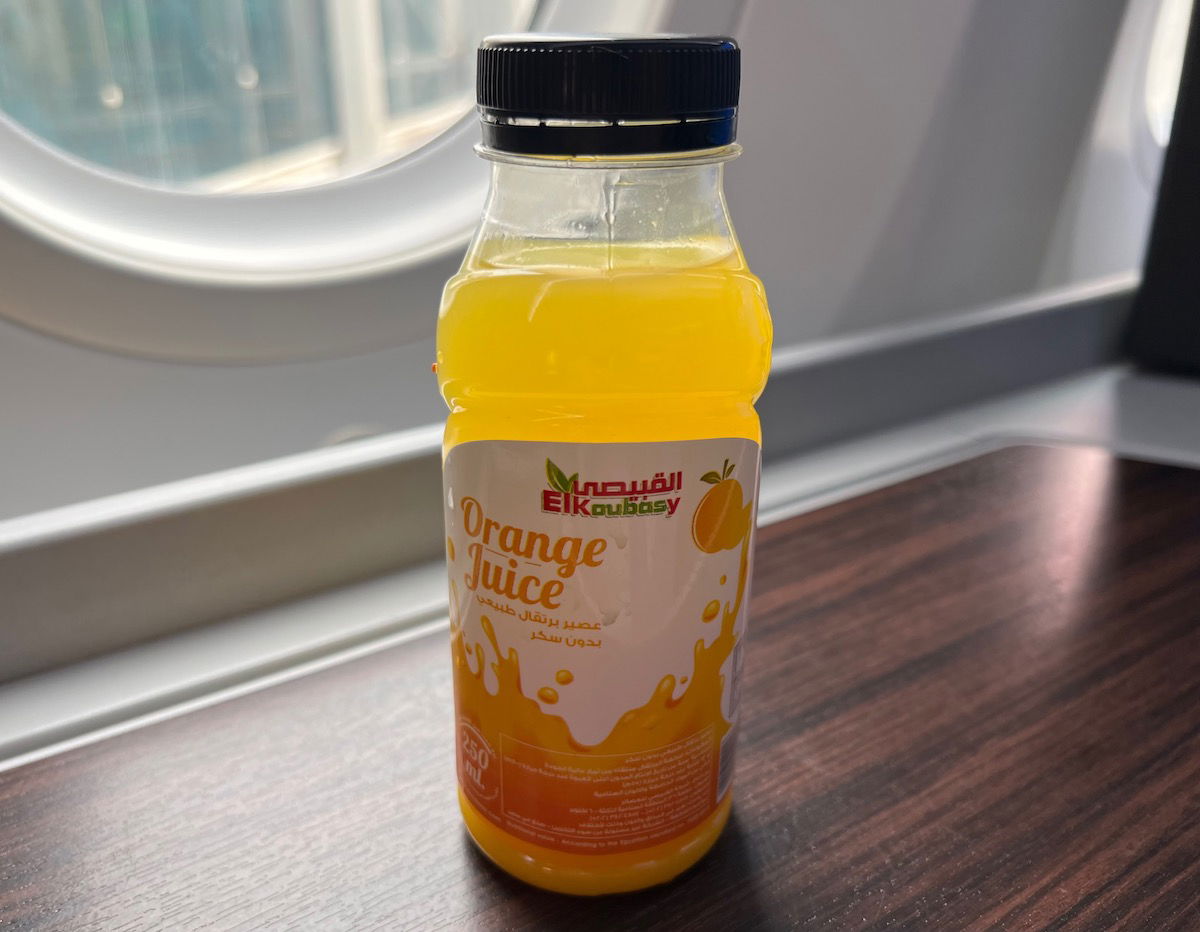 EgyptAir 787 business class entertainment & Wi-Fi
Unfortunately EgyptAir's entertainment selection on the Boeing 787-9 leaves a lot to be desired. While the system is modern and easy to use, the selection of movies and TV shows is very small, among the smallest I've seen on any airline.
Due to the way the entertainment system was organized, it was hard to tell exactly how many options there were. However, I'd estimate that there were maybe a bit over a dozen movies in English, and even fewer TV shows than that.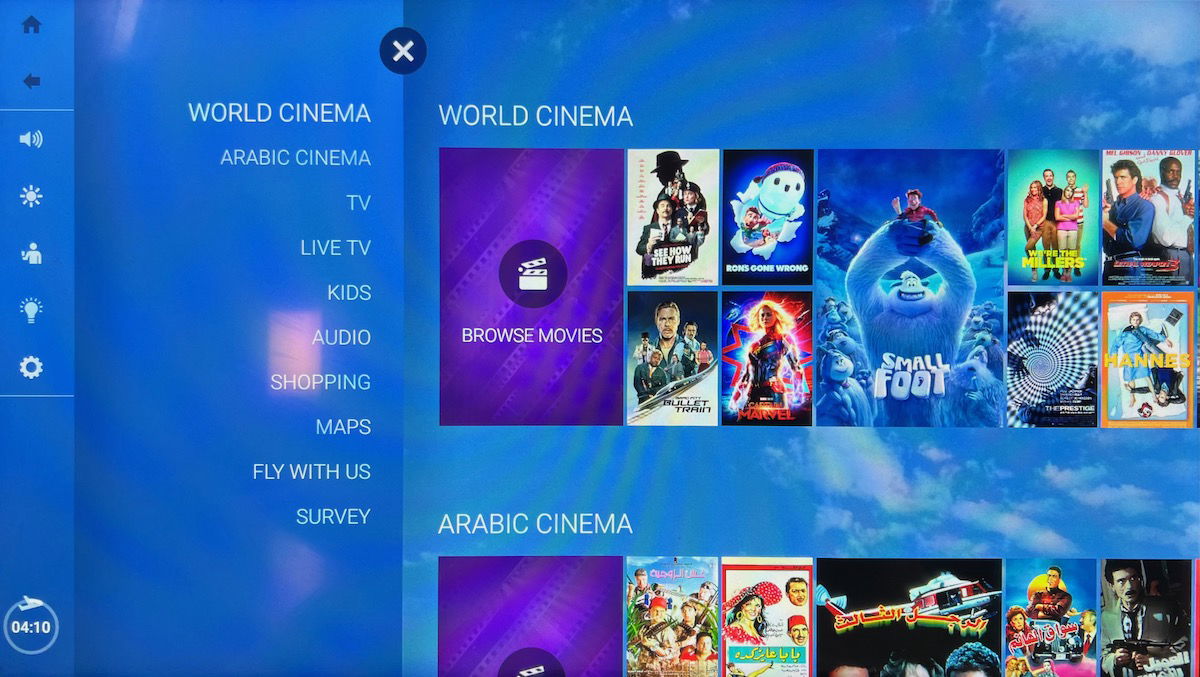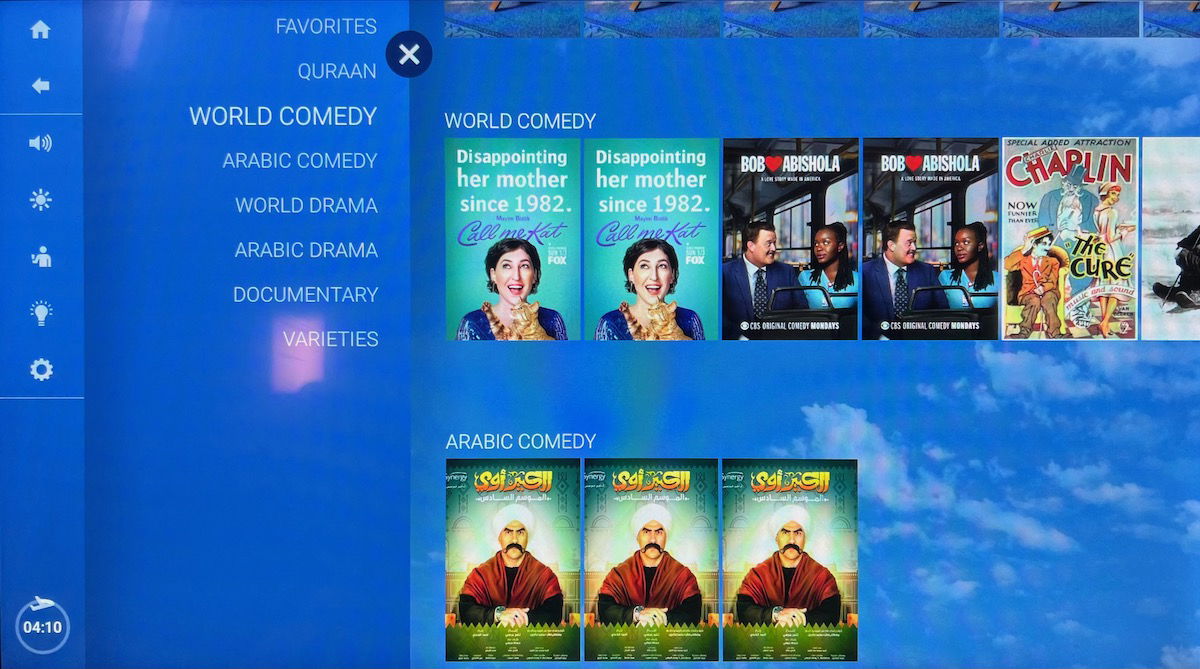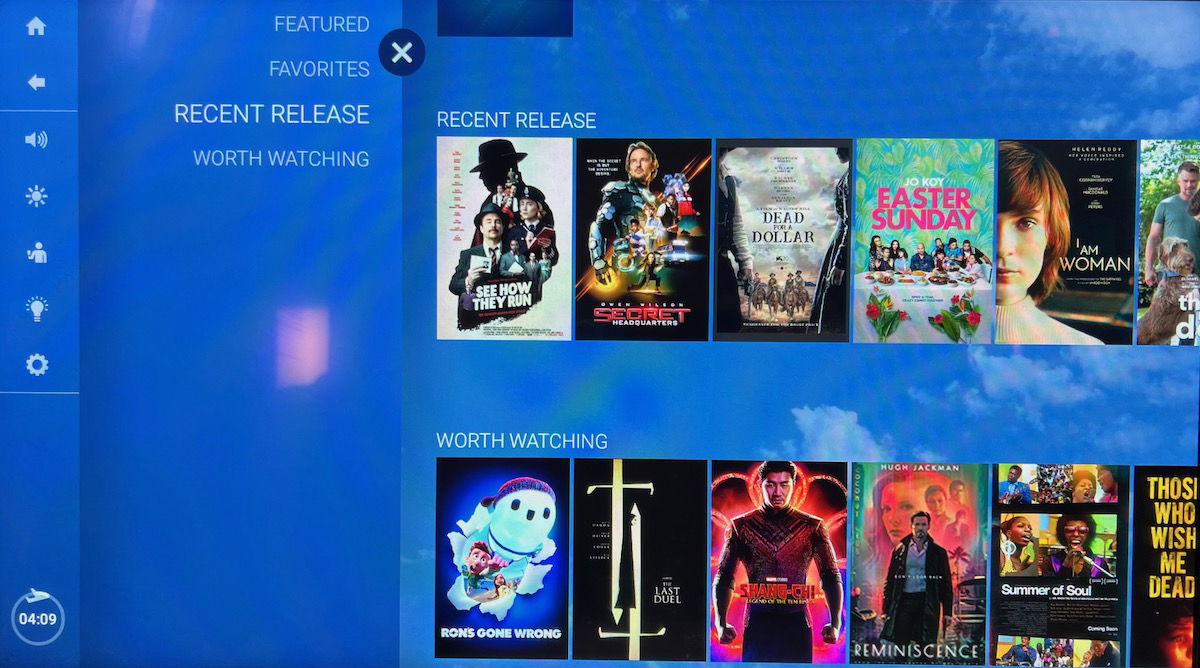 Options were much better in Arabic, and if you want to listen to the entire Quran, you're in luck — that's probably half of EgyptAir's entertainment selection.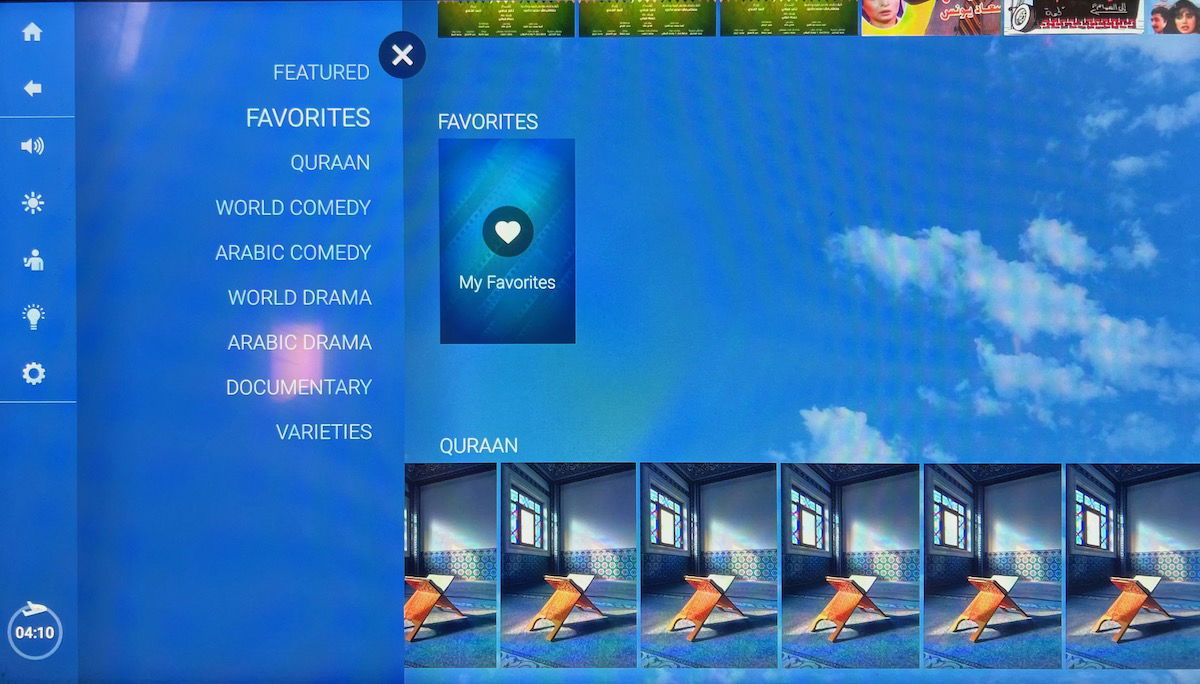 The entertainment system suggests that there should be live TV, but of course that's not actually available.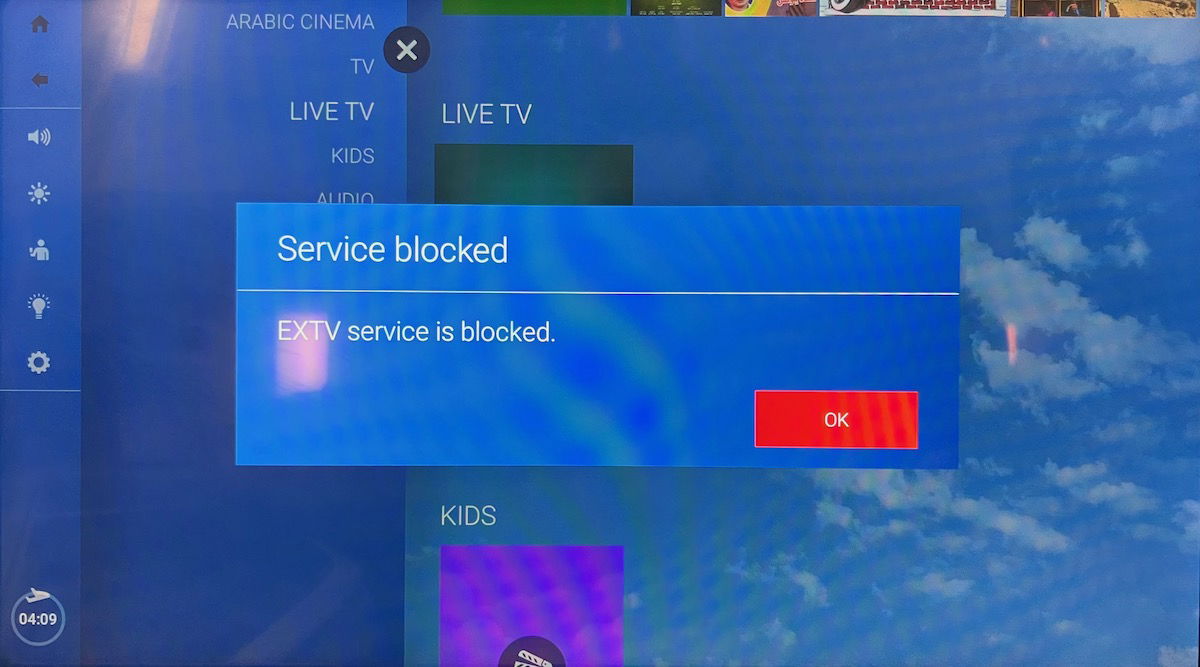 One more issue — unfortunately my audio jack was broken, so I couldn't even listen to any of the entertainment options. That wasn't much of a loss, though, since there wasn't anything I wanted to watch anyway.
Instead I just kept the map feature on the entire flight, which I enjoyed. I appreciate how customizable it was.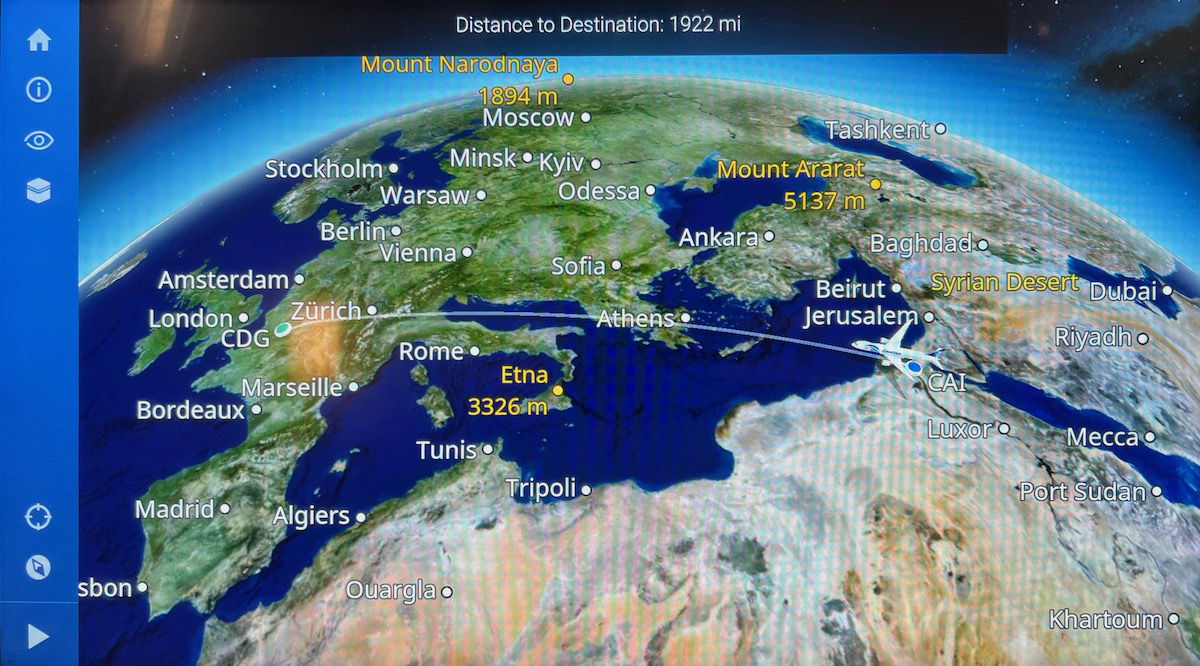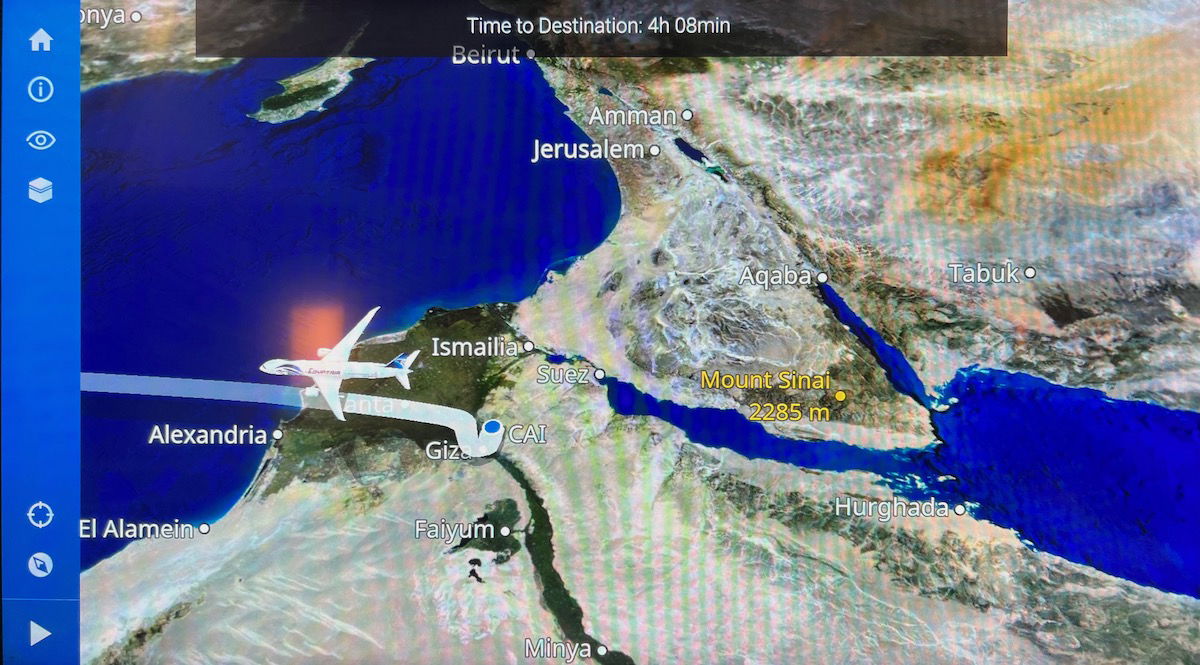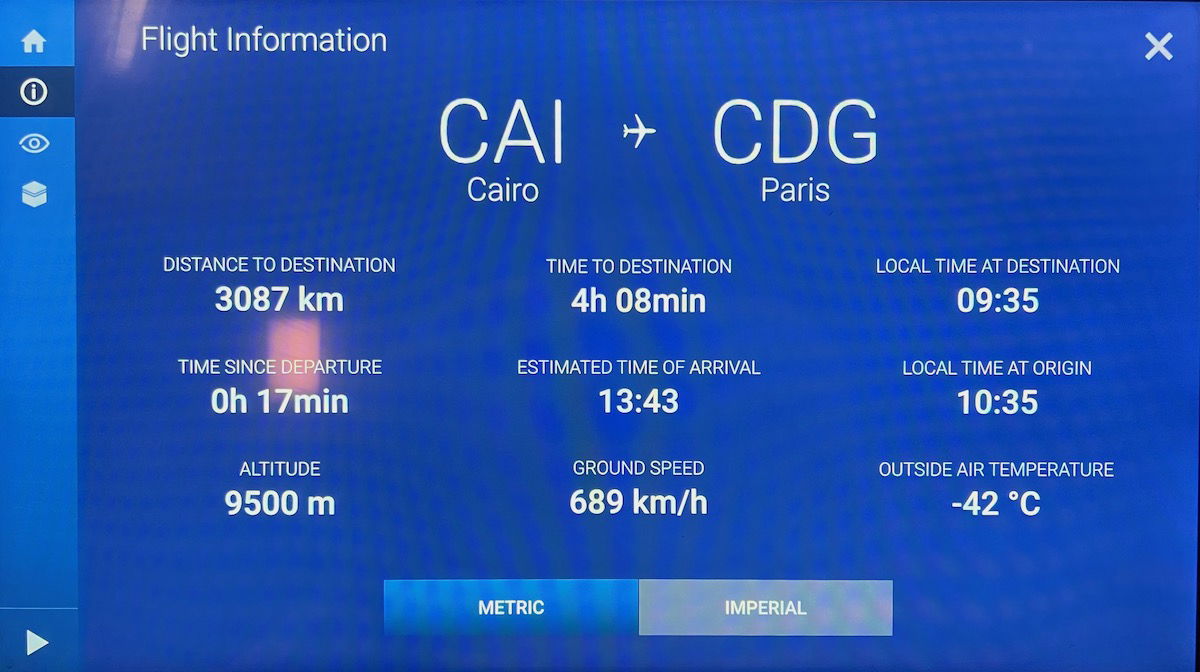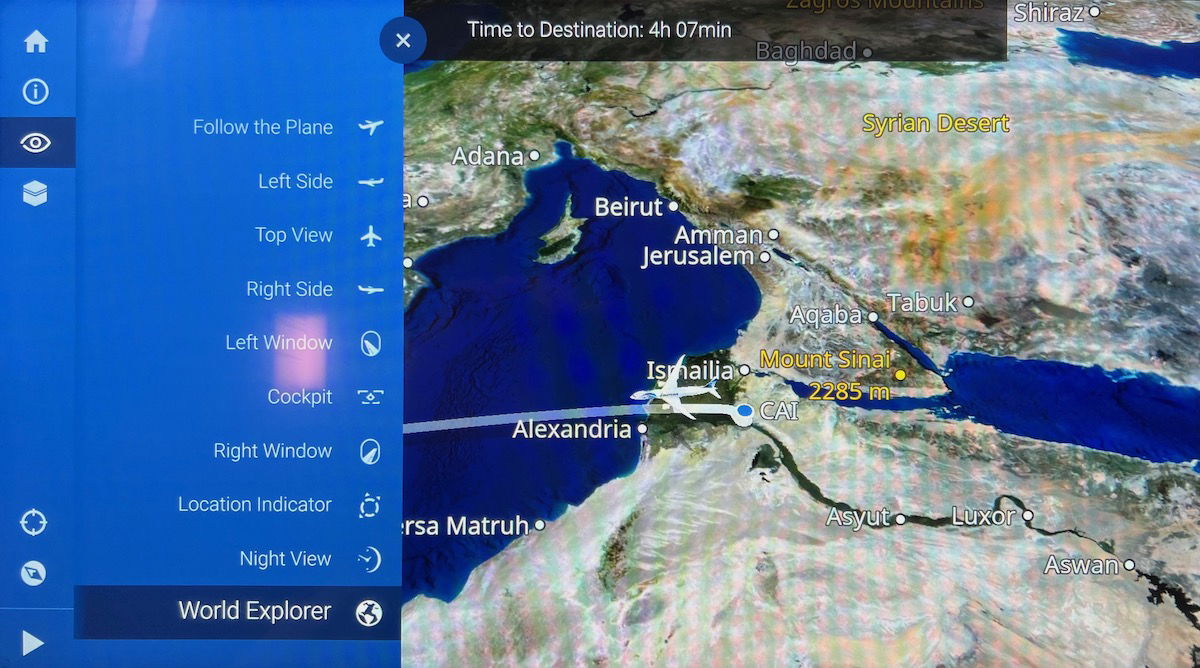 I was excited that EgyptAir's Boeing 787s are supposed to have Wi-Fi, since that's a big development for the airline. After takeoff I noticed the Wi-Fi wasn't working. I asked the cabin chief about this, and he confirmed it was broken. Ugh.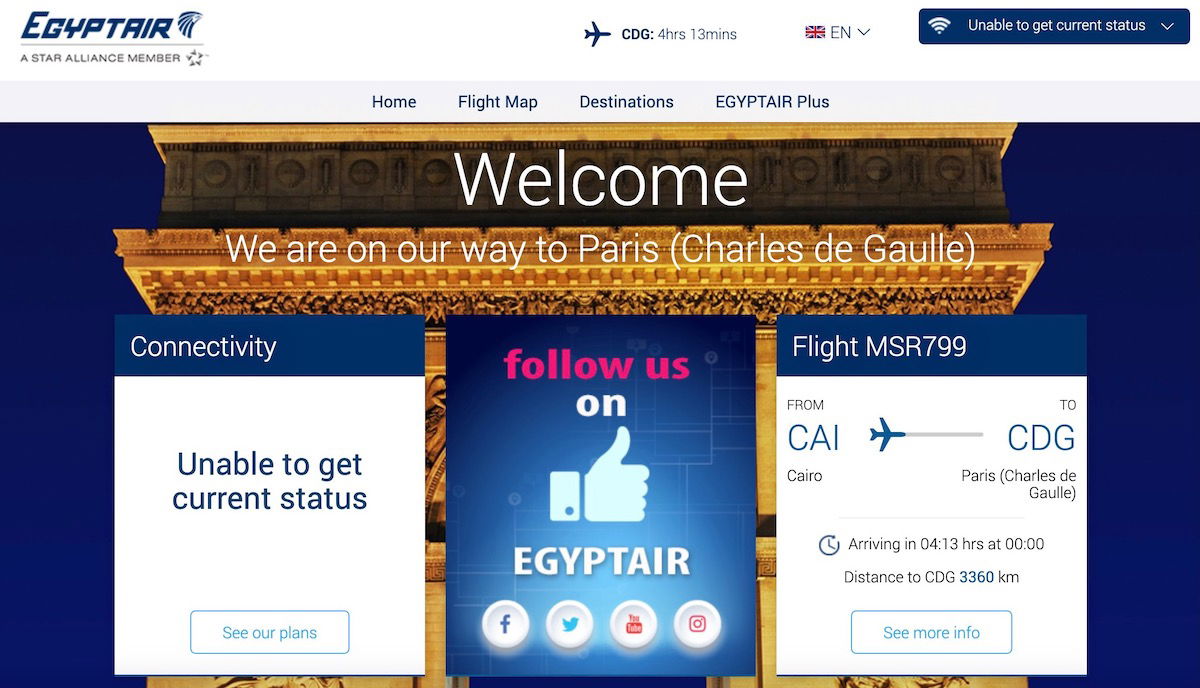 As you can tell, unfortunately entertainment is a weak point of EgyptAir's Boeing 787s, at least based on my experience.
EgyptAir 787 departure from Cairo
The boarding process took quite some time (presumably due to security checks), and by 9:50AM boarding was complete and the cabin door closed. Business class was initially mostly full, with just a handful of empty seats.
But of course this is EgyptAir, so there are always the "friends and family" upgrades once the door closes, and that was the case here. Business class ended up going out totally full. In this case those onboard upgrades consisted of a family with two infants, seated across from and behind me.
At 9:50AM, the cabin chief announced our flight time of 4hr30min, and at that point the safety video was screened (which is actually kind of cool).
At 9:55AM we began our very long push back — we weren't just pushed back, but a tug actually taxied us forward quite a bit as well.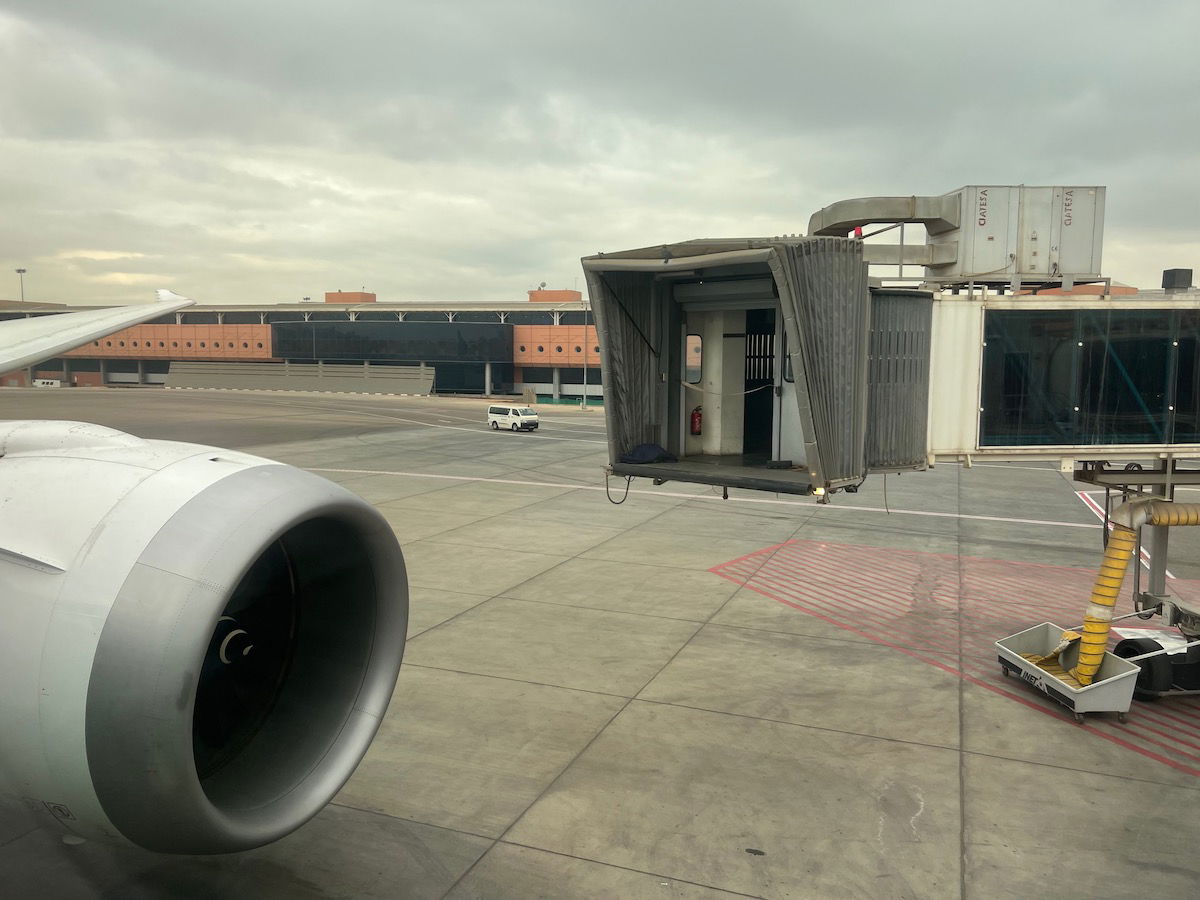 During this time the crew performed some pre-takeoff safety checks. EgyptAir has some strict rules, like requiring that all pillows and blankets either be placed in the overhead bin or behind your body.
At 10:05AM we began our taxi to the runway. We had a long but fast taxi, and I enjoyed all the planes on the way to the runway, including passing EgyptAir 787s, 777s, A330s, and A220s.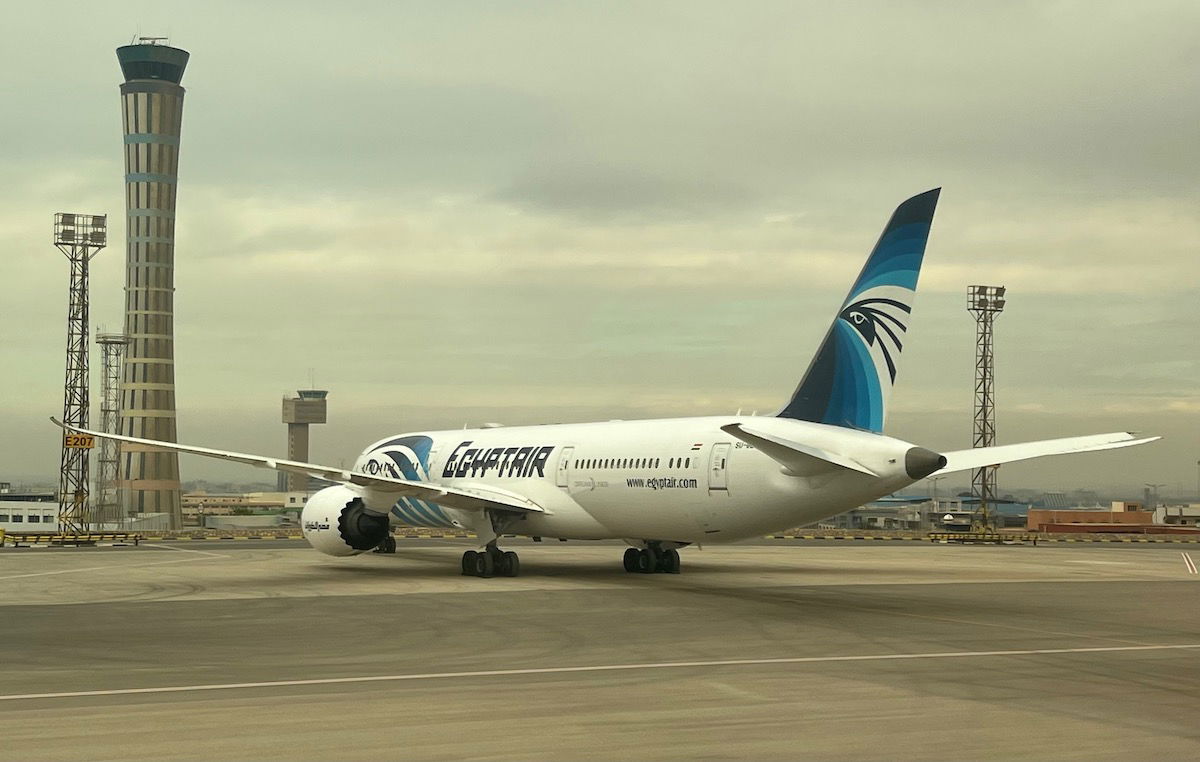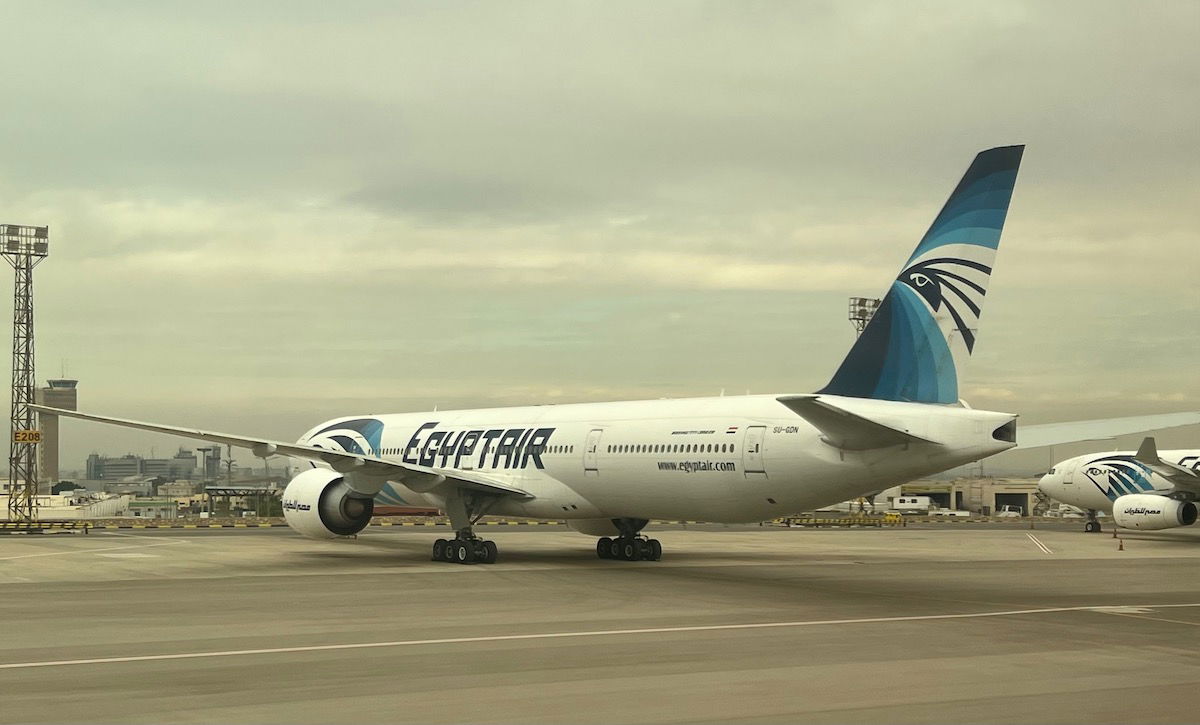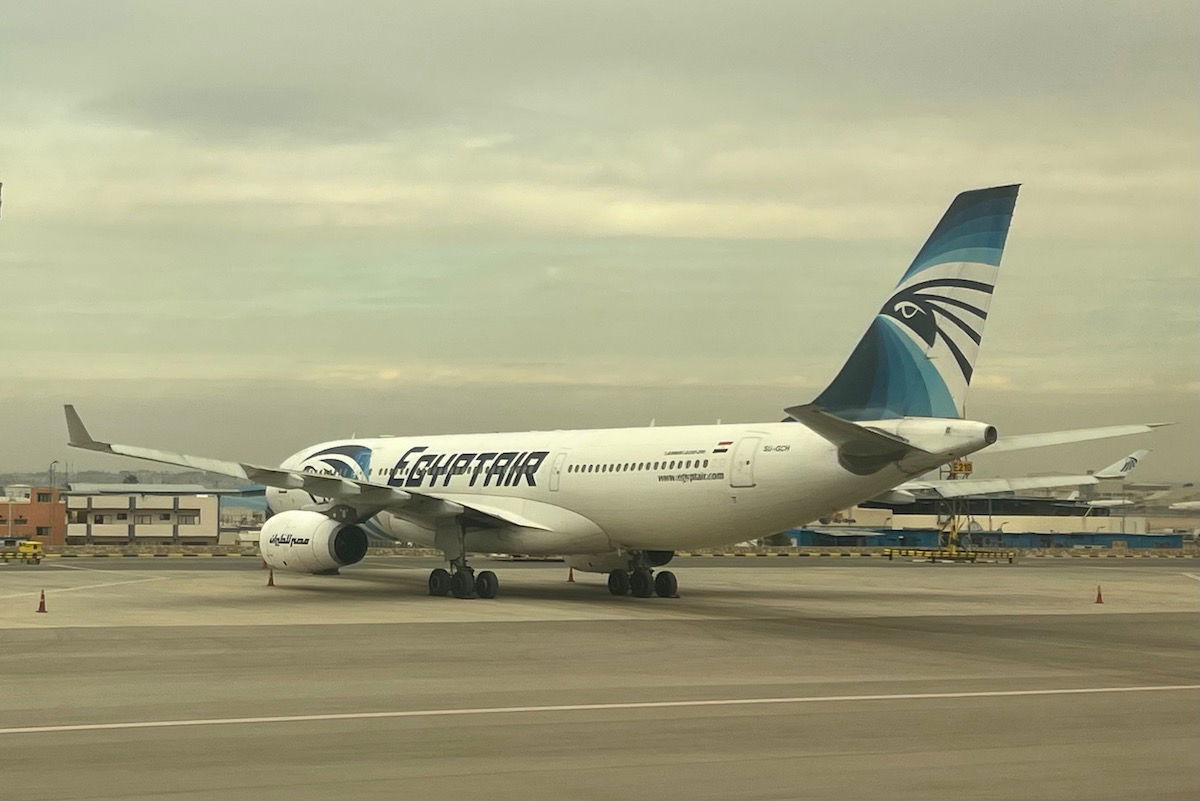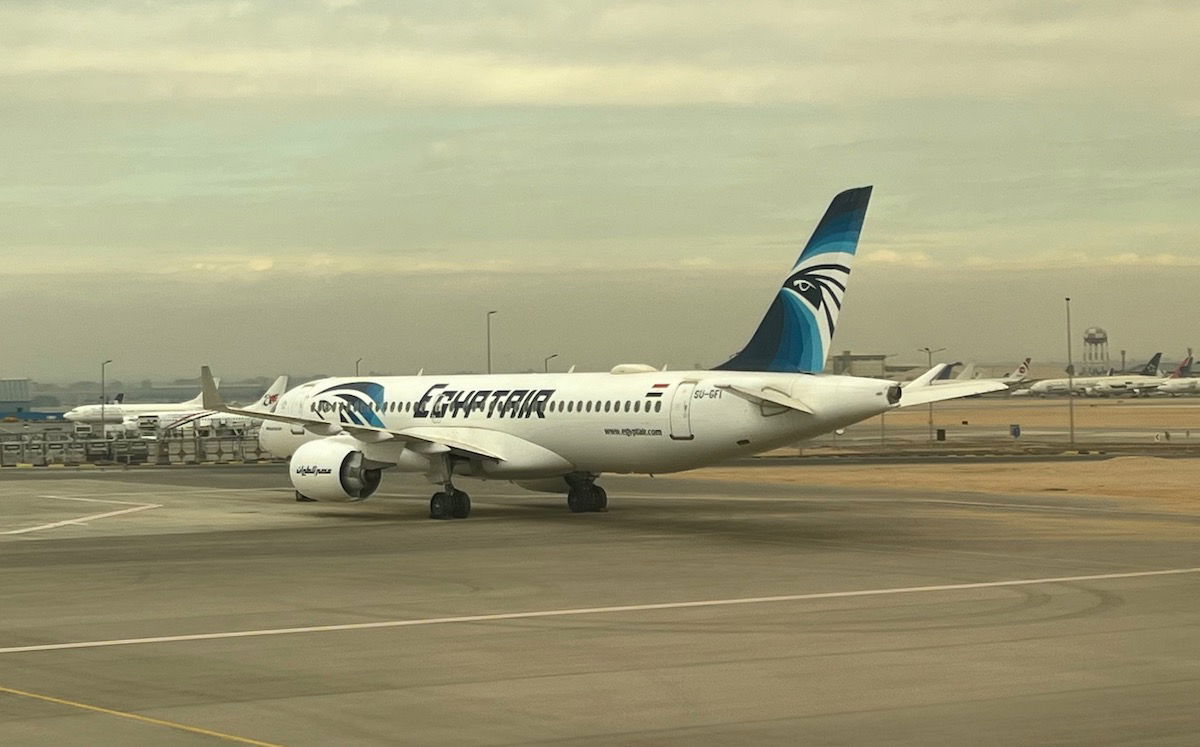 What an interesting selection of airlines, including the Air Leisure A340-200!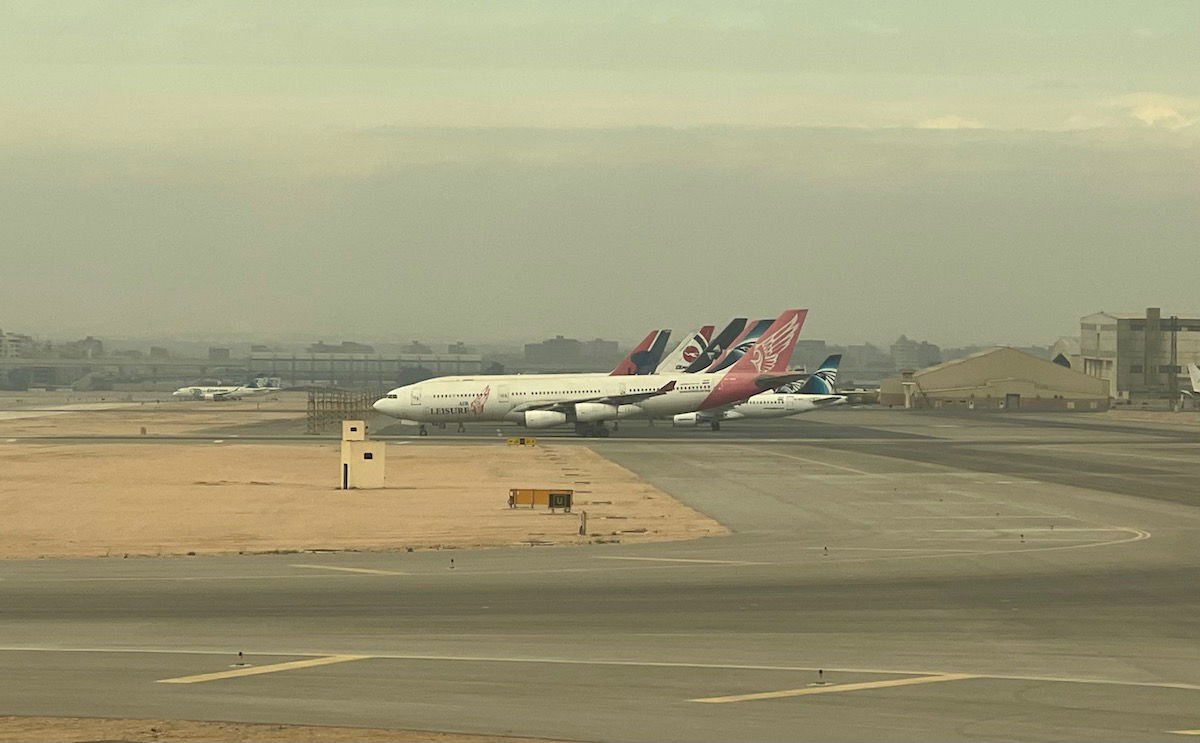 By 10:15AM we were cleared for takeoff.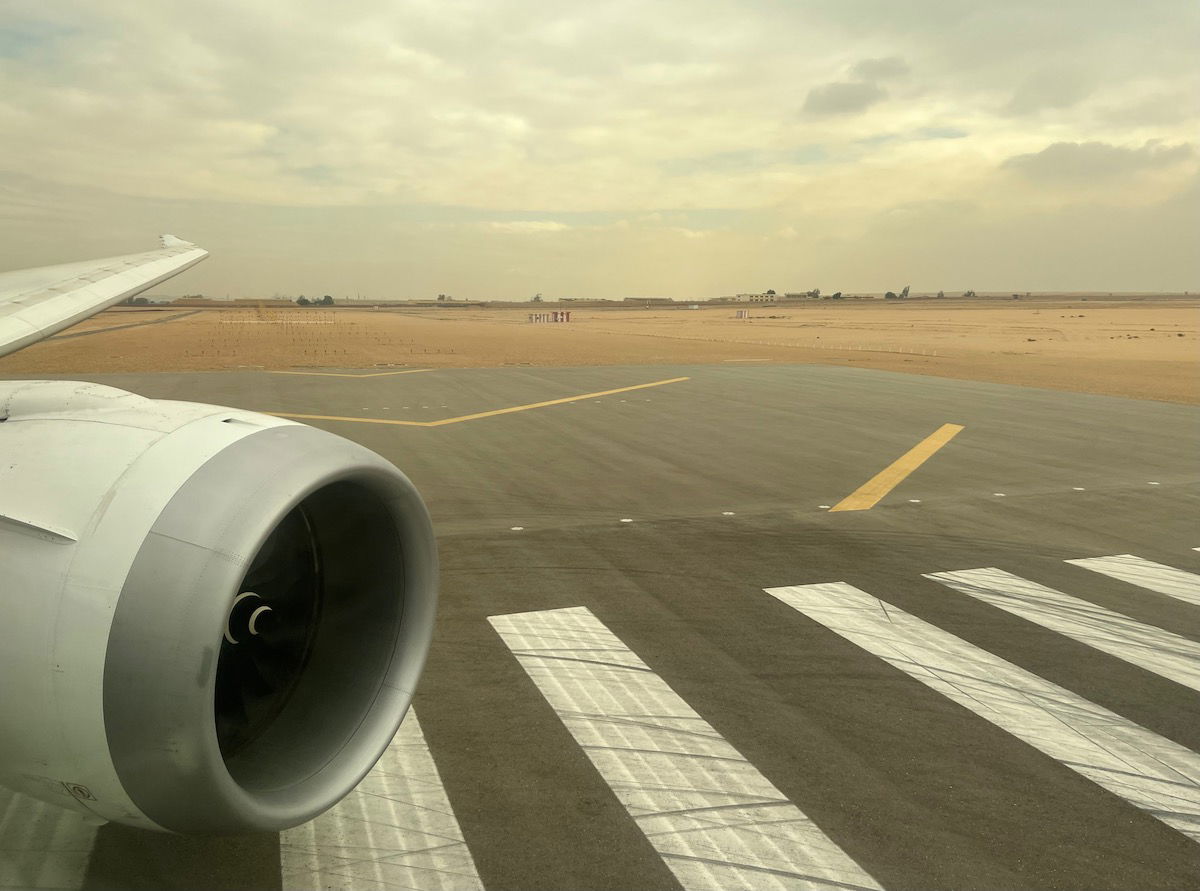 I enjoyed looking out the window during the climb out, though unfortunately we weren't treated to any pyramid views.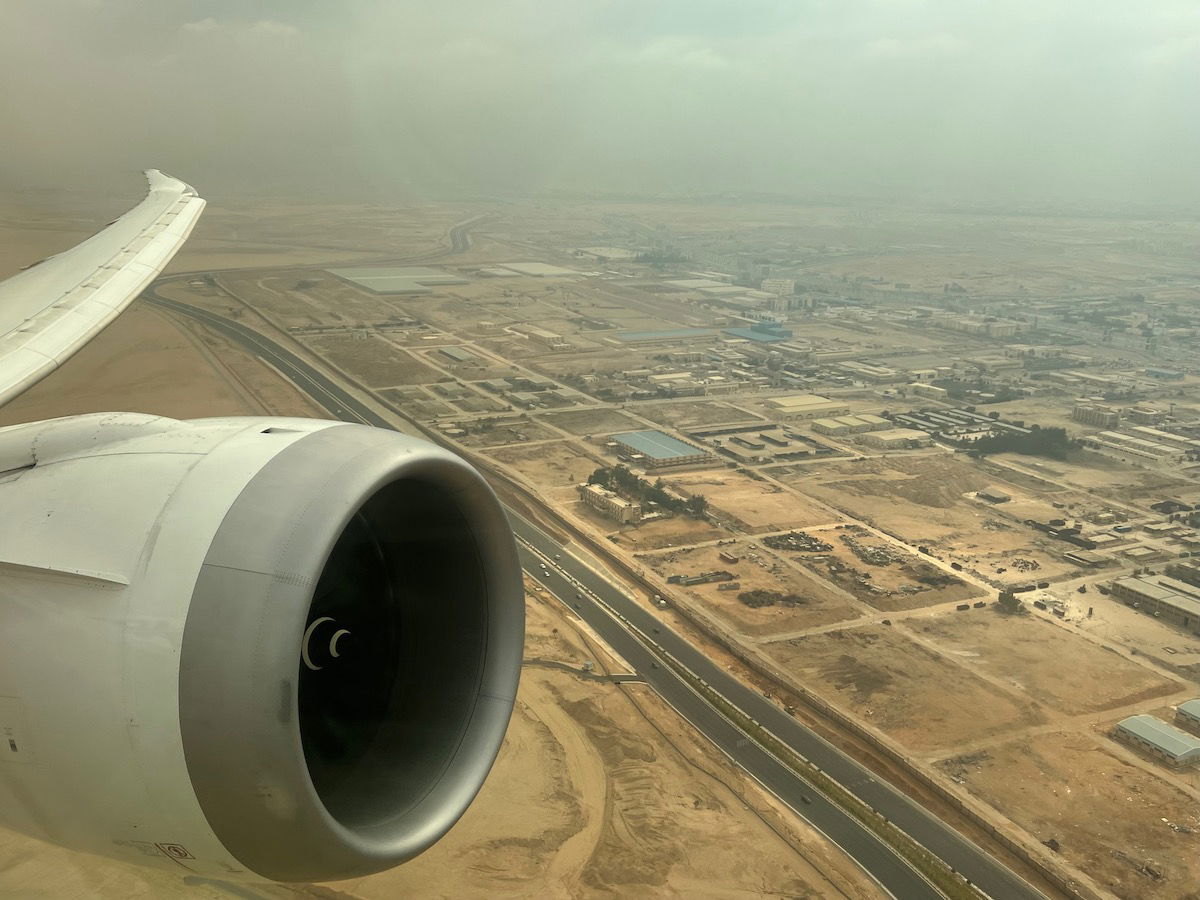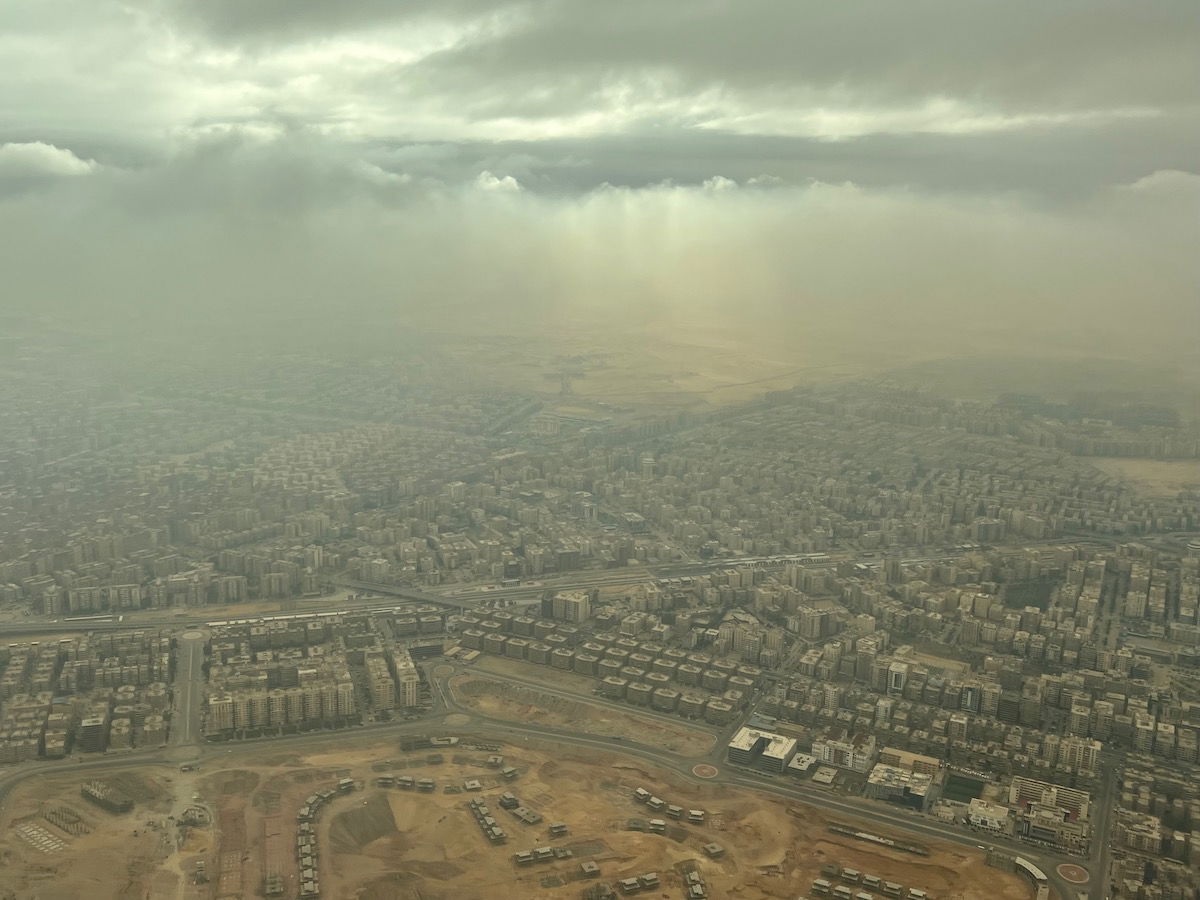 We had a smooth climb out, and the seatbelt sign was turned off just five minutes after takeoff.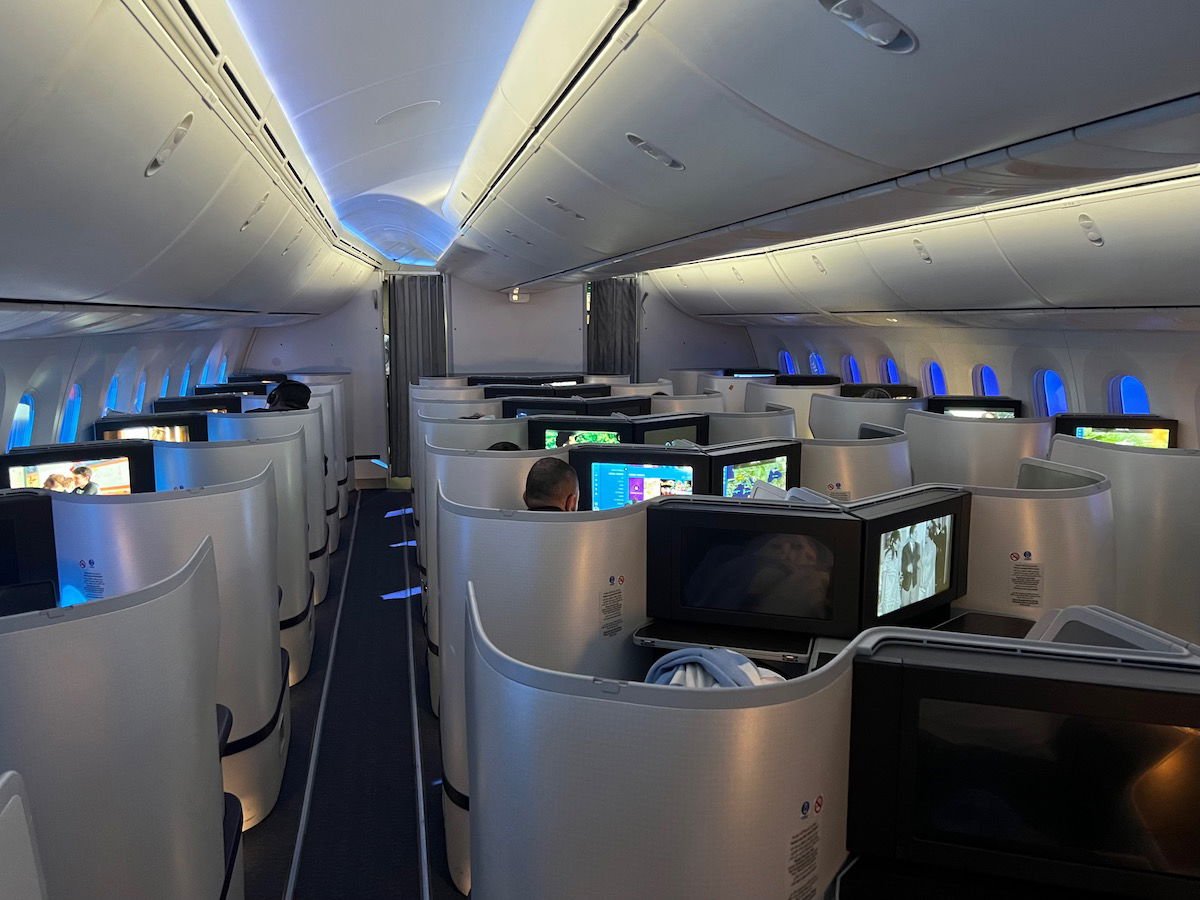 EgyptAir business class lunch service
I was curious what kind of inflight service EgyptAir would offer on a 4.5 hour flight departing shortly before 10AM and arriving shortly after 1PM. I figured it would be lunch, though the way the airline went about serving this was interesting.
35 minutes after takeoff, the crew passed through the cabin with the choice of two kinds of muffins in plastic wraps, intended as an after takeoff snack. I selected the chocolate muffin. After spending the night in the EgyptAir Lounge, I was excited to eat something other than the carrier's lounge food. Go figure these were the same exact muffins EgyptAir has in all of its lounges.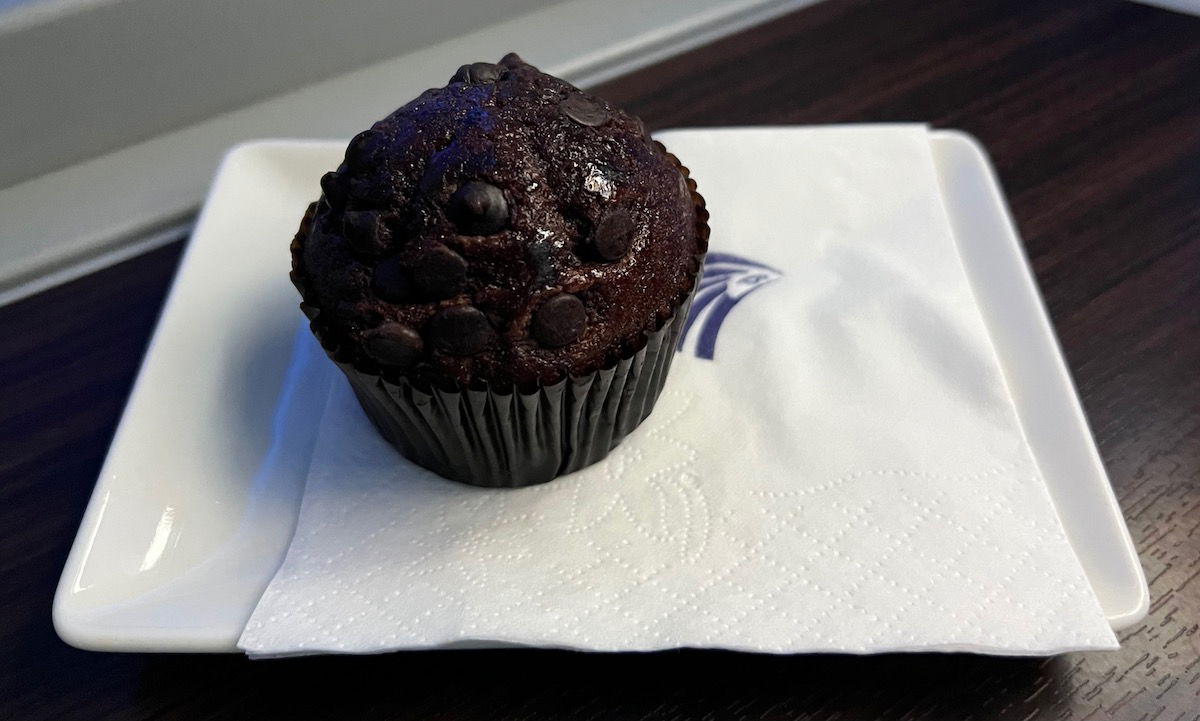 I also ordered some tea to drink, which was served in a tiny cup.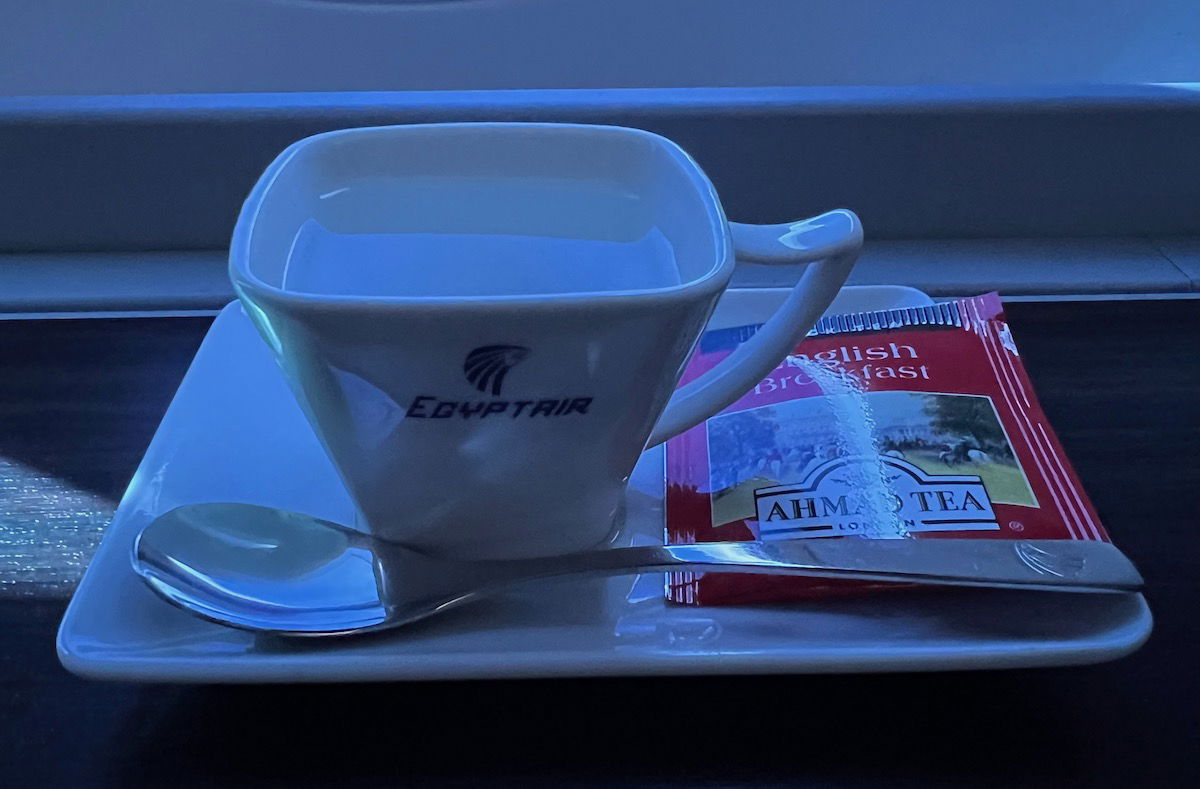 That was the extent of the after takeoff service. Then roughly two hours into the flight, while over Greece, the lunch service began.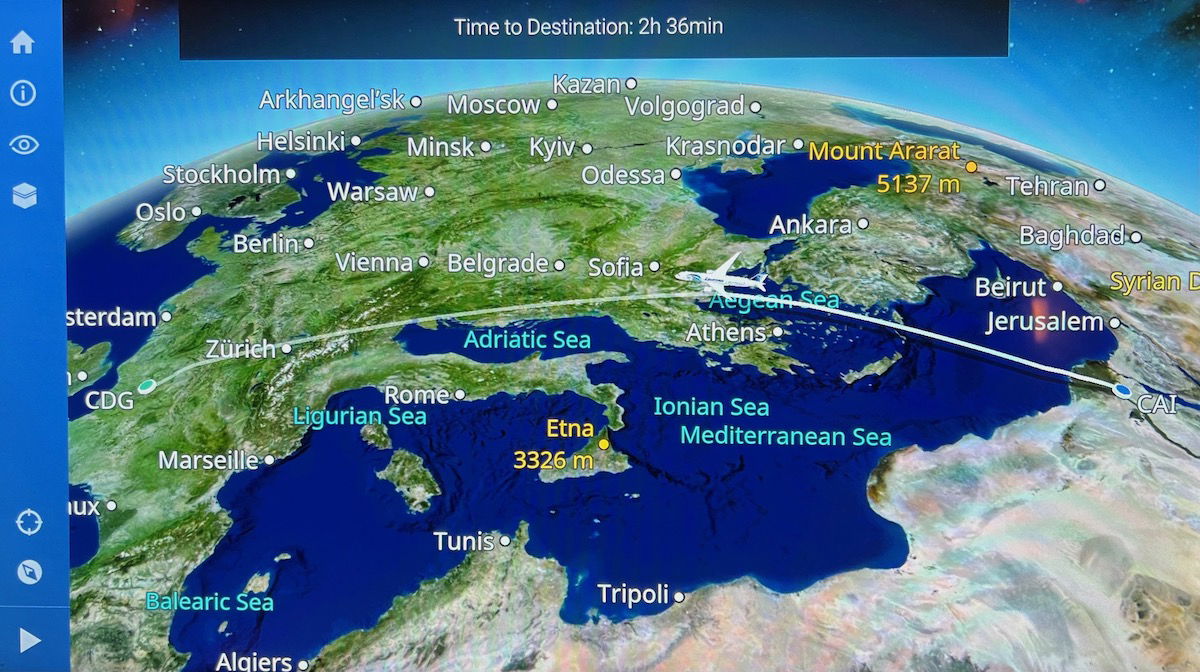 EgyptAir doesn't have menus in business class, so I wasn't sure what to expect. Service began with drinks. Keep in mind that EgyptAir is a dry airline, so there's no alcohol. I ordered a Diet Pepsi to drink (EgyptAir doesn't have Coke products).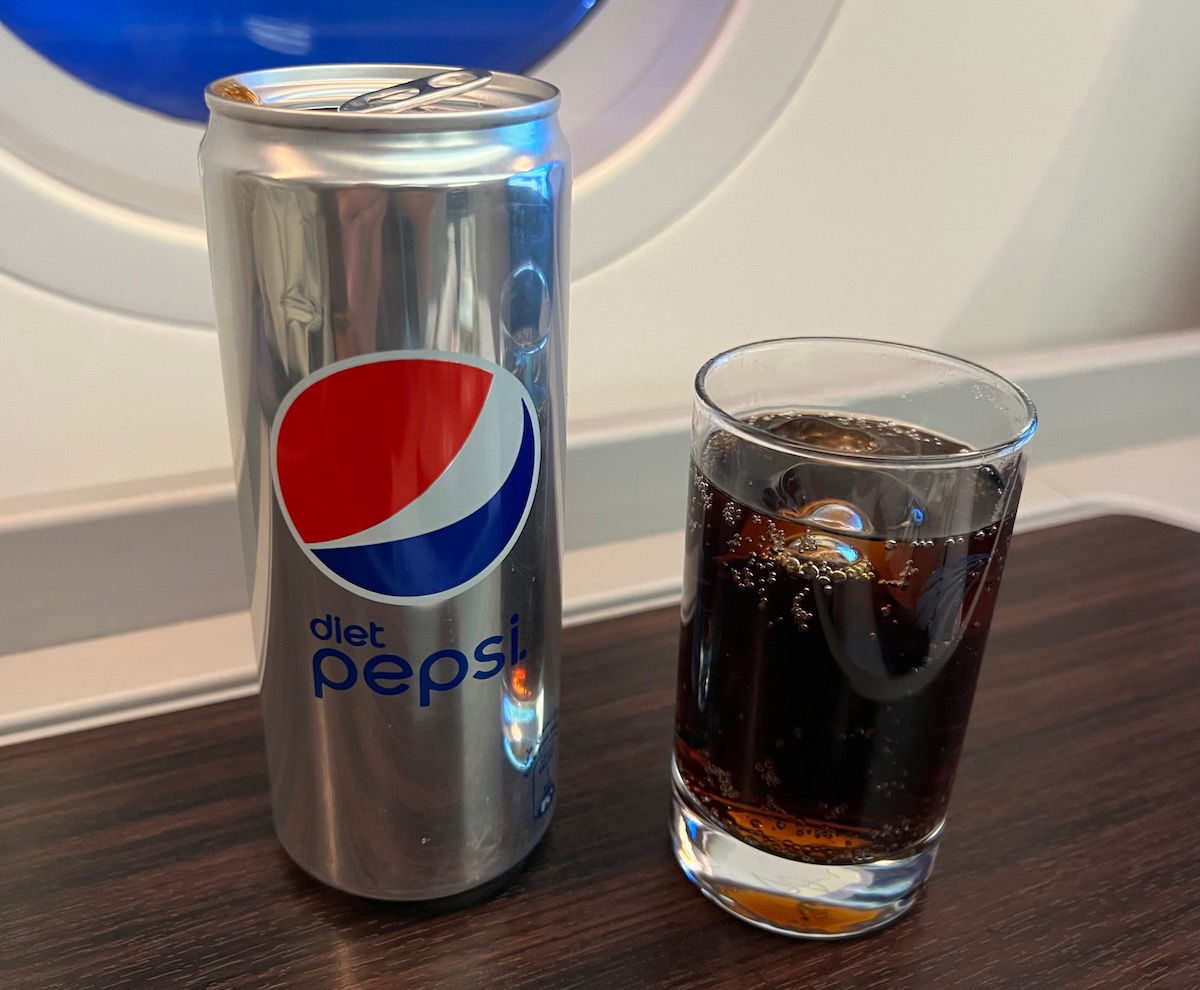 The meal service began with a starter tray, consisting of a salmon and shrimp appetizer with beetroot, a salad with mushrooms and pomegranate, and a small cheese plate. There was also a selection of bread. Everything was served with covers on, though I removed those prior to taking a picture.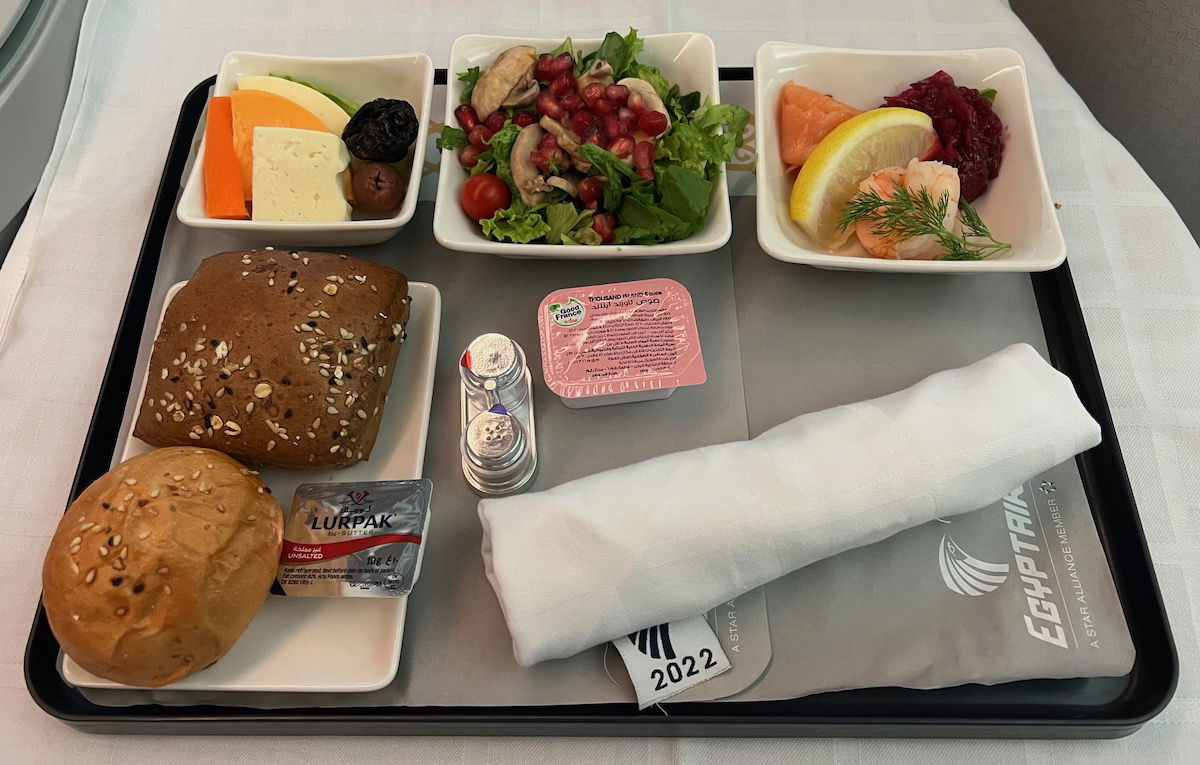 The main courses were all brought out on a trolley so that you could select them from there (I appreciate when airlines display options in this way). The options included vegetables with rice, shrimp with rice, or beef with potatoes. I selected the shrimp with rice, and the dish was… not good. The presentation was pretty bad, the shrimp were extremely chewy, and the dish was bland.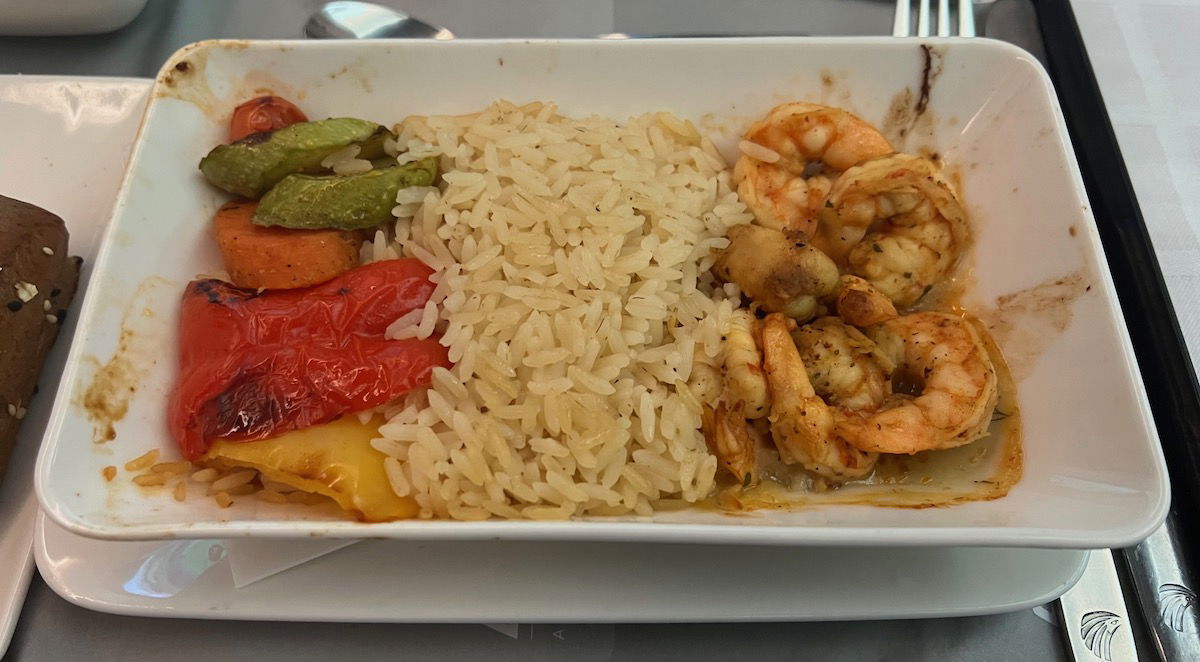 Once main courses were cleared, the dessert trolley was brought out, with the choice of cake or fruit. I selected the red velvet cake, and had a coffee to go along with it (EgyptAir doesn't have espressos or cappuccinos).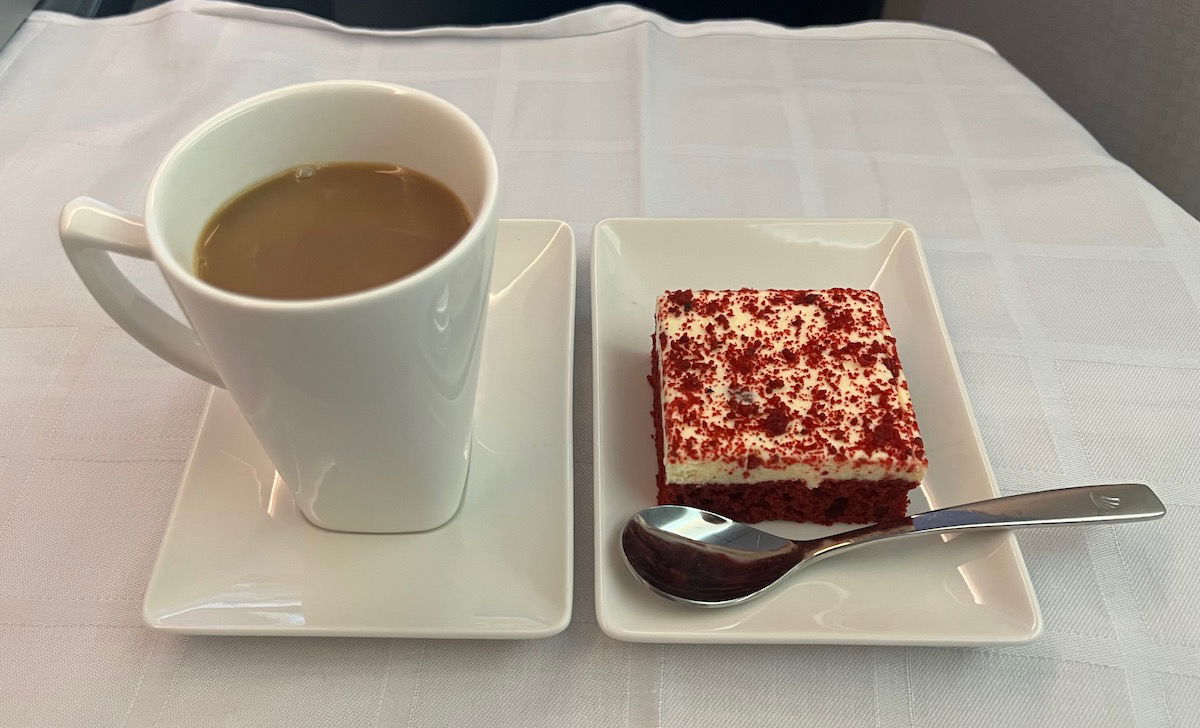 The meal service was complete just over 90 minutes prior to arrival in Paris.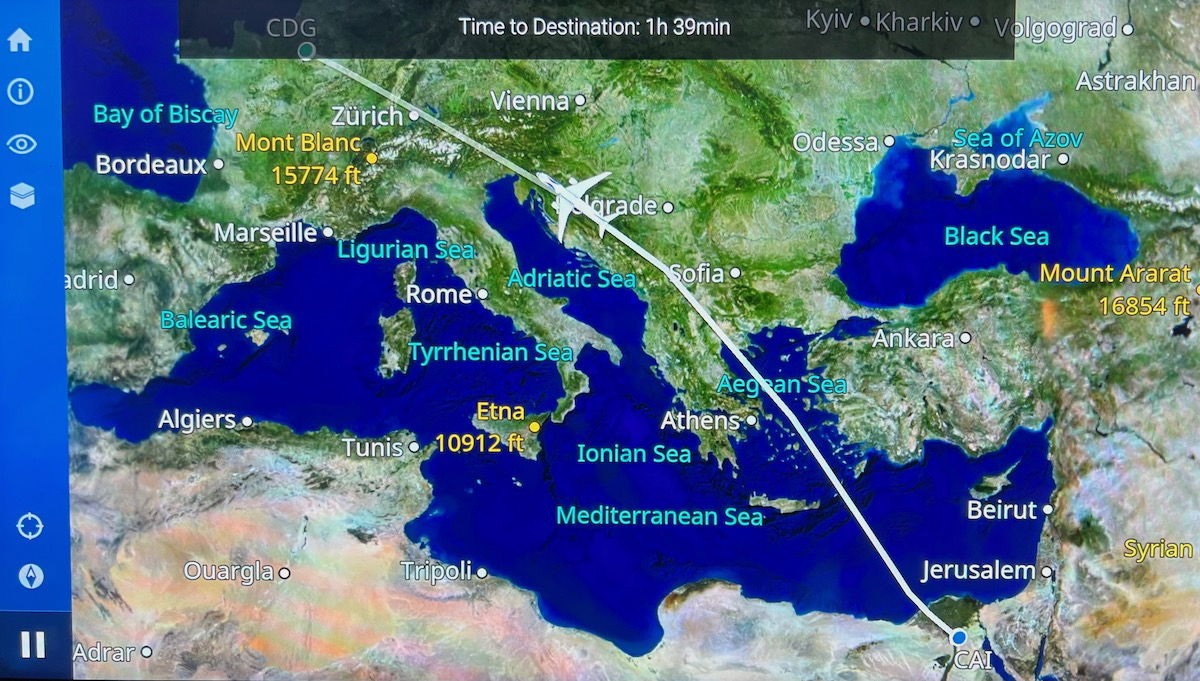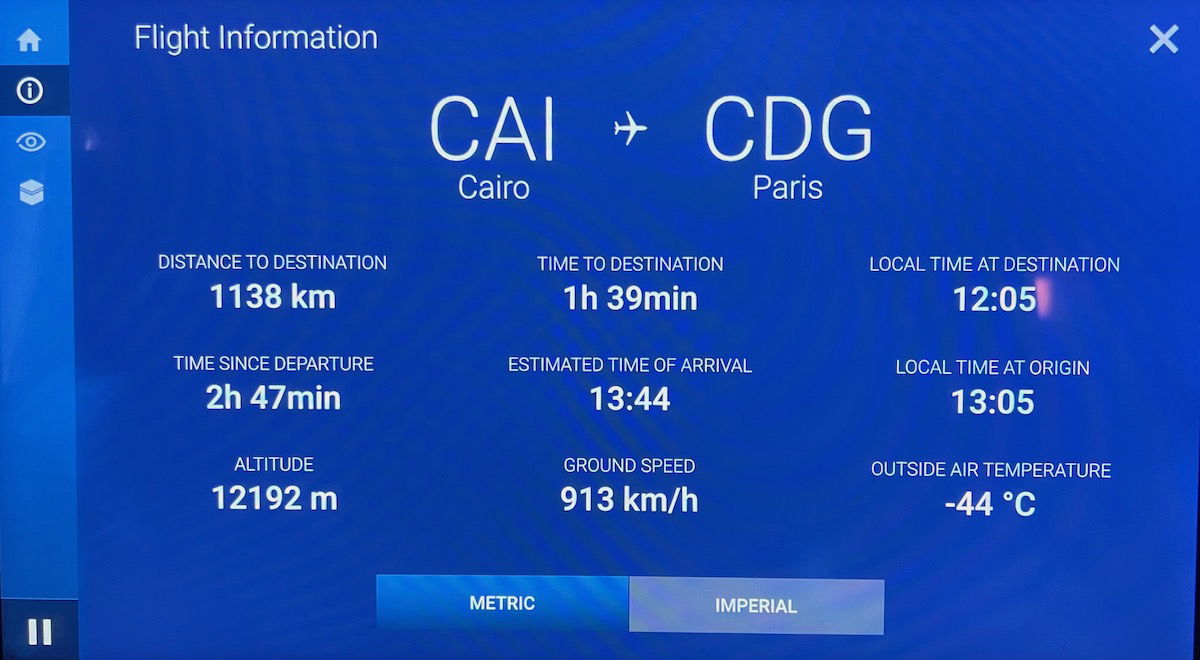 Then around 45 minutes before landing, the crew served packaged mixed nuts.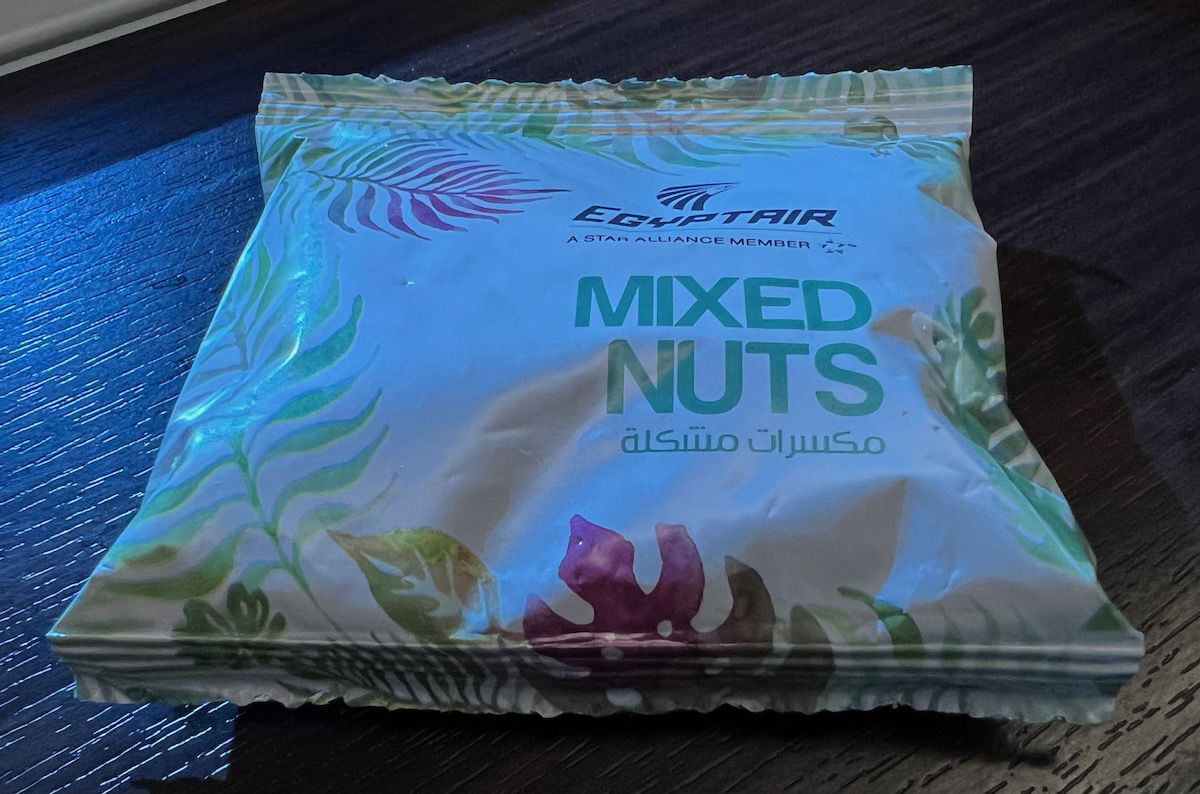 To EgyptAir's credit, the inflight service was extensive, in the sense that there was lunch, plus a snack after takeoff and a snack before landing. As someone who was hoping to sleep a bit on this flight, that service flow wasn't ideal, since there wasn't actually a real "quiet" time during the flight. But I also get that most people probably didn't have as long of a night as I did.
While EgyptAir does well with the quantity of food it serves, quality is a different story. I find EgyptAir's catering to be so bland and heavily western focused. Aside from the pomegranates in the salad, there was almost nothing even remotely Egyptian about the service.
EgyptAir 787 business class bed
I tried to get a bit of rest on this flight, both prior to and after the meal. Collectively I think I got about 45 minutes of sleep. I found EgyptAir's 787 seat to be quite comfortable in bed mode, though it would have been nice to have better bedding.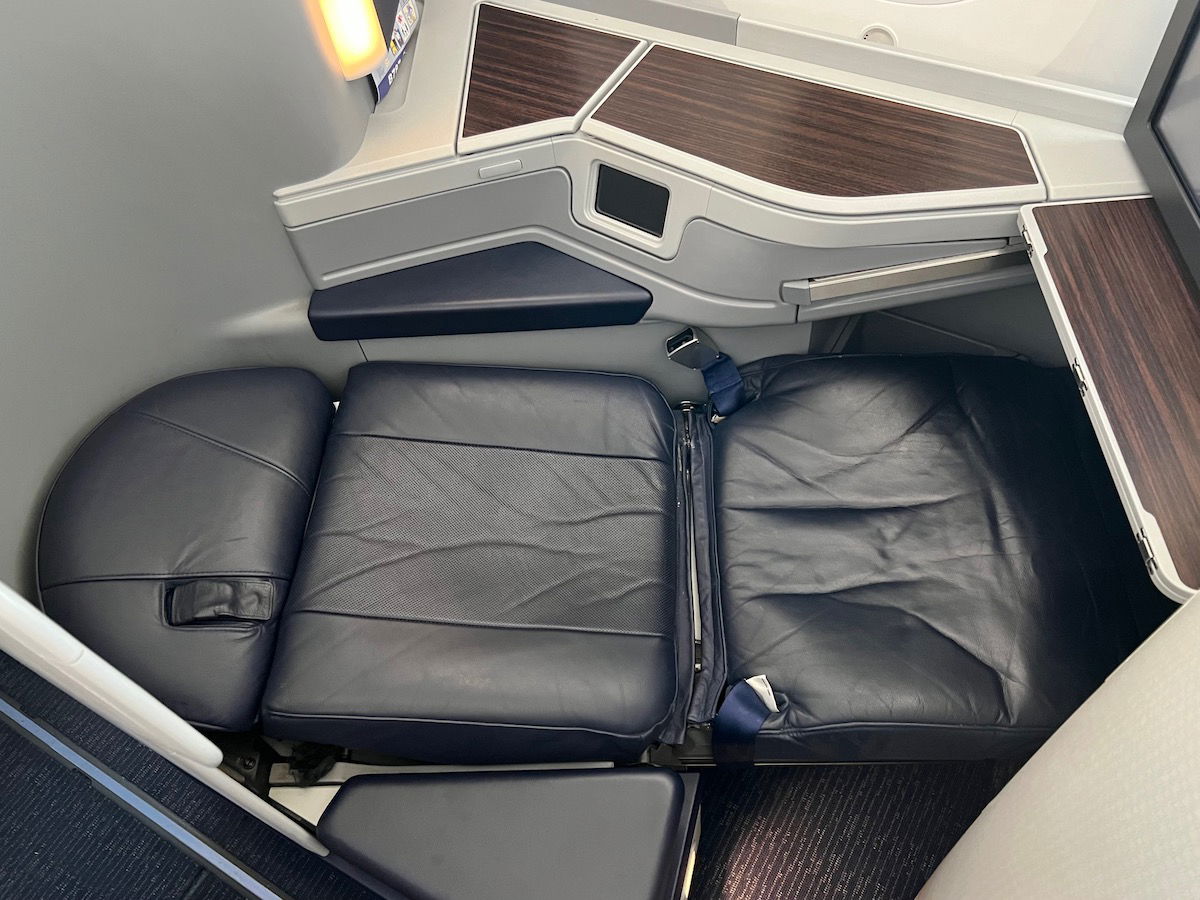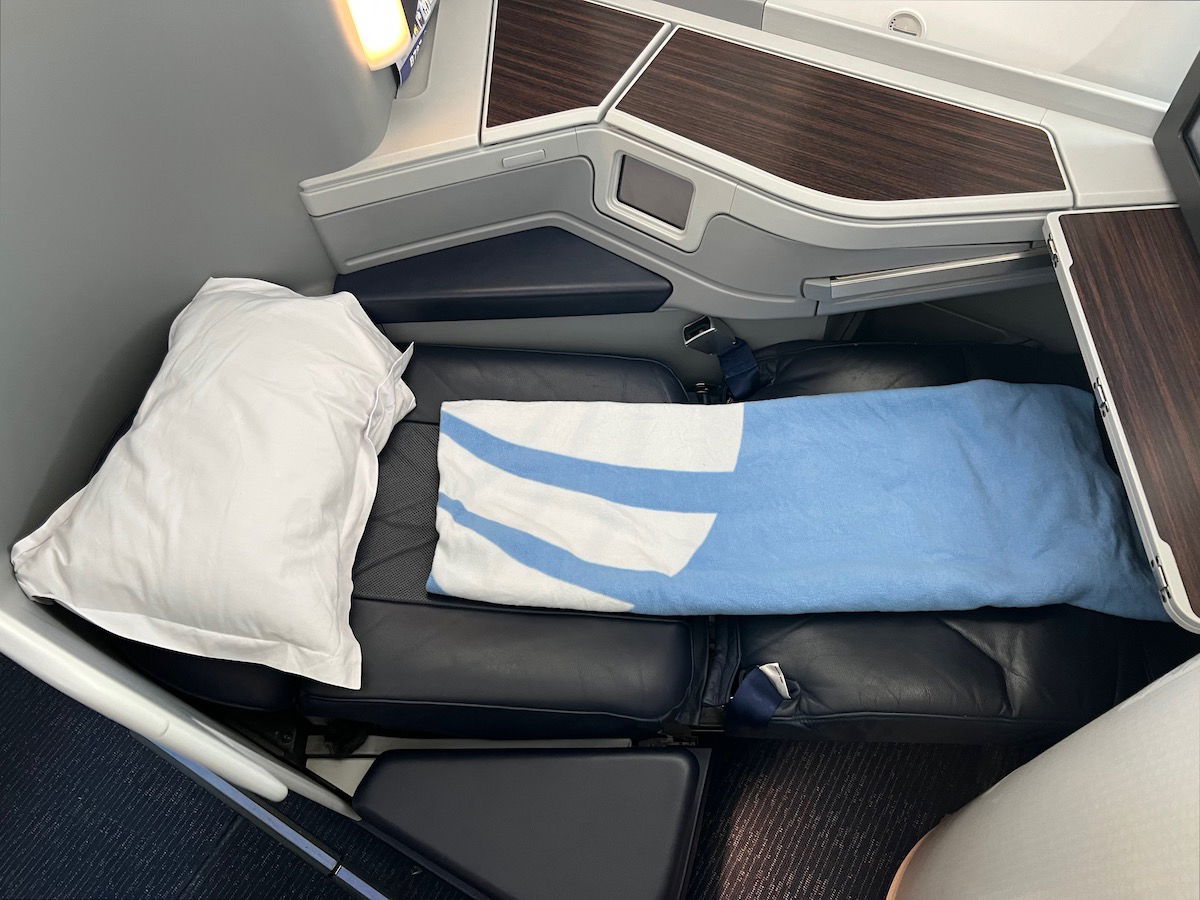 EgyptAir 787 business class lavatories
EgyptAir's Boeing 787-9s have one lavatory at the very front of the cabin (by the cockpit). There are also two behind the cabin, but they seem to largely be used by economy passengers as well, so there can be queues. The lavatories were standard Dreamliner ones — they were modern, but weren't large. There was nothing in the way of special amenities.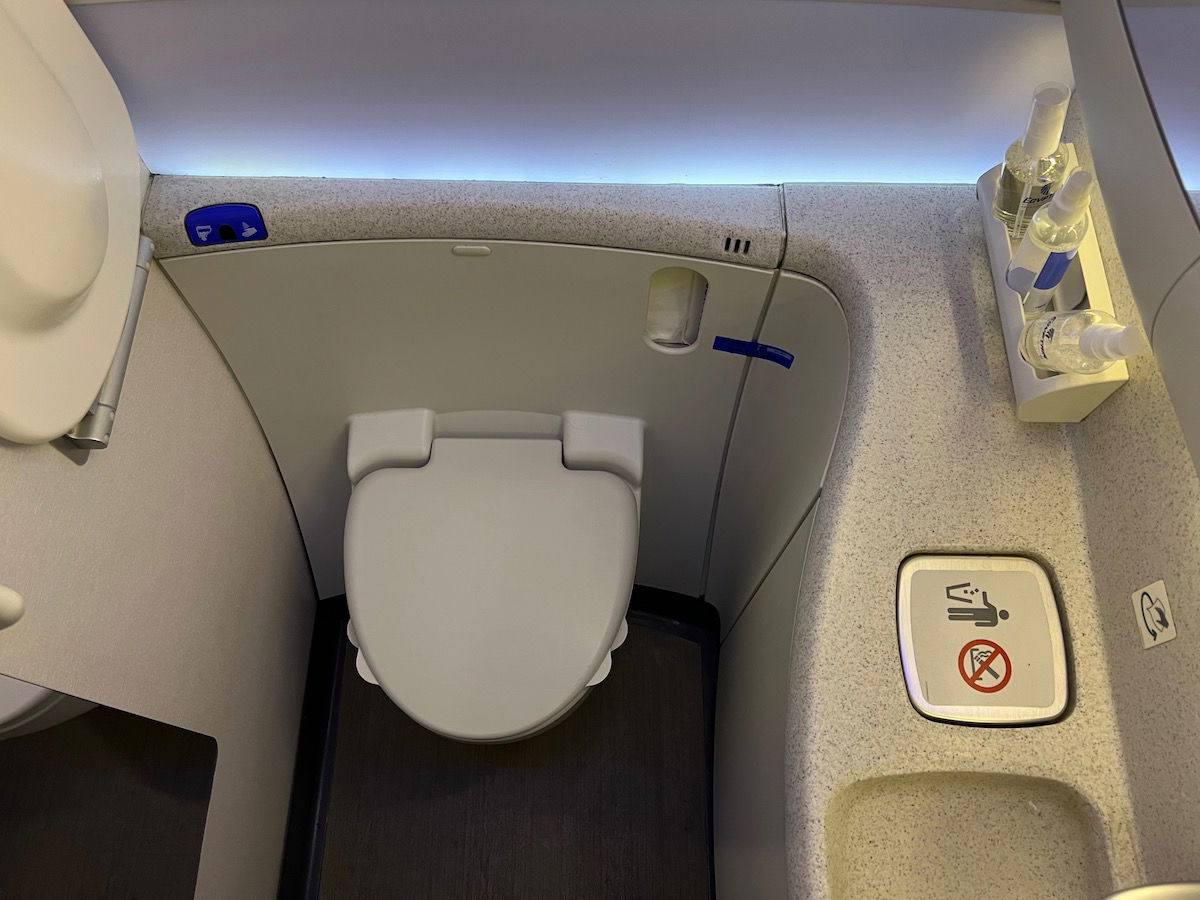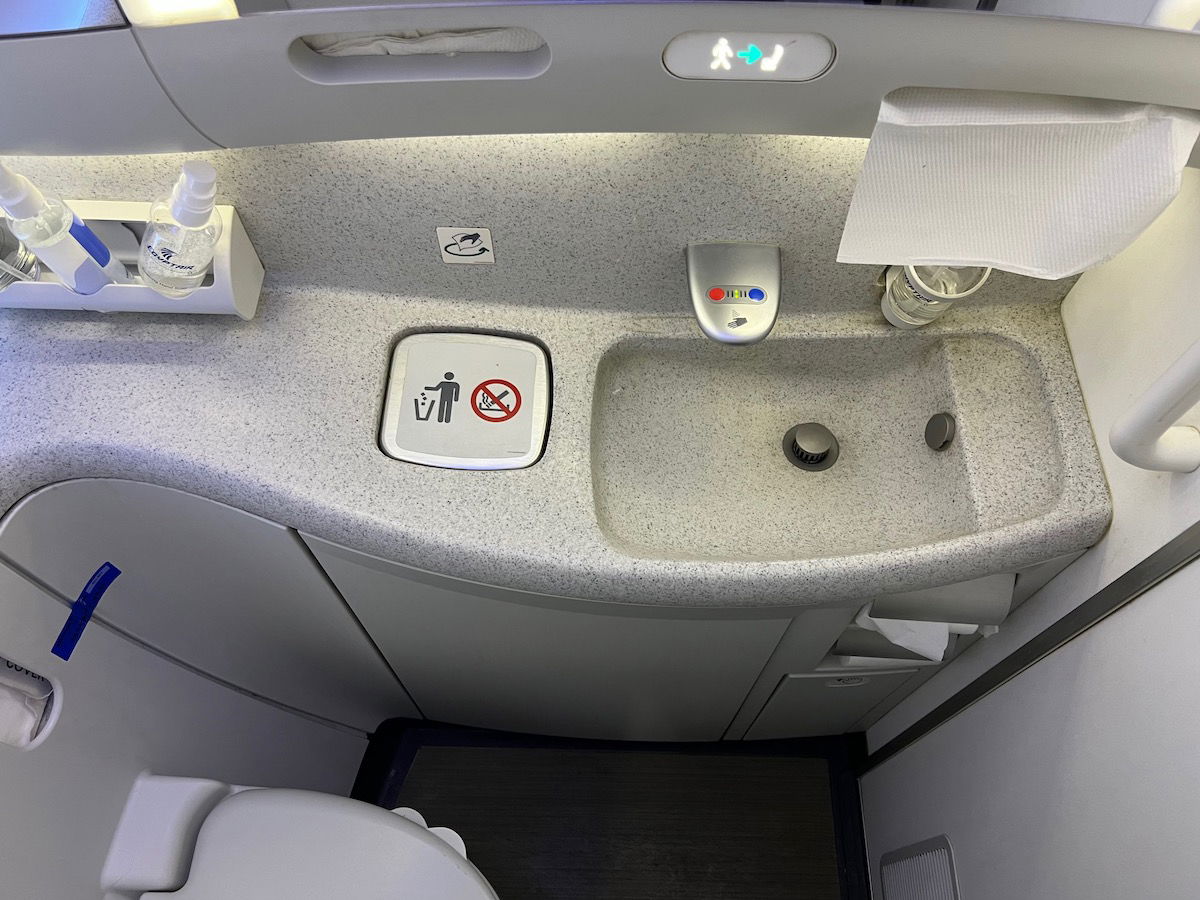 EgyptAir business class service
Egypt can be a hospitable country, but unfortunately that isn't at all reflected on EgyptAir, in my experience. The crew wasn't rude, but they also couldn't have been any more disinterested in their jobs. I don't remember the last time I've had such a forgettable crew, in terms of how little they communicated.
On the plus side, I didn't notice any smoking on this flight, which has historically been an issue on EgyptAir. Then again, I believe the airline may have cracked down on that a bit since an EgyptAir aircraft crashed on this exact route due to a fire started by a smoking pilot?
EgyptAir 787 arrival in Paris
At around 1:05PM we began our descent toward Paris, as we were just over 150 miles out.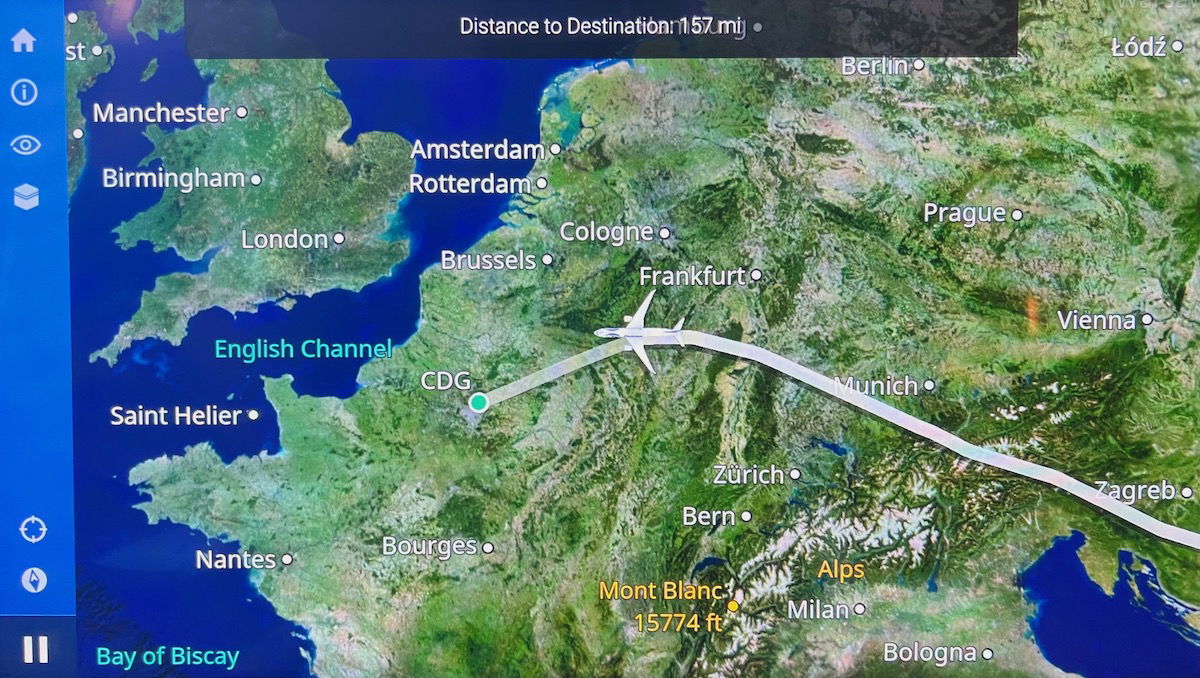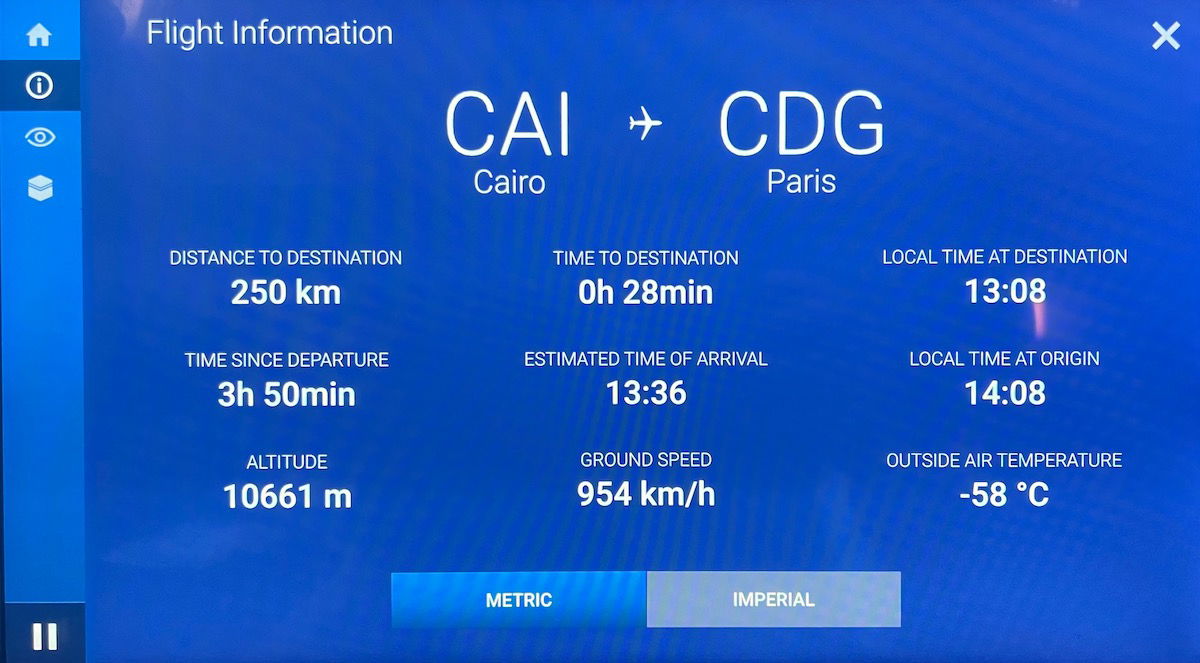 The crew began landing preparations pretty early, and were seated around 20 minutes before landing, which is also when the seatbelt sign was turned on. It was a gorgeous day in Paris, and we had some beautiful views on the approach.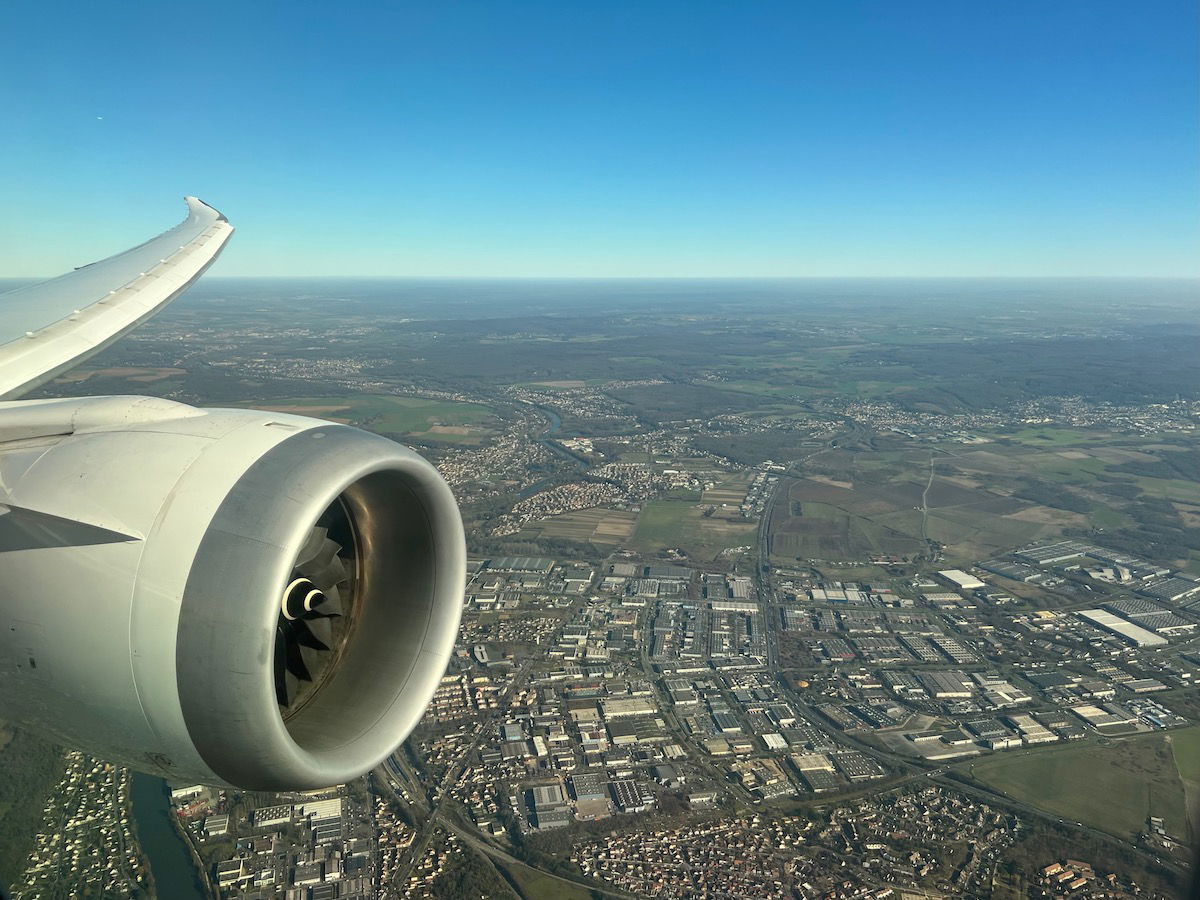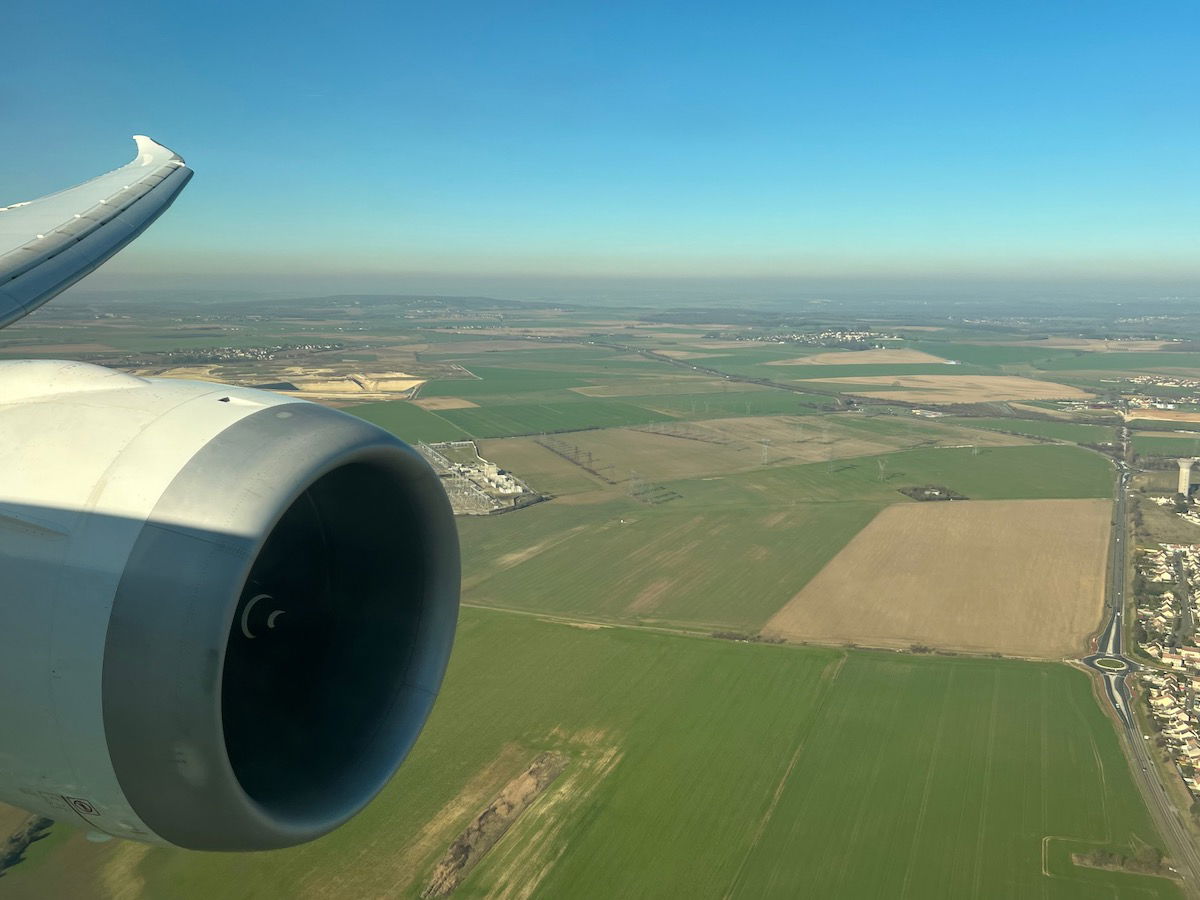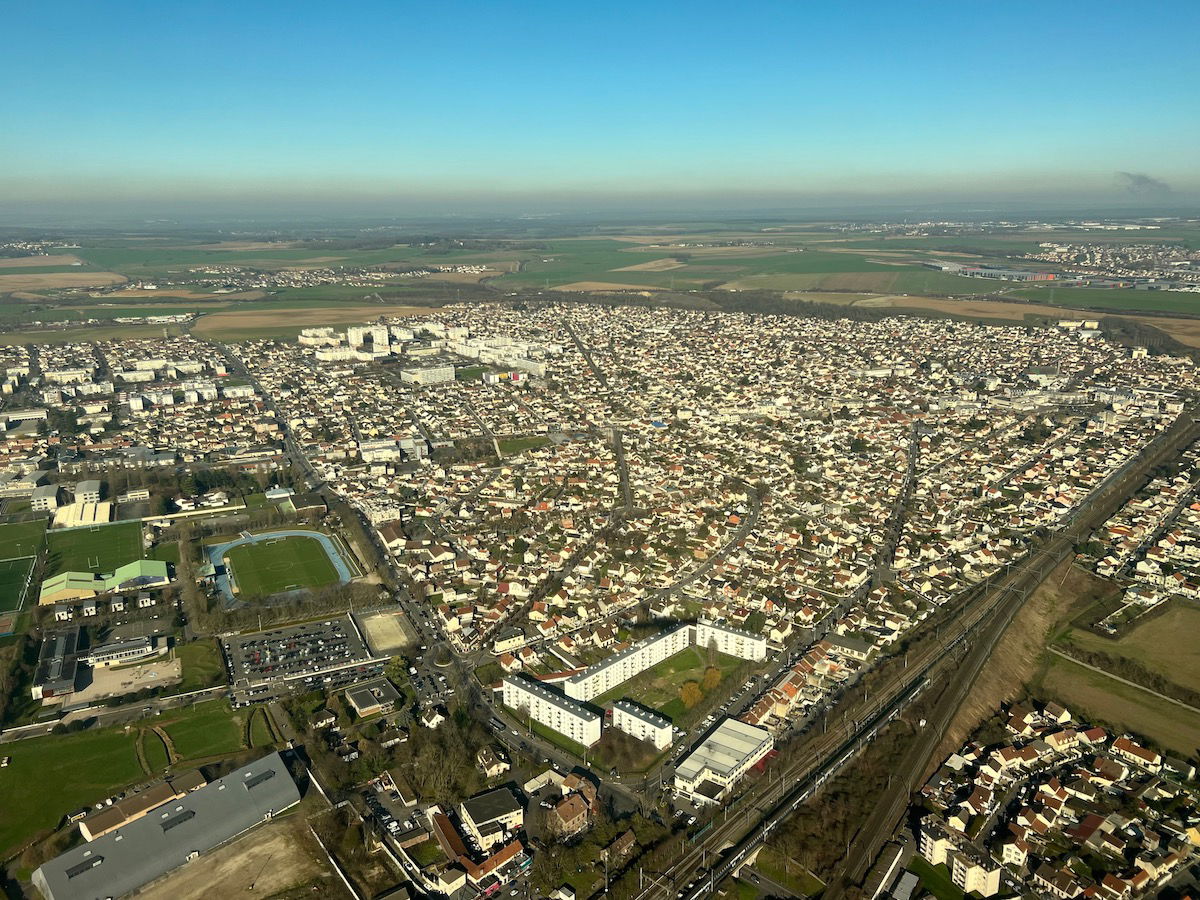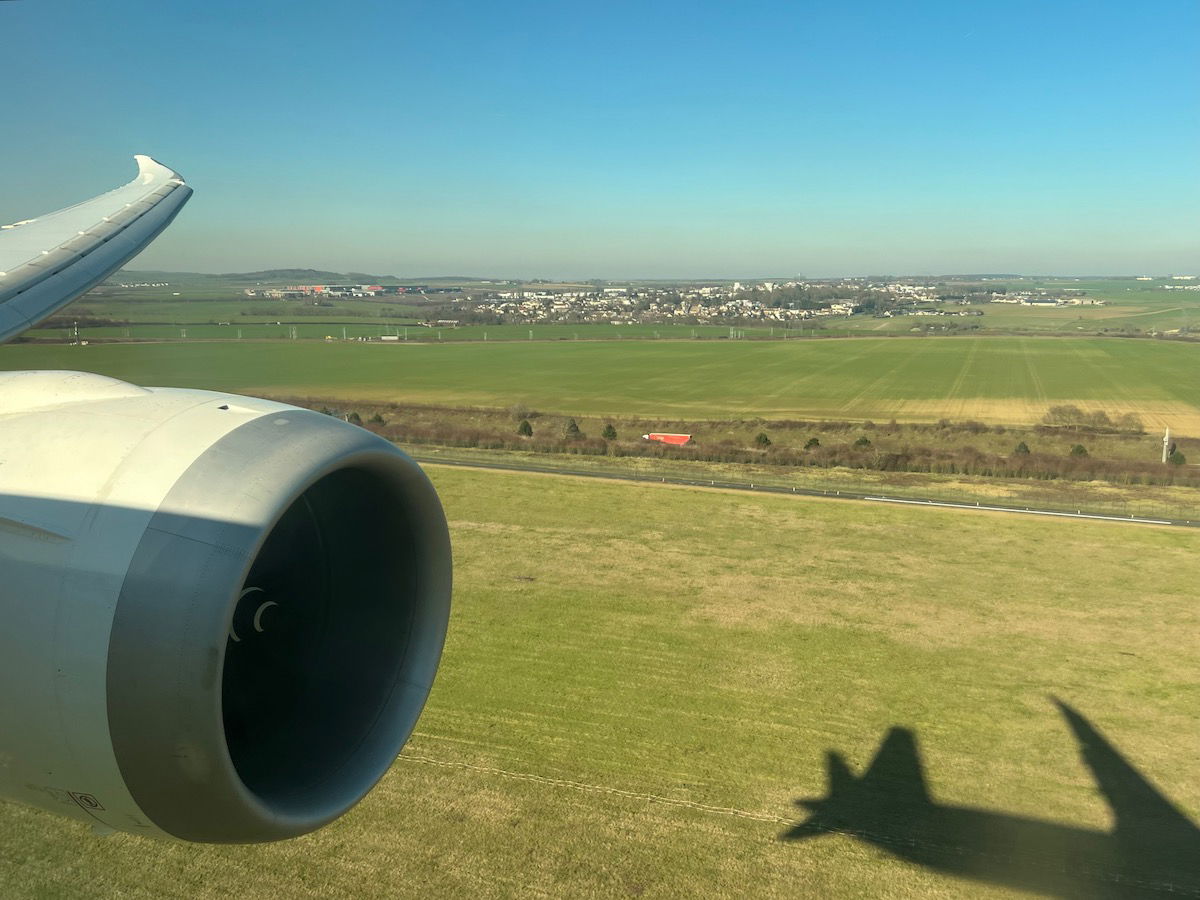 We touched down in Paris at 1:40PM, and then had a 10 minute taxi to our arrival gate at Terminal 1. We pulled in next to an Air Canada 777.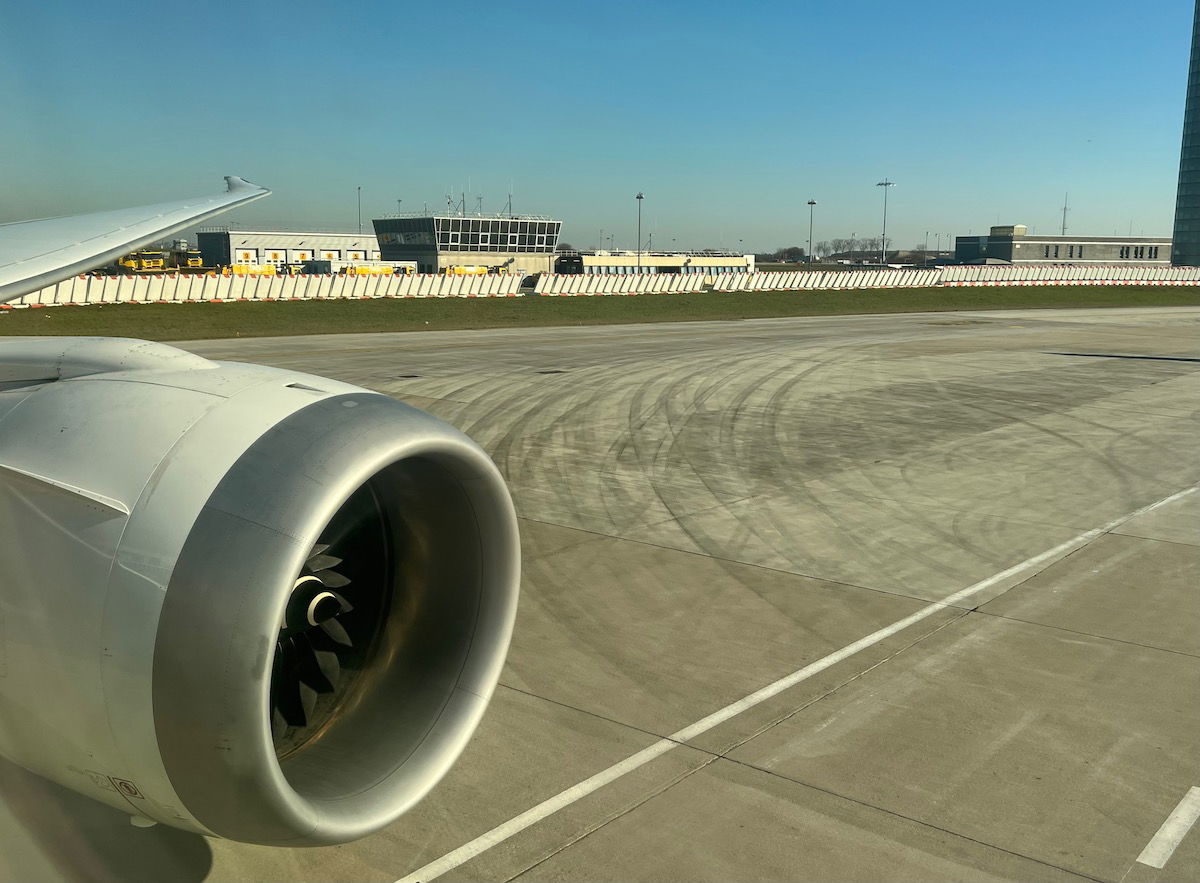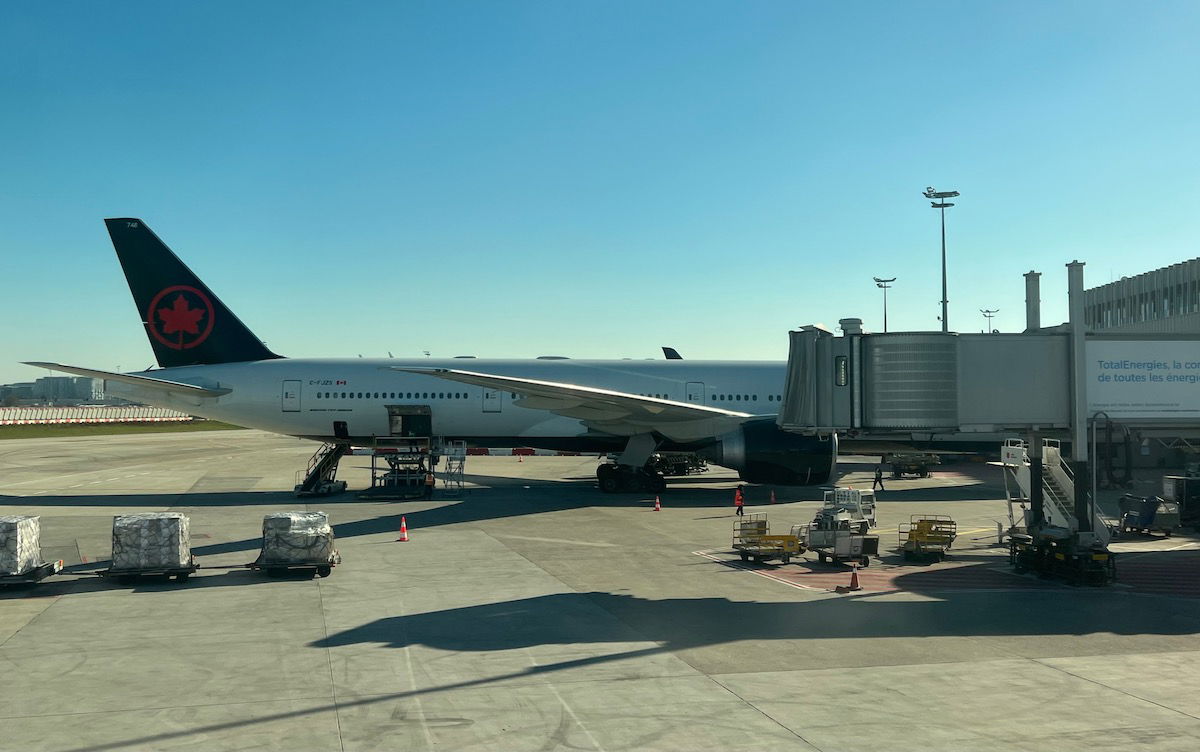 Once in the terminal, I headed toward the Sheraton CDG Airport, where I'd be spending the night, prior to connecting to Air France's 777 business class the following morning.
Bottom line
On the plus side, EgyptAir has a solid business class hard product on its Boeing 787s, much better than on the carrier's older aircraft. Unfortunately that's where the good aspects of the experience end. EgyptAir has lackluster entertainment (and on my flight the Wi-Fi wasn't working), bland meals, and indifferent service.
It's sad, because I feel like with a bit of effort, EgyptAir could offer a cute and competitive inflight experience. I was hoping that when EgyptAir started heavily refreshing its fleet, we would also see an updated soft product. Sadly that hasn't been the case.
What do you make of EgyptAir's 787 business class?