Probably the roughest part of my four flights across the Atlantic was my night at Cairo Airport. I landed in ITA Airways' A320 business class from Rome at 2:25AM, and departed in EgyptAir's 787 business class to Paris at 9:35AM. In this installment I wanted to cover my transfer from Terminal 2 to Terminal 3 at the airport, as changing terminals in Cairo Airport is sort of an adventure.
I have a soft spot for Cairo Airport
While I've only entered Egypt a few times in my life, I've transited through Cairo Airport more times than I can count. Why? Well, there are certain markets known for their incredibly cheap premium fares, reflecting local demand.
Probably the two most popular airports for this are Cairo (CAI) and Colombo (CMB). So in the past it wasn't uncommon for me to position myself to Cairo, just to start a ticket to somewhere else. Admittedly I haven't done too much of this in recent years, given the pandemic. It was nice to finally be back!
Cairo Airport is kind of a disorganized mess, but I try to view the transit experience more as an adventure than a massive inconvenience, or else I'd probably be a very unhappy camper. 😉
I've written endlessly about Cairo Airport, from pleasant experiences, to terrible extended layovers, to the adventures of doing a direct turn, to the most premium yet back alley terminal transfer. So let me share my transfer experience this time around…
How to get from Terminal 2 to Terminal 3 at Cairo Airport
My ITA Airways flight arrived at Terminal 2, while my EgyptAir flight departed from Terminal 3. I know many people find themselves having to make this kind of transfer, so what's the situation like in 2023? Well, it's still a process, but not as much of a process as in the past.
The good news is that you can do an airside transfer between the terminals, so there's no need to go through immigration or even security. The bad news is that the whole experience is still rather disorganized, and at the discretion of the immigration officers. Furthermore, every single employee I interacted with throughout this process (and there are way more than I can count) was unfriendly and borderline hostile. I haven't consistently found that to be the case, so maybe I just got unlucky this time around.
Upon arriving at Terminal 2, I followed the signage in the direction of arrivals.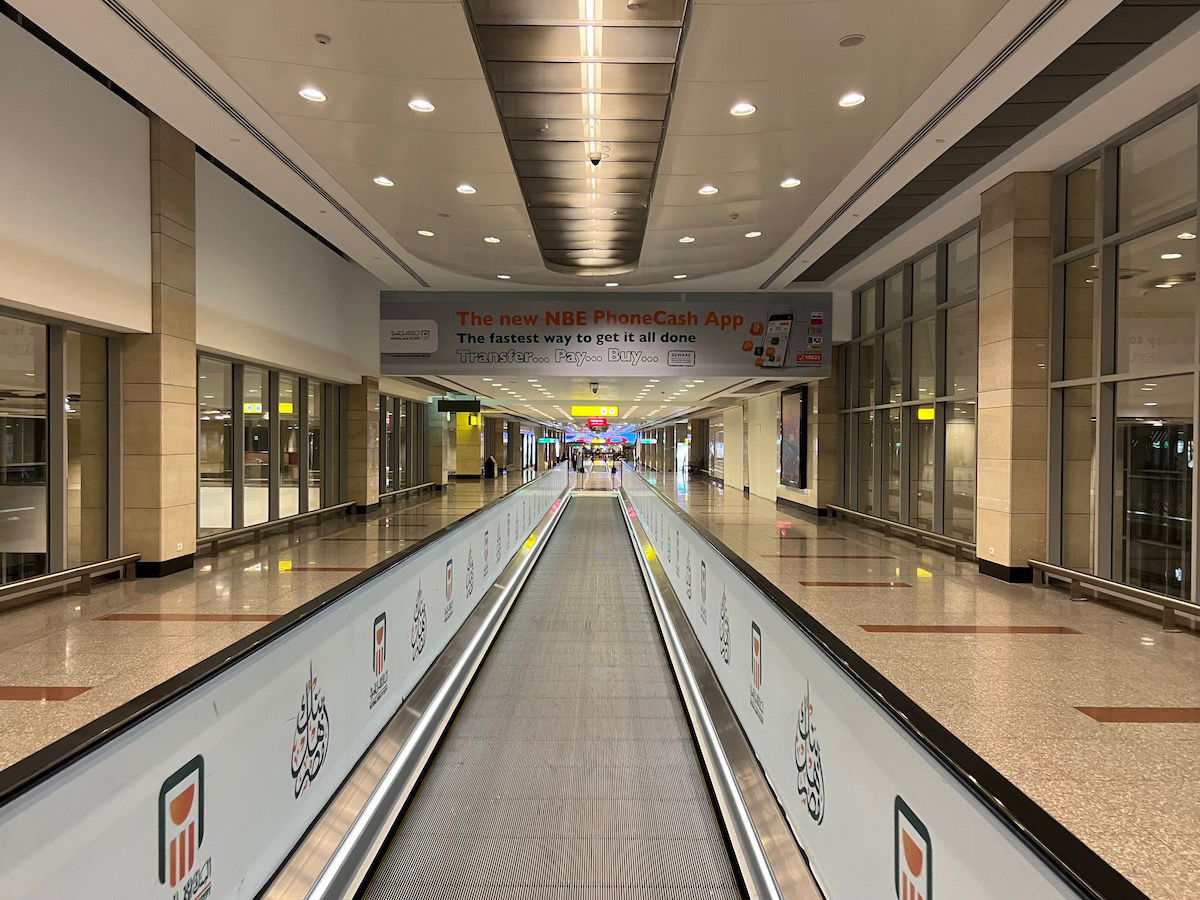 Rather than taking the escalator down to the immigration level, I instead stayed on the same level as arrivals, and followed the signage toward connecting flights and the transit info counter.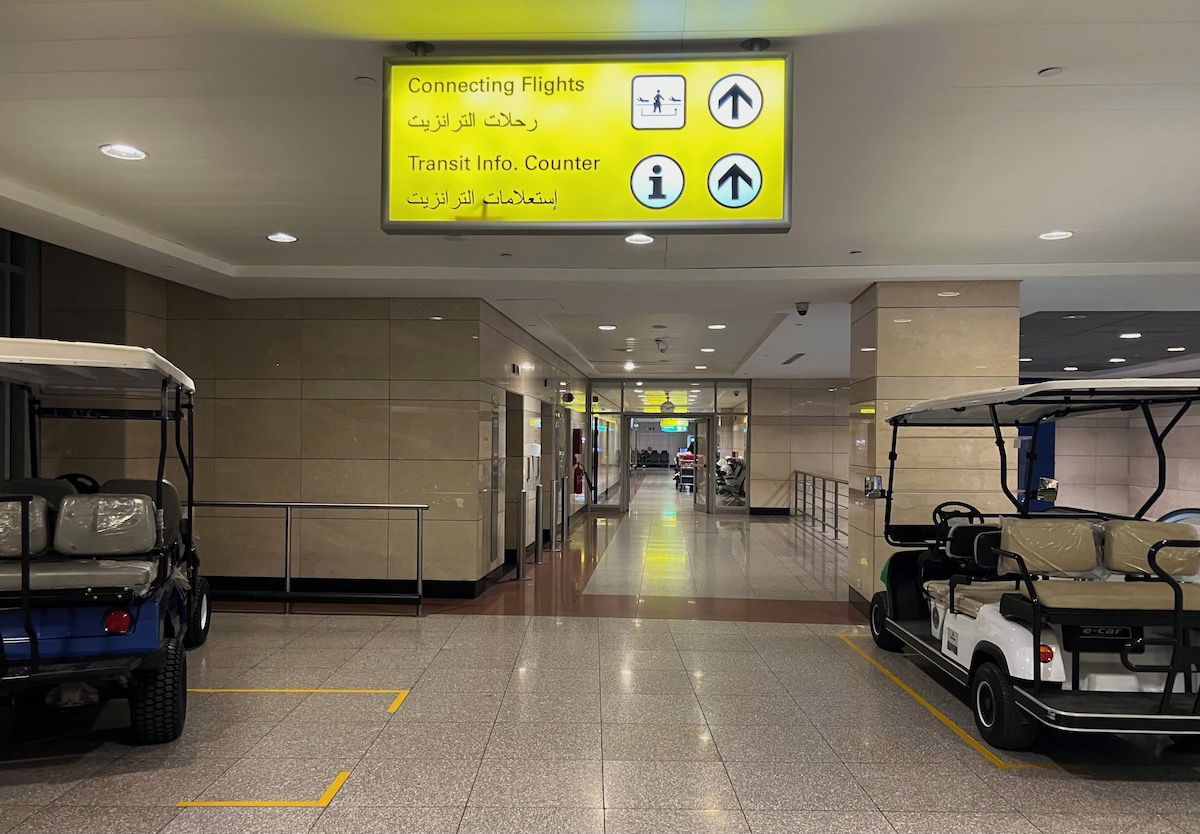 This brings you to a room that has a desk with an immigration officer, plus quite a few people sitting around. The immigration officer requested to see my passport and boarding pass, and told me to have a seat. I asked him roughly how long I'd have to wait, and he said "sit and wait!"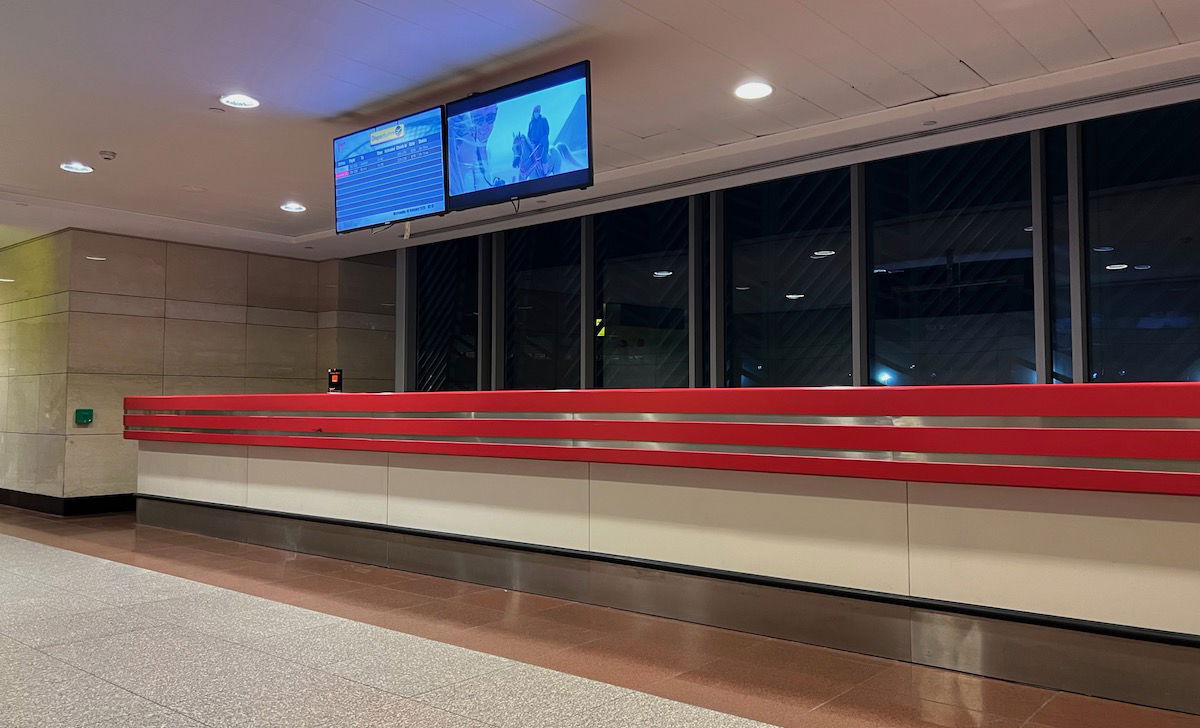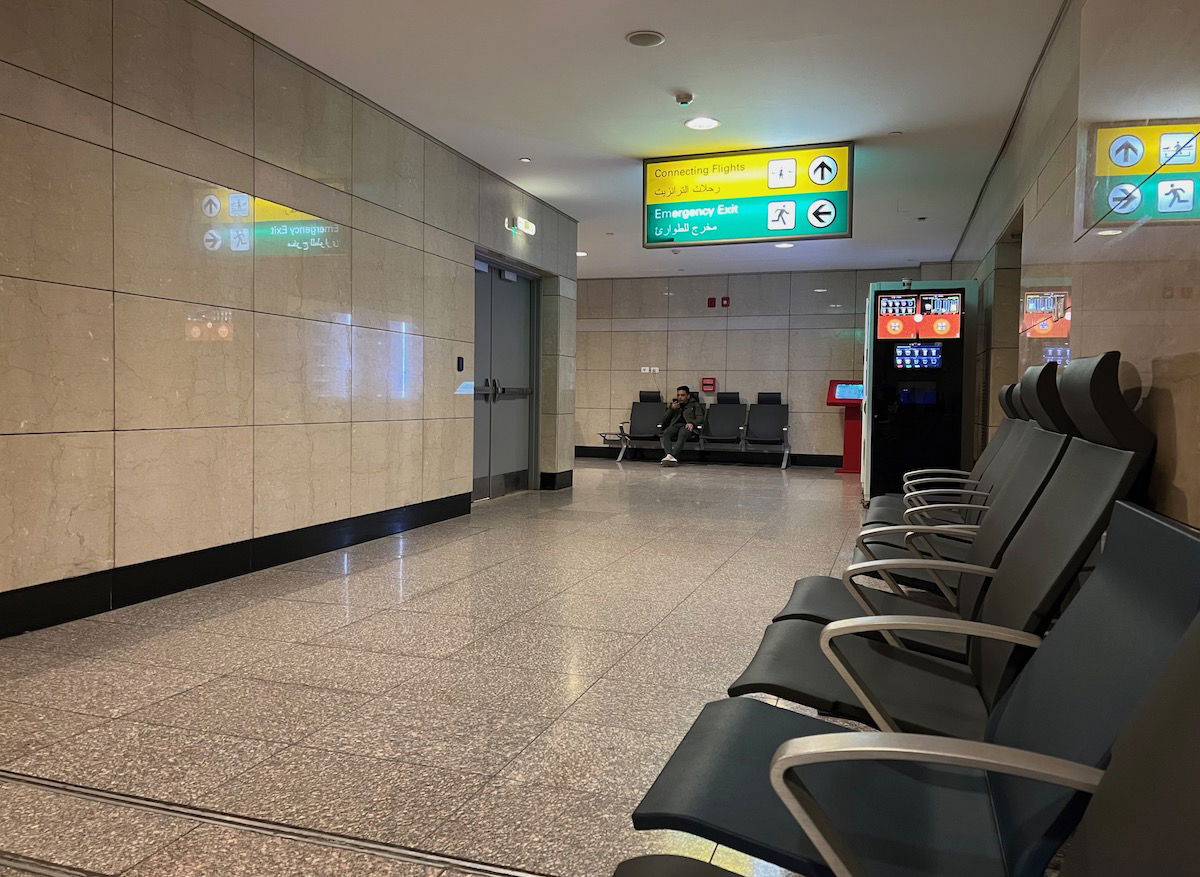 Okay, I've been in this situation before. While you're not going to miss your connecting flight, in my experience they sometimes make you wait in this room for hours before letting you go to the other terminal. I'm not sure what exactly determines your wait time.
Fortunately this was my lucky day. Within about 10 minutes, the immigration officer yelled and pointed at me, said "you," and then motioned for me to follow him. He then walked with me toward the elevator and took me down to the lower level, where the immigration counters are located. There I was told to have a seat and wait for the connecting bus.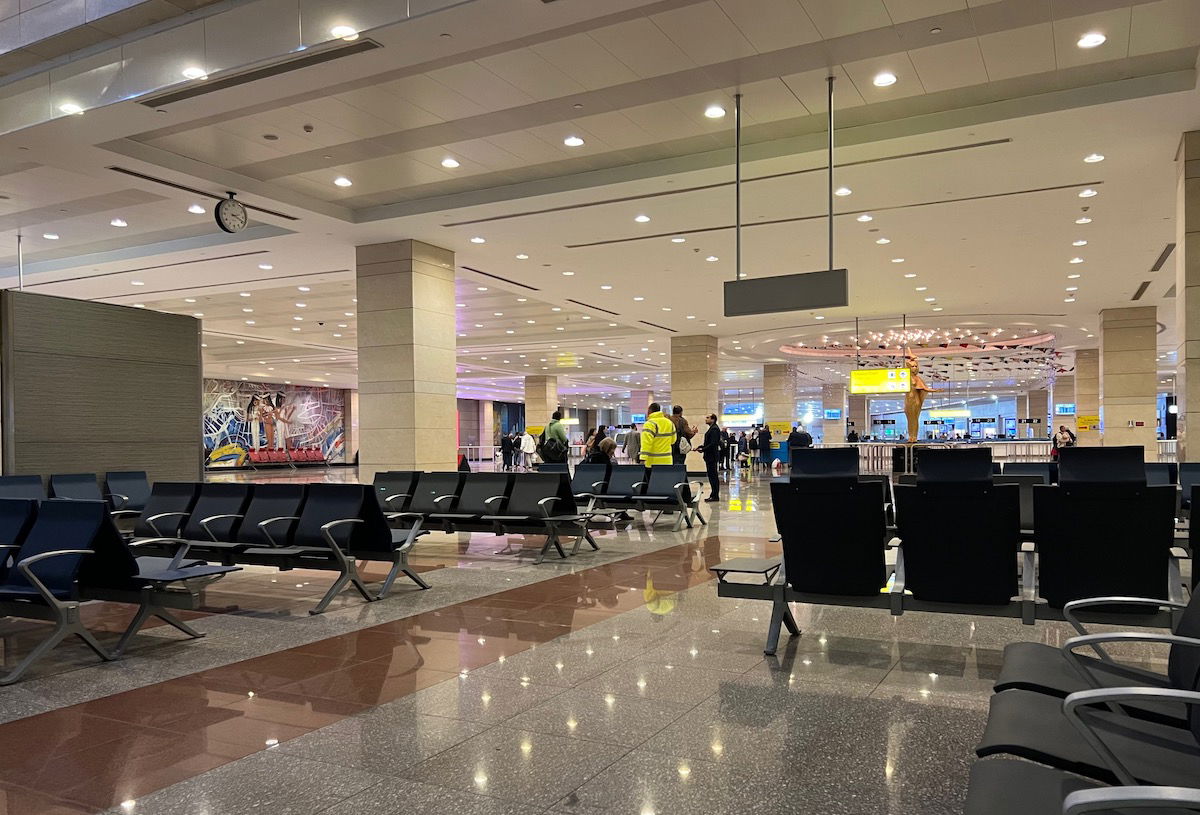 Once there, I had to wait for roughly 30 minutes until the bus arrived. I seemed to be the only person making a transfer at this hour, as no one else showed up.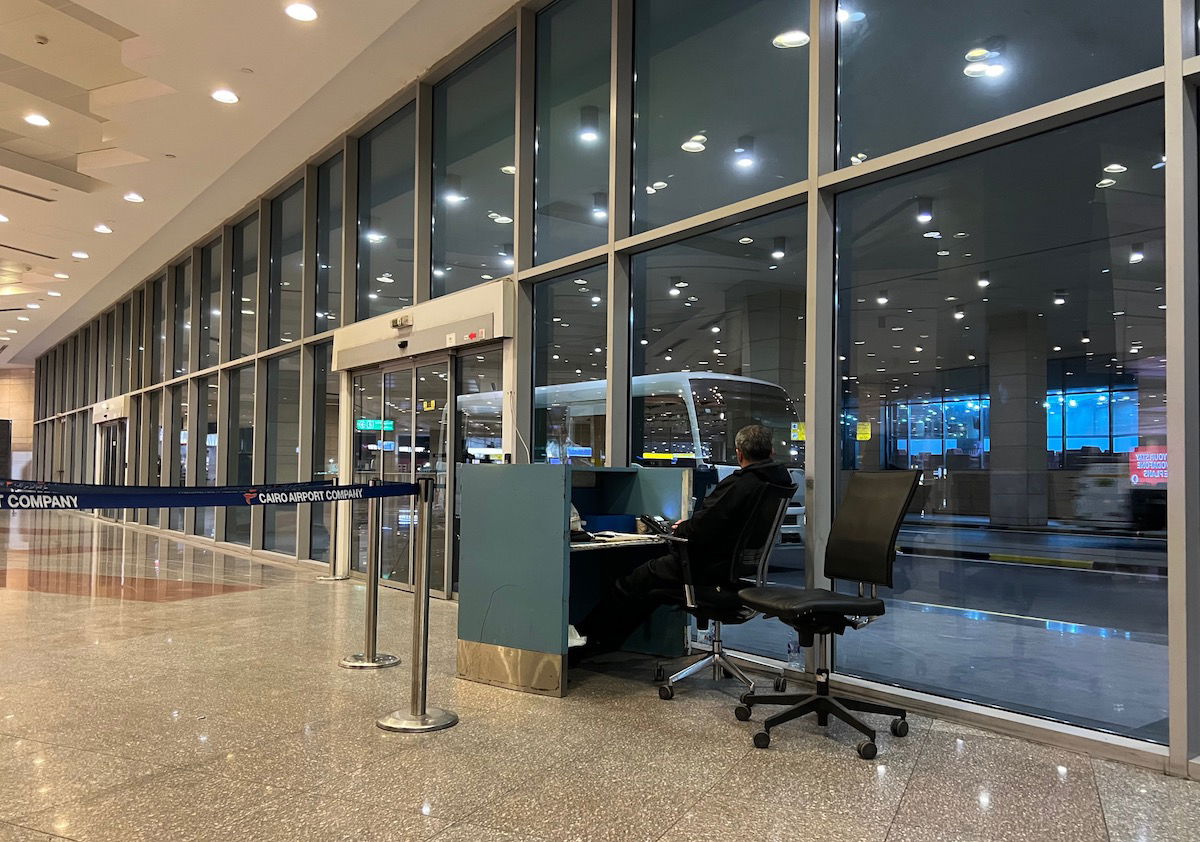 The bus ride also wasn't without a bit of excitement. There was only one couple on the bus, but they had put their bags all over the bus, so the driver told me to just stand right by the door, because the drive would only take two minutes.
This ended up being kind of awkward, since the only way I could really position myself and my bags was to be face to face with the wife (so I could hold onto my bag without it falling). The husband then (I believe) in broken English told me to stop looking at his wife, which I most certainly wasn't doing (I was looking over her head facing the back of the bus). Anyway…
Once I arrived at Terminal 3, the adventure continued. There was a locked door to get into the terminal, and there was an immigration officer sitting near it, but he was asleep. The bus driver had to knock on the door pretty hard for him to wake up.
Fortunately I then found myself in Terminal 3, and didn't even have to clear security. By Cairo standards, I'd consider this to be a win…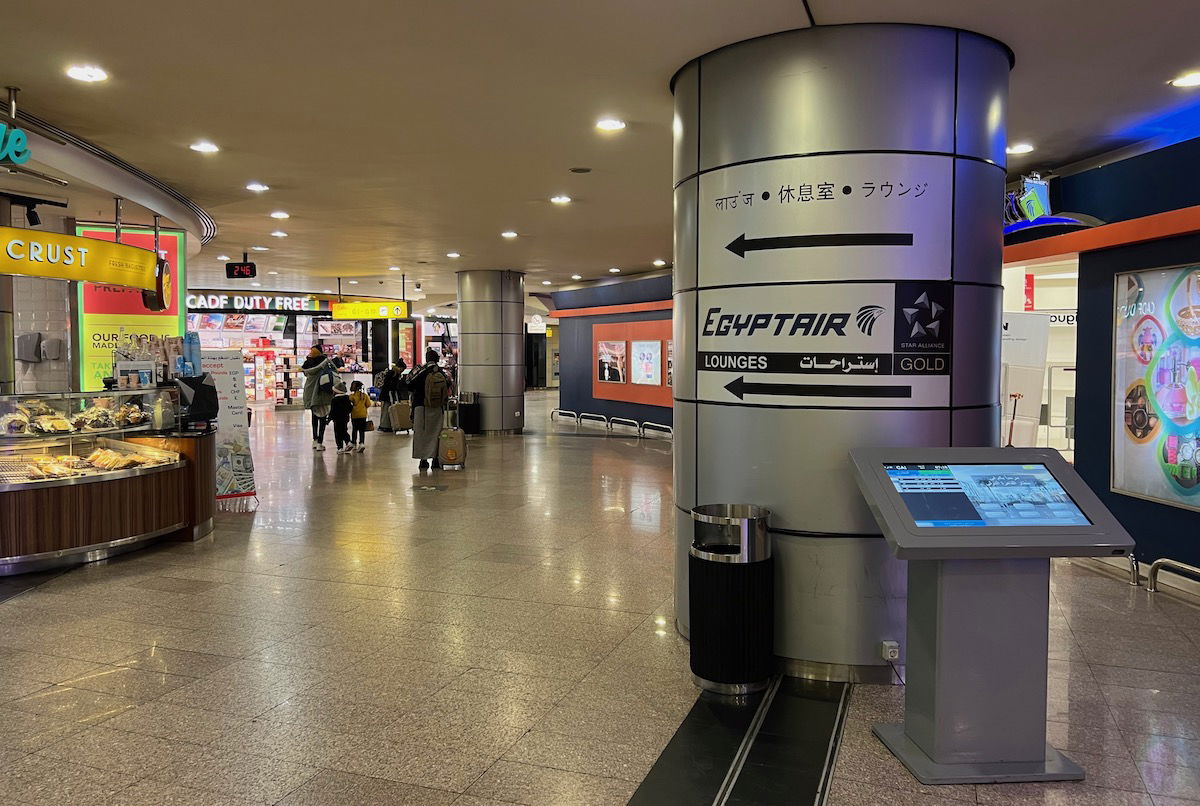 Bottom line
Changing terminals at Cairo Airport isn't exactly an efficient process. On the plus side, on this trip I had one of my fastest transits ever, as it took less than an hour to get between terminals.
I'm still not sure I understand why changing terminals at Cairo Airport has to be such a production. You'd think you could just head straight to the transfer area, show your boarding pass, and get on the bus when it arrives, rather than first having to sit in the immigration office until the officer decides to let you leave.
If you've changed terminals at Cairo Airport, what was your experience like?