To continue my four flights across the Atlantic journey, I'd next be flying Air France's new Boeing 777 business class from Paris to New York. Prior to my flight, I had the chance to check out the Air France Business Lounge Paris. Specifically, I visited the lounge in Terminal 2E Hall K, in the non-Schengen portion of the terminal.
Even though I've heard that this is Air France's least nice non-Schengen lounge, I still had a pleasant experience, with plenty of seating options, friendly staff, and pretty good food and drinks.
The basics of Air France Lounges Paris Airport
In addition to the exceptional Air France La Premiere Lounge (which I rank as the best lounge in the world), Air France has five business class lounges at Charles de Gaulle Airport:
Air France has three non-Schengen lounges in Terminal 2E, located in Concourses K, L, and M; note that since each of these concourses has its own security checkpoint, you can only use the lounge corresponding to the gate area you're departing from
Air France has two Schengen lounges in Terminal 2F and 2G
Air France has been working on refreshing its lounges in Paris, and the pictures of the new lounges look fantastic. Go figure my flight was departing from Terminal 2E Concourse K, which has the Air France Lounge that's next in line to be renovated.
So despite this being the oldest Air France Lounge, I was still generally impressed.
Air France Lounge Paris Airport location
As mentioned above, I visited the Air France Lounge located in Terminal 2E Hall K of Charles de Gaulle Airport. To access the lounge, just clear immigration and security, and then turn left. You'll see signage in the direction of gates K21-K41, plus the lounge.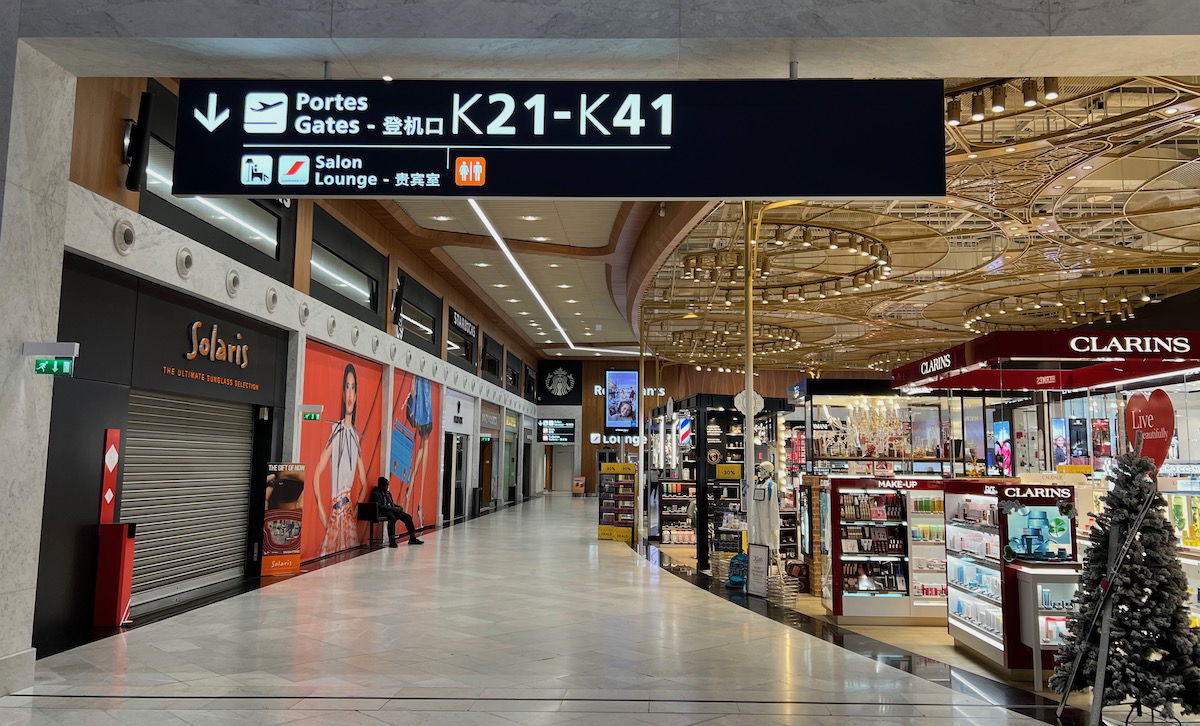 At the end of that hall you'll see the elevators leading down a level to the lounge (it's located on level -1).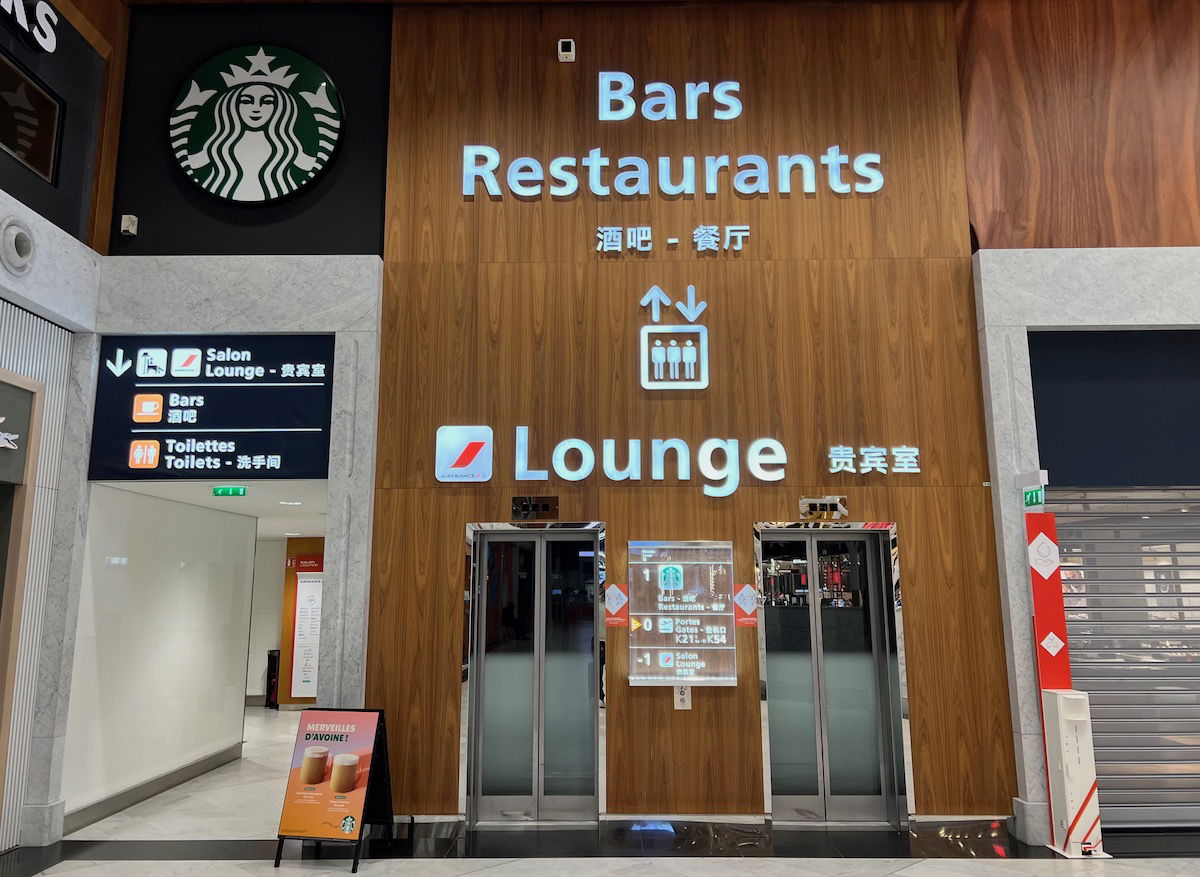 Once outside the elevator, the lounge is to the right, and is easy to find.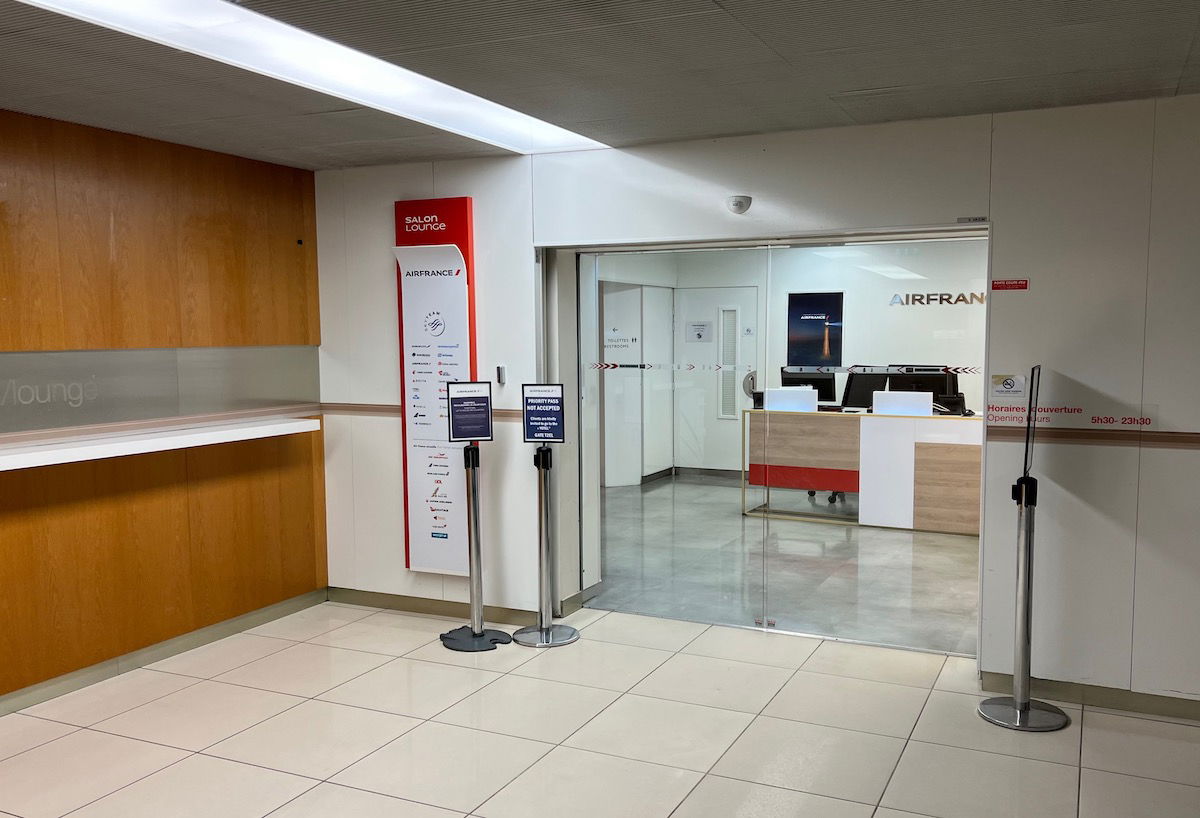 Air France Lounge Paris Airport hours
The Air France Lounge Paris Terminal 2E Hall K is open daily from 5:30AM until 11:30PM, covering all departures from the terminal. I arrived right when the lounge opened, and my flight to New York was departing at 8:30AM.
Air France Lounge Paris Airport entry requirements
The Air France Lounge Paris is a pretty standard lounge when it comes to SkyTeam lounge access policies:
The lounge can be accessed by Air France business class passengers, as well as business class passengers on SkyTeam partner airlines, including Delta; no guests are allowed
SkyTeam Elite Plus passengers (including Flying Blue Gold members and above) on Air France and SkyTeam partners can also access the lounge; one guest is allowed
You can also purchase access to the Air France Lounge, either by logging into your itinerary in advance, or at the airport. However, pricing varies.
Air France Longe Paris Airport layout & seating
The first thing that stood out to me upon entering the lounge was just how kind and charming all the employees at the reception desk were. Usually you're just scanned in and barely get a word from the staff members.
In this case a staff member greeted me by name upon scanning my boarding pass, explained the different facilities to me, and also enthusiastically commented on how my flight would feature Air France's new business class. First impressions make a big difference, and that's one of the things I most remember about my visit to the lounge.
Anyway, the Air France Lounge is quite large (especially when you consider it's one of five lounges), but then again, that capacity is needed given how big Air France's network is, and how many people have lounge access. When you enter the lounge you can either turn left or right — the area to the left is a bit larger, has natural light, and has a second floor, while the area to the right might be a bit quieter.
Upon entering the lounge and turning left, you'll see a variety of cafe-style tables, each with two chairs. This is near one of the main buffets (there's a buffet in each part of the lounge).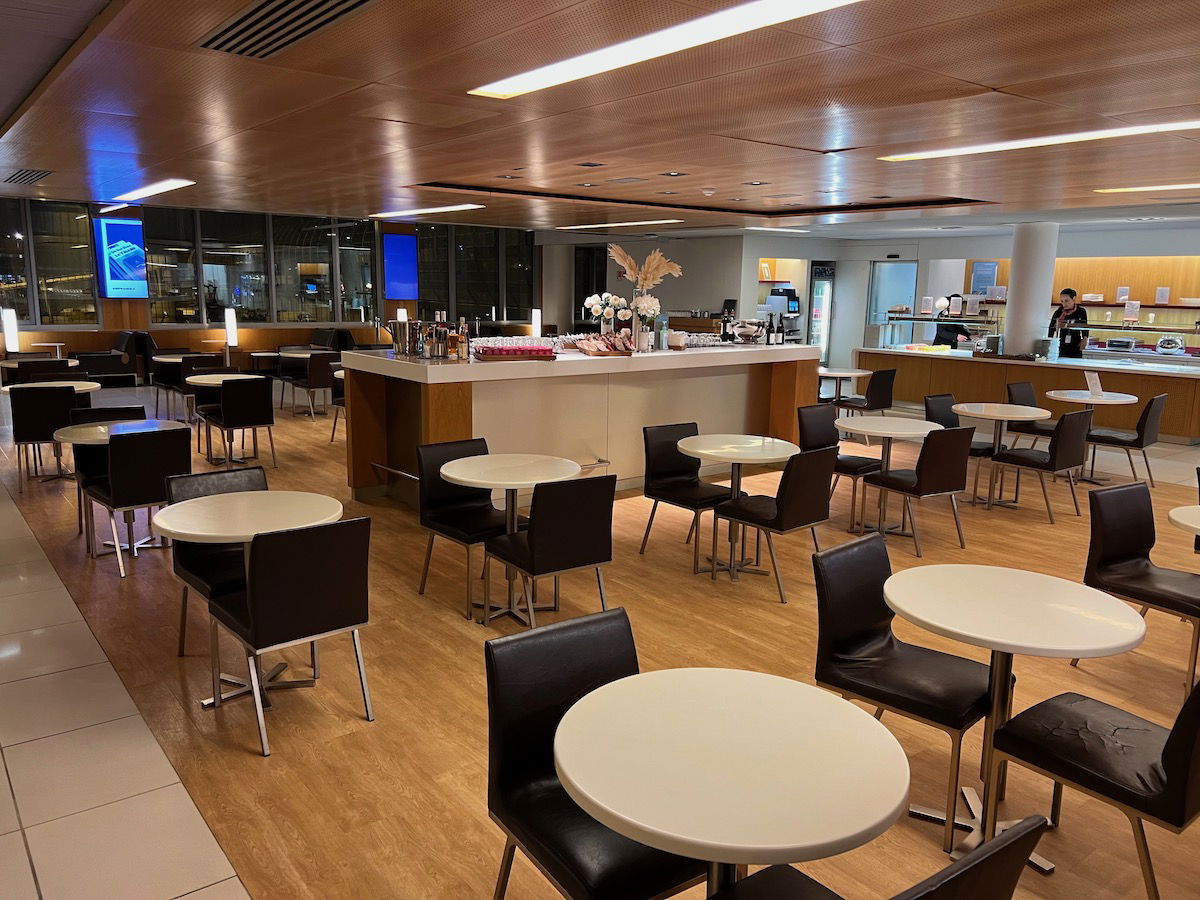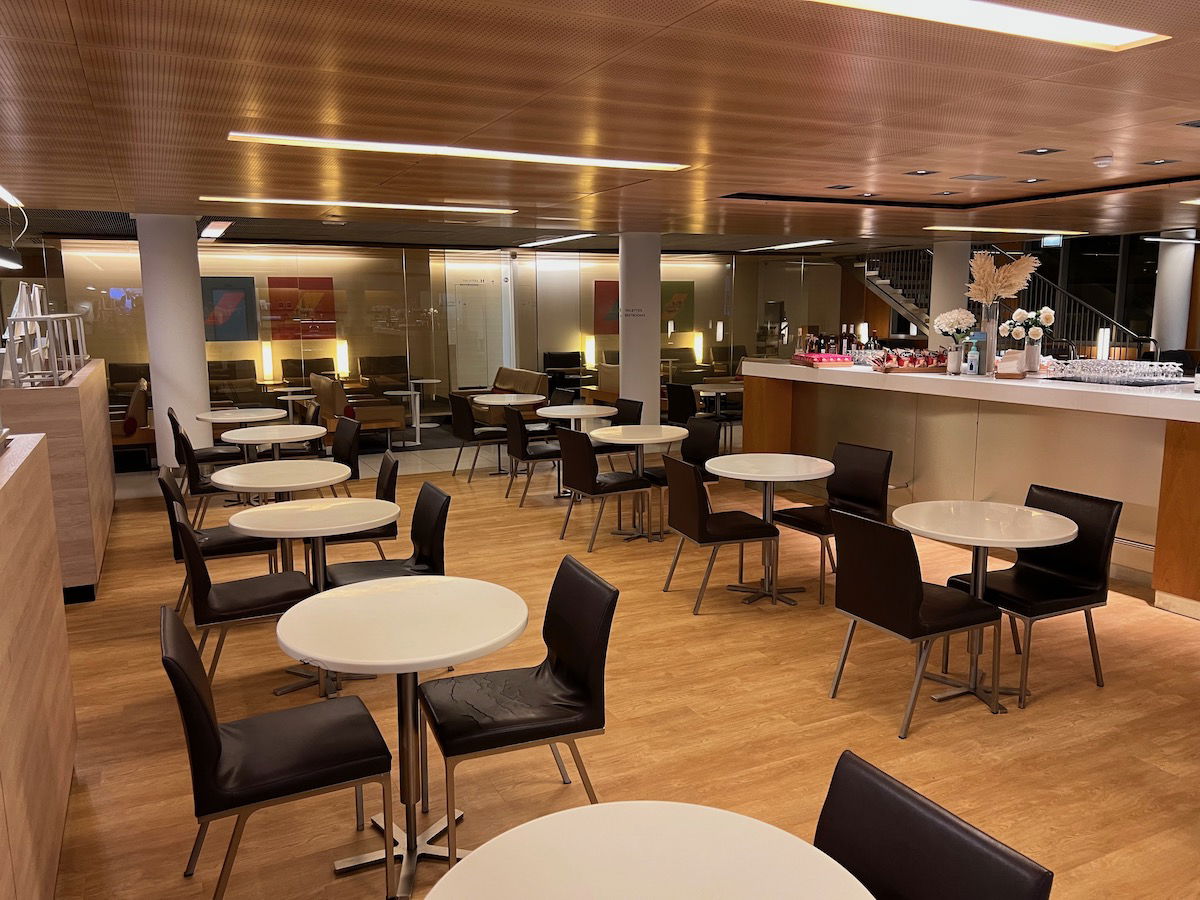 There are then couches and chairs with side tables in the area around the dining tables.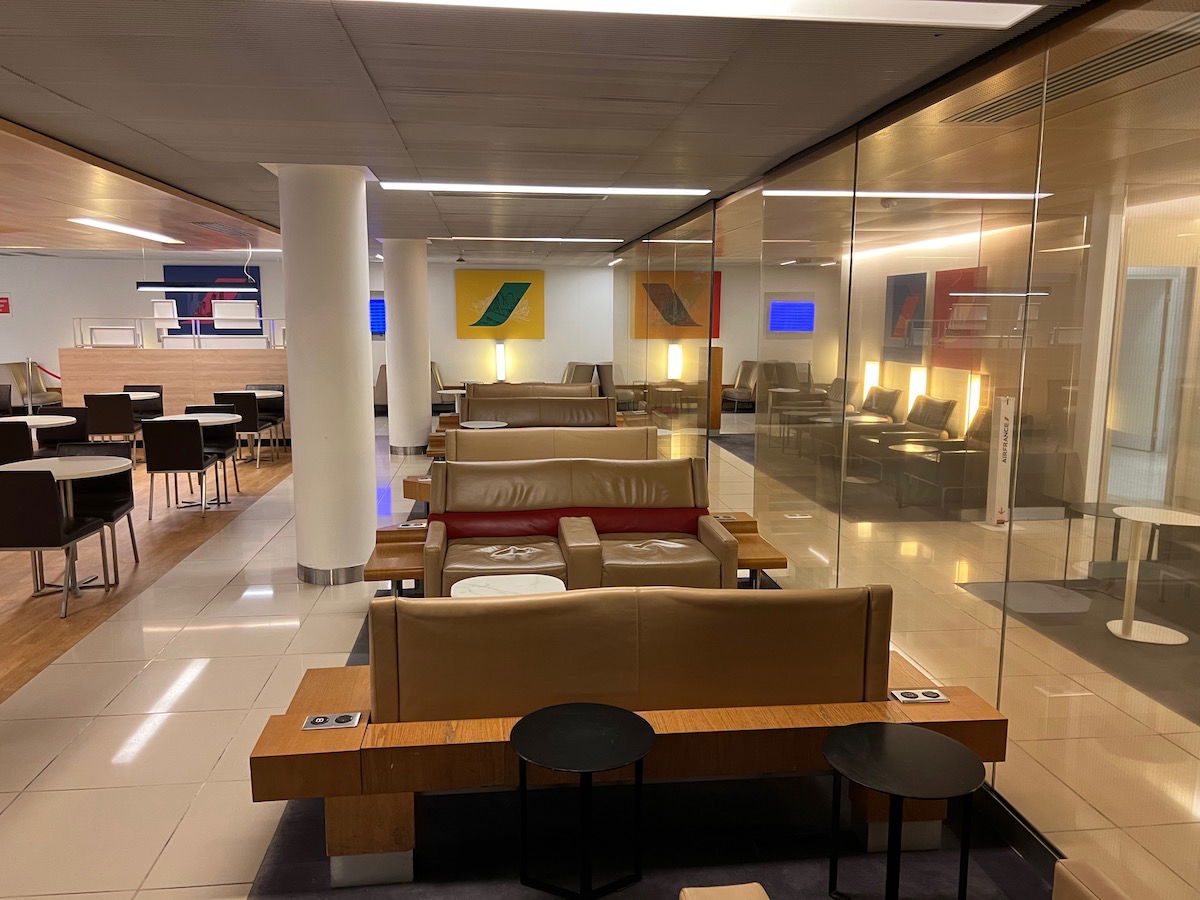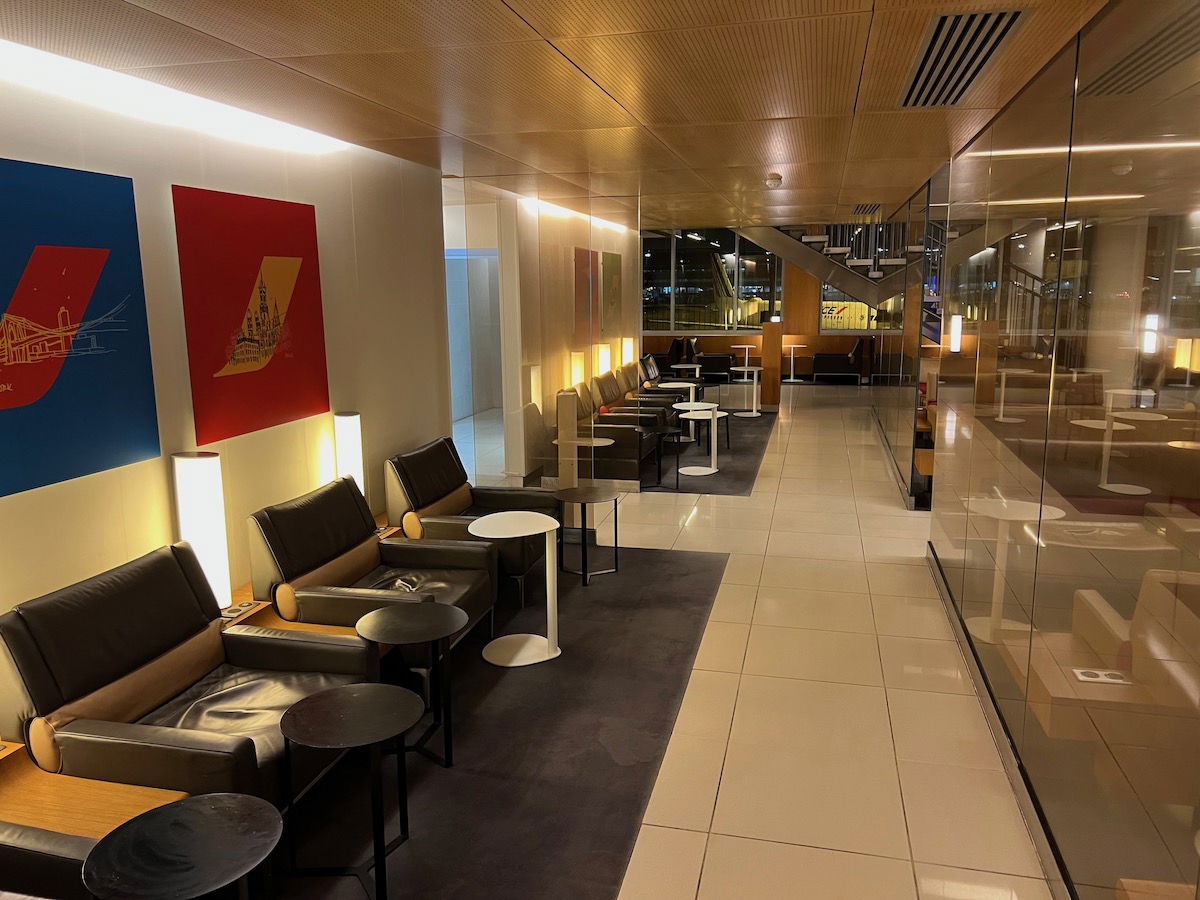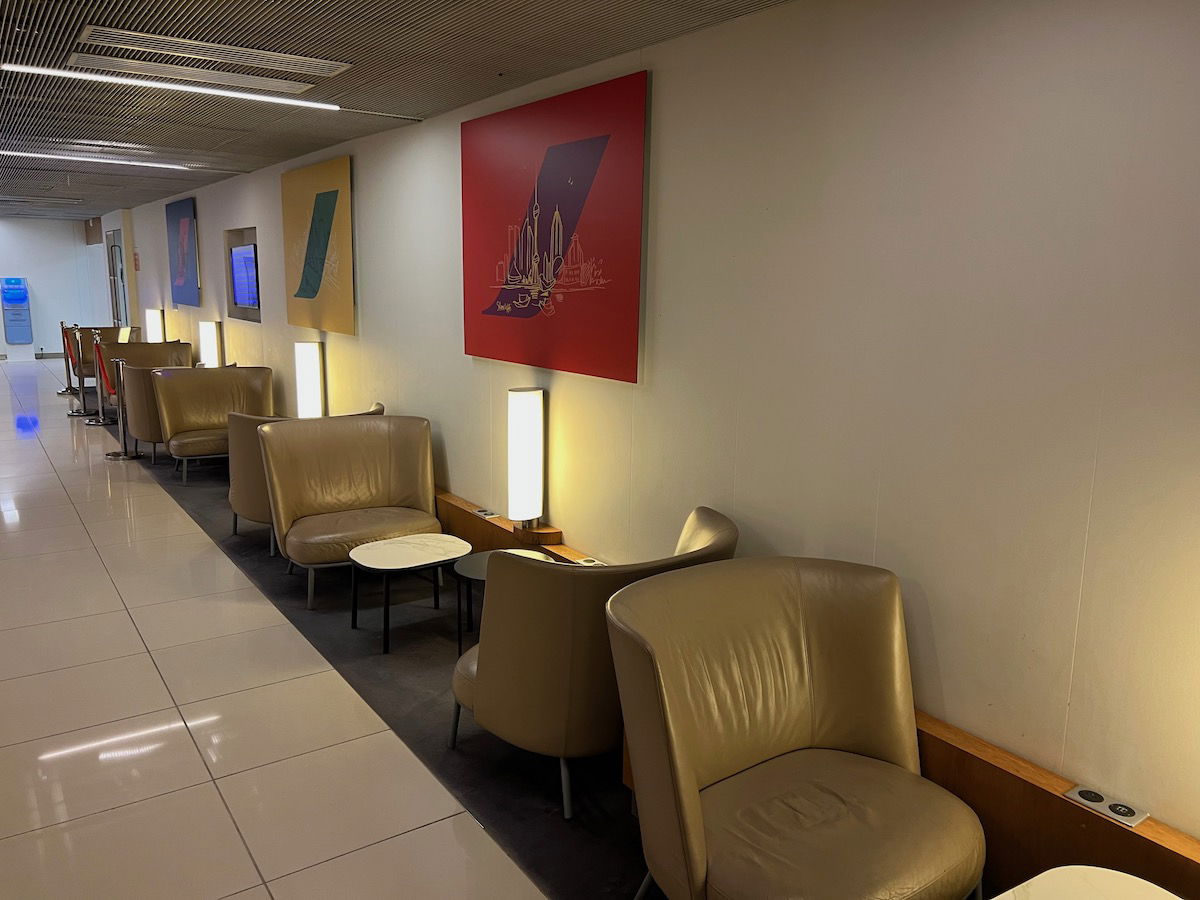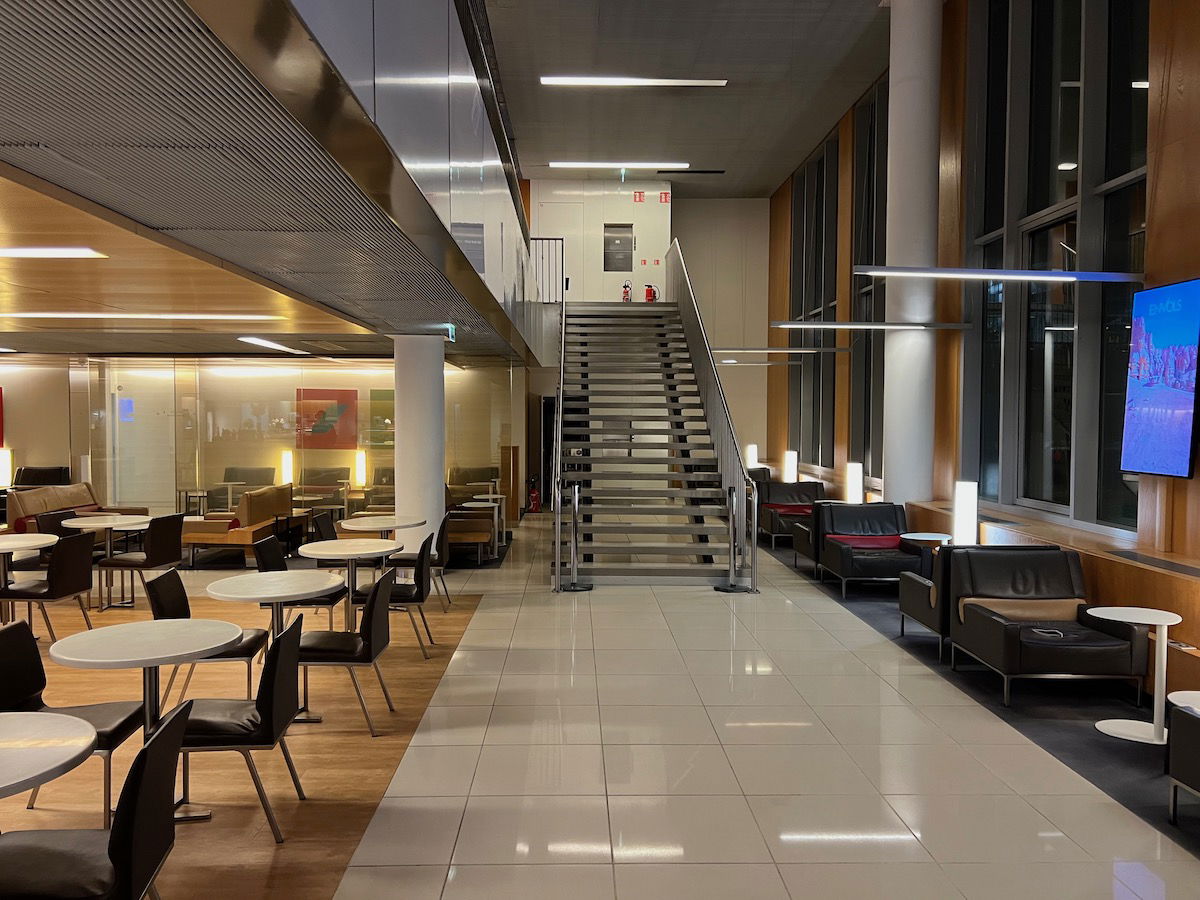 If you enter the lounge and turn right, you'll be in the other section, which is a bit similar, and lacks natural light. This area also has lots of cafe tables, as well as couches and more traditional lounge chairs intended for those just looking to relax.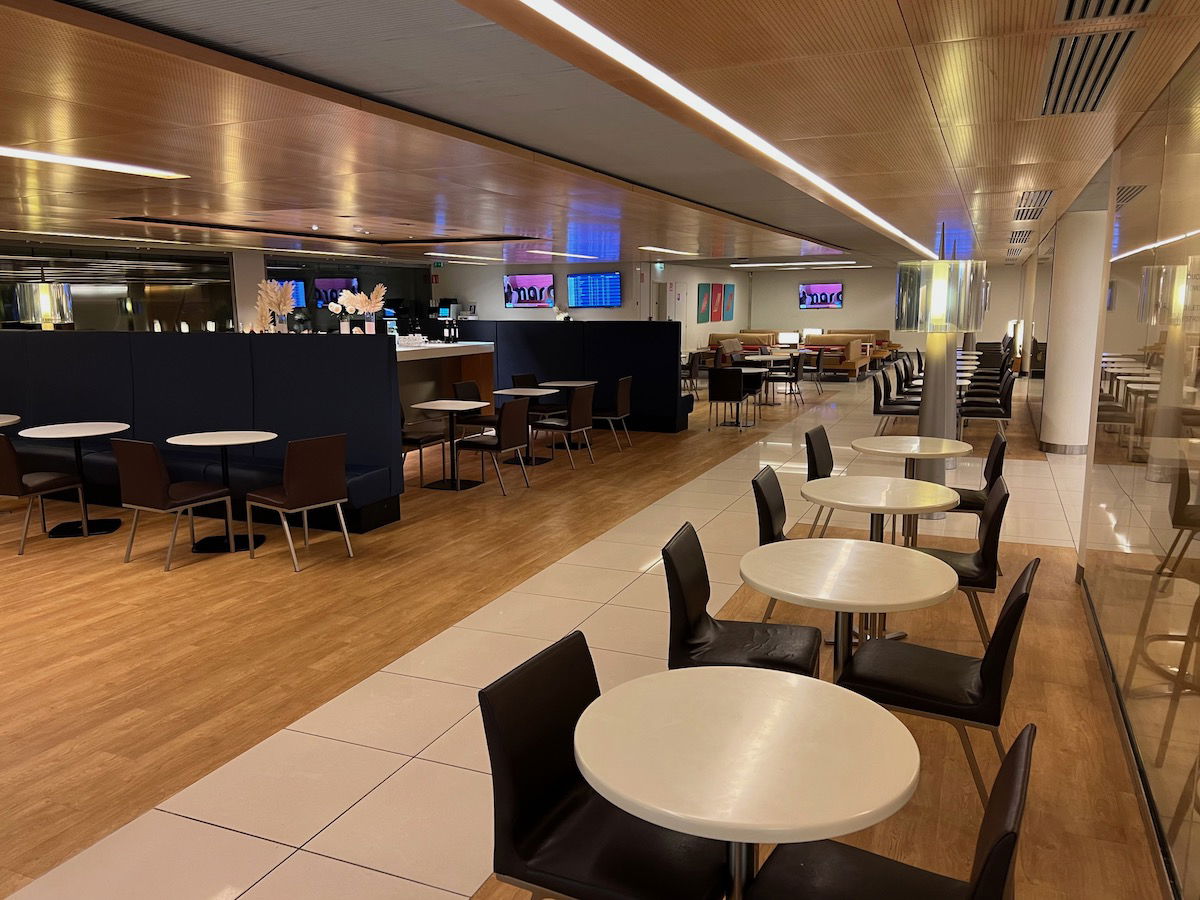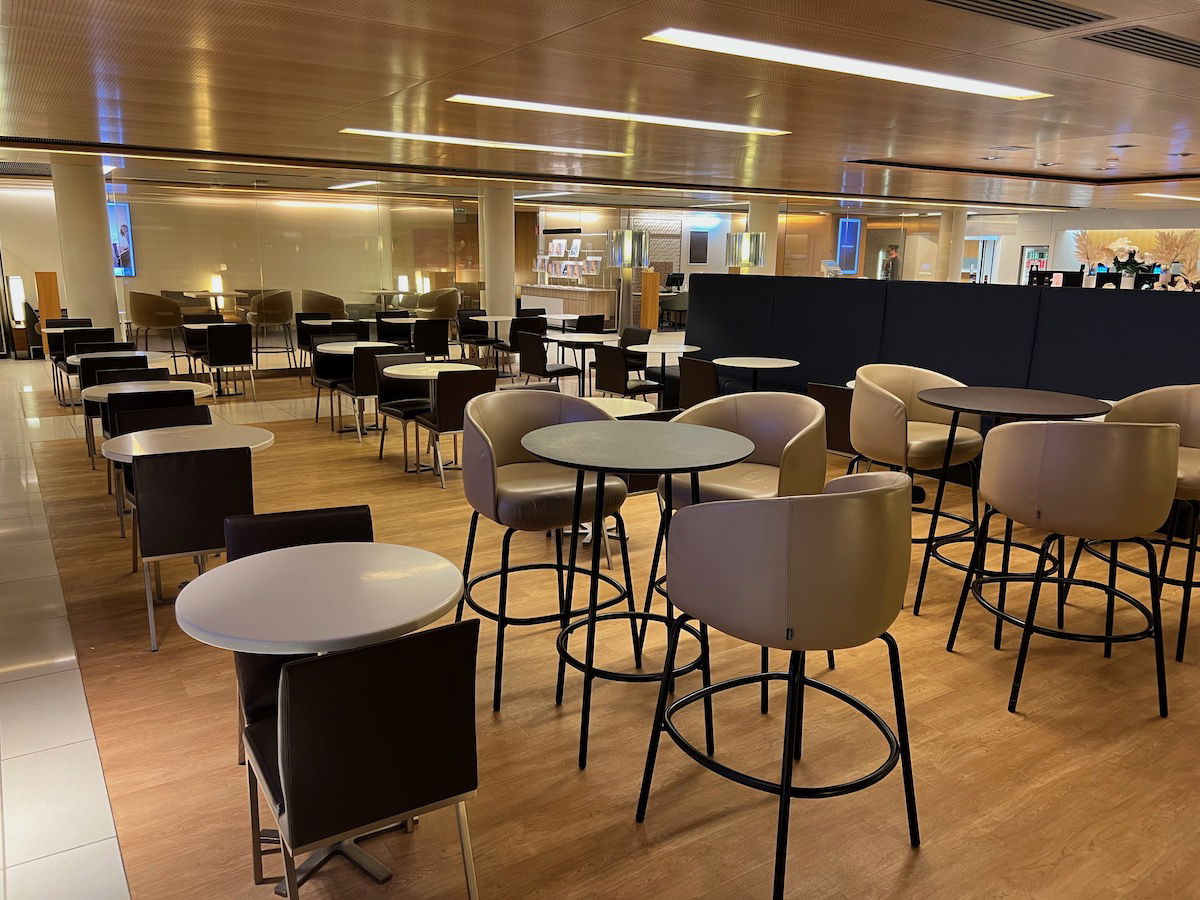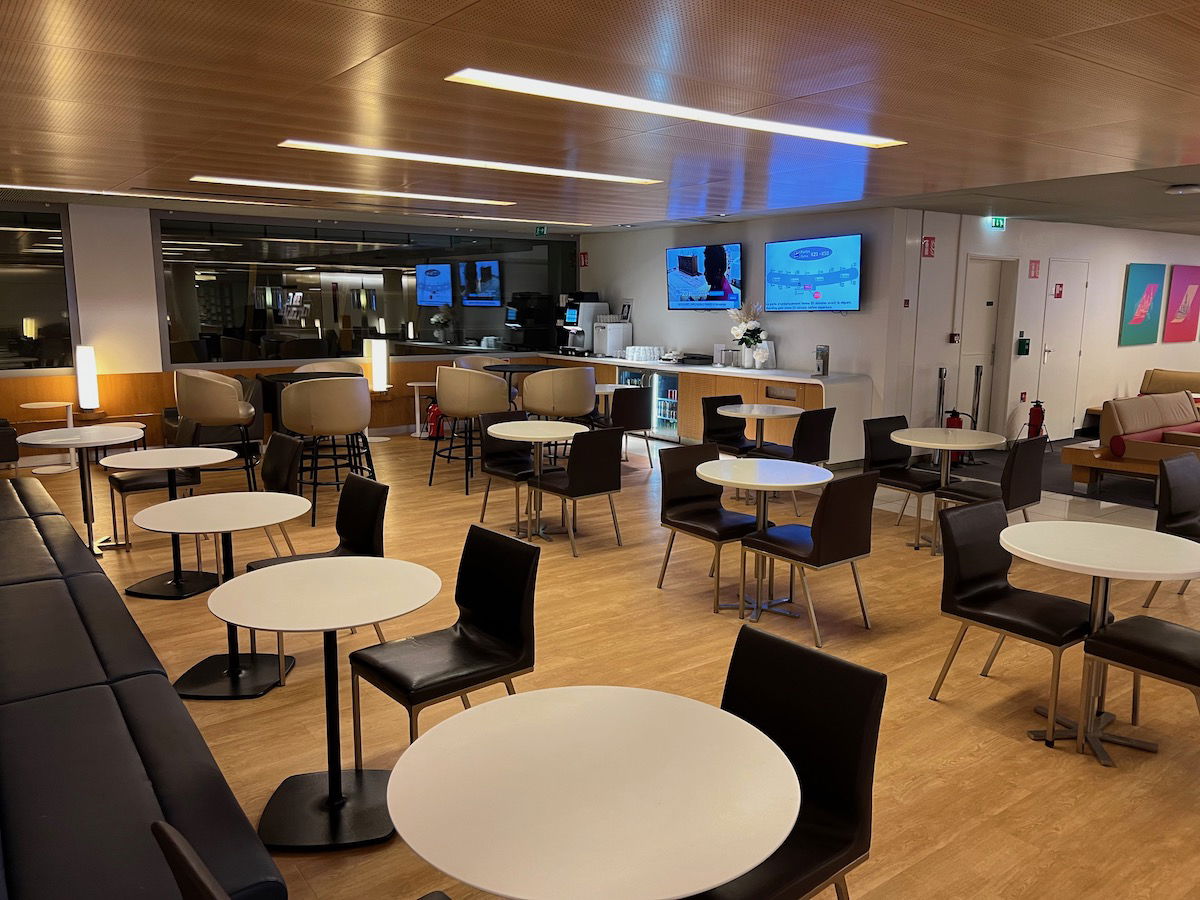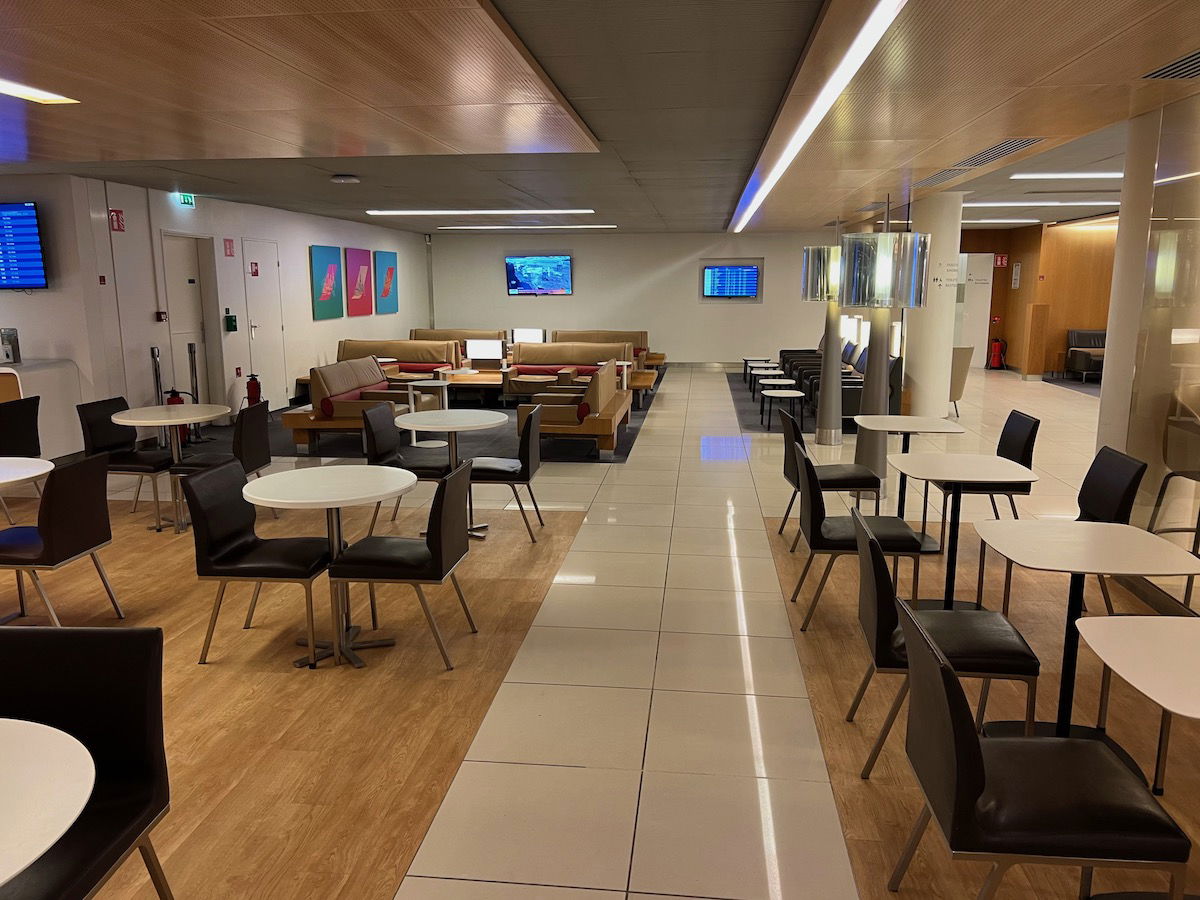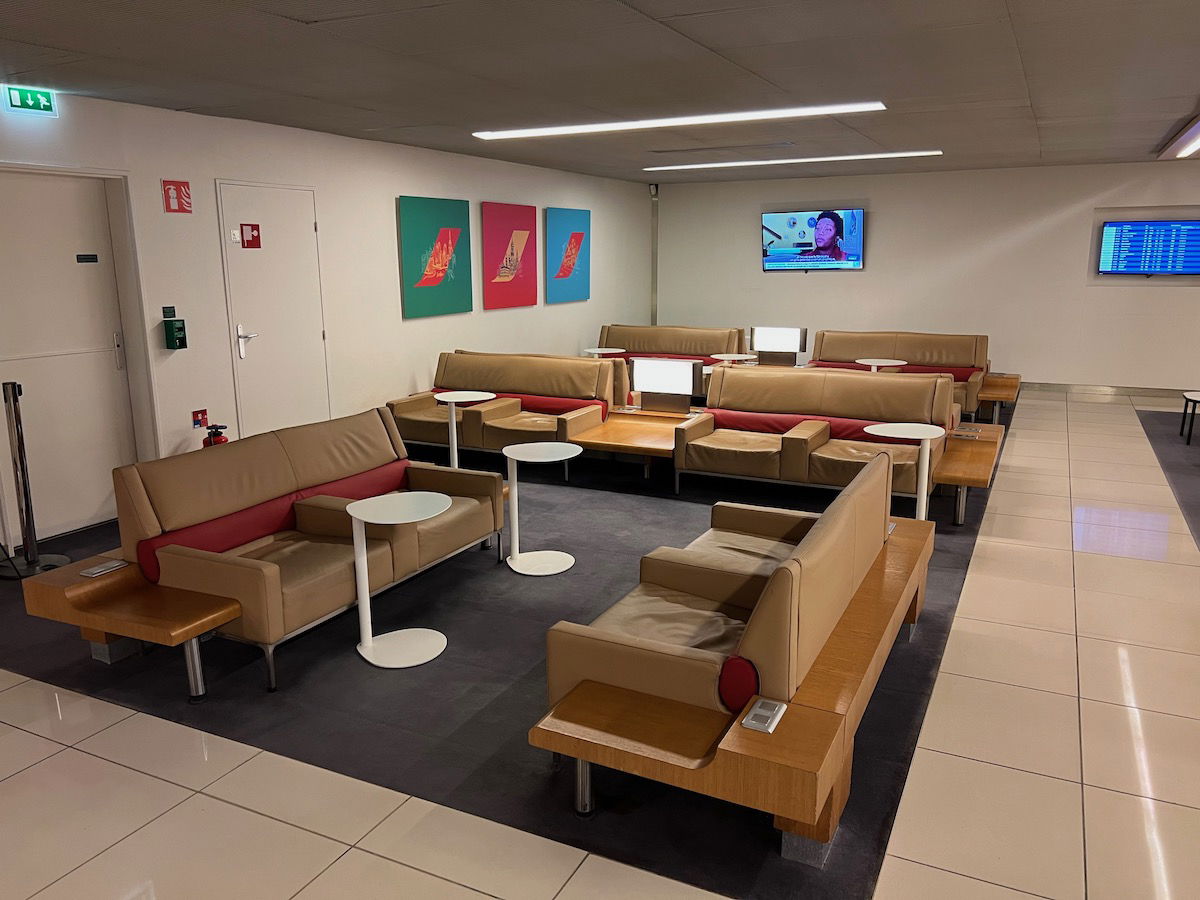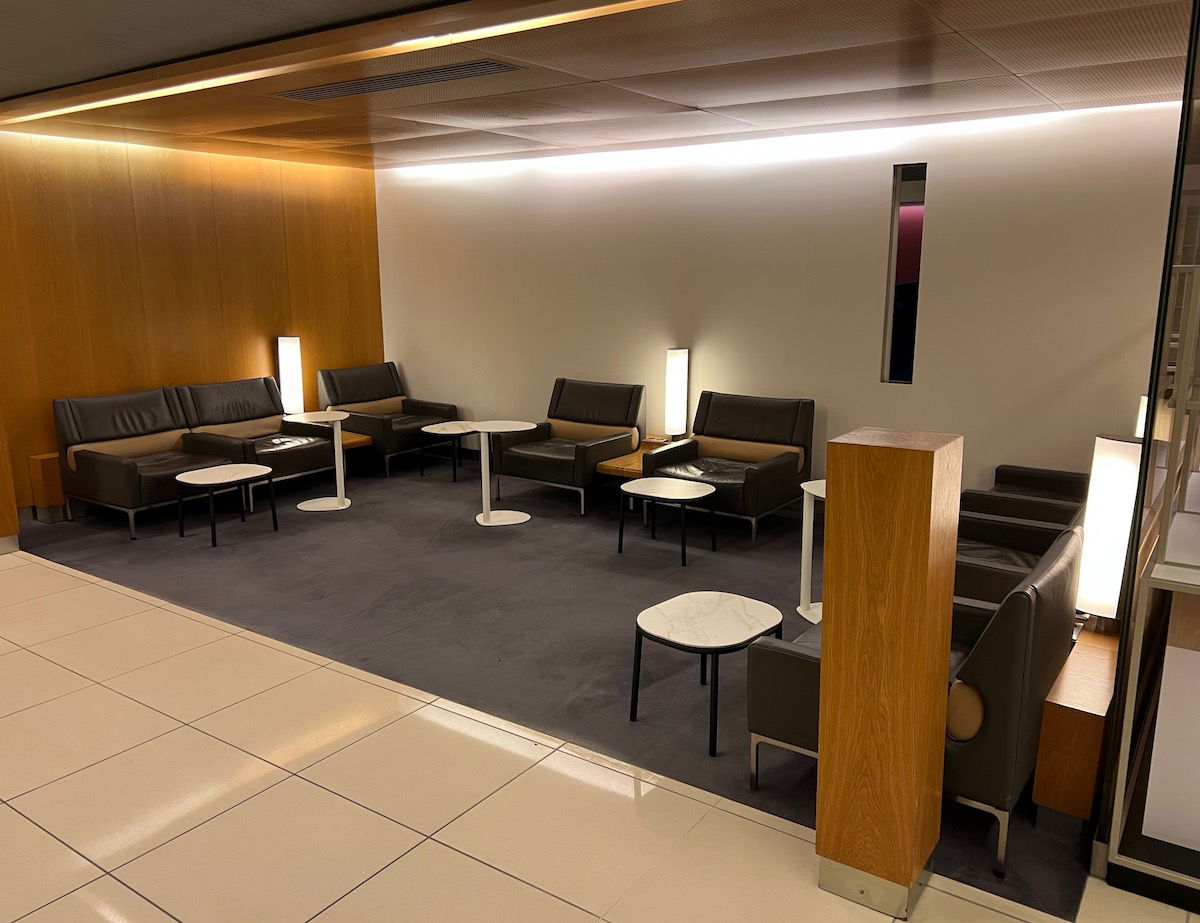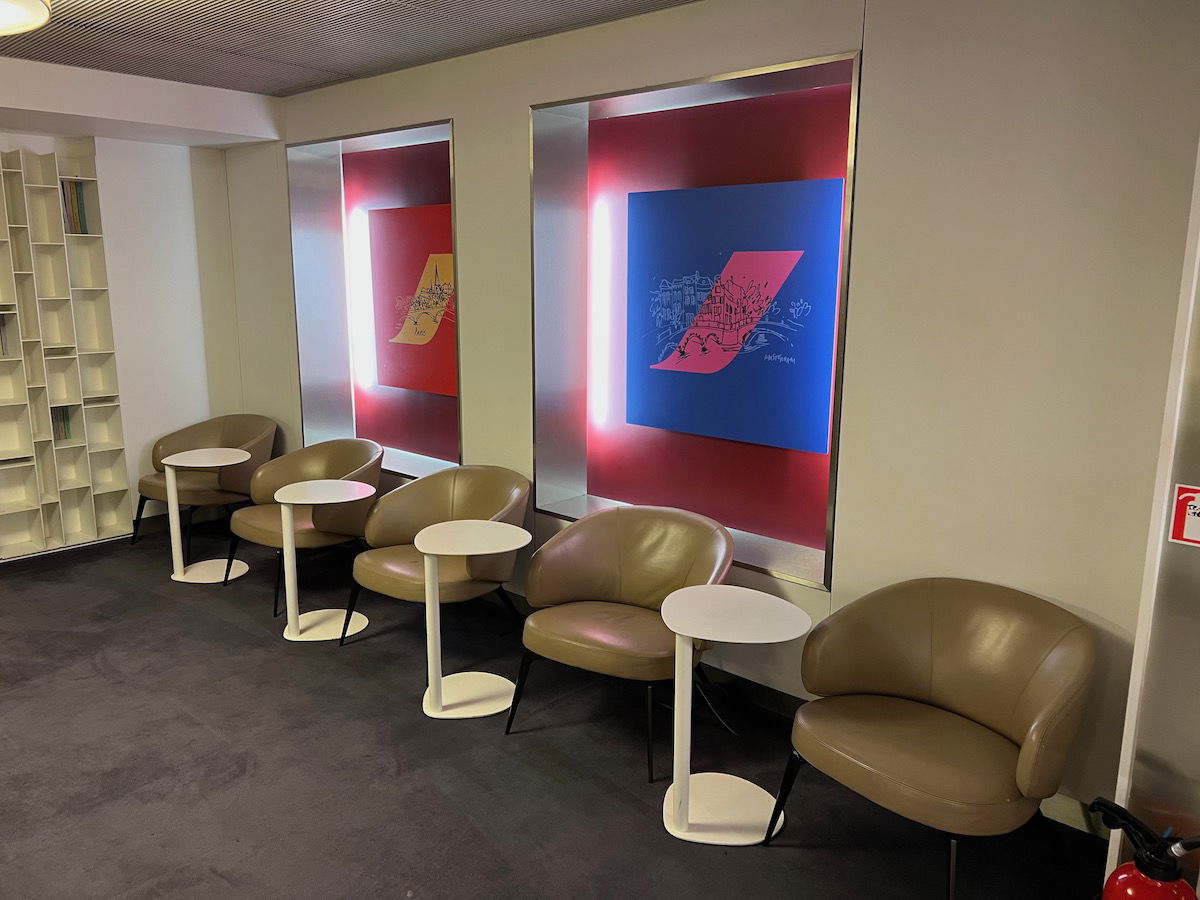 There's a smaller room to the side of this part of the lounge with some especially comfortable blue couches.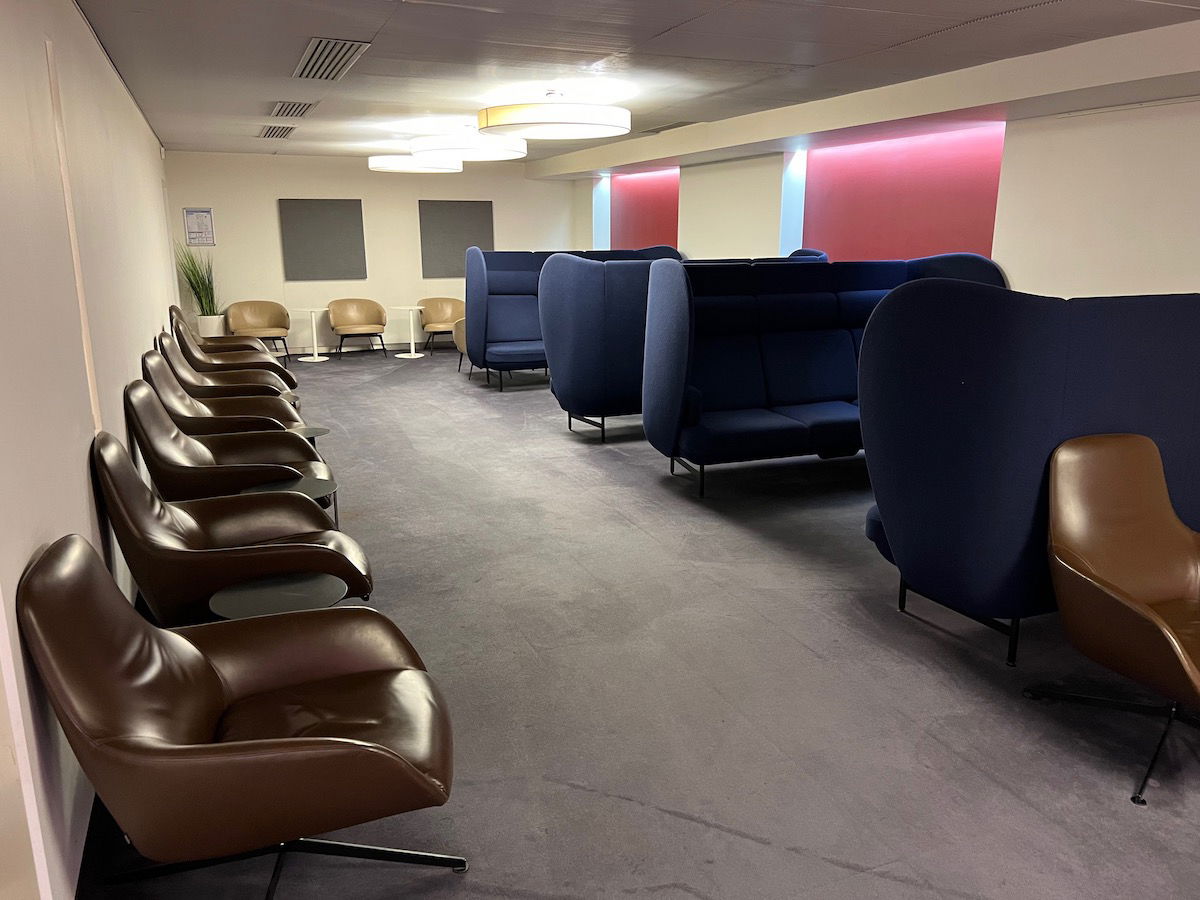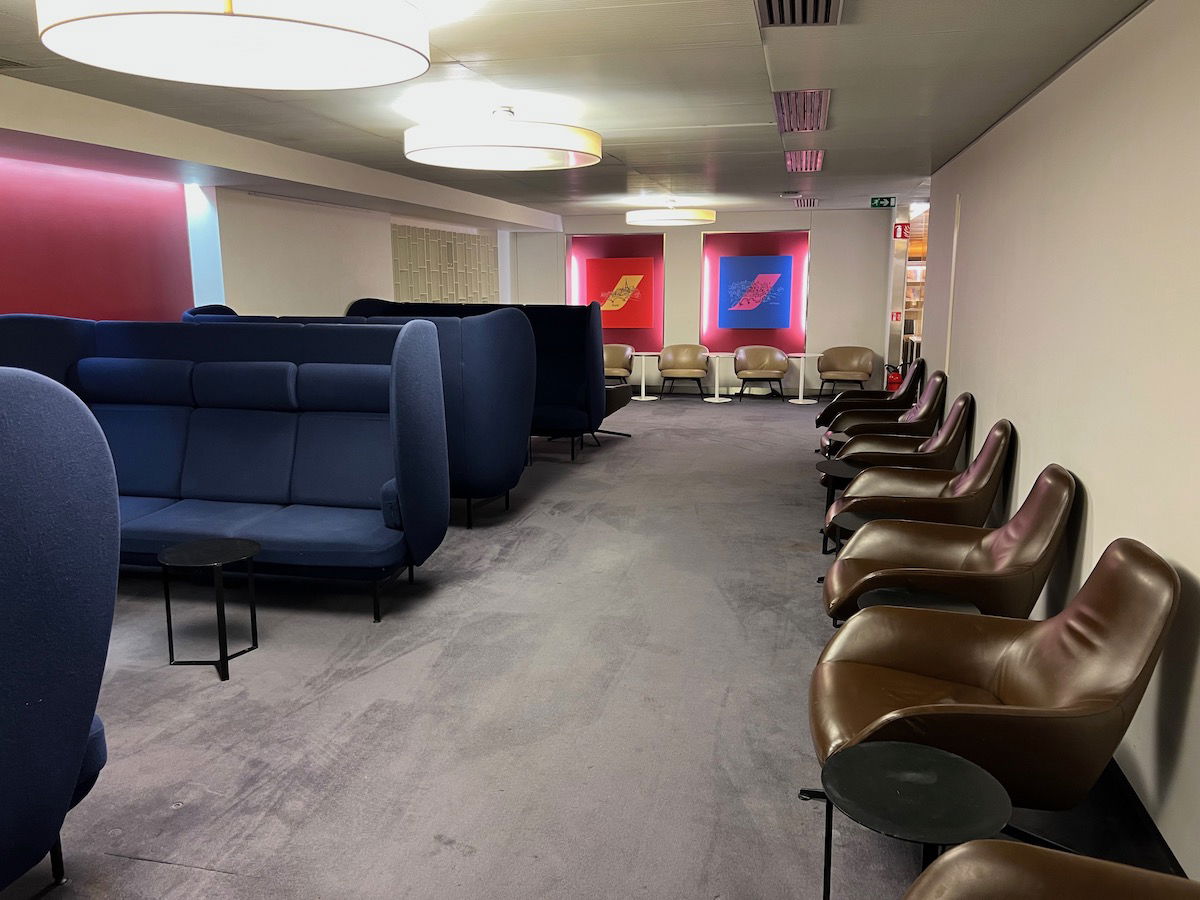 The Air France Lounge also has a Clarins Spa, with complimentary treatments for eligible passengers. Unfortunately this only opens later in the day, as it's available starting at 8-9AM, depending on the day of the week.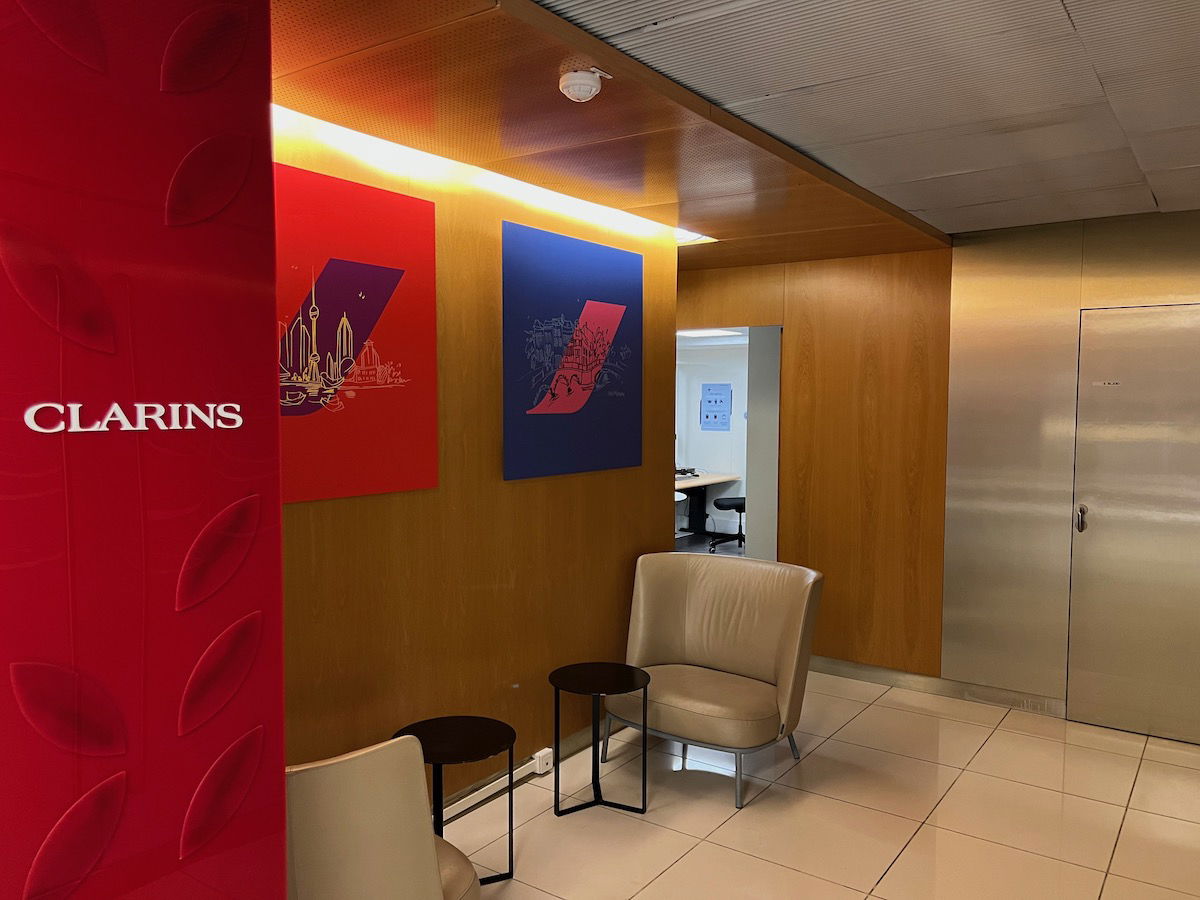 Lastly let's take a look at the seating on the second floor, which is also inside the entrance and to the left.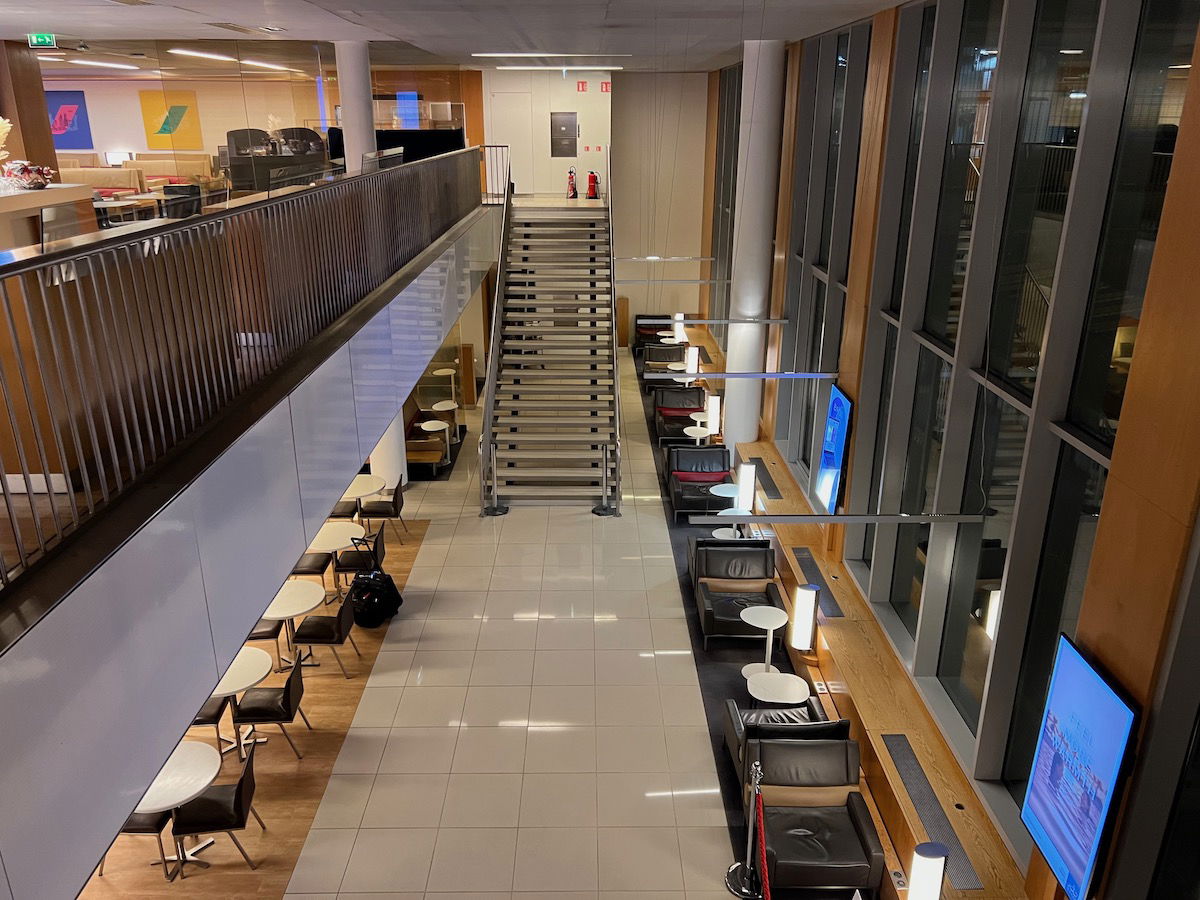 The seating here is similar to what you'll find one level below.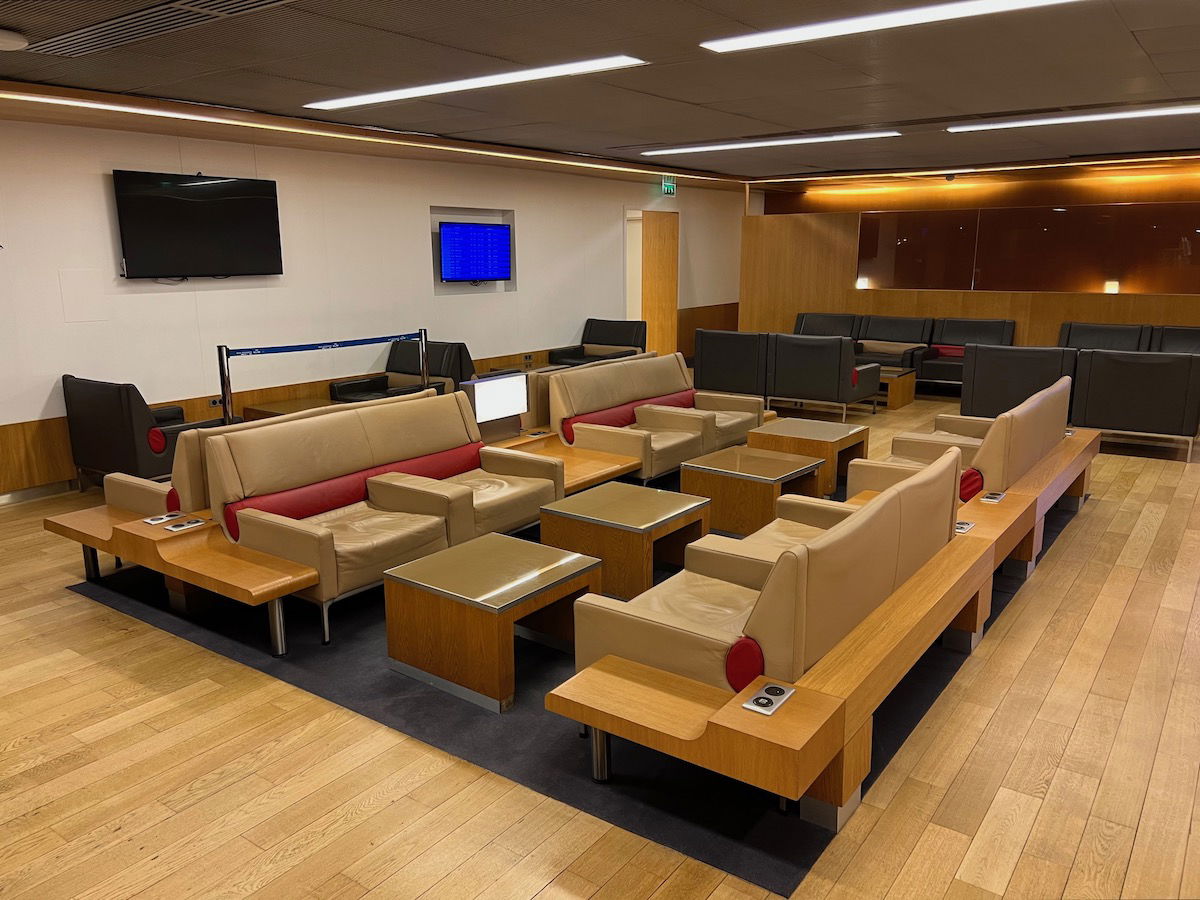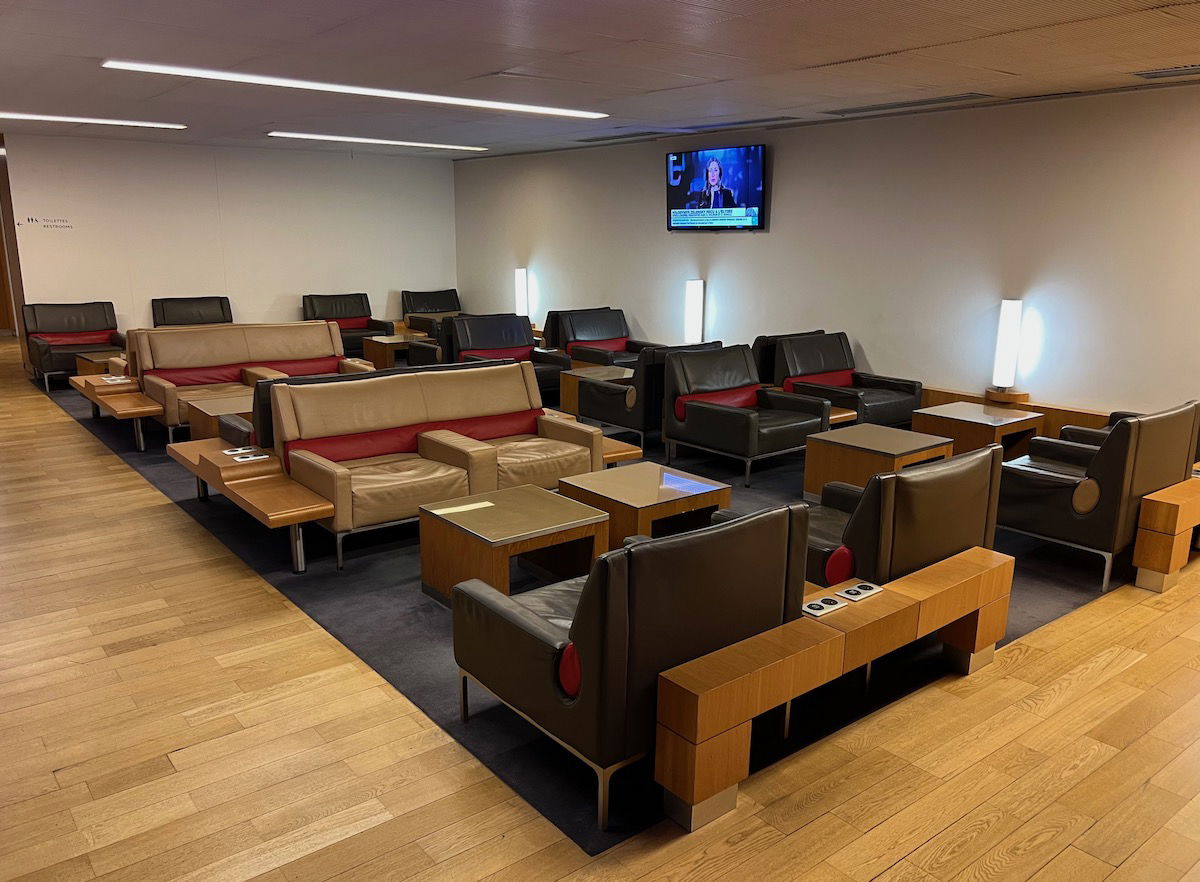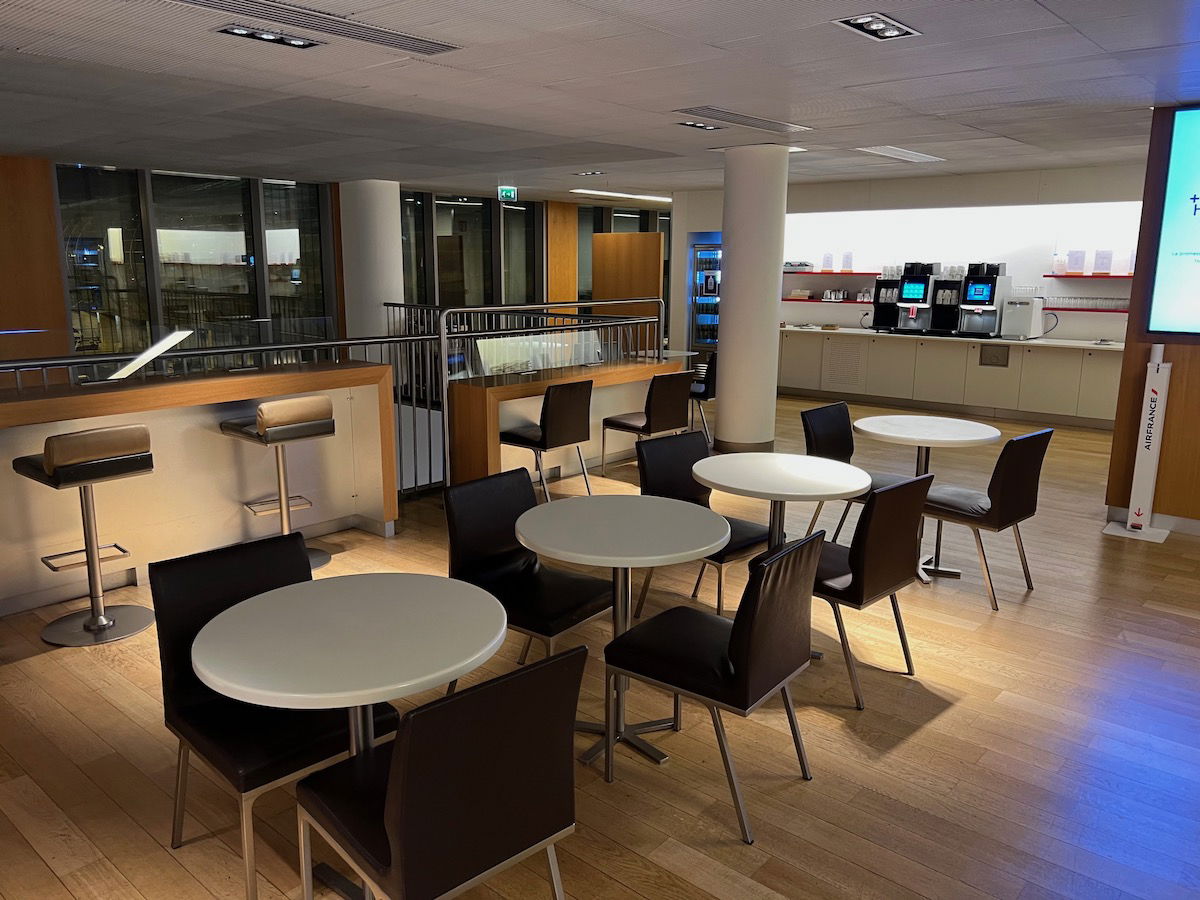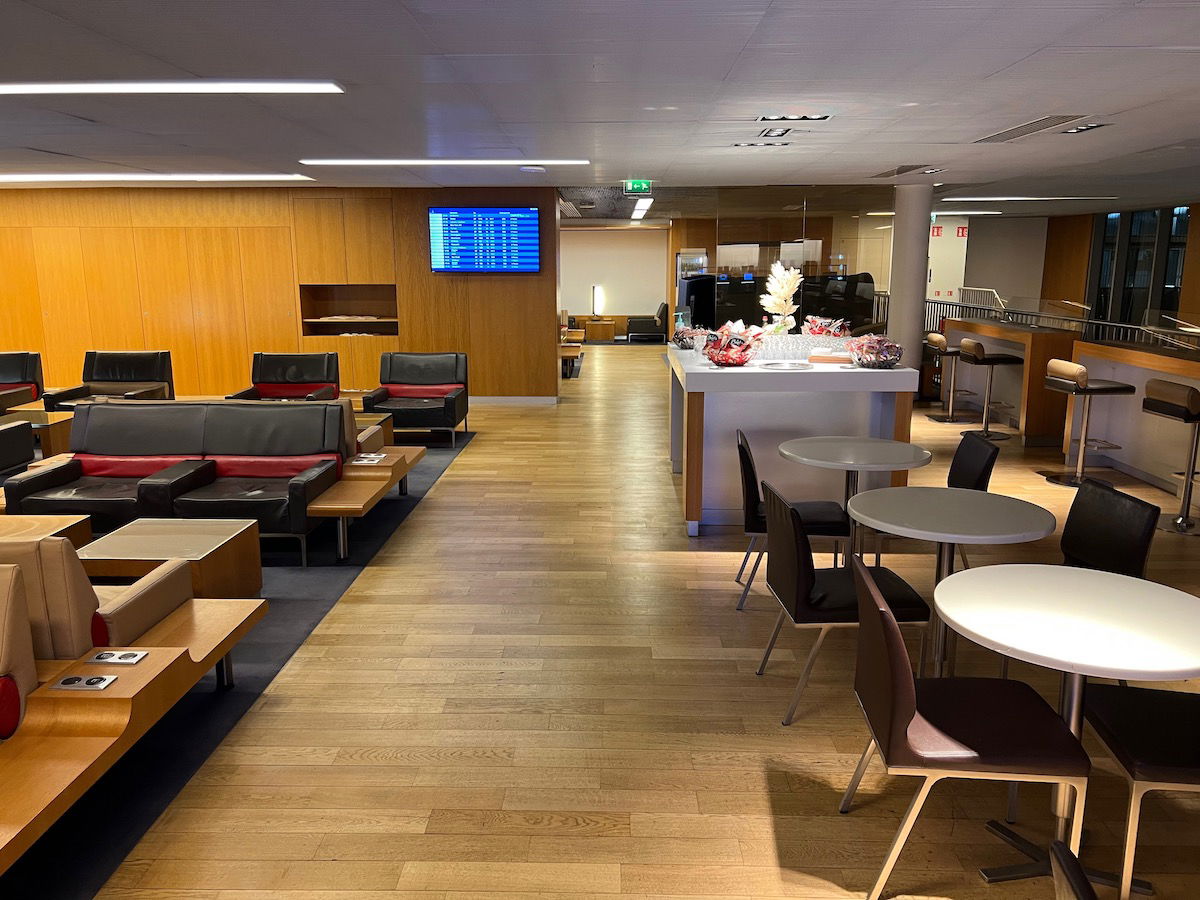 One unique feature up here is the day beds, which are great if you're looking to get some rest.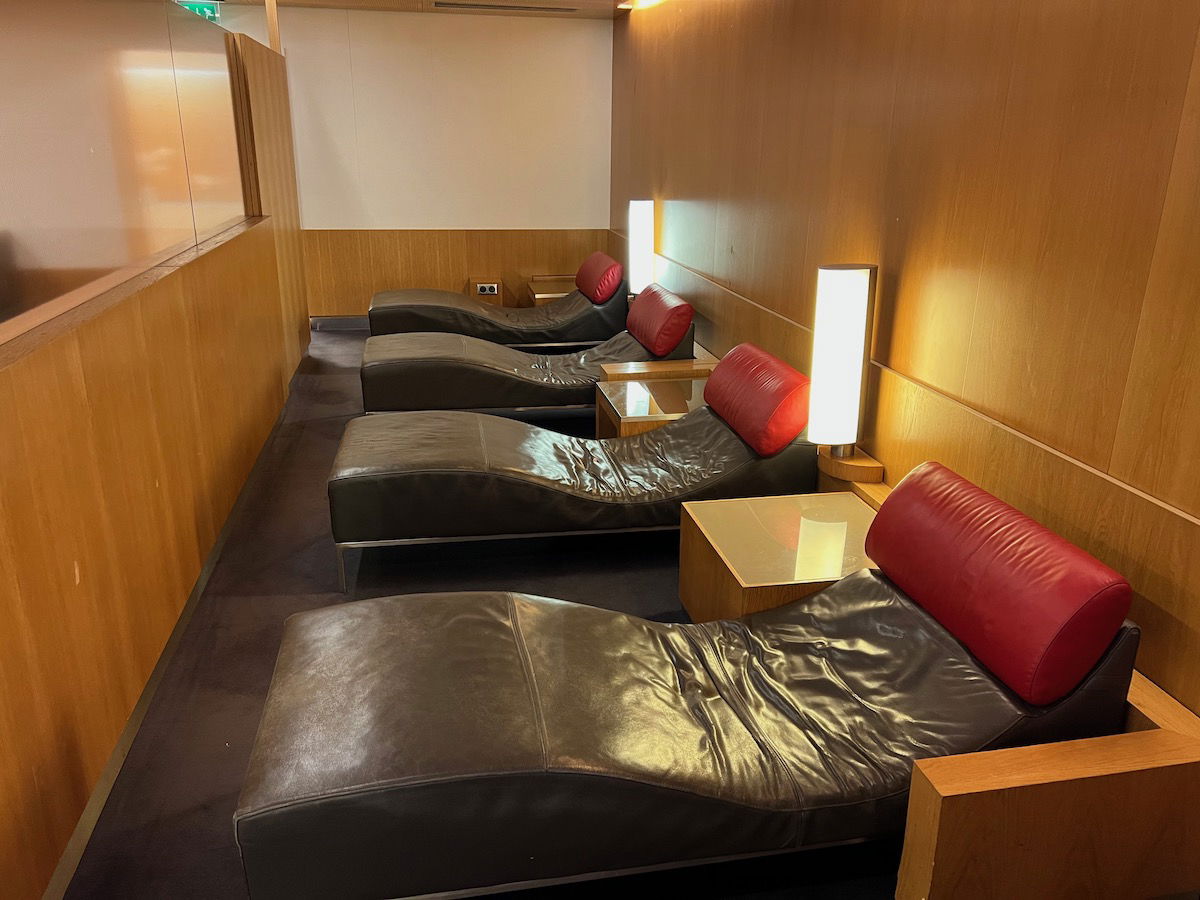 The lounge also has some roped off seating, presumably intended for top-tier Flying Blue elite members.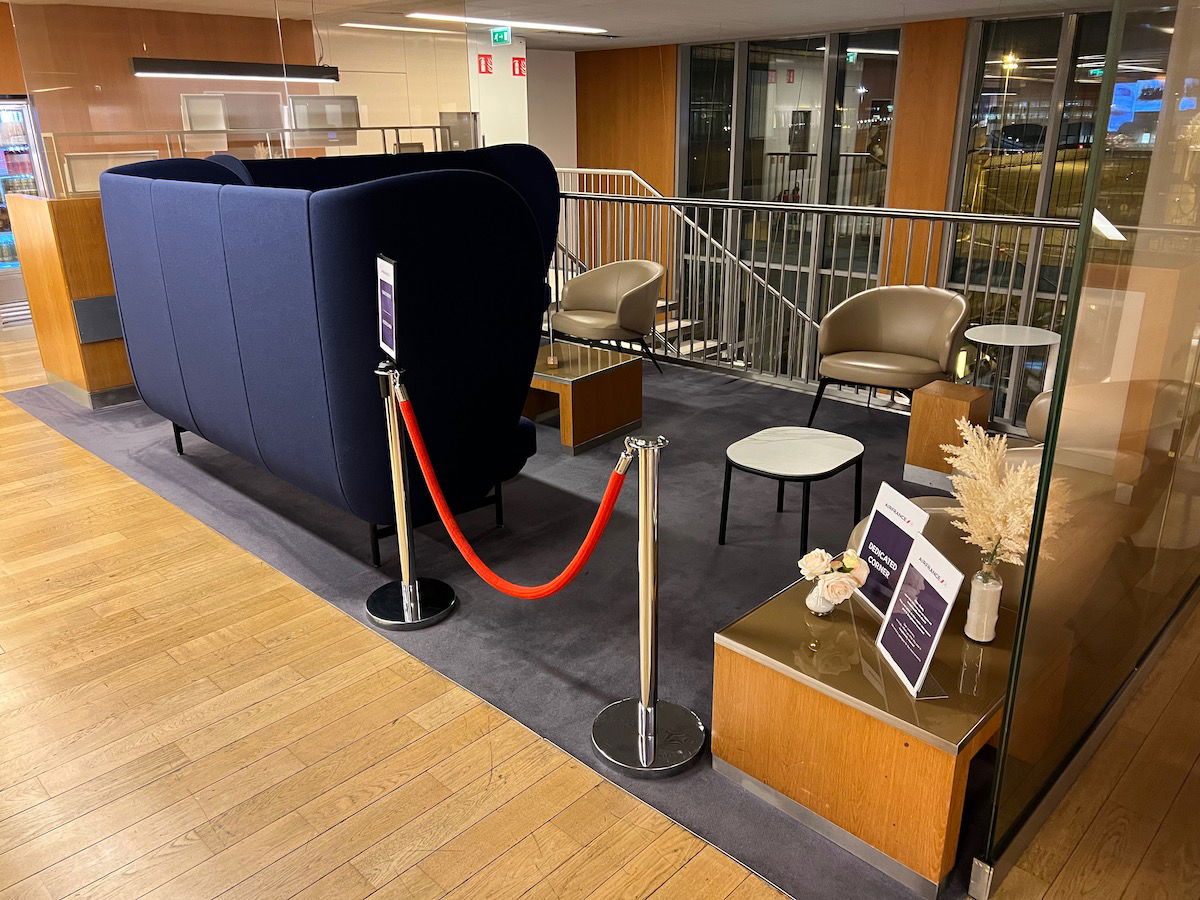 Obviously this lounge doesn't have cutting edge decor, but like I said, this is Air France's last lounge in the airport not to be renovated. Given that this is a lounge that hasn't been renovated and will soon be replaced, I'd say the decor is solid. Air France's new lounge design looks stunning, and I can't wait to check out one of the other lounges.
Because the lounge is a bit older, that also means that there aren't outlets at many of the seats, so you'll want to pick your seat strategically if you need to charge your electronics.
Air France Lounge Paris Airport food & drinks
Breakfast was on offer during my visit to the Air France Lounge Paris. There were a few buffets throughout the lounge, which was appreciated, since it avoided too much congestion in one part of the lounge.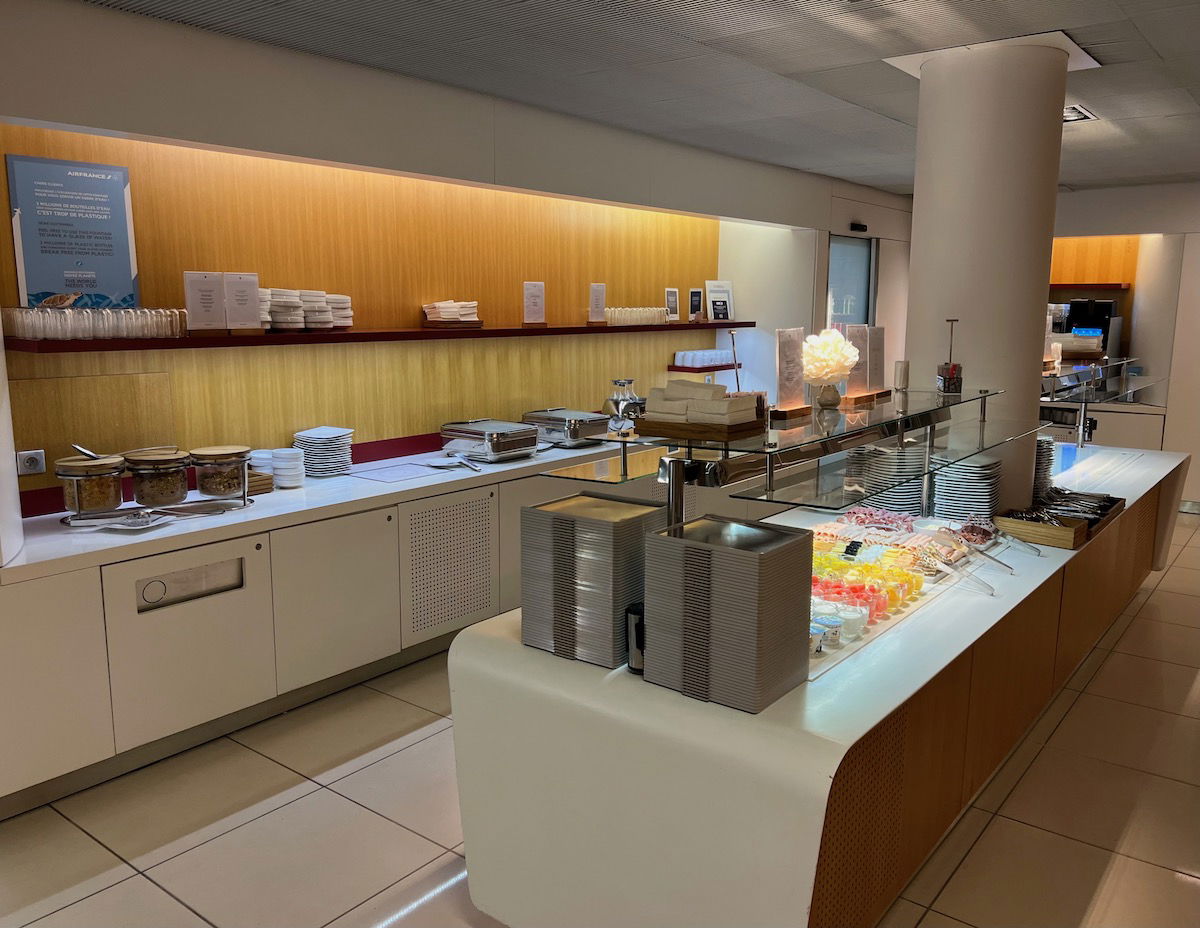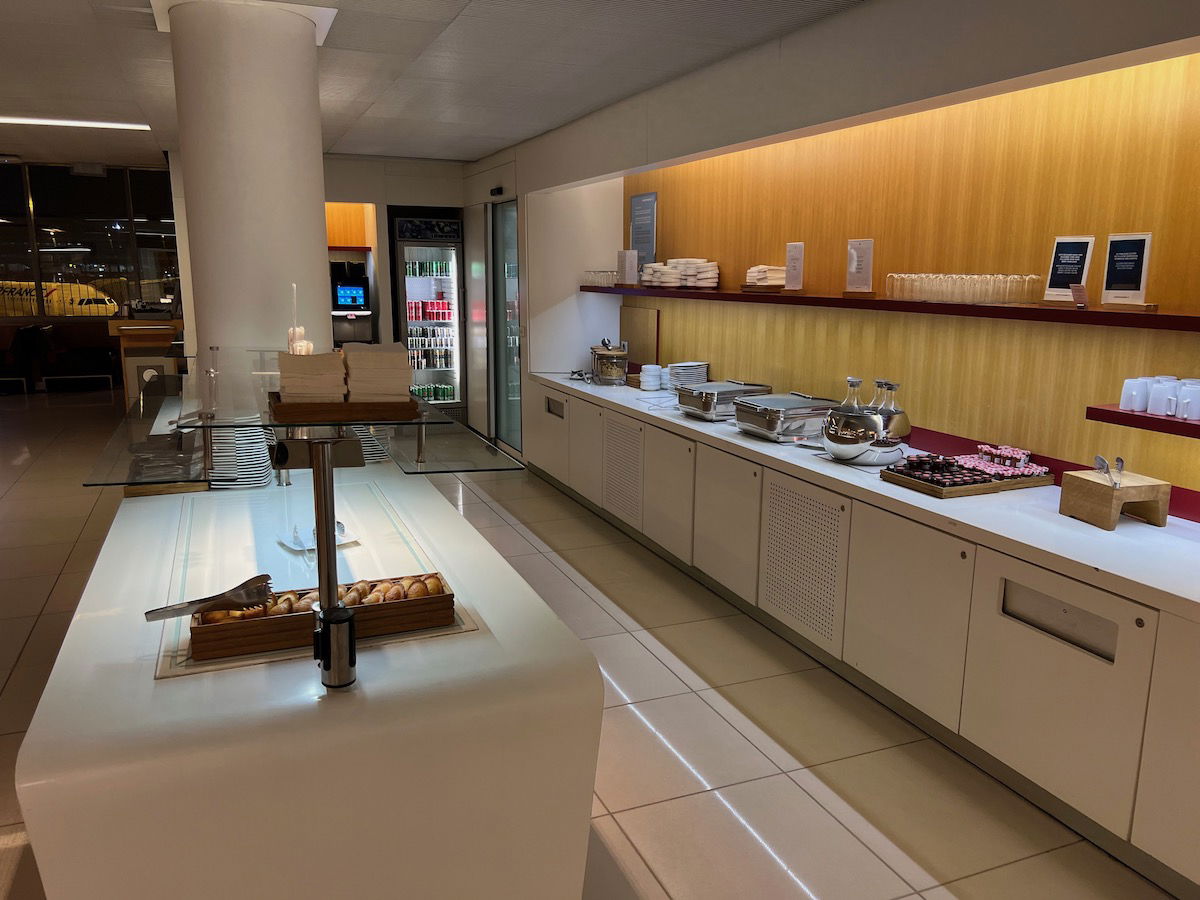 Breakfast options included cold cuts, fruit, yogurt, several types of bread and pastries, cereal, scrambled eggs, sausage, and bacon. While it wasn't the world's biggest selection, I found the quality to be very good, as you'd expect in France.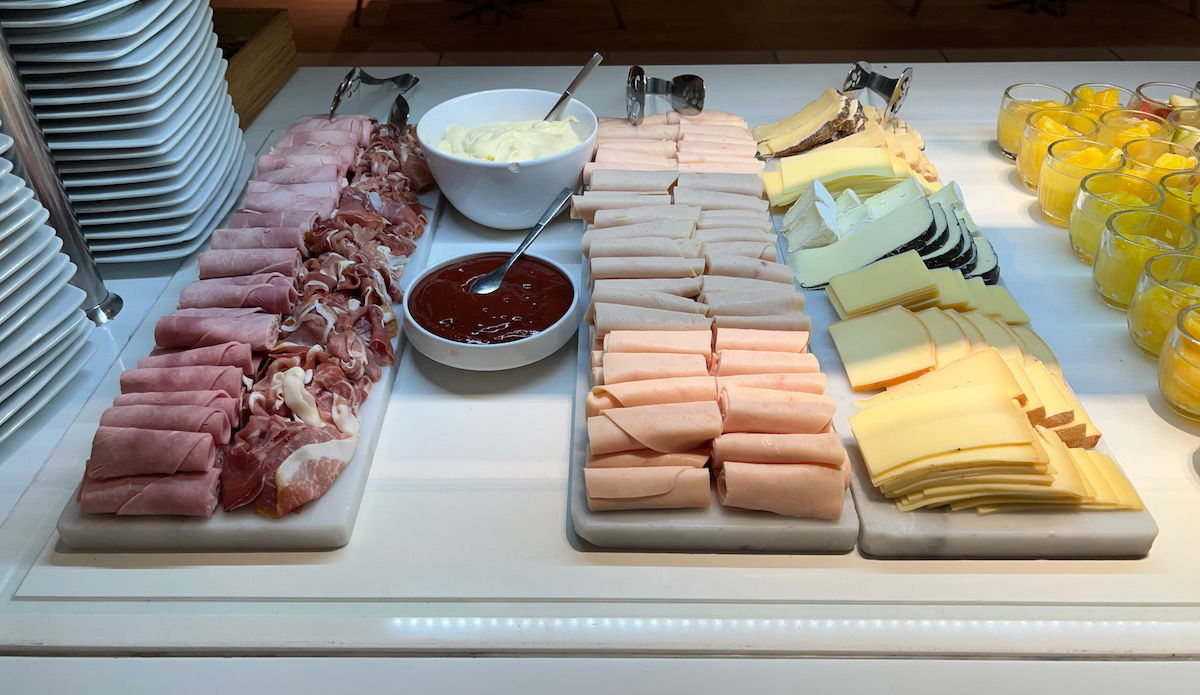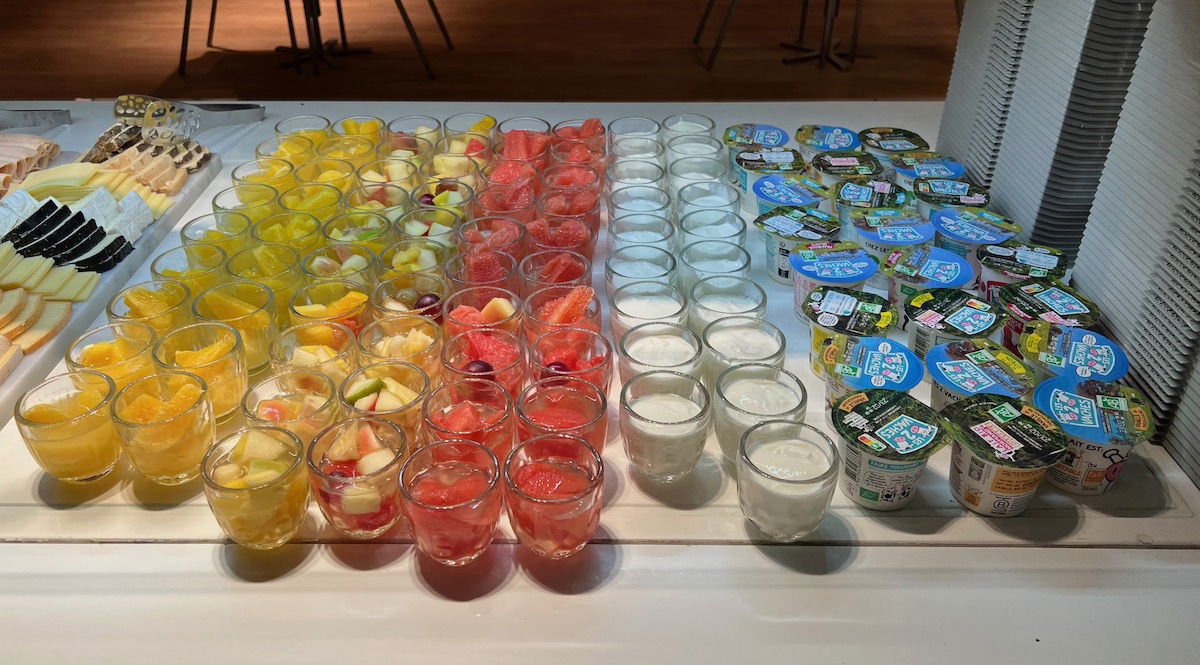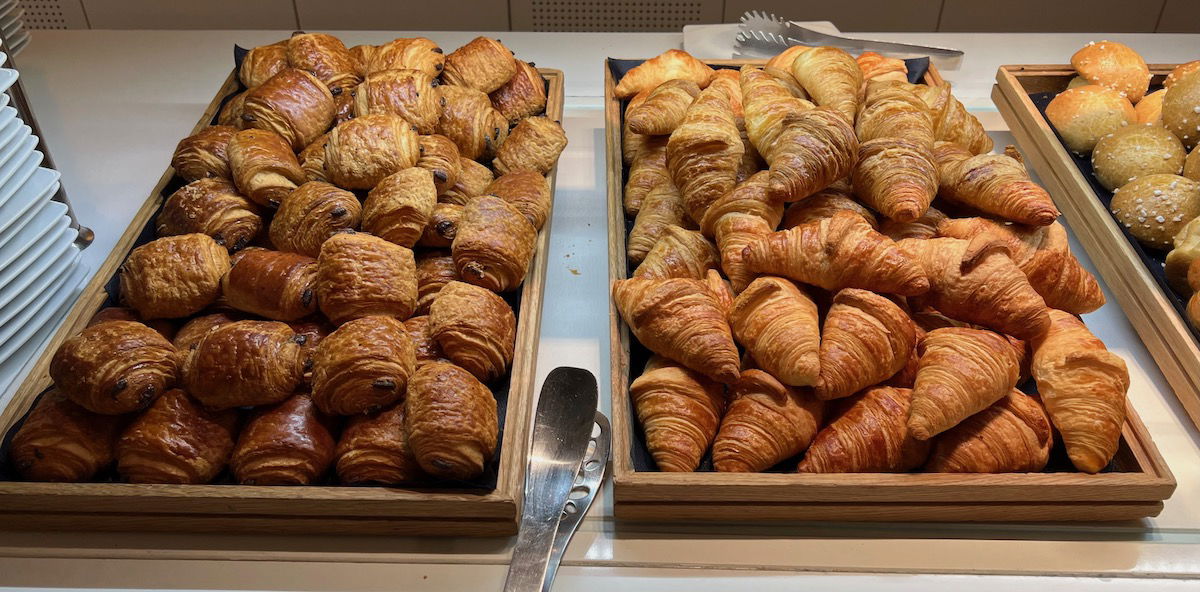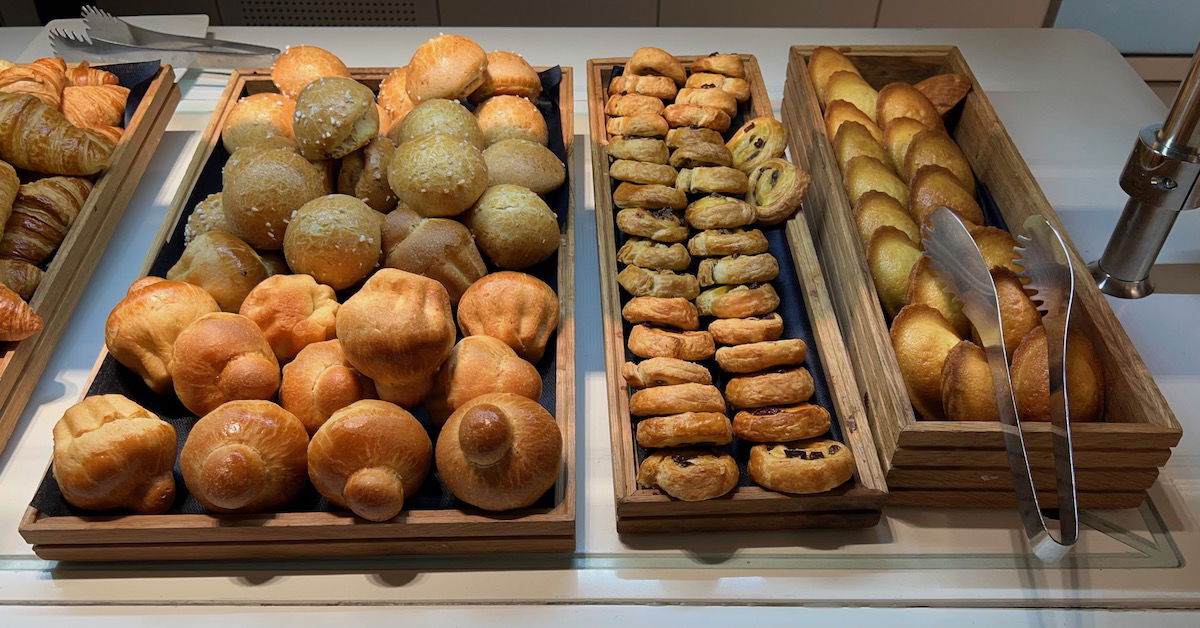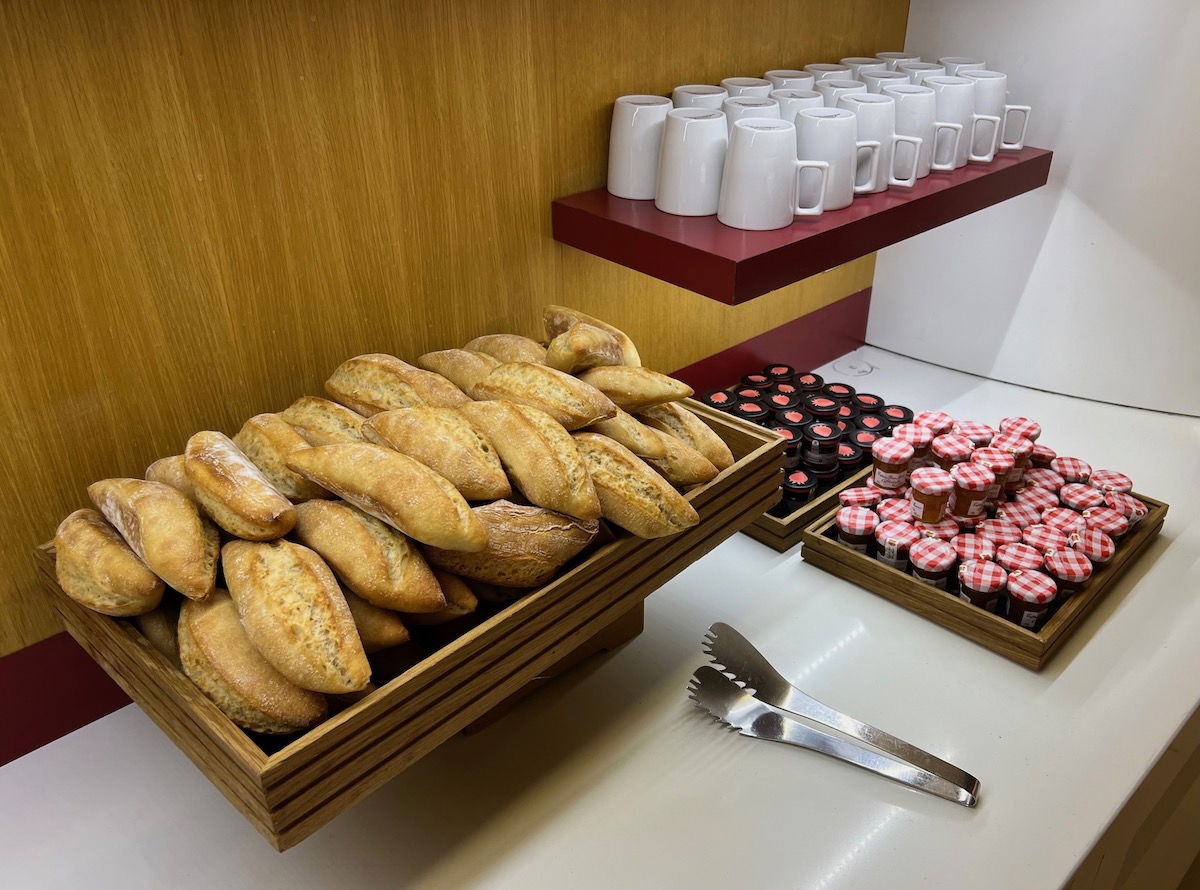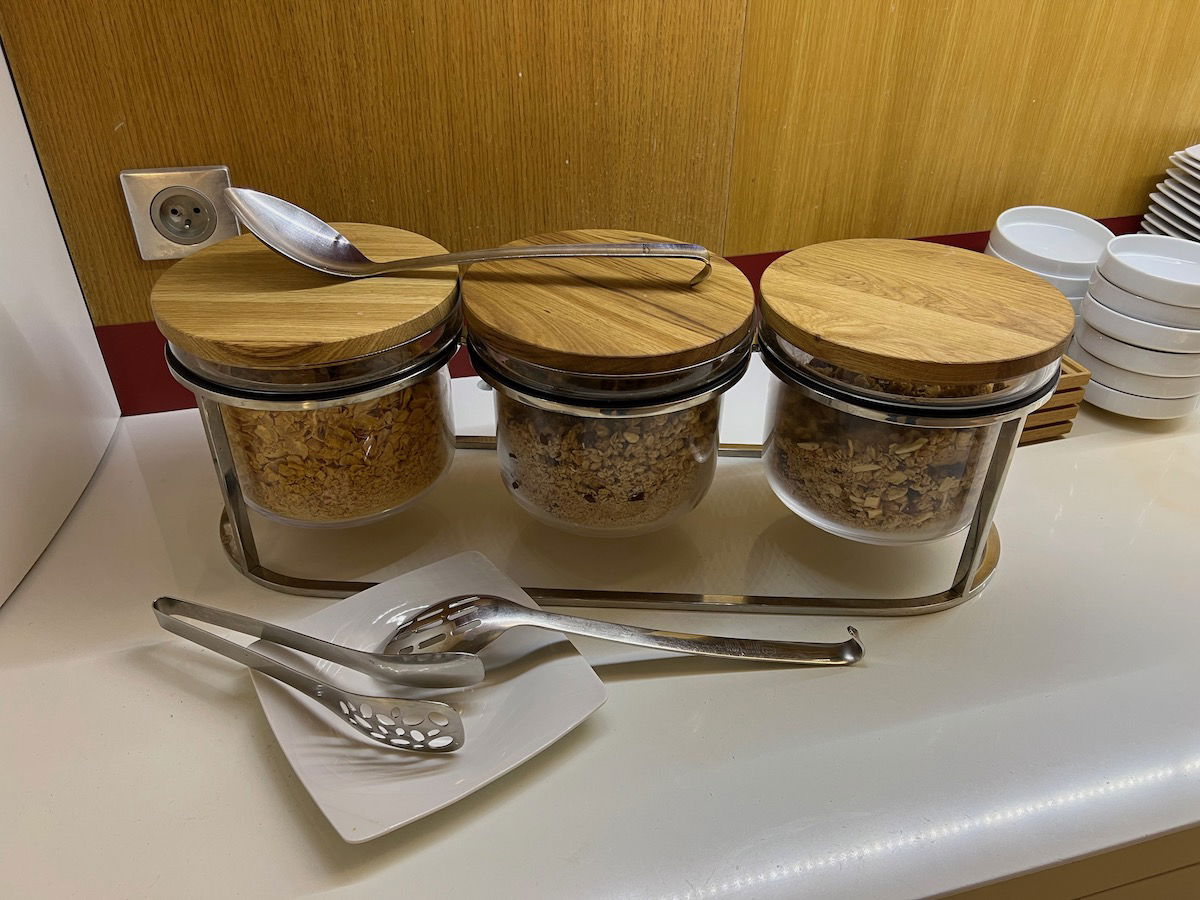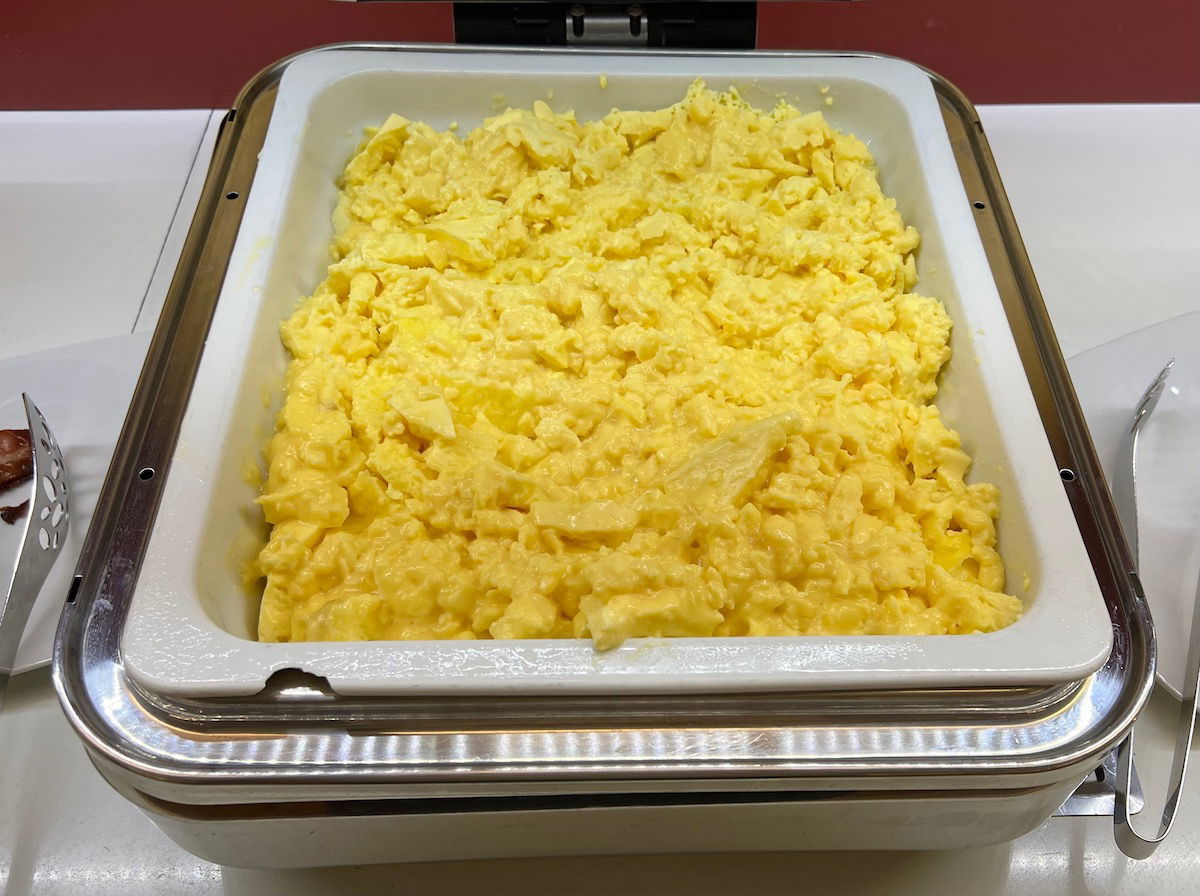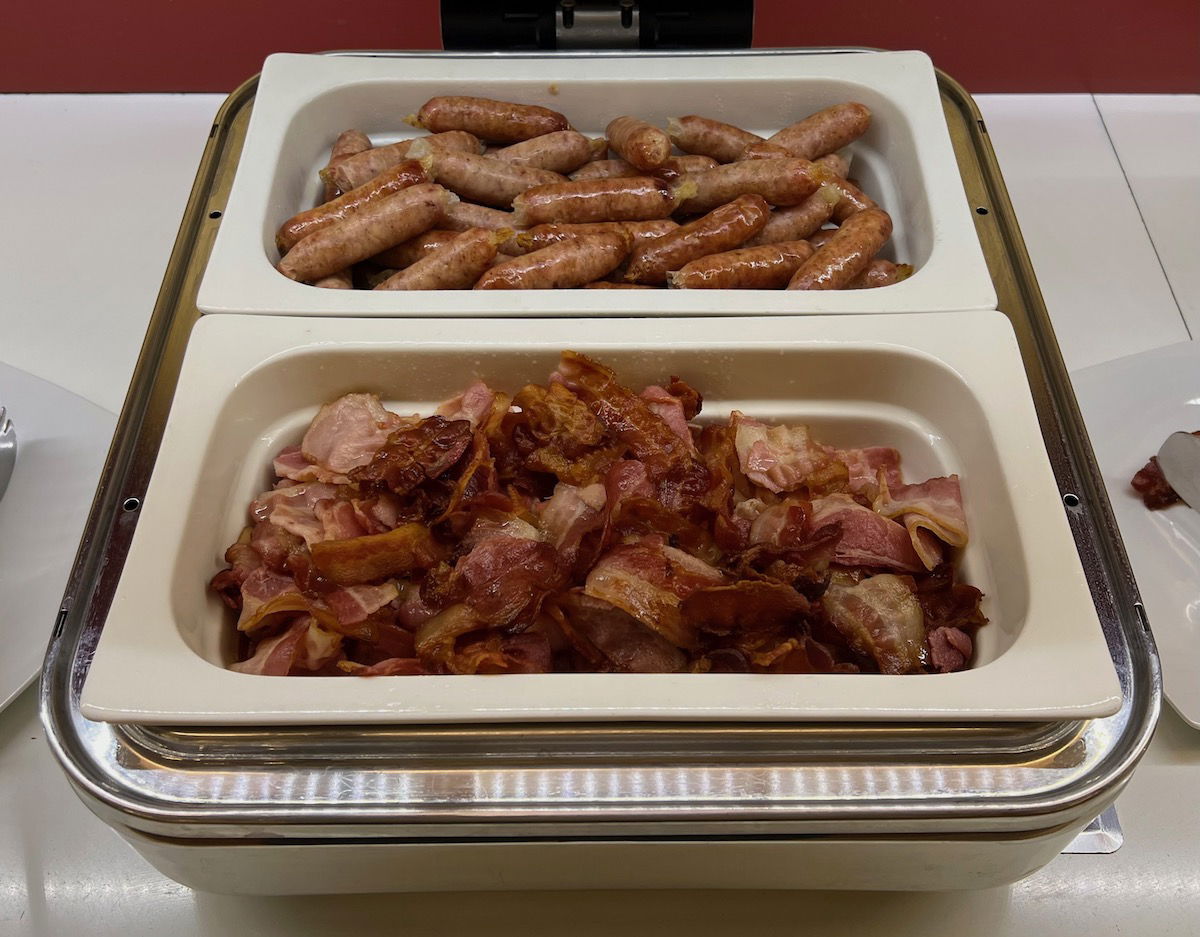 In terms of drinks, there were self-serve coffee machines, fridges with soda, water, juice, and beer.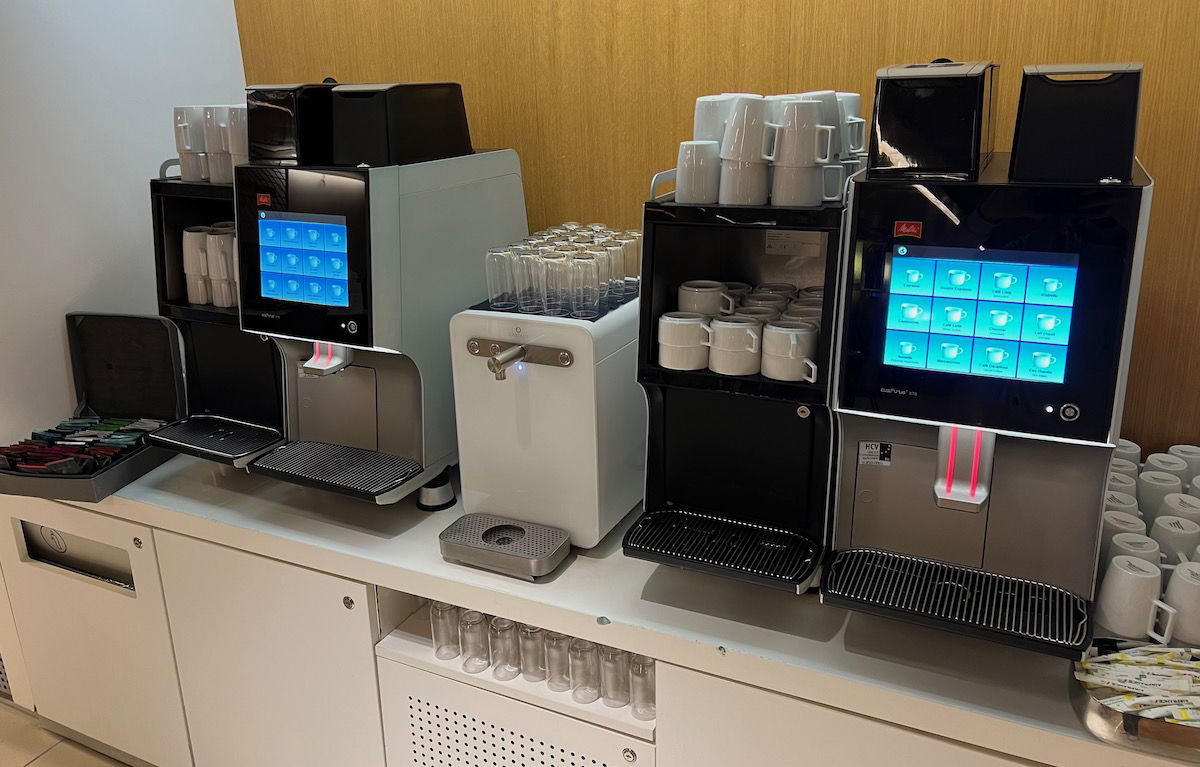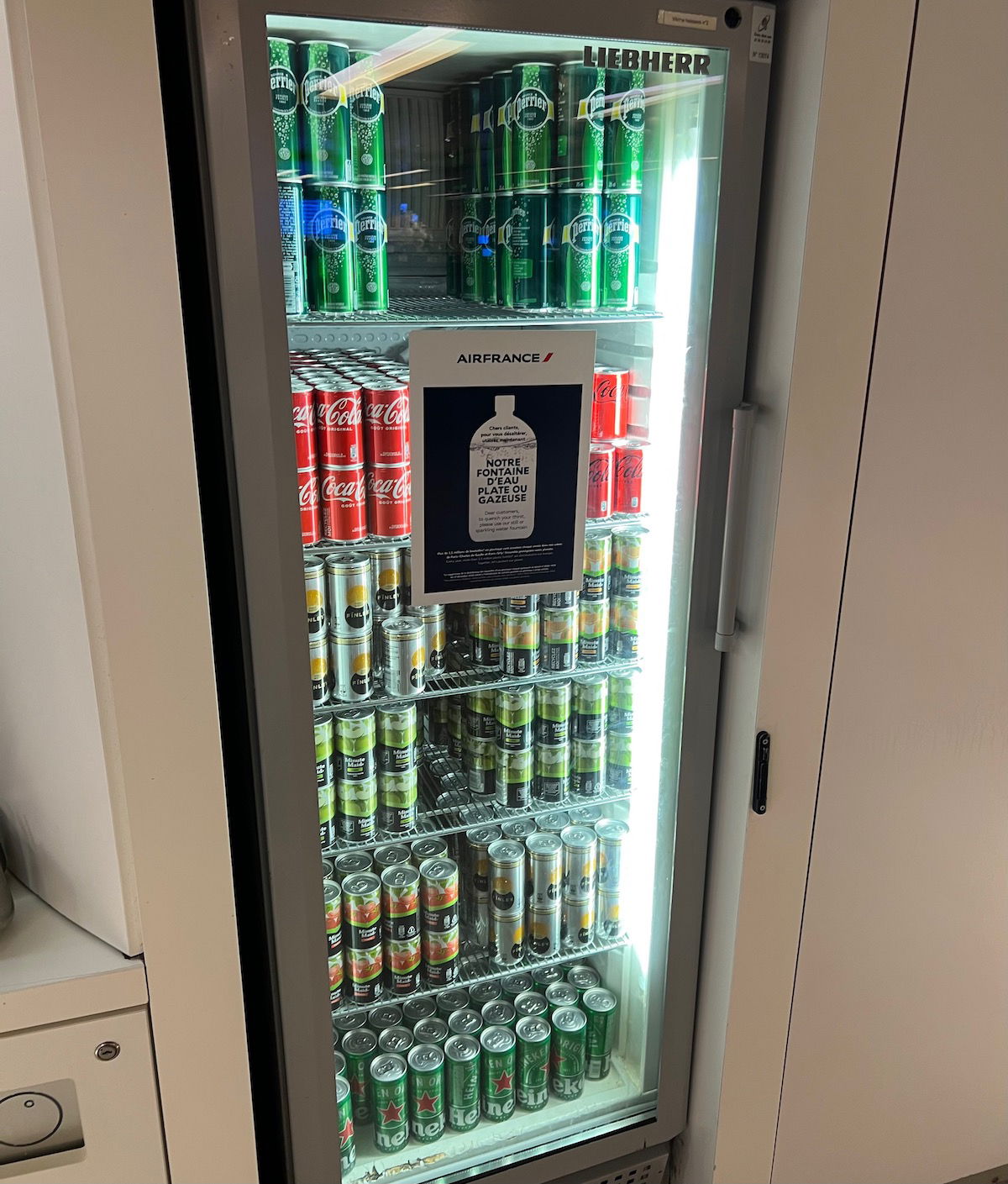 There were also several drink stations throughout the lounge, which consisted of a nice selection of self serve wine and liquor. There were also a variety of addictively delicious packaged snacks.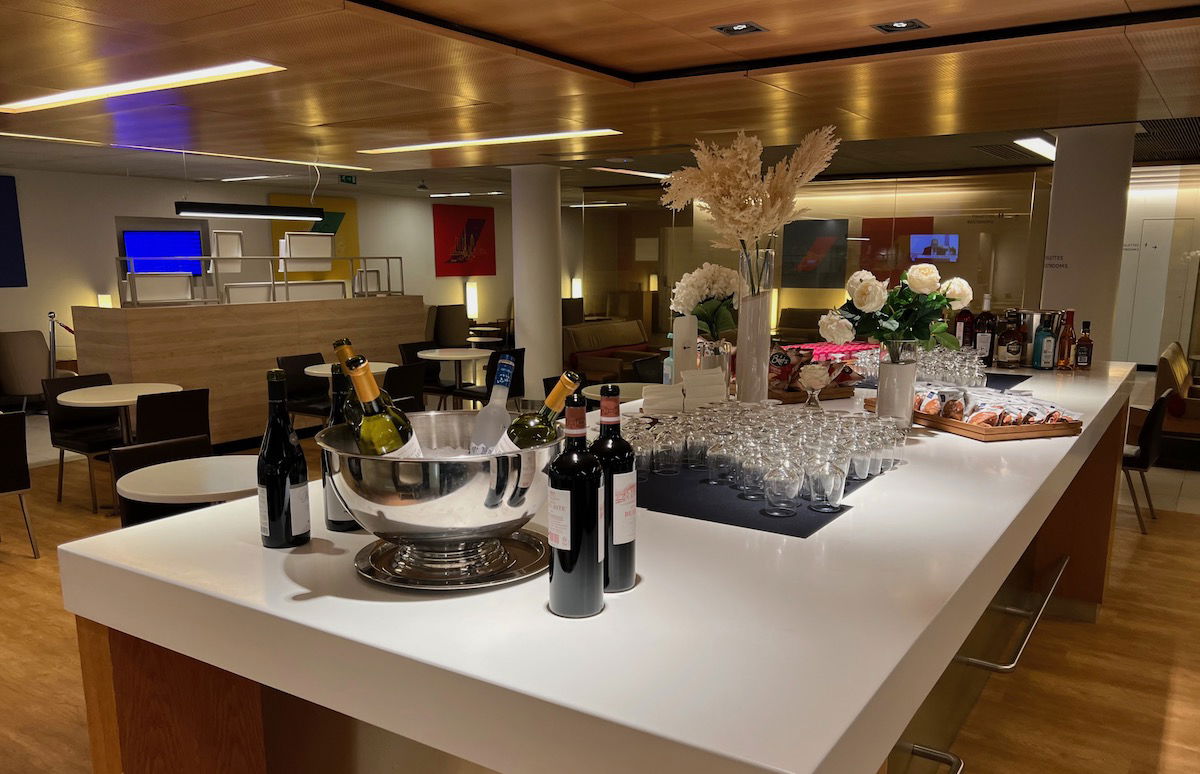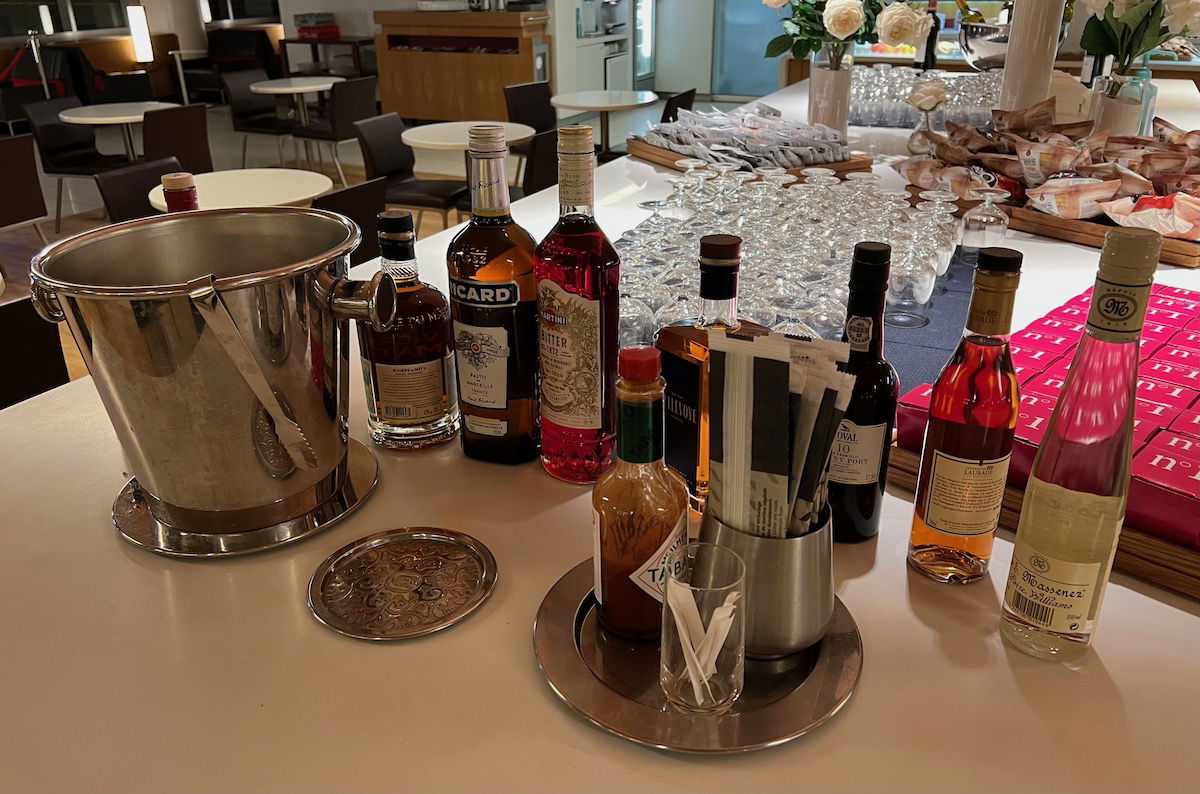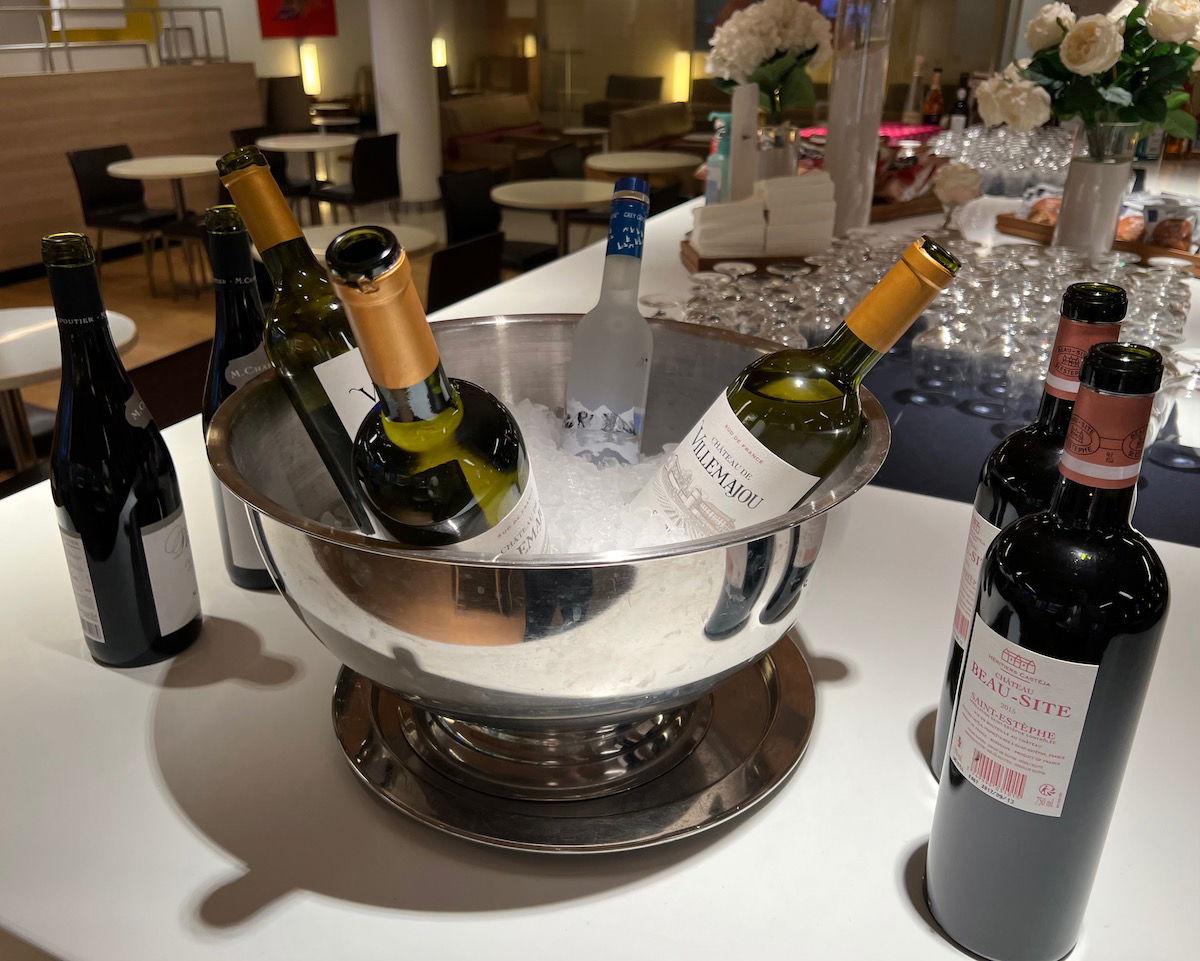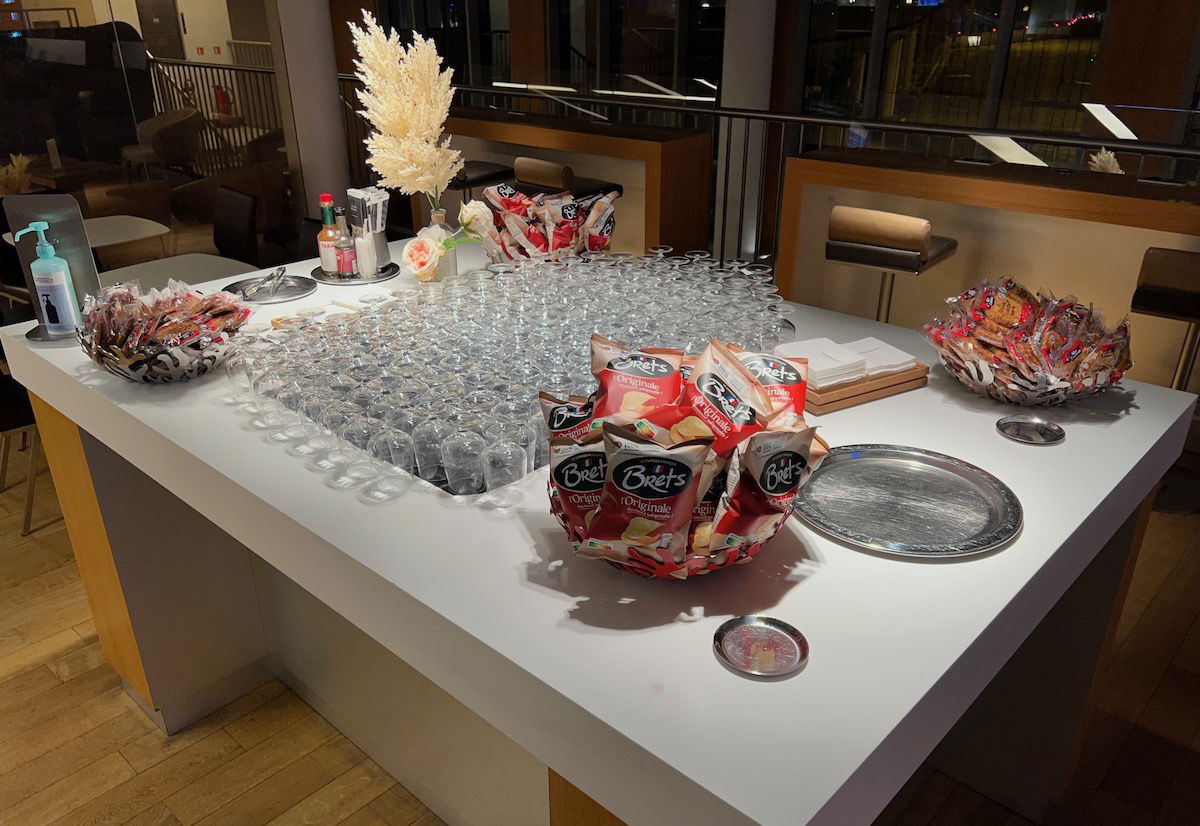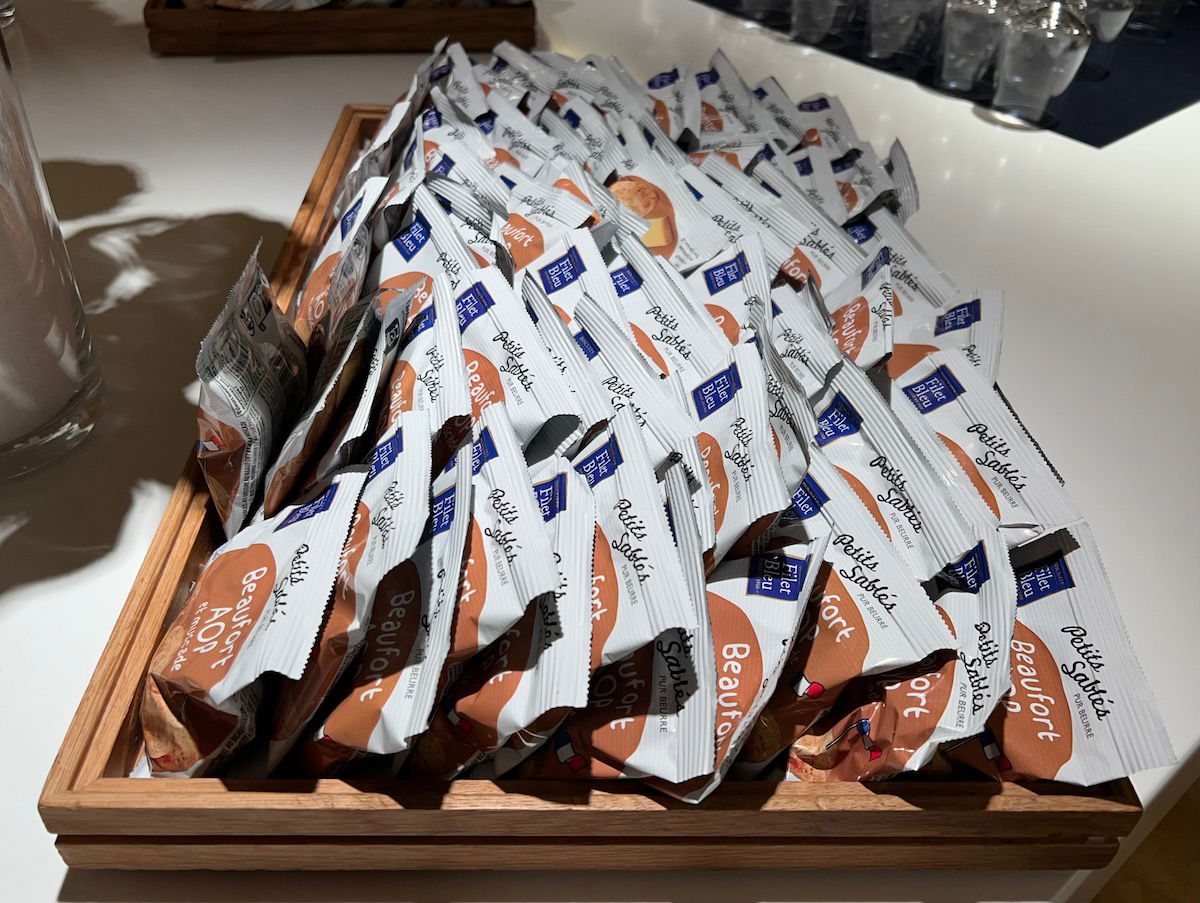 Air France Lounge Paris Airport bathrooms & showers
The Air France Lounge has two sets of bathrooms, at both ends of the lounge. They were fairly well maintained, though capacity seemed fairly limited given the number of guests who use this lounge.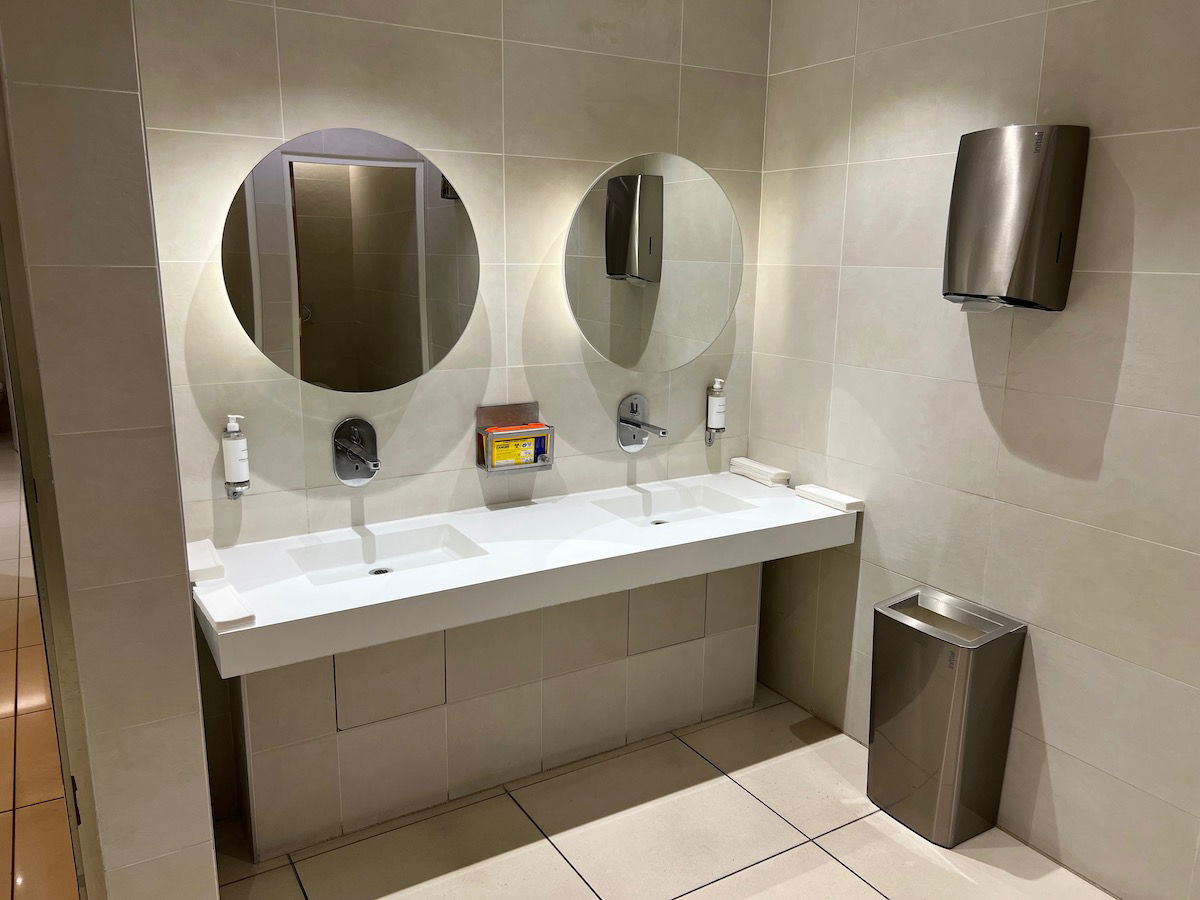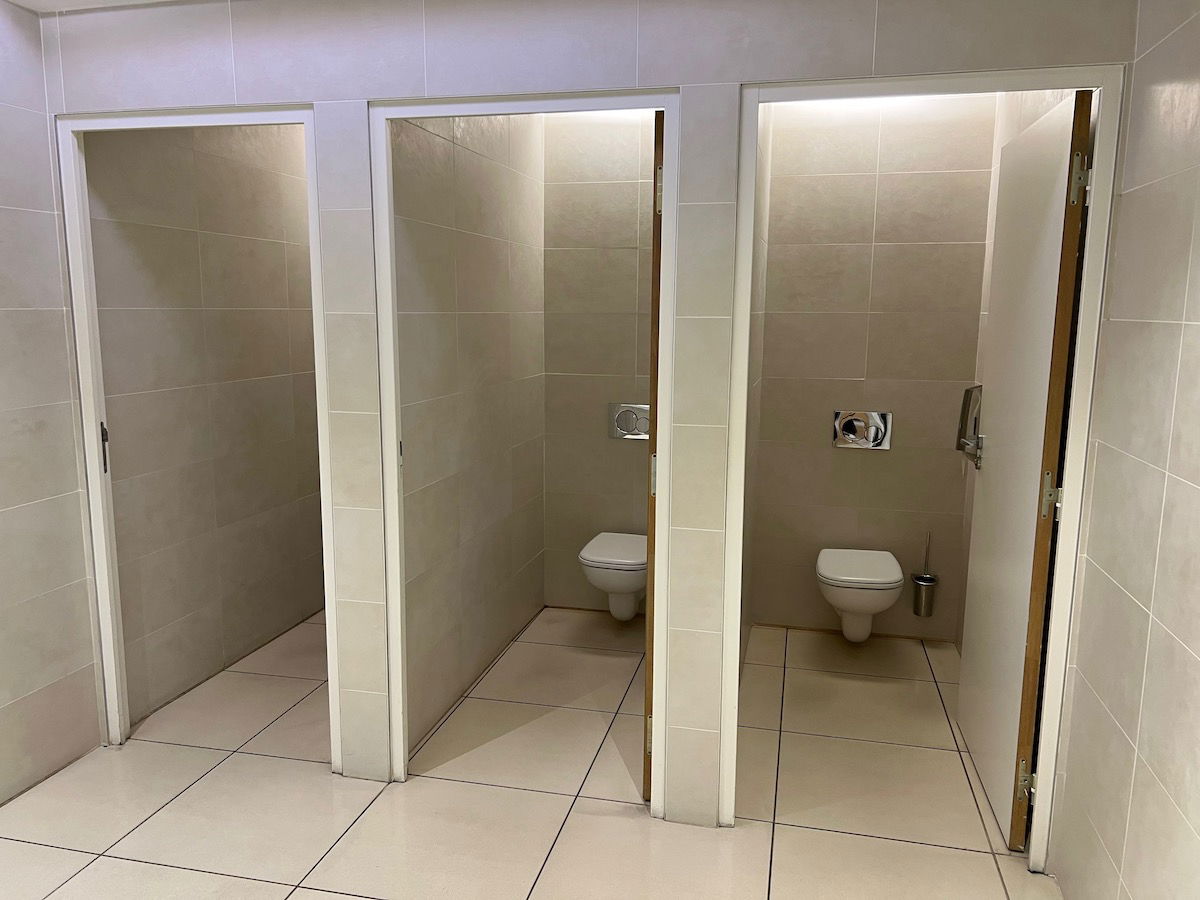 The Air France Lounge also has several shower suites, which are functional and clean.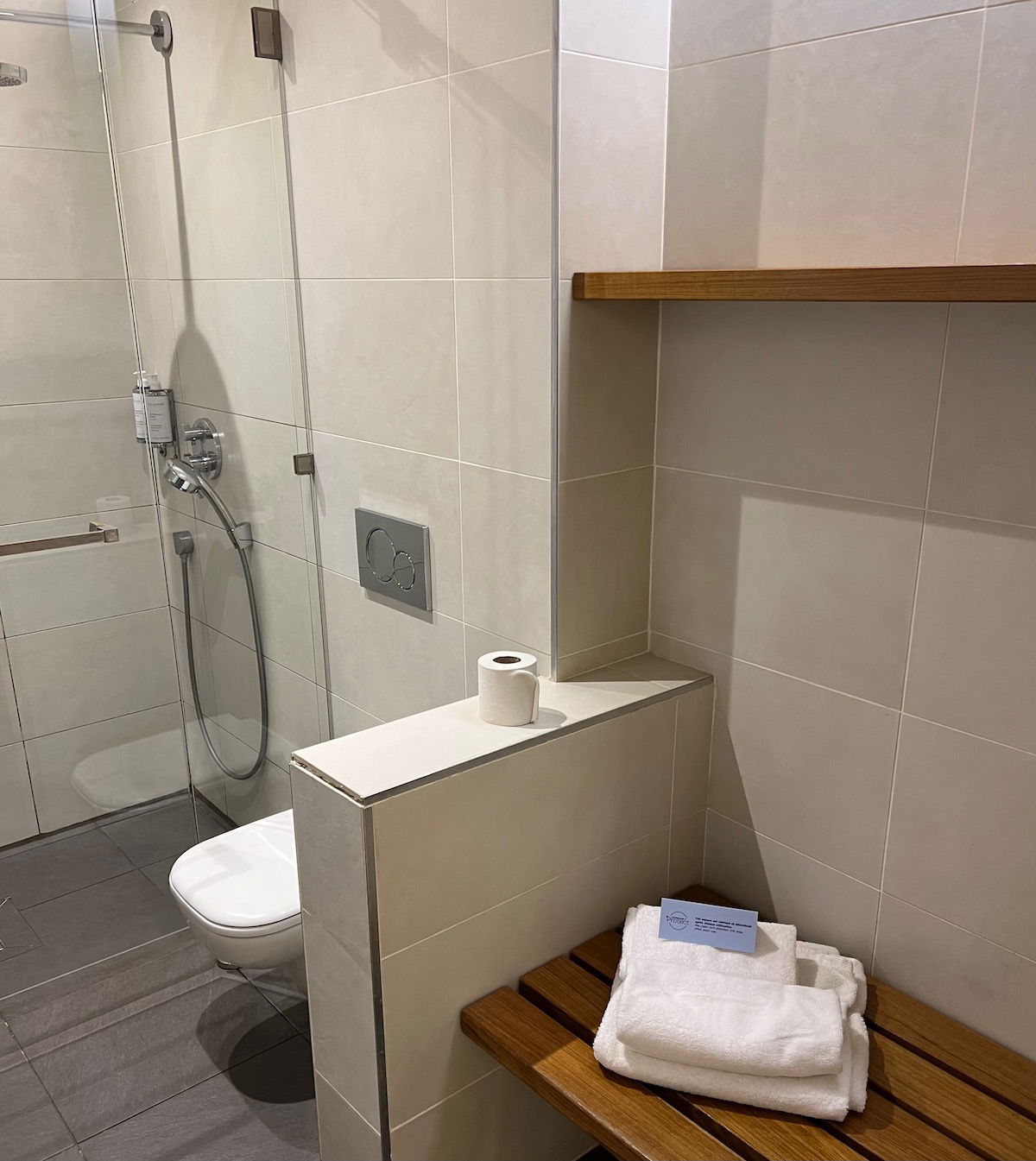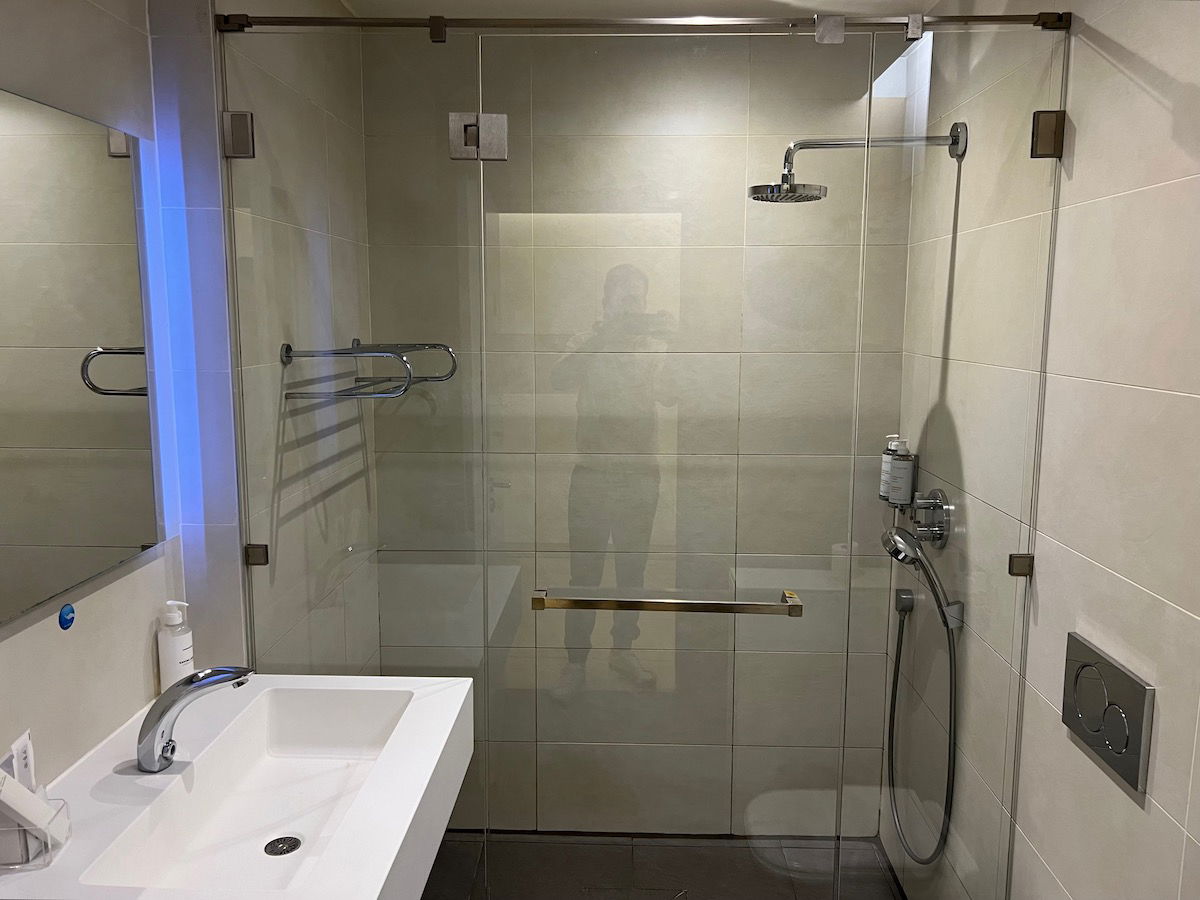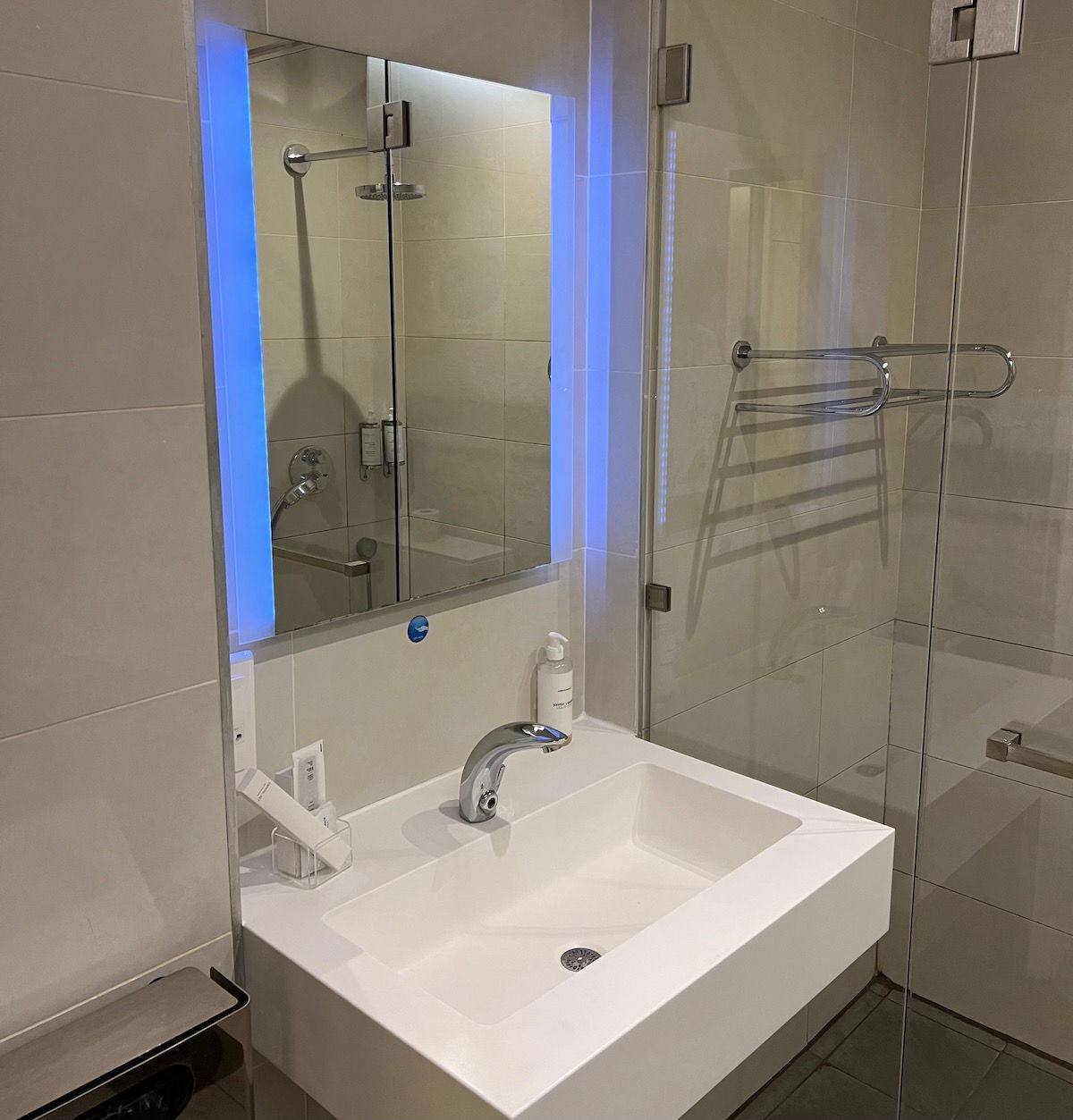 Bottom line
I had a pleasant visit to the Air France Lounge Paris, and found the lounge to be spacious, with friendly staff and a good selection food and drinks. Best of all, it's my understanding that this is the worst lounge Air France has at the airport, as the others have been renovated (and this one should be soon as well).
Given the terminal layout at Charles de Gaulle, you never know for sure which lounge you'll be able to access, so it's hard to plan around that in advance.
What do you make of the Air France Lounge Paris?