Hello from Florida!
While I've grown partial to summers in Southern California as of late, the views from coastal Florida are pretty darn nice as well.
Featured Stories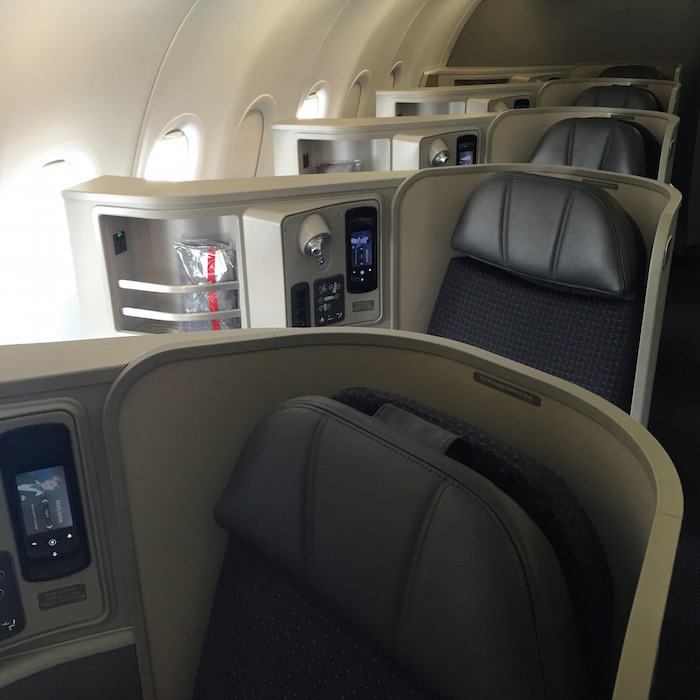 It's one thing to complain about poor service in a restaurant or hotel, and quite another to do so on an airplane. Reader Craig had a horrible experience in domestic first class recently, and I think it raises an interesting question of when (or if) it makes sense to address a crew directly.
---
While I prefer to use my miles for international premium cabin redemptions, there are instances where redeeming for economy can make sense.
In this post, Travis walks through a few scenarios, and shares tips for stretching the value of an award regardless of the class of service.
---
Earlier this year Tiffany took her mom on a quick trip to Dubai and Singapore, and she's sharing the details of that trip this week.
I love being able to share new experiences and destinations with my parents, and it's always fun to see someone enjoying something for the first time, so this has been a fun trip report to read.
---

TIPS: Earning Miles & Promos
Simplifying My Parents' Credit Card Strategy
SPG 20% Transfer Bonus Extended Through August 31, 2015
6 Credit Cards That Are Worth It For The Perks Alone
Last Chance To Buy Discounted Alaska Miles
Pay Any Bill By Credit Card — For A 1.99% Fee
Last Chance: Bonus When Converting Starpoints Into American Miles
Fly Business Class Between New York And London For $1,250
Why You SHOULDN'T Get The Capital One Venture Card
5 Most Rewarding Credit Cards For Everyday Spend
Up To 30% Bonus On Purchased Hyatt Points
500 Bonus Points For Hyatt Mobile Booking
Buy One Get One Free Movie Tickets With Visa Signature Card
TRICKS: Redeeming Miles
Award Availability Discrepancies Between Airlines?
3 Tips To Get More Value From Economy Awards
How Tough Is It To Redeem Alaska Miles On Emirates?
TRAVEL With Ben (Lucky)
What Is Hotel Breakfast Really Worth?
Final Day: Vote On The Winners Of The SPG/One Direction Contest
US Airways' Single Most Egregious Policy?
A Lucky Rebooking… Or What I Should Have Expected?
Pictorial Evidence Of How Messy Of A Traveler I've Become
Should Frequent Travel Seem Less Glamorous?
The Diminishing Marginal Return On Hotel Breakfast
Should You Complain On Flight About Bad Service?
One Direction Finalists — Help Me Choose The Winners
REVIEWS & Trip Reports
Throwback Thursday: A Week In Sicily
Exploring Abu Dhabi
Review: Two Suites At The Park Hyatt Abu Dhabi
Review: Emirates First Class Dallas to Dubai
Taking Mom On An Airplane Ride: Introduction
NEWS & Updates
Flight Canceled After 80% Of Crew Found Drunk
Video Of Southwest's "Top Gun" Flight Attendant
Delta Unveils Hilarious New Safety Video
Kimpton Losing Hotels Over Union Issues
Caption Contest: Delta Wants You To "Have It All" In Comfort+
The Airline Industry Is The Most Transparent In The World!!!
Will ANA Soon Start Flying A380s?
Two Airlines Walk Into A Bar…
Will Singapore Airlines Shrink Into A Regional Carrier?
Missing Flaperon Confirmed To Be Part Of MH370
Alaska And American Further Strengthen Partnership
Aeroplan Improves Website Functionality
Video Of Virgin Atlantic 747 Being Passed By UFO?!
The History Of The Singapore Girl
New Card Design For The Starwood American Express Cards
The Story Of Delta's First Private Jet "Upgrade"
US News & World Report Ranks Airline & Hotel Loyalty Programs
---
I'm looking forward to spending this weekend catching up with my parents, catching up on my sleep, and catching up on an incredible amount of laundry.
What is everyone else up to?