In the interest of full disclosure, OMAAT earns a referral bonus for anyone that's approved through some of the below links. These are the best publicly available offers (terms apply) that we have found for each product or service. Opinions expressed here are the author's alone, not those of the bank, credit card issuer, airline, hotel chain, or product manufacturer/service provider, and have not been reviewed, approved or otherwise endorsed by any of these entities. Please check out
our advertiser policy
for further details about our partners, and thanks for your support!
One of the best ways to rack up rewards points is with credit cards. The problem for many of us is that there are only so many things we can pay by credit card. That's where Plastiq comes into play.
This is a service that I've used for years, and have also reviewed in the past. However, I think my time using this service has come to an end. I'll share more details below, but to summarize the changes:
Plastiq is increasing fees as of today, from 2.5% to 2.85%
Plastiq is increasing wire fees
Plastiq has over the past few months made their referral program much worse
Over the past week I've interacted with Plastiq customer service for the first time, and it was underwhelming, to put it mildly
Plastiq used to offer all kinds of promotions back in the day, but those are now exceedingly rare
Let's get into a bit more detail on this…
Plastiq Bill Pay Basics
Plastiq is a bill pay service that lets you pay virtually any expense by credit card. There are two common reasons people may want to use this:
Because they value the rewards offered by credit cards
For cash flow reasons (maybe someone has a 0% intro APR offer on a credit card, and sees this as a good opportunity to pay a bill)
I'm focusing on this entirely in terms of the rewards aspect, since in general I recommend doing everything you can to avoid credit card financing, given how high the fees can be. At the same time, I understand that some people like a 0% intro APR offer on a credit card, so no judgment.
Which Credit Cards Can You Use With Plastiq?
Plastiq allows you to pay with most major credit cards, including those issued by American Express, Mastercard, Visa, Discover, Diners Club, JCB, and Capital One (though Capital One is limited to business cards).
There are restrictions with some issuers regarding what kind of payments can be made, and you can read more about that here.
How Much Does Plastiq Charge?
Plastiq has increased fees as of July 1, 2020 — Plastiq used to charge 2.5% for payments made by credit card, but now charges 2.85%. Plastiq justifies the fee increase by explaining that several major credit card companies have announced upcoming interchange price increases, which directly impacts their costs.
Not only is Plastiq increasing the fee for every dollar processed, but they're also increasing fees for those who need to send wires:
Domestic wire fees are $40 (they used to be $30)
International wire fees are $60 (they used to be $50)
It's disappointing to see Plastiq not only raise the fee per dollar processed, but to also increase wire fees.
I'll get into more detail on this below, but I'd say ~2.5% was right around the cusp of what I considered to be worthwhile, while I have a hard time getting excited about ~2.85%.
Does Plastiq Have A Referral Program?
Plastiq used to have a great referral program, with a rewards currency of "Fee Free Dollars" (FFDs). Each FFD is good for one dollar of bill pay without any sort of fees.
Unfortunately this has been scaled back significantly:
Until a few months ago this offered 1,000 FFDs both to the person referring and the person being referred
Now the referral program offers 100 FFDs to the person referring, and nothing to the person being referred
That's not exactly particularly compelling…
What Payments Can You Make With Plastiq?
Plastiq allows you to pay for all kinds of things, including (but not limited to) auto leases, auto purchases, business services, club fees, mortgages, contractors, employees, insurance, legal services, rent, tuition, taxes, utilities, and more.
How Does The Process Of Paying With Plastiq Work?
The process of making a payment with Plastiq is fairly easy.
The first step is that you have to add the recipient to your Plastiq account, which includes adding their name, address, preferred payment type (check, wire, or ACH), and some basic details about the type of payment you're making.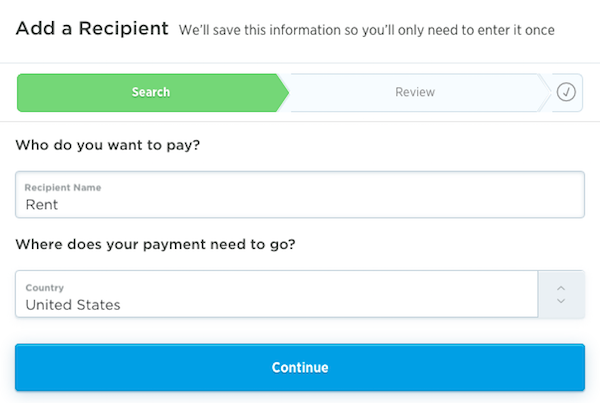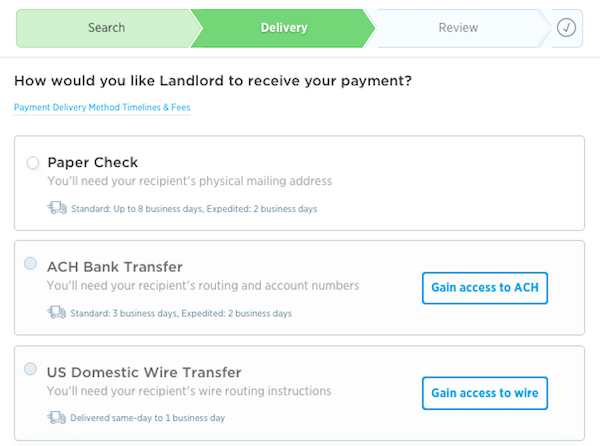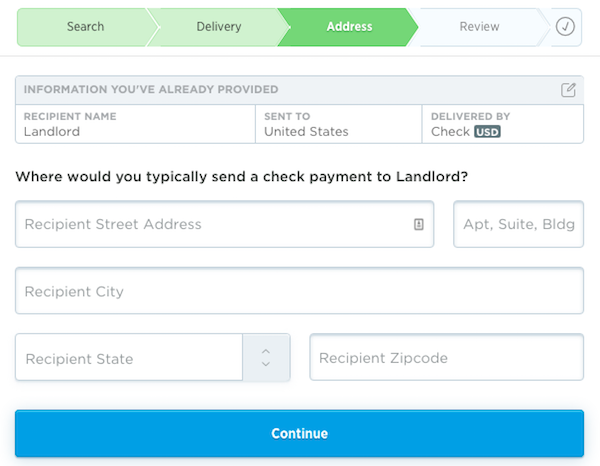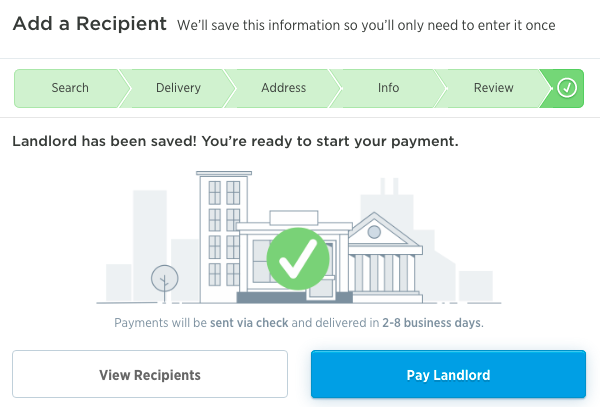 Then you have to enter your payment amount, which includes entering all your credit card details (if they're not already saved to your account).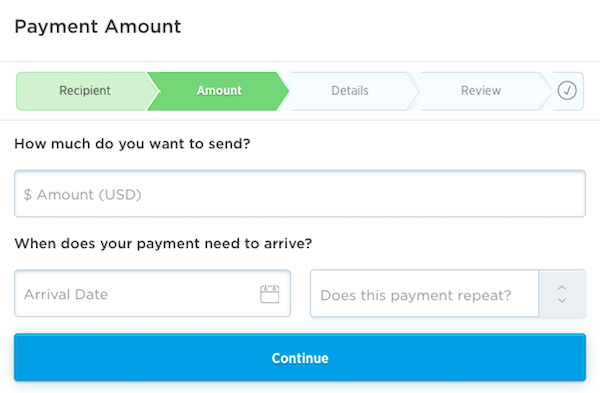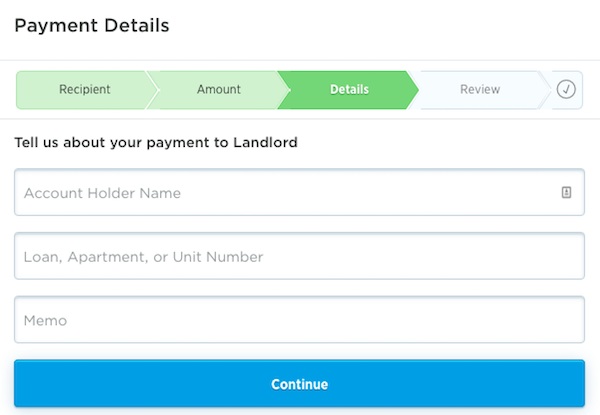 You can save credit card details as well as information about the people you're paying on your account, and you can even set up a recurring payment.
Note that when you add a new recipient you may sometimes need to verify further information, or provide invoices.
How Does Plastiq Pay Your Recipient?
Once you've gone through the process of submitting the payment, Plastiq will make the payment on your behalf, with the following options:
You can pay by check, and the check will be delivered within eight business days
You can pay by wire transfer, and domestic transfers take place same or next day, while international transfers take 1-3 days
You can pay by ACH bank transfer, and funds can be deposited in the recipient's bank account as soon as next day

How Is Plastiq Customer Service?
This has been a major source of disappointment. Until recently I never had to actually contact Plastiq customer service. Well, unfortunately in the past week I've learned that it's virtually non-existent, which seems like a big problem for a company that promises a prompt bill pay service.
I've had trouble logging into my account for the past week, and Plastiq has been unresponsive by email. Plastiq also doesn't have any number you can call.
They do have a chat feature, but that didn't prove particularly helpful either…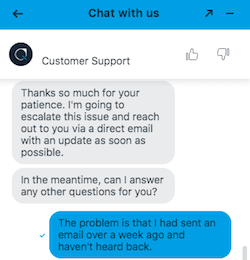 Is Using Plastiq Worth It For The Rewards?
While Plastiq opens up all kinds of opportunities to make payments by credit card, the cost is now 2.85%. The question becomes, is it worth generating credit card spending at a cost of 2.85%?
At a fee of 2.5% I personally thought it was worth it, while I have a harder time getting excited about a 2.85% fee, at least under most circumstances.
Let me actually state upfront that I do pay my personal income taxes by credit card. I can do this at a cost of 1.87% through a different service (Pay1040.com), and that's a price that's very much worth it to me.
Historically I'd pay taxes with the Chase Freedom Unlimited® (review), since it earns 1.5x points per dollar spent, and in conjunction with the Chase Sapphire Reserve® Card (review), you can get the maximum value out of those Ultimate Rewards points.
Personally, I think it's very much worth picking up Ultimate Rewards points for ~1.25 cents each, as I value them at significantly more (~1.7 cents each).
The value proposition has gotten even better with the Citi® Double Cash Card (review), which earns 2x ThankYou points per dollar spent in conjunction with a card earning ThankYou points.
Under what circumstances is it worth making payments with Plastiq?
If You Need To Complete Minimum Spending On A Credit Card
It could be worth using Plastiq if you're struggling to meet the minimum spending on a credit card, but being able to pay expenses by card would help you.
For example, say you get the Ink Business Preferred® Credit Card (review), which offers 100,000 Ultimate Rewards points after spending $15,000 within three months. If being able to pay bills by credit card would help you reach that, it could be well worth it.
Paying $428 for the ability to unlock a huge welcome bonus, plus the points you earn for that $15,000 of spending, could very well be worthwhile.
If You're Unlocking Some Threshold Bonus
There could be value in generating incremental credit card spending with a 2.85% fee. In addition to the general return on spending offered by cards, some cards also have threshold bonuses, where you get a further bonus if you spend a certain amount.
To give one example, the World of Hyatt Credit Card (review) offers a Category 1-4 free night certificate when you spend $15,000 on the card in a cardmember year, plus two additional elite nights for every $5,000 spent.
Let's say you're expecting to end the cardmember year having spent $10,000 on the card, and have no easy way of increasing that. It could absolutely be worth using Plastiq for that $5,000 of spending (at a fee of no more than $143) so that you can get a Category 1-4 free night certificate, 5,000 more points, and two more elite nights.
If You Value Rewards Highly/Have Really Good Cards
I'd argue that there are some cards where it could be marginally worthwhile outright spending for a 2.85% fee:
Both of these cards let you generate transferable points for 1.43 cents each. While that's not a slam dunk, it is below my valuation of 1.7 cents per point.
If Plastiq Has A Further Promotion
Back in the day Plastiq would constantly offer promotions for lower transaction fees. I would get incredible offers all the time, but it seems that they've greatly reduced the number of offers in recent months.
That takes away a lot of the appeal of Plastiq, unfortunately.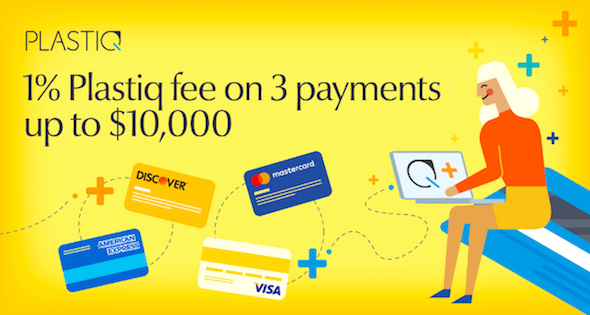 Plastiq Summary
I used to be very excited about Plastiq, when they had a 2.5% fee and constantly has promotions that lowered my average transaction cost even more.
They've now raised the fees to 2.85%, and promotions seem few and far between. When you combine that with their (very) lackluster customer service and lack of promotions, I have a hard time recommending Plastiq under most circumstances.
I do think Plastiq could still be worthwhile if you're trying to reach the minimum spending requirement on a credit card, or if there's a particular threshold bonus you're going for. However, in general I just have a hard time getting excited about a 2.85% transaction fee.
With a 2.5% fee I thought Plastiq could make a lot of sense with cards like the Citi® Double Cash Card, though to me it's much less worthwhile with the fee hike.
How do you feel about the value proposition of Plastiq, especially in light of recent changes?