---
I had an expansive list of things to do in Abu Dhabi, which is partly why we'd booked three nights there. There is no love lost between me and Dubai, but I do enjoy Abu Dhabi (for what it is). That being said, my favorite thing to do from Abu Dhabi is drive through the desert to Oman, but that's probably not something most people are looking to do.
Given the lousy weather, we didn't take any day trips, and limited our excursions to the Mosque, the nearby souk, and checking out the Emirates Palace hotel for dinner.
Visiting the Sheikh Zayed Grand Mosque
This is the best thing to do in Abu Dhabi, and possibly in the UAE, in my opinion. It doesn't take that much time (but it can, if you'd like), and is beautiful at any time of day. There aren't many mosques that non-Muslims can visit in the region to begin with, and the scale of the Sheikh Zayed Grand Mosque is impressive. The audio guide is also well done, and while it's a little (okay, a lot) propaganda-laden, it's still informative.
Also, it's free, and I know y'all are big fans of free.
When to go to the Abu Dhabi mosque
In general, the mosque is open from Saturday to Thursday from 9AM to 10PM, and Friday from 4:30 PM to 10PM, and you can walk through at your own pace with the complimentary audio guide during those times. If you'd prefer a tour, those are offered several times a day as well.
I highly recommend visiting first thing in the morning, and/or late in the evening for a few of reasons:
All that marble gets hot during the middle of the day
The surrounding gardens look best early in the day
The mosque is illuminated beautifully at night
Regardless of what time you're able to squeeze in a visit though, I really think it's worth a stop. It's a beautiful building.
What to wear to the Abu Dhabi mosque
This is actually pretty simple, and ironically is easier for women than for men.
Men: No shorts, tank tops, or overly tight clothes.
Women: Nothing tight, and need to be covered from neck to wrists and ankles. Headscarfs are mandatory. Or they'll give you an abaya to borrow. So while the guys have to be prepared, the ladies can just show up and be given appropriate clothing.
At least it's a practical response to a double standard 😉
Update: Reader Sean M, who is the best source of info on the MENA region notes that men can also borrow appropriate garb at the mosque. So you have no excuse not to visit on a layover 🙂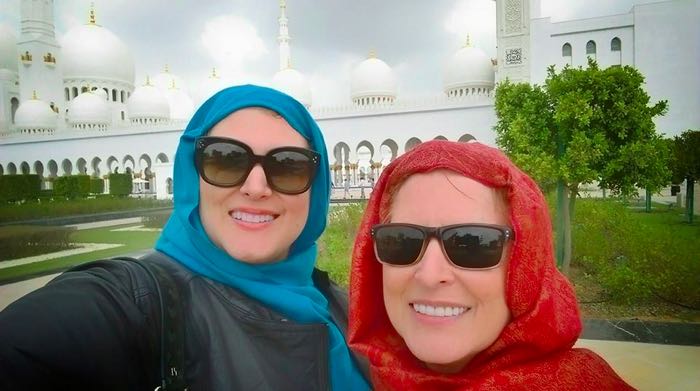 Everyone should wear socks. This isn't in the rules, but you have to take your shoes off to go into the mosque, and ewwwwww!
The mosque actually has a nice infographic on what to wear and how to behave appropriately, which is helpful: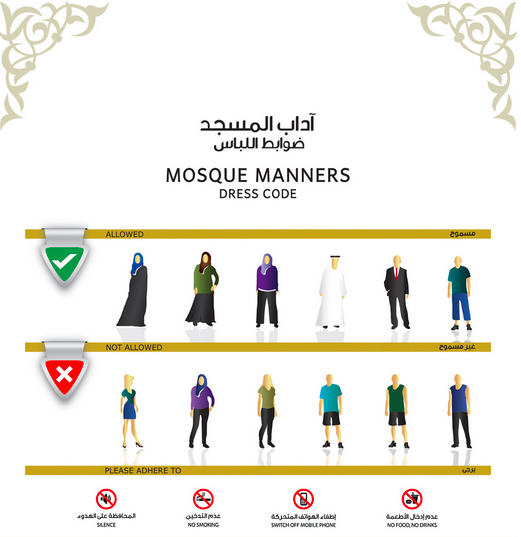 Other things to do in Abu Dhabi
The photos in this section are all from previous trips, given the aforementioned weather challenges, but I thought it might be helpful to outline some of the things to do Abu Dhabi other than go to the beach and the mosque. Feel free to add your favorites in the comments!
Al-Ain
If you like archaeology and anthropology, don't waste your time with the silly "Heritage Village" over on the corniche. Instead, plan a day trip to Al-Ain. You can even do this in a half-day if you're an aggressive tourist, but I wouldn't plan on spending the night regardless. You do want to check the timings, as many attractions in the UAE have opening hours that would be considered odd to Western tourists, but make sense once you've spend more time in the region.
The Al Ain National Museum isn't going to impress anyone who has been to a museum…well, anywhere, but the fort it's housed in is pretty cool.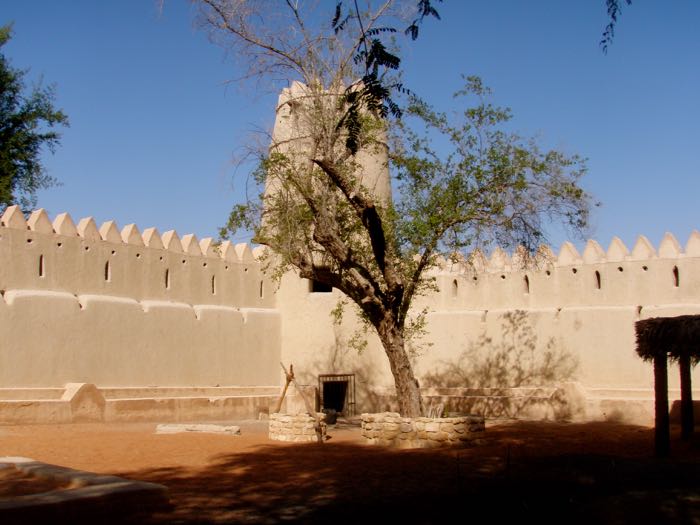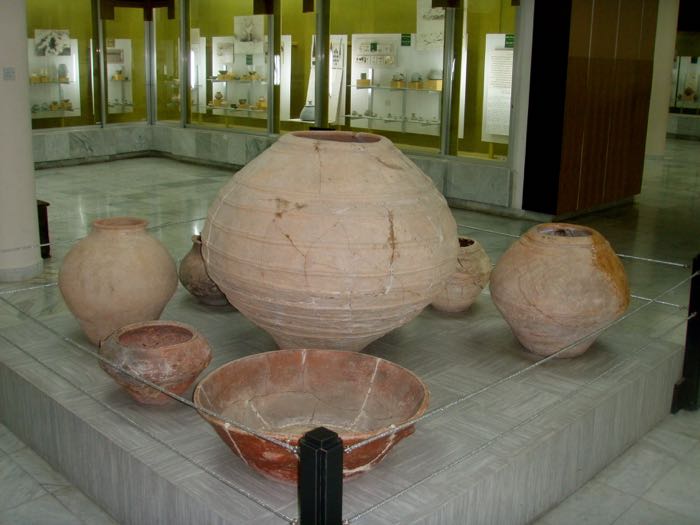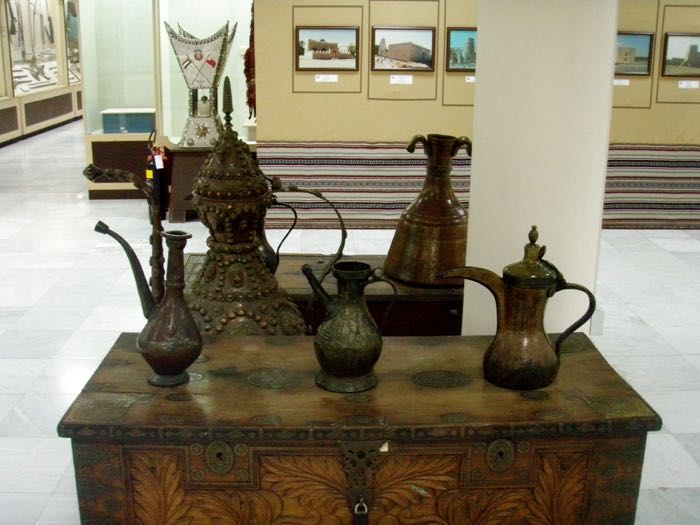 The Al Ain Oasis is nearby, and while I can guarantee it's not something Ben would enjoy, I liked seeing the ancient irrigation systems (still in use!), and learning more about the pre-oil economy of the Emirates.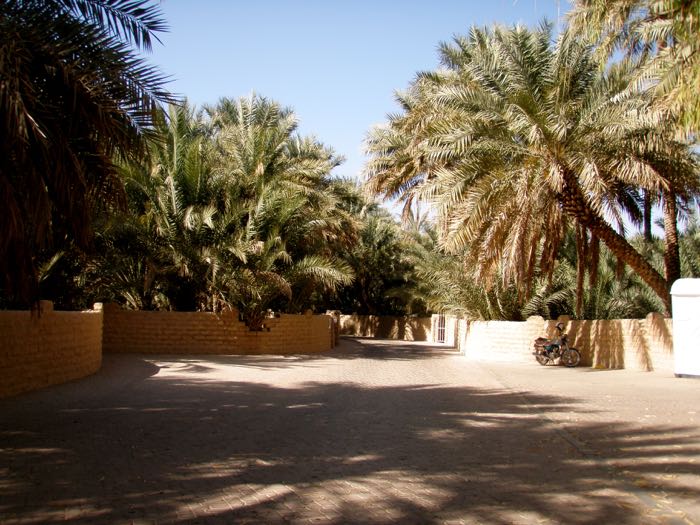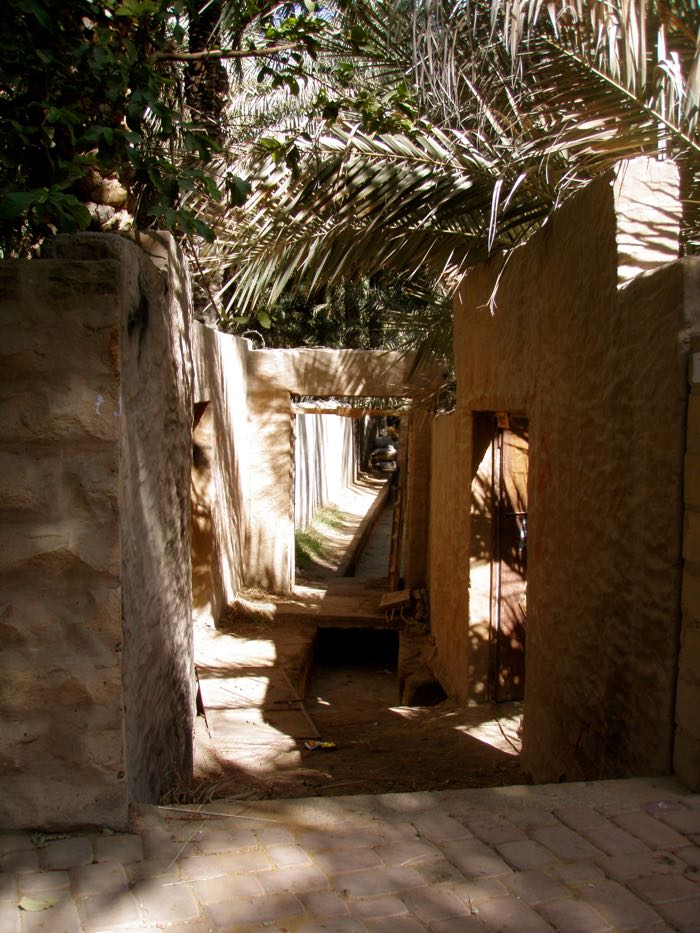 If you really like old rocks (and my mom does, which is why we'd planned this as an outing), then the Al Hili Archaeological Park is worth a stop. It's mainly a garden at this point, but there are some Bronze Age hill tombs, which are neat to see if that's something you enjoy.
It's also nice to see some context to the region in general. Many decry the UAE as not having had a "culture" before oil, but that really isn't true. The Bedouin culture was thriving in the area, but the main settlements were in the mountains, with the coastal communities being more temporary. Even now, Al Ain has the highest per capita population of Emirati nationals, so just walking through the city is very different than being in Dubai or Abu Dhabi. It's not glamorous or exotic by any means, but feels a bit more authentic in many ways, at least to me.
Liwa
Ben has raved about dune-bashing near Dubai before, and it really is fun. I prefer the dunes out near Liwa, and if you're staying in Abu Dhabi it's easy to arrange a trip out to the dunes. If you don't want to go dune-bashing, but just want to see the desert and maybe some camels, the road out to the Liwa Oasis is really easy, so you can certainly self-drive.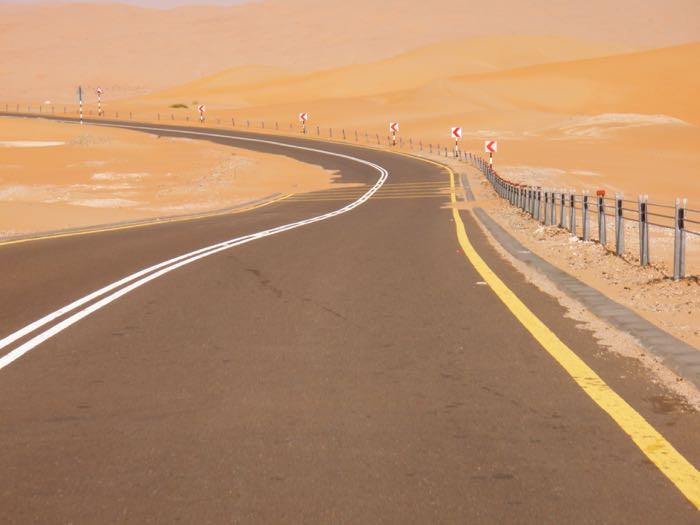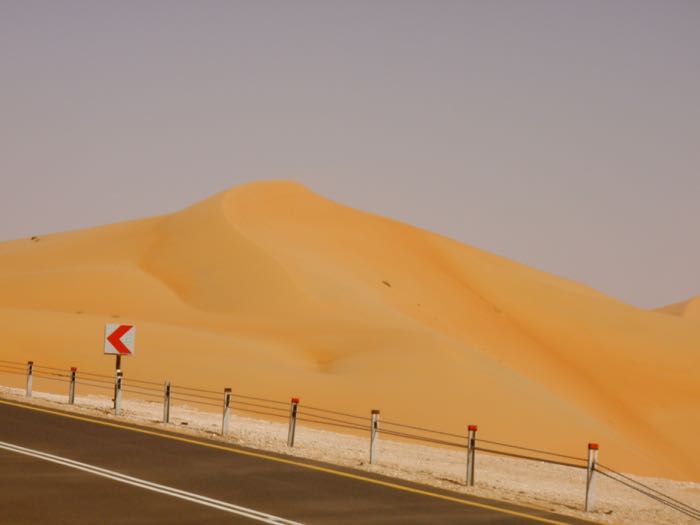 Just note that many of the gas stations in Abu Dhabi won't take foreign credit cards (or maybe credit cards at all?), so you'll want to grab cash. It's also worth noting that when you get out of the cities the restroom facilities in Abu Dhabi generally get a B- on my already-generous foreign-bathroom scale. They'll typically have running water, but that's about it, so it's definitely a BYO paper, hand-sanitizer, etc., situation. I'm sure you're all dying to go now 😉
Mangroves
Abu Dhabi has a mangrove forest! This is the activity I was most excited about, so I was bummed when the weather didn't cooperate. The Park Hyatt can actually arrange eco-tours of the mangroves, but you can also rent kayaks, or go out with various tour companies.
There are lots of birds and other wildlife, and most of us don't see mangrove trees everyday, so I think it's a fun outing. I always like being on the water though.
Don't go "pearl diving" — that's basically a tourist trap. I mean, I guess if you know what you're getting into before you go it might still be fun. But it's about as authentic as a Waikiki luau.
Overall
Given the option, I will almost always choose to spend time in Abu Dhabi over Dubai. I realize this is an unusual perspective, and I'm not necessarily recommending you do the same. The restaurants and shopping are certainly better in Dubai, but I appreciate the pace in Abu Dhabi, the relative lack of traffic, and the opportunity to do more "outdoorsy" stuff.
Even on a layover, you could easily visit the Mosque, and have a nice meal at the Souk Qaryat Al Beri across the river (it's a small mall, not a traditional Souk). I like Ushna for Indian and The Meat Co. for everything else, but there are several great and easy options in the area.
Anyone else have advice for Abu Dhabi?