---
I've written in the past about SPG Moments, whereby Starwood Preferred Guest members can redeem Starpoints for tickets at sold out events including concerts, sporting events, cultural activities, etc.
Why SPG Moments are so awesome
As a general rule of thumb the best use of airline miles is for flights and the best use of hotel points is for hotel stays. But there are certainly exceptions. For example, Starpoints can also be transferred at a 1:1 ratio to over two dozen airline partners, and you get a 5,000 point bonus for every 20,000 points you transfer. That's why my valuation of Starpoints has stayed the same for several years now, as there are so many great uses of Starpoints.
But SPG Moments aren't just a gimmick, they're actually in many cases a fantastic use of points. For a lot of road warriors who spend 200+ nights per year in hotels, being able to redeem points towards more travel doesn't really sound like much of a reward. And that's what makes SPG Moments so great. You can redeem points for some amazing experiences to "reward" your family members and friends for all the time you spend away. In many cases these are experiences you couldn't otherwise easily spend cash on.
I've attended a couple of SPG Moments events, including recently experiencing the SPG Suite at the US Open. Tiffany shared her experience at the SPG Suite about a week prior.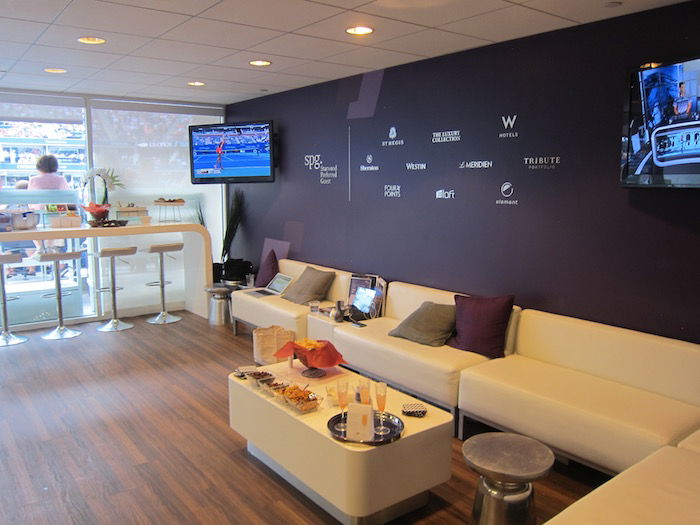 SPG Suite at the US Open
SPG Moments + One Direction
As many of you may know, I'm basically a tween/teen girl at heart. And it seems the folks at SPG know that, because earlier in the year they reached out to ask if I wanted to see One Direction at the O2 Arena in London (SPG has a suite at the O2 arena).
I was driving when I got that email, and was so excited that I had to pull over to the side of the road to avoid having an accident. Perhaps the most exciting part was that we'd get the entire SPG Suite, and would be able to invite some blog readers along to join us.
So we held a contest for readers t0 join us, and eventually the five sets of winners were picked based on your votes.
Visiting the SPG Suite at the O2 Arena
As mentioned in the previous installment, we were staying at an airbnb near the O2 Arena, so it was a quick boat ride to get to the venue. The SPG Suite opened at 6:30PM (with the opening act kicking off at 7:30PM, and One Direction being on stage from 8:30PM until 10:30PM), so we got there plenty early.
The O2 is quite unique on the outside, as it almost looks like a cake with candles around the outer perimeter.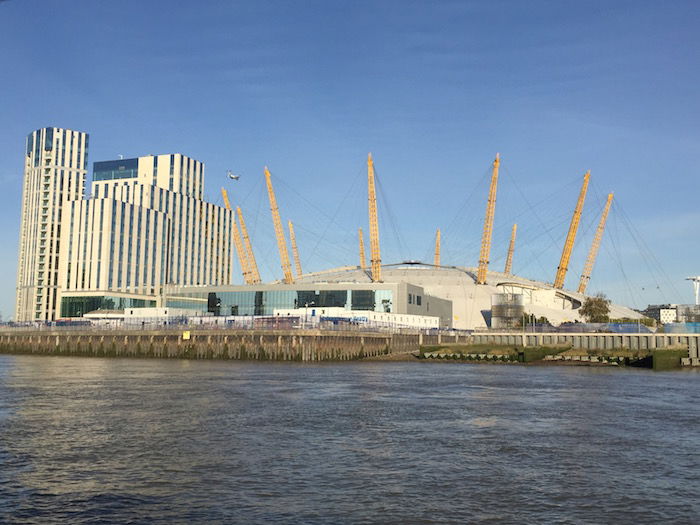 The O2 London exterior
The O2 has a huge shopping complex, so it's an interesting integrated arena and mall, of sorts.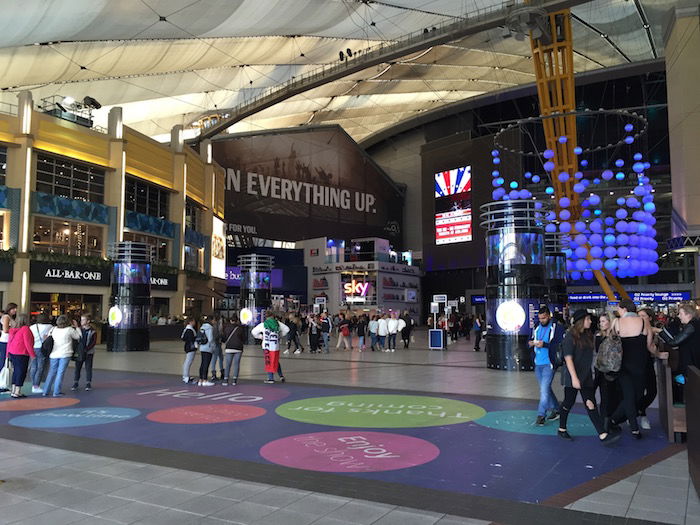 The O2 London shopping
We met the other people joining us in the SPG Suite before the concert at NYLON, which is the cool bar that Delta and Virgin Atlantic operate.
While I was hoping to review it, they were actually filming The X Factor inside NYLON, which was both good and bad:
It was good because we were literally the only guests (since we had made a reservation for a large party) and had the "private room" all to ourselves
It was bad because we weren't allowed to walk around and had to be quiet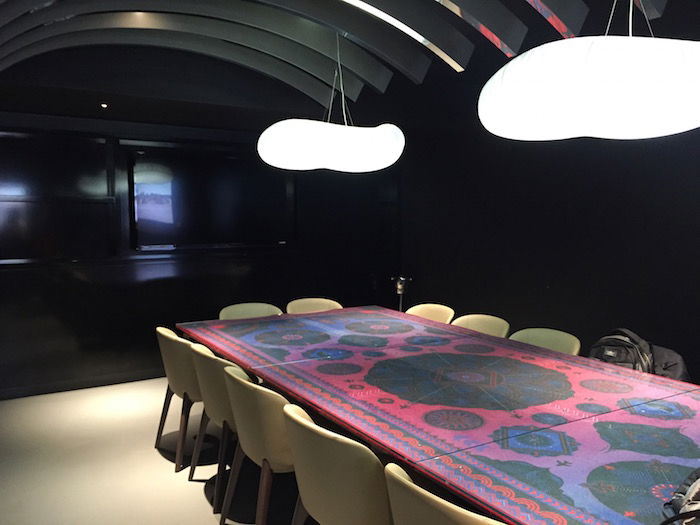 NYLON at The O2
Anyway, at around 6:30PM we headed to the SPG Suite. While the queues were long to get into the arena, there was a special entrance for suite ticket holders at the very left of the entrance. Being able to use that line saved us a substantial amount of time.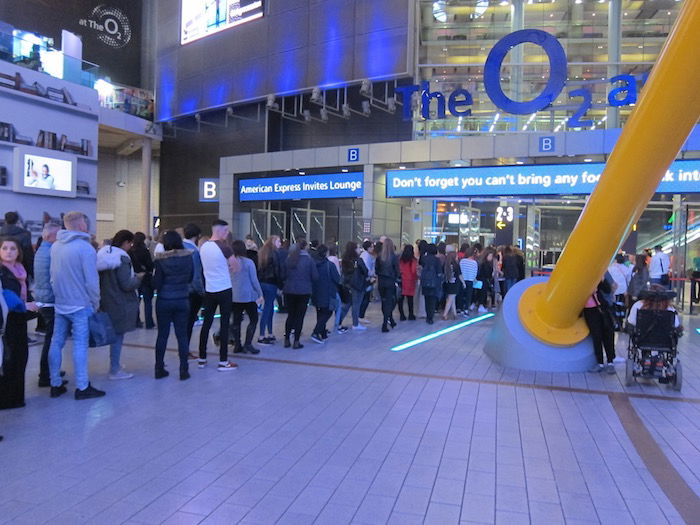 The O2 London concert entrance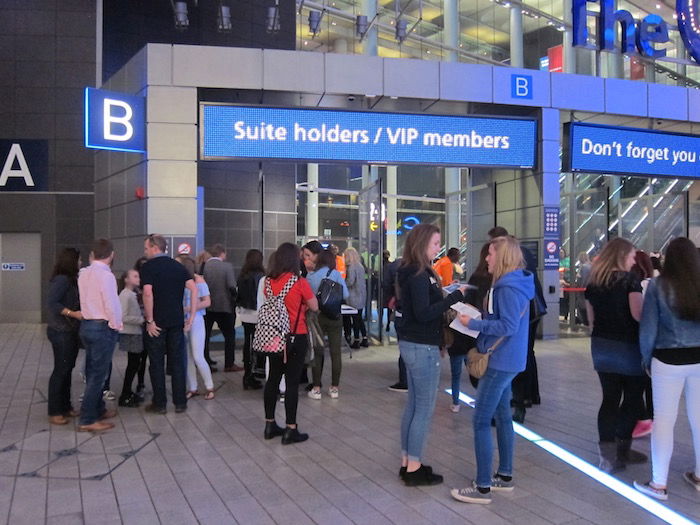 The O2 London entrance for suite guests
From there you have to take a couple of sets of escalators up to the level with the suites.

The O2 London escalator to suites
The suite level is gorgeous, with plenty of couches. You don't at all feel like you're in a venue of this size.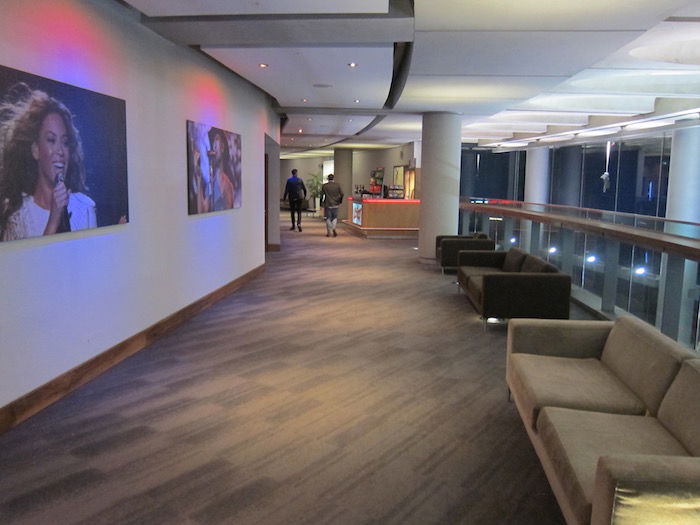 The O2 London walkway to suites
SPG has suite 327 at The O2, which is about halfway down the hallway when arriving at the "B" entrance.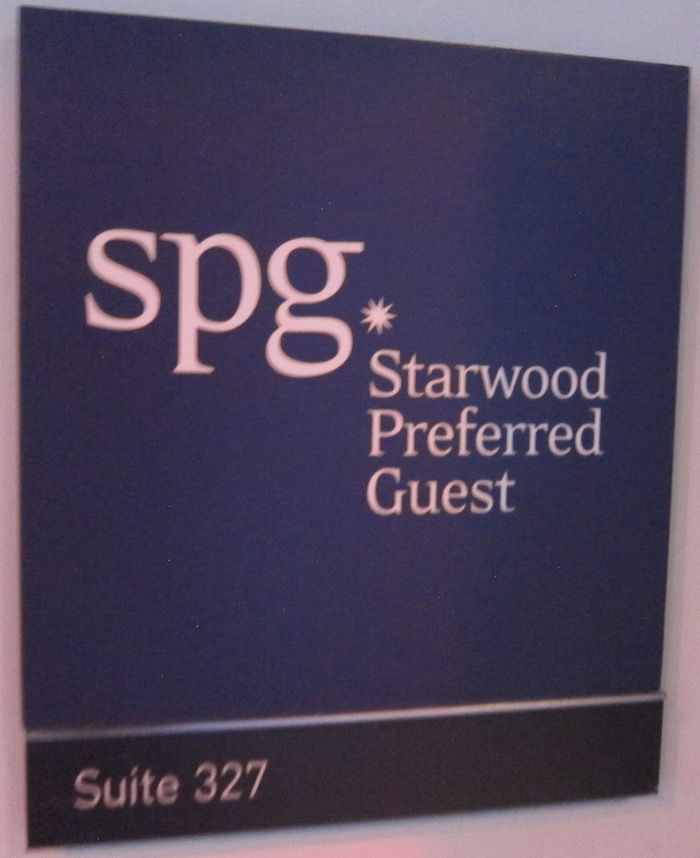 SPG Suite at The O2 London
The suite was gorgeous.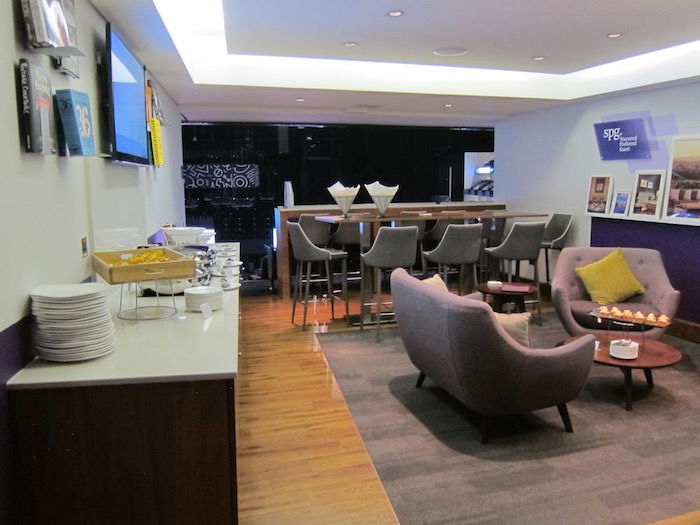 SPG Suite at The O2 Arena seating
It featured a seating area with three seats right in the center of the room, closest to the bar.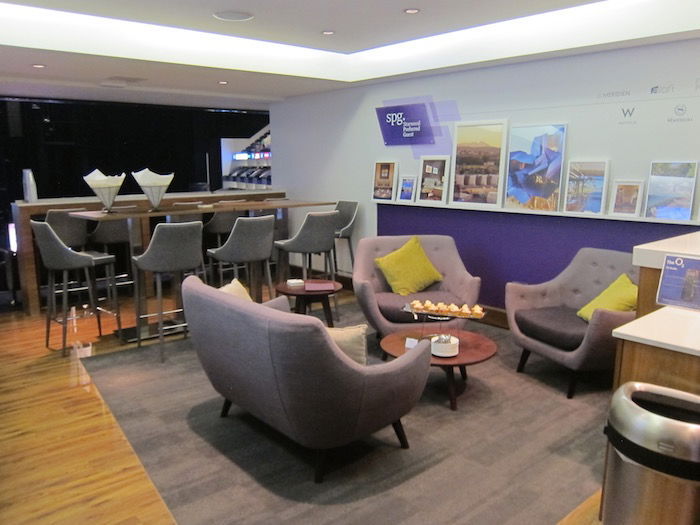 SPG Suite at The O2 Arena seating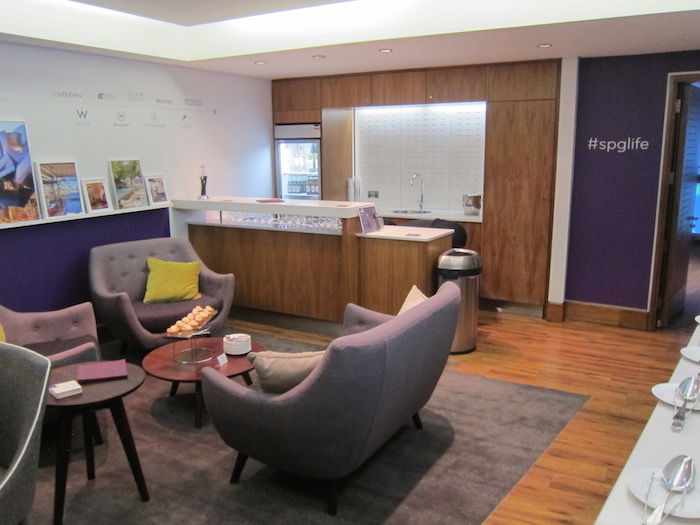 SPG Suite at The O2 Arena seating
Then there was a high-top table with a handful of seats. Past that was another high-top table directly facing the arena, with another handful of seats.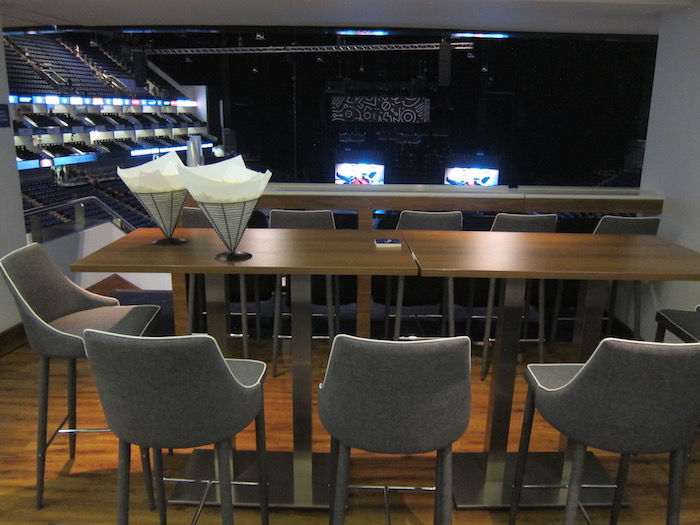 SPG Suite at The O2 Arena seating
There's plenty of SPG branding throughout the suite, as you might expect. One wall had art with all the SPG brands.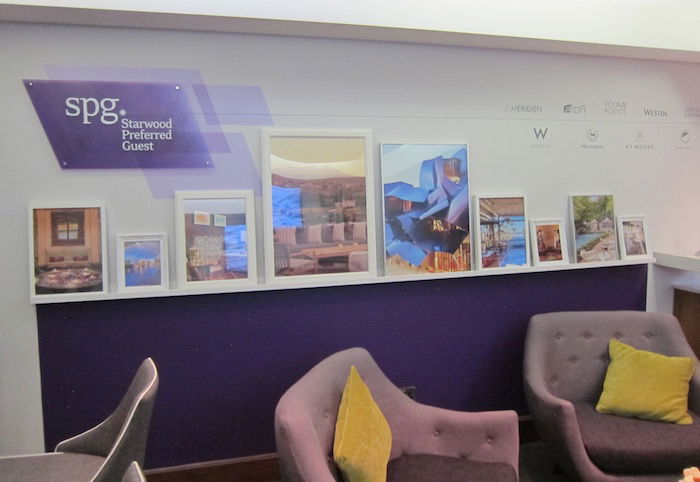 SPG Suite at The O2 Arena SPG branding
Then below that is actual seating facing the stage, with a total of 15 seats, spread across three rows.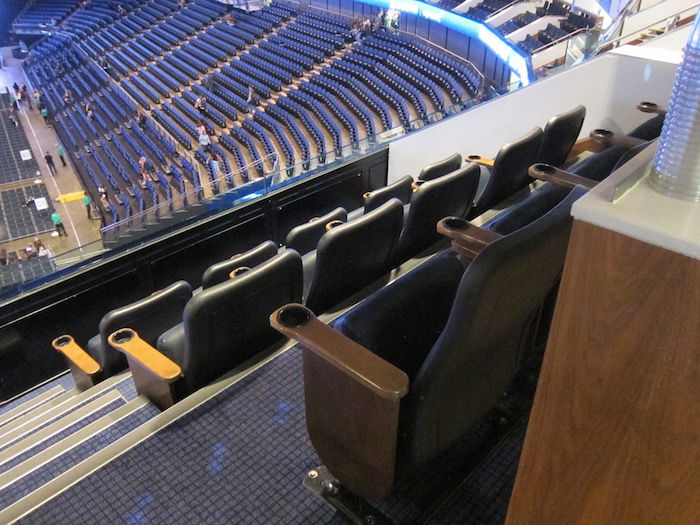 SPG Suite at The O2 Arena concert-view seating
The SPG Suite has a great location, as it looks almost directly on the stage.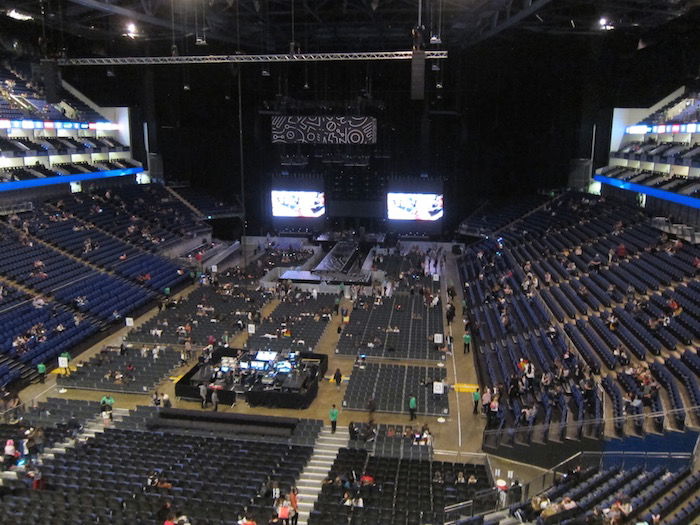 View from The SPG Suite at the O2 Arena
As you can see, there are tons of suites, spanning across the entire length of the arena.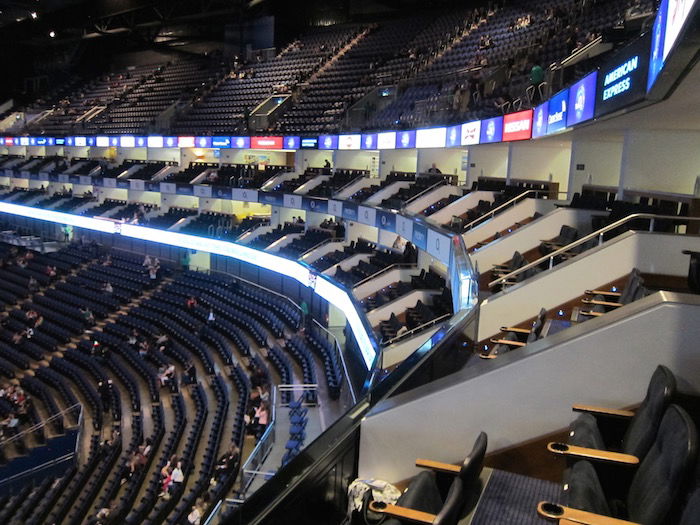 View from the SPG Suite at The O2 Arena
Once in the suite we were welcomed by Alex and Petra, our hosts for the evening. They were a delight, and couldn't have been friendlier and more attentive. They explained that they had a dinner prepared for us, which was all set up.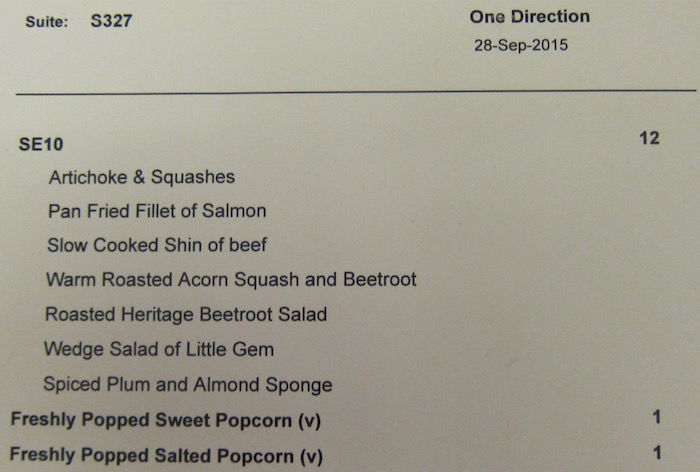 SPG Suite at The O2 Arena catering
The food was excellent.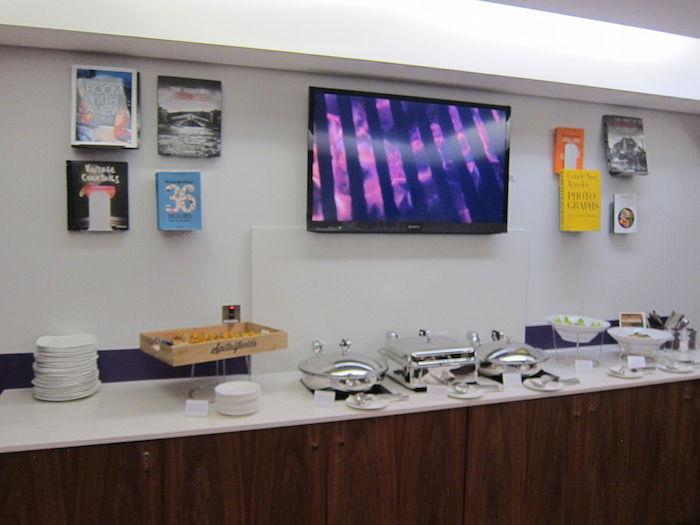 SPG Suite at The O2 Arena buffet
In terms of cold options, there was an appetizer and two types of salad.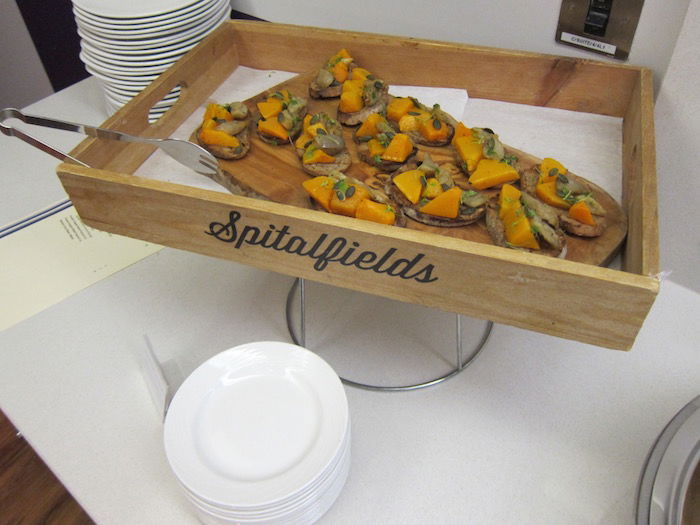 SPG Suite at The O2 Arena dinner — artichoke & squashes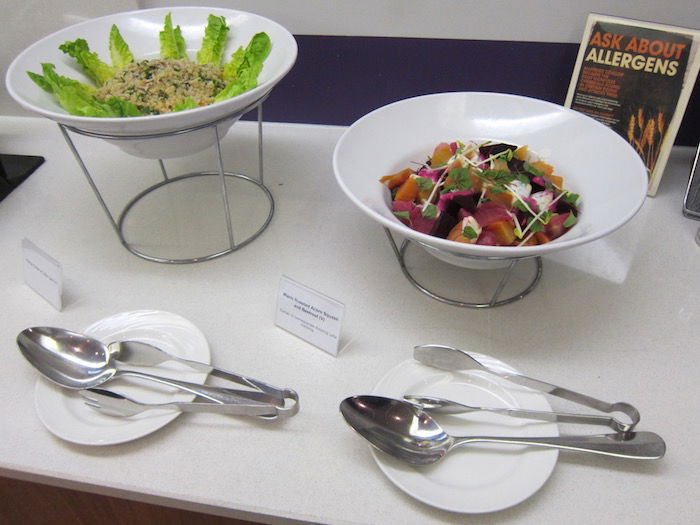 SPG Suite at The O2 Arena dinner — beetroot salad and wedge salad of little gem
Then there were three hot dishes.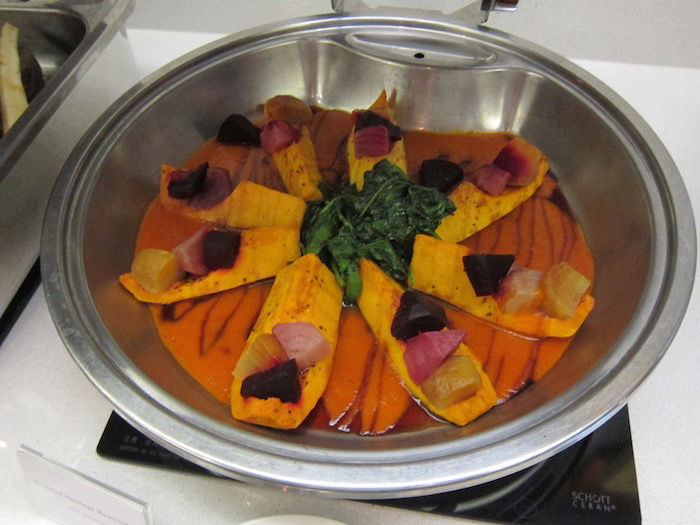 SPG Suite at The O2 Arena dinner — warm roasted acorn squash and beetroot

SPG Suite at The O2 Arena dinner — slow cooked shin of beef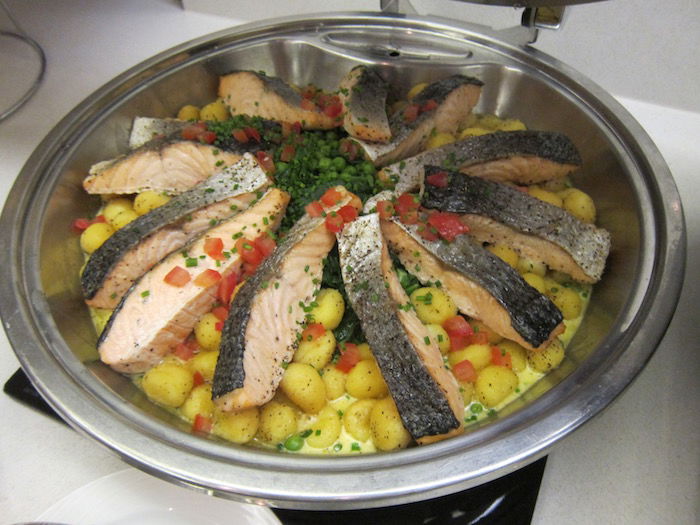 SPG Suite at The O2 Arena dinner — pan fried fillet of salmon
And then for dessert there was a sinfully good spiced plum and almond sponge.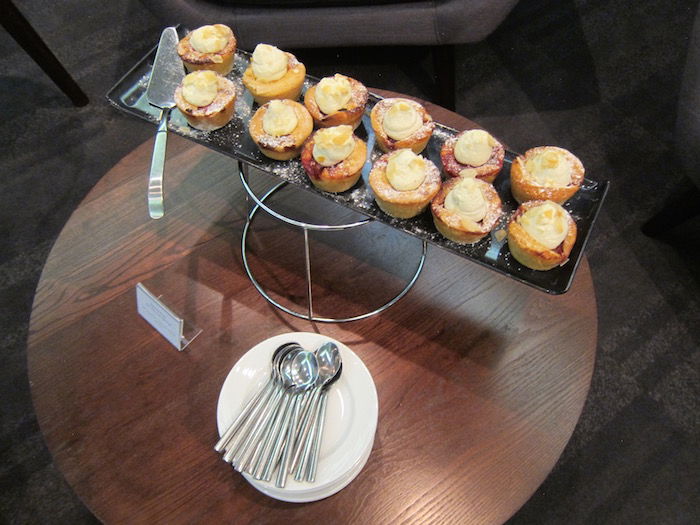 SPG Suite at The O2 Arena dinner — spiced plum and almond sponge

On top of that there was plenty of popcorn, and also an open bar with beer and wine.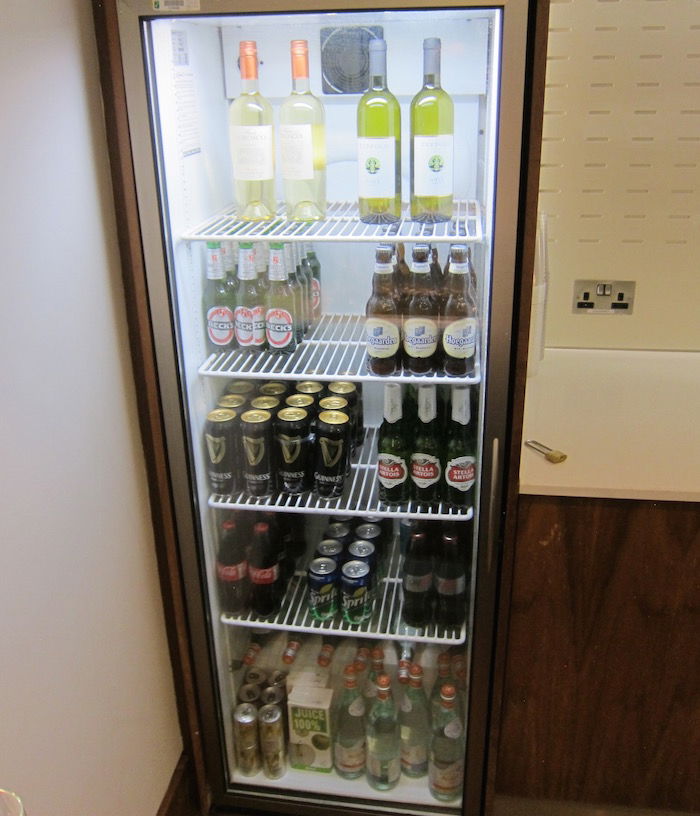 SPG Suite at The O2 Arena fridge
The SPG Suite typically seats 15, so as you can see, there's plenty of room to move around. All 15 people can sit in the "stadium" seats facing the stage, or there's seating for about 15 people inside the suite as well. It's awesome to have what basically amounts to a living room while also having a great view of the stage.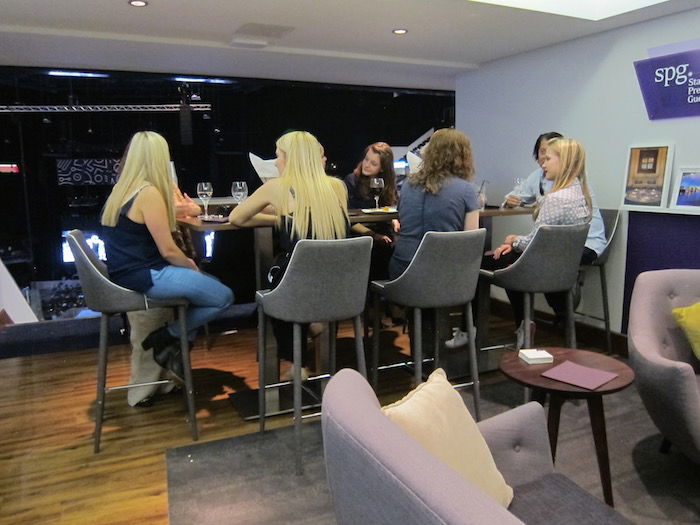 Our suite for the concert
We also really lucked out with the readers we had in the suite. It was a varied bunch, from all over the world. We had readers who brought their siblings, daughters, friends, etc. And oh my goodness, they made me realize that I'm apparently not as knowledgable of a One Direction fan as I thought. I also learned that apparently One Direction isn't "breaking up" next year, but rather is "taking a break."
Anyway, we ate and chatted until about 6:30PM, at which point the opening act, Augustana, came on stage.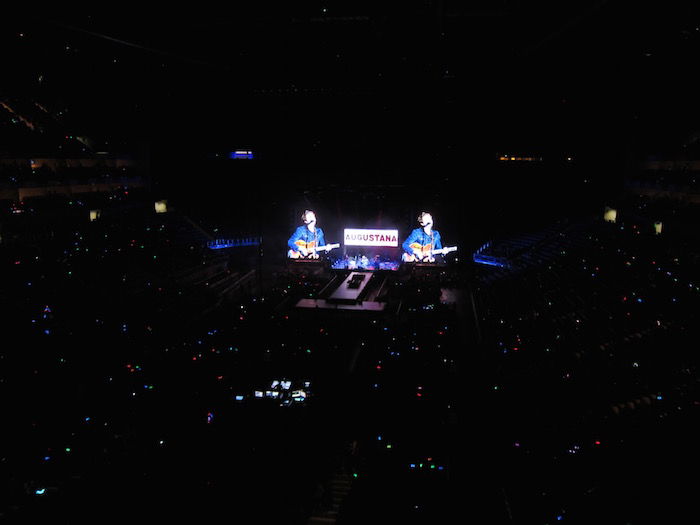 One Direction concert at The O2
They've been around forever, and were quite good. I actually didn't realize who they were until they played "Boston," which I think is a song that everyone has heard:
I sort of felt bad for them, though, since clearly they weren't getting One Direction-levels of cheers.
They wrapped up at around 7:30PM, and then the lights were turned on as the stage was prepped for One Direction.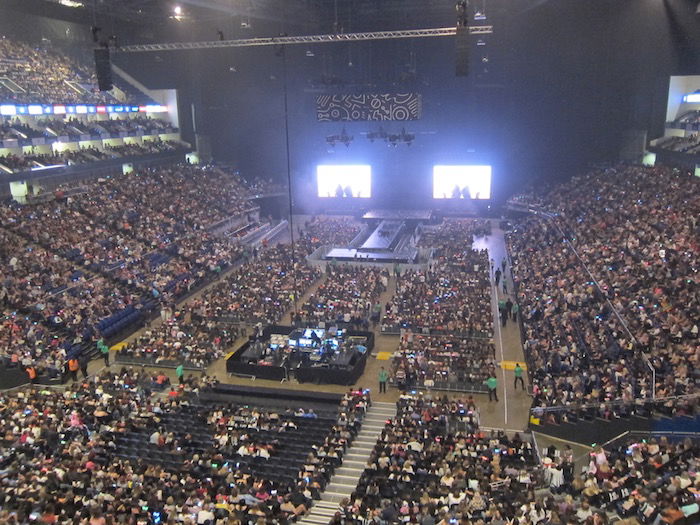 One Direction concert at The O2
Within 30 minutes One Direction was on stage, and my goodness, they were great. Whether you like their music or not, they really put on a hell of a performance. They were so enthusiastic, and genuinely thanked everyone for coming no fewer than a handful of times, explaining that they couldn't do this without the support of their fans.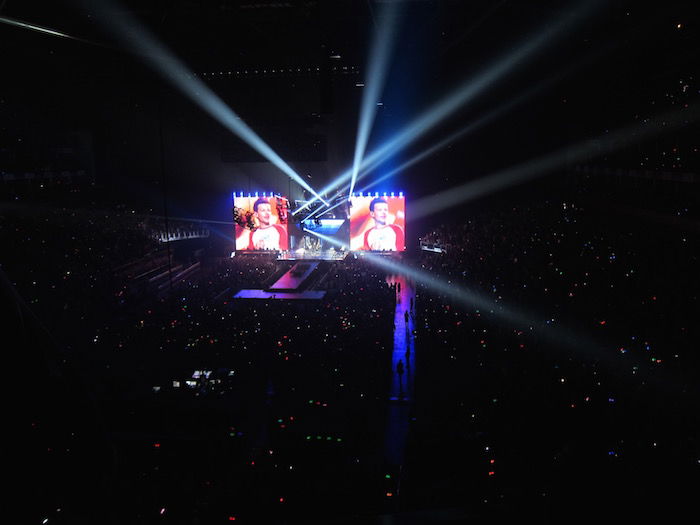 One Direction concert at The O2
And the fans were loud. LOUD. For most of the concert I couldn't really hear the music, but rather just heard screaming fans. And to think that we were actually pretty isolated in our suite. The O2 Arena has pretty impressive acoustics though, so for the few songs where the fans kept it down, the sound quality was excellent.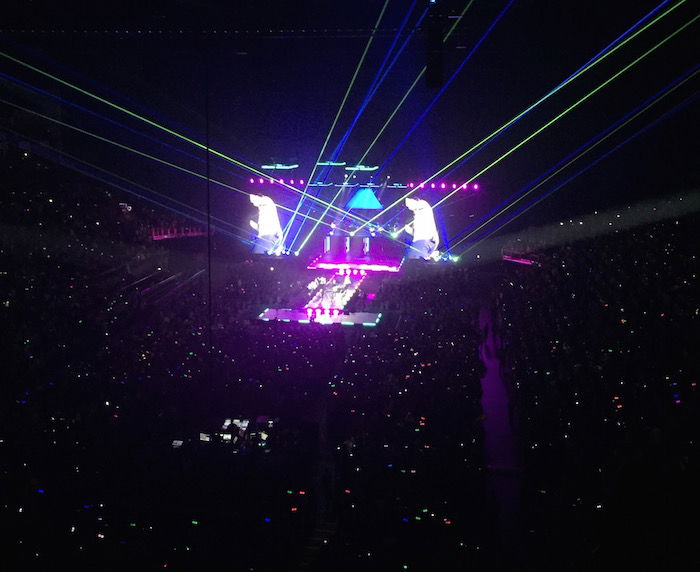 One Direction concert at The O2
One of the readers in our suite, Boris, was kind enough to share the following video he took of the concert:
One Direction performed for almost two hours, and at around 11PM they were done. We bid farewell to all the awesome friends we had made, and also our two incredible hosts, Alex and Petra.
SPG Moments bottom line
This was a really, really cool experience, and I'm grateful to SPG for inviting us to take over their suite. I'm also incredibly grateful for the awesome readers who flew in from far away to join us for the evening.
As I've said before, SPG Moments gives members access to some experiences which they otherwise practically wouldn't have access to, and this event is a perfect example of that.
And as a Directioner, I was especially excited to see One Direction in such style just months before the band breaks up takes a break.
I'll continue to keep an eye on the SPG Moments website in hopes of redeeming Starpoints for some cool experiences.
Have you attended an SPG Moments event yet? If so, how was your experience?