Last Friday was the last day to submit entries to join me in the SPG Luxury Suite at an upcoming One Direction concert. I simply asked you guys to tell me what you loved about SPG and/or One Direction, so thanks to the hundreds of you that participated. It was really tough to narrow it down to this group of finalists!
Now it's up to you guys to decide who wins. Through tonight, August 7th at 11:59PM Pacific you can vote below on who you think should win. The five finalists with the most votes wins, (barring any voting irregularities), and each will get to bring a guest to the concert.
The polls can be found underneath each individual entry, and all you have to do is vote on which entries you think are best. You can actually vote for as many entries as you'd like, since each is set up as an individual poll, though obviously voting for every entry is the same as not voting at all.
Here are the finalists, in no particular order:
---
Jason
I would absolutely LOVE to attend the 1D concert with Lucky, I'd definitely feel lucky at the end of that night… I would relish the opportunity to meet him, and would probably be squealing louder than him at the stage.
Oh. What do I love about 1D? I absolutely adore a lot of their songs. "Story Of My Life" is my absolute favorite. And I've only ever been to one concert in my life too, a few years back with my ex-boyfriend. We attended a Patrick Wolf concert, and he sung our 'song', "The City", as the encore. :3 I imagine knowing my luck, 1D would do the exact same thing to me again.
[poll id="74″]
---
Alex
Wishing on a star that @OneMileataTime will drag me down to London 4 #OMAAT1D to make some midnight memories & hear Best Song Ever #spglife

— Alex Bowden (@TransWorldOne) August 1, 2015
[poll id="73″]
---
Andrew Meyer
https://twitter.com/MeyerAndrewL/status/625153799095734276
[poll id="72″]
---
Kenny
Rick and I LOVE SPG. We got married at the The St. Regis Monarch Beach on February 8, 2014. They had an amazing 90 day wedding plan for us after SCOTUS ruled against DOMA! We have stayed at many SPG properties both in the US and Europe. We stayed at the W London about 3 weeks ago. We'd love to join you in London in Sept! smile emoticon We have lots of points/miles!
[poll id="71″]
---
Ro
I'm just a humble gal from Hawaii trying to win this SPG Suite/One Direction contest! Wanted to start off by letting you know that this soooo isn't me–I don't enter contests that require anything more than sending my e-mail address. But this one's different… perhaps because it's the best contest ever. Fairly new to miles & points and Lucky, your blog was one of the first ones that I read and it continues to be my go-to resource. I've got nothing but mad respect for you and what you do so I just HAD jump at the chance to possibly hang out with you! So I'm going to keep it real… real cheesy.
What I love about:
One Direction
Maybe not a die-hard 1D fan, but I'm not ashamed to say that I genuinely like them and appreciate their music. It's good. The only boy band I'll listen to right now. I even created a playlist of all my fav 1D songs on my iPhone. Serious.
Fav 1D member? Harry! 'Cause he's got great hair. A friend even helped me to make an awesome fathead of him (see my video). Should I be one of the lucky winners, you know that's coming with me to London. If not, no worries—I can use it as a fan when it's hot.
SPG
Luxury, excellence, world-class service … those words are what come to mind when I hear Starwood/SPG.
I've stayed at a few Starwood properties and no matter where you go, they take care of you, especially when you're an SPG member.
My mom retired from a Starwood hotel and every so often she'll told me how proud she is to have worked for them. So I can also say that they not only value their guests, but most importantly their employees as well. And for that I am grateful.
Finally, I've got a SPG AMEX—c'mon, son…
And to bring it all home, I created a video just to give you a taste of what you guys would be in for if I win. I promise I'm super fun and we'll all have a blast! Don't you worry, I still can scream like I'm 15 (bring ear plugs!). I hope that you and your secret committee pick me as a fav! Thank you!
http://robeastprints.tumblr.com/post/125499253397
[poll id="67″]
---
Robert
@OneMileataTime I love how 1D wrote a song about a well known blogger… have you seen the video? #OMAAT1D http://t.co/EprTIwydrU

— Robert Kim (@RobinRoute) July 27, 2015
[poll id="70″]
---
Marc
@OneMileataTime Keep Calm! #OMAAT1D pic.twitter.com/PsLmnKA8OO

— Marc (@marchanemann) July 29, 2015
[poll id="69″]
---
Michael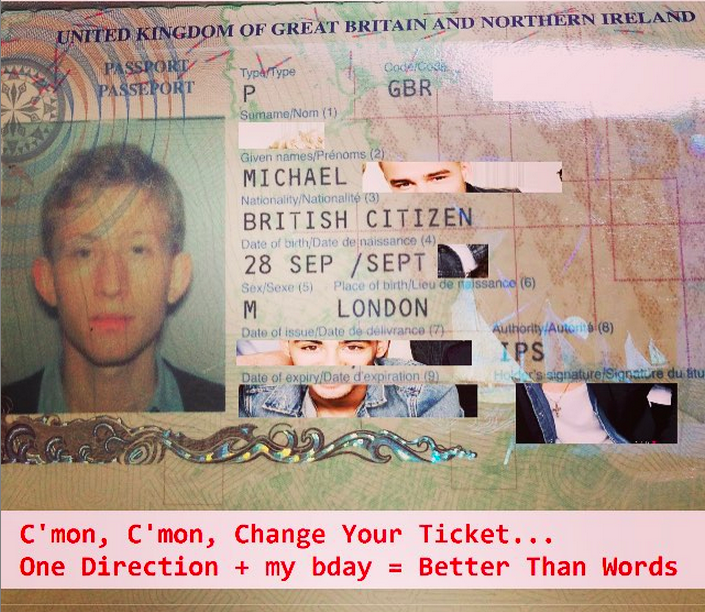 [poll id="68″]
---
jordroz
https://twitter.com/jordroz/status/627097963605716993
[poll id="66″]
---
Mairead
It certainly will be THE BEST CONCERT EVER!!!
And, here's why:
-I happily promise not to judge Lucky for screaming like a teenage girl for 1D, because my cousin & I will be screaming just as loud (even though we're 27)… but who really wants to act their age, anyway
-My cousin is in Ireland and I'm in Nashville, TN, so we will be living while we're young, and enjoying our reunion in London town!!
-Neither of us have seen One Direction before (been fans since 2010), so you can expect there to be no controlling our excitement throughout the entire affair!
-Although Zayn has moved on, I know Harry, Louis, Niall & Liam will put on a show to remember because nobody compares!
-Singing along to Little Things (and every other song, let's be real) would be an absolute highlight in the story of my life!
So Lucky, please pick my cousin & me to join you for this once in a lifetime concert
[poll id="65″]
---
Lauren
OMAAT Super Fan here, but in a totally cool, non-stalkerish way, really: There has been semi-facetious debate amongst my friends and family about who my favorite Ben is – given how much I read your blog and that my partner of 5 years is also a Ben. When I was sitting in CX F from HKG-JFK with boyfriend-Ben, we tipped our glasses of Krug to blogger-Ben.
1D Fandom (Yes, I am secretly a 15 year old girl trapped in the body of a 37 year old woman): Given I am a Harry fan at heart, I am not super sad about Zayn leaving. I think those four crazy kids can make it on their own. I promise to a) totally scream like a teenage girl with you and b) attempt to replicate the dance at the end of the Best Song Ever Video with you — after at least 3-5 drinks.
Other reasons you should totally pick me: I understand what it is like to go cold turkey from Diet Coke. I found the sparkling water with lime to be a decent substitute, but I understand it isn't for everyone. I can be your Diet Coke Anonymous sponsor. Also, in a travel-related stroke of good luck, I am planning on status running for AA Platinum and this will be timed perfectly to put me over the top with EQPs.
HazzaBoo 4 Eva! (http://tinyurl.com/q2essdz)
[poll id="64″]
---
Anna
I'd go for One Direction (of course!), but I'd have to take my brother to see Ben!
[poll id="63″]
---
Jordan
I love Louis, Harry, & the SPG Amex.
http://cdn.makeagif.com/media/7-31-2015/8rTPf3.gif
[poll id="62″]
---
Joey
Been a fan of this blog for years…. and just couldn't pass this up. My inner pop princess just needs to go. Looking forward to meeting you to discuss all things airplanes.
This is my entry…. a stop motion in yours and SPG's honor: https://vimeo.com/134953361
[poll id="61″]
---
MommyTraveler
Wow! What a great contest. Thanks, so much, Lucky, for including your readers! Of course, as soon as I saw it and told my daughter she went nuts with excitement. She is 1D obsessed, (and I will confess to liking their music too….!) and so I promised her I would enter to see if we could win a space at the Meet and Greet. (And, as any Mother would attest, there is no greater pleasure in life than seeing the pure joy and delight on your children's faces when you can make their wishes come true.) Using my SPG Amex points (which I collect like crazy using my SPG Business and Personal cards) would make this a trip to remember.
The SPG program is one of the best out there for redemptions at fabulous hotels and also for transferring to great airline programs. My SPG AMex is my 'go to' card for all my spend. So, with the help of my daughter who is far more technically competent than I am, we made this video to show how Beautiful it would be to travel One Mile at a Time to add this experience to The Story of My Life, and how Lucky she would be to Live While We're Young!
https://www.youtube.com/watch?v=t6Lom1tqO1U
Oh, and by the way, OMAAT is pretty much my "bible" when it comes to knowing which hotels to target and how to snag the best seats on the flight!
[poll id="60″]
---
Vince
So, I like traveling. and I like cover songs. and I like one direction. I would LOVE to see them.
I made a little video for everyone to enjoy. I hope you all smile.
[poll id="59″]
---
A.M. John
Why I "love" SPG? One Direction? Neither one qualifies for "love" status — that's a very strong term.
However, that said, I do very much like SPG properties and their loyalty program, and the music of One Direction.
More to the point, in September I will be in the UK on my first "post-April DFW-FTU: did I play this game properly?" trip. And, significantly, it will be my first trip out of the US in nearly five years, as I was tied down in one city in the US by eldercare obligations for four years. C'est la vie. One does the right thing, and one doesn't t ask "why me?".
So I would very much like to attend. I enjoy the music of One Direction. And a celebratory occasion to honor my reintroduction to global travel (and perhaps honor my parents who were addicted globetrotters)– would be a delight. And, more fundamentally, it's simply something that I wouldn't be able to do on my own resources.
[poll id="58″]
---
Boris
I am a regular reader and a fan of this blog for good 4-5 years now. As a huge avio geek i just loved reading and daydreaming about flying around the world and seeing all the cool destinations and flying premium class…So far I've been on 6 longhaul flights ( 4 of them in business class – thanks to miles). In Europe it is much harder to accrue miles – as a student I fly the cheapest fares so getting miles is a very slow process (even with a credit card) ..But as slow and difficult as it is , it sure taught me one thing -that dreams do come true.
And reading this post I know that I can make a dream come true too.Not mine , but my little sister, who is the biggest 1D fan I know.
To make my entry a little more creative I made a video:
https://www.youtube.com/watch?v=Q8wHdza-Fqg
Will also post it on twitter , but not on Facebook because I would like to surprise her at a later stage if she is a lucky winner. I'm sure it will be an unforgettable experience for her and if on the 28th of September i'll be the 'best brother ever' then I couldn't be more happy too!
[poll id="57″]
---
John
I have an 11 year old daughter.
[insert sound of 11 year old girl screaming when told we won].
'Nuff said.
[poll id="56″]
---
Scott
When I saw this post for this contest, I could hardly contain myself. If you've ever seen "Dan Charles", One Direction's "Number 1, Fan", do not be fooled. I am most definitely, and certainly One Direction's Biggest Fan. My frequent traveling is accompanied by some amazing tunes by the boys of One Direction themselves, and a wonderful Sheraton Rewards program. There was just one problem- My love for One Direction and Starwood Preferred Guest is simply too great to describe. It is "Better than Words", which struck an idea. When I myself cannot describe my Love for great music, and great hotel service it is best to let the music do the talking. So I have below some reasons why "I Would" be an amazing accompaniment to an amazing trip and concert with a fantastic band.
1) "Don't Forget Where You Belong" "I've been a lot of places, I've been all around the world." Sometimes we do live out of our suit cases! However, wherever I am Sheraton's reward program always takes care of me. Taking advantage of their free reward nights is key.
2) "Something Great" "Is it too much to ask for something great?" Watching the boys live on stage at the O2 in London in a private SPG suite would surely be something great.
3) "Happily" "I don't care what people say when we're together" I mean, you are never too old to watch Harry, Liam, Niall, and Louis on stage, and we would both be "So Happily" jamming to some quality music.
4) "Half a Heart" "Walking around with just one shoe", I would be "Half a Heart" if you went to see One Direction in the SPG suite without me!
5) "Change your Ticket" I would NEVER change my ticket if I won. Seeing One Direction in London would be enough, an opportunity I wouldn't miss for the world!
6) "Live While We're Young" Not only could we go "crazy, crazy, crazy till we see the sun", but we could go "crazy, crazy, crazy" while we see One Direction together in an amazing suite.
7) "Midnight Memories" "Straight off the plane to a new hotel" (preferably Sheraton so I can take advantage of the rewards program), and then straight to the O2 arena. There would be many crazy times and "Midnight Memories" at this concert.
8) "No Control" This describes our screaming and excitement that overcomes us when the boys walk out on stage, "No Control"!
9) "Where do Broken Hearts Go" "Where do Broken Hearts Go?" Certainly not to the SPG suite at the One Direction concert in London.
10) "Gotta Be You" "It's Gotta Be You, Only you" Really, It's gotta be me, Lucky and I would have the best time in the SPG suite sharing our brilliant taste in music.
11) "Story of My Life" Traveling around and flying is the "Story of My Life", so seeing One Direction in London would just be amazing!
12) "You and I" "You and I, We don't wanna be like them" We want to and need to see One Direction from the SPG suite! You and I.
It was so hard to only choose some songs to describe my love for both Starwood Preferred Guest and One Direction. It seems as if every song by One Direction is "The Best Song Ever." Hopefully now though you see why going to the One Direction concert with me, (One Direction's true number 1 fan) would be one of many "Moments" to remember.
[poll id="55″]
---
Charlotte
My dad was the one who introduced me to your site. He was the one who sparked my passion for travel and exploring the world. I love following your Facebook and blogs, they truly are inspiring. This morning my dad emailed me about your One Direction contest and I just about died!
I have always been a huge One Direction fan and even more so a fan of London. My twenty first birthday was a costume party themed "British Invasion." We had everything from the queen and the royal baby, to the spice girls, and of course One Direction. But unfortunately that is the closest thing I have to a One Direction experience. I almost went to a concert a few years ago, but decided against it and I have regretted it ever since. I would love this opportunity to make up for it and see them in September! Pick me and I'll bring the costumes!
As for SPG, I have never had a bad experience with their hotels. I am 22 years old but have been blessed with an amazing career right out of college that allows me a very flexible schedule and to travel! That being said, even at a young age I am starting to turn into my dad and have begun a collection of my favorite destinations and hotels. The SPG program is a great rewards system, and it really does encourage loyalty to their brand!
[poll id="54″]
---
Victoria
Hmm. I think the main thing I love about SPG is that, while a lot of loyalty programs make it hard to want to stay loyal, SPG always finds ways to keep my attention. It's not promotions specifically or anything–SPG has so many ways to use Starpoints (flights, hotels, SPG Moments) that, ultimately, having a whole bunch of Starpoints is never an issue. There's always a way to use them!
As for 1D, I sang "What Makes You Beautiful" in my Glee audition and it was a huge hit! They're kind of my lucky band. Ha. LUCKY. Just noticed that. 🙂
Here's hoping I win–I've never been able to leave the U.S., so seeing London would be a dream come true!
[poll id="53″]
---
Andrew
I think my inner teenage girl is screaming a bit louder than you Ben. :-O ::swoon:: ::faints:: Haha just playing…I'm sure you got most of us beat but defo awesome experience and thanks for sharing. I love London and I love 1D. They were great in 3D and would I'm sure be even better in 4D…though it won't be the same without Zayn.
A perk of the date is that I'm a September baby so this could be an awesome birthday and the 28th is about 10 weeks from now, which is the perfect time for me to head back for my (as often as possible) monthly hair appointment…don't judge. My friend is the GQ UK Online Fashion editor so maybe we could have him style you in a 1D-inspired outfit and get you a swanky English do from my stylist! See if some teenage girls can mistake you for Niall or something.
[poll id="52″]
---
Ben
I love SPG and how they continue to outshine many other loyalty programs with their innovative ideas such as the smartphone key entry for rooms, the great Uber partnerships, and AMEX partnerships double points. Plus all the W and Westin are as OMG as 1Directions.
When it comes to One Direction and O2 stadium — this will be the first time that my daughter and I will ever see this fantastic group and in London. They remind me of the BSB and NSync (two of the greatest boy bands of our lifetime!) but with Beatles accents! Not sure if my daughter or me is more excited to fly the LAX to LHR on American 777-300ER J class that Lucky talks so much about!
Plus getting to meet Ben(Lucky) will be the highlight of the night!
[poll id="51″]
---
Kevin
PLEASE choose me!
I am a 33 year-old guy, but I admit my inner-teenage girl enjoys One Direction! Seriously, this would be an awesome experience for so many reasons.
For one, their music is actually good. I will admit, there is something from OneD on most of my playlists. This includes workout, chill, and need a good "almost" cry music! Two, I would love to go to London.I have been to some amazing places around the globe, but never outside the walls of LHR. Three, I would be totally fun to hangout with in a suite at a OneD concert. I'd be sure to even buy a round (or three) of drinks for you!
Pick me, pick me, pick me! #please #innerteenagegirlwantsthis #onedirection
[poll id="50″]
---
Thanks to everyone who entered, and good luck to the finalists!