The integration between American and US Airways is well underway. The two frequent flyer programs have been merged, the two airlines are now on a single operating certificate, and as of October 17, 2015, the two airlines will also be on a single reservations system.

That's really the most exciting development as a customer, since it means the policies between the two airlines will finally be aligned.
I'm not some rabid US Airways hater. I think they've had a unique place in the market for years. They've been a simple, timely, no-frills airline. And a lot of their frequent flyers love them, because upgrades were near guaranteed.
As an American flyer, I've found some of their policies to be frustrating, to say the least. For example, while American offers Executive Platinum members free same day confirmed changes, US Airways doesn't even offer such an option, even for a fee. The only thing you can do is move up to an earlier flight, and that has to be done at the airport. I learned that the hard way, realizing it while I was hoping to make a same day change, not having realized their policy differed.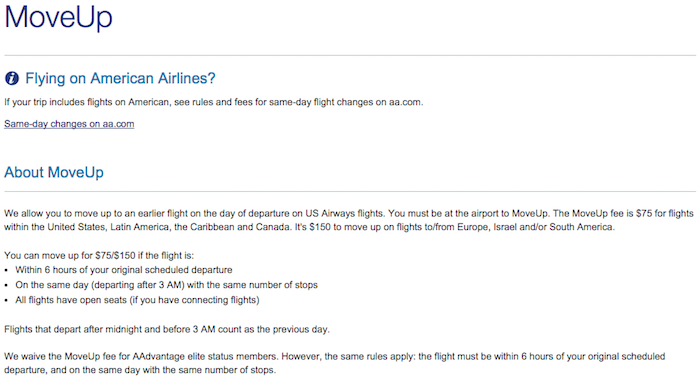 But I'd say their standby policy is only their second most elite-unfriendly policy. The most ridiculous policy has to be their ChoiceSeats program. What are ChoiceSeats?
ChoiceSeats are mostly window and aisle seats towards the front of Coach (and may include exit row seats*). ChoiceSeats have the same leg room as other seats, but are closer to the front of the plane – so you're among the first to get on when you board (with Zone 2) and among the first to leave when you land. *Dividend Miles Chairman's, Platinum, Gold and Silver preferred customers will continue to receive exit row seats free of charge.
So as an Executive Platinum member I can assign myself an exit row seat for free, but if I want most seats towards the front of the cabin I have to pay for them. Take the below flight between Phoenix and Tampa, where they want $78 to assign just a "normal" seat towards the front of the plane: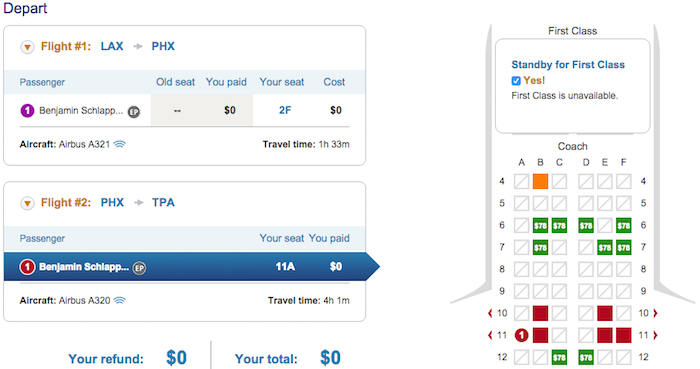 Now fortunately there are exit row seats available, which I can assign for free. Though that doesn't make it any less egregious that they want to charge $78 to assign a middle seat in front of the exit row, or even to assign an aisle seat behind the exit row.
It's punishment enough that US Airways doesn't have Main Cabin Extra yet, which I'd get for free on American. But to charge a top tier elite just to assign a normal seat? Ridiculous!
I guess that's another thing to look forward to as of October 17, as I assume the ridiculous ChoiceSeats policy will go away then.
Do you agree this is a ridiculous policy, or does anyone "get it?"