Last week I wrote about Delta's really innovative new upgrade program. Most people don't realize that Delta also has a private jet division, whereby they operate a fleet of 66 private jets.
It's pretty common for private jets to fly without passengers as an "empty leg" segment. Basically a private jet might be in Washington but be booked out of New York the following day. So that flight from Washington to New York would be what's known as an "empty leg" flight, and wouldn't have any passengers.
What Delta is doing is offering select Medallion members upgrades to private jets. The day before departure, select Medallion members will be offered an upgrade at a cost of $300-800. The rollout of this will be limited, and it will be focused on Delta's East Coast hubs. As a Medallion member I wouldn't expect to see an offer like this any time soon, given how many Medallion members there are and how few opportunities there will be.
While not especially significant, in terms of "cute" media, Delta has shared the story of the first private jet upgrade flight which occurred this past Friday:
A Cincinnati couple became the first people to receive the ultimate in Delta upgrades: from commercial airplane to a private jet.

Bruce and Jeanette Rogovin are Delta SkyMiles Medallion members and were originally booked on a Delta flight from the Cincinnati airport to Hartsfield-Jackson Atlanta International Airport, until they received an email the night before their Friday flight offering an upgrade to a private plane.

The couple, who were traveling to Atlanta to visit their son, were upgraded to a Falcon 2000, a large cabin jet that seats up to 10 passengers. They even had their own flight attendant, who provided them with complimentary champagne, chocolate-covered strawberries and lunch during the flight.

The couple said they loved the roominess of the private jet.

"I would have to say that it was the most relaxing, enjoyable flight I've ever had," Bruce Rogovin said. "From the lack of lines to the spacious, beautiful cabin, everything was truly enjoyable."

Delta Private Jets President Erik Snell and David Sneed, Executive Vice President and Chief Operating Officer of Delta Private Jets, were on hand in Cincinnati to greet the first passengers, and accompanied them on their flight.

I do find it sort of funny how the President and EVP/COO of Delta Private Jets invited themselves along for the ride. My assumption was that you get the whole jet to yourself — not that I'd complain, but I wouldn't look at having them aboard as much of a perk. 😉
It is also really cool that this trip was taken by a couple. My assumption is that you can't bring along guests when taking part in the private jet upgrade program, but perhaps they're targeting mostly Medallion members who are traveling with companions, which I suppose would make sense. It frees up more seats on the commercial flight, increases the potential revenue they can earn for the flight, and also increases the number of people who will be "wowed."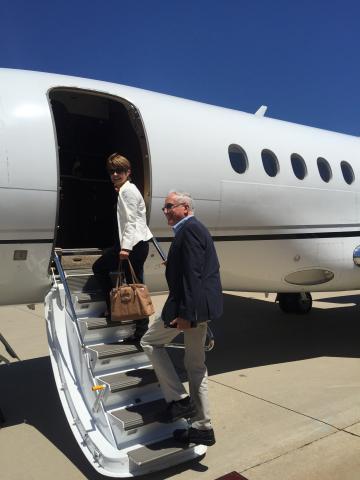 Anyway, this looks like a pretty awesome experience, so kudos to Delta on the innovation here, even if only a (very) limited number of people will ever have this opportunity.
What do you make of the Delta private jet upgrade program?