---
As I mentioned in my introduction, I'm not really going to review the flights in-depth for this trip report. Our flight from Dallas to Dubai will be the exception, as it was really the highlight of the trip. Ben has reviewed Emirates ad nauseum, so if you're looking for more details on the flights and amenities just head over to his Trip Report Index.
I had flown to Dallas the night prior (the Dallas > Dubai flight doesn't really leave at a convenient time for connections from San Diego), so I stopped into The Centurion Lounge to get some work done while I waited for mom's flight to arrive.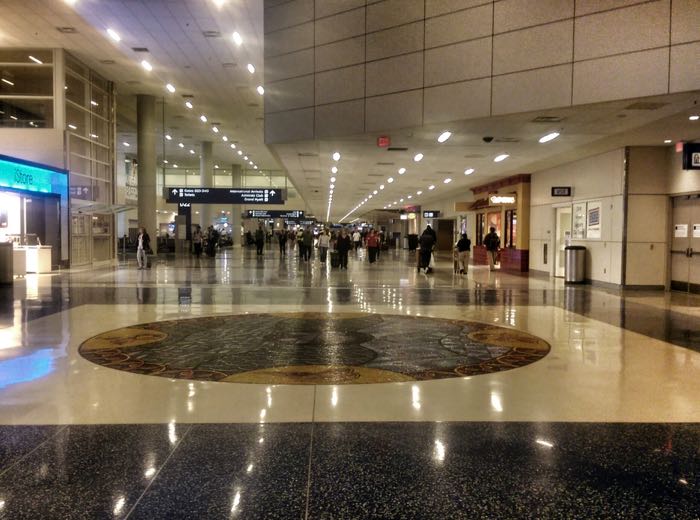 She wanted to see the Centurion Lounge as well, so after spending a few minutes activating the "Soundscape art" at the foot of the escalators we headed upstairs so I could work a bit before boarding our flight. Of course, Mom then asked if she could "use my computer for just a minute" and spent the next twenty reading Facebook posts to me.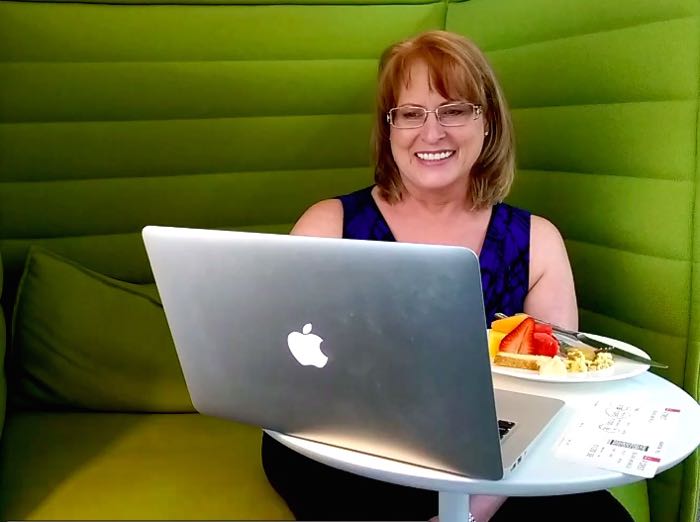 So I went for a manicure and called it a day.
Emirates First first impressions
We headed back downstairs as boarding began, and were the first passengers to board in First. My mother, for whom there are no strangers, just best friends she hasn't met yet, promptly became BFFs with the purser. I didn't even have my bag stored before they were trading lipstick tips.
The combination of that and the near-empty cabin meant the purser arranged three of the suites for my mom. The one next to me for dining/lounging, one by the window for sleeping ("It will be more private"), and a third ("For a closet. Let me move your things."). Absolutely above and beyond, and brought my mom to actual tears.
Once the tears had subsided, and the champagne had arrived, mom then decided the best thing to do was to call Ben.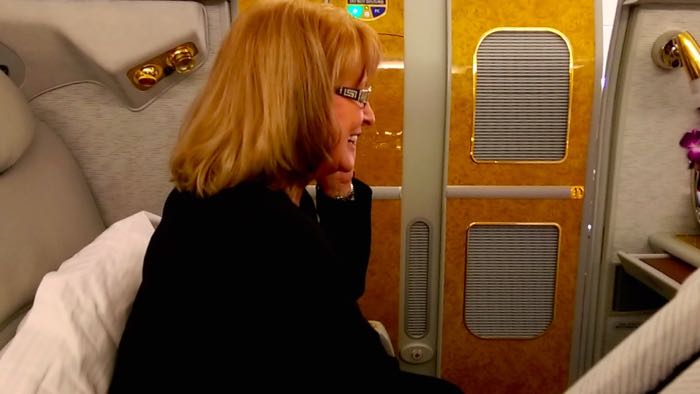 And that, folks, is why he's my best friend — he spent five minutes enthusiastically listening to mom describe every minute detail of her seat as though he hadn't experienced it himself a dozen times ("There are noise-canceling headphones! And Mars bars! Those are so hard to find in the US! And I have my own little stock of drinks!") and then took her on a ten-minute audio tour of the rest of the plane.
I mean, there are other reasons too, but stuff like that just warms my heart.
Enjoying Emirates First
There were only two other passengers in first, and the service commenced immediately once we were airborne. We both ordered the caviar and mezze, and then mom, in her excitement, also ordered a salad, soup, one of the mains, and so on.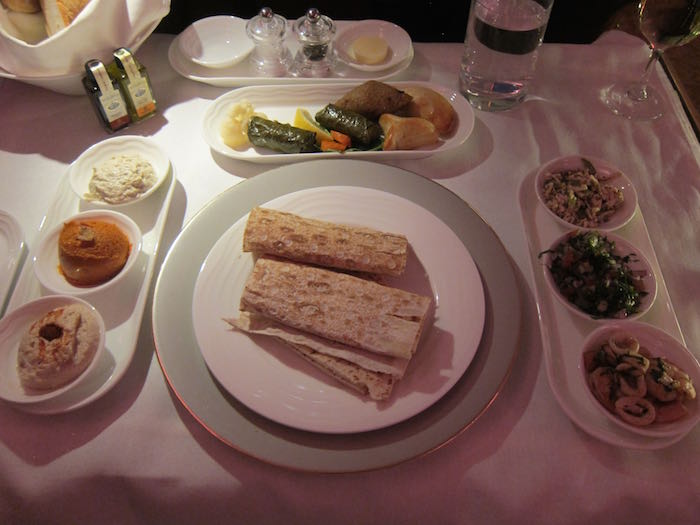 Obviously that's far more food than anyone can eat in a single sitting, which brings me to my first Emirates First Tip: the menu is based on a dine-on-demand concept, and there's really no reason to order everything at once. An amazing crew might stagger the requests to the galley, but in this case they started preparing all the items right away, so her lamb sat under the warmer for about three hours while she nibbled on everything else.
And of course, my mom was just adorable during the entire meal. My favorite moment by far was when she turned to me and said "I feel so badly wasting this entire half a lemon. They're so expensive!" while squeezing said lemon on a plate of caviar, which was accompanied by a glass of Dom Perignon.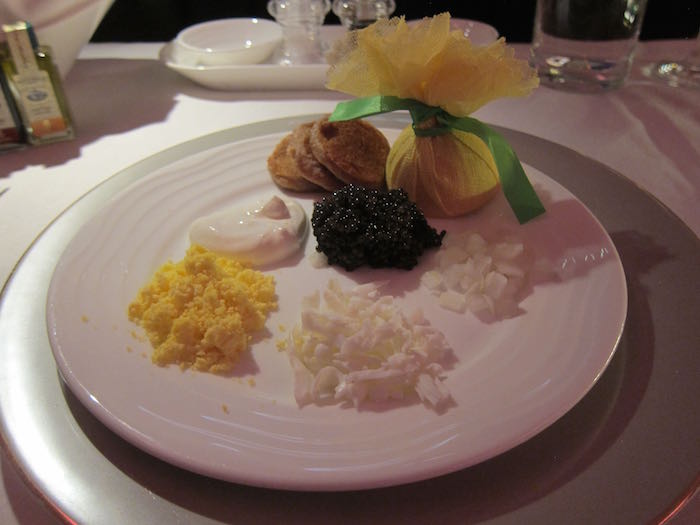 Yes mom, it's the lemon that's expensive 😉
After lunch and a movie, mom wanted to go back and have a drink at the bar.
We made our way through the nearly-empty business class cabin to the aft of the aircraft, where the bar was packed with business class passengers. There were maybe twenty people in business class in total, and a dozen of them were boisterously enjoying the bar. As the entire compliment of business class consisted of past-middle-aged men, my mom quickly decided that scene was not for her, and we retreated to the first class bar area between the shower suites.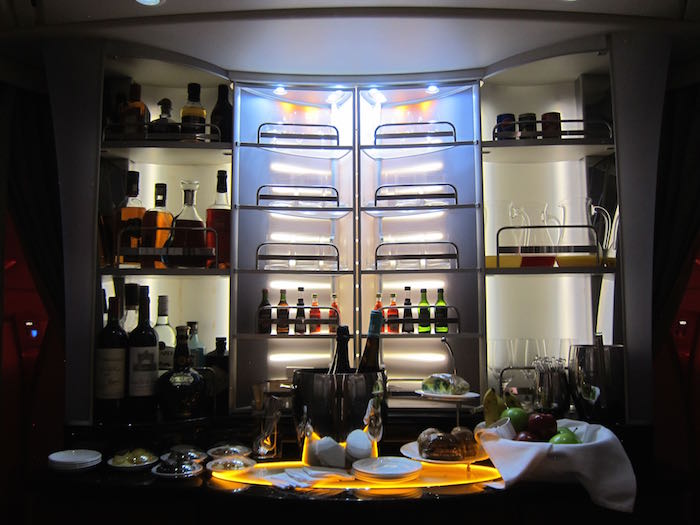 While that area is self-serve, it was nice to be able to stretch our legs in relative quiet.
I was more than ready to sleep at this point (I generally like to acclimate myself to destination time as soon as I board the plane, and it was well-past 2AM in the UAE). The crew cheerfully made up my bed, and I settled in for the night.
This is as good a point as any to mention my second Emirates First Tip: if you are flying a low-occupancy route like Dallas > Dubai, you may want to ask the crew to turn off the IFE and lamps in the empty suites. This isn't standard practice, but if you are at all light sensitive, this will be enough light to be disruptive. Even with eyeshades. After about an hour of trying to figure out why I couldn't fall asleep I got up and turned all the excess lights off, and then promptly conked out.
I slept for about six hours, then had a cappuccino while being irritated at the WiFi.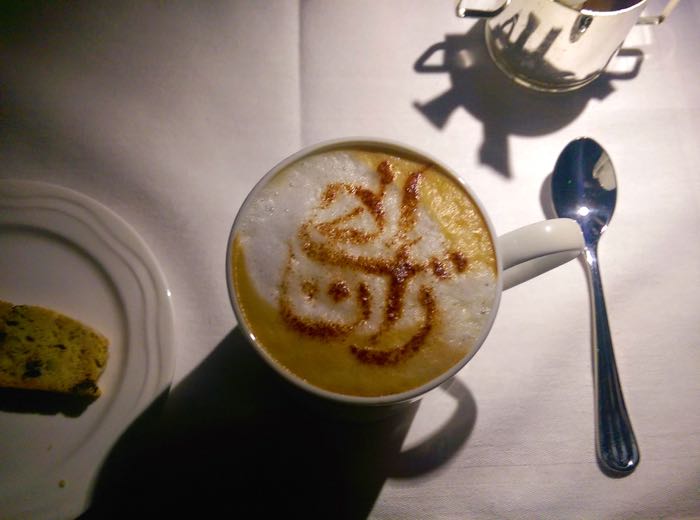 Truly, it's so slow. By the end of the flight I was willing to pay nearly any amount of money for a useable connection. So I eventually gave up, and made my way to the shower spa.
Showering in the air
Y'all are probably not going to believe this, but I think Ben has been underselling the awesomeness of showering in the air.
It's not just the actual shower of course. The whole concept is just effing ridiculous. The entire existence of the shower spa is just so unnecessary, which, of course, makes it awesome.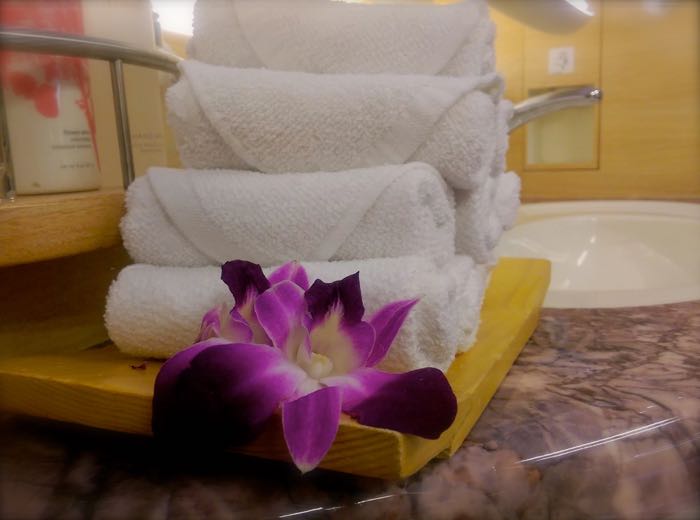 So I think it's impossible to do anything other than cackle with glee the entire time. Not just because of the shower, but because the shower exists to begin with. I couldn't even keep a straight face while the attendant explained the setup and gave instructions on what to do should the Captain turn on the seatbelt sign ("Please just have a seat on the bench and wait for the turbulence to subside.")
Which turned out to be good advice, given that about 30 seconds into my shower we did in fact hit a pocket of turbulence. And when you're covered in soapsuds at 30,000 feet over Saudi Arabia and the Captain turns on the seatbelt sign you really have limited options.
So given the limited entertainment options available, I took advantage of the enforced bench time to shave my legs. Which is how I know that Emirates stocks really nice razors. The shampoo though is basically dishwasher detergent, and is probably best avoided.
Overall
Outside of the charming interactions between the purser and my mom, I felt the crew was a little robotic, which isn't really unusual for any UAE-based company. The rulebook seems to discourage innovation, and it shows in the nuances of the service. So small things like bringing a glass of still water with the meal service even if you already have a glass of water going, or not turning off the lights in the unoccupied suites, are part of the "procedure" and there just really isn't much deviation from the rules.
There's absolutely nothing to complain about, of course, but the service didn't necessarily feel personalized, if that makes any sense.
But my mom had a great time on the flight, and it was absolutely the highlight of our trip.
While I don't have an exhaustive sample size, I'm going to go out on a limb and say that no one, ever, has been as impressed by the "bling" factor on Emirates.
She loved the makeup mirror. The snack basket (who loves the snack basket?!). The polished crew ("Where were they keeping him [the Senior Flight Steward] the entire flight? He looks like he just stepped out of a catalogue!"). Having the private bar in the front of First converted to a Spa display after the shower.
Each of the little details that might seem superfluous and borderline-unnecessary to others were just amazing to my mother.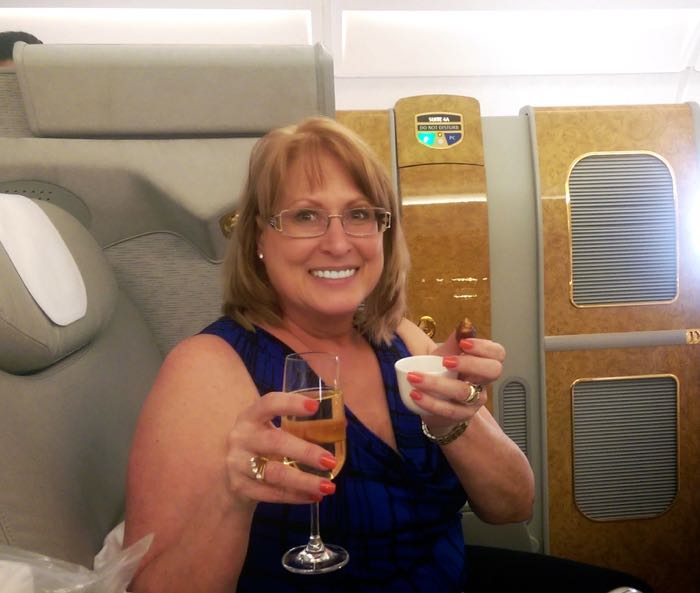 So while I wouldn't necessarily go out of my way to fly Emirates First, if you have someone who doesn't understand why you shuffle dozens of credit cards, or chase every promotion, or go on flights just for the miles, Emirates is a darn good way to demonstrate the perks of playing this game.
And my mother absolutely loved it.