---
I really struggled with which hotel to stay at in Shanghai, though in the end decided to spend all four nights at the Park Hyatt. The Park Hyatt is the second tallest hotel in the world, taking up the top floors of the Shanghai World Financial Center.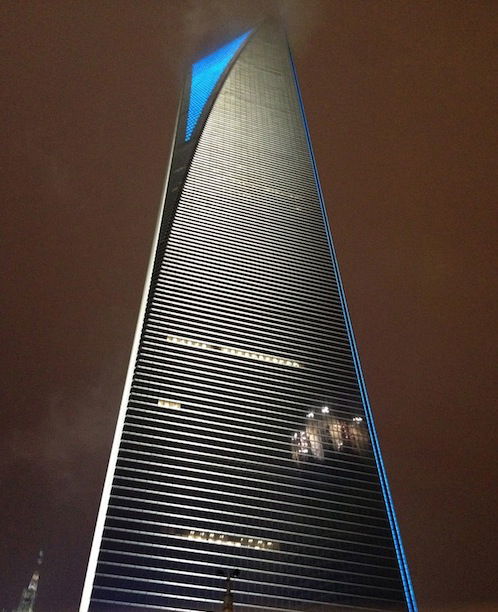 Hotel exterior at night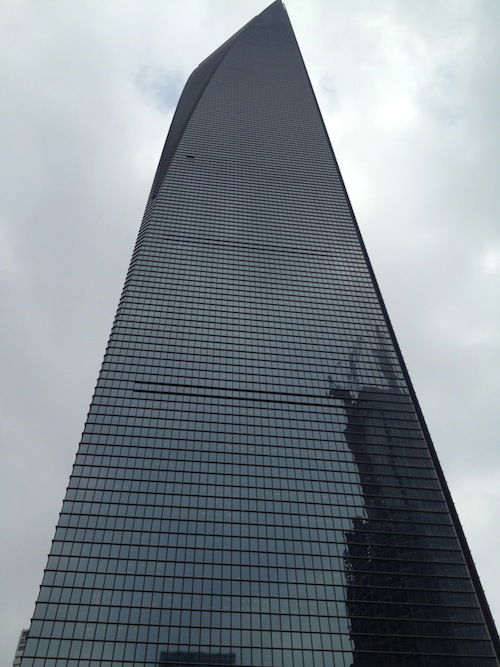 Hotel exterior during the day
After arriving by taxi I was welcomed by both a "greeter" and bellman, who helped me with my bags. The greeter walked me towards the elevatothrough what has to be one of the most elegant hotel entrances. You go through about five sets of glass sliding doors, each with nicely decorated rooms, before making it to the elevators.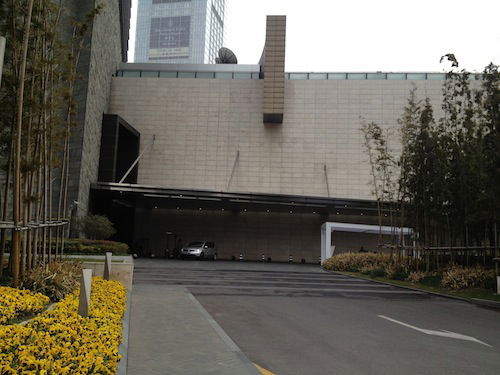 Hotel entrance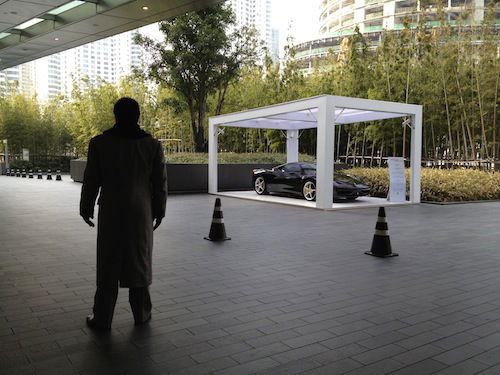 Hotel entrance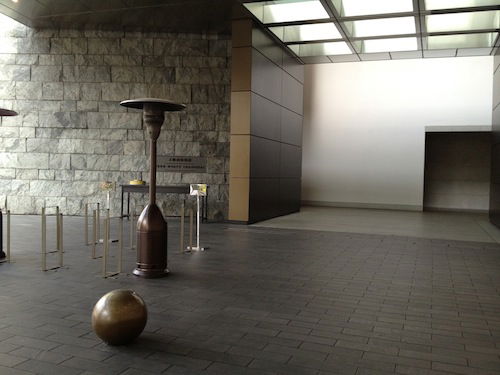 Hotel entrance
The lobby is on the 87th floor, and the elevator from the entrance only goes to the 87th and 91st floors, which are for the lobby and restaurant. All other floors are accessed through a different set of elevators from the lobby.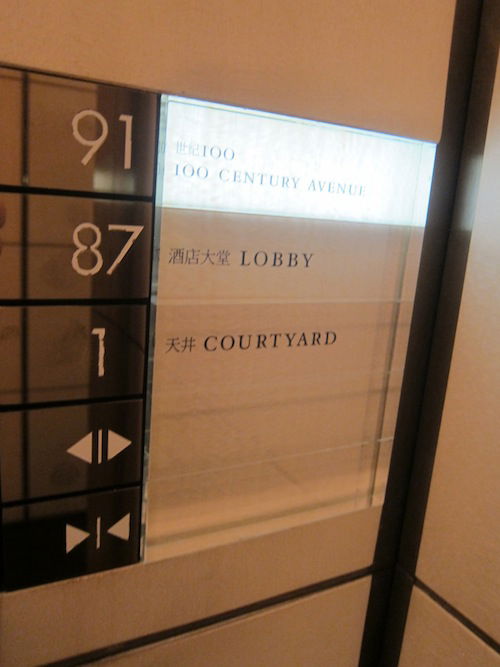 Elevator
The lobby is also incredibly elegant and at the same time has a very "boutique" feel. I was promptly helped by the front office manager, who processed my check-in. My rate was 2100CNY for the first three nights (~$330/night), and then the fourth night was free (bringing the cost down to ~$250/night). I also received complimentary afternoon tea once during my stay, and managed to use a Diamond confirmed suite upgrade. So while this is usually a lot more than I'd want to pay for a hotel stay, I figured it was worth it given the fourth night free and suite upgrade. Those extra benefits (the afternoon tea and fourth night free) came by booking through American Express Fine Hotels & Resorts (Virtuoso wasn't offering the fourth night free in this instance).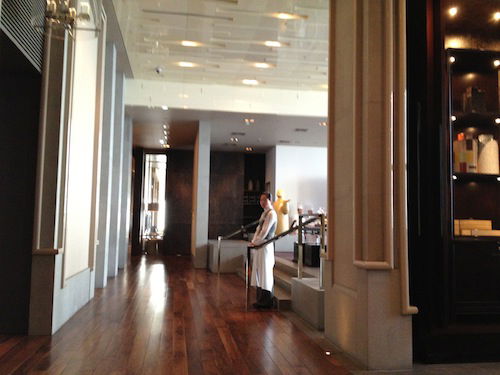 Lobby
Once my check-in was finished the front office manager escorted me to my room on the 83rd floor and showed me all the features.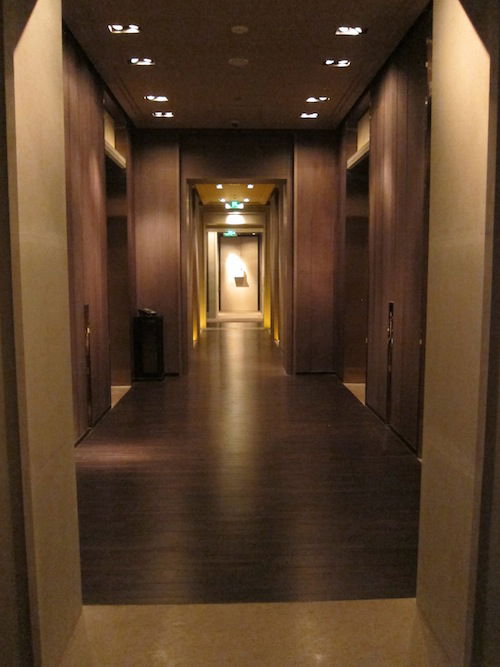 Elevators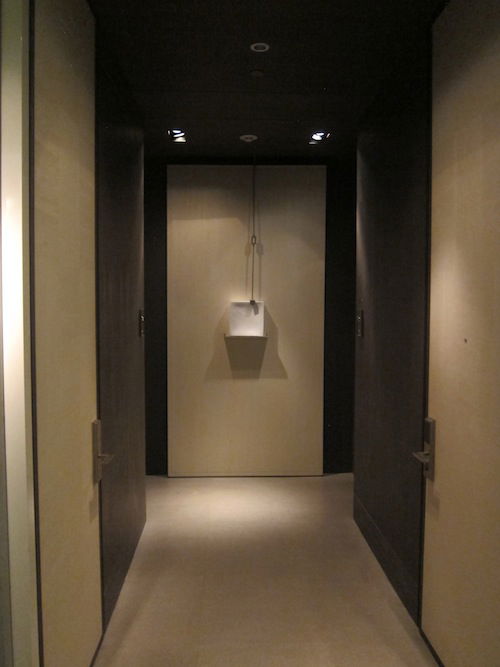 Room entrance
The room was beyond stunning. At the entrance was a small foyer, which led to a half bath and then the living room. The living room had a desk, daybed, and couch area facing the flat screen TV. The entire living room featured hardwood floors, which I loved.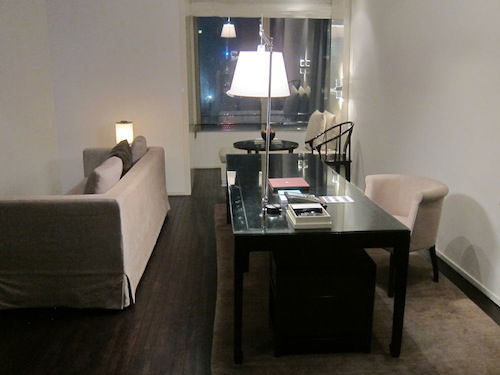 Living room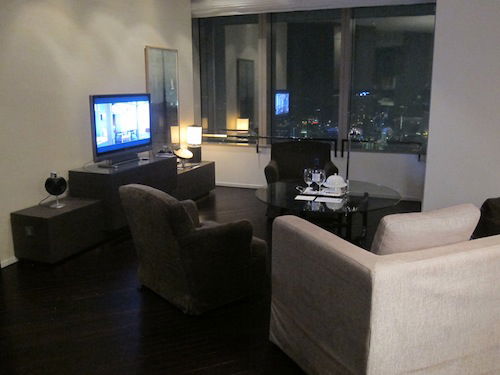 Living room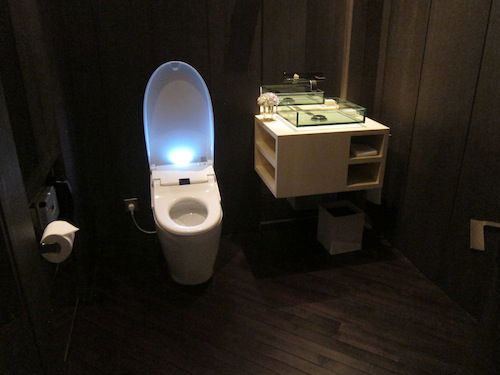 Second bathroom
The bedroom was also very modern, and led into the bathroom (which had even more controls than a Japanese toilet). To the left were the shower and tub, which, much like the Park Hyatt Seoul, were in the same enclosure.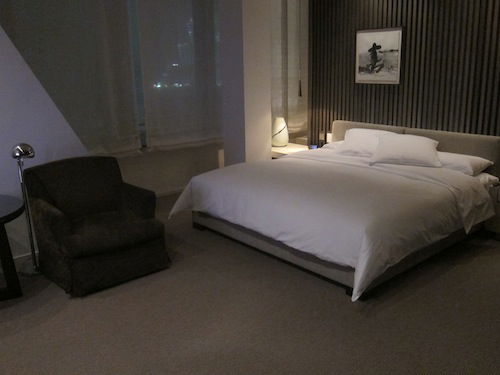 Bedroom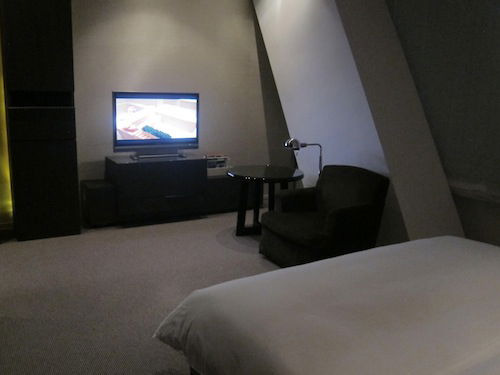 Bedroom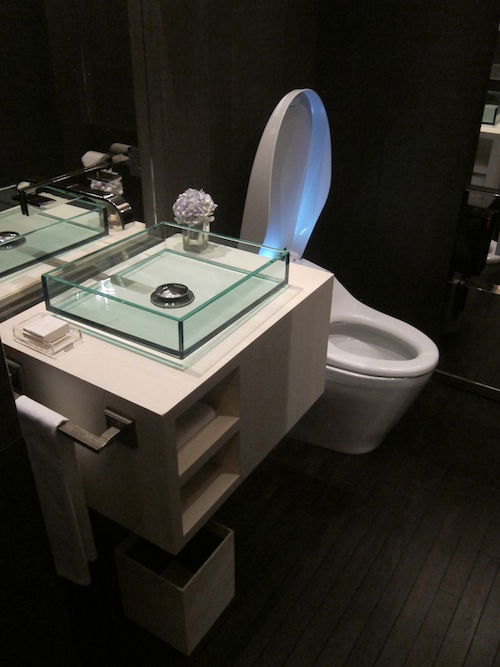 Bathroom
I've never stayed in a hotel with a shower/bath as awesome as this place. The main reason I say that is because the water pressure was amazing. The shower had a rain shower, a "handheld" showerhead, and also another stream further down. Not only was the tub awesome, but it filled up in a matter of minutes.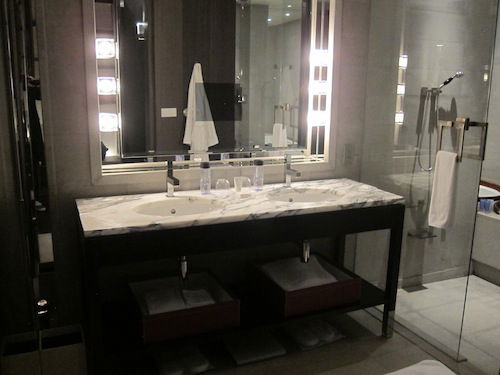 Double sinks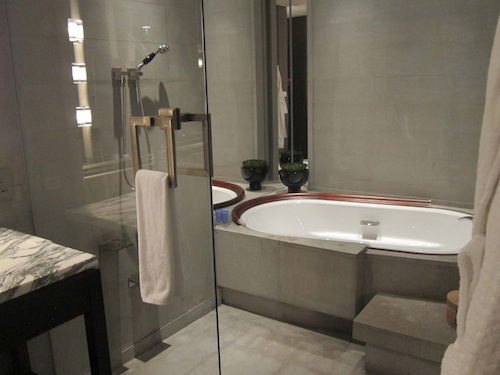 Bathtub/shower
The bathroom with double sinks also has a built in TV, which I figured was rather impractical given that I'd much rather watch TV from the bathtub than the sink. But then it dawned on me that due to the mirrors you could actually watch TV from the bathtub as well. I'm not sure if that was intentional or a coincidence, but I thought it was genius.
The Diamond welcome amenity was a couple of éclairs, pralines, and also a bottle of wine.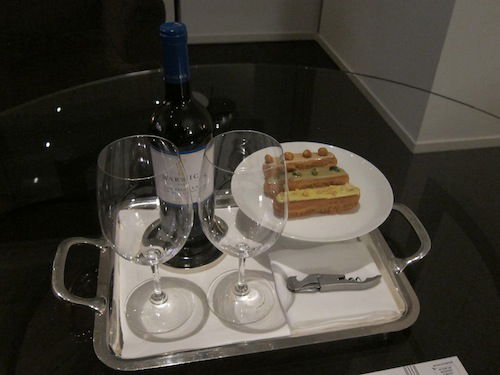 Welcome amenity
The views from my room were stunning on so many different levels. For the few hours a day where the weather was clear, I could see for miles and miles. Oddly, the views were equally cool when the visibility wasn't good. It was the first time I've stayed in a hotel where I literally saw clouds go by my window.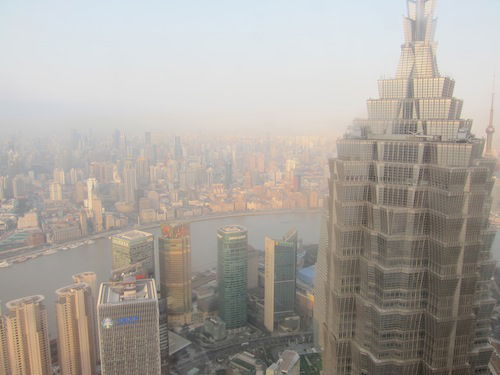 View from my room
The rest of the hotel facilities were stunning as well. The pool, gym, and "Water's Edge" spa were located on the 85th floor.
The infinity pool is easily one of coolest pools I've ever seen, not just because of the pool itself, but because it's almost always in the clouds thanks to Shanghai's smog. There's also a hot tub right next to the pool, as well as a very nice deck for relaxing. Every time you arrive at the pool, one of the employees (who are oddly enough dressed in suits) bring you a towel and bottle of water.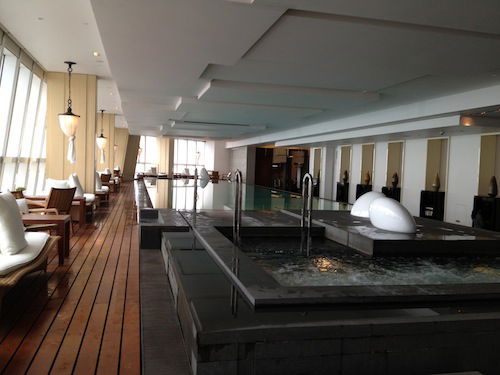 Pool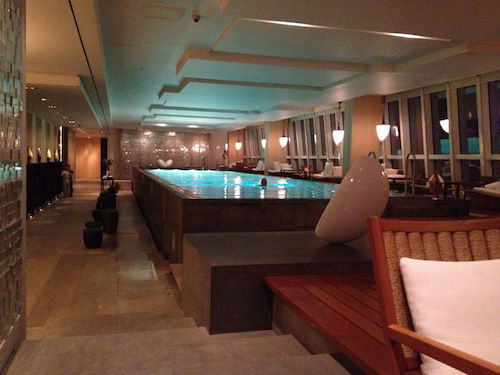 Pool
The gym, while small, was well equipped and featured a fridge with bottled water and Propel.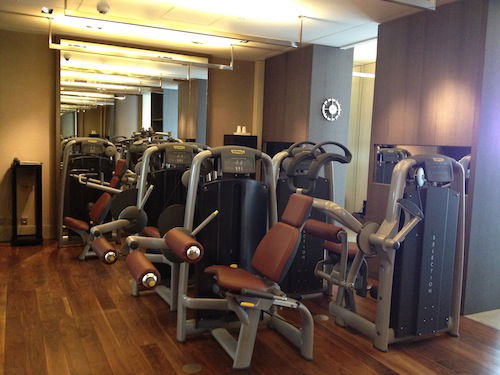 Gym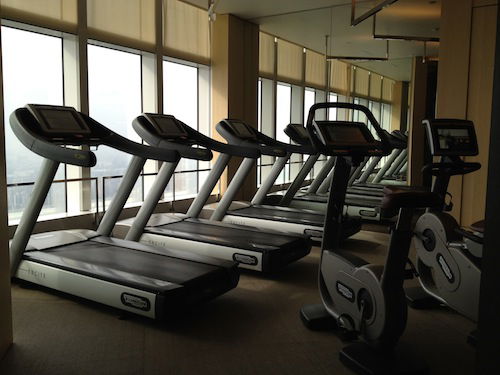 Gym
One day I had a spa treatment at the Water's Edge Spa, which is supposedly the highest spa in the world. I took advantage of their winter special, which consisted of an hour long "breathe easy" massage and 45 minute ginger polish. Not my first choice for an "add on," but it was free. At 800 CNY it wasn't cheap, though very good.
The waiting area for the spa is right by the pool, and as soon as you're seated you get to pick out what kind of music, oil, and tea you want.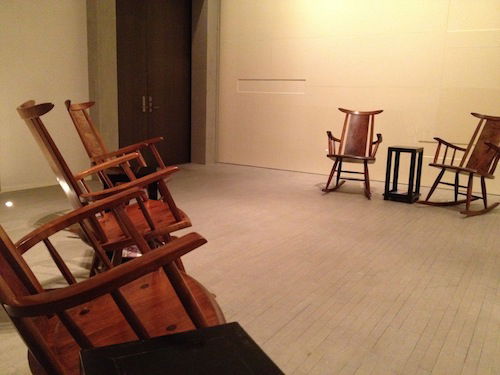 Waiting area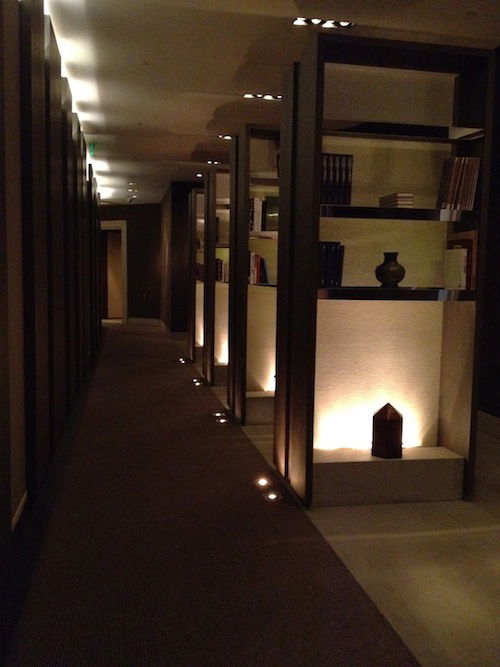 Spa entrance
The restaurant, 100 Century Avenue (located on the 91st floor), is also amazing. As a Diamond member I had complimentary breakfast there each morning, and the spread was spectacular. First I was always offered coffee, tea, and freshly squeezed juice (it always took a while to get, since they literally squeezed it fresh when you ordered it), and then I could help myself to the buffet. They had everything from waffles to omelets to dim sum to fruit to cereal, to anything else you could possibly want. Truly one of the best breakfast spreads I've seen anywhere.

Restaurant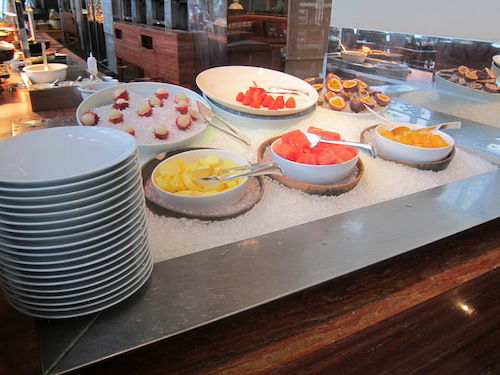 Breakfast spread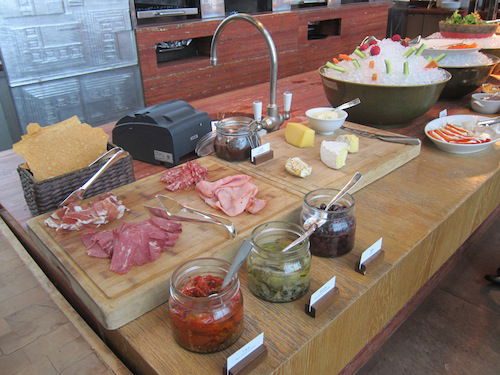 Breakfast spread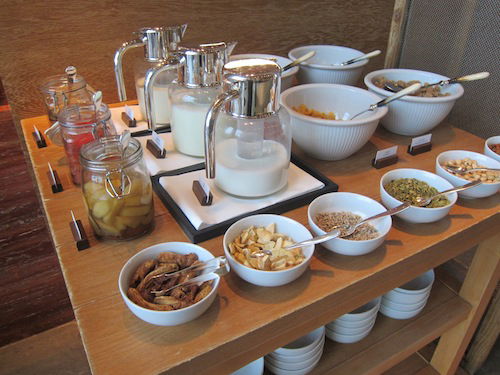 Breakfast spread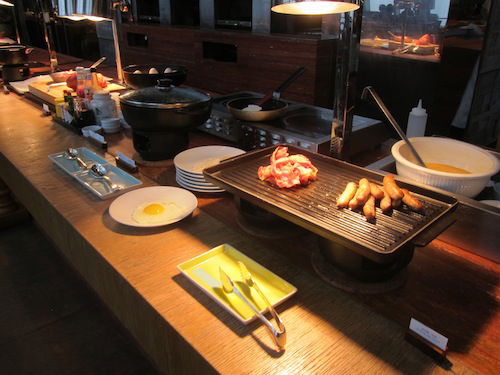 Breakfast spread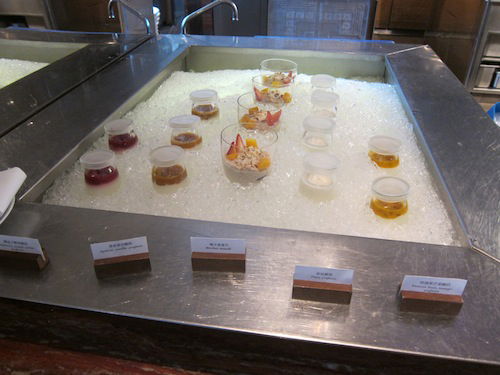 Breakfast spread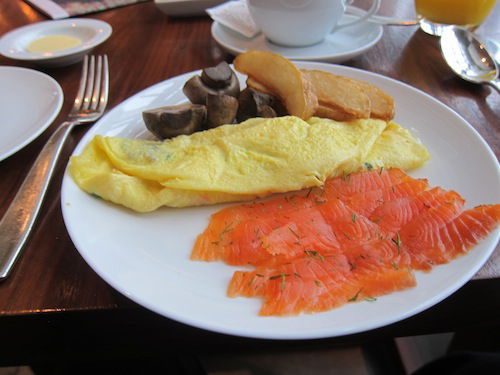 Omelet and salmon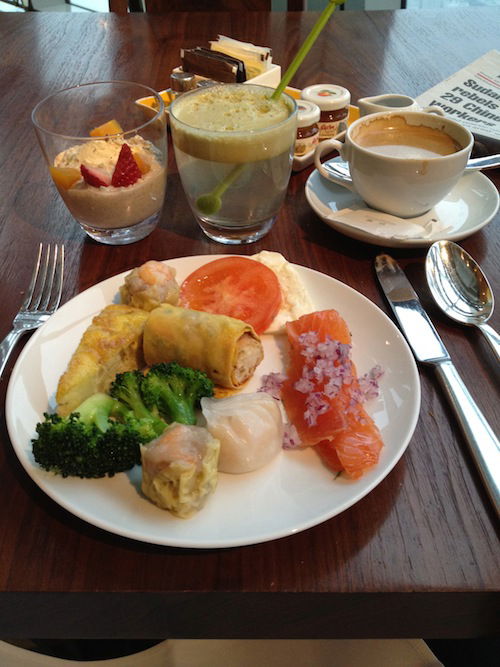 Apple juice, coffee, dim sum, etc.
I met a blog reader for afternoon tea one day since I had a complimentary afternoon tea for two, and it was excellent as well. The comical part of the experience was that it was so smoggy that we literally couldn't see out the window. Oh well, I guess afternoon tea in the clouds is just as fun as afternoon tea with a view.

Lobby lounge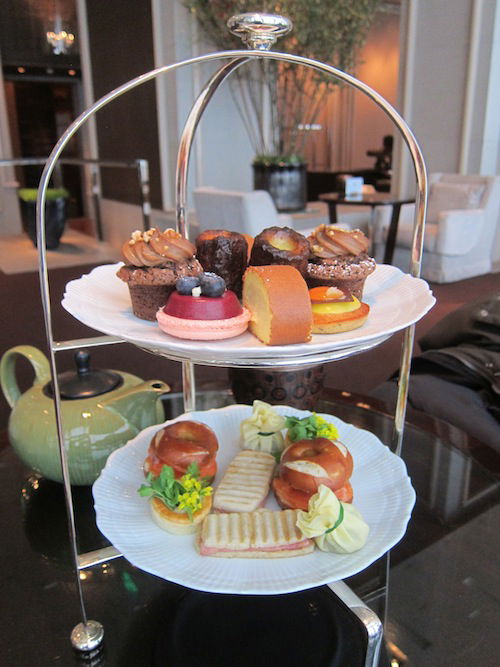 Afternoon tea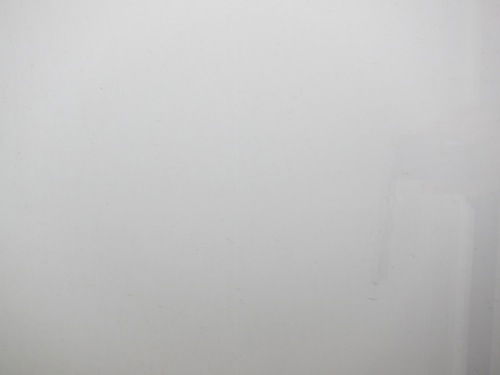 Afternoon tea with a view
This hotel is very well staffed, perhaps too much so. When you get off the elevator in the lobby there are three people standing there to push the elevator buttons for you, welcome you, etc.
The hotel is part of the World Financial Center, so I should mention that if you go down to the ground floor you can enter the World Financial Center, which has a ton of dining options that are a bit more reasonably priced than those in the hotel. There's a Starbucks, Subway, and well over a dozen other dining options, from Chinese to Italian.
All that being said, I do have a couple of minor critiques of the hotel. My stay was utterly phenomenal, but I think just about every hotel has a few places they can improve, so I don't think I'd be doing the hotel justice if I didn't mention them.
First of all, while the bellmen were friendly, they didn't speak a word of English. I asked for a taxi to the Maglev Station, which got me a blank stare. I followed up with "train station for airport," and they still gave me a clueless look. And there were three of them, so at least one of them should speak a bit of English. Furthermore, when I asked for directions to the Starbucks (which is located in the World Financial Center 200 feet from them), it was returned with a blank stare. I don't expect them to speak perfect English, but very few guests staying here seemed to speak Mandarin, so I don't understand why they'd put people at the curb that don't speak a word of English, especially at a hotel of this caliber.
Next, as discussed here, the hotel doesn't allow photography… unless you're in the picture. C'mon, that's ridiculous. Think about it, why would I want to take pictures of the hotel without me in them? Maybe to write a positive review of the hotel on Trip Advisor, a blog, or somewhere else? It's just such a massive contrast to every other hotel, which promotes taking pictures and always jokes "you're going to post these on Trip Advisor, right?"
And to show the level of obnoxiousness of the policy, I was working out in the gym one afternoon and a family of four comes into the gym and starts taking pictures of themselves "posing" on the equipment. I was in the background, and it was pretty distracting/annoying. At the same time, I wanted to snap a quick picture of the pool when nobody was in it, and they told me not to take a picture before I could even turn on my camera. Of course that didn't stop me from "secretly" taking some with my iPhone (hence the bad photography of public areas — my apologies), but still…
Lastly, when I checked out, the agent tried to tell me my fourth night wasn't free because there was a rate change and I used a suite upgrade. When she presented me the bill and I pointed out the fourth night wasn't removed, she basically blamed the "error" on me and said the fourth night wouldn't be free, instead of first looking into it and then stating the issue to me. The irony is that the same front office manager that informed me at check-in that my fourth night was free was standing right next to her. It was resolved in my favor in the end, though I still think it wasn't handled well.
Anyway, despite the minor nitpicks, this has quickly become one of my favorite hotels in one of my favorite cities. Shanghai is such an exciting city, and the Park Hyatt is the perfect place to stay. There's nothing quite as exciting as staying in the clouds.
That being said, the hotel is a bit on the pricey side, and I probably wouldn't have stayed here if the fourth night weren't free, simply because it would have been even further outside of my budget. If it were a special occasion or I were traveling with someone (and could therefore get more "value" out of the stay), I'd stay again in a heartbeat.
I highly recommend this hotel to anyone that has the chance. It's also worth noting that this is a category 5 hotel, meaning it would cost 18,000 Gold Passport points per night, or 27,000 Gold Passport points per night for a suite. Both are also a spectacular value, in my opinion.