If you stay at luxury hotels with any frequency, odds are that at some point you've stayed at a hotel that claims to offer butler service. Sometimes it's offered for all guests, while other times it's offered to guests in certain room categories.
In this post I wanted to talk about that in a bit more detail, because I don't have all the answers, and I'm curious how others approach this kind of service…
The basics of hotel butler service
When luxury hotels offer butler service, obviously the intent is to make each guest feel special, and to make them feel like they're receiving customized service.
In my experience, when you check into a hotel with butler service, someone will introduce themselves as your butler shortly after you arrive in your room. Maybe they give you a tour of the room, and then tell you that if you need anything at all, you can contact them. The thing is, hotels often don't very clearly define what services you can expect from butler service.
Furthermore, it often seems to me like the features that are offered are things that I'd either never want, or that I'd expect to be done anyway:
Just take a look at the below promotional video from Hotel Grande Bretagne Athens, where the butler puts on white gloves and then makes sure the bed is perfectly made — isn't this housekeeping's job?
St. Regis likes to promote how the butler can wake you up in the morning and draw your curtains for you; like, I neither need nor want anyone to enter my bedroom and draw my curtains for me, especially since most luxury hotels have electric curtains
Hotels often promote how you can call the butler service hotline if you need anything, though it's not clear how that's any different than your typical general service hotline that virtually every hotel phone has
So let's take a look at two hotel brands that offer butler service, and what they promote as possible services.
St. Regis butler service
St. Regis is one of the hotel brands that most consistently promotes its butler service. What does St. Regis claim that this service includes?
Packing services, whereby the butler will unpack your bag upon arrival, and pack it again prior to departure
Beverage service, whereby a butler will bring you a coffee or tea upon arrival, plus can provide a morning wake-up call and then deliver you your choice of coffee or tea, plus draw your curtains and bring you a newspaper
Garment pressing, typically for two pieces per day on a complimentary basis
Butler service desk access, whereby you can reach out to a central point of contact by phone or through messaging
Savoy London butler service
Let's use the Savoy London as another example, even though Savoy isn't a huge hotel group. I think this is an interesting one to look at because the hotel has a fascinating infographic about the value that a Savoy butler can add to your stay. This explains the ins-and-outs of butler service, including formal training, common tasks, tips, and strange requests they've received over the years.
For example, you'll notice that the Savoy London butler service promotes how you can have the butler do your personal shopping for you. I mean, in theory that's kind of cool, but how exactly does that work in practice?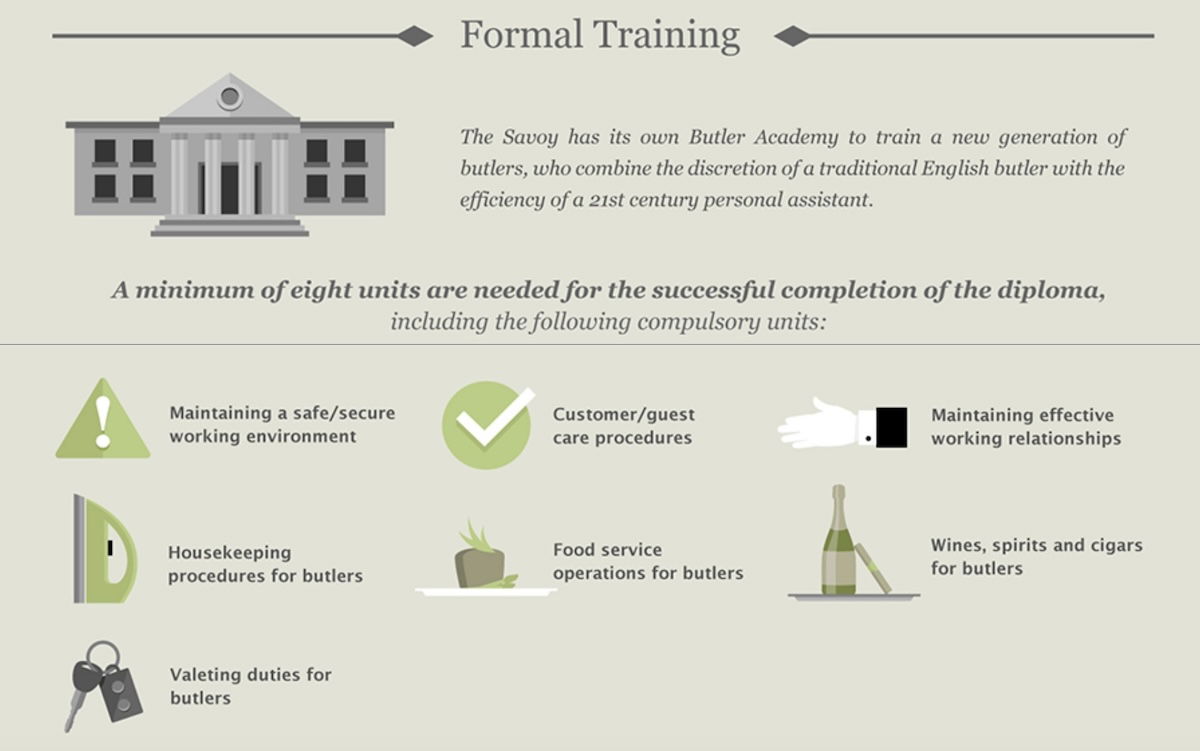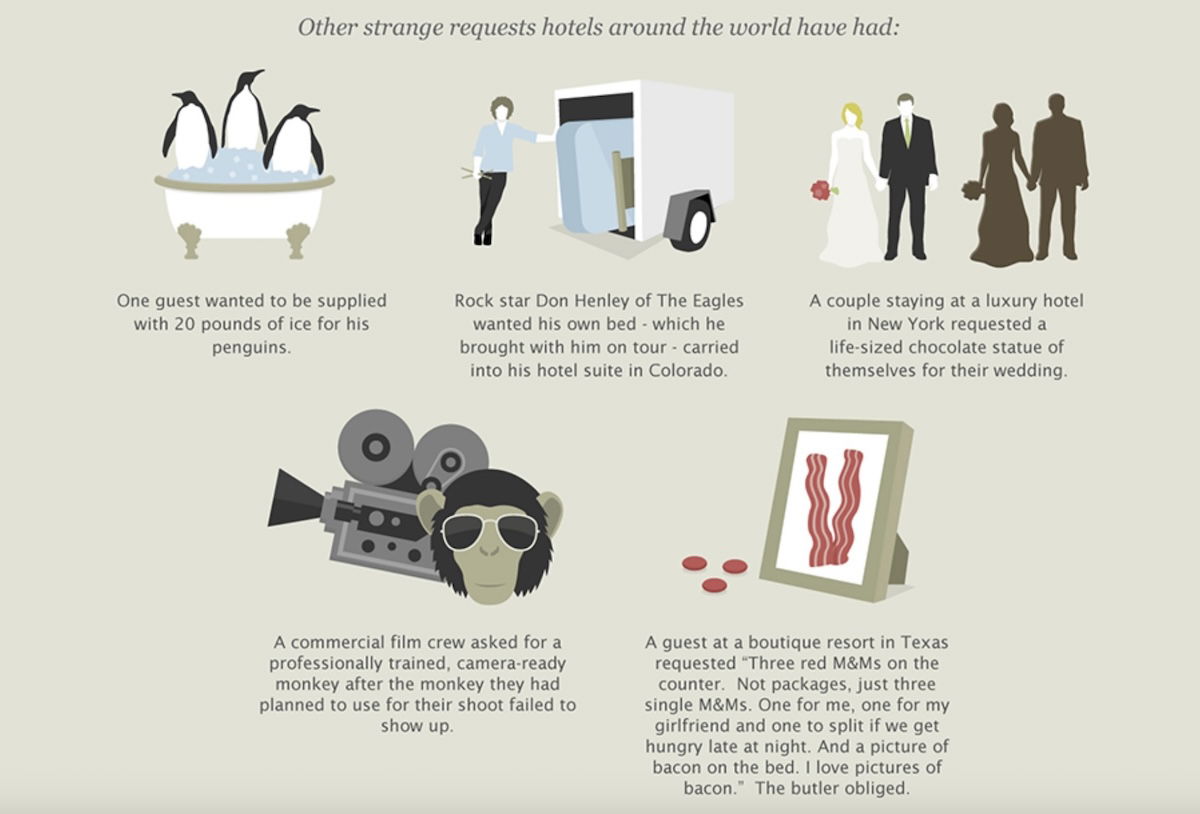 Where I do & don't see value in hotel butler service
If you're a socialite and/or Sheikh and are staying in a 5,000 square foot suite at a top hotel in London or New York or Paris and are hosting dinner parties and want someone to do everything for you, then I can totally see the value of butler service. Now, in fairness, these kinds of guests may also travel with their own entourage, with people who are more familiar with their preferences.
But for the rest of us who are just staying in guest rooms or more "standard" suites, I think there's more limited value to butler service. I'll take it a step further — if a hotel has good service in general, then I think butler service is a bit redundant. It's interesting to me how a vast majority of Four Seasons properties don't offer butler service, but rather just focus on offering good service across the board.
The area where I find butler service to be useful is with the very clearly defined value-add perks that are offered. For example, as someone who loves coffee, I appreciate how St. Regis offers complimentary coffee and tea through butler service. That's something I always take advantage of. The garment pressing can be useful in other situations as well.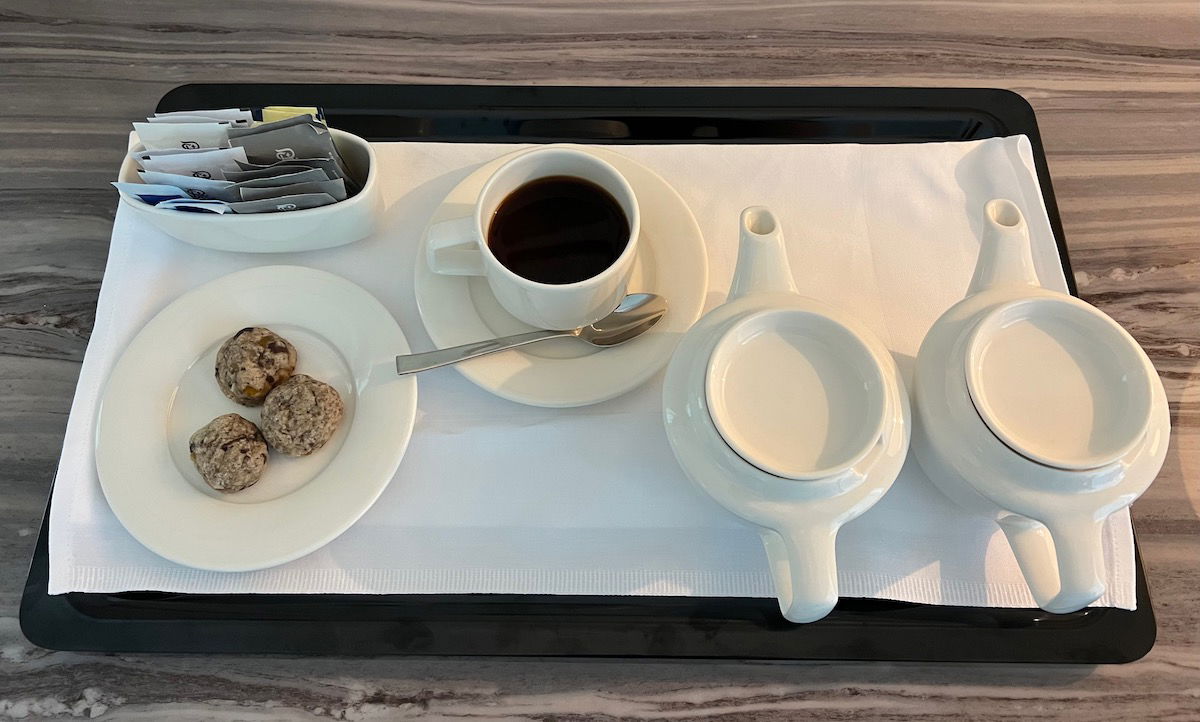 I also see value to this concept at private island resorts. While not explicitly butler service, the Waldorf Astoria Maldives offers each guest a personal concierge, who can make useful recommendations during your stay, and look after you. I think this is quite useful, since it's not like you need a concierge to provide expert tips on where you should eat or shop.
However, I see less value in virtually all other parts of the butler service experience, assuming a hotel otherwise offers good service:
If I need help with a dining reservation or something outside the hotel, I'd rather just reach out directly to the concierge, rather than someone who will essentially just play messenger
The whole concept of having a phone number to call or text for butler service seems redundant when a hotel also has a general service hotline, plus an app through which you can chat
The lack of clearly defined parameters also makes me a bit uncomfortable in making some requests; butlers will often say "I'm here for anything at all that you may need," but clearly different hotels have different limits (for example, it seems Savoy offers to send butlers shopping for you, while I don't think St. Regis does that)
I think the biggest issue with butler service is that some hotels don't do a good job managing expectations; some guests expect that having butler service will be a life-changing experience, and then they're surprised when they don't hear from their butler after the first interaction
Bottom line
Butler service is a perk frequently offered at luxury hotels. Maybe I'm in the minority in feeling this way, but the whole concept often just confuses me. There's so much variability in terms of the execution of this at various hotels, and there's also no consistency when it comes to the services offered.
At many hotels, it seems like butler service shouldn't even be needed, assuming the hotel otherwise offers decent service. In the case of St. Regis, I do love the coffee and tea, though…
What's your take on hotel butler service? When and how do you use it?