Well this is interesting…
Basics of the Sheraton Frankfurt Airport
I've probably spent more nights over the years at the Sheraton Frankfurt Airport than any other airport hotel in the world. The Sheraton is absolutely massive, with 1,000+ rooms. The reason I stay there is because it's convenient, as it's connected to the terminal of Frankfurt Airport.
They also have an excellent club lounge, at least as far as Sheratons go. Lastly, there's just something indescribable that I love about staying here. Maybe it's my former love for Lufthansa and Frankfurt as a hub, or something, but this hotel is somehow my happy place.
Sheraton Frankfurt Airport being split into two hotels
The Sheraton Frankfurt Airport is being converted into two hotels. Part of the existing hotel will continue to be a Sheraton, while part of the existing hotel will become a Marriott. The change is effective immediately, as the "new" Marriott Frankfurt Airport is already on sale.
The hotel is made up of three interconnected buildings, so with these changes:
There will be a 779 room Sheraton
There will be a 233 room Marriott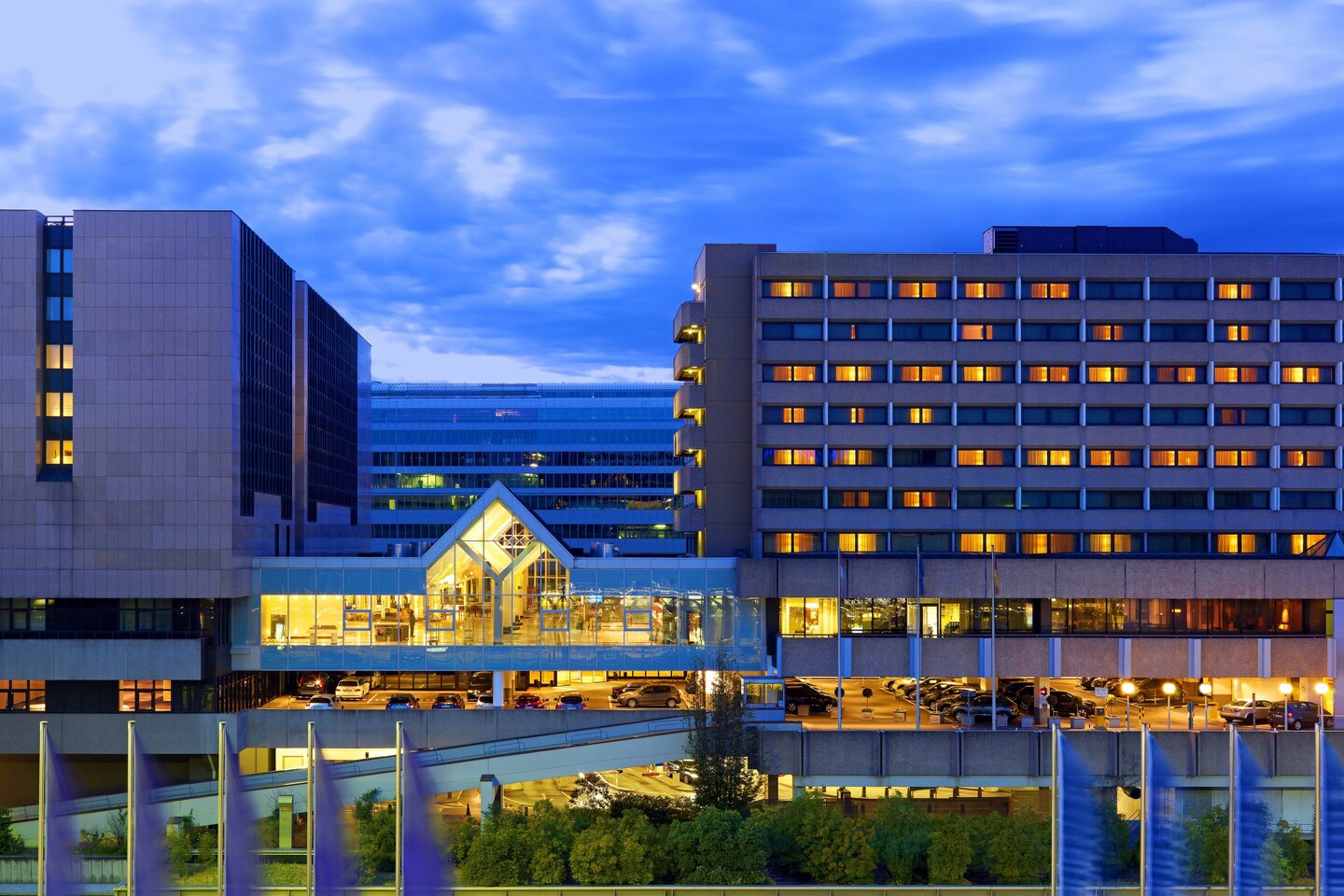 Exterior of the Marriott & Sheraton Frankfurt Airport
Over the past five years all rooms at this hotel have been refurbished. However, they'll be transforming the hotel — and in particular the public spaces — further, and it's expected that this work will be complete by 2022.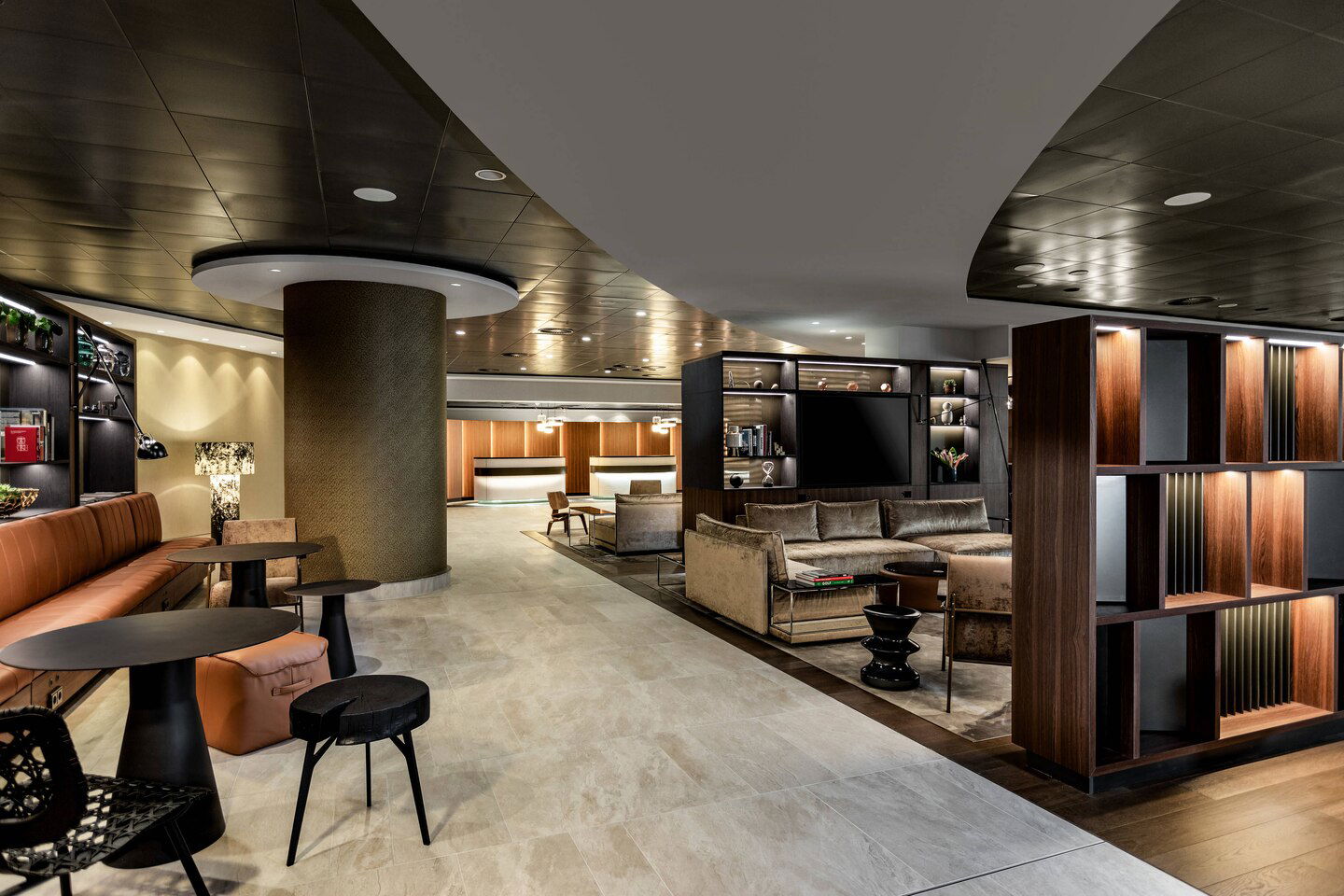 Marriott Frankfurt Airport lobby
Each hotel will have a separate lobby and executive lounge, but the two hotels will share dining, conference, and fitness facilities. Based on the renderings it looks like the Marriott will be taking over the executive wing of the Sheraton, because the rendering of the Marriott club lounge matches the space currently used by the Sheraton club lounge.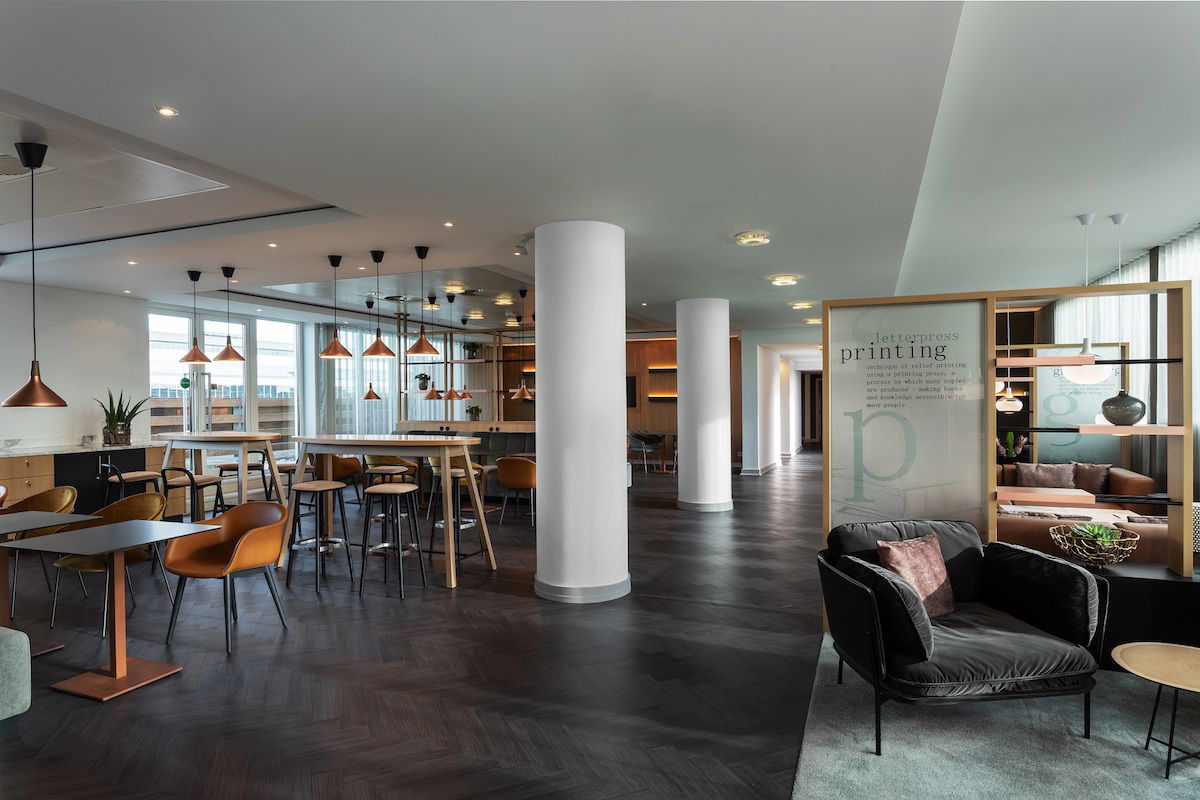 Marriott Frankfurt Airport club lounge
It looks like the Marriott rooms will be undergoing further refreshes, with the design described as follows:
Reflecting Marriott Hotels' ethos of creating spaces that enable guests to flourish, the new Frankfurt Airport Marriott Hotel delivers the residential design aesthetic with locally-inspired accents the brand is known for. Led by Hamburg-based JOI-Design, the design is stylish and sophisticated and takes cues from Frankfurt's history of literature, the printing industry and the famous Frankfurt Book Fair with inspiring quotations, a sofa for reading and relaxing, and library elements in the new lobby. The aim of the design is to promote creativity and productivity.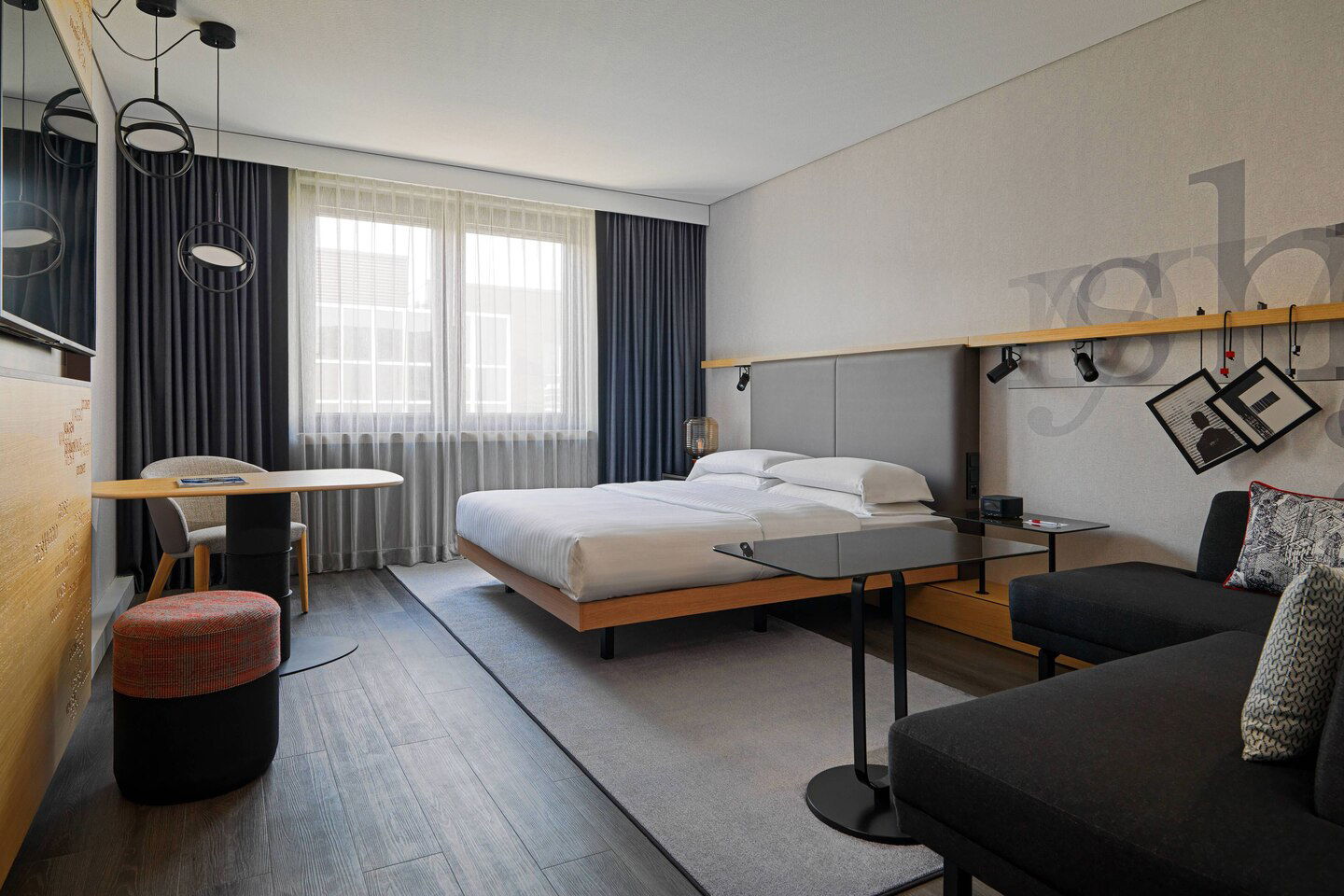 Marriott Frankfurt Airport guest room
With this change, Marriott will offer a total of five properties at Frankfurt Airport, as these two complement two Moxy properties and one Element.
What's the difference between Marriott & Sheraton?
We are increasingly seeing a trend whereby the major hotel groups are opening more properties that have multiple brands under one roof.
For example, Nashville has three brands under one roof, as they have an AC Hotels, Springhill Suites, and Residence Inn, all in one building.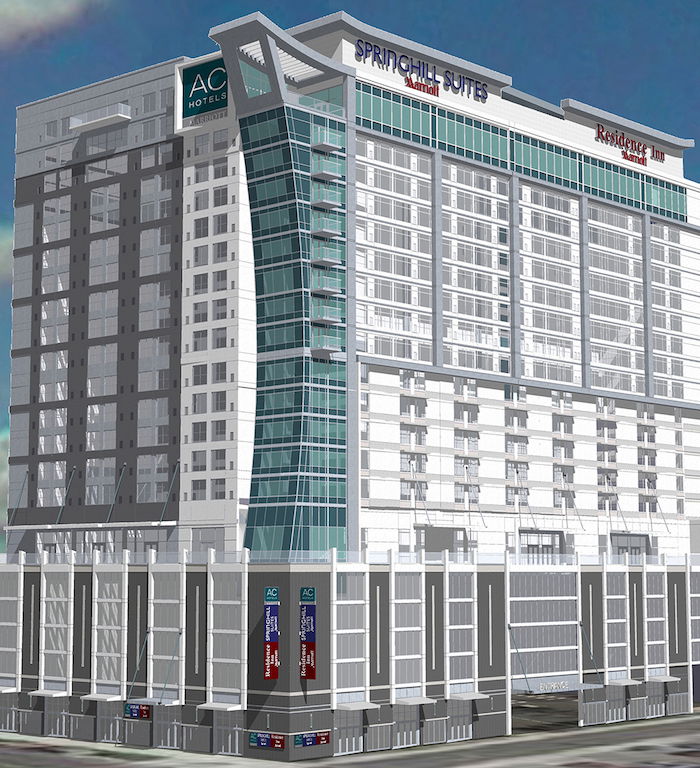 Nashville hotel with three Marriott brands
The reason I find this strange is because to me Marriott and Sheraton are basically the same brands. They're both mid-range brands that typically have a corporate feel and lack personality.
If you're going to have multiple brands in one place, typically it makes sense to do so if you're trying to go after different market segments, and at least to me, Marriott and Sheraton are attracting similar customers.
As John Licence, VP Premium & Select Brands Europe at Marriott, describes the plans:
"I am delighted that we can leverage the synergies and appeal of these two popular brands to offer our guests more choice and flexibility. Both brands are transforming the guest experience in their own unique way, meaning we will be able to offer the best of both at Germany's largest aviation hub and a key business destination."
I'm not sure what synergies there are here compared to operating the whole thing as a single hotel? And are Marriott and Sheraton really "transforming the guest experience in their own unique way?"
My guess is that this comes down to the hotel being so huge, and them struggling to sell rooms at decent rates, given the size. There are lots of hotels at the airport, so if nothing else, splitting up the hotel gives them more visibility. That's about the only thing I can come up with…
For what it's worth, both properties will be Marriott Bonvoy Category 4 properties, and it looks like in general paid rates are a bit higher at the Marriott than the Sheraton (and this is even before the renovations are done).
Bottom line
Even though I'm not totally sure I get the logic here, I'm actually looking forward to this transition. That's mainly because I've stayed at the Sheraton so often, so I look forward to trying the Marriott for variety.
What do you make of the Sheraton being split up, with part of it becoming a Marriott? Anyone want to take a crack at differentiating between these two "unique" brands? 😉