For the next portion of our round the world trip, my dad and I flew Virgin Australia's Boeing 737 business class from Perth to Sydney. This was my first time flying with Virgin Australia in several years, since the airline went through voluntary administration.
I also lucked out, because I flew on one of Virgin Australia's aircraft with the new interiors, which will be installed on all Boeing 737s over time. So, how was our Virgin Australia business class flight? I was reasonably impressed for a domestic flight, keeping in mind that Virgin Australia has a hybrid business model. The 737 had comfortable seats, friendly service, and pretty tasty food, though aspects of the experience also felt a bit low cost.
Let's get into the review…
How I booked our Virgin Australia business class tickets
I booked our Virgin Australia business class tickets using United MileagePlus miles. The partnership between United and Virgin Australia is really useful for award travel. I booked the following for 28,800 United MileagePlus miles plus $12.10 in taxes and fees per person:
5/24 VA562 Perth to Sydney departing 3:30PM arriving 9:50PM
For what it's worth, I booked these awards just over a week before departure. Note that there's a trick to snagging multiple Virgin Australia business class awards, which I outlined in this post.
Virgin Australia business class lounge & boarding
In the previous installment I reviewed the Virgin Australia Lounge Perth, which was perfectly pleasant. Our flight was scheduled to depart from gate 44, just a short walk from the lounge.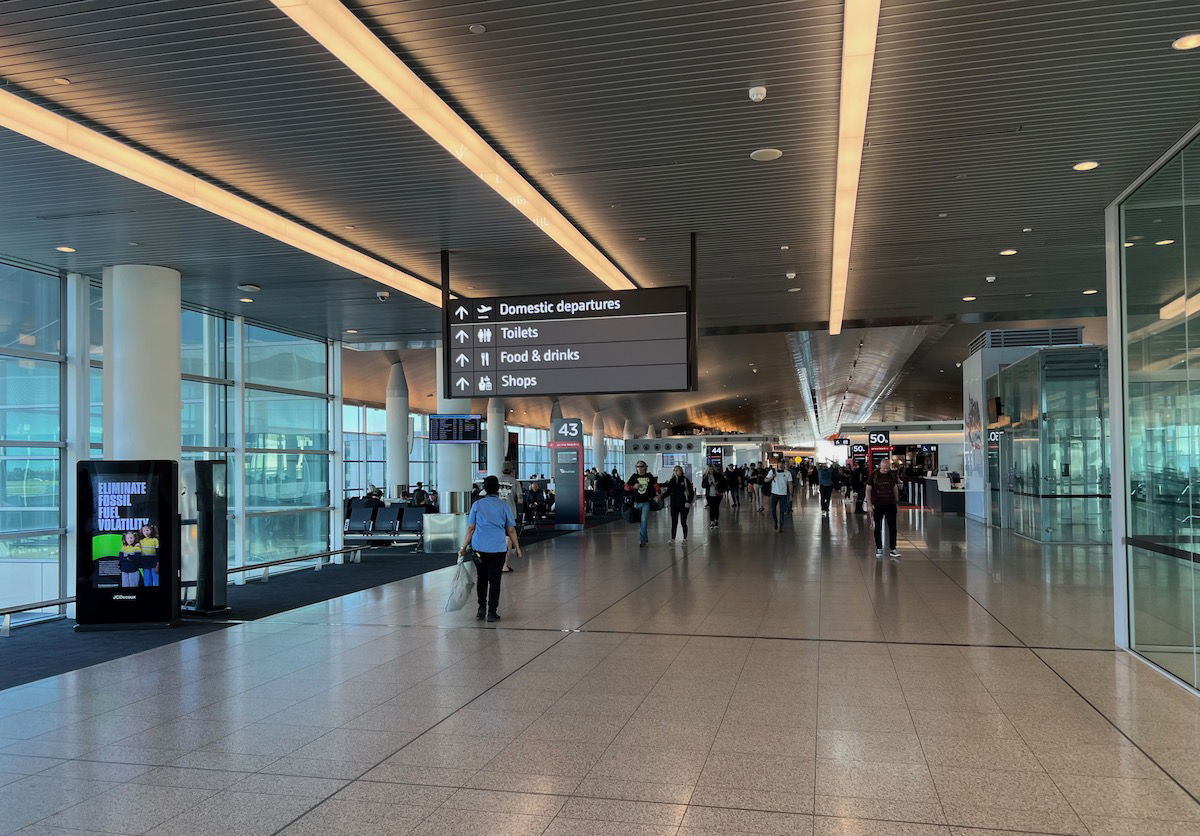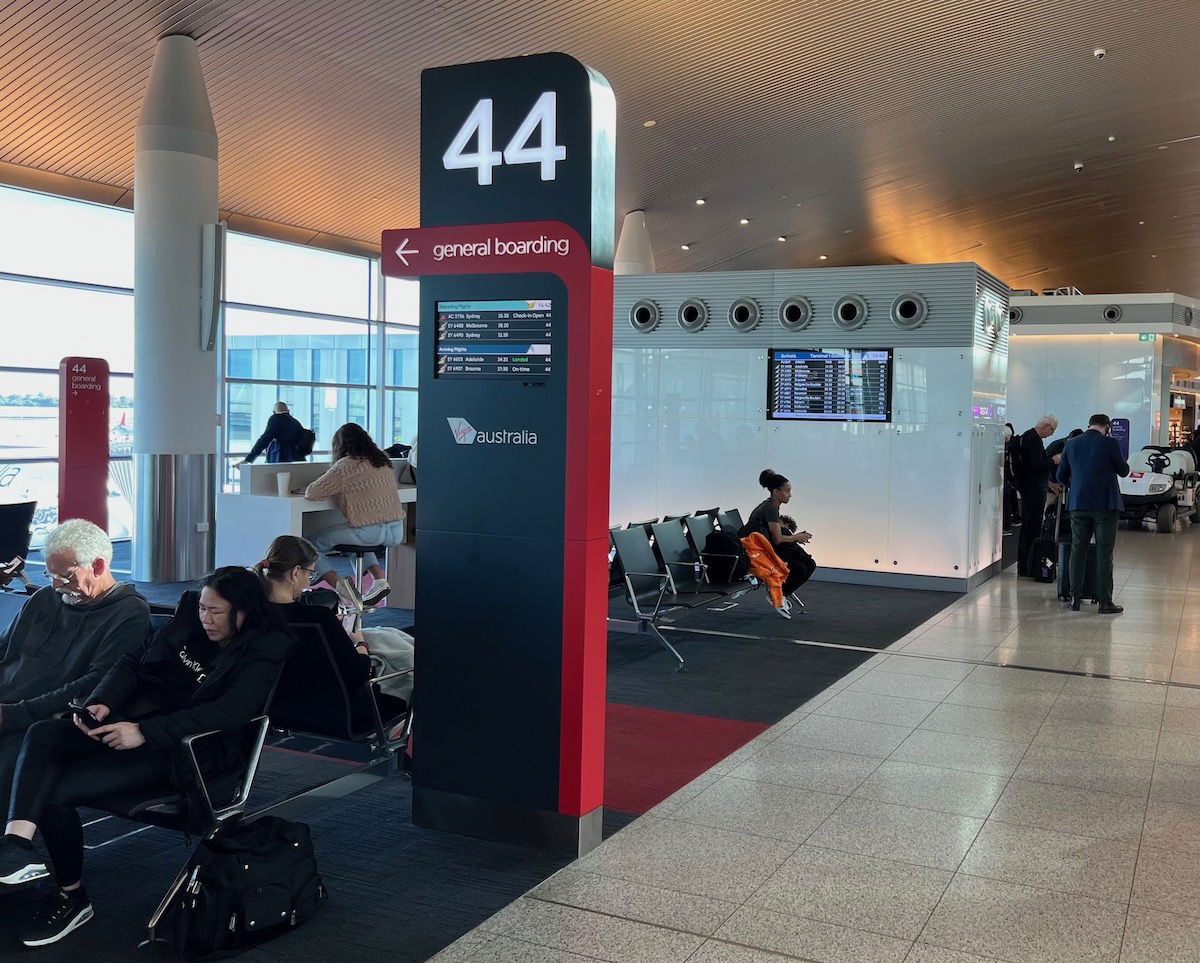 At the gate I spotted the eight-year-old Boeing 737-800 with the registration code VH-IWQ, which would be operating our flight. Interestingly this is a former SilkAir aircraft (SilkAir has now been merged into Singapore Airlines), and the aircraft joined Virgin Australia's fleet in 2021.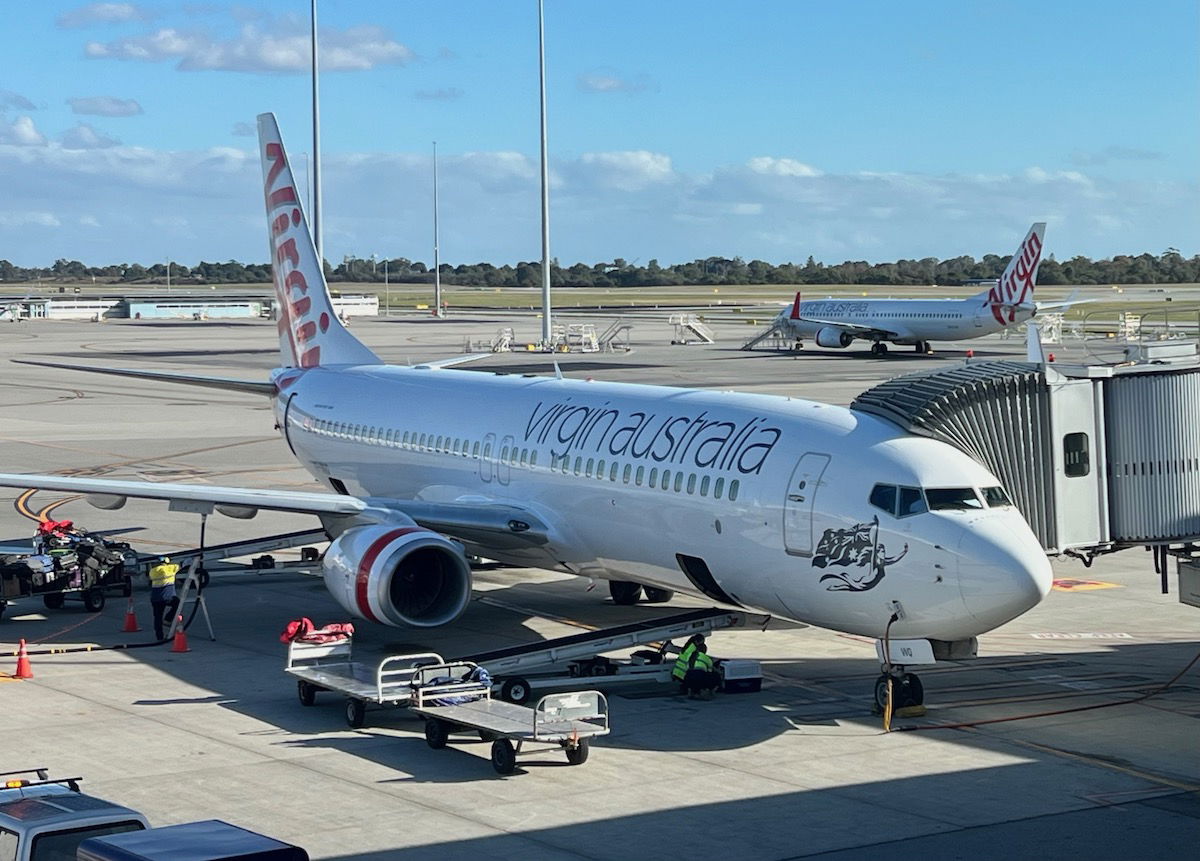 Boarding was scheduled to start at 3:05PM, 25 minutes before departure, with business class passengers, as well as Velocity Platinum and Gold members, being invited to board first. It's nice how Virgin Australia has the priority lane in a separate area from the main boarding lane. Sure enough, boarding started right on schedule.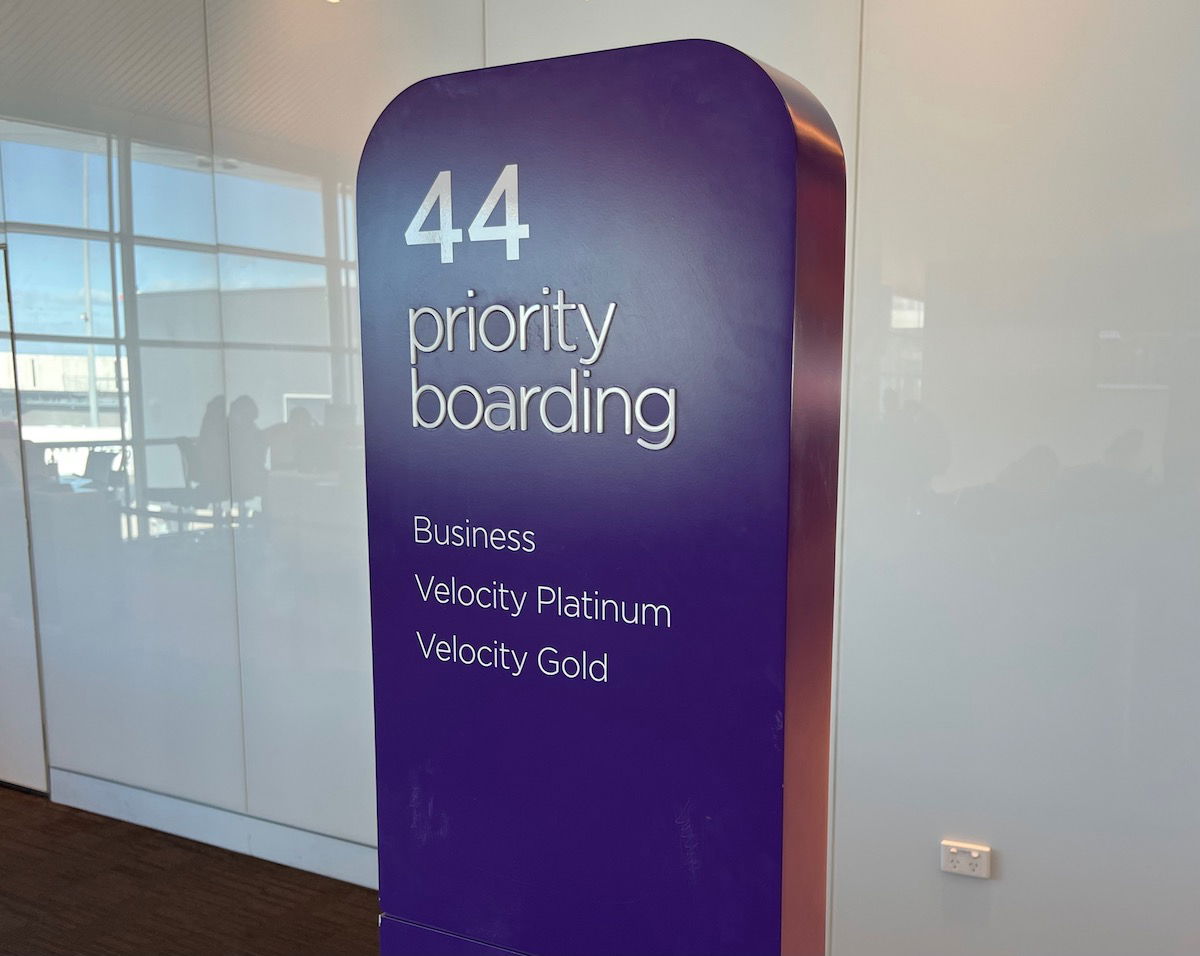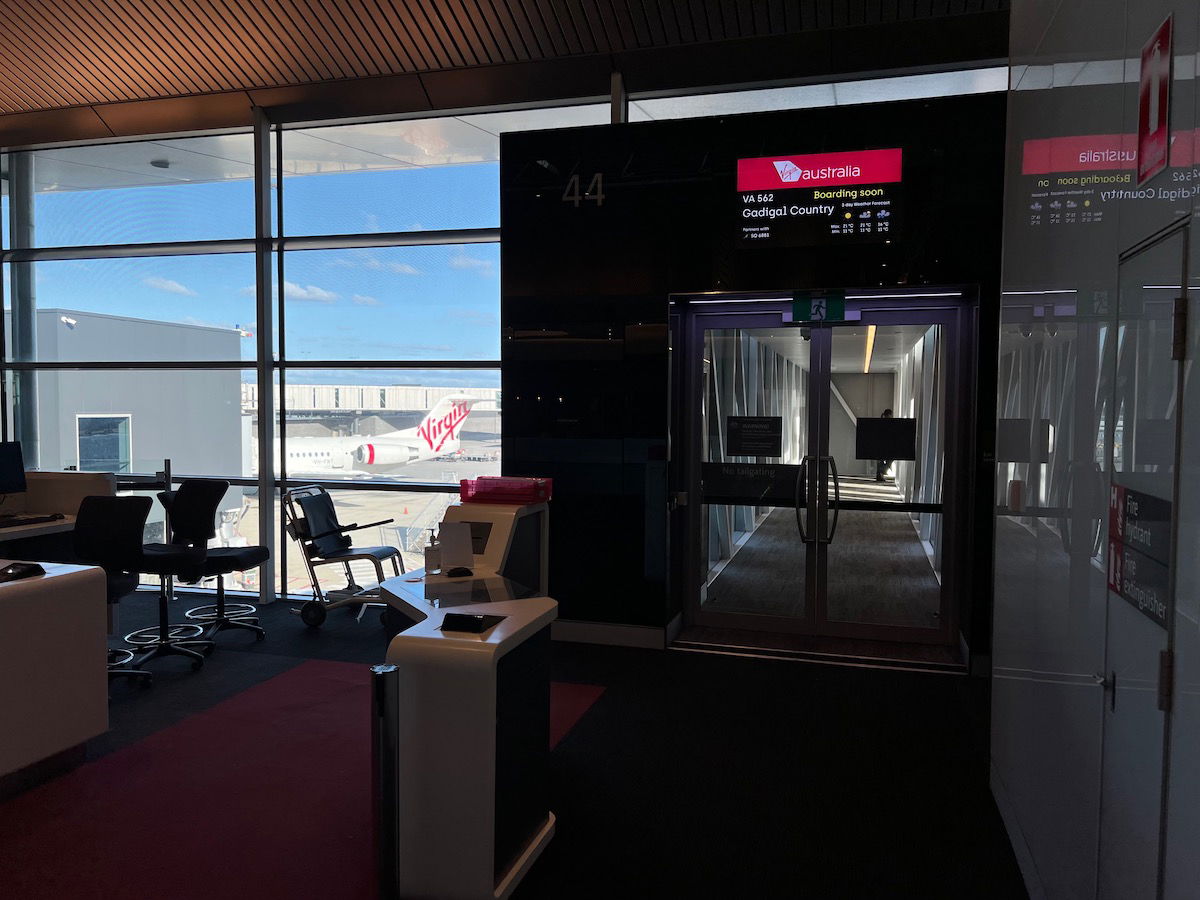 I just have to comment on how orderly boarding in Australia is, as it's a breath of fresh air. Not just at our gate, but in general I noticed how most people remained seated until boarding was called, and even then, didn't crowd the gate area.
Virgin Australia 737 business class cabin & seats
At the forward door we were greeted by two friendly flight attendants, and pointed toward our seats. Virgin Australia's Boeing 737s have eight business class seats, spread across two rows in a 2-2 configuration. While all 737s have a cabin of that size, not many yet have the interior we flew on, though it will soon become the standard across the 737 fleet.
As you can see below, there's no partition or curtain between the business and economy cabin, though there are plans to add this in the future.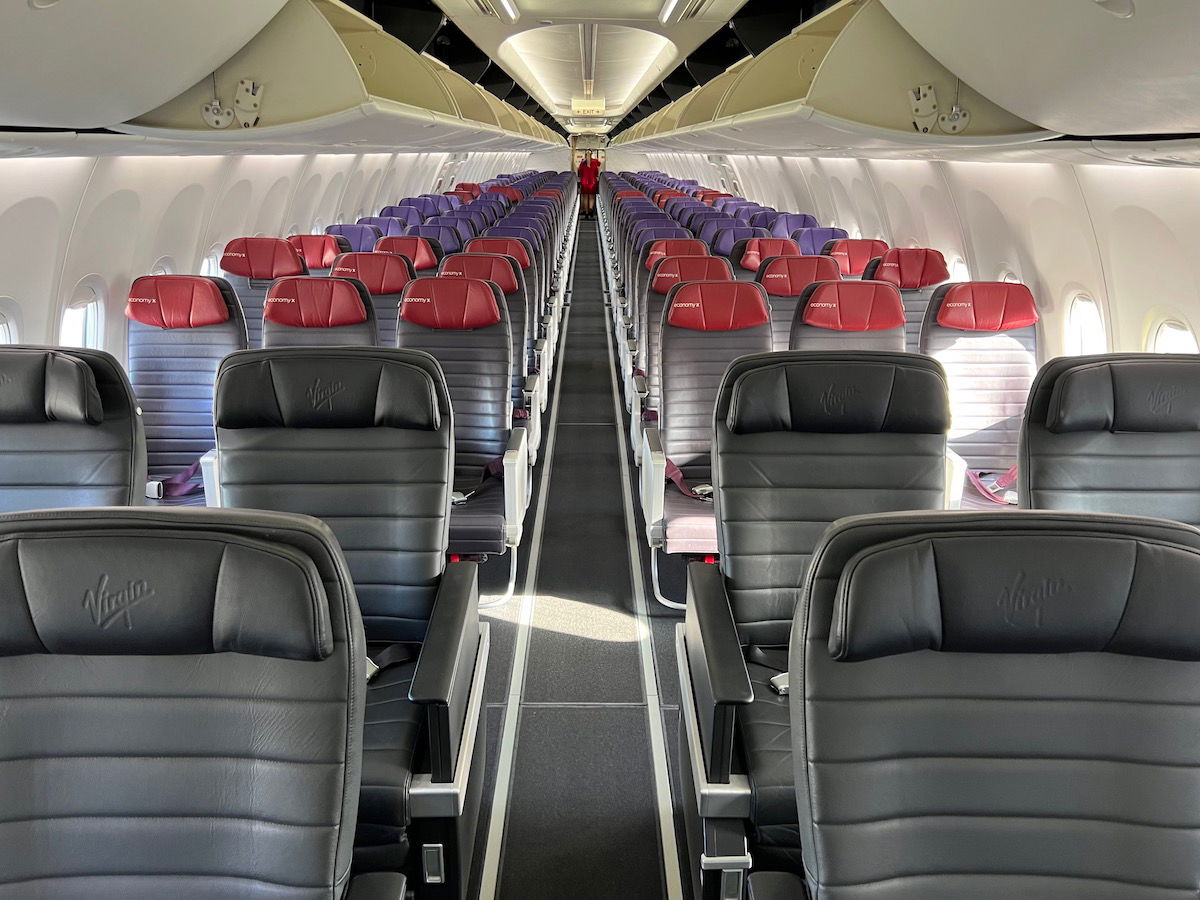 Virgin Australia's Boeing 737 business class seats should look familiar, as they're pretty standard, and you'll find them on quite a few airlines. For example, it's very similar to American's domestic first class seat.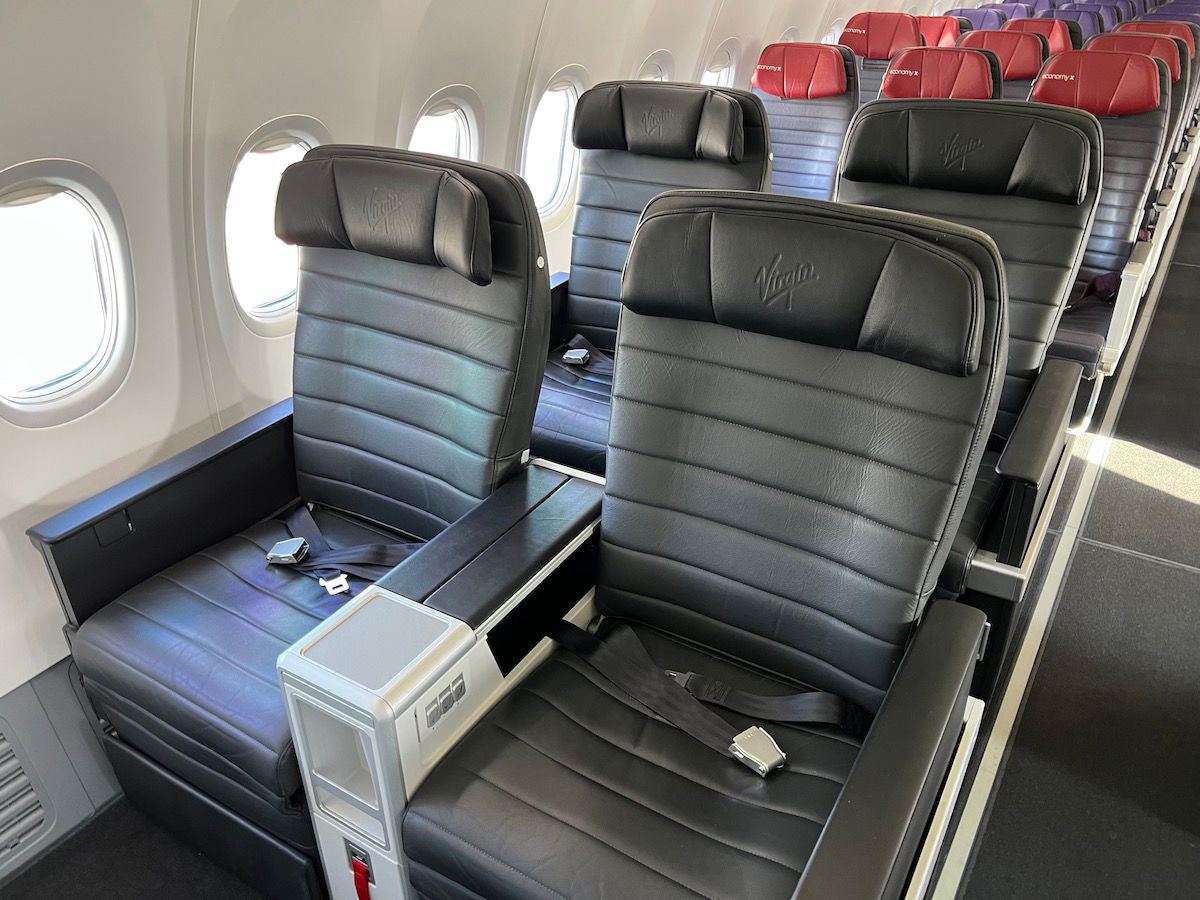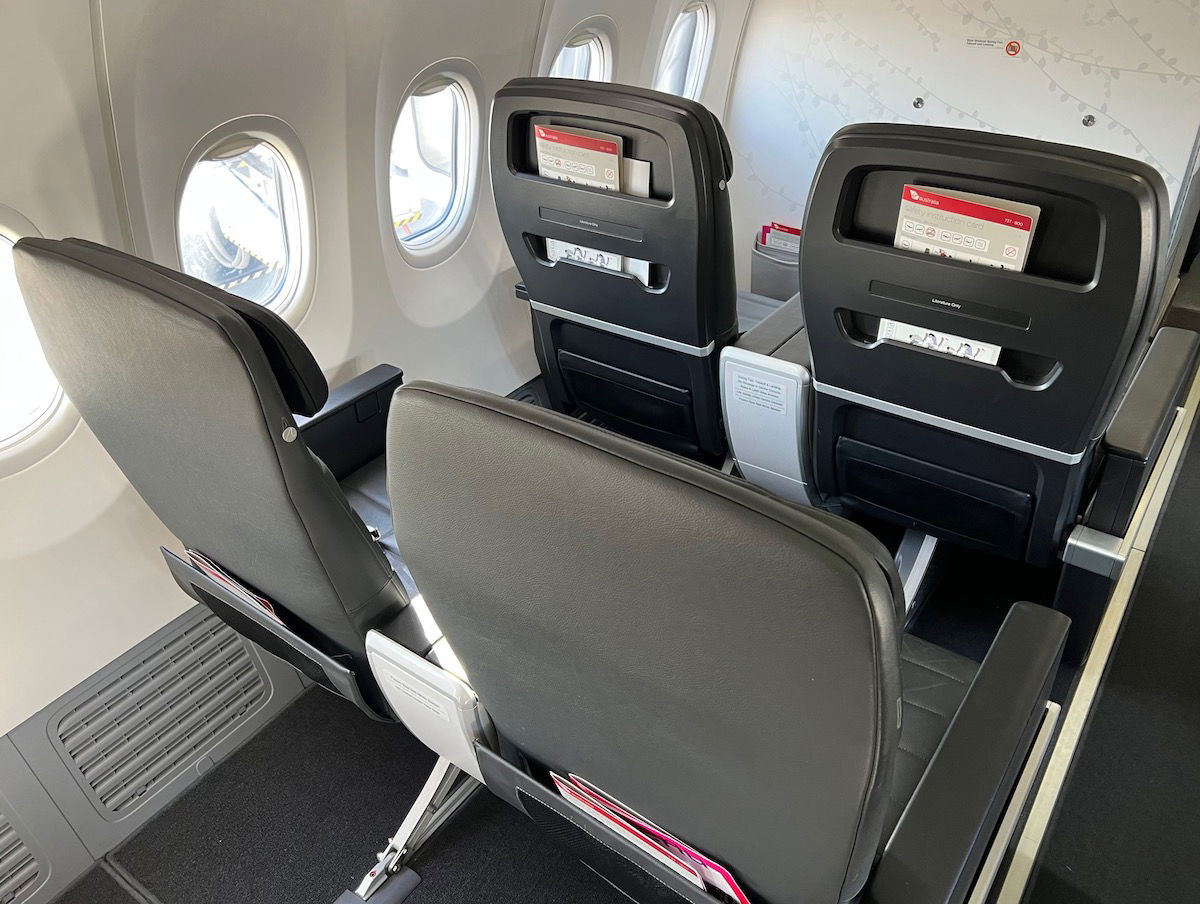 Legroom was a bit better than you'd find in domestic first class within the United States. Some people may prefer row one (the bulkhead row), since no one will recline into your space, and it might be easier to get up from the window seat without having to disturb your neigbor.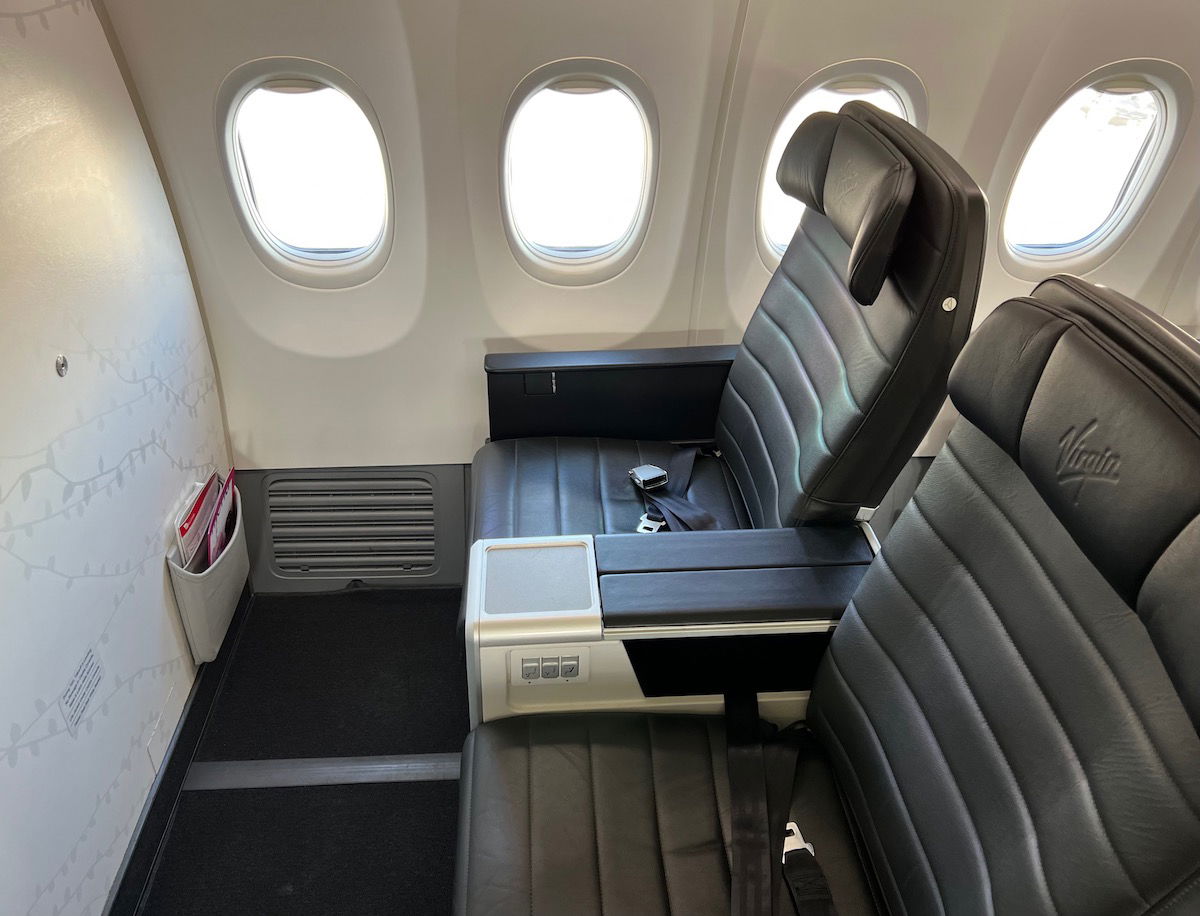 Personally I prefer the second row, since it allows you to store bags underneath the seat in front, which isn't possible in the bulkhead. So my dad selected the aisle and window seat on the left side in the second row.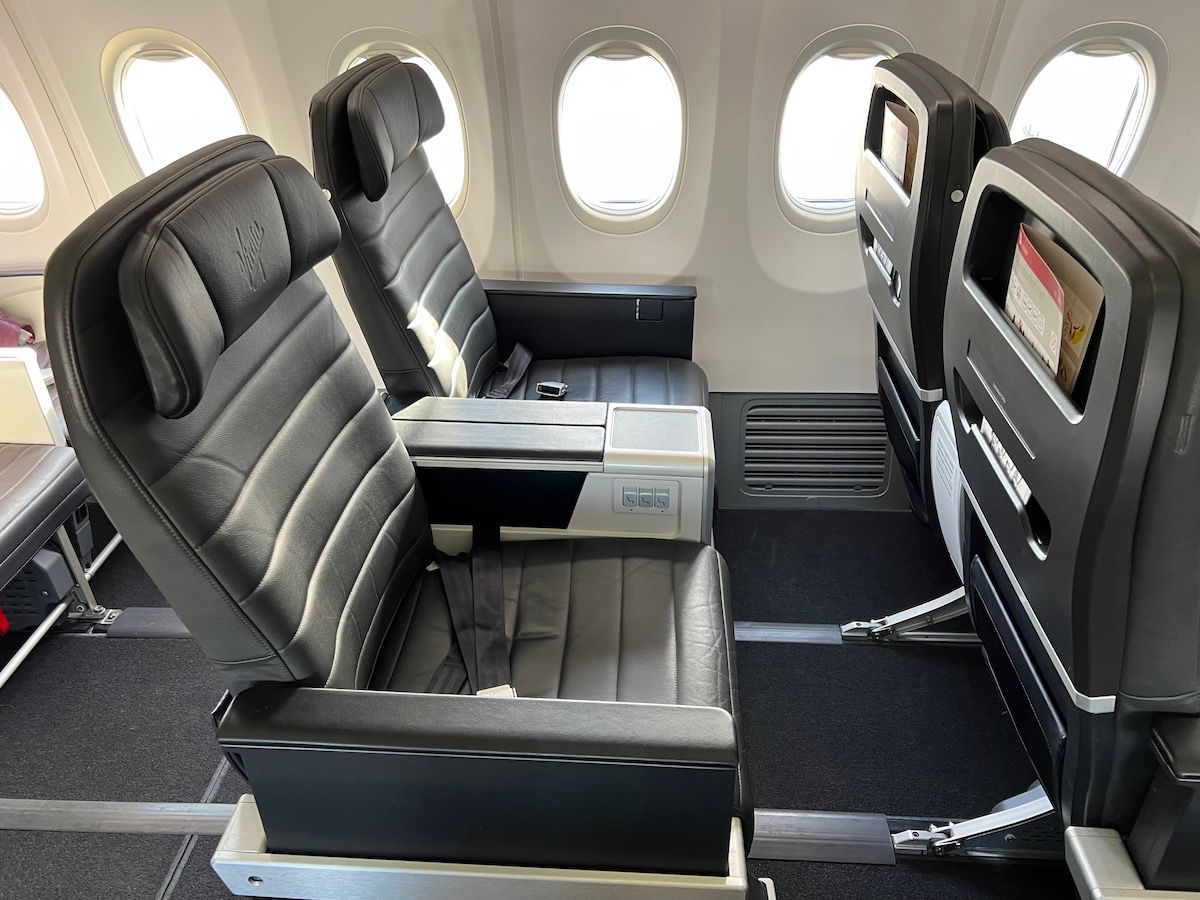 What's pretty cool is that these seats have leg and foot rests, which you don't typically find in the United States. Admittedly it's a bit tight when you put out the foot rest (especially if you have big feet), but it's still helpful for getting comfortable.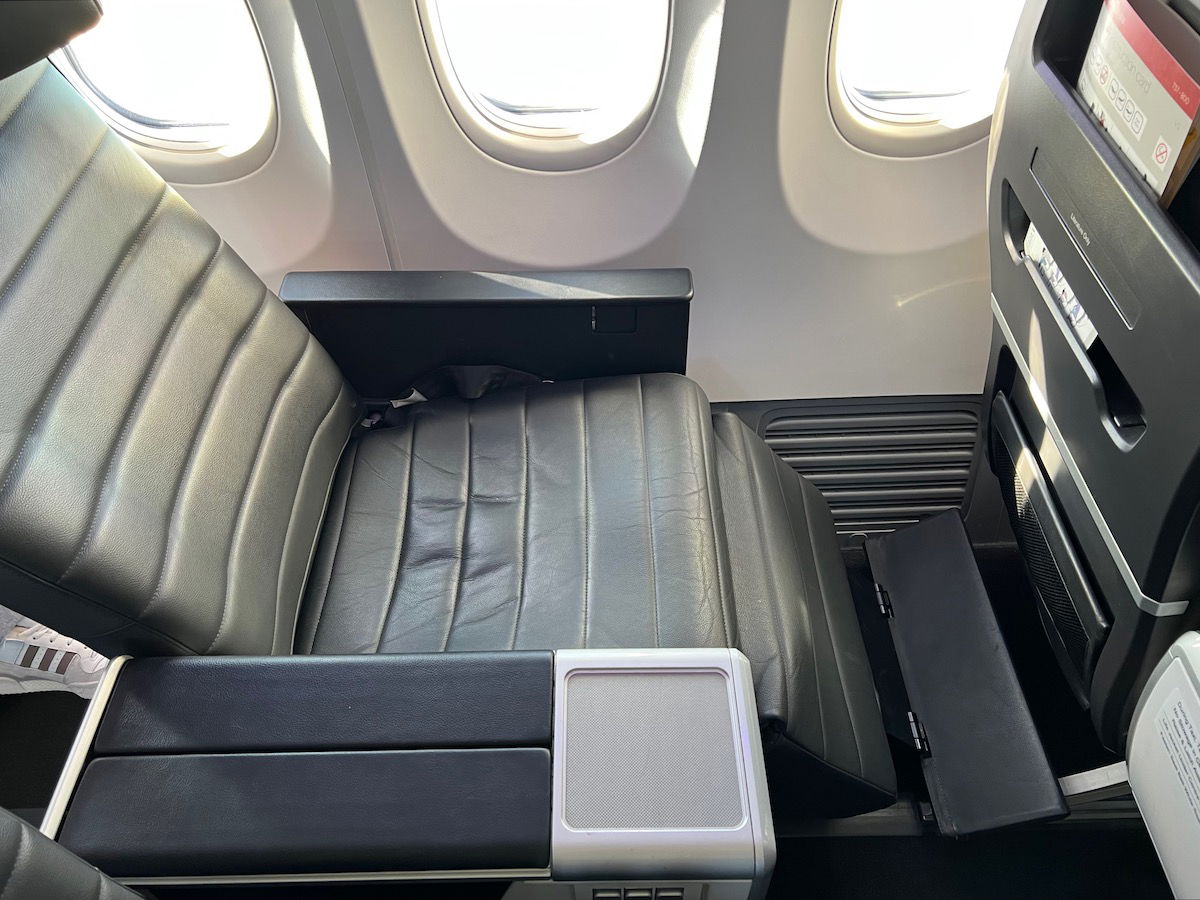 As you can see below, legroom was pretty decent, and the seatback had both a net for storing things, plus a literature pocket, though stuff can easily fall out of that.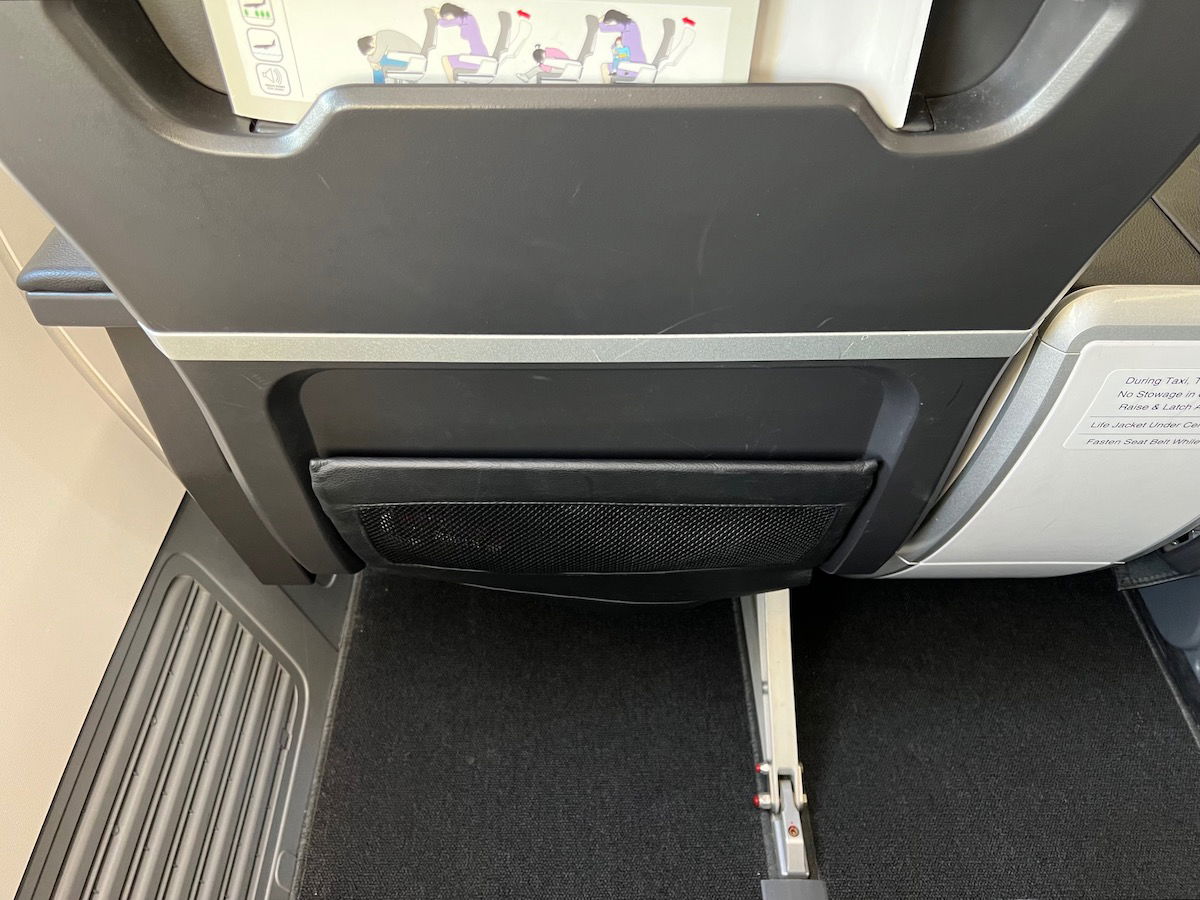 The center armrest could be raised, as that can act as a storage area. Furthermore, that's where the power outlet was located, which included AC and USB-A charging.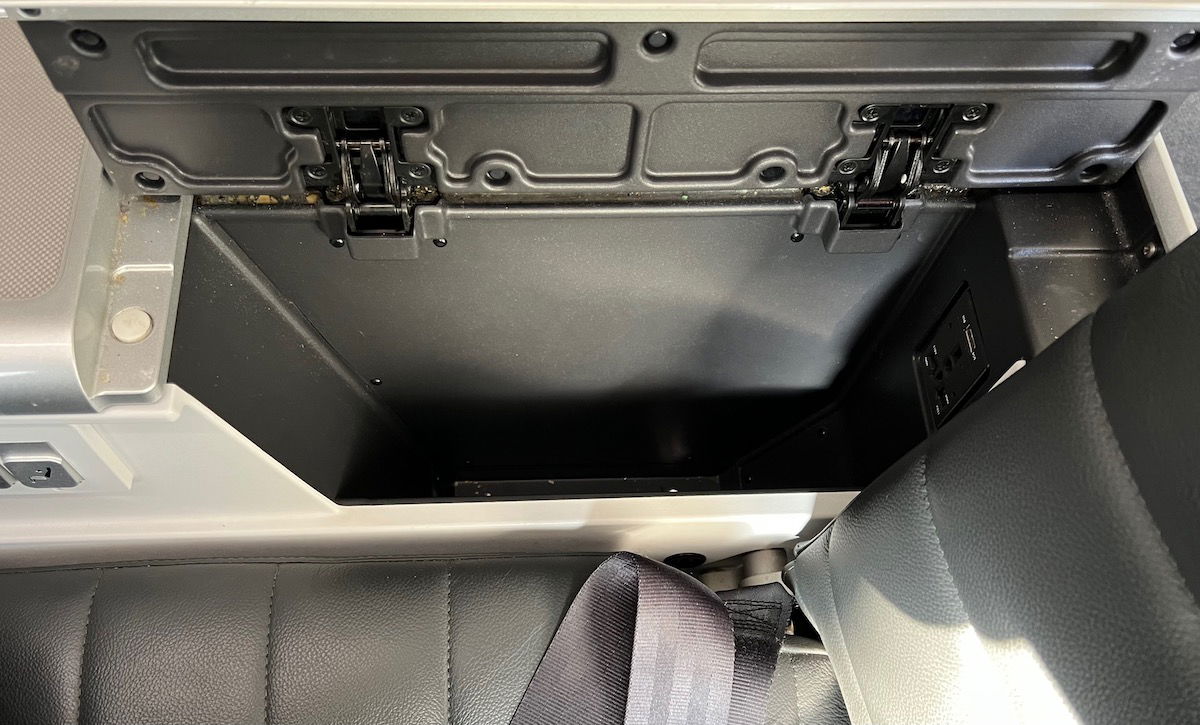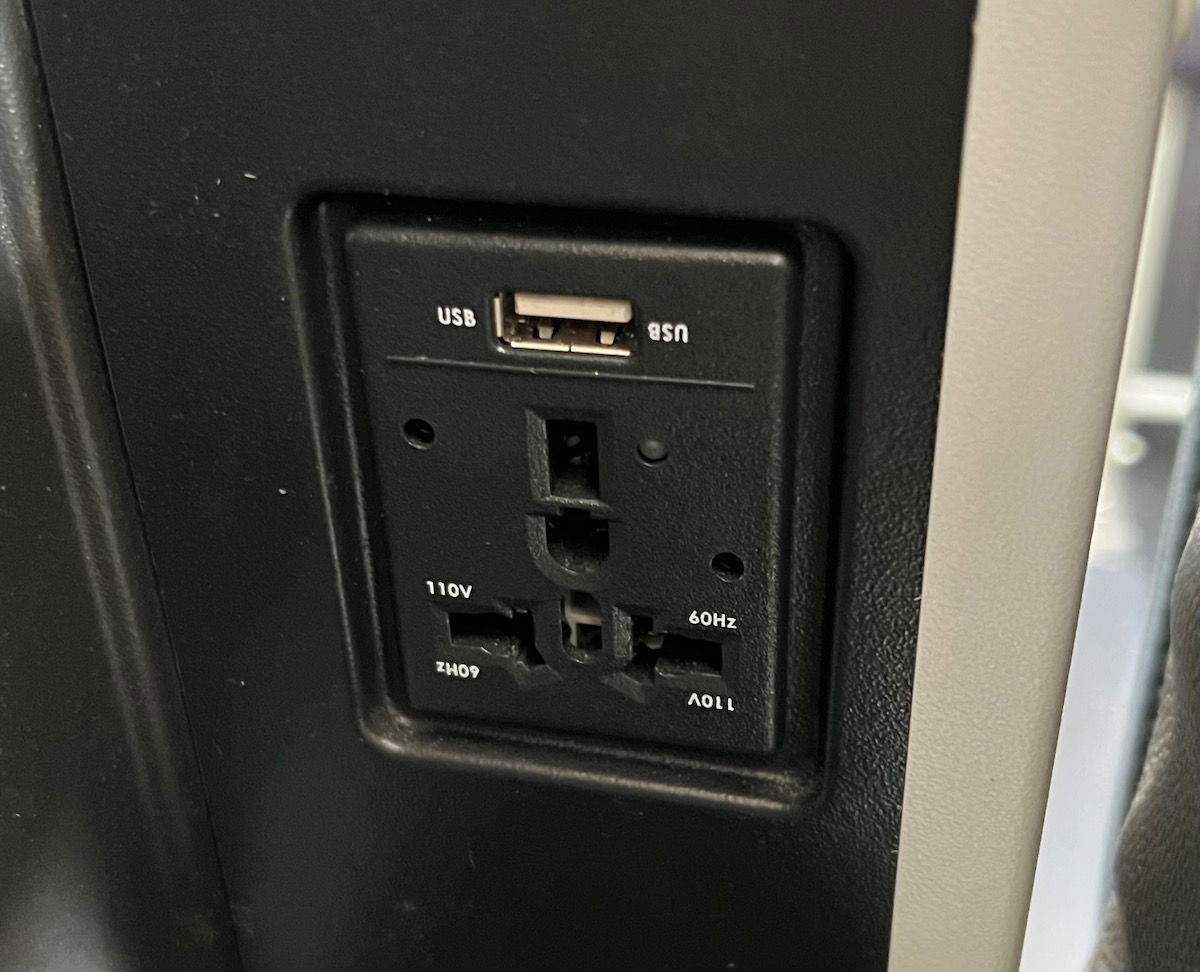 The seat controls were located right next to that storage compartment, and there were three buttons, controlling the recline, the leg rest, and the foot rest.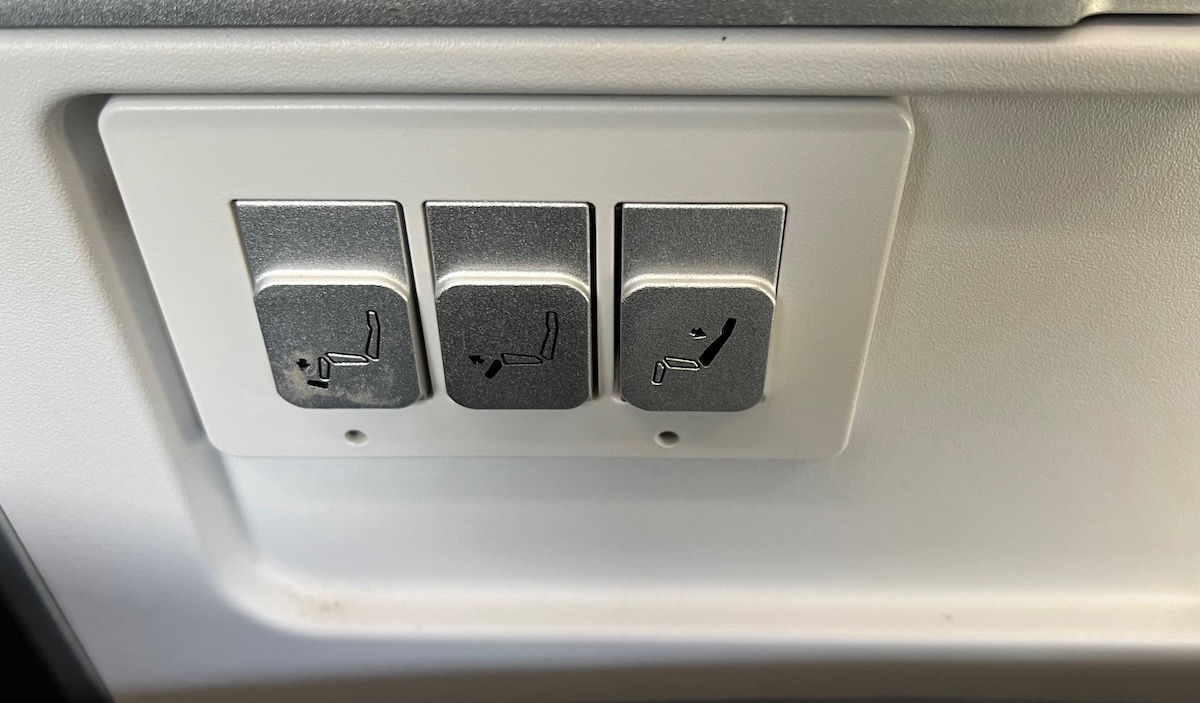 Also on the center console was a tray, where you could place drinks during the flight.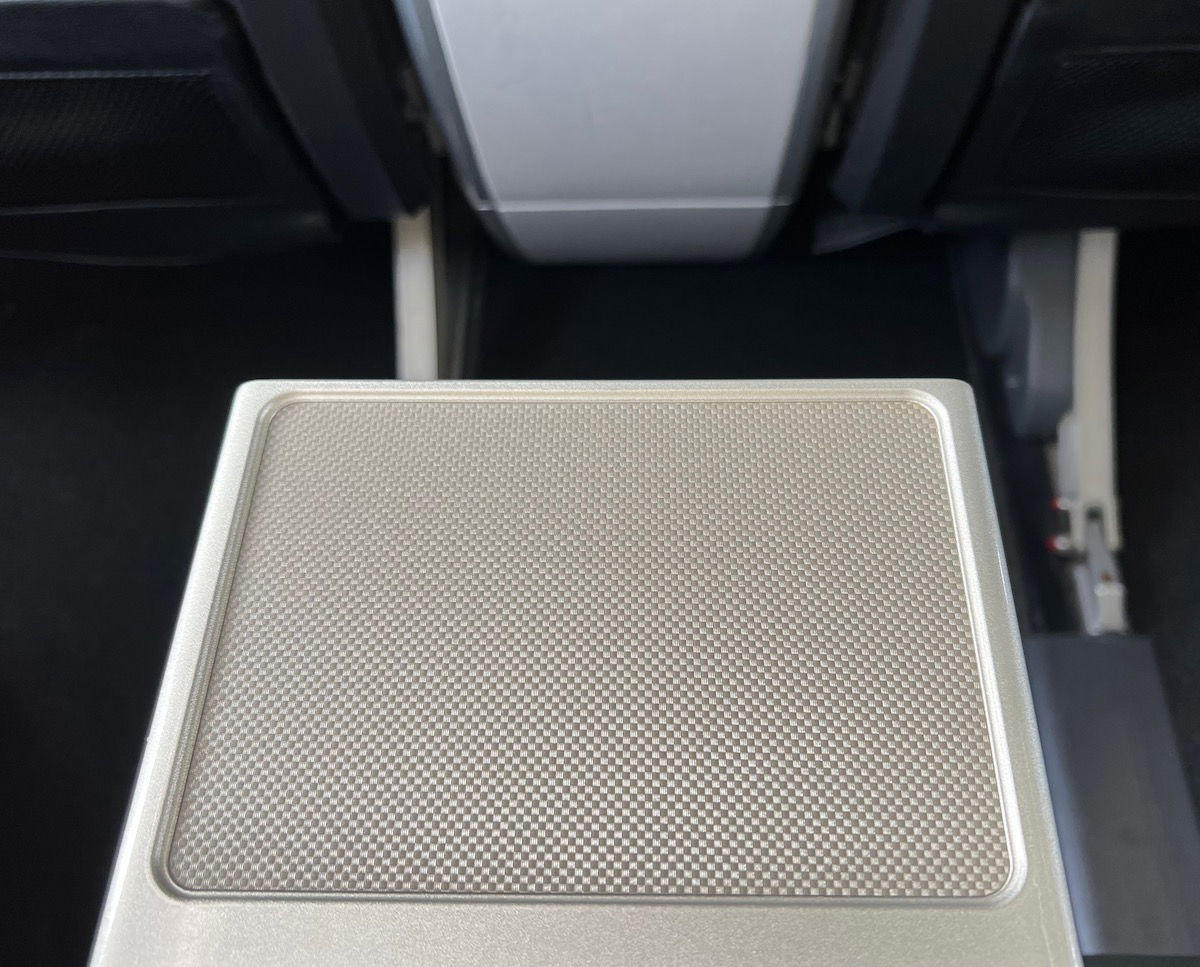 On the front of the center console was an additional exposed storage compartment, though it doesn't seem terribly practical for storing most kinds of things.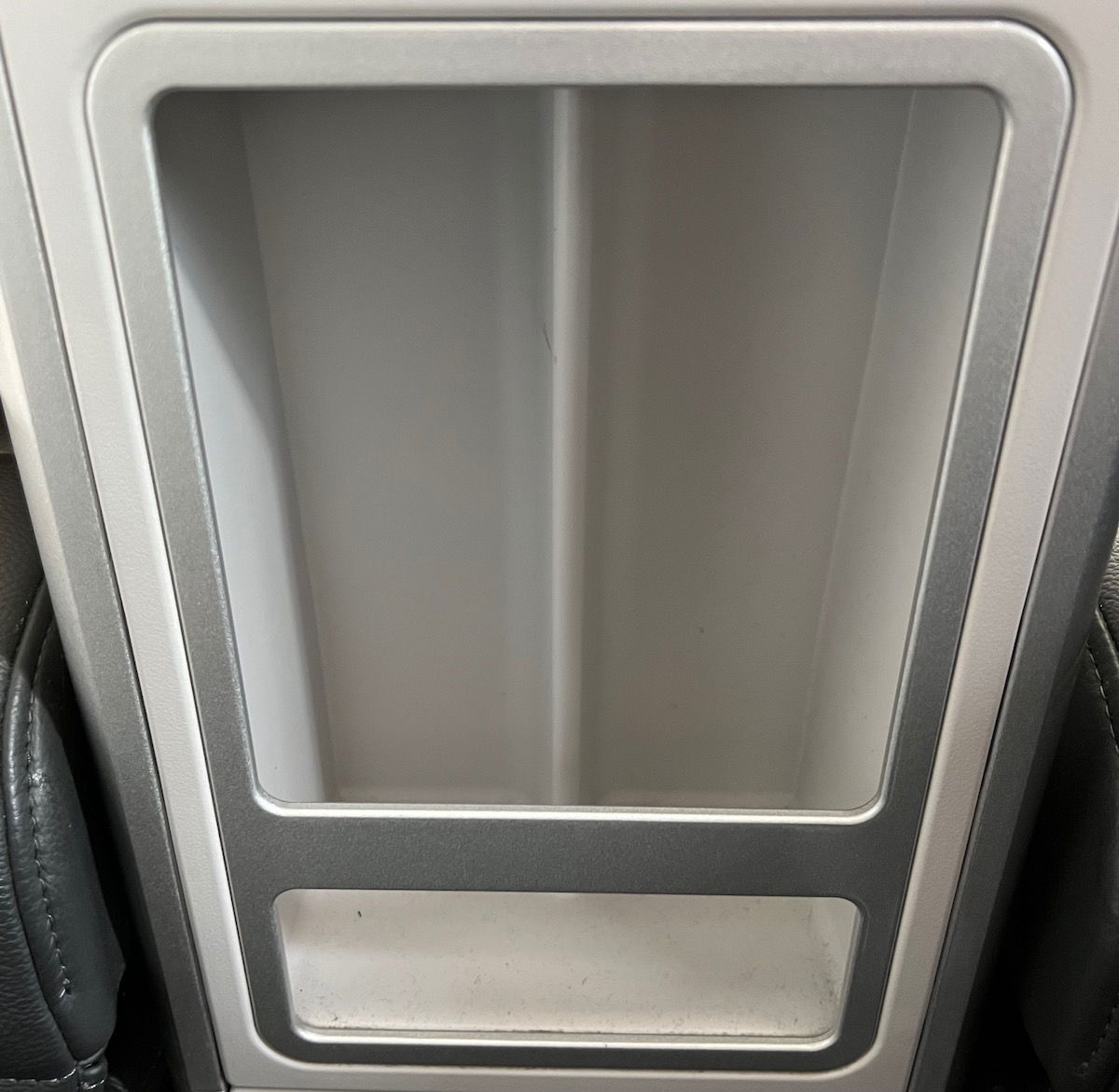 The tray table extended from the far-side armrest, and could be folded over in half.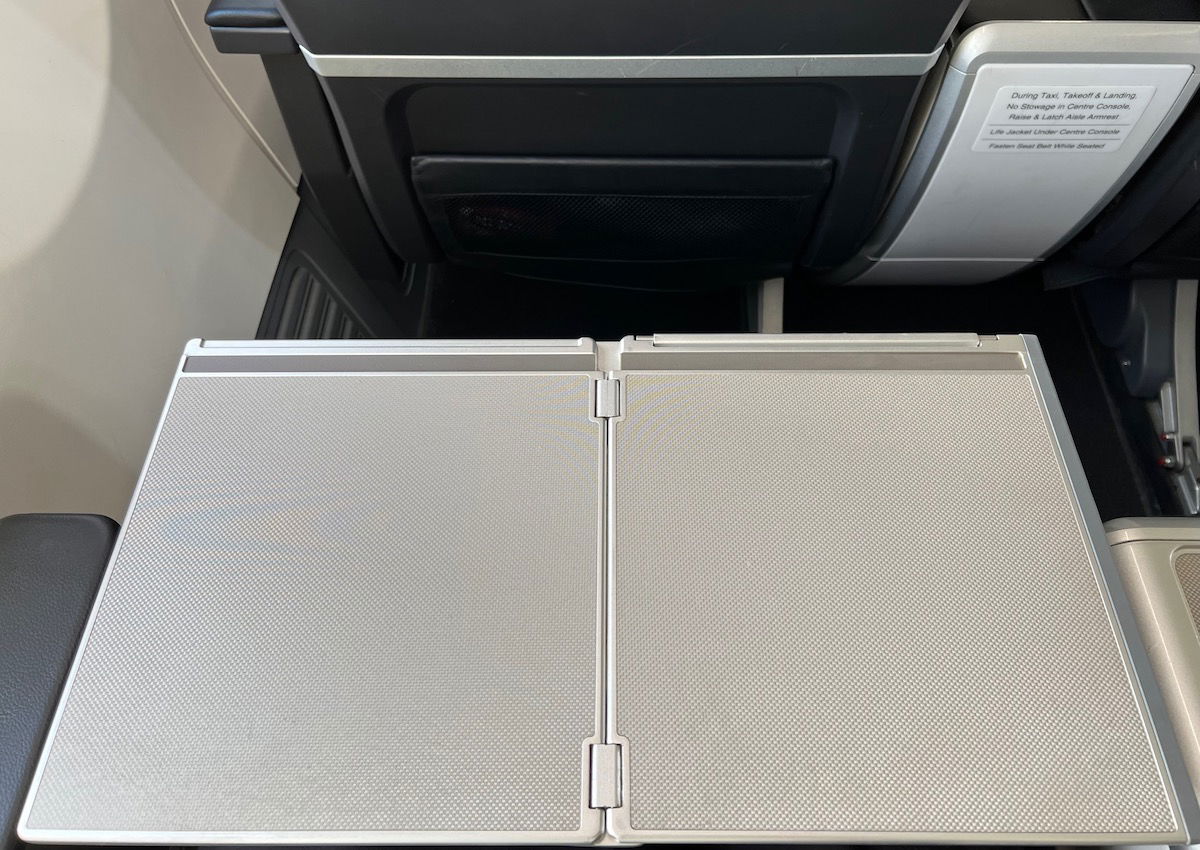 If folded over in half, there was a stand where you could place a personal device, should you want to watch your own entertainment.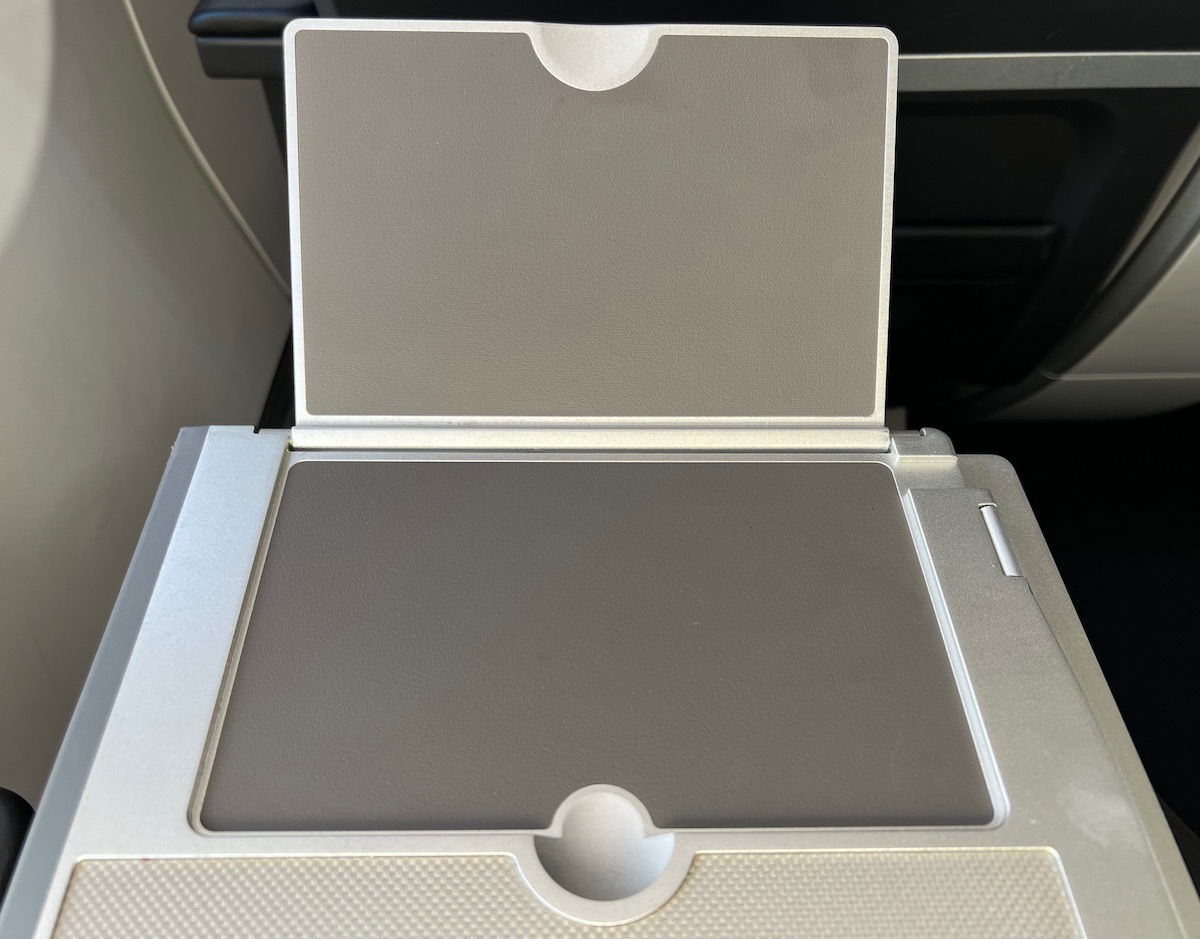 The overhead console was quite modern, and had both reading lights and individual air nozzles.
I also quickly glanced into the economy cabin (which isn't hard to do, given the lack of separation). As you can see below, there were five rows of Economy X seats, which is Virgin Australia's extra legroom economy seating (three rows in the front, plus two rows by the exits).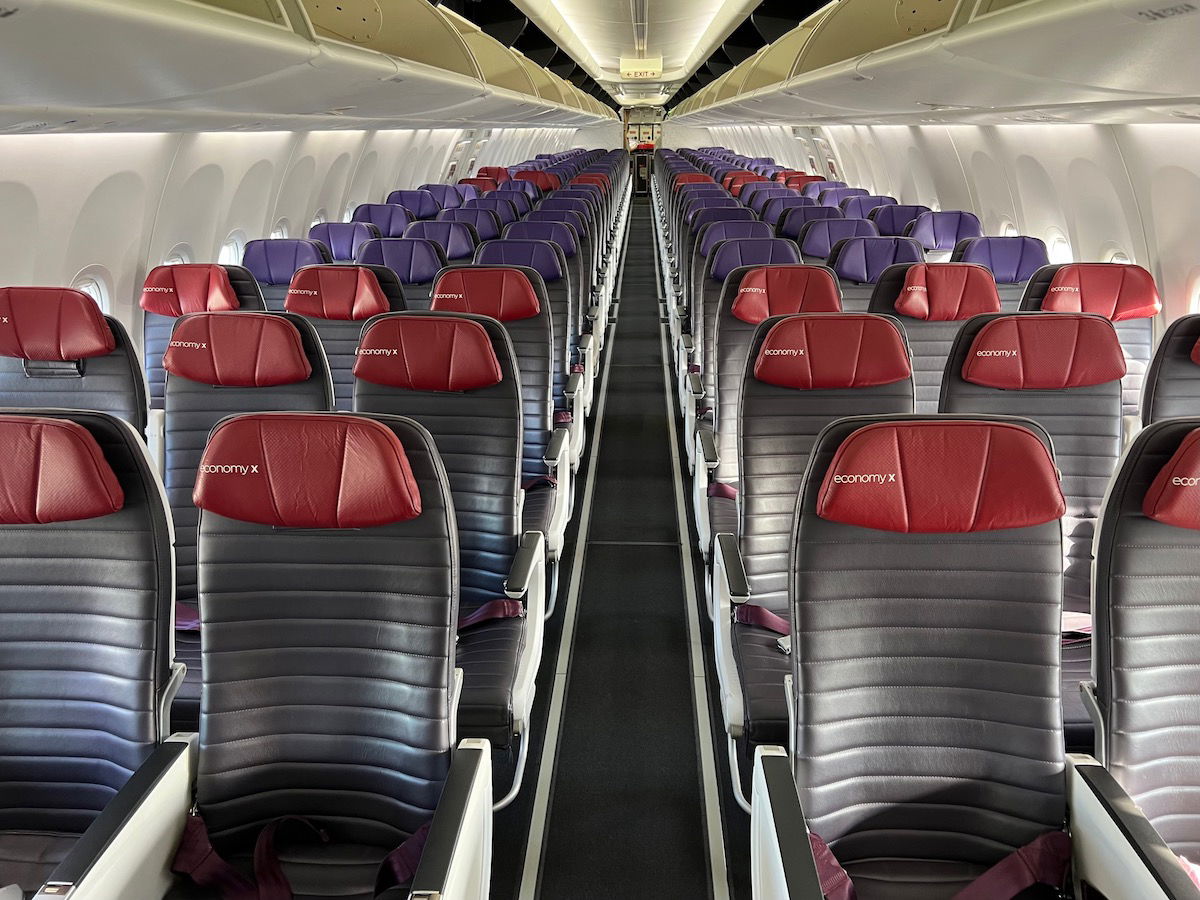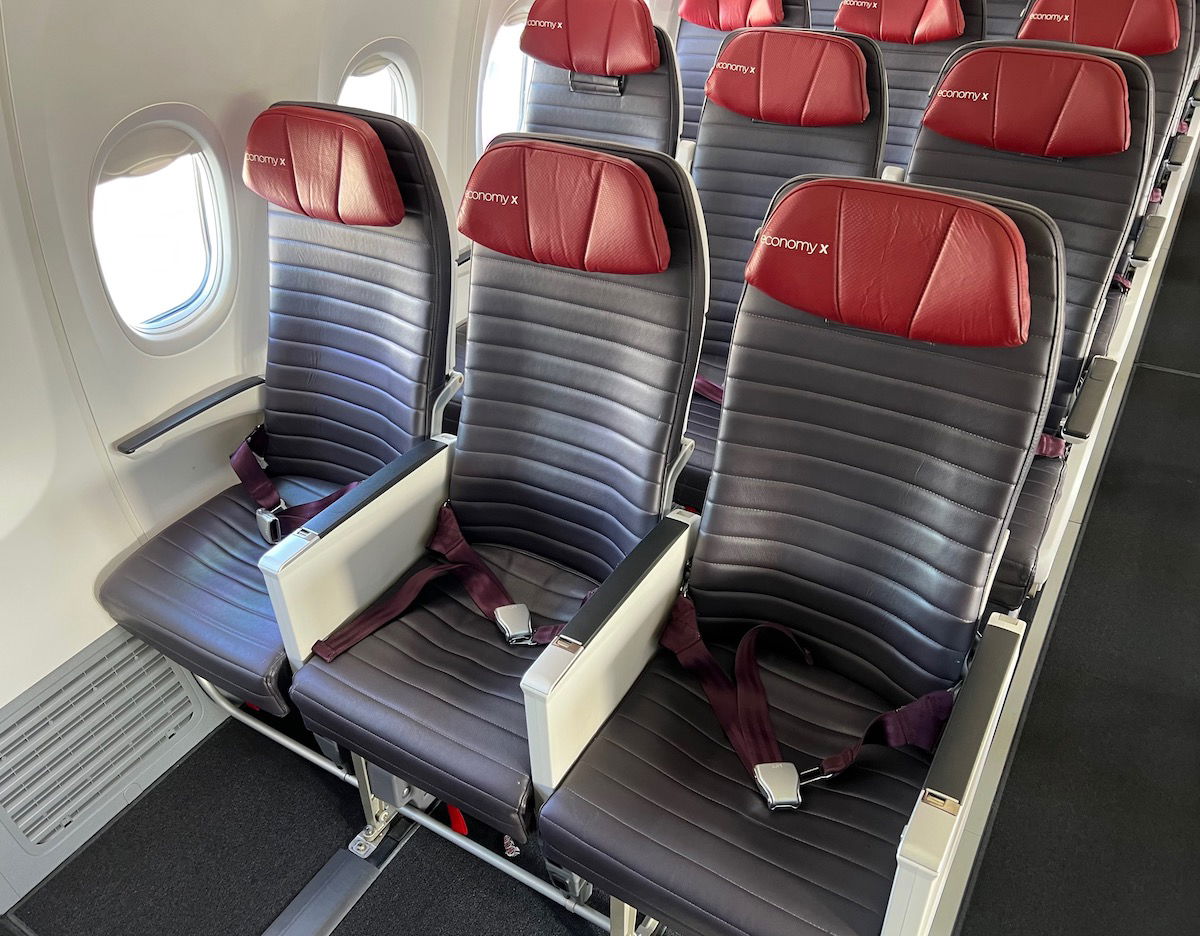 All-in-all, I thought the cabin was quite comfortable, and in line with what I was expecting. It was a bit more comfortable than domestic first class in the United States. The only thing missing was some sort of partition between cabins, but it's my understanding that will be introduced in the future.
Virgin Australia 737 business class entertainment & Wi-Fi
Virgin Australia's Boeing 737s don't have seat back televisions, but do have streaming entertainment, which you can play on your own device. Honestly, the streaming selection wasn't very impressive — it included eight movies and maybe a couple of dozen TV shows.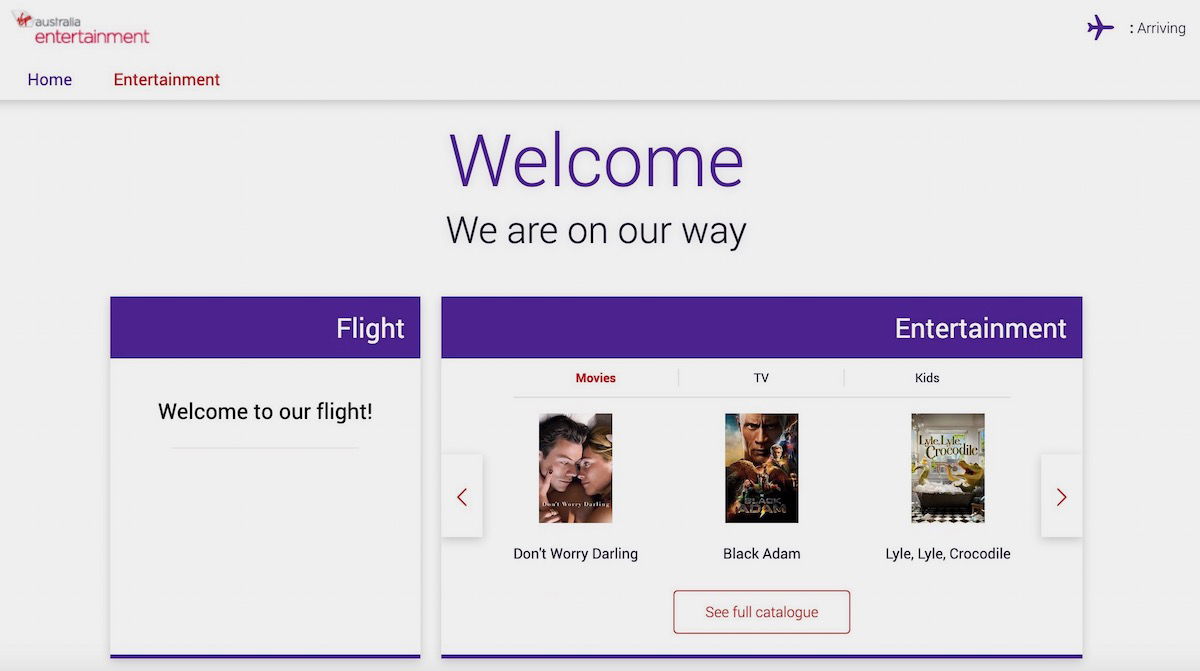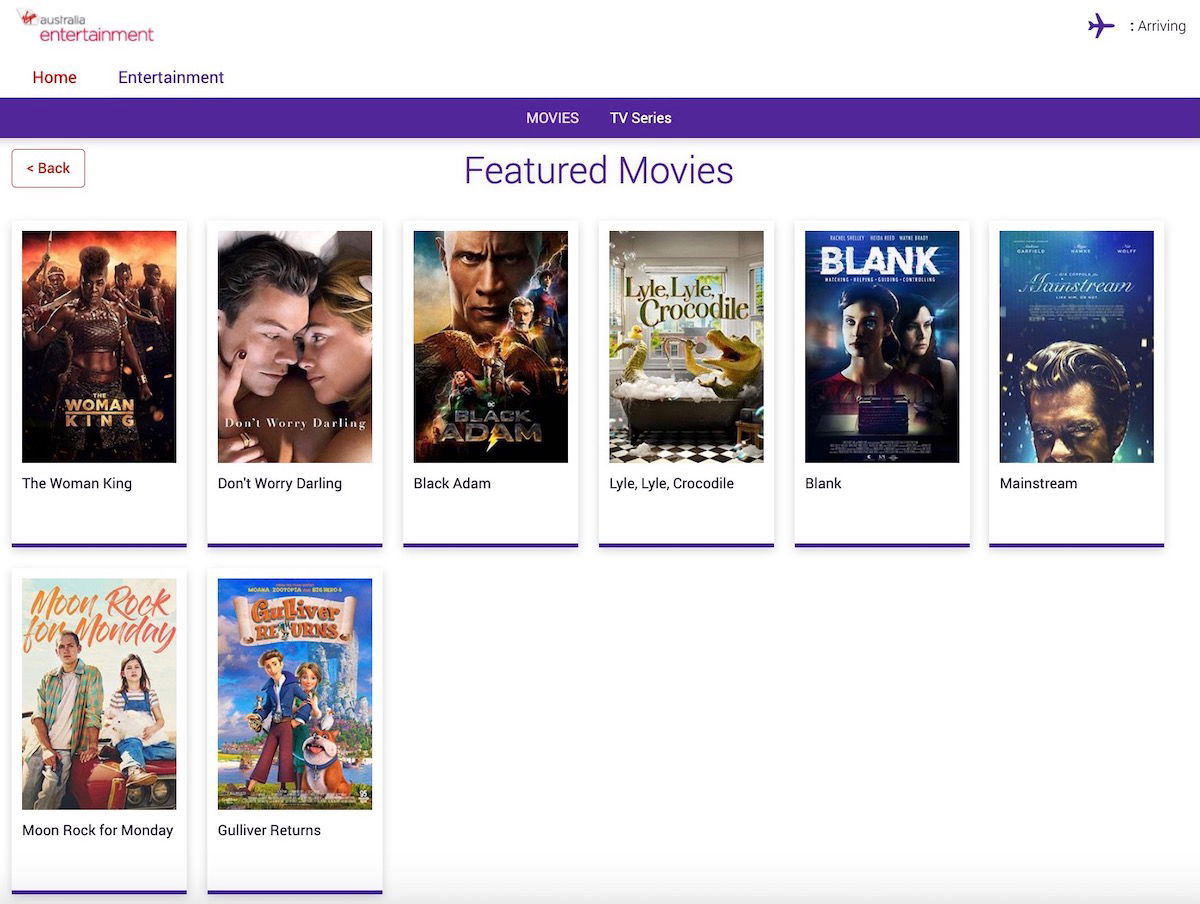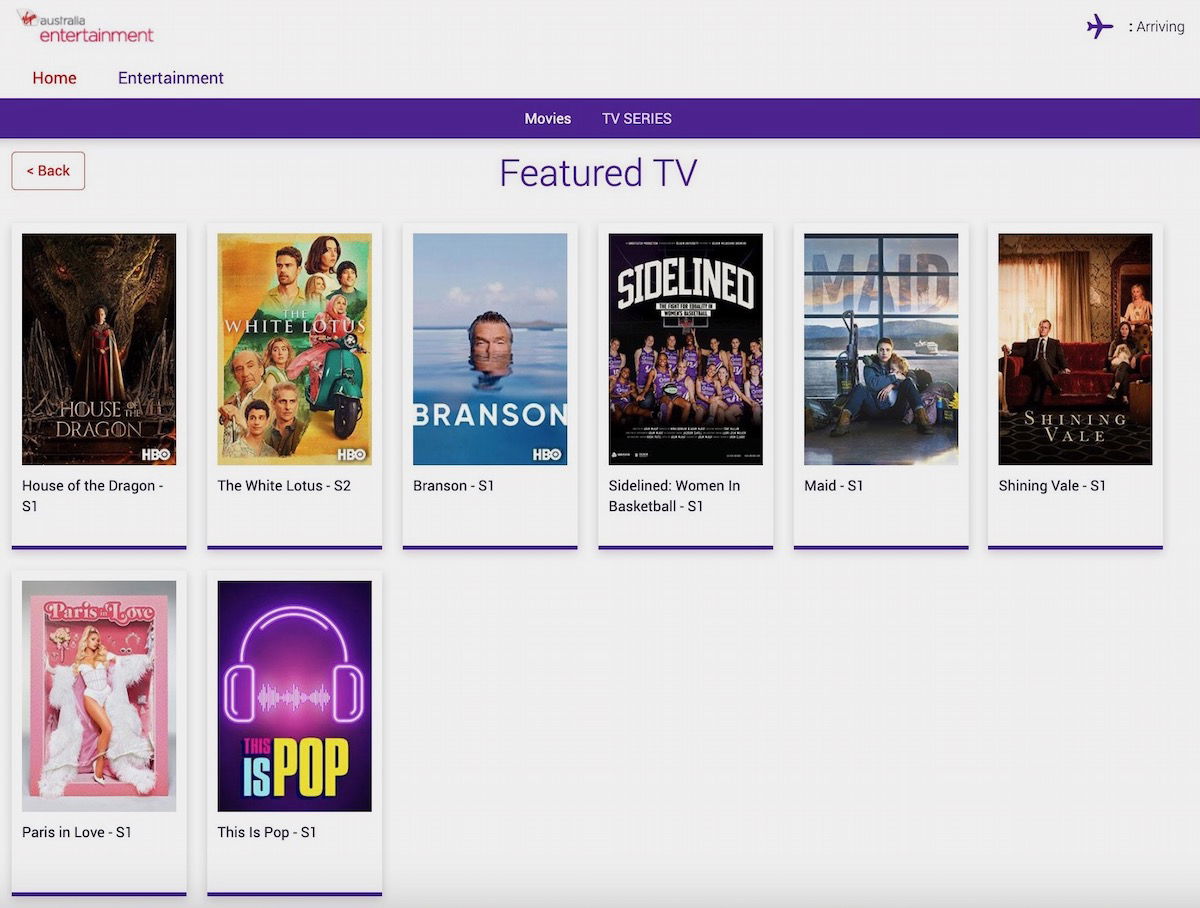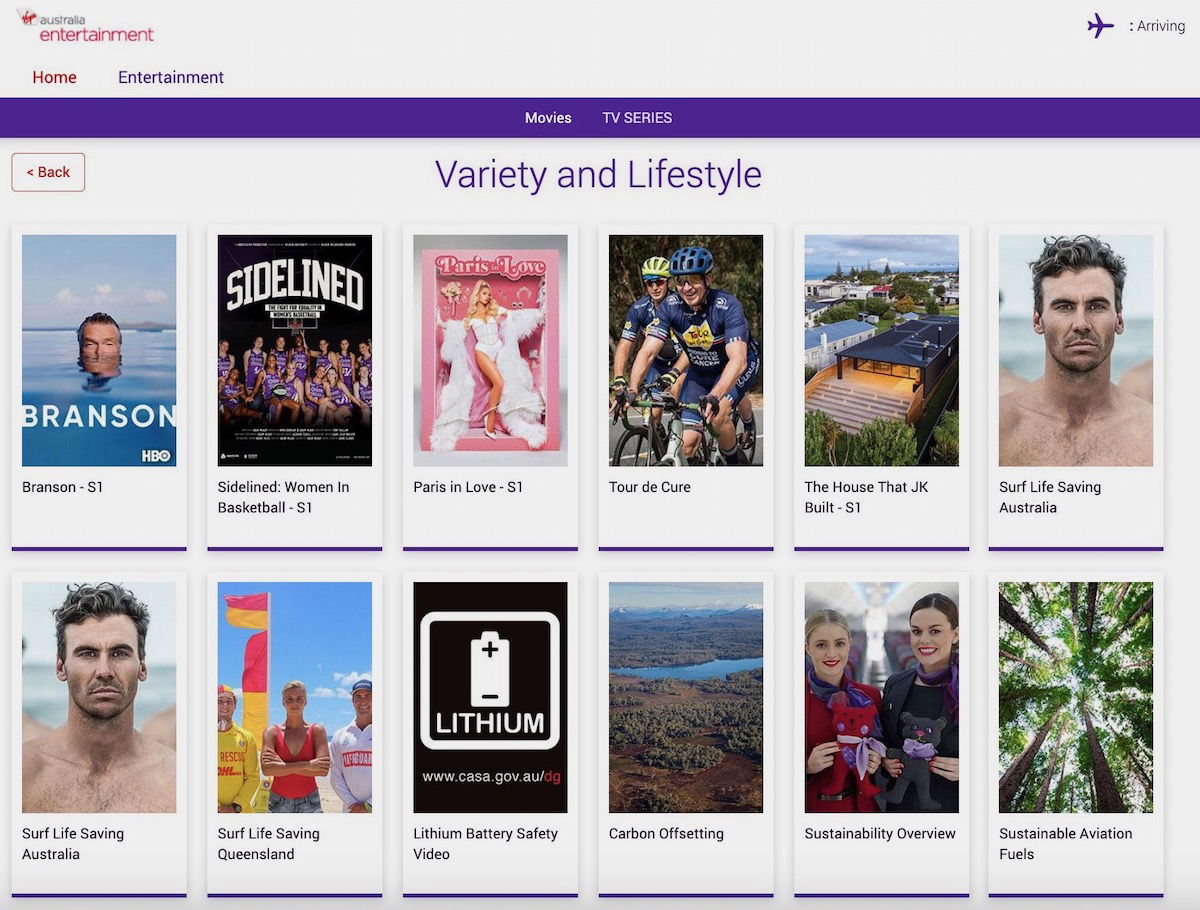 Virgin Australia plans to install Wi-Fi throughout its Boeing 737 fleet eventually, though the aircraft I was on didn't yet have Wi-Fi. So while streaming entertainment is better than nothing, I'd still recommend bringing your own entertainment.
Virgin Australia 737 business class amenities
During boarding, the cabin manager, Sarah, introduced herself to each business class passenger, which was a nice touch. She also offered pre-departure drinks in proper glassware, with the choice of sparkling wine or water.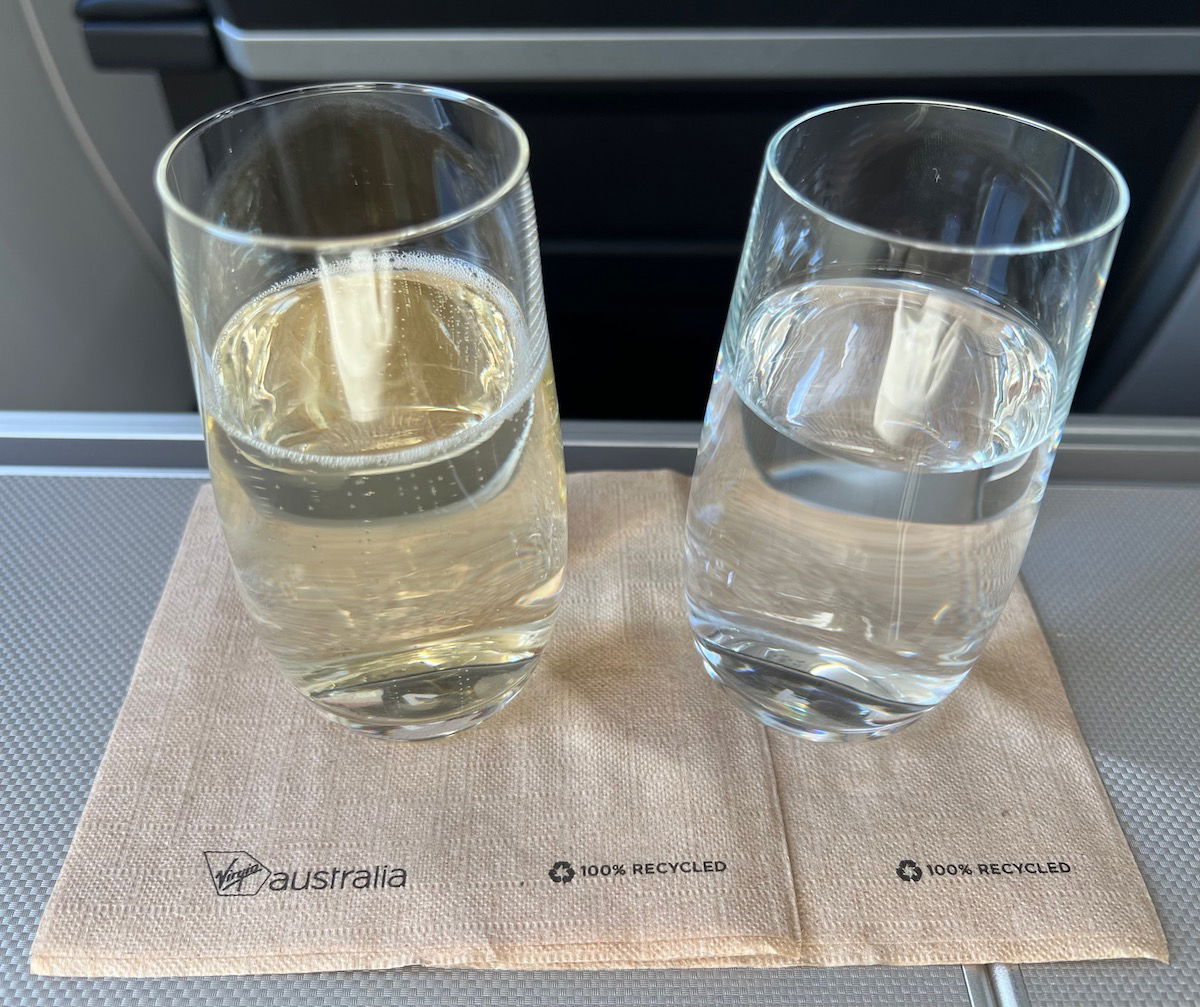 Unfortunately that was the extent of the amenities. There were no pillows, blankets, or other amenities. It sure would be nice if there were at least some basic blankets on a transcontinental flight like this, but then again, we don't get those on many flights in the United States either.
Virgin Australia 737 departure from Perth
Even though our flight was full, boarding was efficient. At 3:25PM the main cabin door closed. I was surprised that there was no announcement from the pilots at all during the flight regarding our flight time, route of flight, etc. Is that standard on Virgin Australia, or was it just this crew?
Once the door was closed, the safety demonstration was performed. While the demonstration was manual, an audio travel was played, which even had music (which you don't often find for manual safety demos).
At 3:30PM we began our pushback, and five minutes after that we began our taxi to the runway.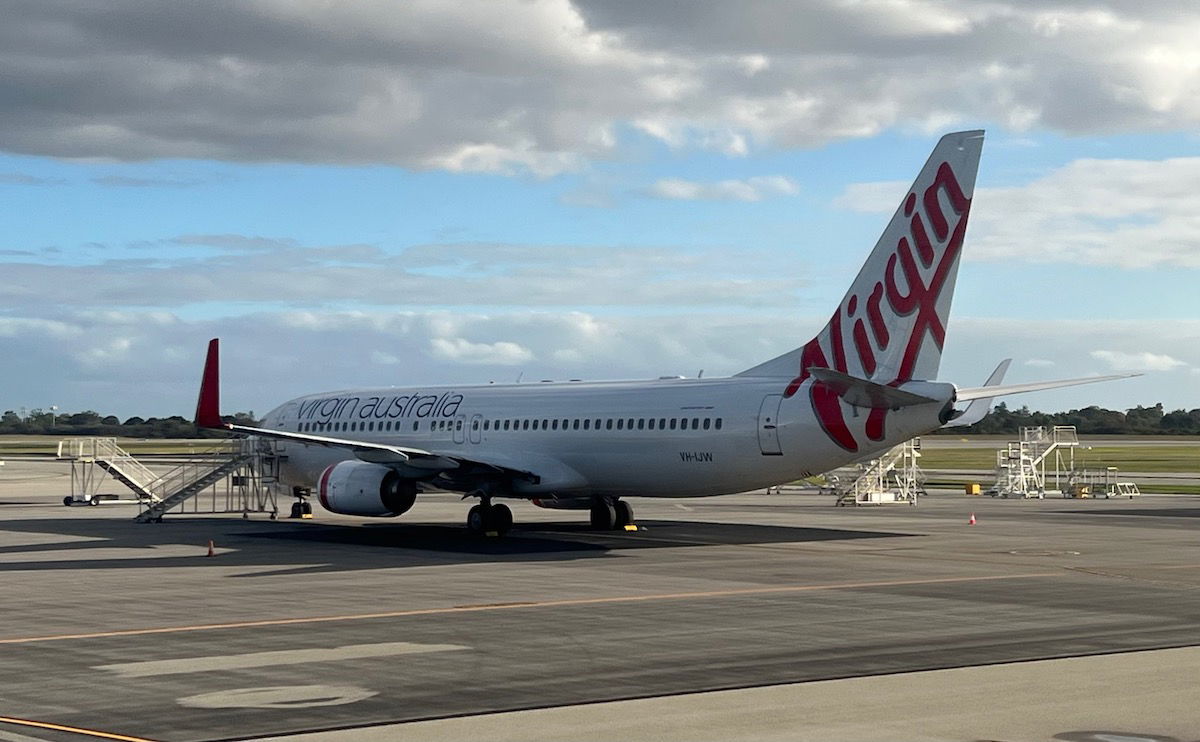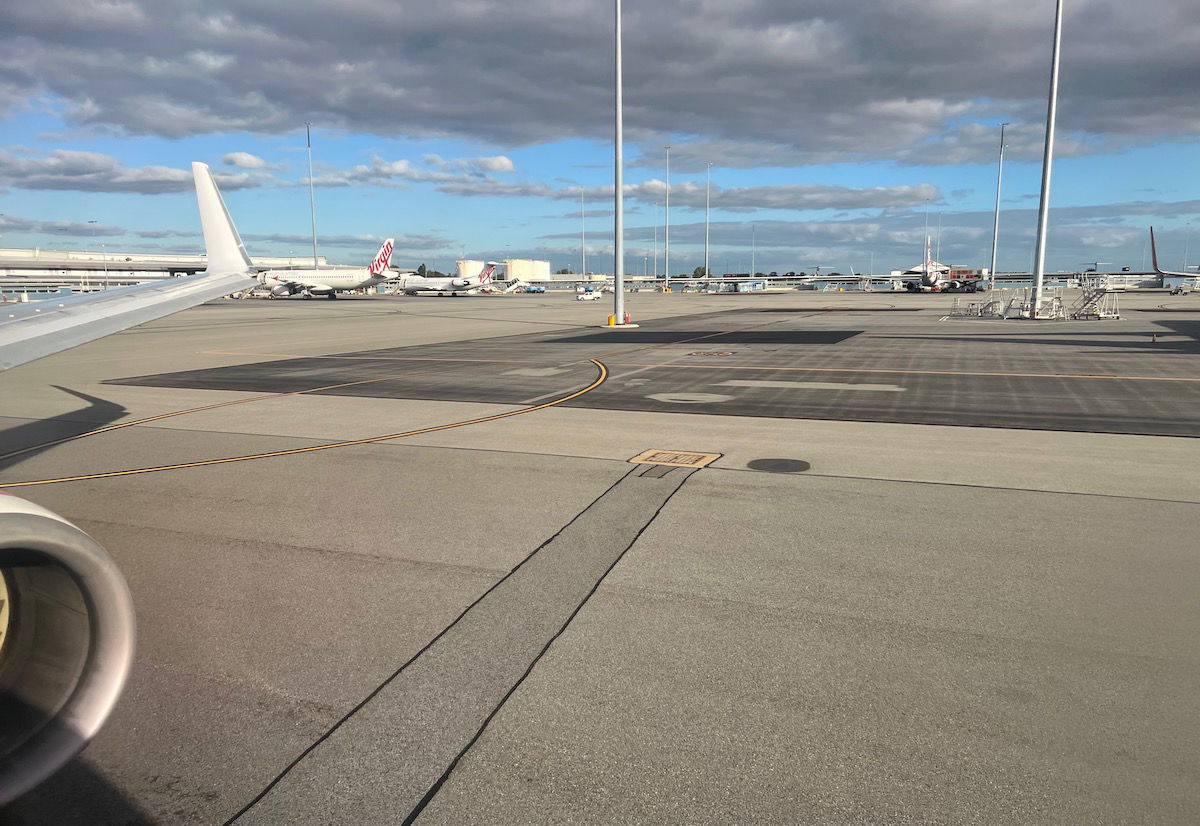 Our taxi to the runway only took a few minutes, but then we had to wait around 10 minutes until we were cleared for takeoff.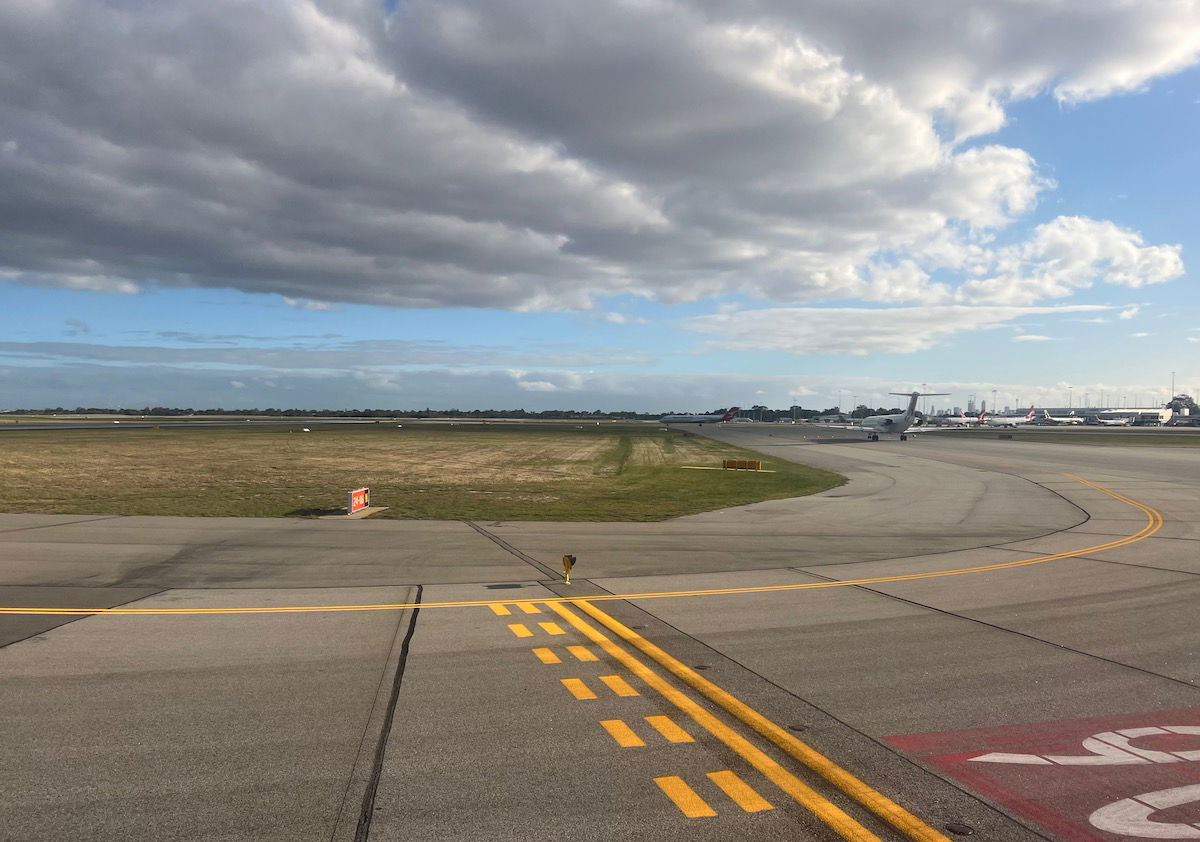 At 3:50PM, we were cleared for takeoff on runway 3, starting our 3hr30min flight across the country.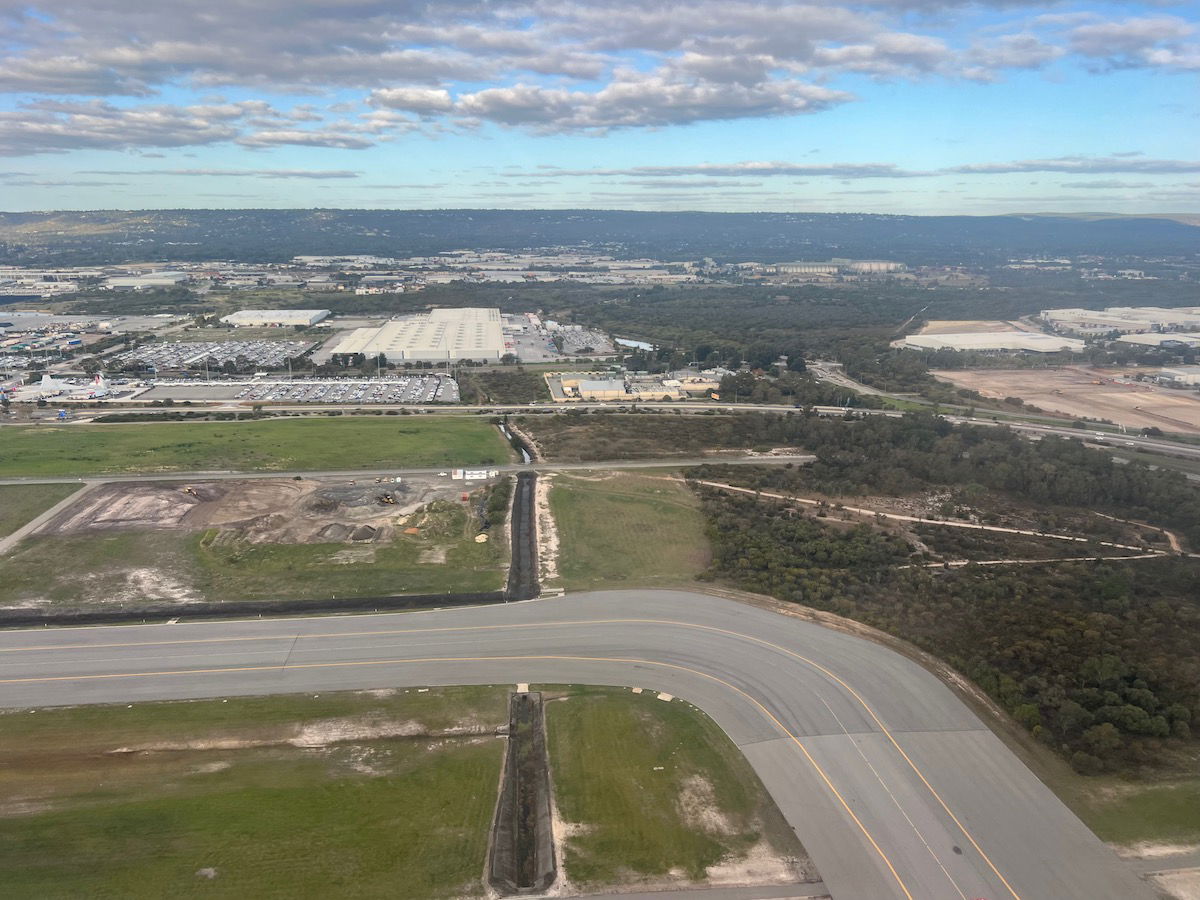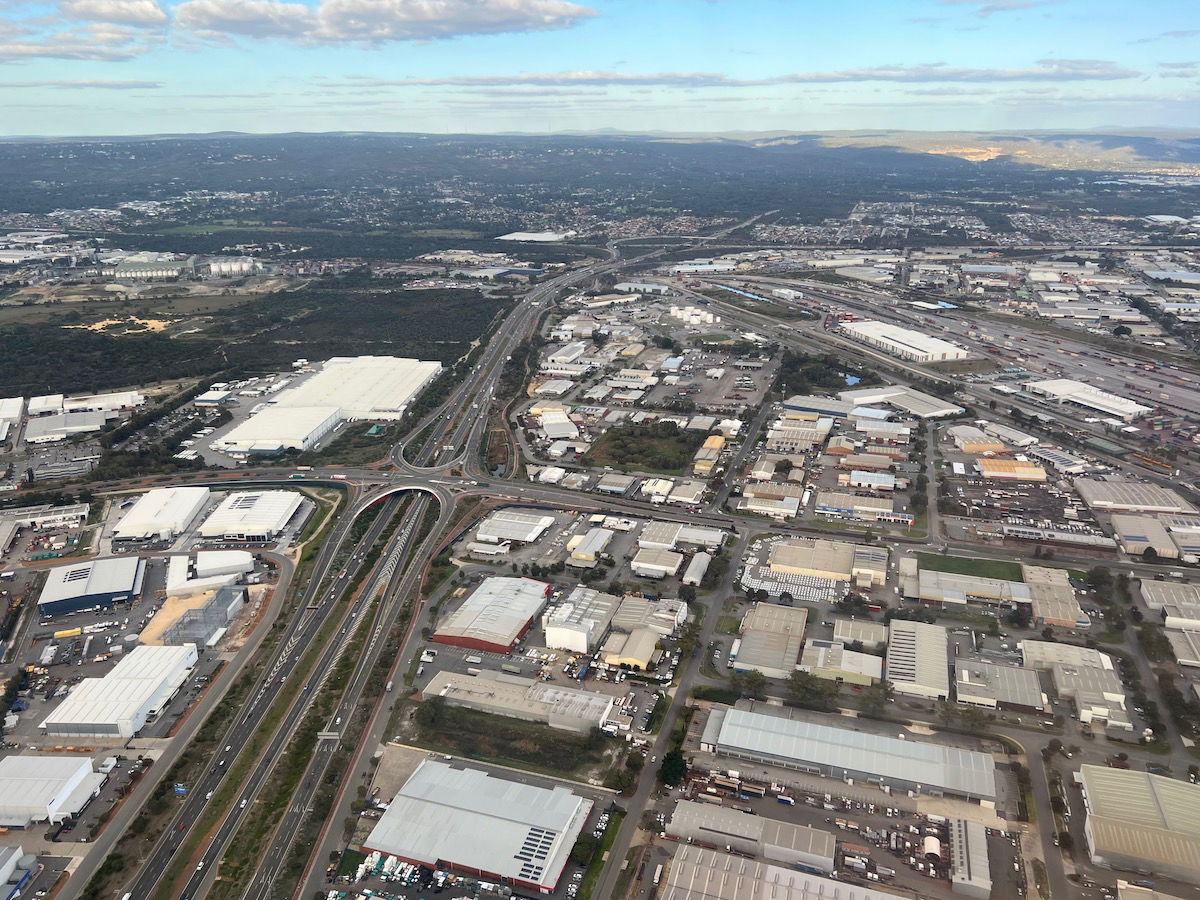 I enjoyed the views on our climb out, and the seatbelt sign was turned off about five minutes after takeoff.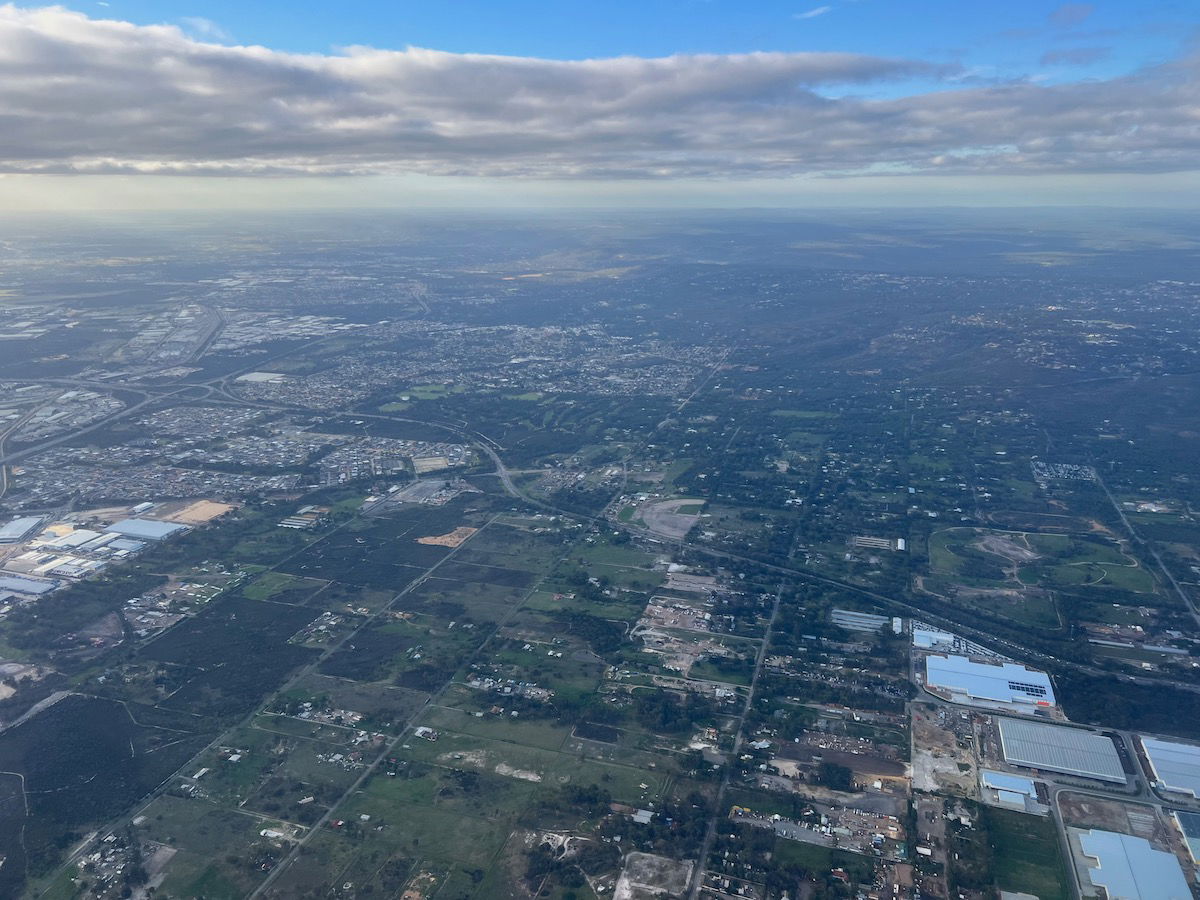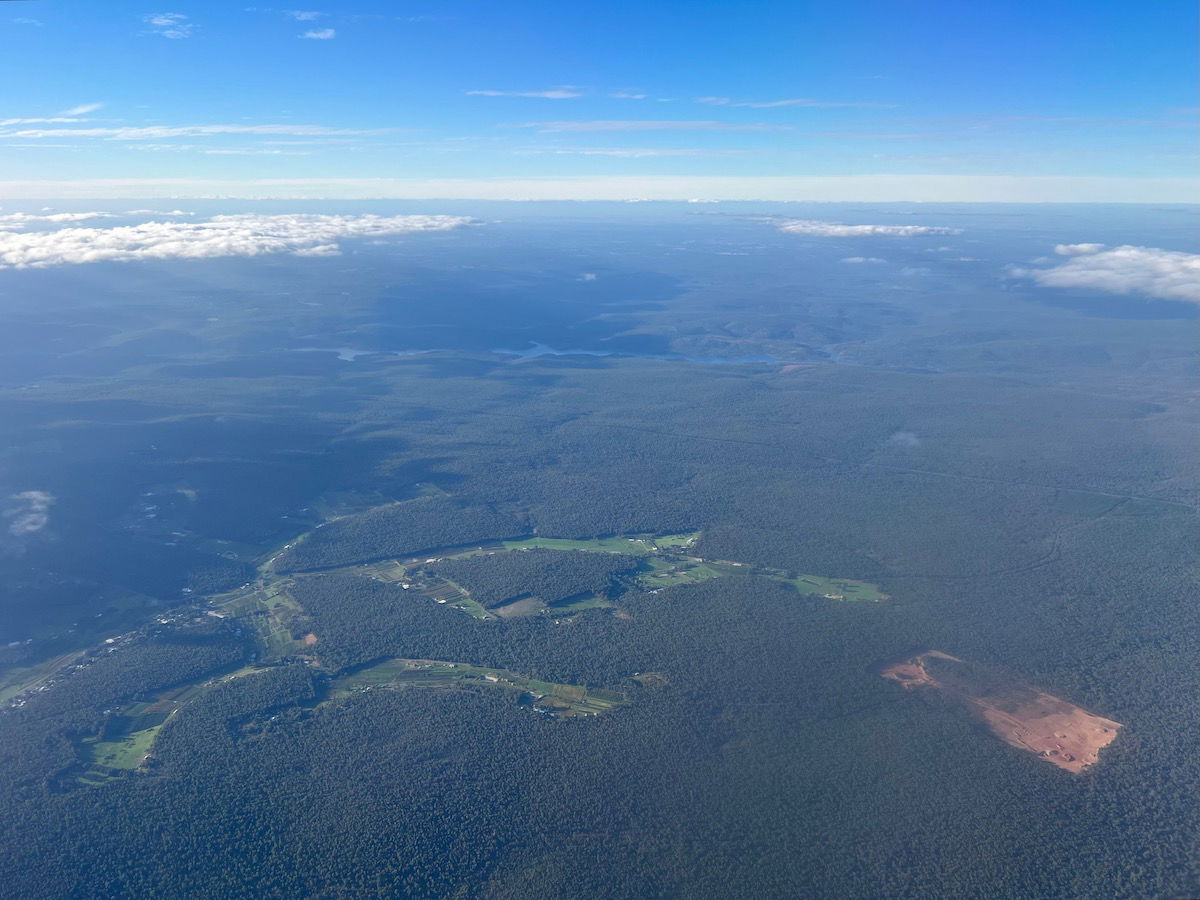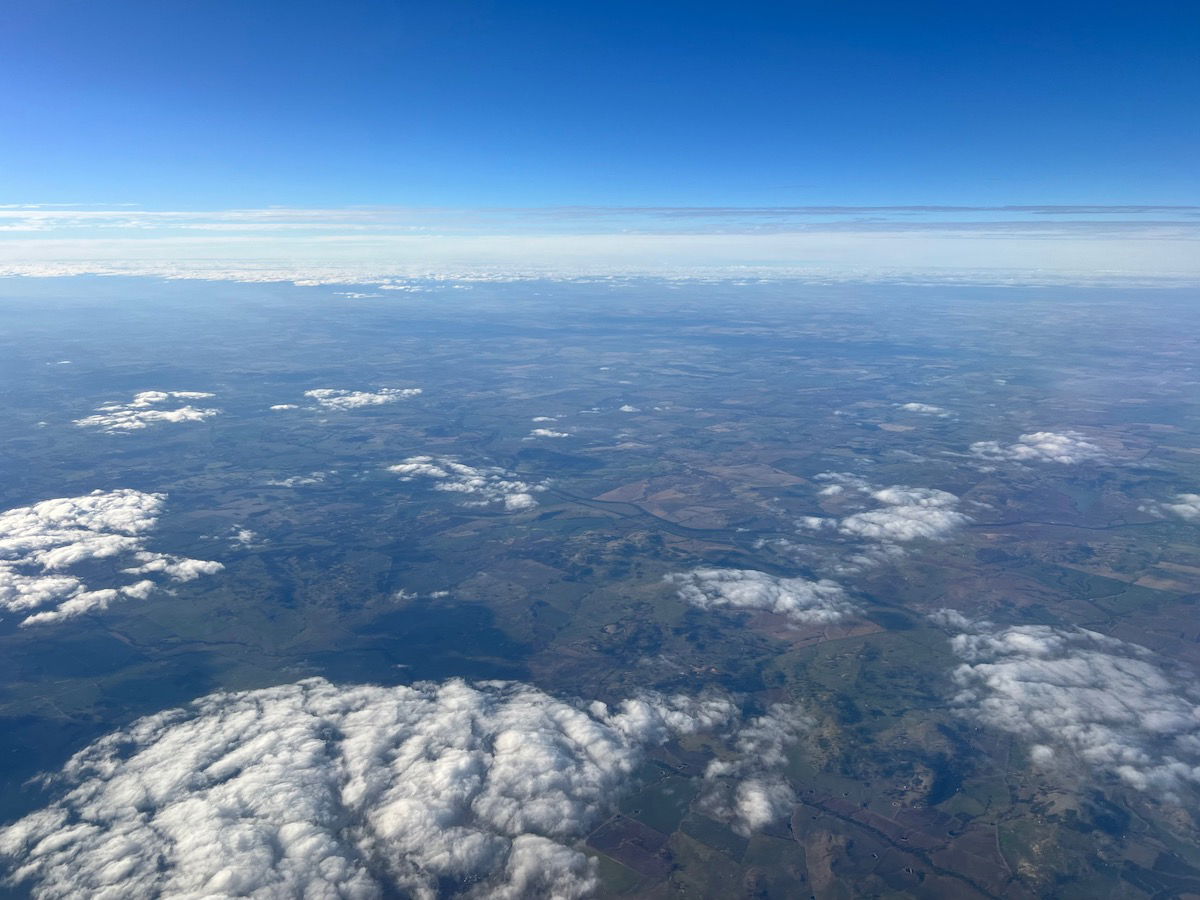 I'd note that the sun started setting pretty quickly after takeoff, given that it was nearly winter when we were flying, and we were heading east.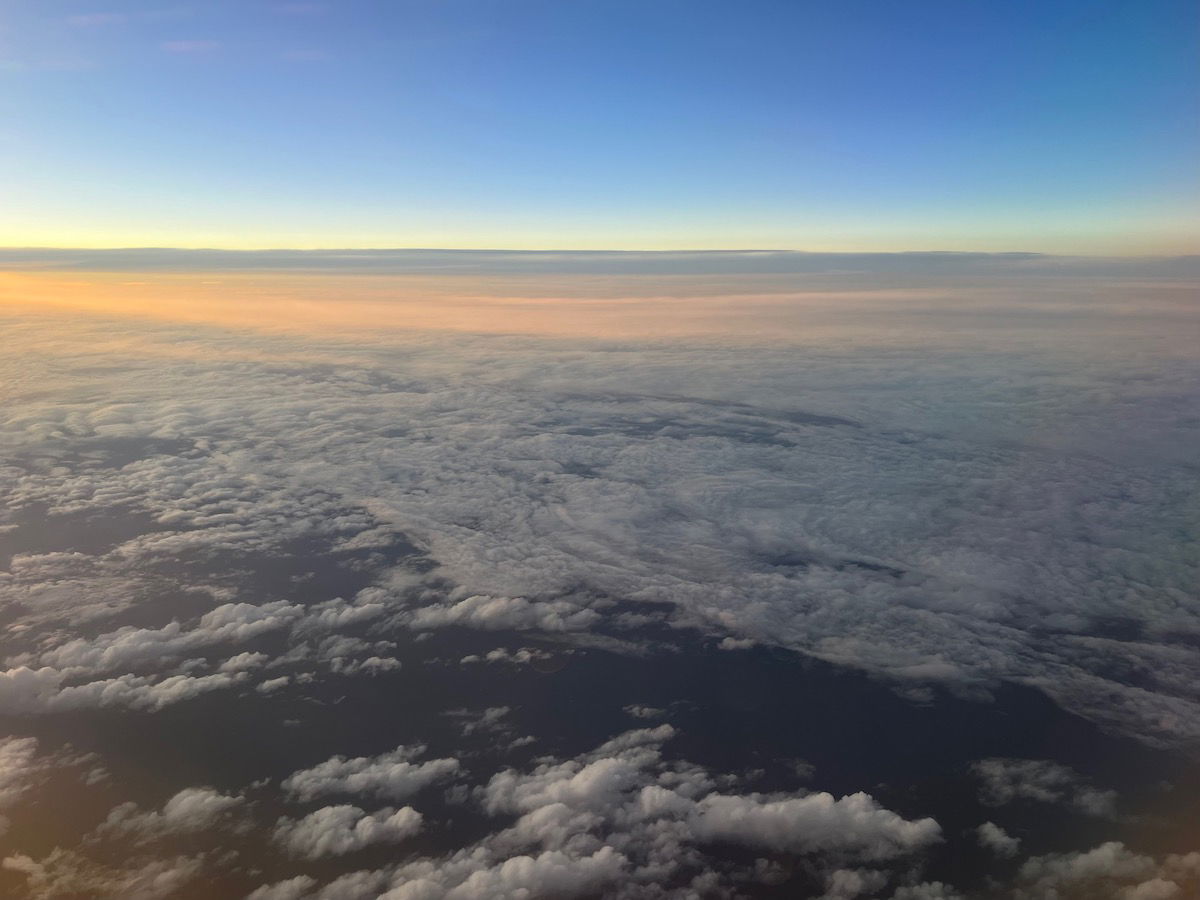 Virgin Australia business class food & drinks
About 15 minutes after takeoff, the cabin manager came through the cabin to take drink orders. Virgin Australia doesn't have printed menus, so it's hard to know what exactly is on offer. I asked what kind of white wine they had, and Sarah explained there was either a pinot grigio or a chardonnay. I selected the former, and also asked for a still water. This was served within five minutes.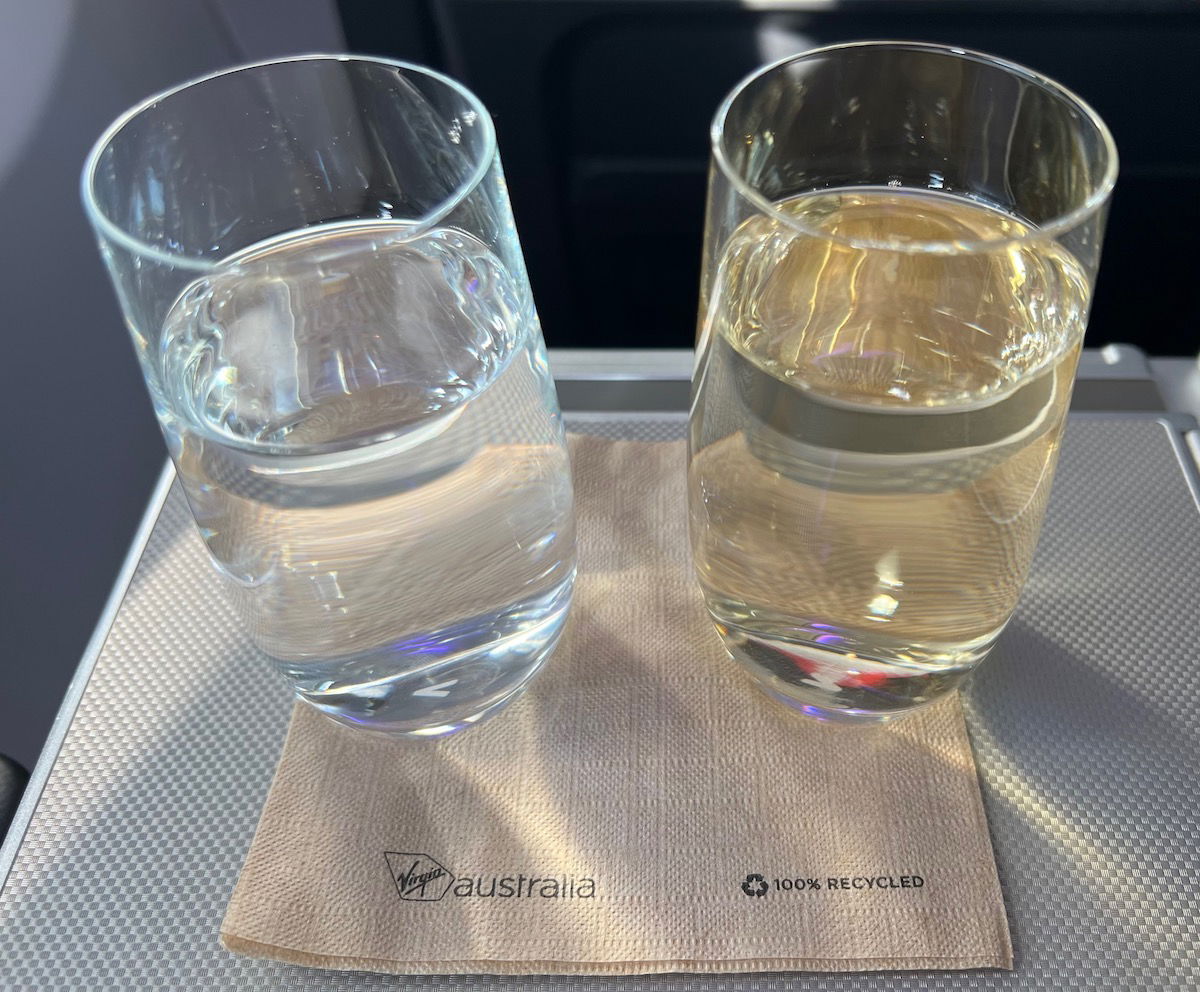 After the first round of drinks were served, meal orders were taken. The two choices were chicken confit with green beans or vegetable rigatoni with a tomato sauce and pine nuts. The cabin was full, and by the time our meal orders were taken, only the pasta was left (with such a small cabin and not wanting to cater extra food, maybe Virgin Australia could work on introducing meal pre-orders?). Dinner was served about 45 minutes after takeoff.
The entire meal was on one tray, and it included an appetizer with artichokes, zucchini, and sundried tomatoes, a box of cheese and crackers, the main course, and a chocolate cherry brownie cake for dessert.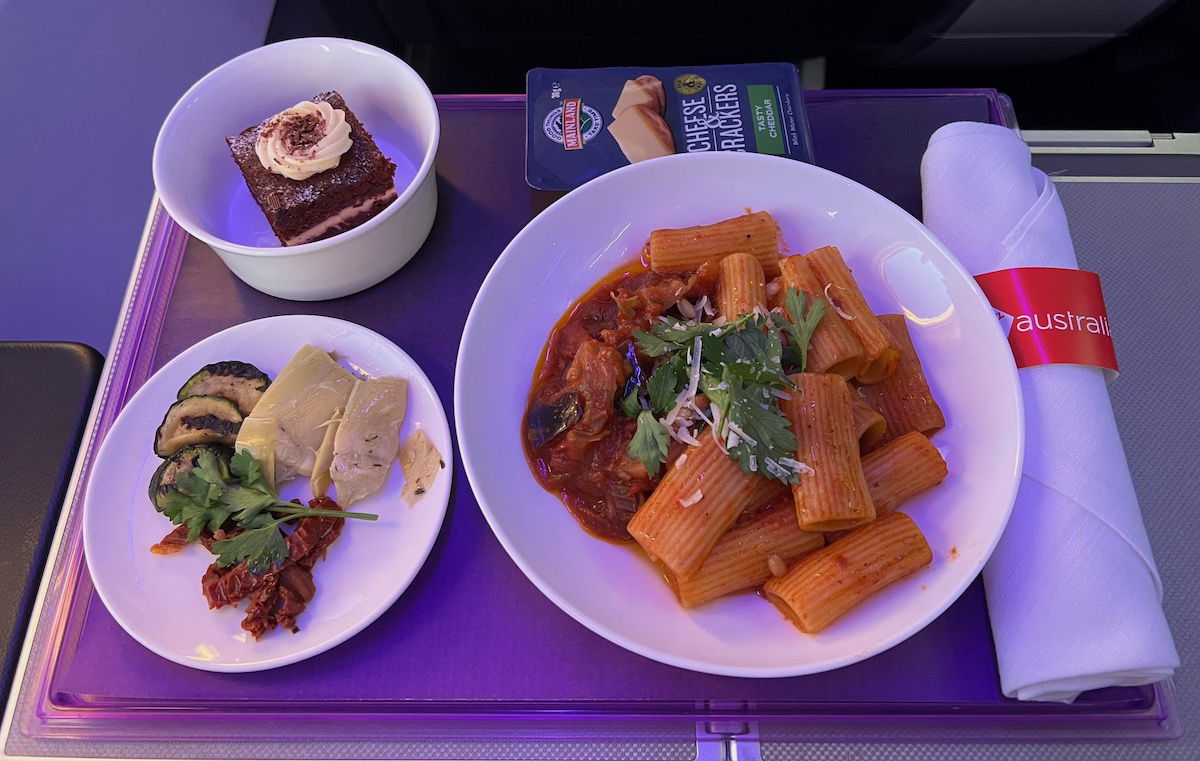 While not the most elaborate meal ever, I thought the food quality was quite good, with the exception of the cheese and crackers. It just seems kind of cheap to serve boxed cheese and crackers like this.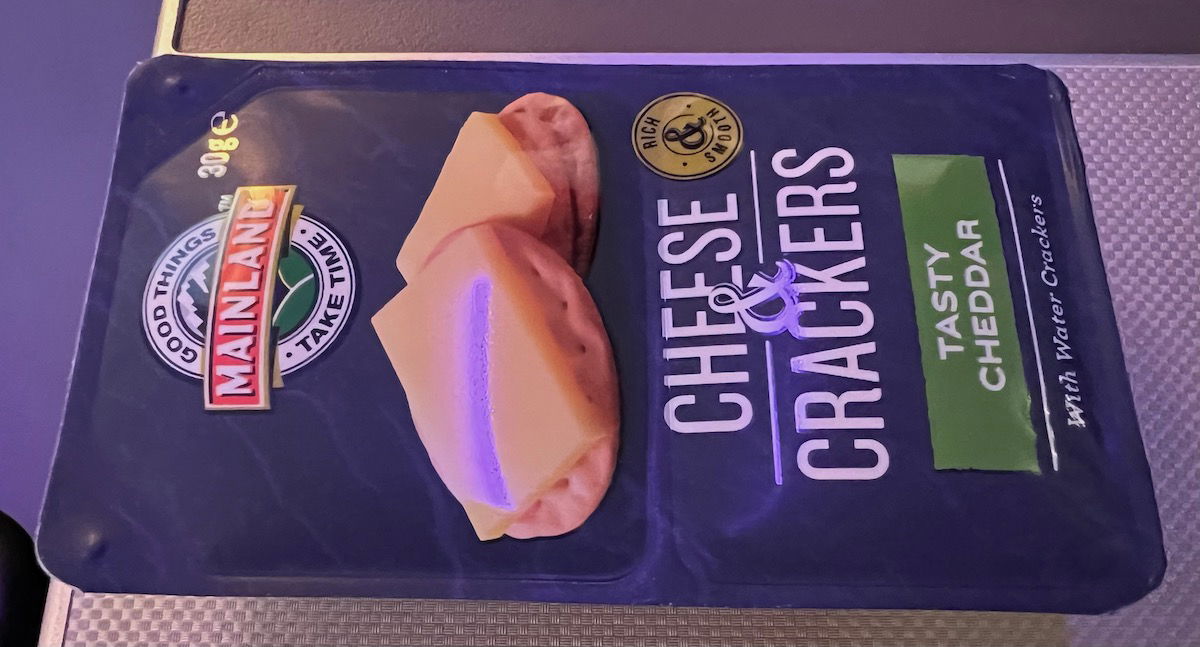 Sarah constantly passed through the cabin to see if anyone wanted additional drinks. After the meal, I decided to order a coffee. Best I could tell, this was a powdered coffee, so I wouldn't recommend it, especially given the great coffee we're otherwise spoiled with in Australia.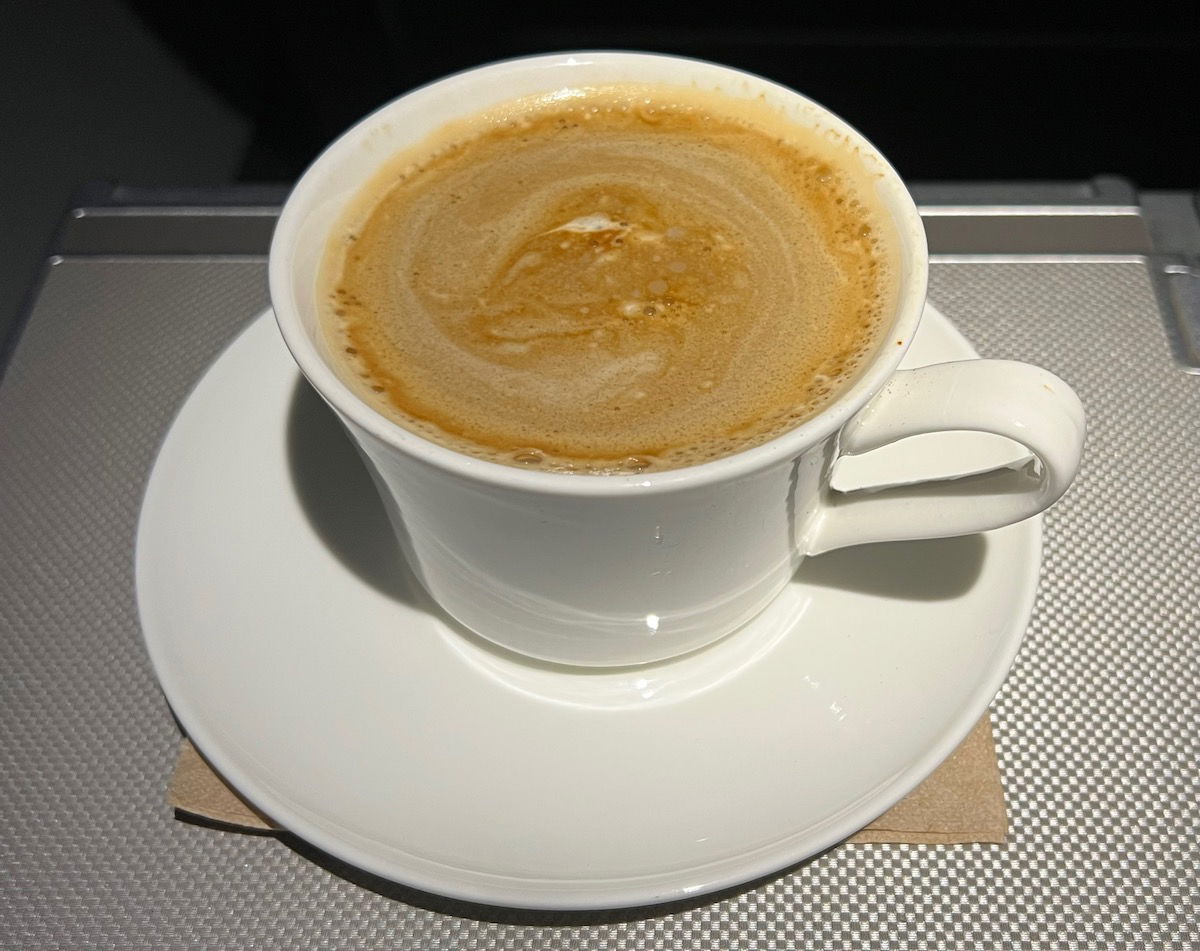 All-in-all, I thought the meal tasted pretty good. As far as drinks go, I enjoyed the pinot grigio, but didn't enjoy the coffee. I was surprised there was no other offer of snacks — typically airlines will serve some sort of snack with the first drink service, and maybe have a snack basket for anyone who wants anything after the meal.
While nothing was offered proactively, it was later pointed out to me that some packaged snacks are available on request, so that's something you can ask about. It would be nice if those were offered proactively, because on most airlines you're either offered everything that's available, or a menu outlines all the options.
Virgin Australia 737 business class lavatory
There was a lavatory at the front of the Boeing 737 cabin, reserved for business class passengers. It was very basic and no frills, and while the rest of the cabin had been recently refreshed, that didn't seem to apply to the lavatory.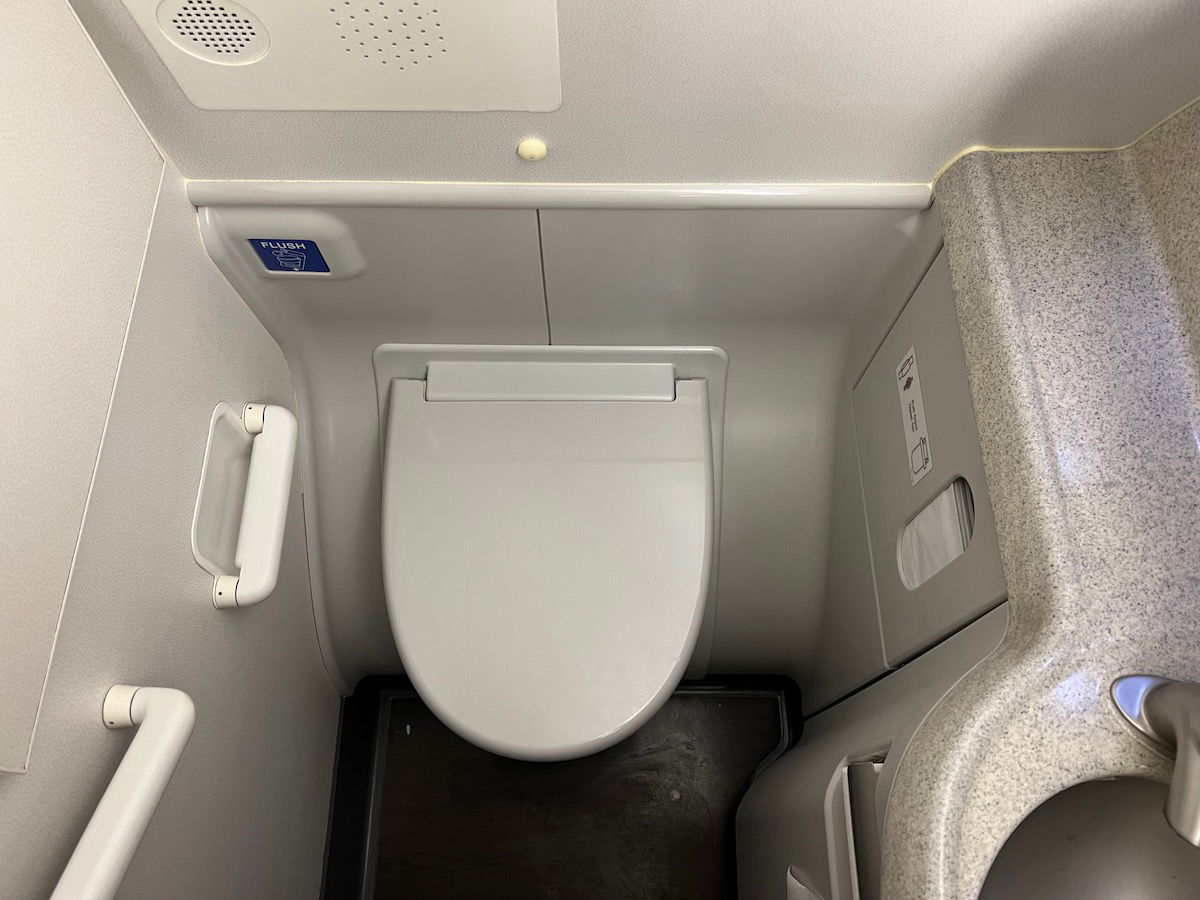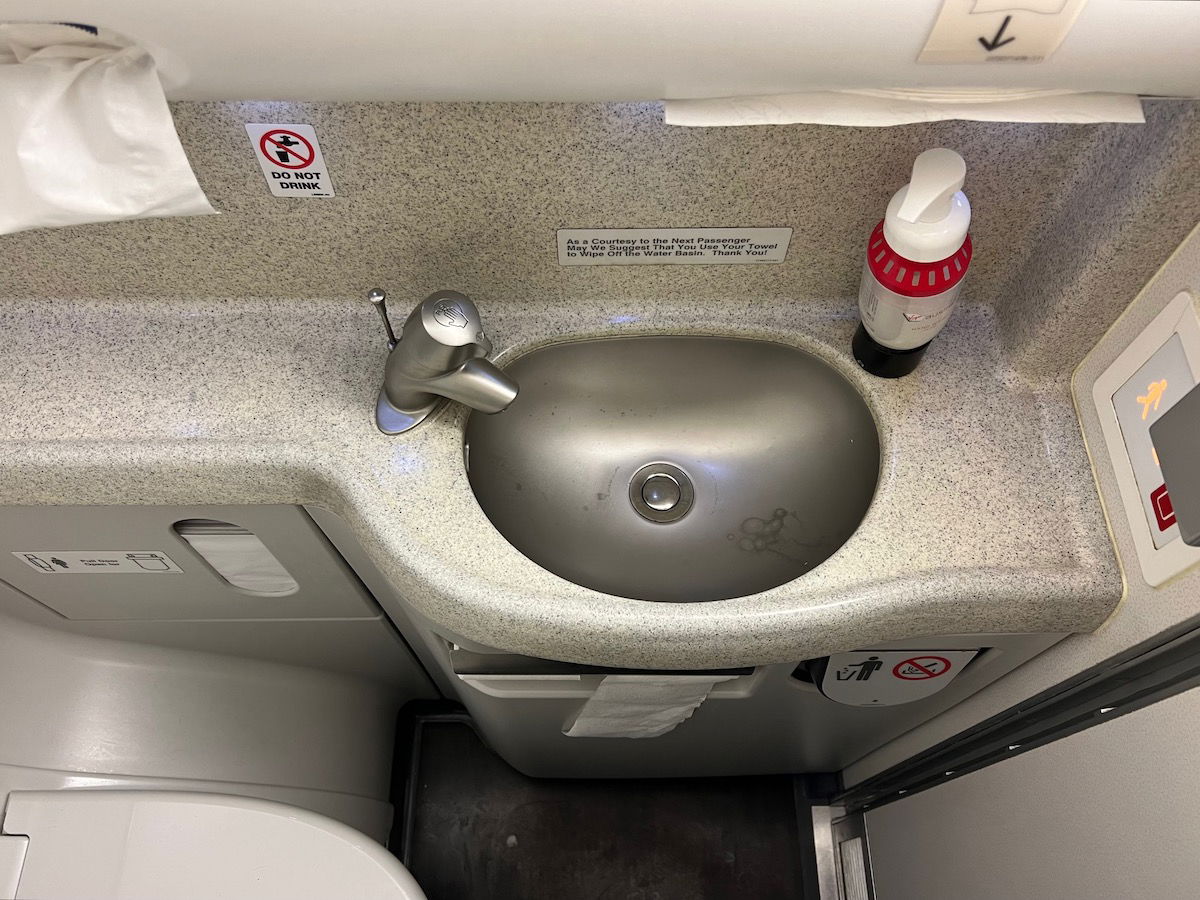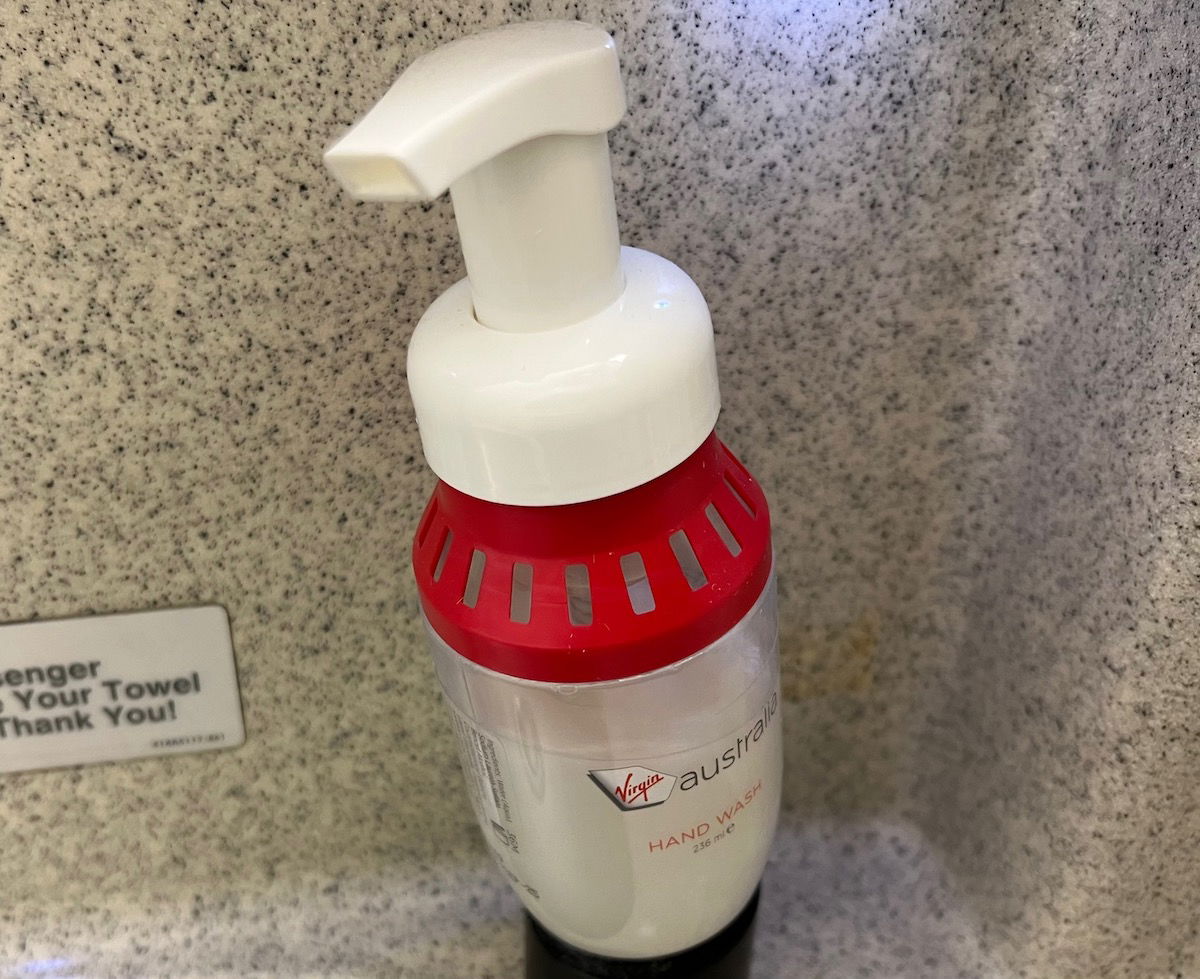 While the forward lavatory was limited to those in business class, passengers kept coming up from economy to try to use it, given the lack of a partition between cabins (so I can understand the confusion).
Virgin Australia 737 arrival in Sydney
At 8:55PM Sydney time, there was an announcement for the crew to prepare for landing. At that point initial cabin preparations were made for our arrival, and 10 minutes later, the seatbelt sign was turned on. We touched down at 9:20PM, and from there had a five minute taxi to our arrival gate, where we pulled in at 9:25PM, 25 minutes ahead of schedule.
Upon deplaning we headed to the Holiday Inn Express Sydney Airport, where we'd be spending the night.
Bottom line
I'm happy I had the chance to fly with the "new" Virgin Australia, and especially to be on a plane featuring the carrier's updated cabins. Virgin Australia has a friendly and fun vibe, and this flight had a comfortable and modern cabin, and a pretty tasty meal and wine.
I wouldn't hesitate to fly Virgin Australia business class again, though I also probably wouldn't seek it out. The experience would have just been a bit nicer if there were Wi-Fi, pillows and blankets, better coffee, and a partition between cabins.
What do you make of Virgin Australia's Boeing 737 business class?