During my around the world trip with dad, we had three nights in Doha, and decided to stay at three different hotels (well, I decided we'd stay at three different hotels, and my dad is just a good sport and is down for whatever). 😉
For the first night, we stayed at the 400-room Hyatt Regency Oryx Doha (on subsequent nights we stayed at Katara Hills LXR and the St. Regis Marsa Arabia Island). That's because we landed in Doha at around 2AM, and the Hyatt Regency Oryx was both reasonably priced and convenient to the airport. Note that while this is far from a new hotel, it is fairly new to Hyatt — it became a Hyatt Regency in 2020, after the previous Oryx Rotana was rebranded.
So, what's my take on this property? It's a great value, and it's probably the most convenient points hotel if you have an extended layover and just want to get some rest. The hotel also has a great gym, lots of restaurants, and a good breakfast.
That being said, I probably wouldn't return to the hotel for the simple reason that Doha has so many reasonably priced luxury hotels. There are many proper luxury hotels for $200-300 per night, so it's a city where I think it's worth splurging on a luxury experience.
Still, this is a solid option if you're in transit, have a reason to be in the area, and/or are a Hyatt loyalist and want to book the cheapest Hyatt in the city. Let's get into the review.
Booking the Hyatt Regency Oryx Doha
The Hyatt Regency Oryx Doha is a Category 1 World of Hyatt property, meaning that a free night stay costs 3,500 to 6,500 points per night, depending on whether you're staying off-peak, standard, or peak. For our night, the hotel was retailing for 5,000 points, so that's how I booked.
As a point of comparison, the cash rate was just under $100, which was reasonable as well. Redeeming points didn't necessarily offer such outsized value (I value Hyatt points at 1.5 cents each), but it's always nice to have a hotel stay that costs you no cash out of pocket.
I should also mention that the Hyatt Regency Oryx Doha seems to be a popular airline crew hotel, and on top of that Qatar Airways often books people here as part of its free stopover program.
Hyatt Regency Oryx Doha location
The Hyatt Regency Oryx Doha is located only about 10 minutes from Doha Hamad International Airport (DOH). The hotel is actually right next to Doha International Airport (DIA), Doha's old airport which is no longer open to commercial traffic. So it's essentially next to an abandoned airport that is next to the current airport.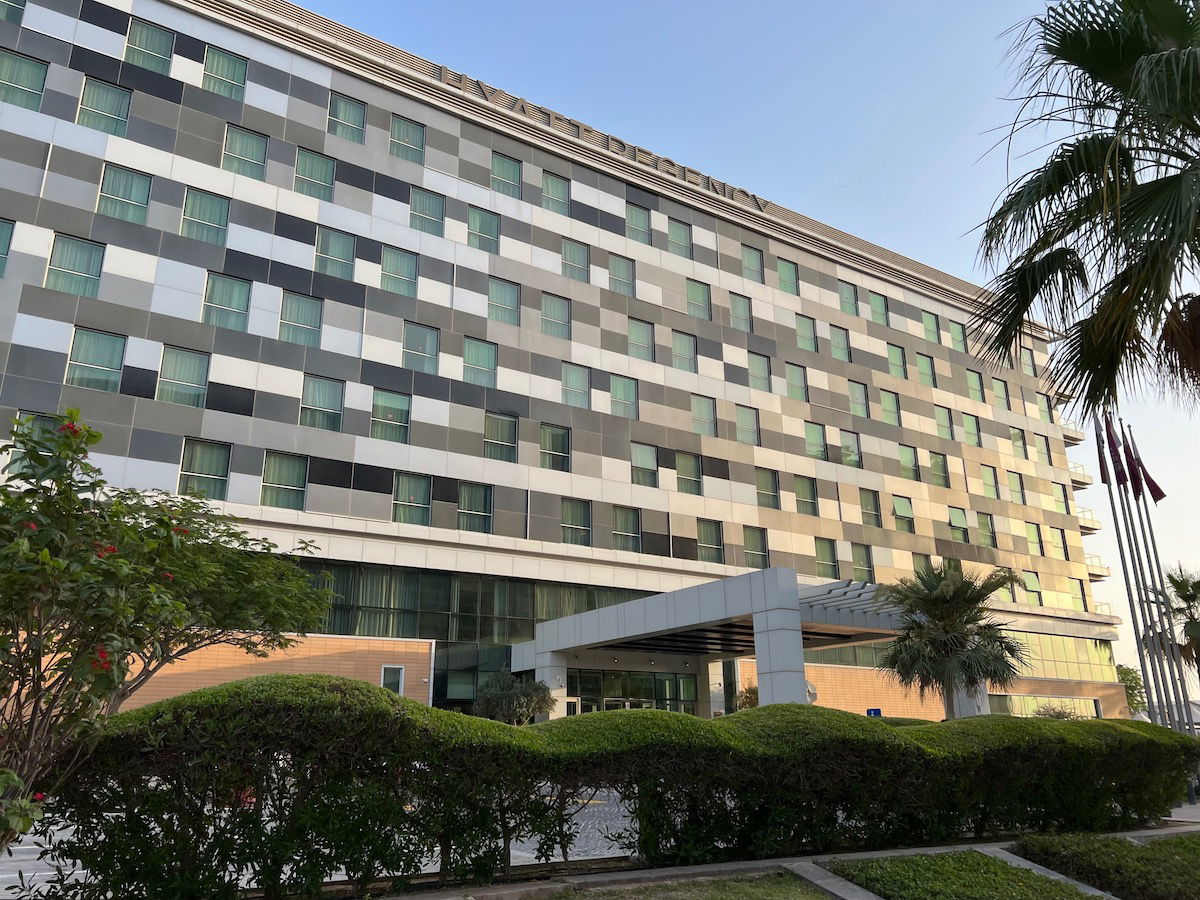 The Hyatt Regency doesn't have an airport shuttle, though you can easily grab an Uber, and it's not expensive (it cost us $8, including the airport toll). The immediate area around the hotel consists of some corporate buildings, and Qatar Airways' headquarters is actually right across the street.
The hotel is only about a 10-minute taxi drive from many of Doha's popular spots, including Souq Waqif, the Museum of Islamic Art, and more.
Hyatt Regency Oryx Doha lobby & check-in
Upon pulling up to the hotel at around 2:30AM we were immediately greeted by a bellman. We had to go through a security check (including walking through a metal detector and placing our bags on an x-ray machine), and then we found reception just inside the entrance and to the right.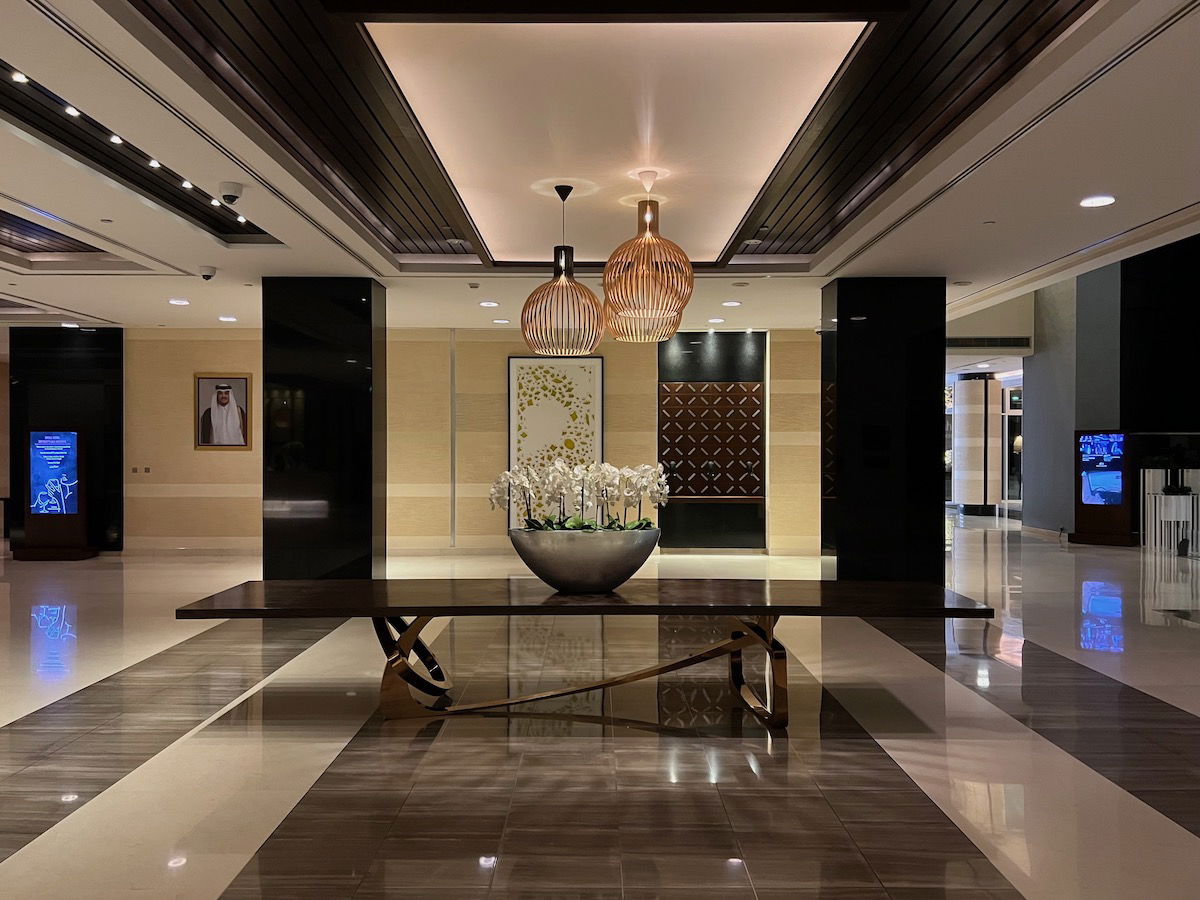 The associate checking us in was extremely friendly, and thanked me for being a Globalist. He explained we had been upgraded to a suite, and provided a rundown of the hotel's facilities, breakfast hours, Regency Club hours, and more.
Within a few minutes we had our keys, and headed toward the elevators. The hotel has a beautiful atrium, with plenty of seating. I'm a sucker for atriums — it reminds me of staying at Embassy Suites hotels as a kid.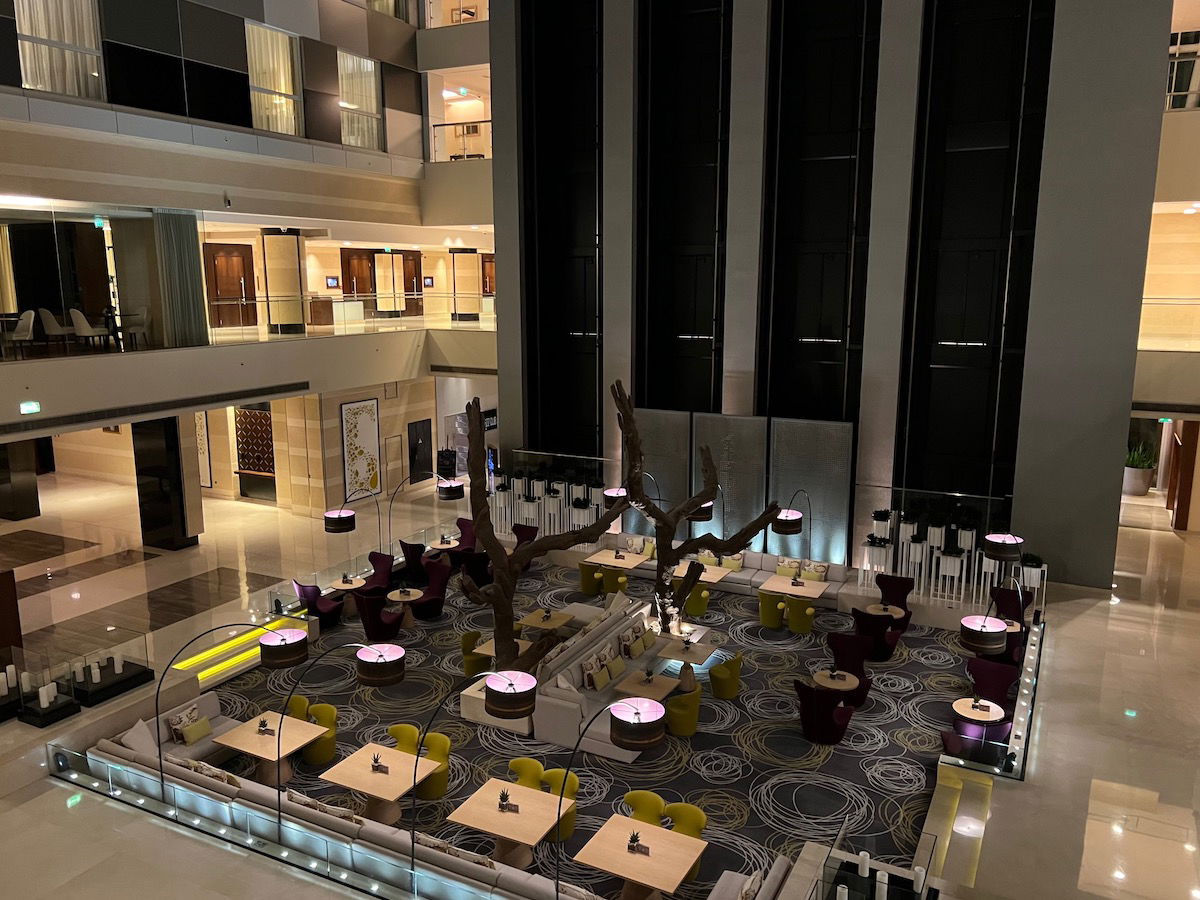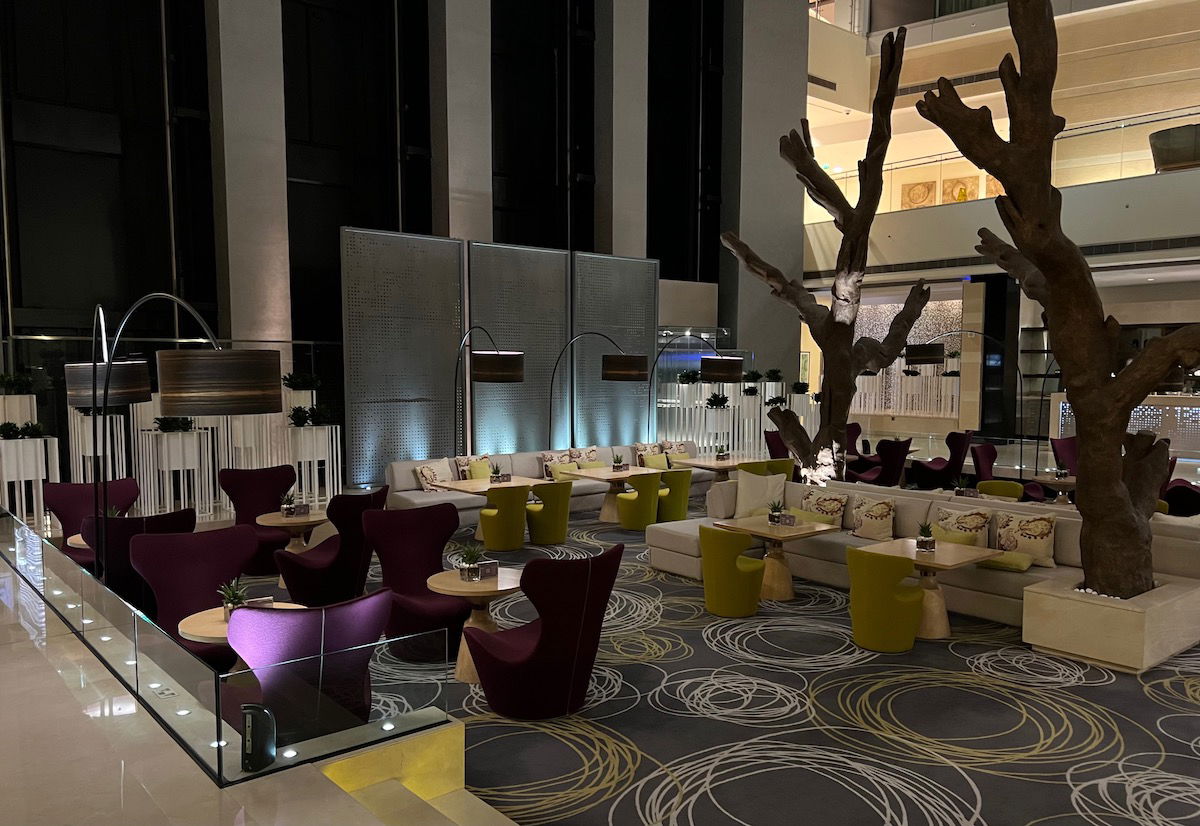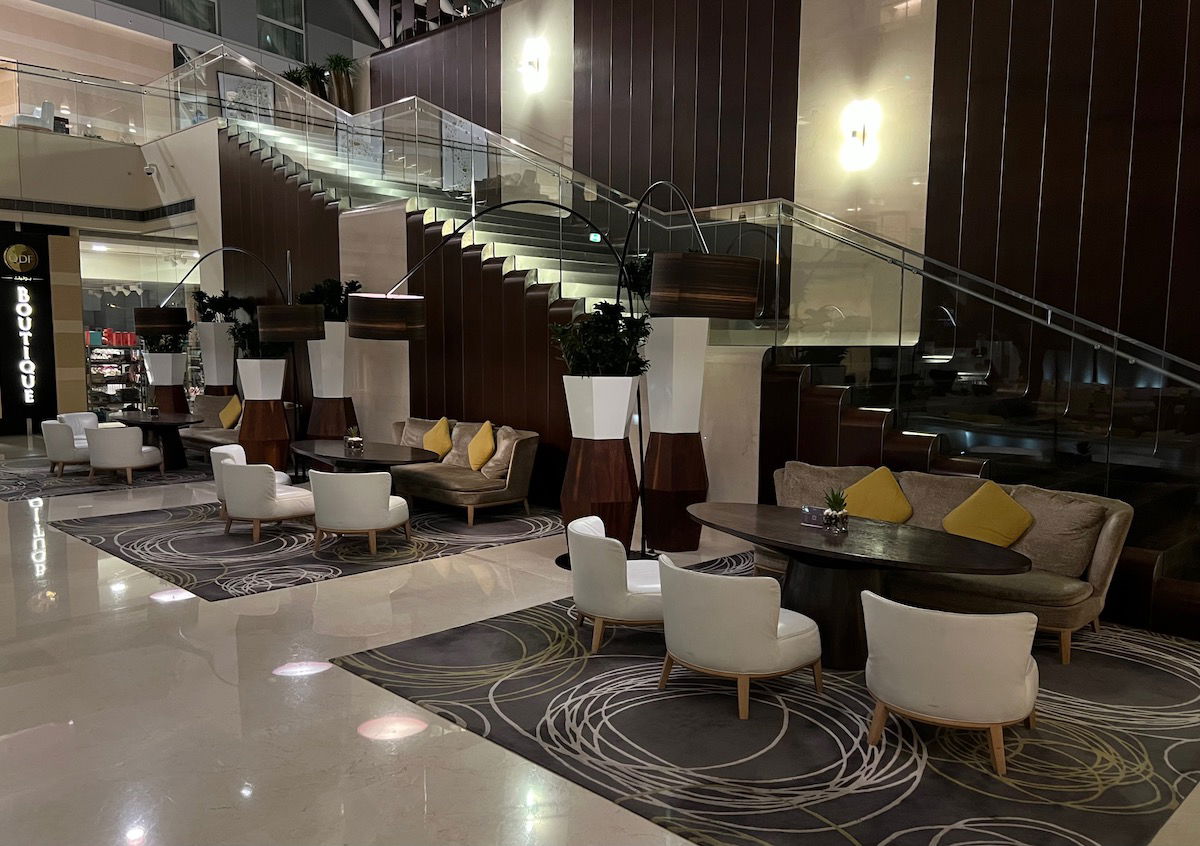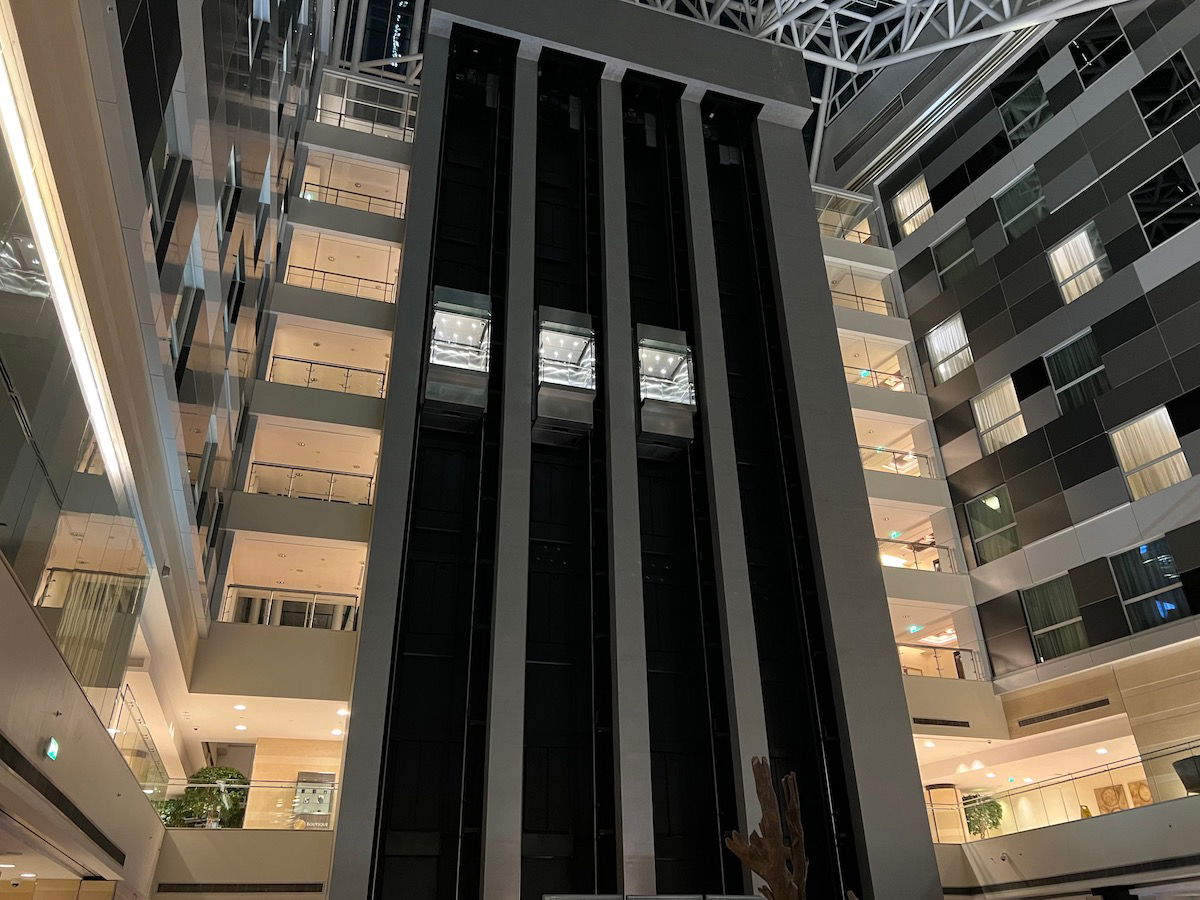 The hotel has seven floors, and we took the elevator up to the fifth floor.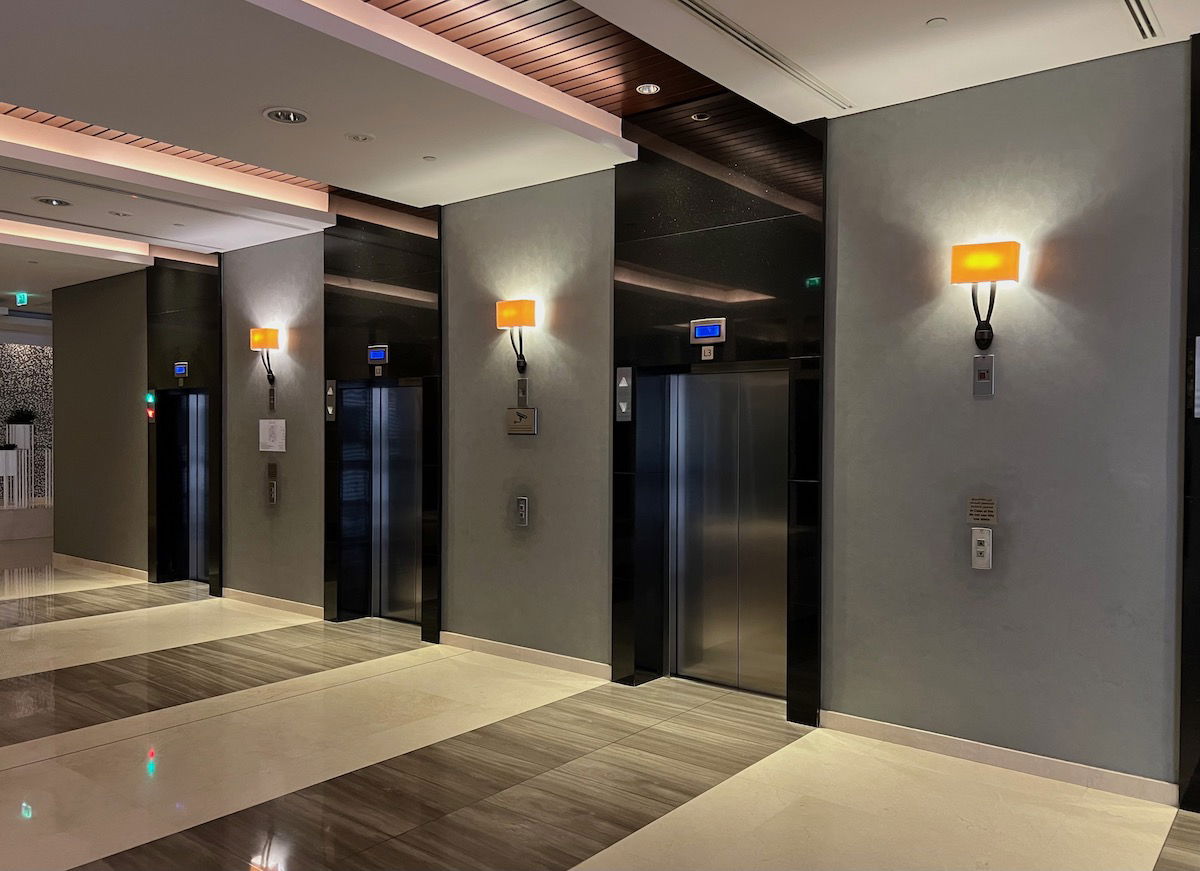 Hyatt Regency Oryx Doha suite
We were assigned room 547, a Regency Suite at the end of the hall and on the right.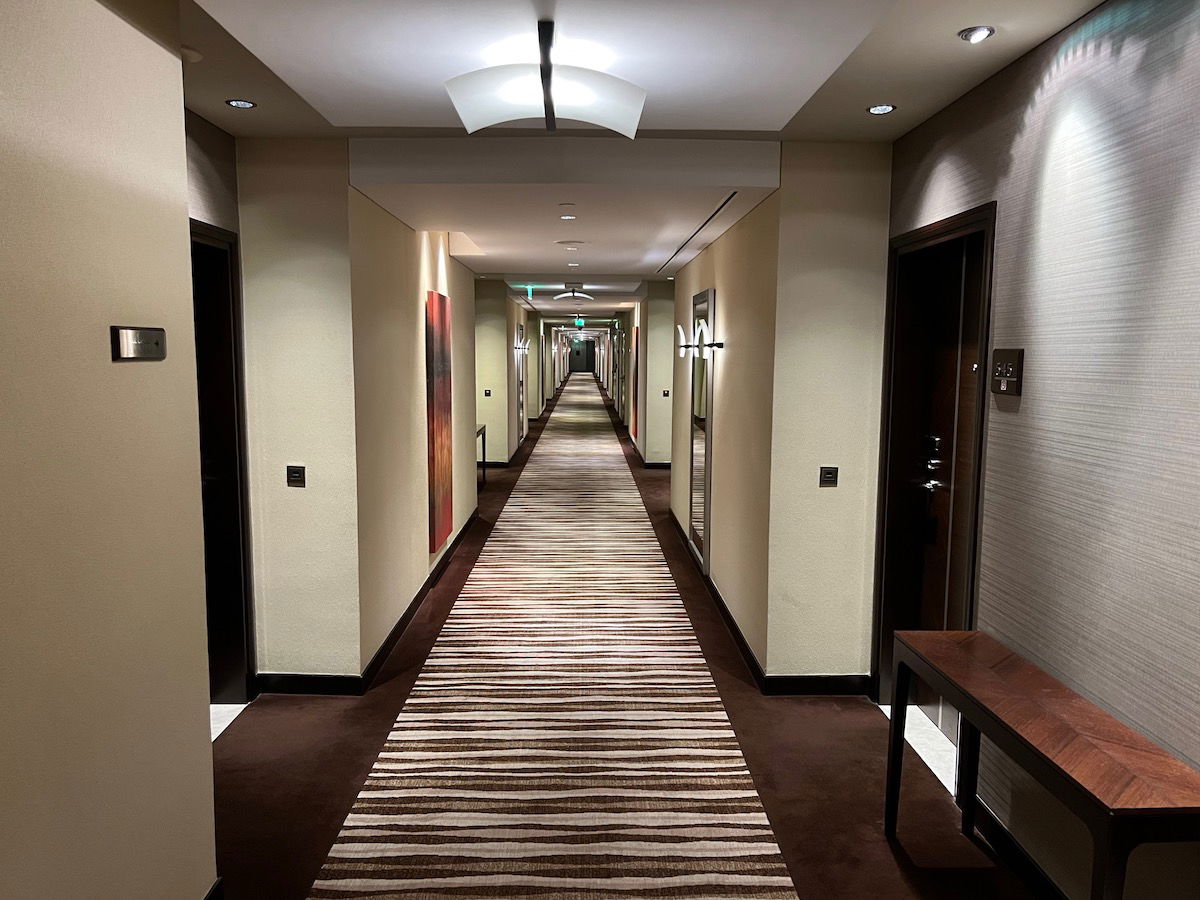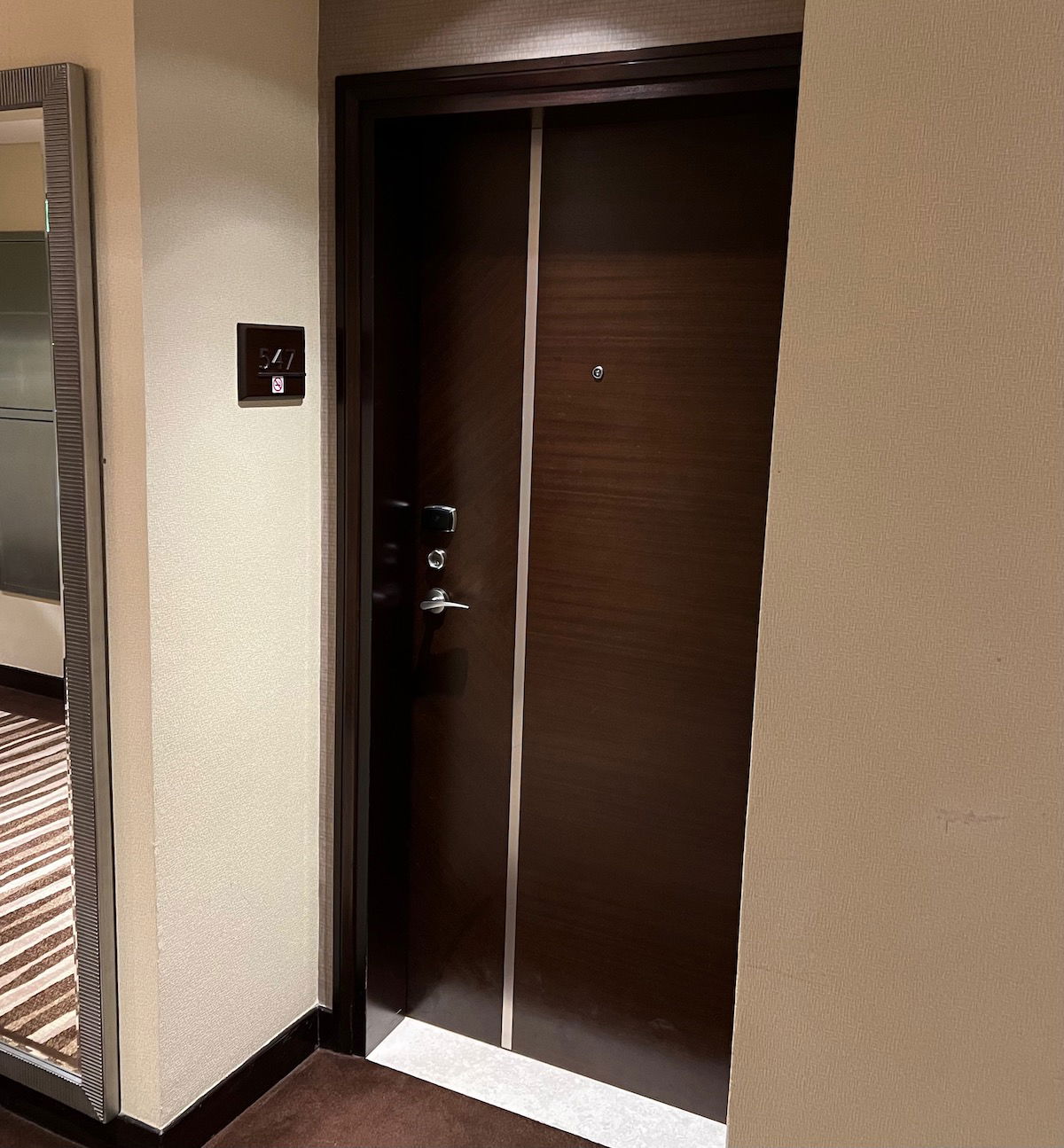 Okay, the room wasn't particularly modern, and was also rather dark (with a lot of burgundy and brown), but the room felt well maintained and clean, and was spacious. In many ways I almost prefer "traditional" hotel rooms, since they have spaces that are easy to use, rather than so many of the modern hotel rooms that don't have desks, proper tables, etc.
The suite had a dining table with four chairs, a living room area with a loveseat and two loungers, and a desk with a rolling chair.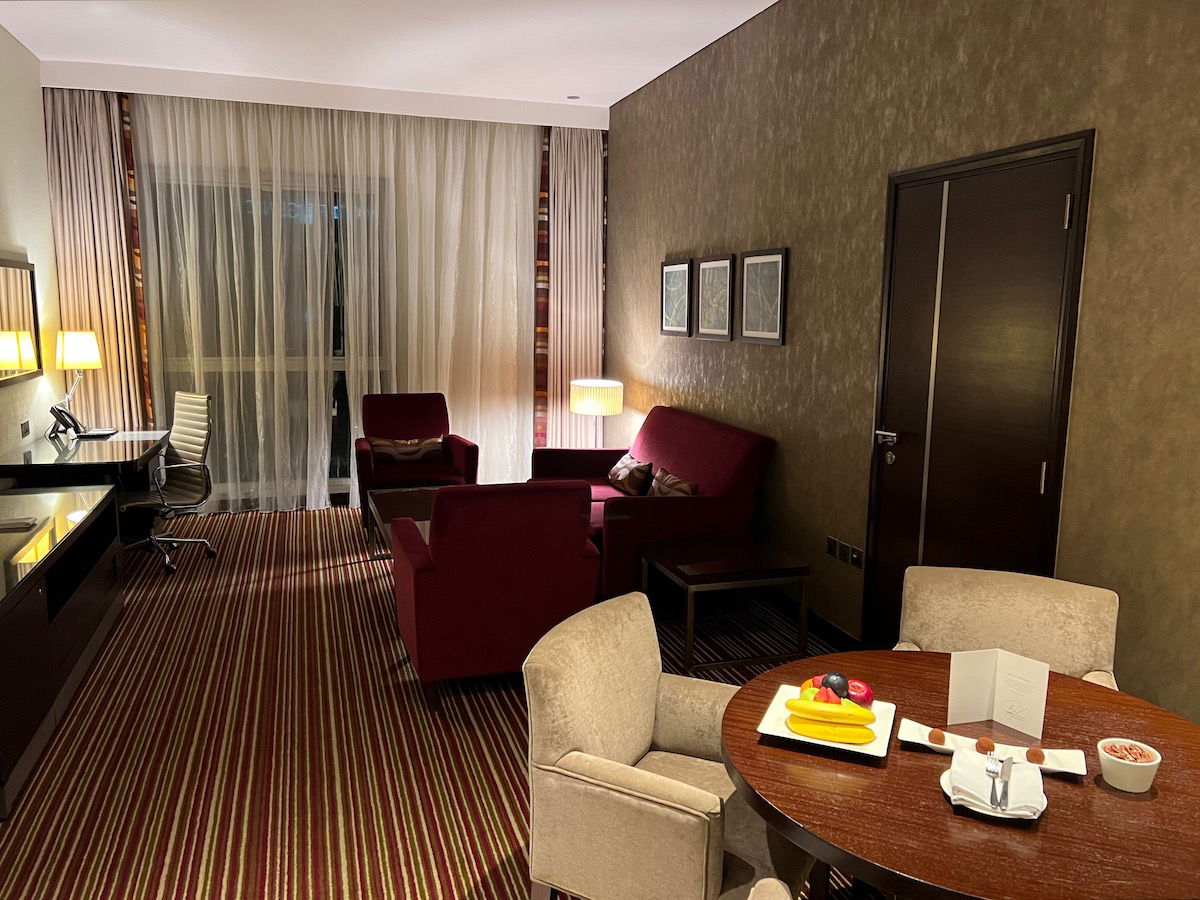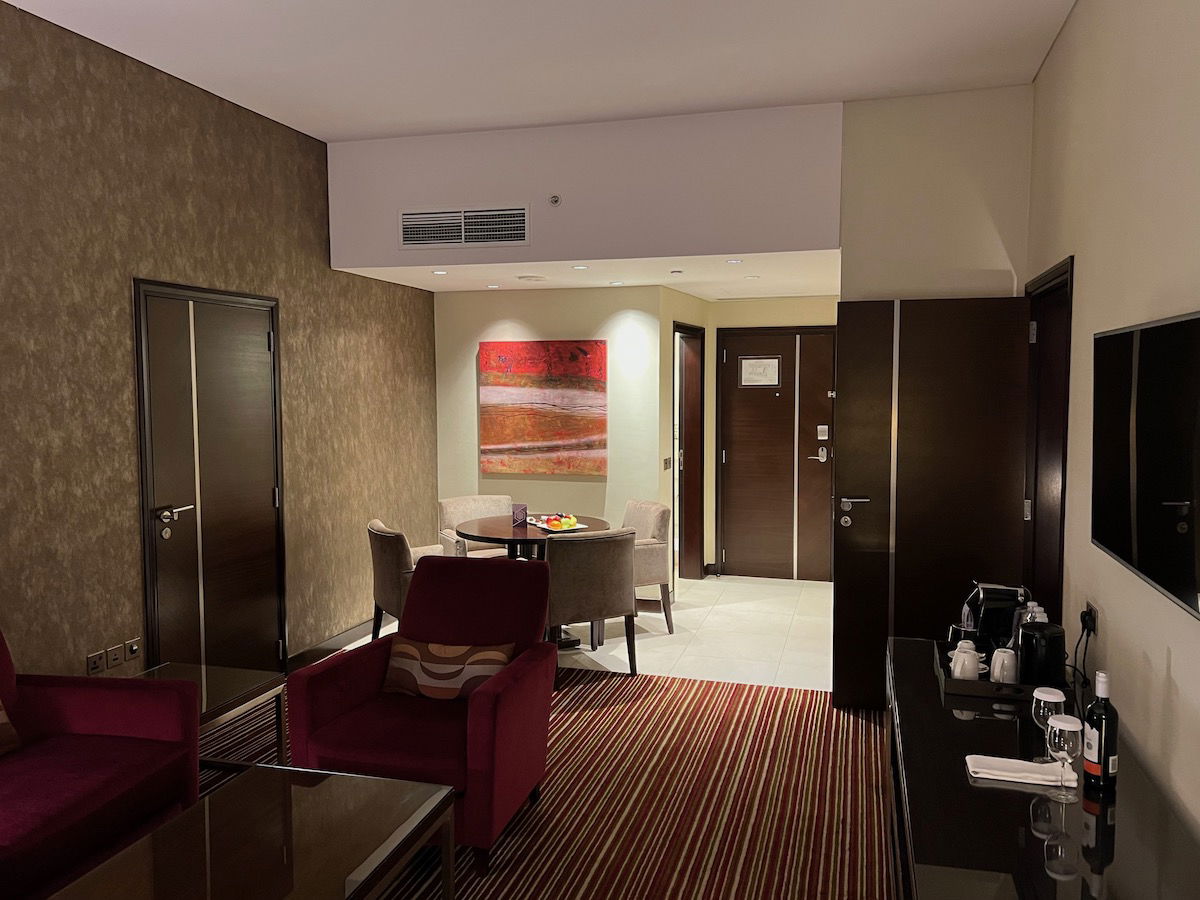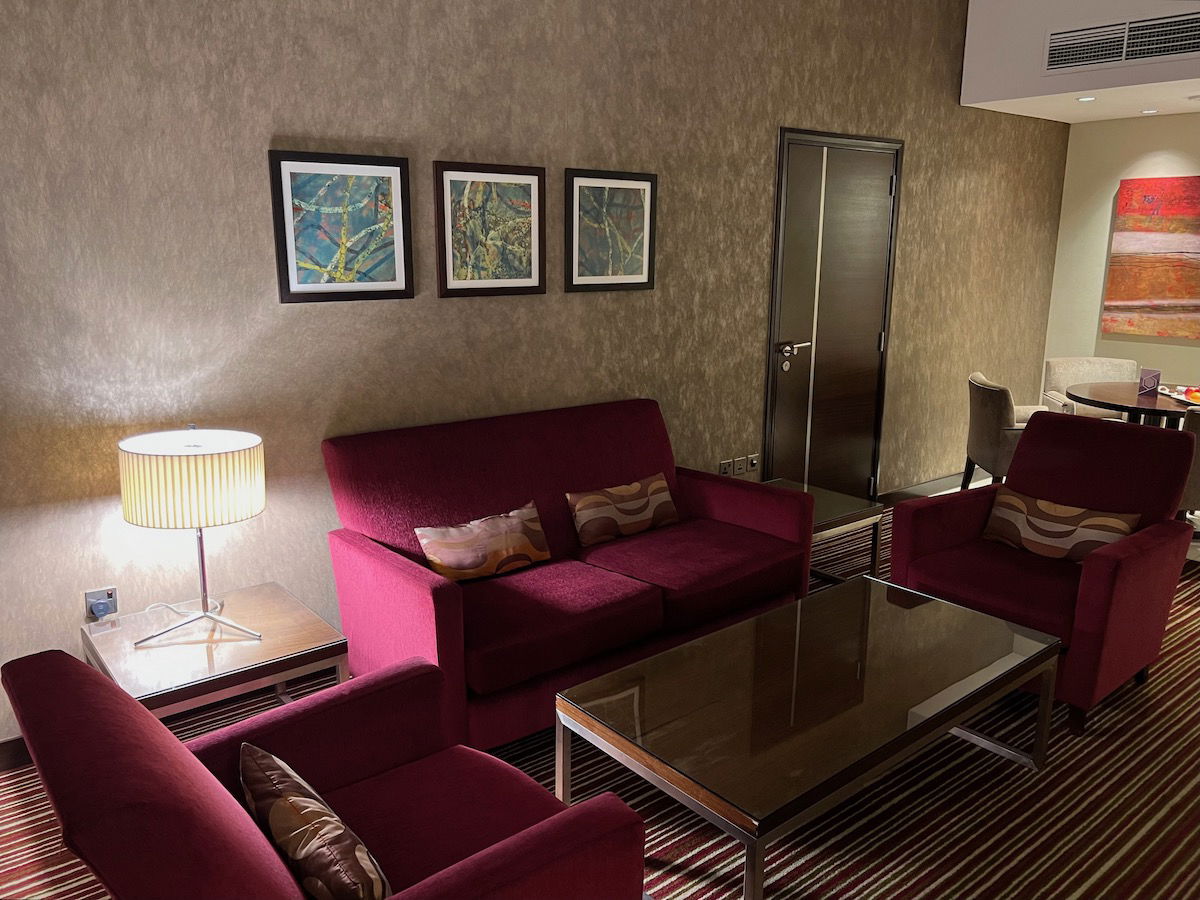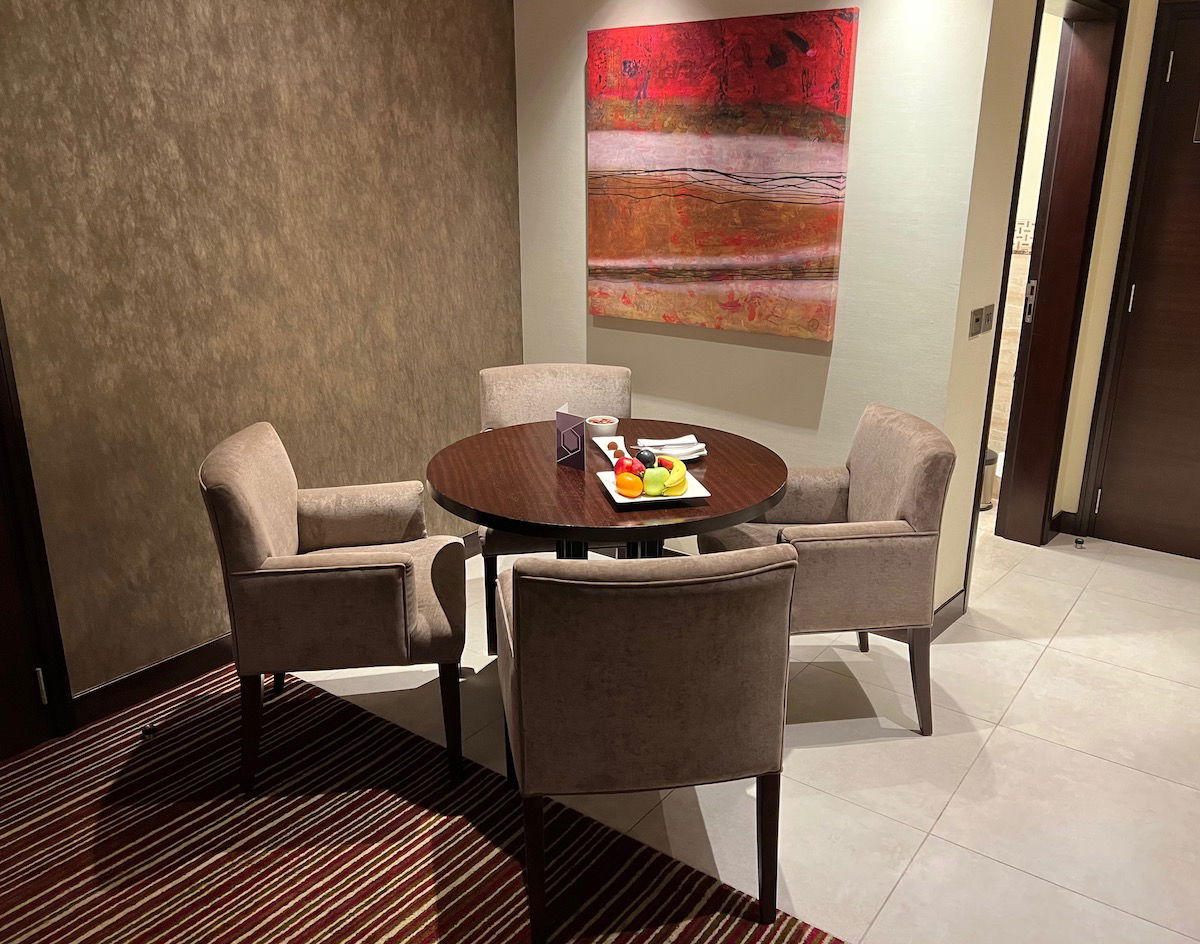 There was a lovely welcome amenity waiting on the table, including some pecans, pralines, fruit, and a bottle of wine. Not bad for a one night stay where I redeemed points!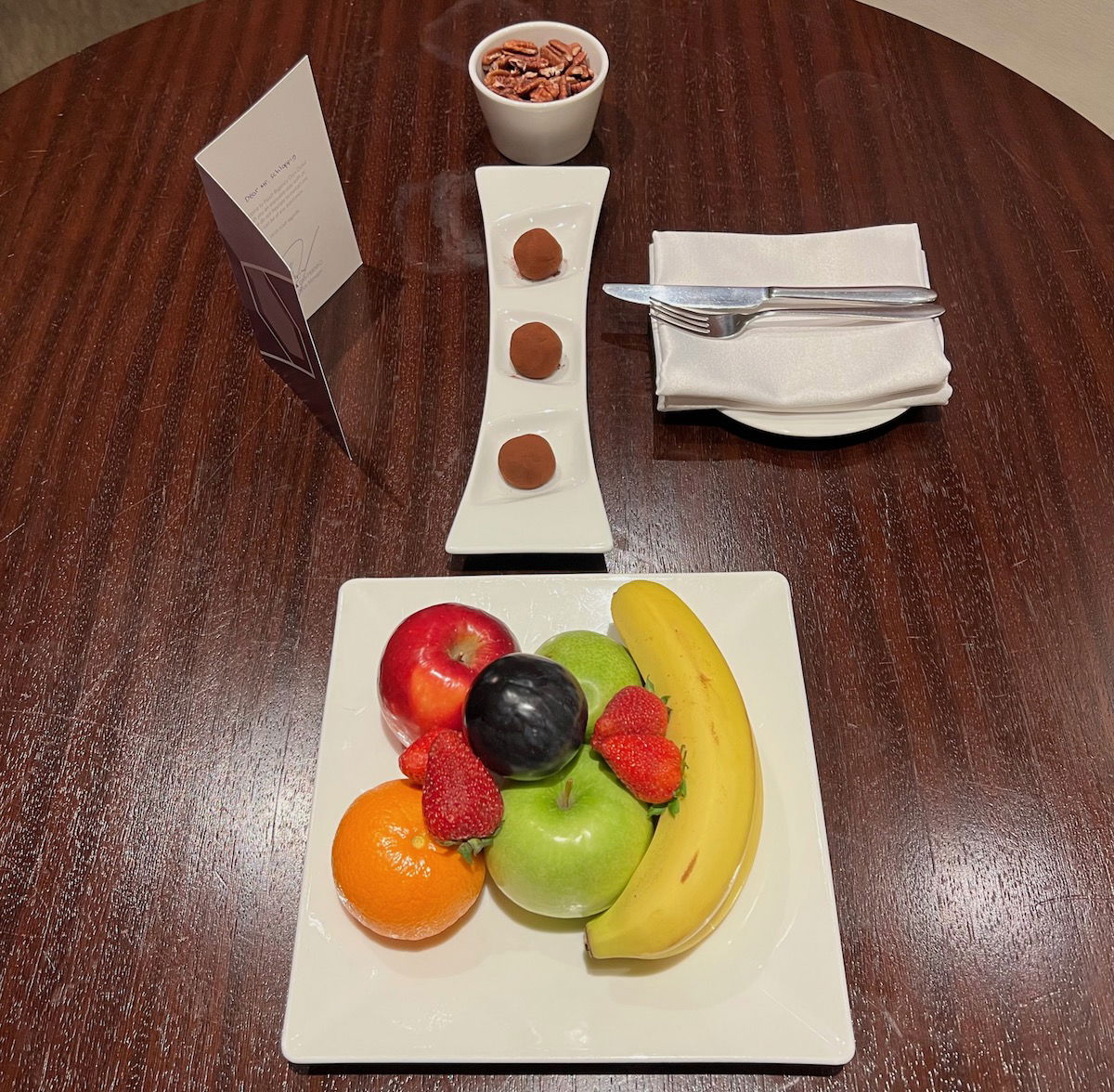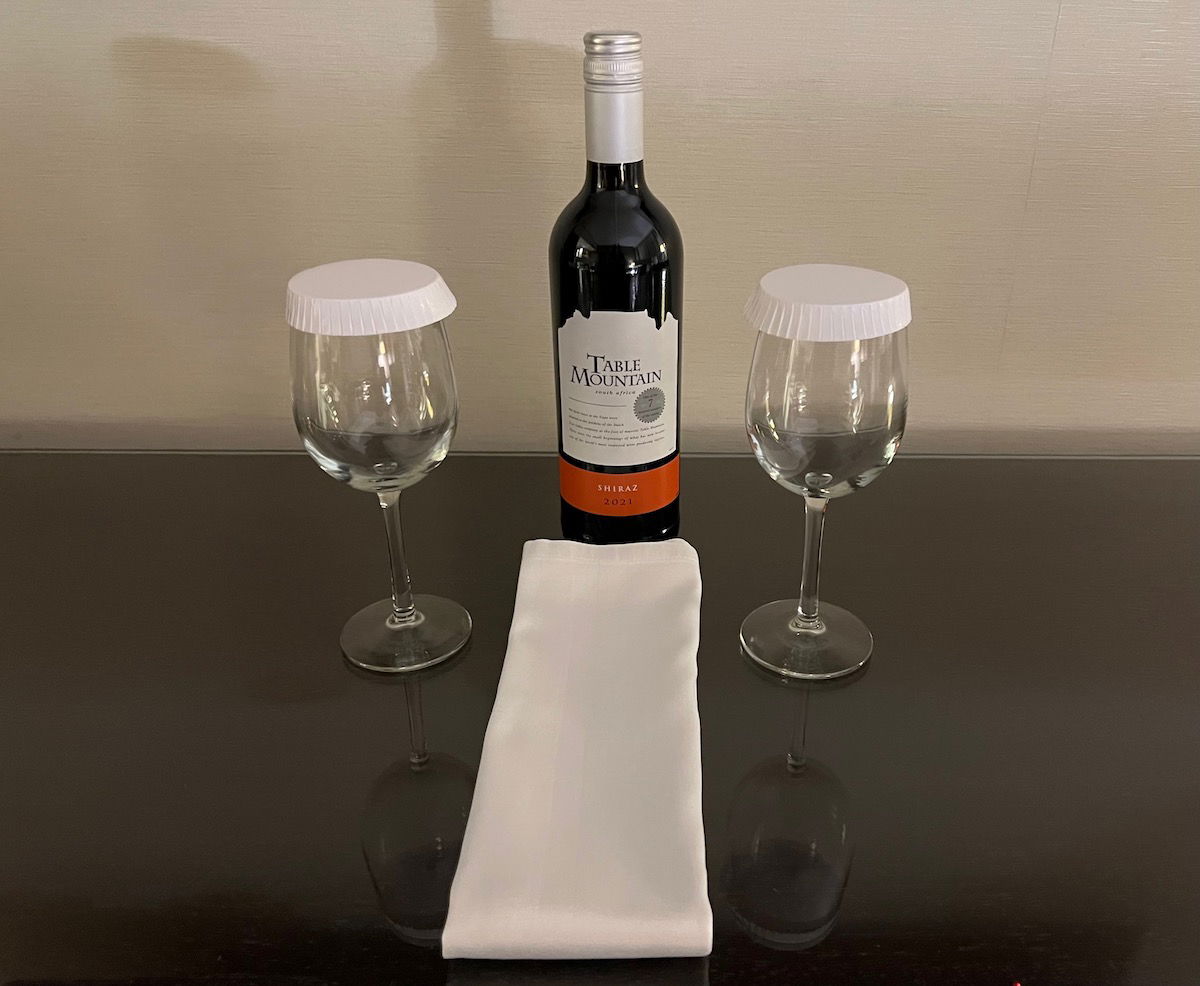 There was also a setup in the living room with a coffee machine, kettle, instant coffee, and plenty of bottled water.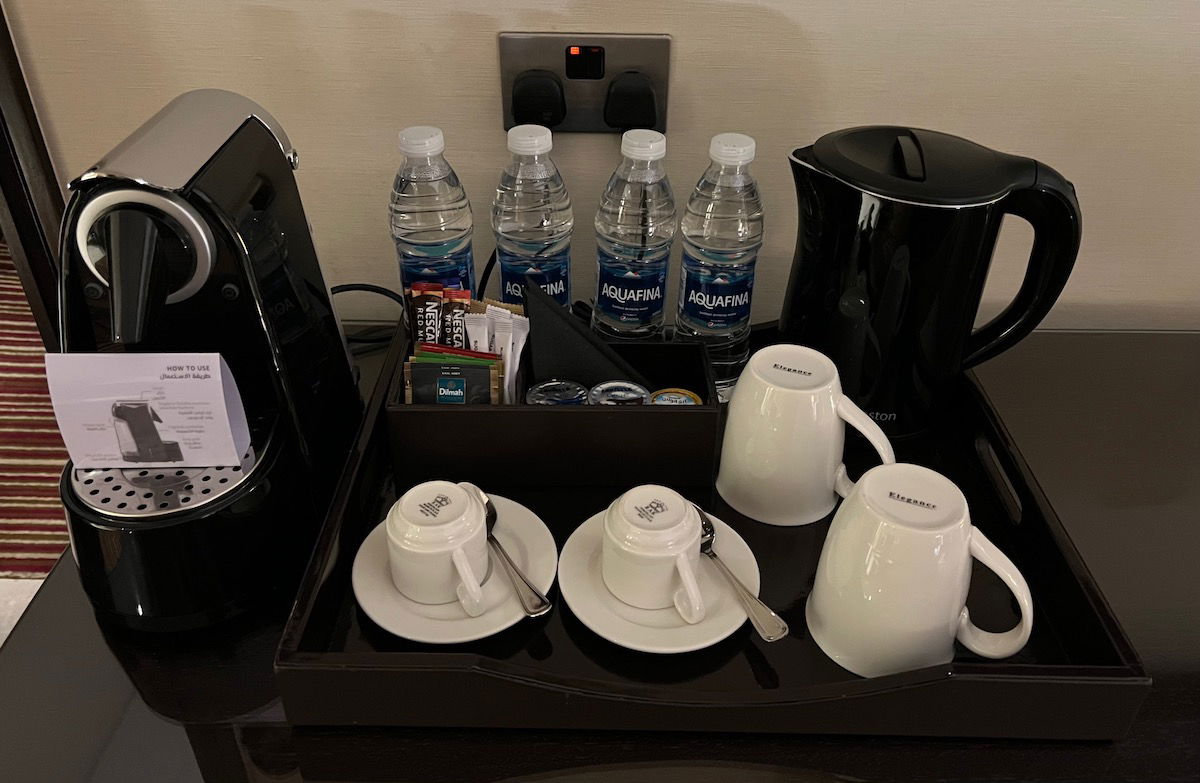 There was a half bath off the living room, with a sink and a toilet.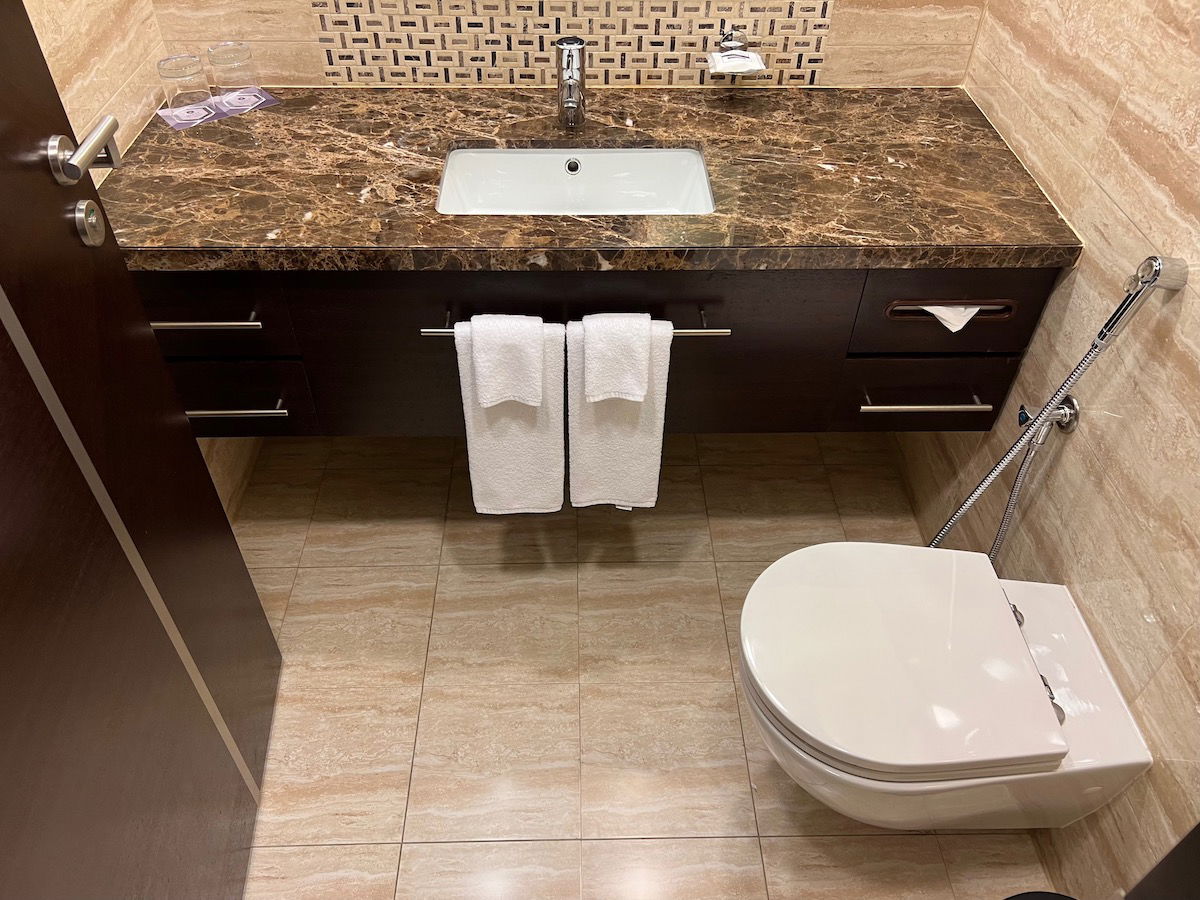 The bedroom was separated from the living room by a door, and featured a pretty comfortable king size bed, as well as a chair with an ottoman.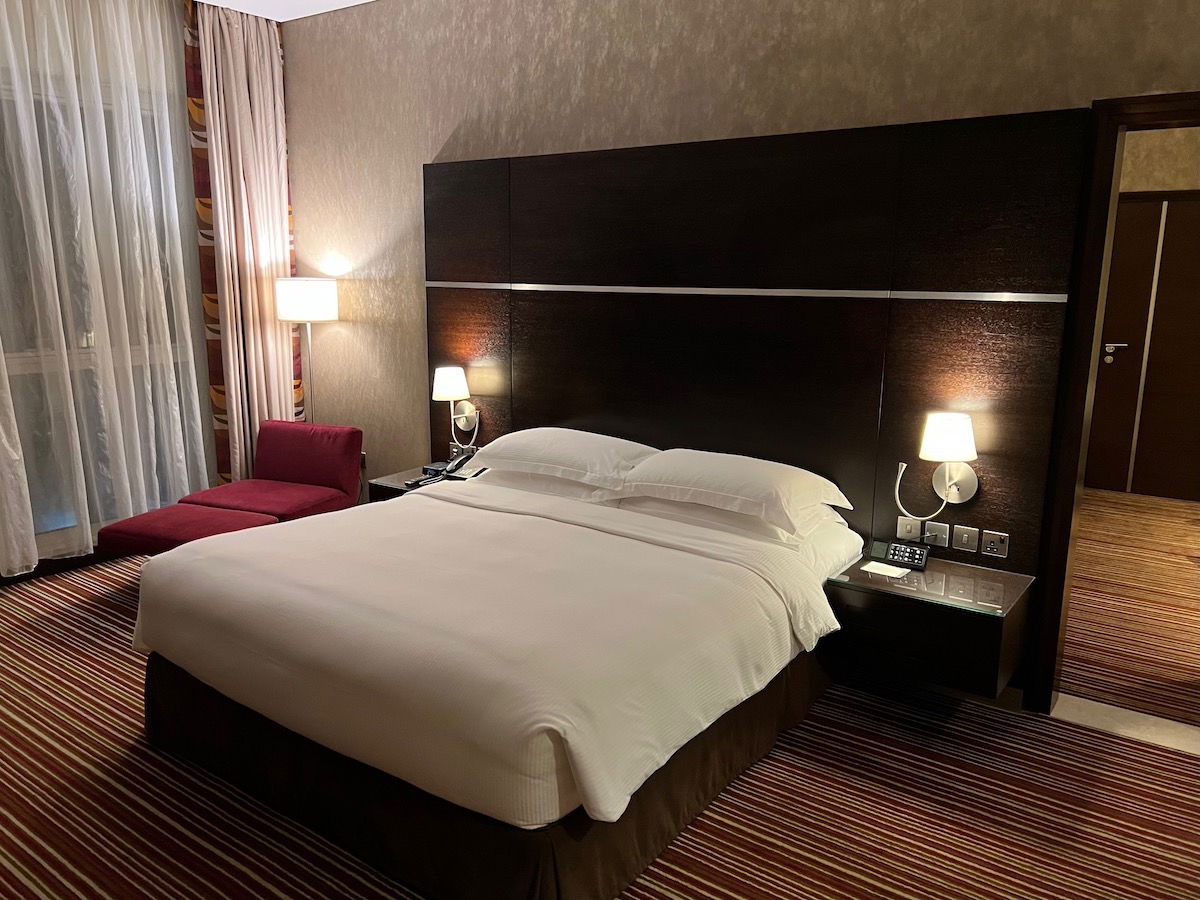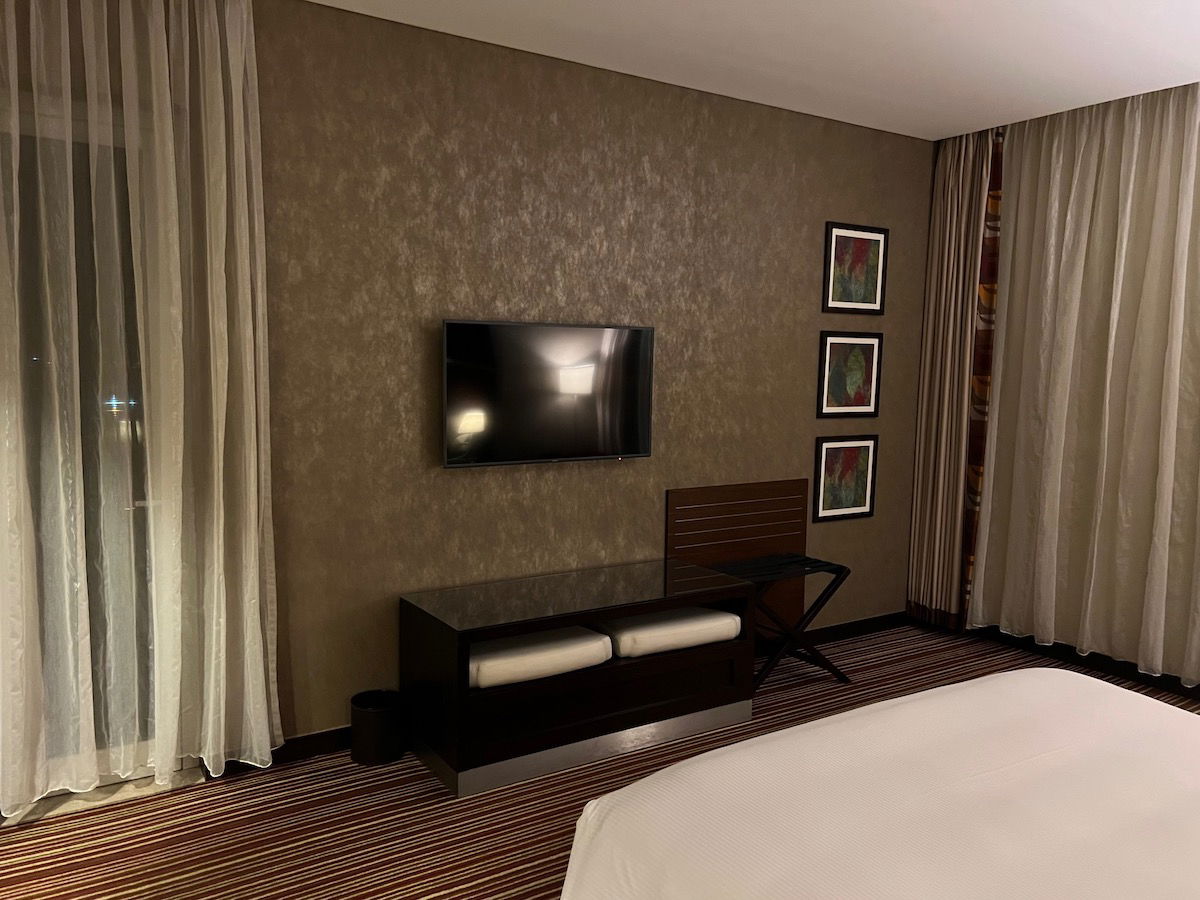 The main bathroom was off the bedroom, and had a sink, a tub, a walk-in shower, and a toilet and bidet.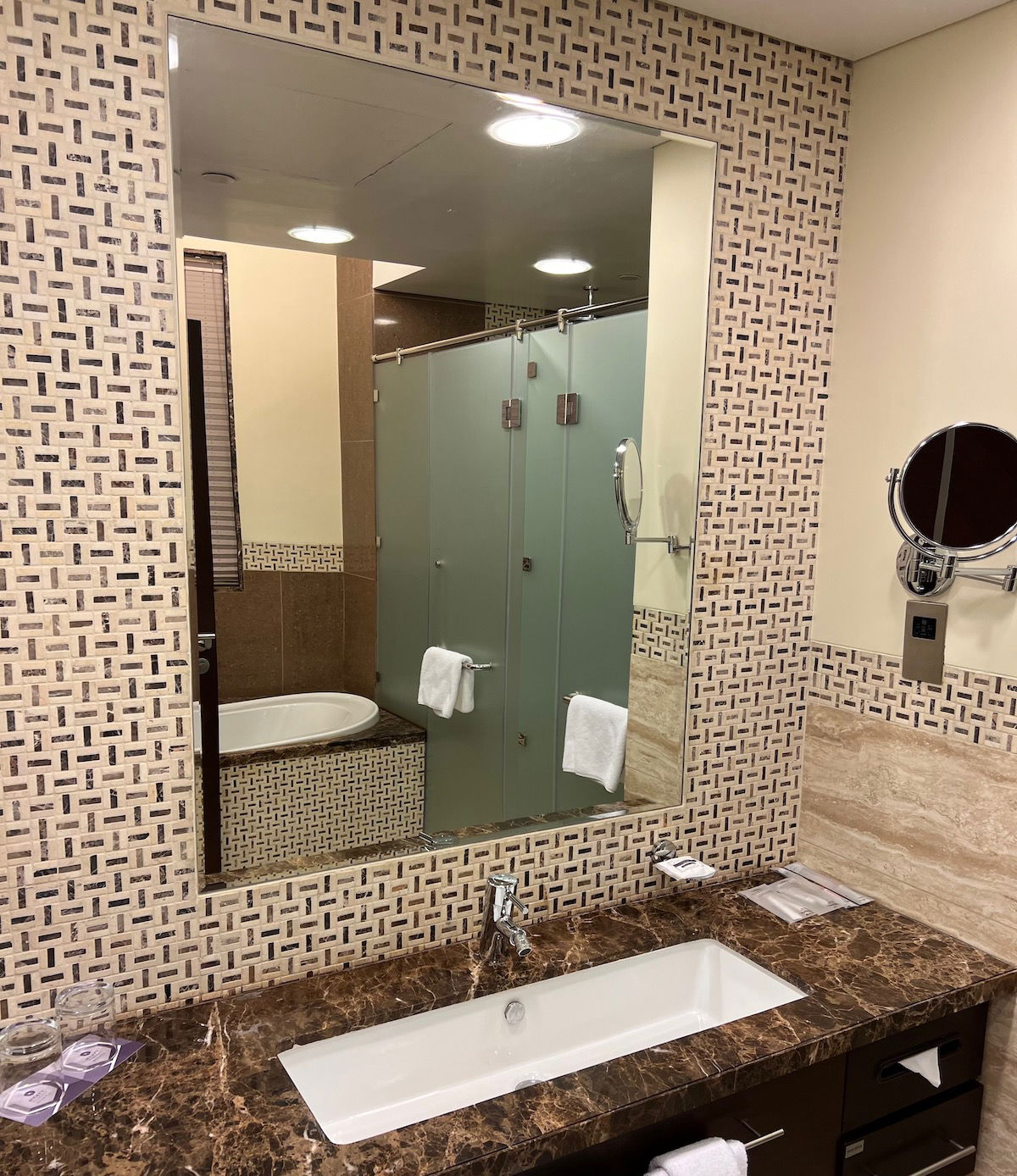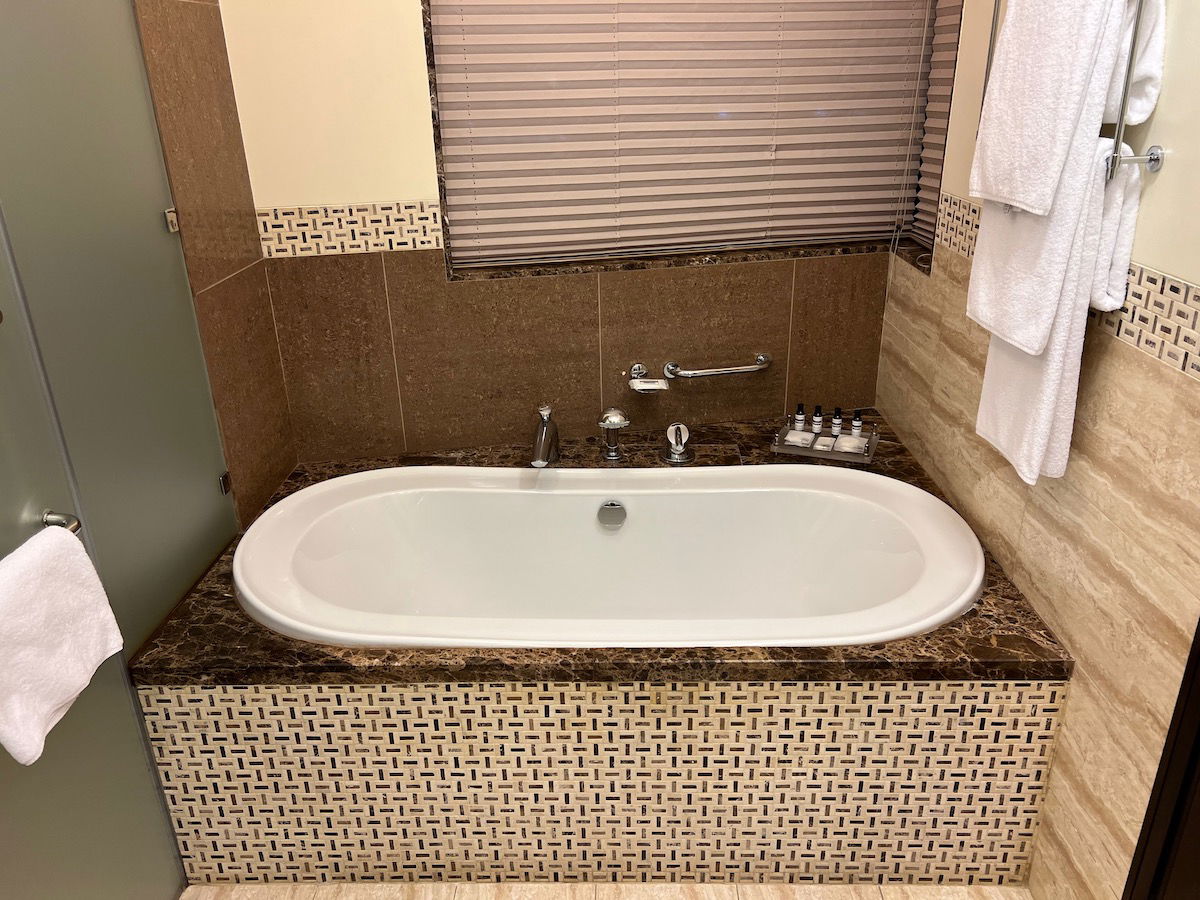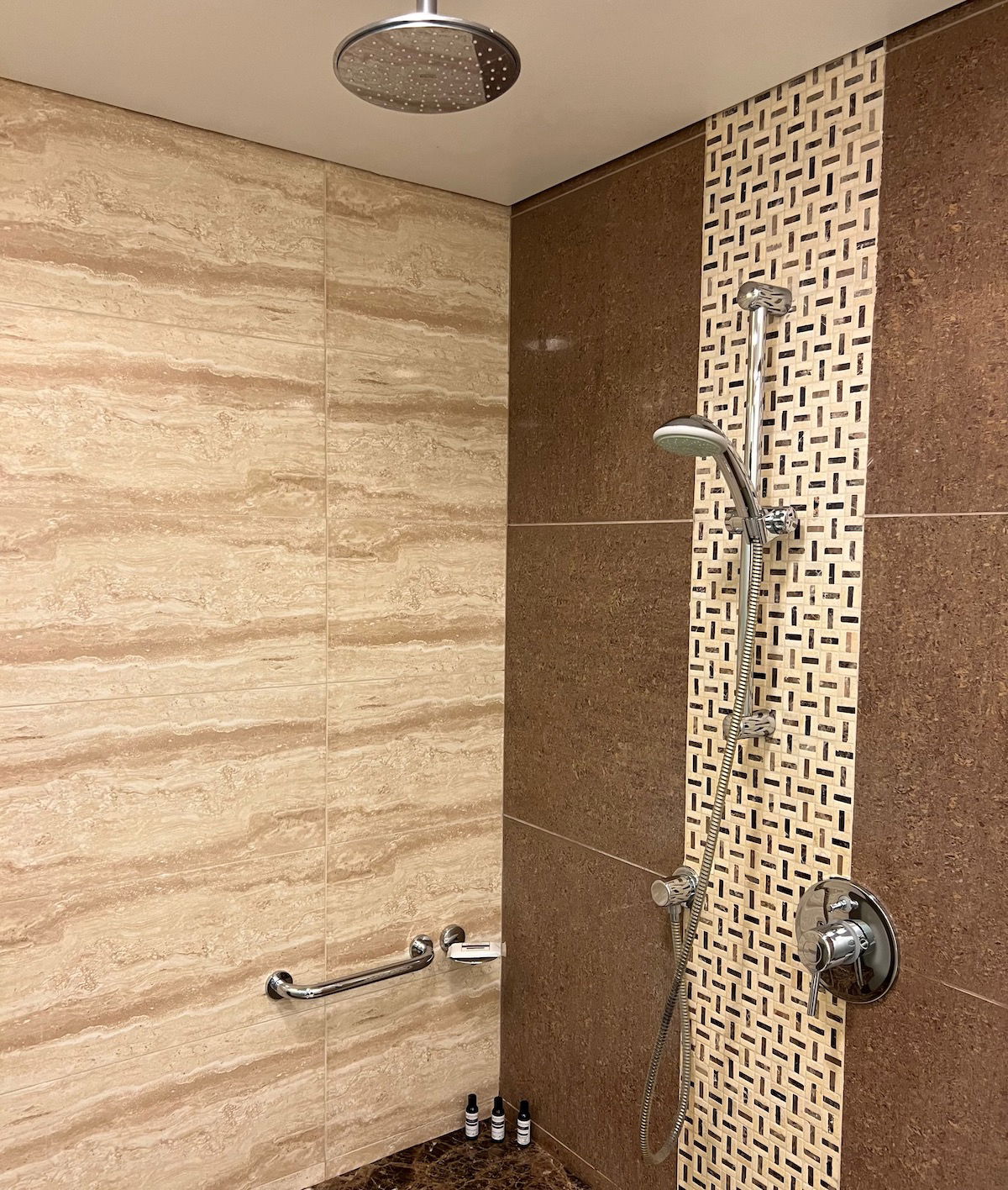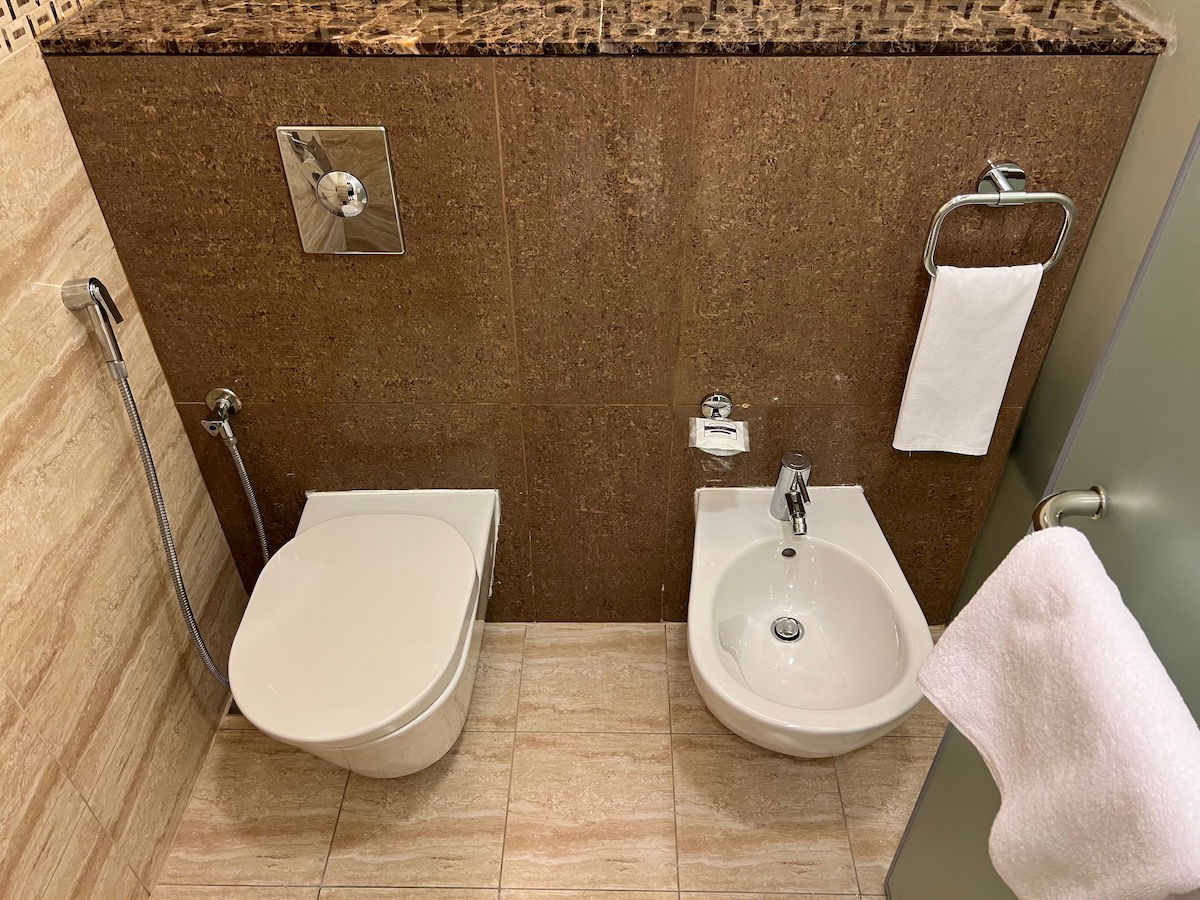 Toiletries were from Pharmacopia, and were in small bottles.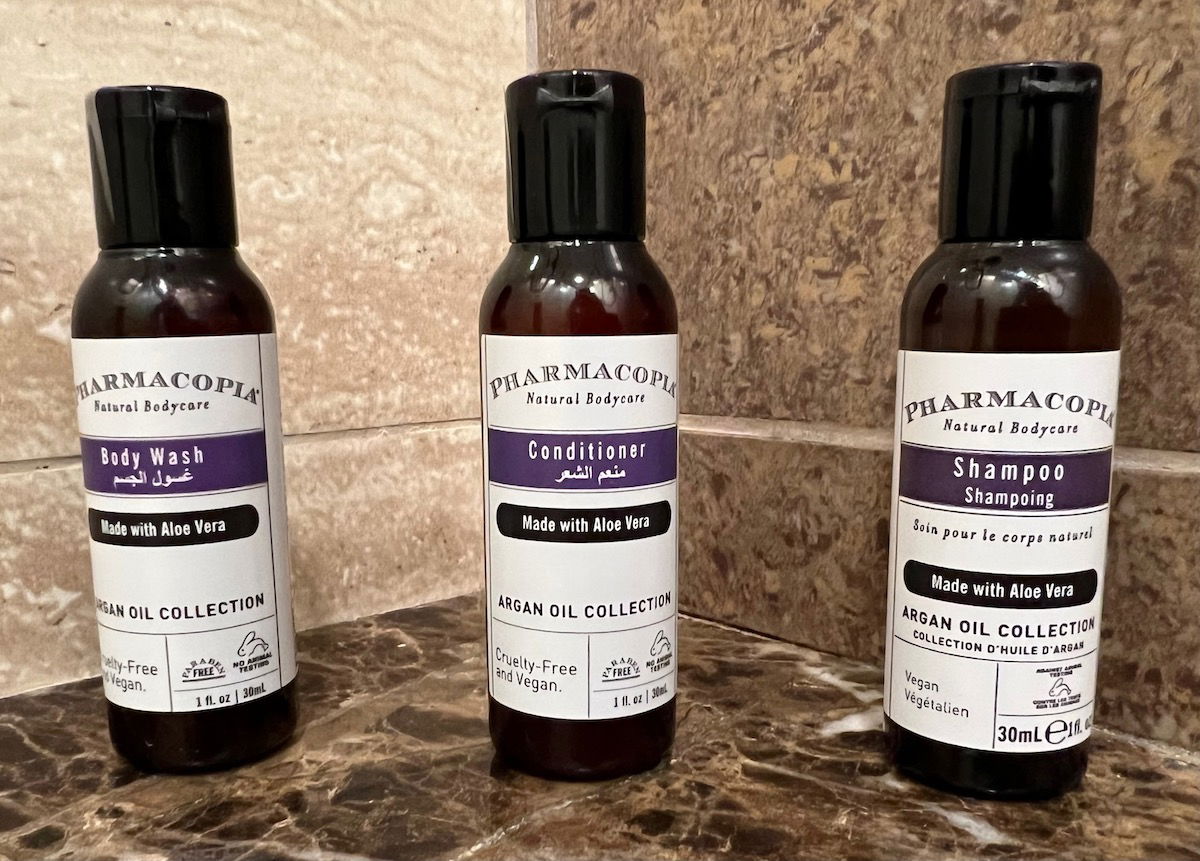 The room also had a balcony with a couple of chairs. However, it was really dusty due to the amount of construction in the area, so I wouldn't plan on spending too much time here (and that says nothing of the heat).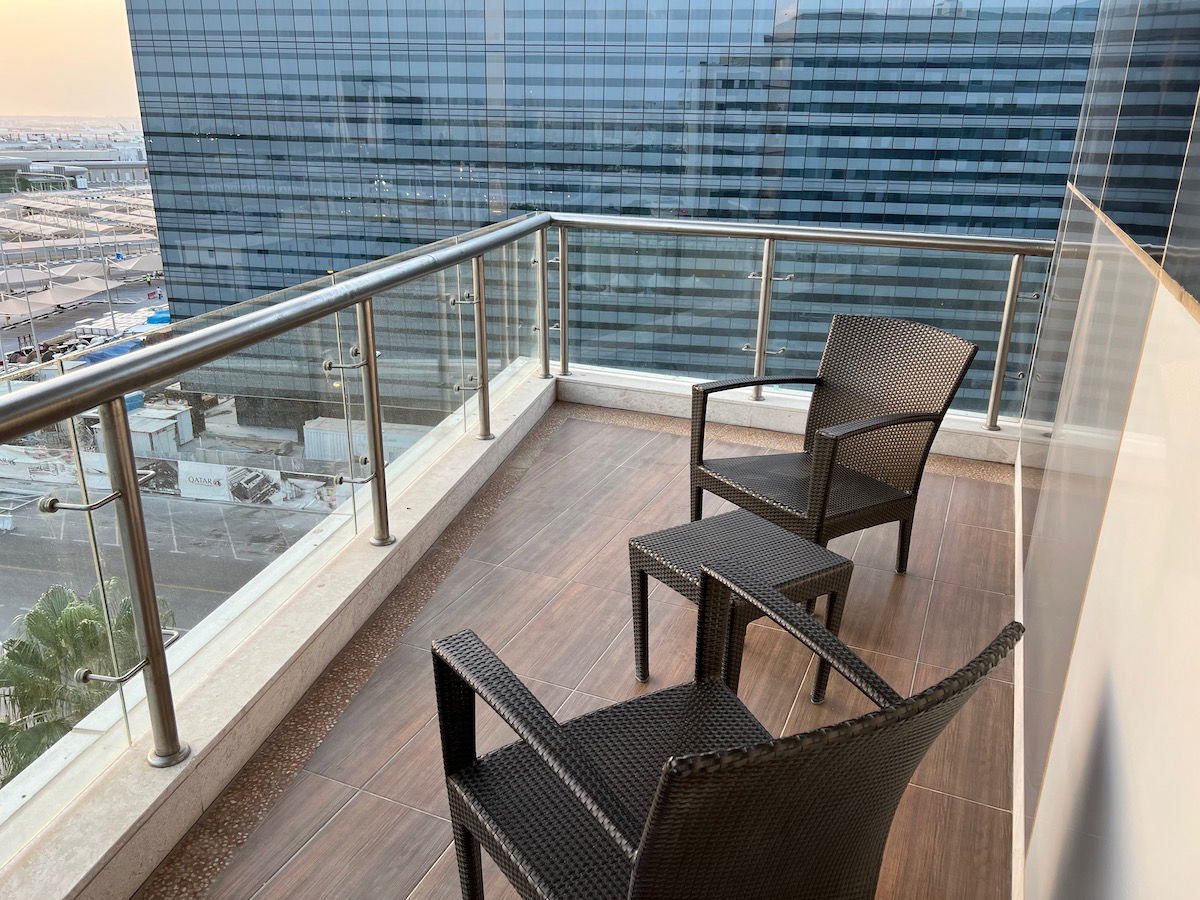 The balcony faced the old Doha International Airport in one direction…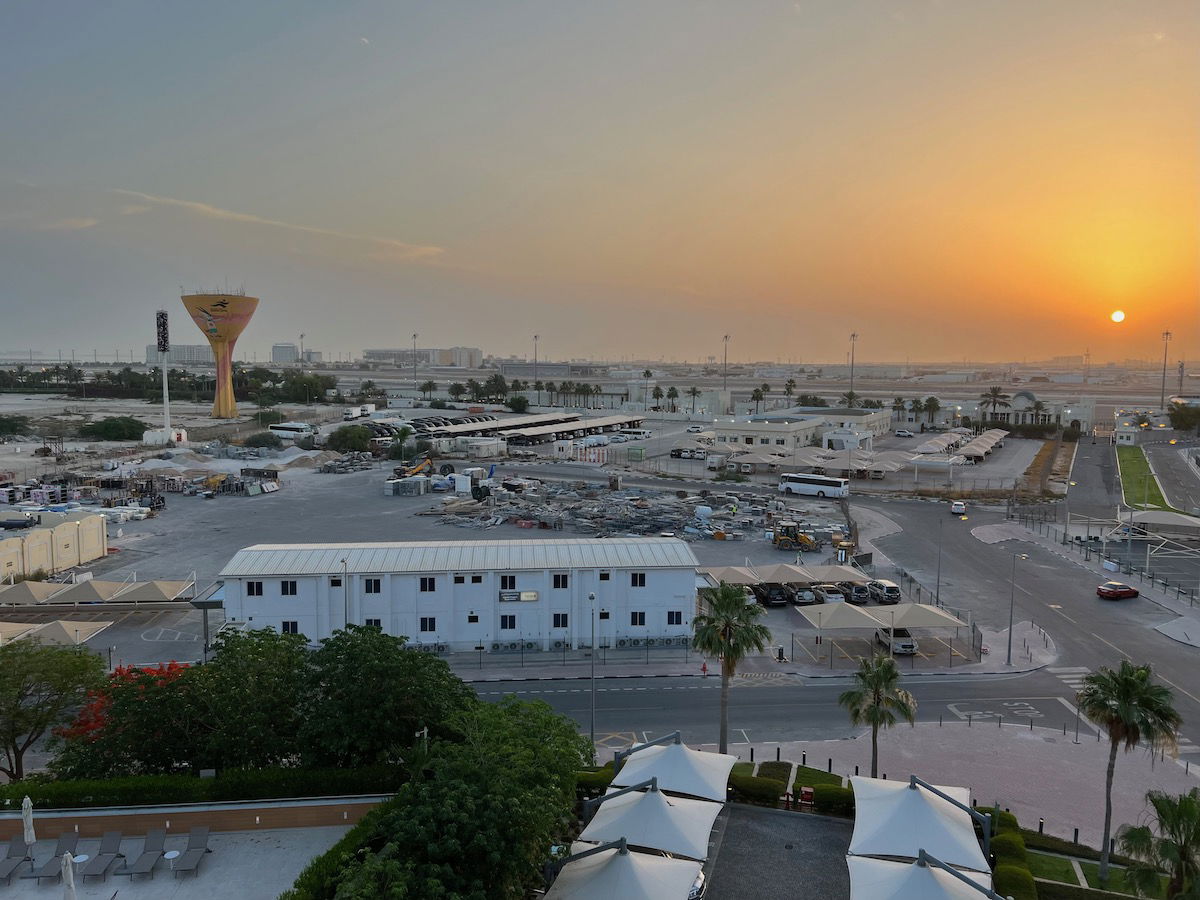 …and in the other direction it faced Qatar Airways' new headquarters, which is still under construction.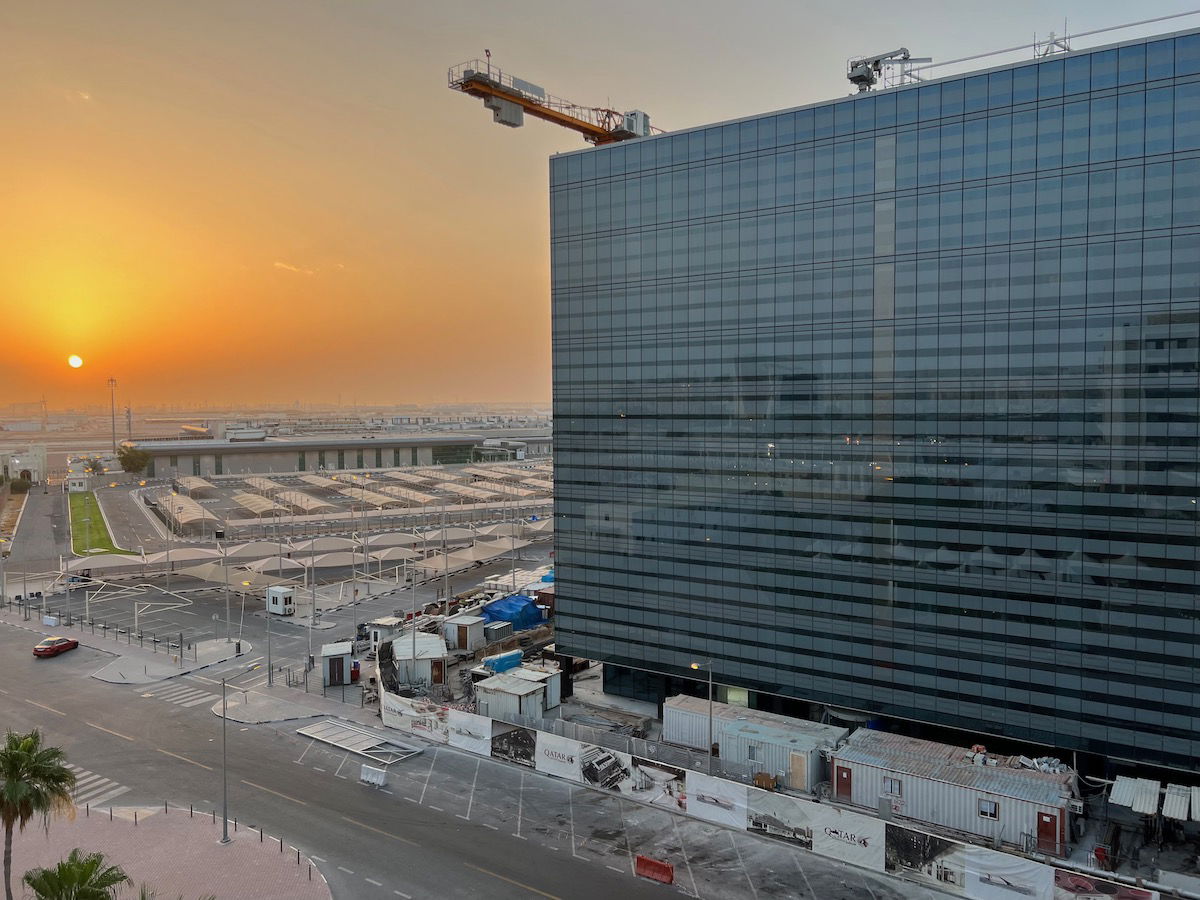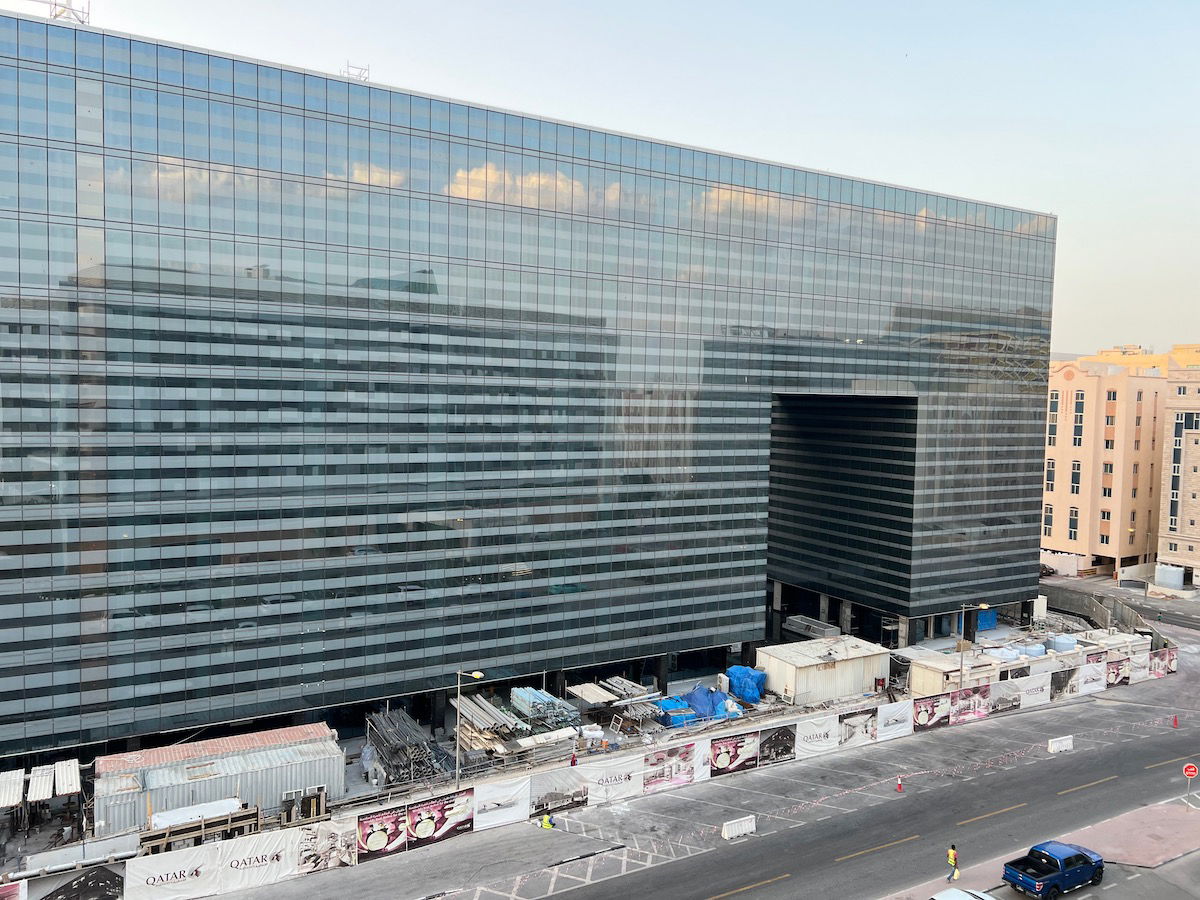 There was also a view of the hotel's pool.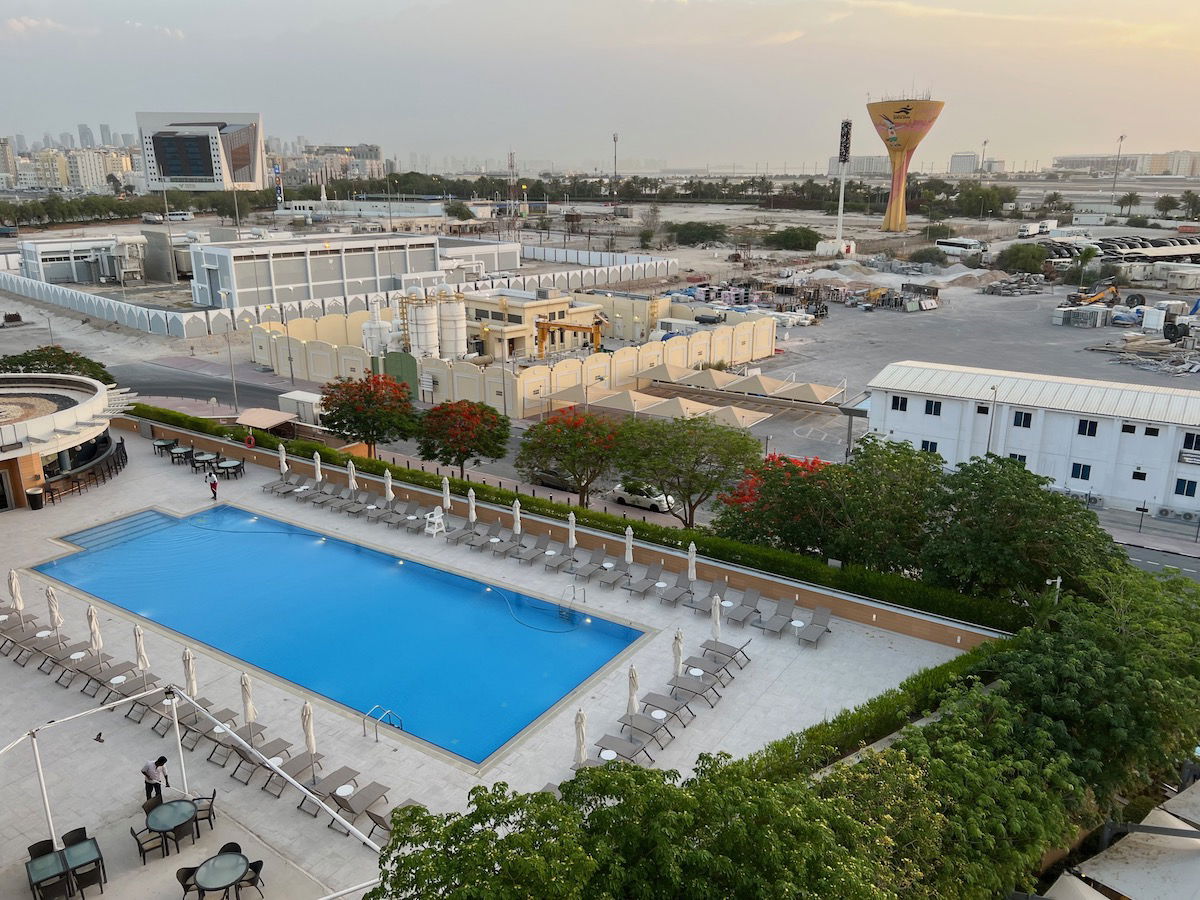 Given that we arrived at 2:30AM and sunrise was at 5AM, I'll let you guess how much sleep I got. 😉
Hyatt Regency Oryx Doha breakfast
The Hyatt Regency Oryx Doha serves breakfast daily from 6AM until 10:30AM, and it's served at Choices. This is the hotel's all-day dining restaurant, located on the first floor (one level above the lobby). The restaurant is quite large, and has plenty of indoor and outdoor seating (though I wouldn't recommend sitting outside except in winter, unless you're in one of Doha's venues with outdoor air conditioning — yes, that's a thing).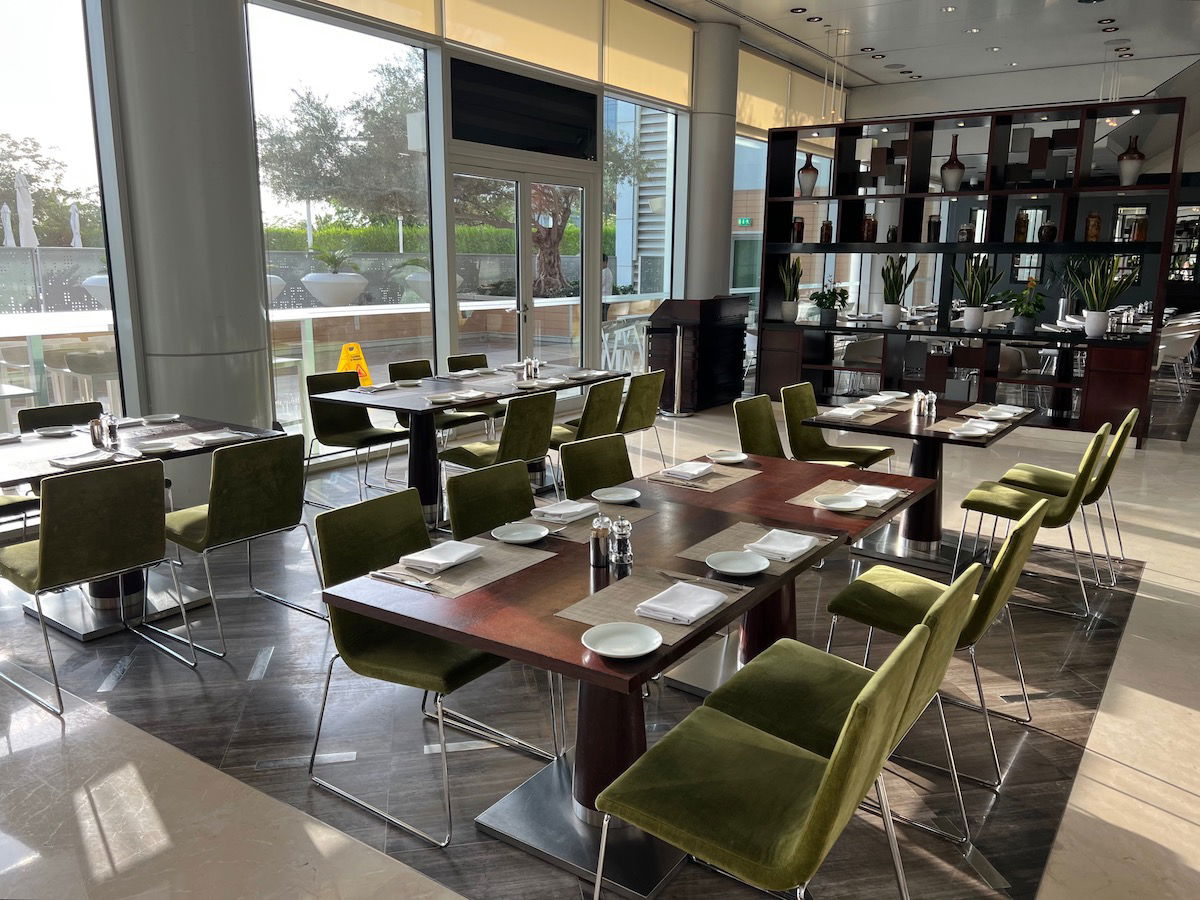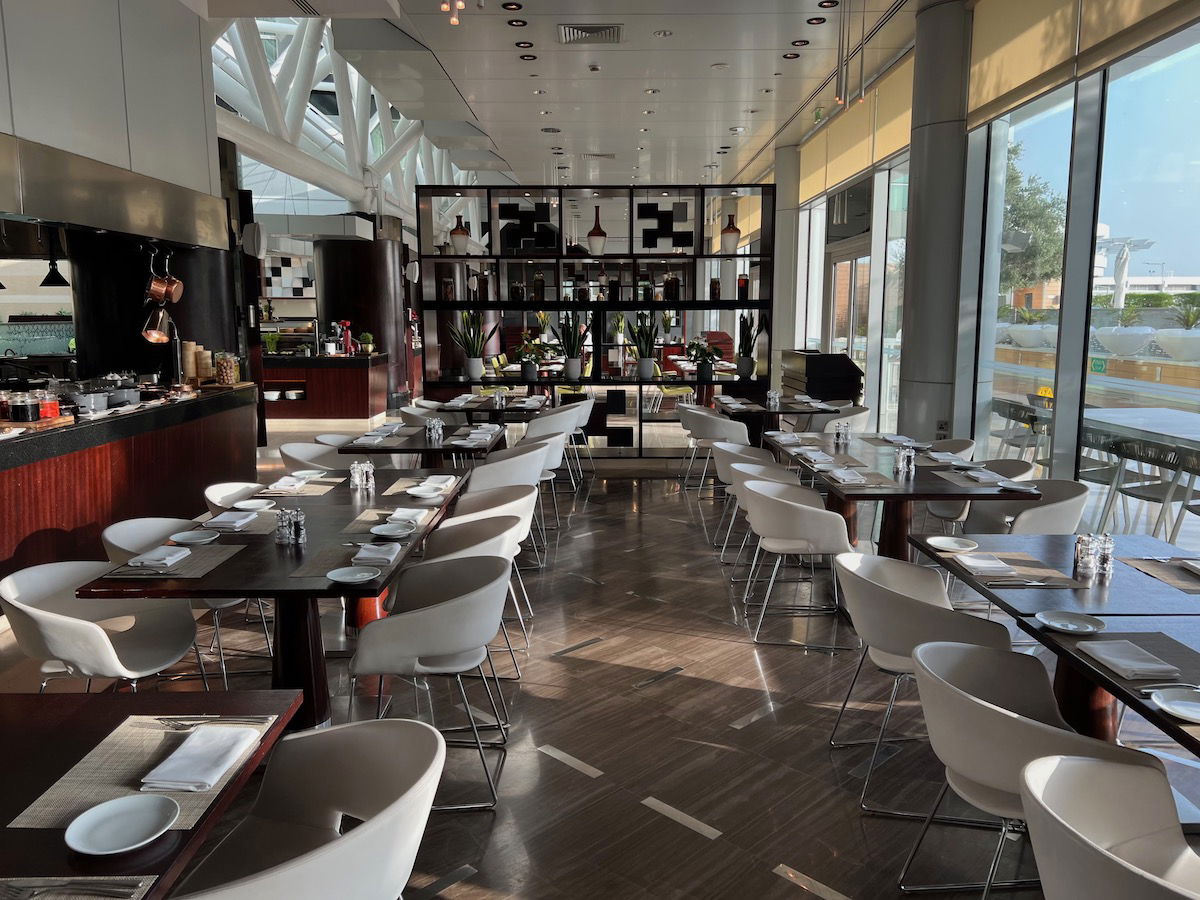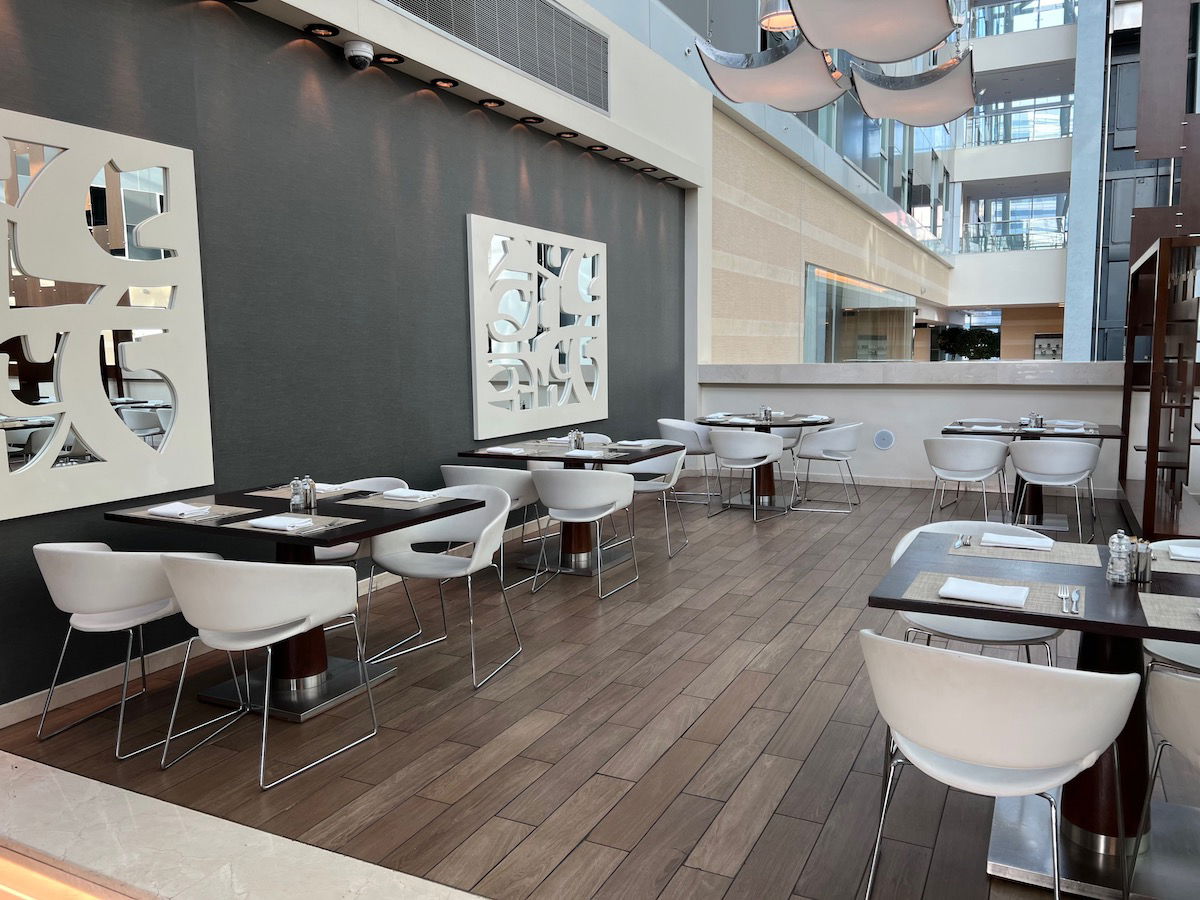 The hotel had an extensive breakfast buffet, which was very good. This included everything from juice, to pastries and bakery items, to yogurt, to cereal, to cold cuts and cheese, to all kinds of Middle Eastern options, to fresh fruit and veggies, to a variety of hot options.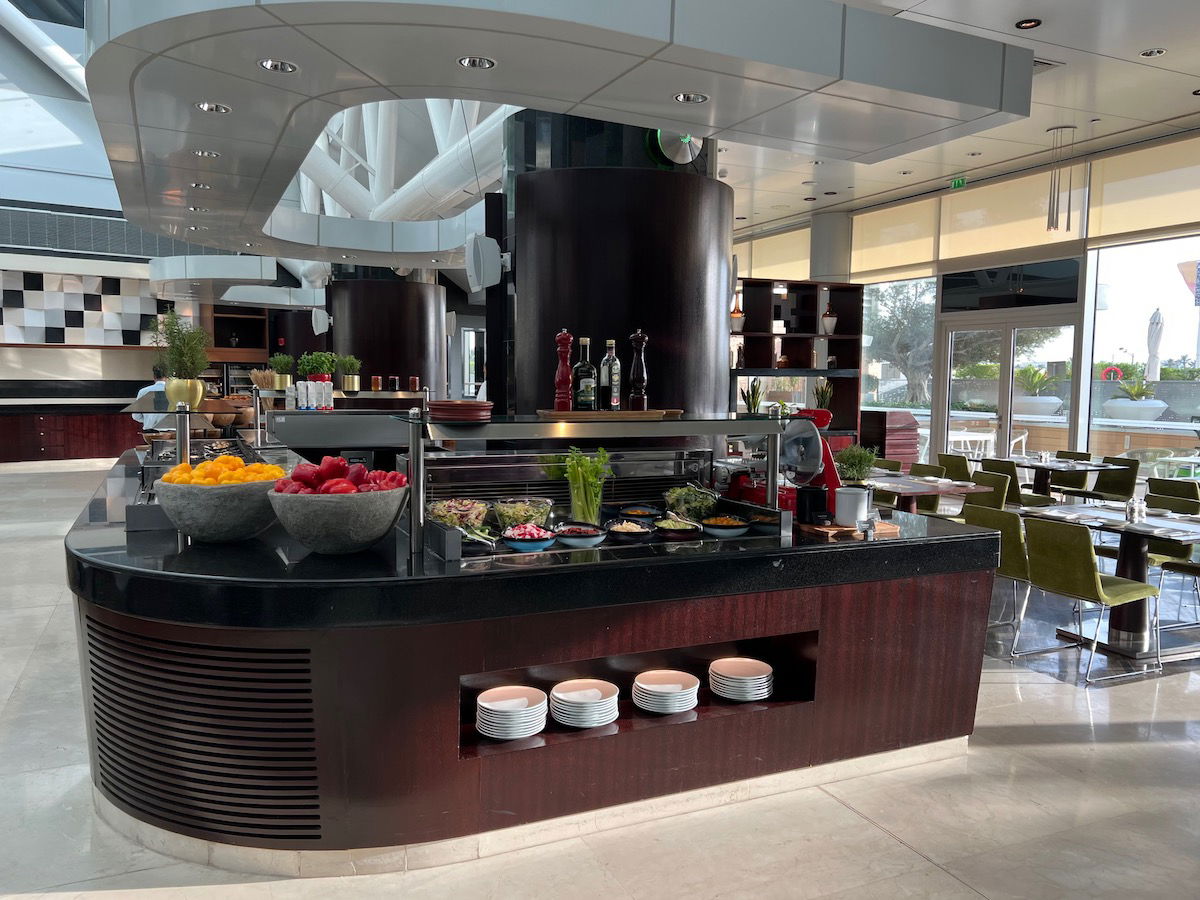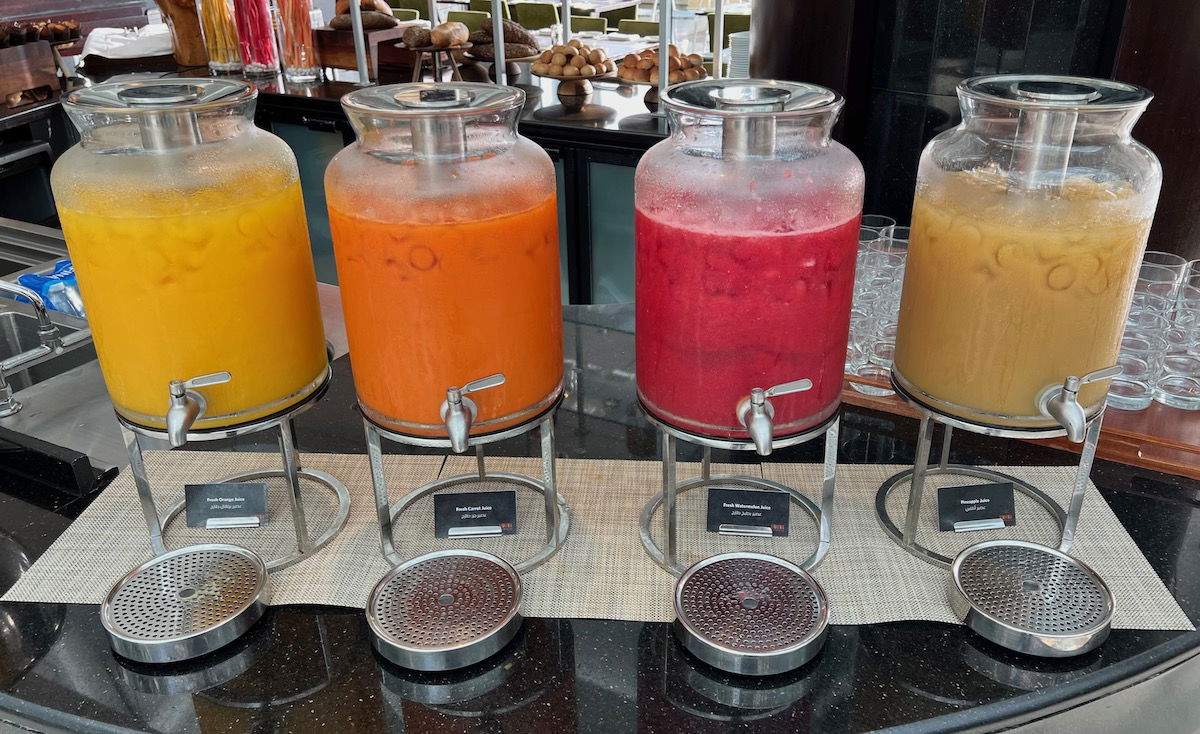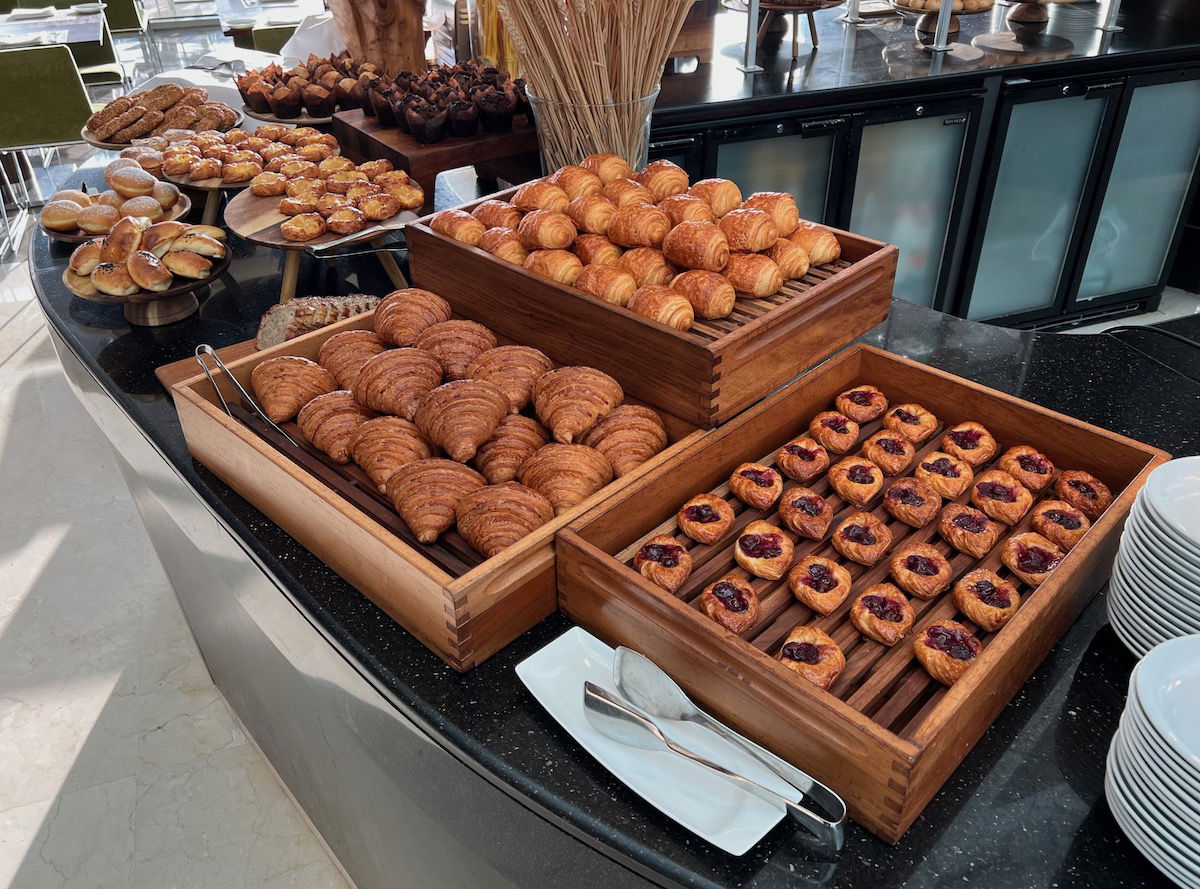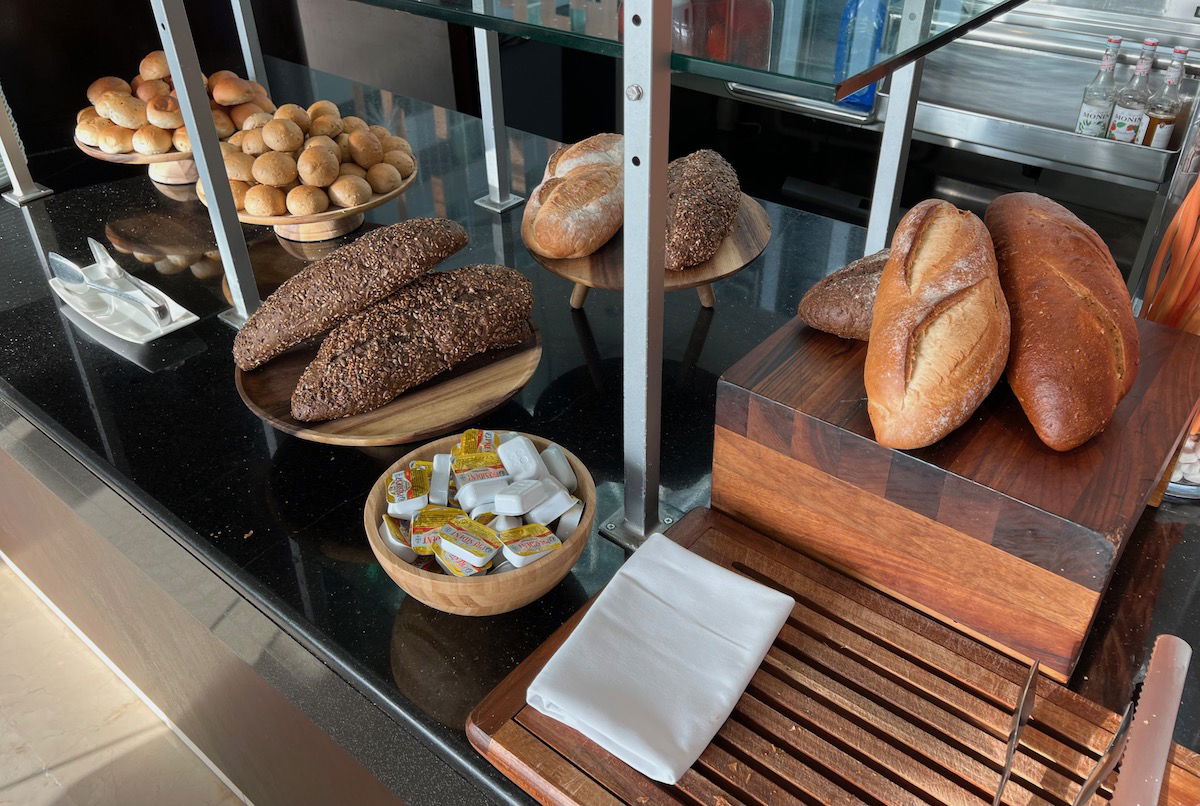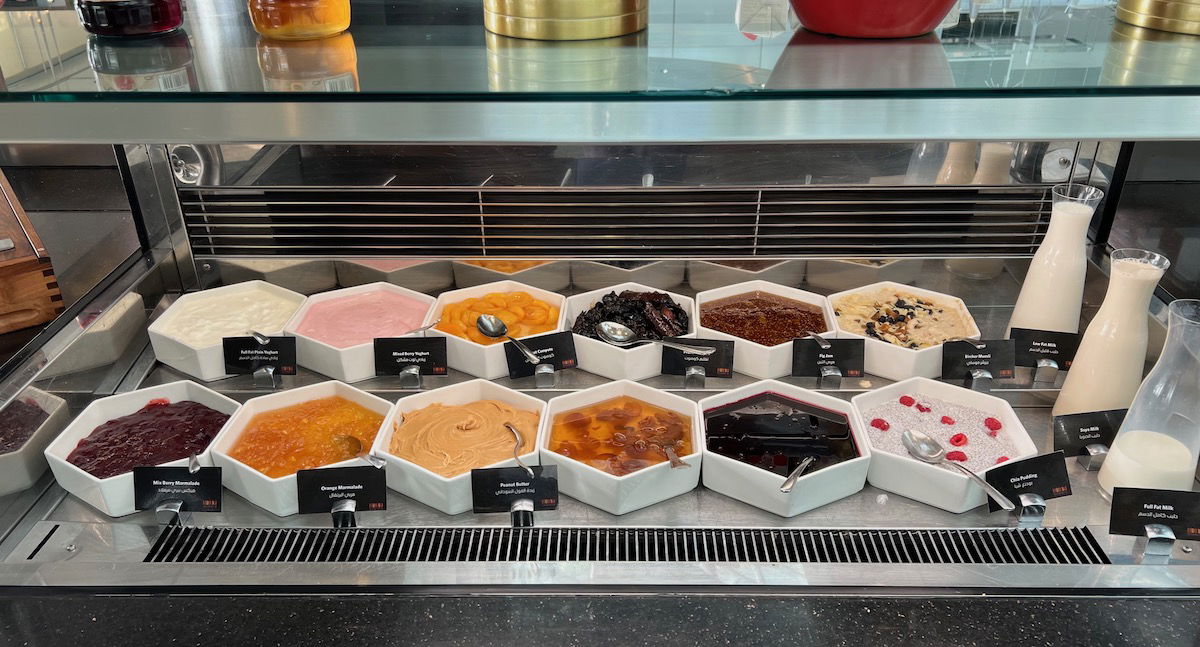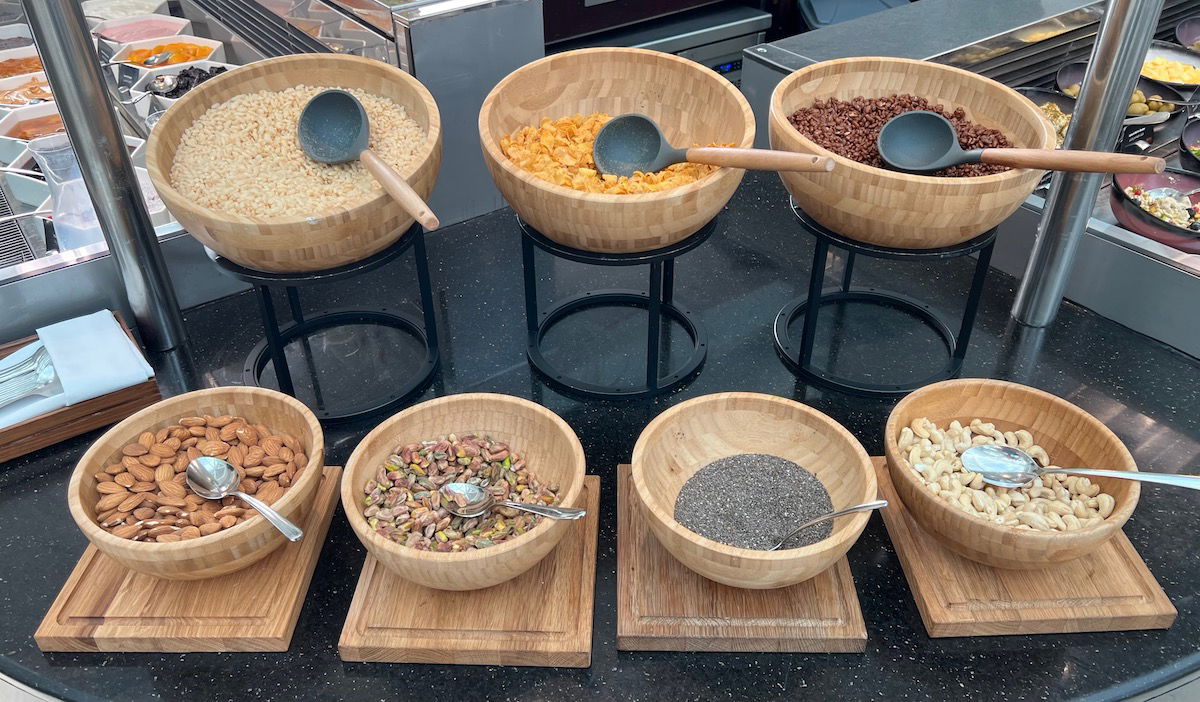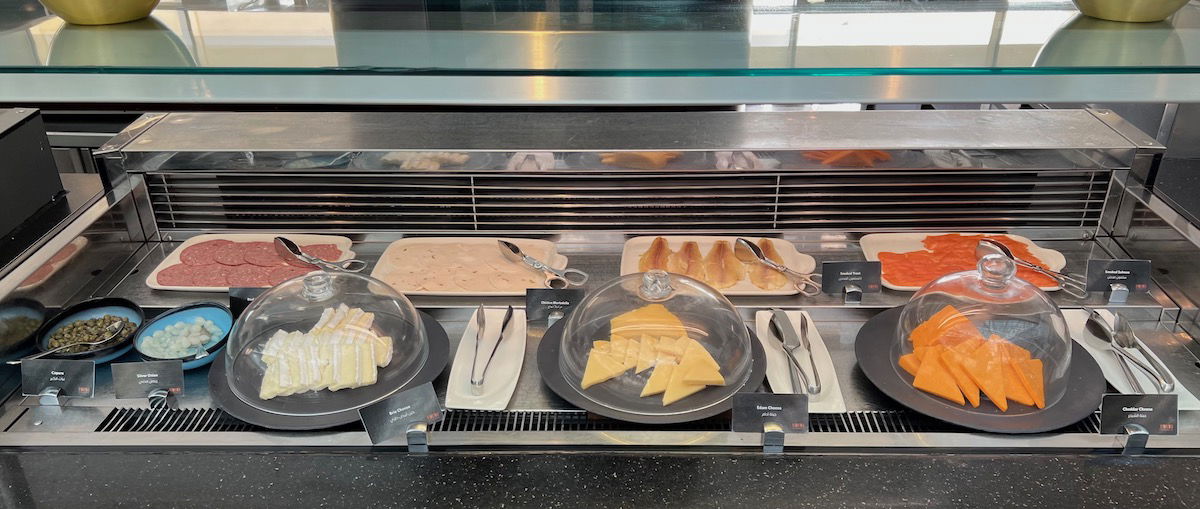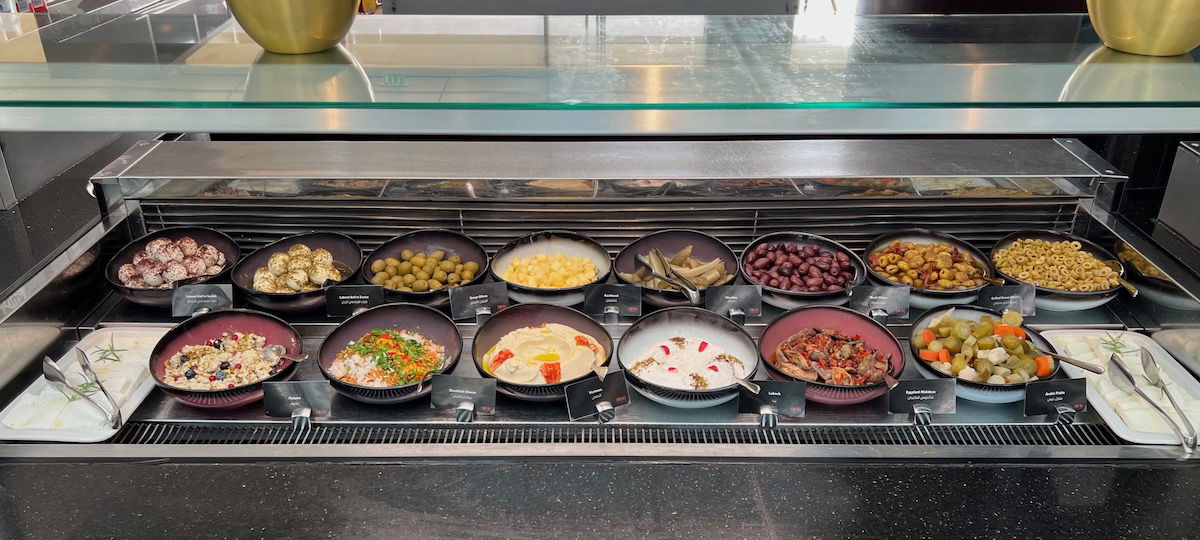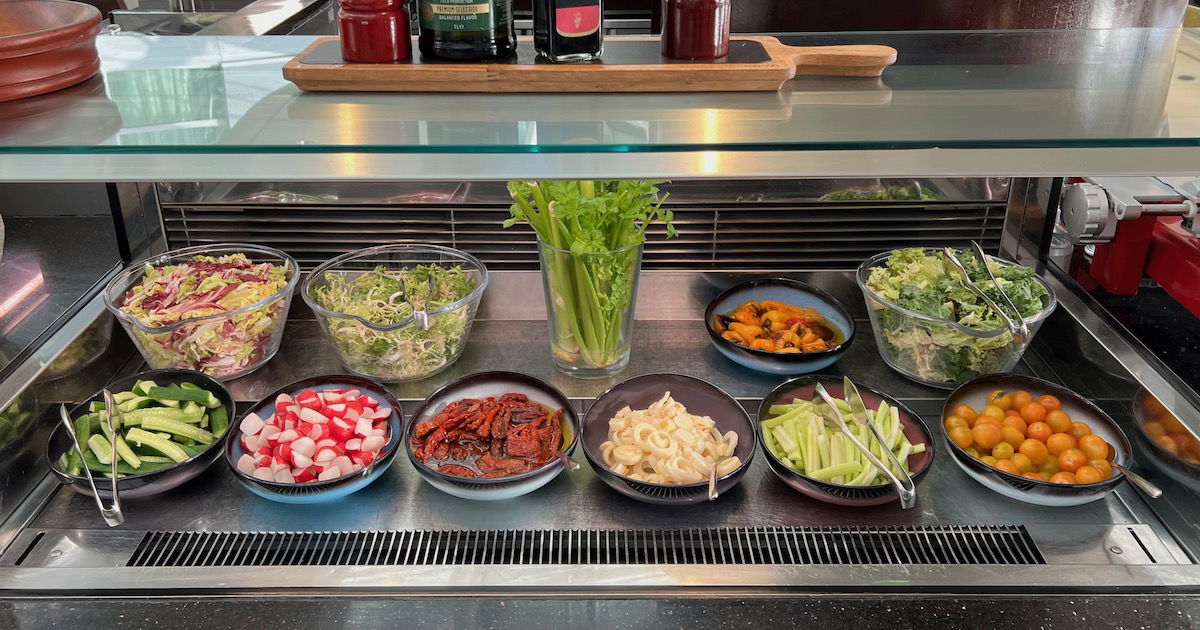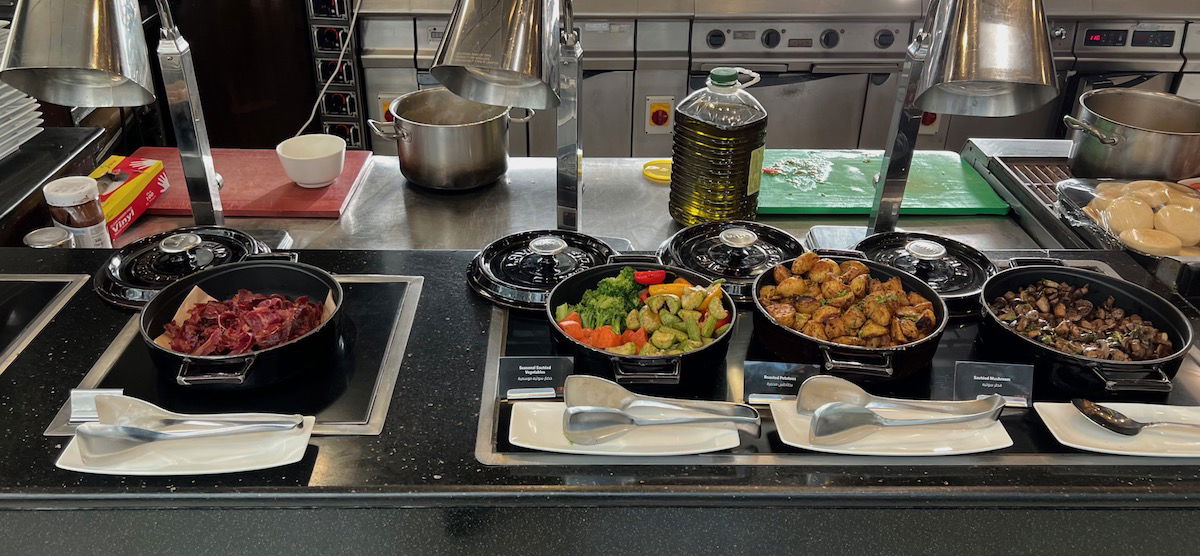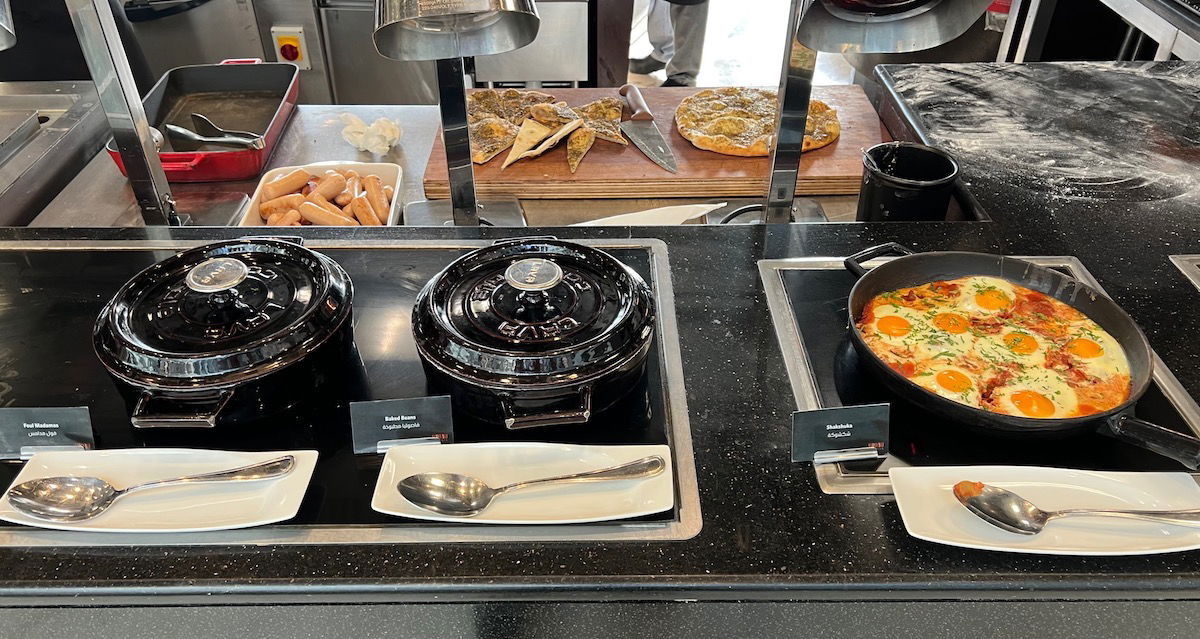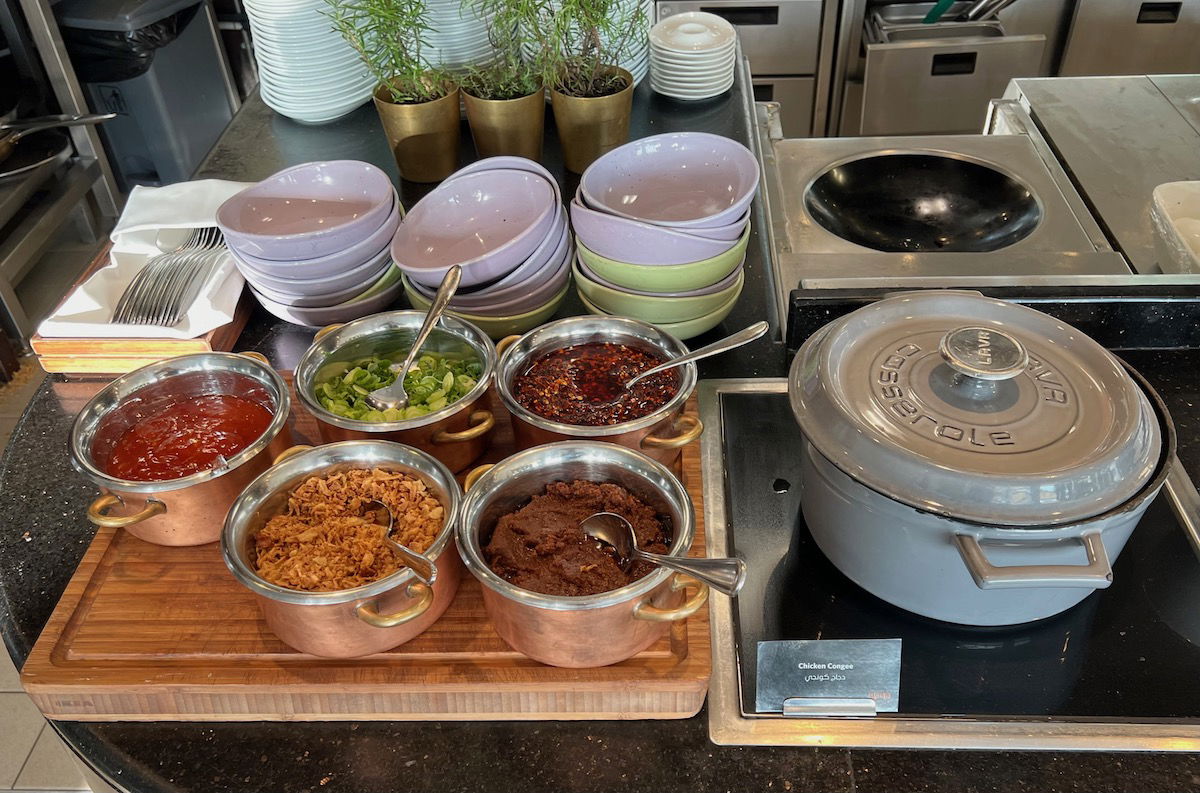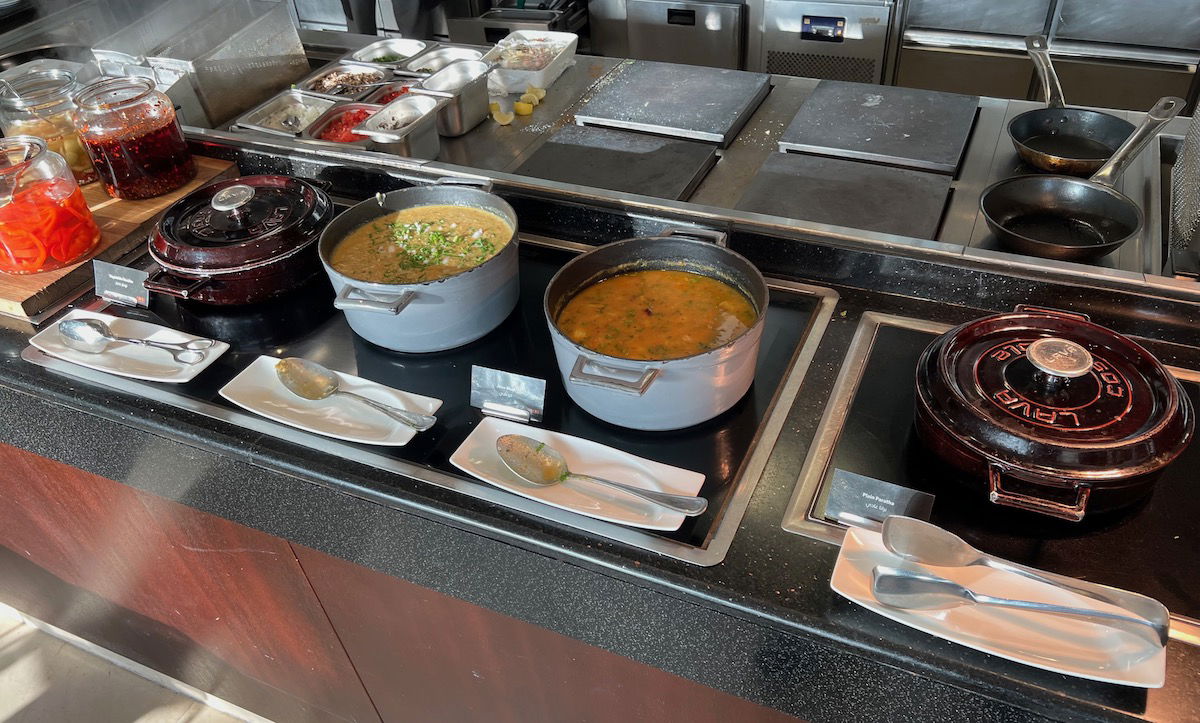 In addition to the excellent buffet, you could order eggs, pancakes, waffles, etc., from one of the servers. Coffee was also served by the staff in the restaurant, and was quite good.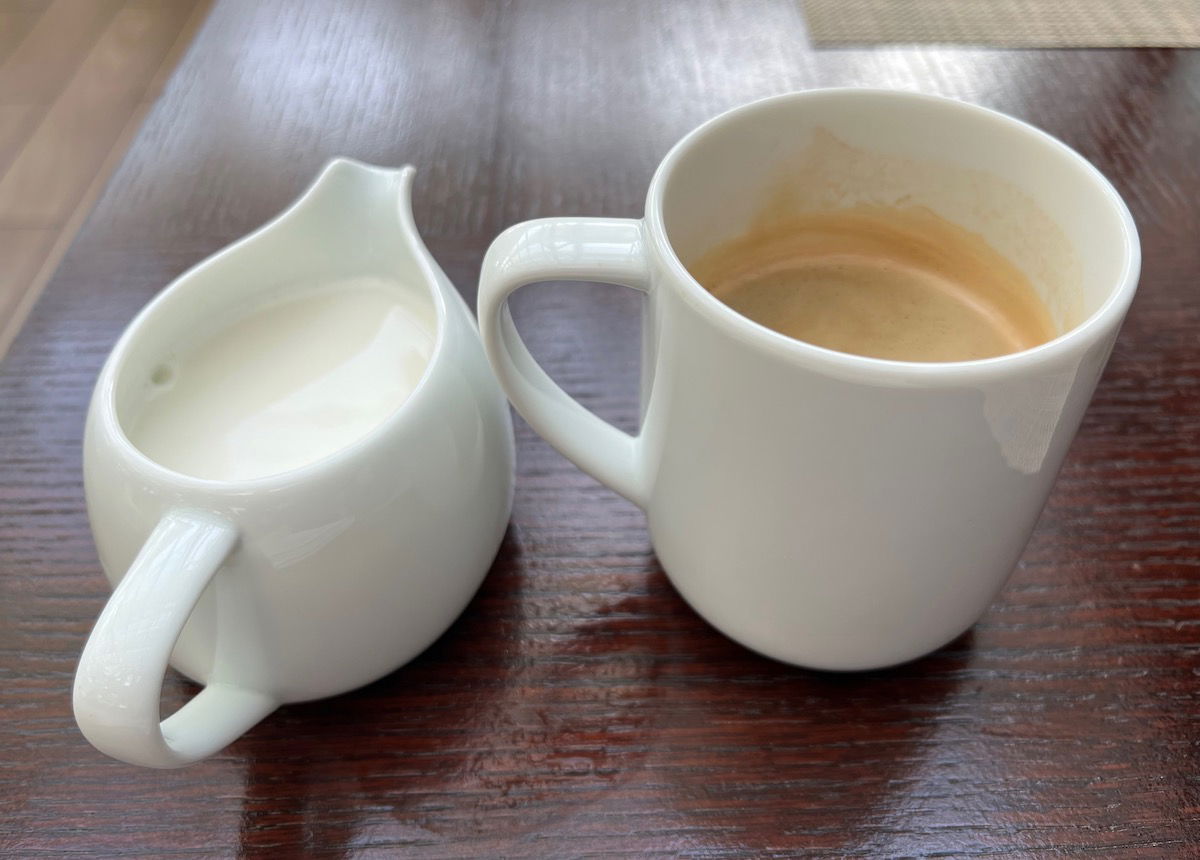 I wasn't the least bit hungry after gorging myself while flying, so I just had a cup of coffee and some fruit.
Hyatt Regency Oryx Doha Regency Club
The Hyatt Regency Oryx Doha has a Regency Club, also located on the first floor. The Regency Club isn't currently open for breakfast (which is a good thing, since you can instead enjoy the restaurant breakfast), but is open throughout the day, and in the evenings offers a happy hour. Since we arrived so late and left before the happy hour, I never got to see what the selection was like.
However, the club was pretty nicely appointed, though a bit on the small side (I have no sense of how many people have access to this club, though).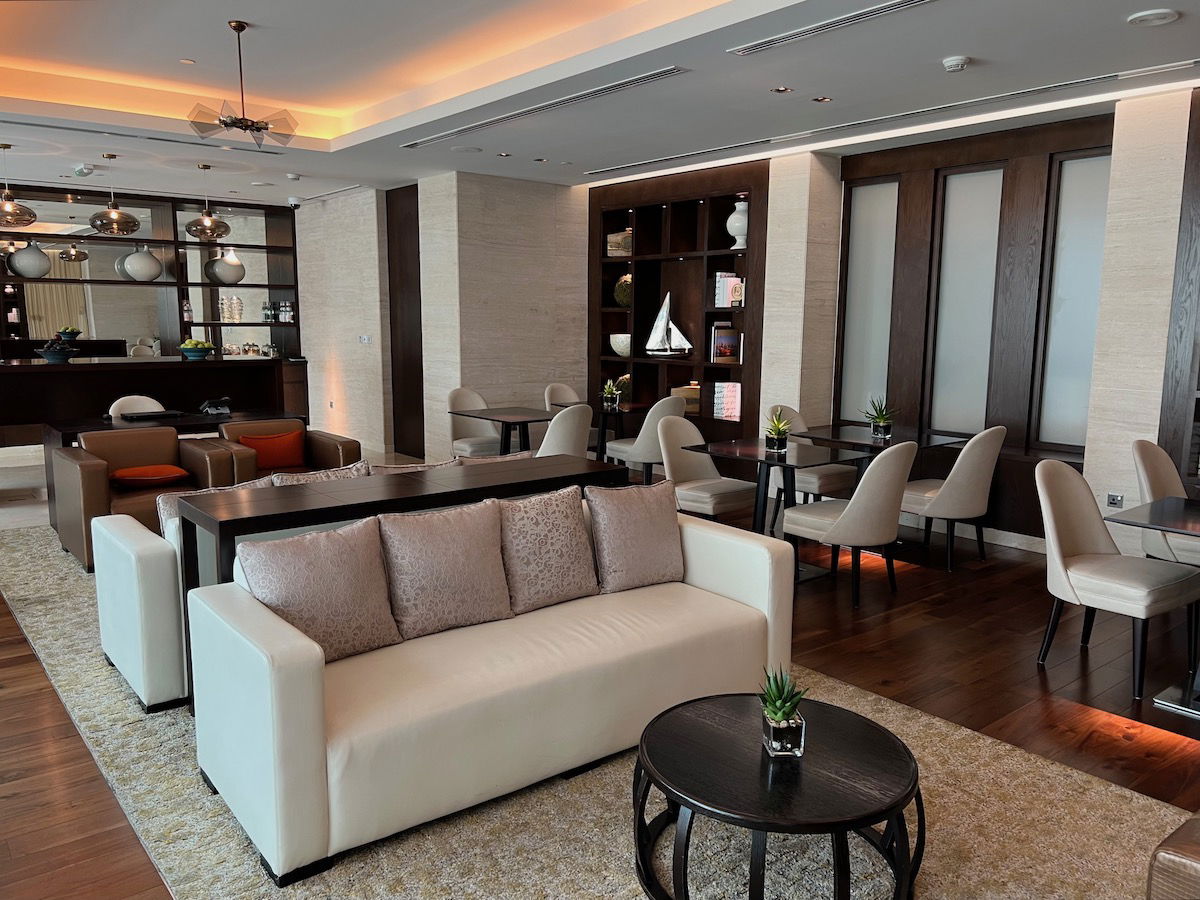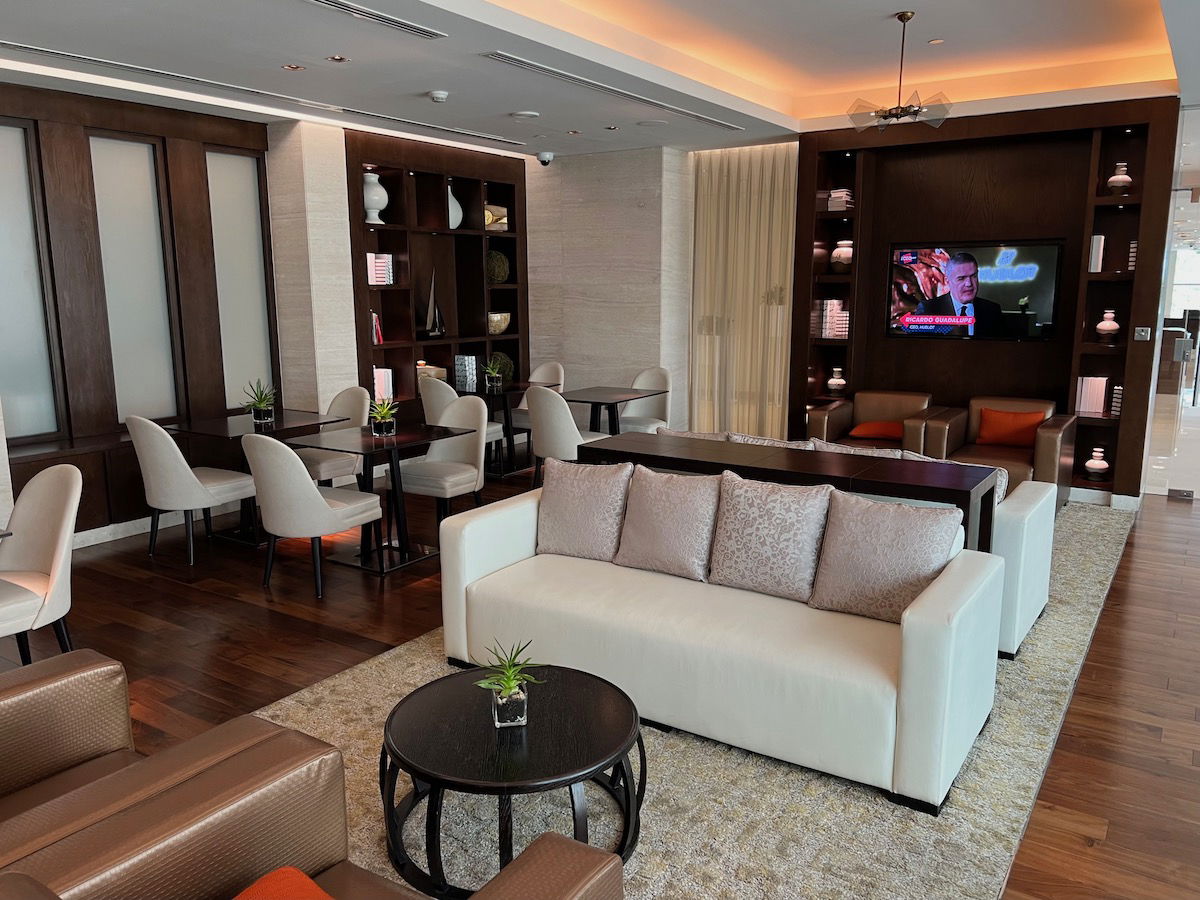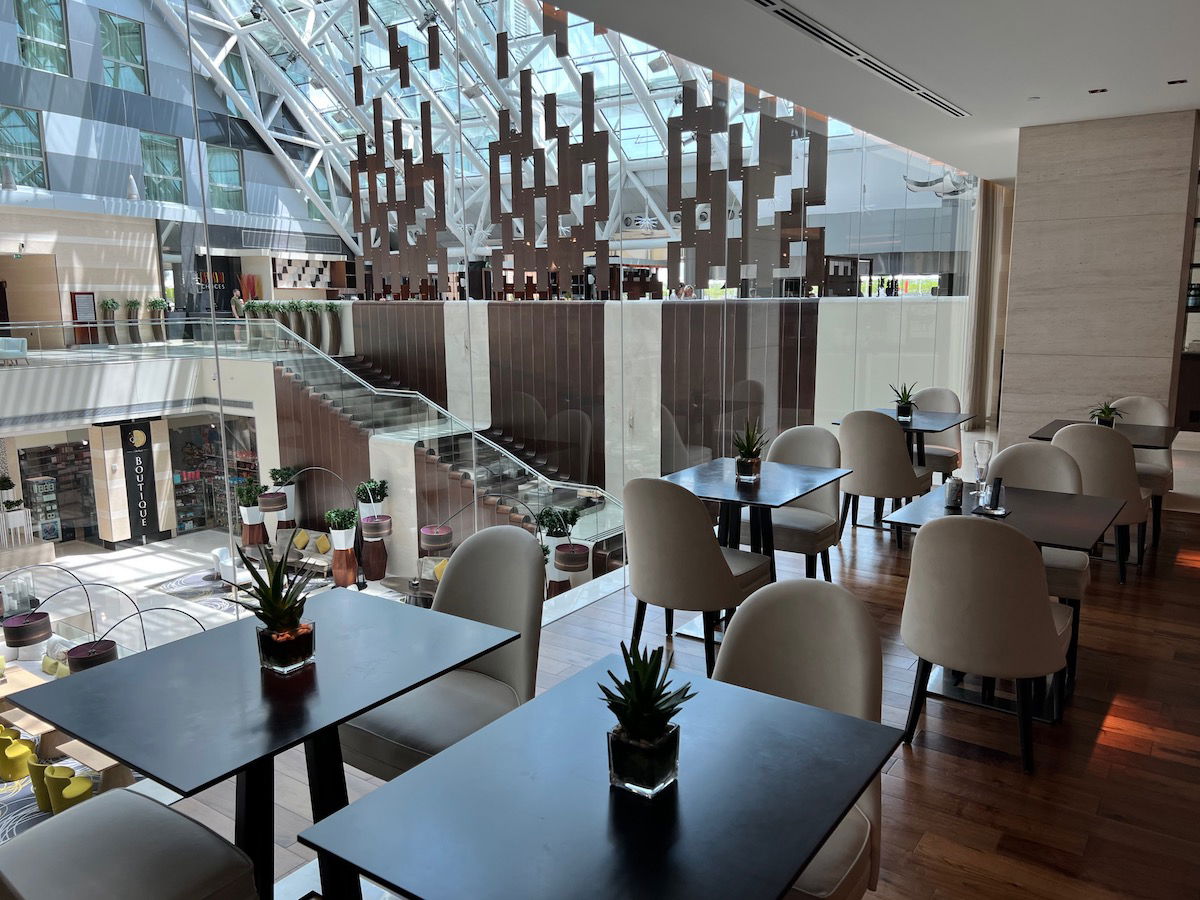 When I visited, the selection just included water, soft drinks, juice, coffee, tea, and some sweets.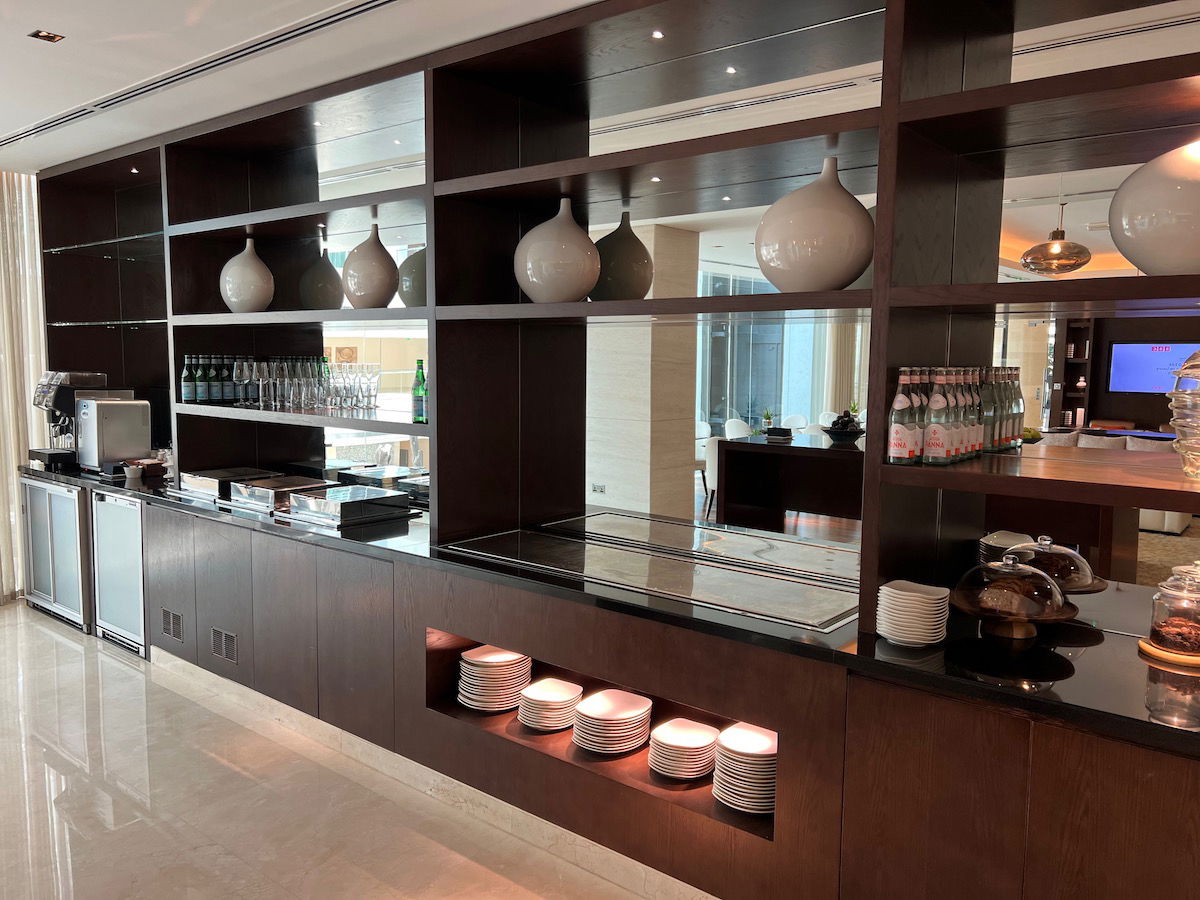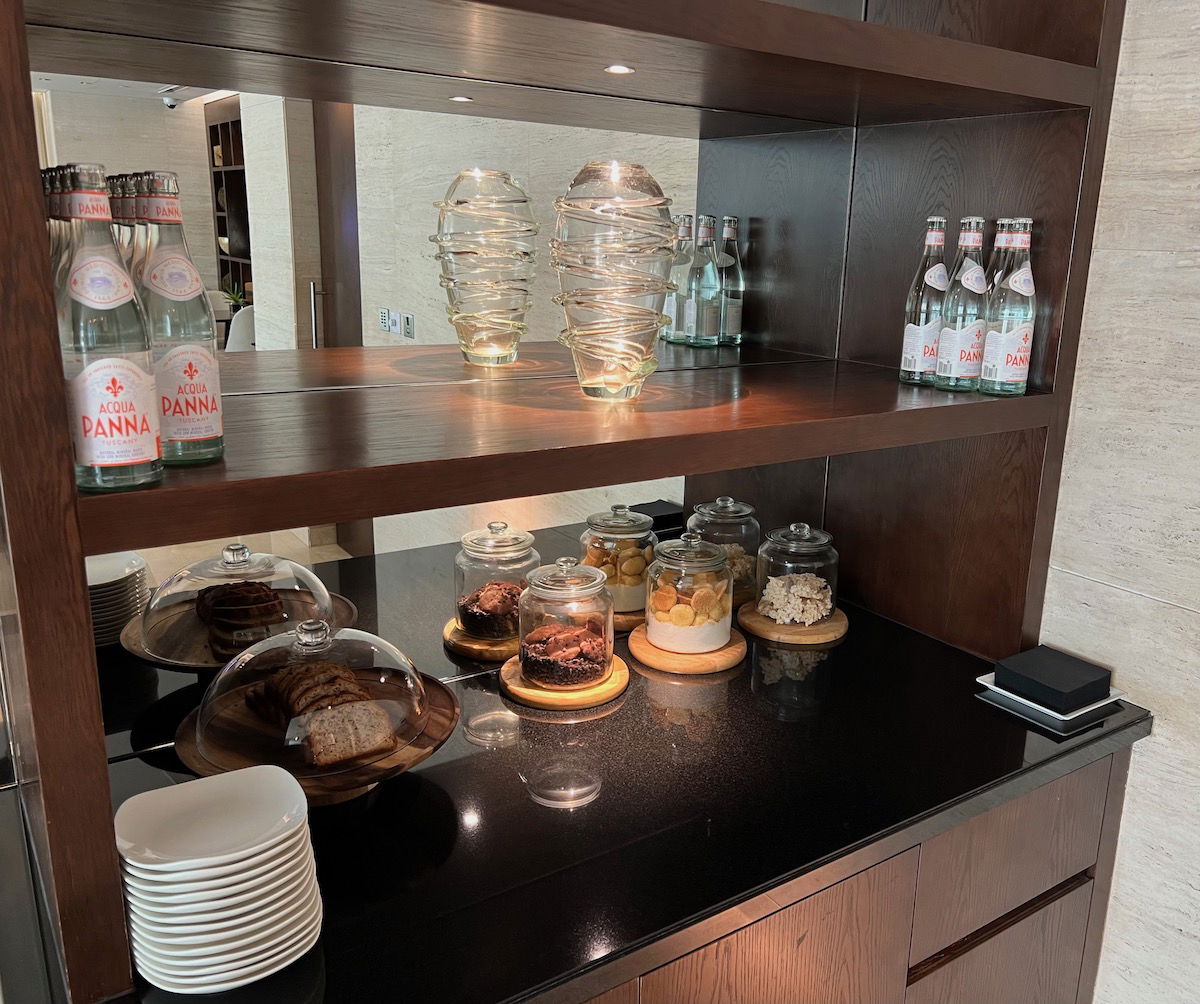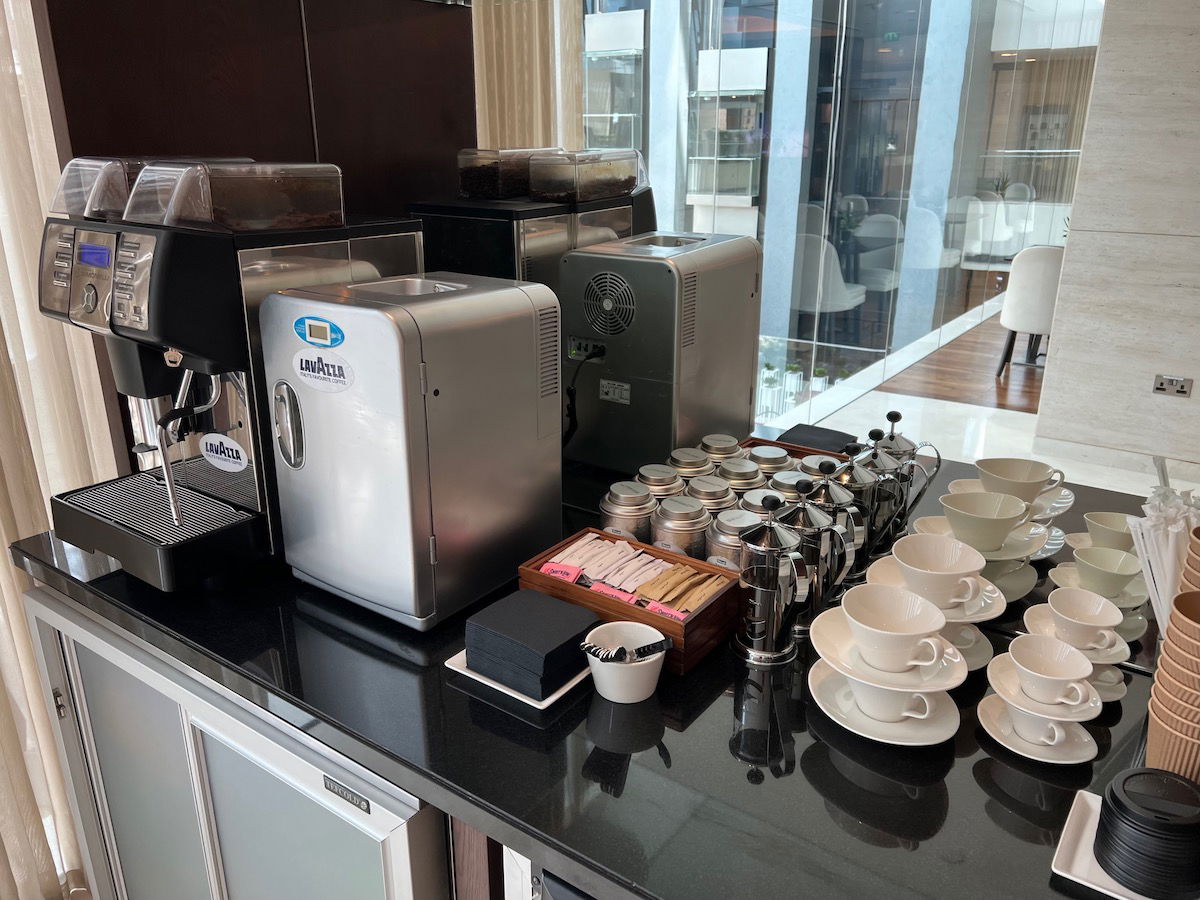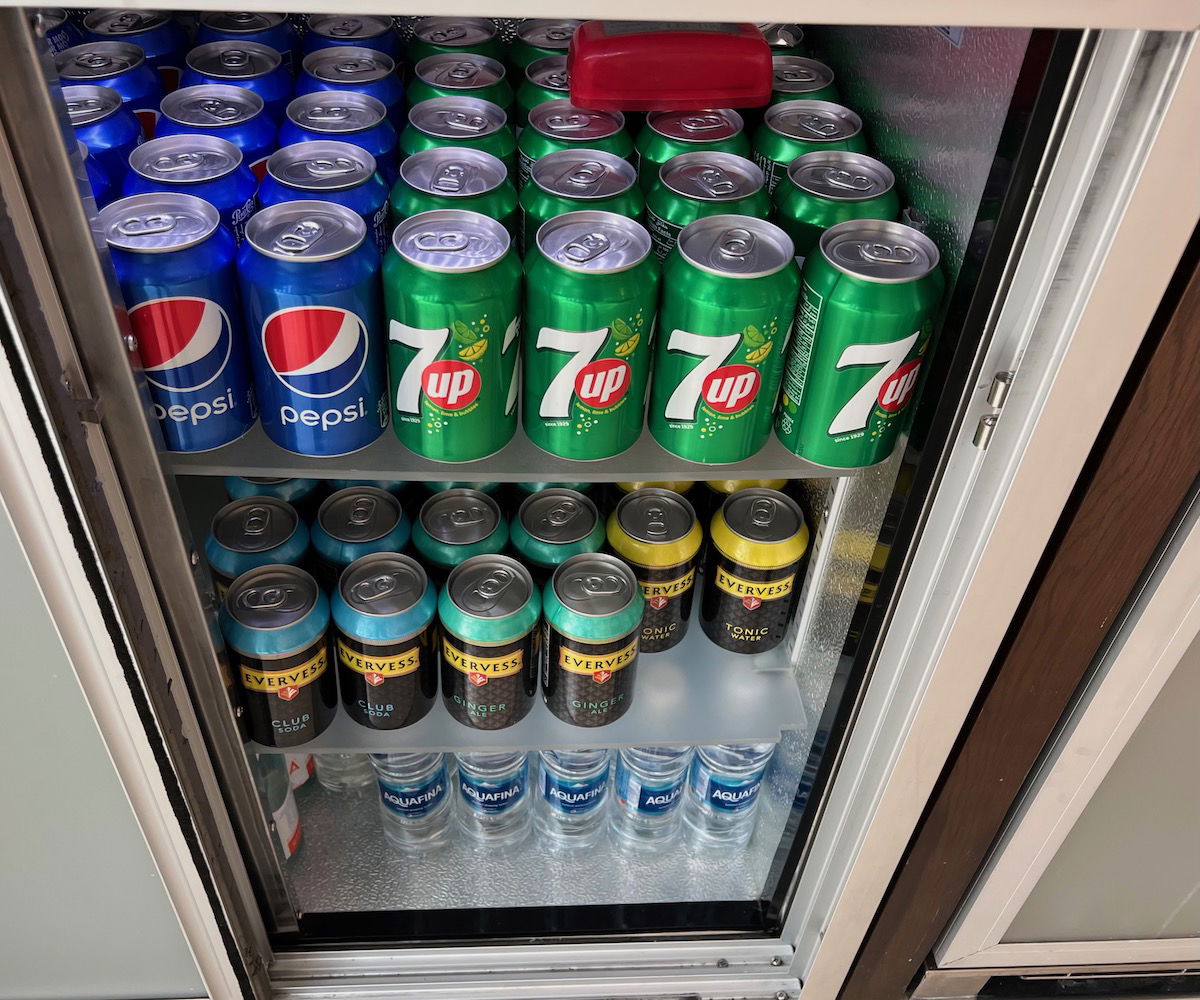 Hyatt Regency Oryx Doha pool & gym
The Hyatt Regency Oryx Doha has Club Olympus, which is the fitness, pool, and spa area. This is also located on the first floor.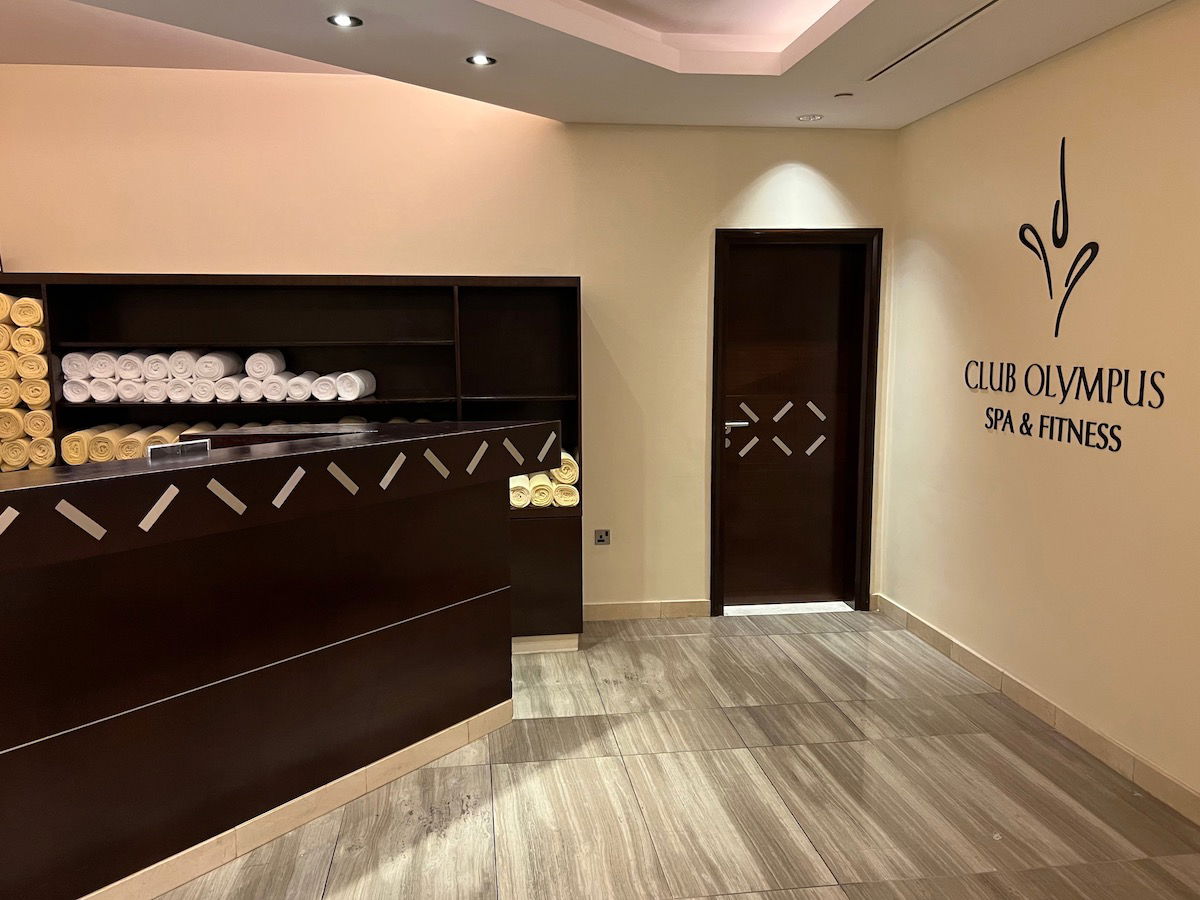 The hotel has a massive gym, with a solid selection of cardio and weight equipment. The gym can be accessed by guests 24/7.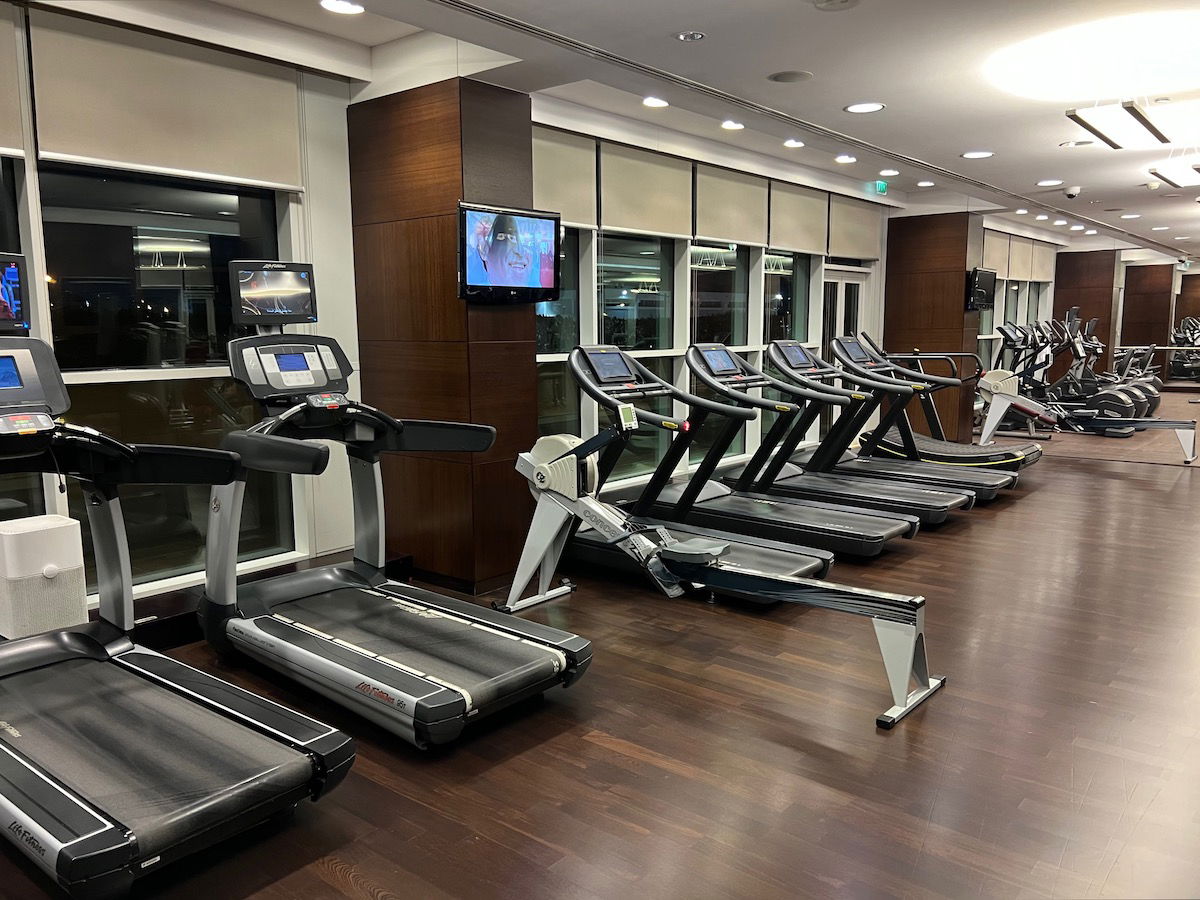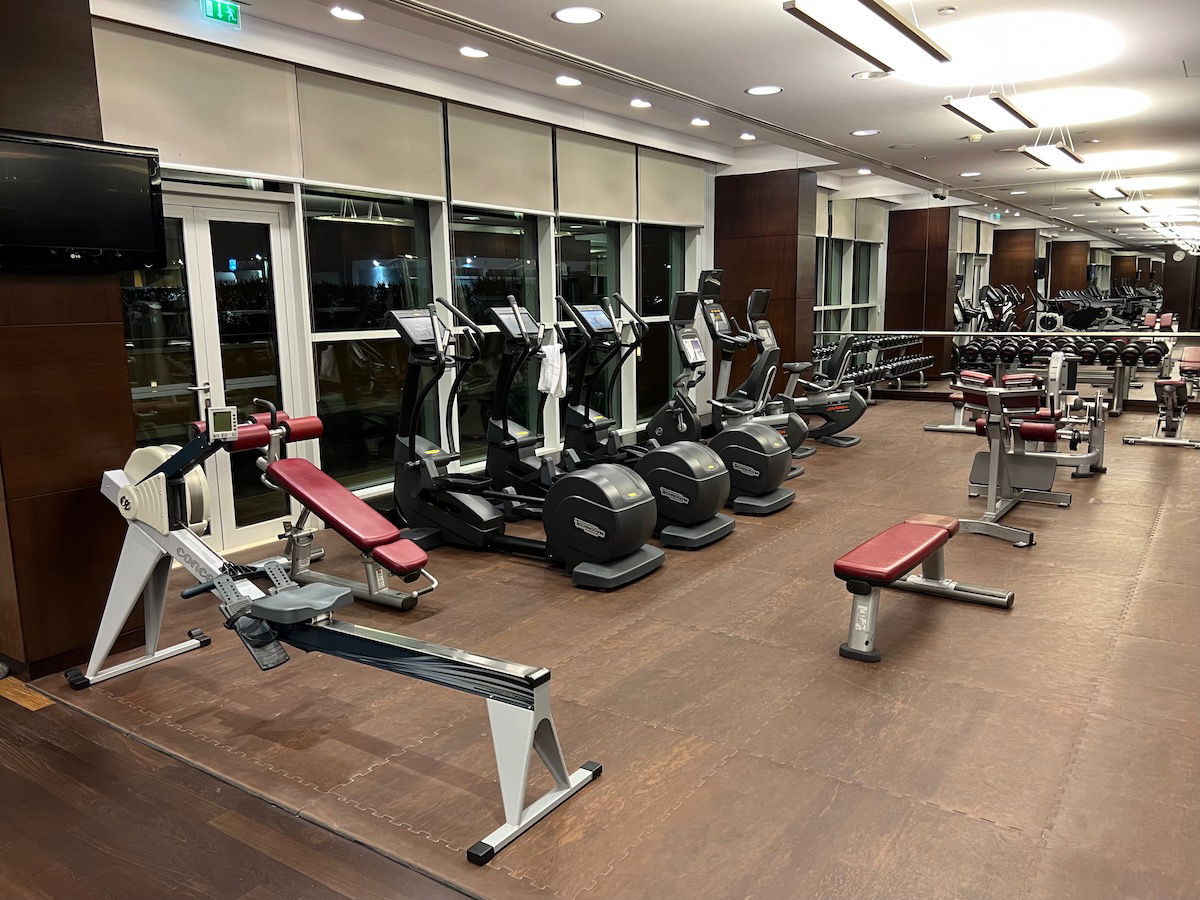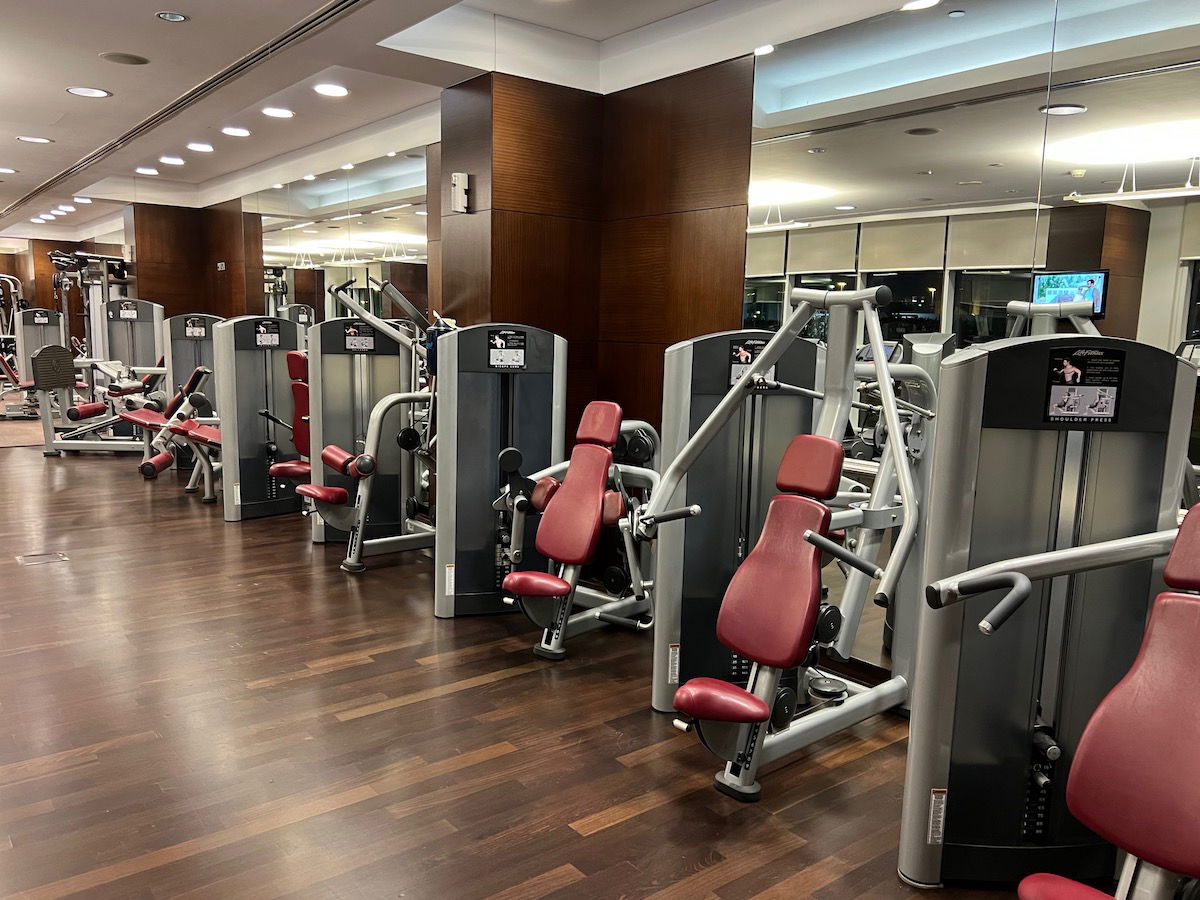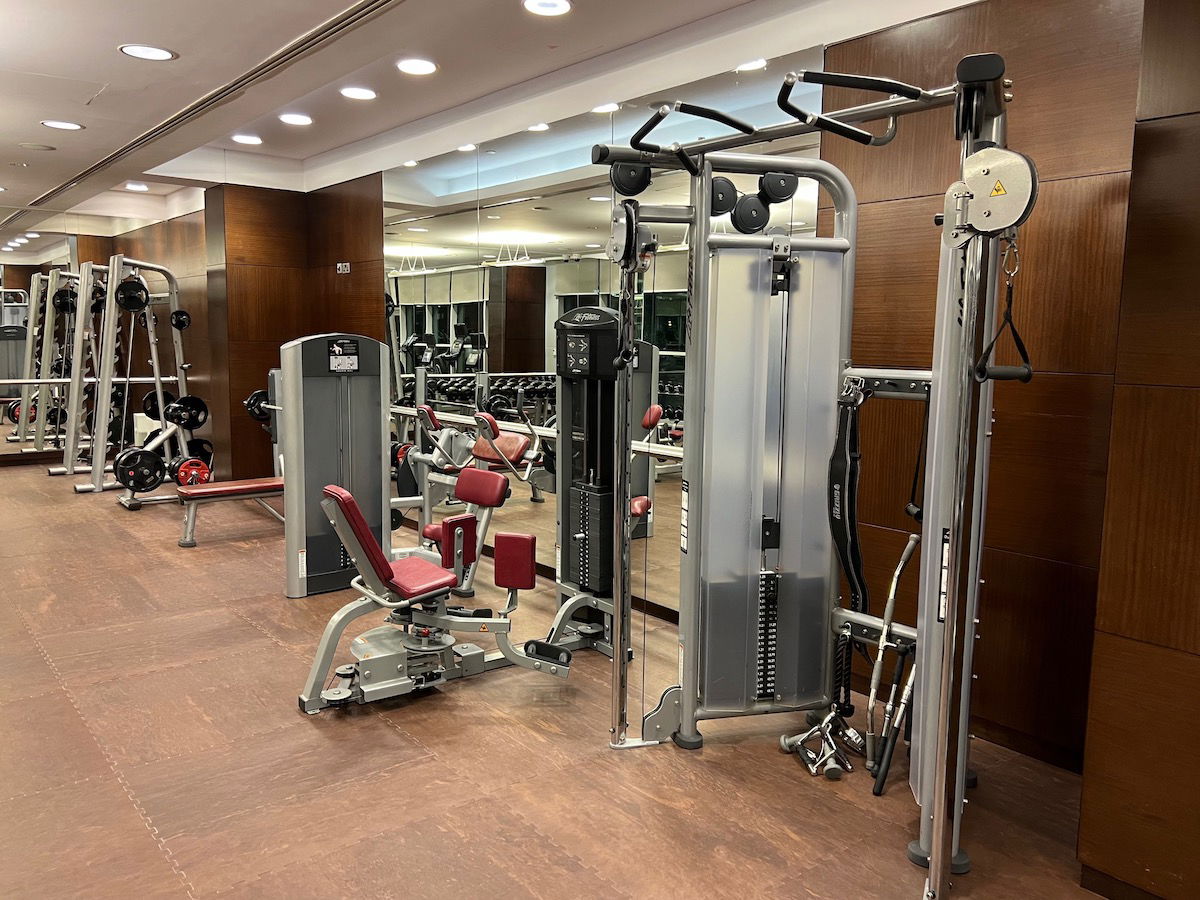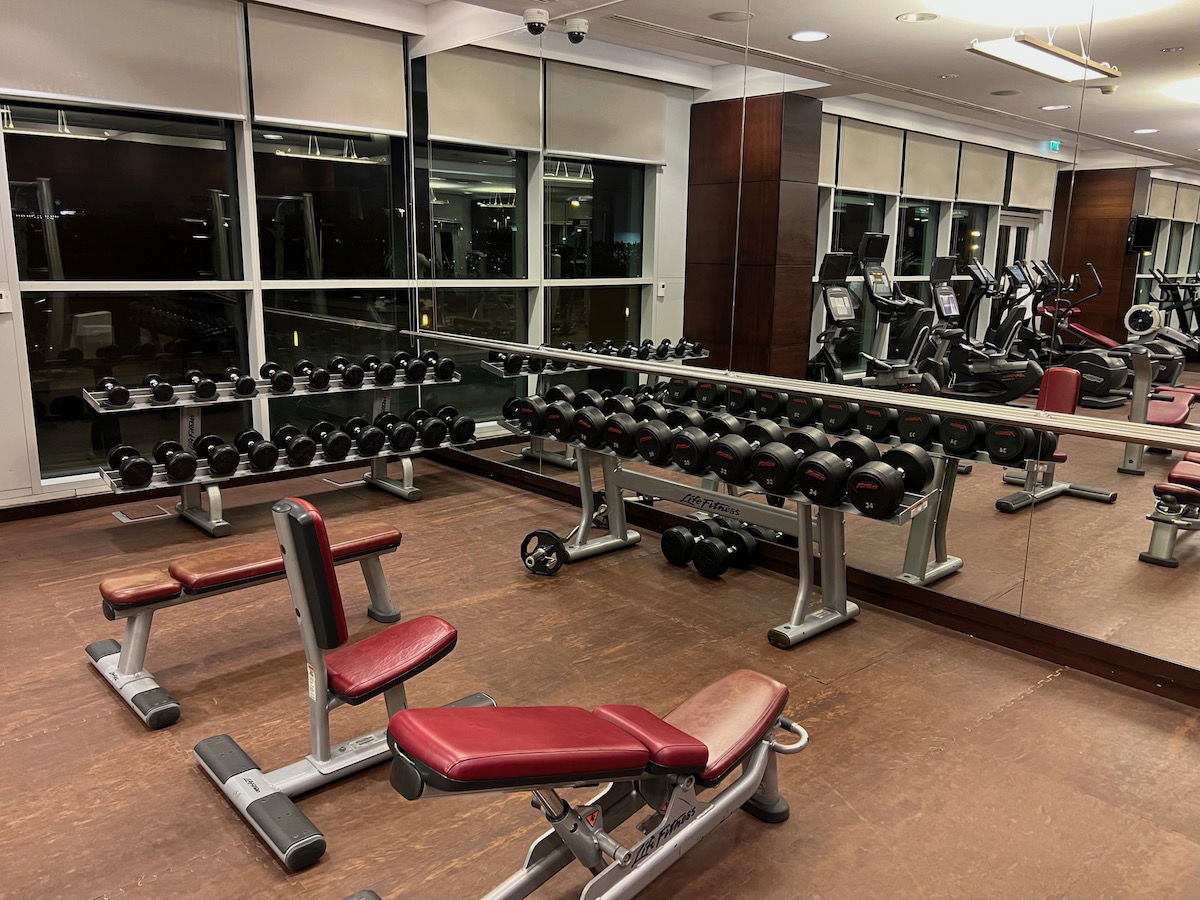 The hotel also has a large but otherwise pretty unremarkable pool, which is open daily from 6AM until 10PM.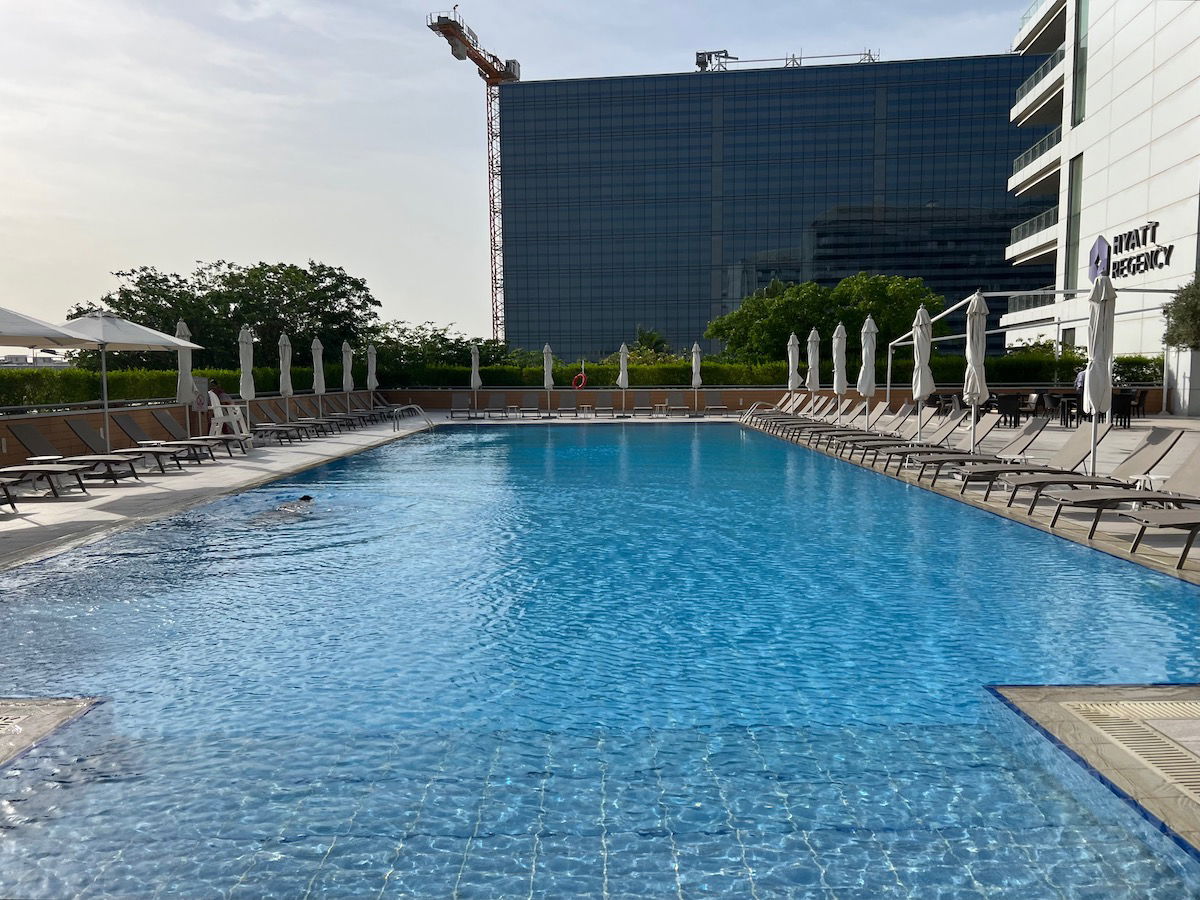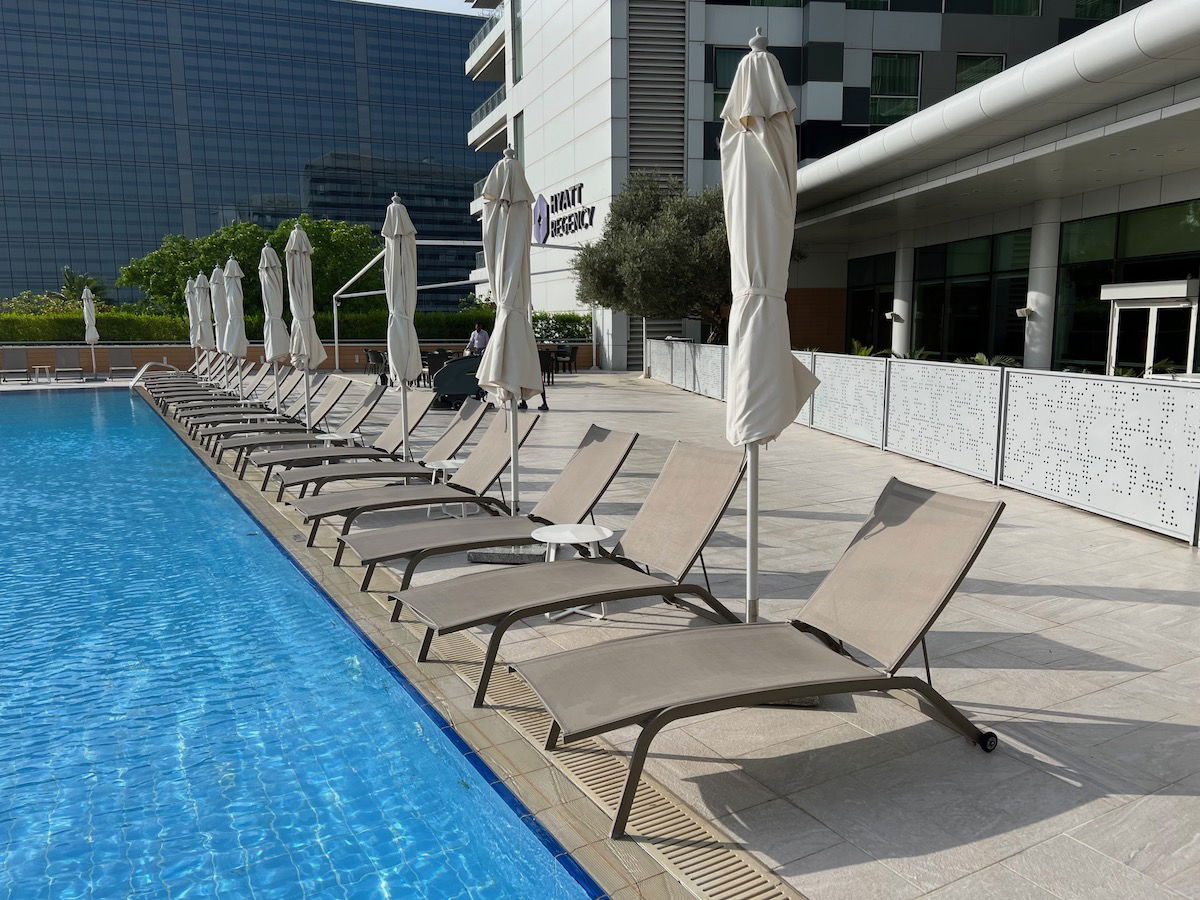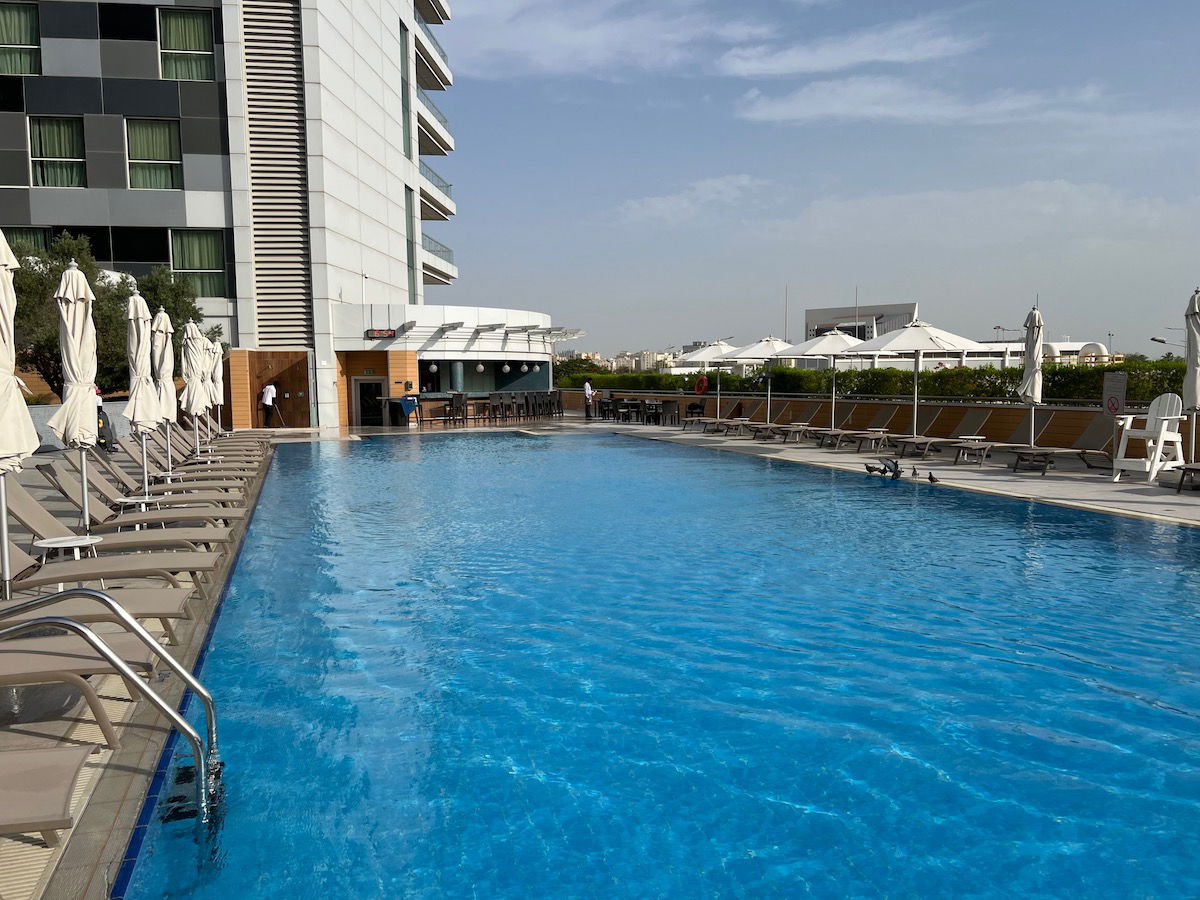 Hyatt Regency Oryx Doha restaurants & lounges
Hotels in the Middle East tend to have lots of food & beverage outlets, and the Hyatt Regency is no exception. Given our short stay, we only had breakfast at Choices, but I've heard good things about the other outlets as well.
The Hyatt Regency has half a dozen outlets, ranging from Choices (the all-day dining restaurant), to The Cellar (a Spanish restaurant), to Al Nafourah Garden (a Lebanese restaurant), to Jazz Club (you guessed it — a jazz club), to Sky Lounge (the atrium cafe), to Splash (the poolside restaurant).
These outlets aren't just popular with hotel guests, but also with business people in the area (and I imagine even quite a few people from Qatar Airways, given the location).
Bottom line
The Hyatt Regency Oryx Doha is a solid option for Hyatt loyalists. The hotel is a great value, and is fairly close to the airport, while still not being far from the city. The hotel has great Globalist recognition, an excellent breakfast, several food and beverage outlets, and an impressive gym.
If you're looking for a reasonably priced place to stay in Doha near the airport, I'd absolutely consider this hotel, especially if you just have an extended transit, and want some rest while also checking out some of Doha's attractions.
At the same time, the hotel is a bit outdated, and the immediate area around the hotel isn't very exciting. Doha has so many luxury hotels in the $200-300 price range, so if you can swing it, I think those could be worth the premium.
What's your take on the Hyatt Regency Oryx Doha?