For the last portion of my round the world trip with dad, we flew Qantas' Airbus A380 first class from Sydney to Los Angeles. Prior to our flight, we spent several hours in the Qantas First Lounge Sydney, which I'll be reviewing in this installment
The Qantas First Lounge Sydney is spectacular — it has fun decor, gorgeous views with lots of natural light, delicious food and drinks, and even a spa with complimentary treatments. This is among my favorite first class lounges in the world, and also one of the best oneworld Emerald lounges in the world.
Qantas First Lounge Sydney location
Even though our flight from Sydney to Los Angeles only departed at 10:20AM, we got to the airport way early (at around 4:30AM), as I always prefer to review lounges right when they open. We had checked in online, as the first class check-in area was still closed at the time. However, Qantas does have a nice dedicated first class facility, which you can see below.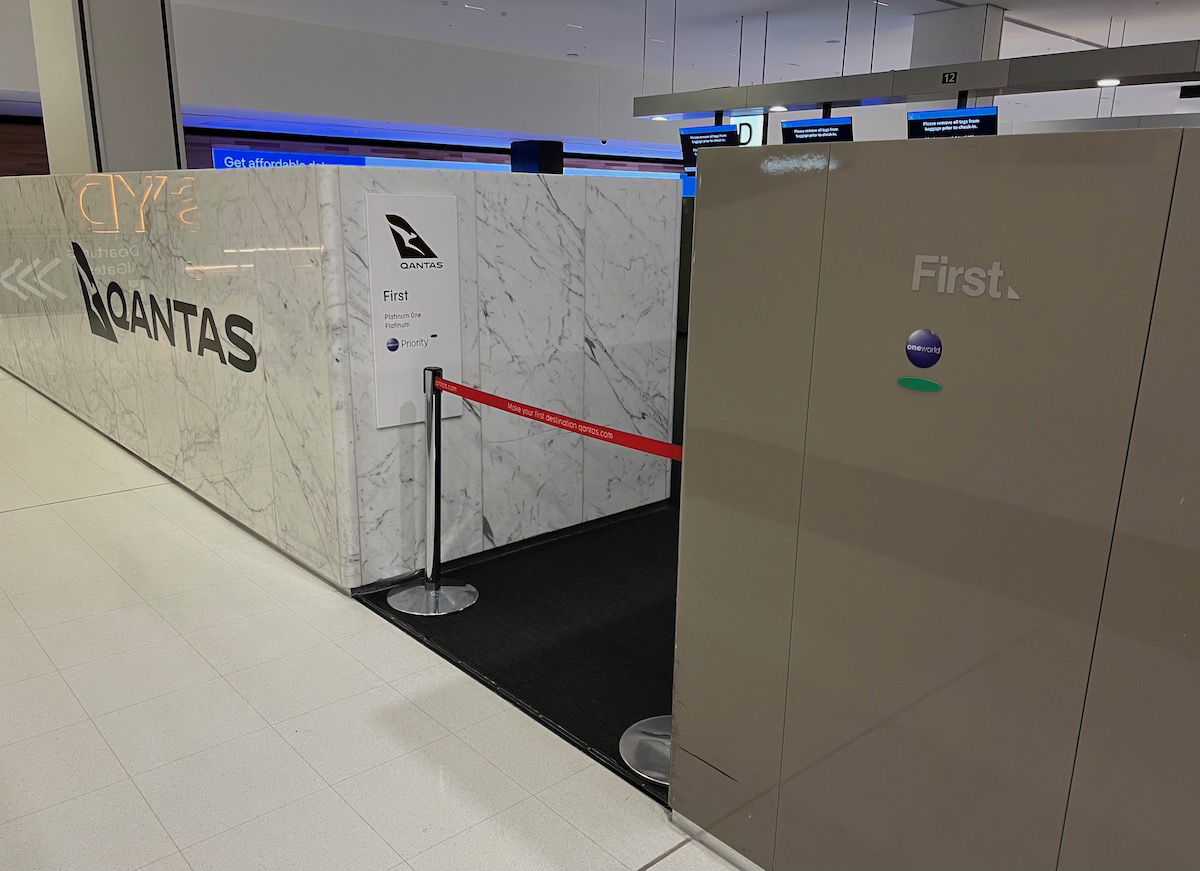 We cleared security through the first and business class lane, and then followed the signage in the direction of lounges.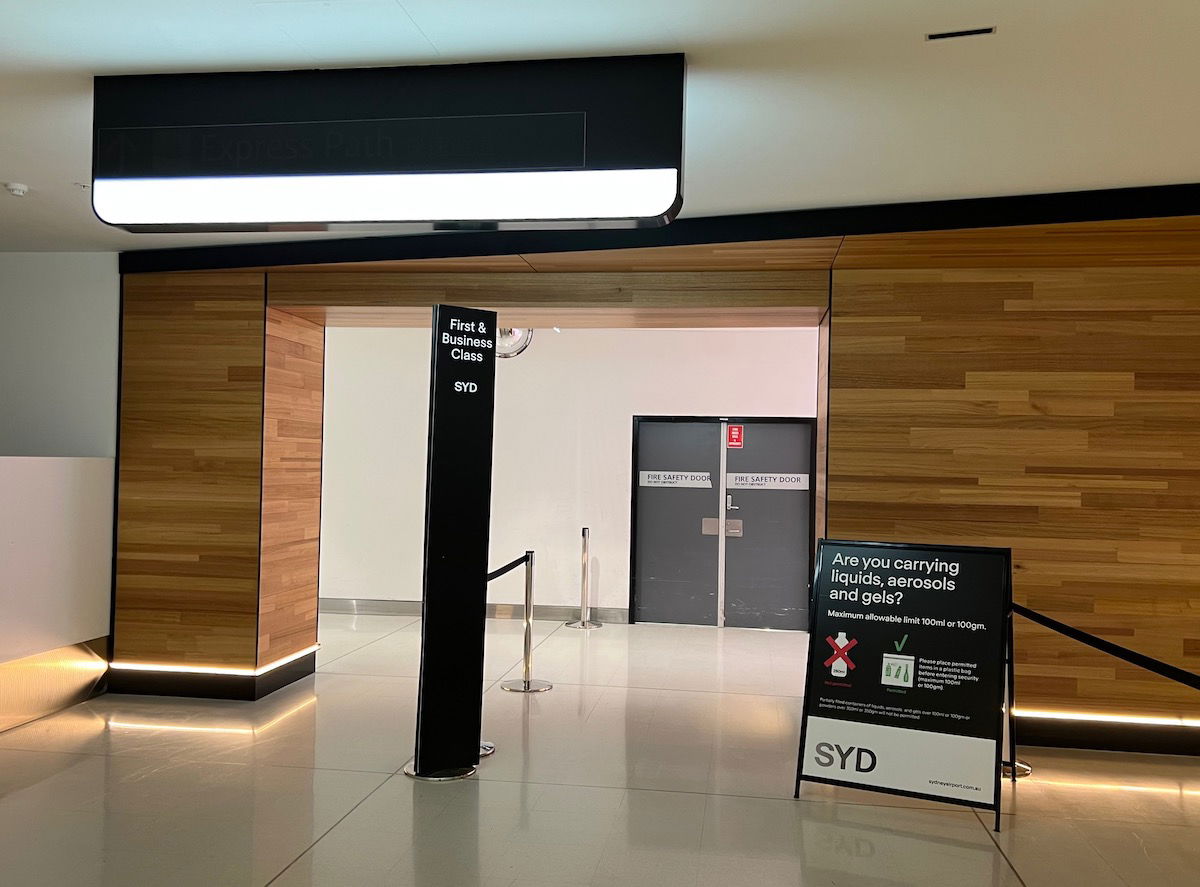 Once you walk past many of the duty free shops, you'll see the escalator leading up to Qantas' lounges (both for first and business class passengers), just near the sign pointing in the direction of gates 8-10.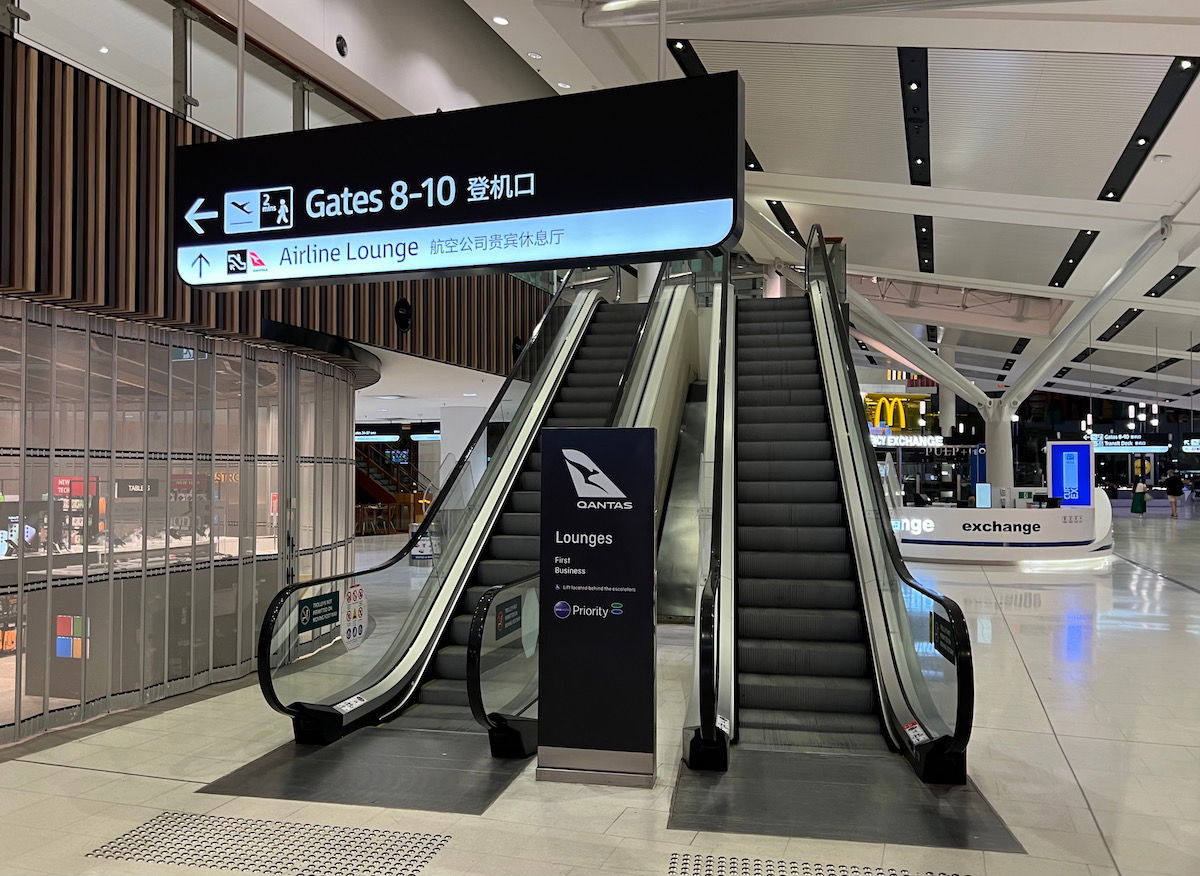 At the top of the escalator is the entrance to the Qantas First Lounge.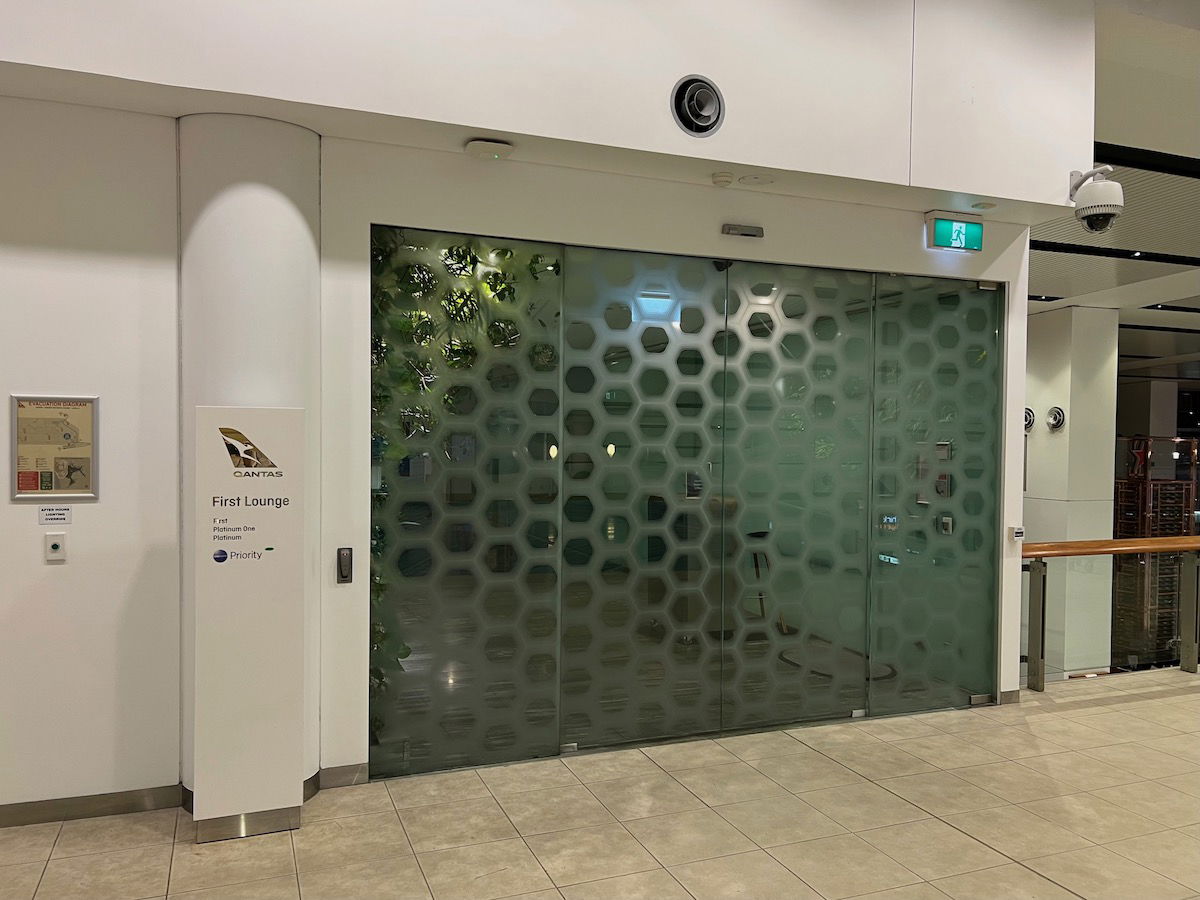 There's someone at the door who scans you in, and then you walk down a long hallway, and then take an escalator up yet another level, which is where the lounge is located.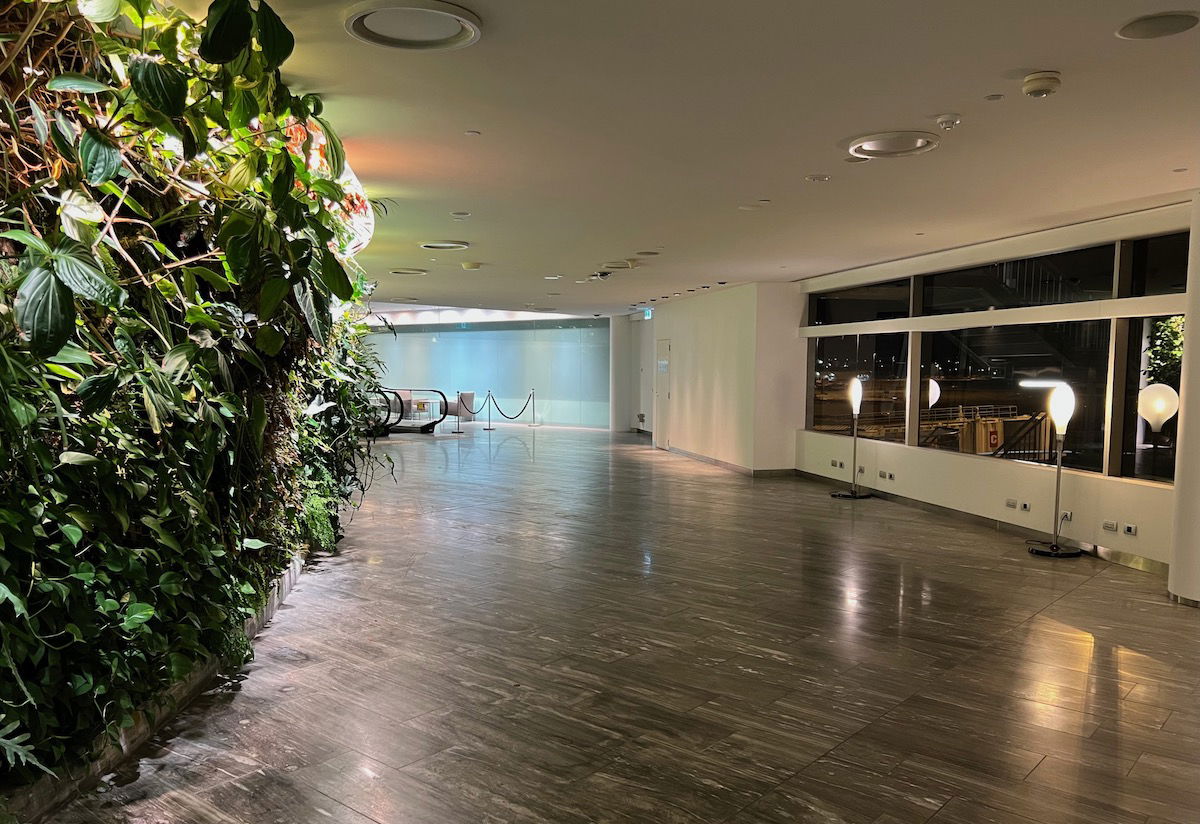 Qantas First Lounge Sydney hours
The Qantas First Lounge Sydney is currently open daily from 5AM until the last Qantas departure of the night. So if you're traveling on an eligible oneworld flight, you should find that this lounge is open.
Qantas First Lounge Sydney entry requirements
The Qantas First Lounge Sydney is a standard oneworld Emerald and oneworld first class lounge. In line with oneworld lounge access policies:
The lounge can be accessed by oneworld Emerald members traveling in any cabin on a oneworld flight
The lounge can be accessed by any same day oneworld international first class passenger, not only on Qantas, but also on airlines like American, British Airways, etc.
It's such a treat how oneworld Emerald members get access to Qantas' incredible selection of first class lounges, not only in Sydney, but also abroad, in places like Los Angeles and Singapore.
Qantas First Lounge Sydney layout & seating
The Qantas First Lounge Sydney is roughly 2,000 square meters (~21,500 square feet), so it's one of the bigger first class lounges out there. This isn't just your typical airport lounge that consists of one big rectangular room, but rather the lounge has a fun layout.
When you enter the lounge, you'll see the escalator, which is visually pretty cool, as you enter through a circular opening.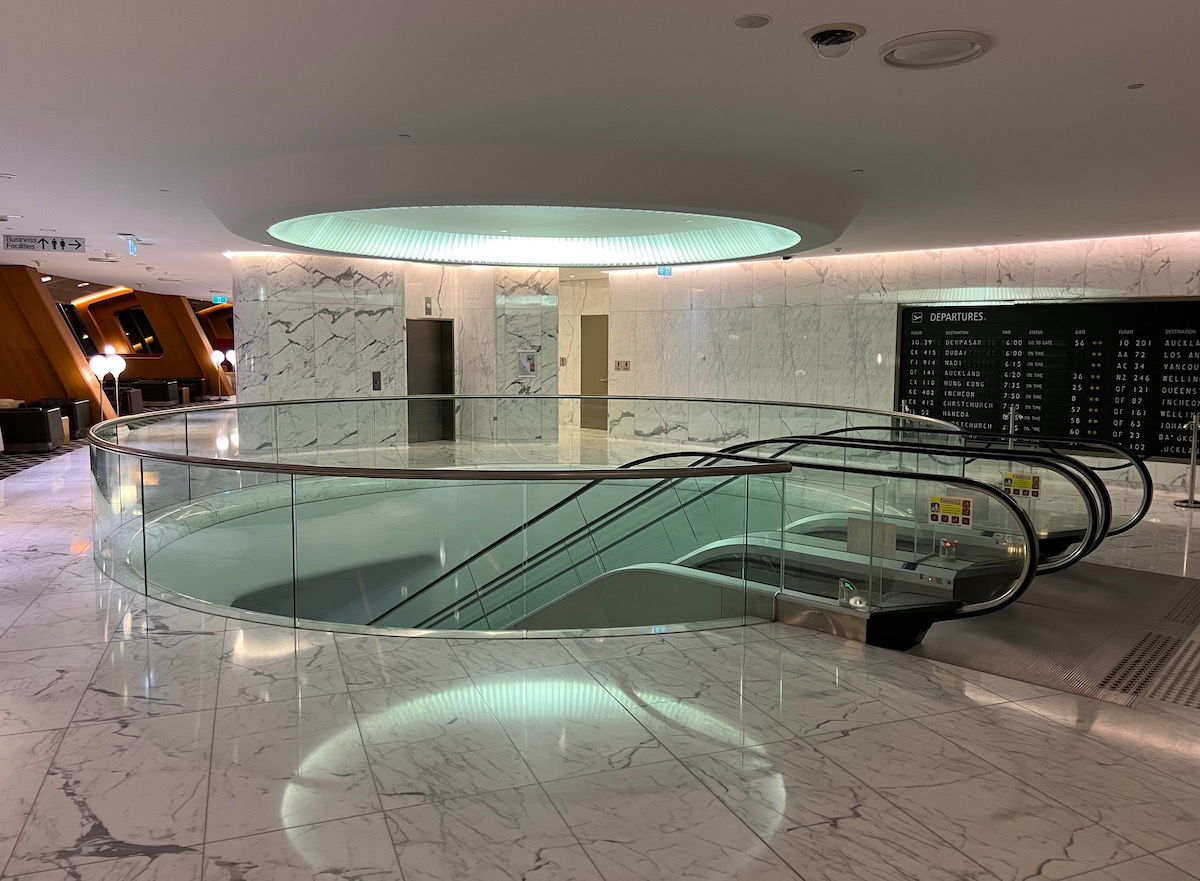 Also right near the entrance is a split flap departures board, which I love to see.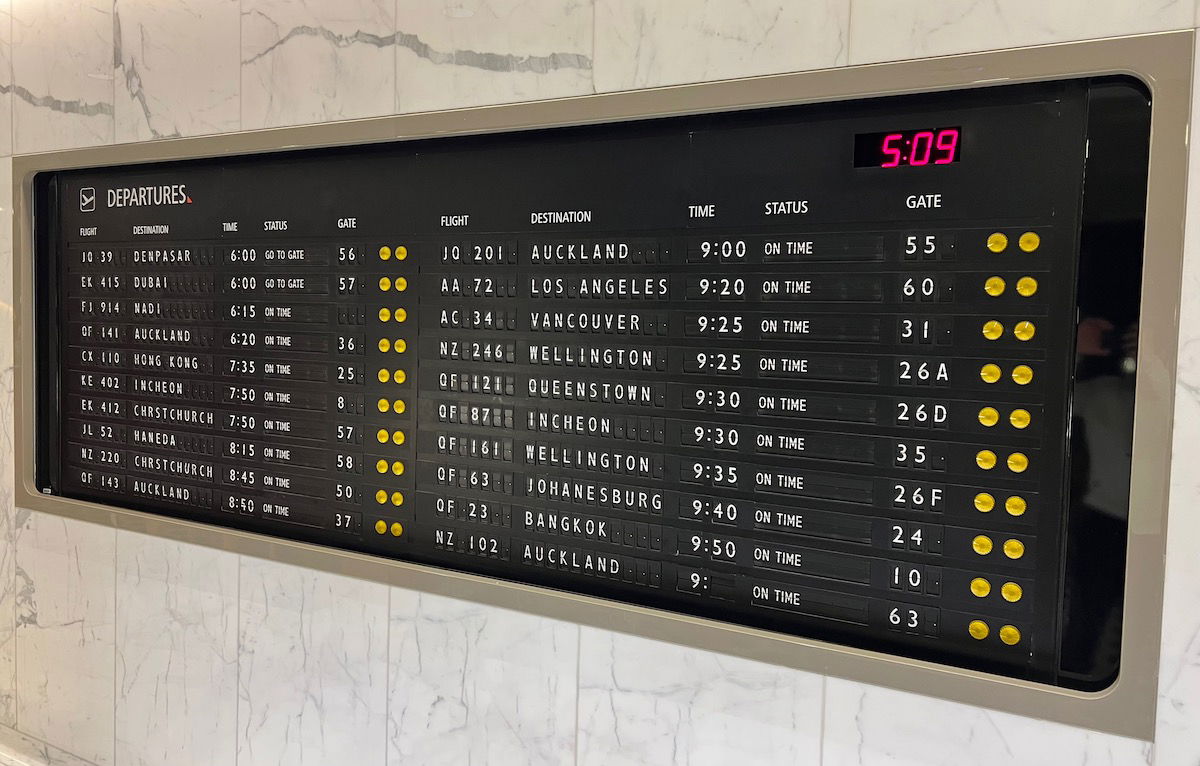 The entire lounge is then along one long hallway, which curves slightly. Once you're inside the lounge and facing the windows, you'll find that the dining area is to the left, while most of the area for relaxing is to the right (well, except for the spa).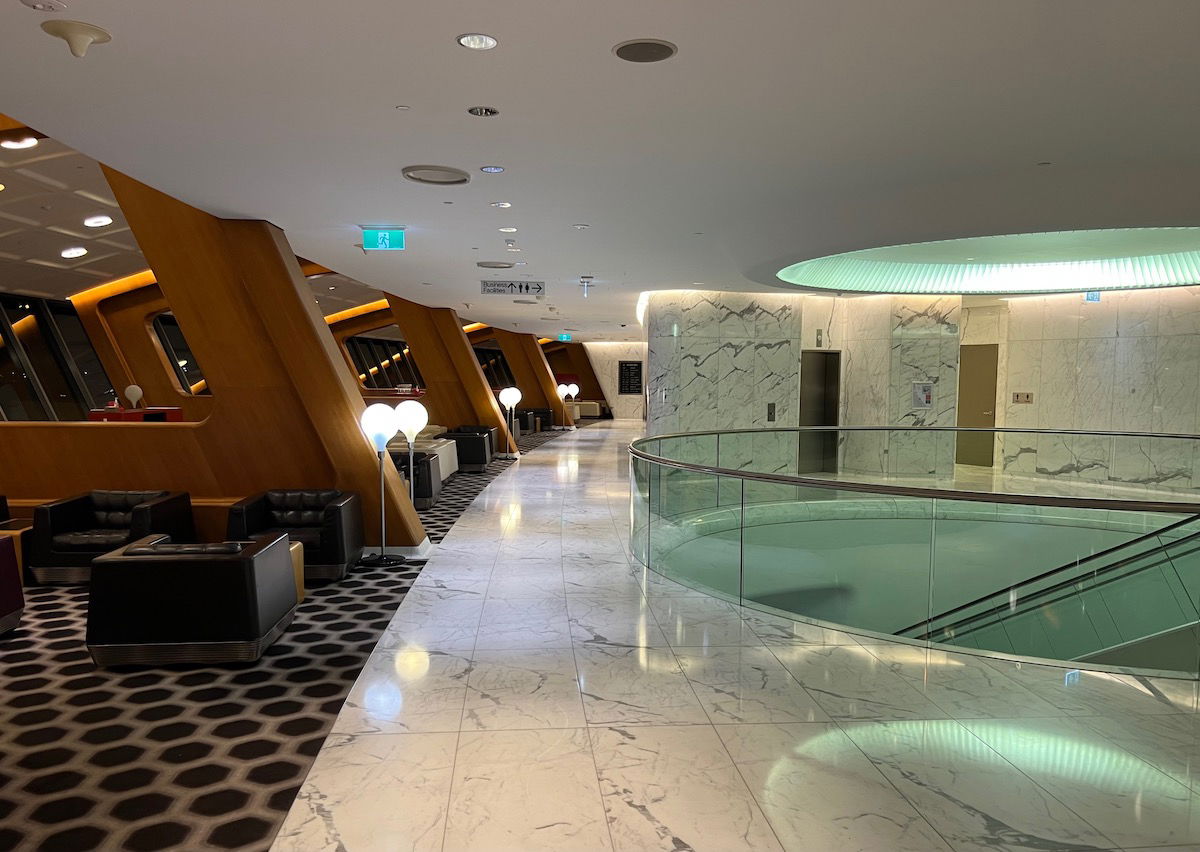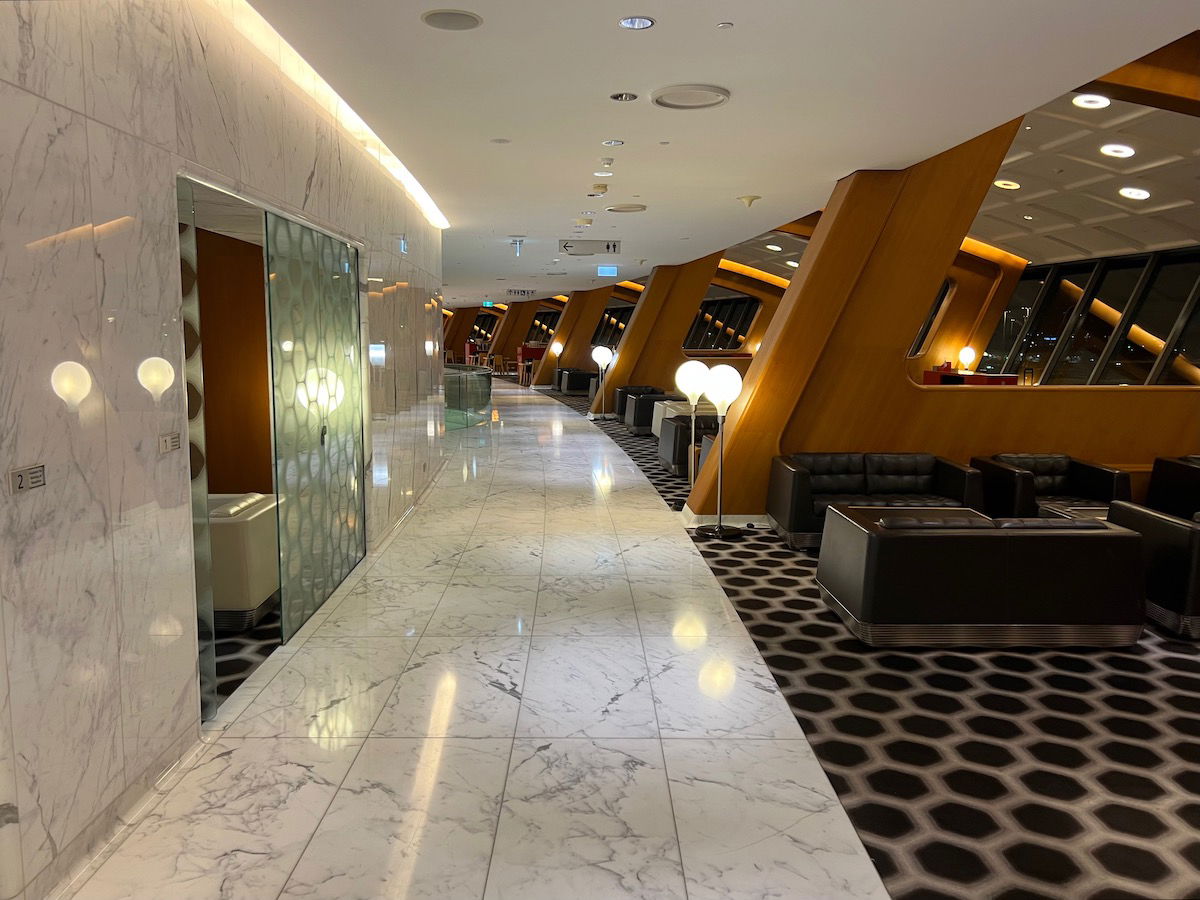 The area for relaxing is broken up into several different zones, each of which is separated by a big wooden beam, of sorts.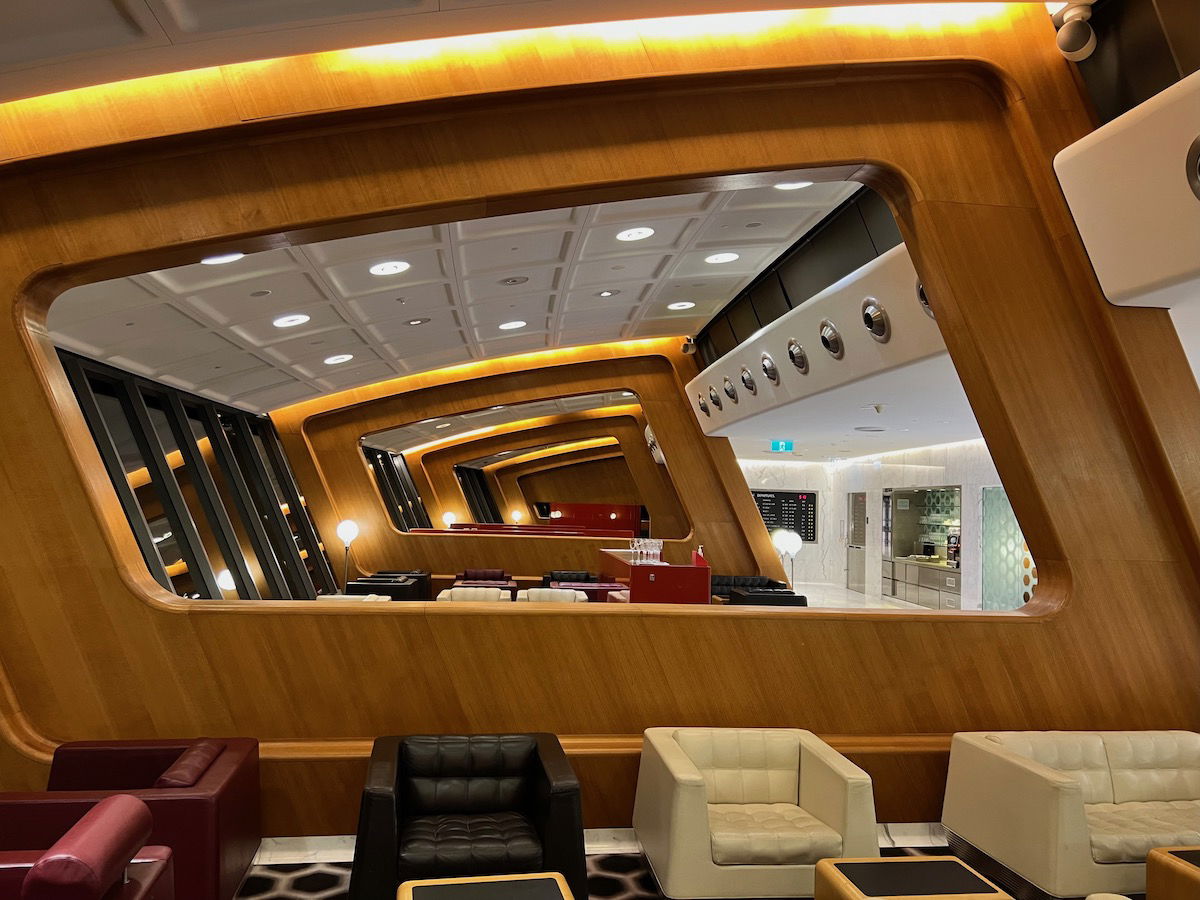 There are several areas with leather couches and chairs, in a variety of configurations.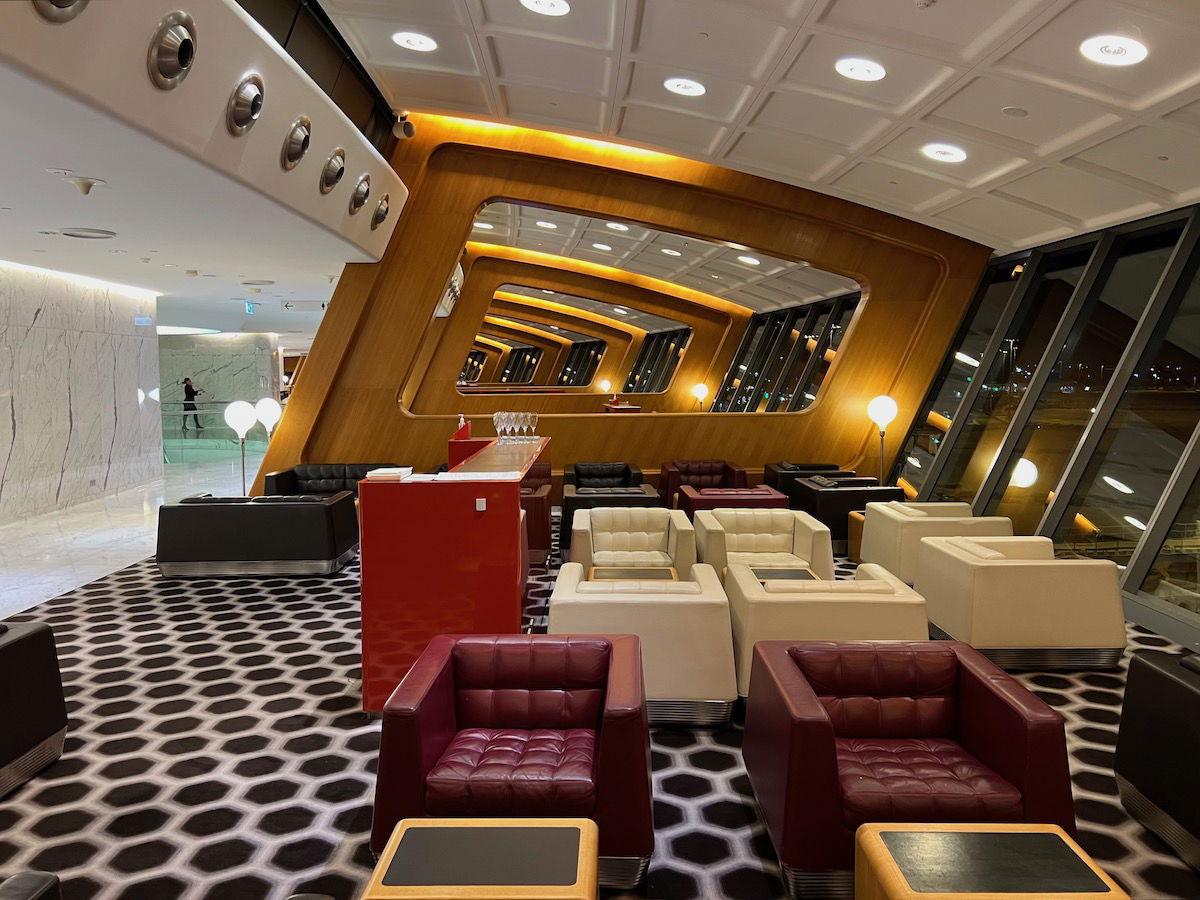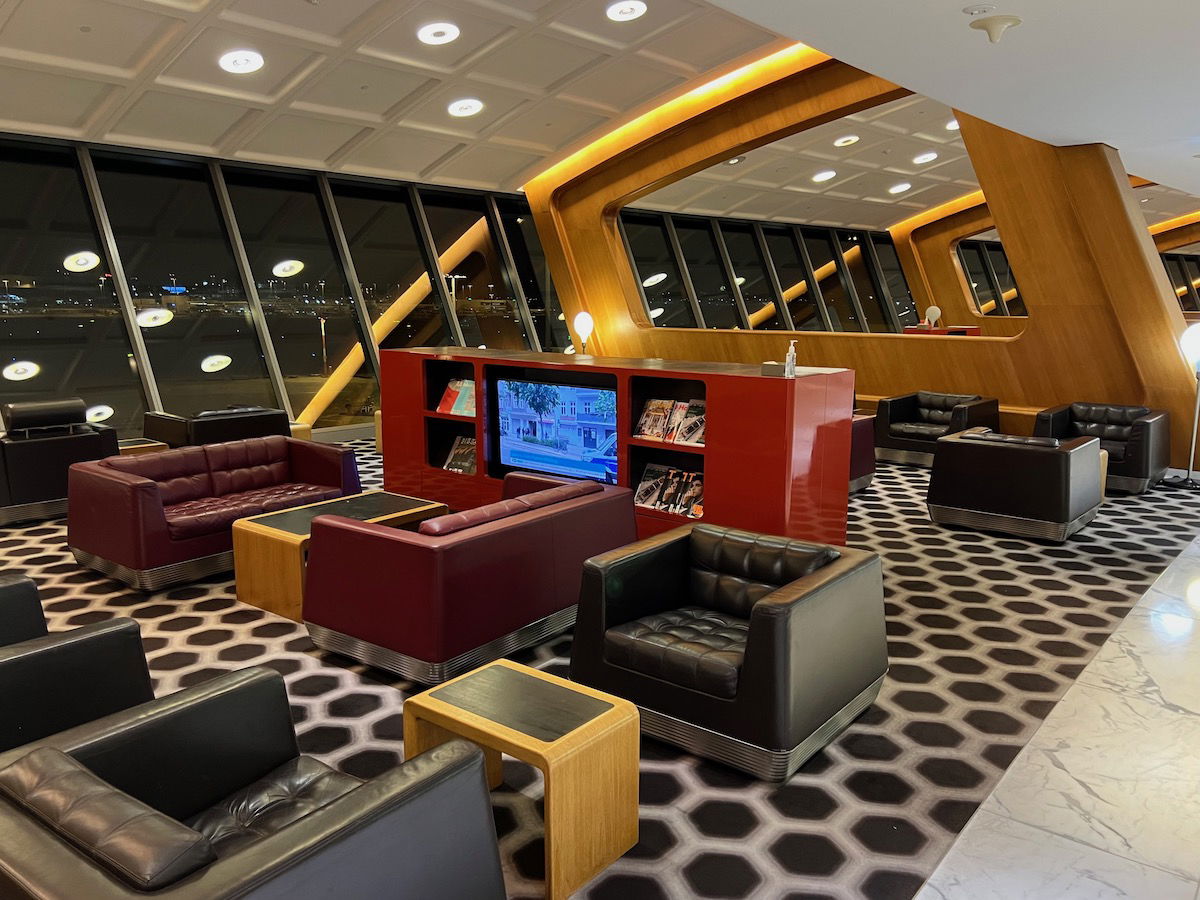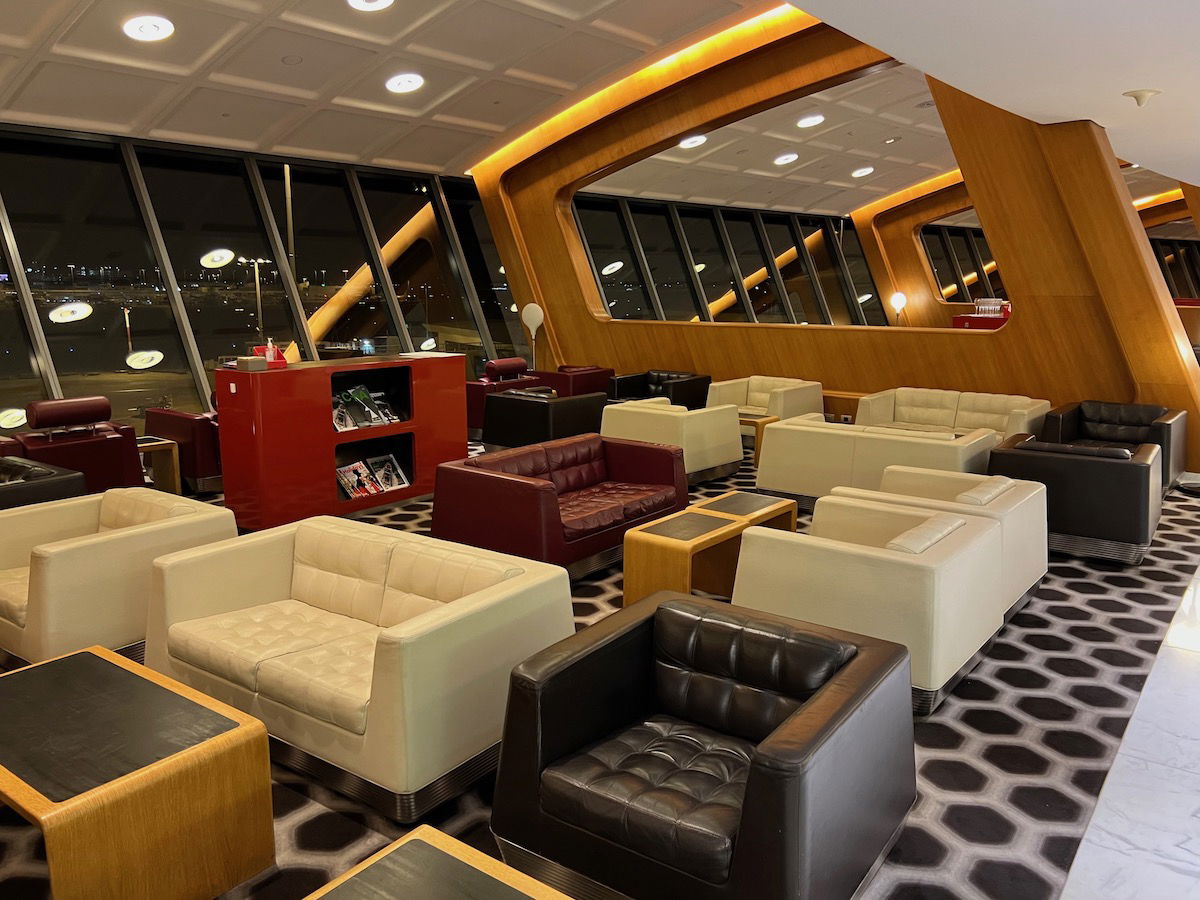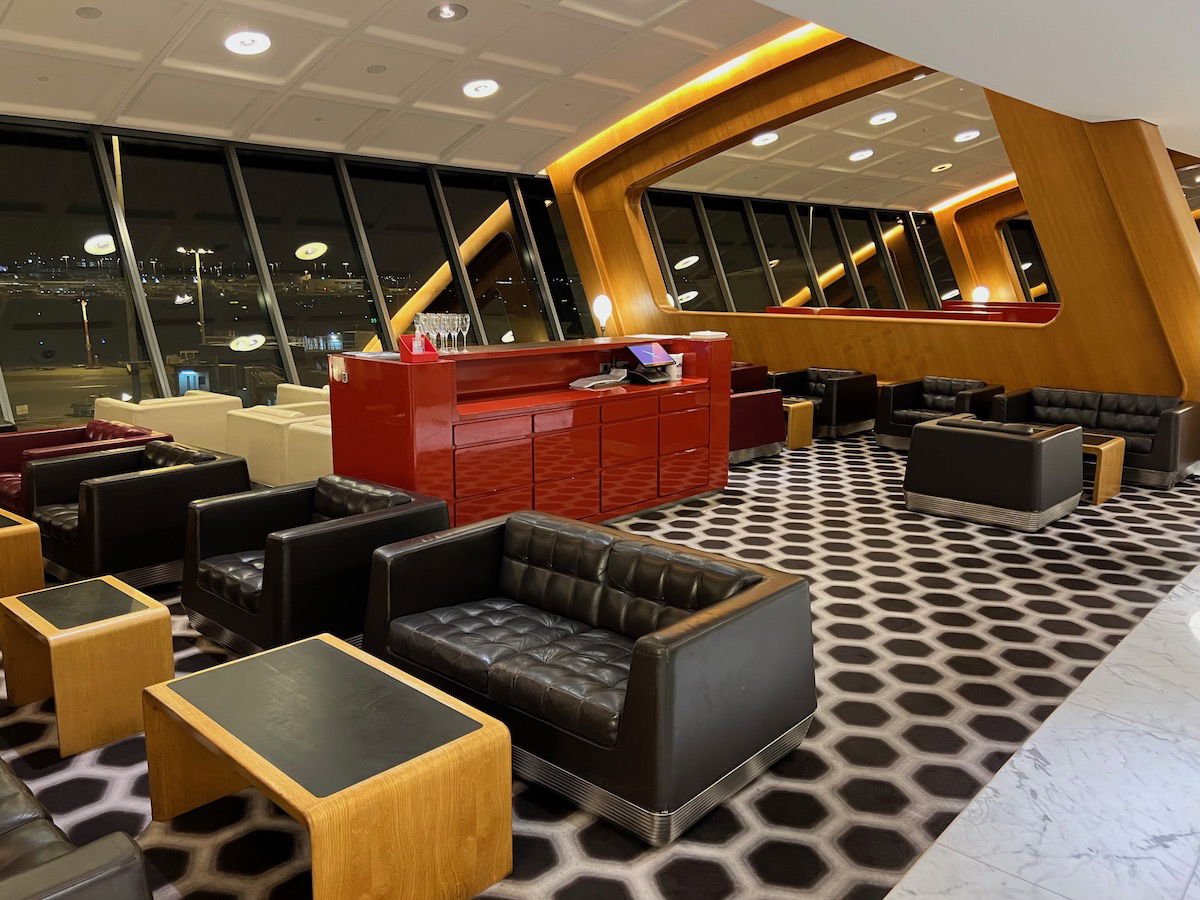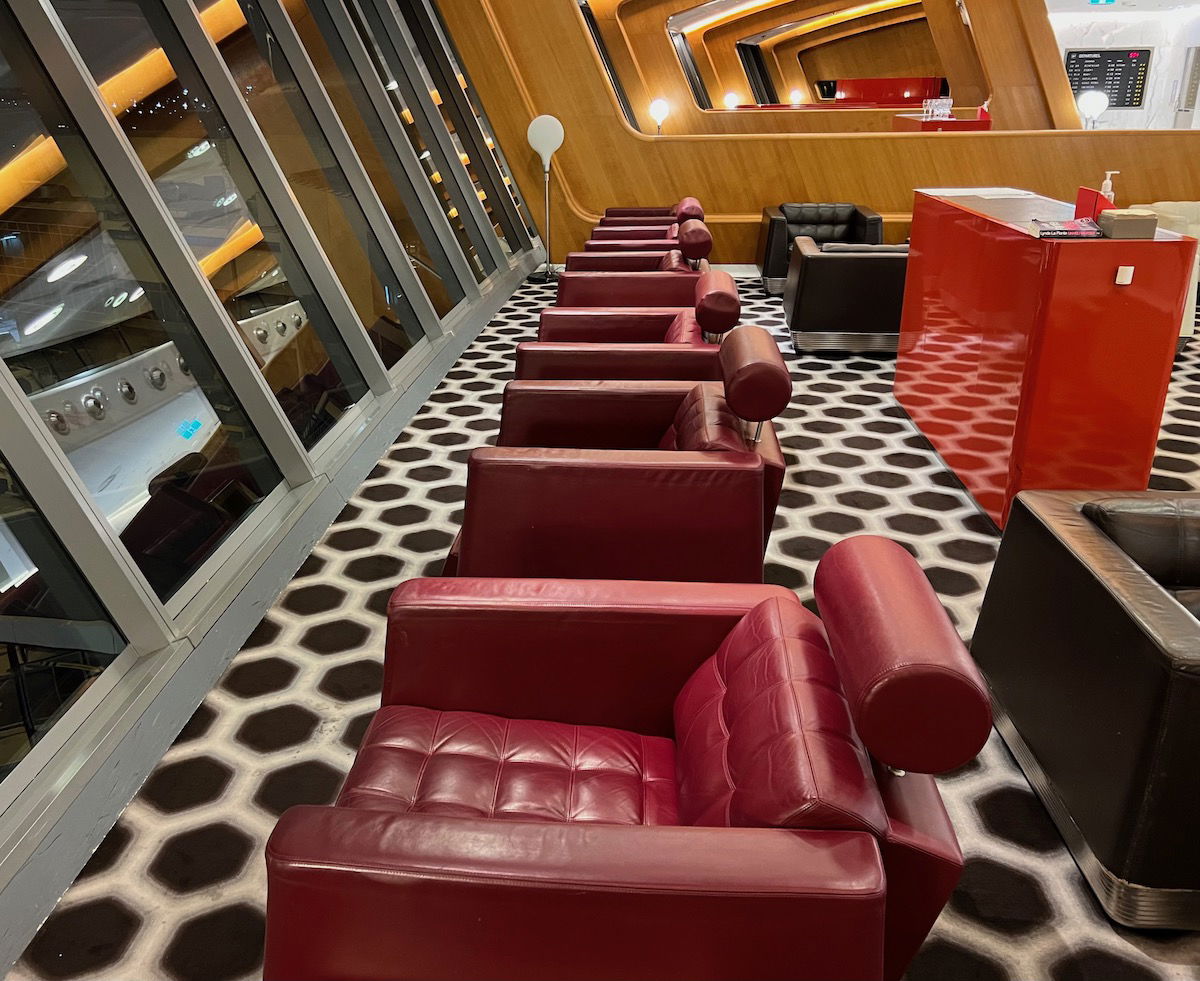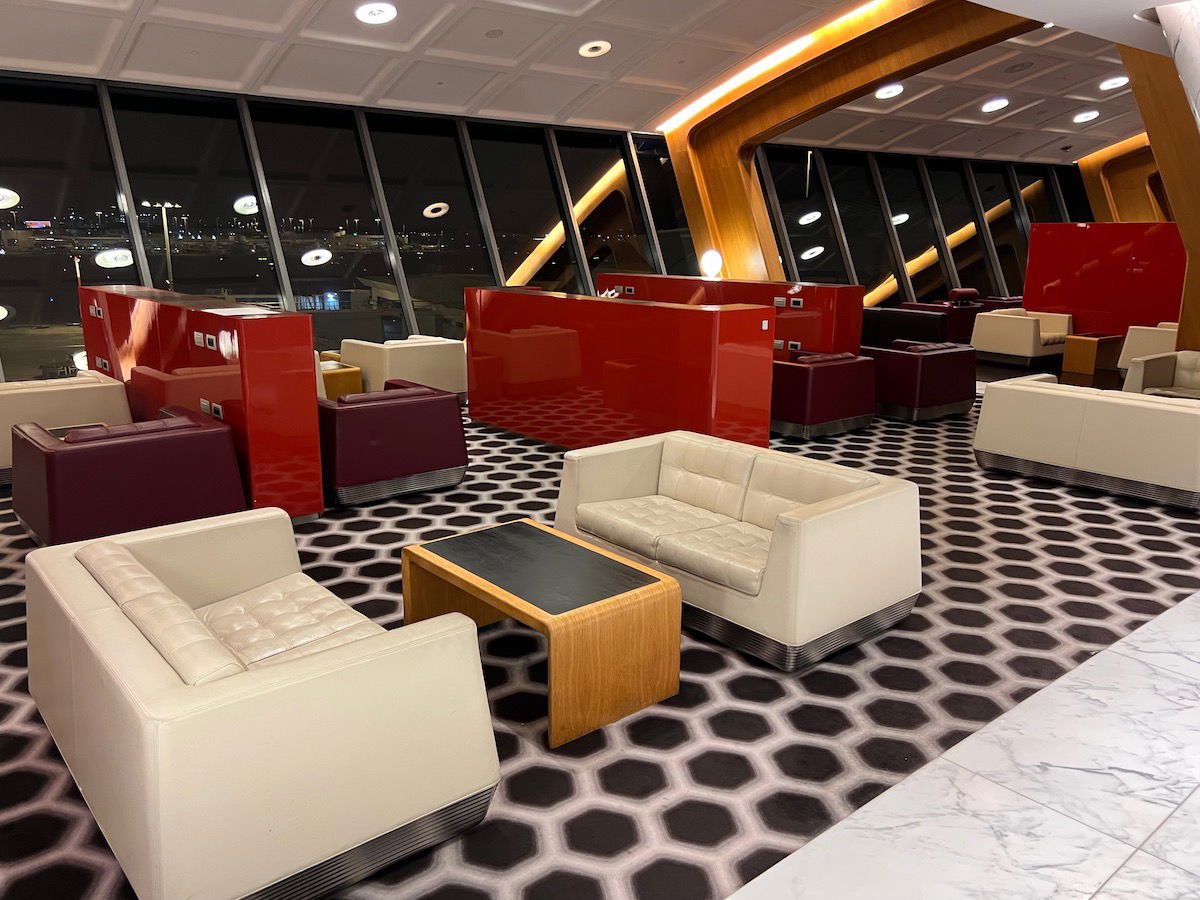 At the very end of the lounge there's a library area. It's not entirely clear to me what purpose this area serves (are you supposed to pick out a book, start reading it, and then leave it there, or…?), but I don't often see people hanging out here, unless the lounge is really busy.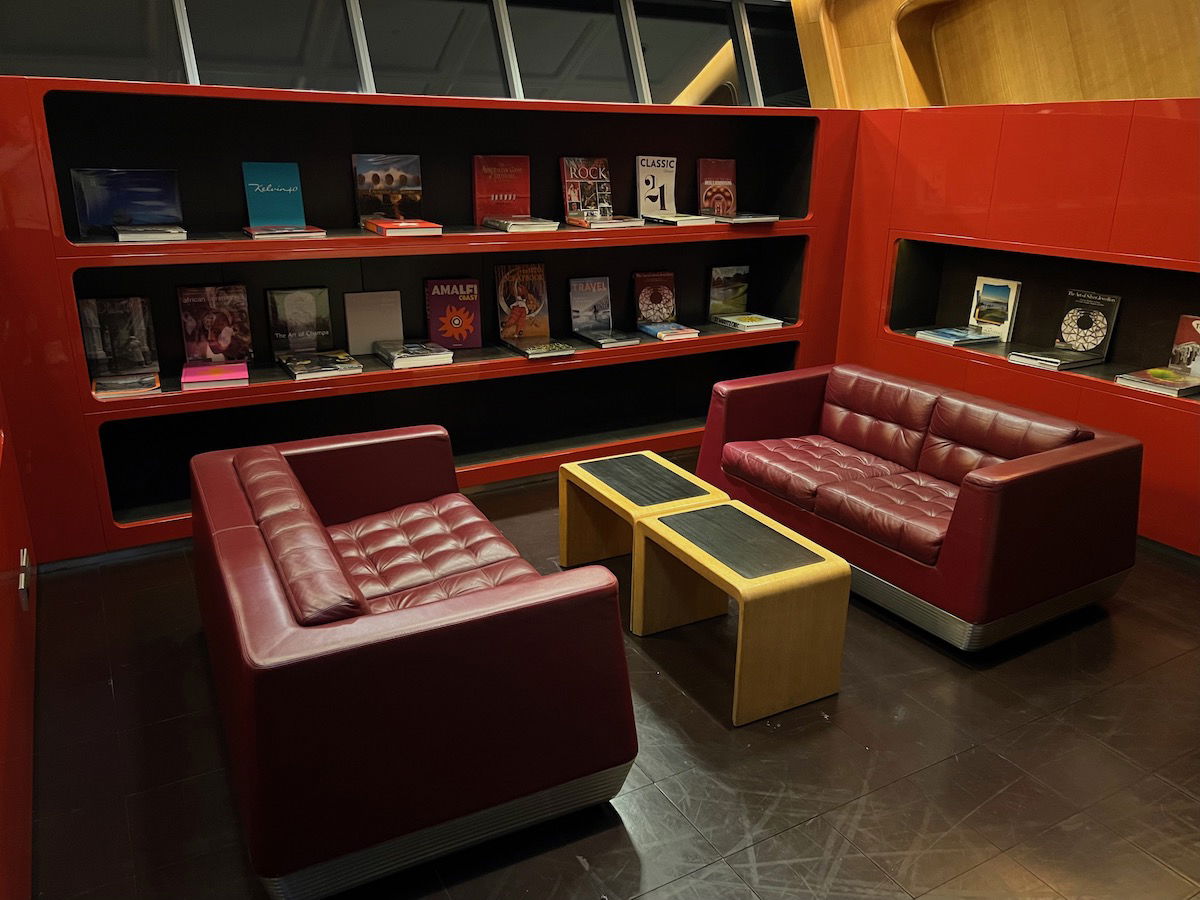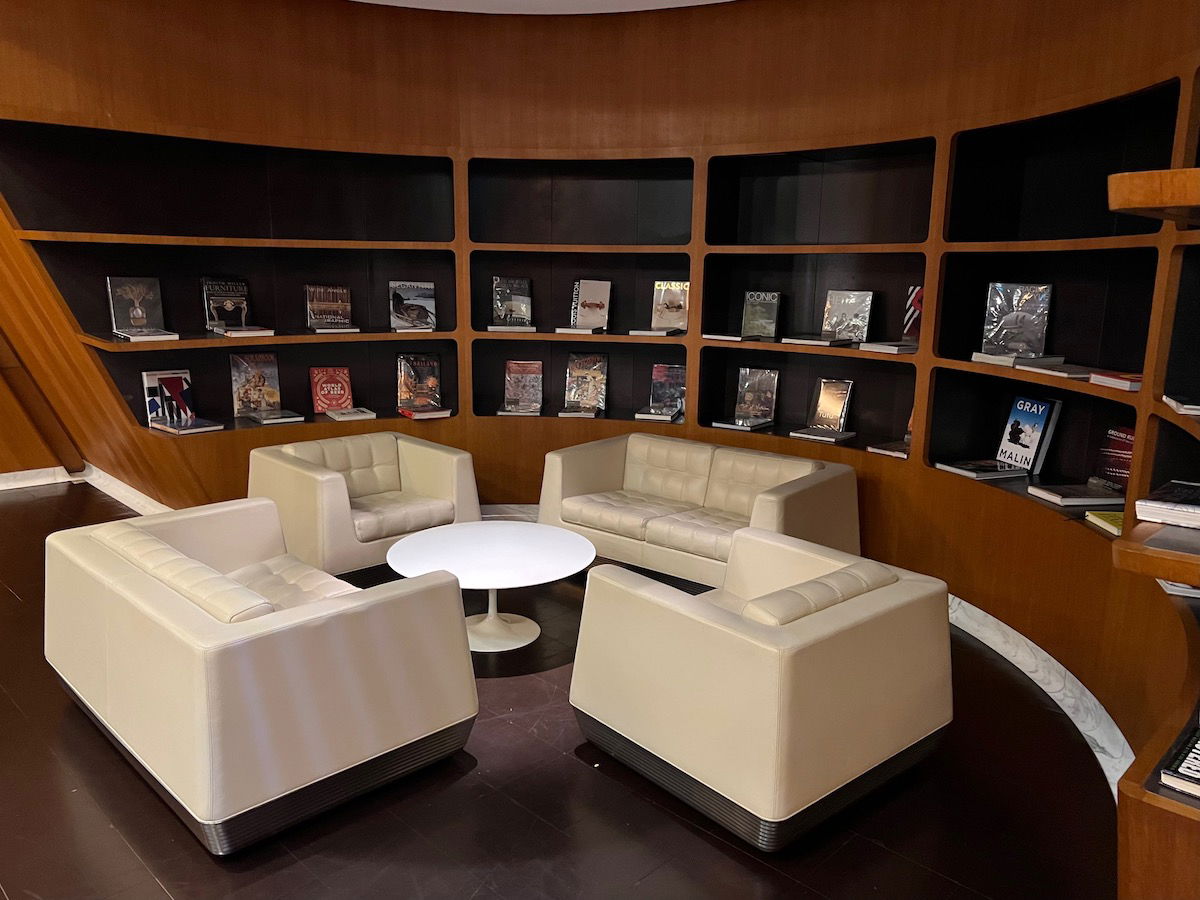 For those looking to get some work done, there's an area with three workstations. I appreciate when lounges have proper desks, since it can be hard to work on a laptop in a typical lounging chair without slouching over.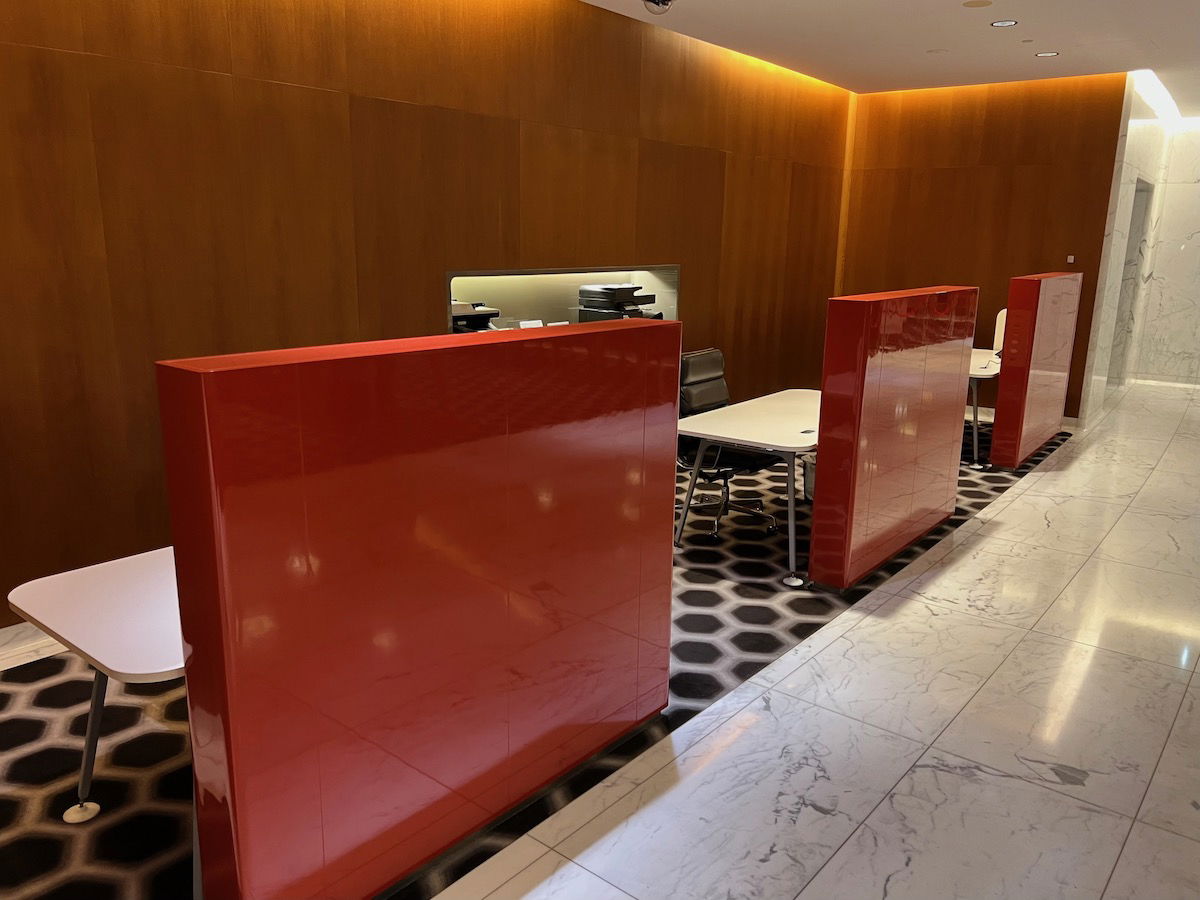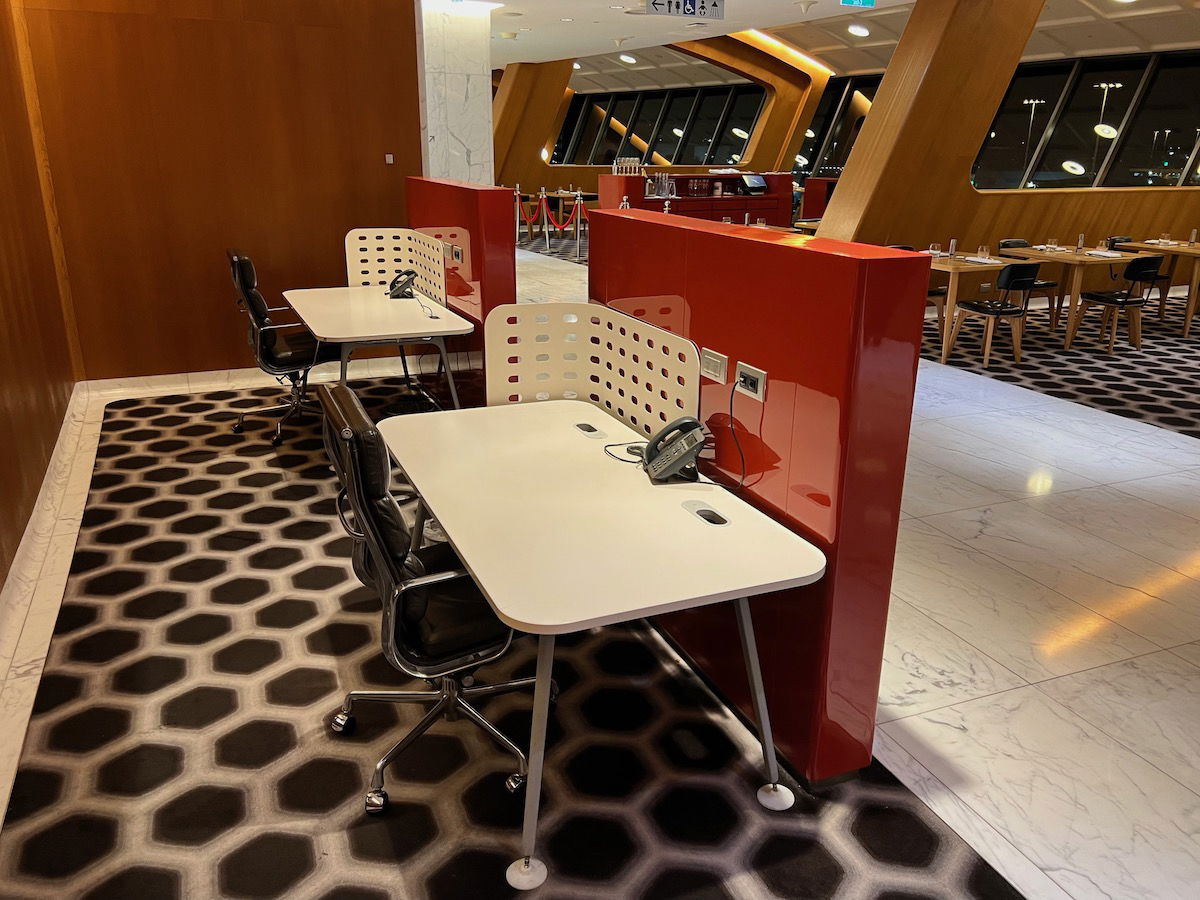 Also on this side of the lounge are two private rooms (well, sort of private, as the windows are only partially frosted), each with a desk and a living room area. These are intended as VIP rooms, though if they're not reserved for that particular purpose on a given day, they're available on a first come, first served basis. Just ask someone at reception about it, and they can set you up.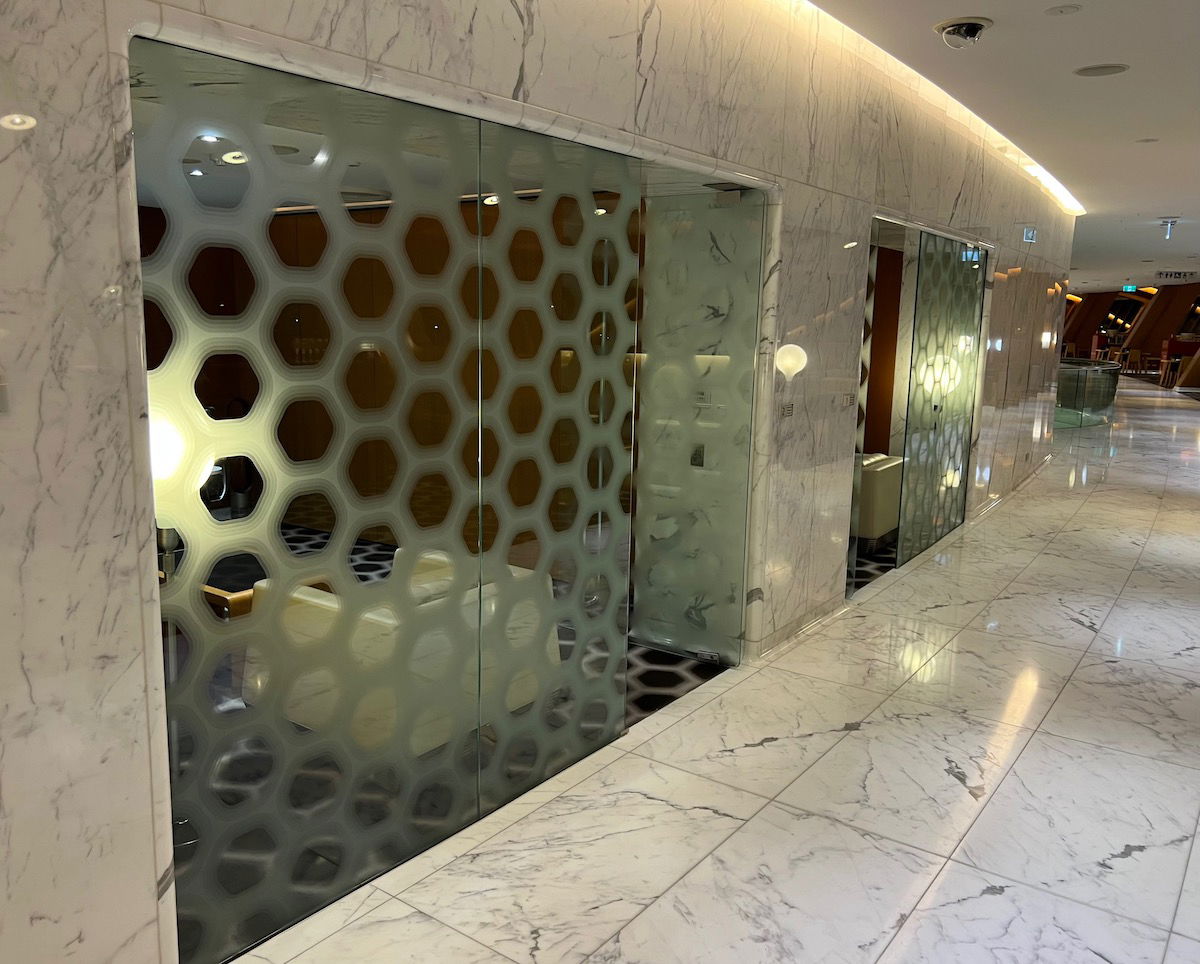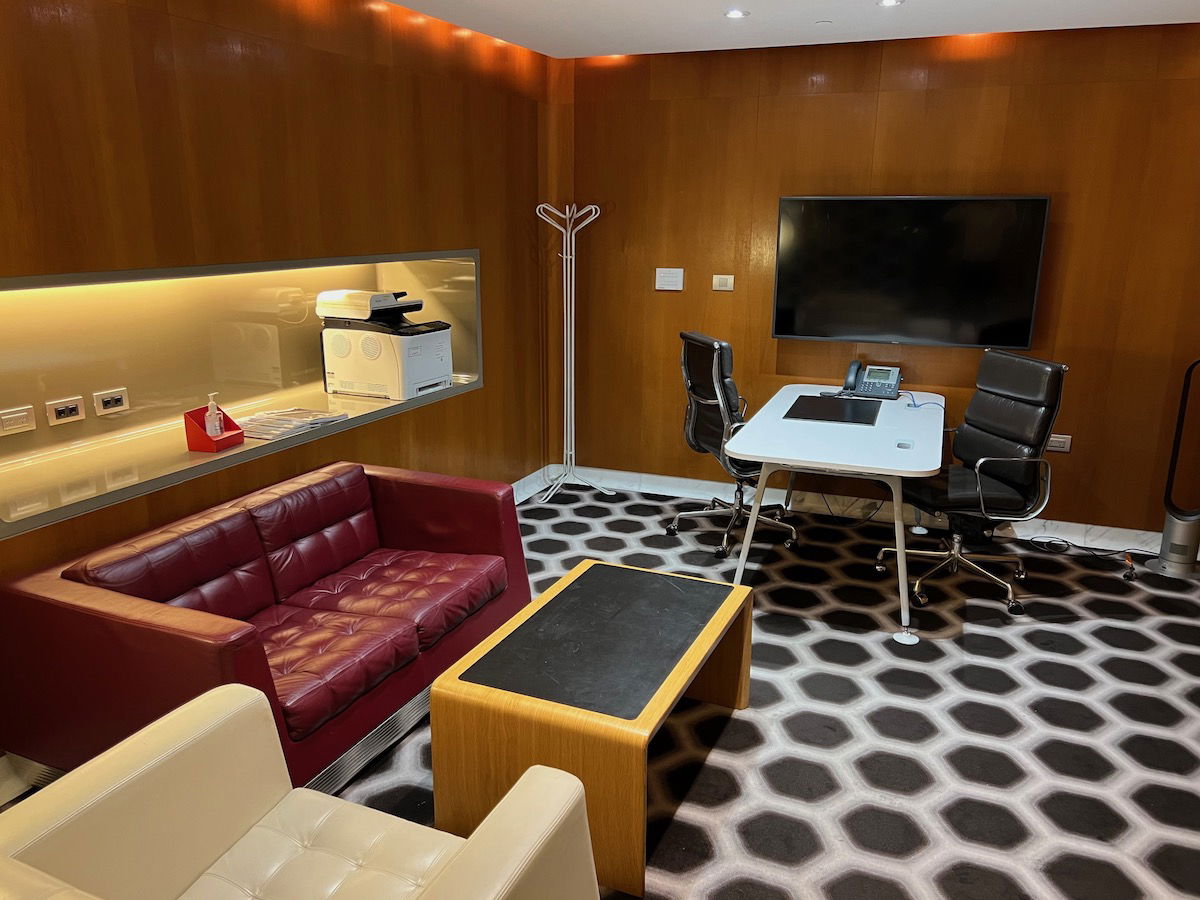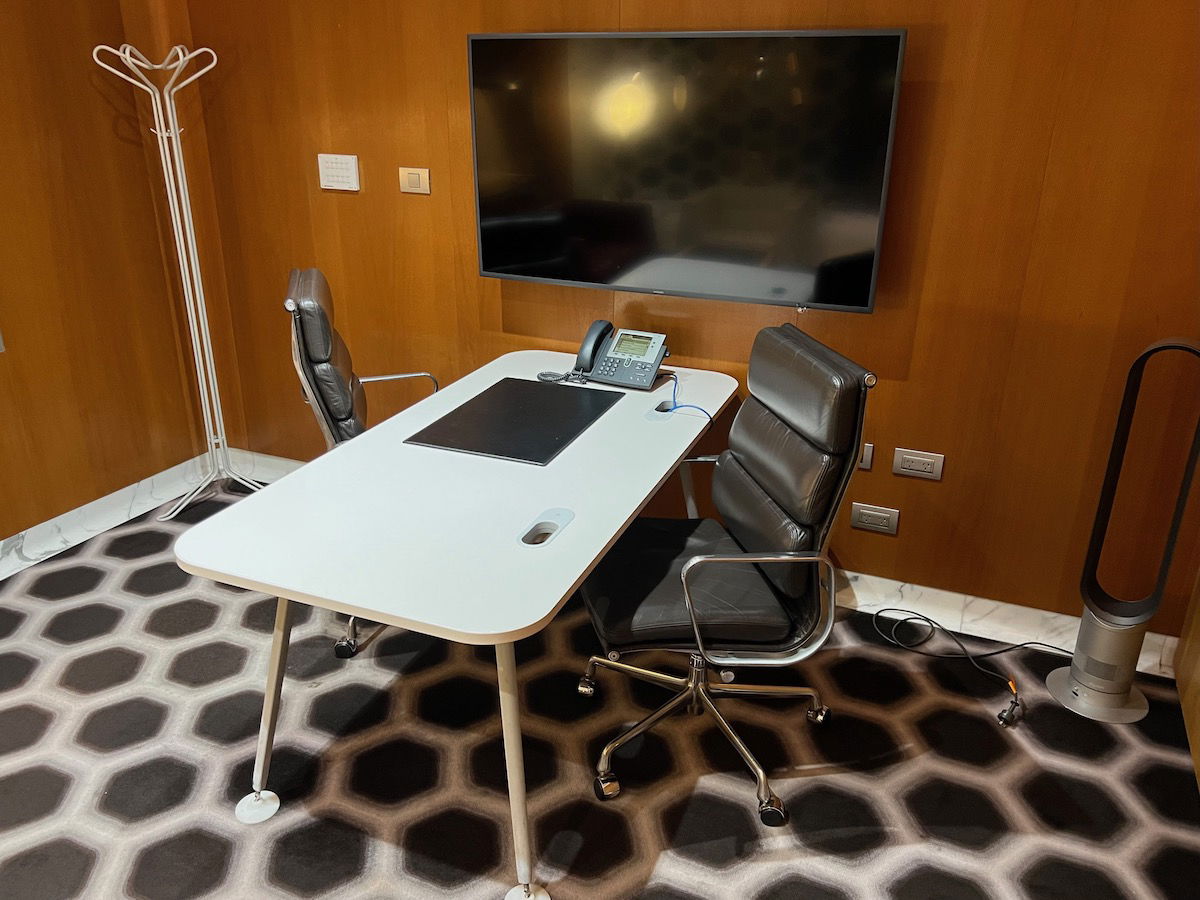 Inside the entrance to the lounge and to the left is the dining area, which is also huge. This consists of several different areas, each of which has a bit over a dozen tables.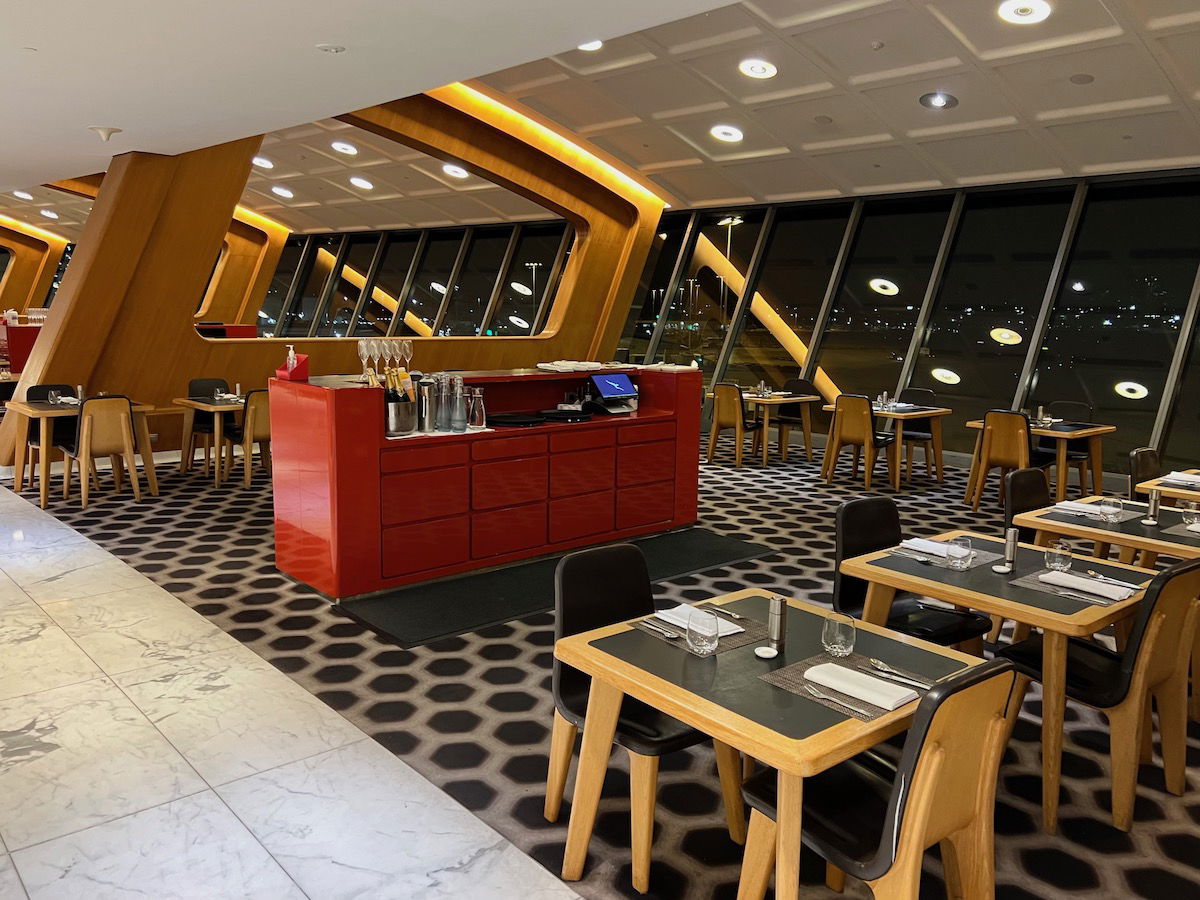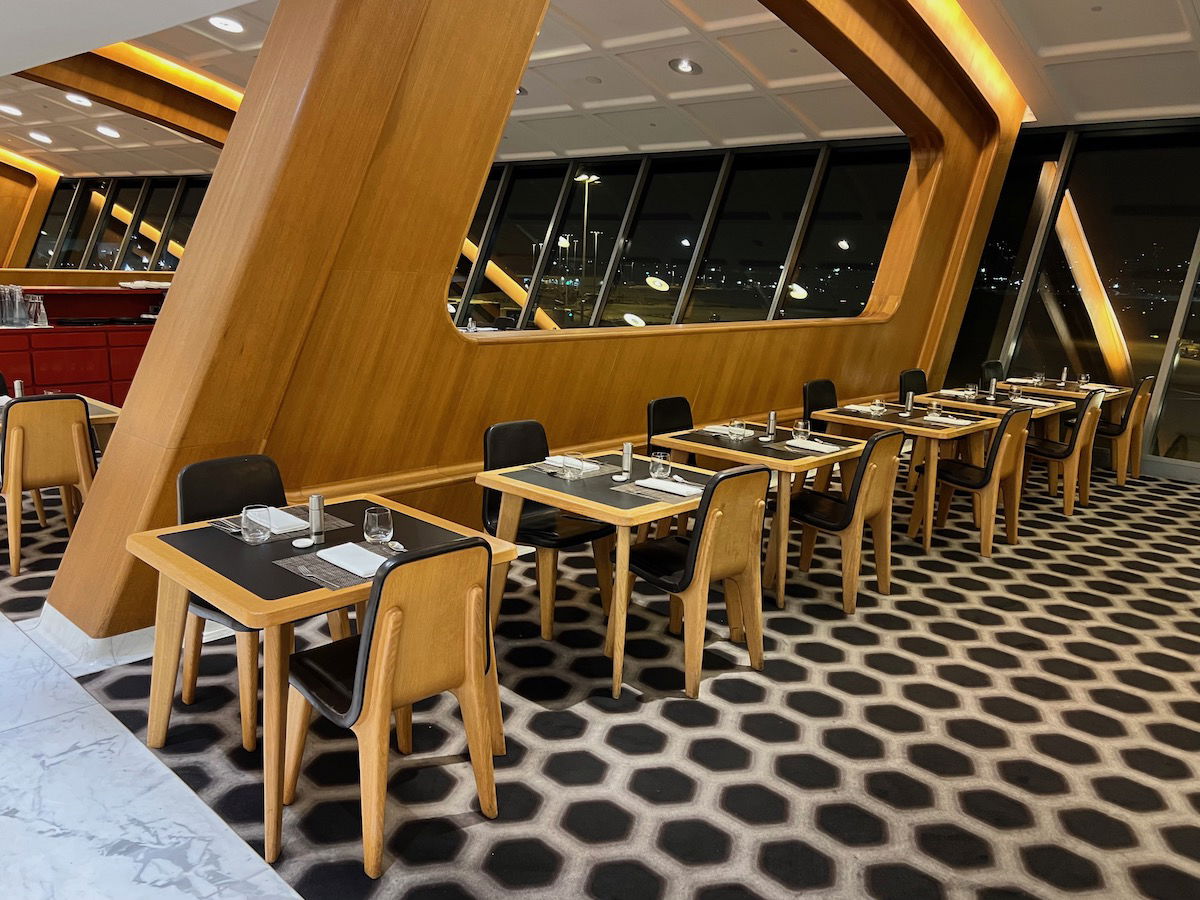 There's also a bar area, with some high-top seating, which looks directly at the open kitchen.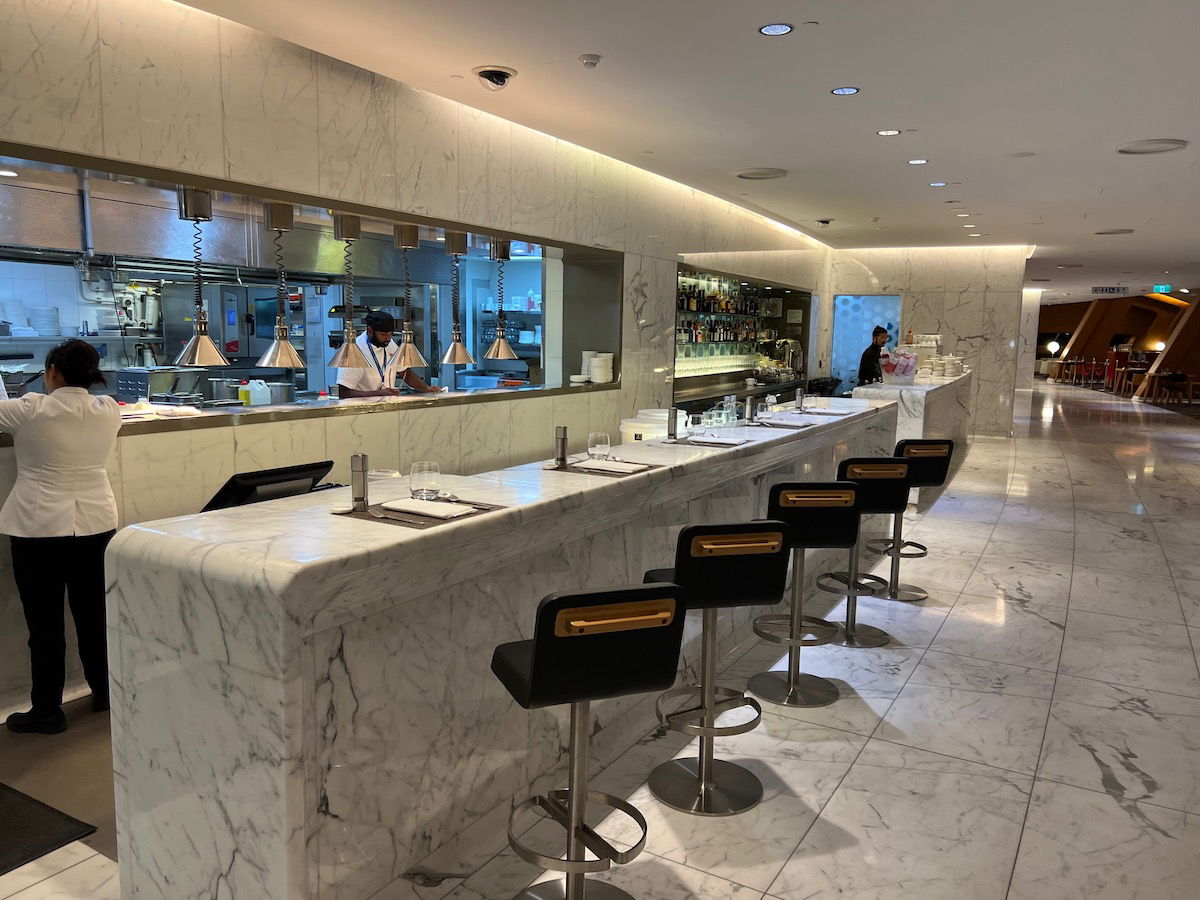 When you go deep into the lounge you'll see a dining area that's roped off. This is reserved for Qantas first class passengers, I suppose to create some exclusivity for those passengers who are in first class, rather than oneworld Emerald members. Then again, it seems more about feeling special by sitting behind a rope, rather than anything else.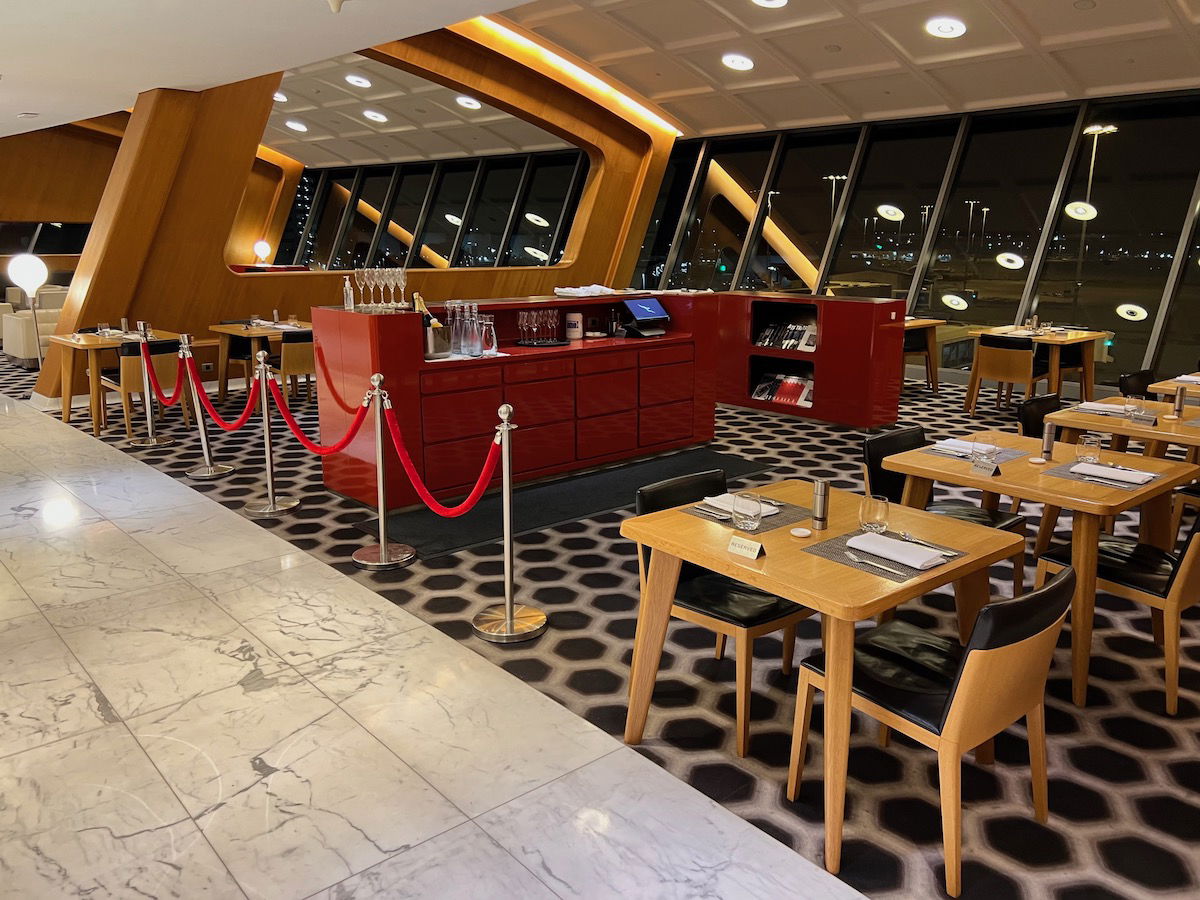 At the very end of the lounge is one more room with seating for relaxing, just to break things up a bit.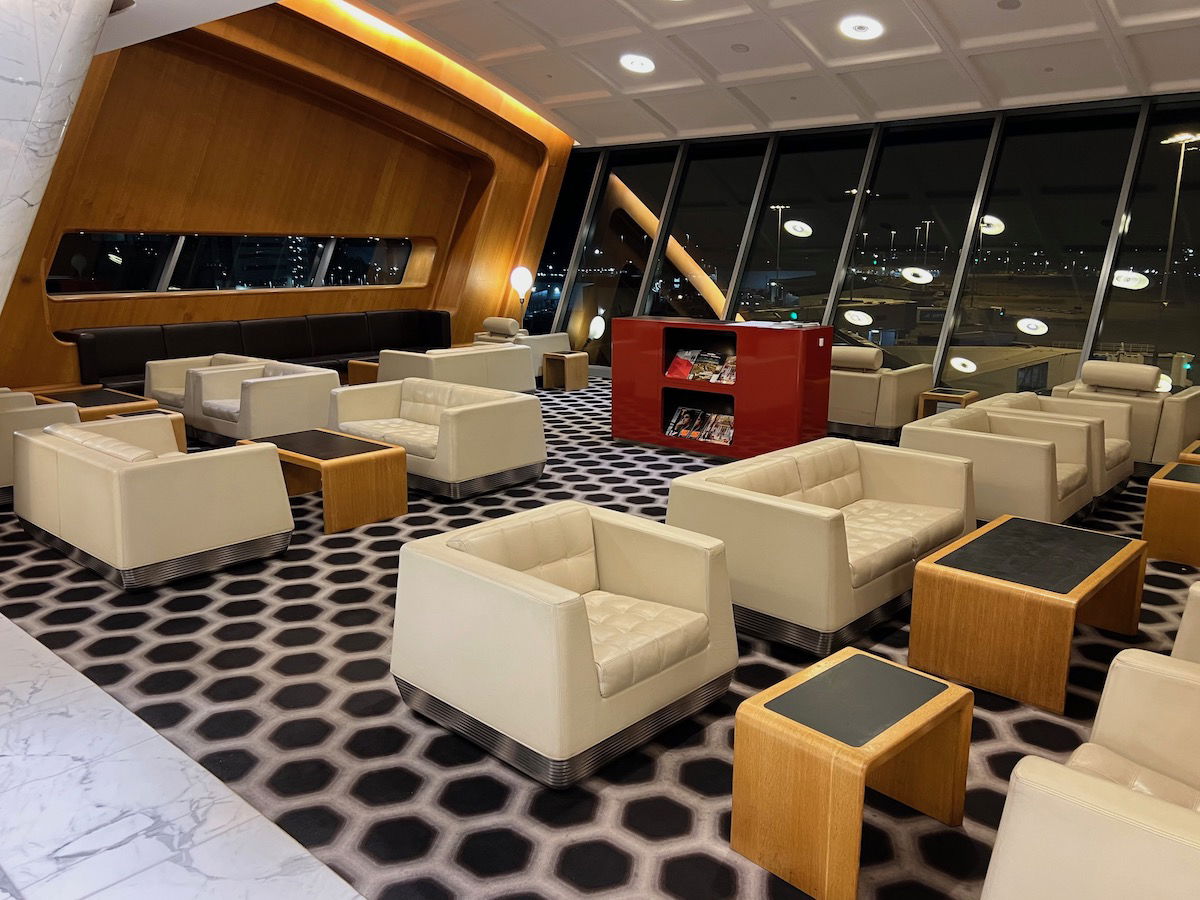 The lounge has floor-to-ceiling windows throughout, and my gosh, I don't know if there's a lounge in the world with better views. Not only do you have amazing views of the apron and runway, but you even get views of the Sydney skyline. Watching the sunrise from the lounge was simply magical.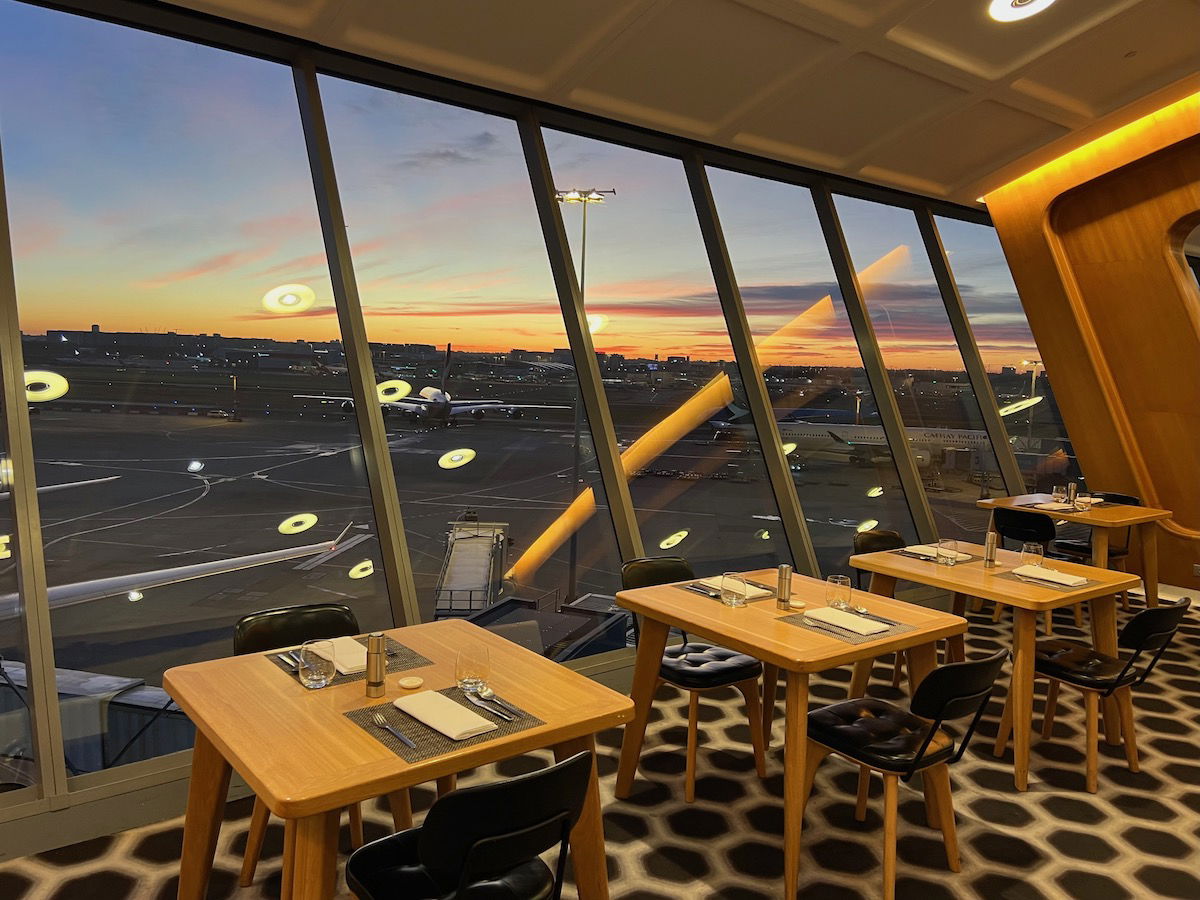 However, worry not, the view was pretty great later on as well.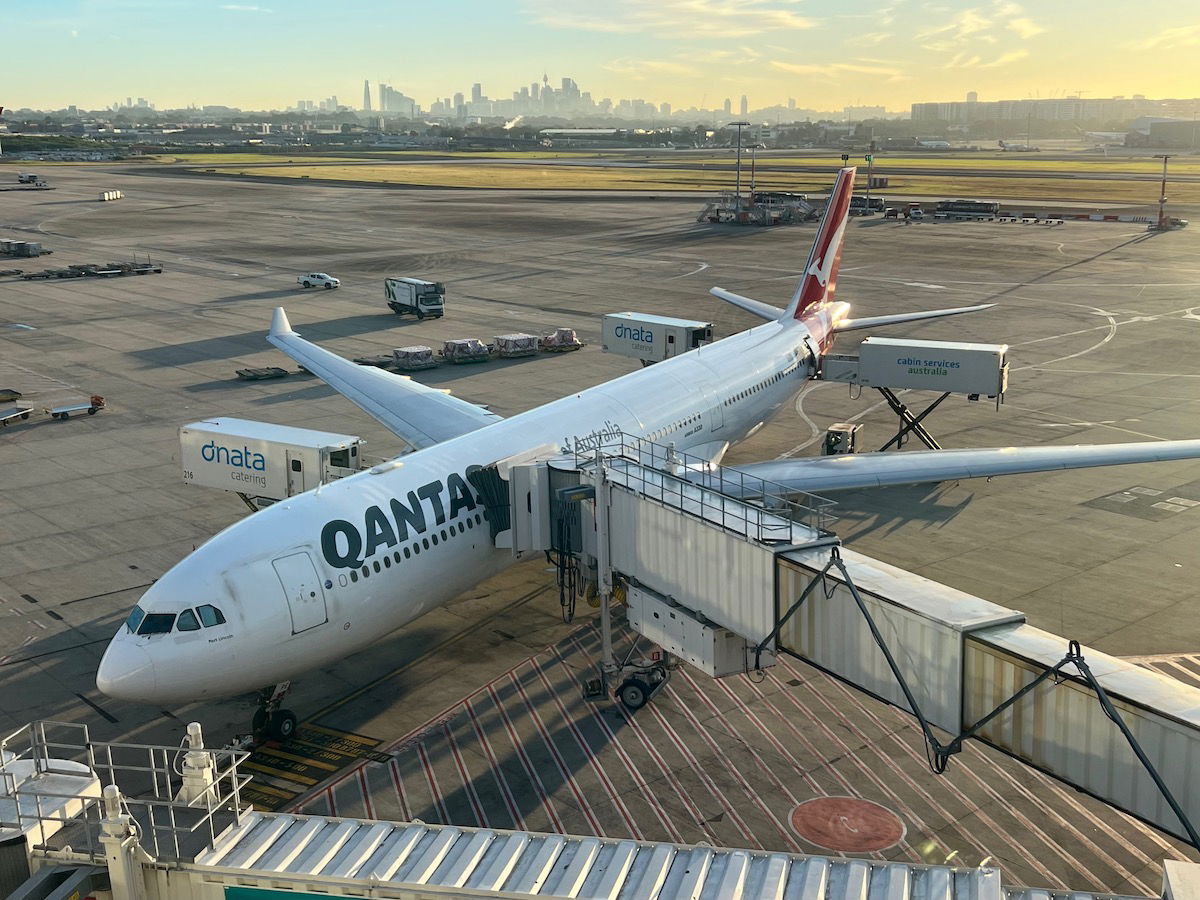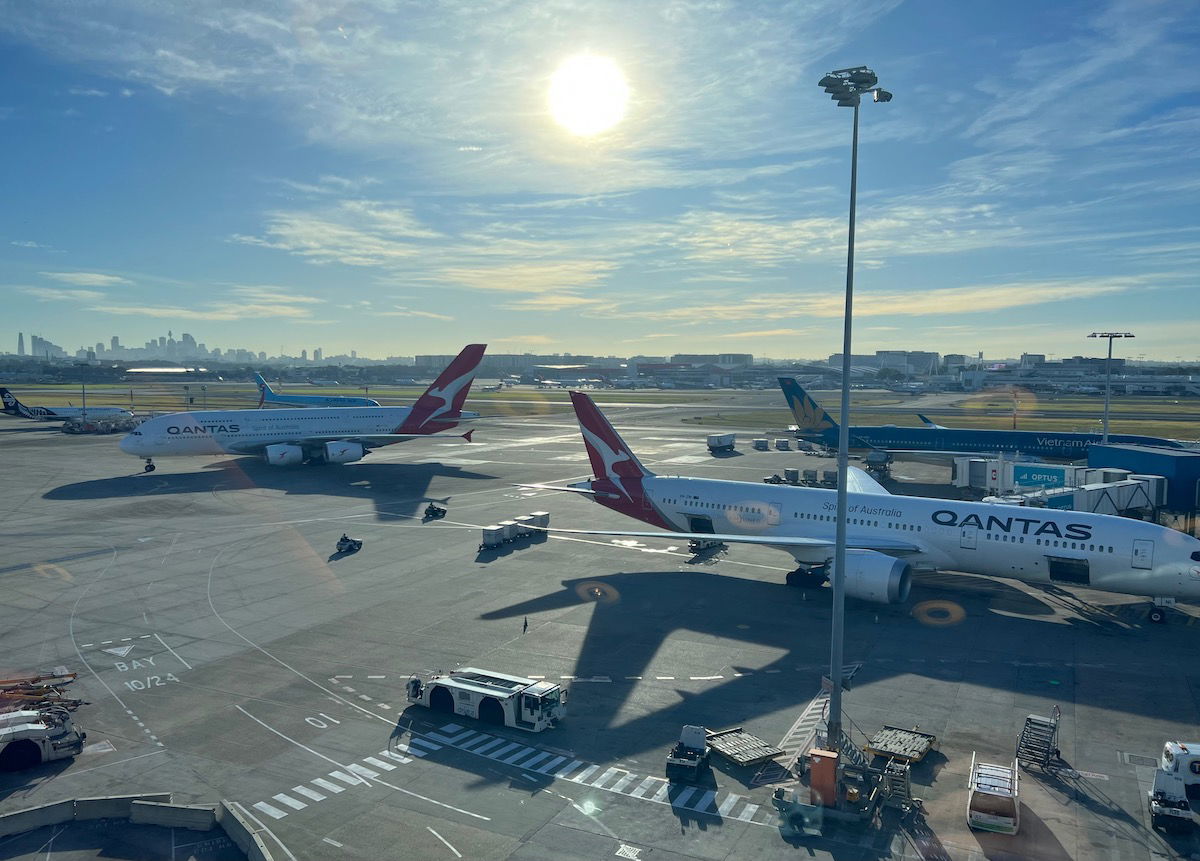 Qantas First Lounge Sydney food & drinks
One of the things the Qantas First Lounge is best known for is its a la carte dining, designed by Neil Perry. The only thing I was sad about with this visit is that our flight was in the morning, so we "only" got to try the breakfast menu, and not the lunch or dinner menu.
You can find the breakfast menu below.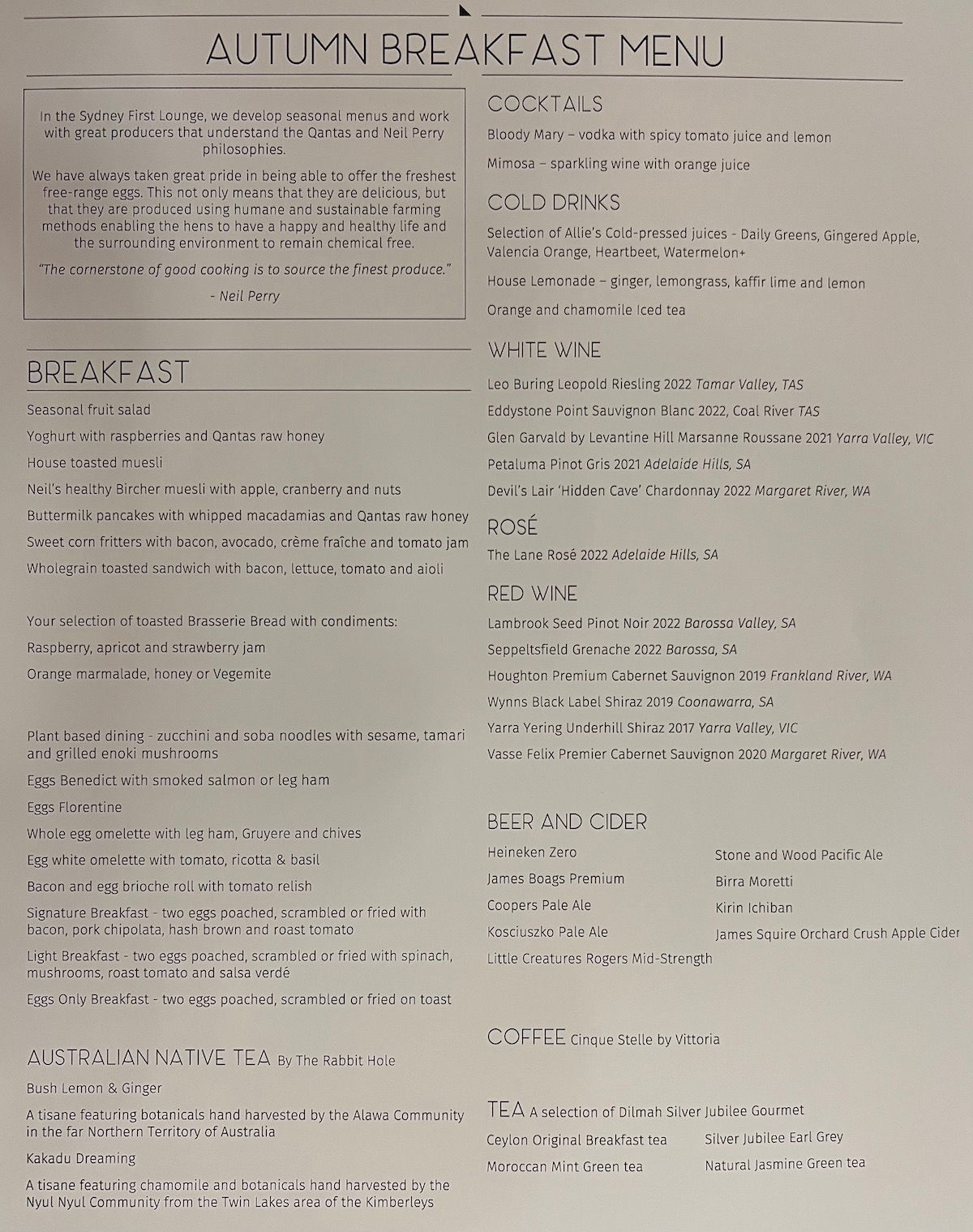 When we first arrived in the lounge, we of course needed our caffeine hit. I ordered a flat white, and then eventually a latte, and both were excellent. Talk about 36 hours of amazing coffee!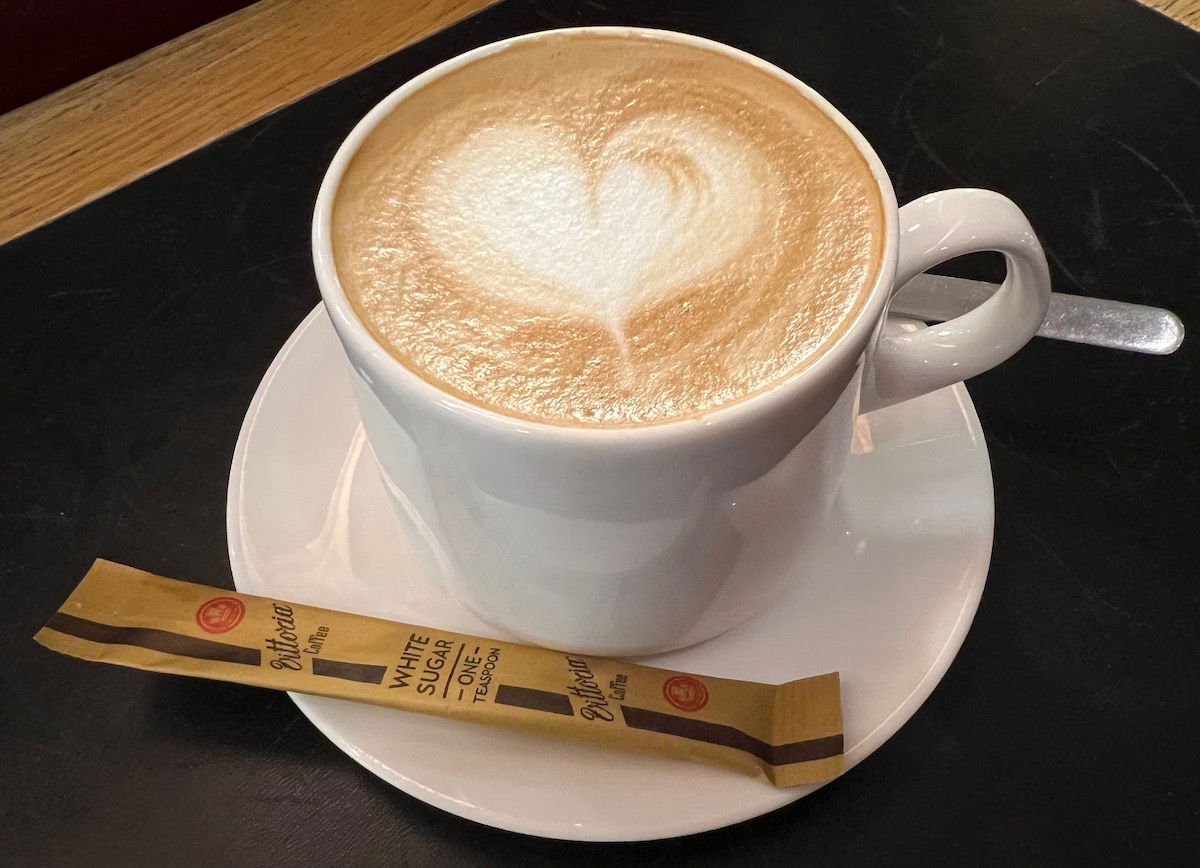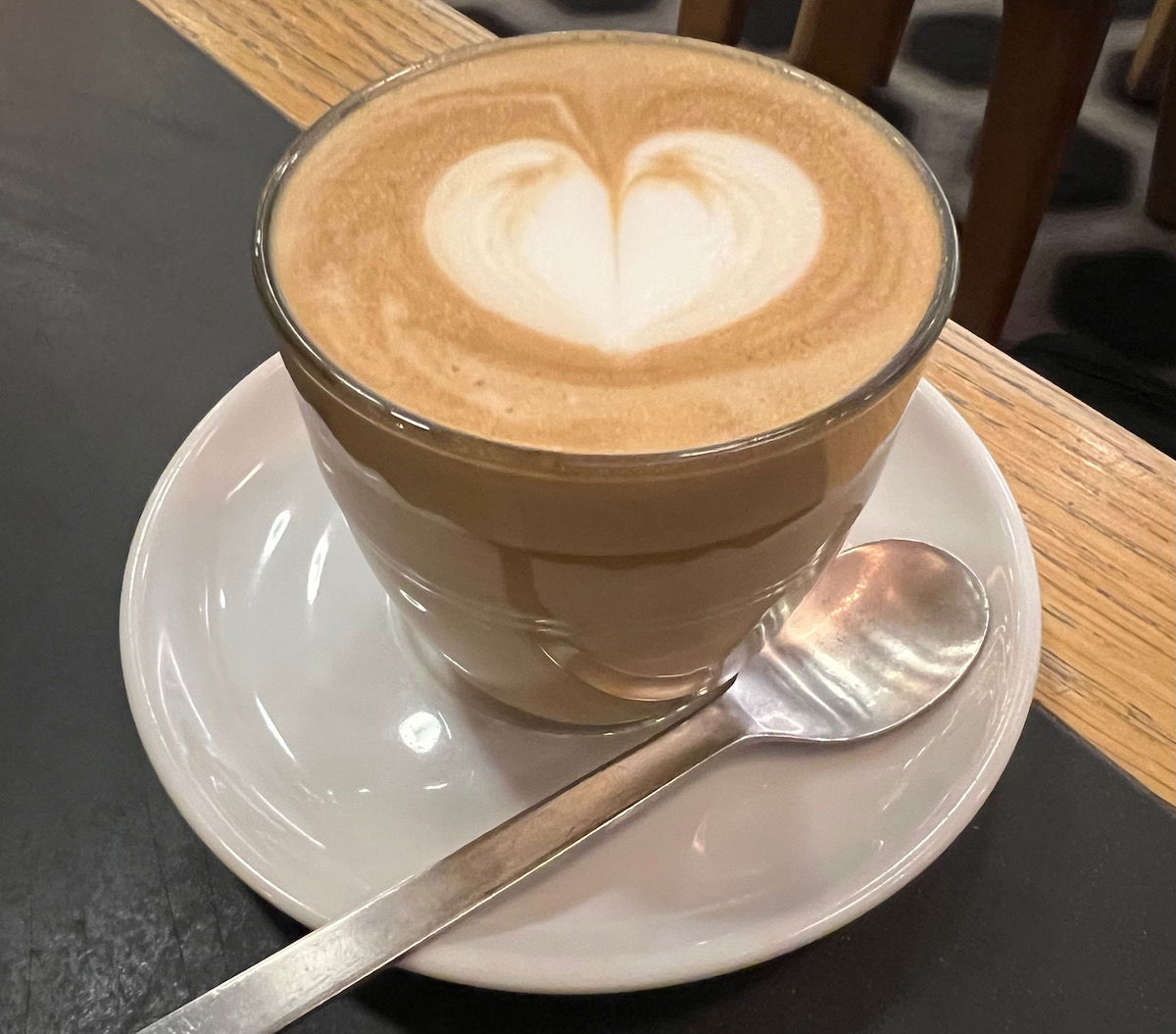 Eventually we sat down for breakfast. To start, I ordered the house toasted muesli, and my dad ordered the buttermilk pancakes with whipped macadamias and Qantas raw honey. Okay, I don't want to totally throw my dad under the bus, I didn't mind helping him with those. 😉
For those wondering about "Qantas raw honey," this is actually honey from beehives at Qantas' headquarters in Sydney… hah.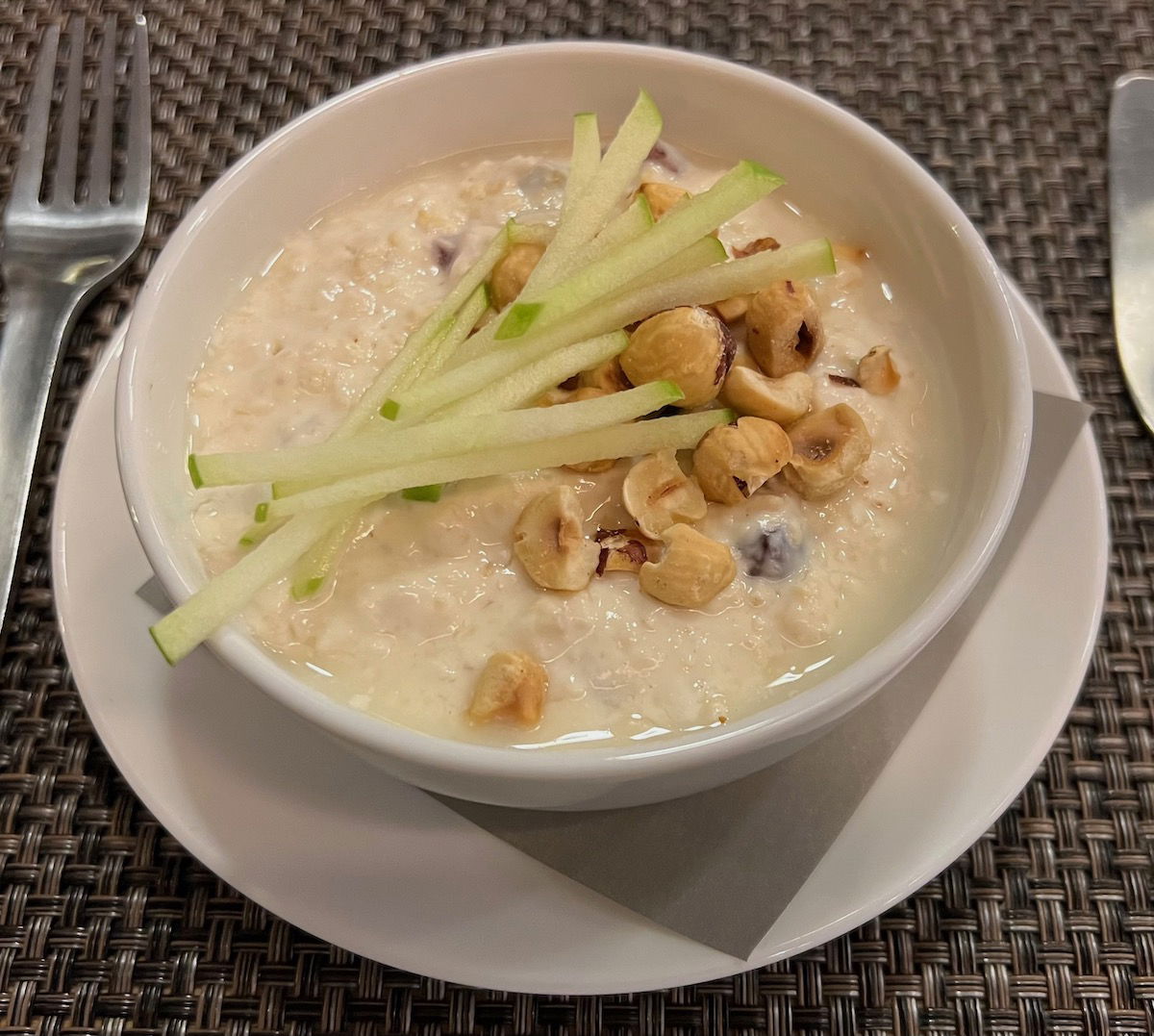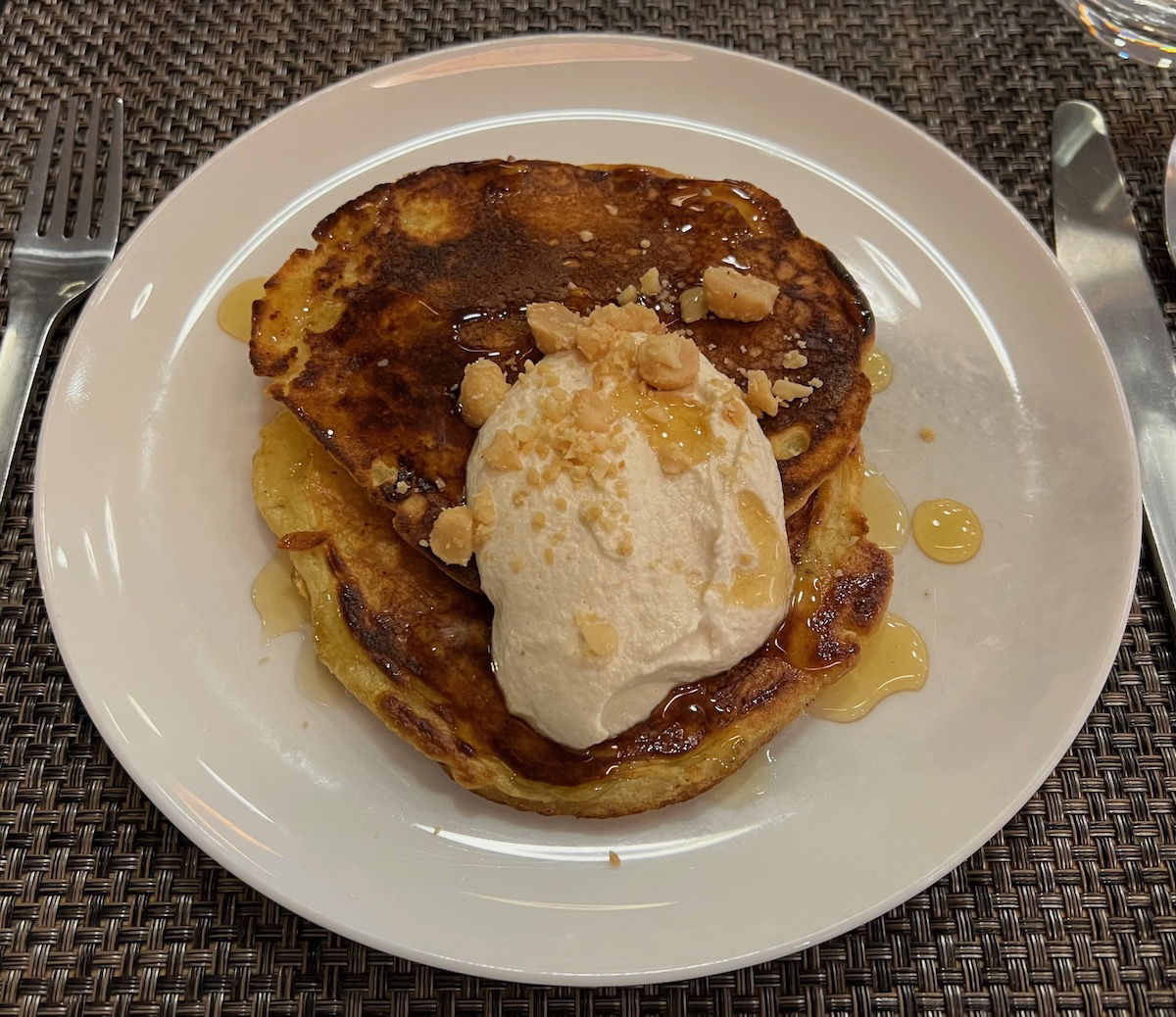 Then for our mains, I ordered the zucchini and soba noodles with sesame, tamari, and grilled enoki mushrooms, and my dad ordered eggs prepared to his liking, with some accompaniments.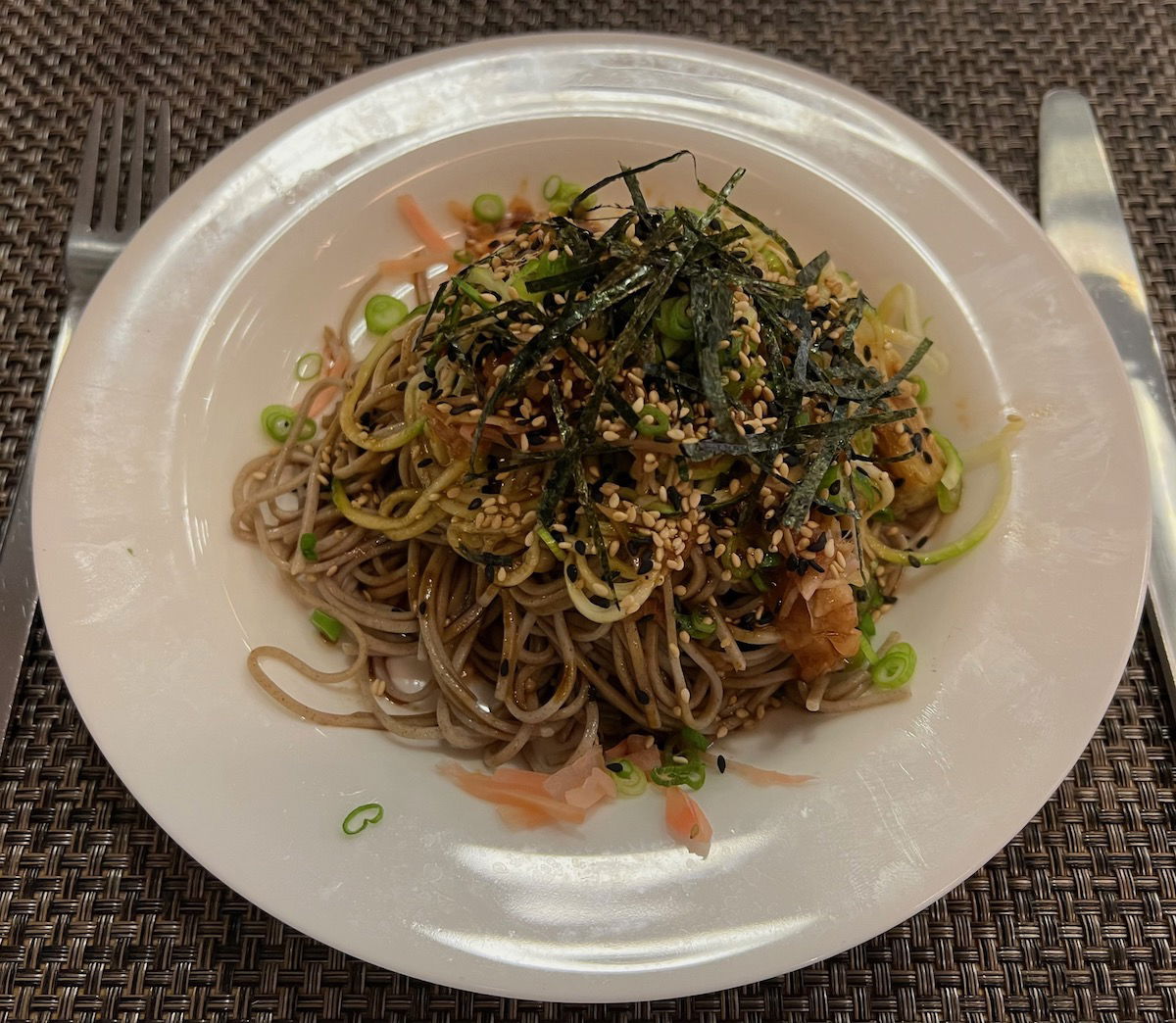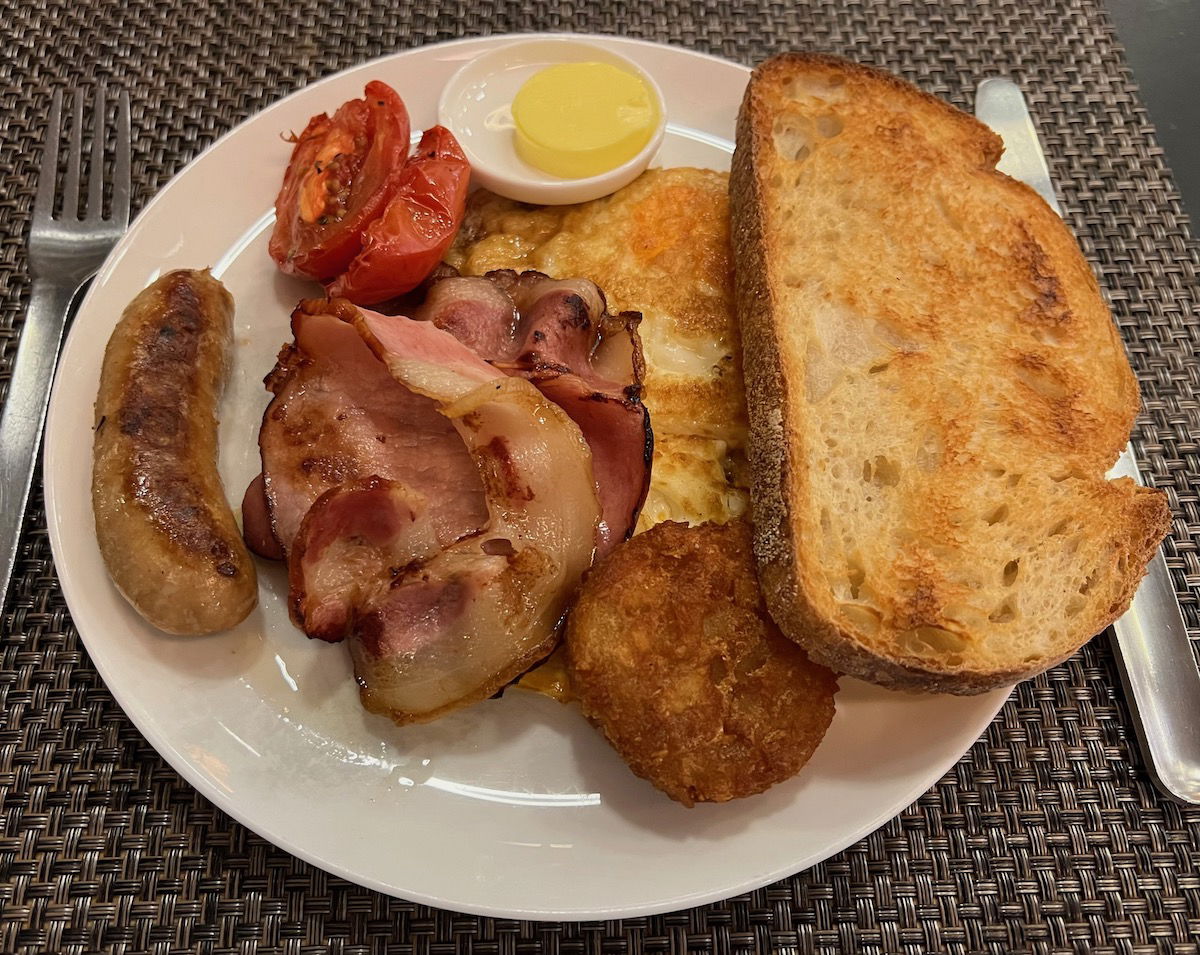 The food quality was excellent. As I said above, it's just a shame that we were only there for breakfast.
Note that service throughout the lounge is from servers, as there are very limited options to help yourself. The only self-serve options are one drink station with soft drinks, water, and beer, plus a few jars with candy and nuts.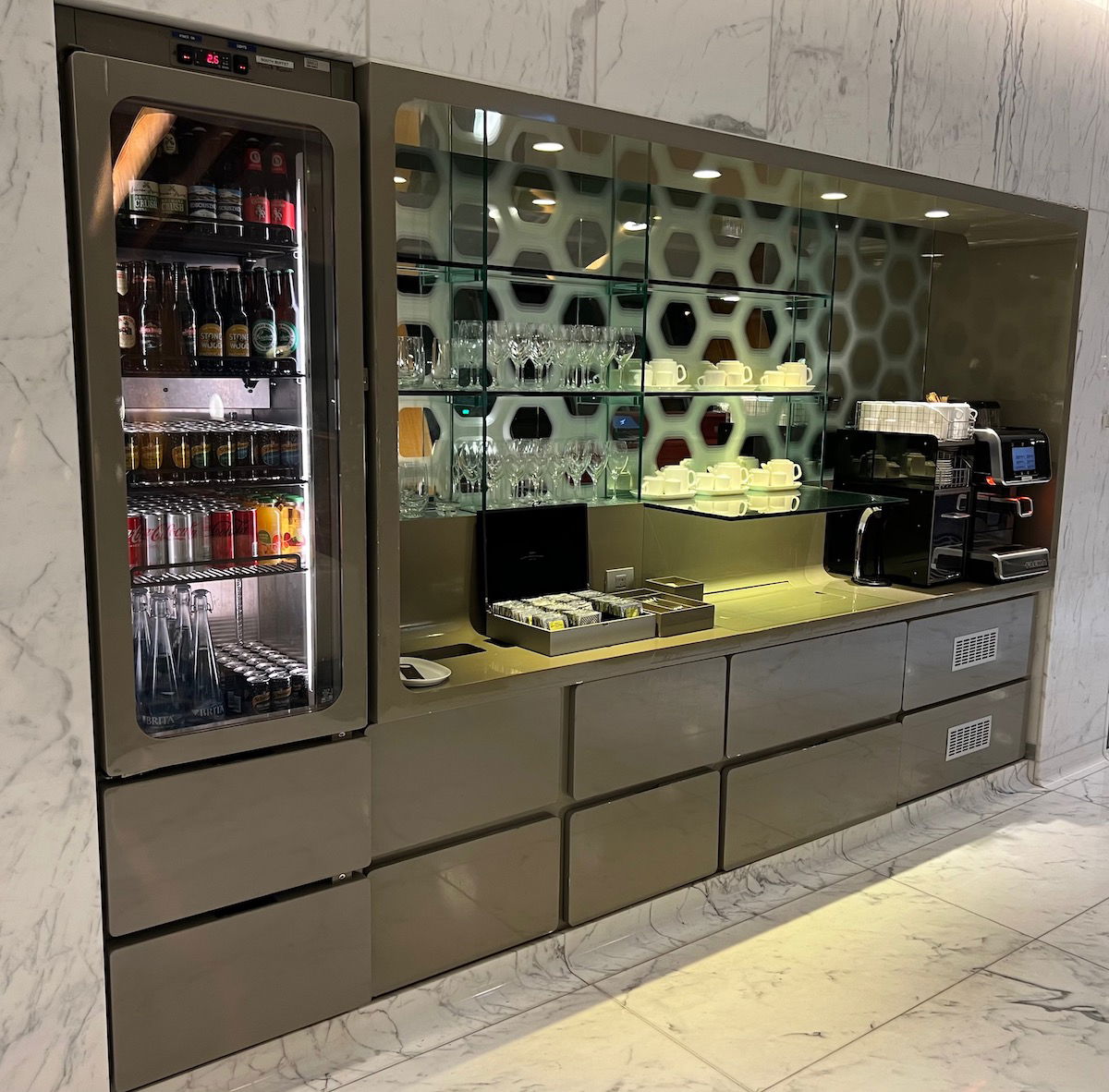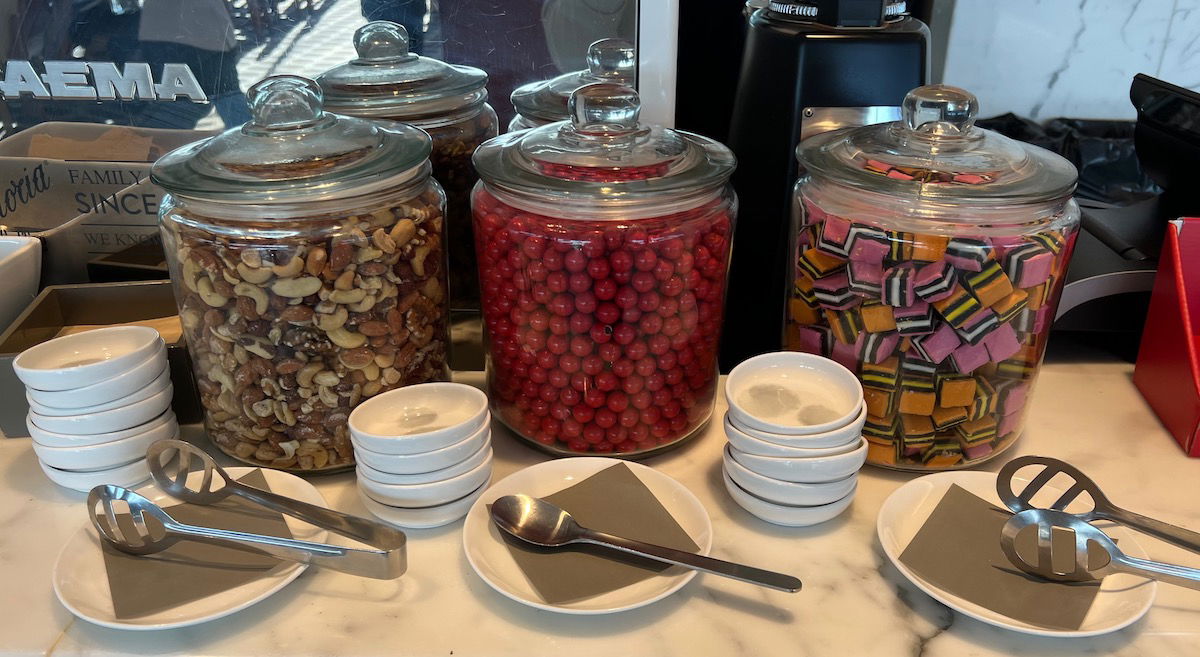 Definitely come to this lounge hungry, as you won't be disappointed.
Qantas First Lounge Sydney spa
The Qantas First Lounge Sydney has its own spa, which nowadays I'd consider to offer the best complimentary airport spa treatment. If you're traveling in Qantas first class, you'll receive an email from a concierge the day before departure, and can make an appointment in advance for a treatment.
Meanwhile if you're not traveling in Qantas first class but still have access to the lounge, appointments are available on a first come, first served basis at the entrance.
Below you can find the Qantas First Lounge Sydney spa menu. As you can see, each treatment is 20 minutes, and you can choose from any of the following four options:
A facial
A neck, shoulder, and scalp massage
A hot stone back massage
A foot massage
You can decide which treatment you want when you arrive for your appointment, because the same therapist performs all of them.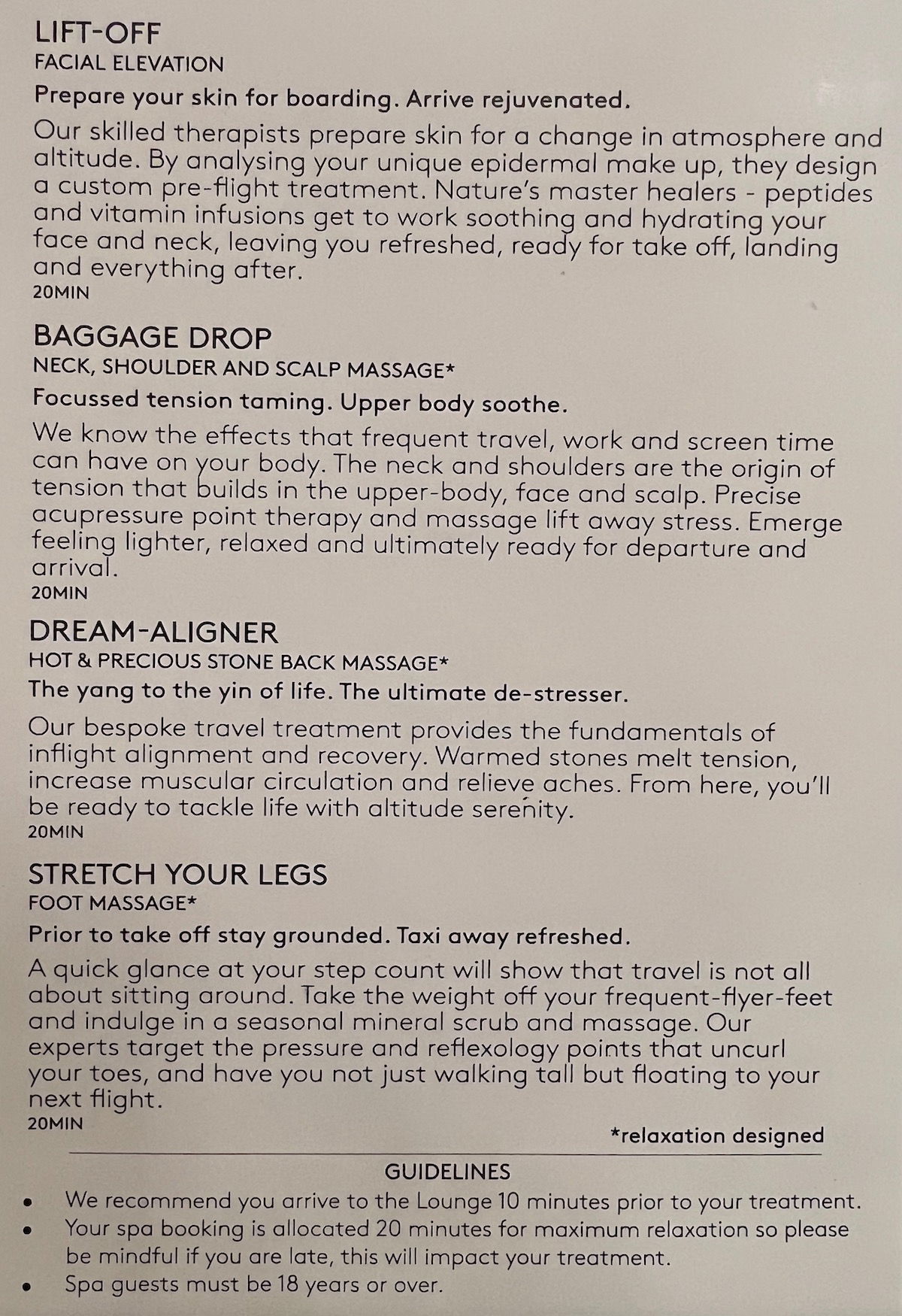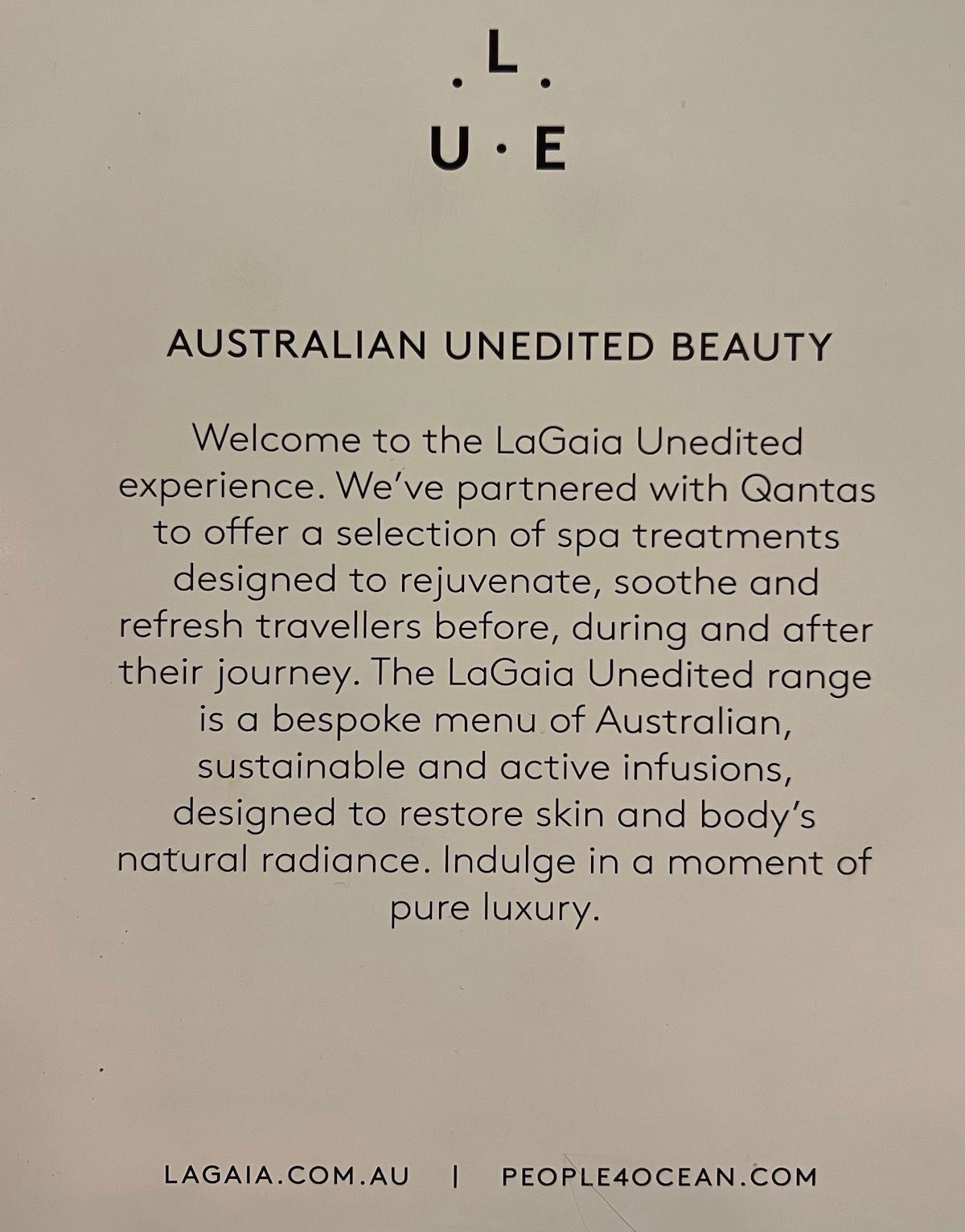 To find the spa, enter the lounge and turn left, and you'll see the entrance to the spa at the very back left of the lounge.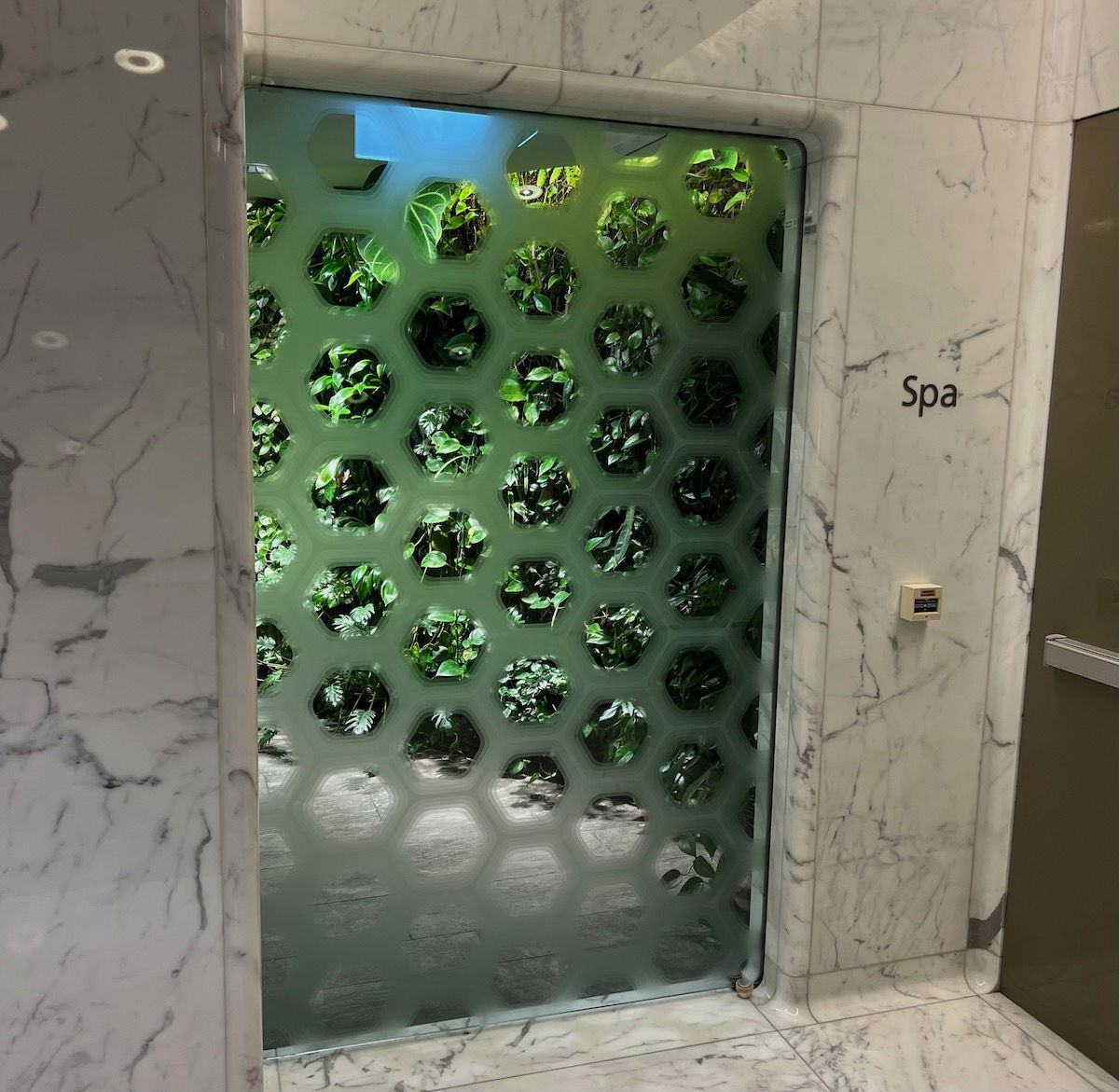 This spa isn't just some afterthought, but is quite a beautifully designed space, with a plant wall to give it a proper spa-like feeling.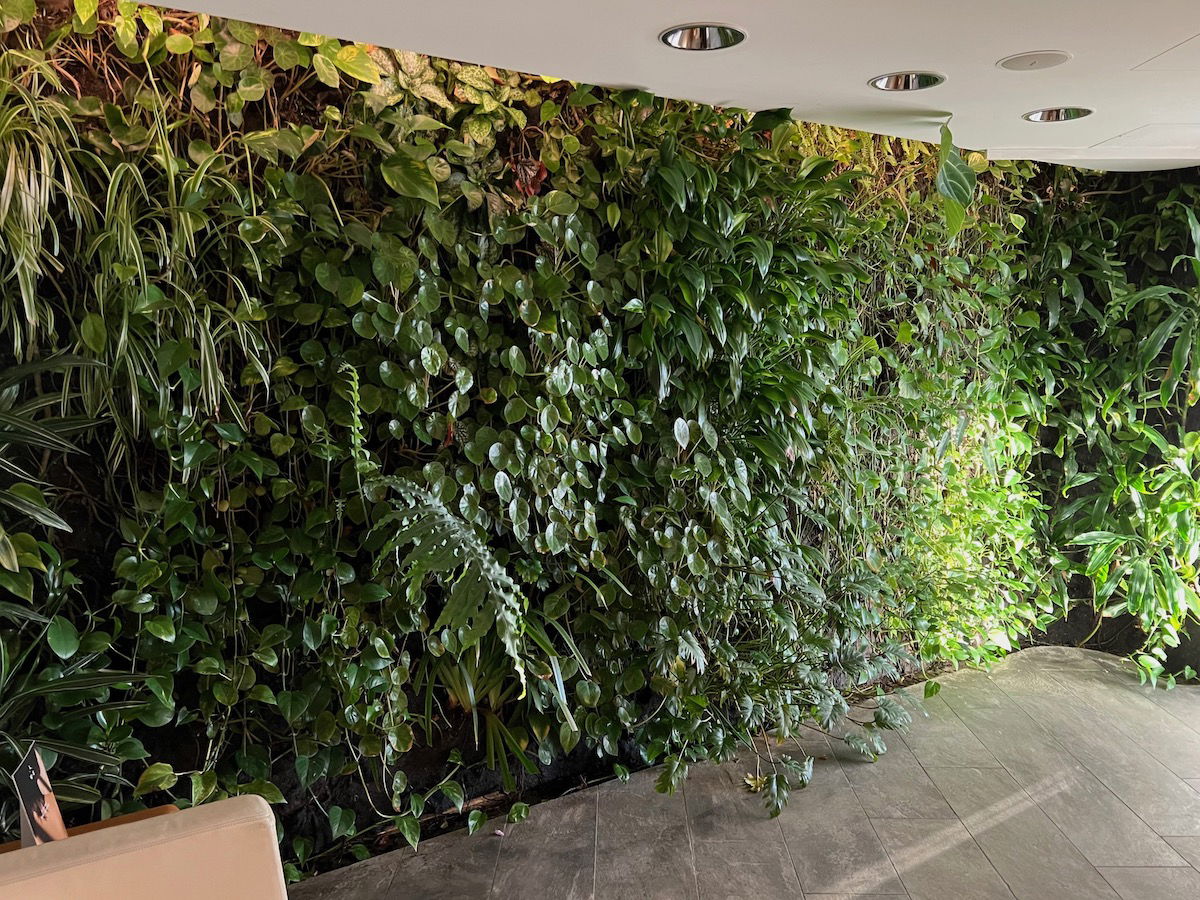 Upon arriving I was shown to my treatment room. I had booked the hot stone massage, so was just asked to take my shirt off and get on the massage table.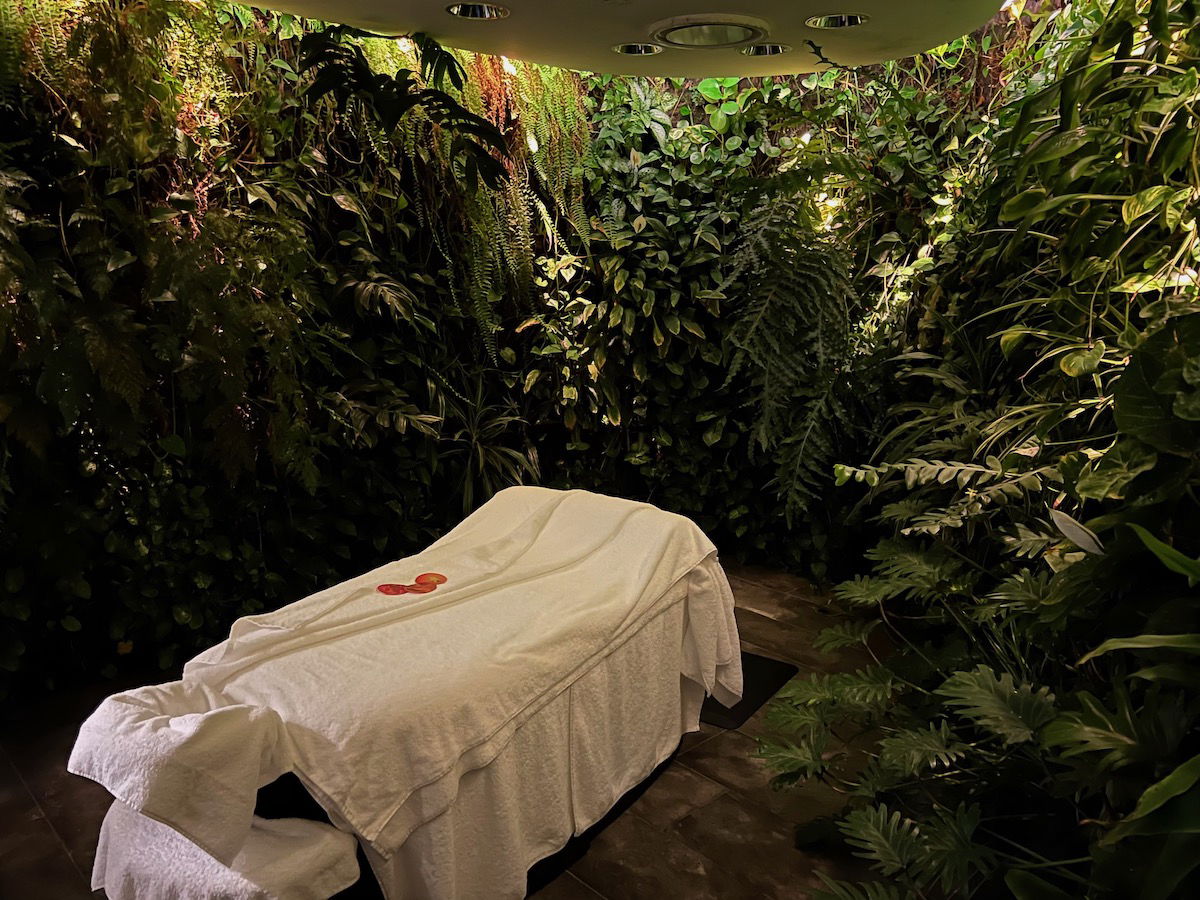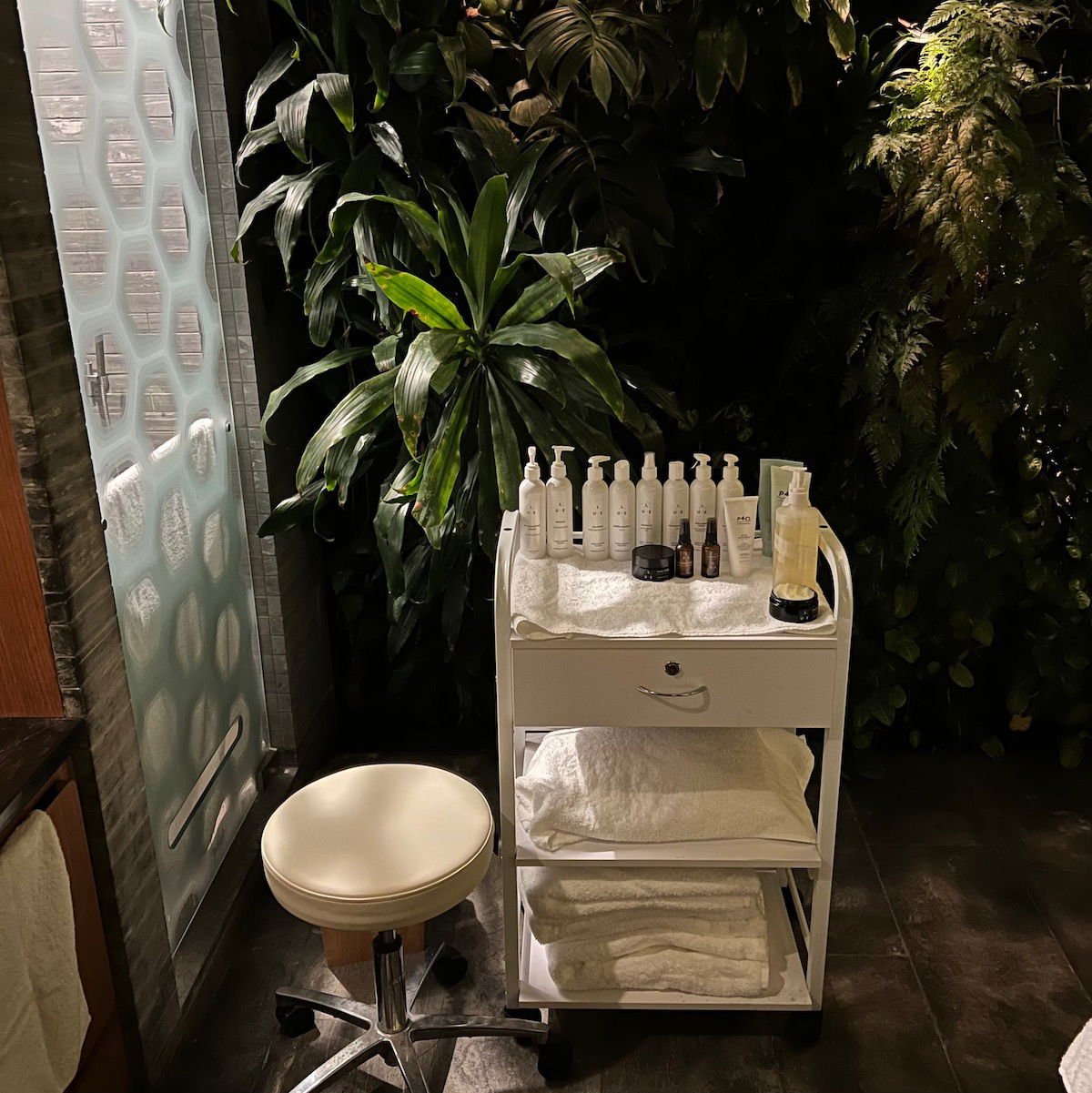 The treatment was very good, and my dad enjoyed his as well. What a treat!
Qantas First Lounge Sydney bathrooms & showers
The Qantas First Lounge Sydney has a couple of sets of bathrooms.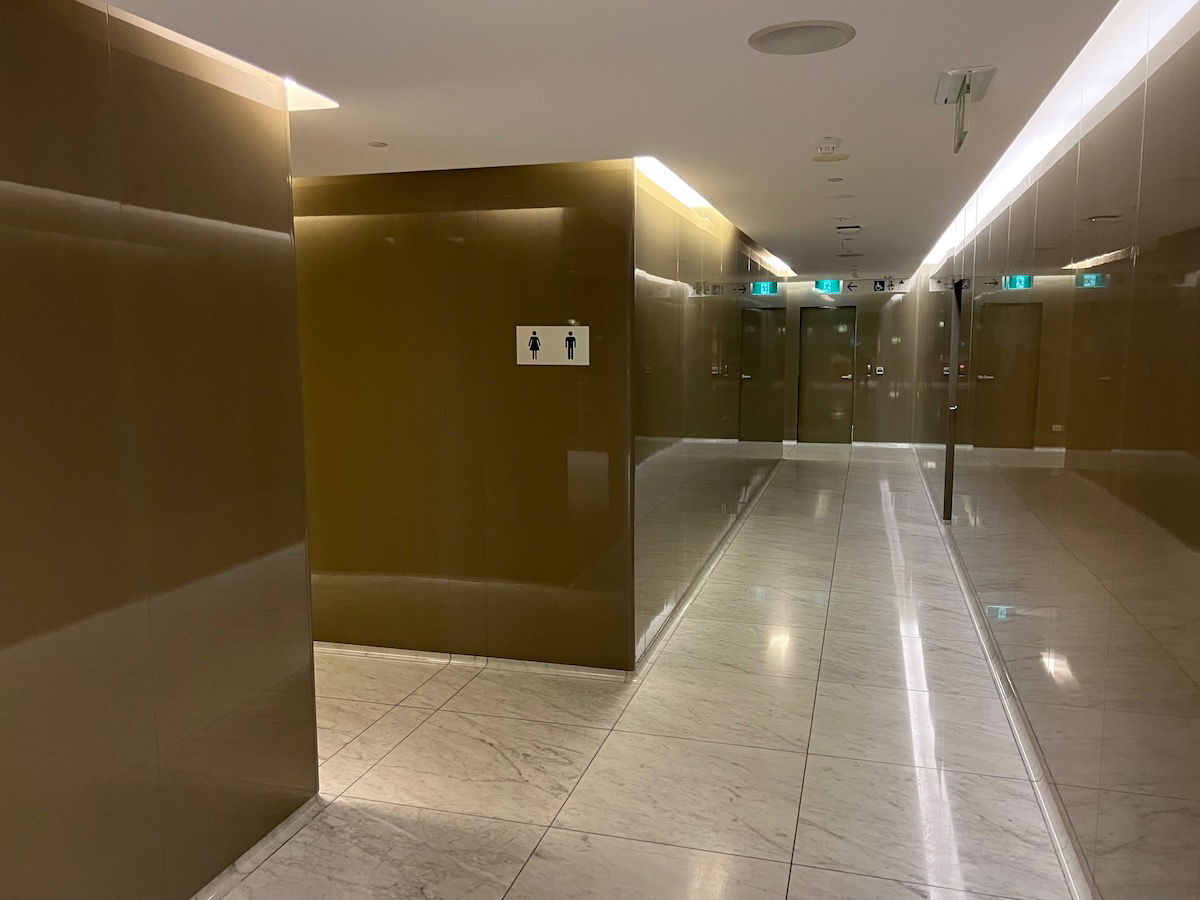 I like how each bathroom stall is basically private, with a toilet and a sink, so it's more dignified than your typical airport lounge bathroom setup.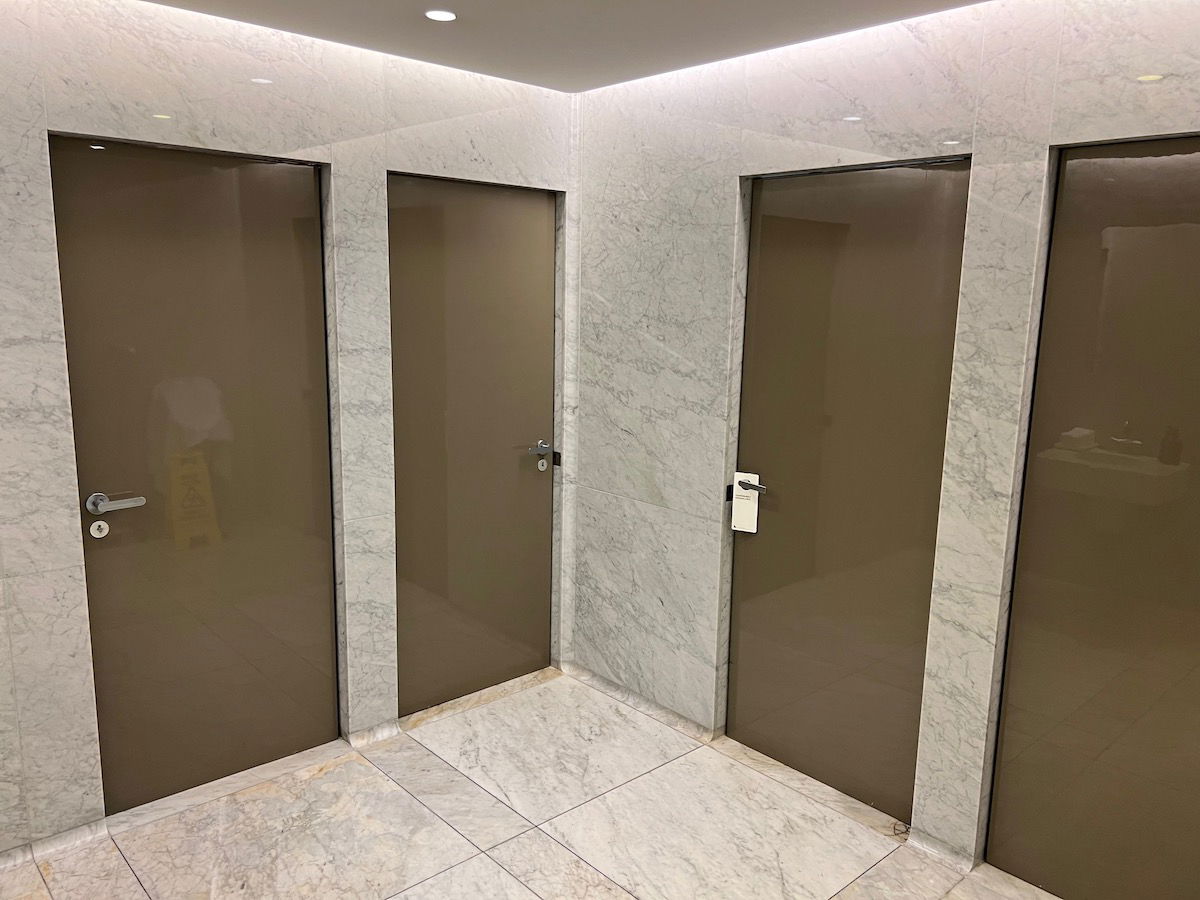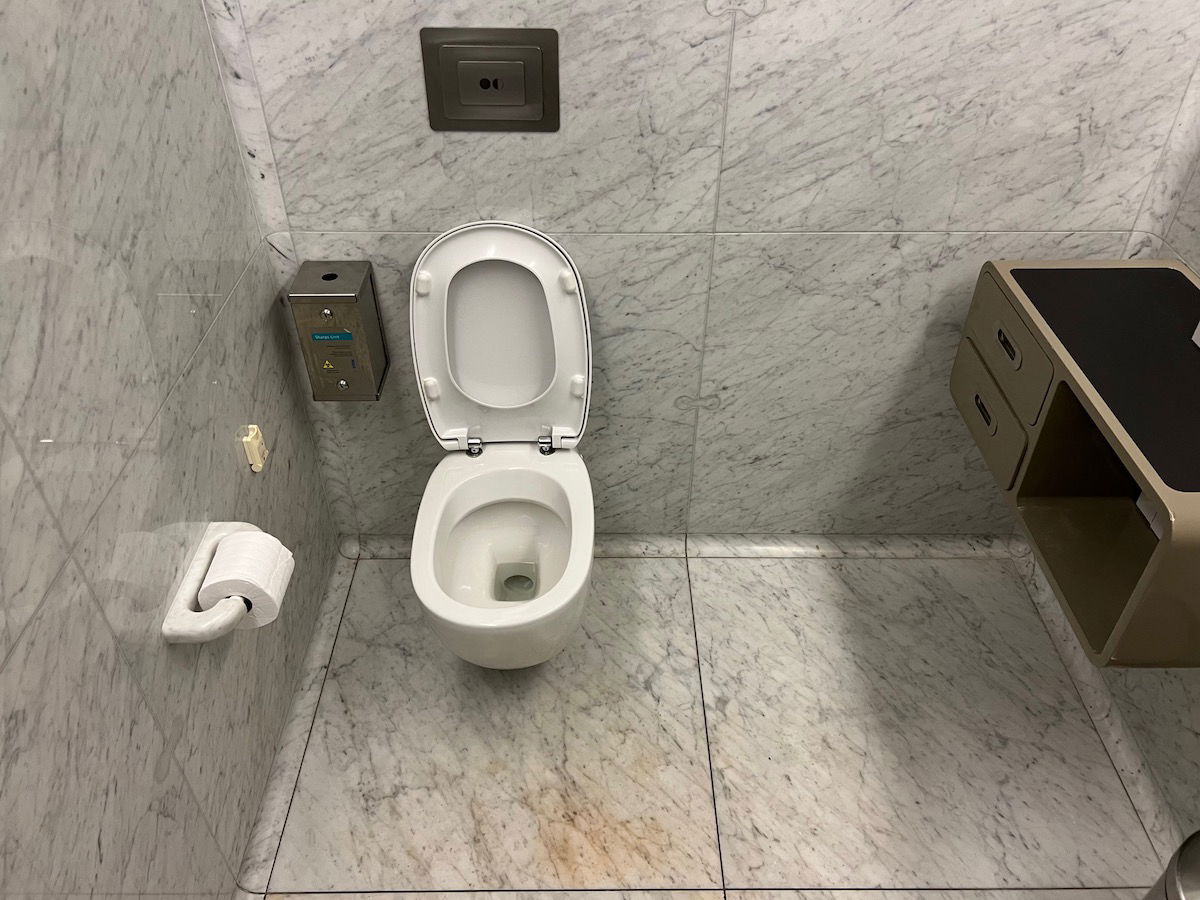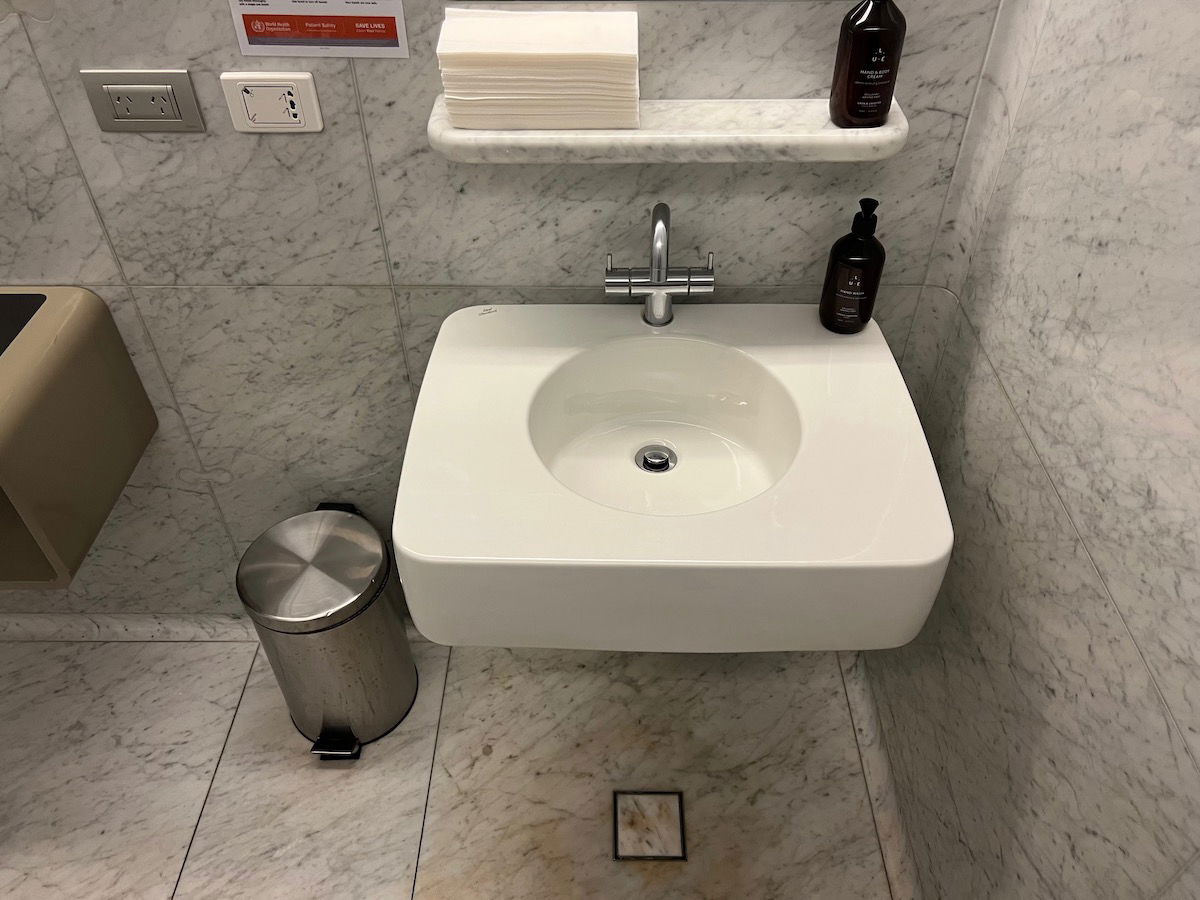 The lounge also has several shower suites, which are well appointed. Each shower suite has a walk-in shower, a sink, and a toilet.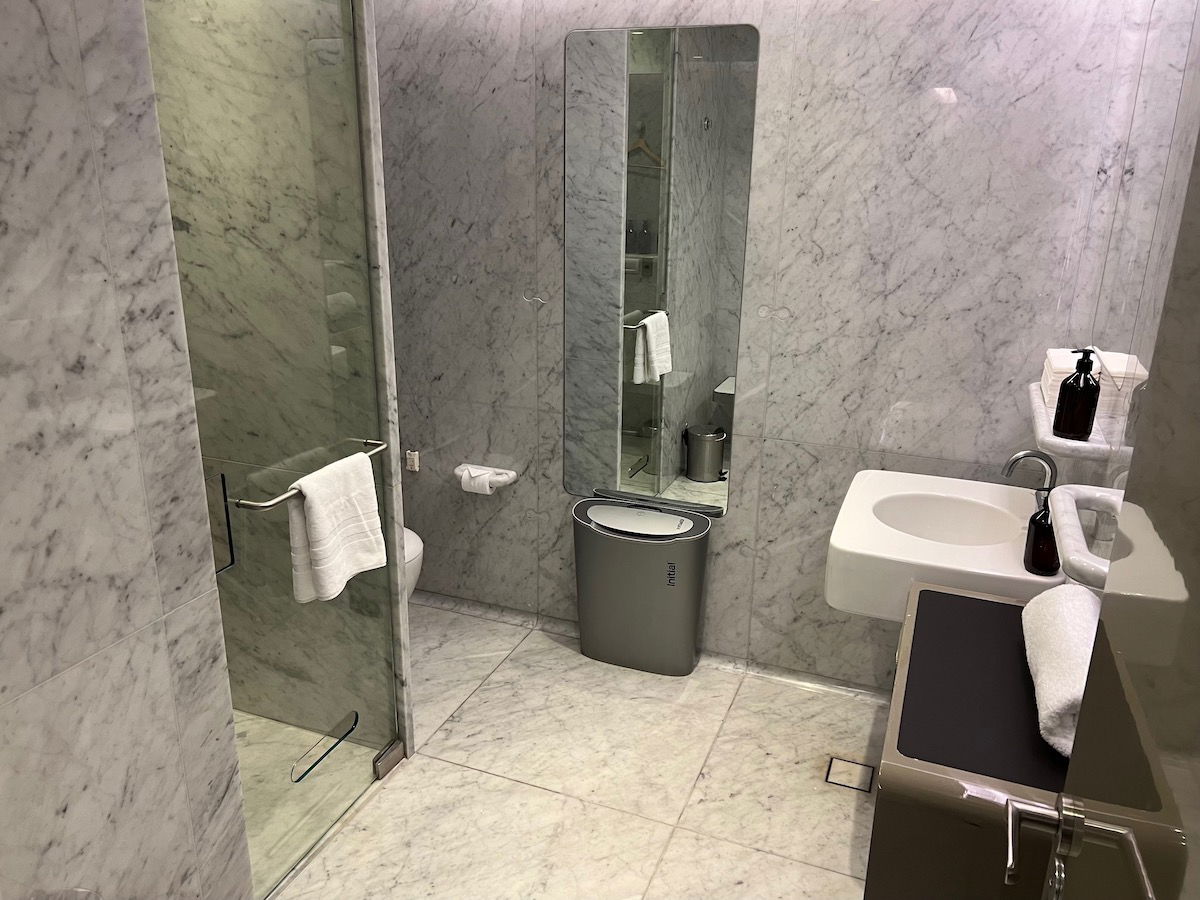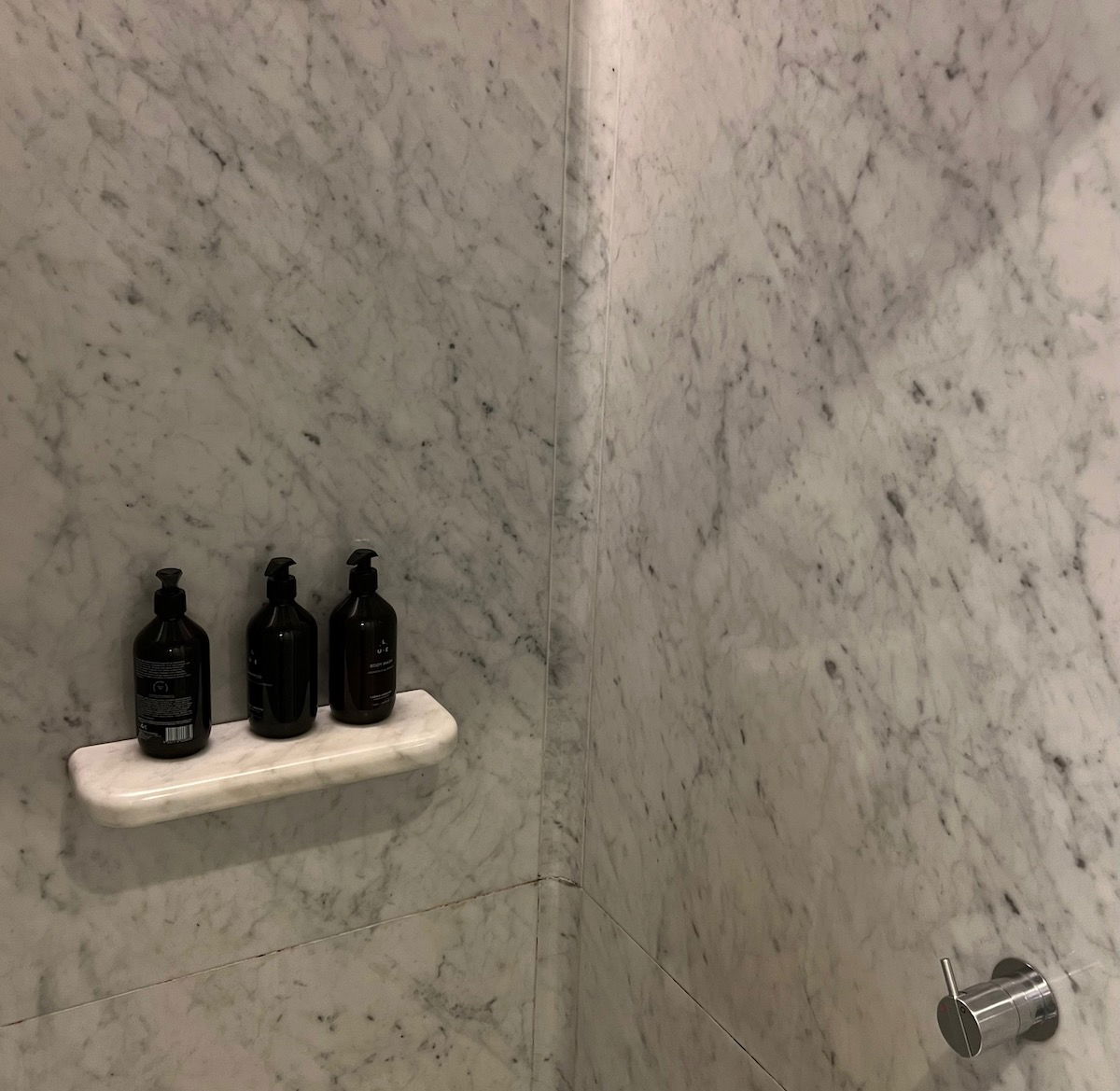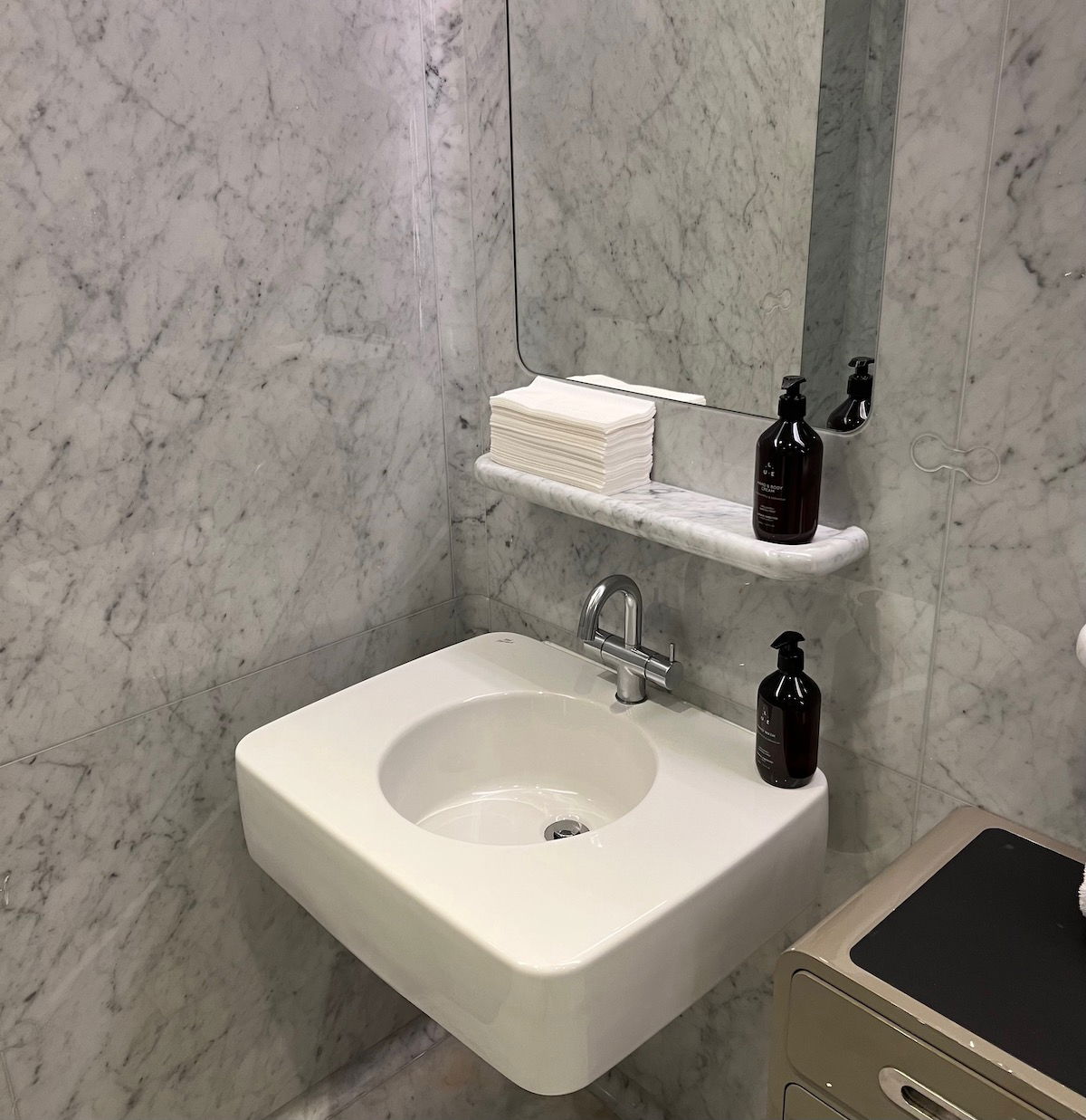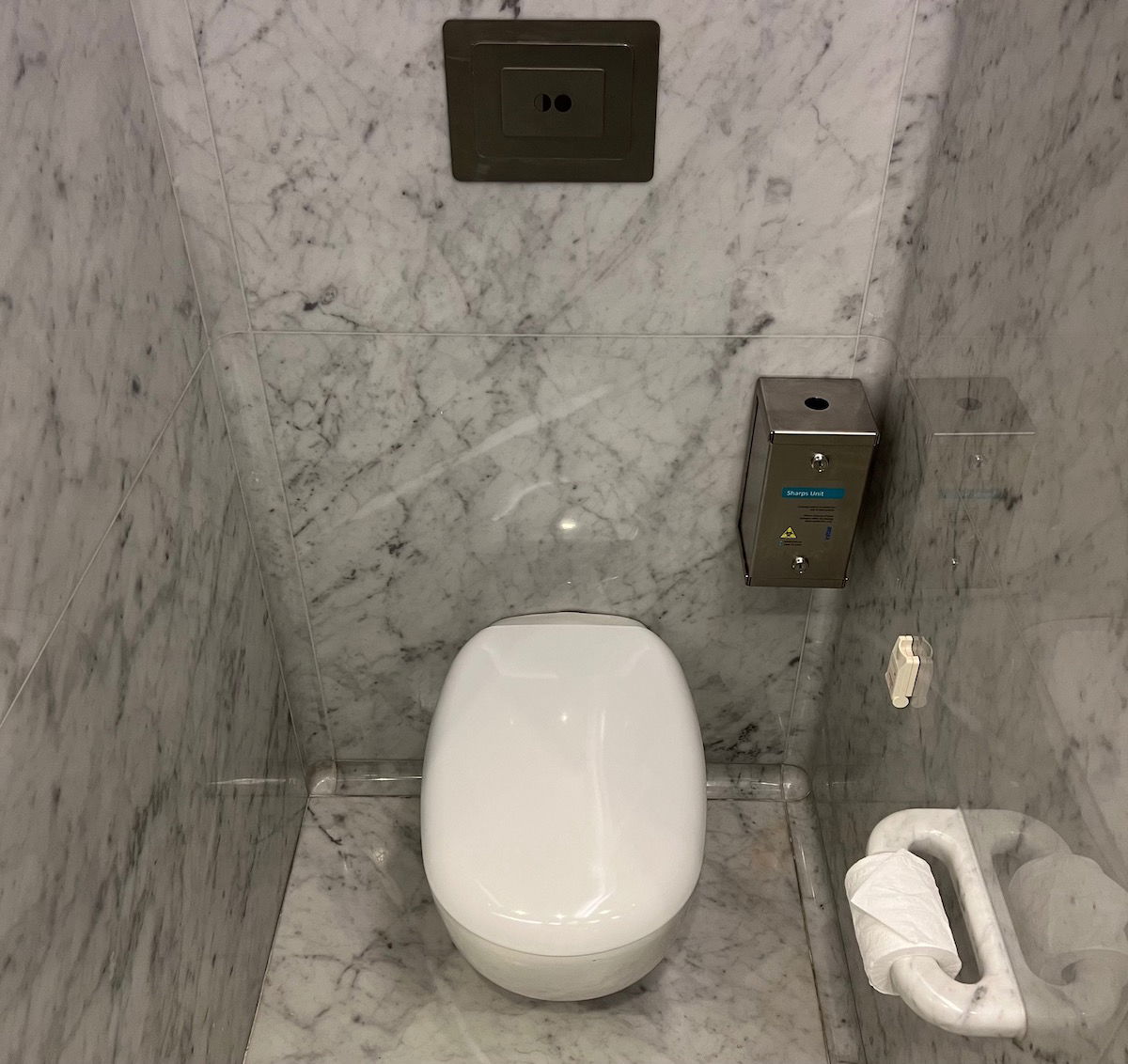 Toiletries were from LaGaia UNEDITED, the same company behind the spa.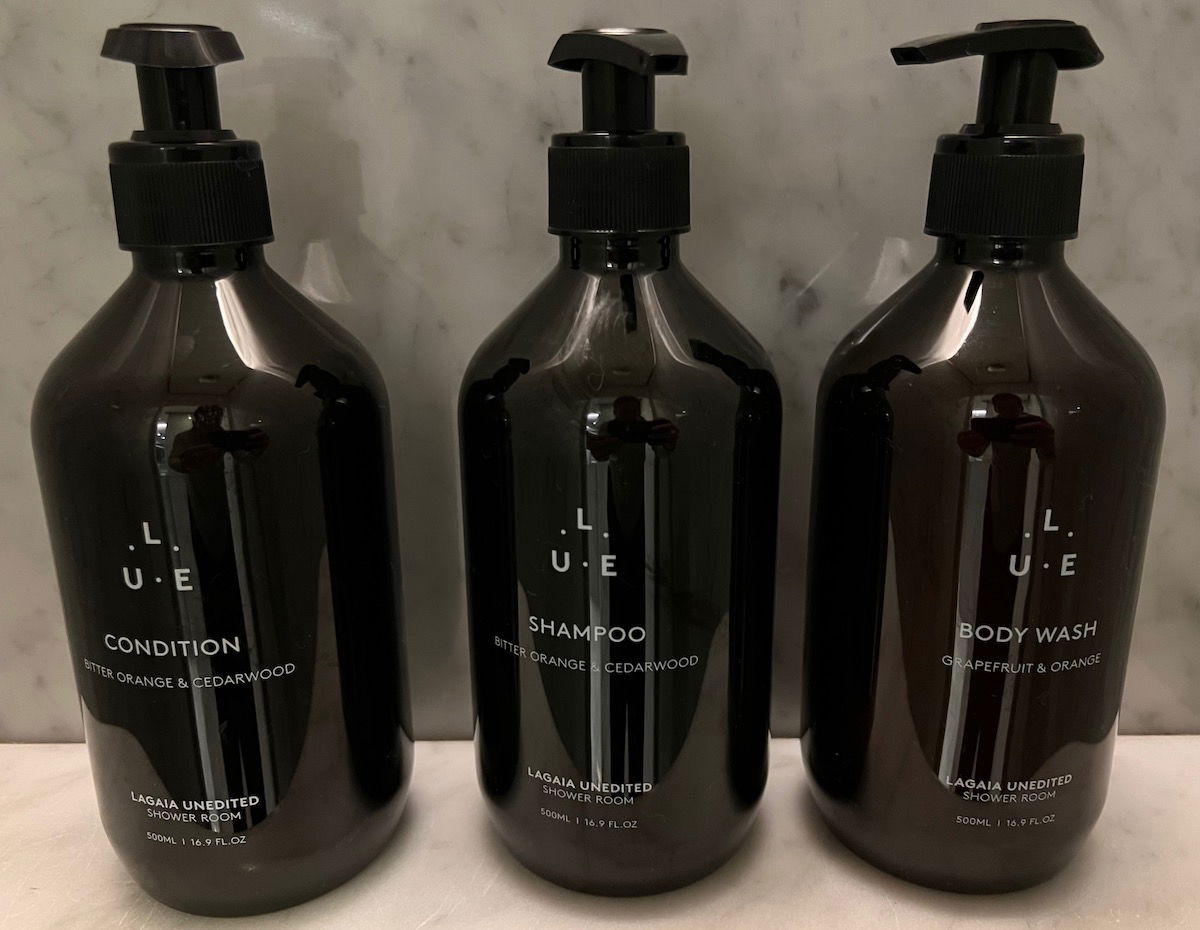 Qantas First Lounge Sydney service
I found the staff in the Qantas First Lounge Sydney to be incredibly friendly across the board. Whether it was the Qantas staff at the front desk, or the restaurant servers, you definitely get the sense that people take pride in working in the lounge.
Bottom line
The Qantas First Lounge Sydney is an incredible lounge, and I'm so happy to have visited it for the first time in years. There's so much to love about the lounge, from the design, to the views, to the a la carte dining, to the spa. This lounge really is a treat to visit, and this is one of the best lounges in the world that you can access on account of elite status.
While I'm not otherwise the world's biggest Qantas fanboy, I do love Qantas First Lounges, and consistently enjoy my visits to them. Heck, these types of lounges are one of my main motivations for maintaining oneworld Emerald status (though that wasn't needed in this case, since we were flying first class).
What's your take on the Qantas First Lounge Sydney?