When most people think of airplane bathrooms, it's probably not a nice imagine that comes to mind. Airlines have largely shrunk bathrooms on newer aircraft significantly, and at times they're also not very well maintained.
That's not true across the board, though. In premium cabins, we've seen airlines introduce some pretty amazing amenities in recent years, and that even includes awesome bathrooms.
In this post I wanted to share what I consider to be the airlines with the best first class bathrooms (somewhat overlapping with my list of the world's best first class airlines). Unsurprisingly, a few options on this list involve the Airbus A380, which is the aircraft that has ushered in the most bathroom innovation. That's because the front of the upper deck has a bit of extra space that can't be utilized for seats, making room for some cool amenities.
With that in mind, below are my five favorite airplane bathrooms, roughly ranked…
1. Emirates A380 first class
Emirates A380 first class is one of my all-around favorite first class products, and a large part of that is the amazing A380 first class shower suites.
Emirates' A380s have two first class shower suites at the front of the upper deck, equipped with heated floors, enough amenities to start a toiletry resale business, and most importantly, a shower. As a first class passenger you can schedule a shower at the beginning of your flight, and while there's no time limit to how long you can use the shower spa, you're limited to five minutes of water. Fortunately you can turn the water on and off without the clock "running," so that's more than enough water for a nice shower.
Of all the excitement I've experienced in the air, I don't think anything compares to the first time I took a shower on Emirates. The airline even has shower spa attendants, who make sure the shower spas are well maintained throughout the flight.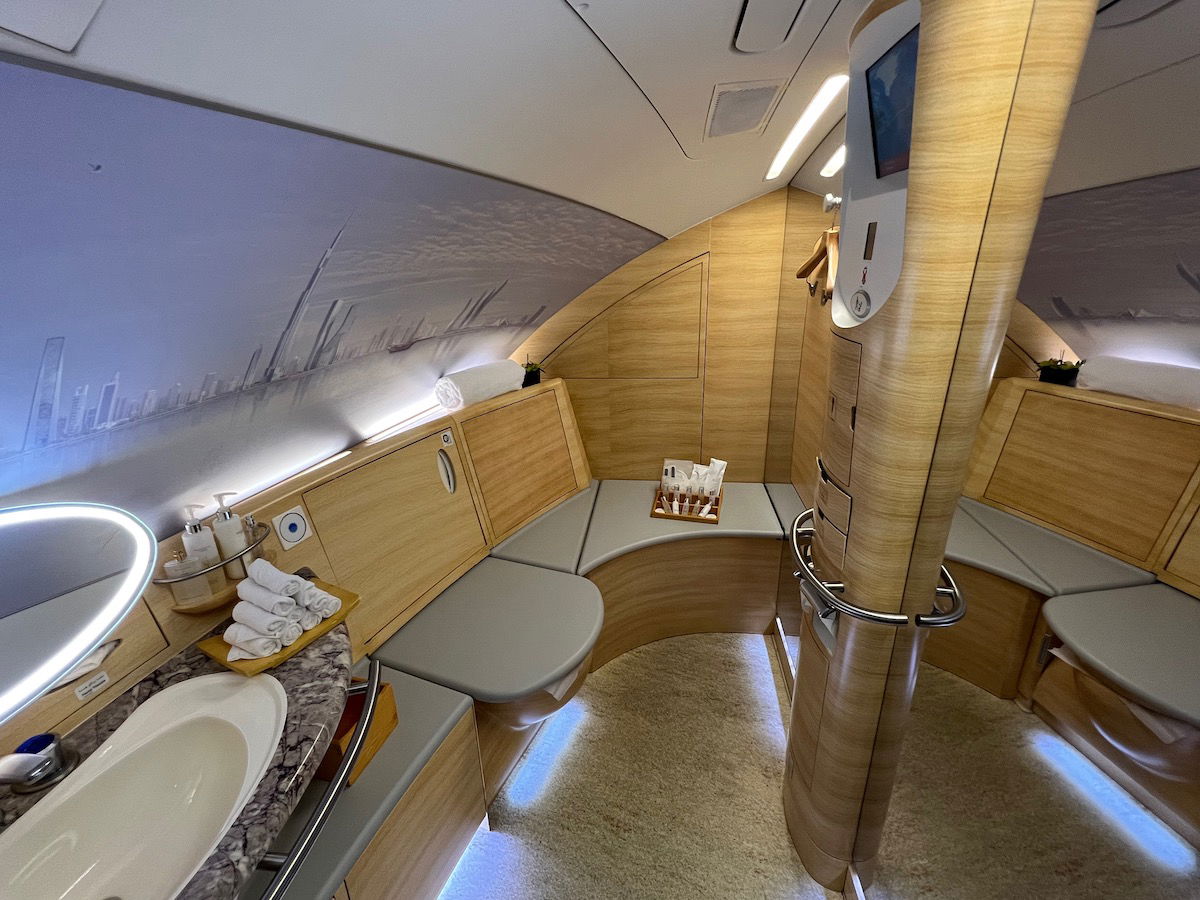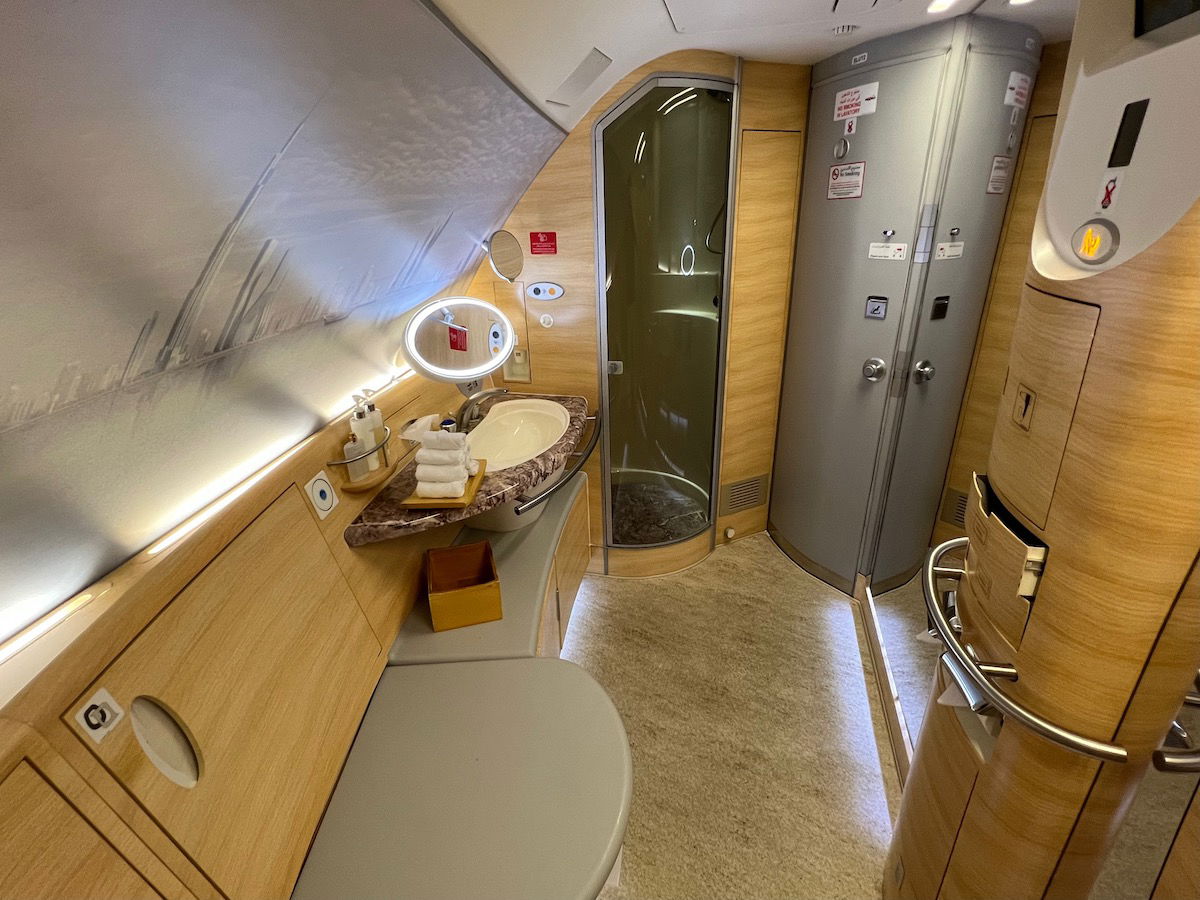 2. Singapore Airlines A380 Suites
Singapore Airlines A380 Suites is an incredible first class product, with only six seats in the cabin. While you won't find a shower on Singapore Airlines' A380s, you will find some of the most spacious bathrooms in the sky. One of the lavatories has a huge vanity, and is probably the size of 10 typical Boeing 737 MAX bathrooms. Airplane bathrooms don't get much more luxurious than this!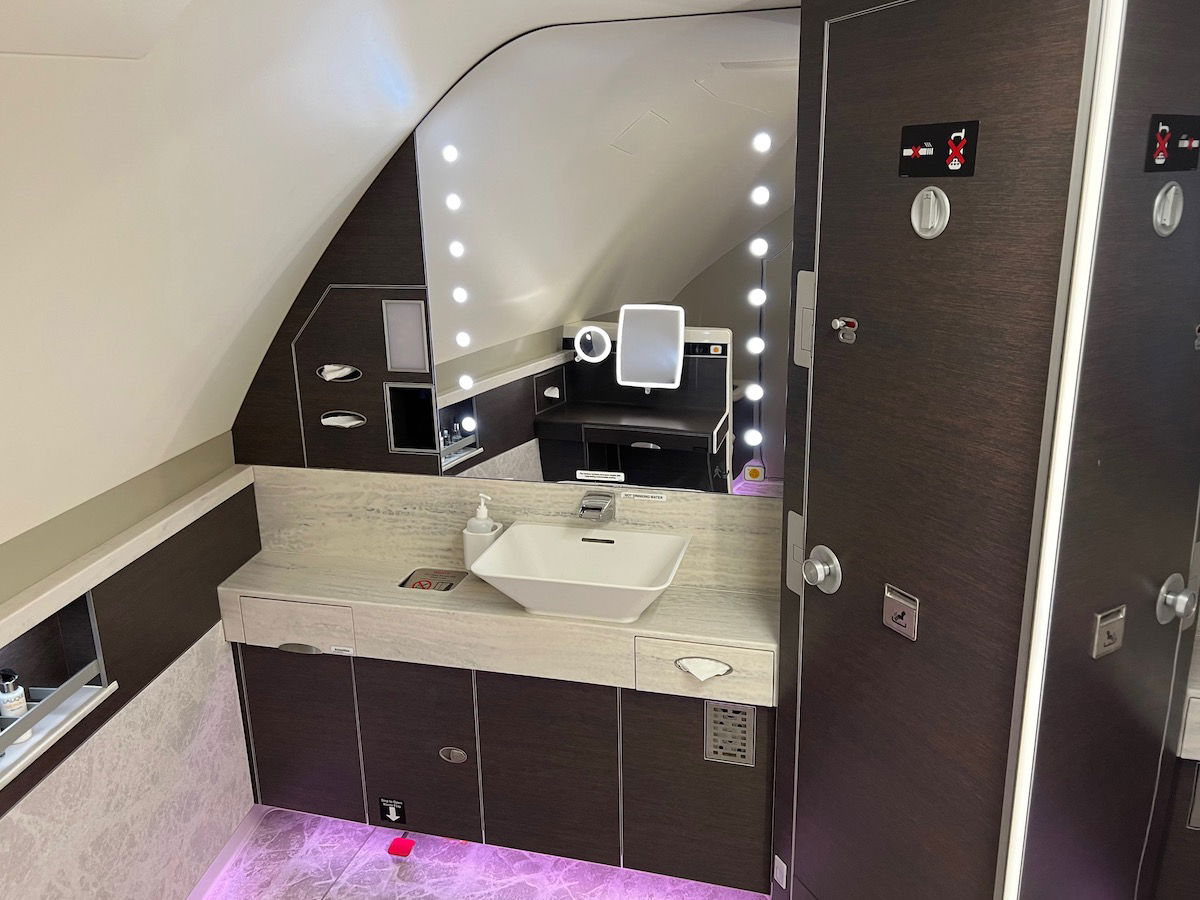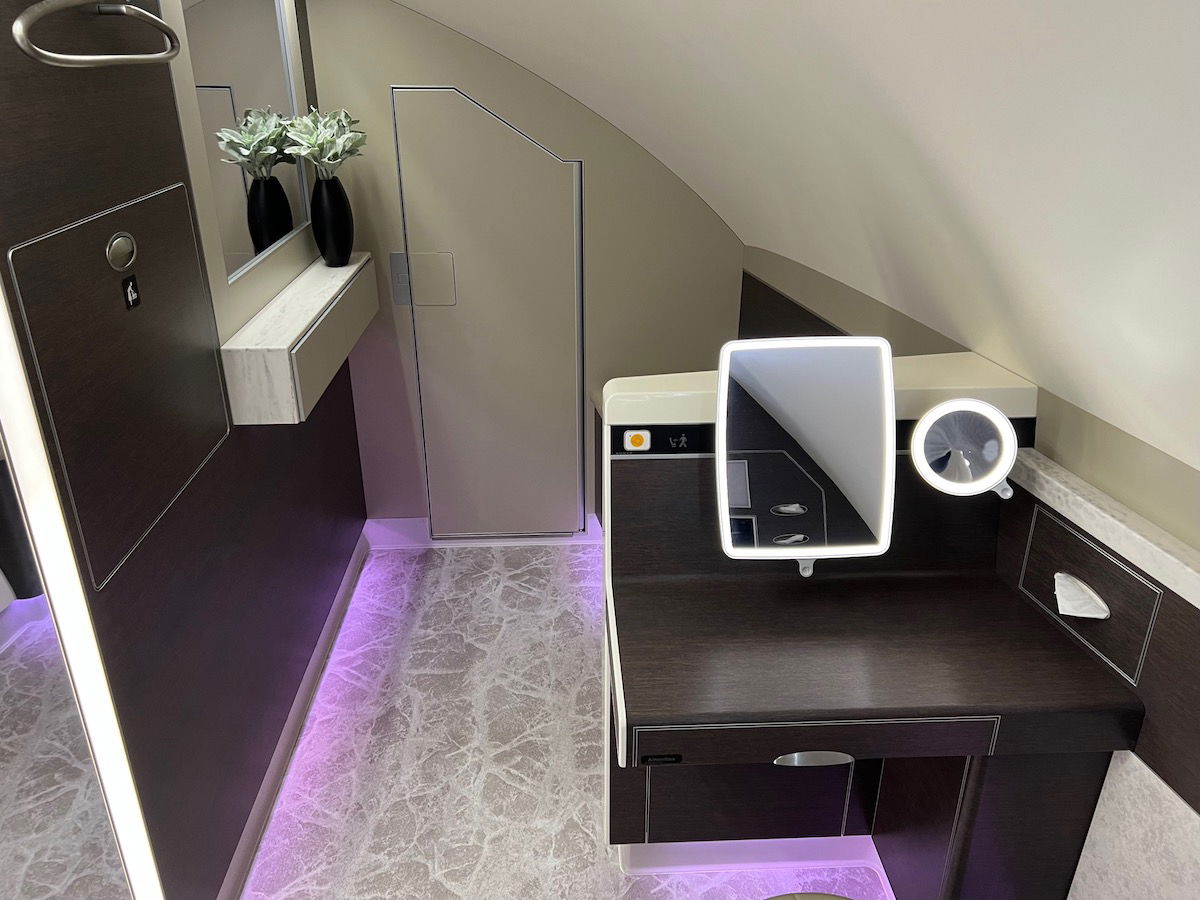 3. Qatar Airways A380 first class
Qatar Airways A380 first class has two very nice lavatories at the front of the upper deck. While there aren't any special amenities, you'll find that they're incredibly spacious, and nicely decorated.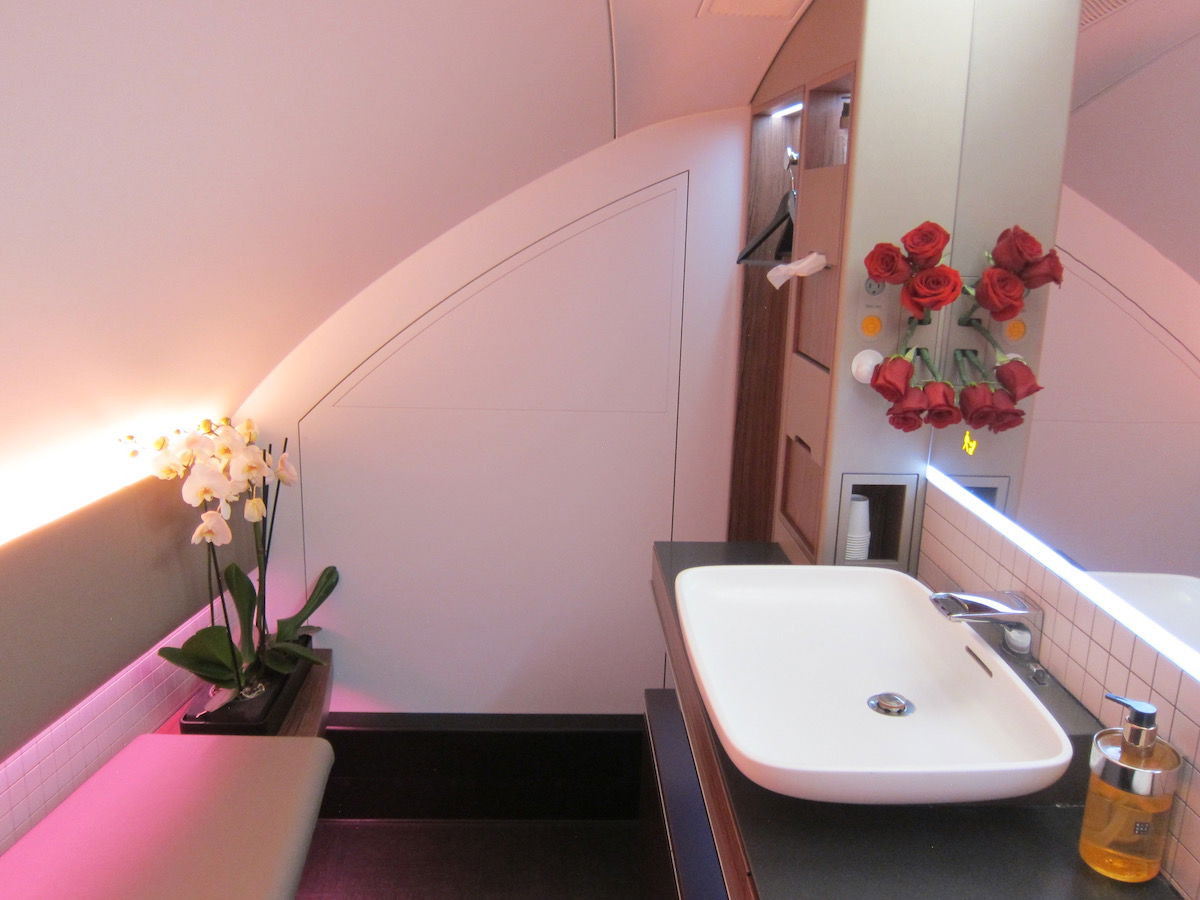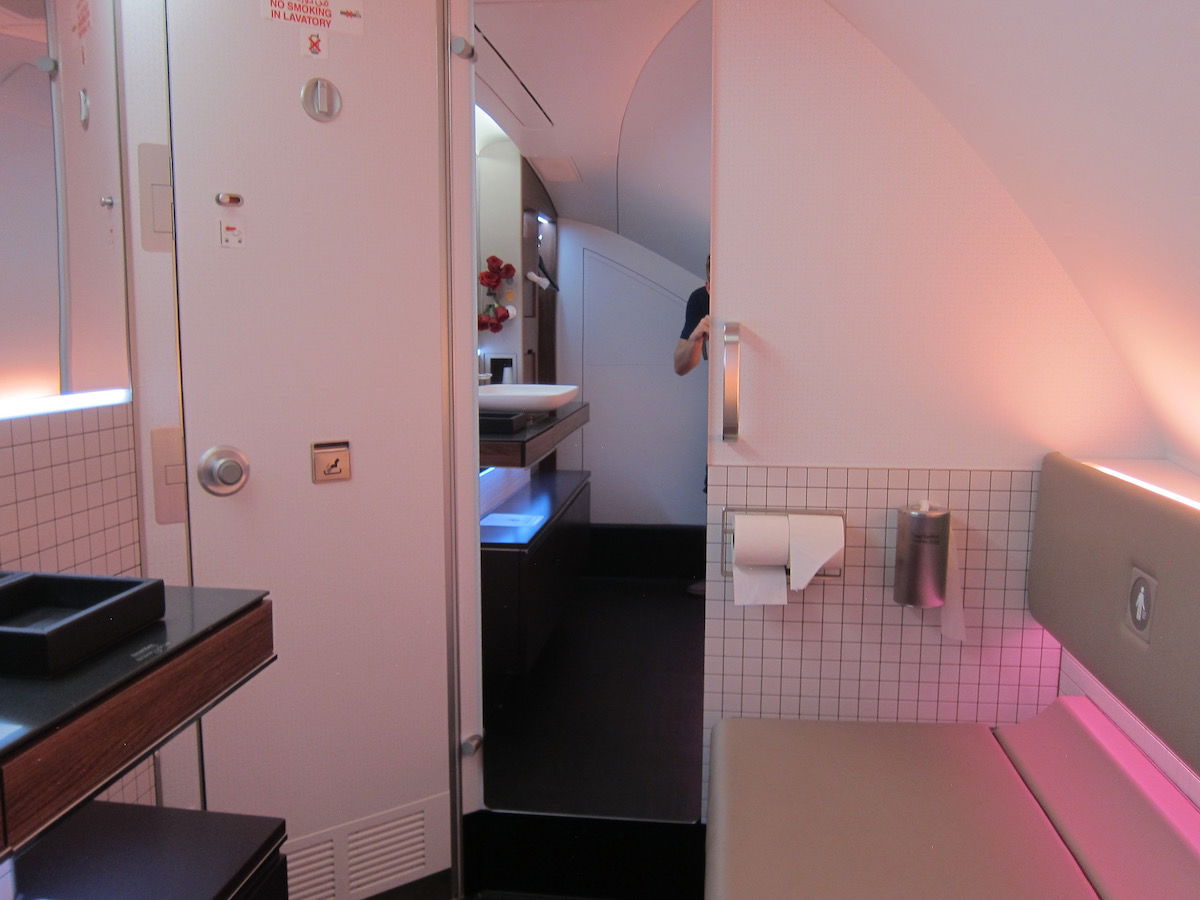 4. All Nippon Airways 777 first class
As you can see, so far all of the lavatories on the list are on Airbus A380s, so let's take a look at a different aircraft type. I'm a huge fan of All Nippon Airways 777 first class.
While the first class lavatory at first might not appear to be so special, many will appreciate that ANA has a bidet function for its toilets, which you won't find on many airlines. I also appreciate how there's a "plank" of sorts that you can extend on the ground, for situations where you want to change into pajamas without touching the regular floor of the bathroom.
On top of that, ANA does an amazing job with keeping its lavatories clean between each use, down to folding the toilet paper into perfect triangles.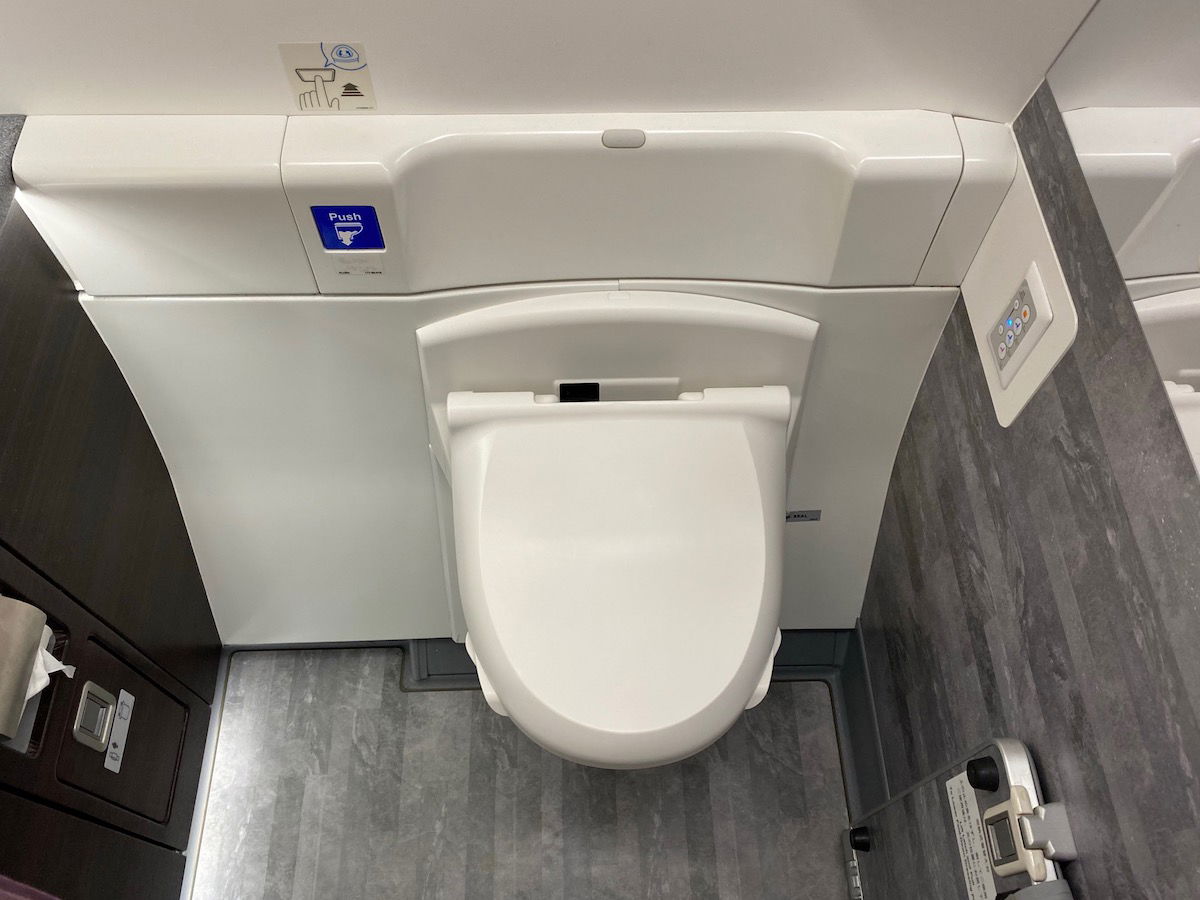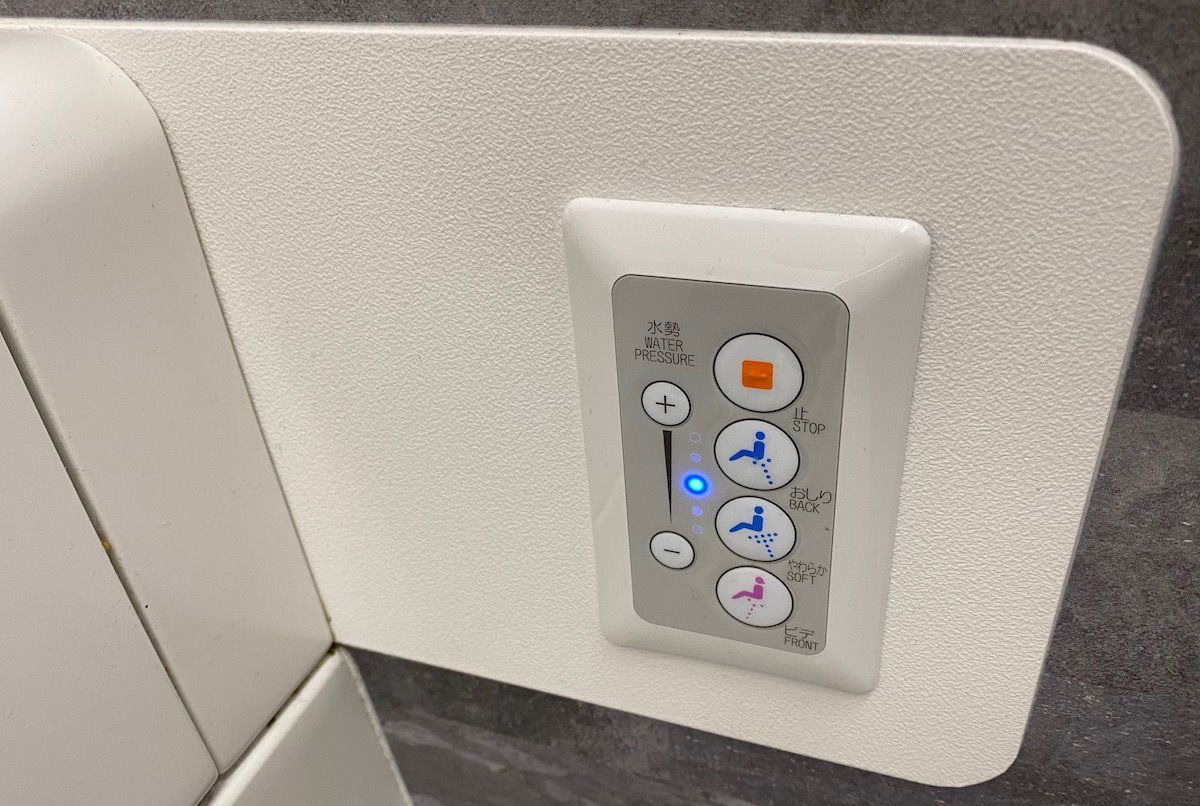 5. Lufthansa 747-8 first class
I have a soft spot for Lufthansa 747-8 first class, probably at least partly because the Boeing 747-8 is my favorite plane as an avgeek. While not quite as over the top as some of the other options, Lufthansa's 747-8 lavatories are spacious, have a bench you can extend out over the toilet, and most importantly, have a window. It's so nice to be able to look out the window while in the lavatory.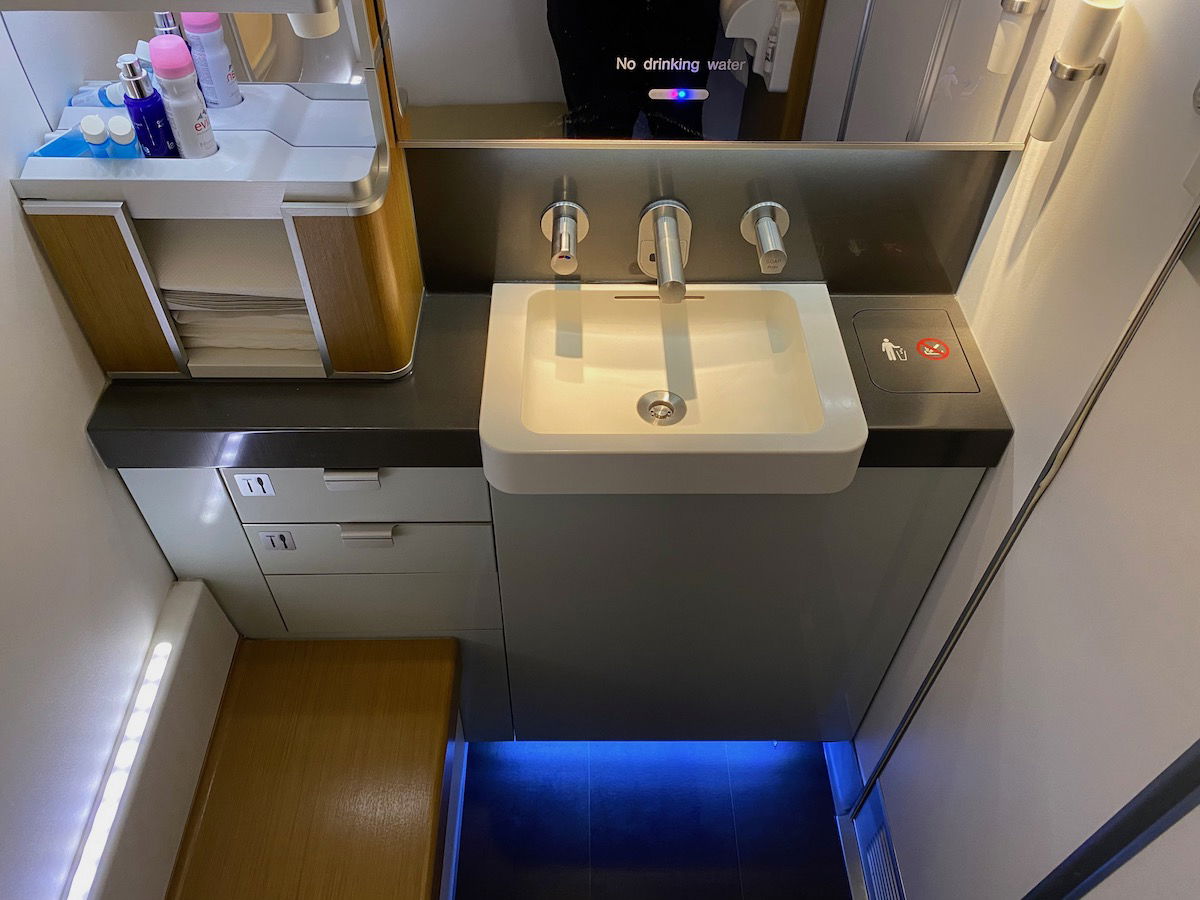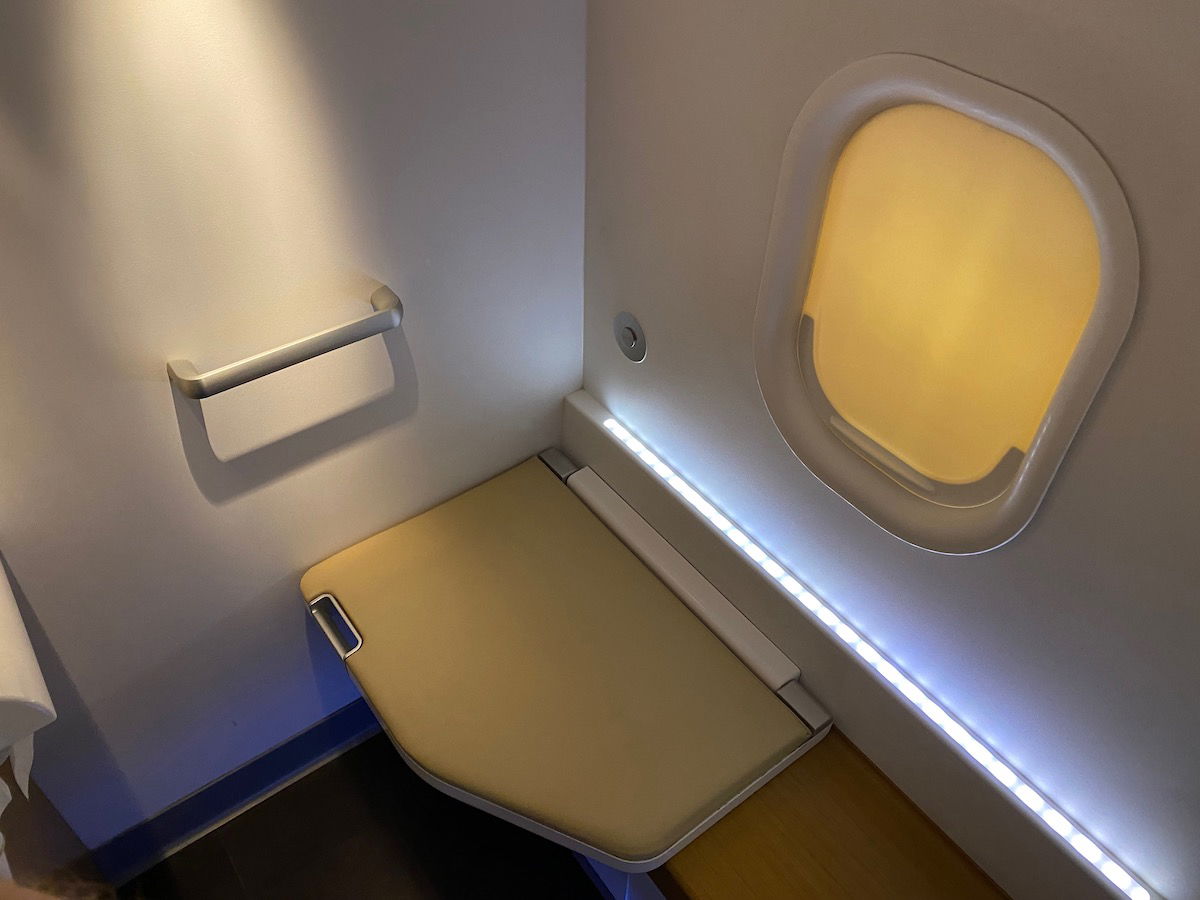 Coming soon: more fun airplane bathrooms
While I consider the above to be the current best lavatories in service, I'd note that in the coming months we'll see two awesome new lavatories introduced, as we see certain planes reactivated.
First of all, Lufthansa will be bringing back its A380s in the summer of 2023. These planes have two huge lavatories at the front of the upper deck, each equipped with a bench, and most excitingly, a urinal!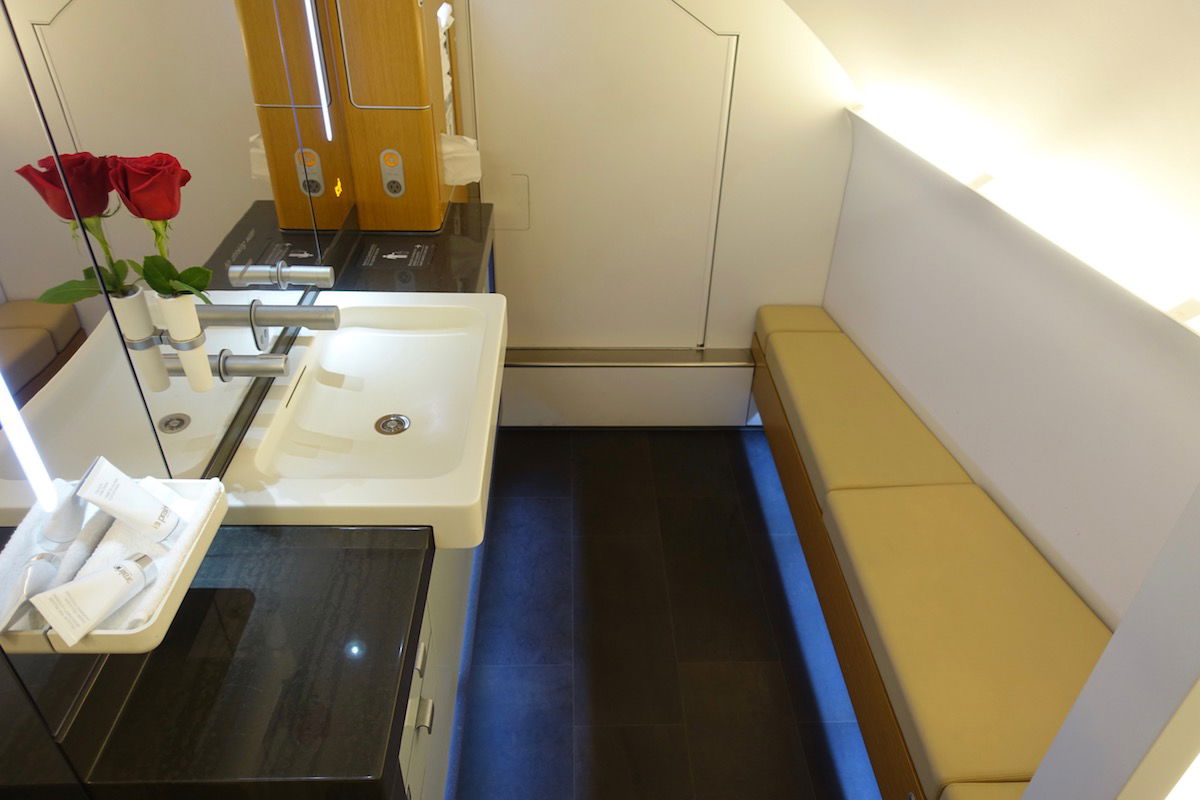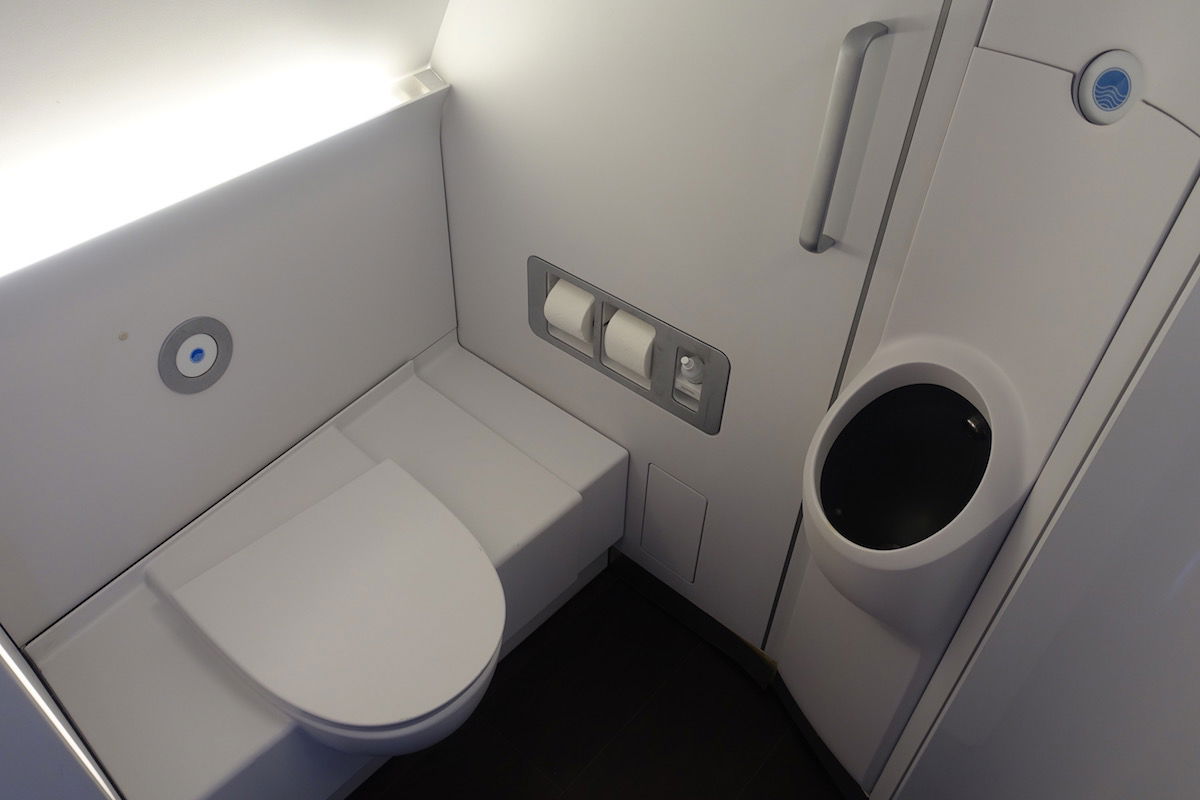 Furthermore, Etihad will be bringing back its A380s as of the summer of 2023. Aside from Emirates, Etihad is the only one other airline to have a shower suite in first class. While it's not quite as extravagant as what you'll find on Emirates, I think most people won't be complaining about any opportunity to shower on a plane. 😉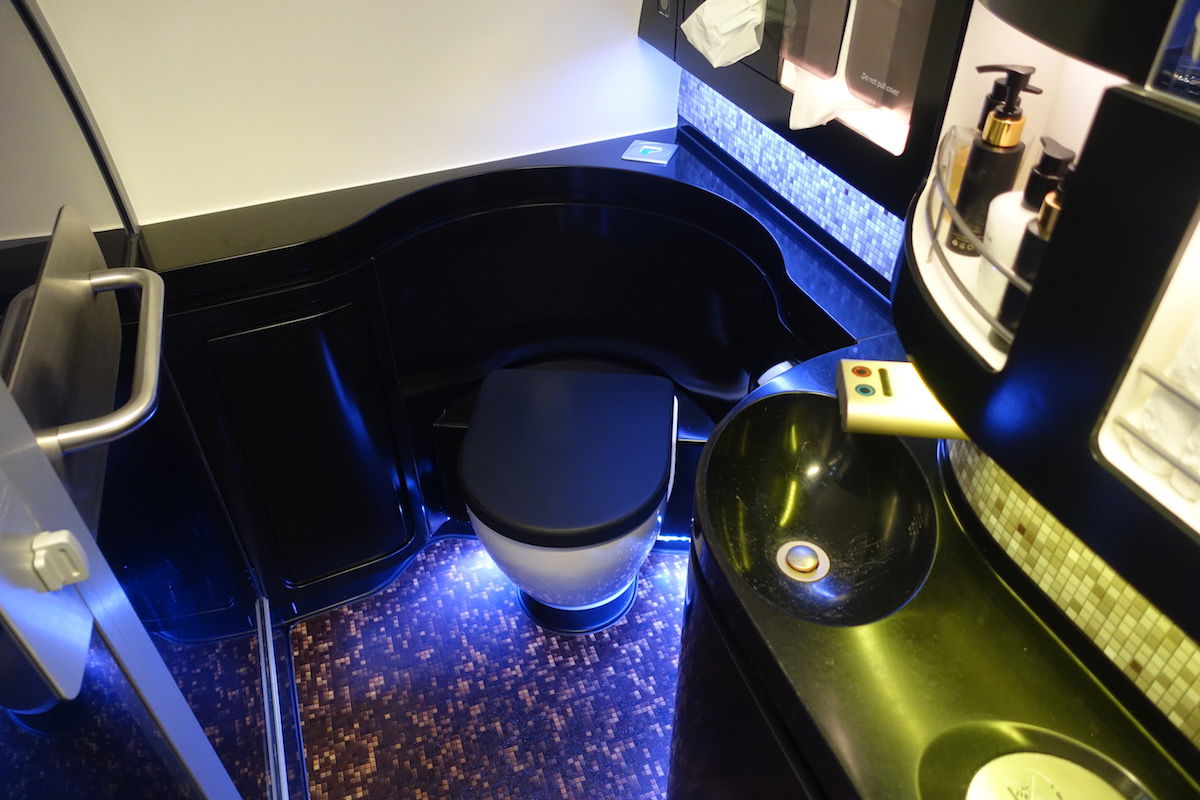 Bottom line
There are some pretty incredible airplane bathrooms out there. While nothing can compete with Emirates' amazing shower suites, there are plenty of other impressive ones out there as well, including everything from vanities, to bidets (and soon urinals!).
What's your favorite bathroom on a commercial aircraft?