EXTRA PERKS AVAILABLE
Enjoy breakfast, upgrades, & more
Want to take advantage of Marriott STARS benefits, including a space available room upgrade, complimentary breakfast, a hotel credit, and more? Contact Ford ([email protected]) for more details. He may even be able to help if you already have a stay booked. This is valid for paid stays at BVLGARI, EDITION, Ritz-Carlton, Ritz-Carlton Reserve, and St. Regis.
For the continuation of my round the world trip with dad, we spent one night at the 205-room Ritz-Carlton Perth, after arriving from Doha and prior to continuing to Sydney. The hotel opened in late 2019 (talk about awful timing, especially in Australia!), and became Australia's first Ritz-Carlton property.
All-in-all, I thought this was a great hotel, especially given the much more reasonable pricing than you'd find at other Ritz-Carlton properties. The hotel has panoramic views, a central location, luxurious rooms (with some design quirks), good food and beverage outlets, and amenities like a pool, gym, and spa.
However, the hotel doesn't have any huge "wow" factor, not that I was necessarily expecting it. It's just a very nice city hotel. Assuming the price is right, I'd definitely recommend it.
Booking the Ritz-Carlton Perth
I paid 549 AUD (~369 USD) for our one night stay at the Ritz-Carlton Perth. I booked through the Marriott STARS program, which offers additional perks, including a 100 USD property credit and complimentary breakfast (which is valuable, since Bonvoy elite members don't otherwise receive free breakfast at Ritz-Carlton). Ford is happy to help with these bookings, and can be reached at [email protected].
As a point of comparison, the hotel would have cost 56,000 Bonvoy points if redeeming points. I value Bonvoy points at 0.7 cents each, meaning an award stay would have cost the equivalent of ~392 USD. Paying cash here was definitely the better value, given the 100 USD credit we received for our stay, plus the free breakfast, which we wouldn't have received if redeeming points.
Ritz-Carlton Perth location
The Ritz-Carlton Perth is located on Perth's Elizabeth Quay waterfront. I'm no expert on Perth (this was my first time visiting), but this seems to be a pretty central location, with some of the best views in the city.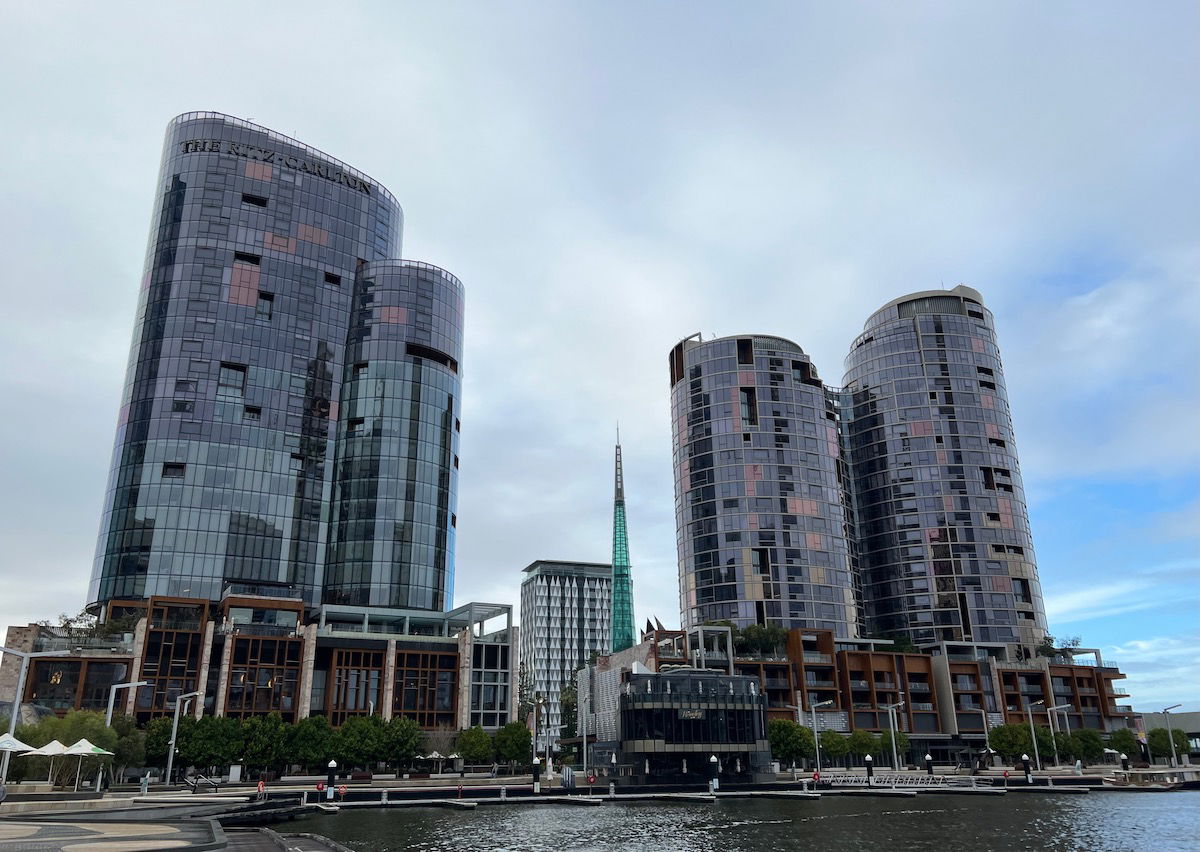 Since we had less than a full day in Perth, we really enjoyed our walk around the city, and I'd love to return at some point. The city felt very livable. One thing I noticed was that the Elizabeth Quay area is incredibly windy, and felt ice cold. Admittedly we were visiting in late fall, but it was pleasant to walk around the rest of the city, while I was basically shivering along the waterfront. I'm not sure if that's normal, or if we just caught the city on a very windy day.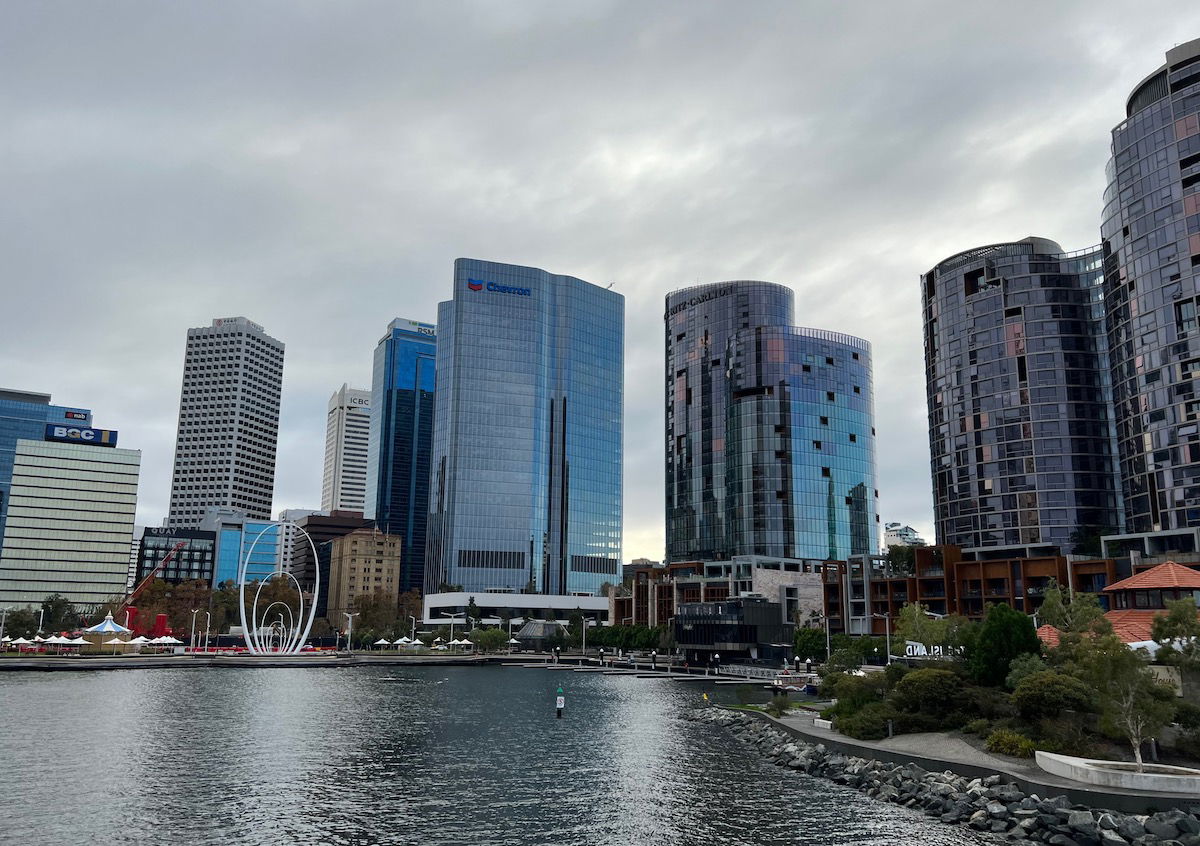 The Ritz-Carlton Perth is located about a 25-minute drive from Perth Airport (PER). It would have taken some time to get an Uber, so we decided to take a taxi. It was a good reminder of how much I dislike taxis. The driver hadn't heard of the Ritz-Carlton, and even when I showed it to him on a map, he was confused.
He kept asking me if the hotel was near this-or-that. Dude, I don't know, I've never been here before! If you don't know what I'm talking about, could you maybe type it into your own phone and figure it out? So as much as the ride sharing industry is far from perfect, it sure is better than the alternative.
Ritz-Carlton Perth lobby & check-in
Upon pulling up to the Ritz-Carlton, we were greeted by a friendly bellman, and pointed toward reception. The Ritz-Carlton has a modern and somewhat minimalist design, which I quite like, especially in contrast to some of the old school Ritz-Carltons with a lot of marble and brass.
The lobby has extra high ceilings, as it spans a few floors, and there's also some lobby seating.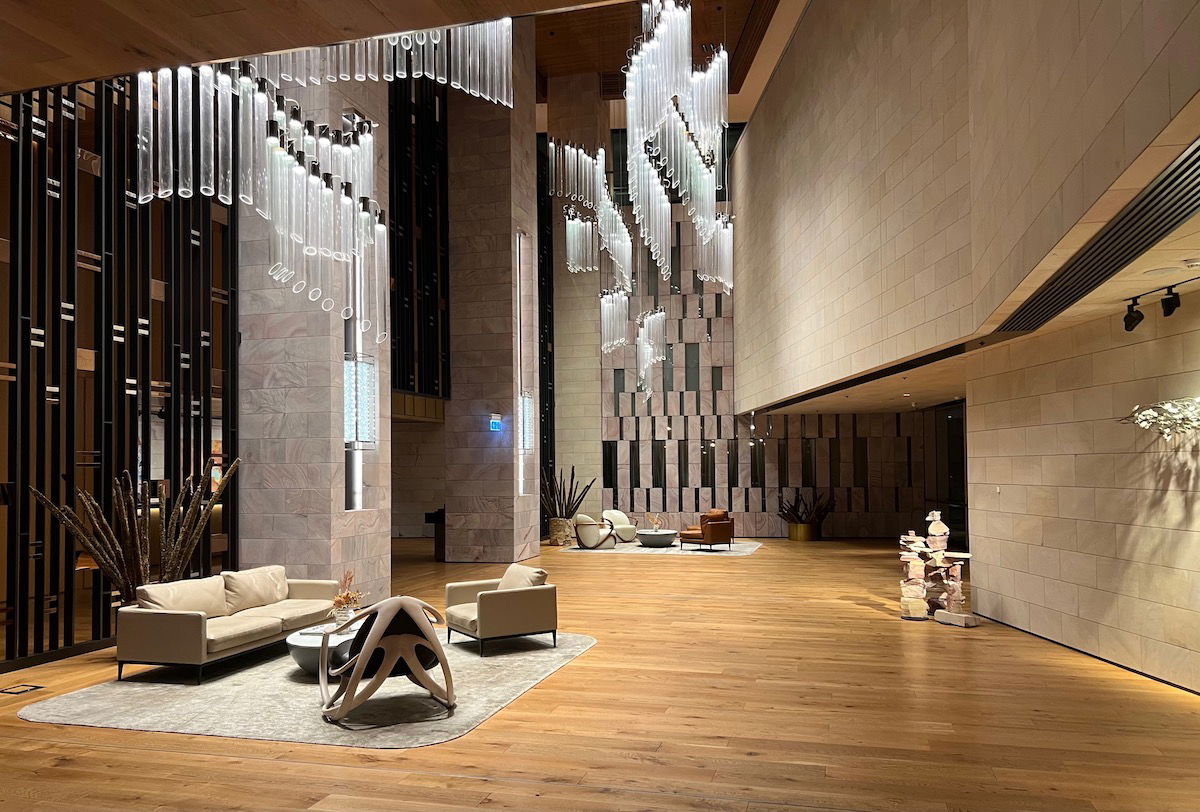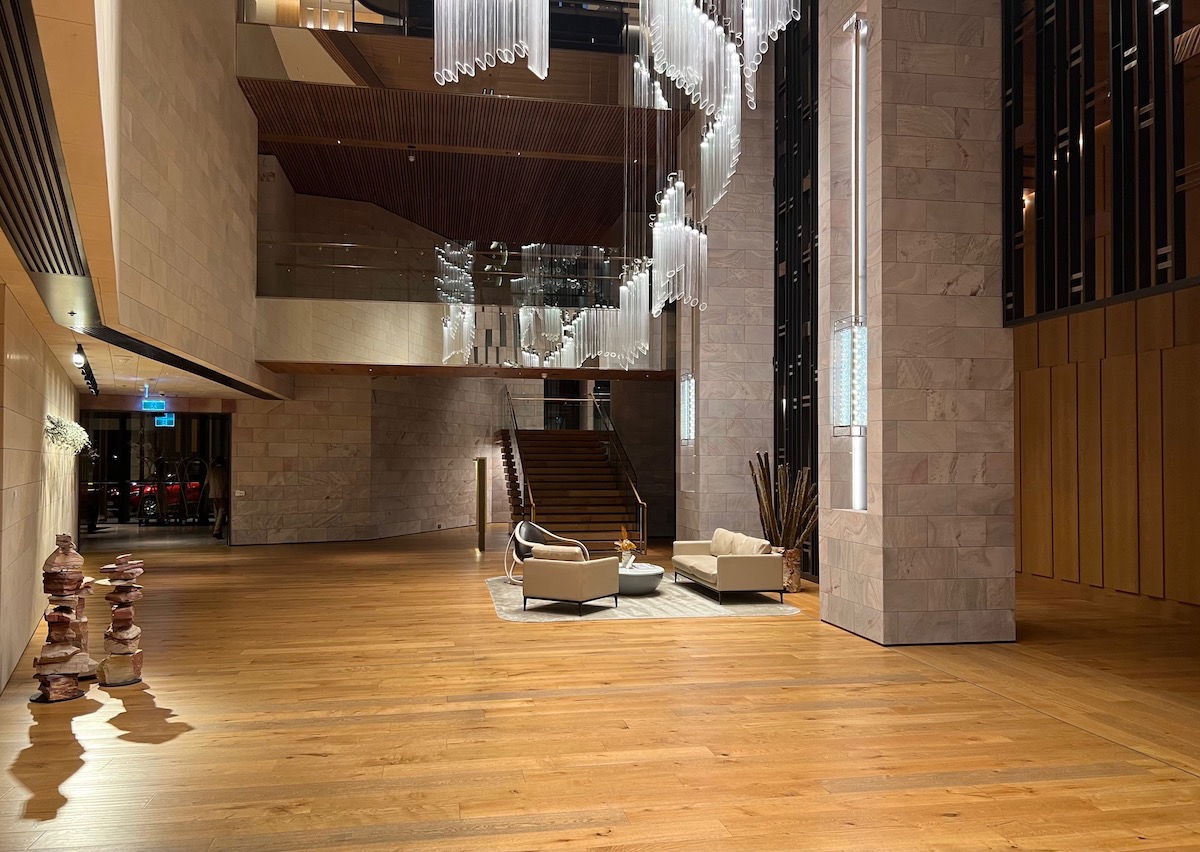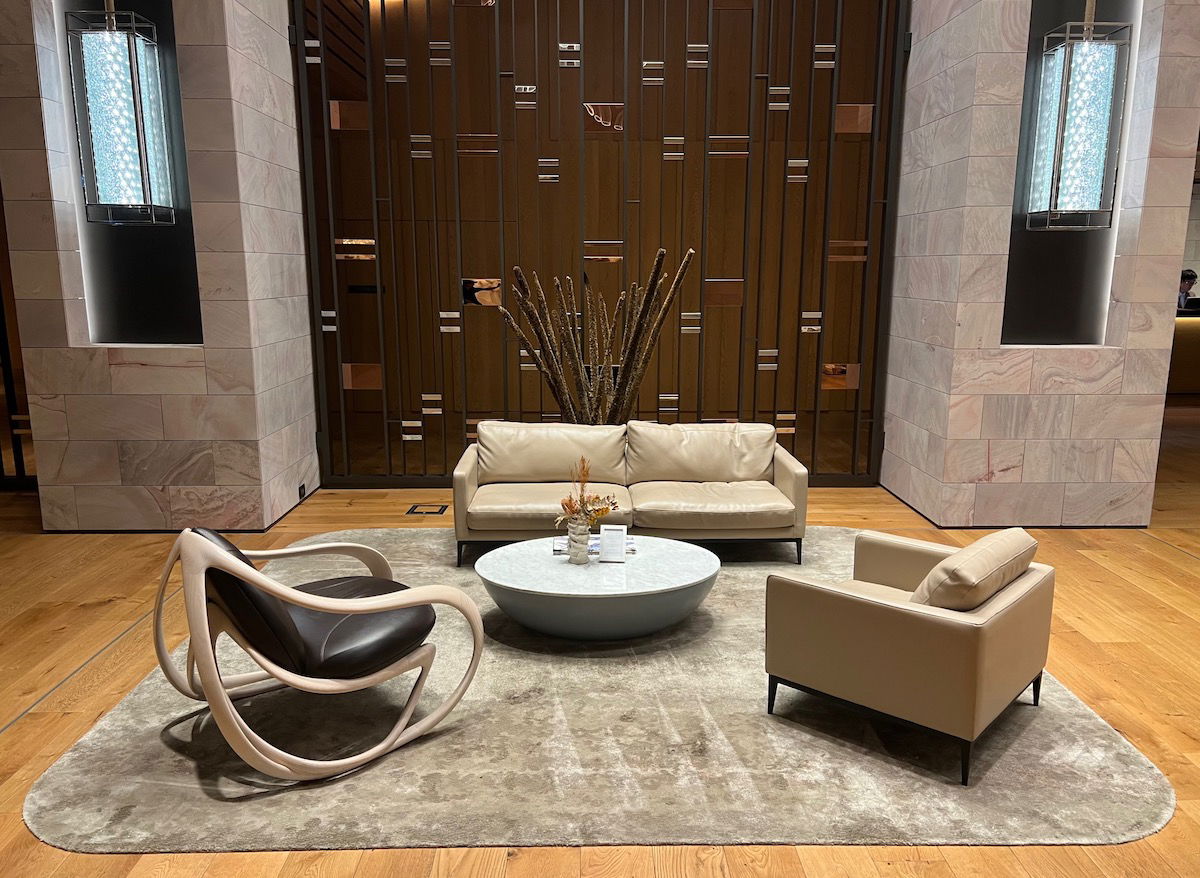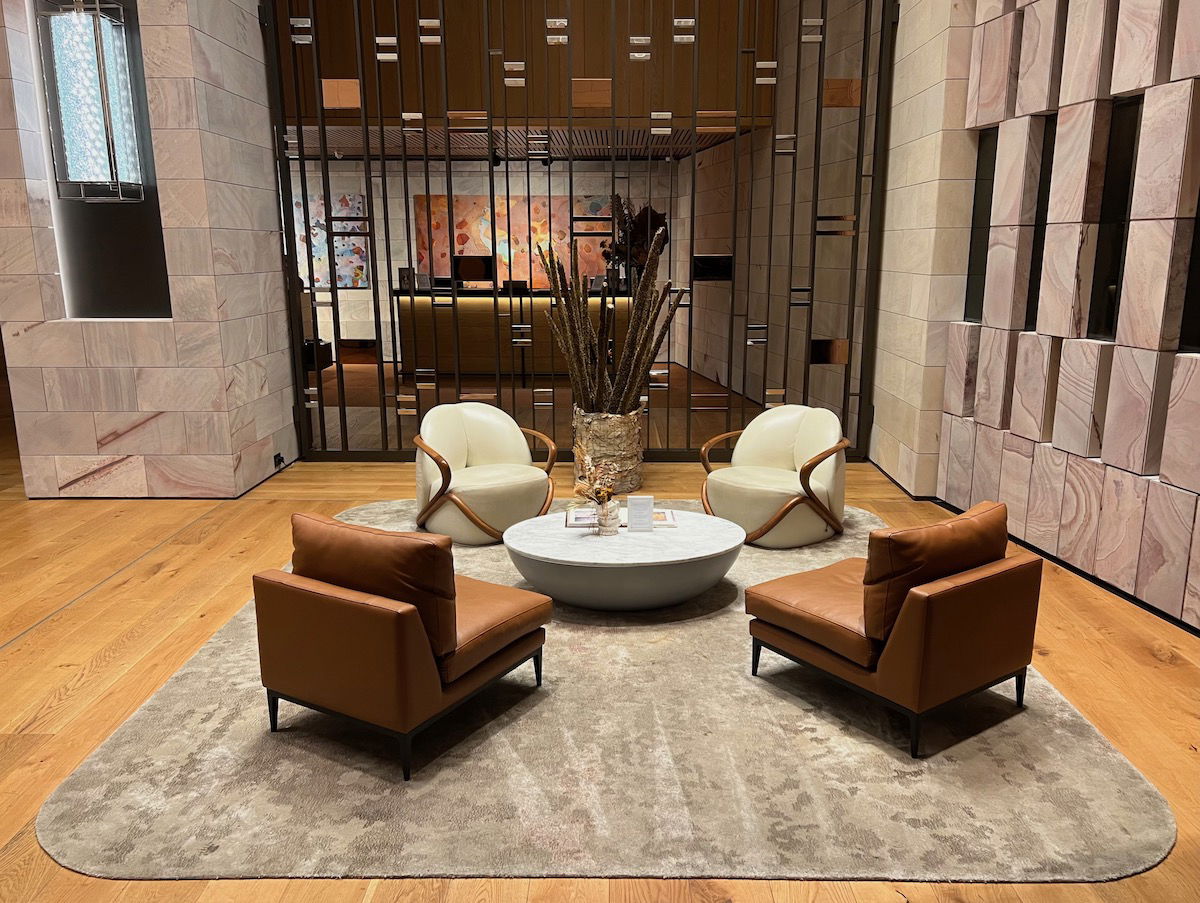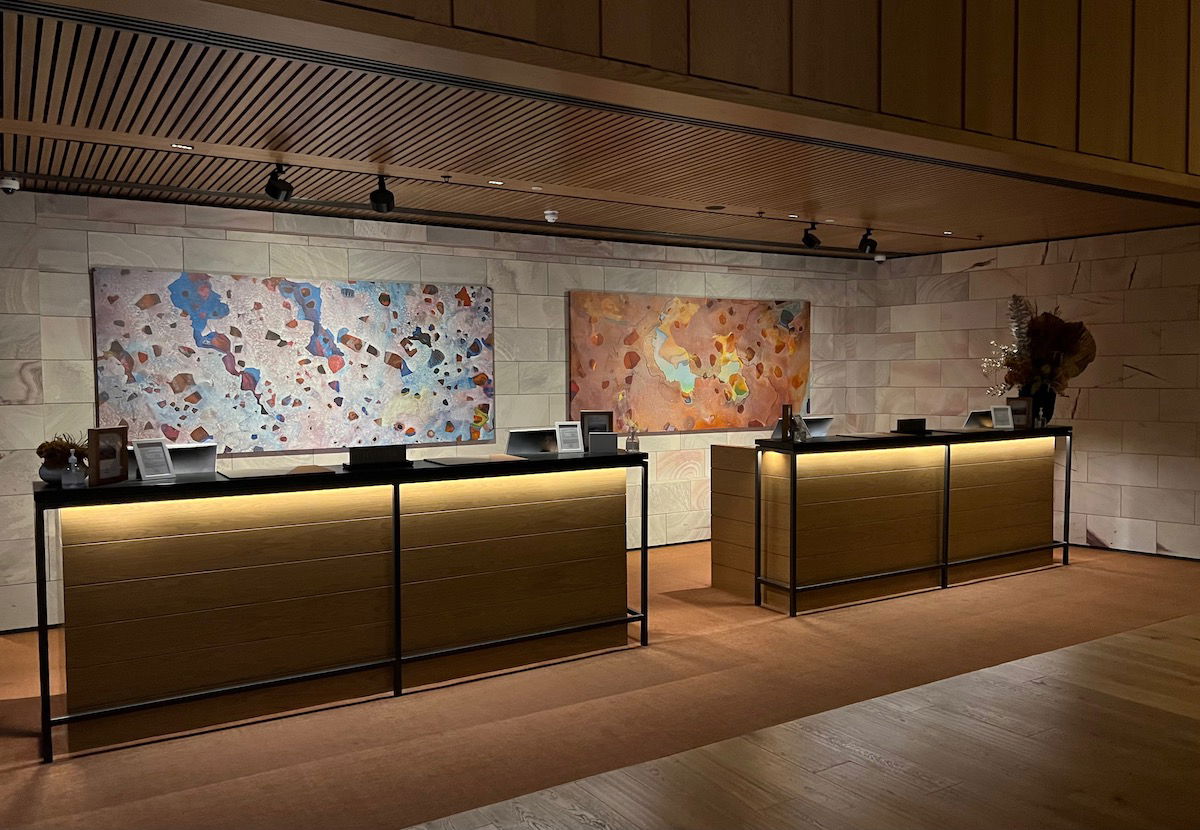 Reception was located inside the lobby and to the left, and our check-in process was efficient. Oddly there was only one person working at the desk at the time, and a queue did form behind us. Within a few minutes we were checked in, and also given a piece of paper highlighting the opening hours of the hotel's facilities.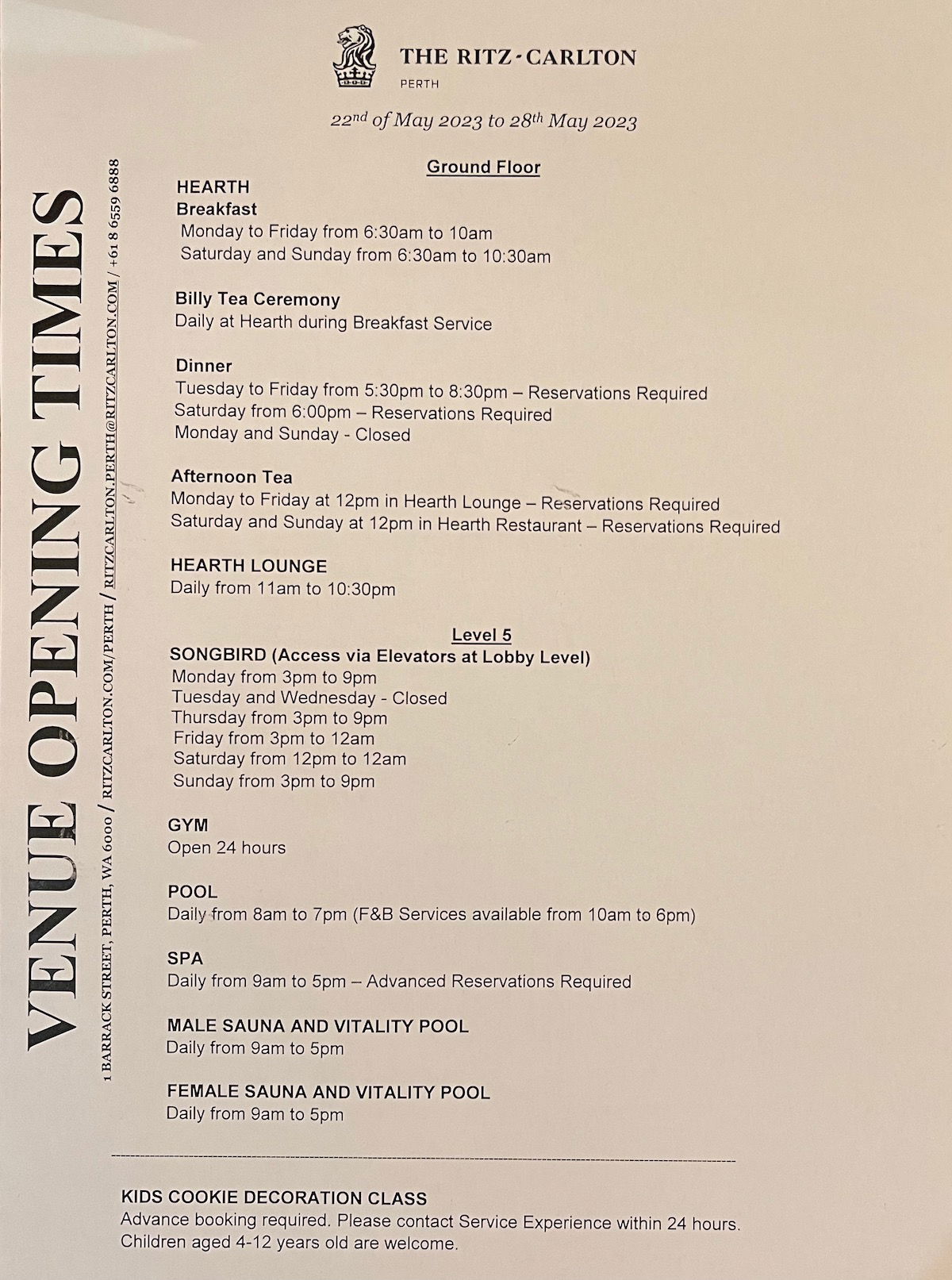 With keys in hand, we headed to the elevators, and up to the 16th floor, where our room was located (the hotel has a total of 18 floors).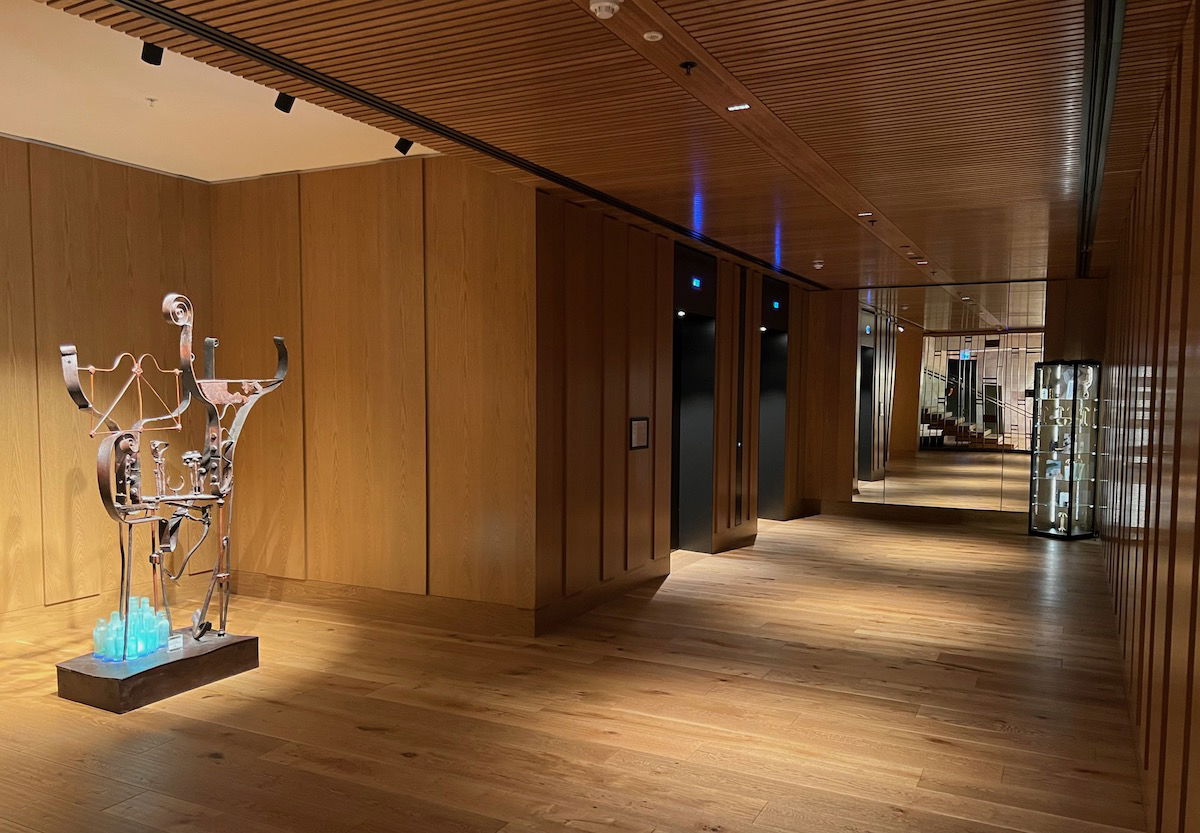 Ritz-Carlton Perth studio room
We were assigned room 1601, a Swan River View Studio, at the far end of the hallway on the 16th floor. I really do like the decor of this hotel, and it's not what I typically associate with Ritz-Carlton.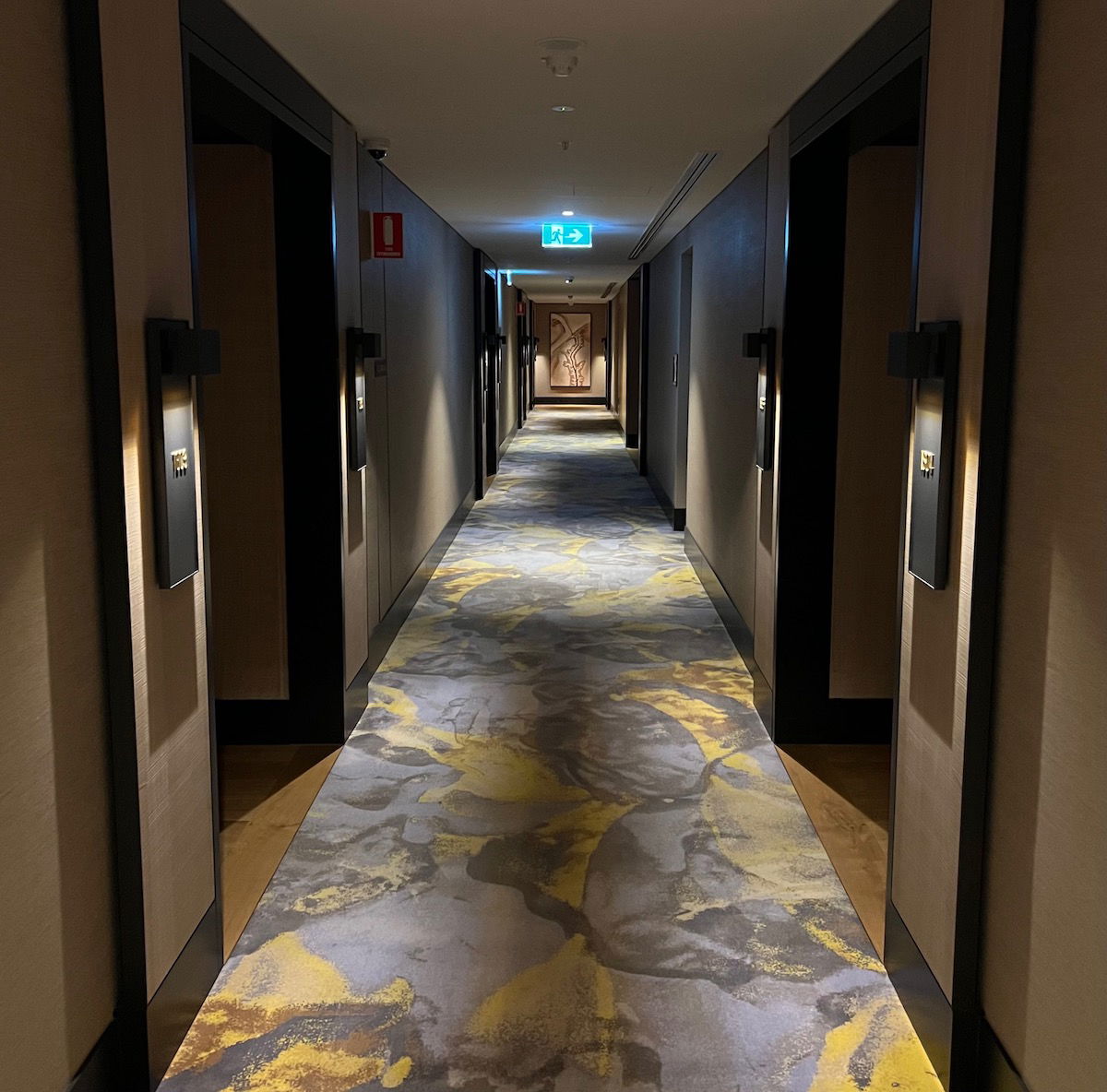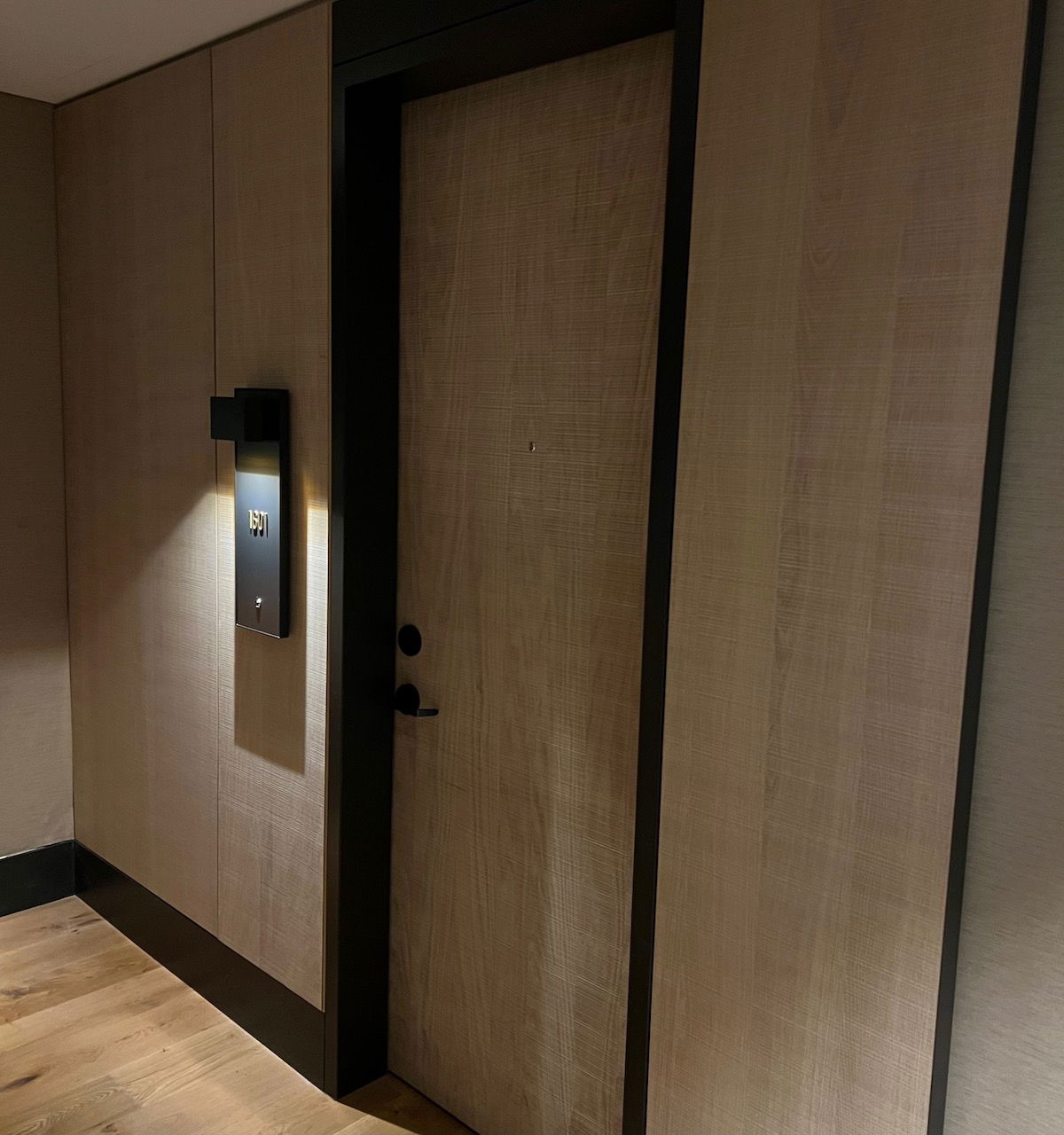 These rooms are marketed as being 64 square meters (689 square feet), so they're quite generously sized, even if the space isn't that functional, due to the shape of the building. The room featured an entryway leading to the main part of the room.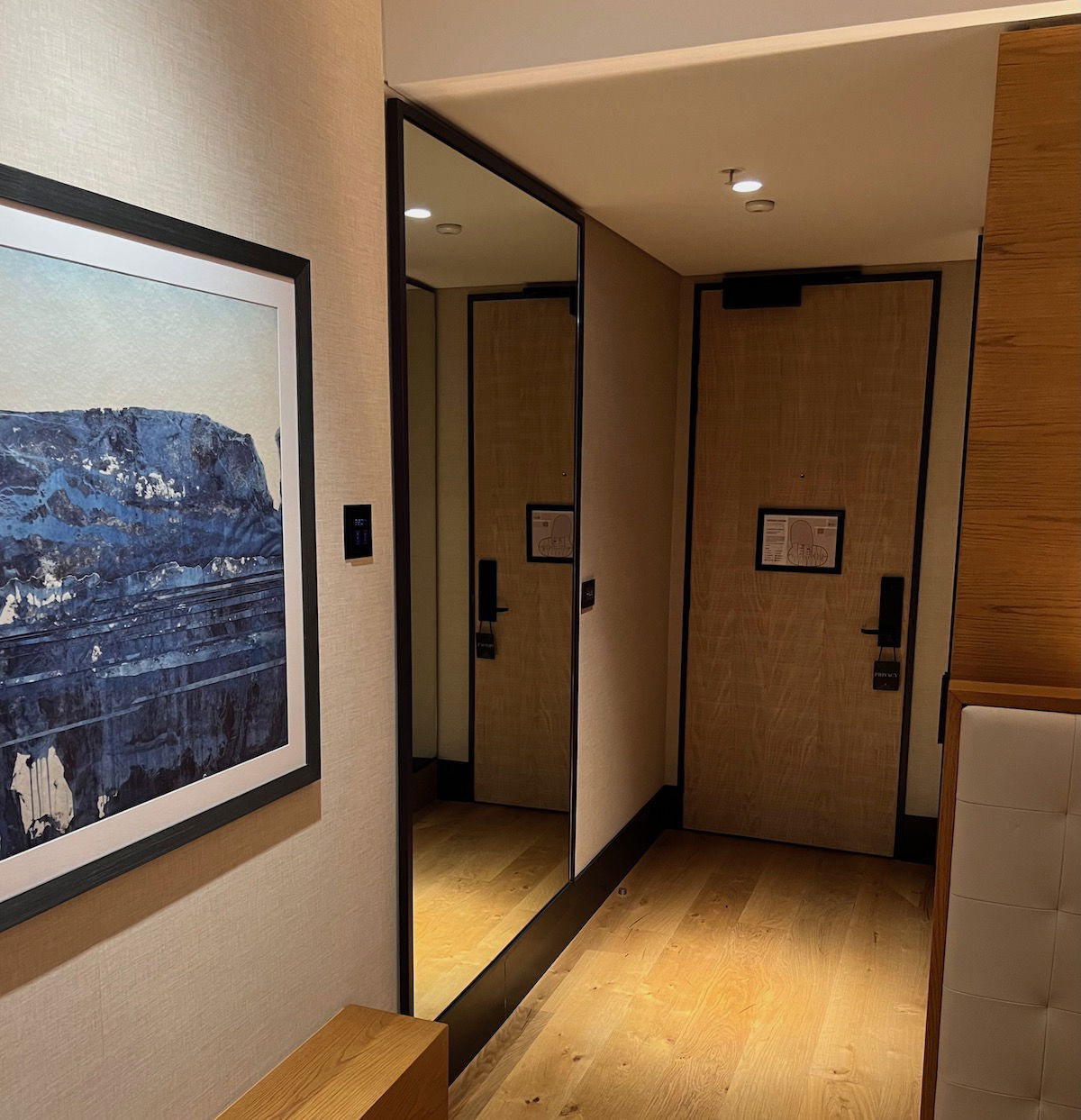 The room had an extremely comfortable king size bed with a bench at the foot of the bed, plus a table with two chairs. For those wondering, I have no issues sharing a bed with family, and prefer that to booking a room with two beds, where there are no upgrade opportunities. In terms of usable space, it's not really much more usable than your typical standard hotel room.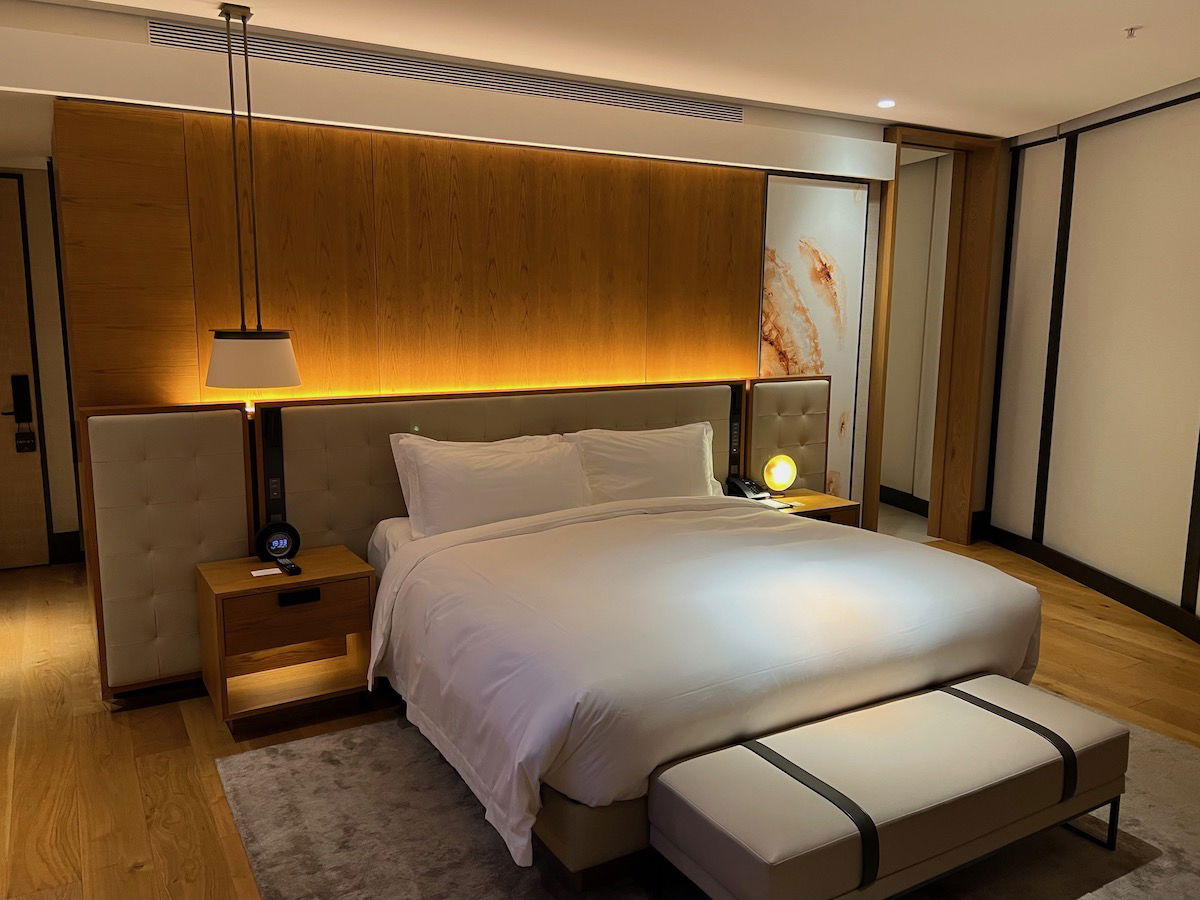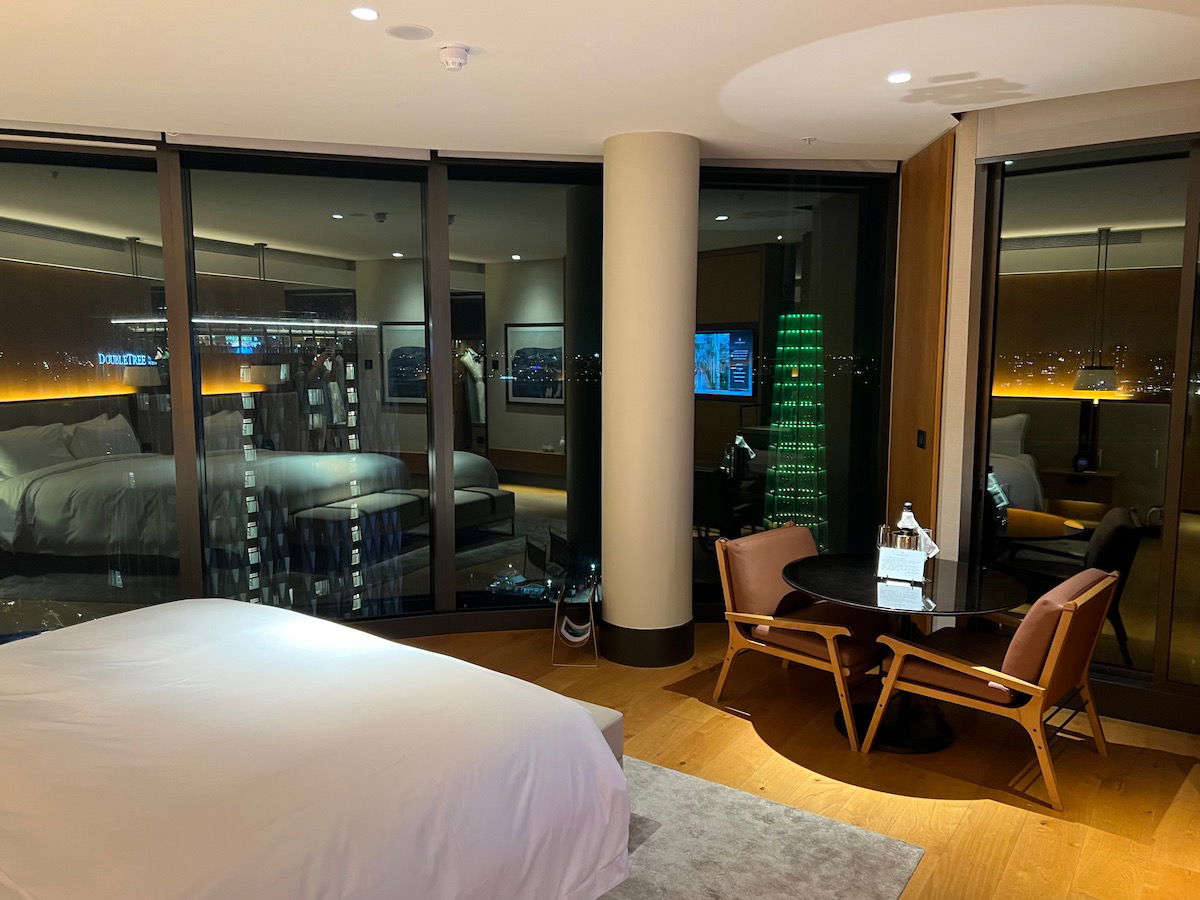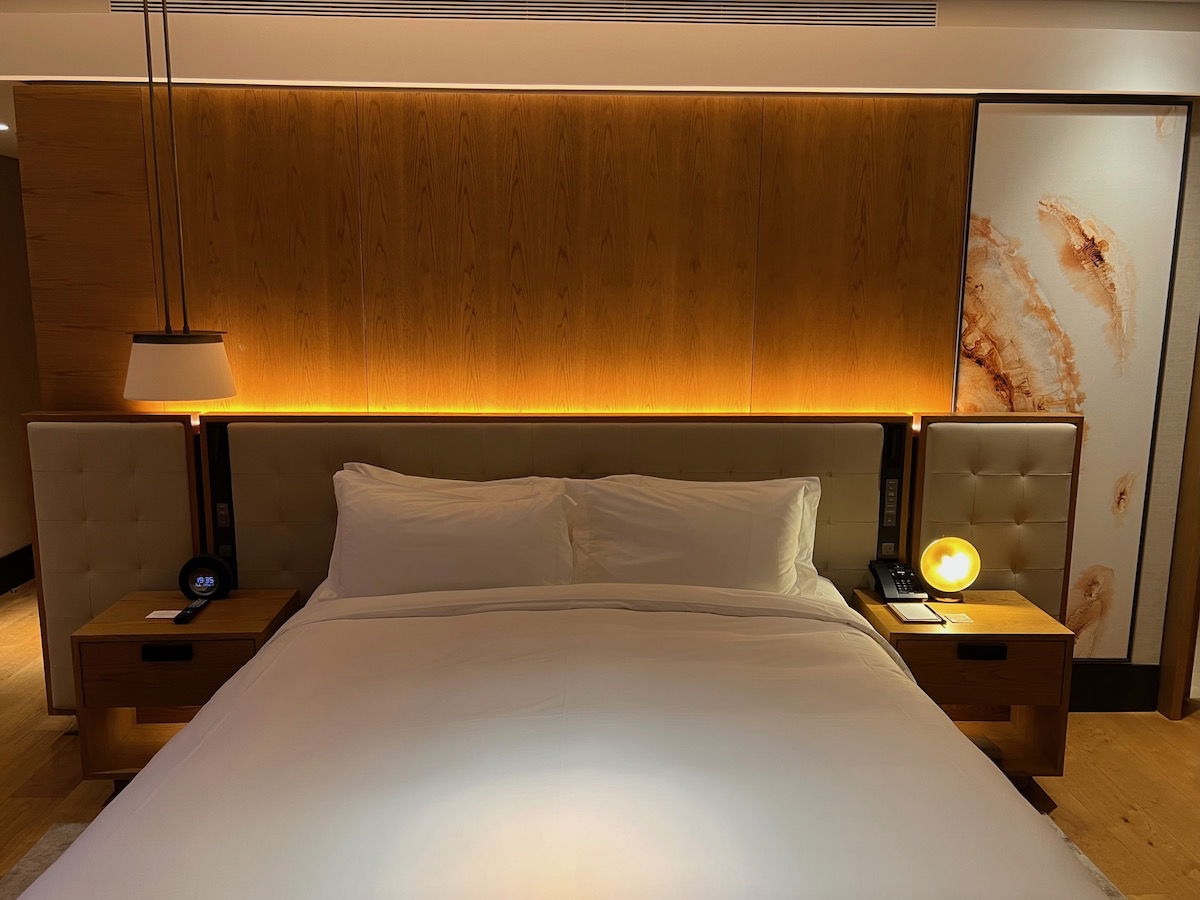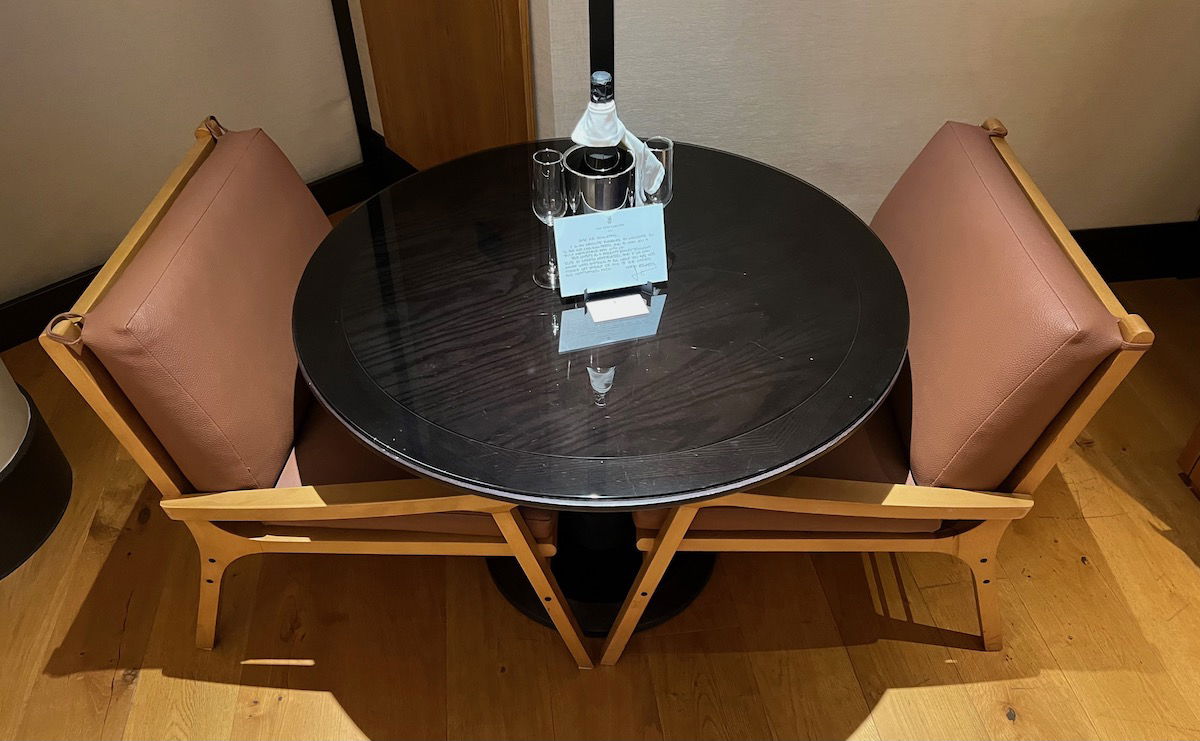 There were some strange design elements, like that the TV was on the wall to the right of the bed, so if you wanted to watch TV from bed, you'd have to turn your head 90 degrees in order to do so. I'm not a TV person, so that doesn't bother me, and I'd rather have an unobstructed view outside. But still, I know it's something that others care about more than me.
Next to the TV was a well-stocked minibar, with a variety of food and drinks for purchase, plus a Nespresso coffee machine and kettle.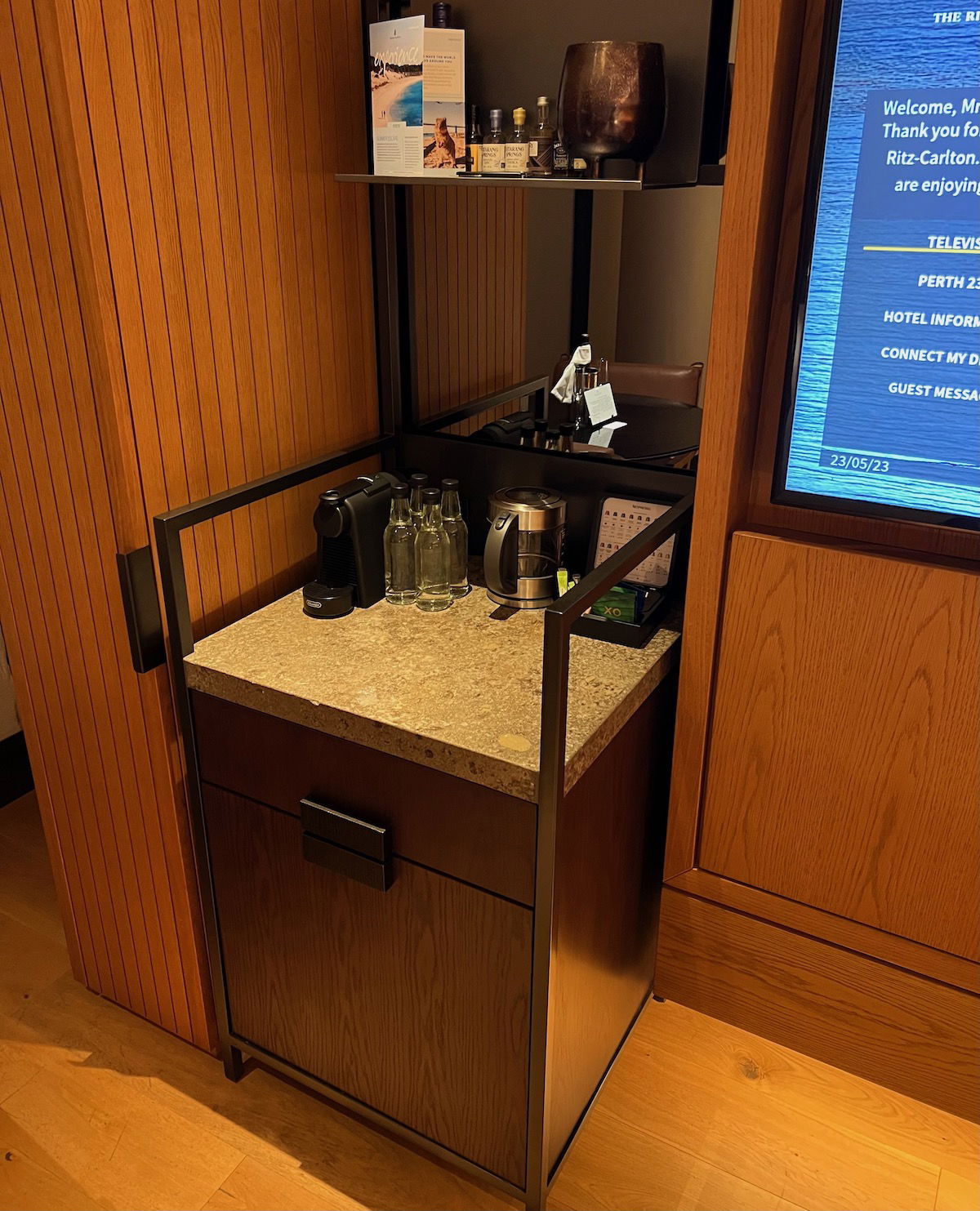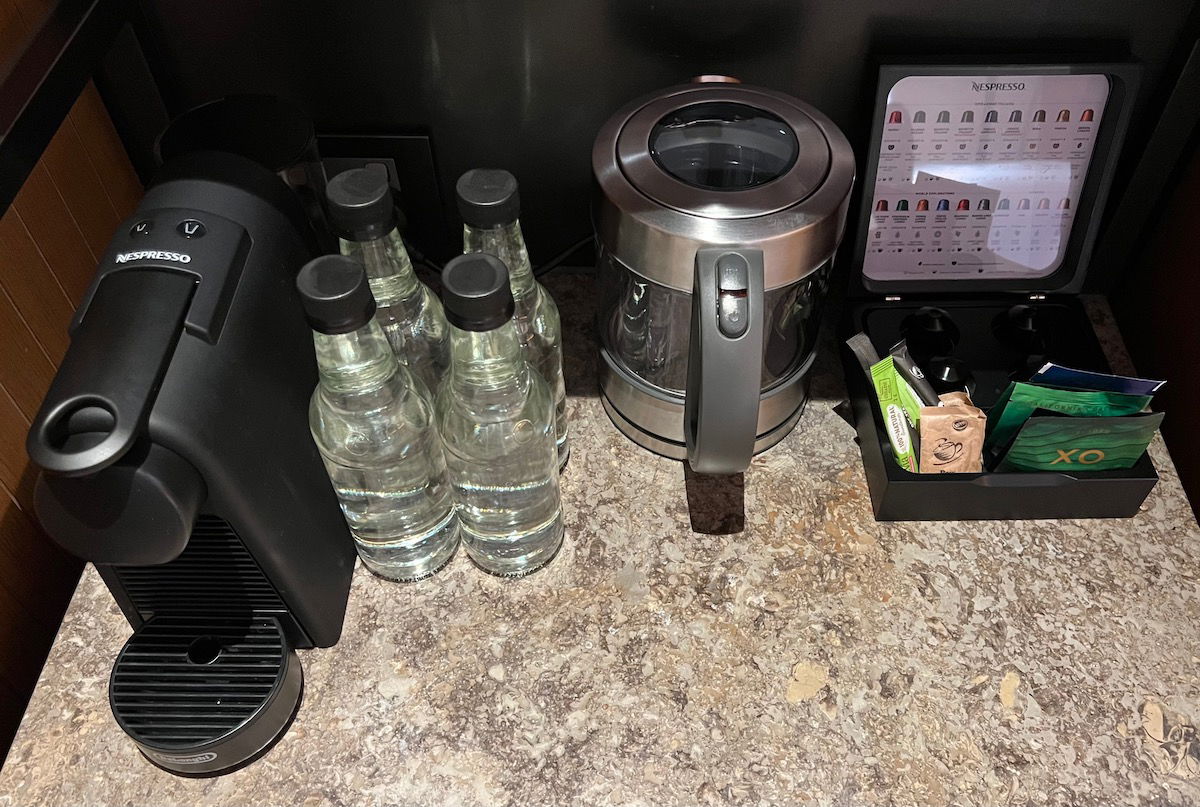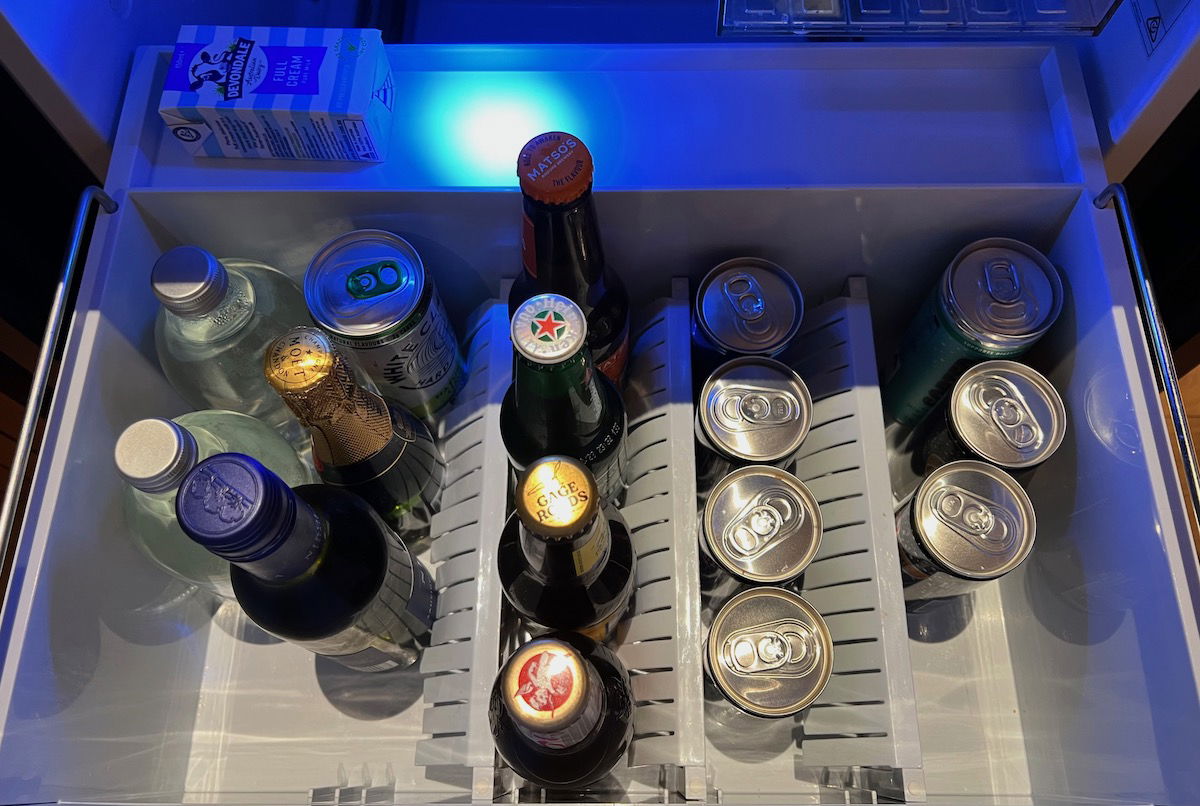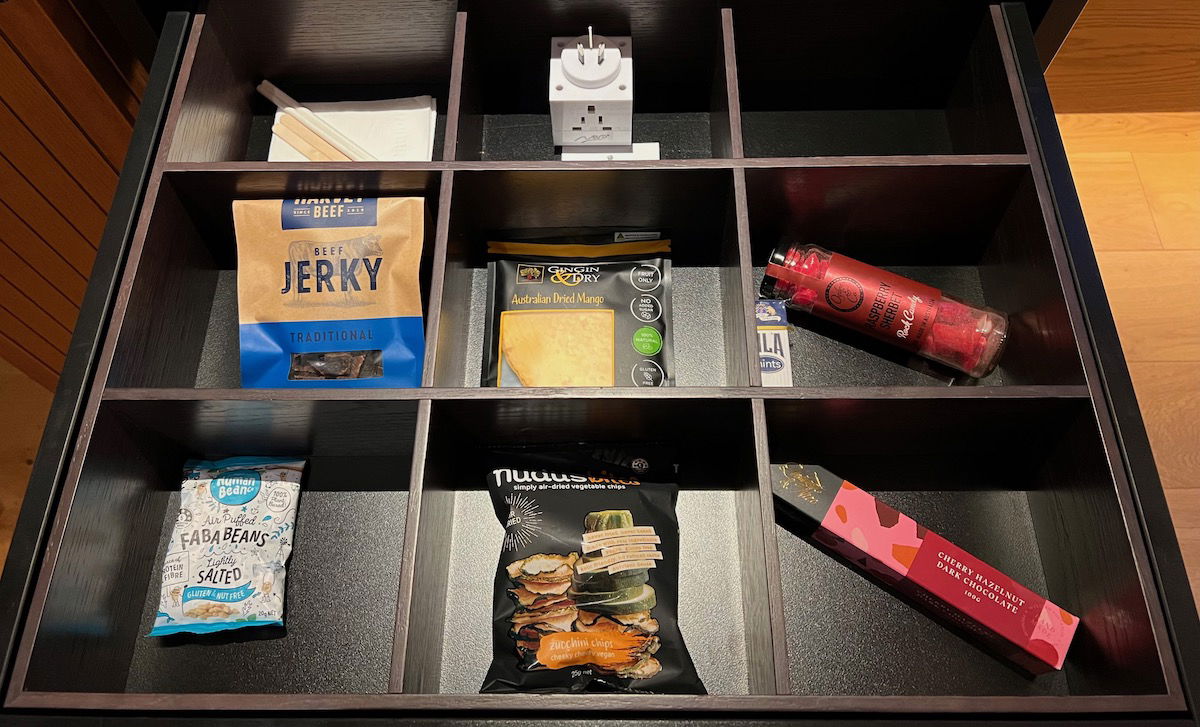 Waiting on the table was a welcome gift consisting of prosecco. I don't want to look a gift horse in the mouth, but am I the only one who isn't a fan of cheap prosecco welcome amenities? Like, that's not something I'd ever order in a restaurant, I certainly don't want a whole bottle of it, and it doesn't feel very luxurious. I'd rather have a half bottle of a decent local Australian wine (which would probably cost less). But maybe that's just me.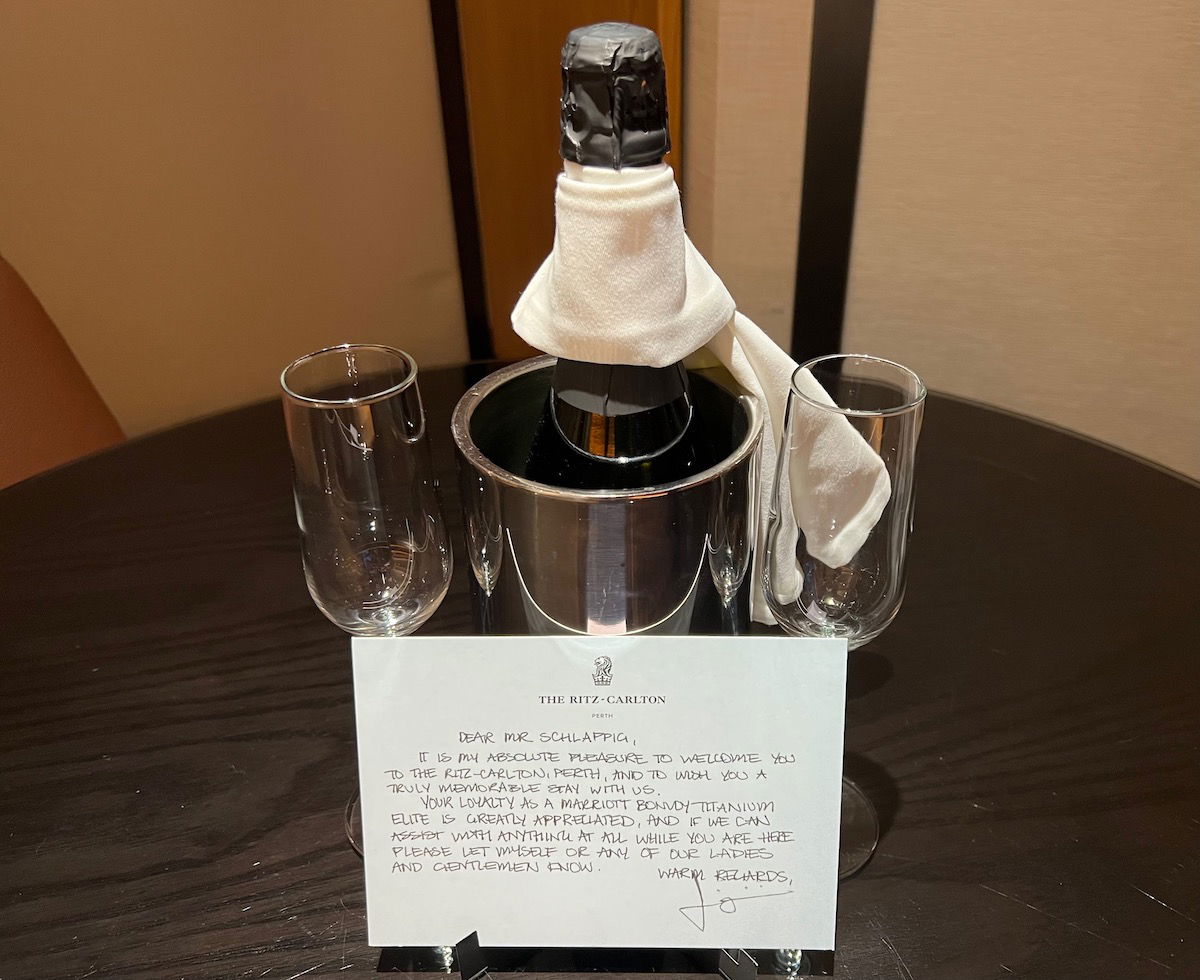 The room had a tiny balcony. It was just slightly bigger than a juliet balcony, and didn't have any furniture on it.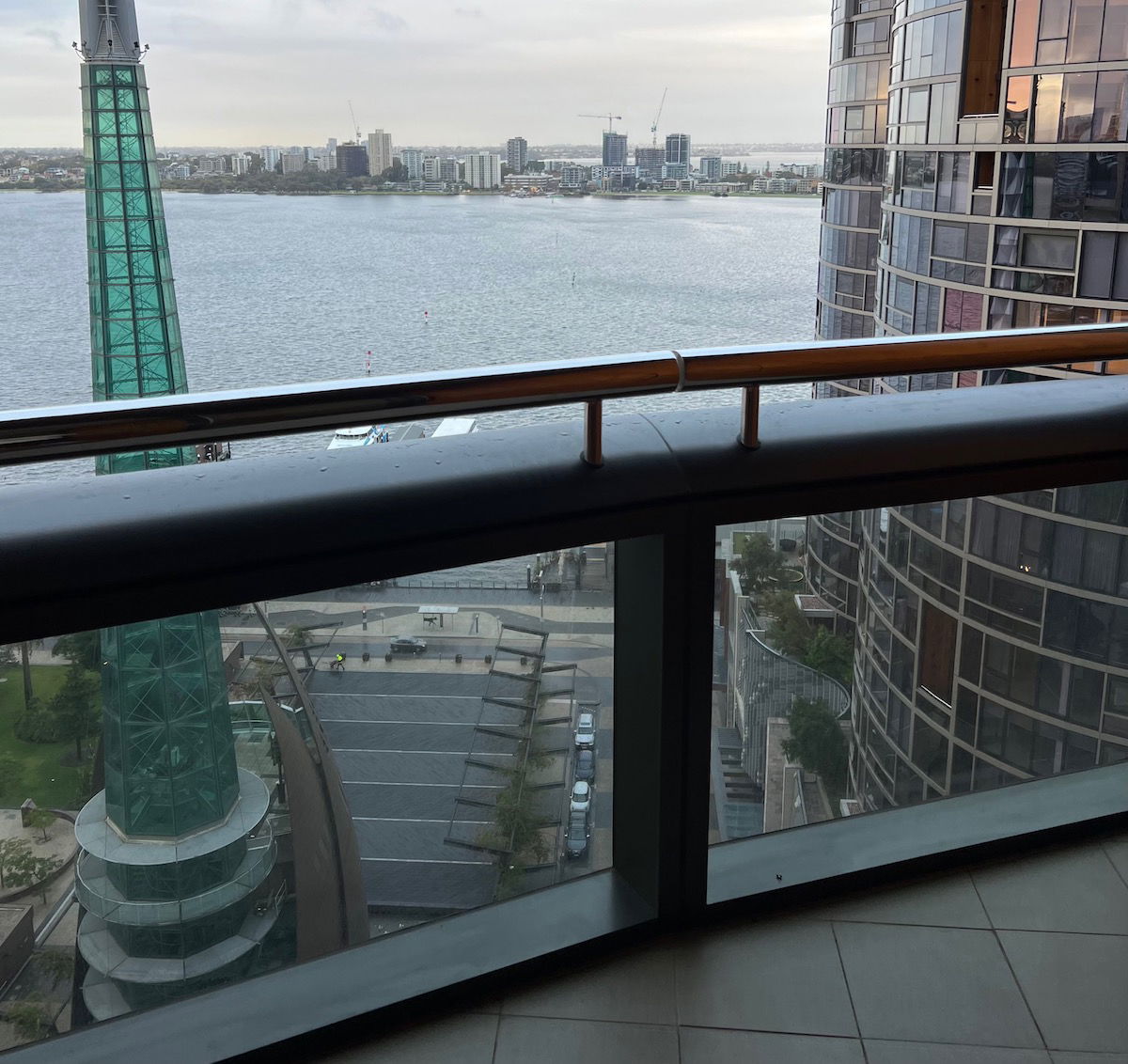 I did enjoy the view from the room, though, as Perth is quite a pretty city!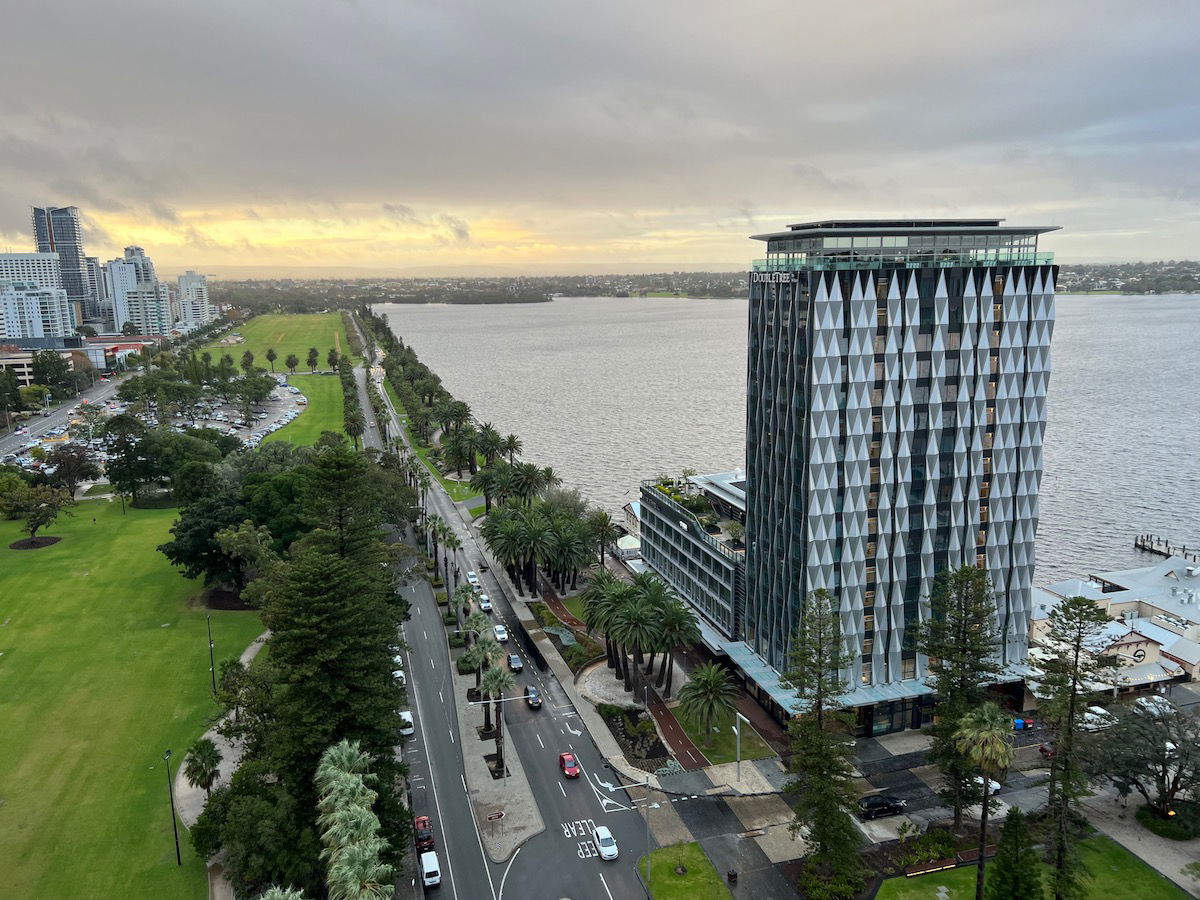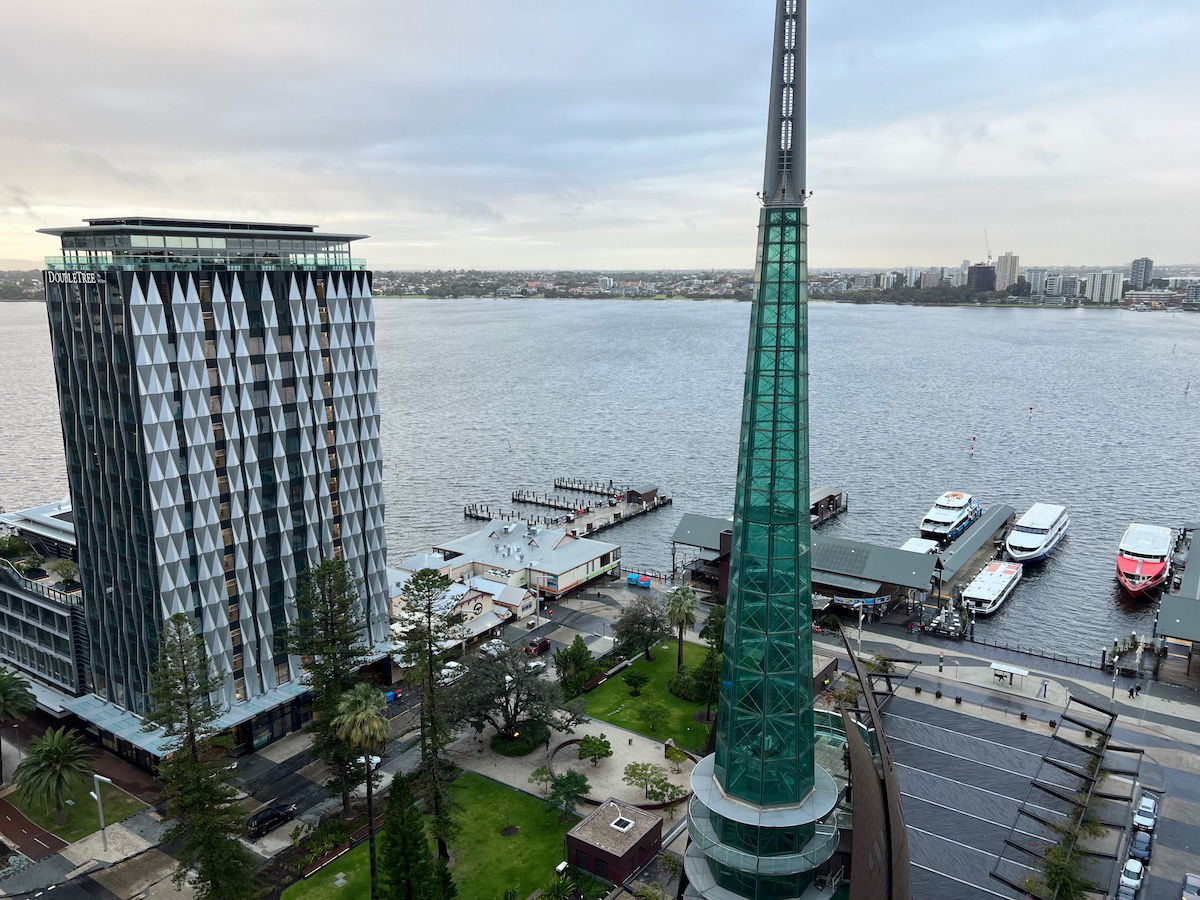 The bathroom was large, and featured double sinks, a partitioned off toilet, and a shower compound that had both a walk-in shower and a bathtub.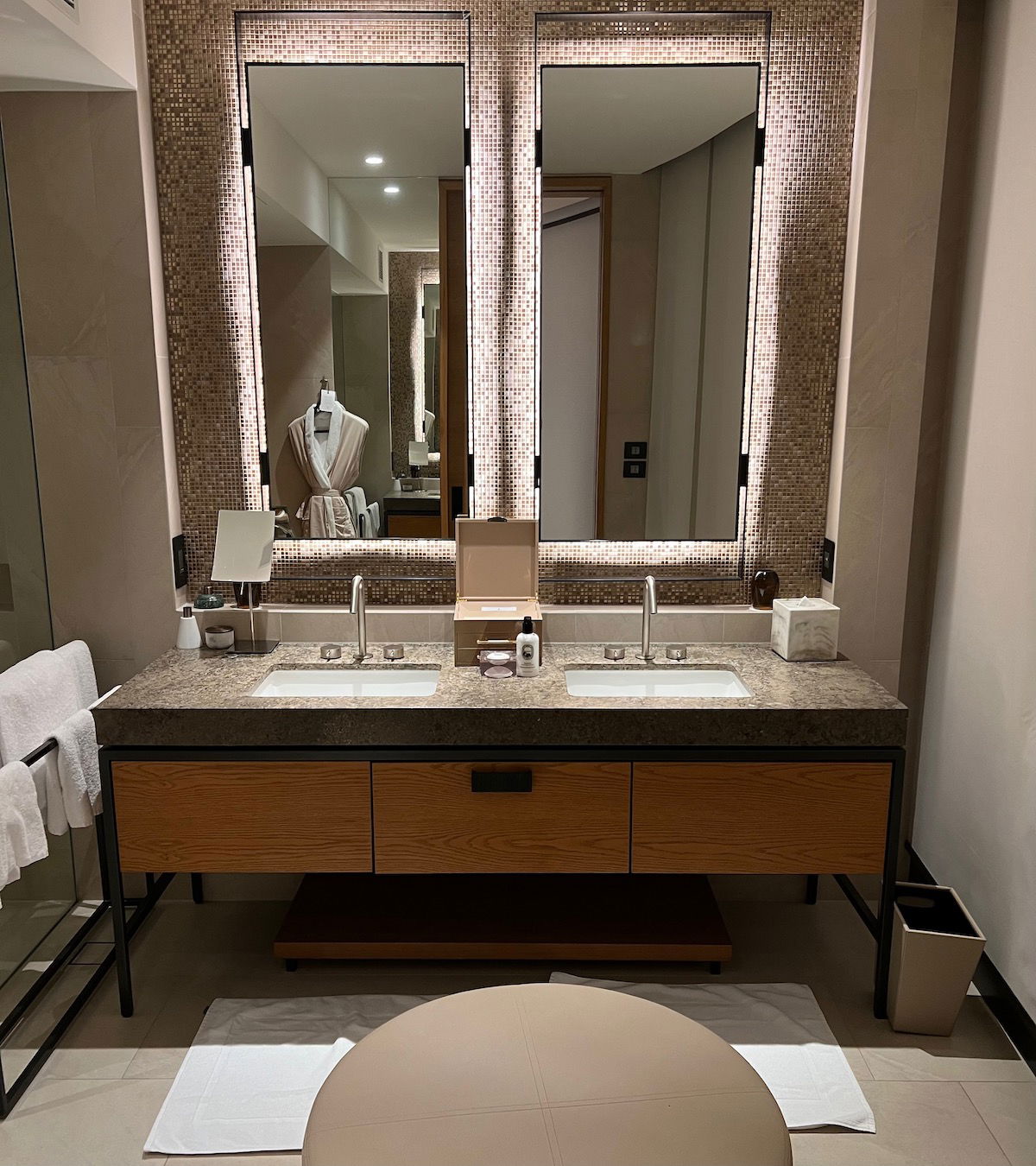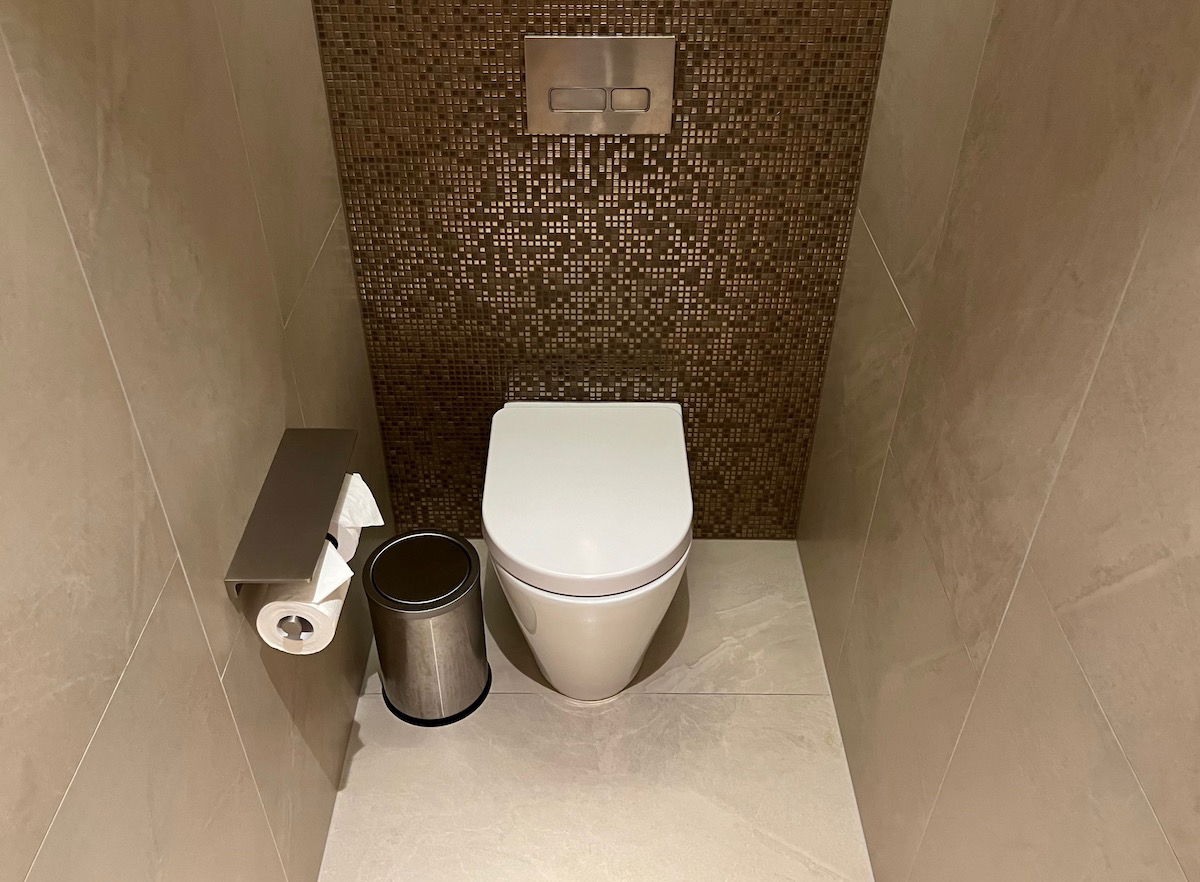 I wish the shower area would be designed a bit differently, since there's only a small shield separating it from the rest of the bathroom. This meant water splashed everywhere, and also that you couldn't keep the shower warm without making the rest of the bathroom very hot.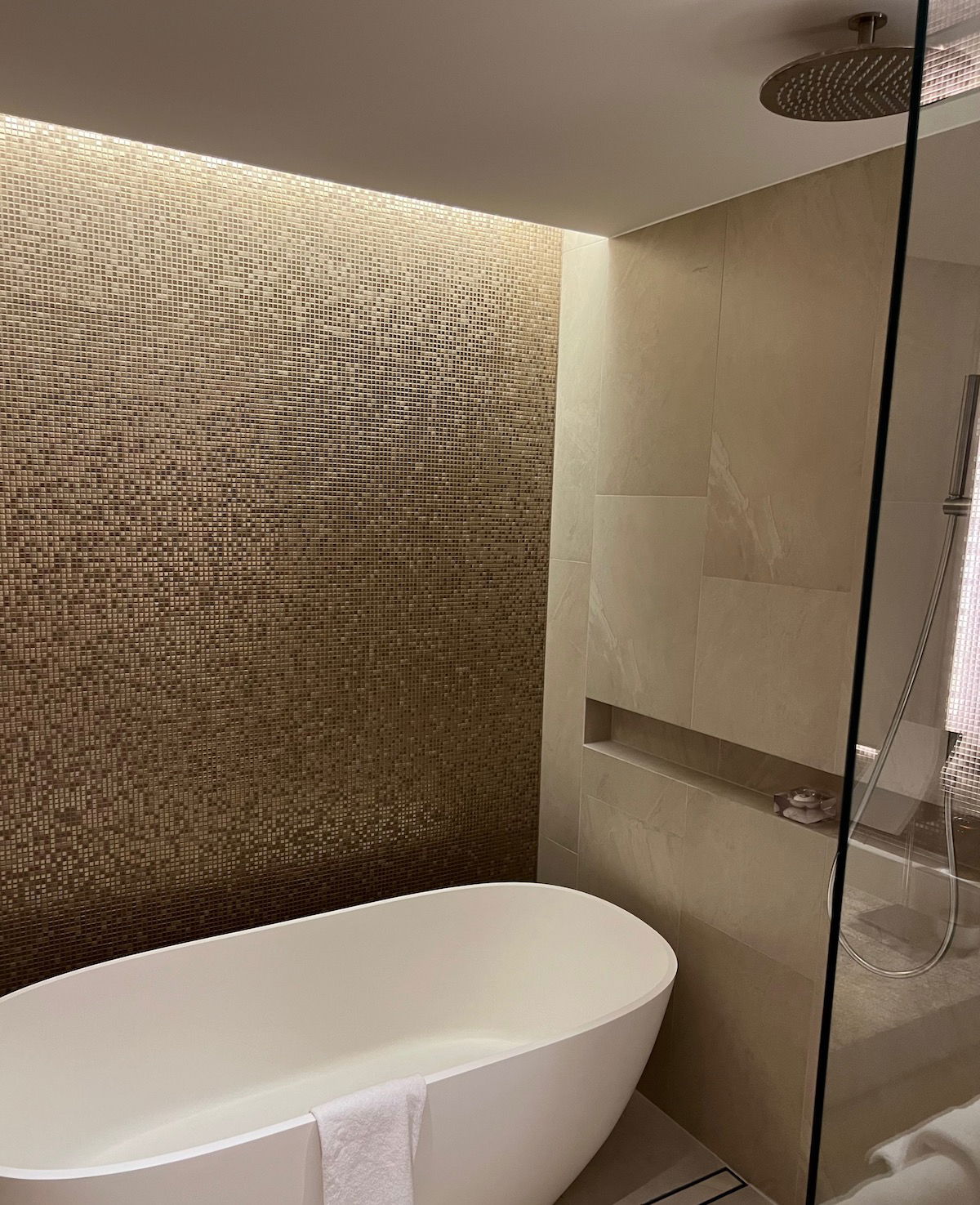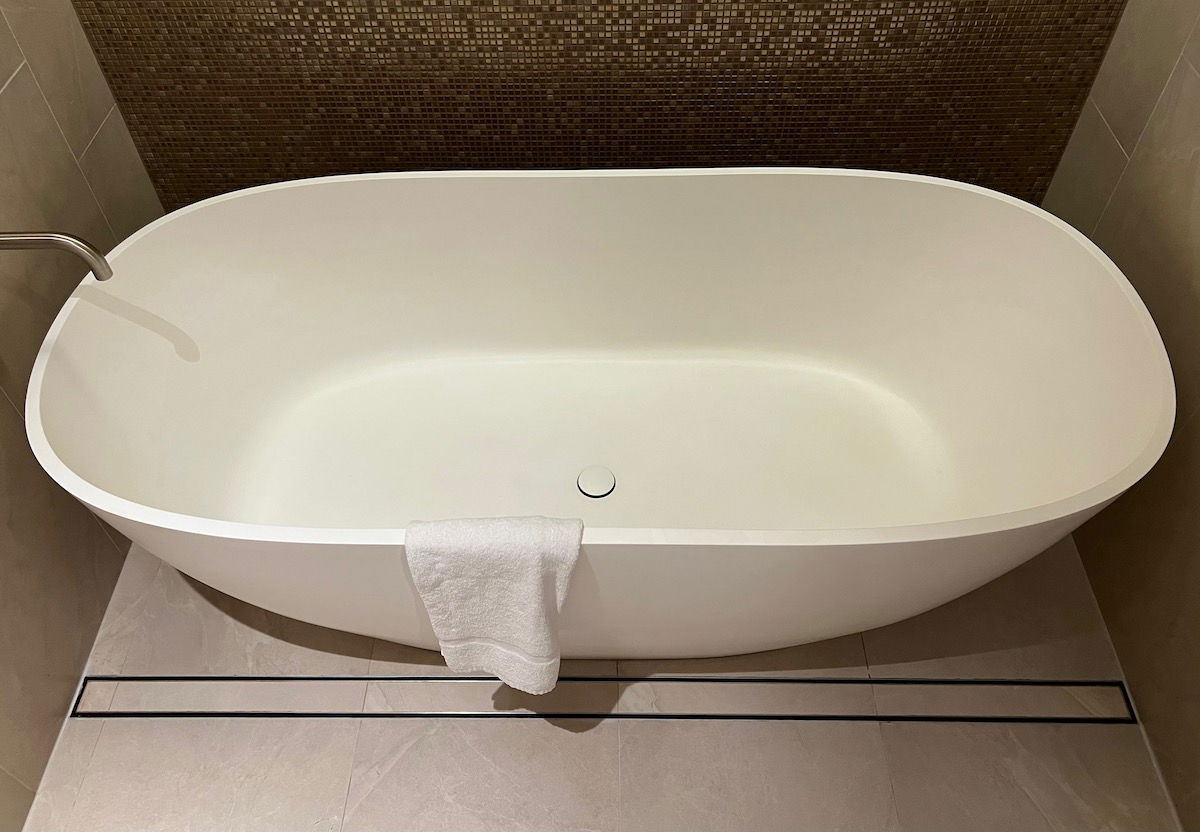 Toiletries were from Diptyque (which I love), and were in reusable containers.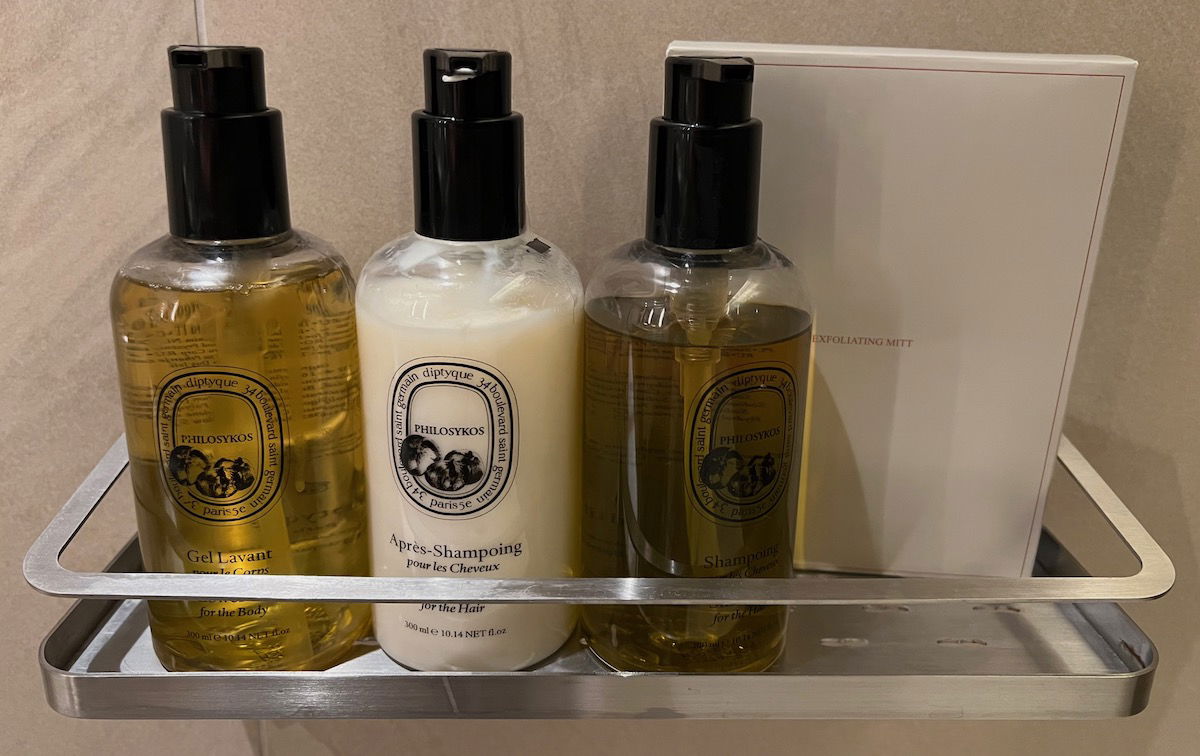 All-in-all, I found the room to be very comfortable, though a few design elements confused me. Furthermore, the hotel needs to fix how loud its doors are. The doors in the hotel just slam, and the sound insulation in the hotel isn't good, so I could constantly hear people opening and closing their doors. This shouldn't be happening at a newly built luxury hotel.
While not a big deal, I also found it strange how the rooms didn't have automated "do not disturb" buttons that you could push. Rather you'd have to have to hang a sign outside of your door. Again, that just seems strange for a newly built luxury property.
Ritz-Carlton Perth pool, gym, and spa
The Ritz-Carlton Perth's wellness amenities are all on the fifth floor. During our stay, the pool was open daily from 8AM until 7PM, with food and beverage services from 10AM until 6PM. It's nice for a city hotel to have an outdoor infinity-edge pool, and it also has beautiful views of the city. It was quite cold during our visit, though, so the pool didn't seem to be popular with guests.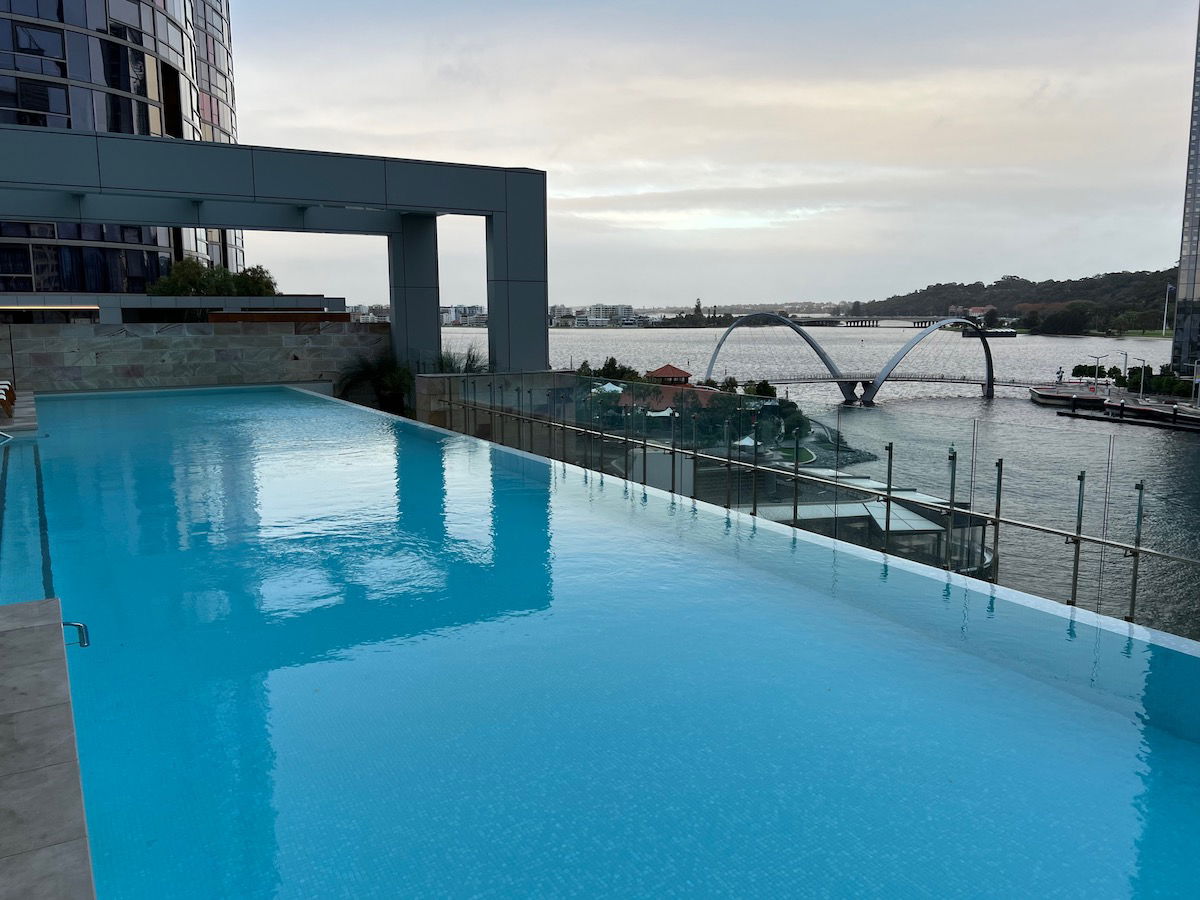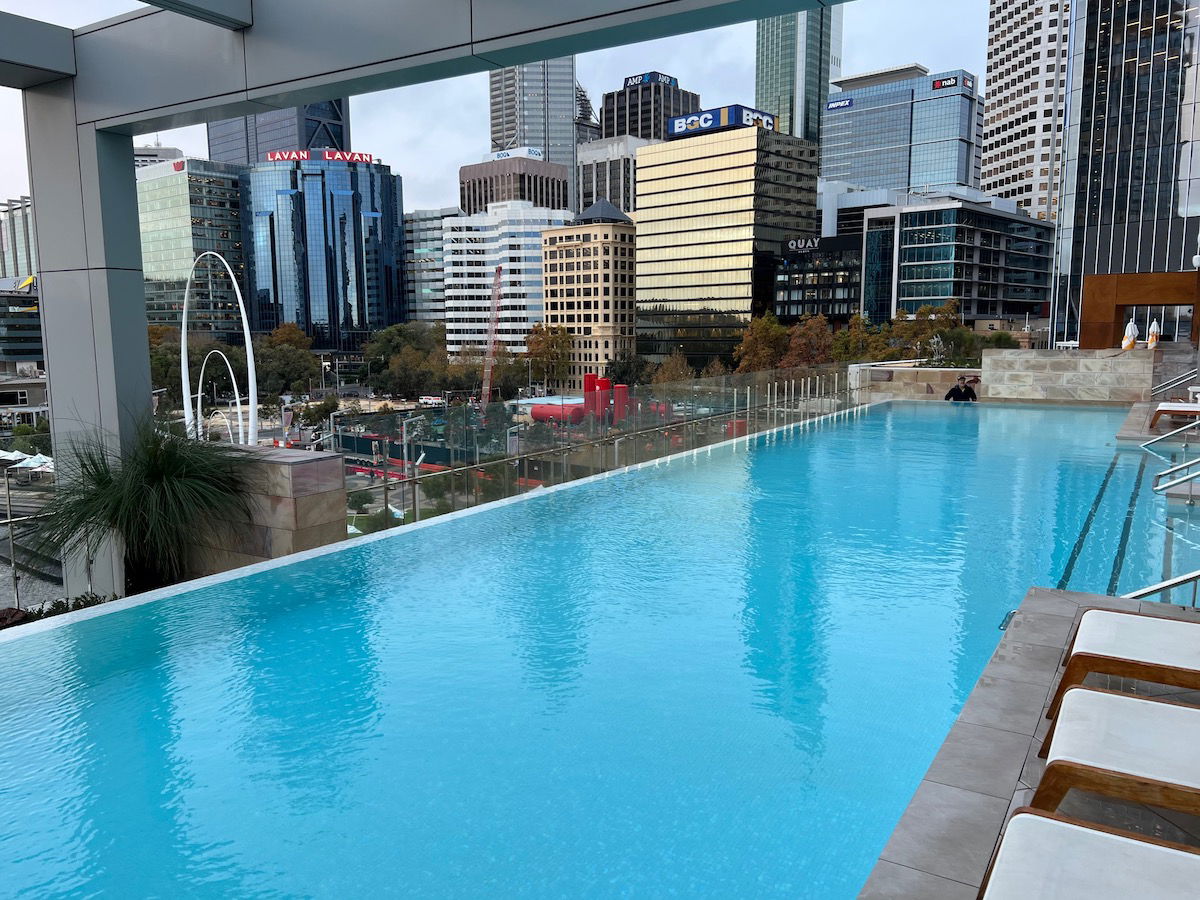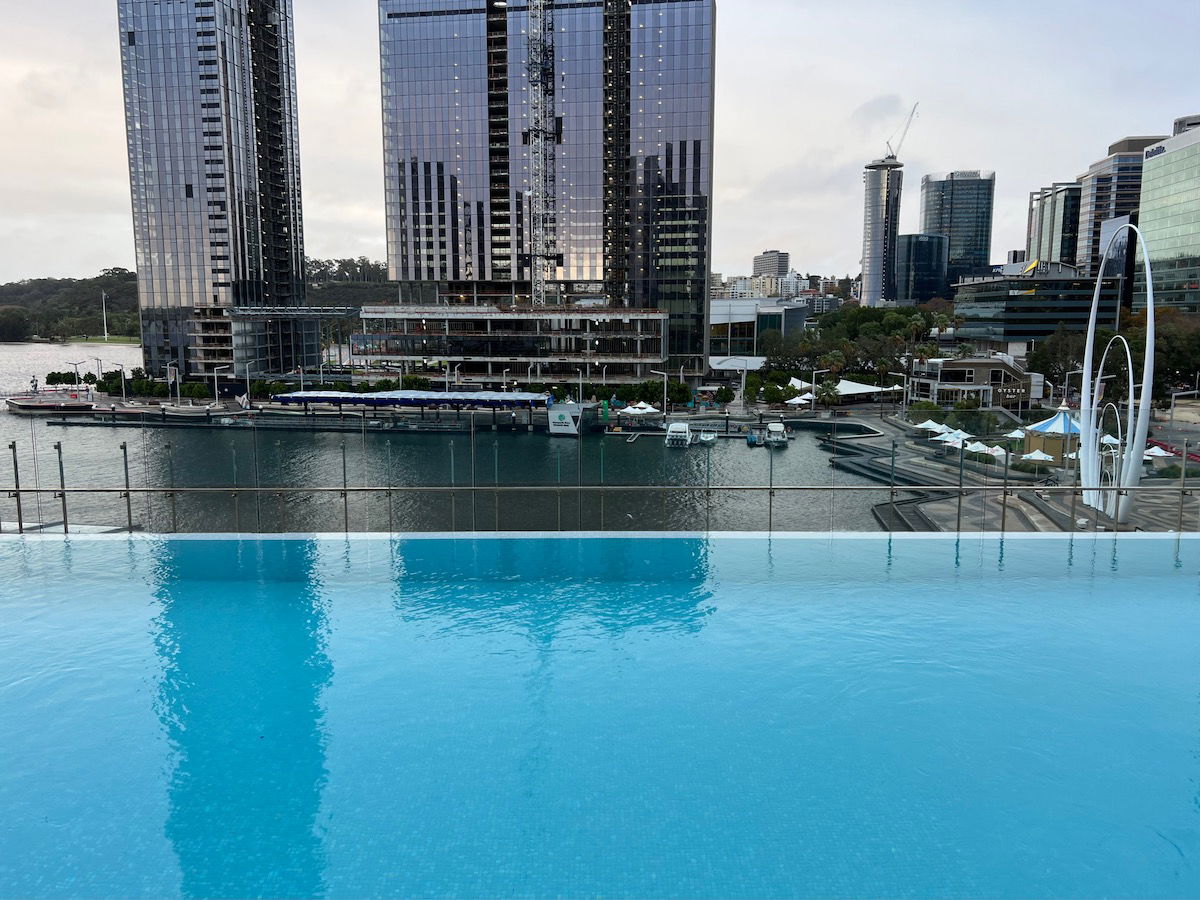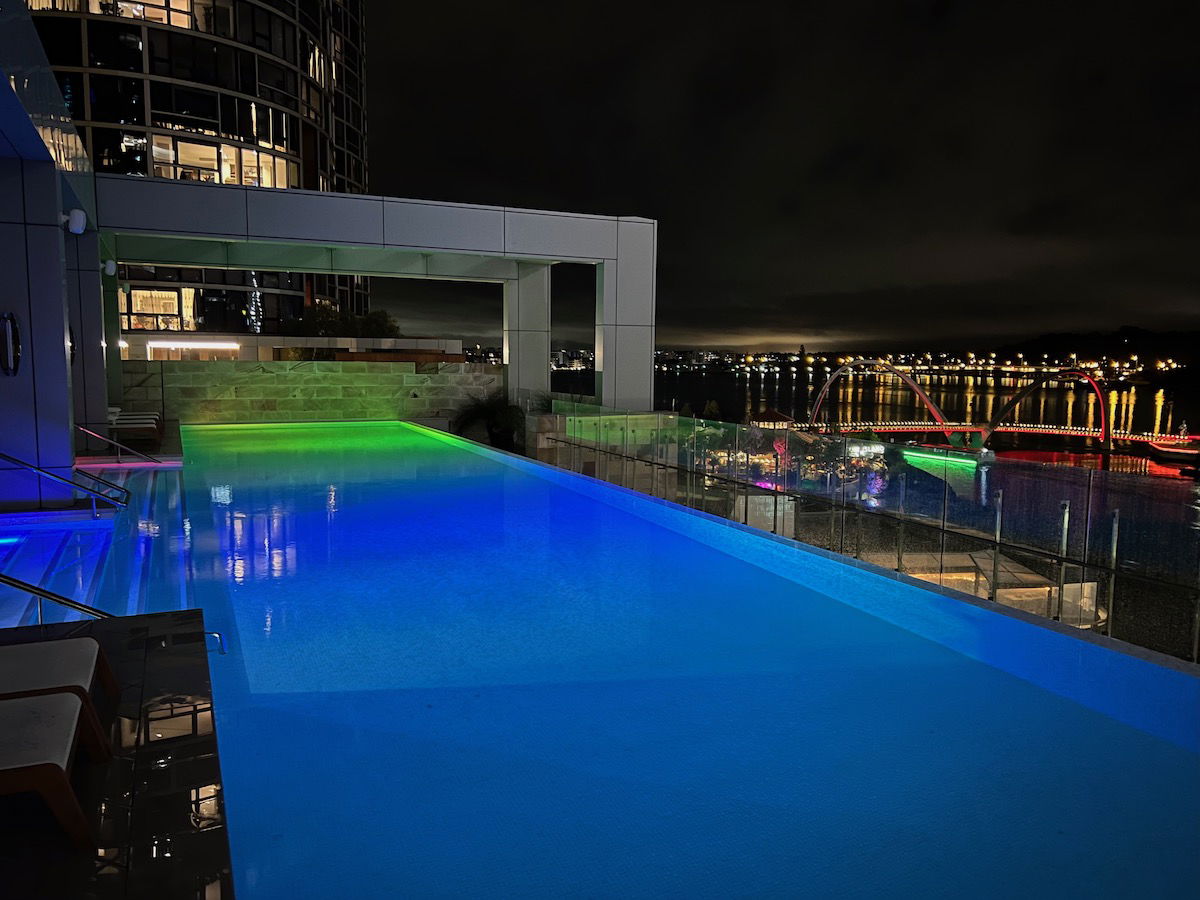 There's plenty of seating around the pool, plus a Veuve Clicquot pop-up.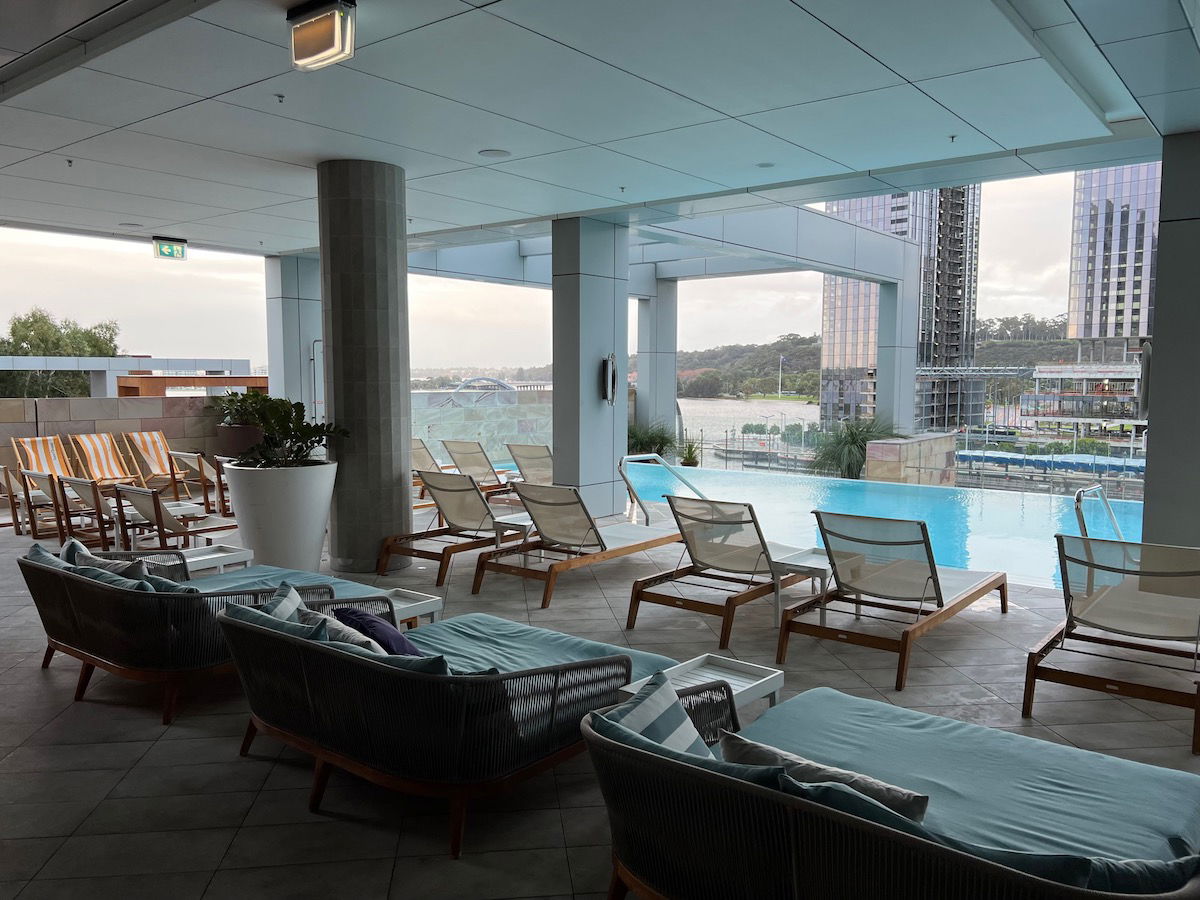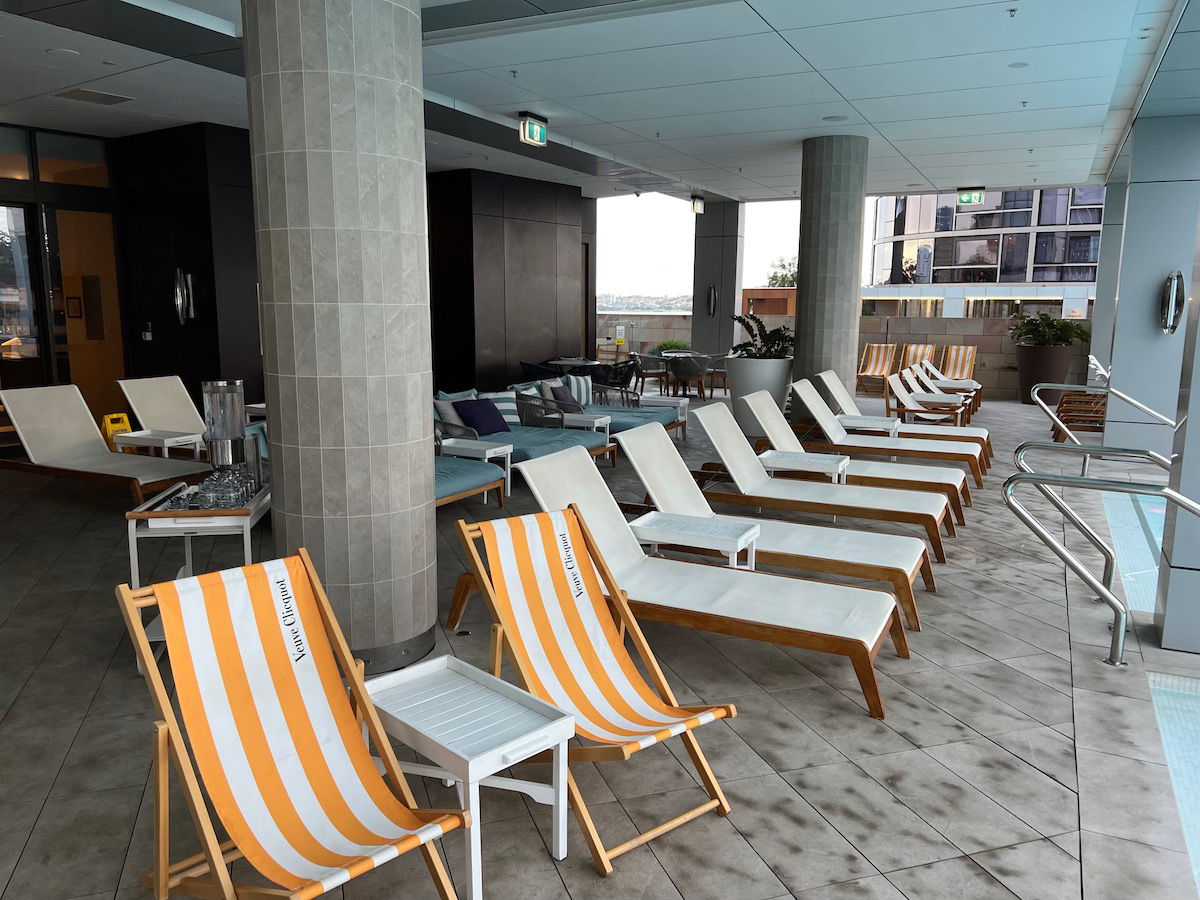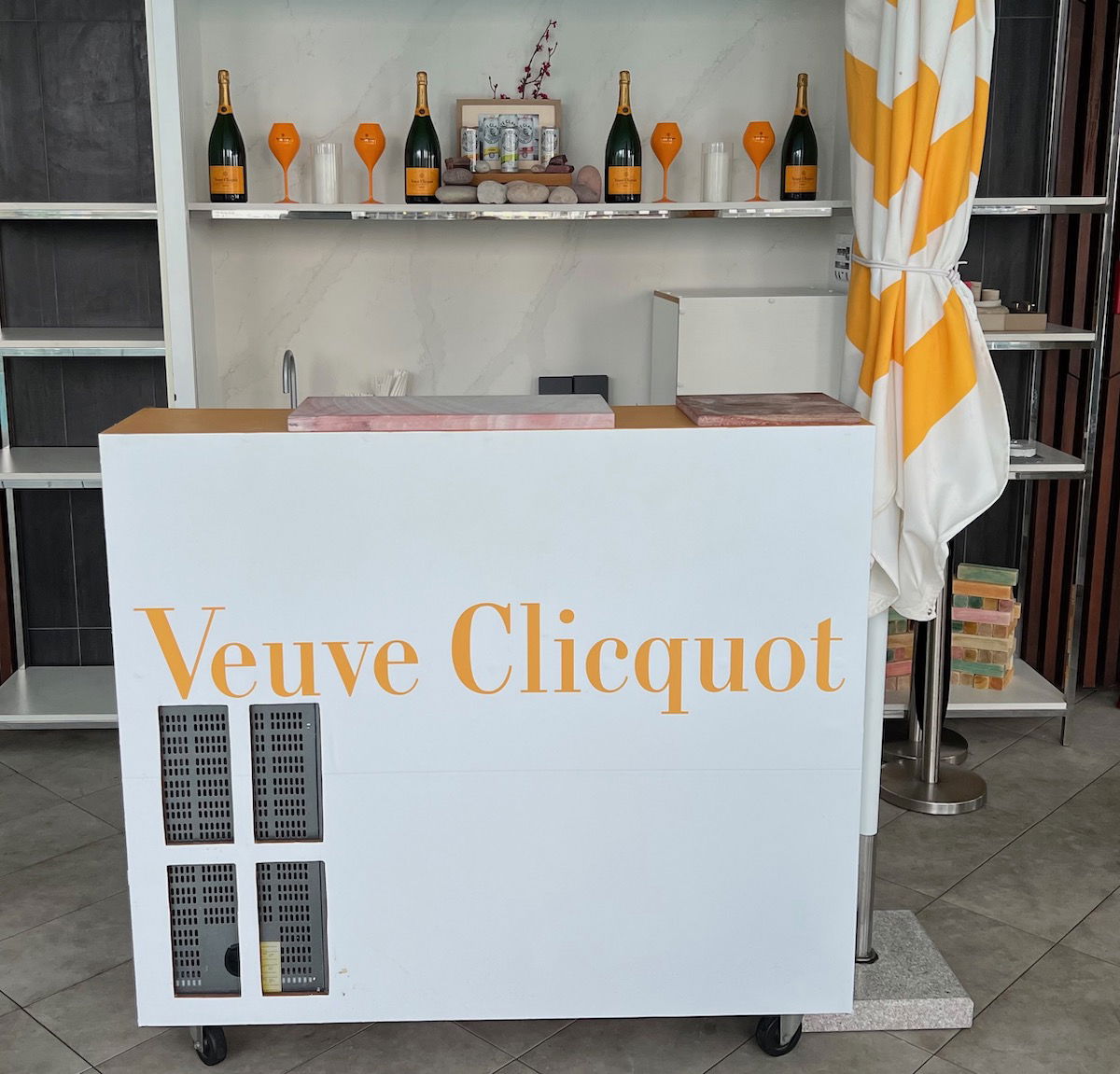 The hotel also has a 24/7 gym. While the equipment was modern, the gym felt a bit small and condensed for a hotel of this size. There just wasn't a whole lot of room to move around, and if several people were trying to do weights, it would be a bit tight.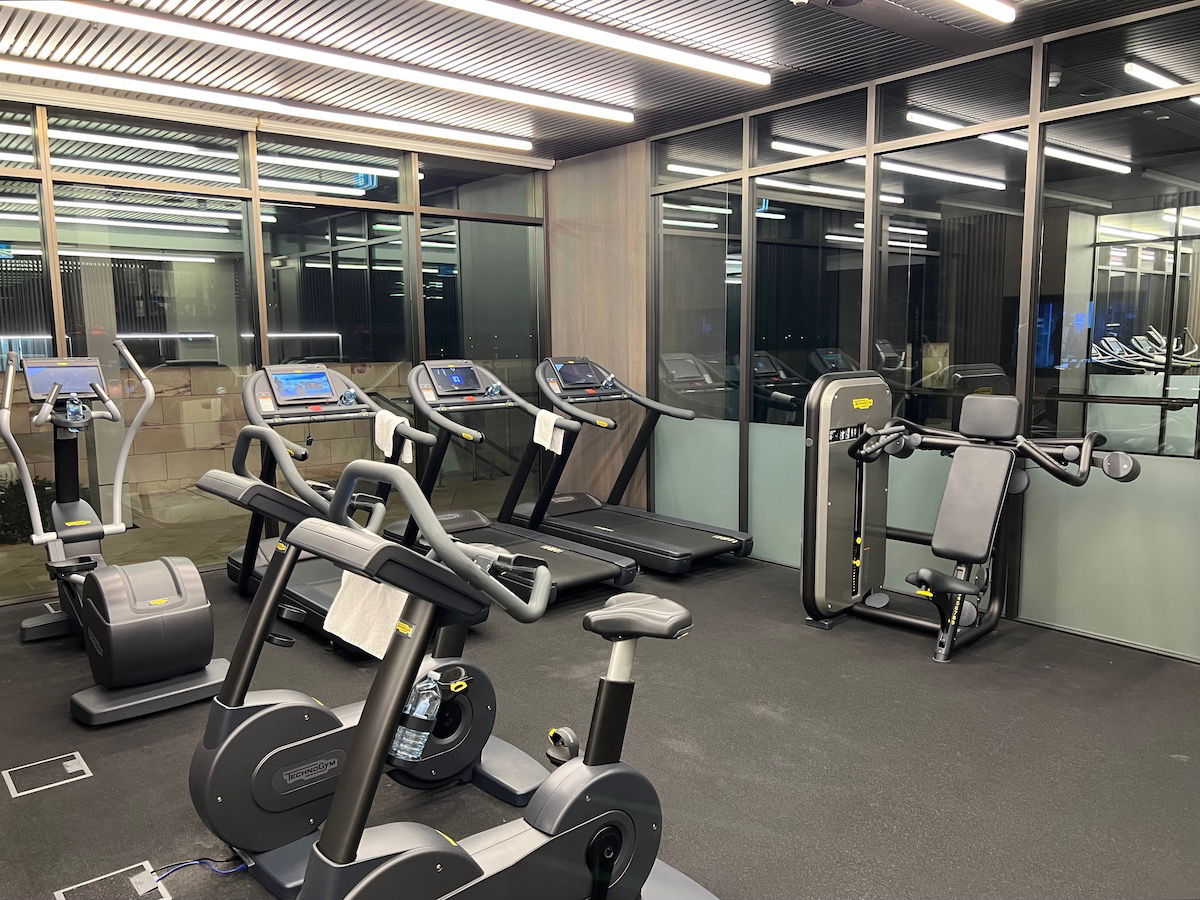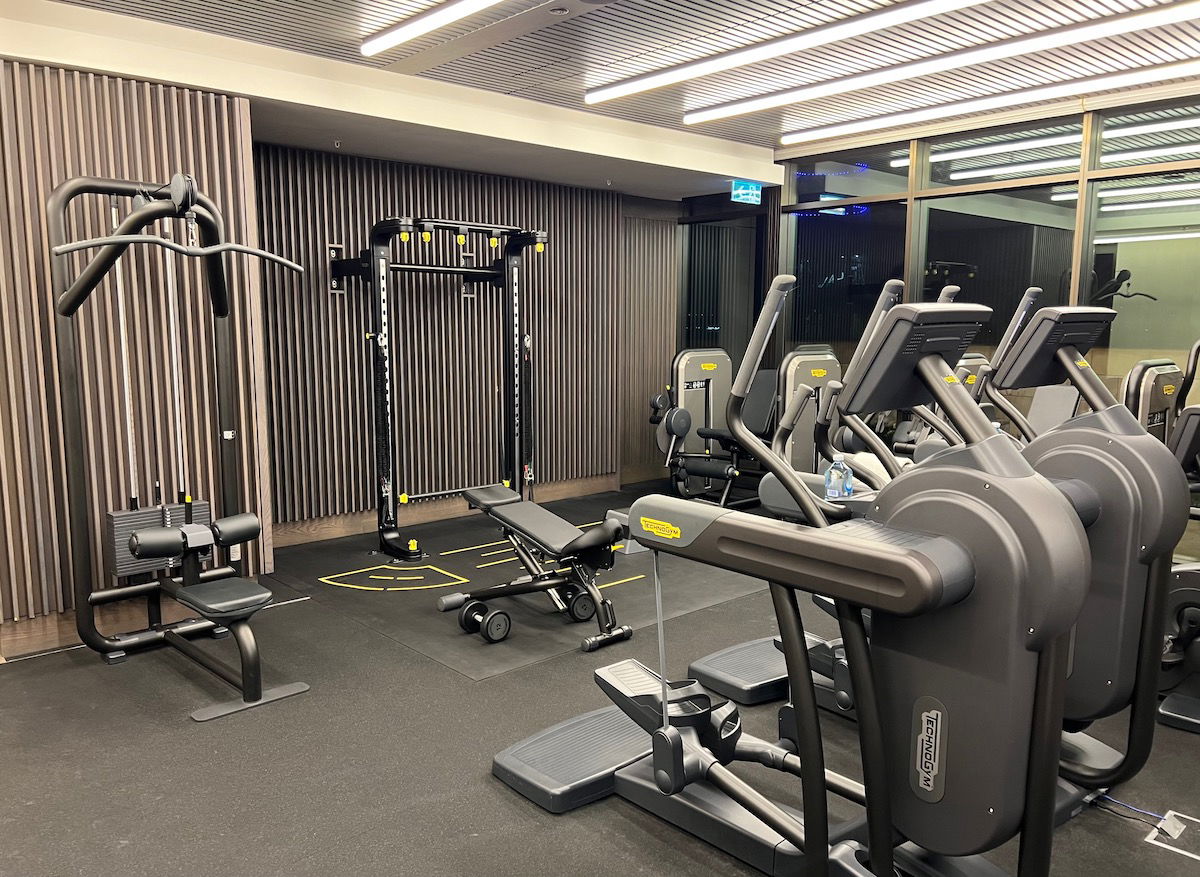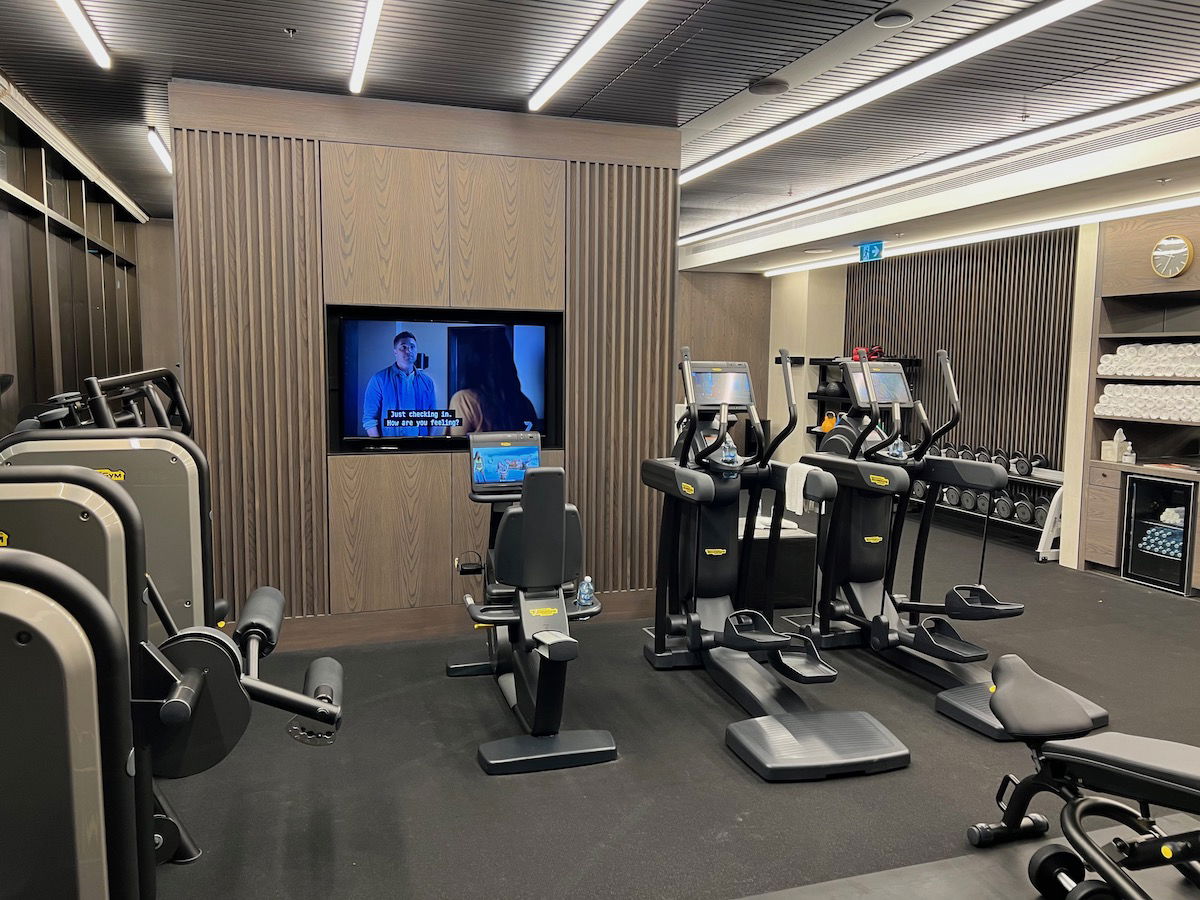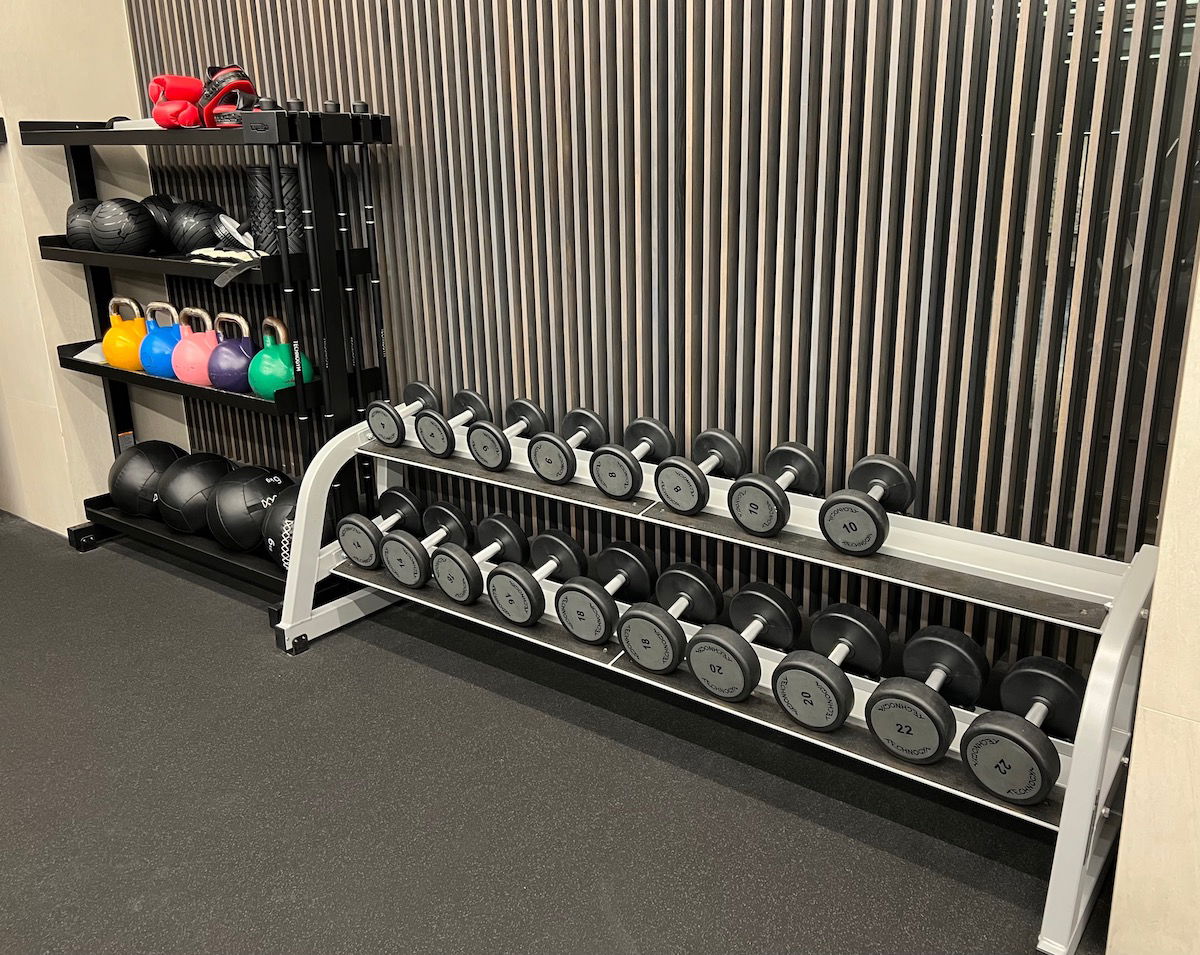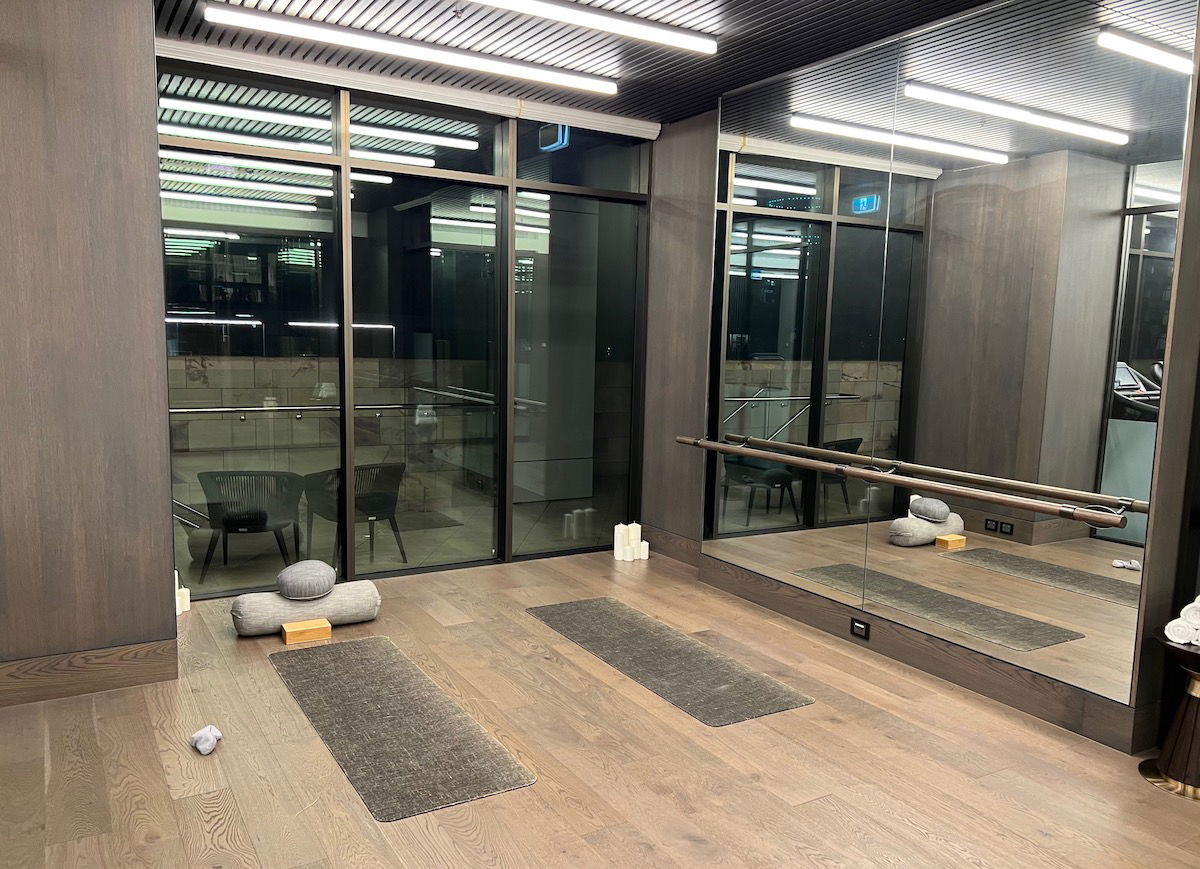 The Ritz-Carlton Perth also has a spa, open daily from 9AM until 5PM. I didn't have a chance to check it out, given how short our stay was. If you're curious about the treatments available, you can find the spa menu here.
Ritz-Carlton Perth Hearth Restaurant & Lounge
Hearth Restaurant & Lounge is the Ritz-Carlton Perth's signature restaurant and bar. It's open daily for breakfast, six days per week for lunch, and five days per week for dinner. This isn't just your typical hotel restaurant, but actually seems to be popular with locals, and is regarded as one of the best restaurants in the city.
I was hoping to be able to have dinner here with my dad when we landed from Doha, but we ended up deciding against it. That's because Wi-Fi was broken on the flight, so I had a lot of work to catch up on. On top of that, we were both tired and not very hungry. But next time I'd definitely like to go here for lunch or dinner, as the menus look great.
First there's Hearth Lounge, which is the restaurant's bar and lounge area. It's a very nice space, with both indoor and outdoor seating.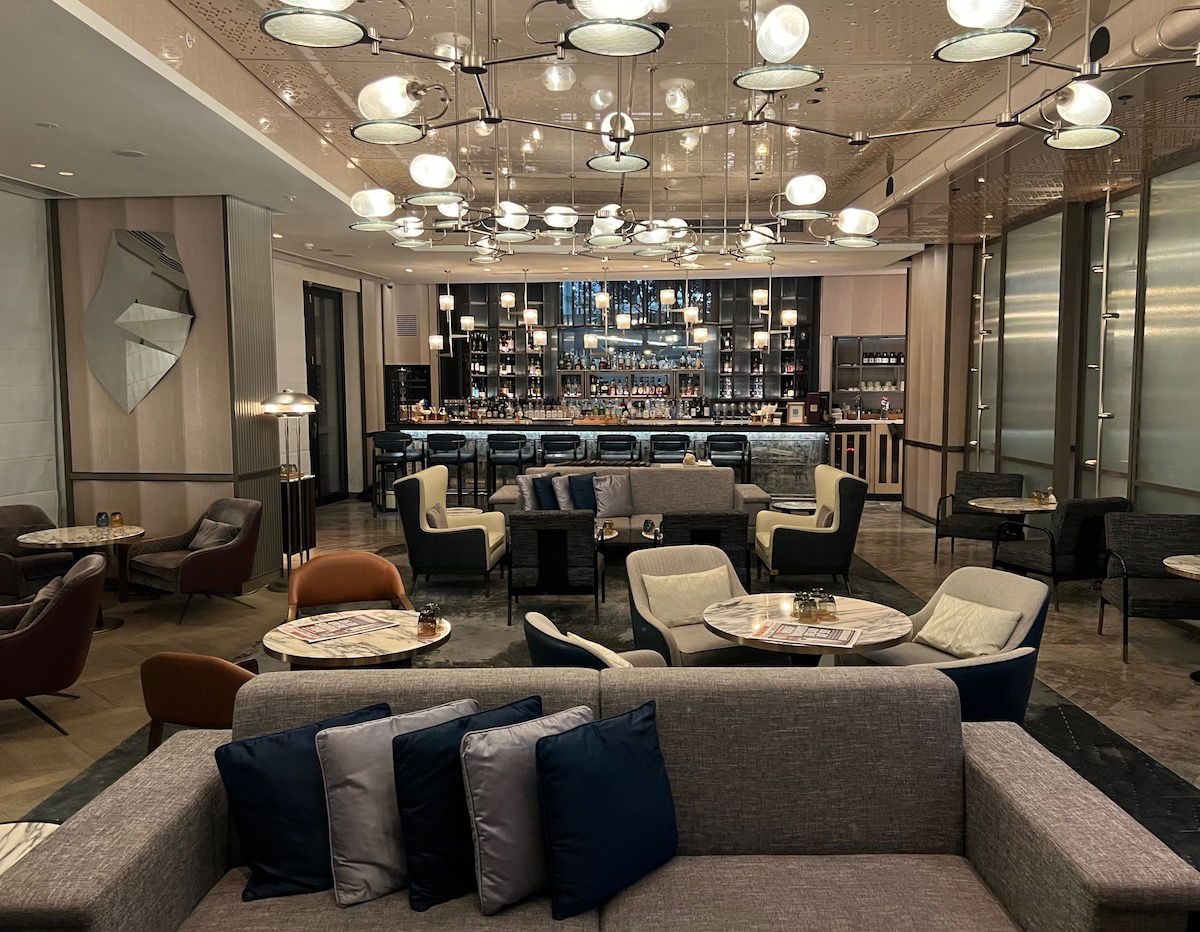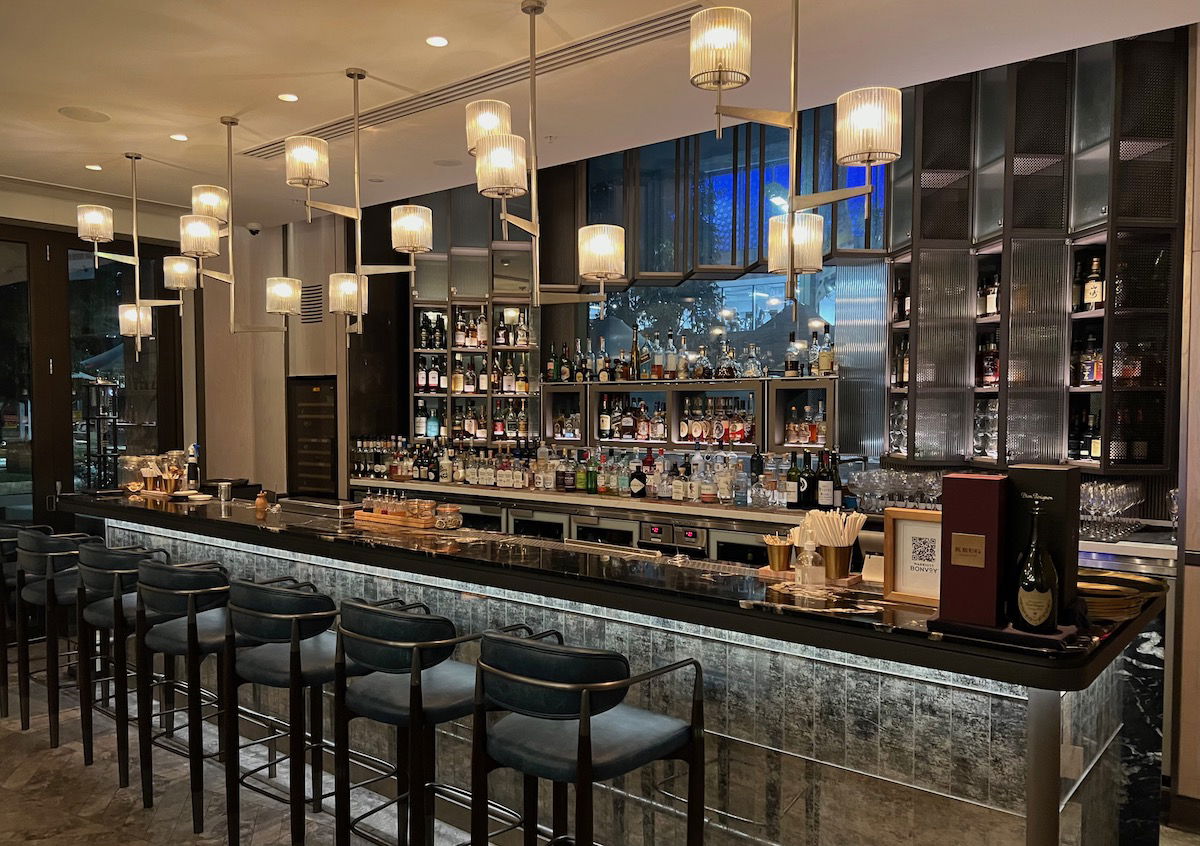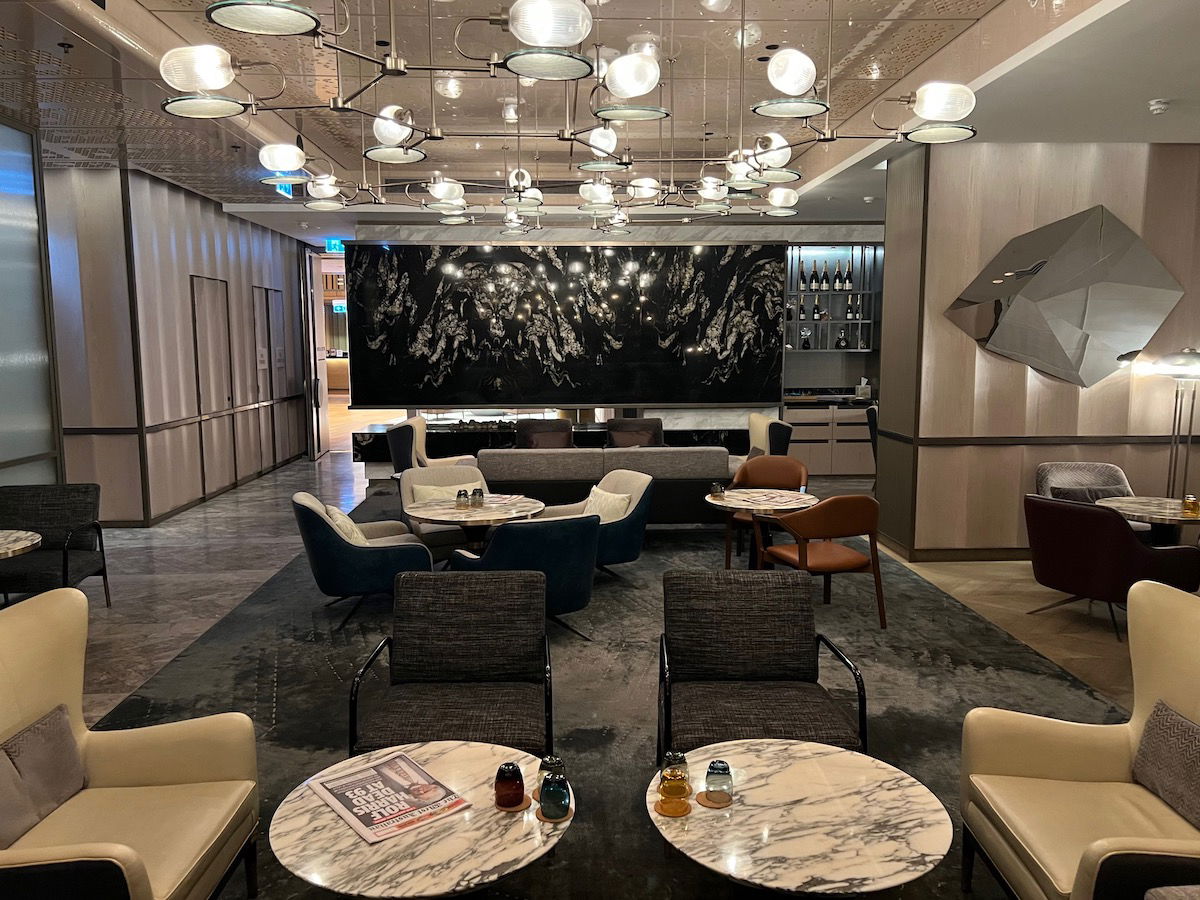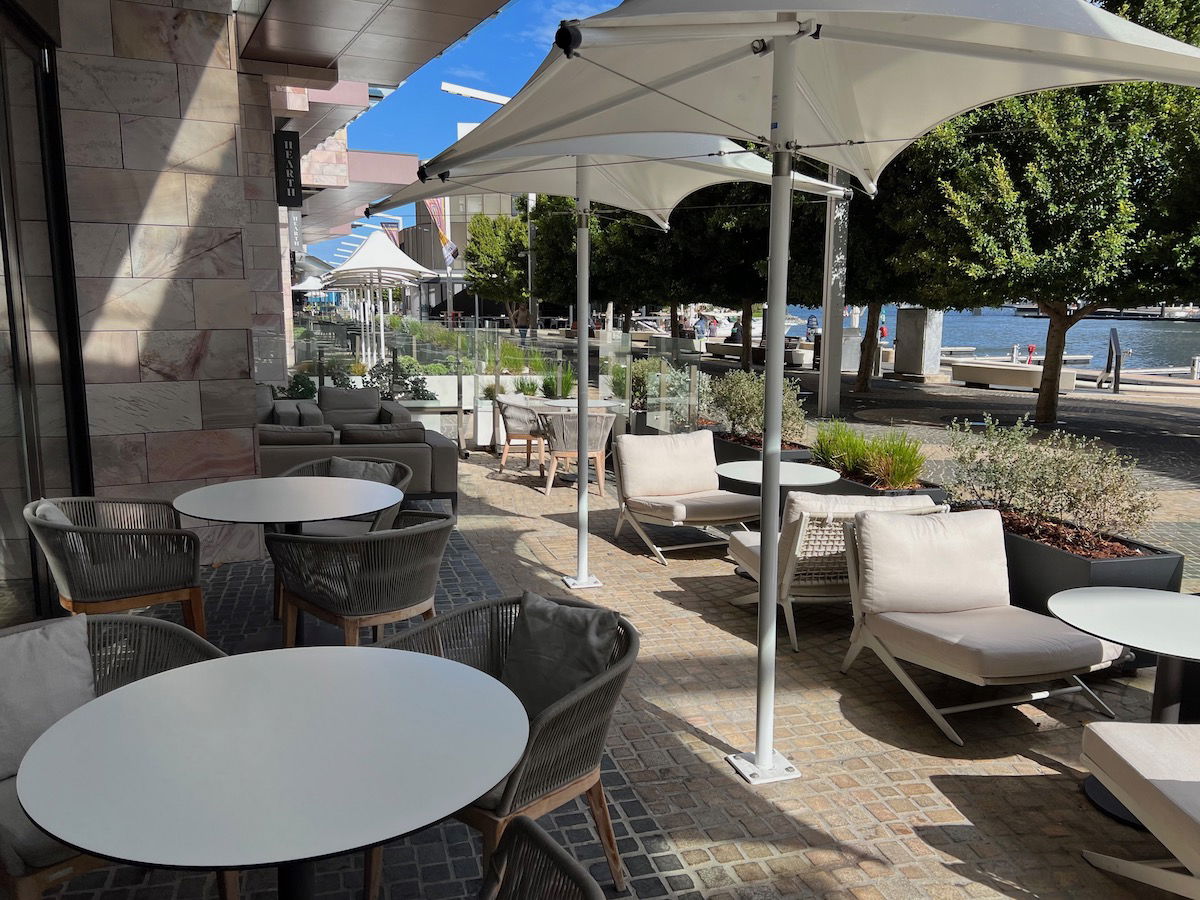 Then there's Hearth Restaurant, which is quite large, and has a variety of seating options.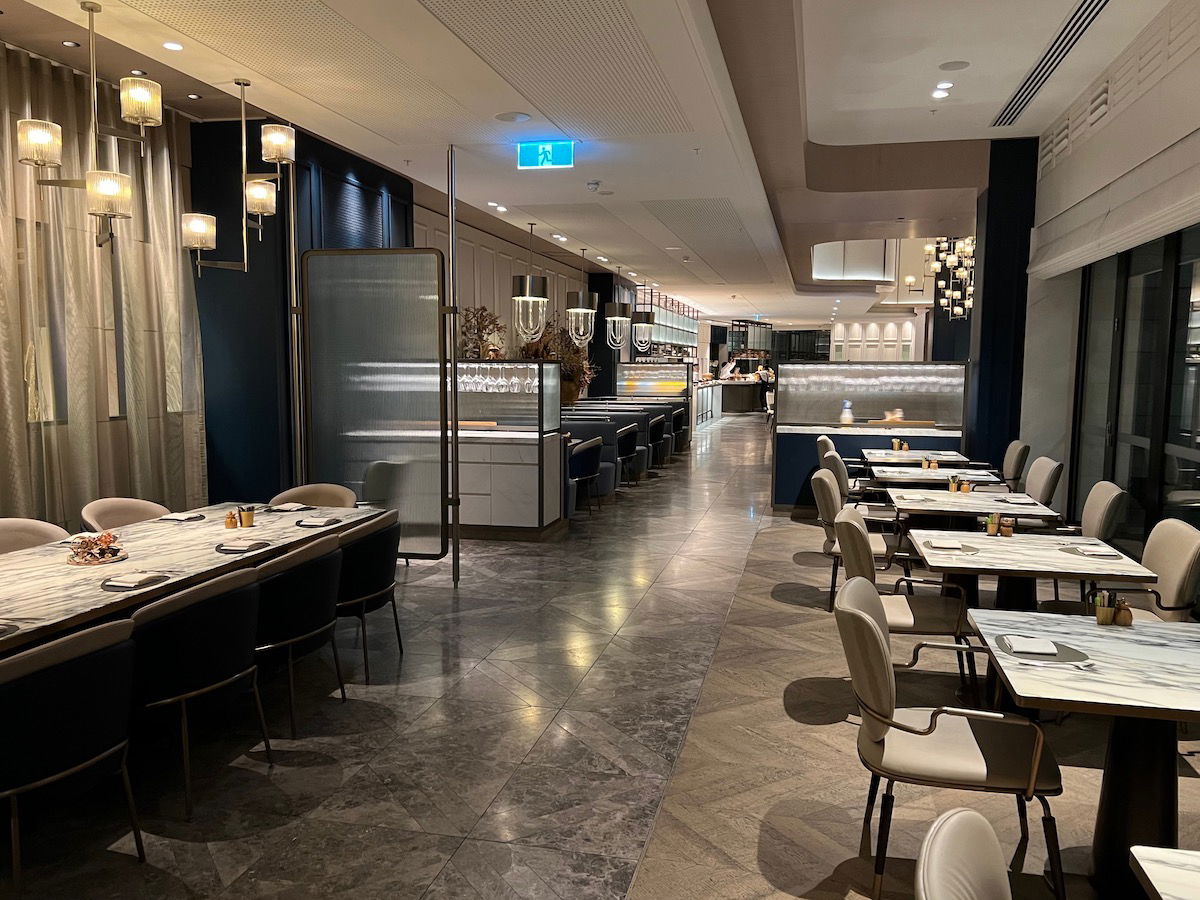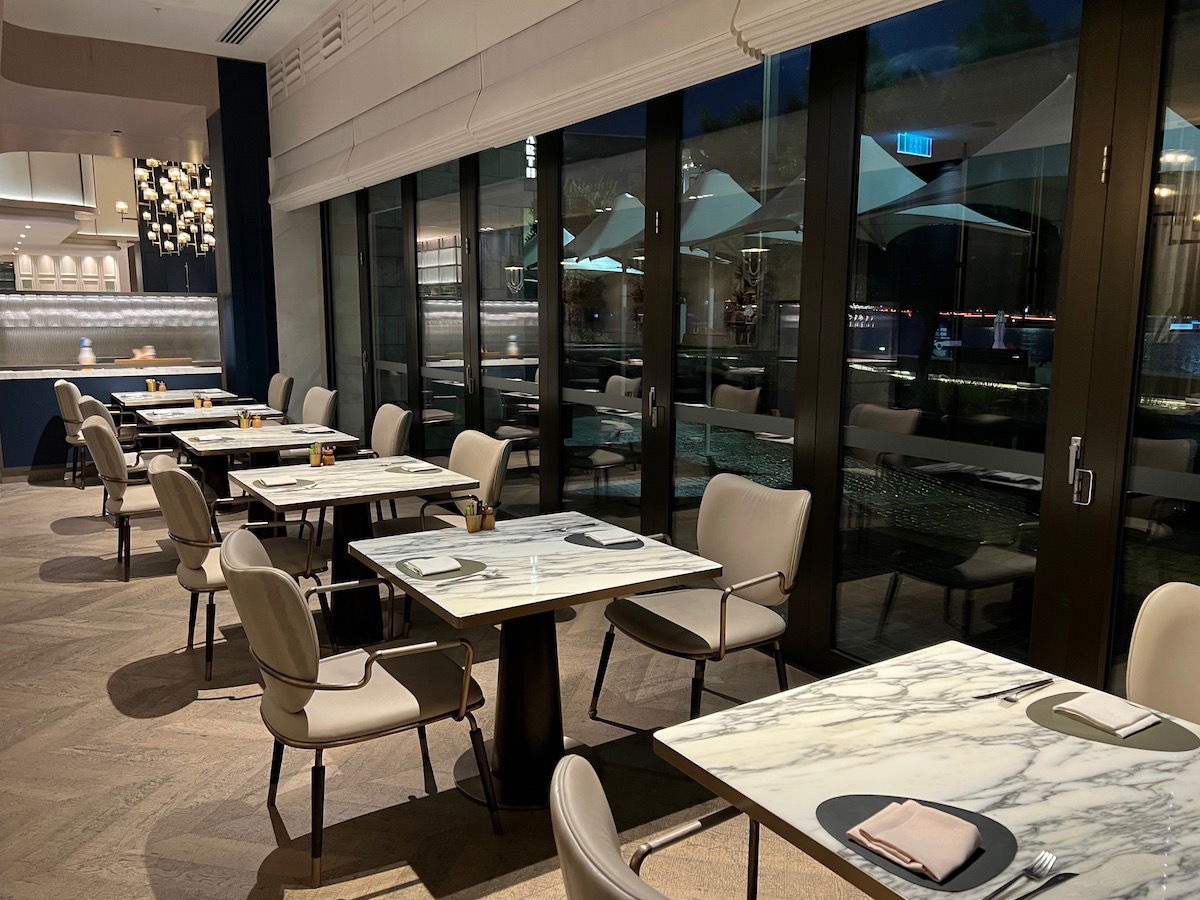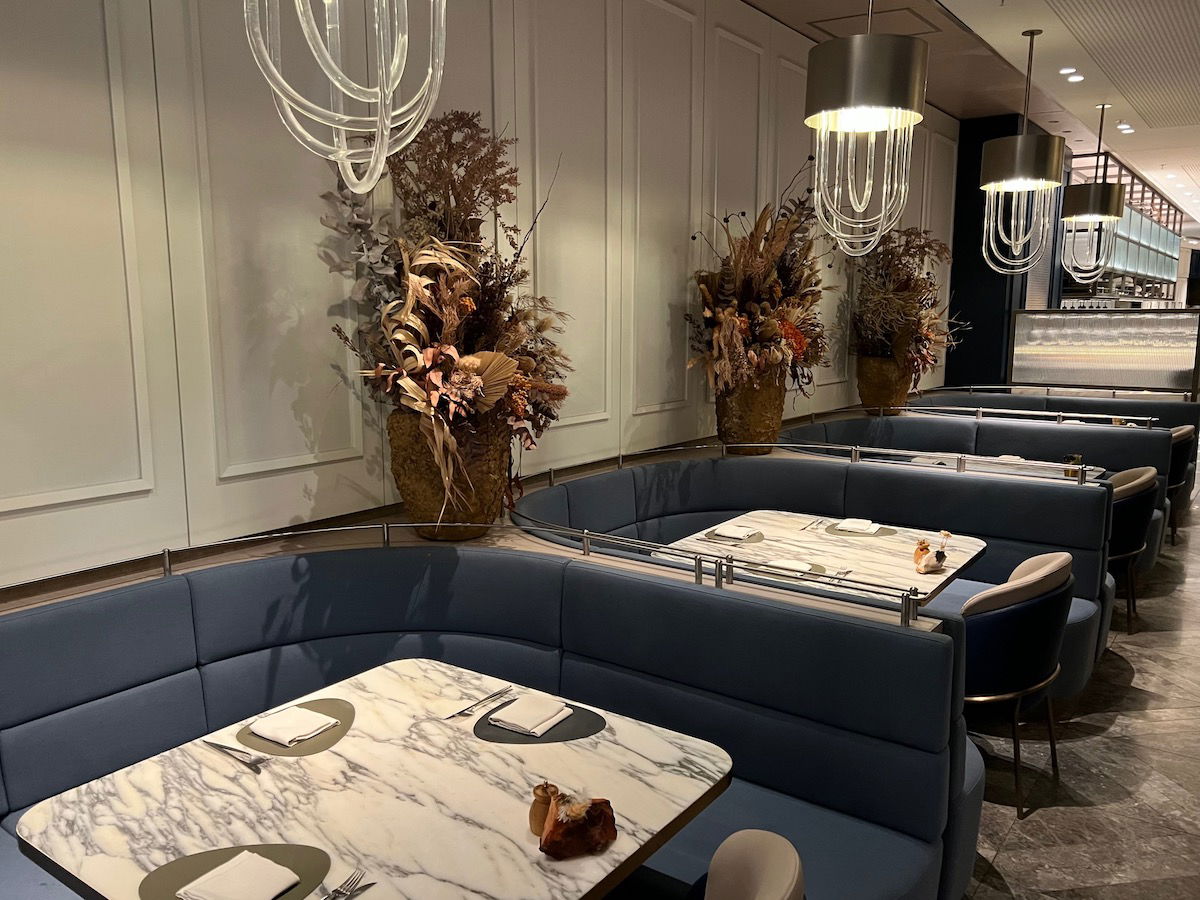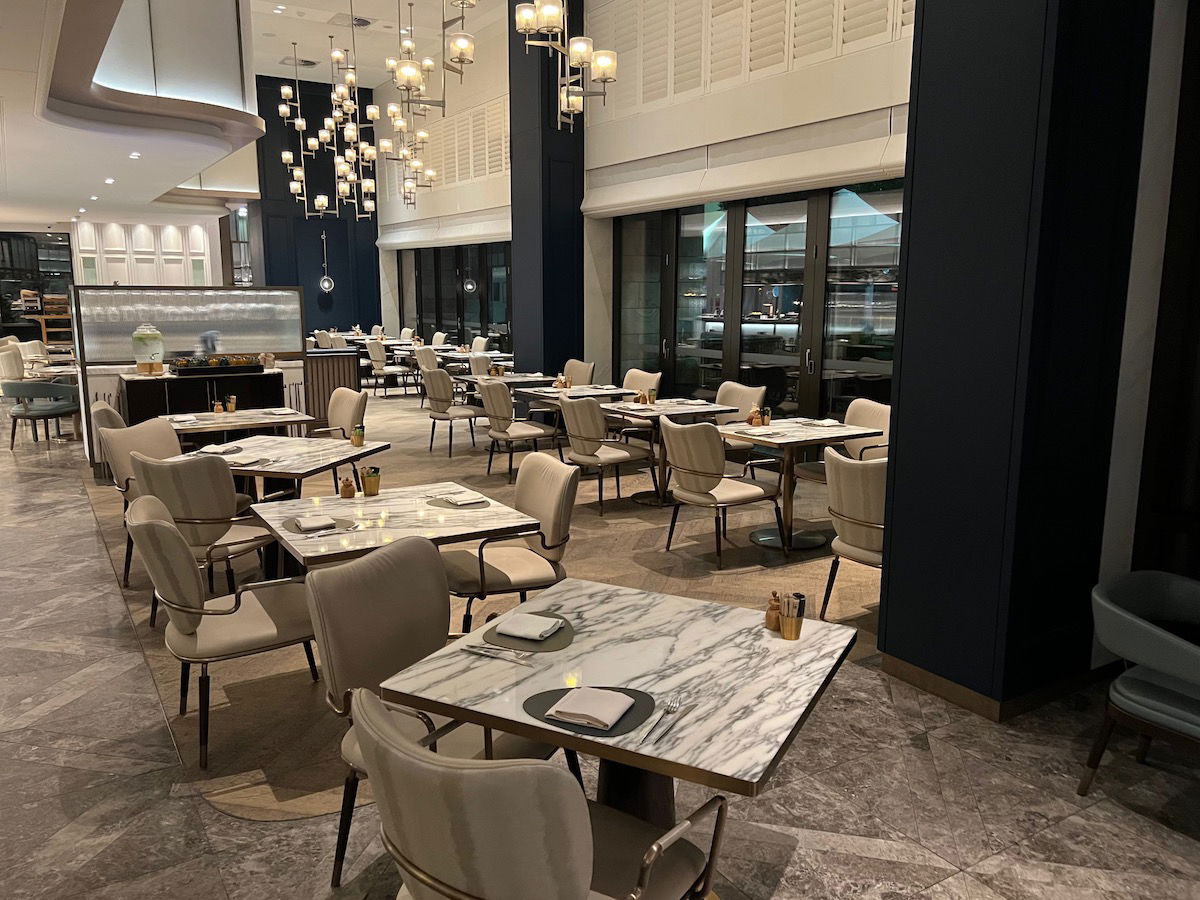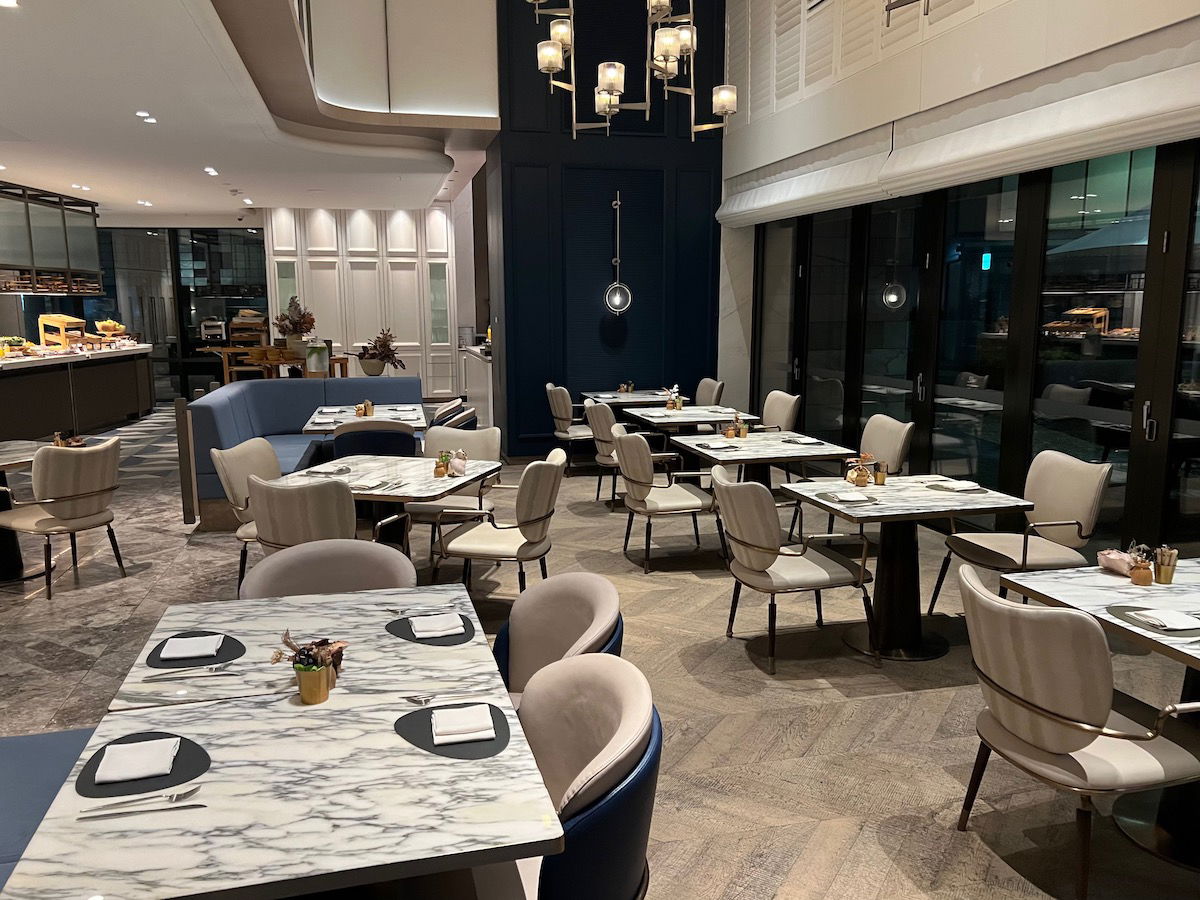 We visited Hearth Restaurant for breakfast right at 6:30AM, when it opened. Breakfast consists of a buffet. While not as over-the-top as you might find in the Middle East or Southeast Asia, I thought the selection was extensive and high quality.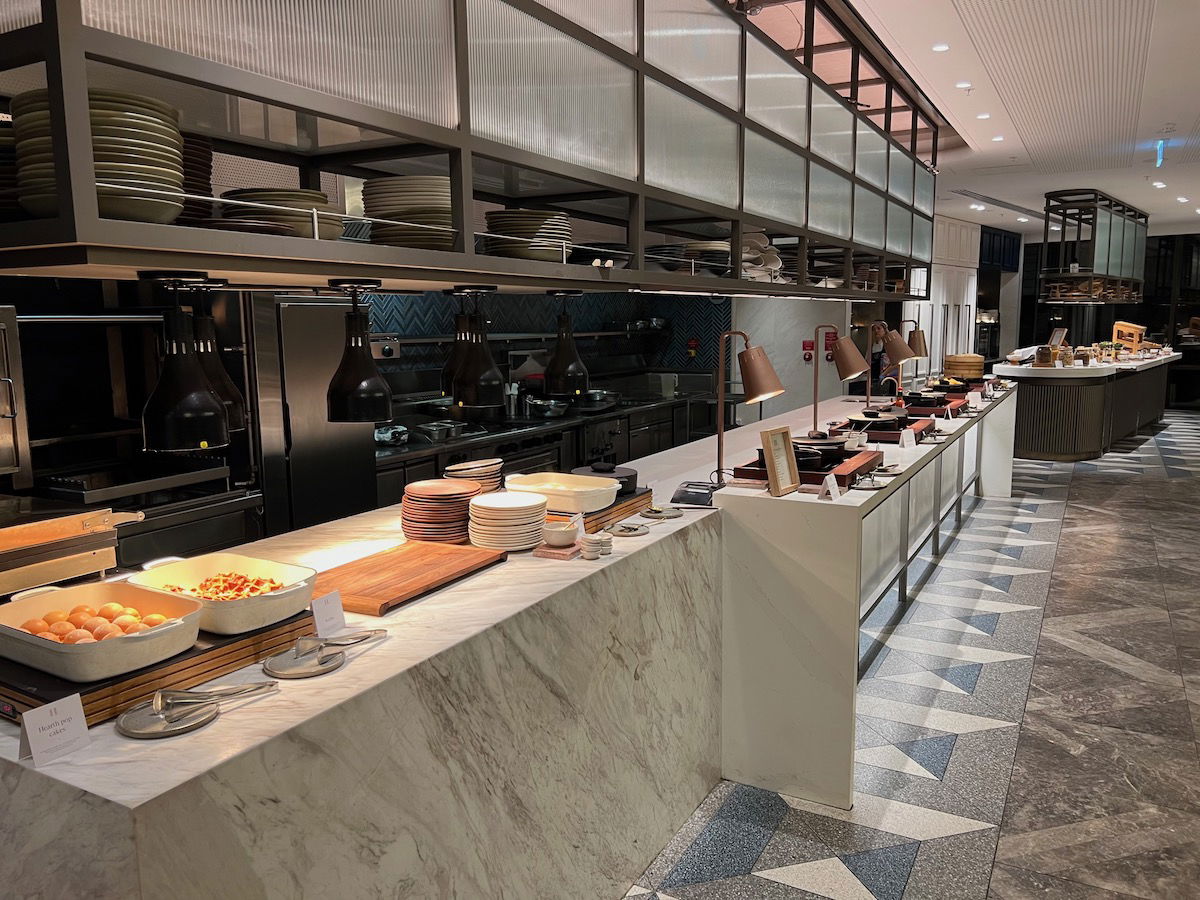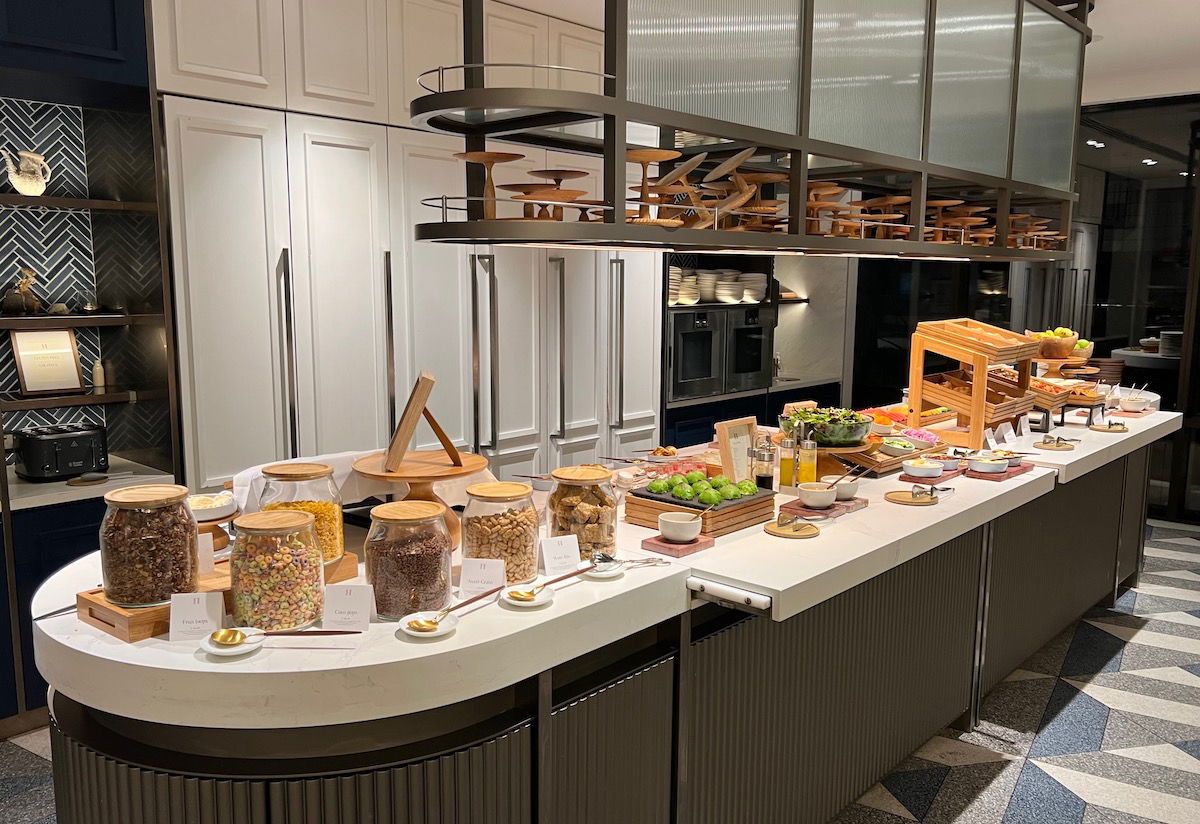 The buffet had everything from cereal, to veggies, to freshly baked pastries and bread, to yogurt, to fresh fruit, to cold cuts.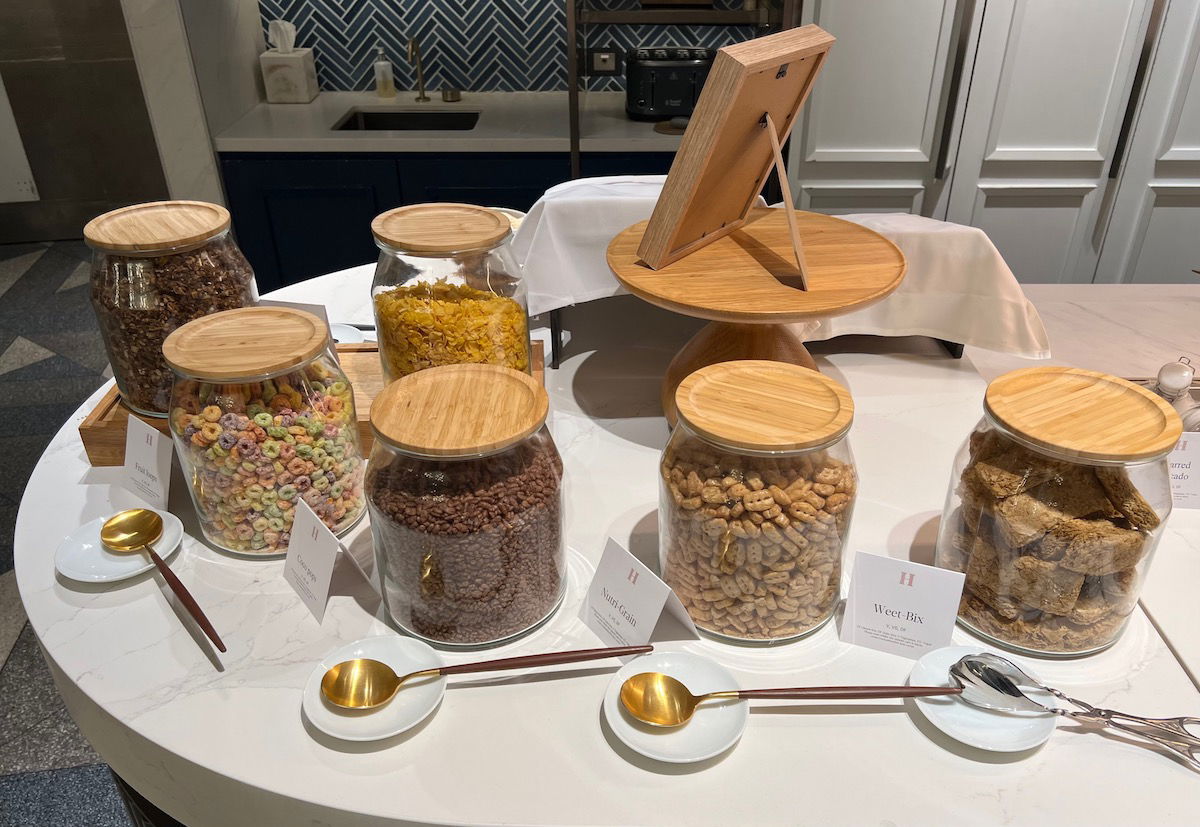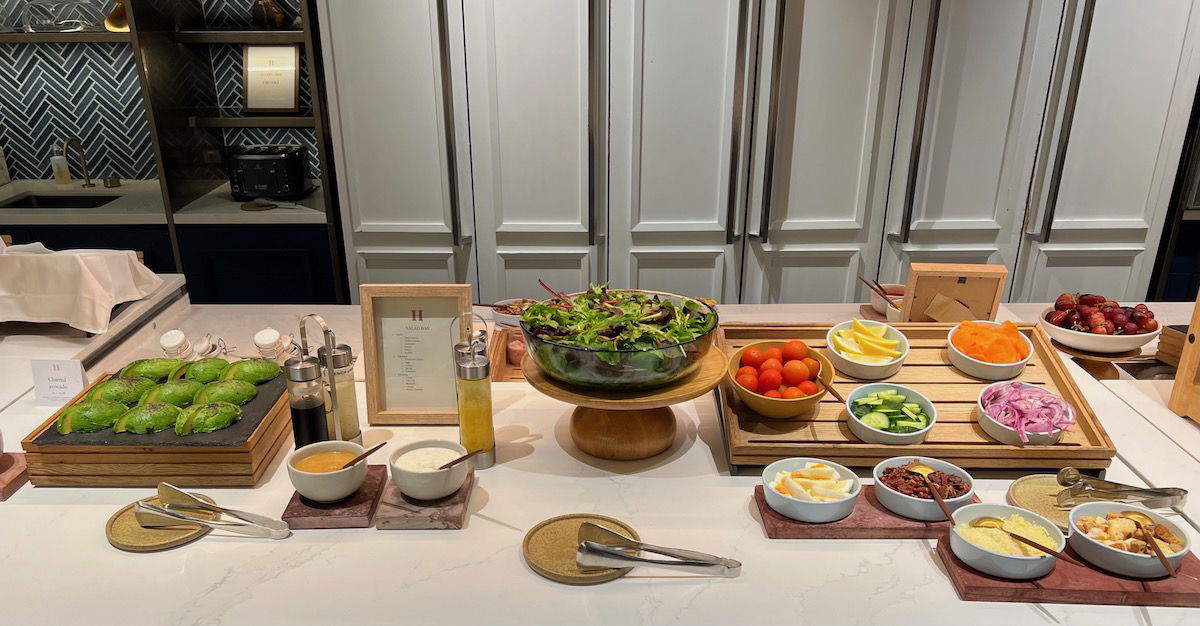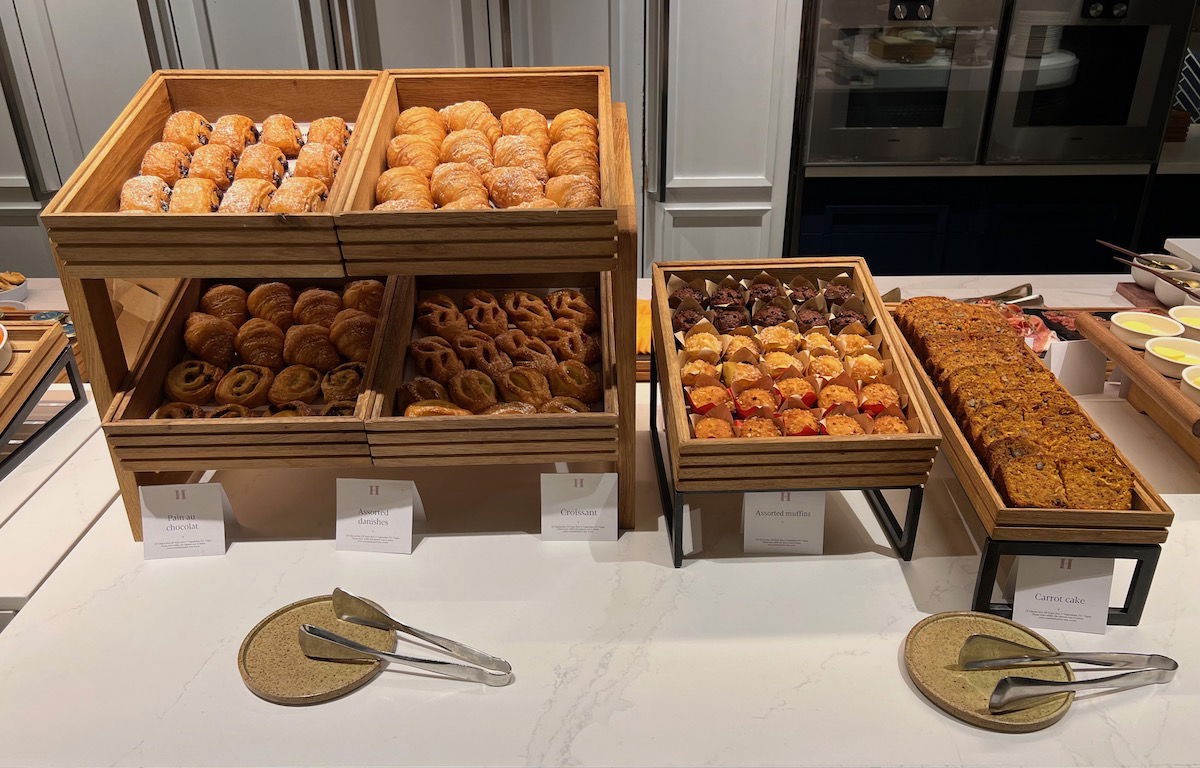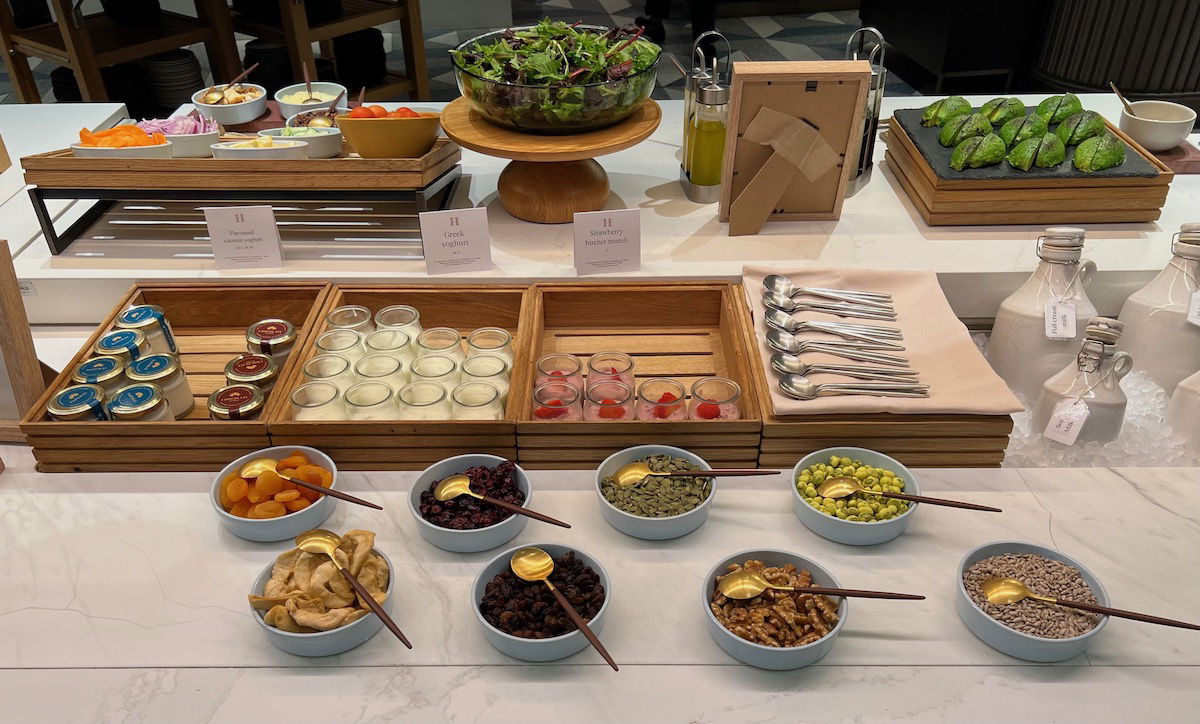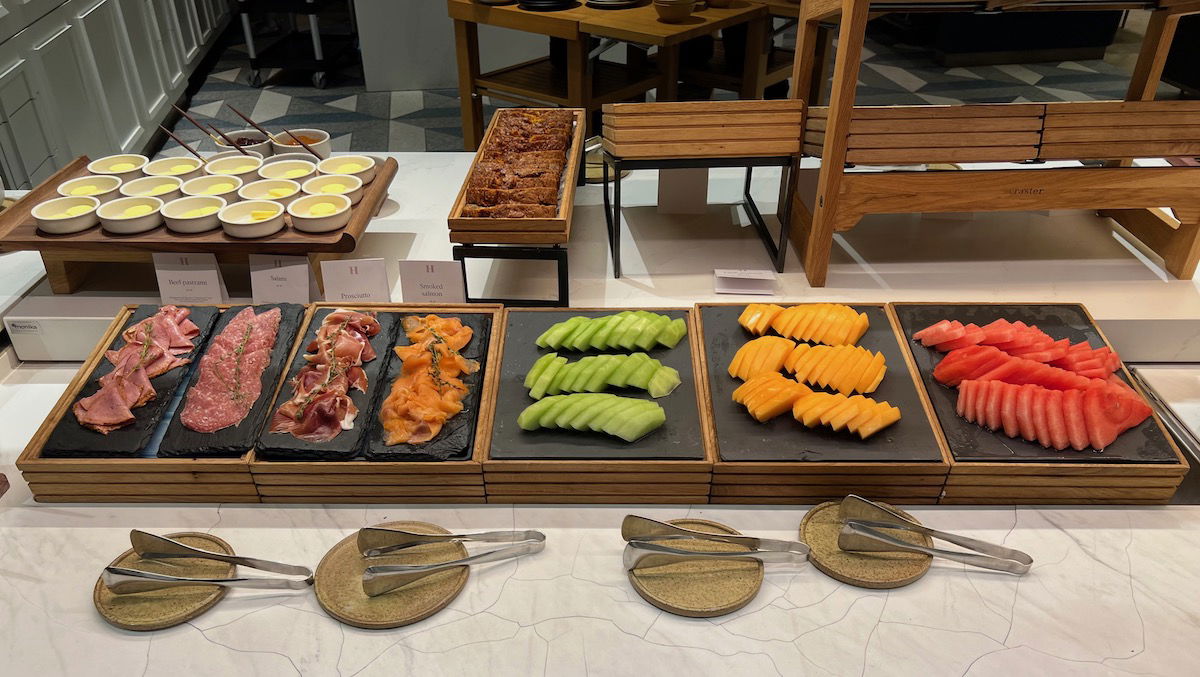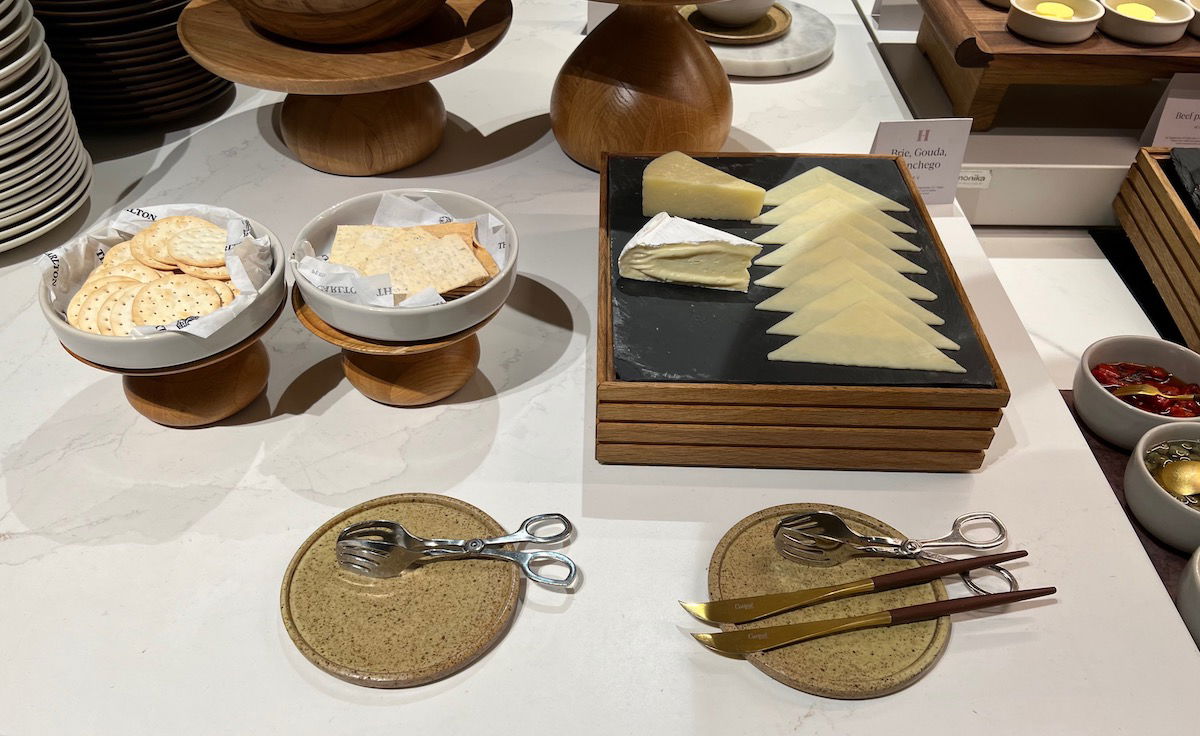 There were also a lot of hot options, including congee, scrambled eggs, poached eggs, waffles, and so much more.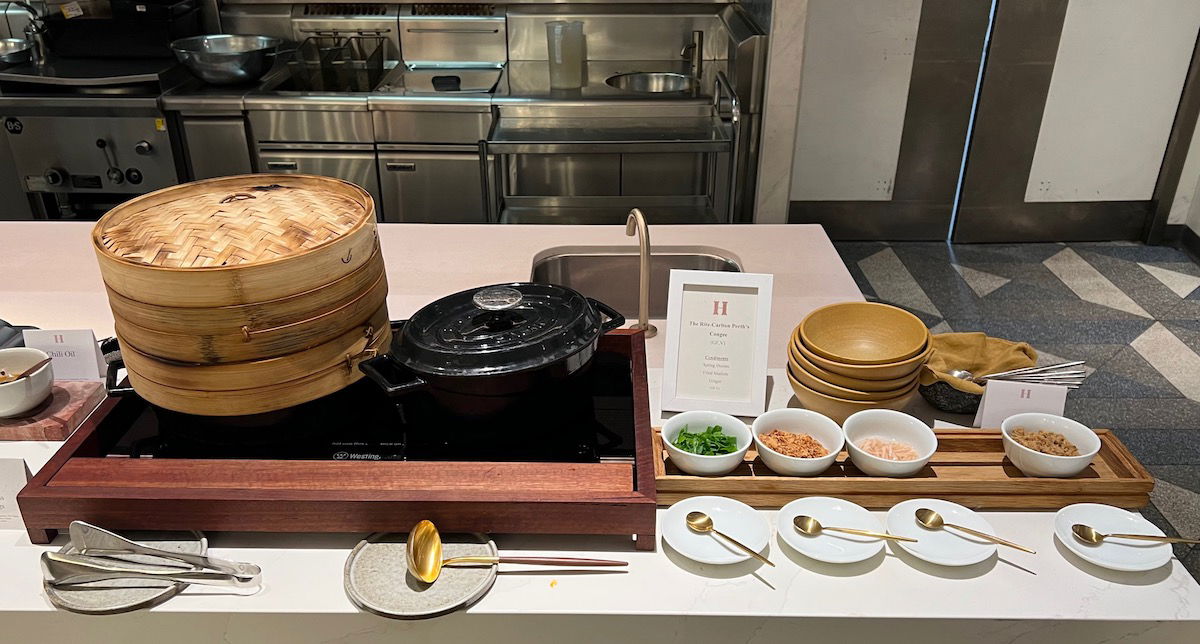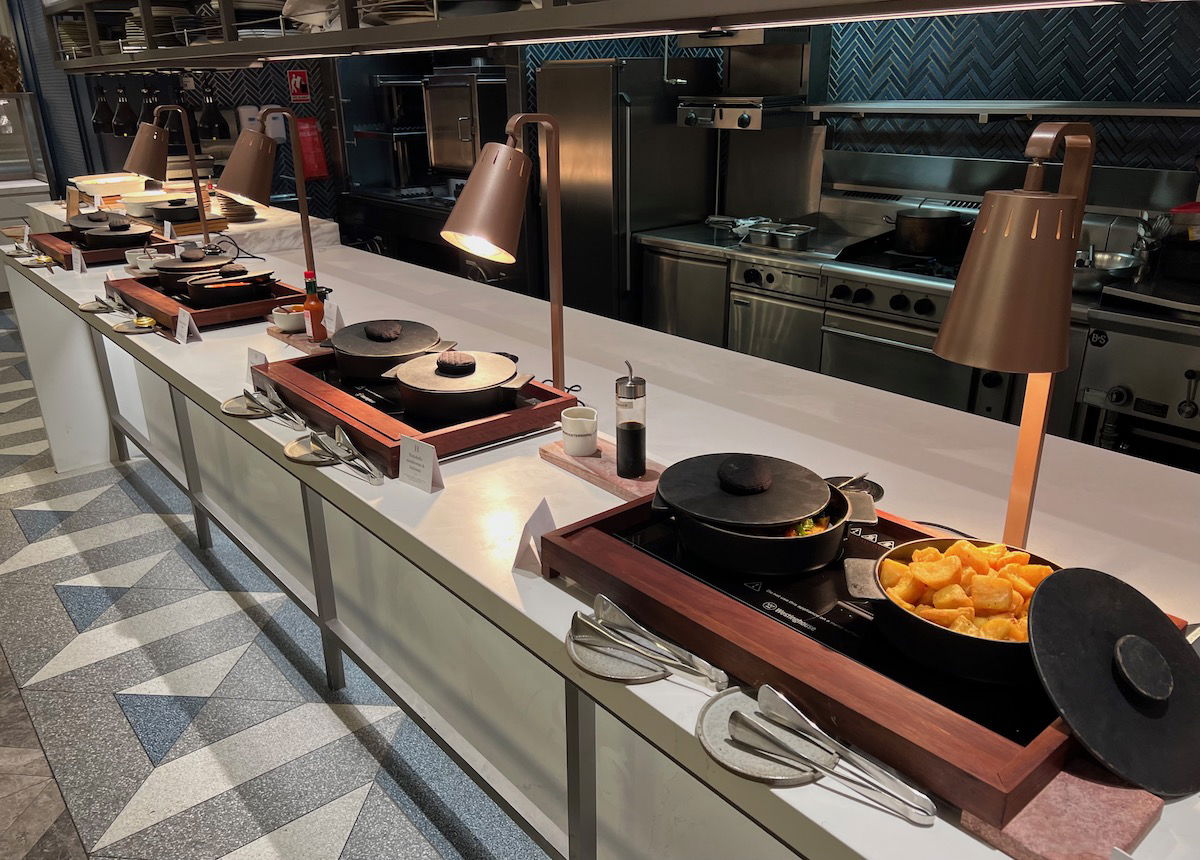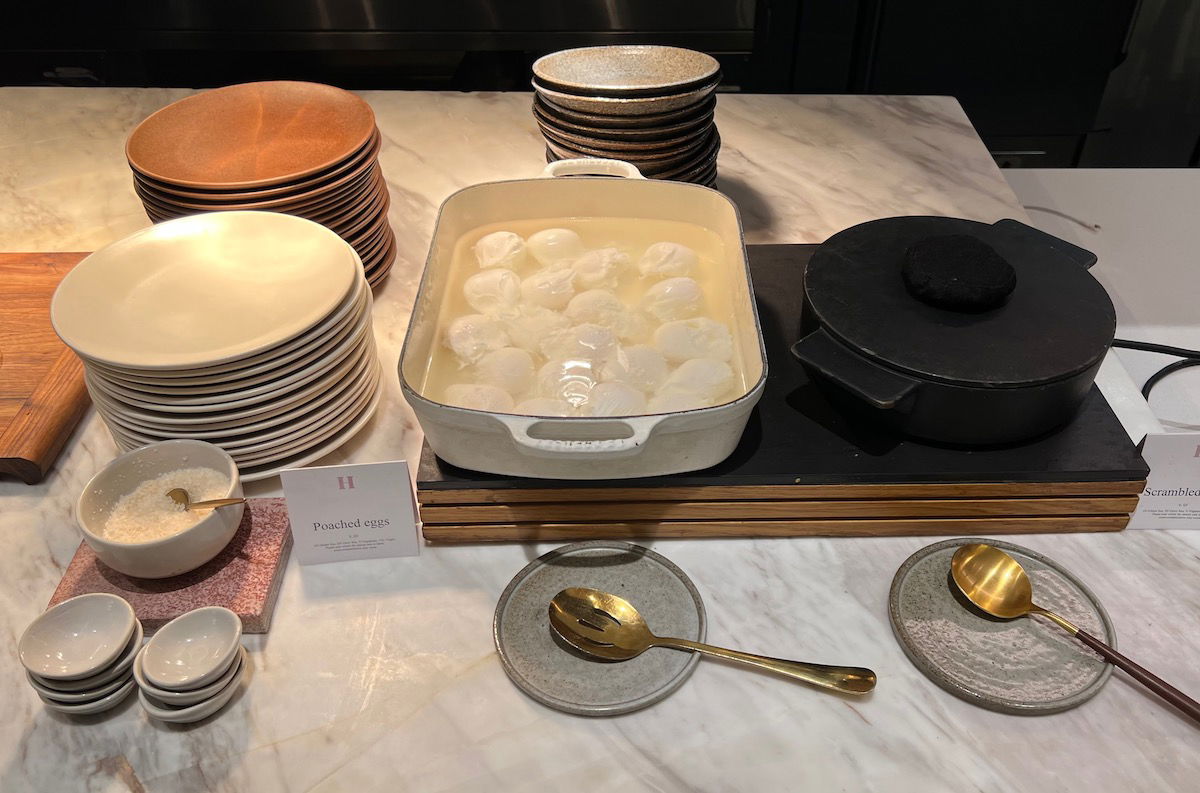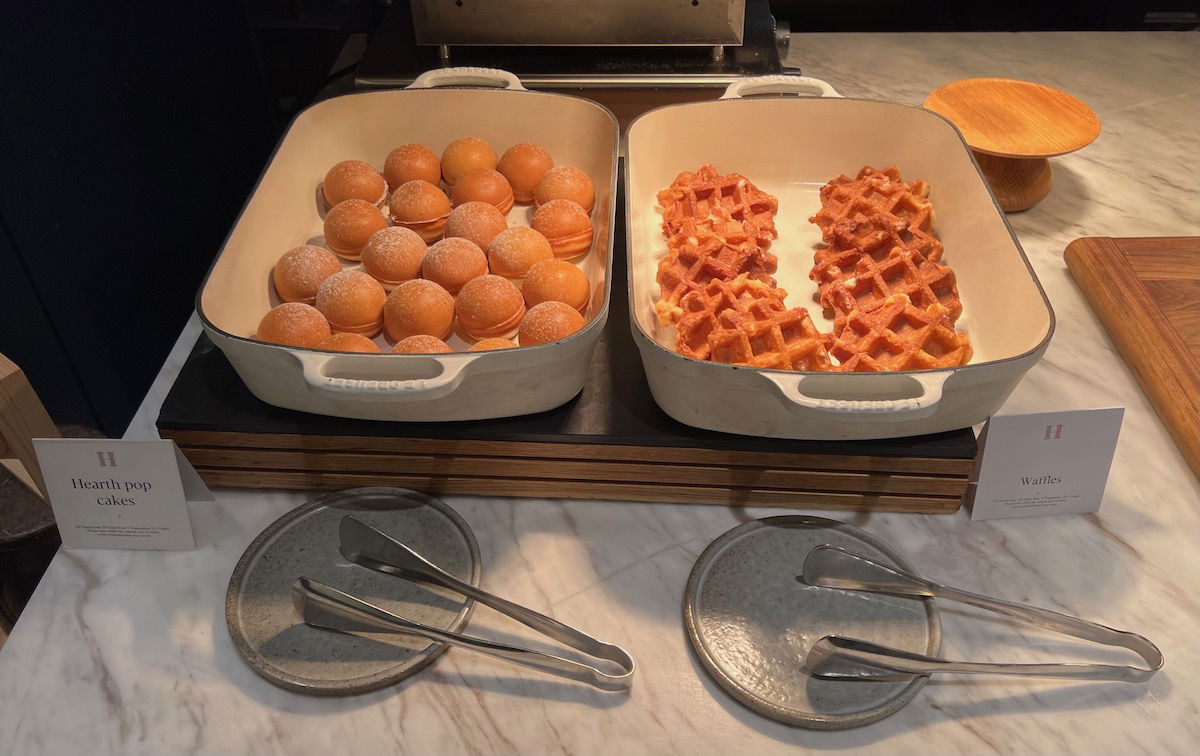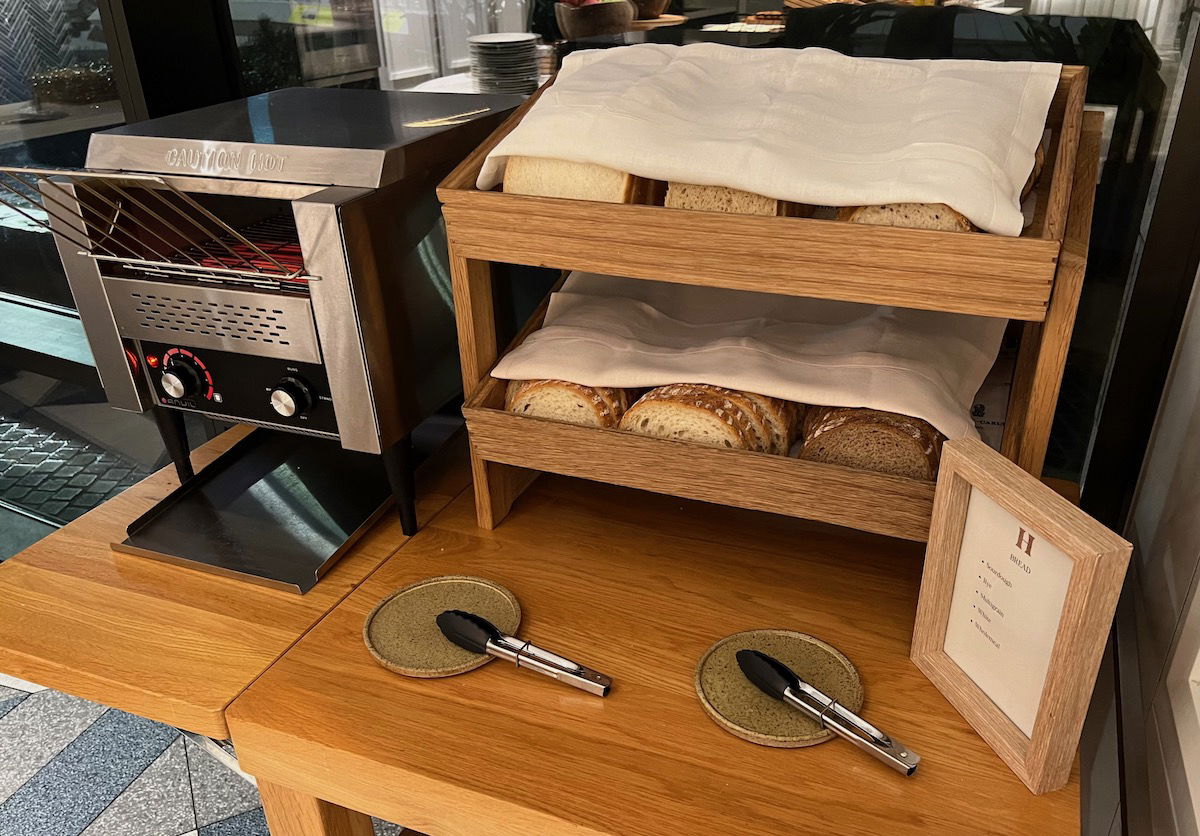 Furthermore, there was an omelet station, so you could order custom eggs.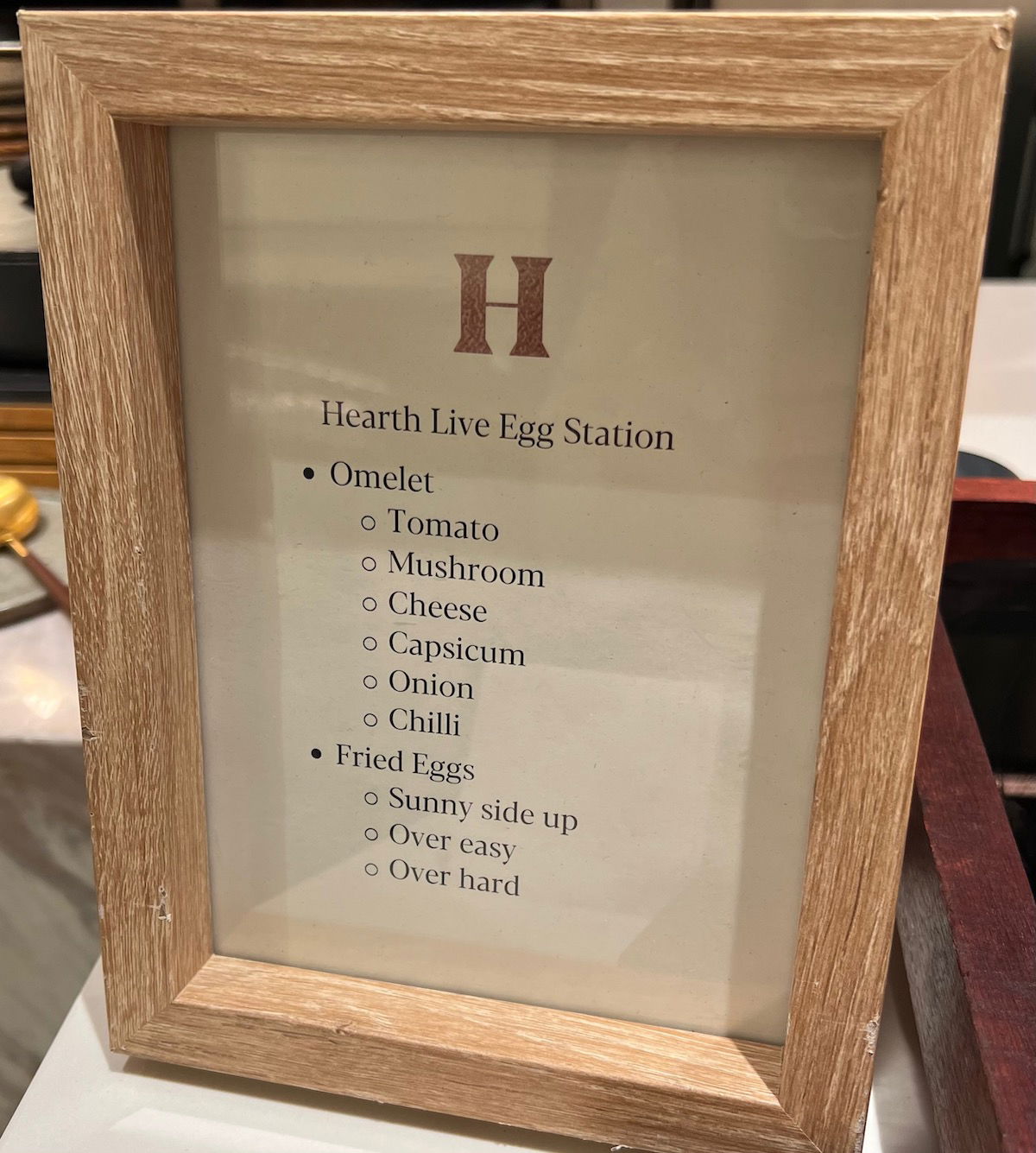 The best part of breakfast, though, was the coffee. While there are lots of things I like about Australia, the coffee culture is definitely at the top of the list. I had both a cappuccino and flat white, and OMG, they were so good — smooth, the perfect temperature, and artfully presented. Why does coffee in the United States have to largely be so bad?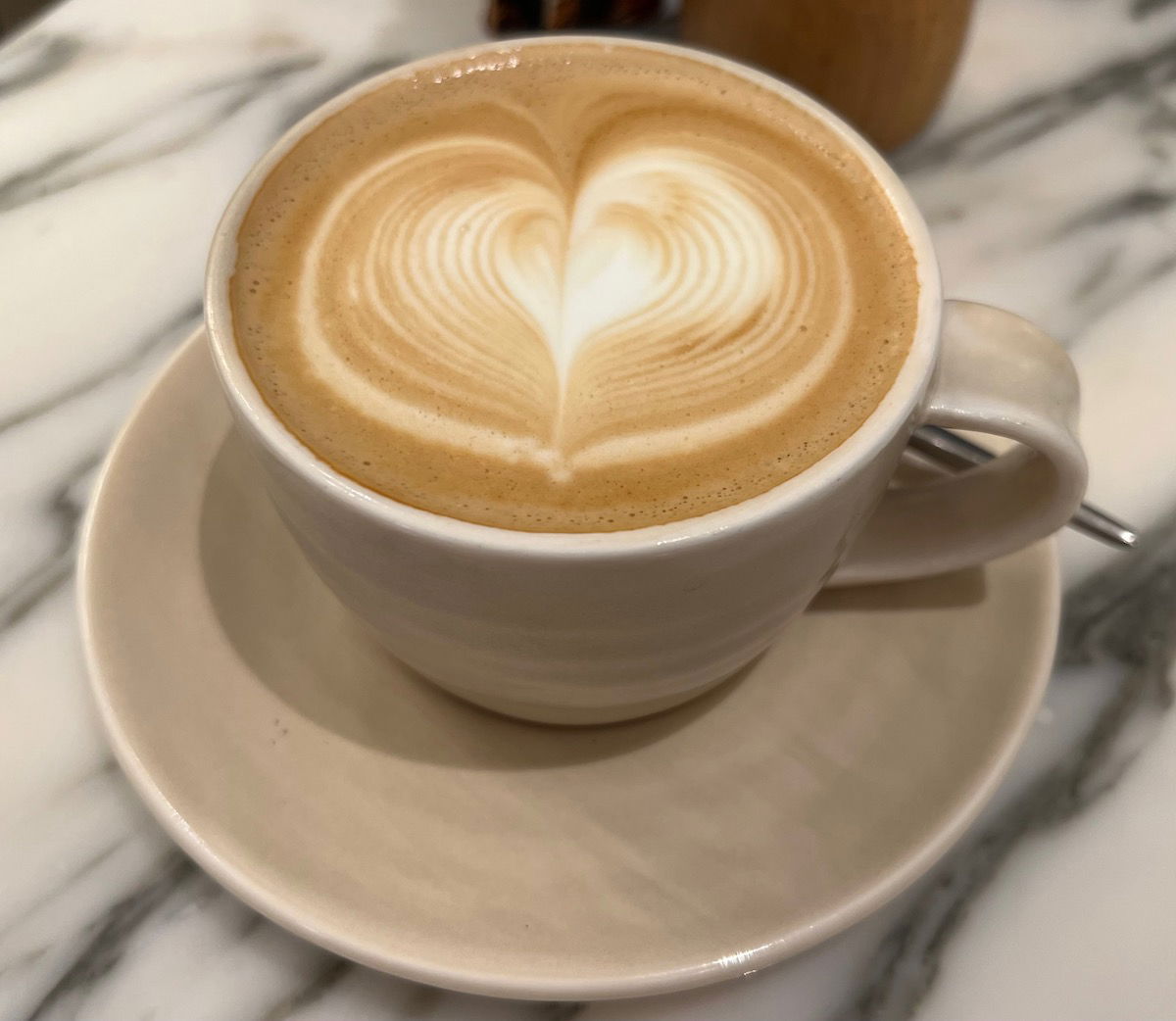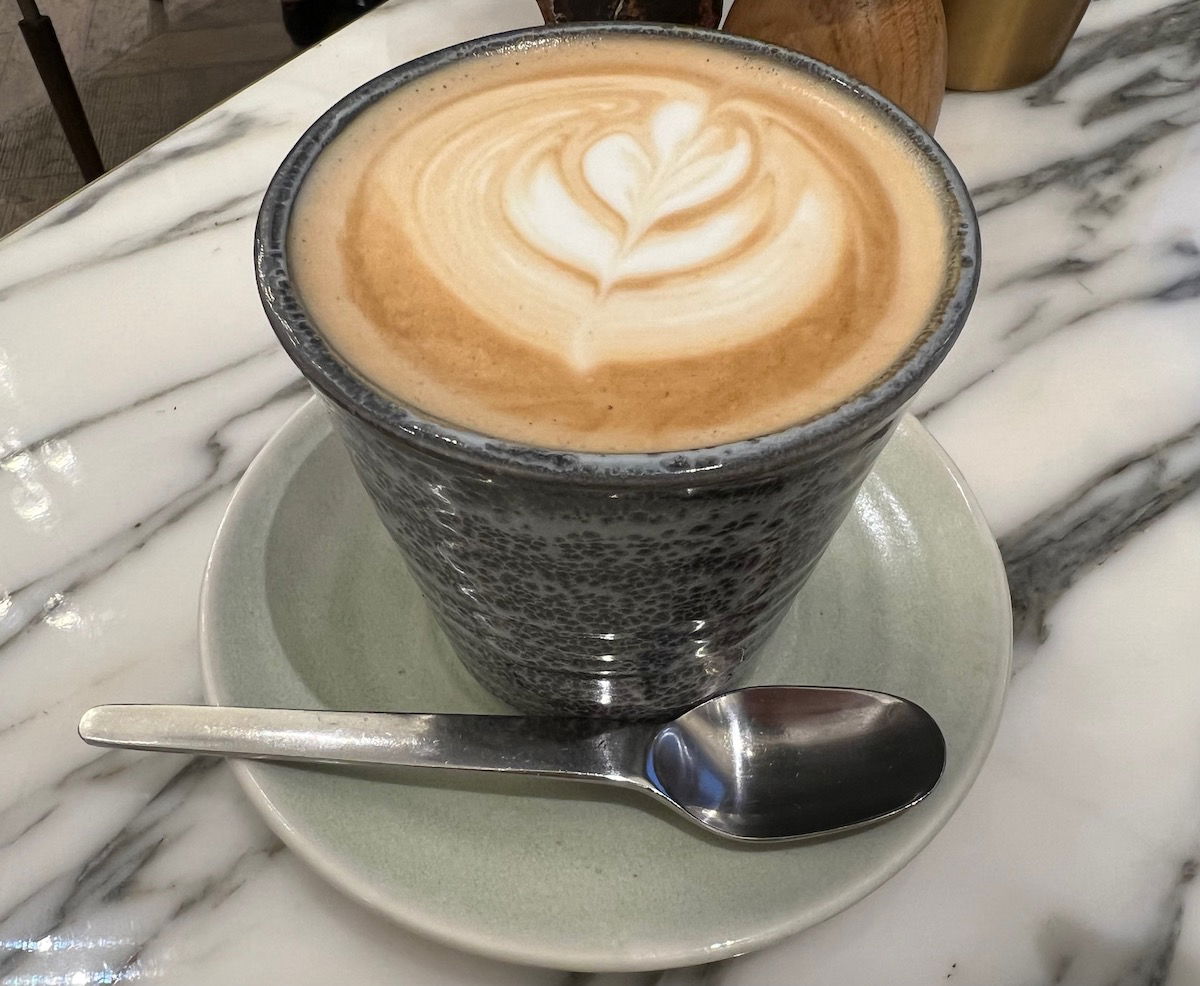 Since we had a credit to spend, we later had a snack at Hearth Lounge, just prior to our departure. My dad ordered the wagyu beef burger with aged cheddar, dill pickles, balsamic onions, and garlic aioli.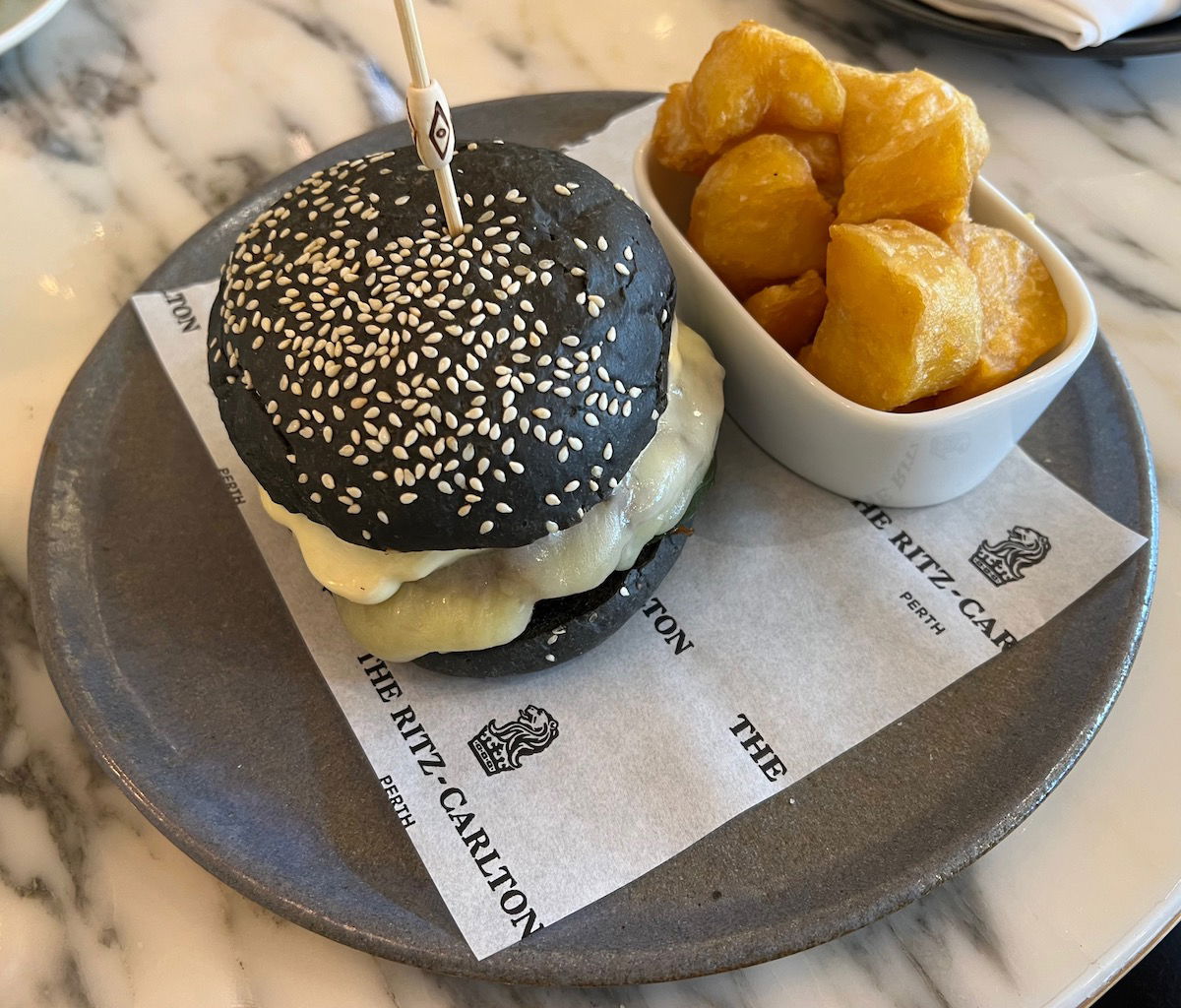 Meanwhile I ordered the scones, mainly because I wanted to have another coffee before leaving Perth, and that seemed like the best complement.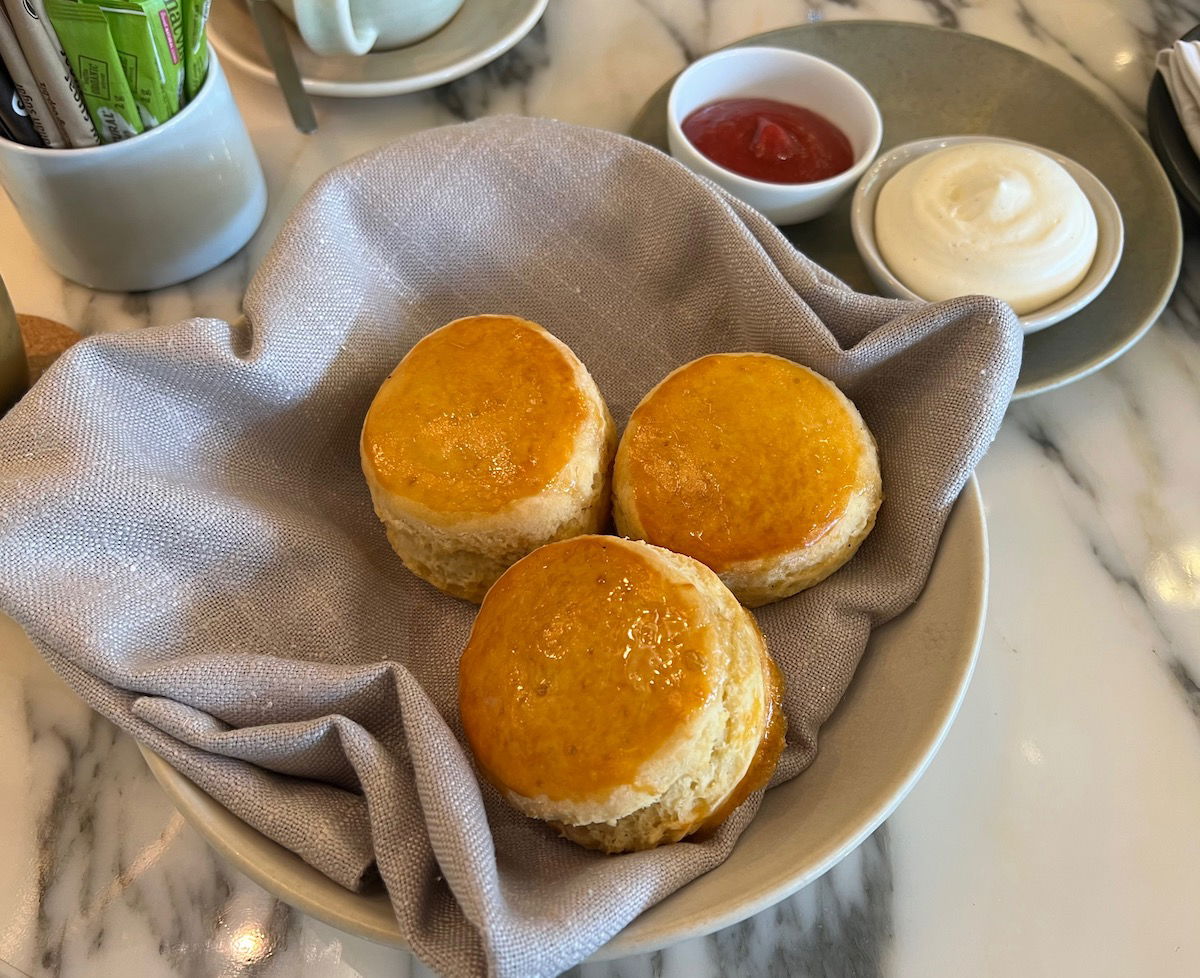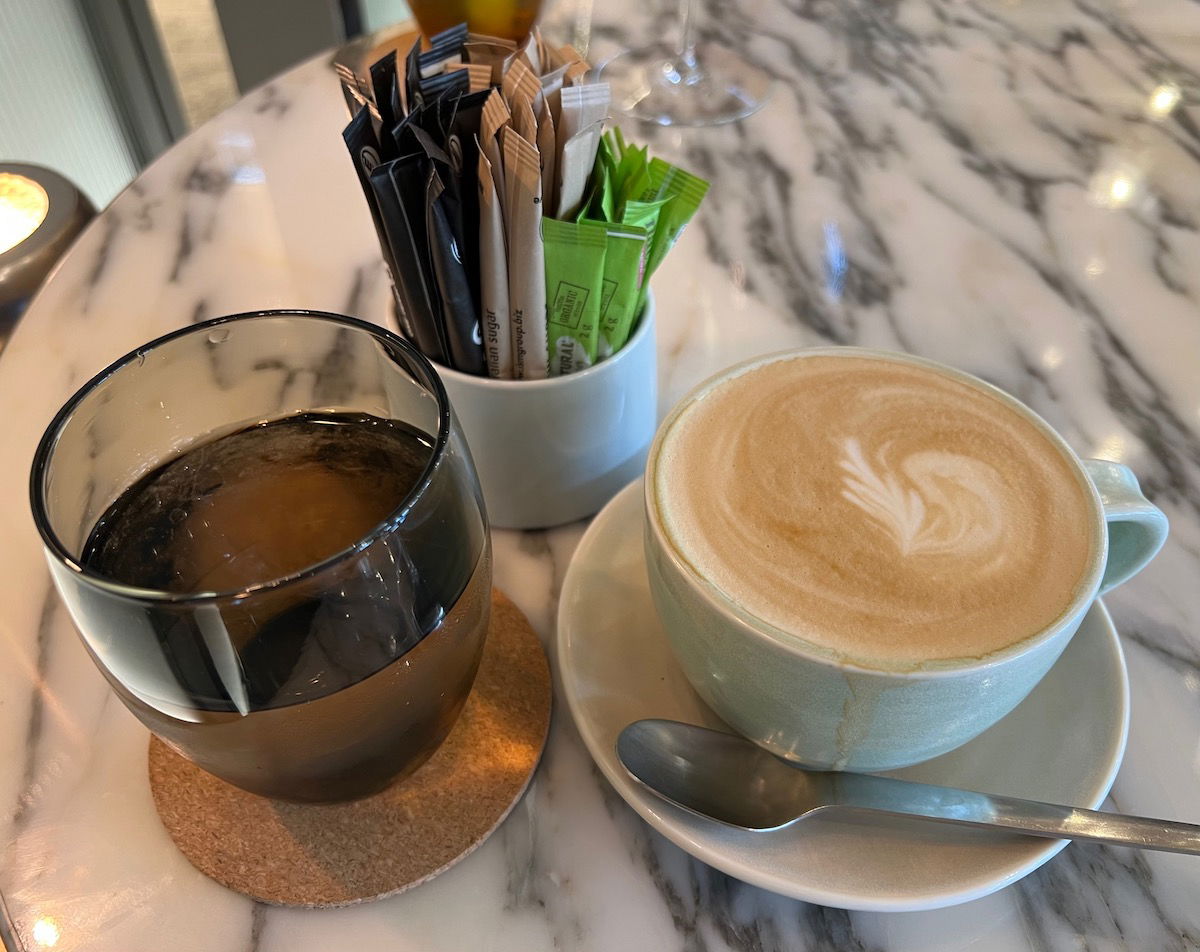 The Ritz-Carlton Perth also has Songbird Bar & Lounge, though unfortunately it's closed on Tuesdays and Wednesdays, which is when we were visiting. So I can't review that.
Ritz-Carlton Perth room service
In the evening, we ordered some light room service, including a vegetable soup and some broccolini, both of which we enjoyed. Best I could tell, the hotel doesn't offer overnight room service (the menu indicated that it stopped at 11PM), which seems rather restrictive for a luxury property.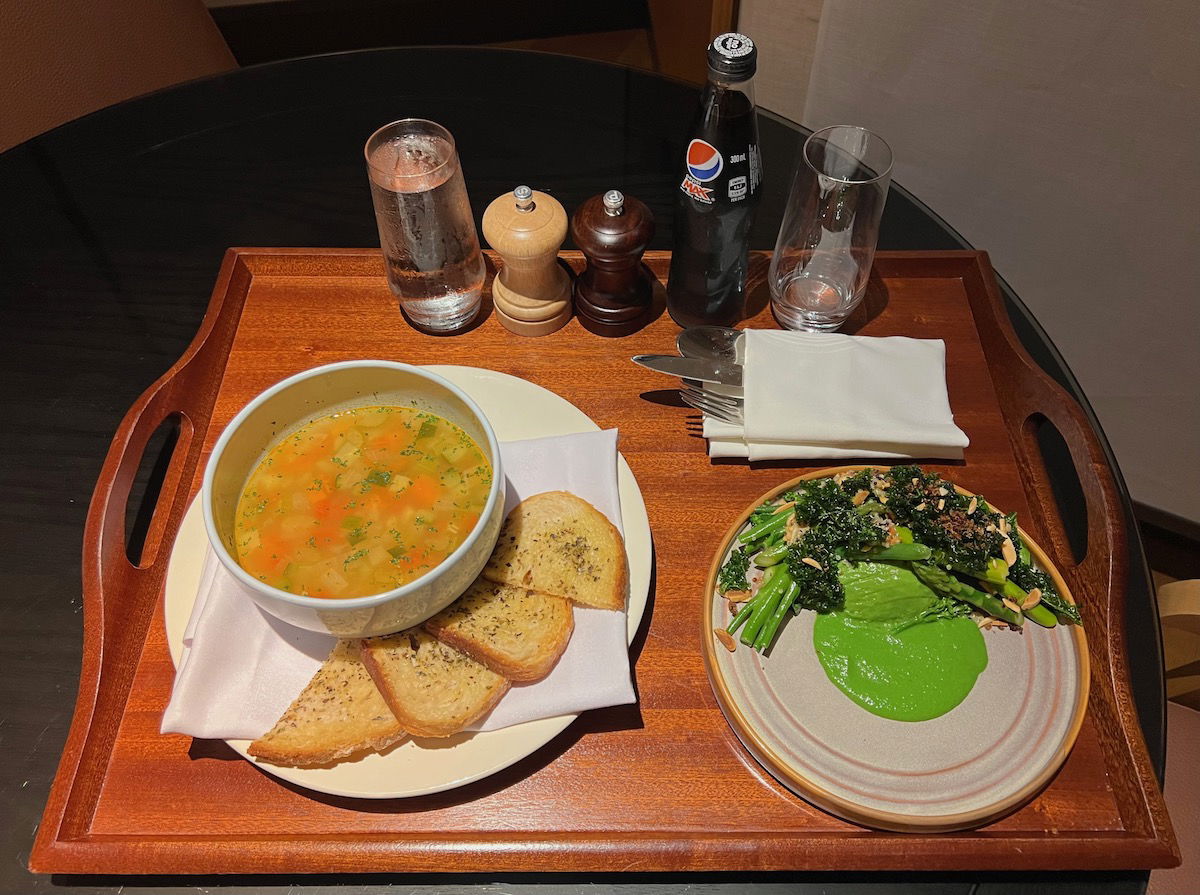 Ritz-Carlton Perth club lounge
Ritz-Carlton properties consistently have great club lounges, with five food presentations per day. We decided not to pay for club lounge access on this stay, given how short our stay was, and the limited use we'd get out of it. However, I imagine that this club lounge is great as well.
As is the case at all Ritz-Carlton properties, Bonvoy elite members don't receive lounge access for free. However, if you book your stay through Marriott STARS, you can receive significantly discounted club lounge access at this property. With STARS rates, club lounge access can be added for 100-200 AUD per day (depending on the time of year) for any room type, while the cost is otherwise much more.
Bottom line
The Ritz-Carlton Perth is a very nice hotel. It offers great views, an impressive signature restaurant, solid amenities, and friendly service. Unfortunately we only had a short stay here, but I would have loved to stay longer. At least compared to Ritz-Carlton pricing in other parts of the world, I thought this hotel represented quite a good value.
However, the property also isn't perfect, and I found some aspects of the room design to be strange and poorly thought out.
What's your take on the Ritz-Carlton Perth?