During my around the world trip with dad, we had three nights in Doha, and decided to stay at three different hotels. After staying at the Hyatt Regency Oryx Doha and Katara Hills LXR Doha, we spent our final night at the St. Regis Doha Marsa Arabia Island.
The St. Regis Doha Marsa Arabia Island opened in September 2022, and features 193 suites. It's the only all-suite St. Regis property in the world. Furthermore, it's just a couple of miles from the St. Regis Doha, which I've reviewed before (are these the two closest St. Regis properties to one another?).
Anyway, the St. Regis Doha Marsa Arabia Island really impressed me. While the location is a bit strange, this hotel has very friendly staff, an amazing gym, excellent restaurants, and you have to appreciate that it only has suites, meaning there are no small rooms here. I'd highly recommend this property if you're a Marriott Bonvoy loyalist, and especially if you value the extra space.
Booking the St. Regis Doha Marsa Arabia Island
As you'd expect in the Middle East, cash rates for the St. Regis Marsa Arabia Island vary throughout the year, given how seasonal demand is. For our date, the hotel was charging over $400 per night.

Fortunately for those with Marriott Bonvoy points to redeem, the property was bookable for just 30,000 points per night. I value Bonvoy points at 0.7 cents each, so suffice it to say that redeeming points is a great value here.

I ended up not redeeming points, though, but rather used a free night award I earned with a Marriott credit card. It was valid at a property costing up to 35,000 Bonvoy points per night, so redeeming this for a hotel that retailed for so much was a fantastic deal.
St. Regis Doha Marsa Arabia Island location
As you may have guessed based on the name, this St. Regis is located on Marsa Arabia Island. Don't worry, it's not hard to get to. Doha has The Pearl, which is a manmade island that's a leisure destination, with plenty of shopping, restaurants, and apartments.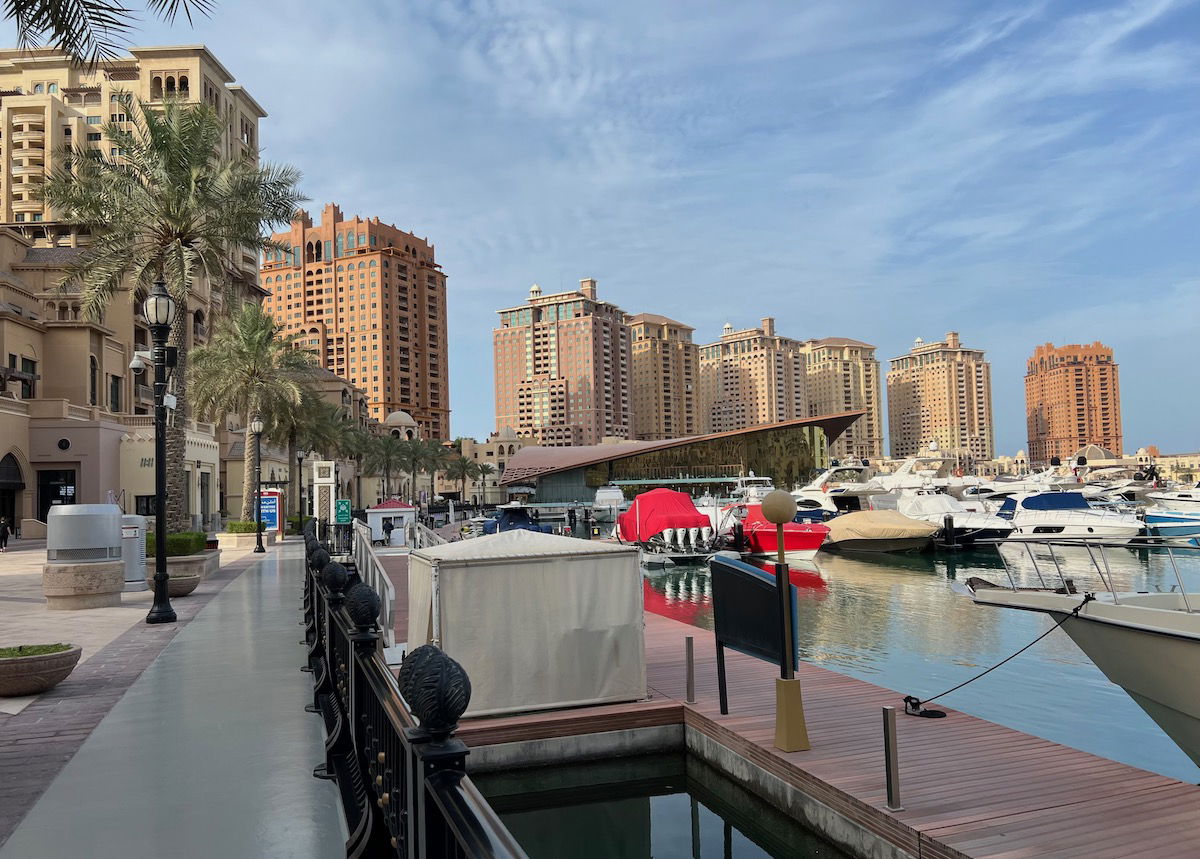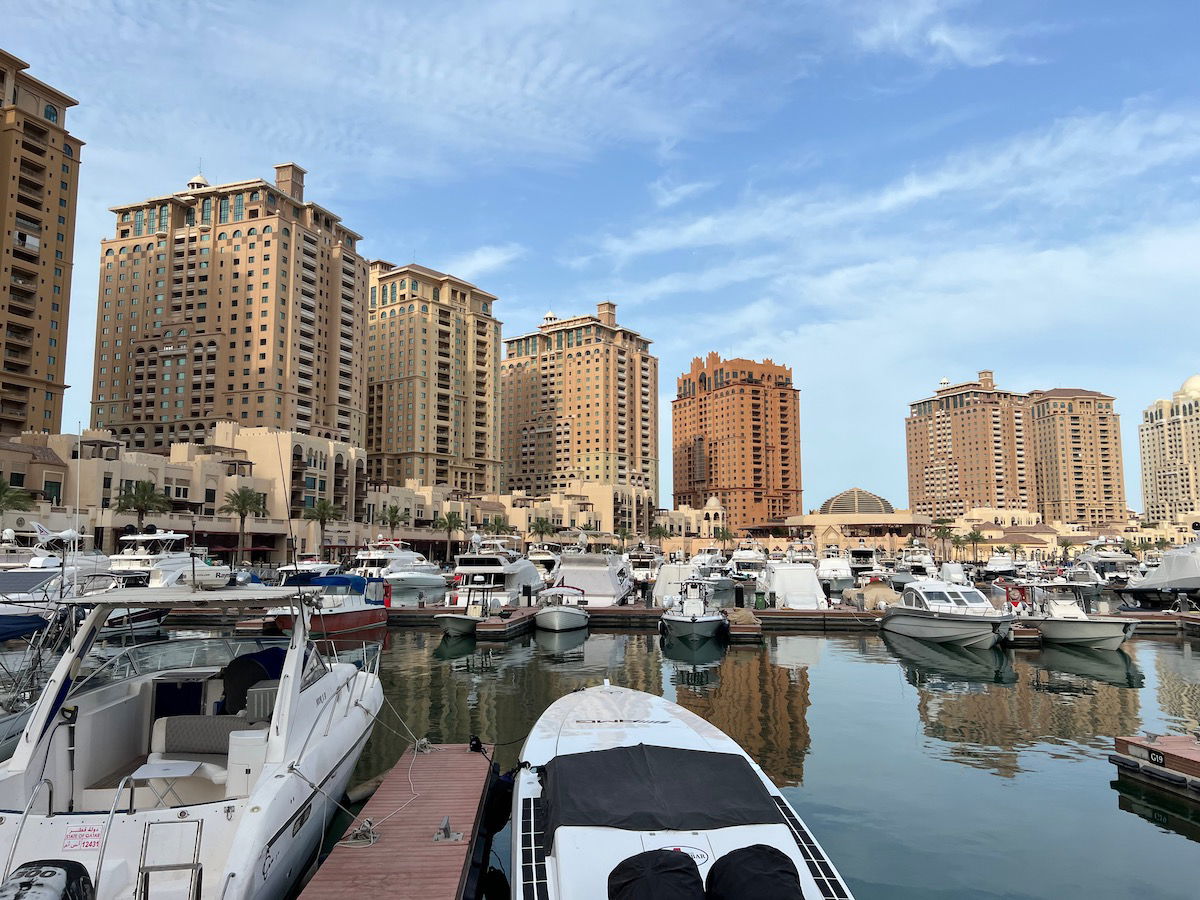 When you're at The Pearl, there's a bridge leading to Marsa Arabia Island, which is another manmade island that's essentially in the middle of The Pearl. Below is a map that gives you a sense of the St. Regis' location.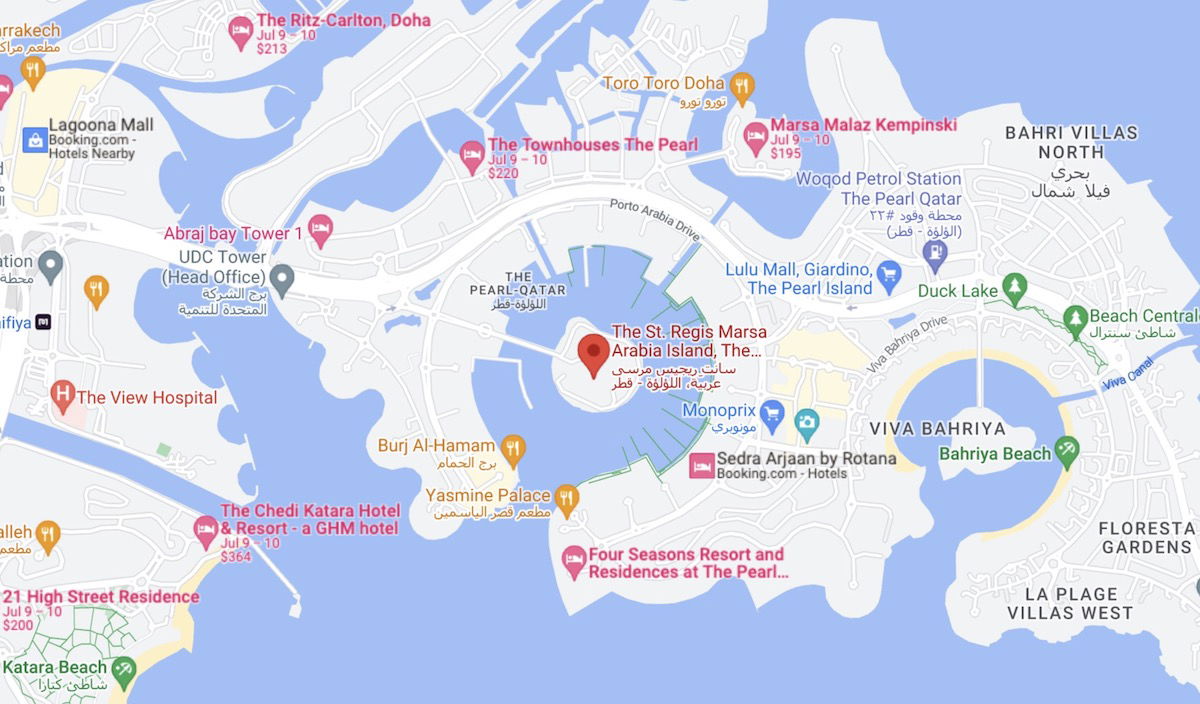 Marsa Arabia Island consists exclusively of the St. Regis, which is massive, as it has both hotel suites and residences.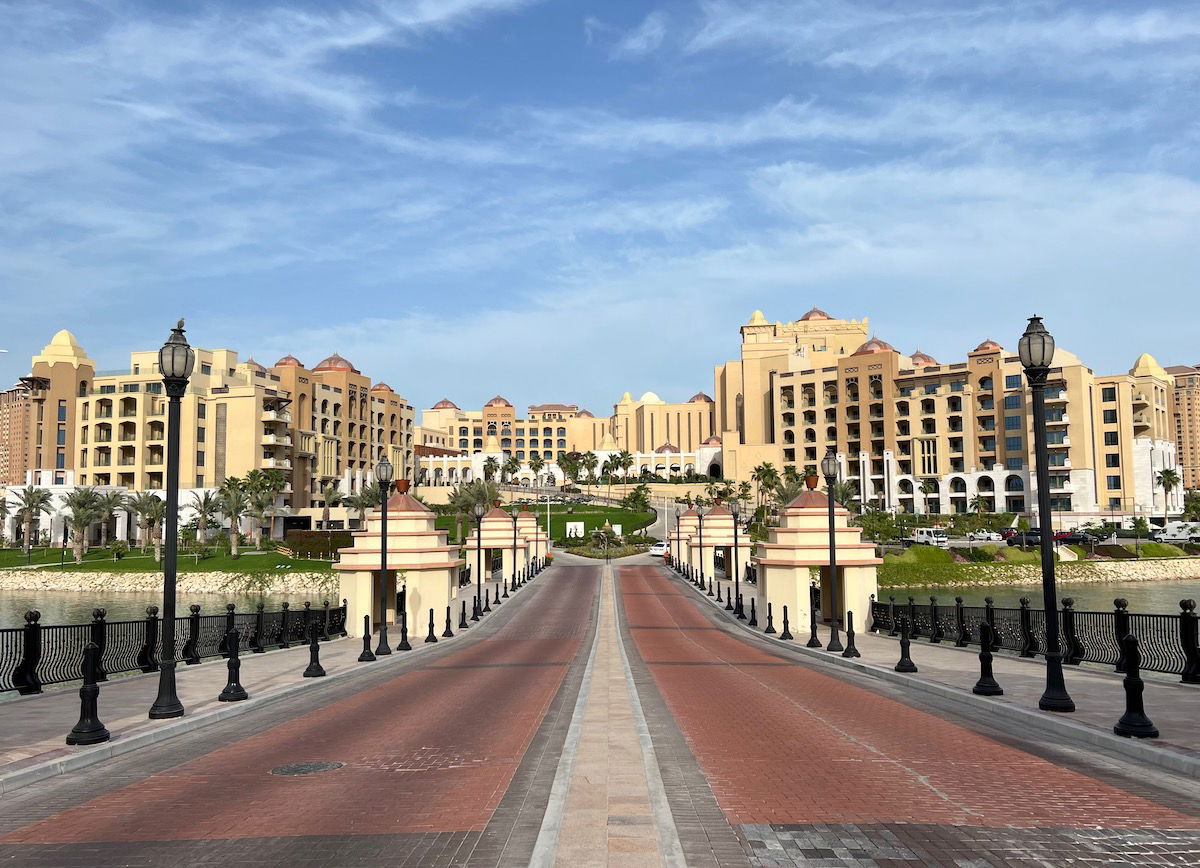 So just to recap, the hotel is located on a manmade island off another manmade island. If you're coming from Doha Hamad Airport (DOH), you can expect that it'll be about a 30-minute drive to the hotel. Most of the sites you'd want to see in Doha are within a 5-15 minute taxi ride, so it's quite easy to get around from here.
The St. Regis has quite an impressive entrance, and as we pulled up, the friendly bellmen helped us with our bags, and directed us to reception.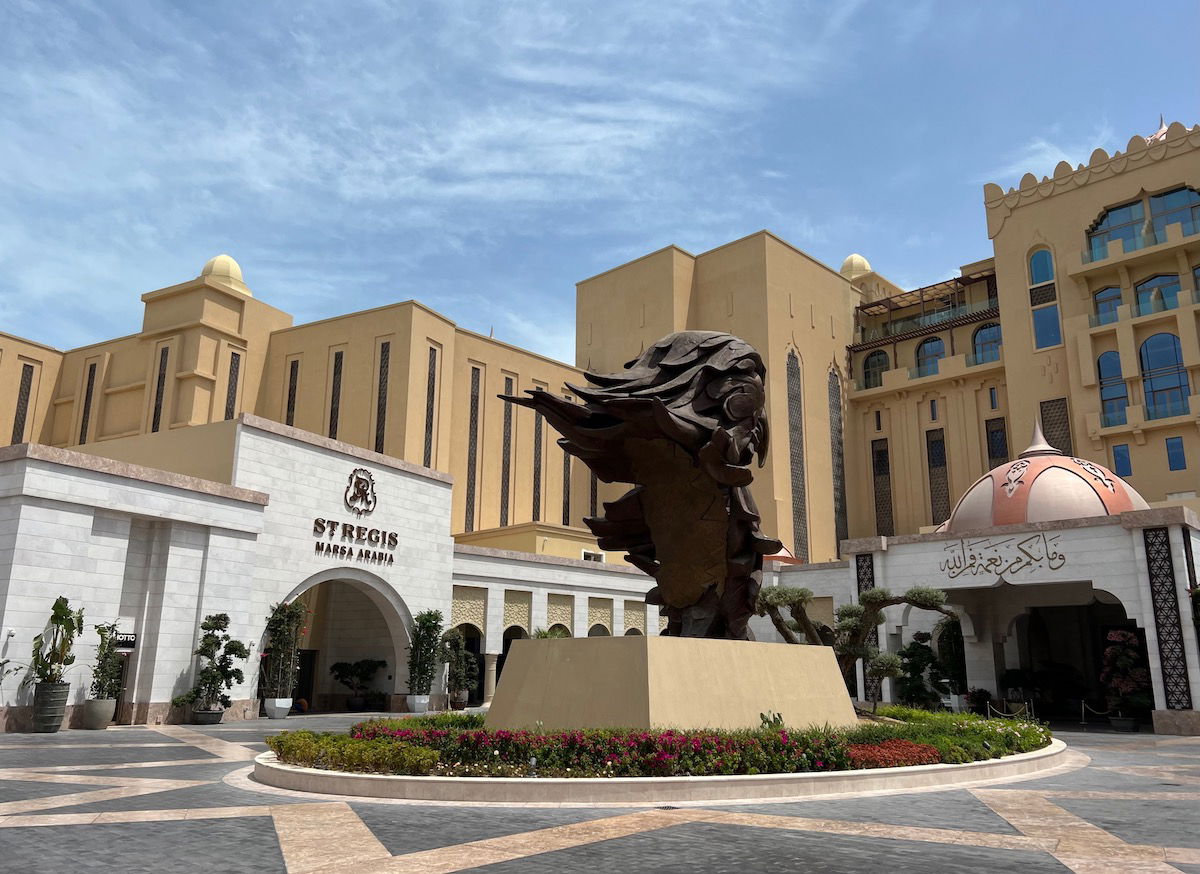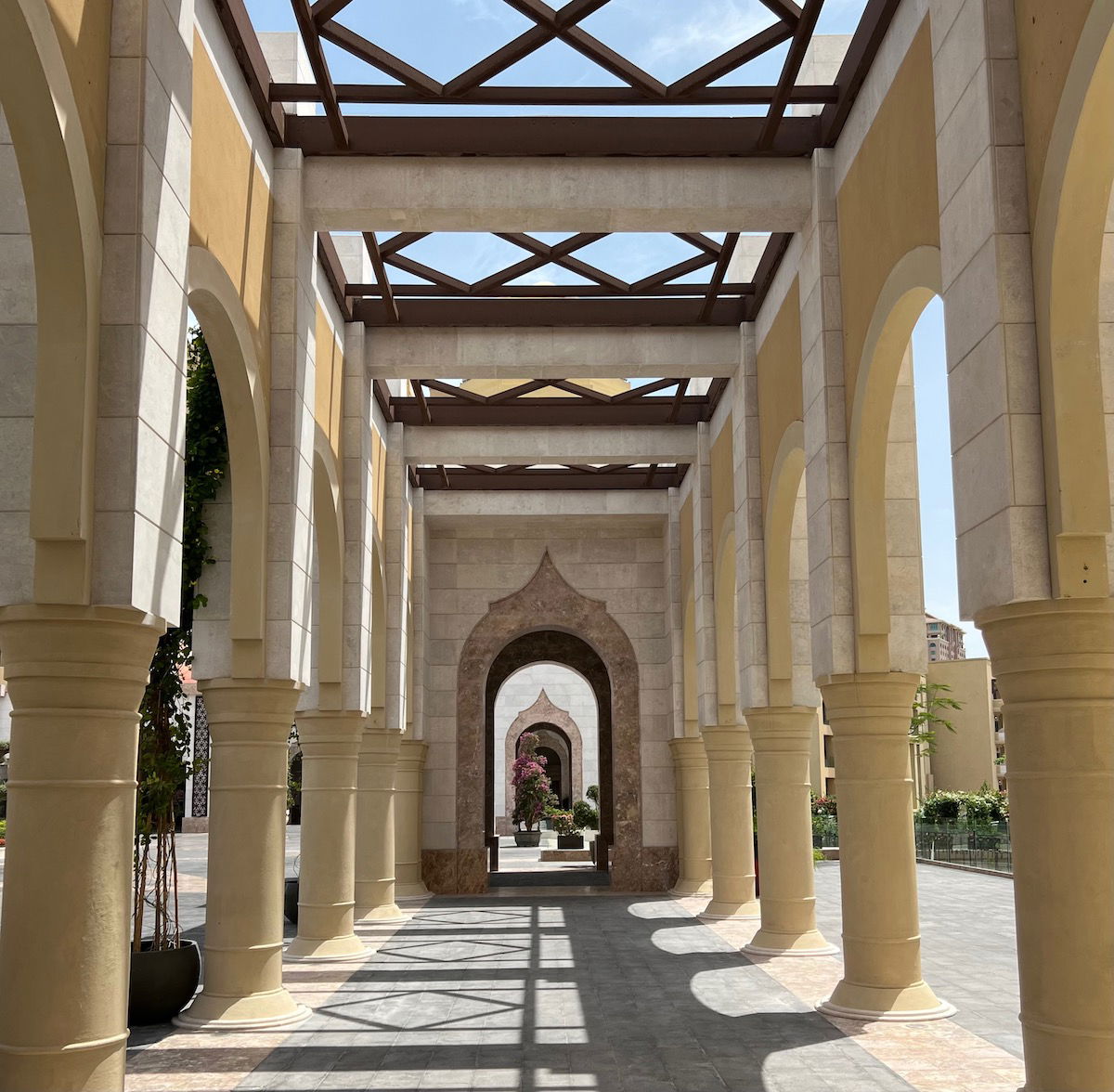 St. Regis Doha Marsa Arabia Island lobby & check-in
The St. Regis Marsa Arabia Island has a grand lobby and entrance, so it very much feels like your classic, over-the-top St. Regis.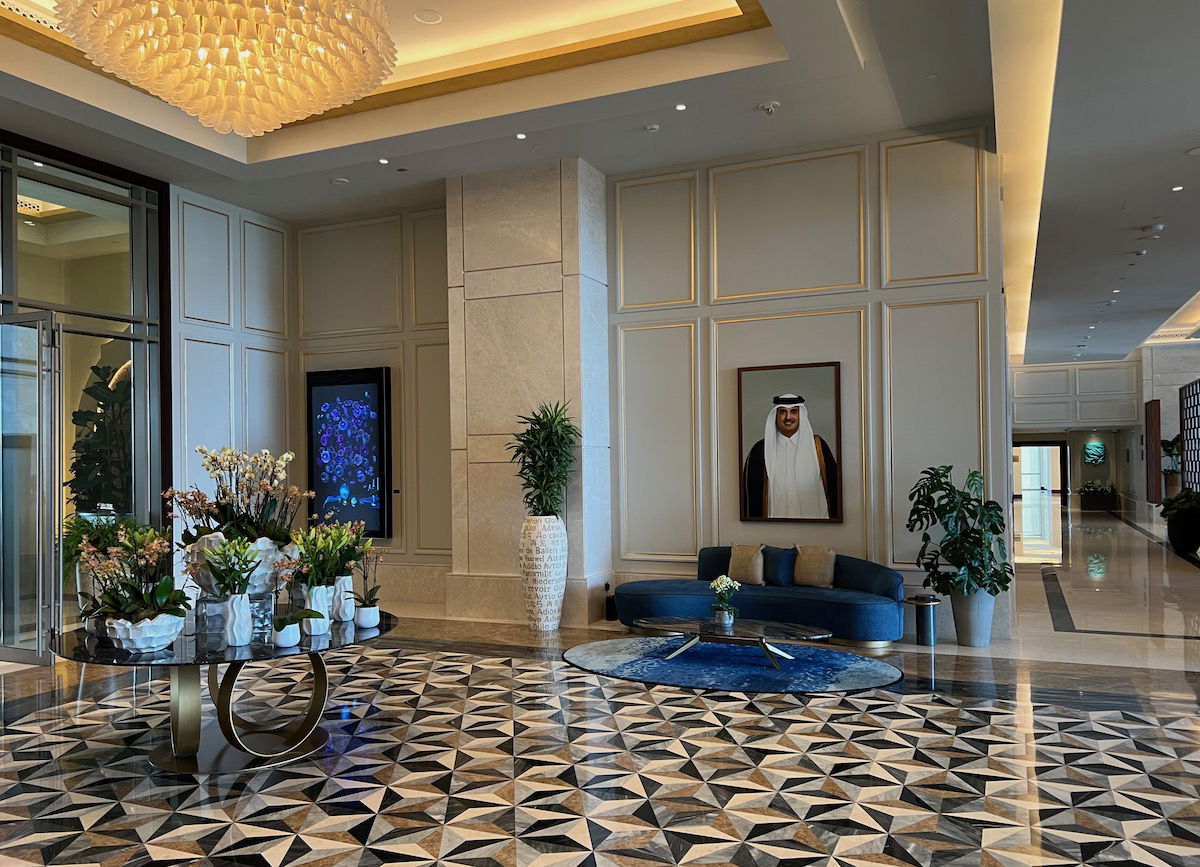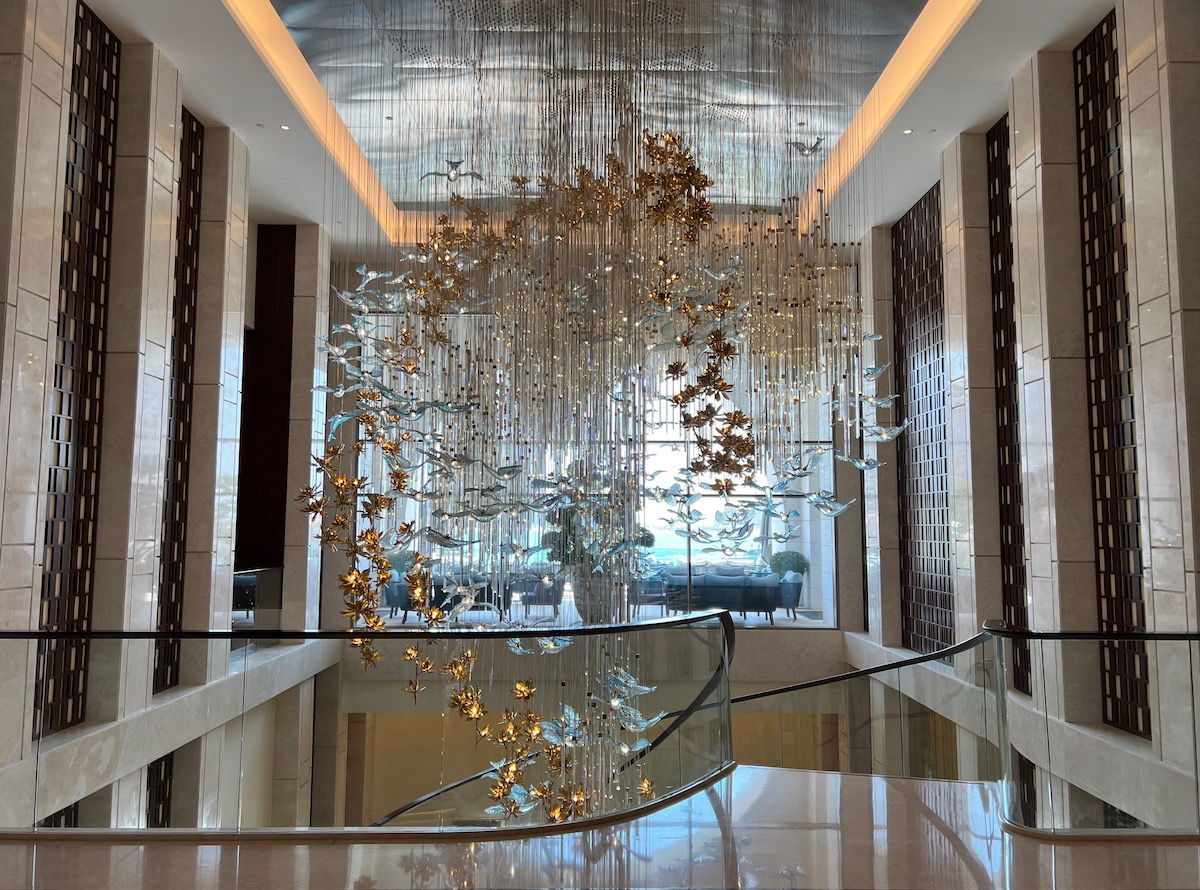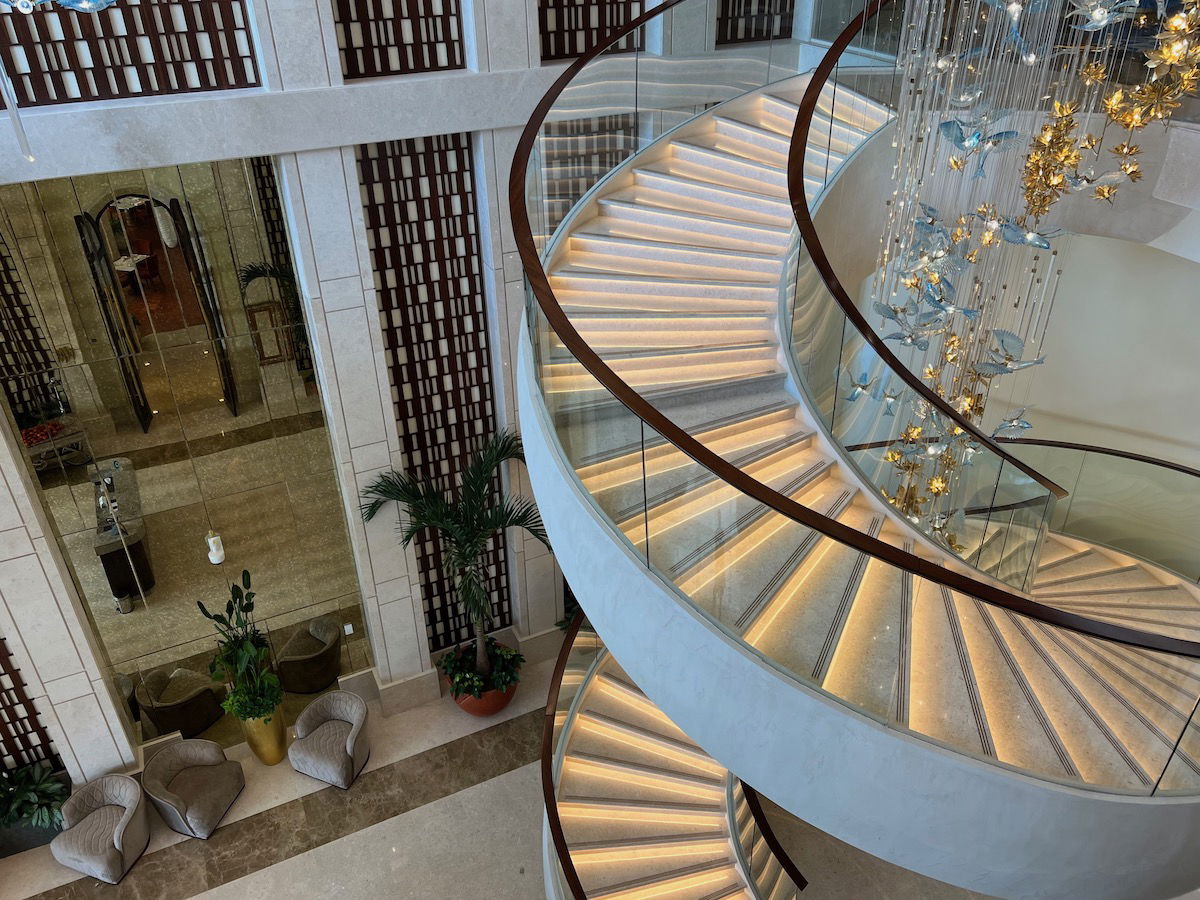 Reception was located inside the entrance and to the right, and there were three individual check-in desks, so that you could be seated while check-in formalities were taken care of.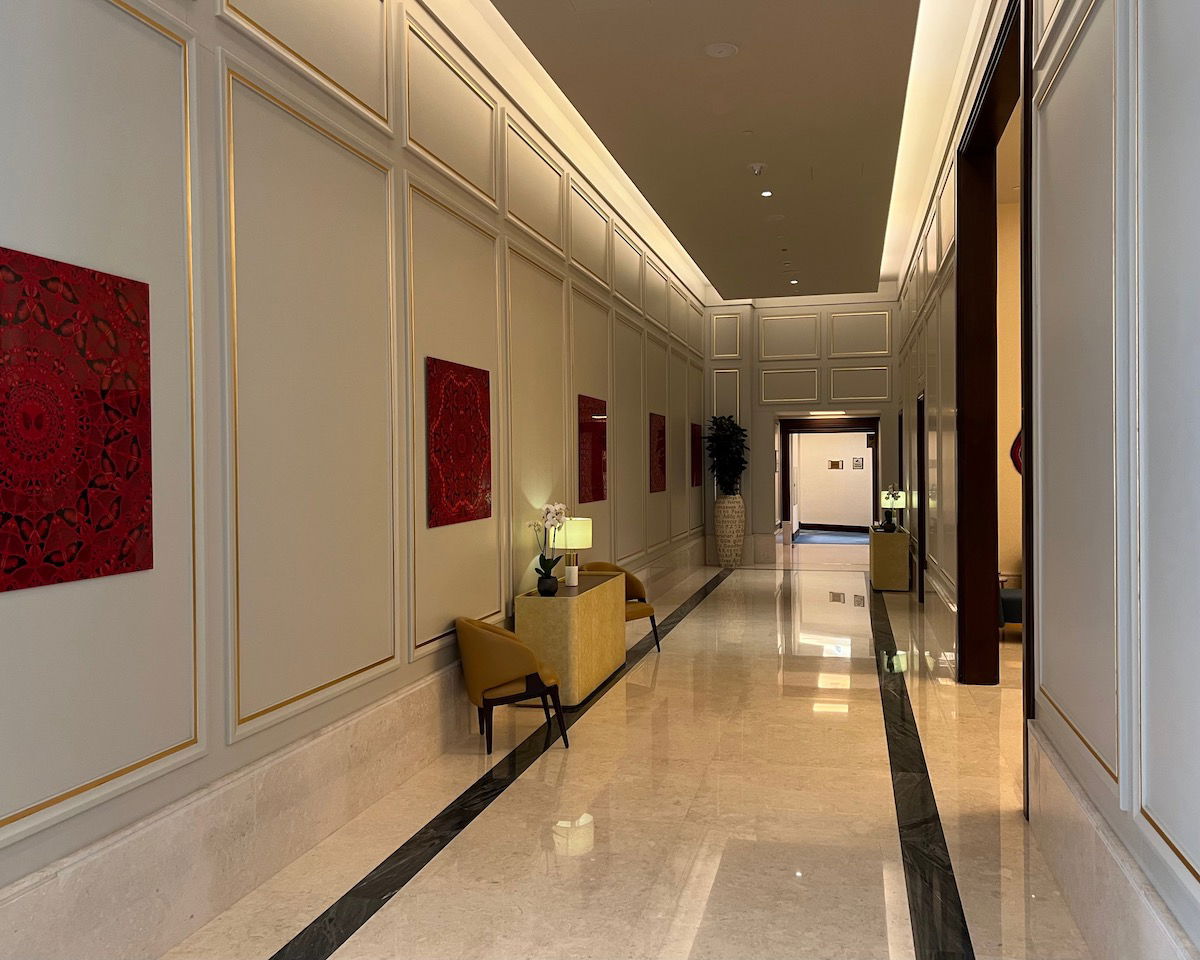 The staff at this hotel were uniformly friendly, including at check-in. I was thanked for being a Marriott Bonvoy Titanium member, and because of our preference for two beds, we were upgraded from a one bedroom suite to a two bedroom suite, which was much appreciated (all the one bedroom suites have just one bed).
Once check-in formalities were complete, we were escorted to our room by one of the butlers (which in this case was handy, because the hotel is a maze, and it's very easy to get lost).
St. Regis Doha Marsa Arabia Island suite
We were assigned room 5104, located on the fifth floor. Note that the hotel's lobby is on the third floor, so our room was two levels above the lobby. The hotel seemingly has several different wings, so there's not just one set of elevators that guests use.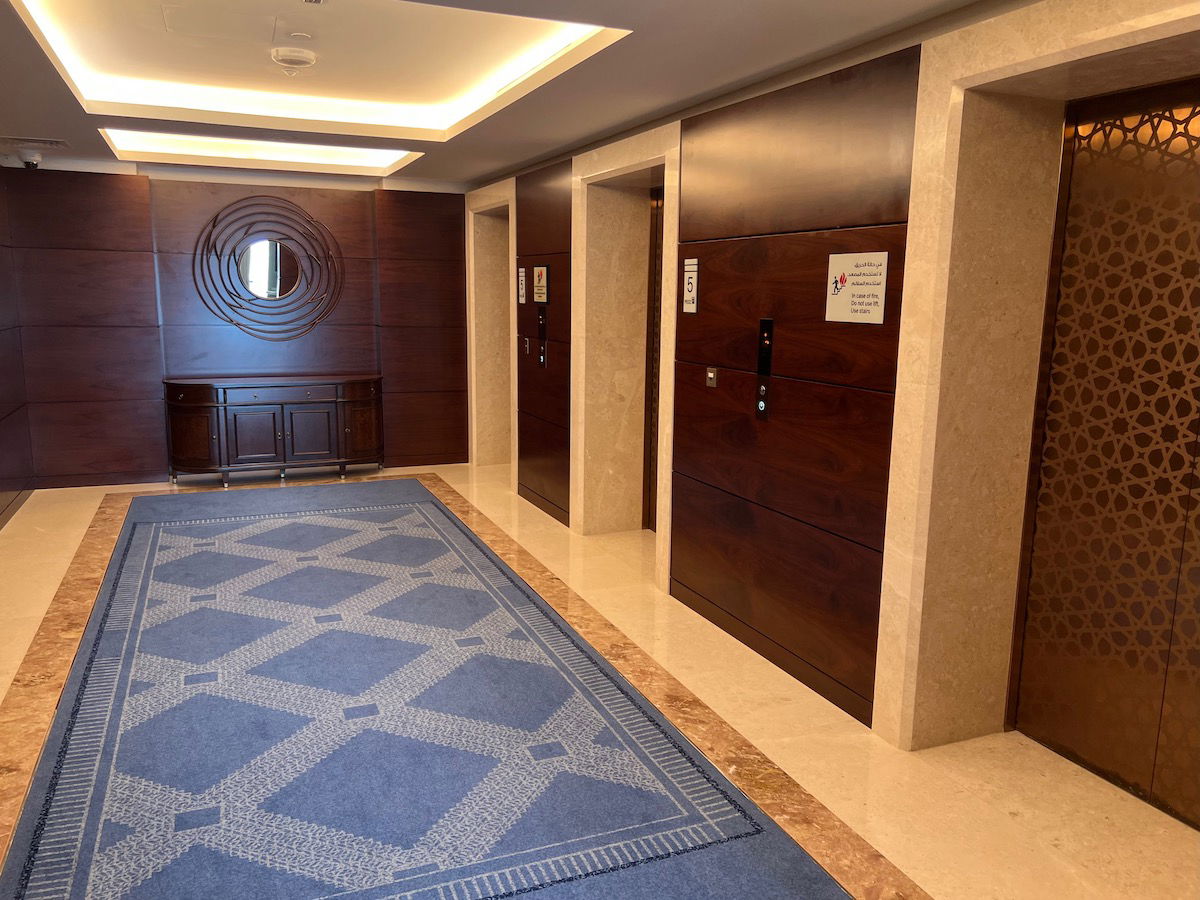 Our room was located down the end of a long hallway, and to the right.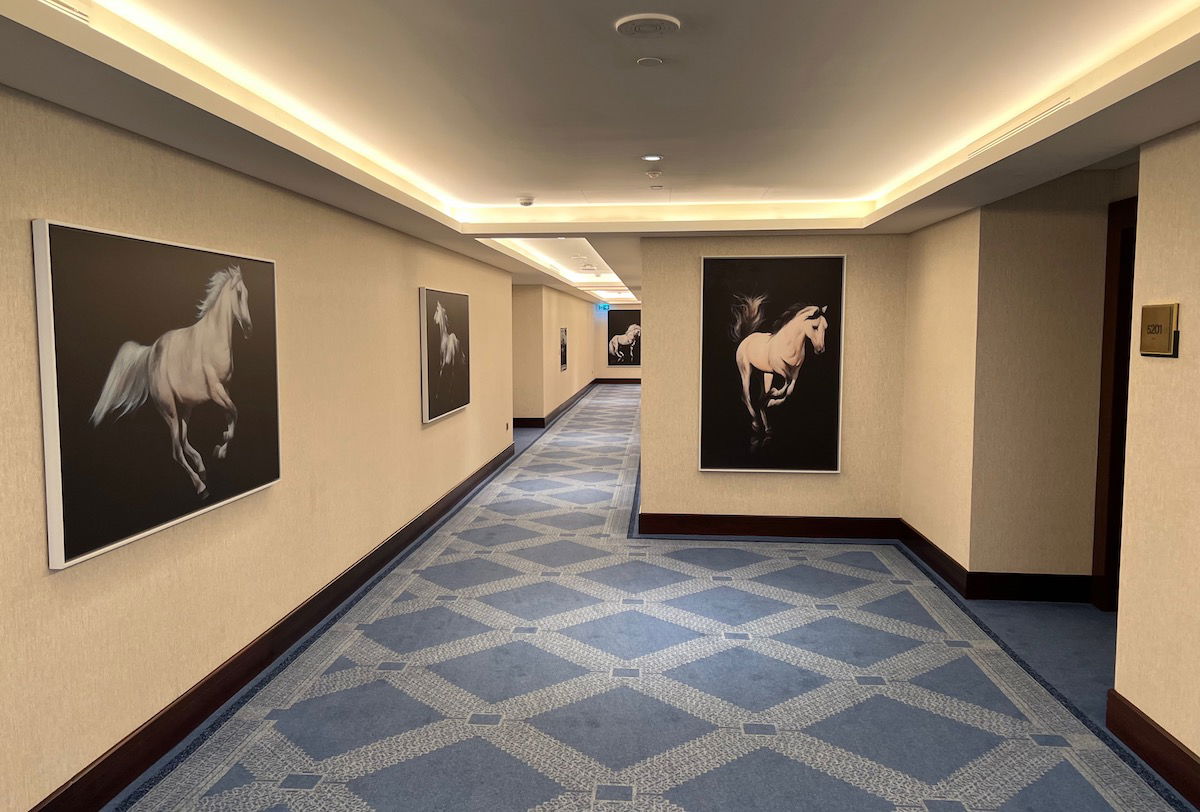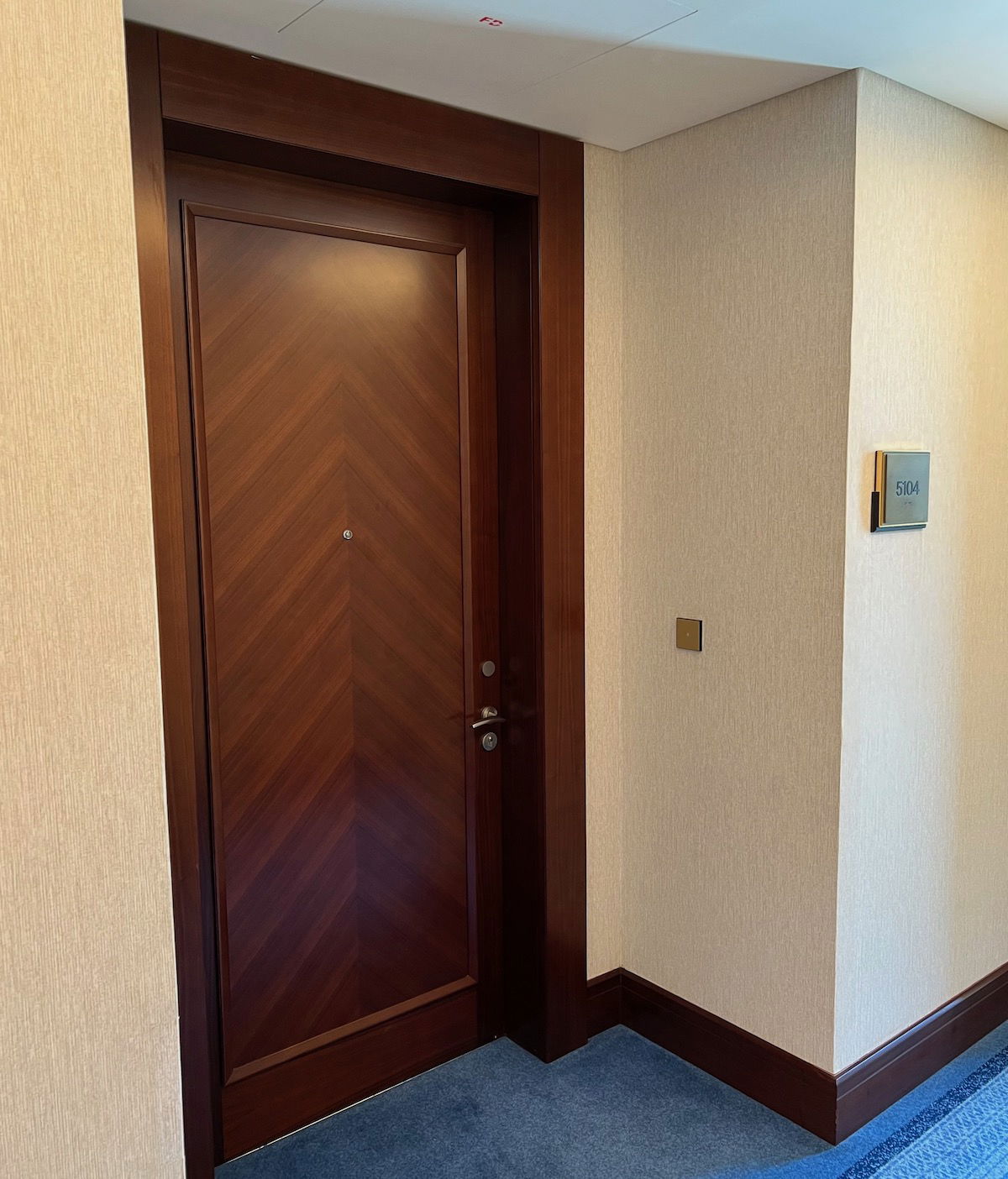 The two bedroom suites at the St. Regis Marsa Arabia Island are massive, at 1,786 square feet (166 square meters). In fairness, base rooms are huge too, as one bedroom suites are 1,291 square feet (120 square meters).
The suite featured a long entryway, with the living room straight ahead, the kitchen to the left, and the bedrooms to the right.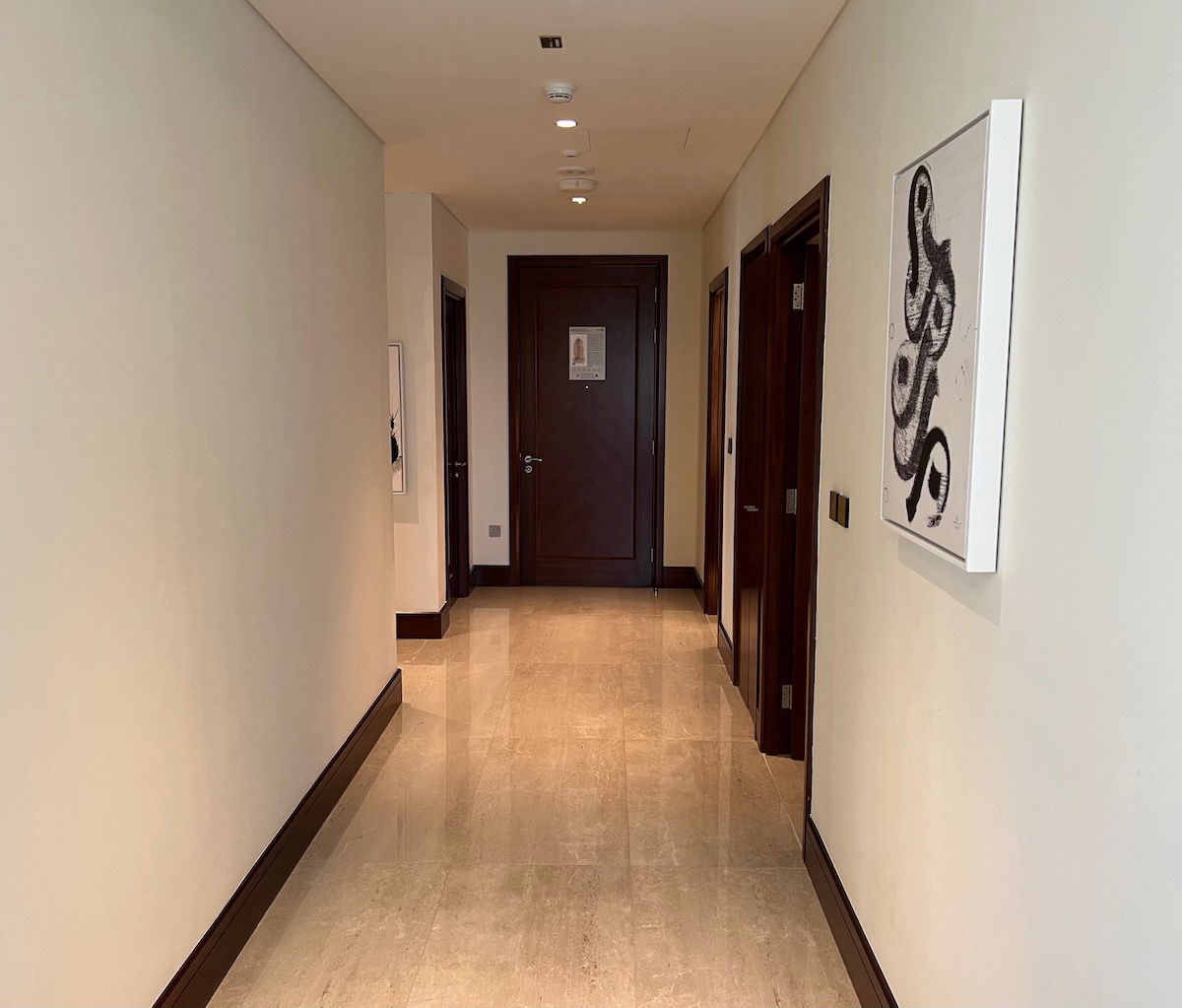 The living room was a good size, and had a living area with a couch, two chairs, and a TV, as well as a dining area with a dining table and six chairs.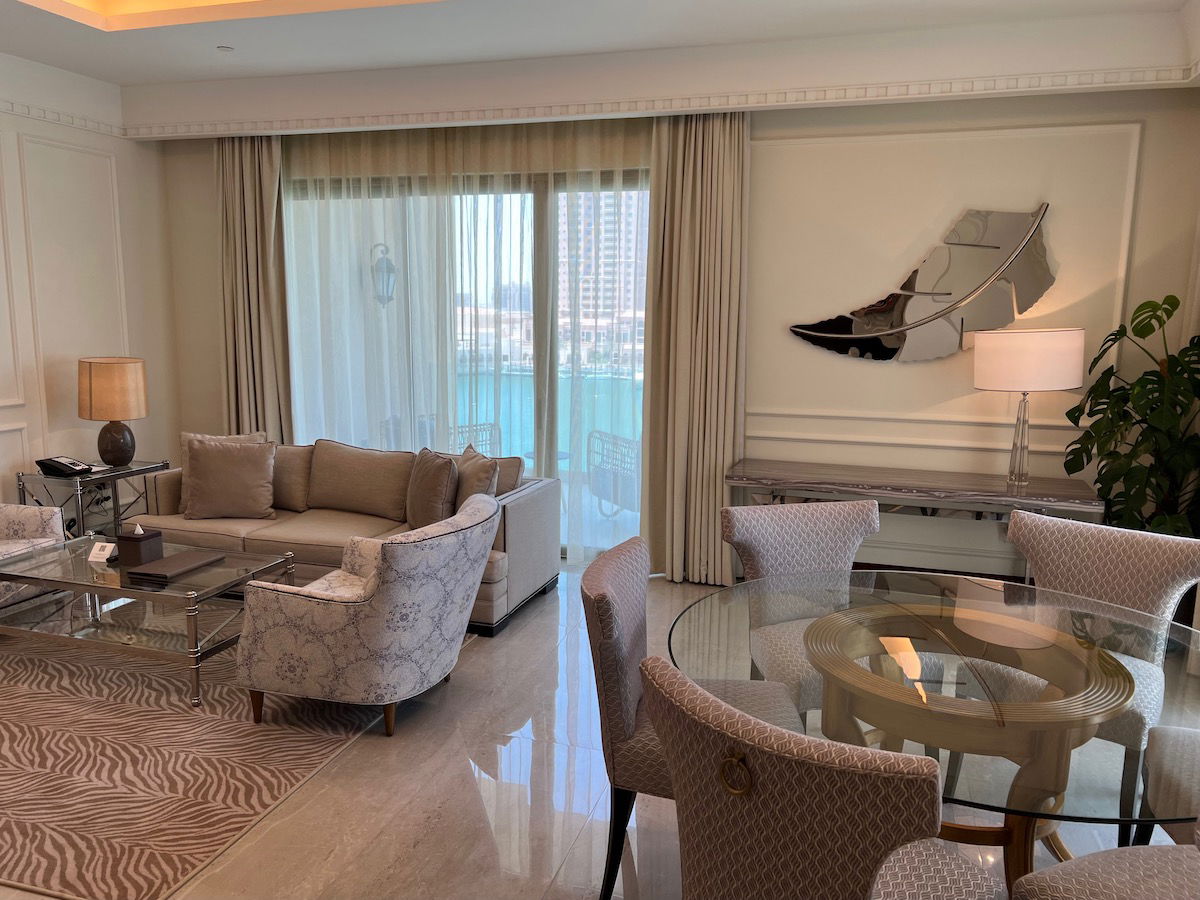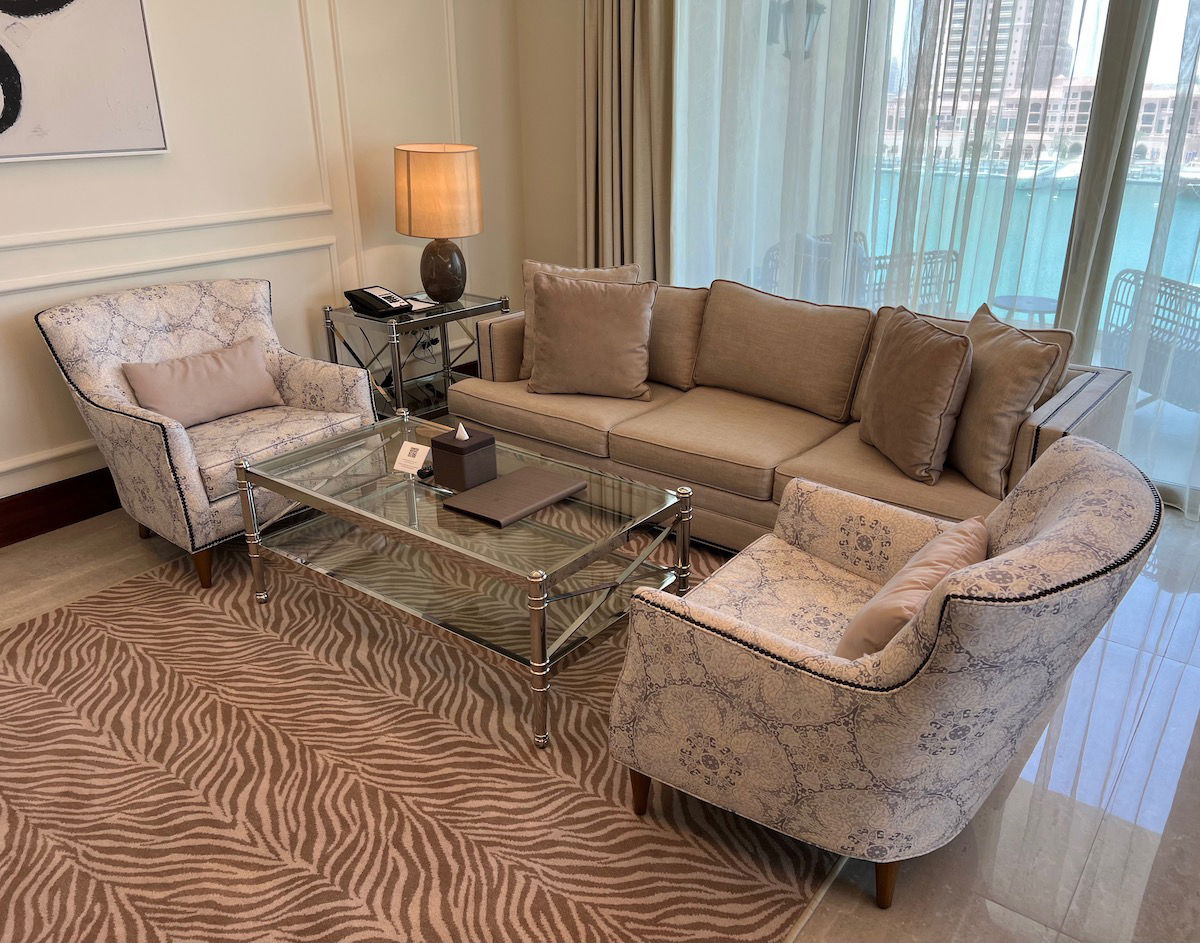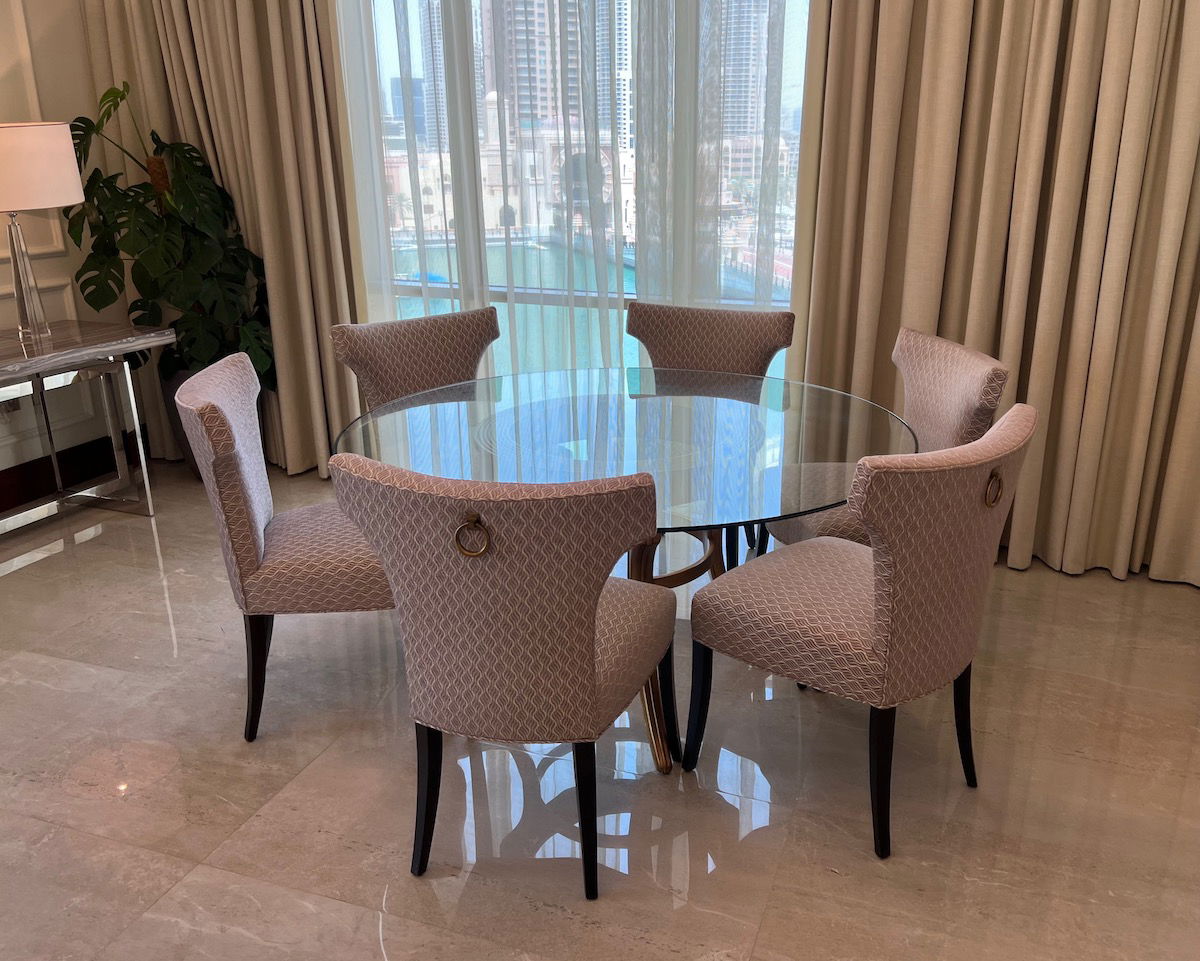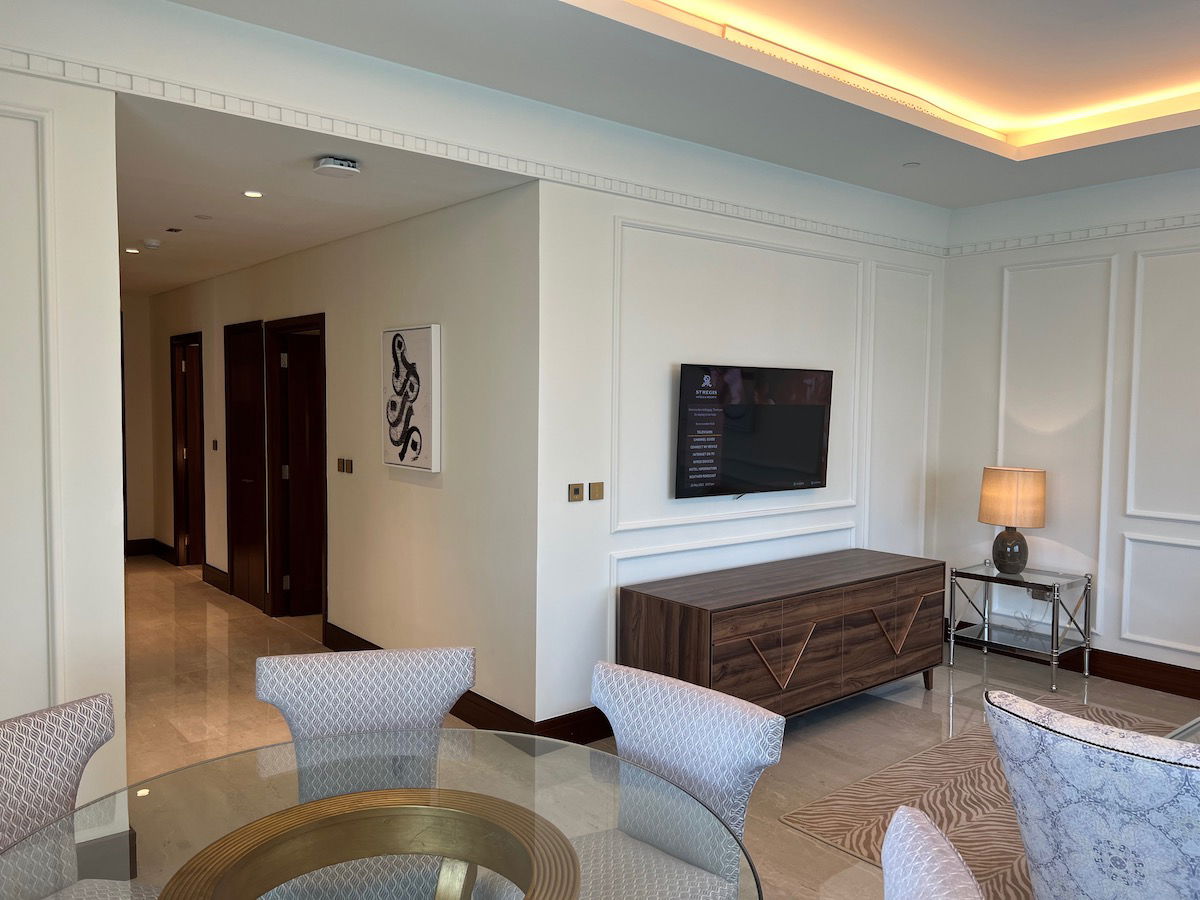 There was a cute little balcony off the living room, with great views of the Doha skyline in the distance.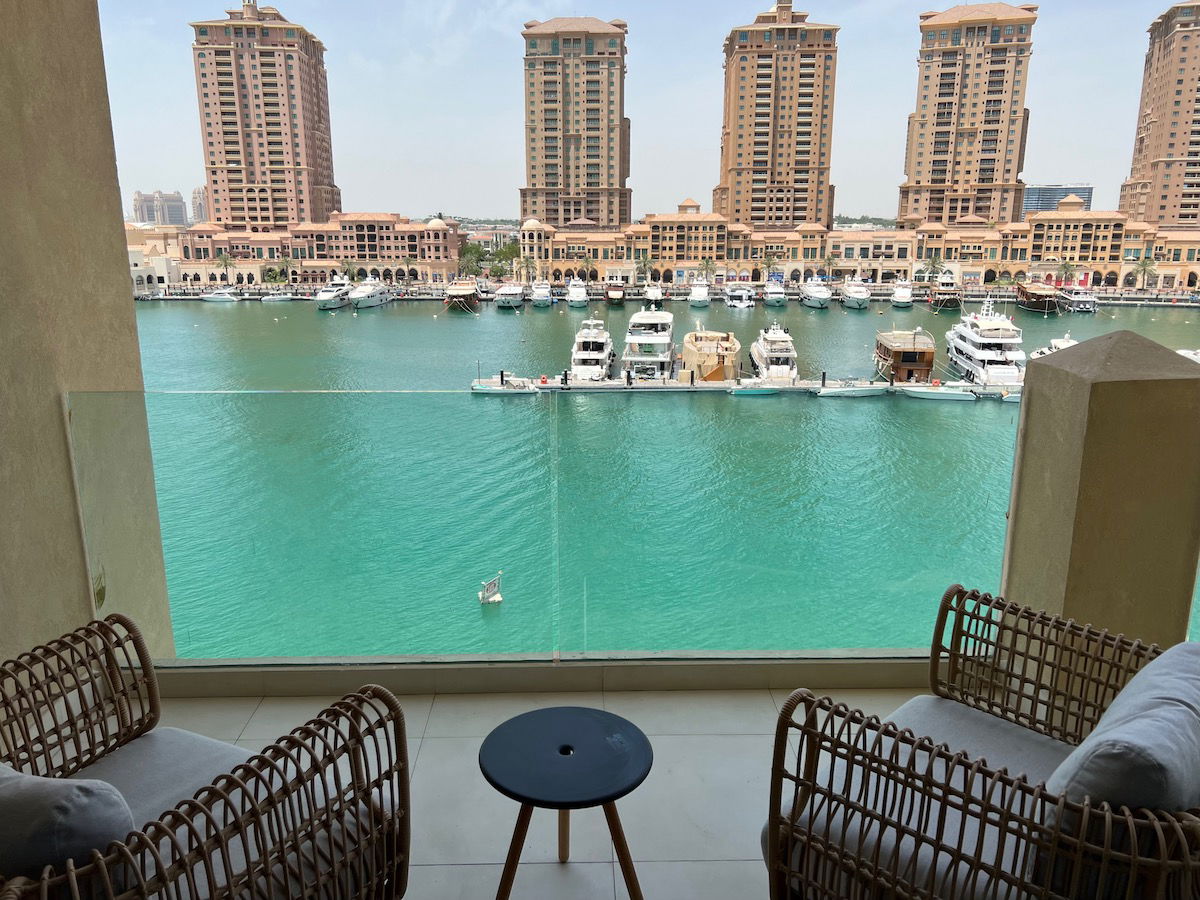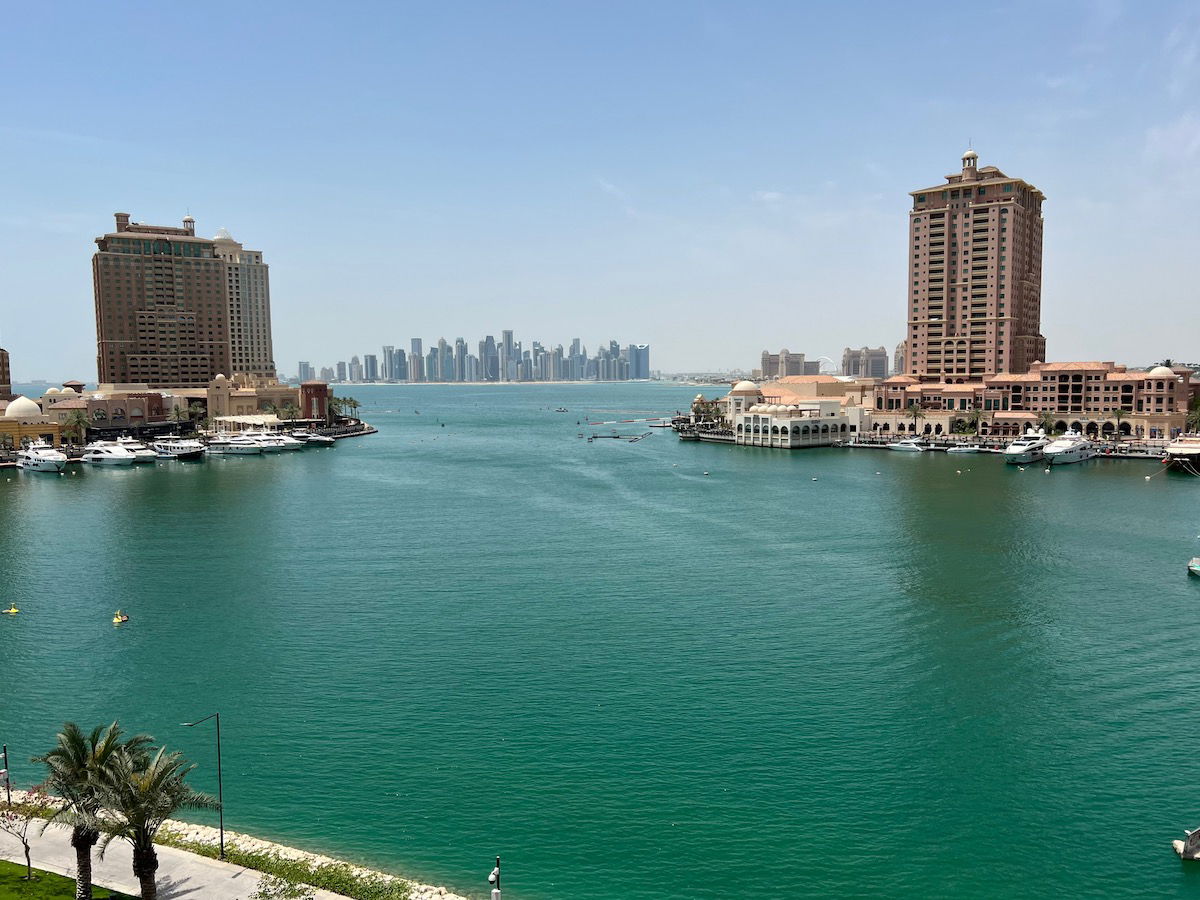 Back near the entrance was a half bathroom, with a sink and toilet.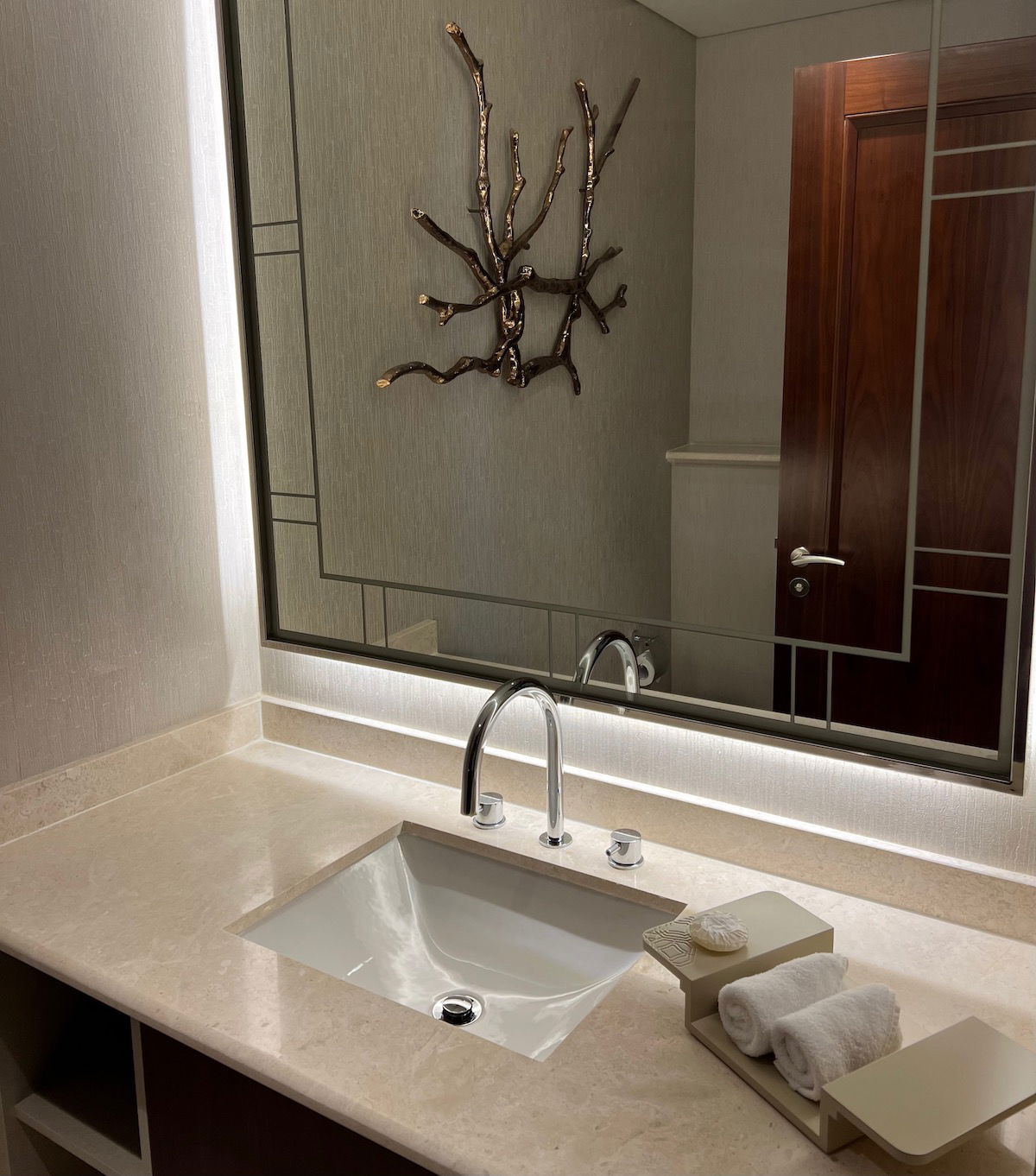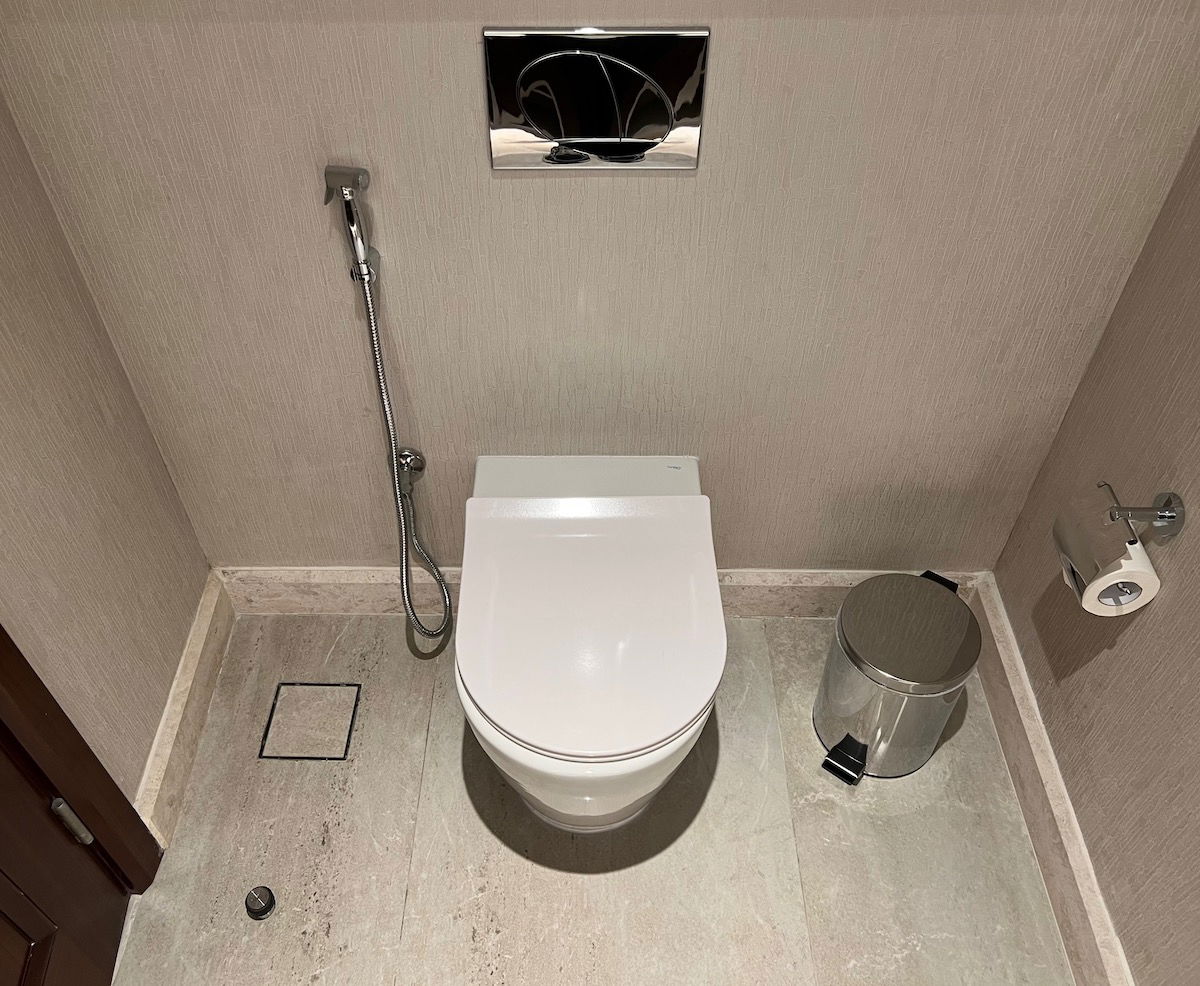 Also inside the entrance and to the left was a huge kitchen, which also had plenty of complimentary bottled water, coffee, and tea.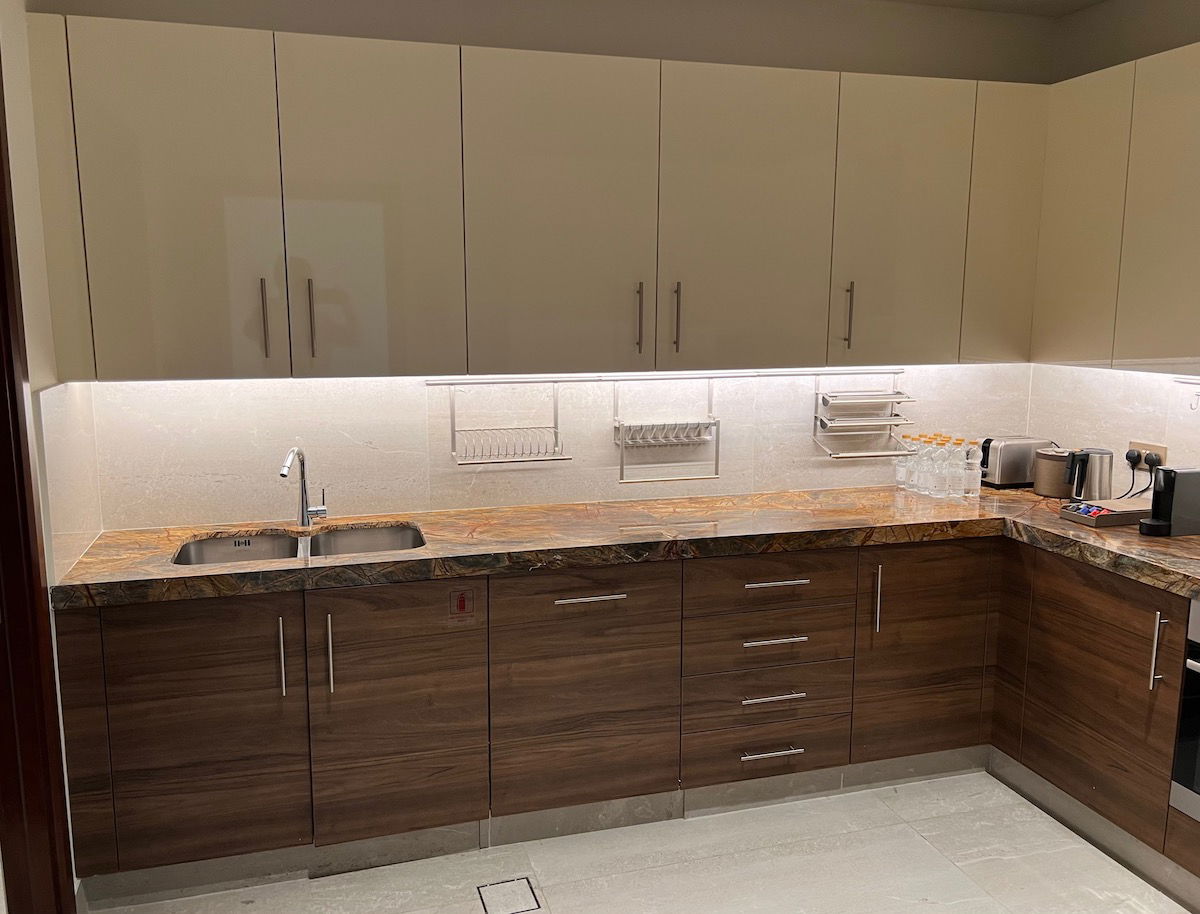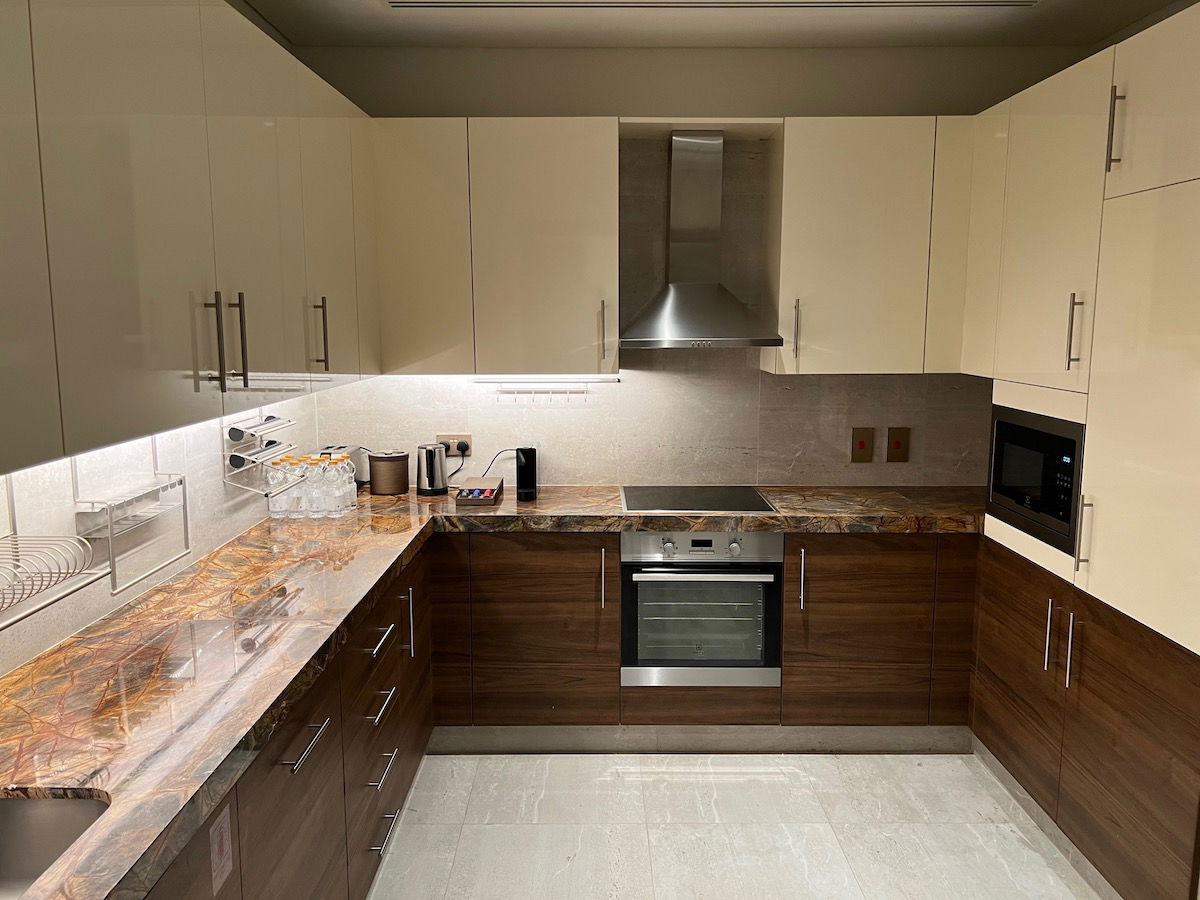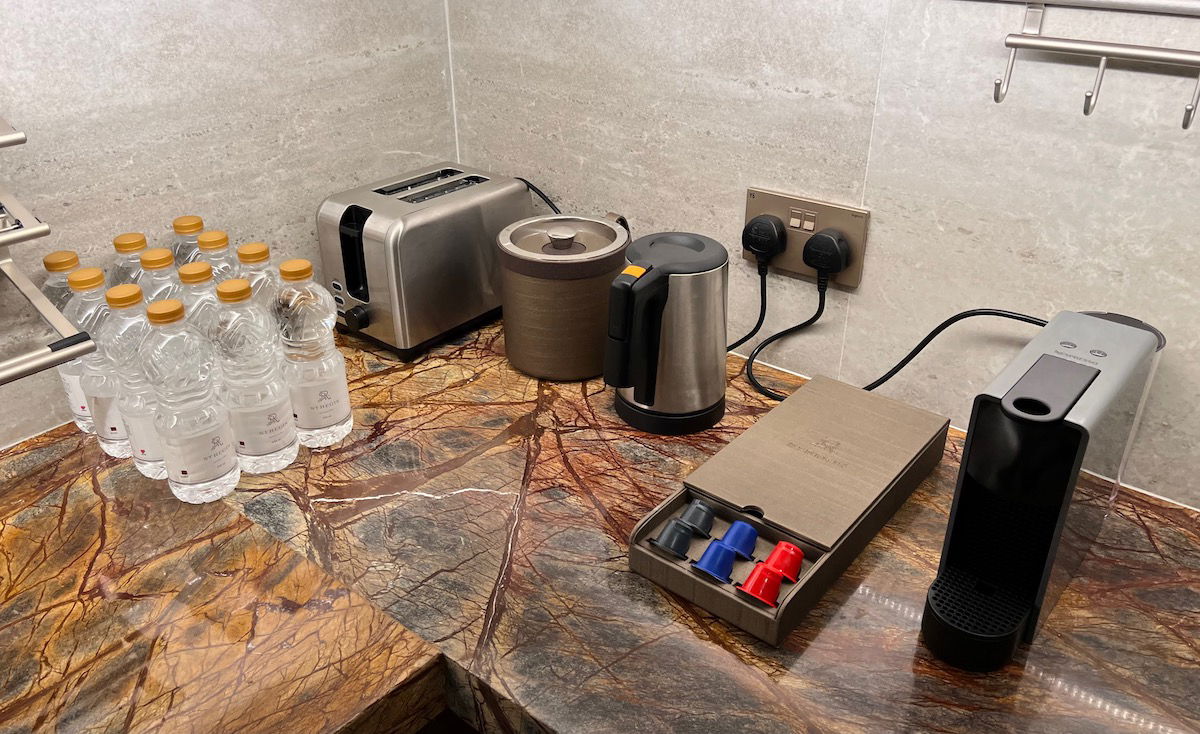 Connected to the kitchen was an area with staff quarters (or something), including a twin bed, and a small bathroom with a sink, toilet, and shower.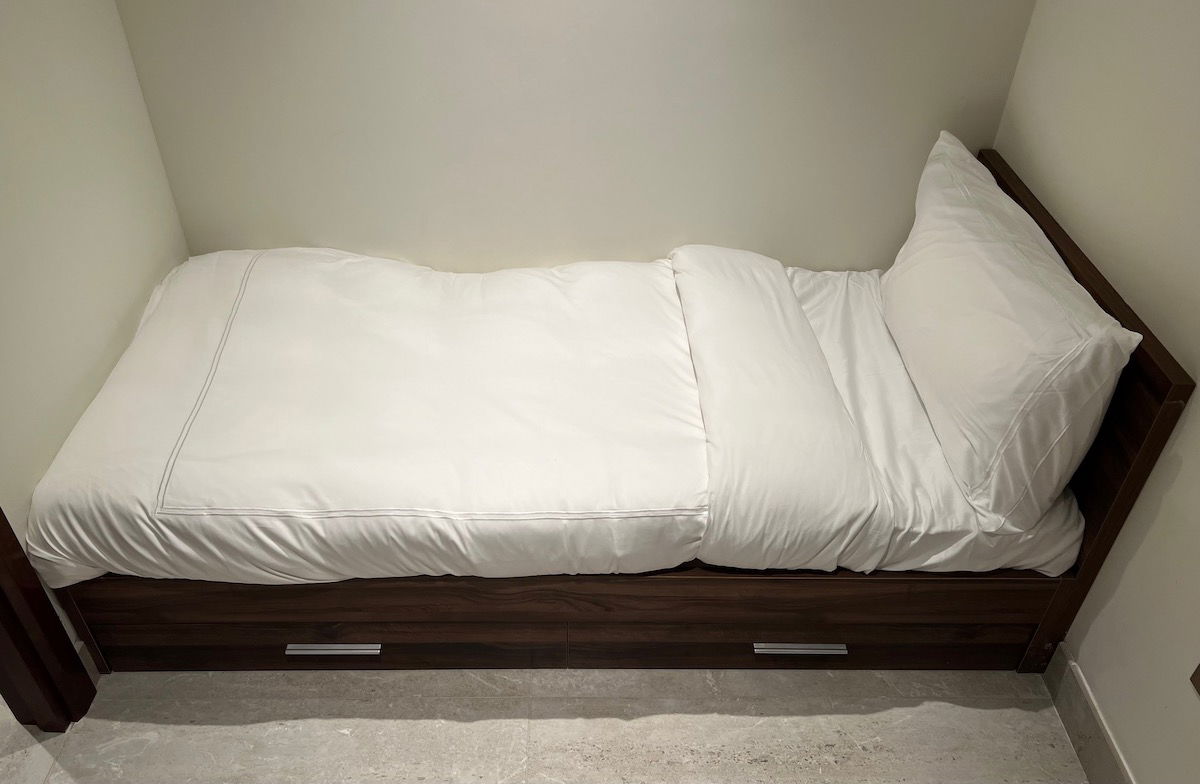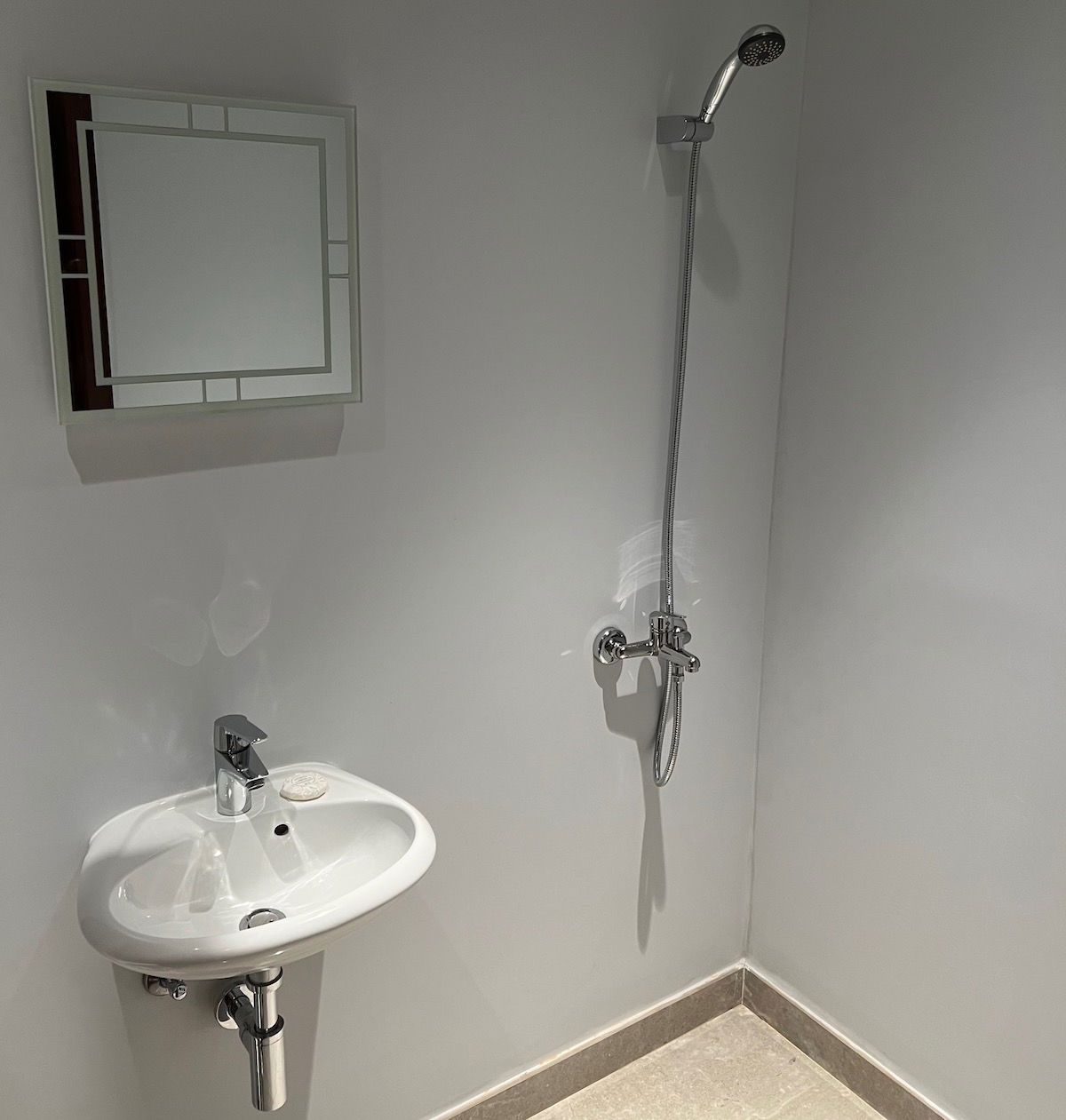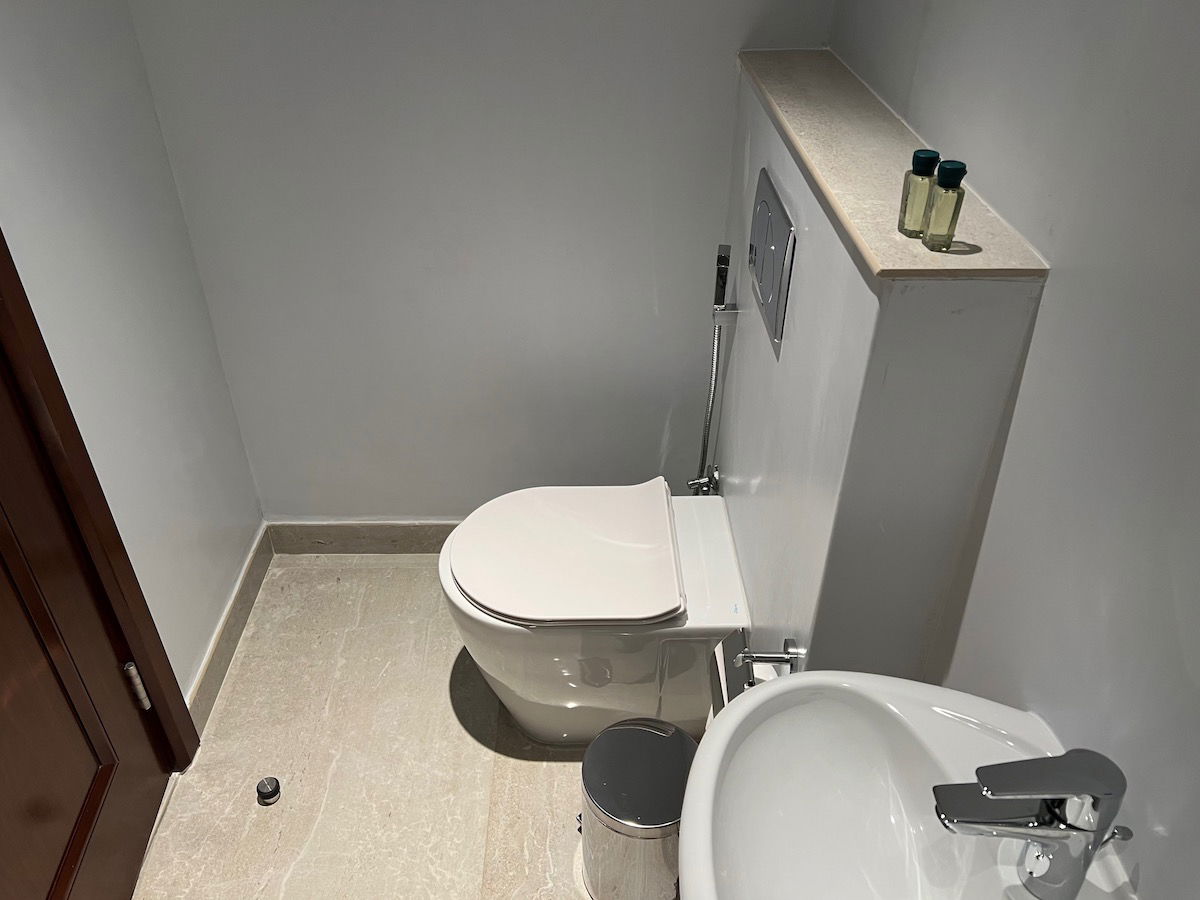 Then on the other side of the room were the bedrooms. The main bedroom had a king size bed facing a TV. While the bed was comfortable enough, I got the sense it wasn't the typical signature St. Regis bed, as the mattress was firmer than usual.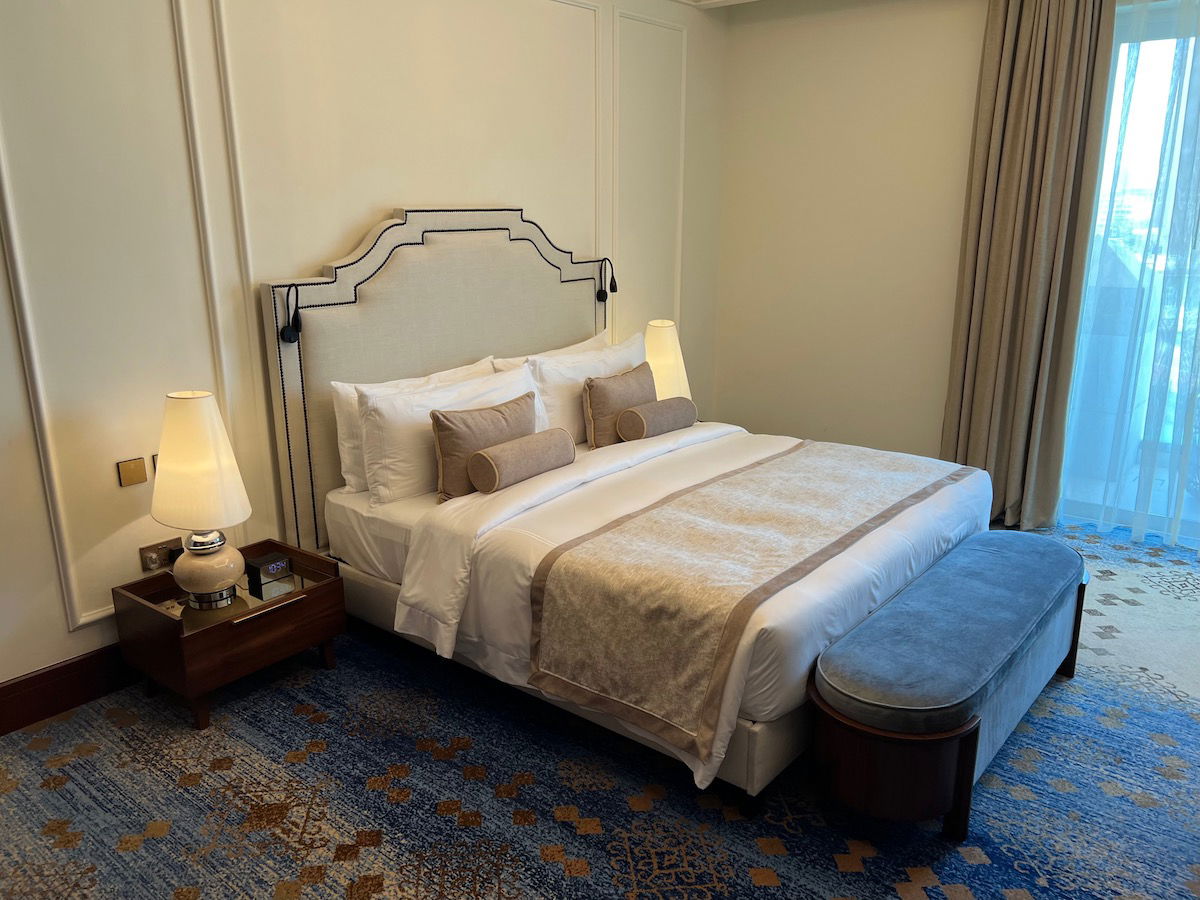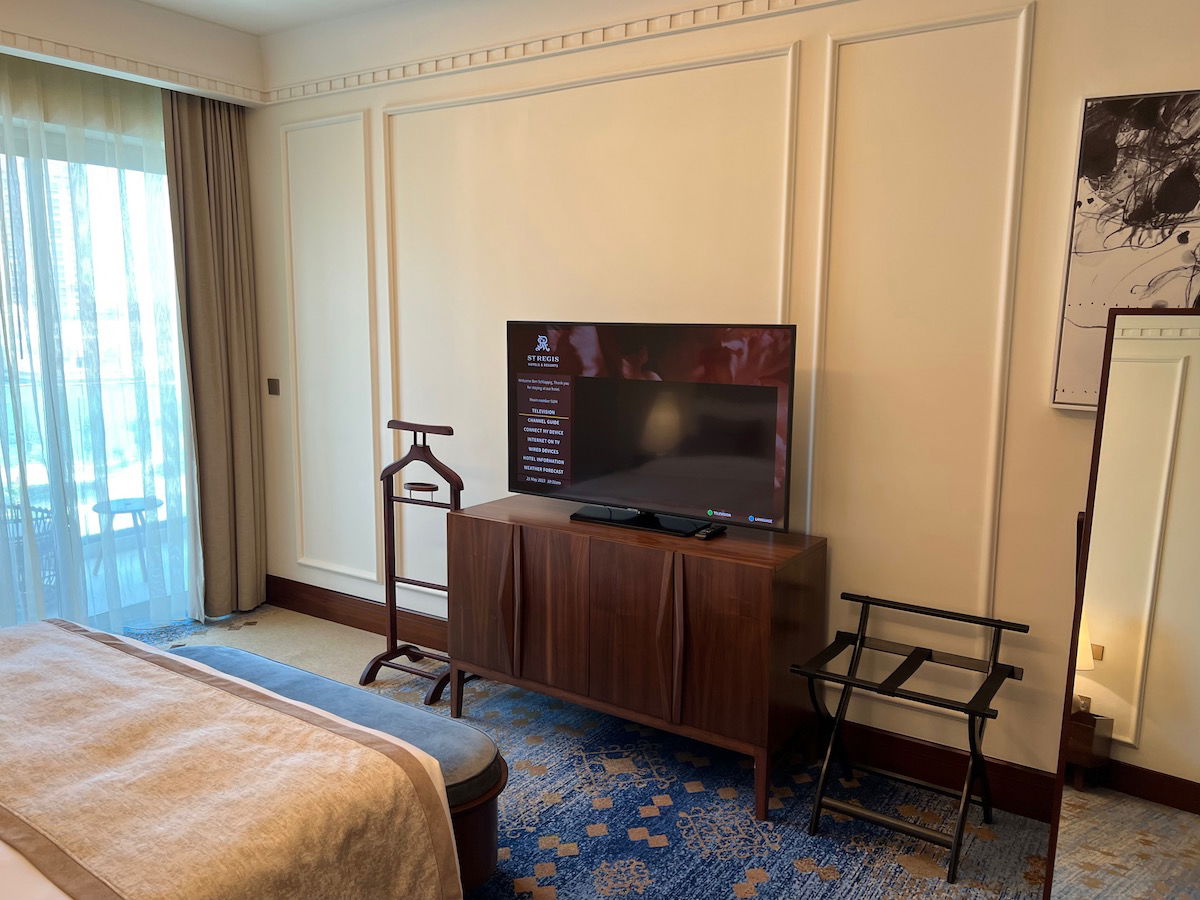 The main bathroom had double sinks, a toilet, and a walk-in shower. Interestingly there was no bathtub — that doesn't bother me one bit as I'm not a bath person, but that is something you otherwise usually find in suites at luxury hotels.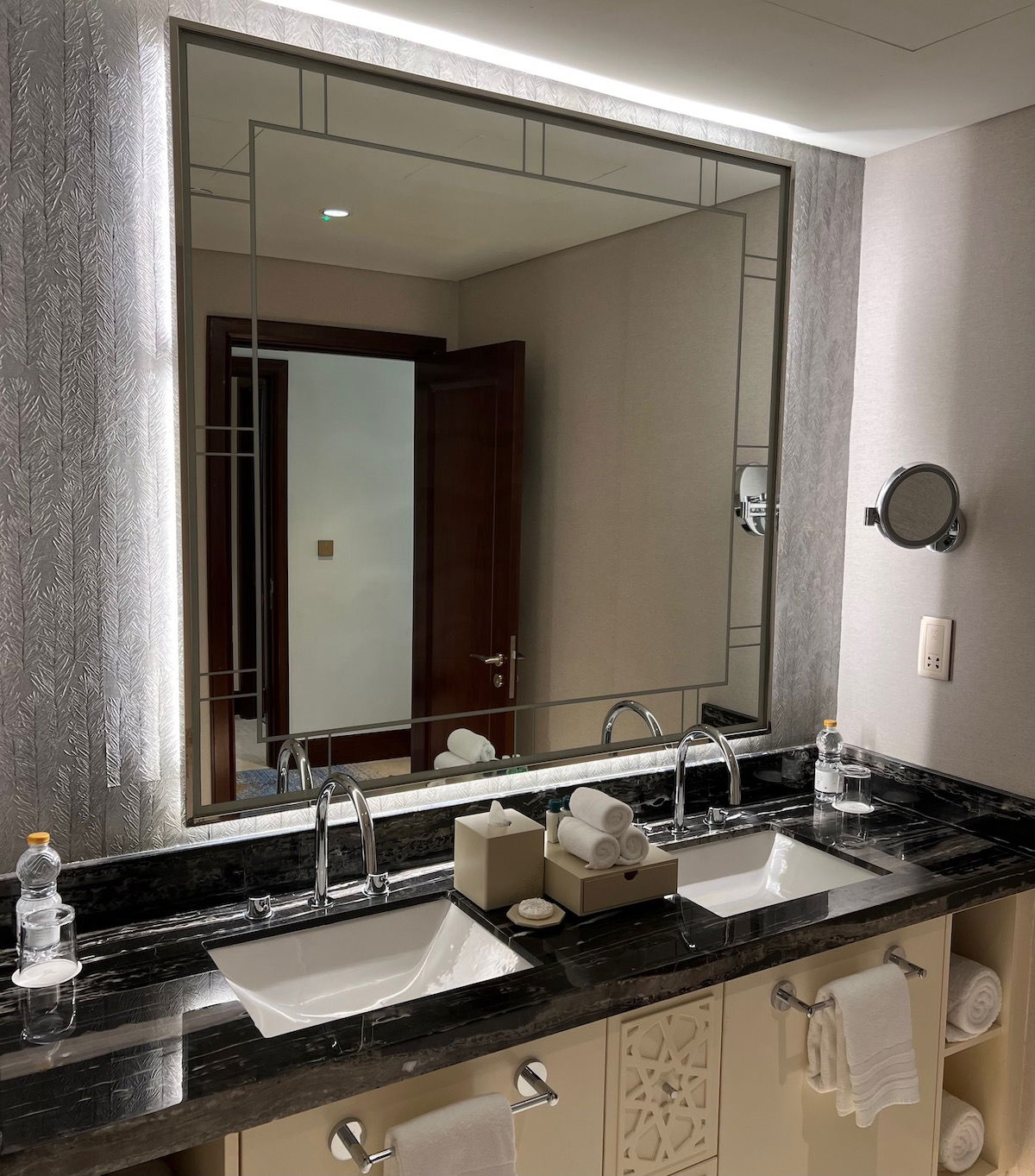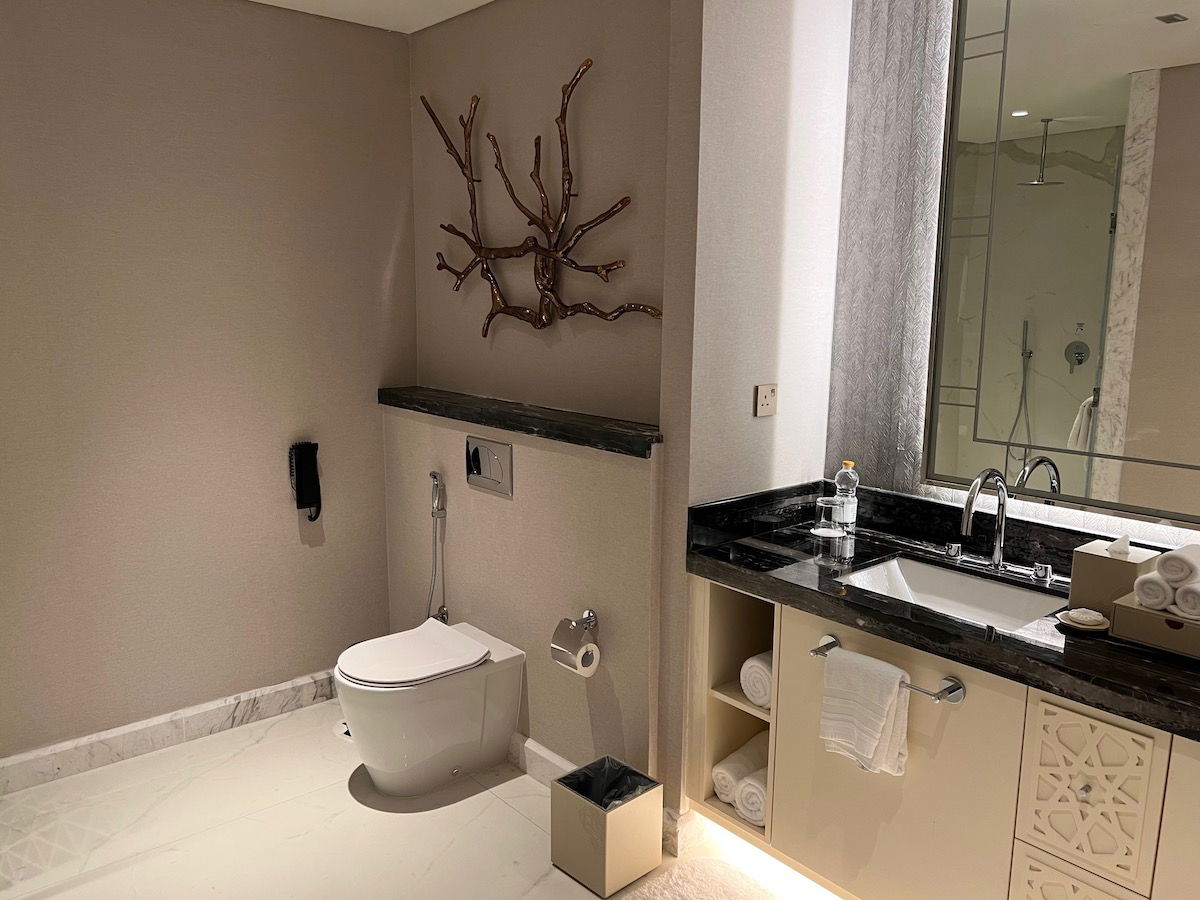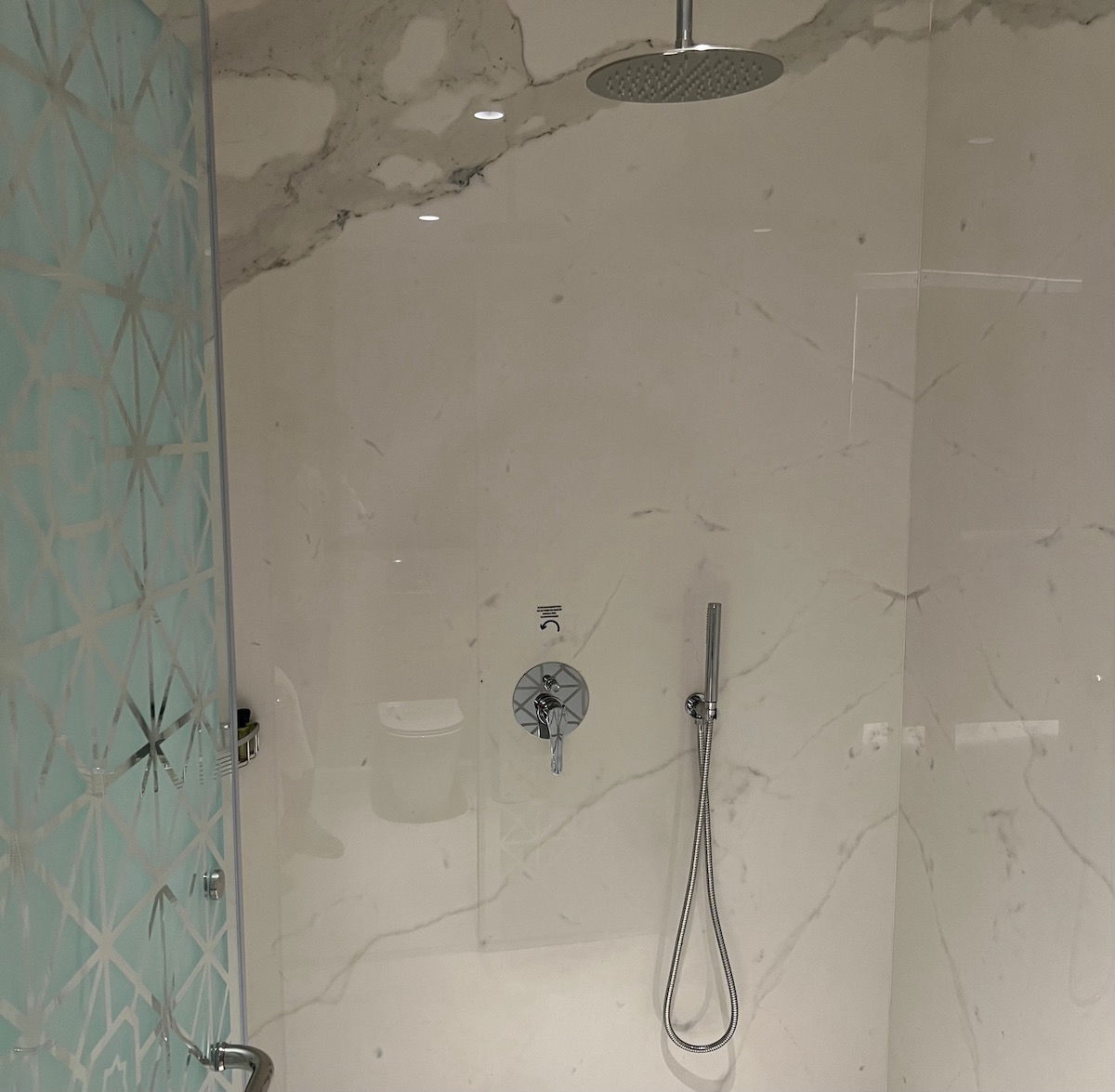 Toiletries were from Salvatore Ferragamo, and were in individual bottles.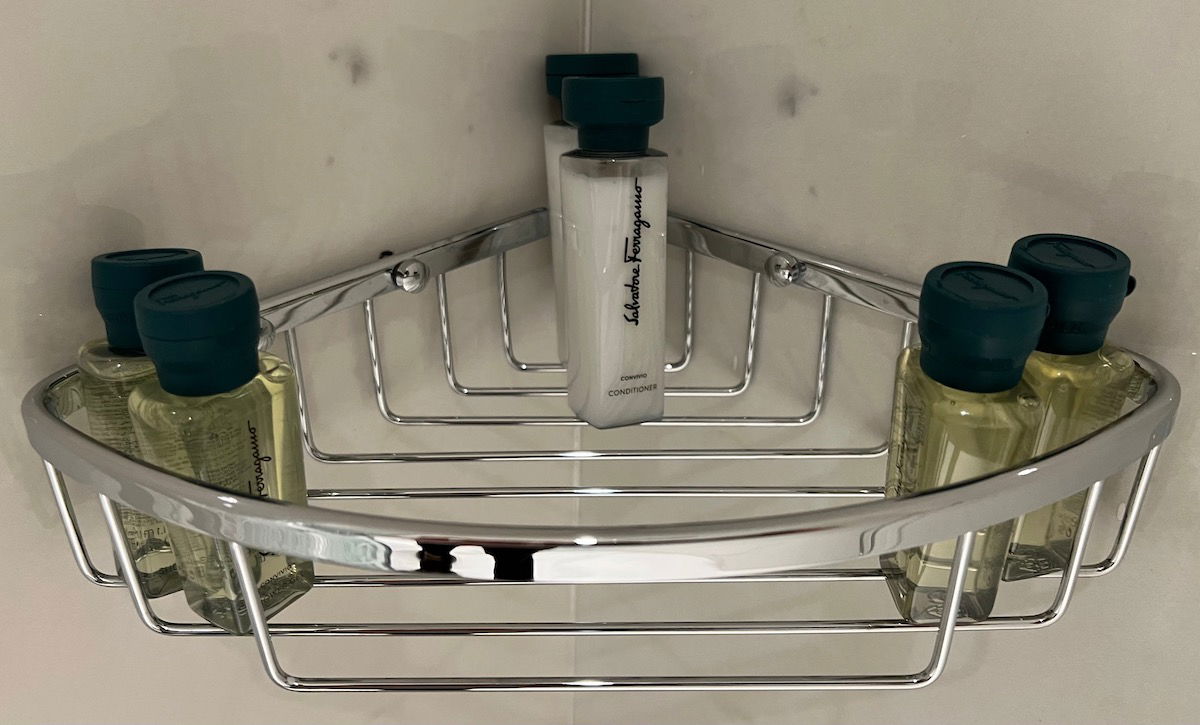 The second bedroom was right next to the first one, and featured two twin beds, as well as a TV.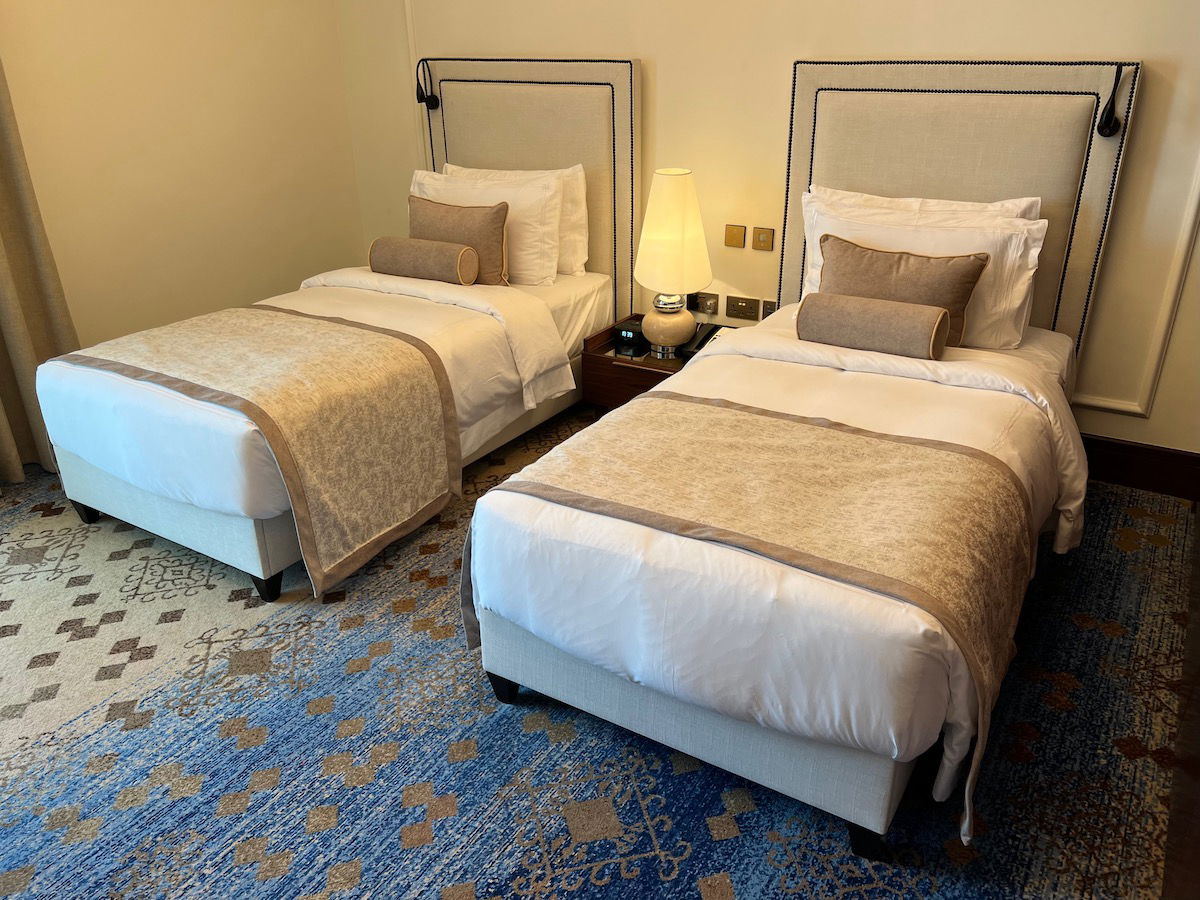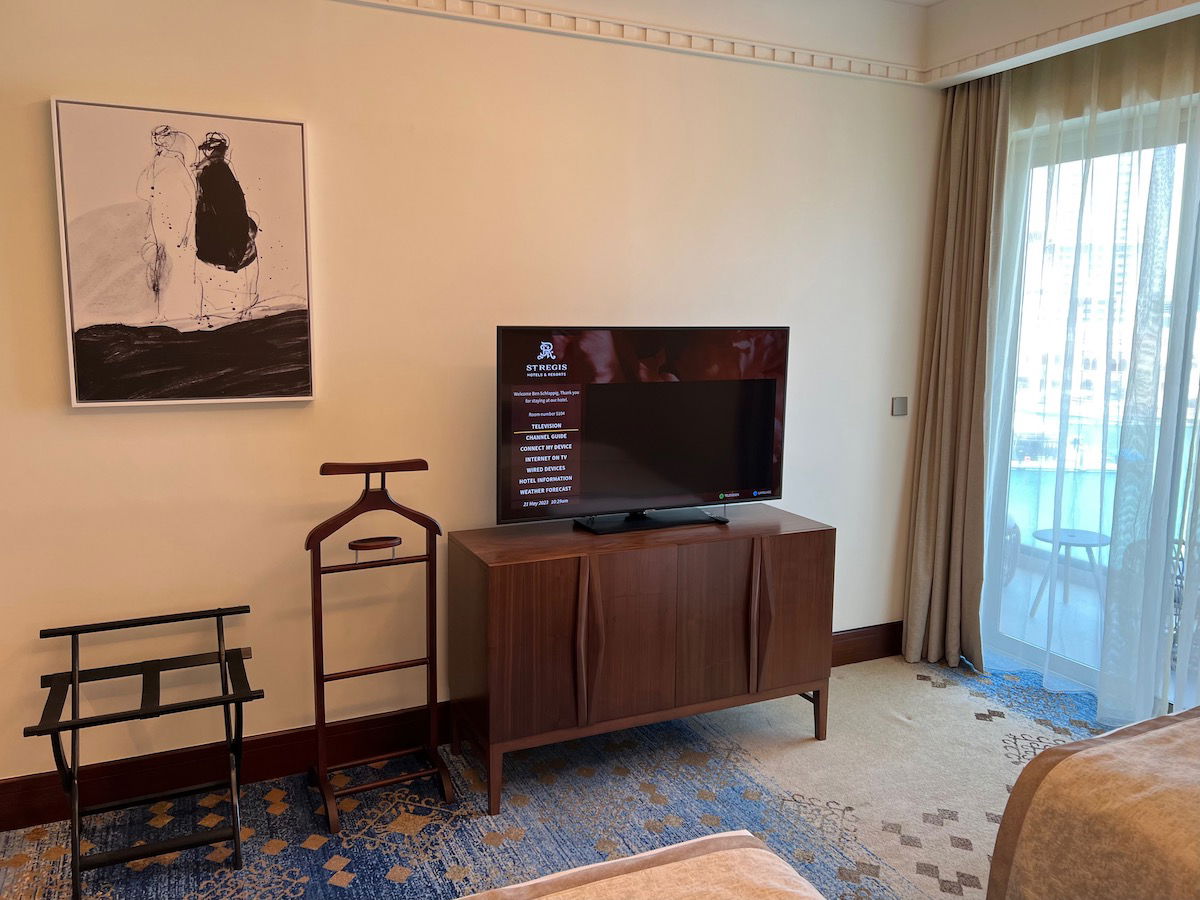 The bathroom off this bedroom was a bit smaller, and had a sink, a toilet, and a walk-in shower.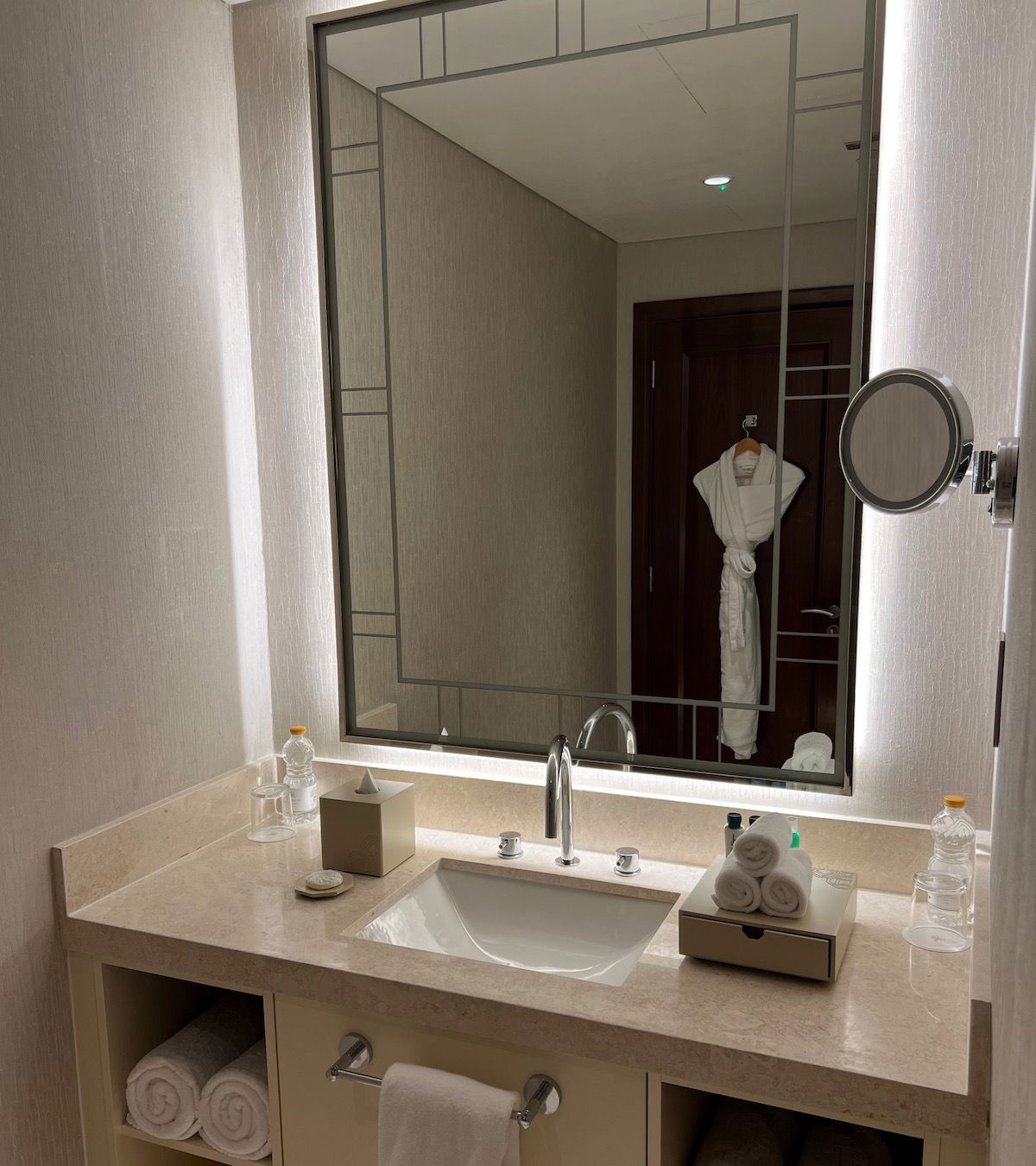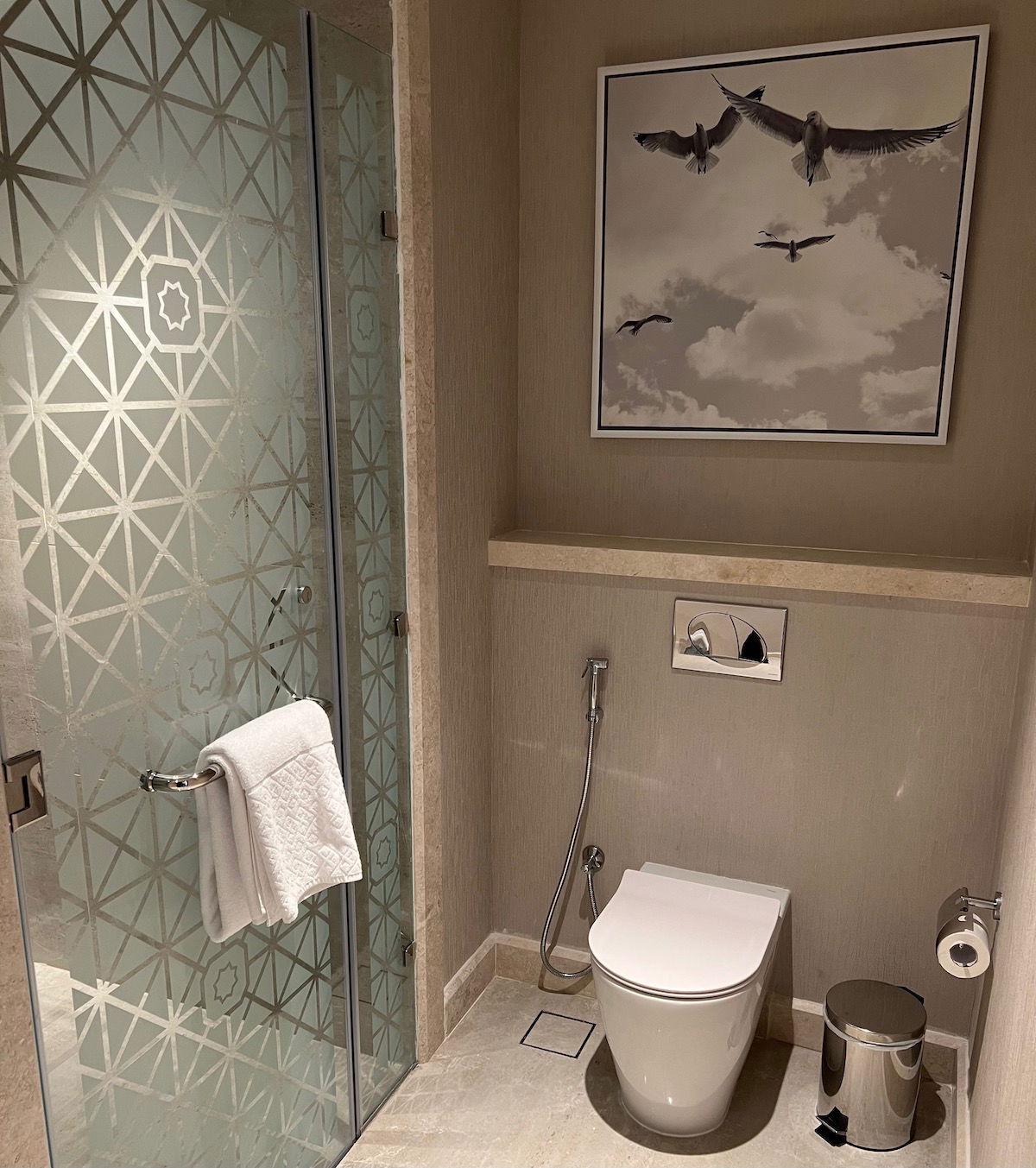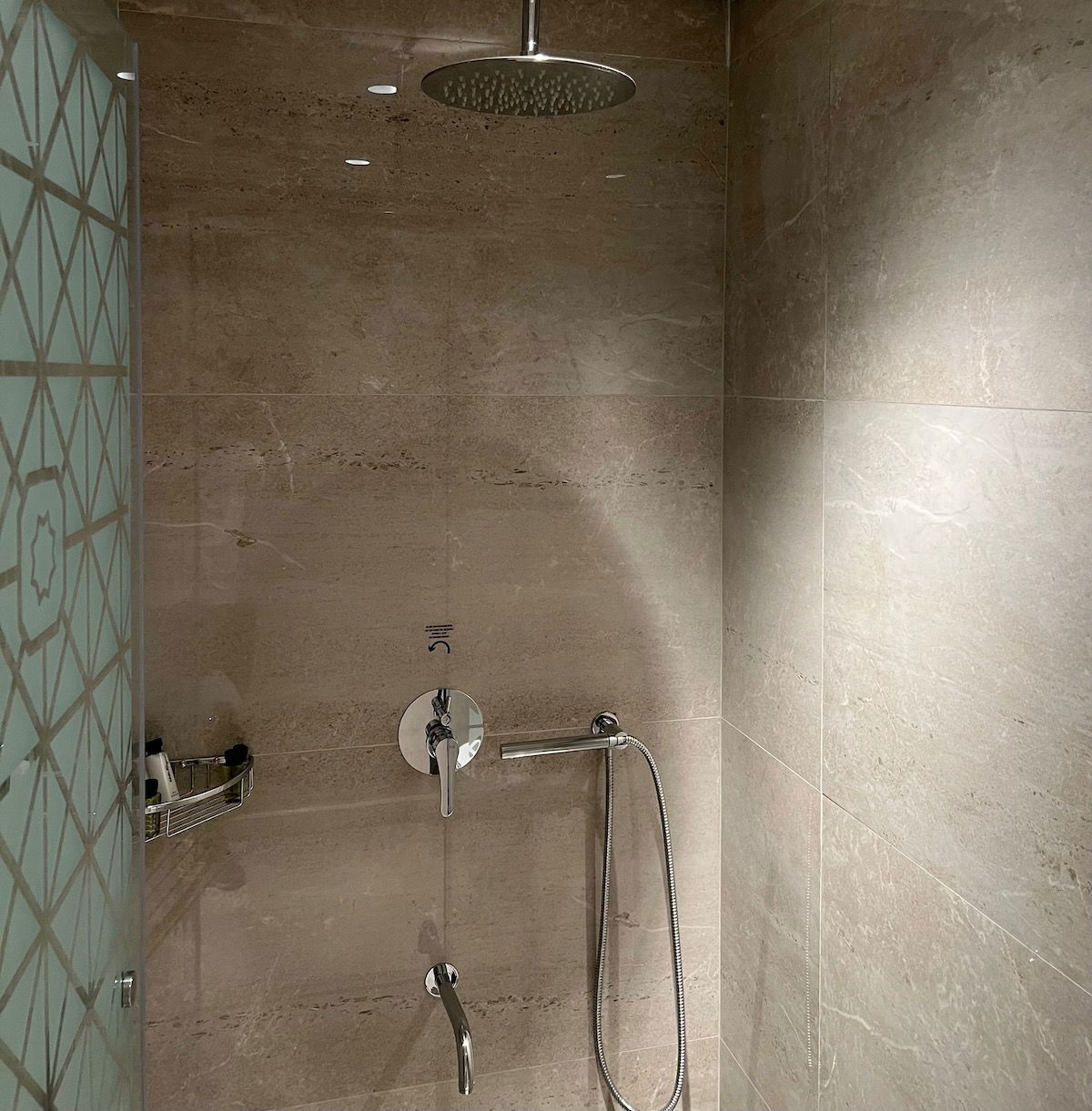 The two bedrooms shared an additional balcony.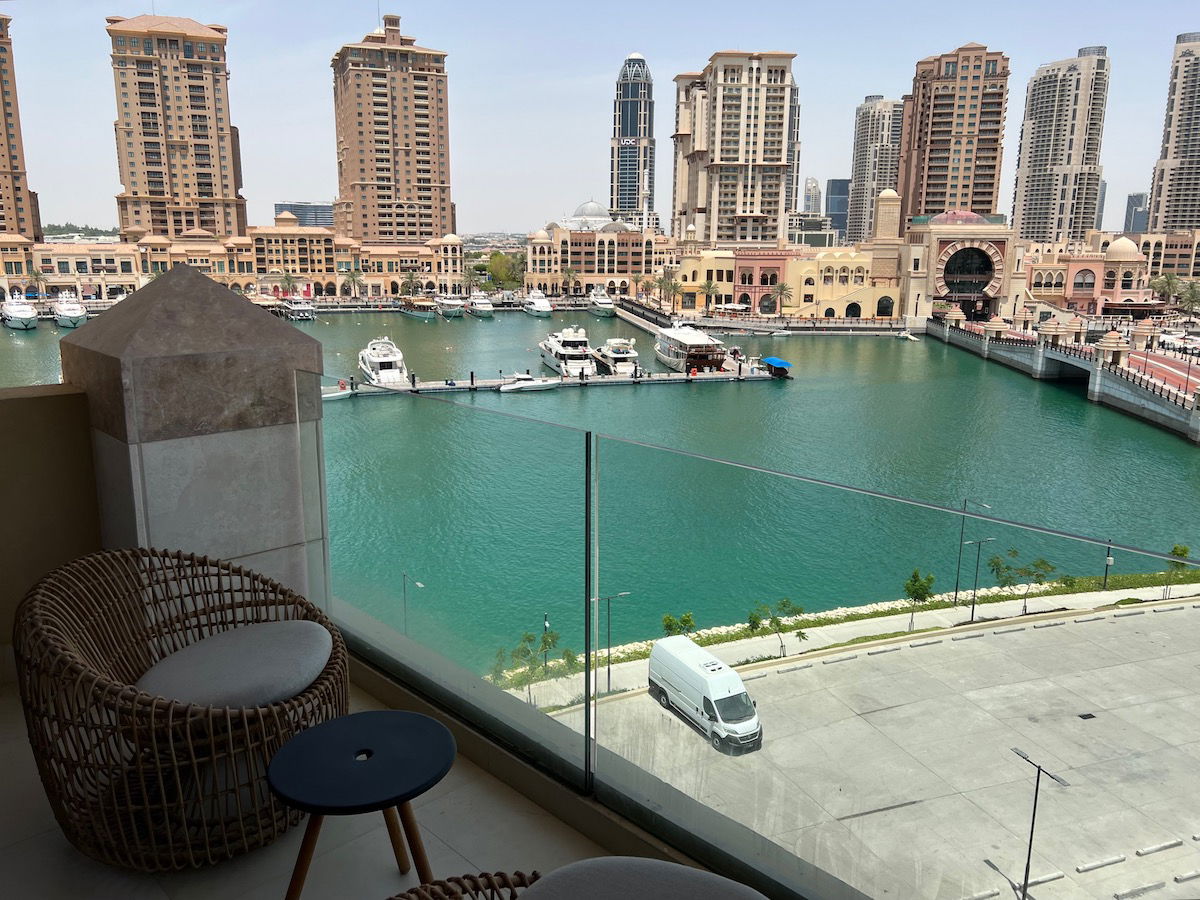 All-in-all, we loved the size of the room, and found it to be well appointed. In fairness, though, I will say that some of the finishes felt a bit low-end, compared to what you might expect at a St. Regis. That's not a surprise since I imagine this property was opened in a rush prior to the World Cup. And it's not a huge deal, but just something I noticed.
A couple of hours after checking in, we were brought a lovely welcome amenity, consisting of some fresh fruit, some dried fruit, and some sweets. Yum.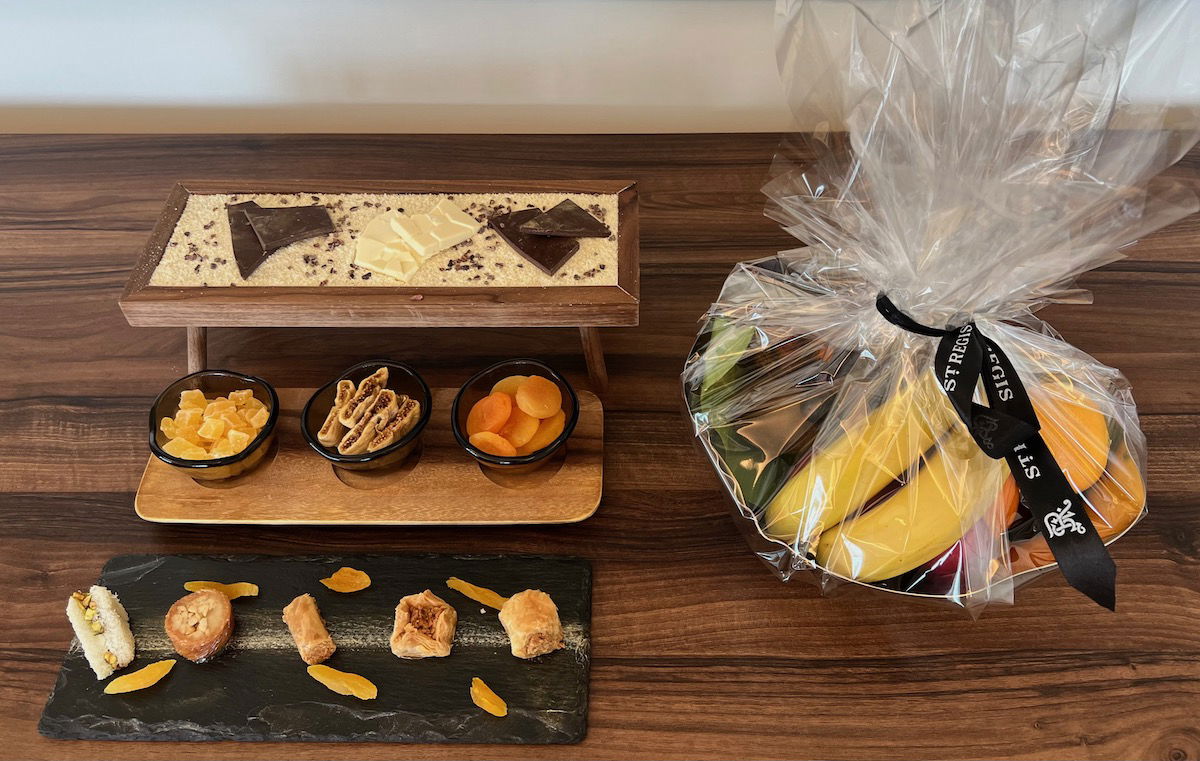 Since this is a St. Regis, butler service is also offered to all guests. The main thing I like about St. Regis butler service is that you can get complimentary coffee and tea delivered to your room. St. Regis properties seemingly have different policies when it comes to this. Some hotels offer unlimited coffee and tea, while others offer this only in conjunction with a wake-up call. This hotel fit into the latter category, so we could get coffee in conjunction with a wake-up call.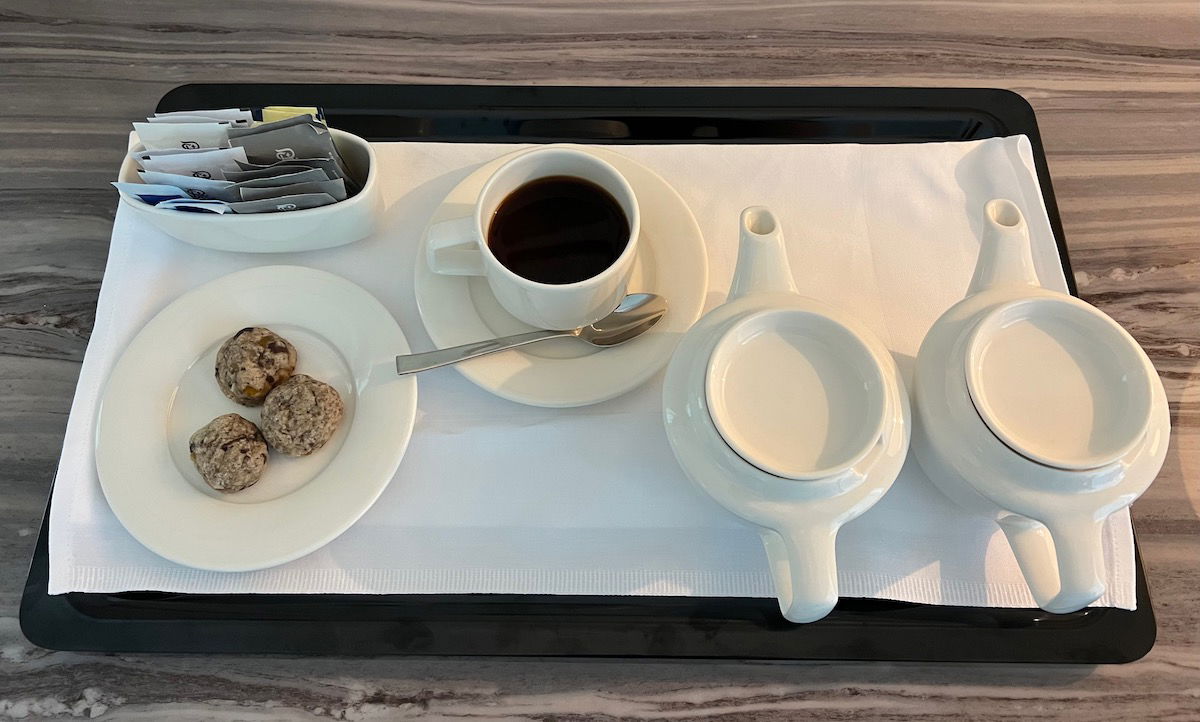 St. Regis Doha Marsa Arabia Island pool
The St. Regis Marsa Arabia Island has a pretty large, resort-style pool. Personally I'm not a big pool person (especially when the UV index is 11 — I'd look like a lobster in about 10 minutes), but the pool deck looked nice enough, and was well staffed.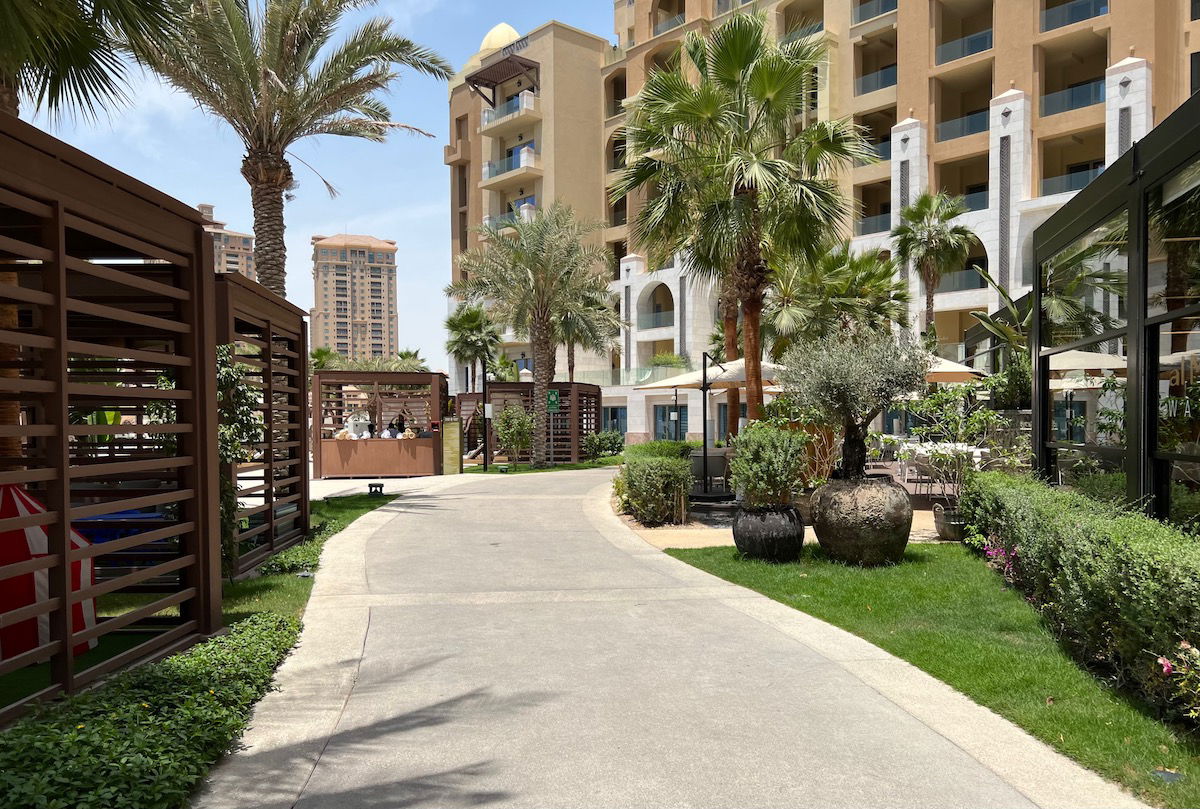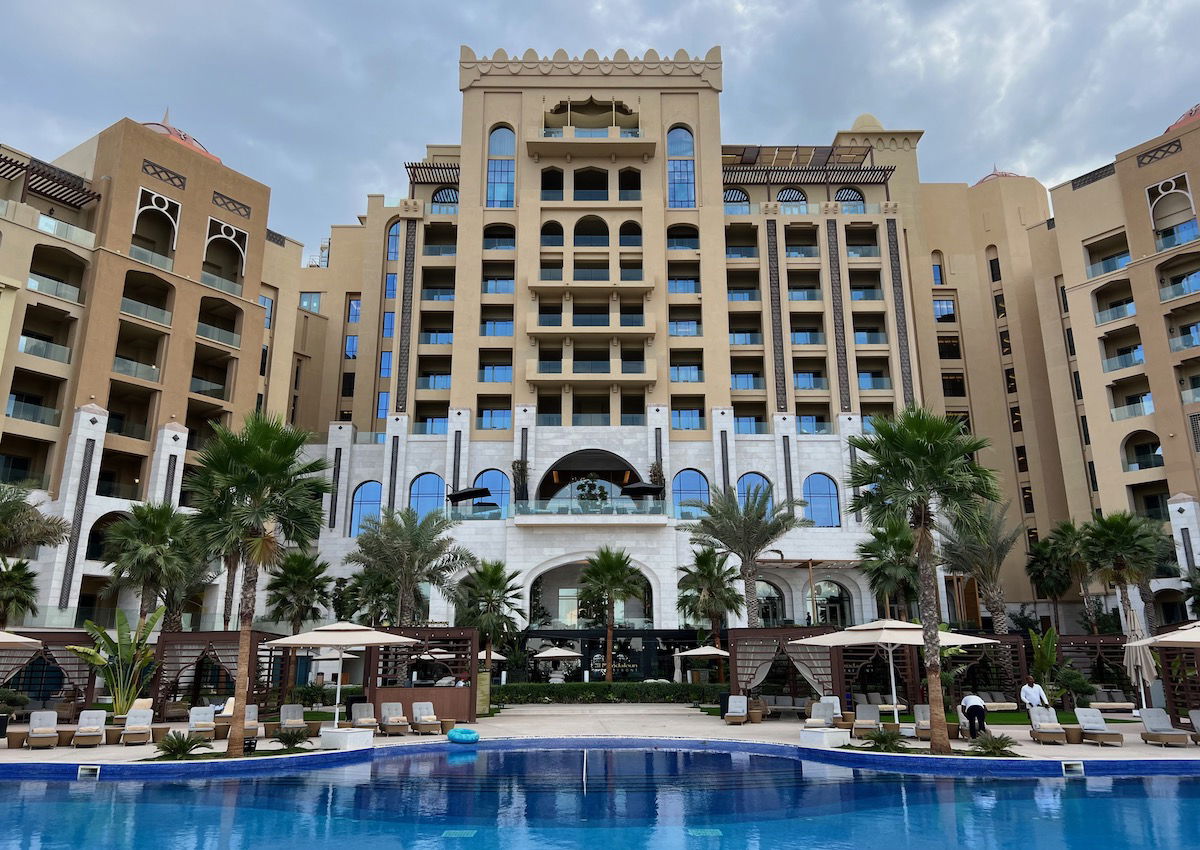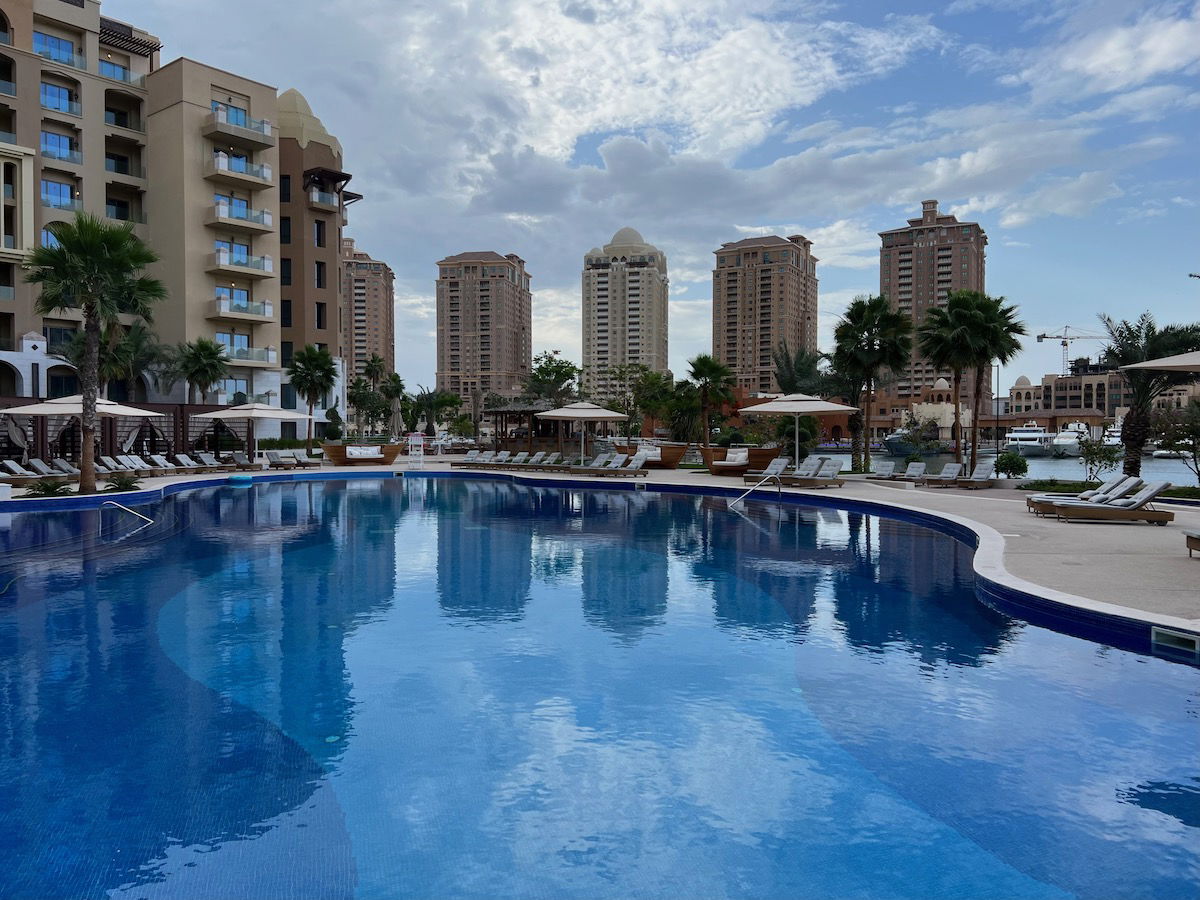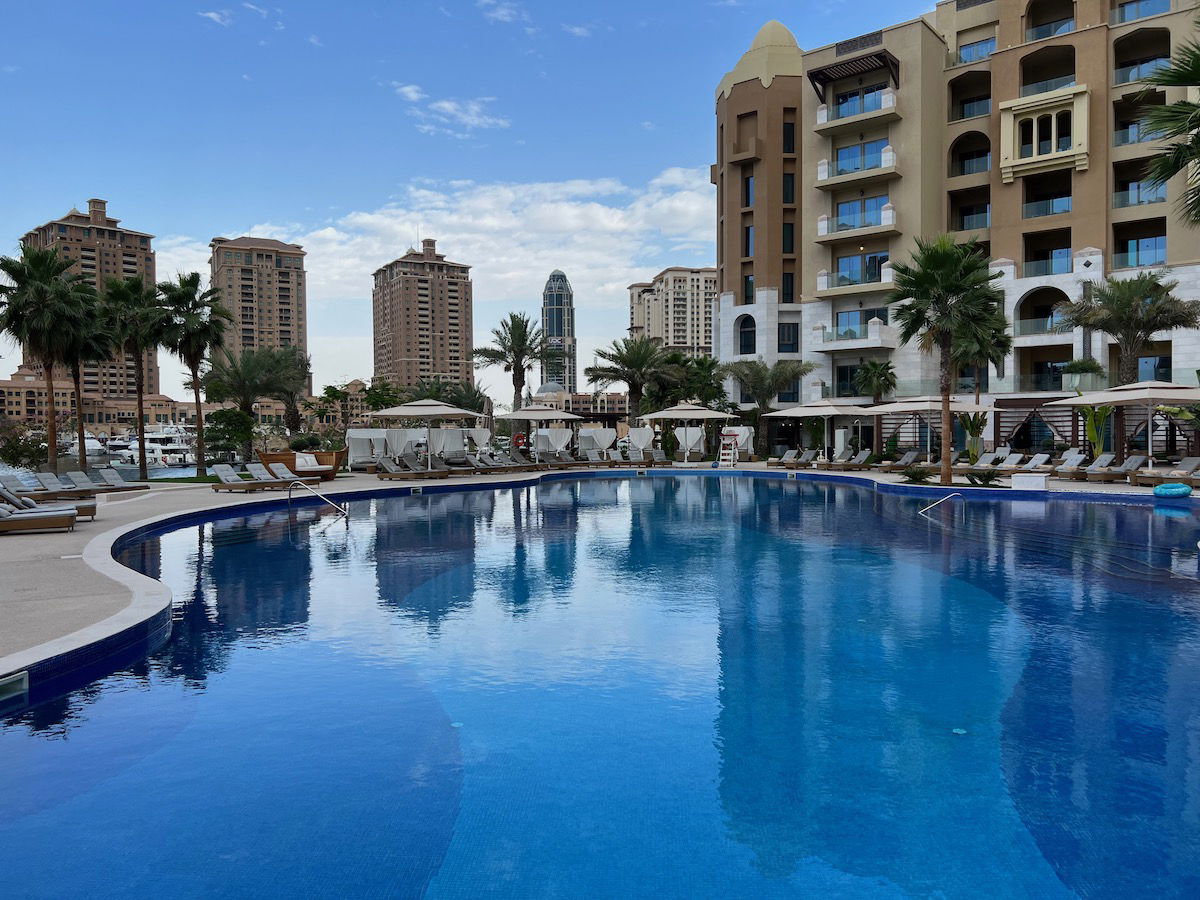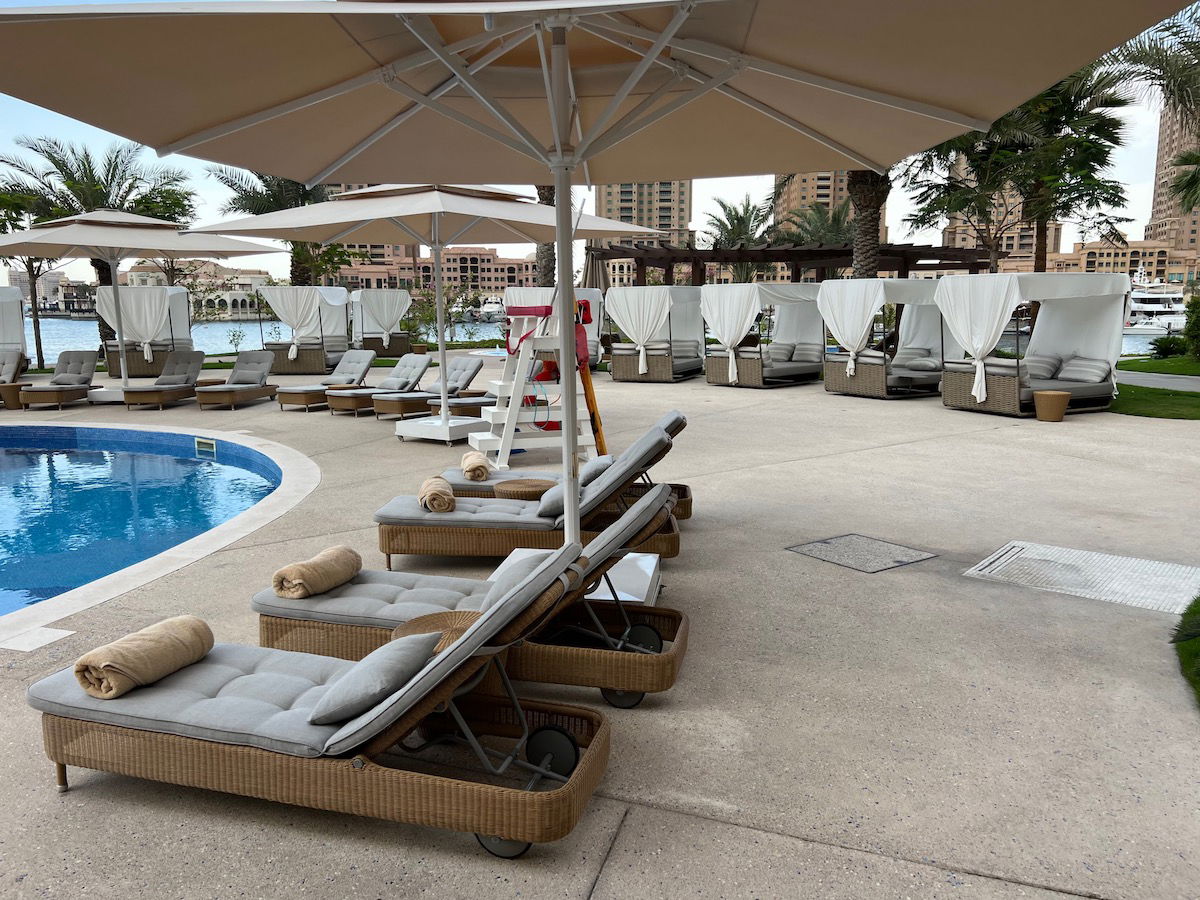 In addition to the main pool, there was also a pool area for kids, as well as a hot tub.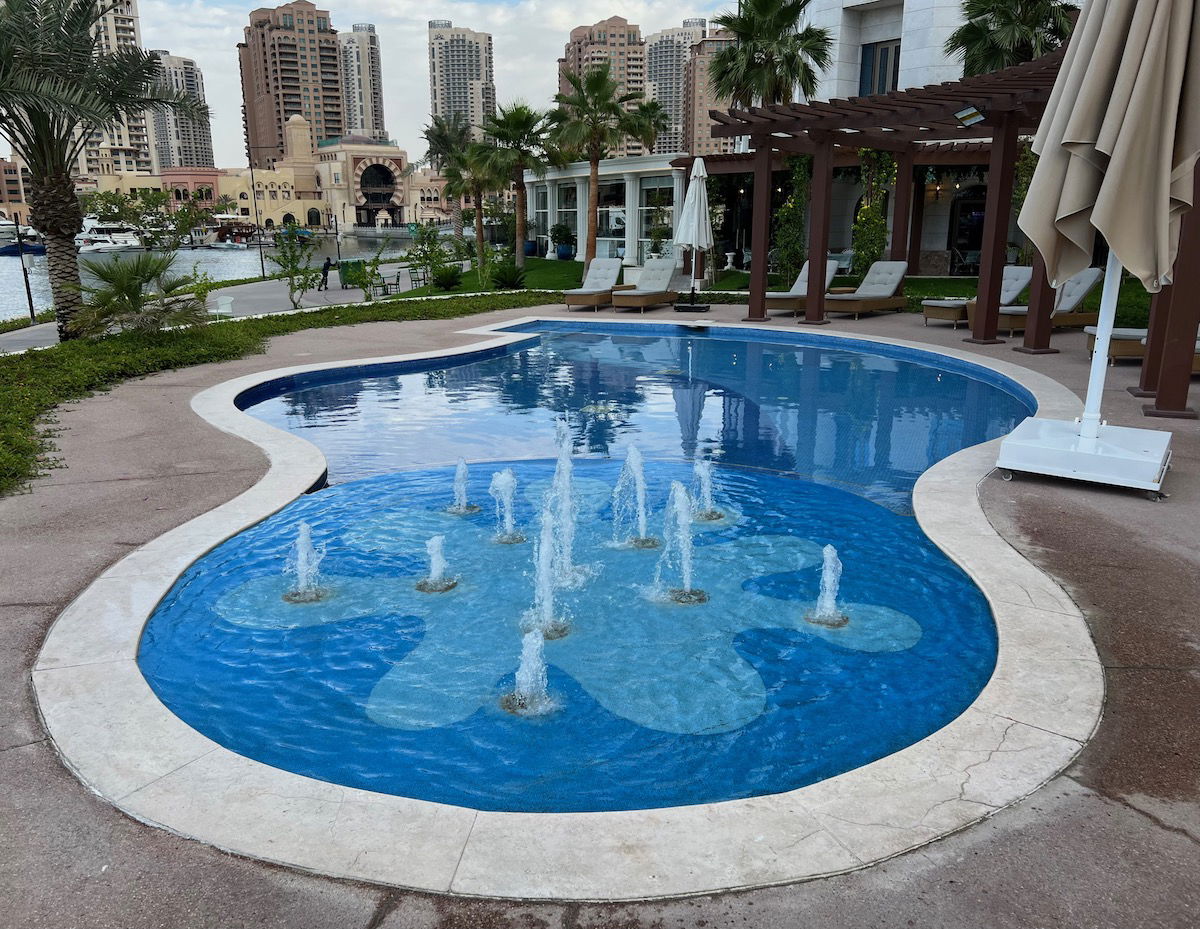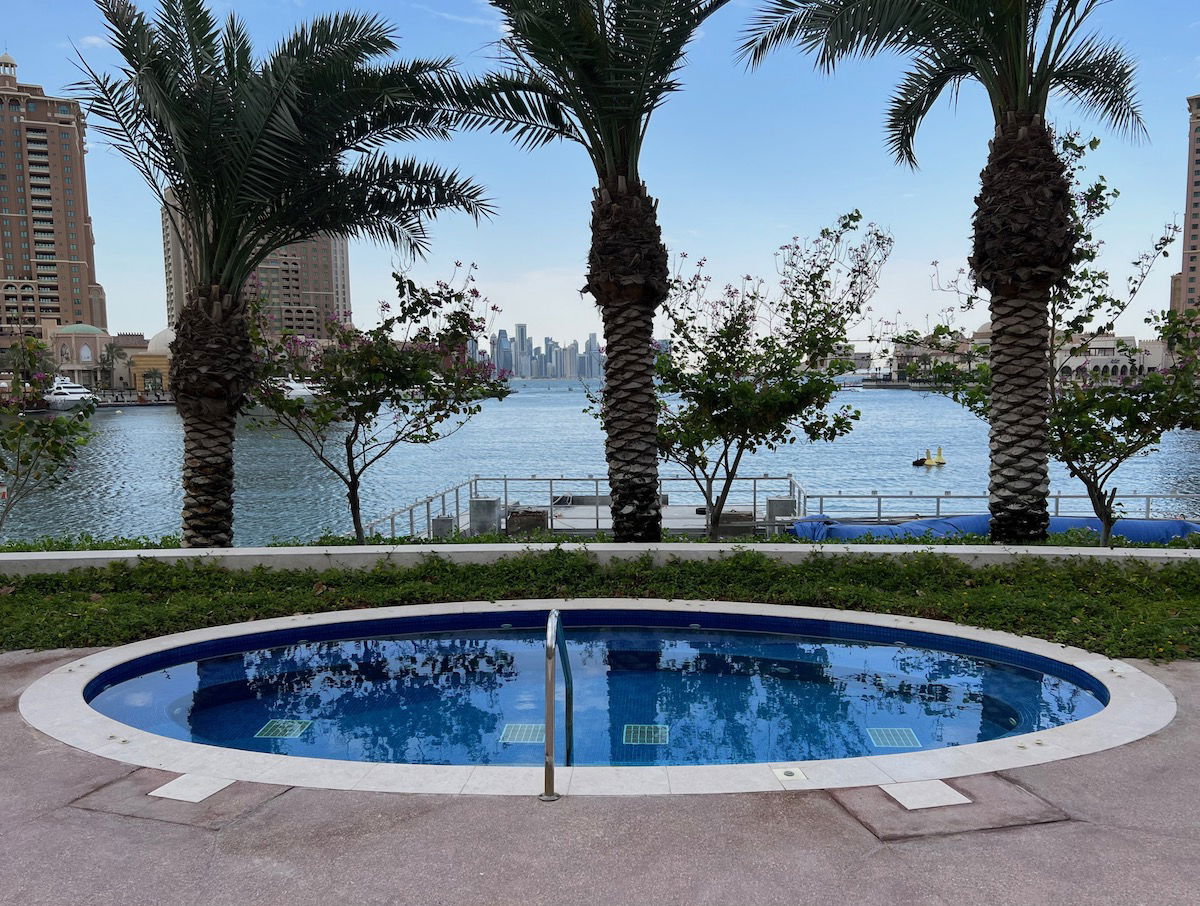 St. Regis Doha Marsa Arabia Island gym
The St. Regis Marsa Arabia Island has an incredibly gym. This is without a doubt one of the five best hotel gyms I've ever seen anywhere. The gym is huge, and features modern equipment. My dad and I both enjoyed using the gym both days of our stay.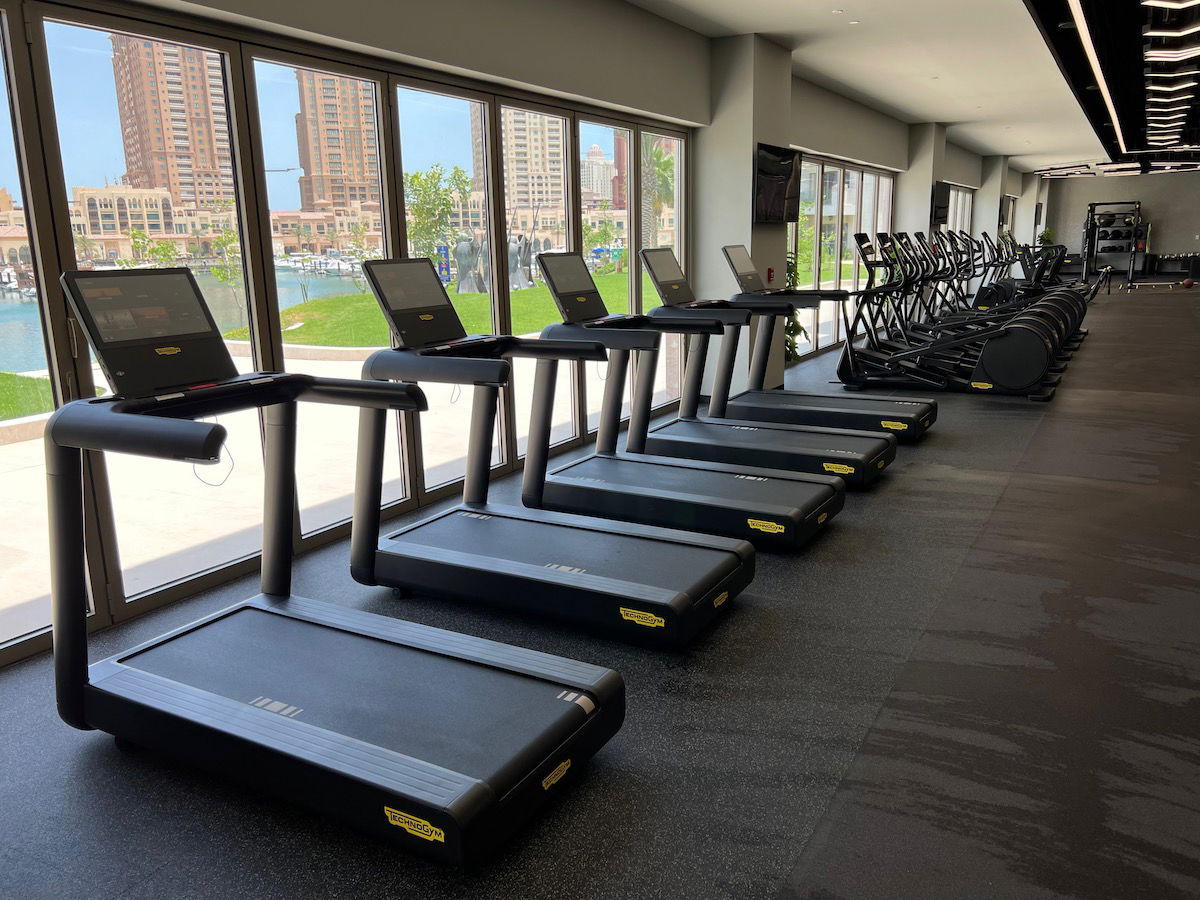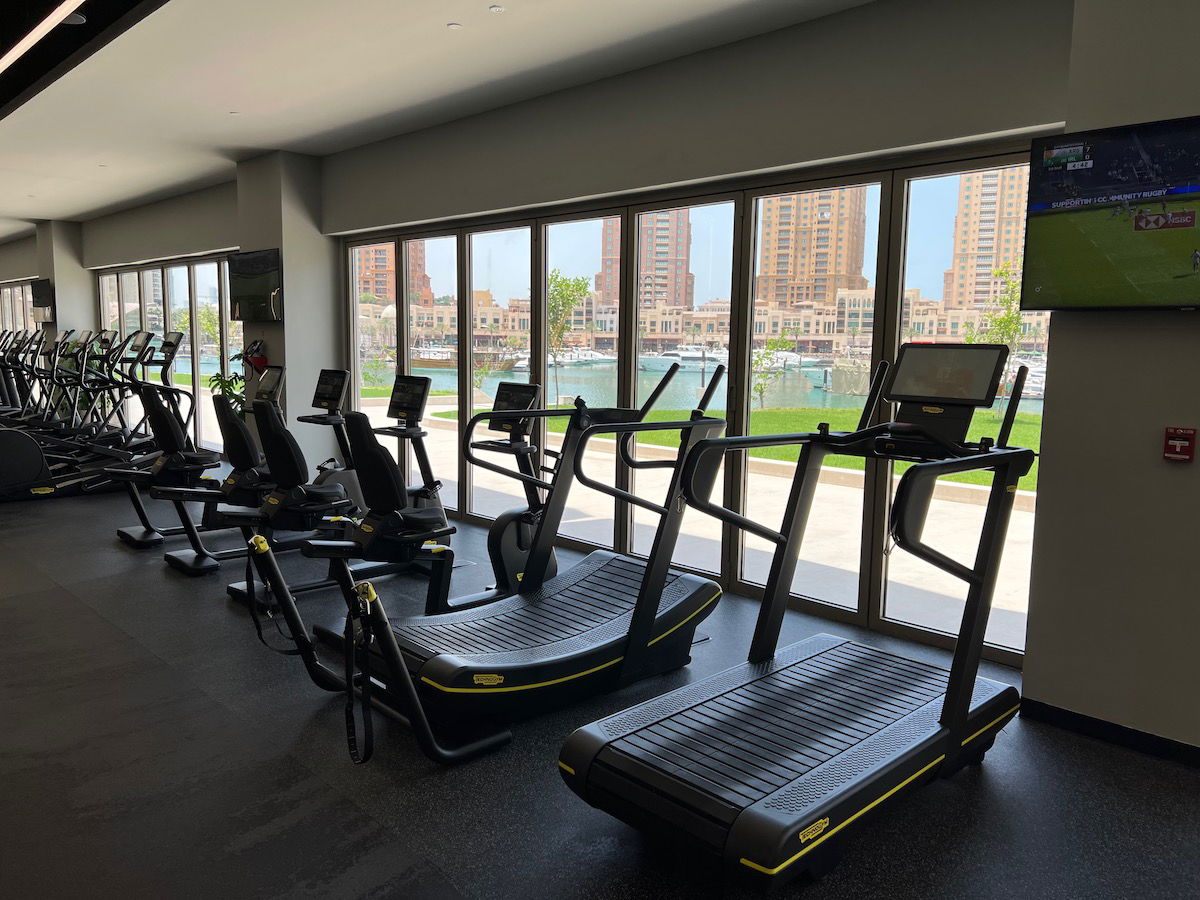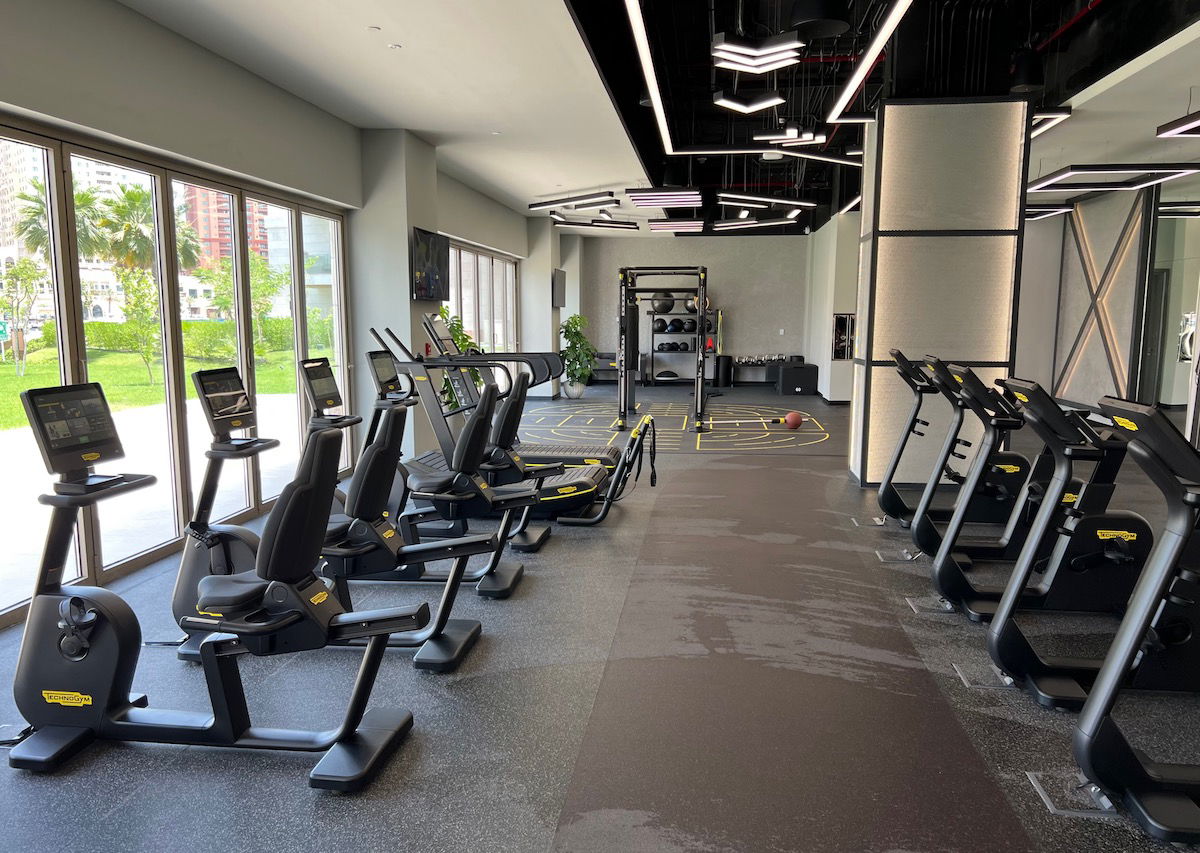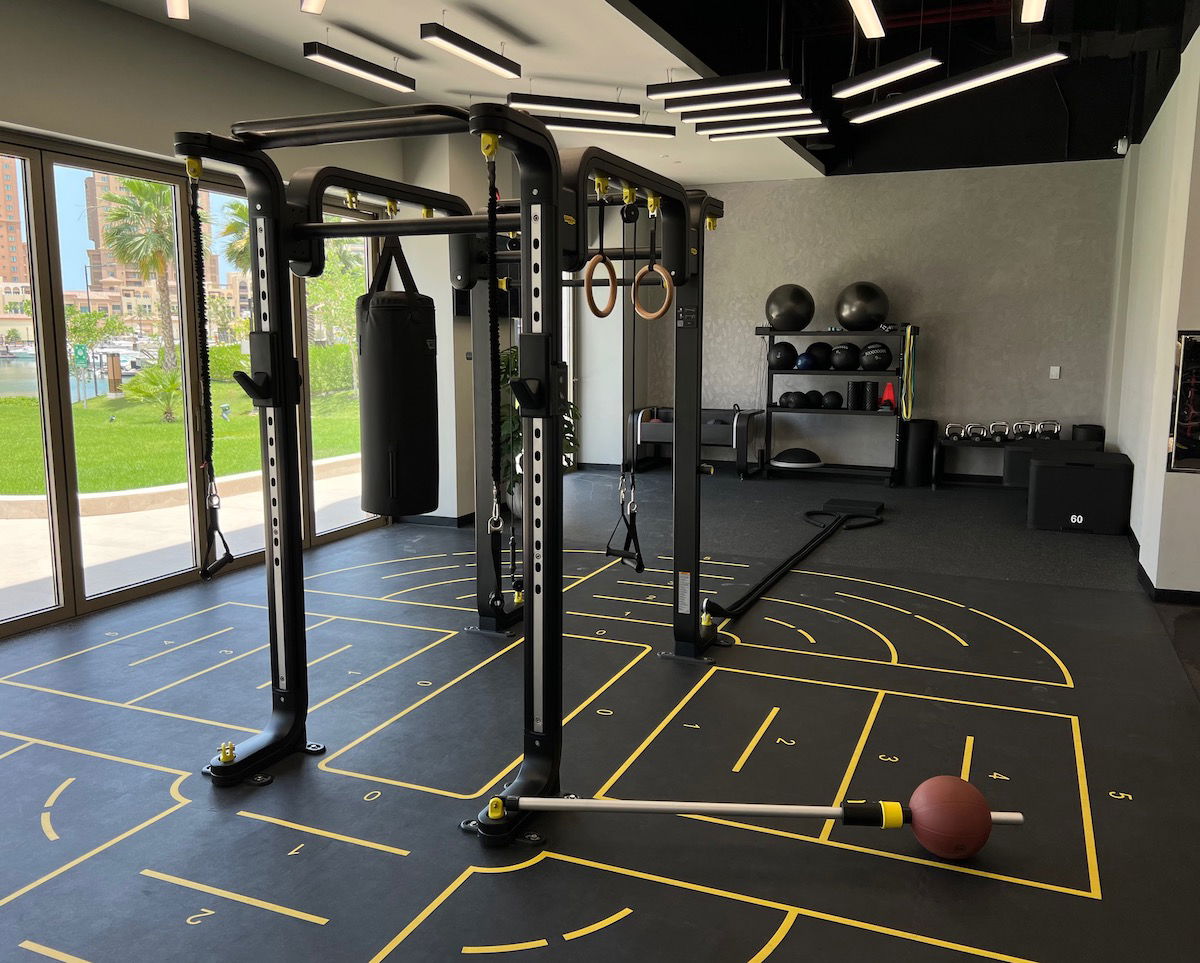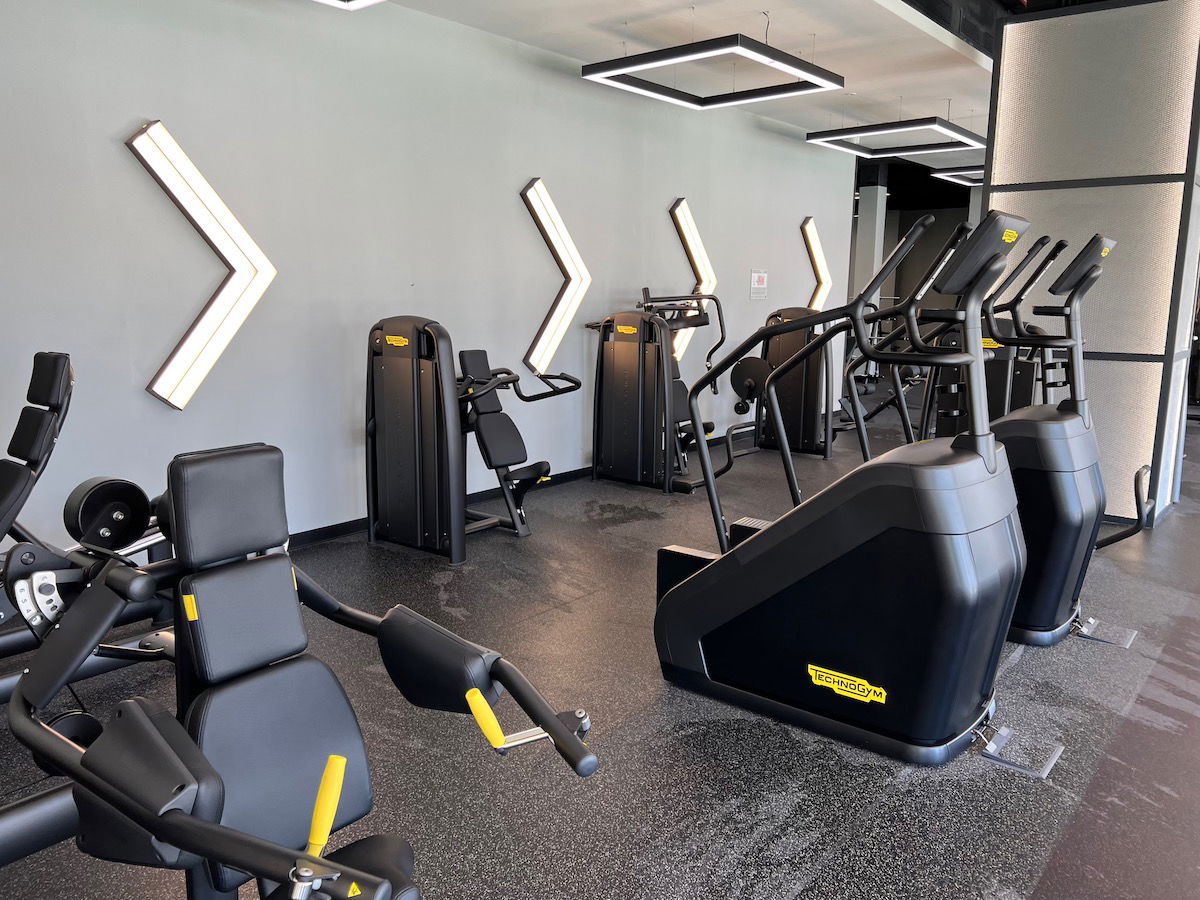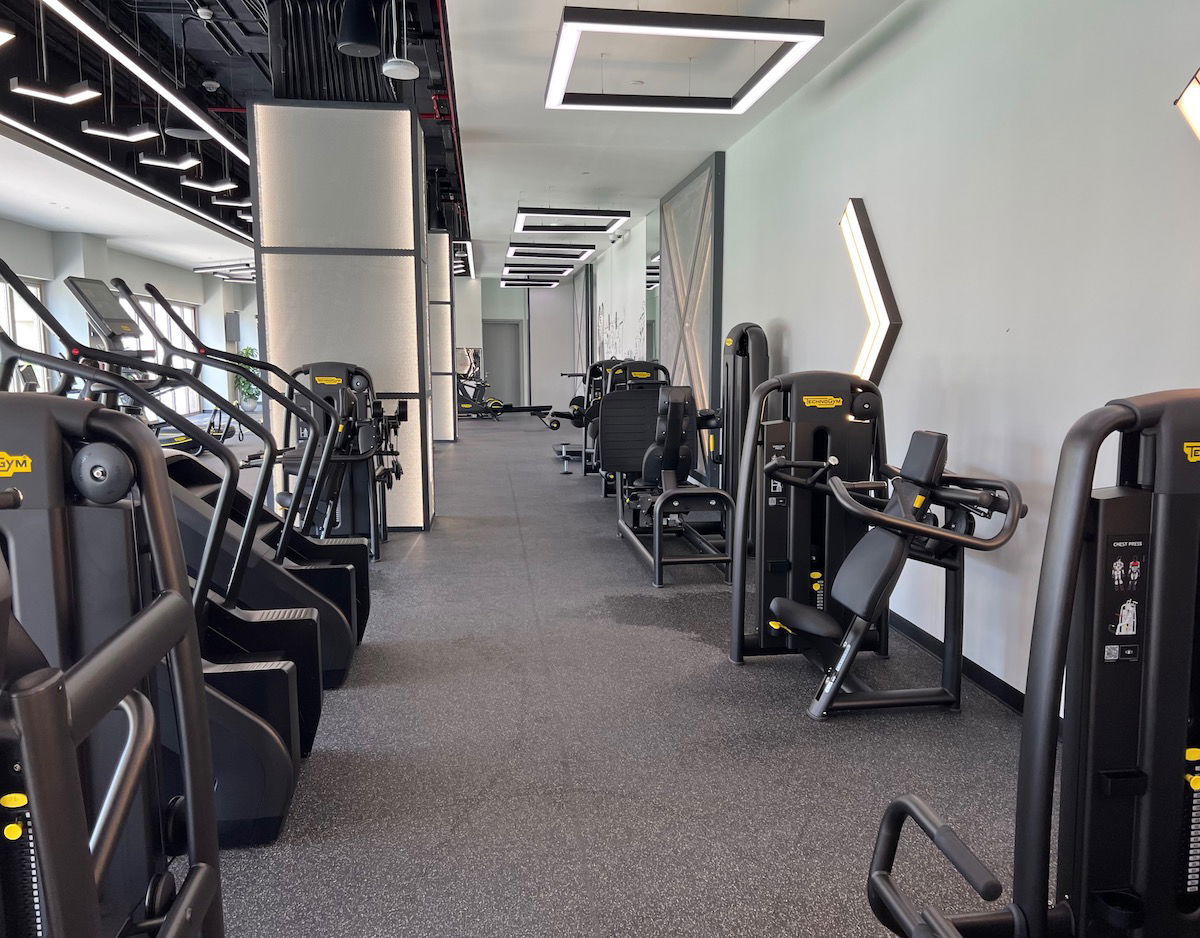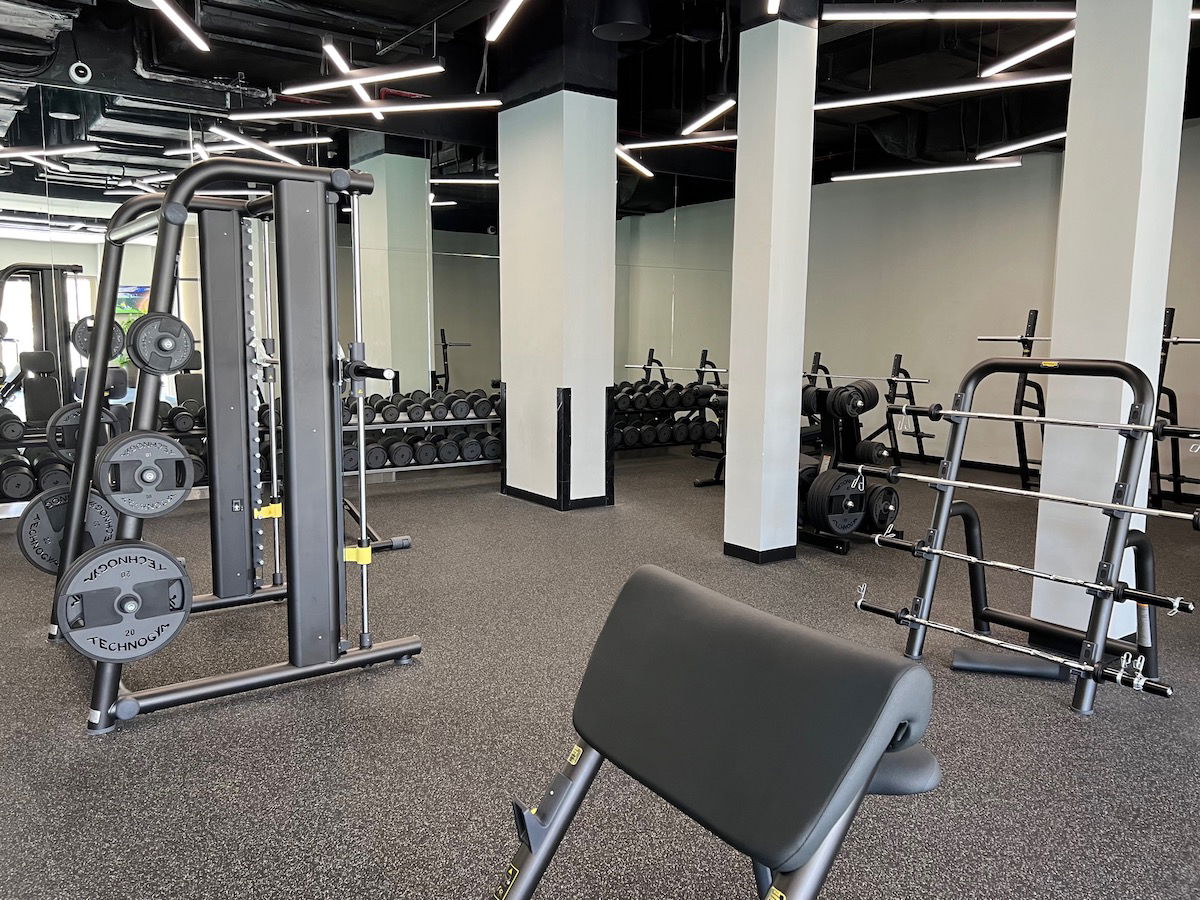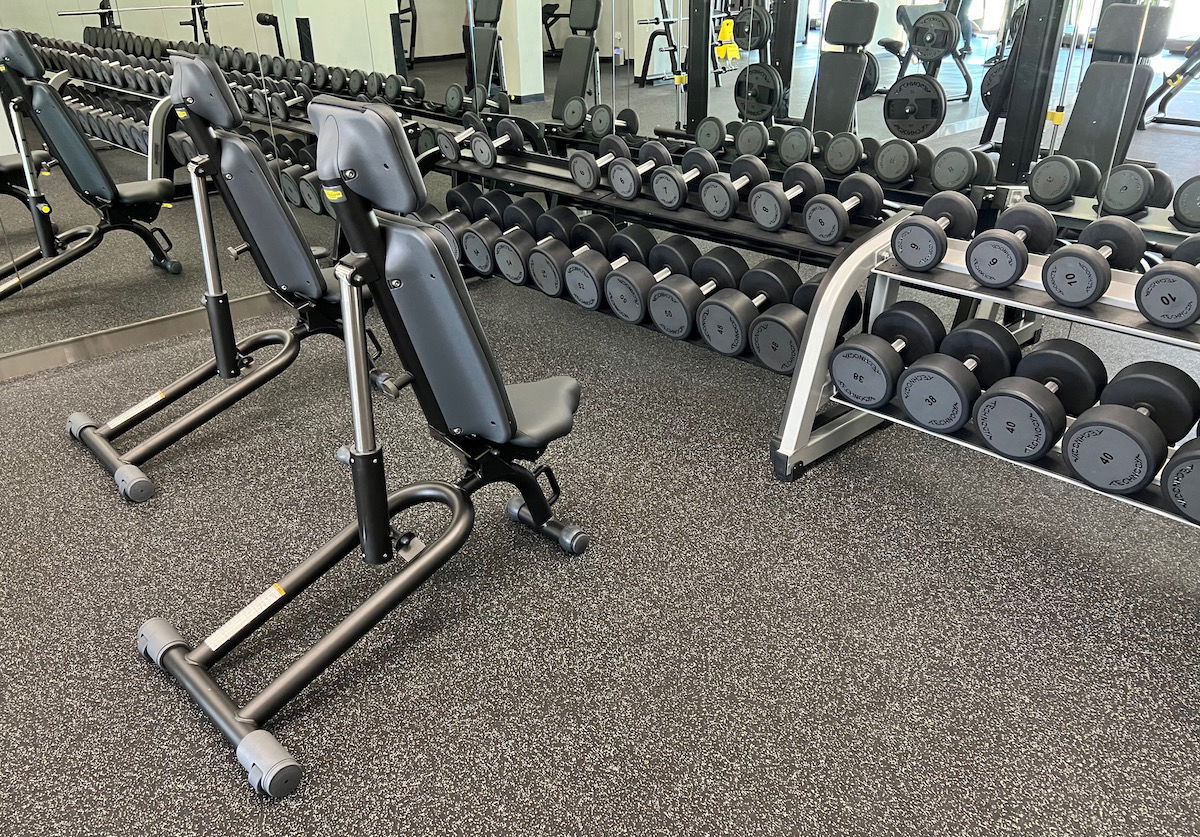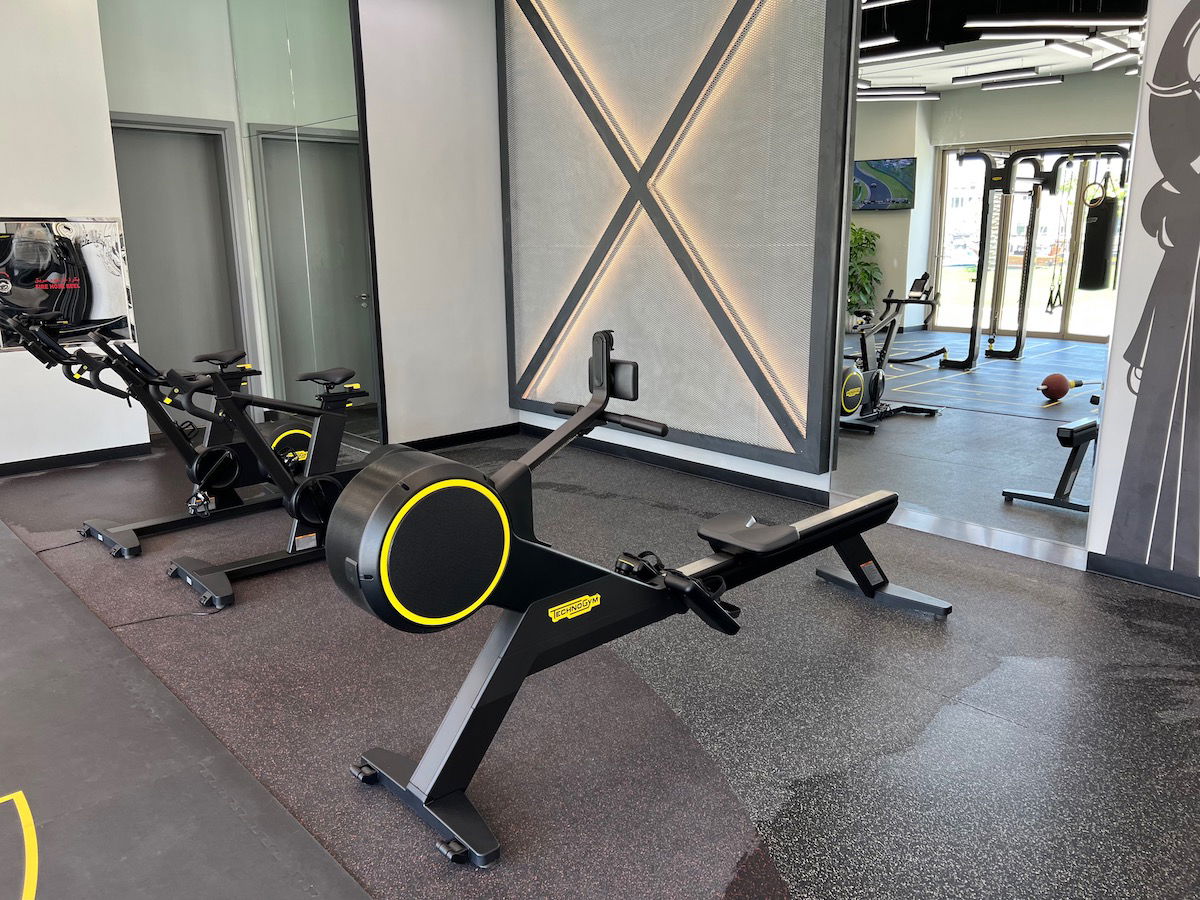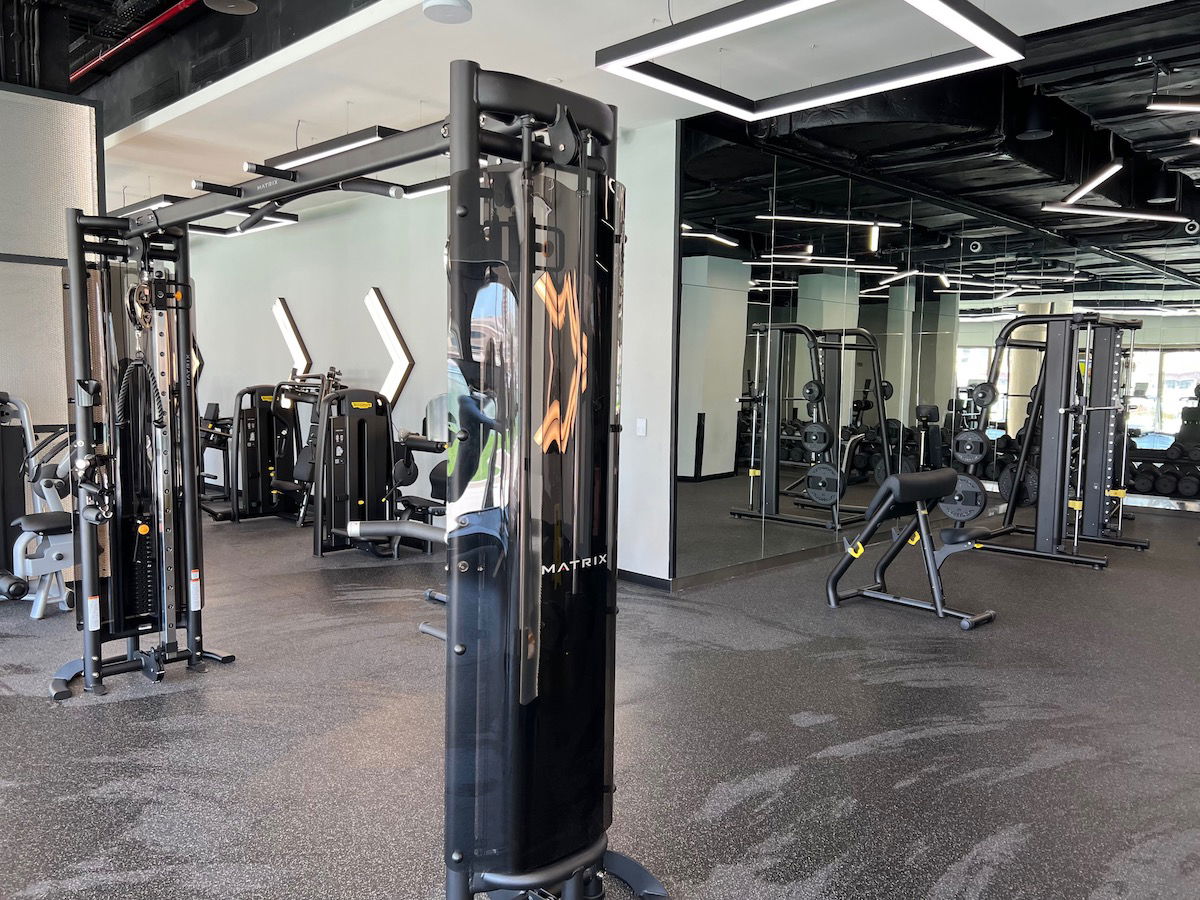 The gym also has several trainers working at a time. Usually I'm not a fan of trainers just trying to help when you don't ask for it, but the guys here were genuinely very helpful and friendly. A special shout out to Moe from Lebanon, as he helped me with my workout one day.
St. Regis Doha Marsa Arabia Island breakfast
Breakfast at the St. Regis Marsa Arabia Island is served at NAR Restaurant, the Turkish restaurant immediately underneath the lobby. Breakfast is served daily from 6AM until 11AM. The restaurant is beautiful, with plenty of indoor and outdoor seating.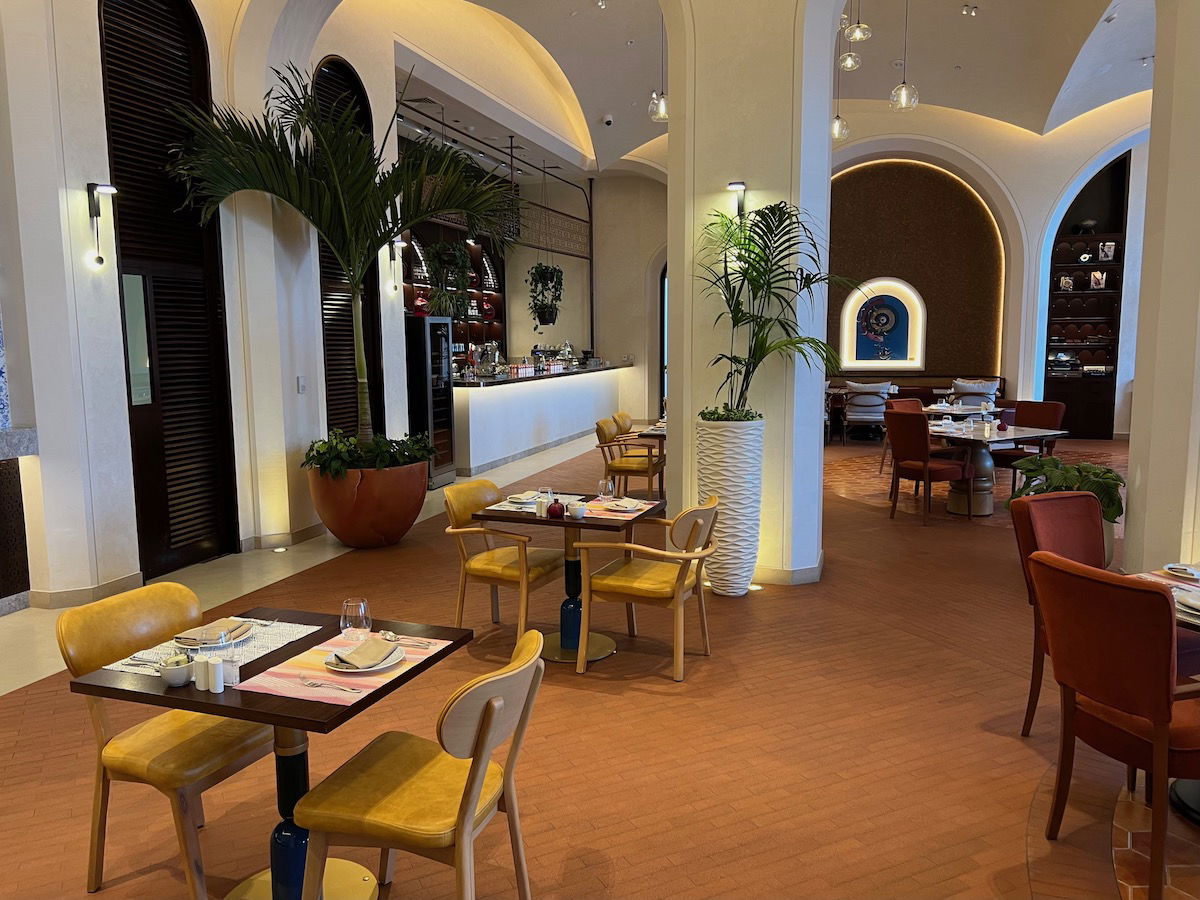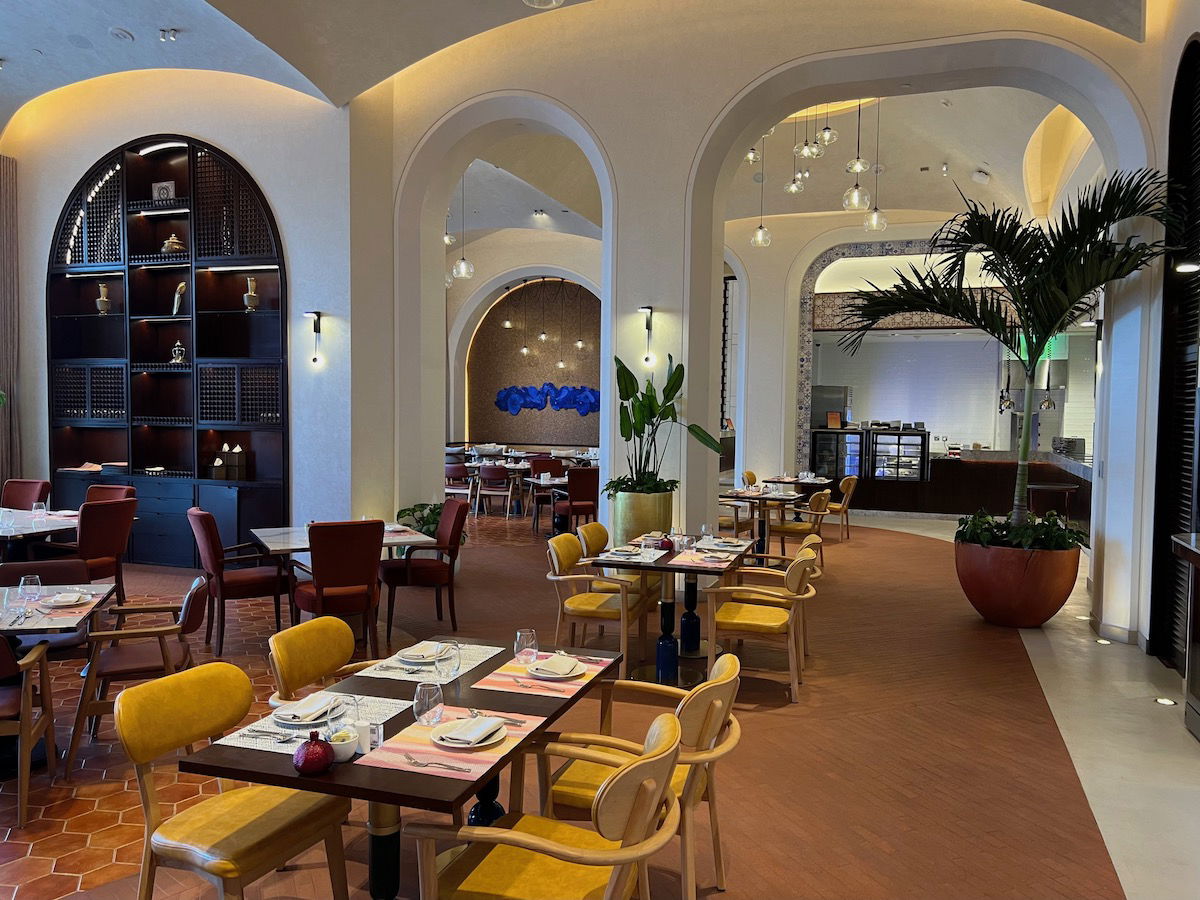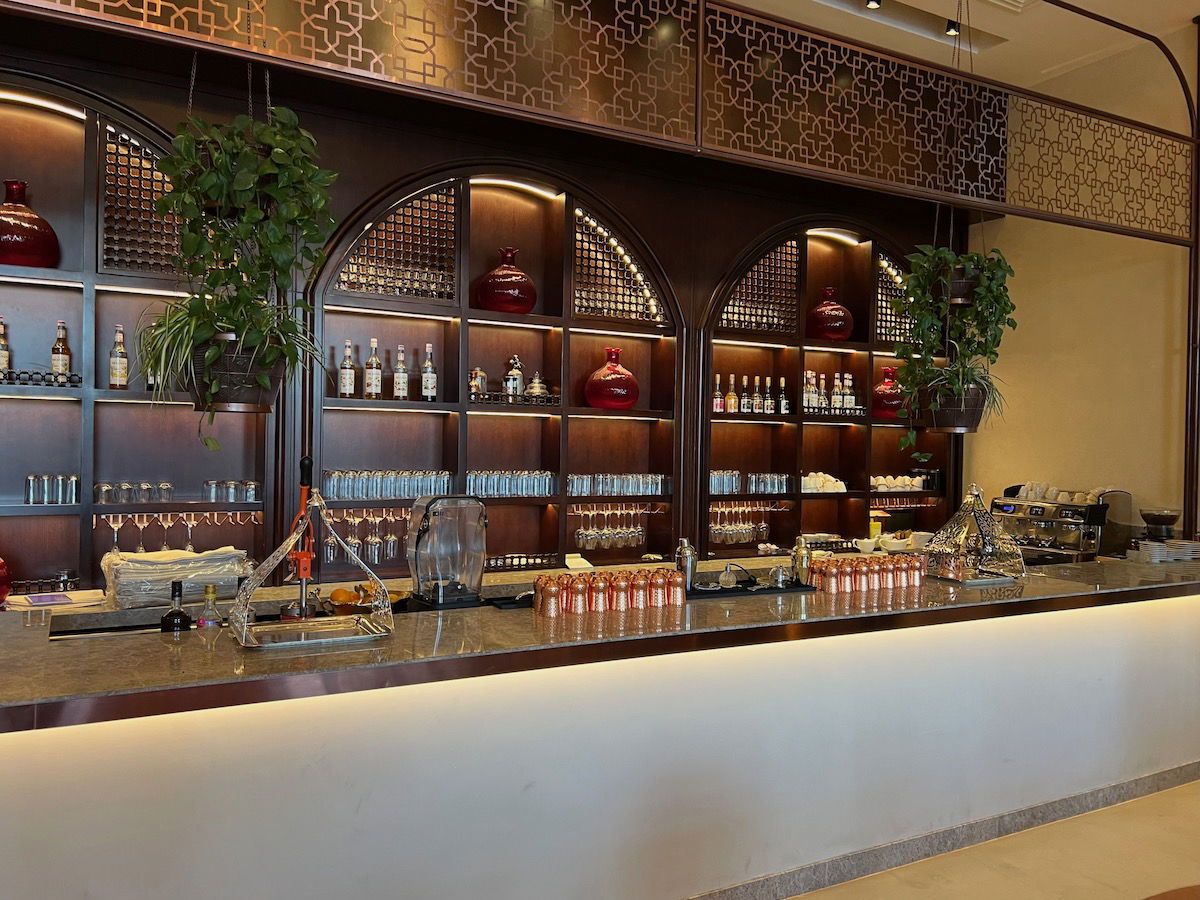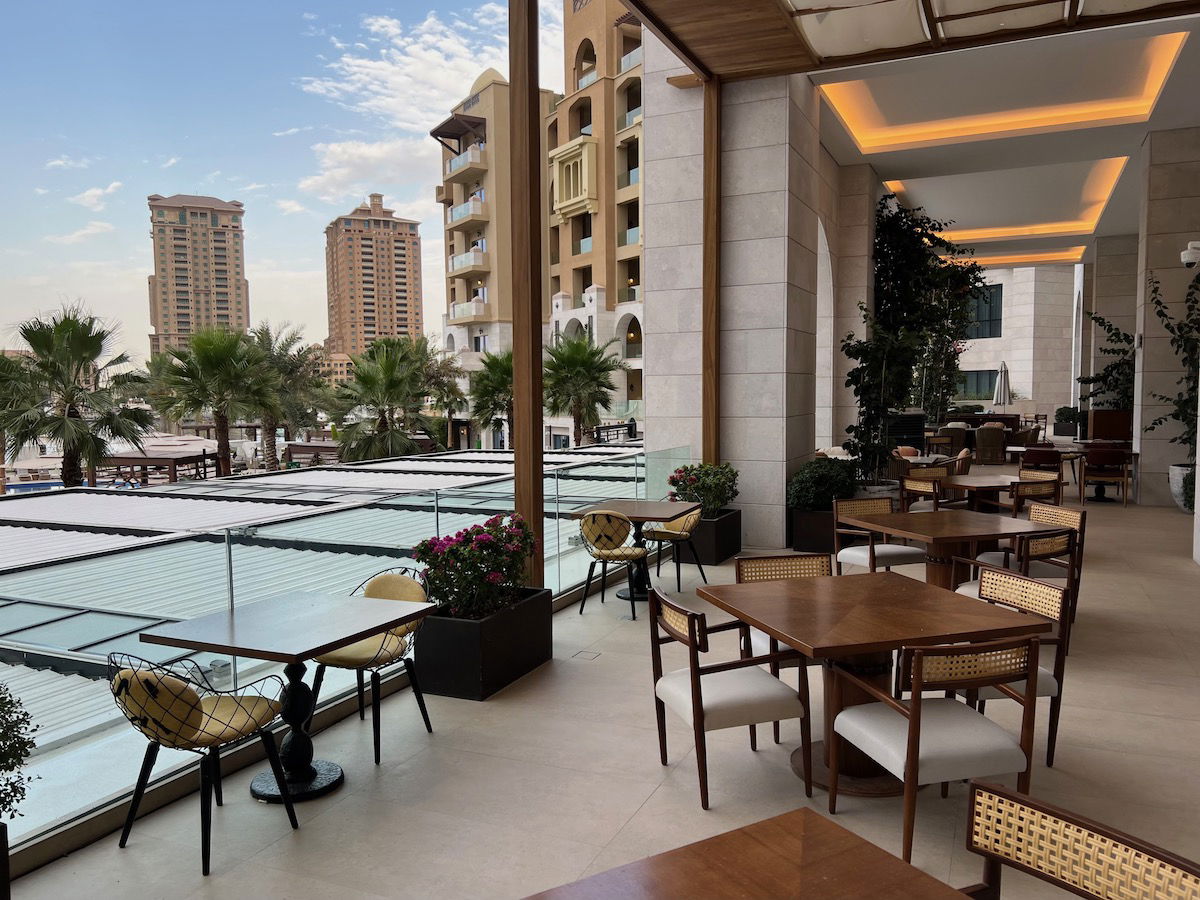 Breakfast was included with our stay on account of my Marriott Bonvoy elite status, as I selected complimentary breakfast as the welcome amenity. There was no buffet breakfast, which makes sense, because the hotel currently seems to have very few guests, and that would be wasteful.
Instead you could either select the Turkish set menu, or you could order whatever you wanted a la carte, and you can find the menu here. I ordered a cappuccino to drink, which was very good.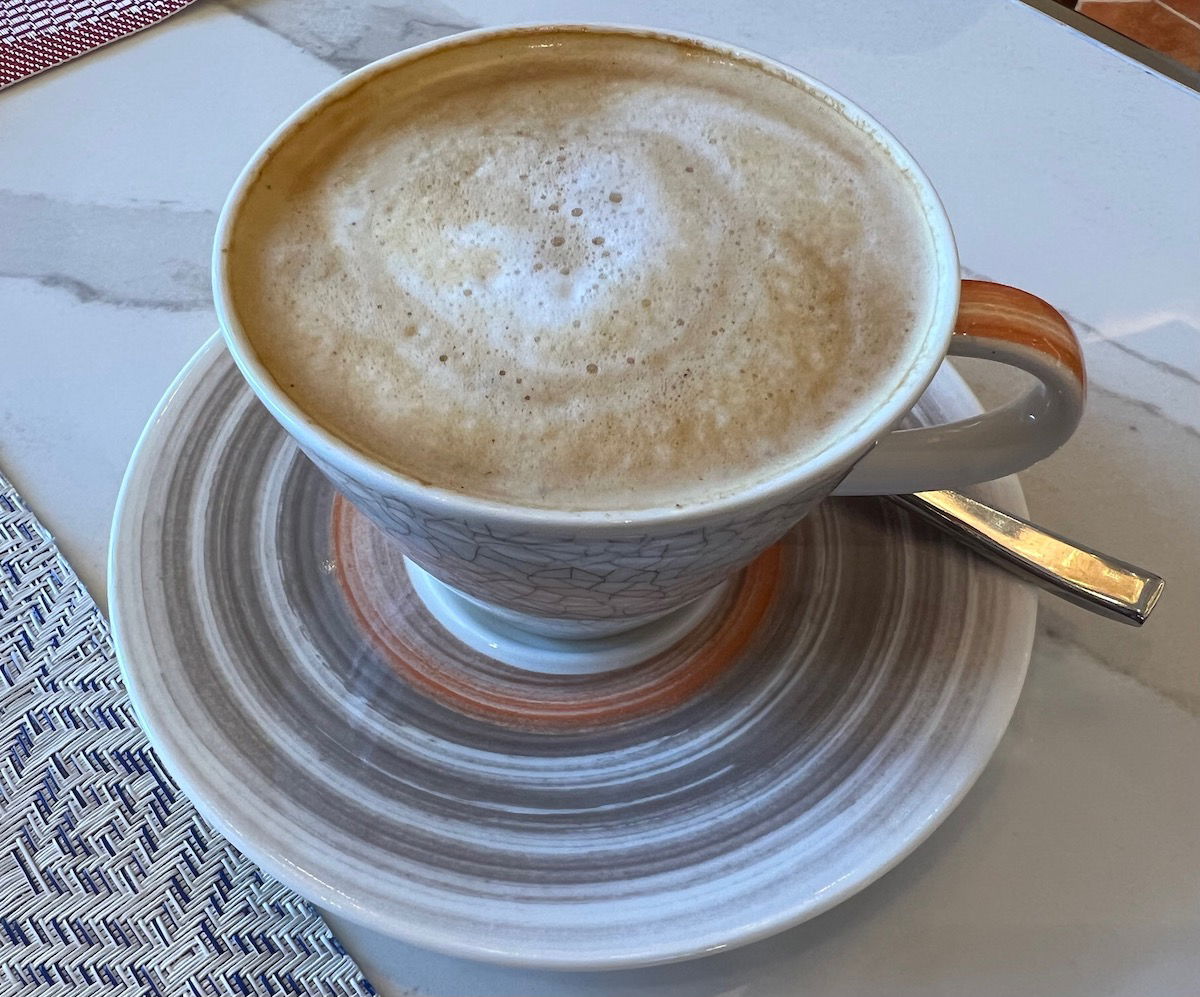 We decided to order the Turkish set menu, which was phenomenal. Yum, this was easily one of my favorite breakfasts I've ever had at a Marriott.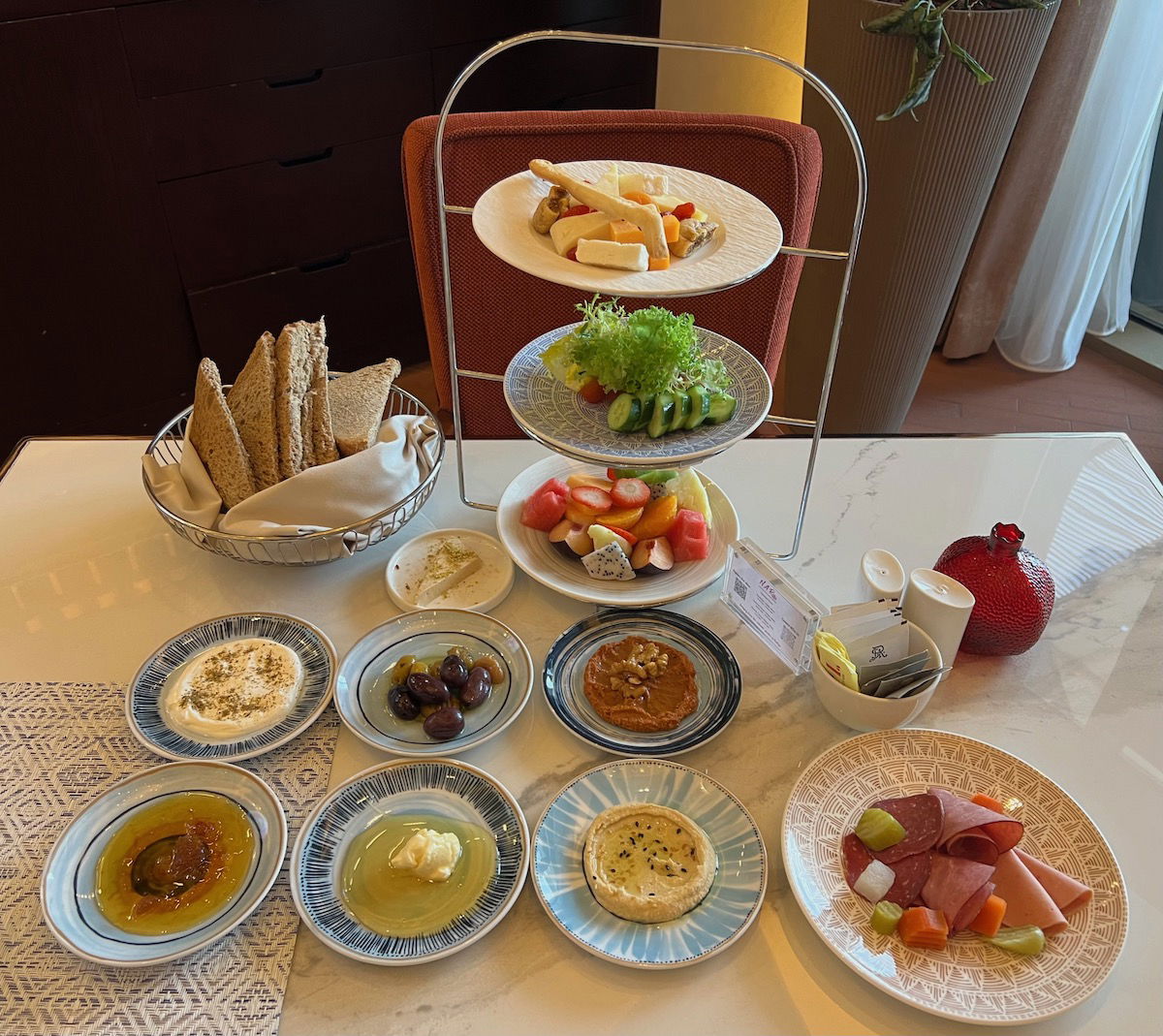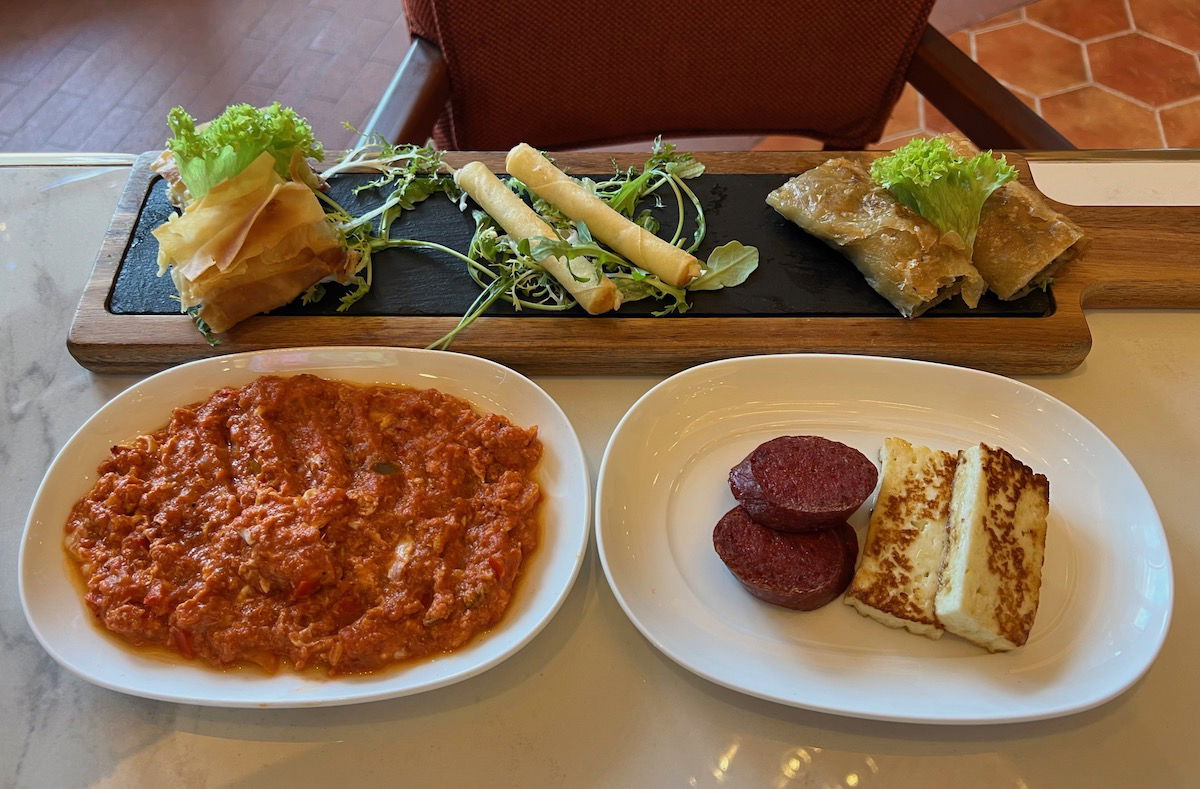 My dad also asked for a couple of eggs separately, which they happily served him.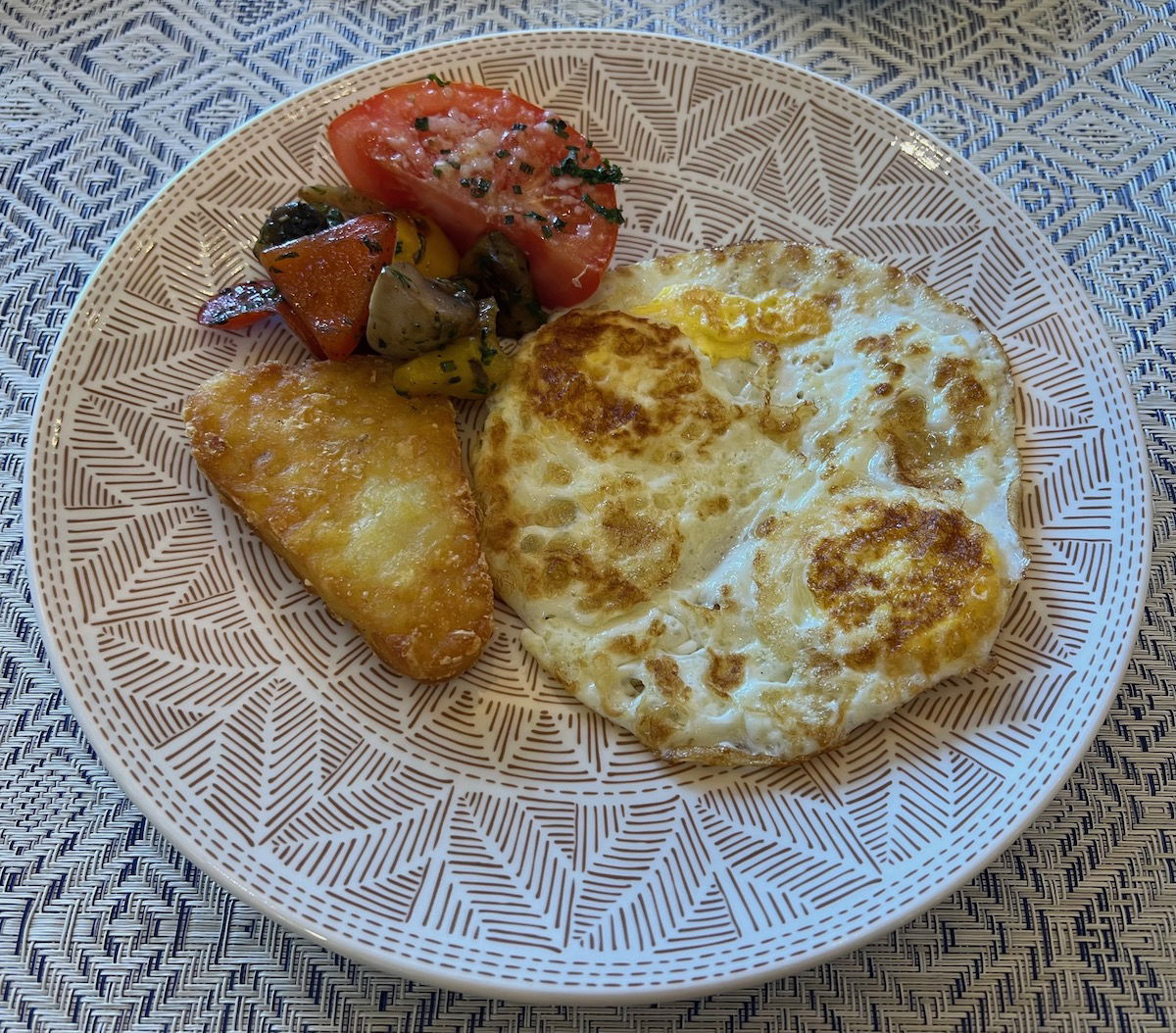 St. Regis Doha Marsa Arabia Island restaurants & bars
As is commonly the case in the Middle East, the St. Regis Marsa Arabia Island has several food & beverage outlets. Since we were only staying one night, we didn't actually have anything other than breakfast to eat at the hotel, as we instead ate on Al Maha Island. However, the hotel has 10 different food & beverage outlets.
This included several restaurants, like NAR (a Turkish restaurant), Manos (a Greek restaurant), Al Mandaloun (a Lebanese restaurant), Babel (a Mediterranean restaurant), Ahwet Zeituna Cafe (a Lebanese cafe), Chotto Matte (a Japanese restaurant), and Roberto's (an Italian restaurant). I have to say, the restaurants looked very good for the most part, though I don't have any firsthand experience.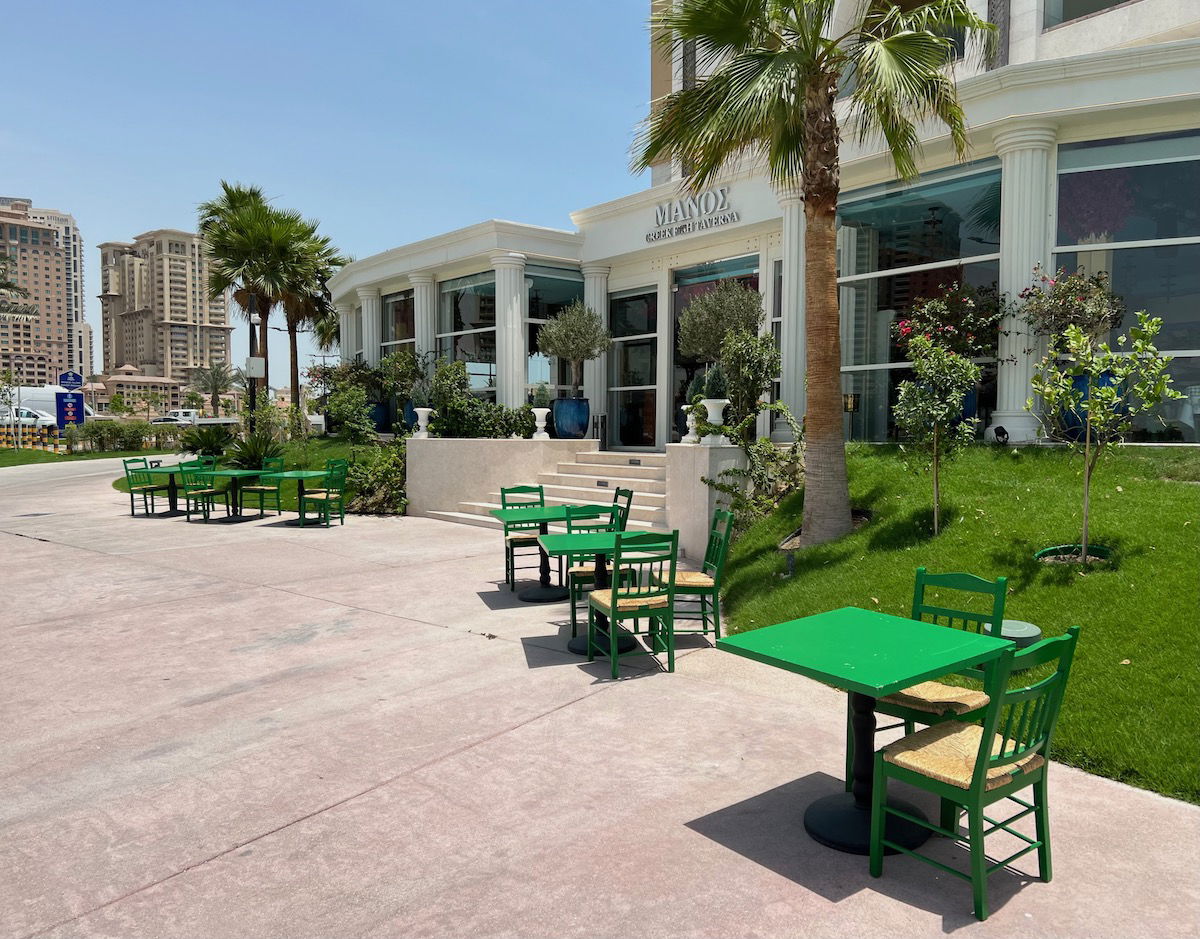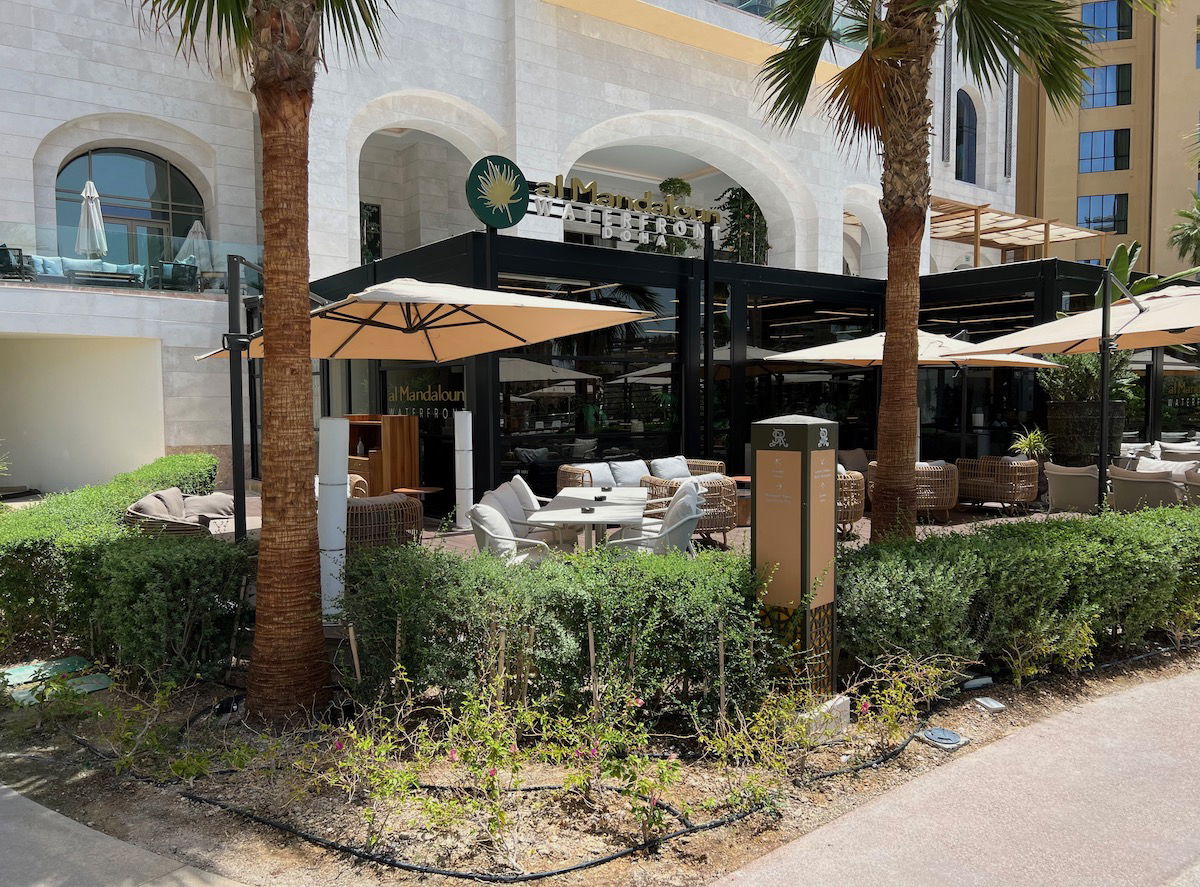 In addition to all those restaurants, the St. Regis has the Lobby Lounge, which is the massive all-day lounge at the hotel, just off the lobby (as you may have guessed based on the name).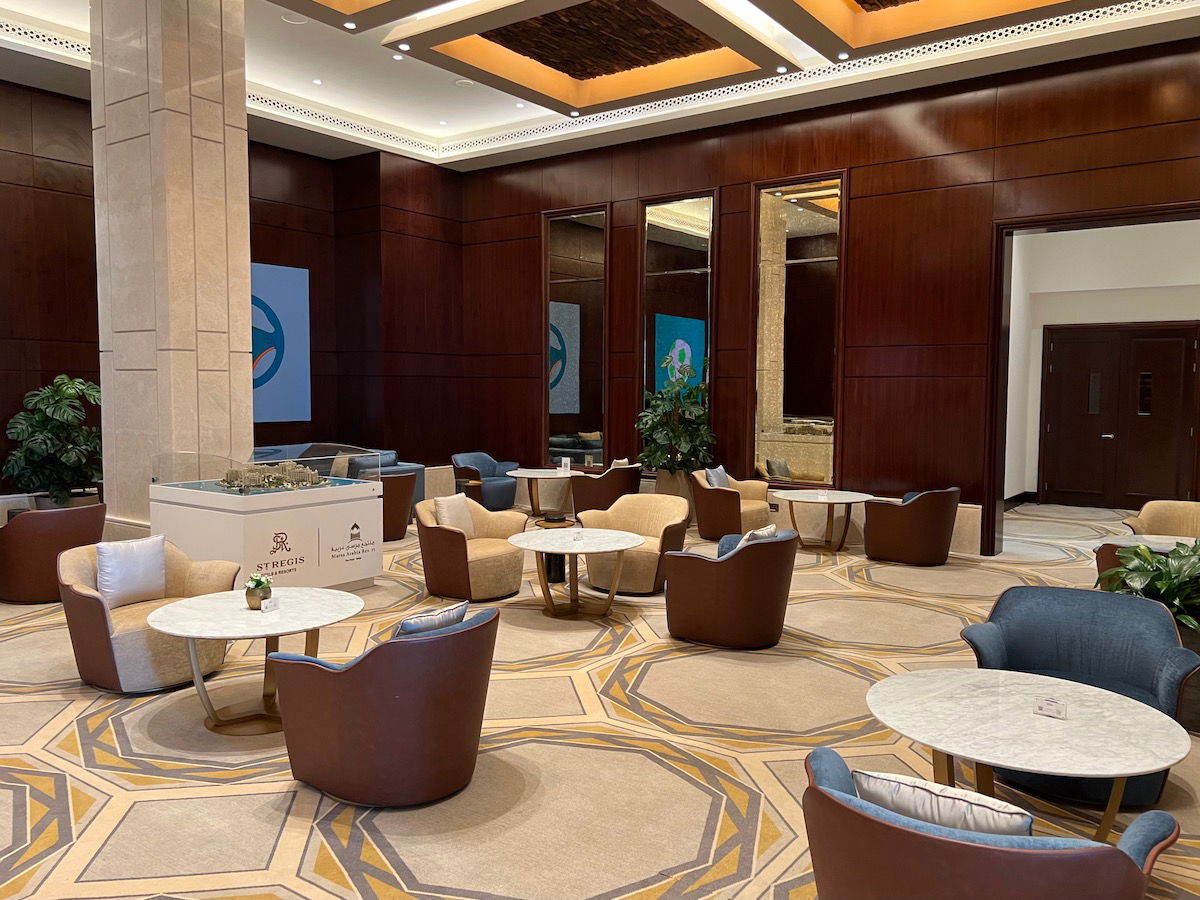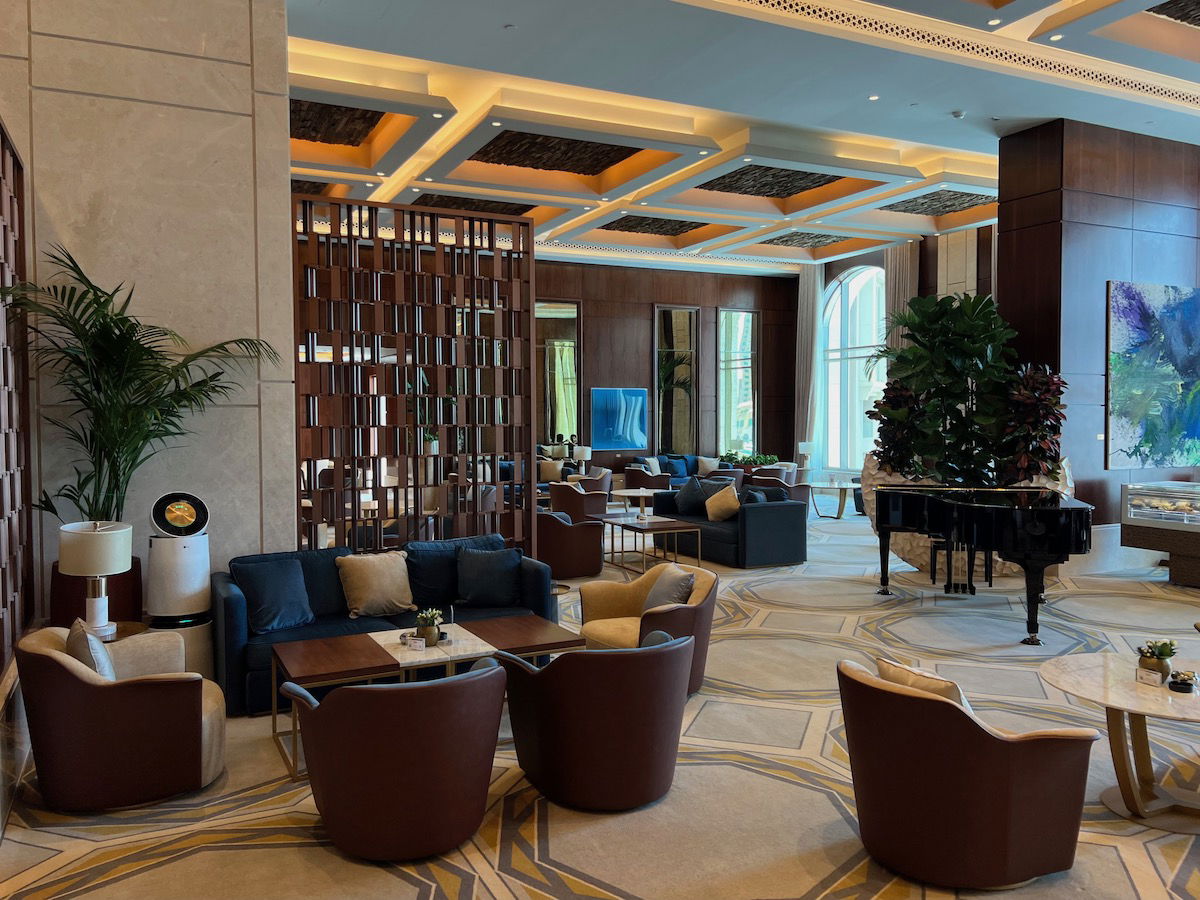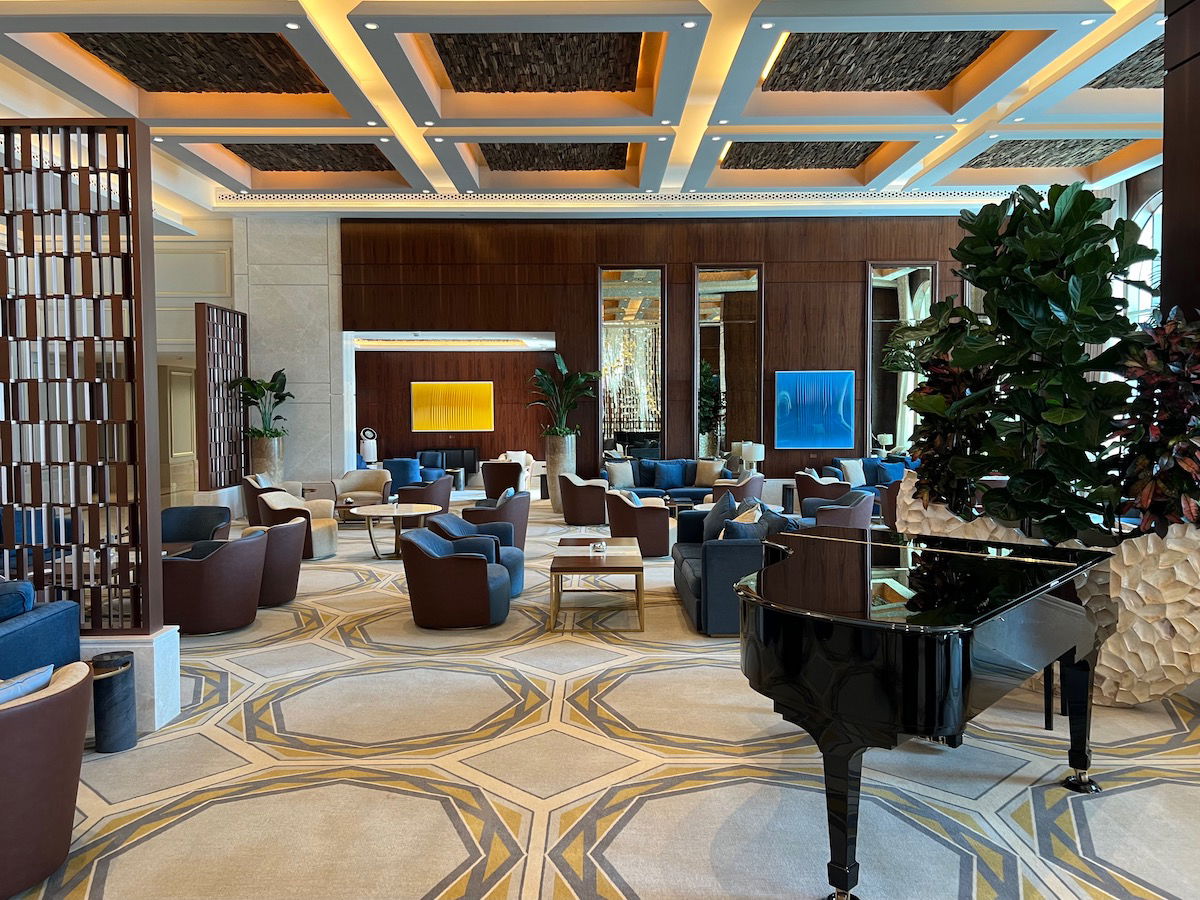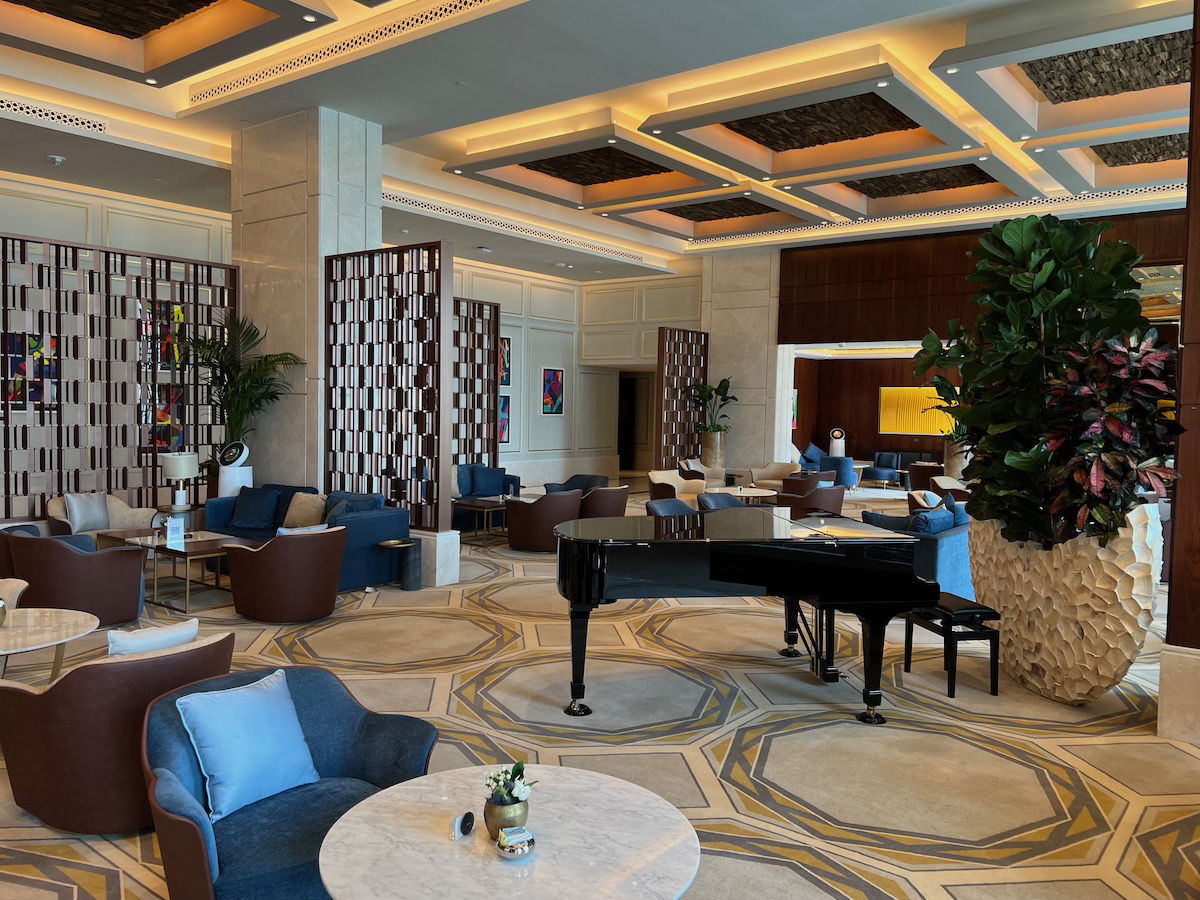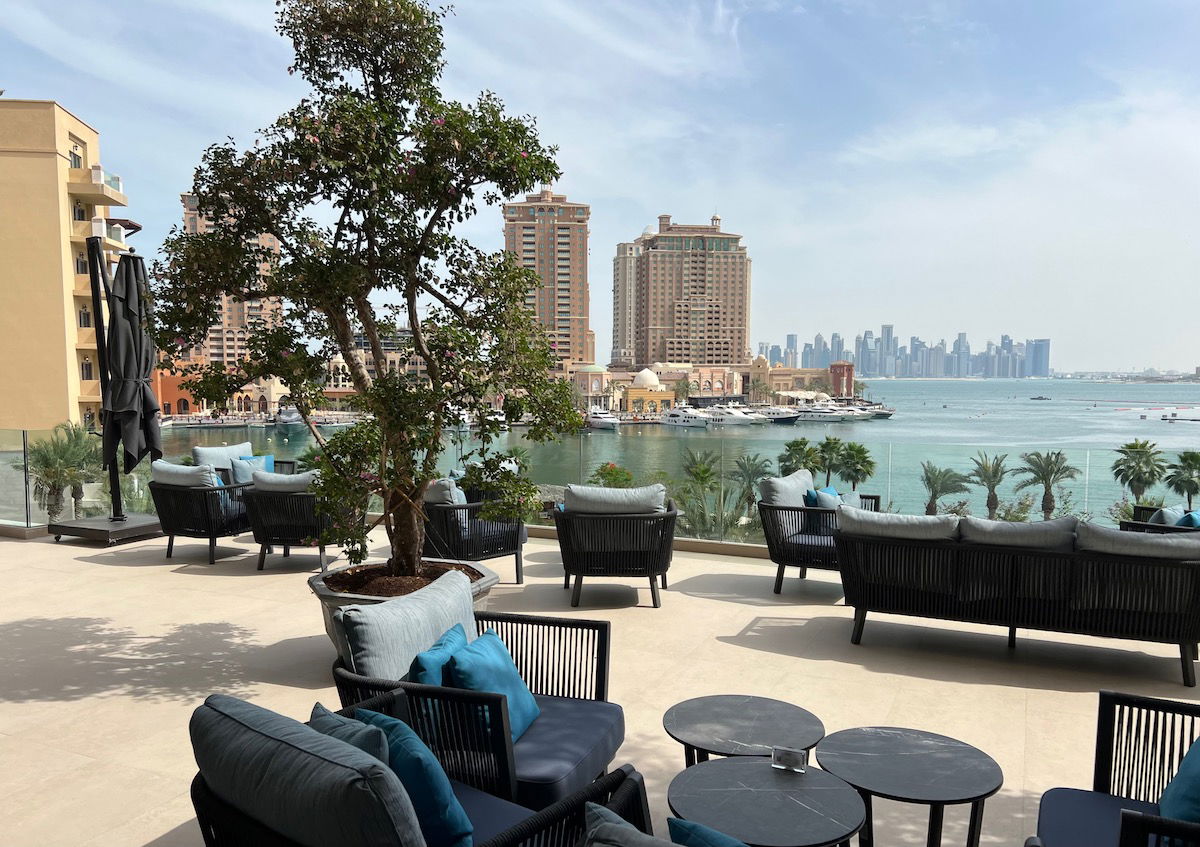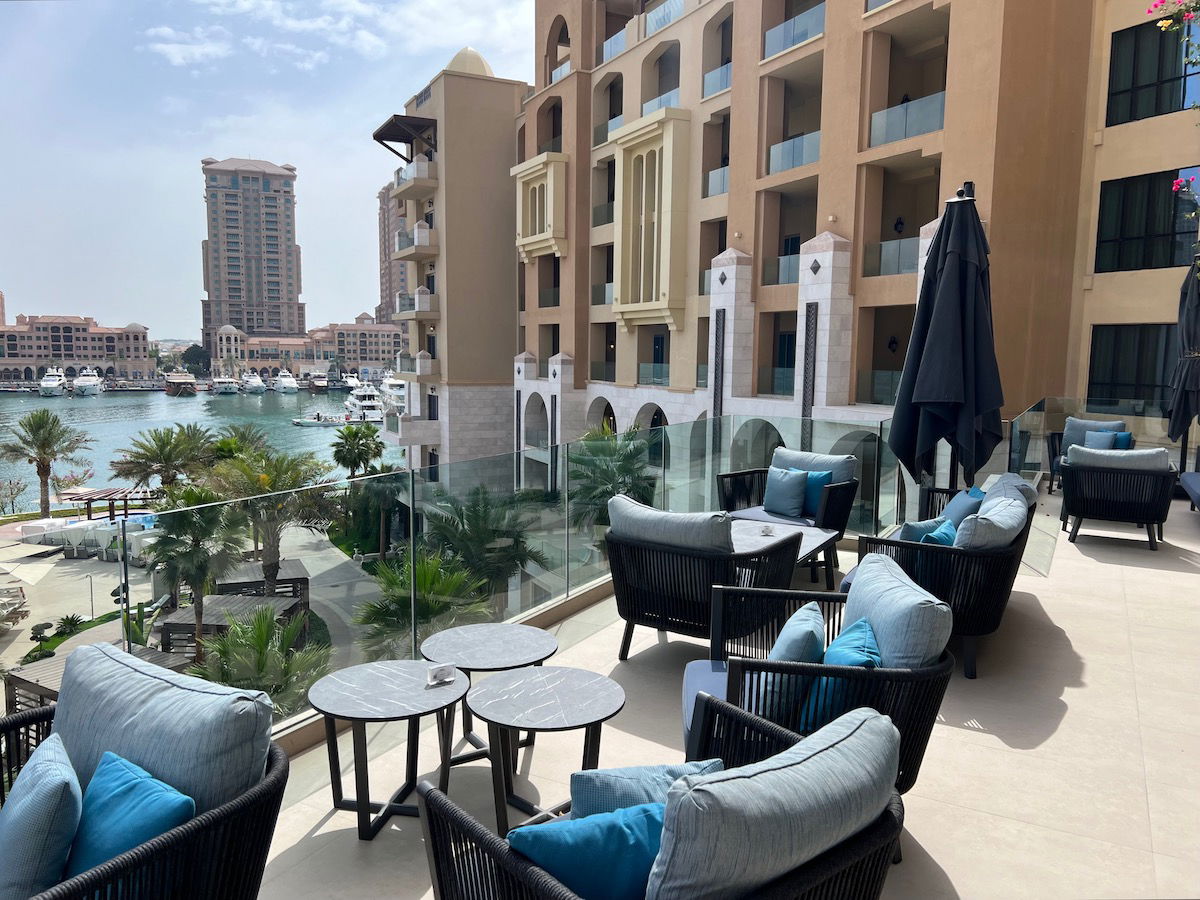 My dad and I came here for a coffee in the afternoon.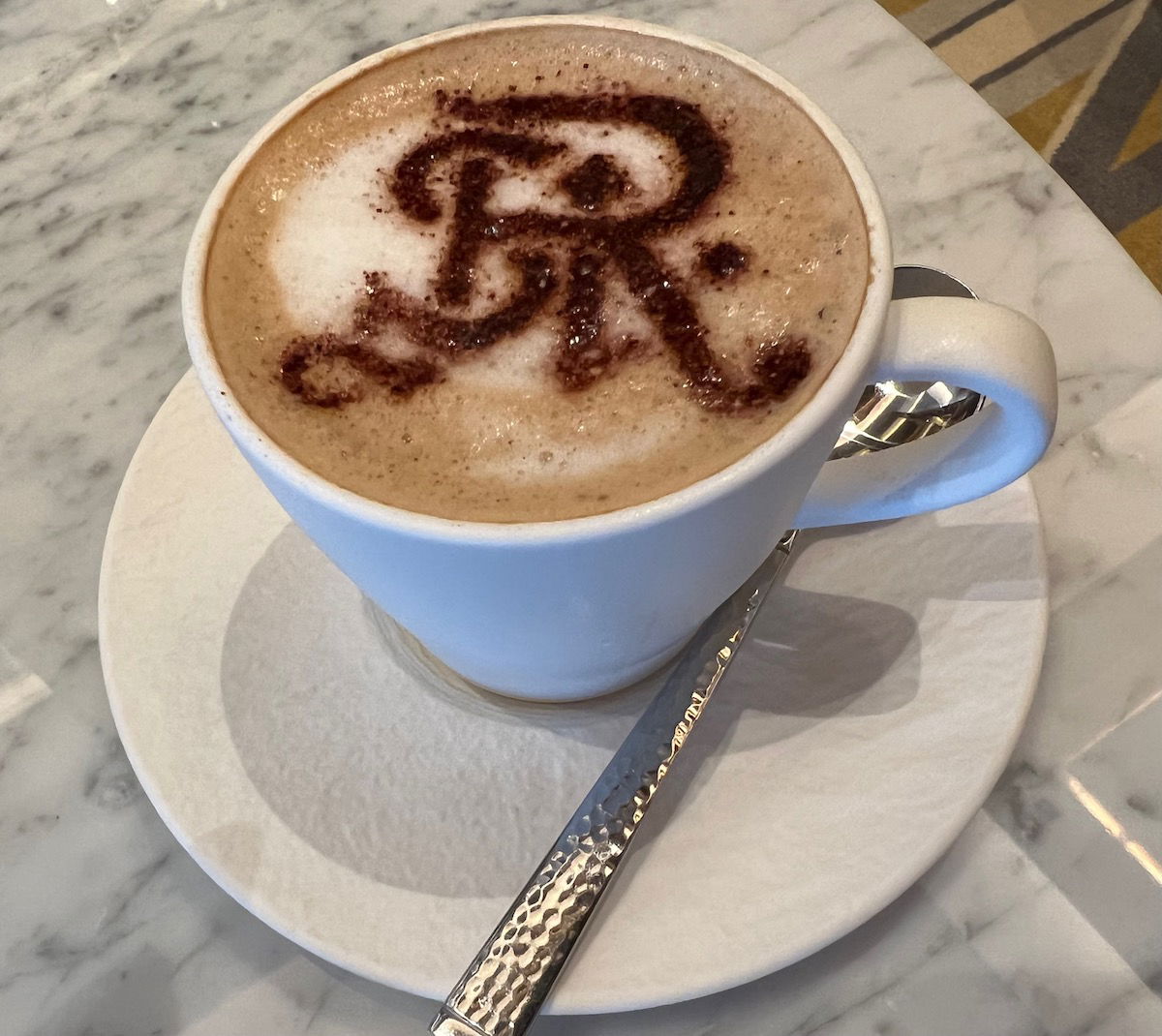 Continuing with Qatar's strange alcohol laws, no alcohol is served in the Lobby Lounge, but instead you have to go to the adjacent Sailors Lounge. The Sailors Lounge was probably my dad's favorite part of the hotel, as it's also a cigar bar. So he enjoyed coming down here to enjoy "the ambiance" and smoke his cigars.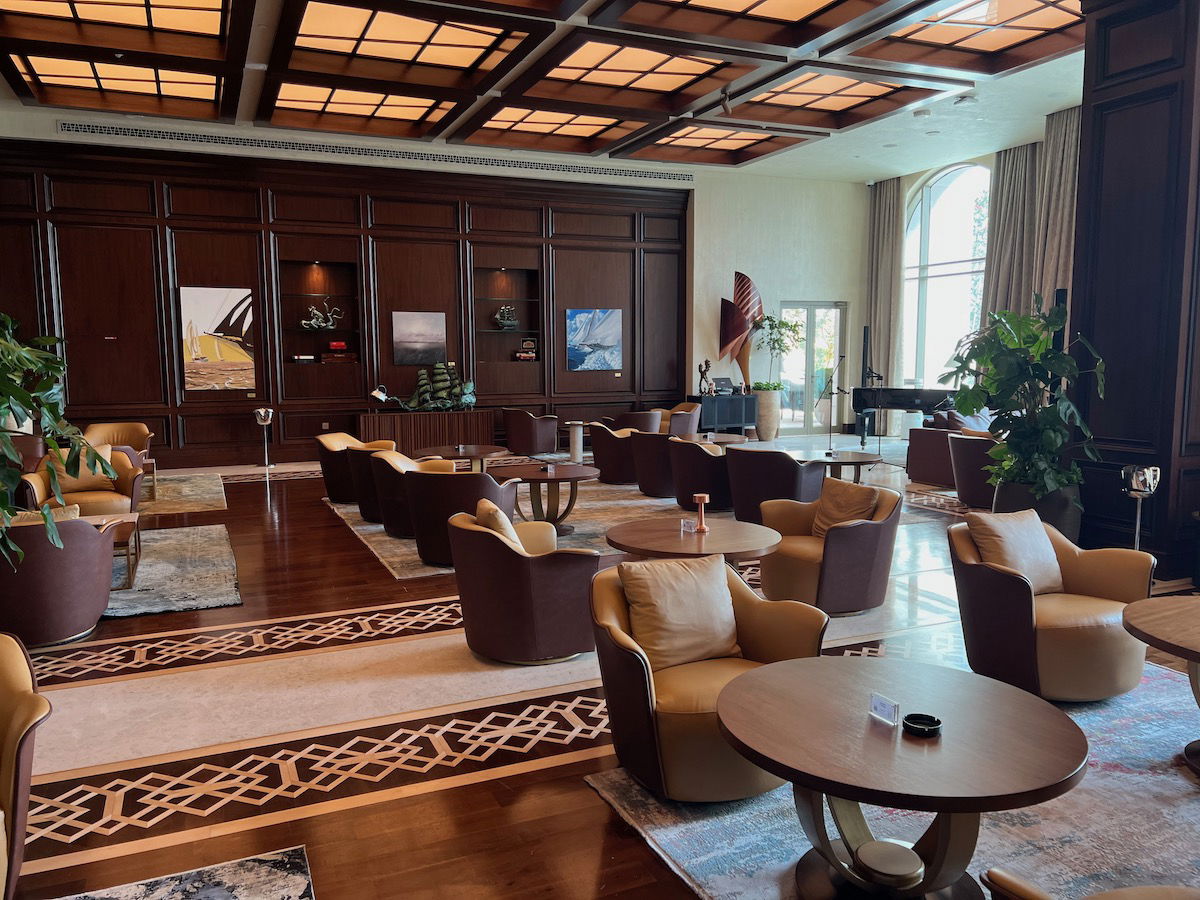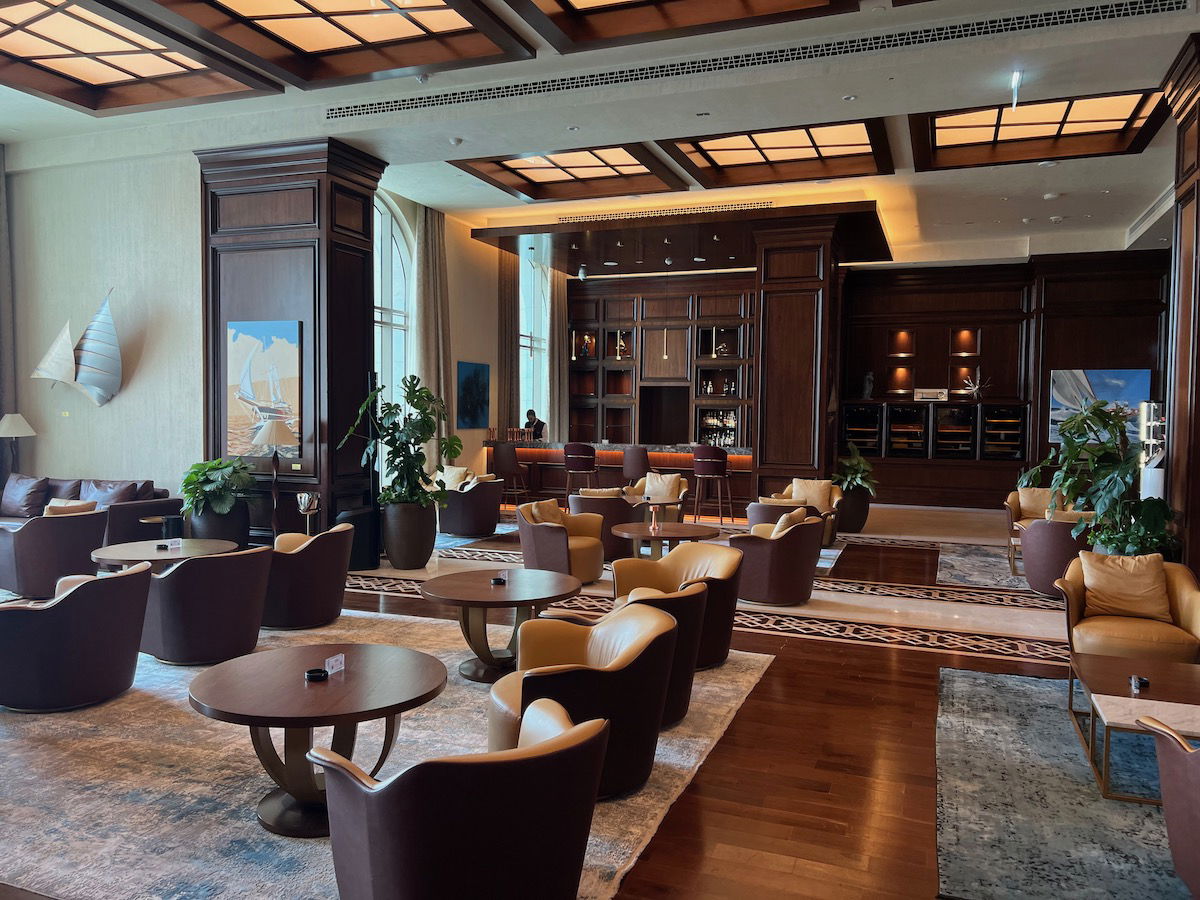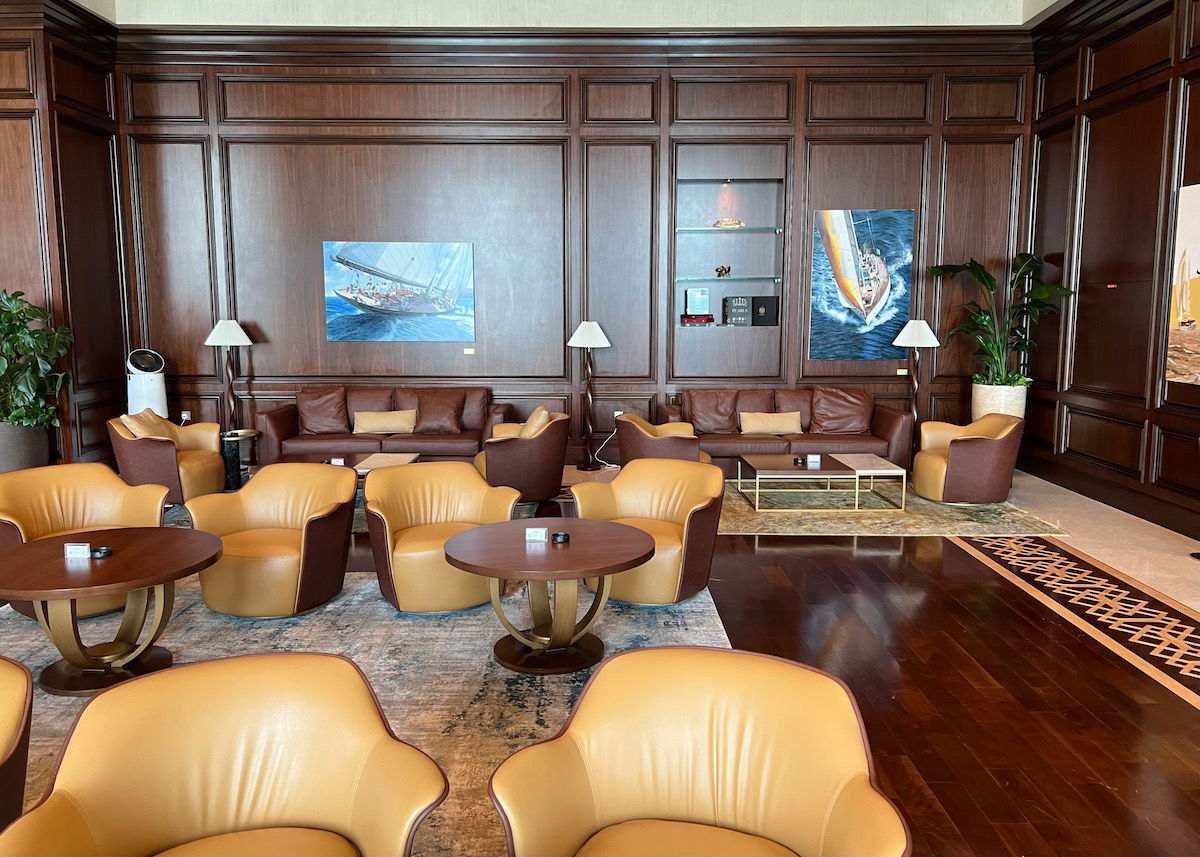 I joined him for a drink prior to our dinner, and the bartender made a surprisingly decent dirty martini.
St Regis Doha Marsa Arabia Island service
Probably what impressed me most about the St. Regis Marsa Arabia Island is how good service was. Admittedly the hotel was (really) empty during our stay, but all the staff just came across as friendly, proactive, and competent.
This was true across the board, from reception, to the butlers, to the pool staff, to those woking in restaurants. Just to give a few examples:
The hotel can be complicated to navigate, so when you asked for directions to something, one of the staff members would typically just walk you there
My dad wanted to have a cigar in the morning, when the Sailors Lounge wasn't yet open, but they gladly opened it for him so he could have a cigar
The butler who escorted us to our room even remembered our names for later in the stay, and would constantly check on how we were doing
Service here was truly top notch, and the employees are a great asset to the hotel.
Bottom line
The St. Regis Marsa Arabia Island is our favorite of the three hotels we stayed at in Doha. The hotel is an incredible value on points, and I appreciate that this is an all-suite property. The hotel has nicely appointed and spacious suites, friendly service, excellent breakfast, a huge gym, and lots of food and beverage outlets.
The only thing I'm a bit iffy on about this property is the location, as I don't love The Pearl area. For what it's worth, the next place I'd like to stay in Doha is the Waldorf Astoria Lusail. The Lusail area has been very nicely developed since the World Cup, and that's close to a lot of Doha's newer attractions, like Al Maha Island.
What's your take on the St. Regis Marsa Arabia Island?