For the next portion of my round the world trip with dad, we flew Virgin Australia business class from Perth to Sydney. In this post I wanted to review the Virgin Australia Lounge at Perth Airport (PER). I don't fly all that much within Australia, so it's interesting to compare the lounge situation over there to what I'm used to in the United States, and in other parts of the world.
While the Virgin Australia Perth doesn't have particularly elegant decor, it has nice views, great coffee, and a pretty good food and drink selection for a domestic lounge. Let's get into the review.
Virgin Australia Lounge Perth location & hours
The Virgin Australia Lounge Perth is located in Terminal 1, which is used for Virgin Australia's domestic flights. We were at the airport early afternoon, and the check-in area was pretty quiet.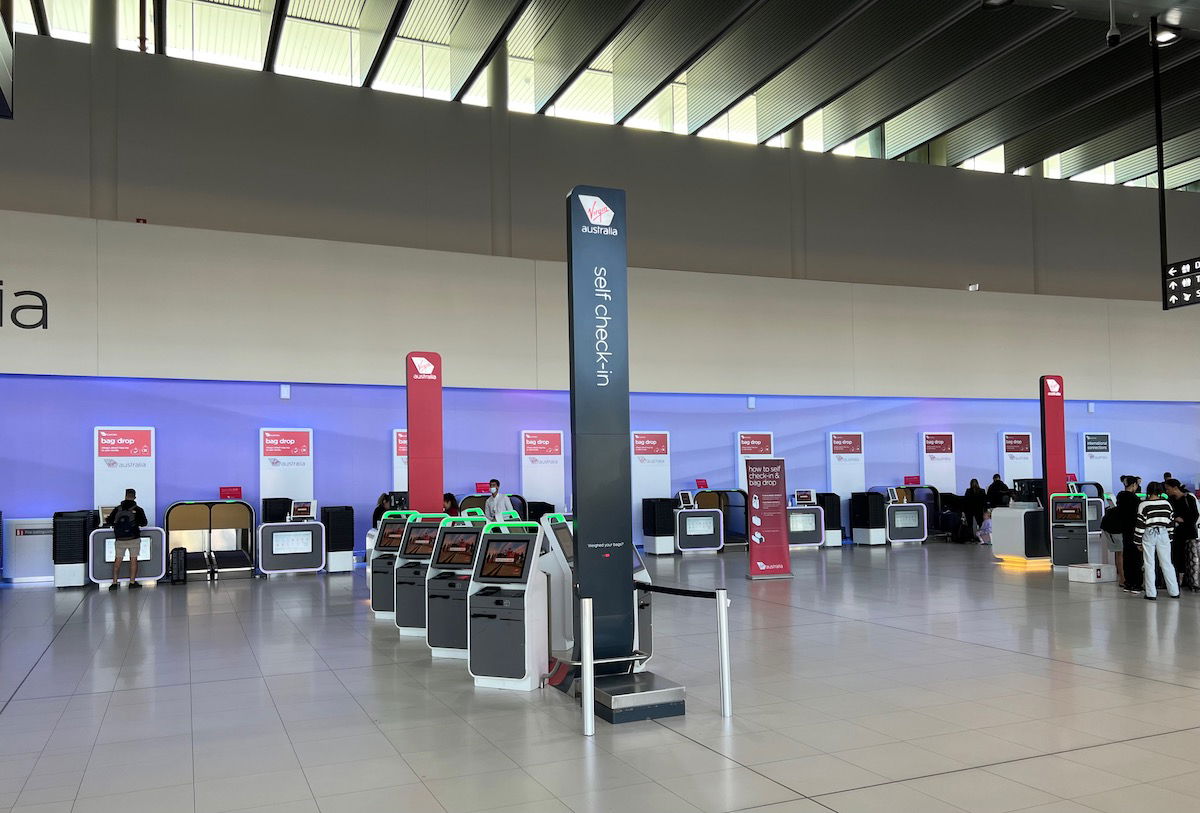 Virgin Australia has a dedicated priority security lane, which we were through in no-time.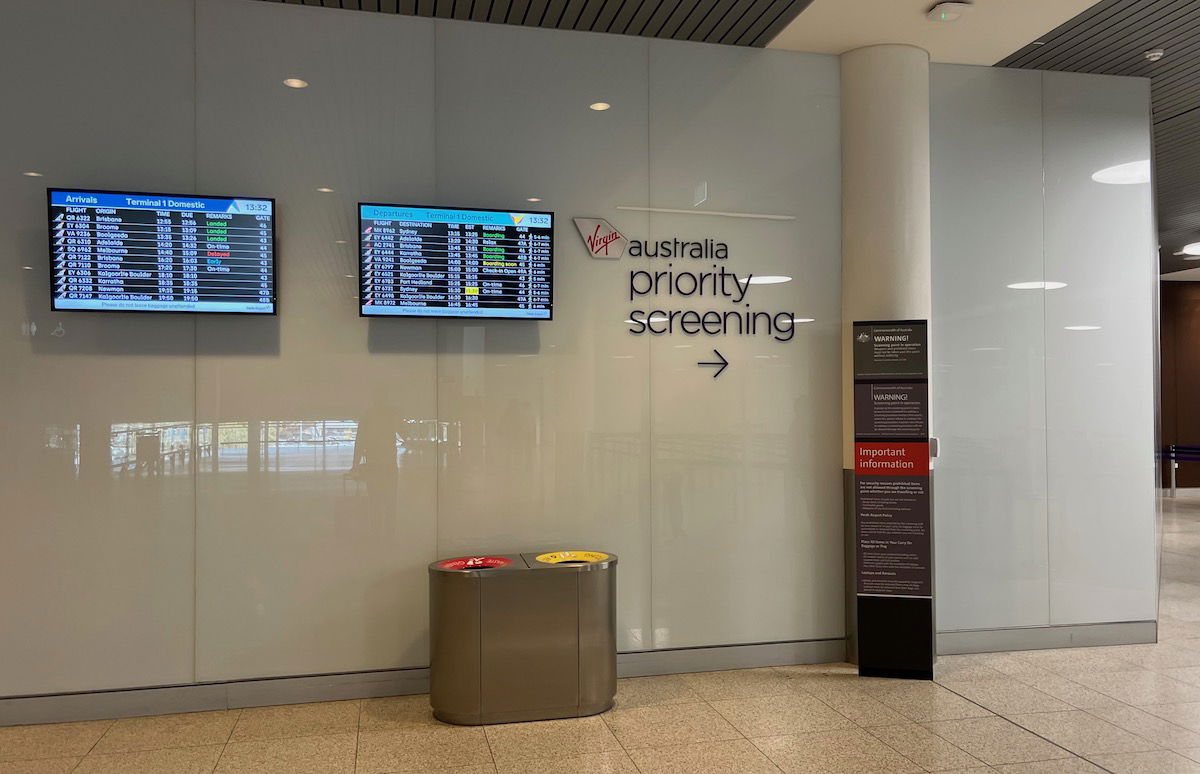 Once through security, there was signage to turn left for the Virgin Australia Lounge, and turn right for domestic departures.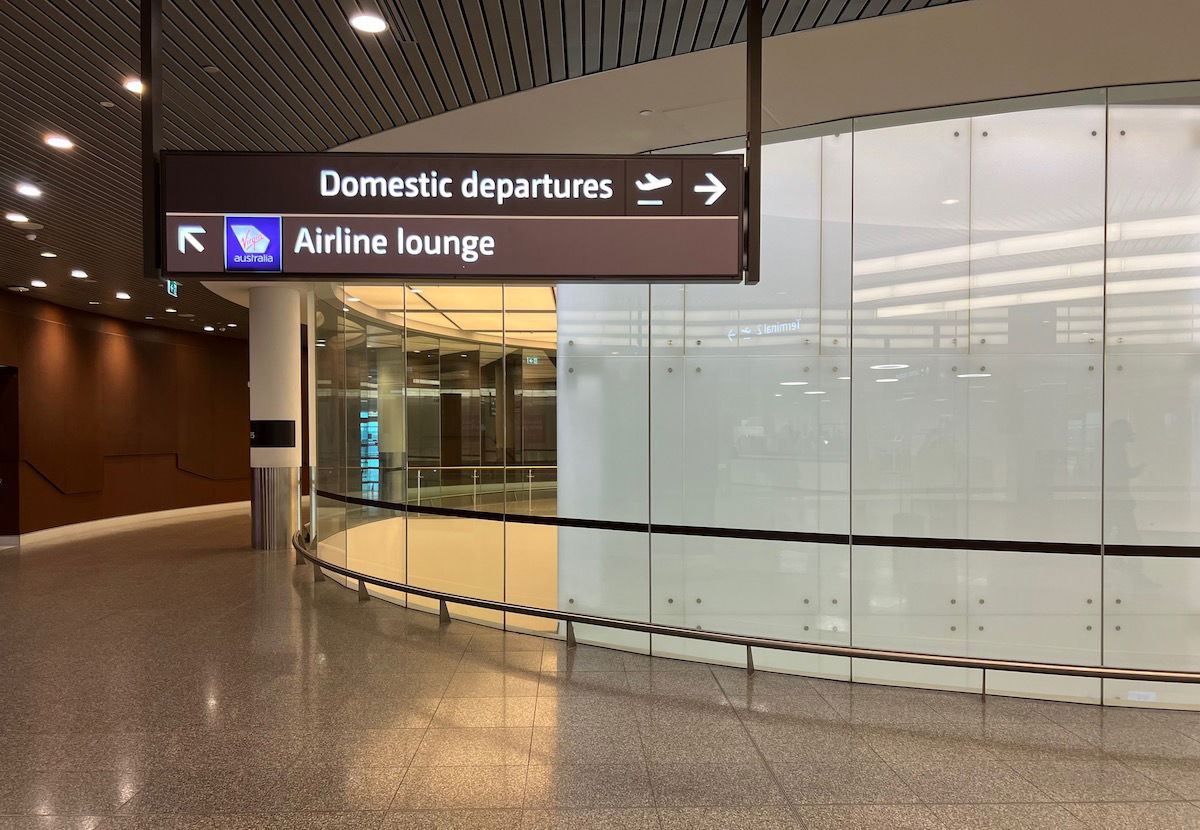 The entrance to the lounge was then just a short walk away.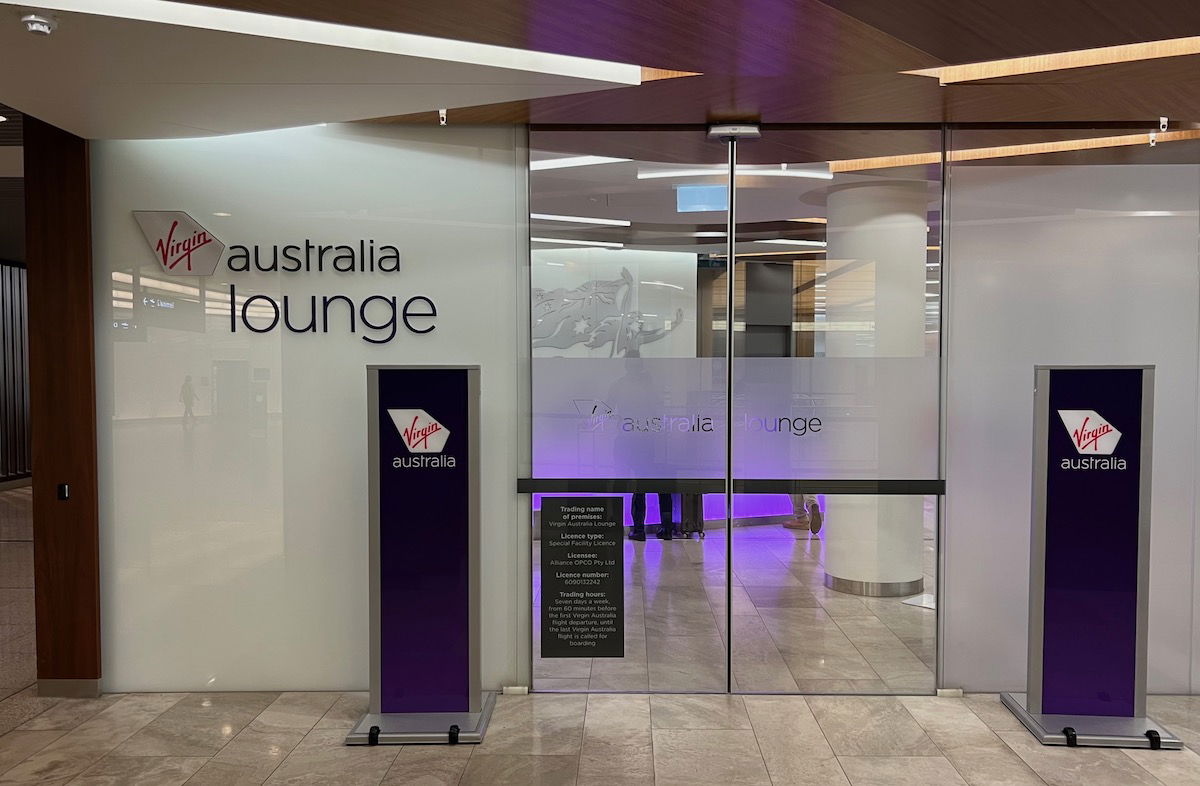 The lounge doesn't have consistent hours, but rather is open from 60 minutes before the first departure until the last departure. So if you're flying Virgin Australia, you can expect that the lounge will be open.
Virgin Australia Lounge Perth entry requirements
There are a lot of different ways to access Virgin Australia Lounges, and they're all outlined here. Among other ways, here are some of the popular ways you can access the Virgin Australia Lounge Perth:
Be a business class passenger
Be a Virgin Australia Velocity Platinum or Gold member
Be a Virgin Australia Lounge member
Be an Amex Centurion or Amex Platinum card member in Australia (having a US card wouldn't qualify you for access)
Buy a day pass for 65 AUD
As you'd expect, the number of methods for entry mean that a lot of people have access to the lounge, especially with Velocity elite status being so easy to earn in Australia.
Virgin Australia Lounge Perth seating & layout
The Virgin Australia Lounge Perth is primarily just one big room, with floor-to-ceiling windows along one wall. The lounge was busy, but not uncomfortably so, throughout our visit. It was a little busier at first, but emptied out shortly before we left, so I was able to get some pictures without too many people in them.
The lounge has a variety of seating options, ranging from high-top seating, to bar seating, to communal workstations, to clusters of chairs for relaxing. I'll let the pictures speak mostly for themselves.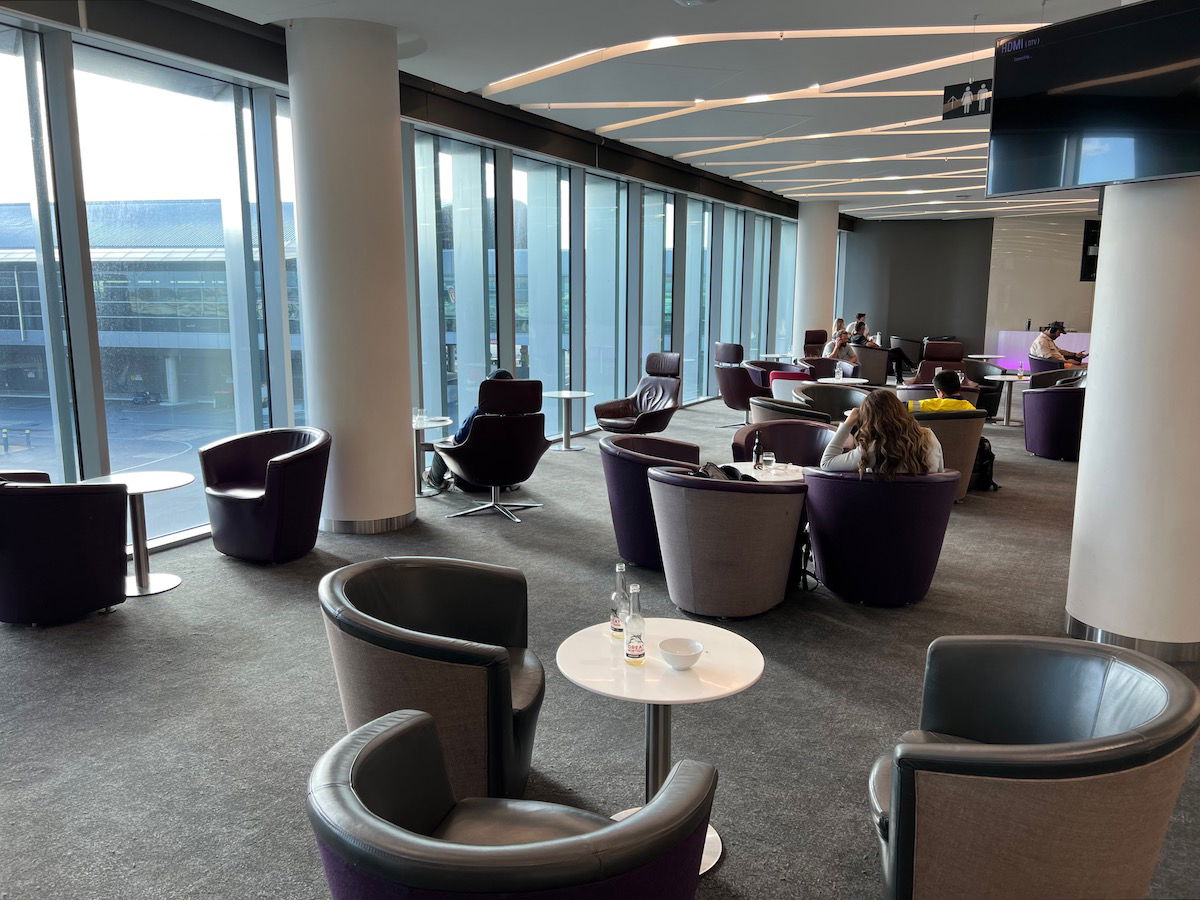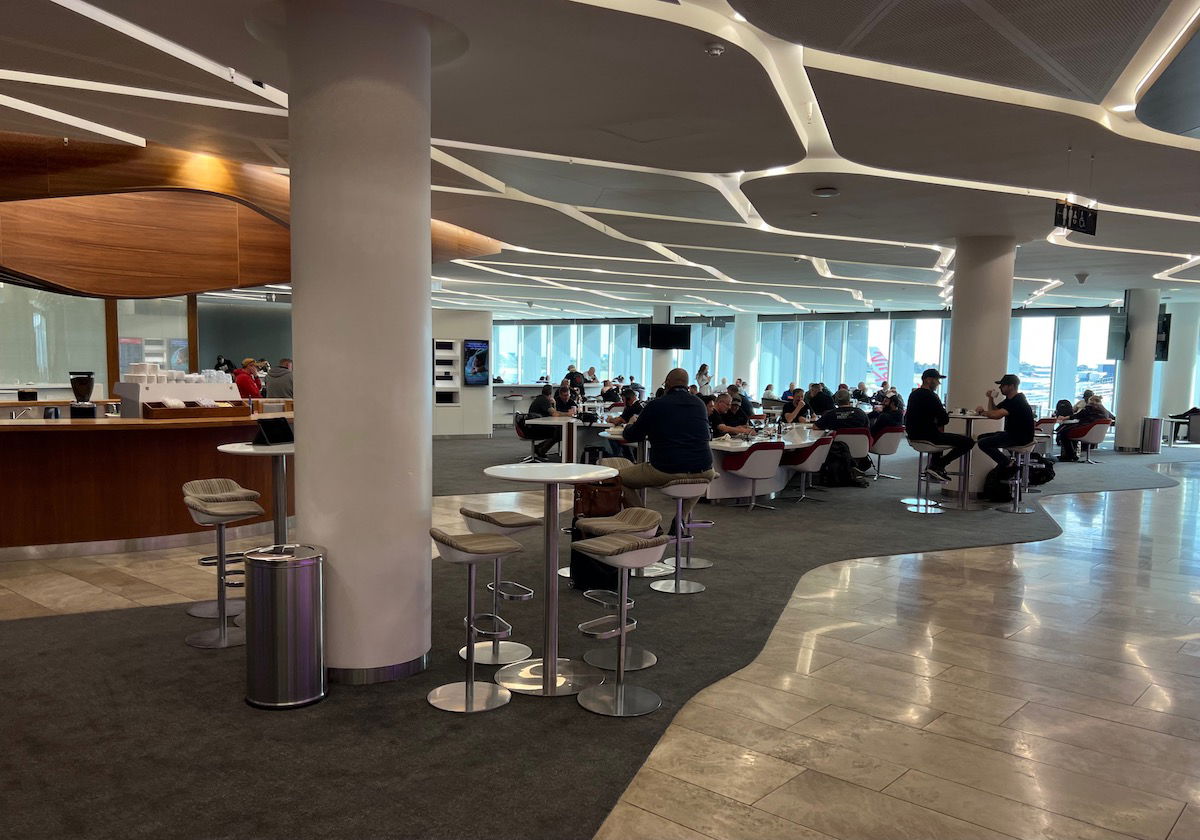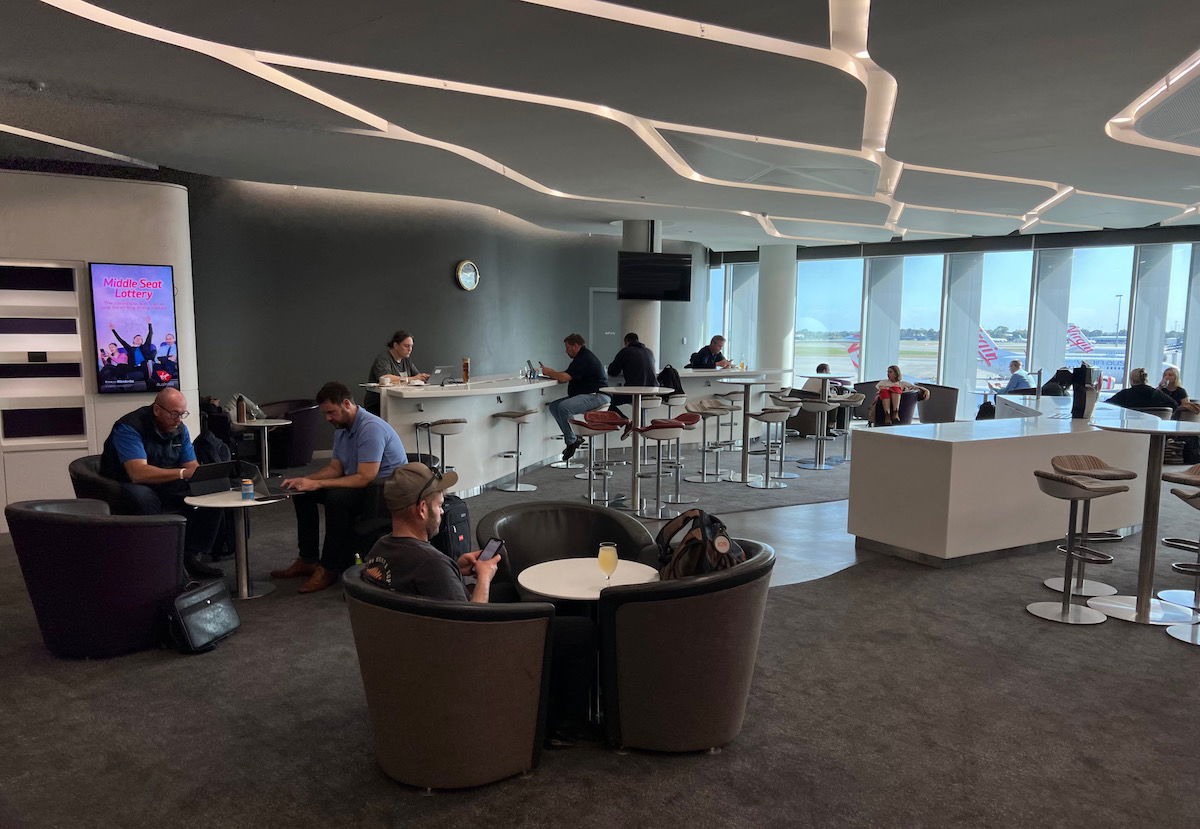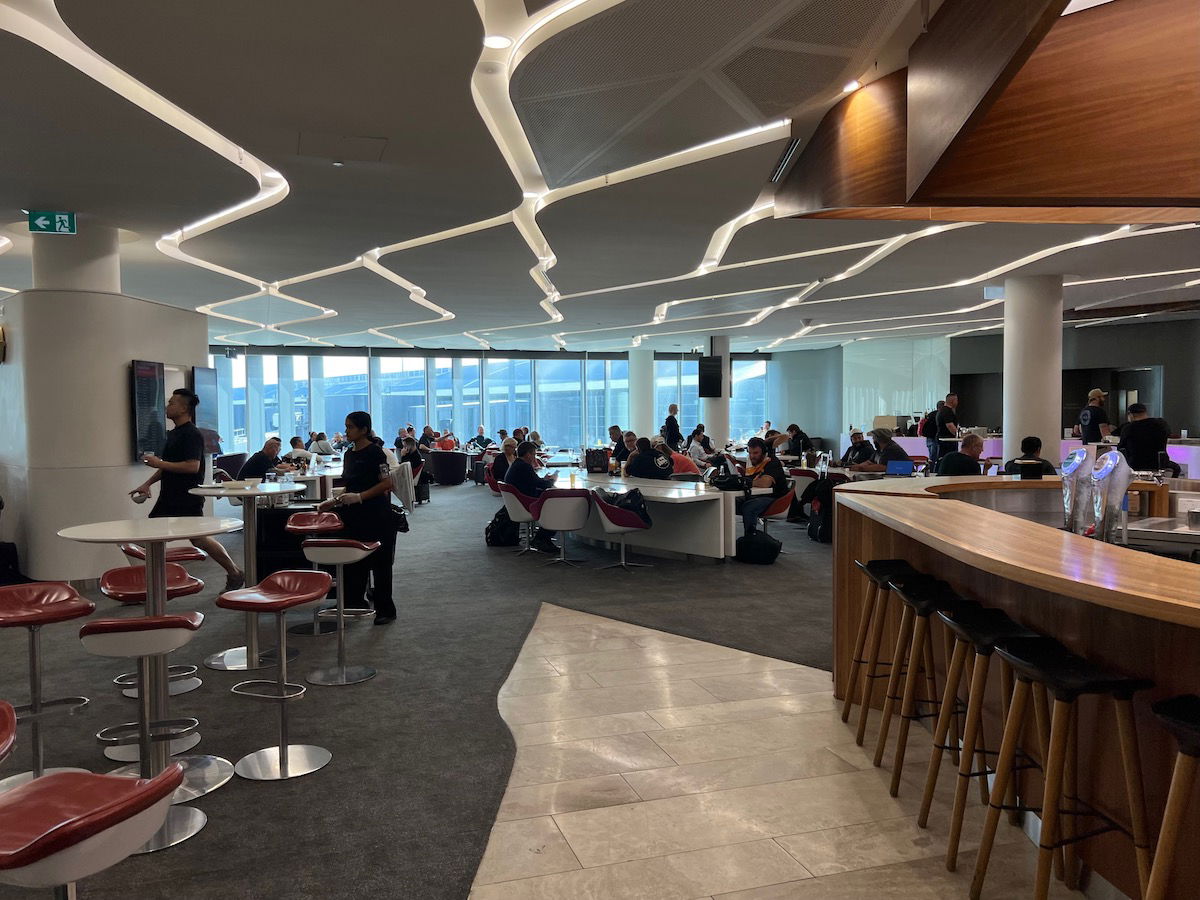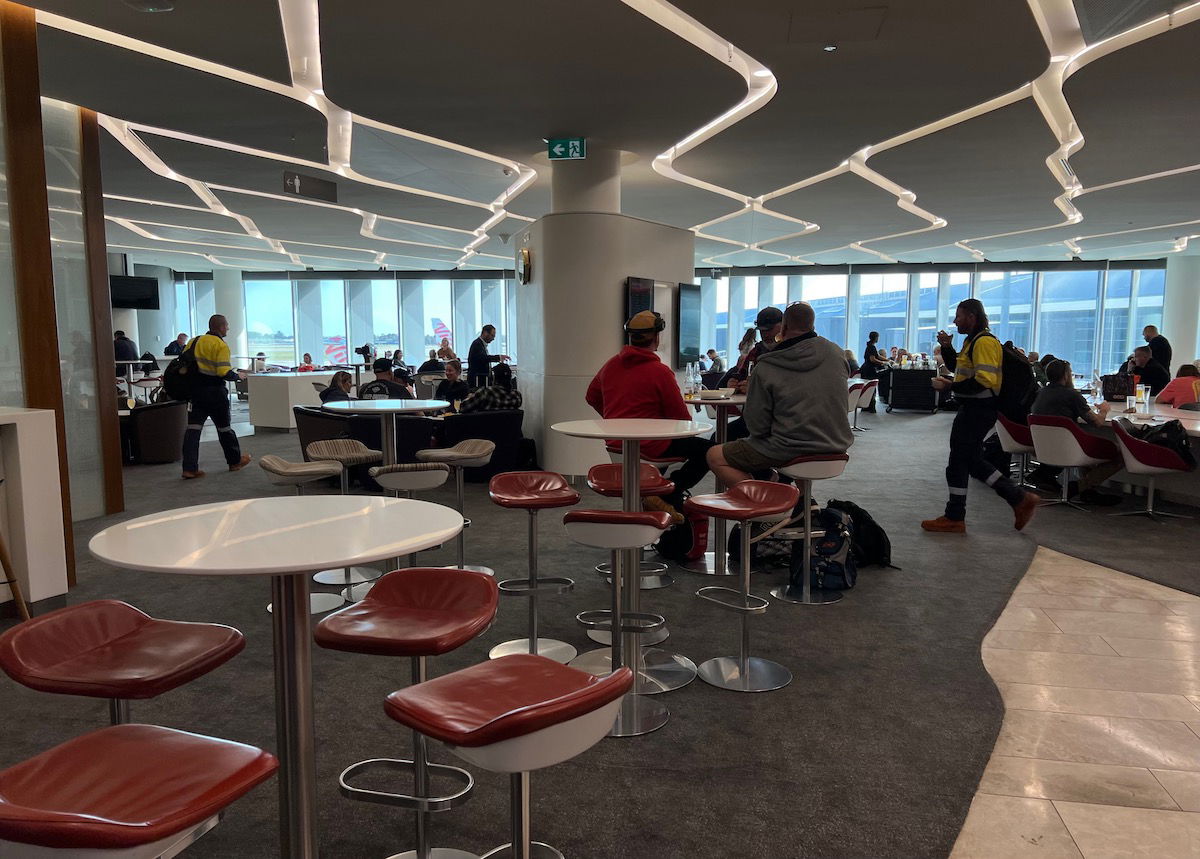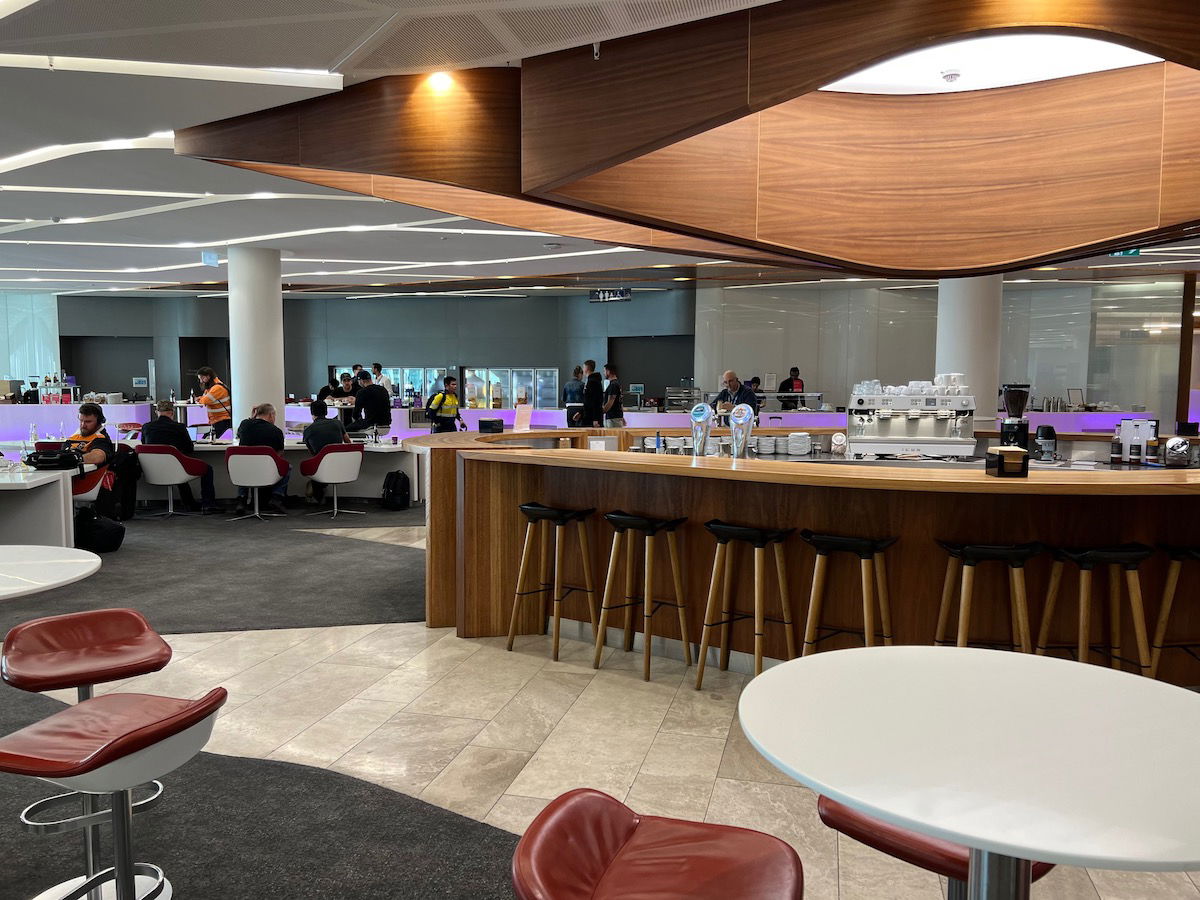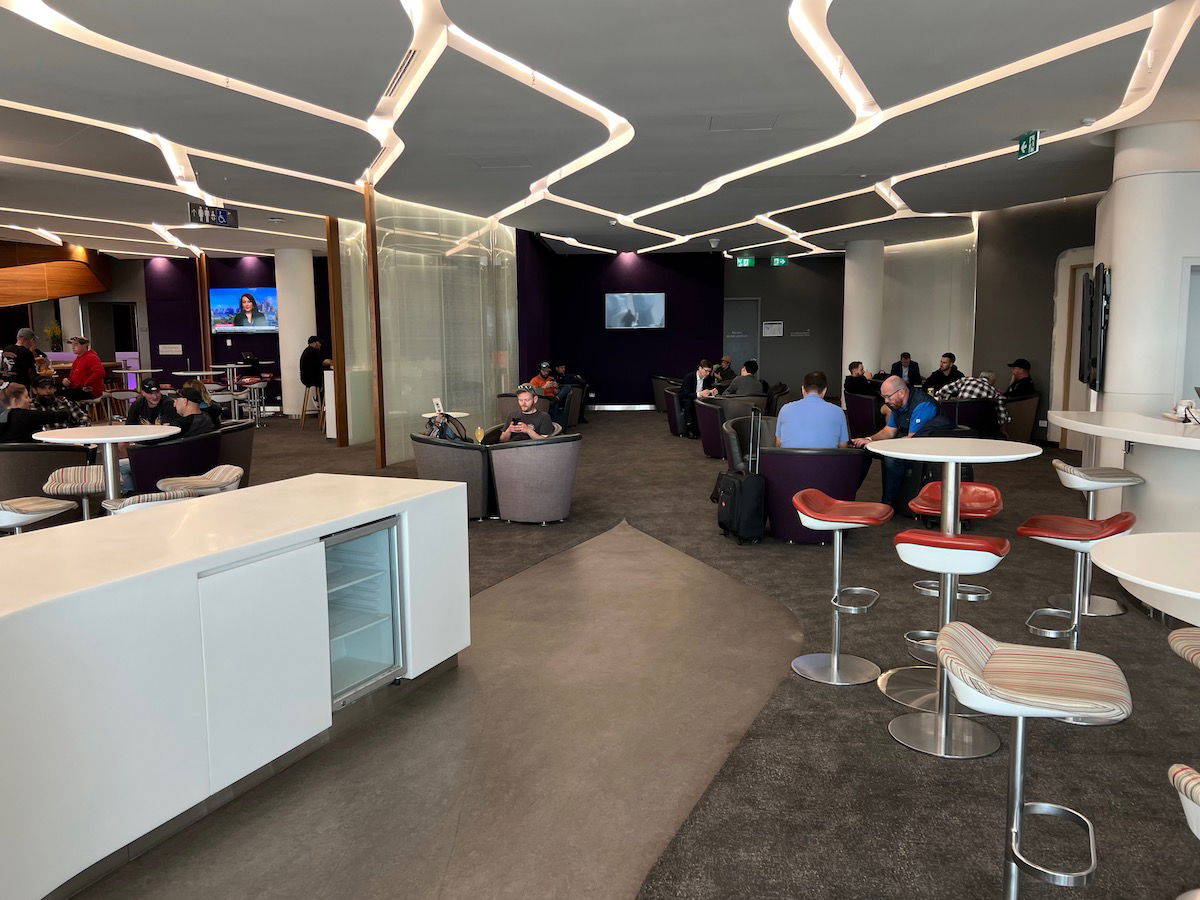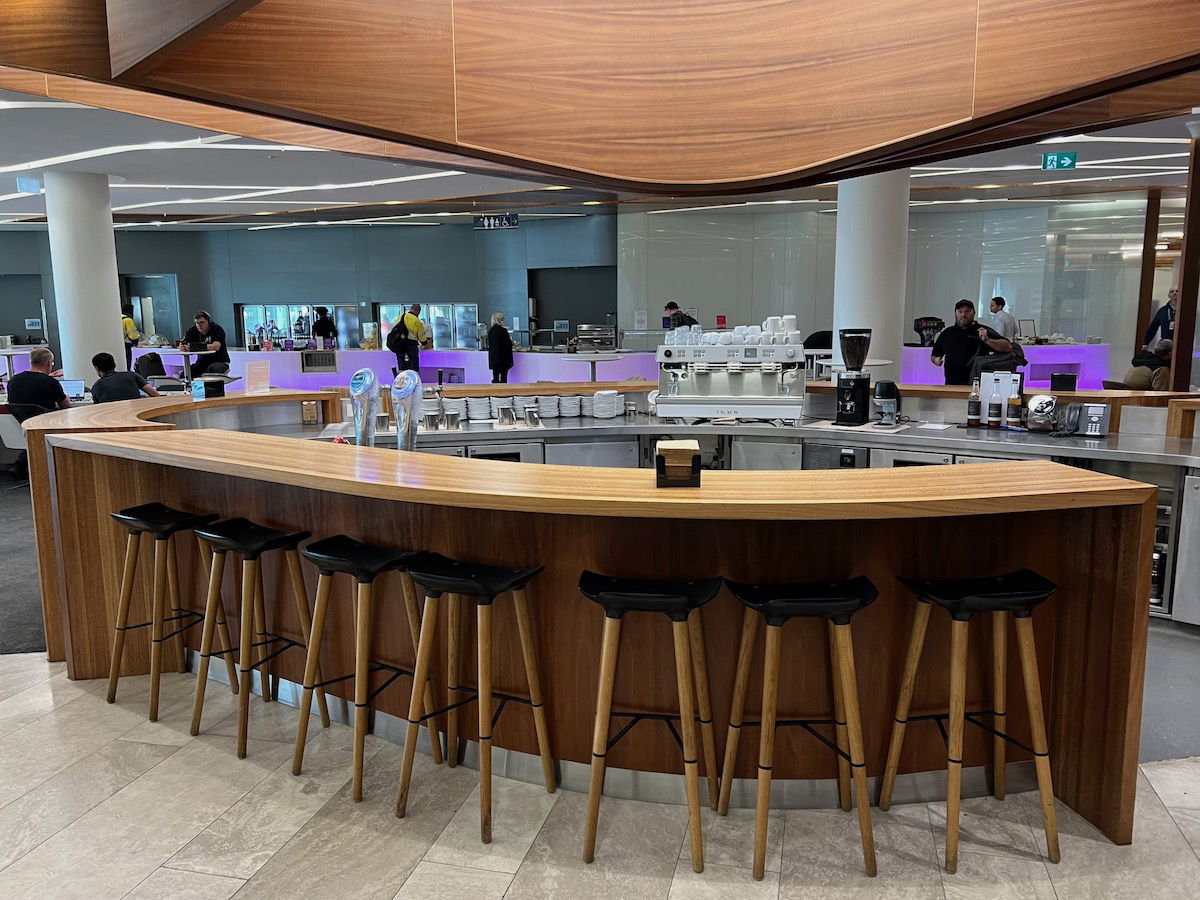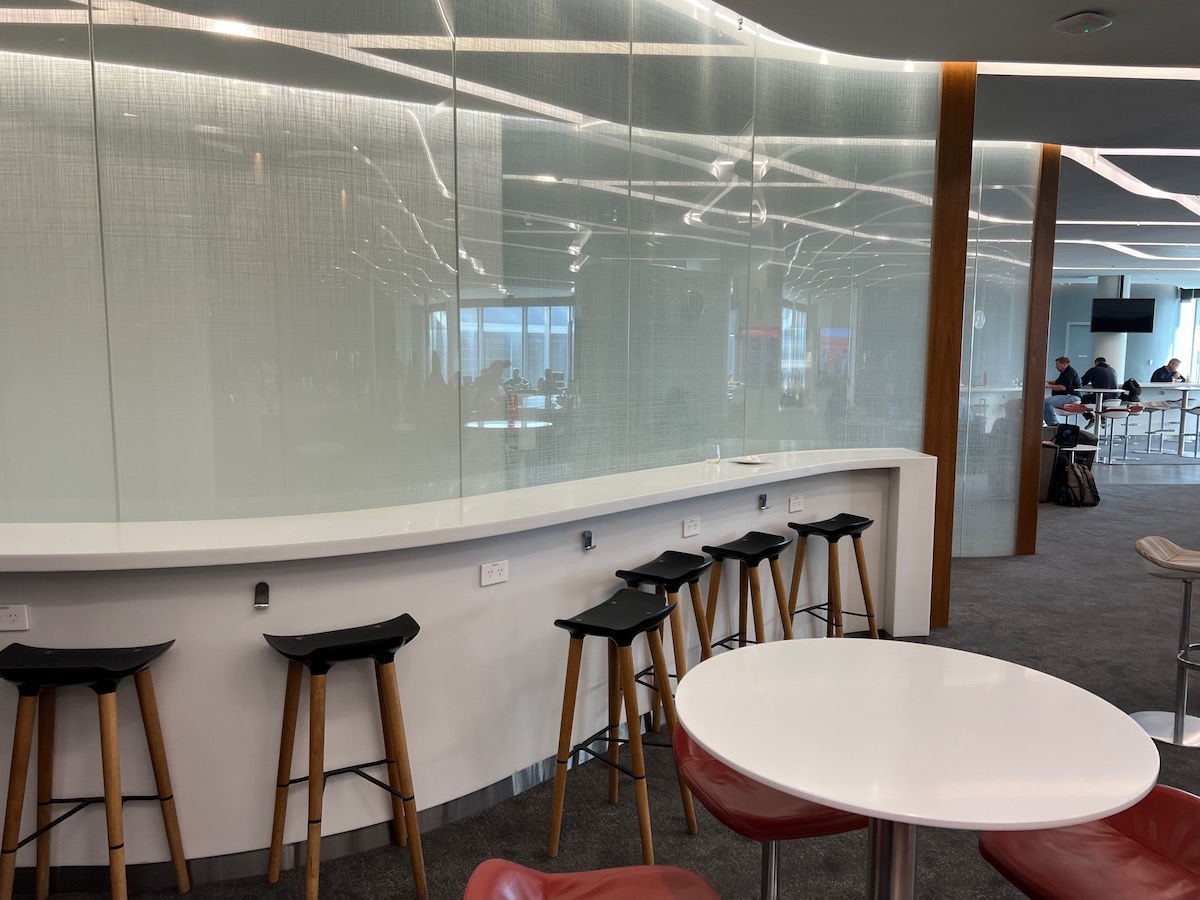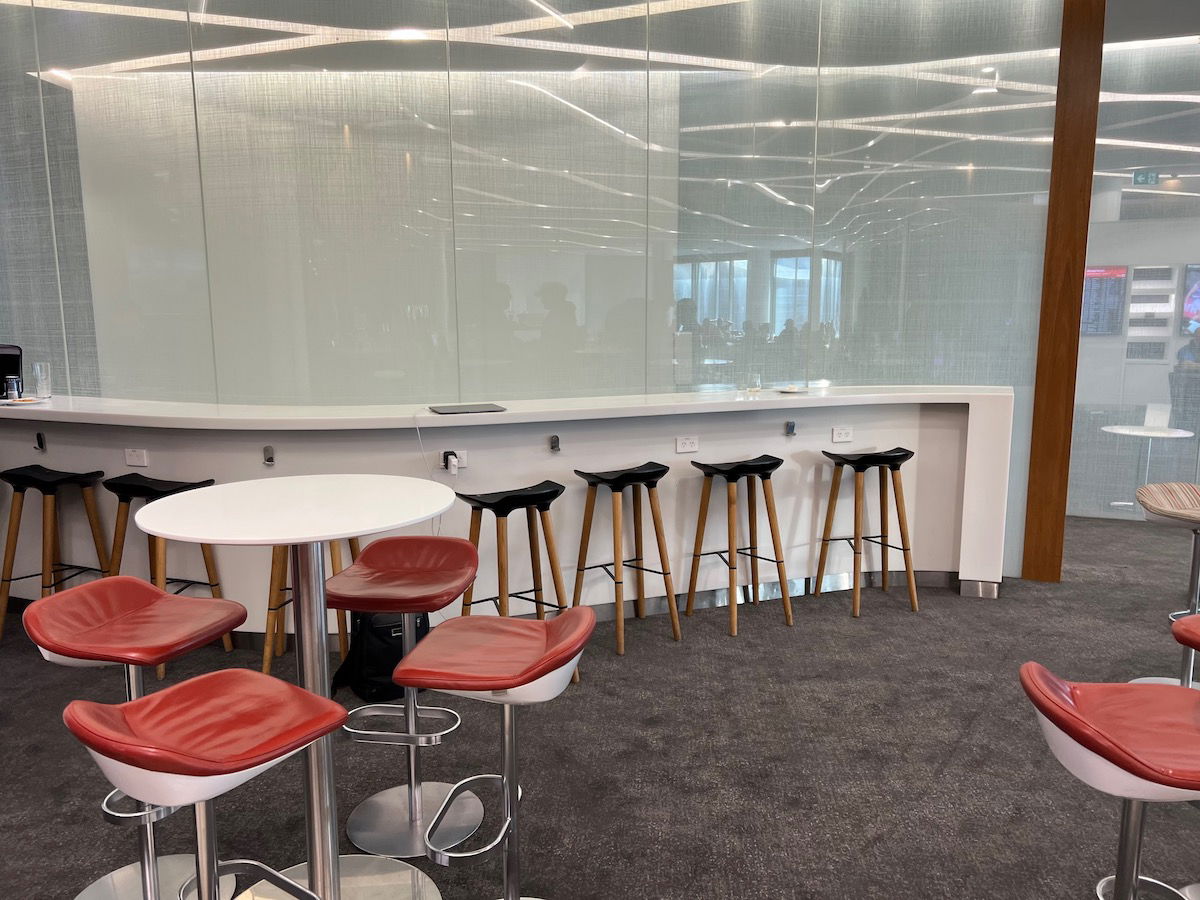 There are also a few tables back near reception, which remained empty throughout our visit.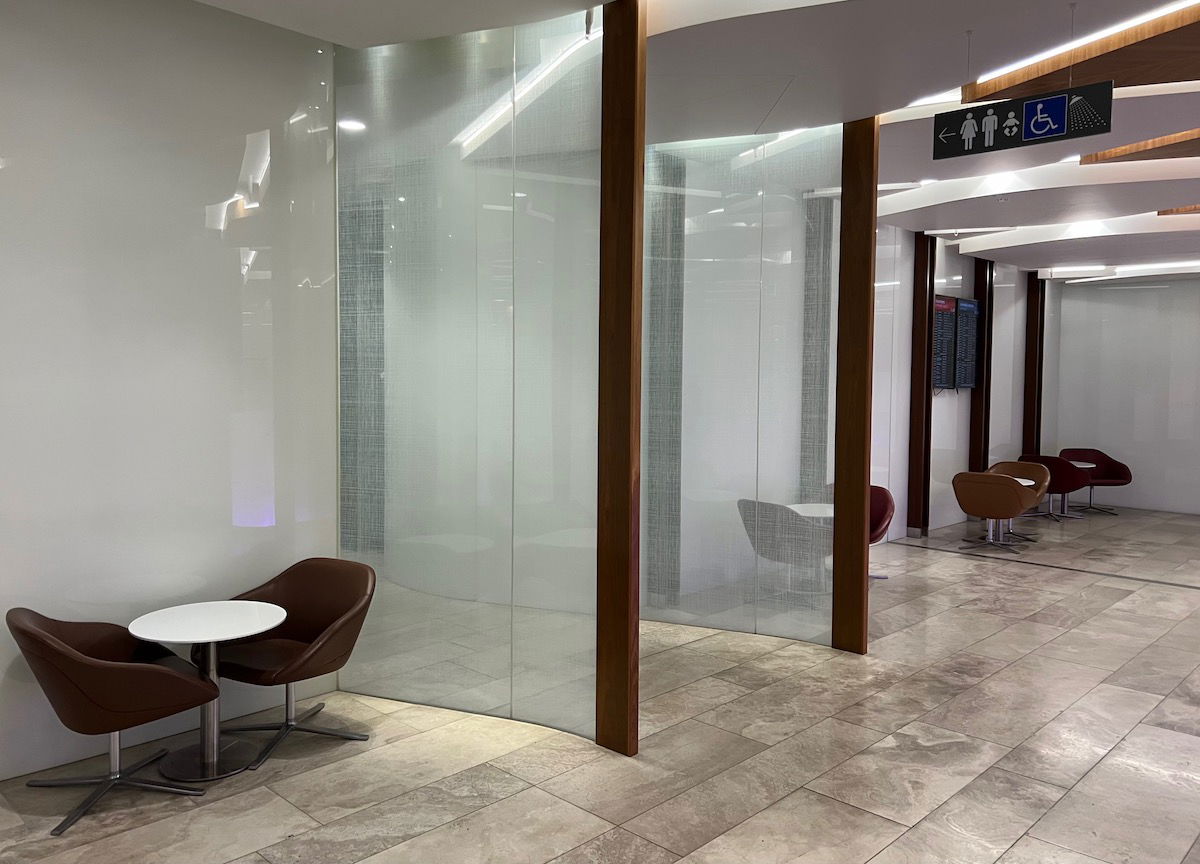 My favorite part of the lounge was probably the apron views. While Virgin Australia is known primarily for its Boeing 737s, the airline also has some Airbus A320s and Fokker 100s, with the Fokkers being especially cool aircraft for us avgeeks.
I liked the natural light and appreciated that the lounge wasn't overcrowded. However, the lounge's decor also didn't feel particularly elegant or high-end. But with Virgin Australia not even being a full service carrier, I wasn't expecting that either.
Virgin Australia Lounge Perth food & drinks
The Virgin Australia Lounge Perth had a respectable selection of food and drinks. To compare it to the US, I'd say it was a better selection than you'd find in an American Admirals Club, but probably not as good as what you'd find in a Delta Sky Club (well, except the coffee).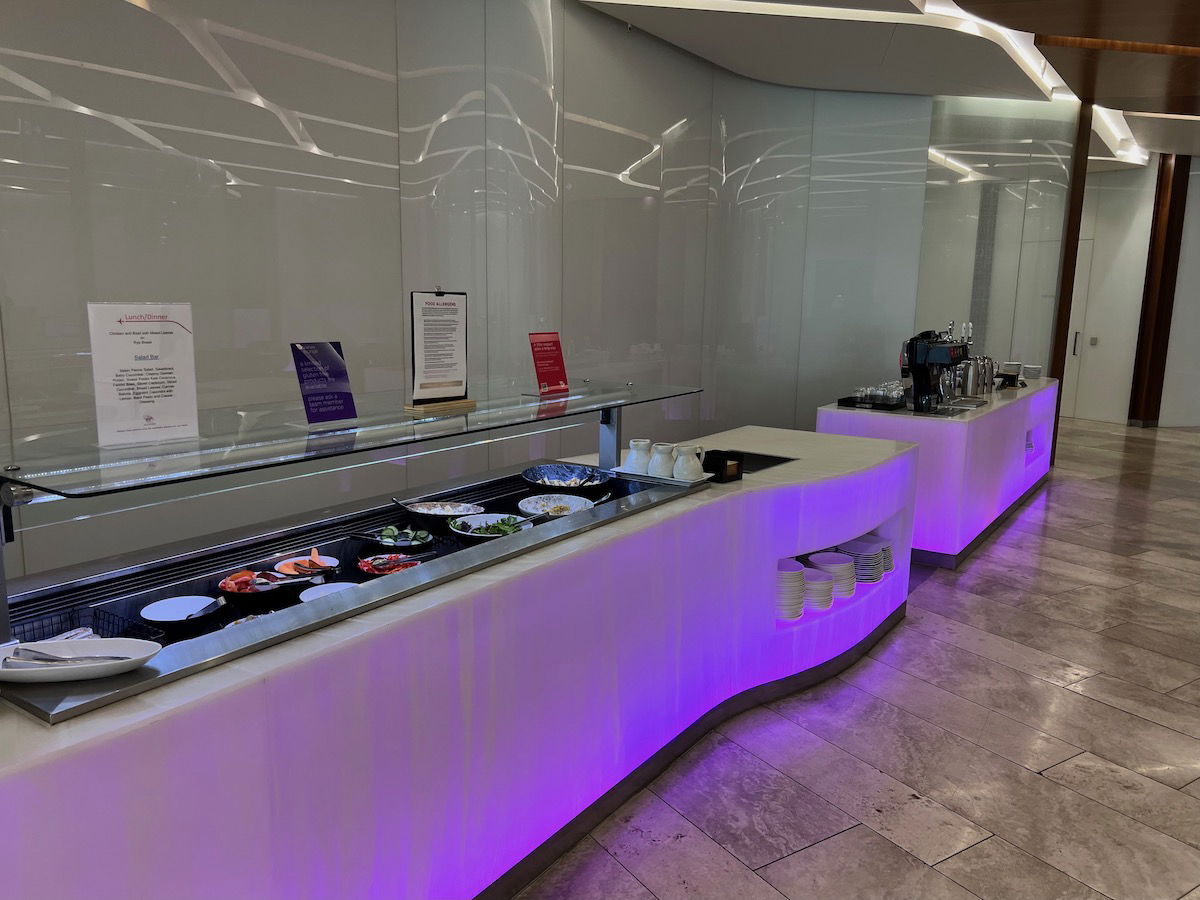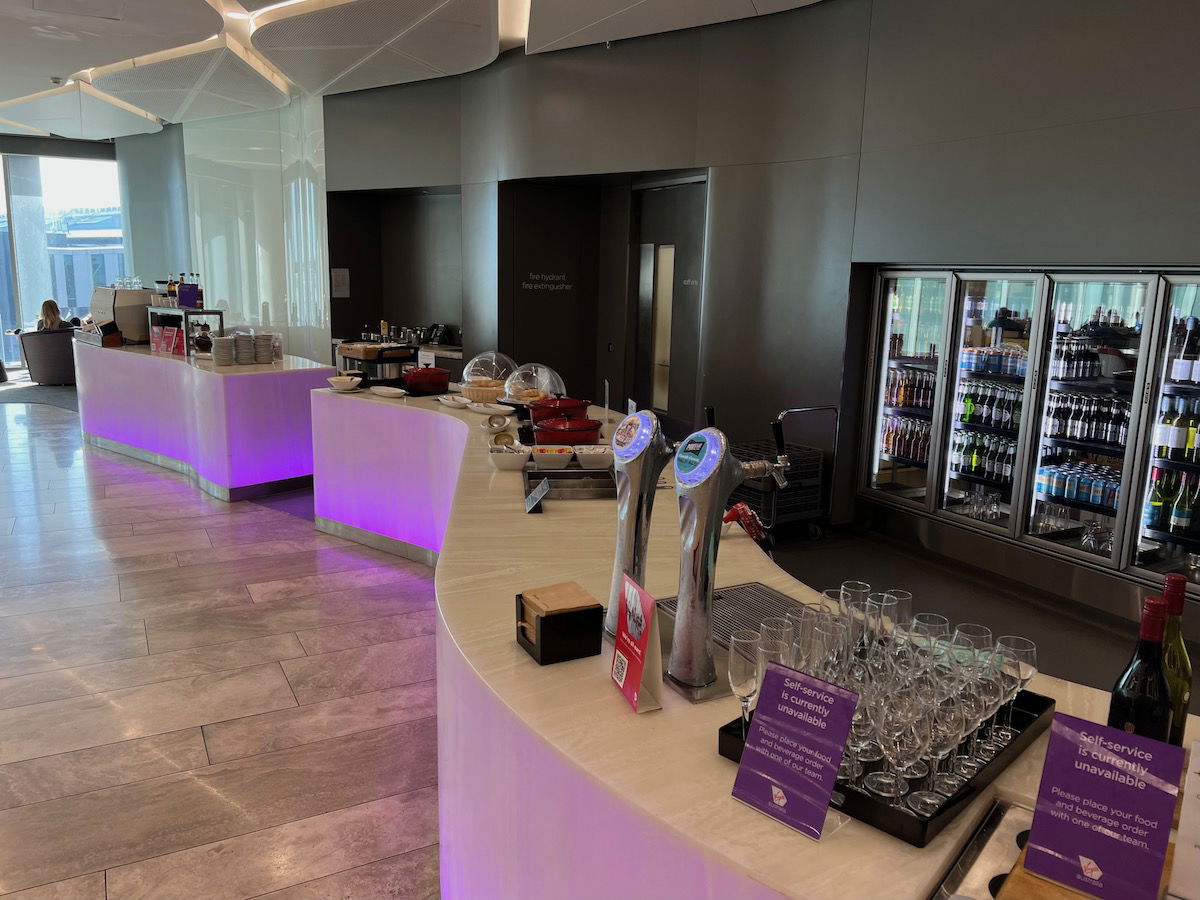 As someone who loves good coffee, my favorite feature was the barista coffee station, where I ordered a delicious flat white.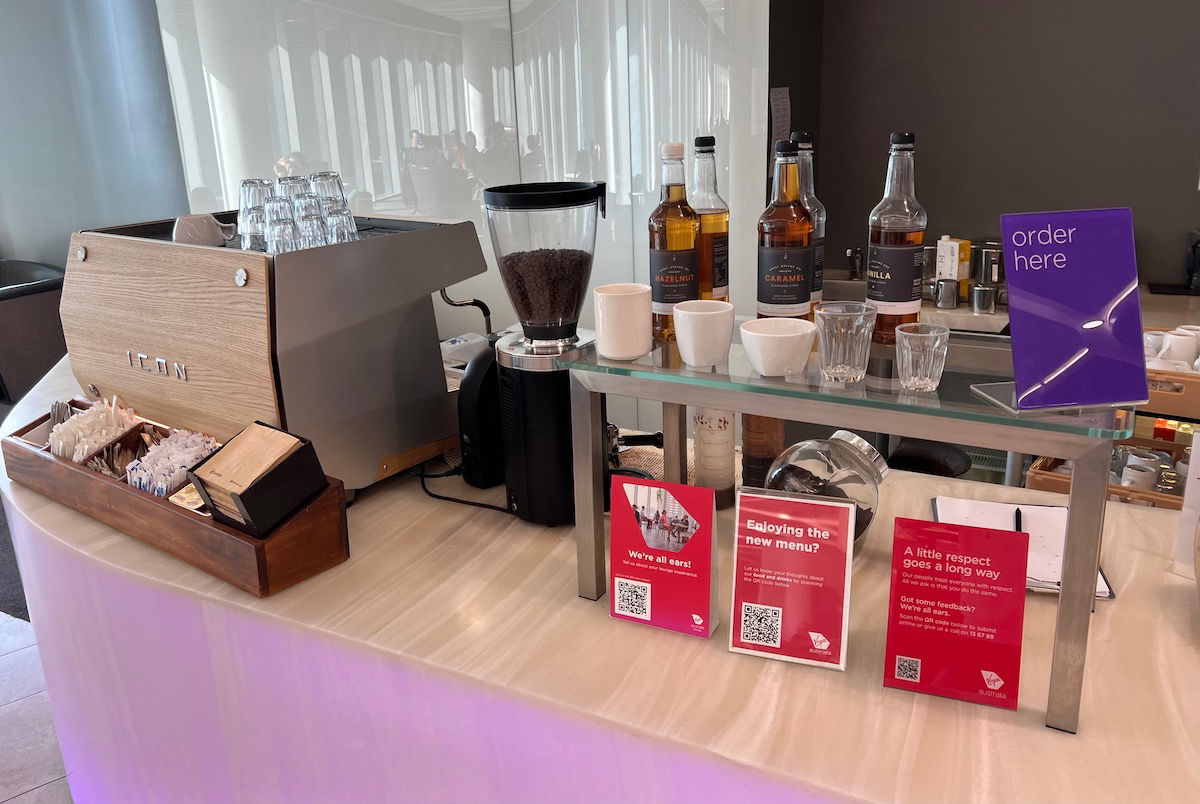 Yes, suffice it to say that I had way too much caffeine (and dairy) on this day, especially after having three coffees at the Ritz-Carlton Perth. But I have no regrets, because it's hard to find coffee this good in the United States.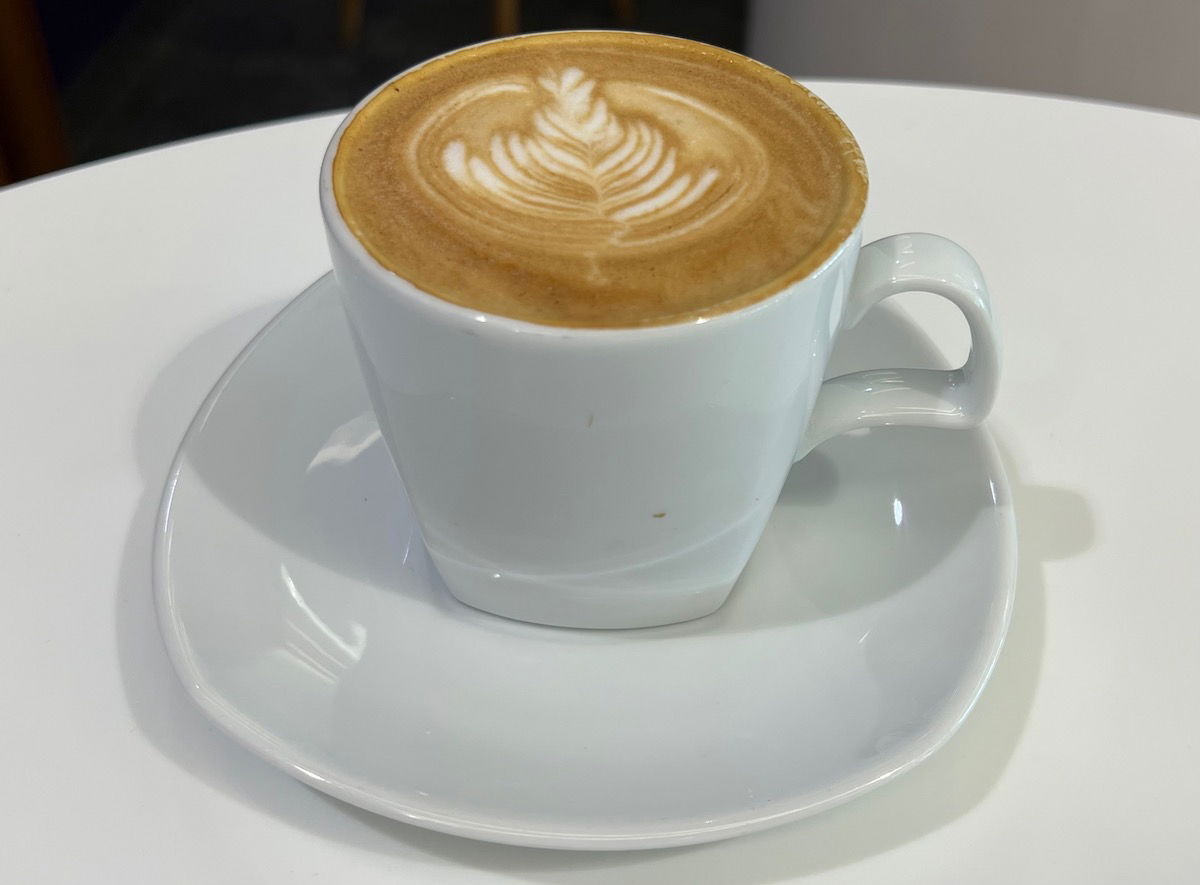 The food selection in the lounge included a few salad options (with quite a few ways to customize your selection), chips and pretzels, a cheese selection, bread rolls, penne pasta, two kinds of soup, and biscuits.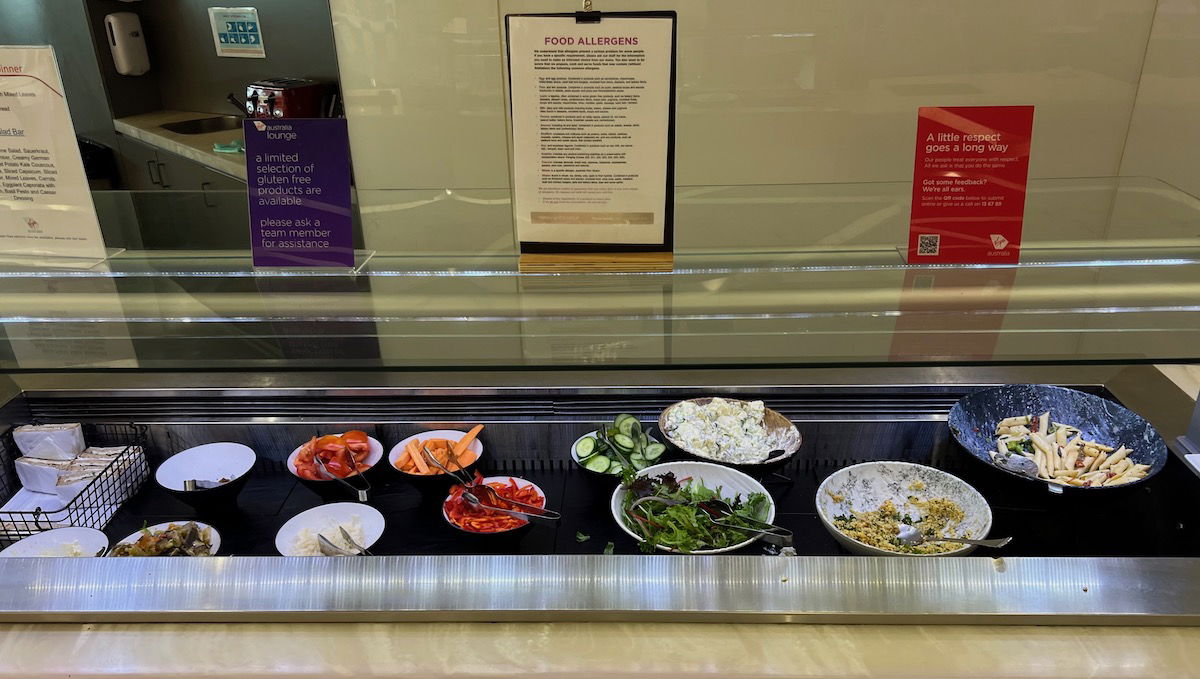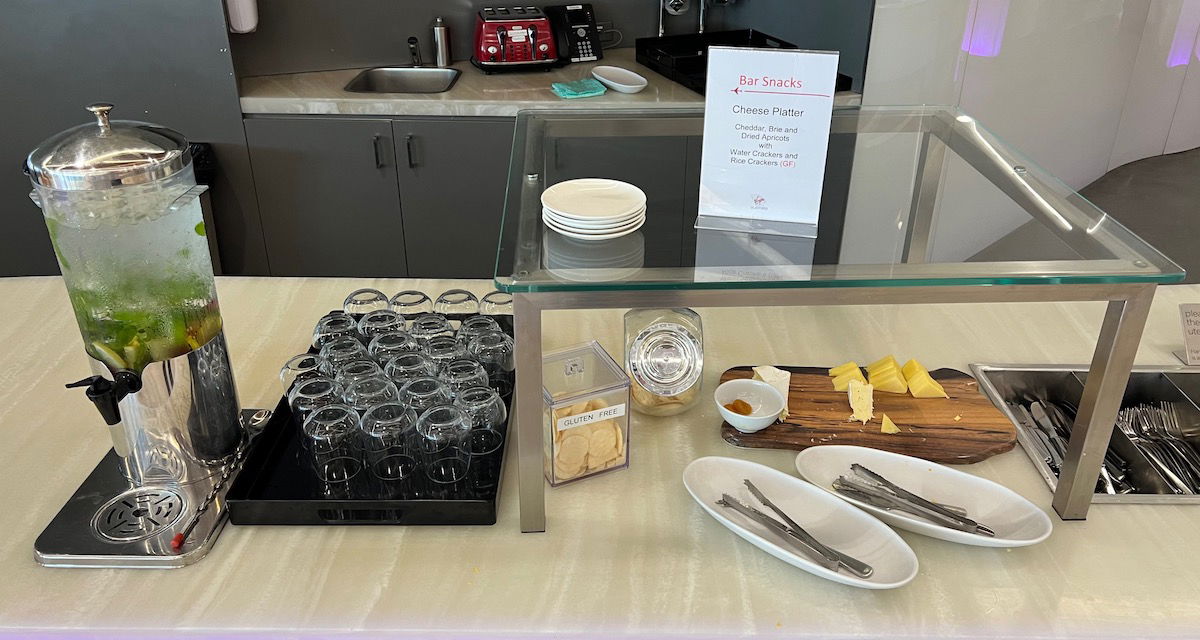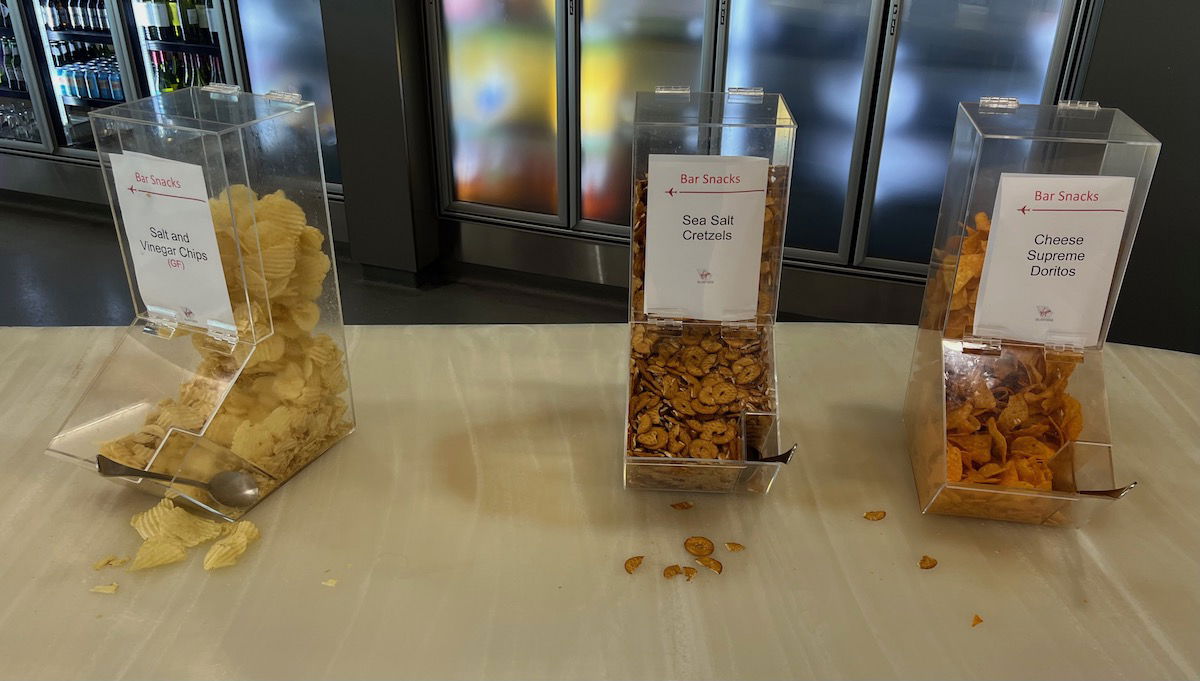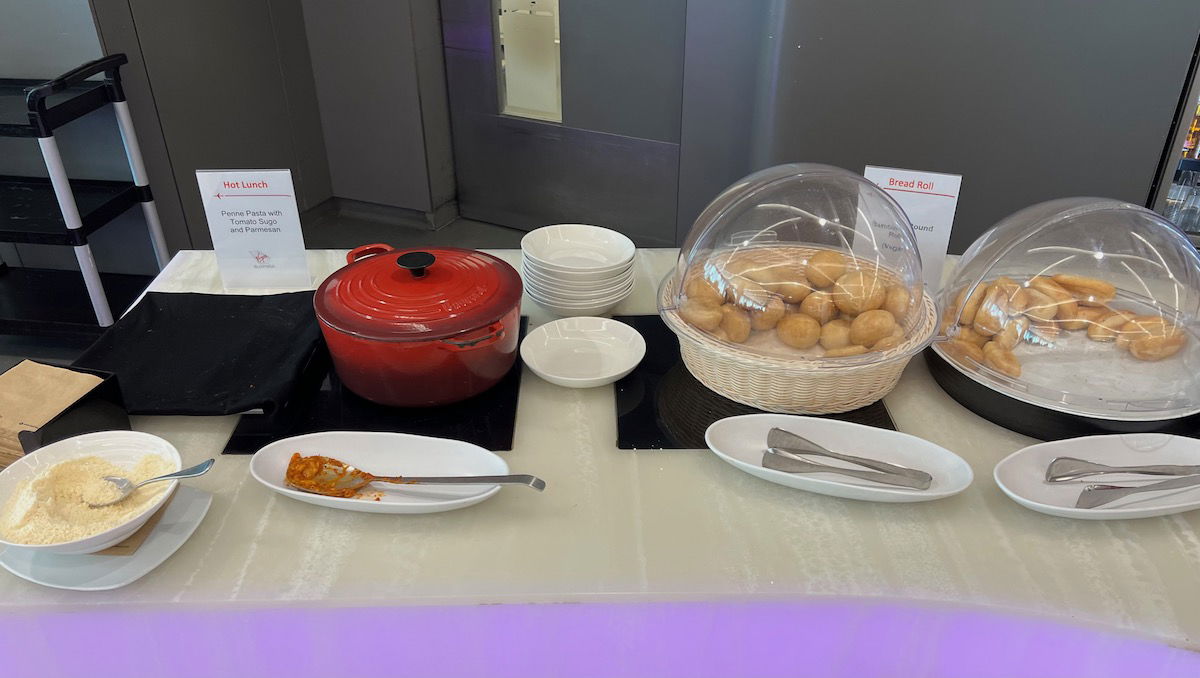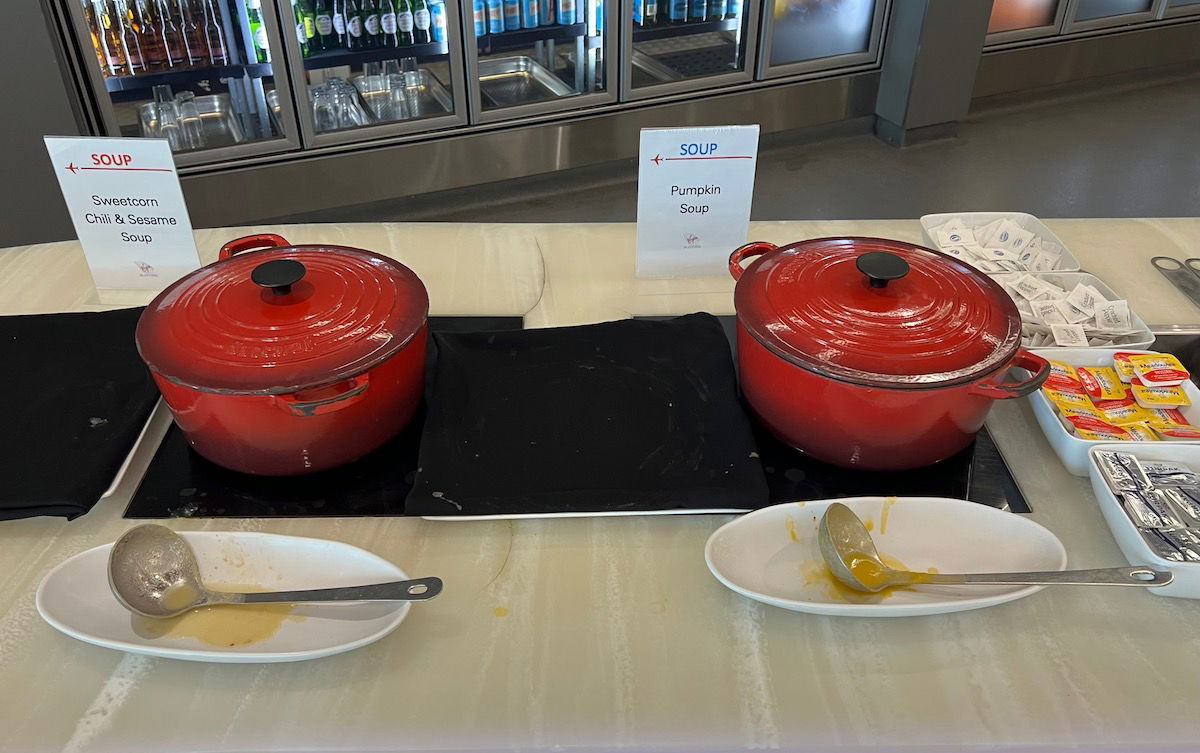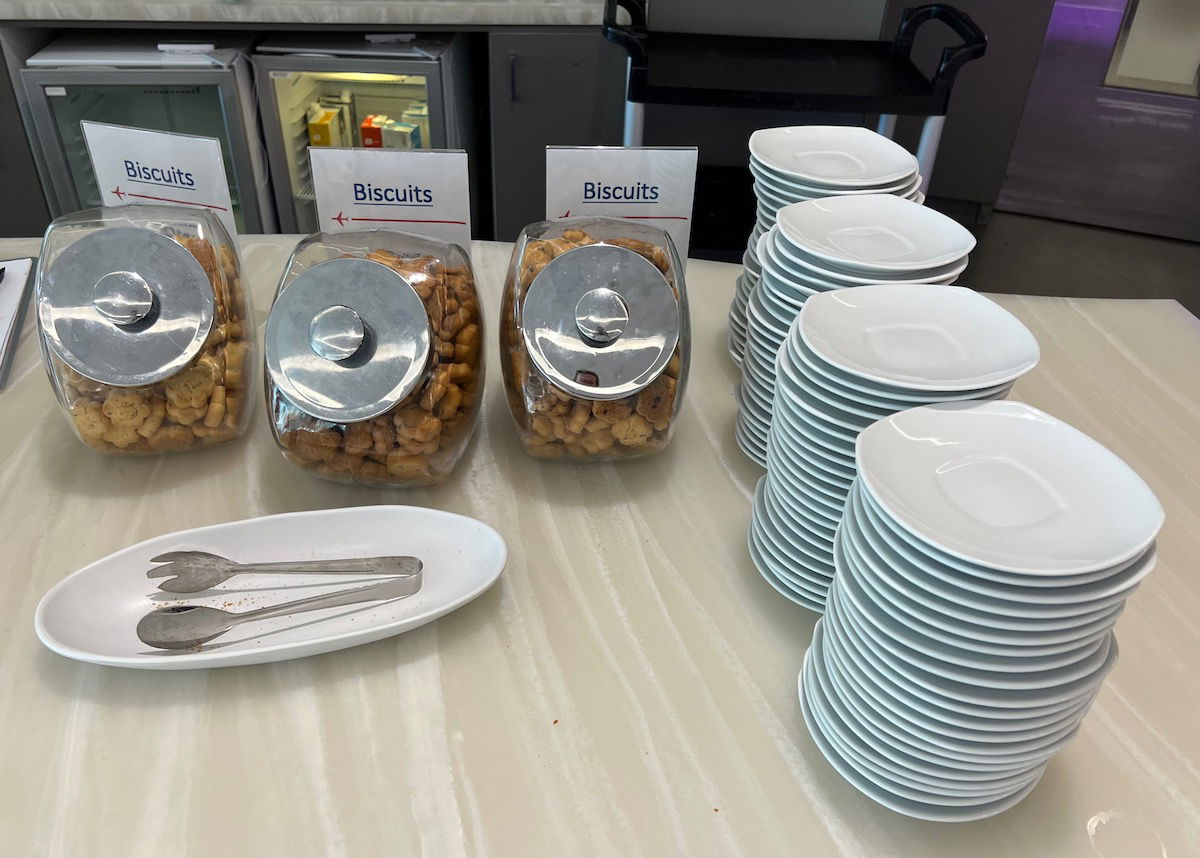 In addition to coffee, the drink selection included a soda fountain, still and sparkling water on tap, tea, beer, and a couple of wines. Interestingly the alcohol wasn't self-serve. Is that to avoid people getting drunk and over-serving themselves, some local law, or…?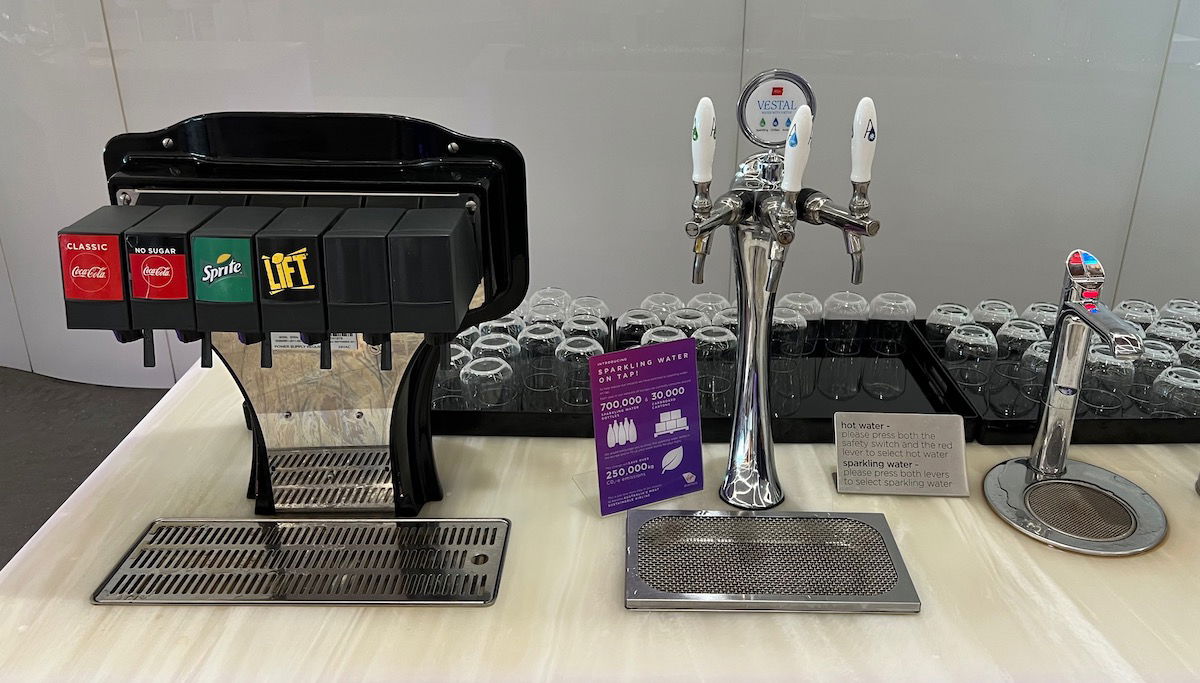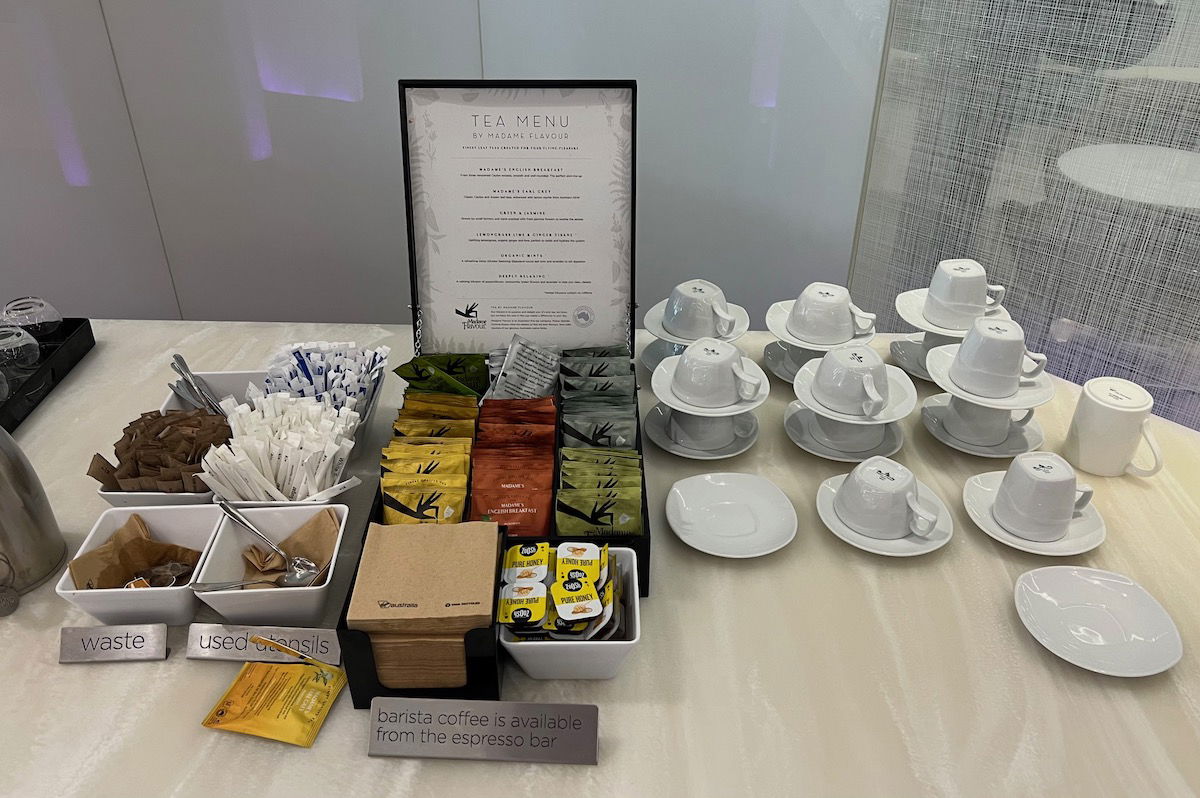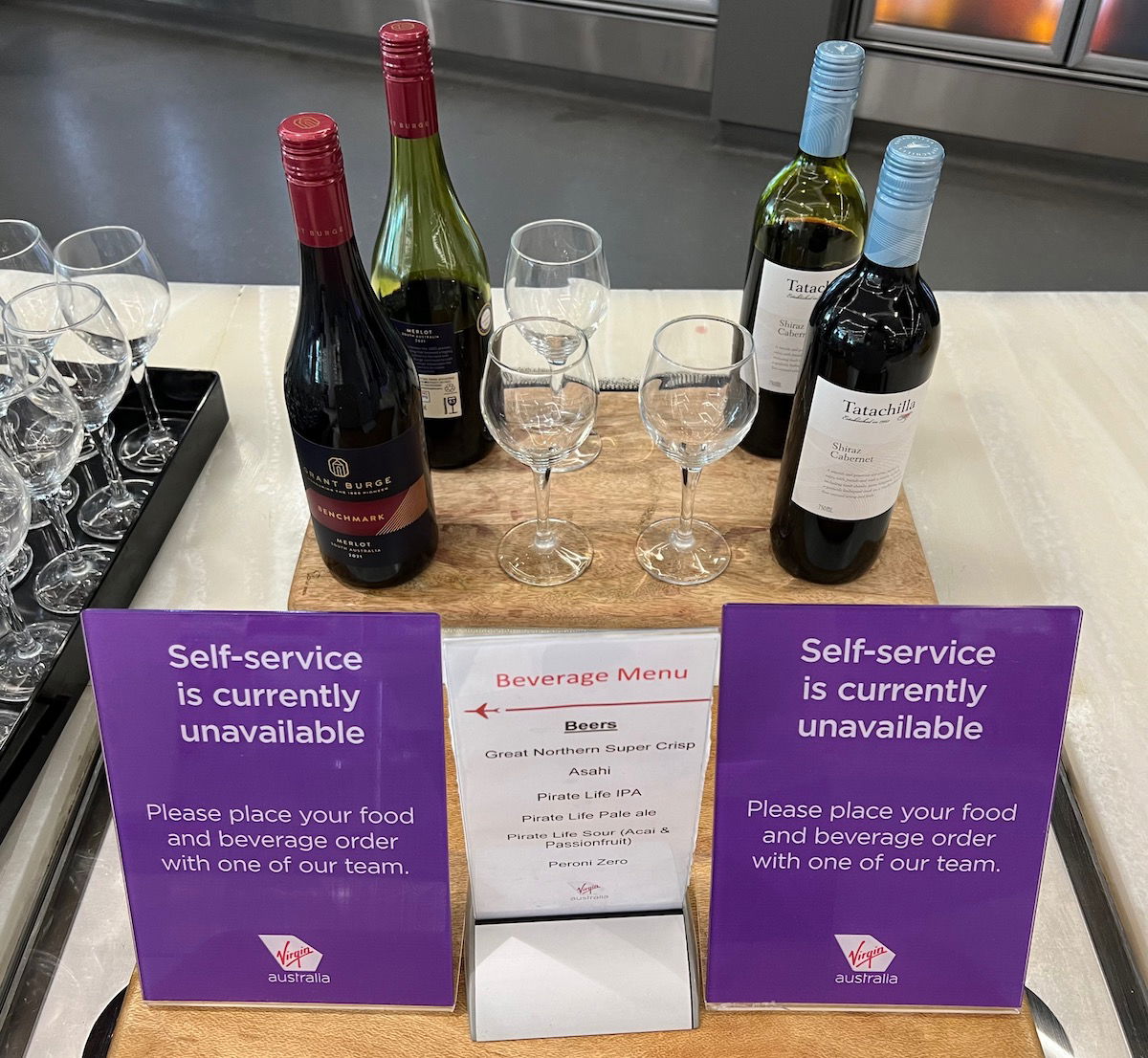 Virgin Australia Lounge Perth bathrooms & showers
The Virgin Australia Lounge Perth had bathrooms near the entrance, which weren't particularly nice for a lounge. The men's room had both individual stalls and urinals, as well as a few sinks.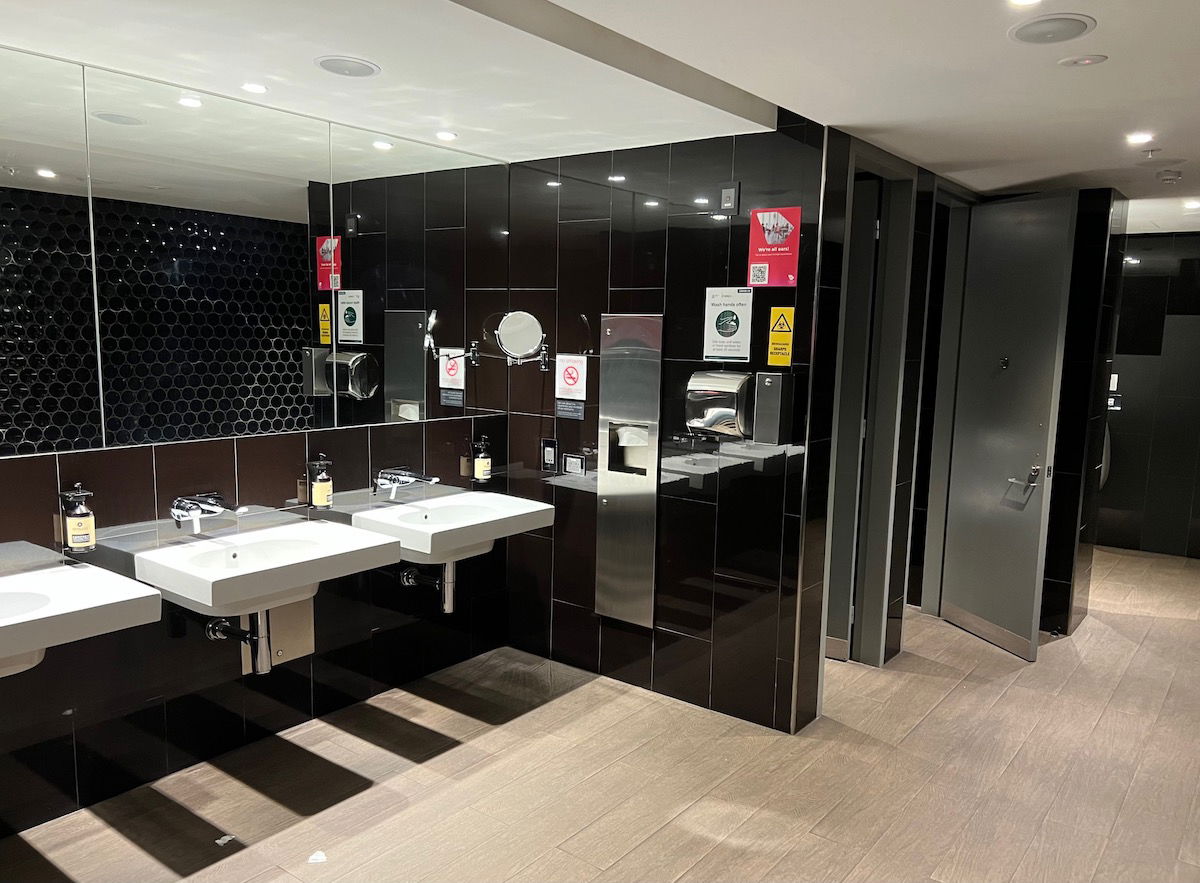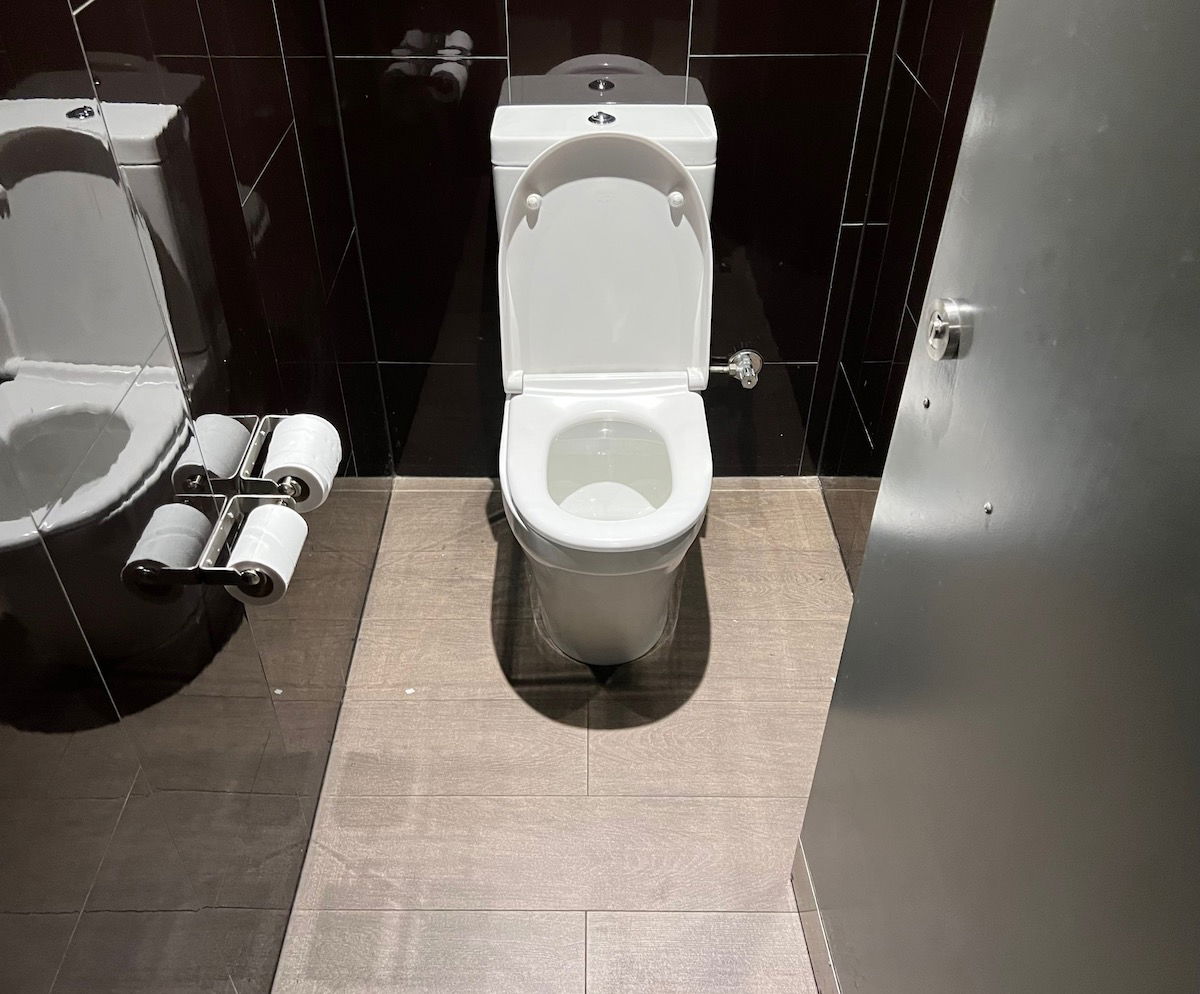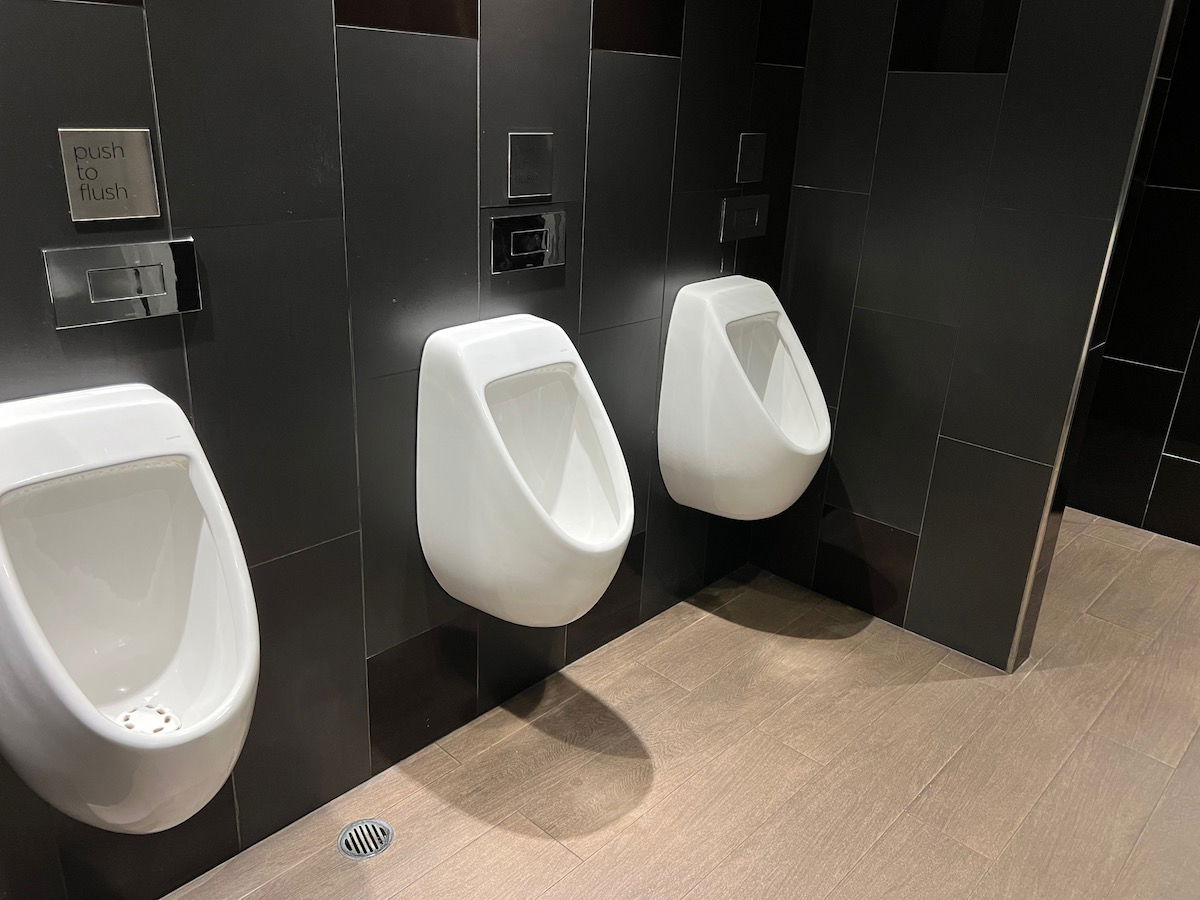 There was also a room with a shower, but it really didn't look like it was used much.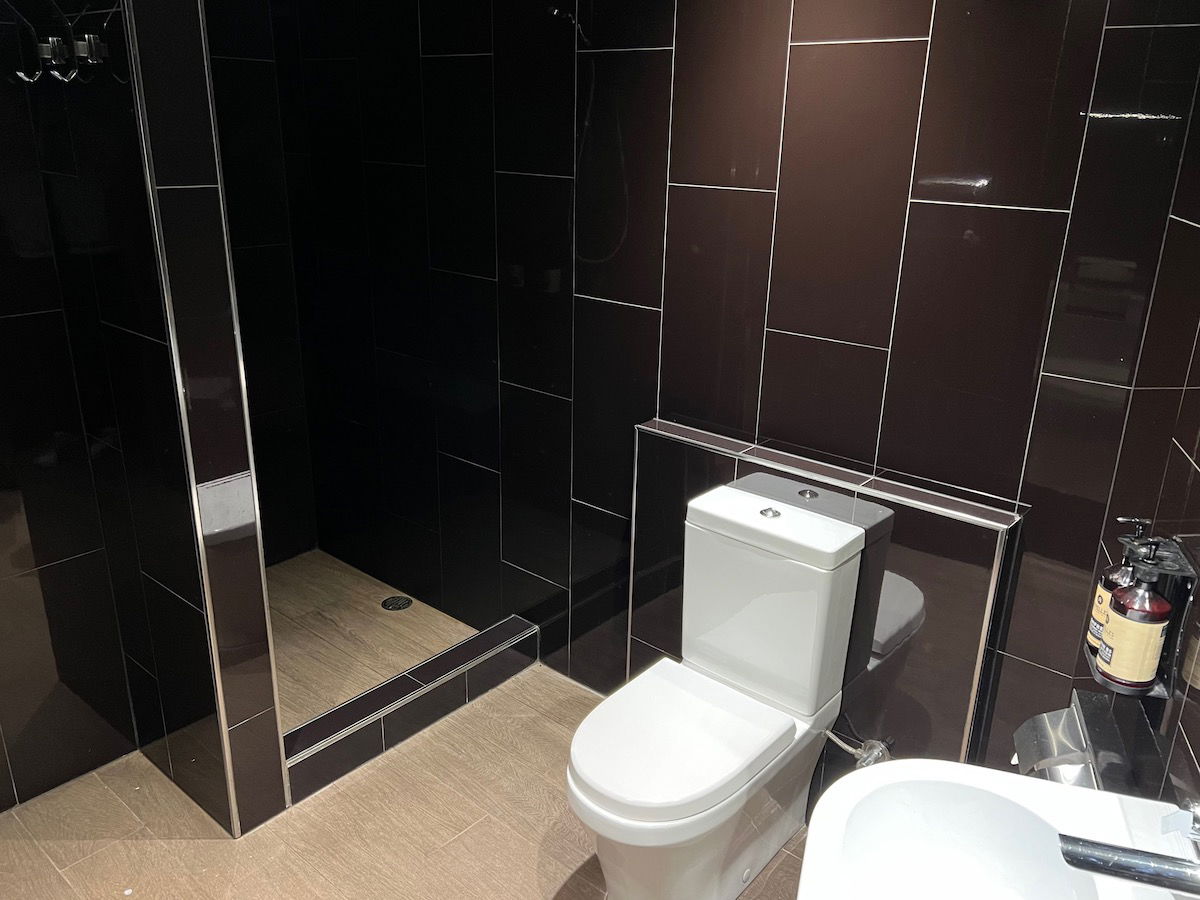 Virgin Australia Lounge Perth crowd
Perhaps the thing that stood out to me the most about the Virgin Australia Lounge Perth was the crowd. Typically when you think of airport lounges, you imagine business travelers in formal clothes, well-off retired people, and maybe millennials with credit cards offering lounge access.
Western Australia's economy is largely about natural resources, and Virgin Australia has all kinds of flights that are popular with workers going to mines and other places with natural resources. So a lot of the guests in the lounge were wearing safety vests, which you otherwise don't often see in airport lounges.
Also, a lot of these people were downing alcoholic drinks as if it was water. I guess I can't blame them — I'm guessing many were away from home for a long assignment, and are ready to let loose a bit.
Bottom line
The Virgin Australia Lounge Perth is a perfectly pleasant lounge. While the decor doesn't feel that high-end, the lounge has nice views, plus a pretty good selection of food and drinks, including barista coffee. Don't arrive early to spend time in the Virgin Australia Lounge, but it's also not a bad place to pass some time (especially if you're looking for a drink or four, which seemed to be the primary draw for many people in the lounge).
What do you make of the Virgin Australia Lounge Perth?