---
TAAG Angola 745
Luanda (LAD) – Sao Paulo (GRU)
Sunday, March 11
Depart: 11:15PM
Arrive: 3:30AM (+1 day)
Duration: 8hr15min
Aircraft: Boeing 777-300ER
Seat: 3J (First Class)
By the time we boarded the plane it was 1AM, so we were well over two hours behind schedule. Since we were departing from a remote stand, we boarded via air stairs through door L2. There I was pointed left into the first class cabin. While the previous plane had TAAG's new first class, this plane had TAAG's old first class cabin, consisting of a total of 12 seats, in a 1-2-1 configuration.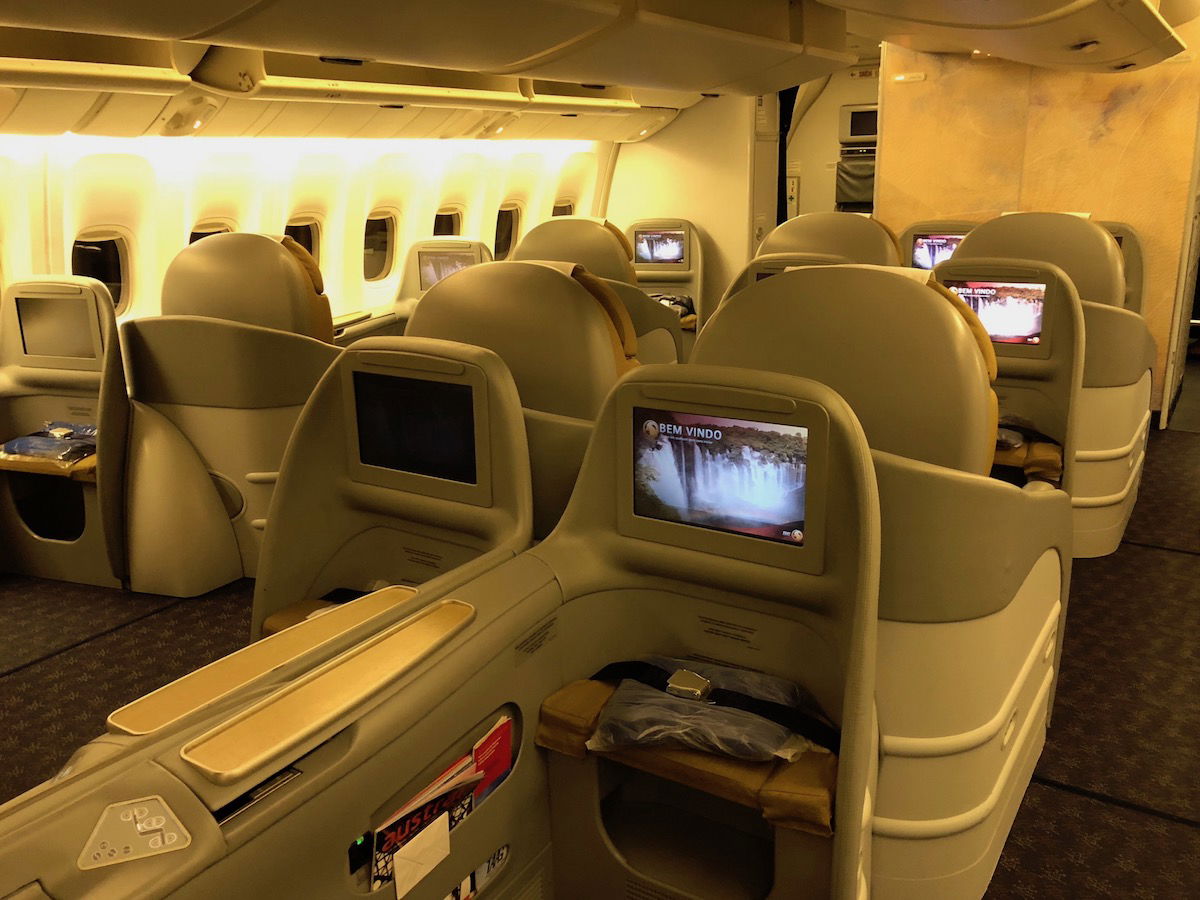 TAAG 777 first class cabin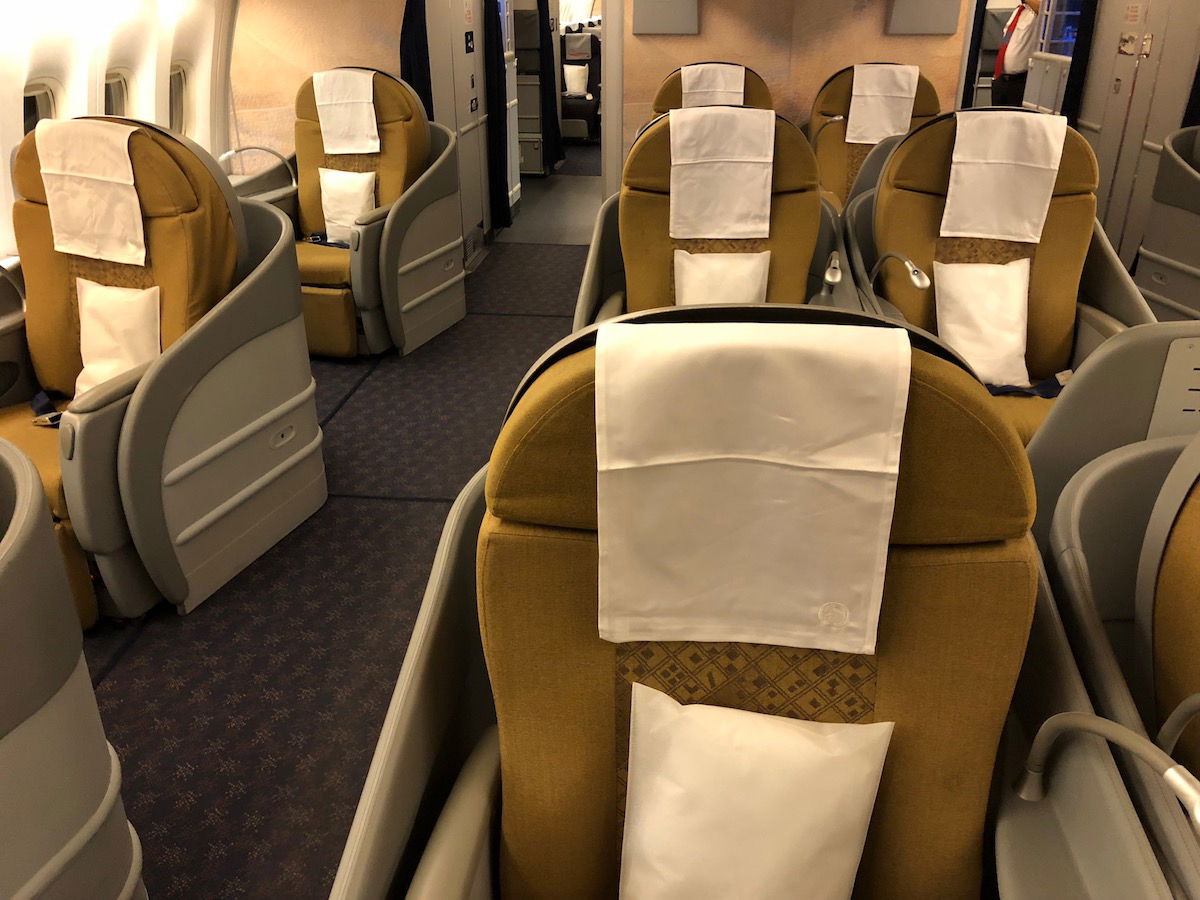 TAAG first class cabin 777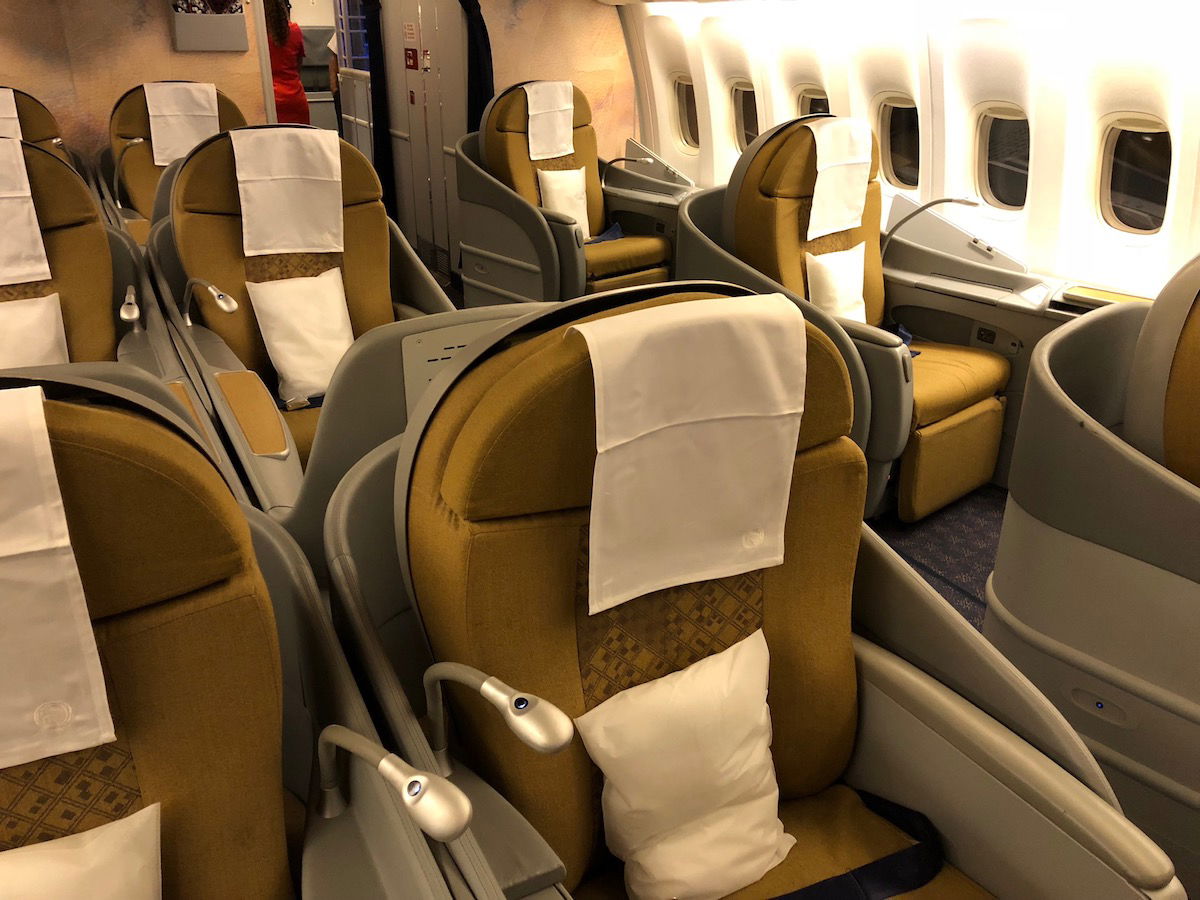 TAAG first class cabin 777
TAAG's old first class is in an open layout, and the seats as such remind me of what you'd find in Oman Air's old business class. While not the most modern first class out there, I really do love this layout, especially when the cabin isn't full, since it's so spacious.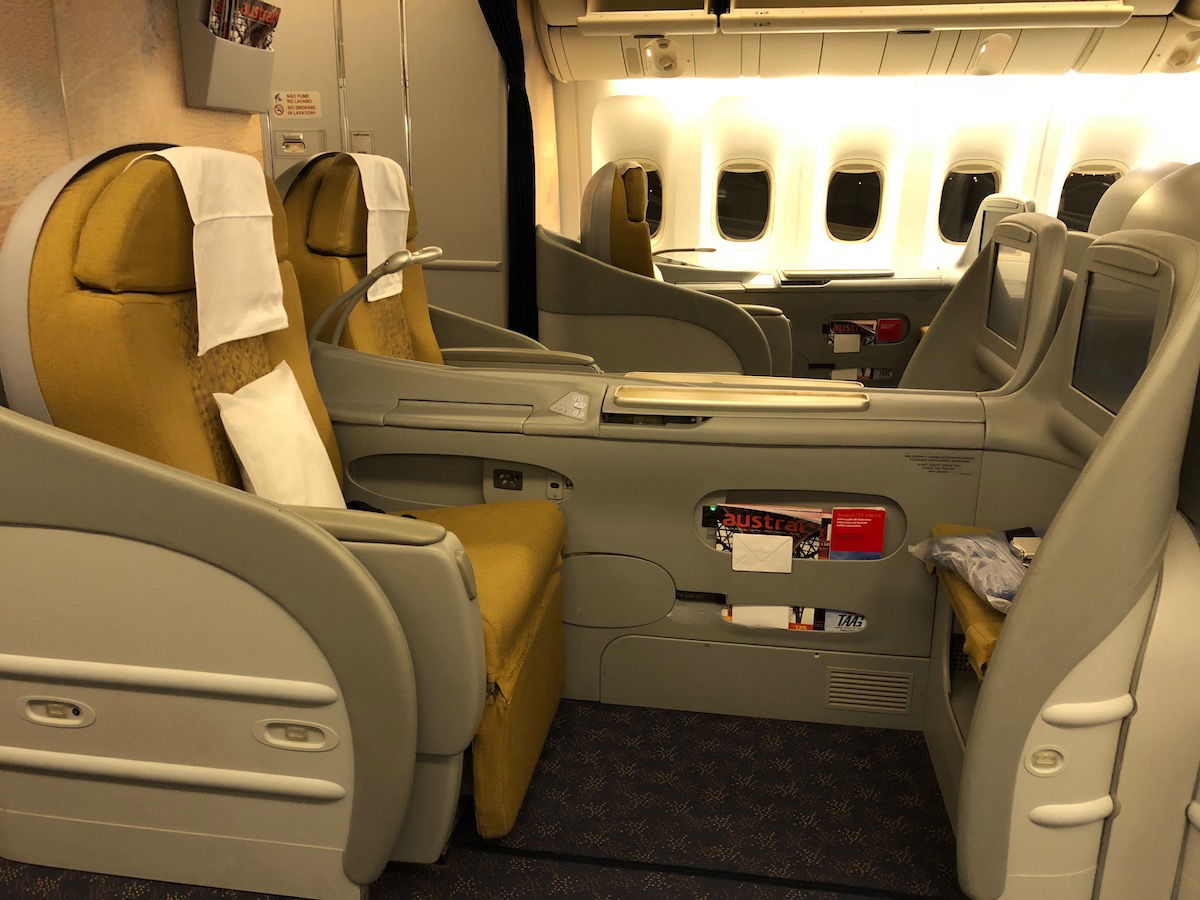 TAAG first class seats 777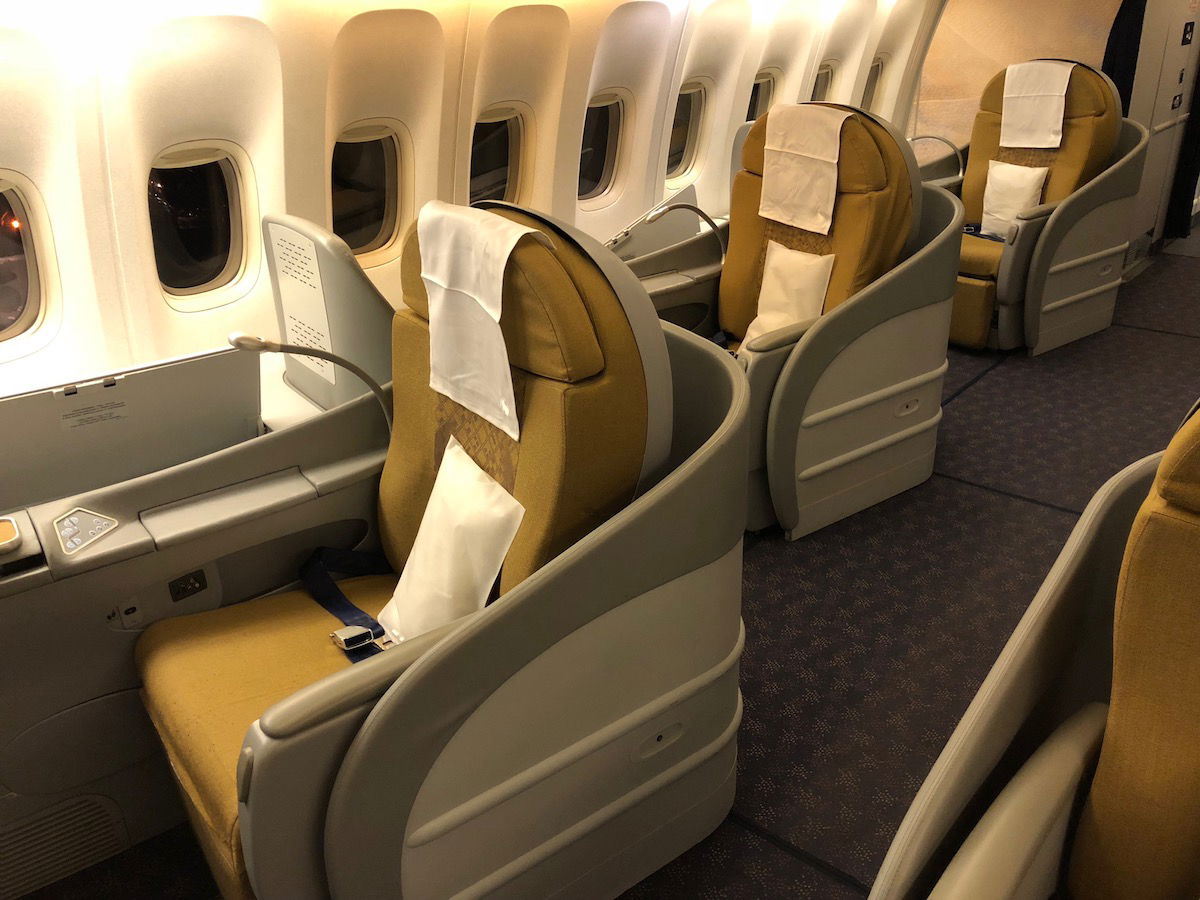 TAAG first class cabin 777
I selected seat 3J, the window seat on the right side in the last row.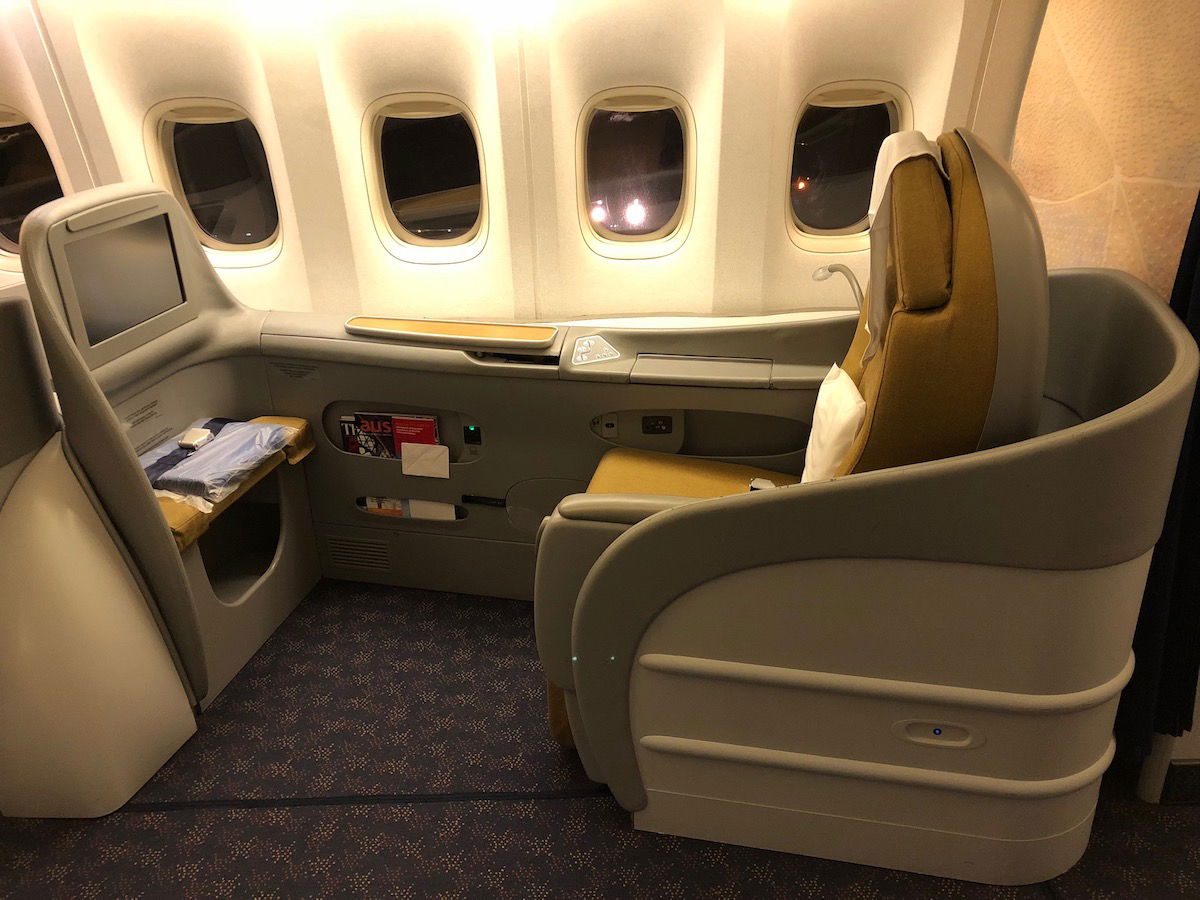 TAAG 777 first class seat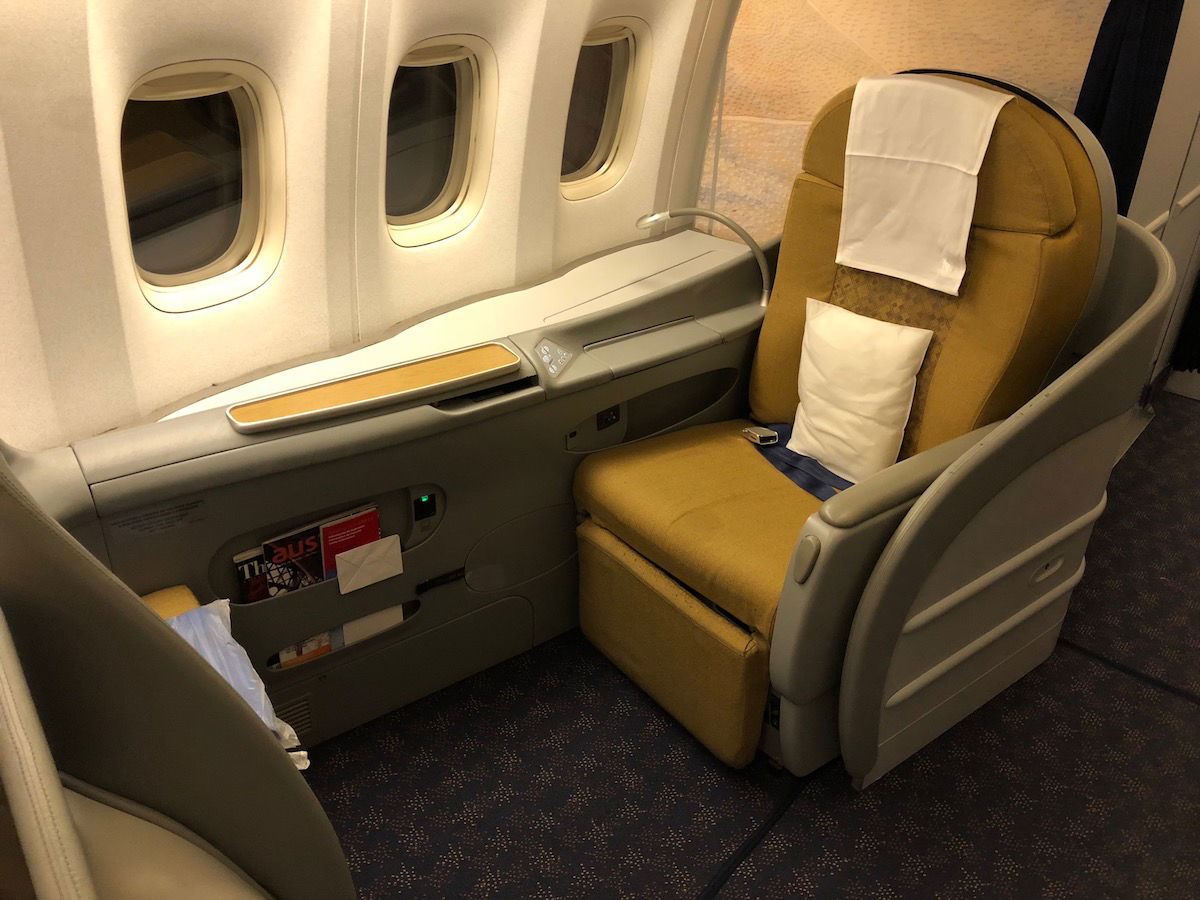 TAAG first class seat 777
While the seat was old, it was well padded and comfortable, much more so than on the previous flight.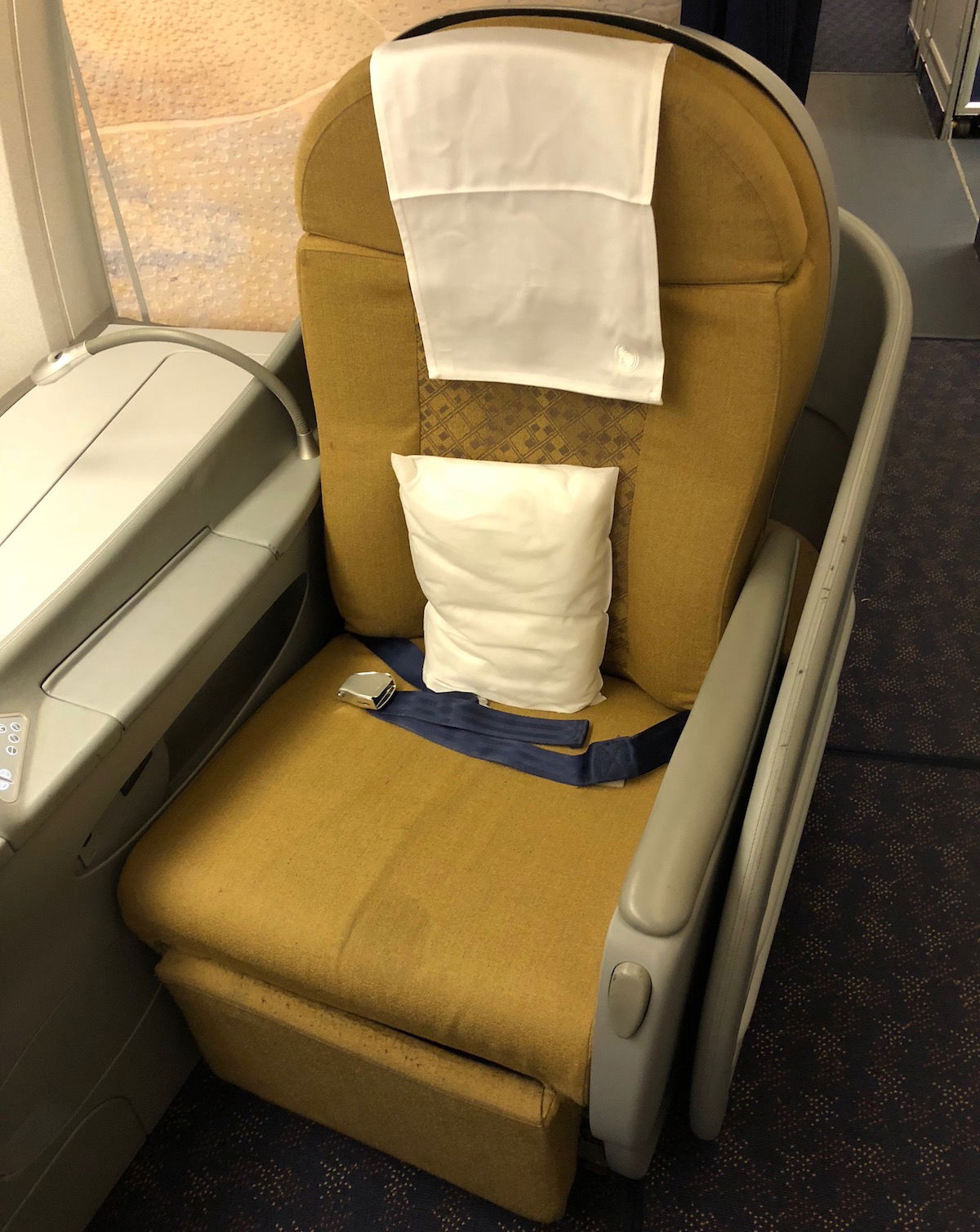 TAAG first class seat 777
There was an ottoman, which could also act as a buddy seat in case you want to dine face-to-face with someone. Underneath the ottoman was an exposed storage compartment, where I left my laptop during the flight. However, there was also a huge amount of storage on the console to the side of the seat. The 777 has a wide cabin and these seats are angled, so there's a lot of room where you can place things, including one big storage bin (sorry I couldn't get a picture of that, for reasons I'll get into below).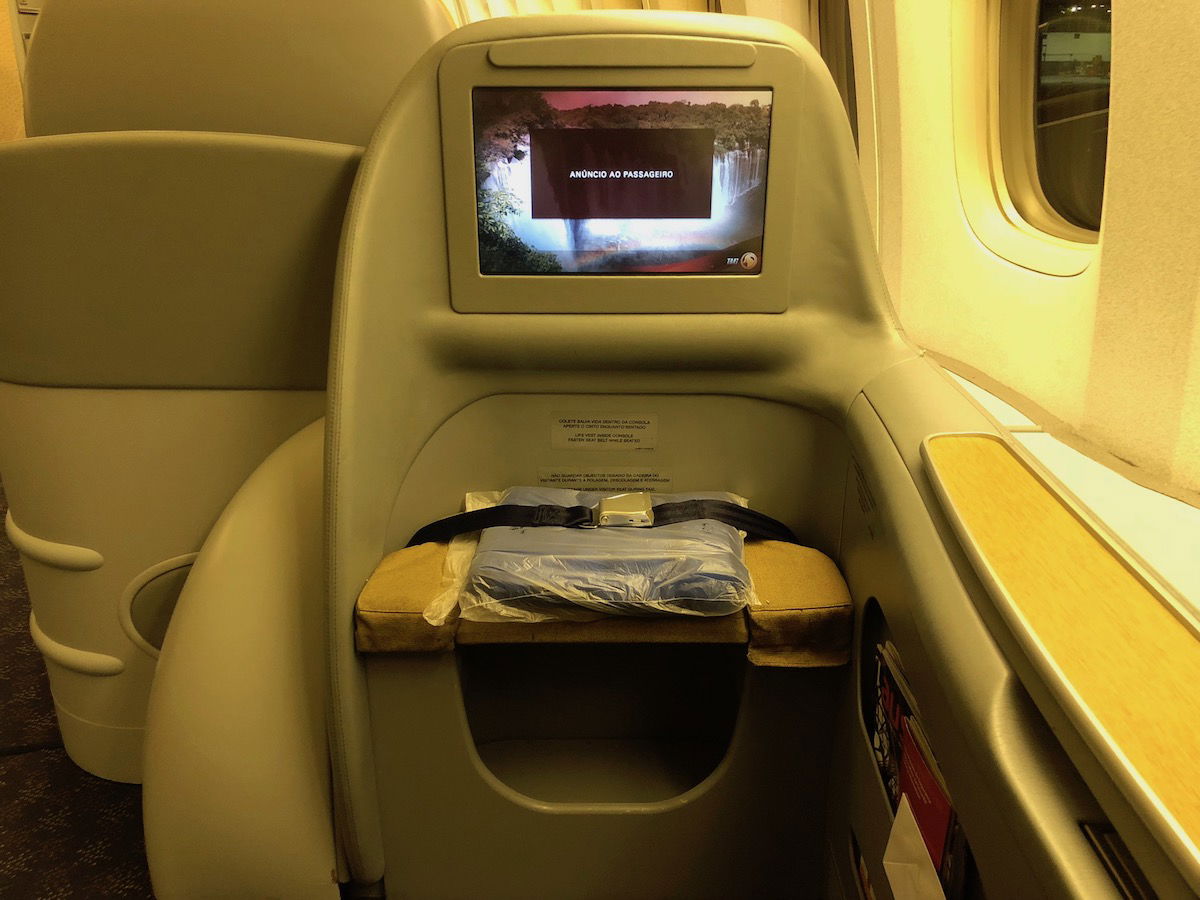 TAAG first class legroom 777
To the side of the seat were the seat controls, as well as a 110v and USB outlet.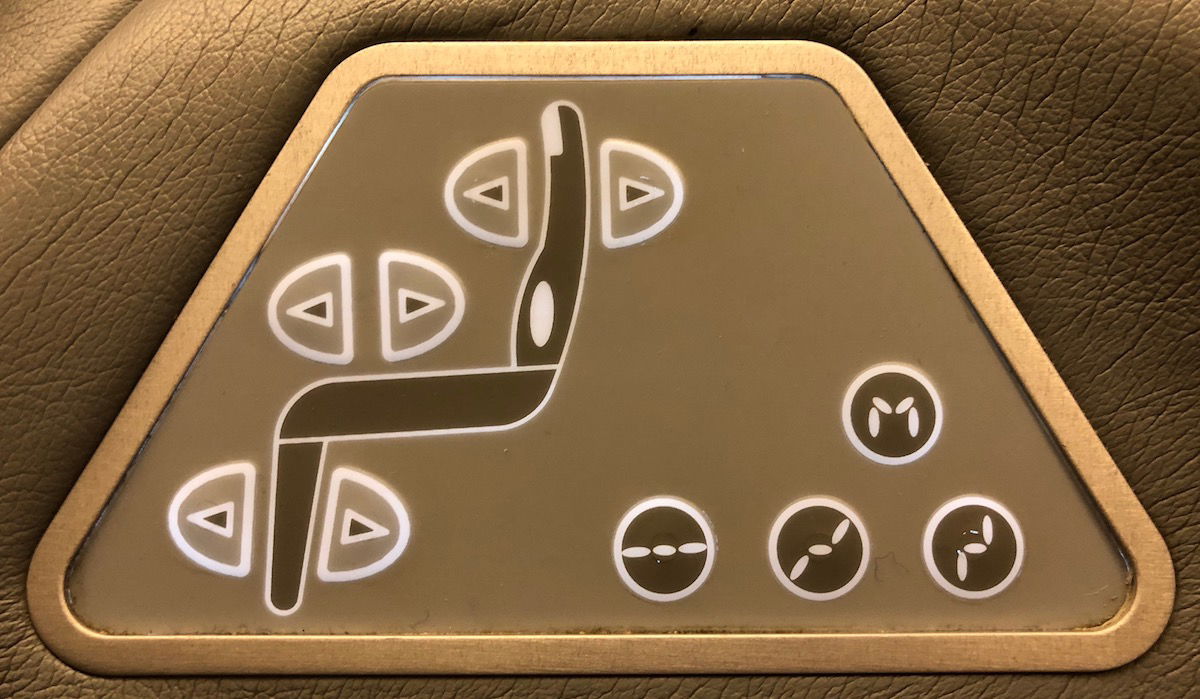 TAAG first class seat controls
A minute after settling in, one of the flight attendants stopped by my seat to offer me an amenity kit and a glass of water. There was no choice of drinks, and she didn't say a word to me. Talk about a warm welcome!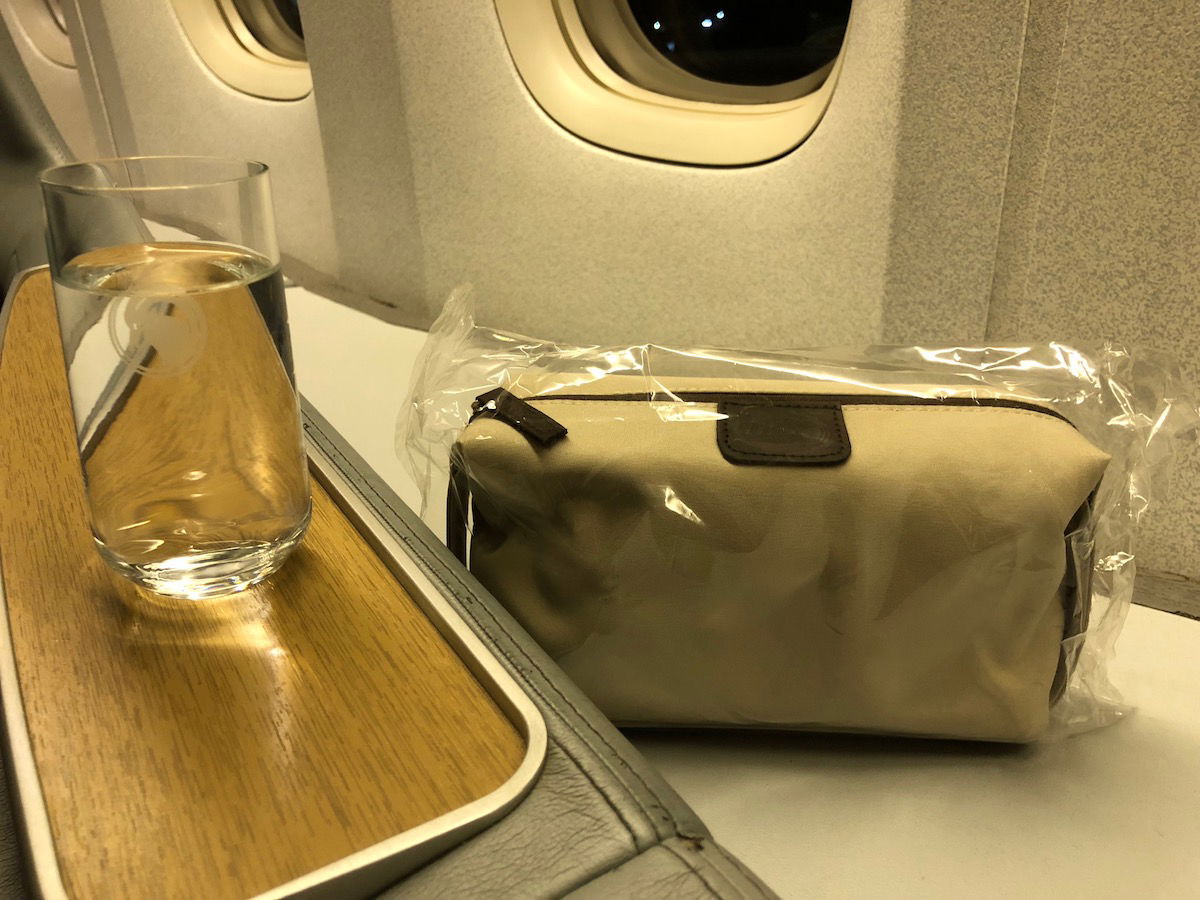 TAAG first class amenity kit & drink
I proceeded to take some pictures of the cabin given that it was empty. Let me once again remind you guys that I had taken pictures throughout the entire experience up until now and I repeatedly got asked why I was taking pictures, but was never told by a TAAG employee that I couldn't. Rather they just seemed to be curious, which is fair enough.
Unfortunately this flight was different, and in particular, the attitude of the cabin manager was horrible. I understand English wasn't his first language so I don't want to judge his exact words too much, but one thing I can't stress enough is how insanely aggressive he was when speaking to me.
I was taking pictures during boarding, and I noticed the cabin manager walking past me and just flailing his arms in the air, sarcastically signaling that something is wrong with me. He also rolled his eyes. I realized I was clearly causing some sort of an alarm here, so I stopped taking pictures for a bit.
Two minutes later he returned and the following transpired (let me once again emphasize that his tone was confrontational and aggressive):
"What do you think you are doing? You can't take photos."
"Oh I'm sorry, it's my first time flying with TAAG and the first class cabin is so beautiful. I really like trying different airplanes."
"You can't do this, it is wrong, it is against the security policy."
"I don't have pictures with any people in them, but I won't take any more pictures of the cabin. I will just take pictures of the food and drinks."
"You can't do that, it violates the security policy."
"Taking pictures of food does?"
He walked off. Again, it's not what he said, but how he said it. There's a polite way to address people and a not polite way.
A minute later another flight attendant came by my seat.
"What is wrong with you? Why? Why do you take pictures of everything? Why? Why?"
I figured I'd explain it to her.
"I just want you to understand nothing is wrong, I am just really enjoying the experience and wanted to take pictures for memories."
"Oh okay, so nothing is wrong?"
"No, everything is great" (maybe a bit of a stretch, but…).
Then a minute later the cabin manager returned, with another male flight attendant behind him, and the captain watching from the galley.
"Delete all your pictures right now. I want to see your phone. Do it now."
I did that, though of course since I have an iPhone, those photos just went into my "recently deleted" folder, which can easily be recovered.
I had been writing in my "notes" app, as I always do on flights to take notes, and I guess he saw me typing.
"What are you writing? I want to see it."
I flashed the "notes" app of my phone at him, and he huffed off.
I don't want to be a drama queen, but I've never felt so intimidated on a flight, and for a second I thought they were going to kick me off the plane, or something. Like I said, it's one thing if he had politely said "I'm sorry sir, you can't take pictures of our plane, it's against our policy" (even if it's not). But the way he addressed me was next level, and it's clear that he was fuming over what I was doing. Fuming. It's obvious that was the case because it was a few minutes between when he first approached me and when he returned to tell me to delete everything.
It sure seems to me like he was scared he was being watched or judged, or something, which is fair enough. But what he didn't seem to realize is that he can't have me delete my memory, and now I can still write about it.
As you can imagine, my picture taking for a while was limited.
Finally at 1:20AM the main cabin door was closed, at which point the safety video was screened. At this point the captain announced our flight time of 7hr40min to Sao Paulo, and anticipated that we'd be landing after 5AM, about two hours behind schedule.
The cabin was then sprayed. Usually they just pass through the cabin once, though they used an entire can in the first class cabin, so we got four passes. By the end of it the cabin smelled like a Bath & Body Works.
In addition to the three of us, there were three other first class passengers, seated in 1A, 2A, and 3A. I believe these were TAAG employees based on their luggage and interaction with the crew.
At 1:35AM we began our taxi, and there was no pushback required, since we were at a remote stand facing the taxiway. We were airborne by 1:40AM, just five minutes after starting our taxi.
The seatbelt sign was turned off five minutes after takeoff. About 10 minutes after takeoff I headed to the forward lavatory, and found the cabin manager in his jumpseat sound asleep. For someone so concerned about security…
20 minutes after takeoff I was offered a warm towel and was brought my tablecloth.
I figured I would risk it and keep taking pictures, though I did so very subtly, and frankly was startled, so I apologize for the quality of the pictures.
I wasn't asked whether I wanted dinner or not, but rather the flight attendant just automatically took out my tray and didn't say anything to me.
"Drink?"
"Champagne please."
"For food you want chicken or fish?"
I'm not sure why there were only two options, because there should have been three, based on the order sheet that was openly hanging in the galley. I'm guessing the crew chose from the selection first, for "security reasons," I'm sure.
The service began with a salad and an appetizer consisting of calamari and some veggies. I wasn't terribly hungry, so just had a few bites of it. I had a glass of still water and champagne to go along with it.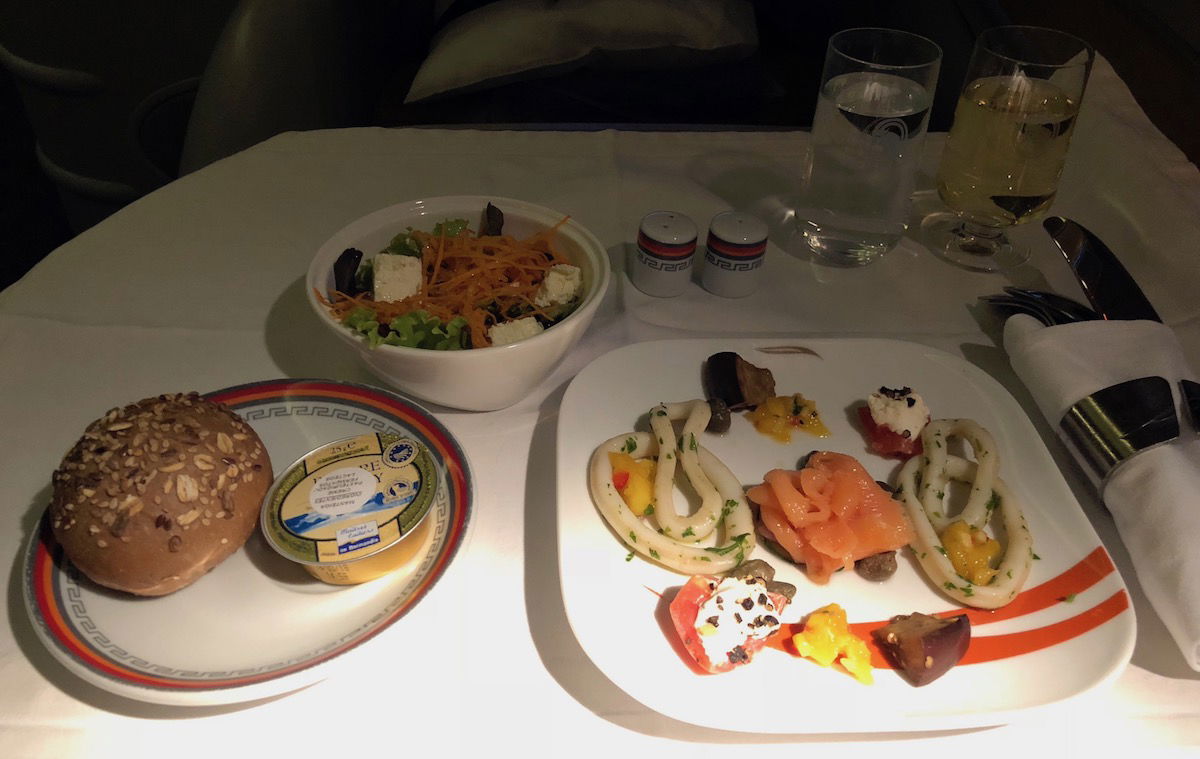 TAAG first class dinner — appetizer
The main course consisted of some fish and potatoes. I'm not sure exactly what kind of fish it was, but it was quite good.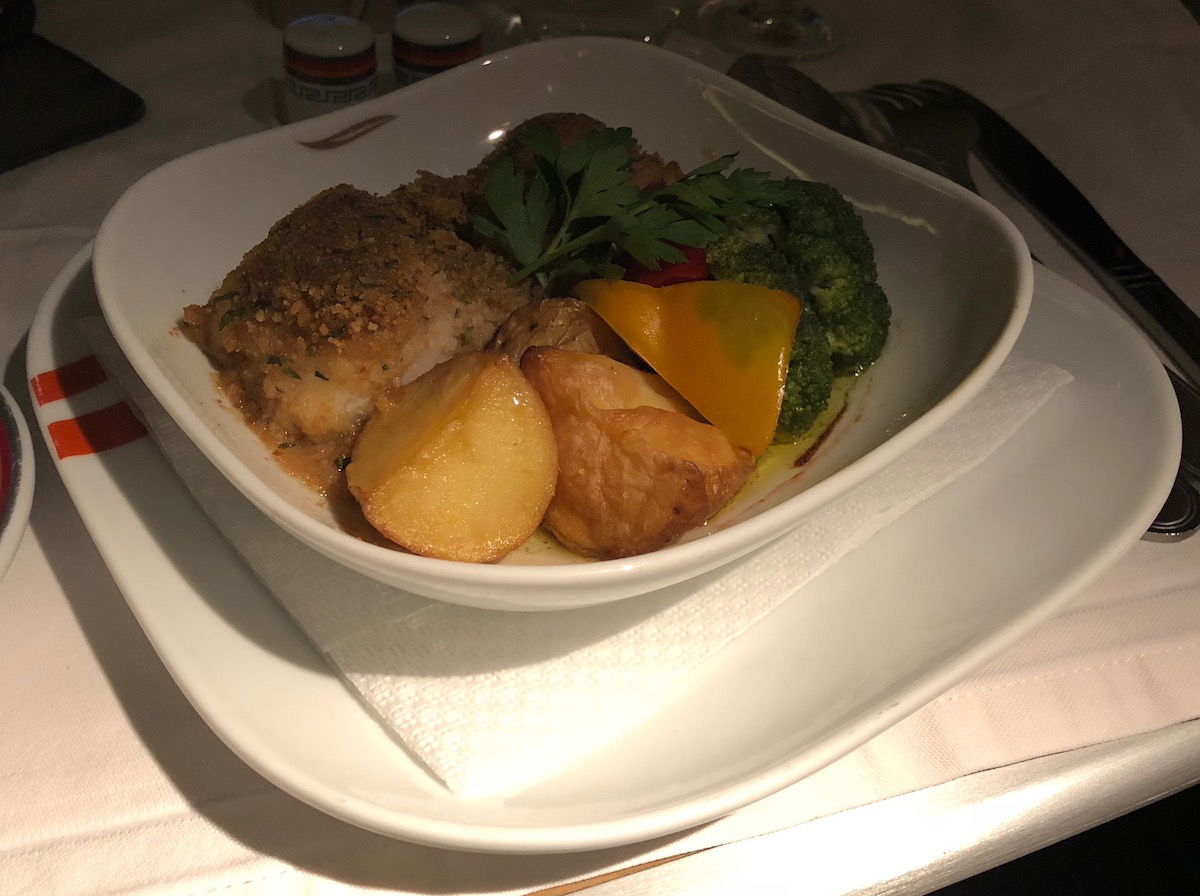 TAAG first class dinner — main course
Then for dessert I had a chocolate pear tart, which was excellent.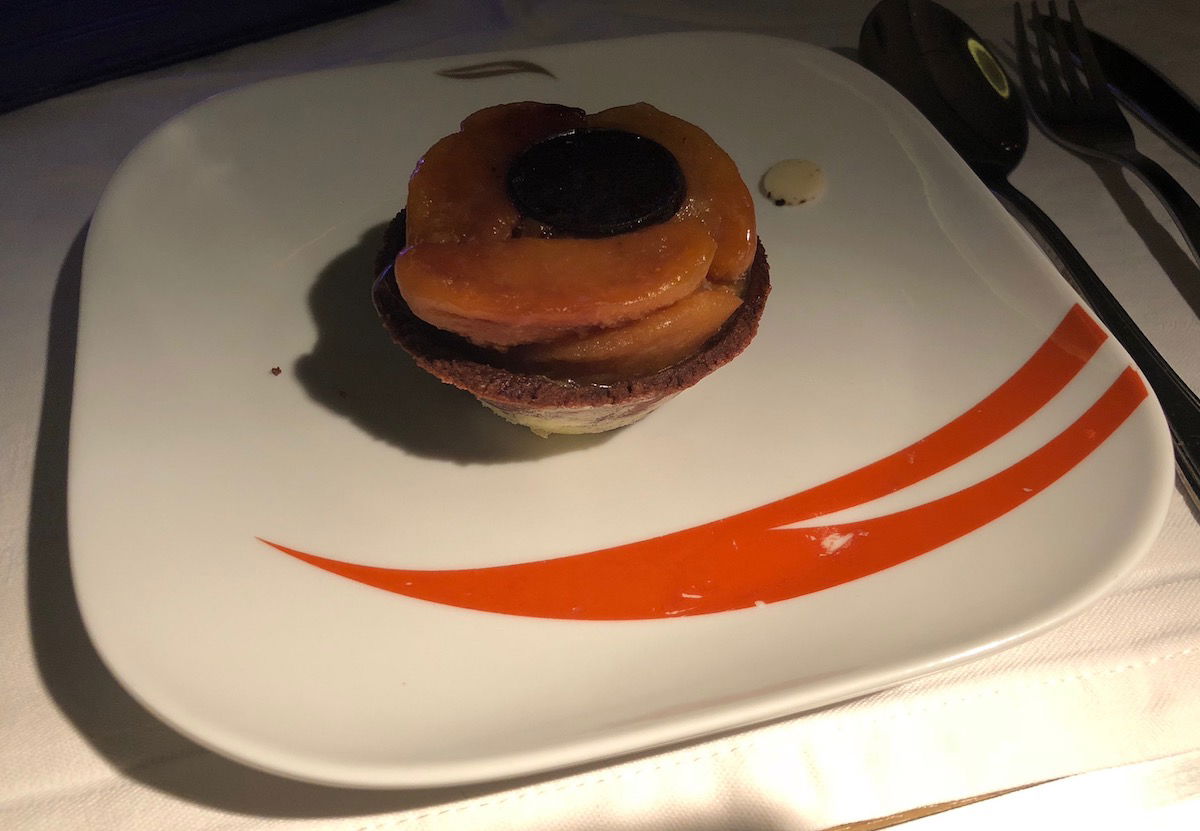 TAAG first class dinner — dessert
I asked if I could also have a cheese plate, since I wanted to see what it looked like. When I asked for that the flight attendant said "you want that as well?"
"Yes, if that's okay."
She rolled her eyes, and returned with it a minute later.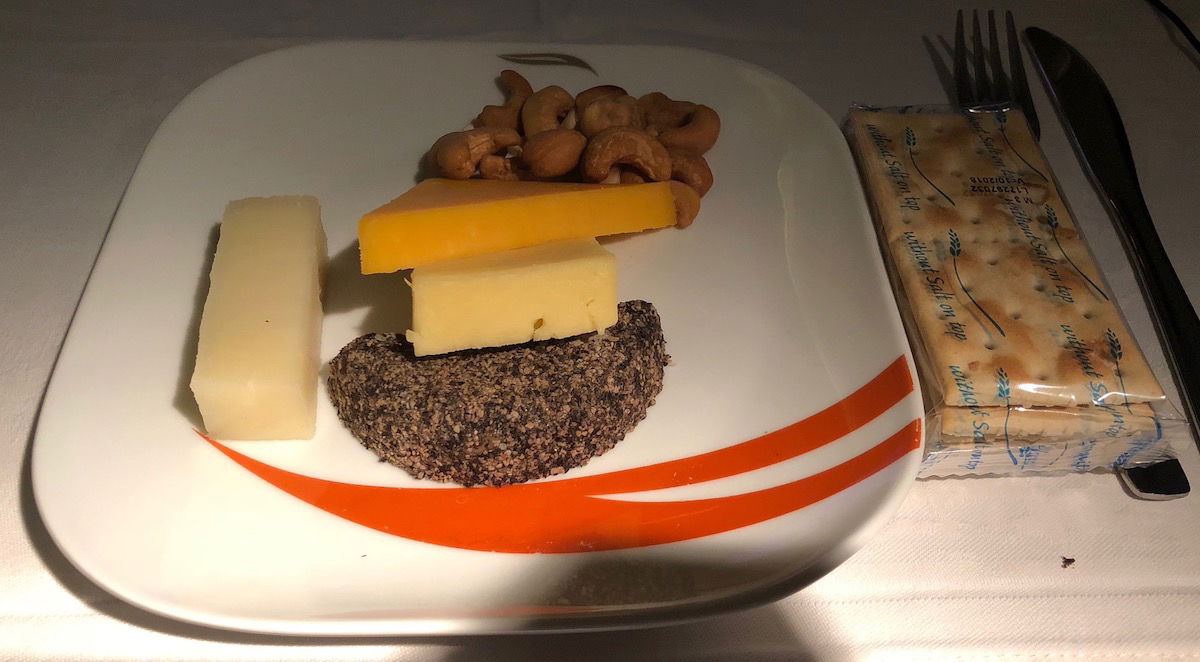 TAAG first class dinner — cheese plate
The meal service was done about 80 minutes after takeoff, and I'd be shocked if we exchanged more than a dozen words the entire meal. The service was cold and not at all attentive, though at least the meal was served quickly.
Before going to sleep I checked out the airshow. The Luanda to Sao Paulo route sure is a straight shot across the ocean, without many diversion points.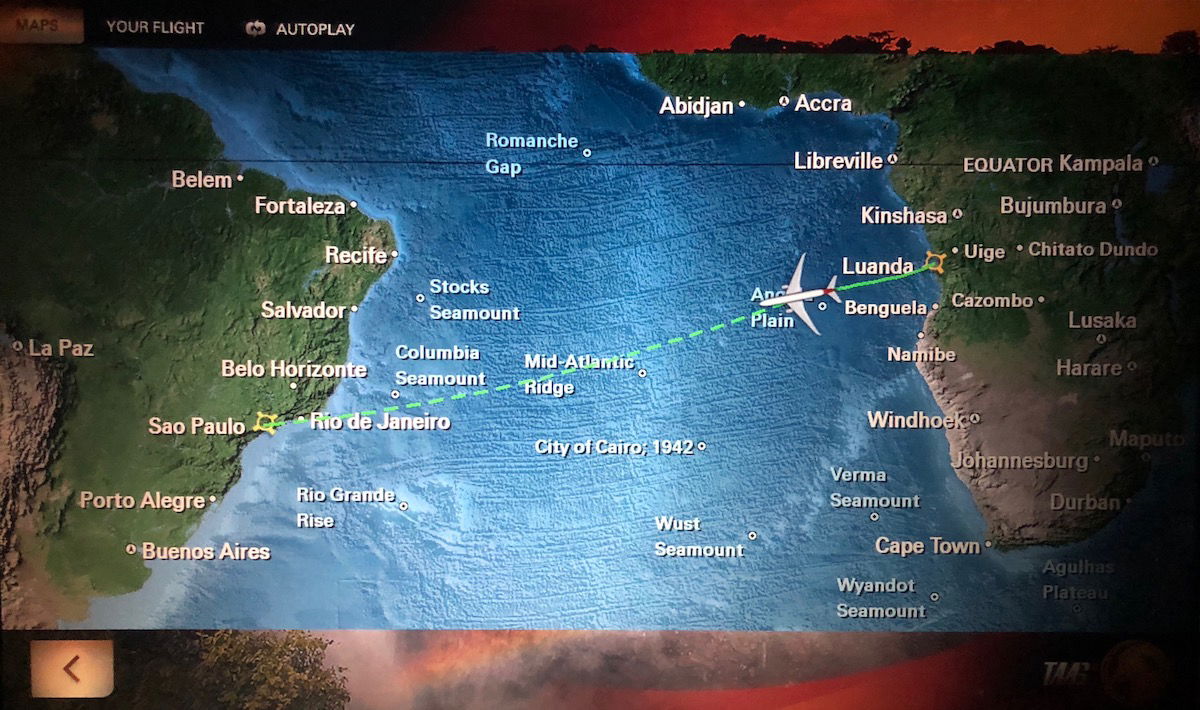 Airshow enroute to Sao Paulo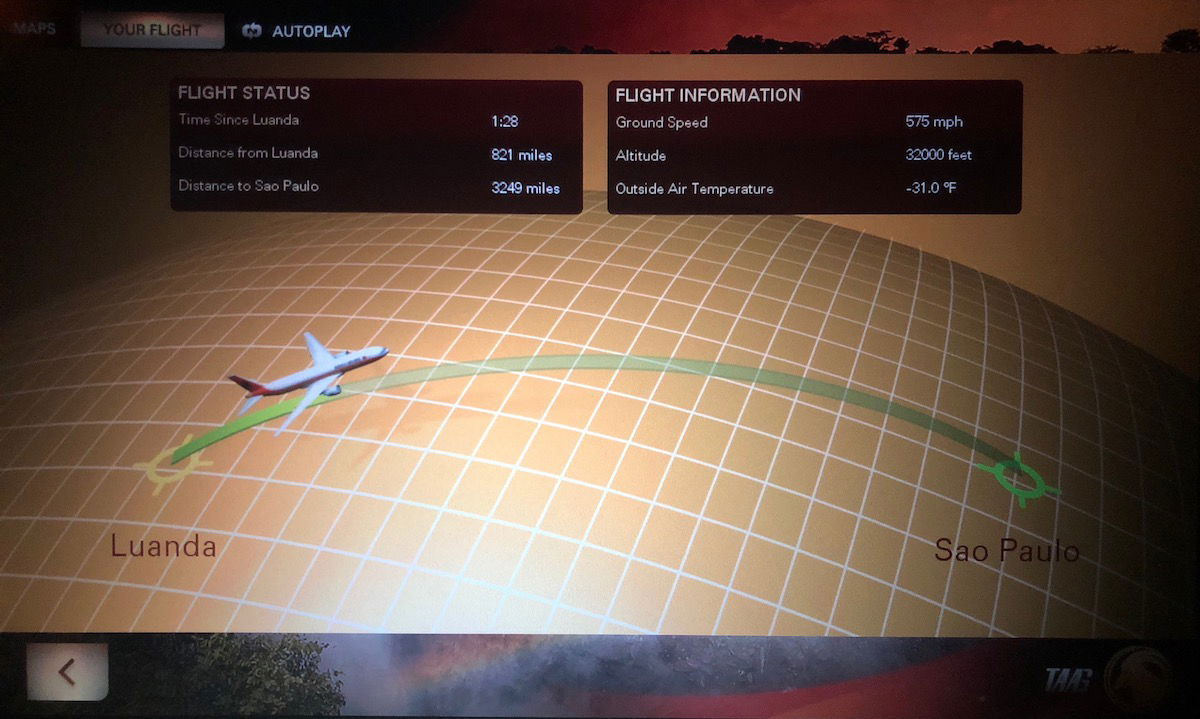 Airshow enroute to Sao Paulo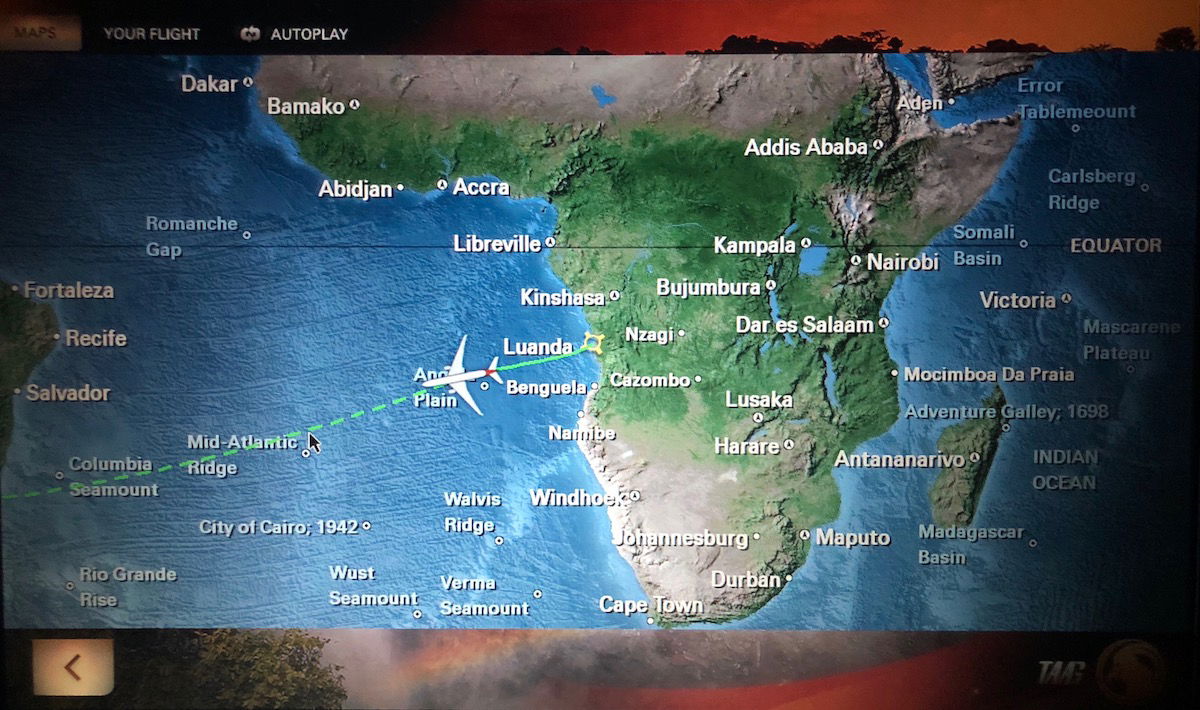 Airshow enroute to Sao Paulo
The entertainment selection looked very similar to what was offered on the previous flight. However, unlike the previous 777, this one didn't have Wi-Fi.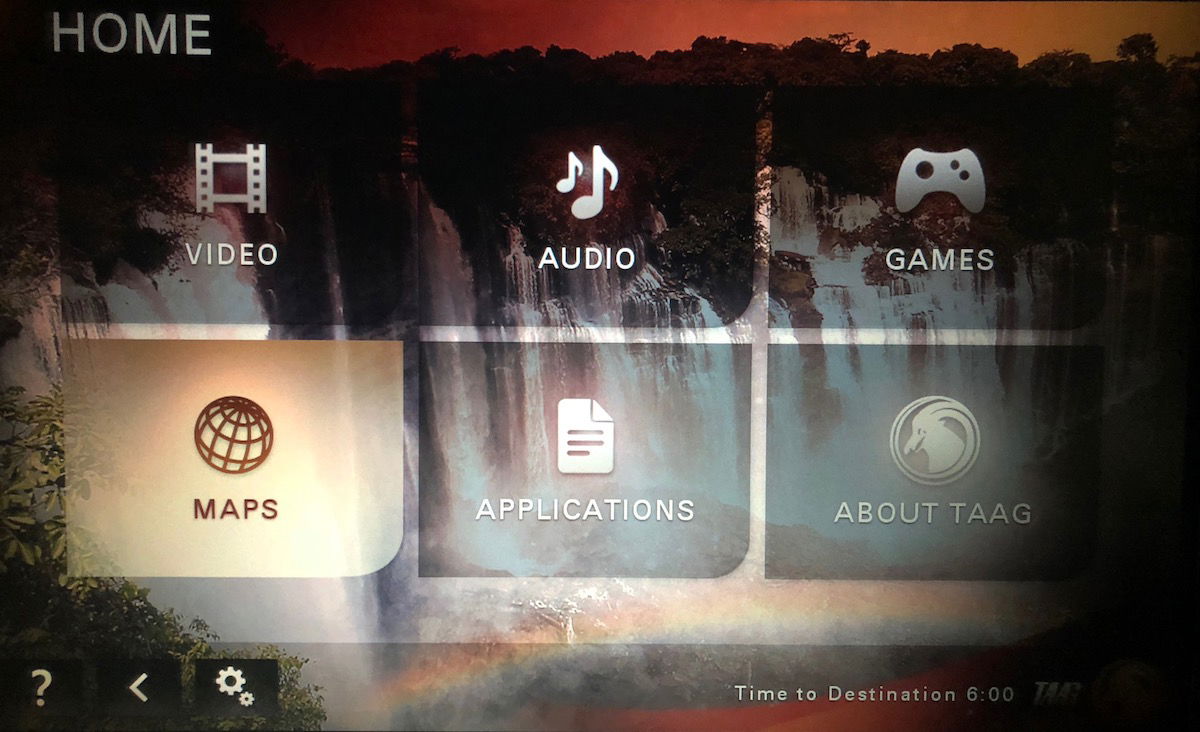 TAAG inflight entertainment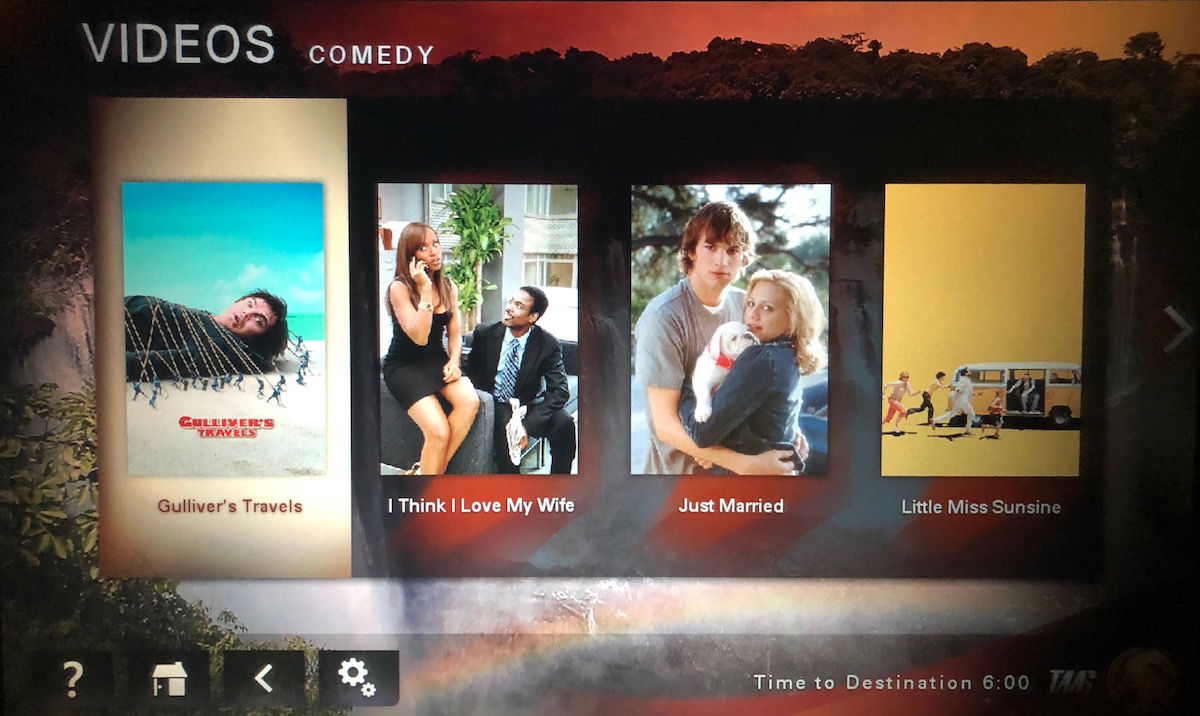 TAAG inflight entertainment
The entertainment system could be controlled with an easy to use controller.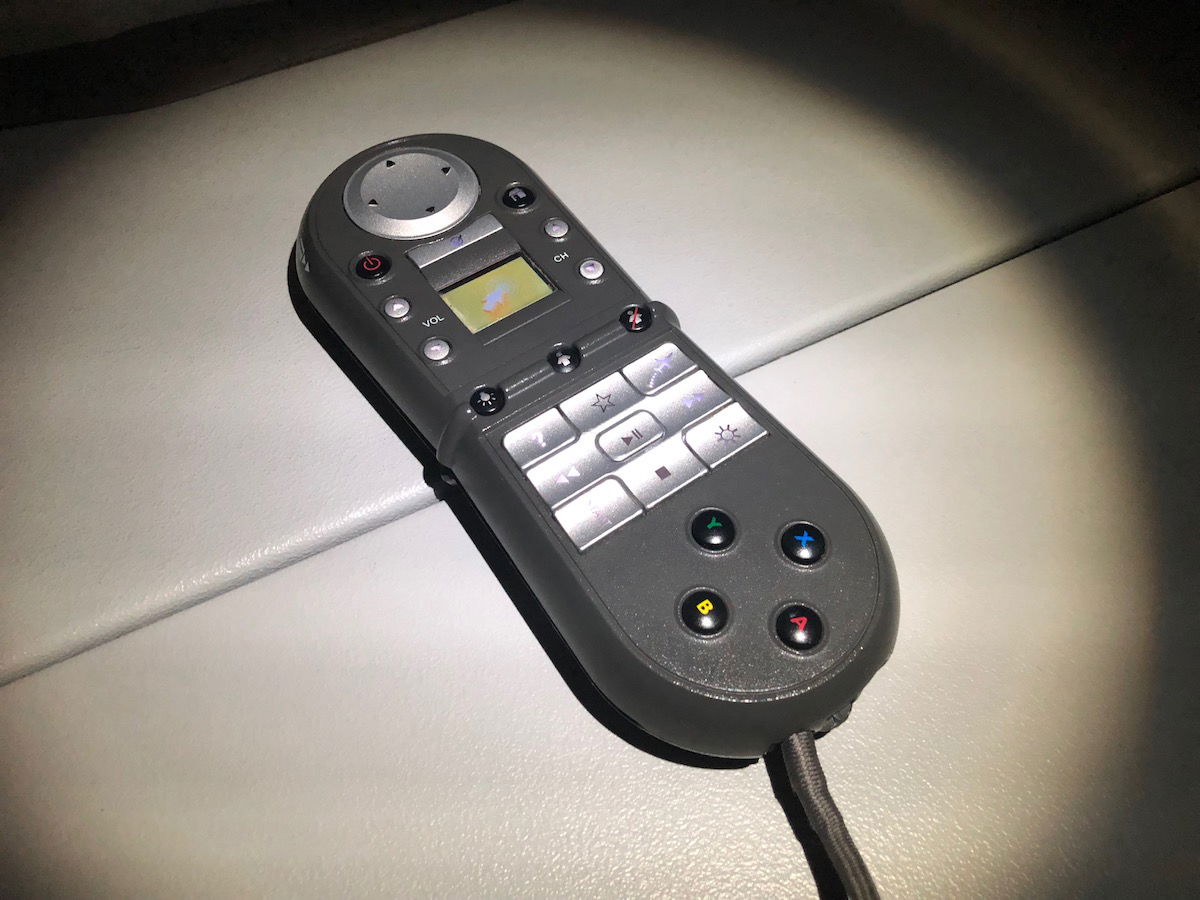 TAAG 777 entertainment controller
However, I was tired, so just headed to the forward galley to go to the bathroom before going to sleep. The bathroom was pretty no frills.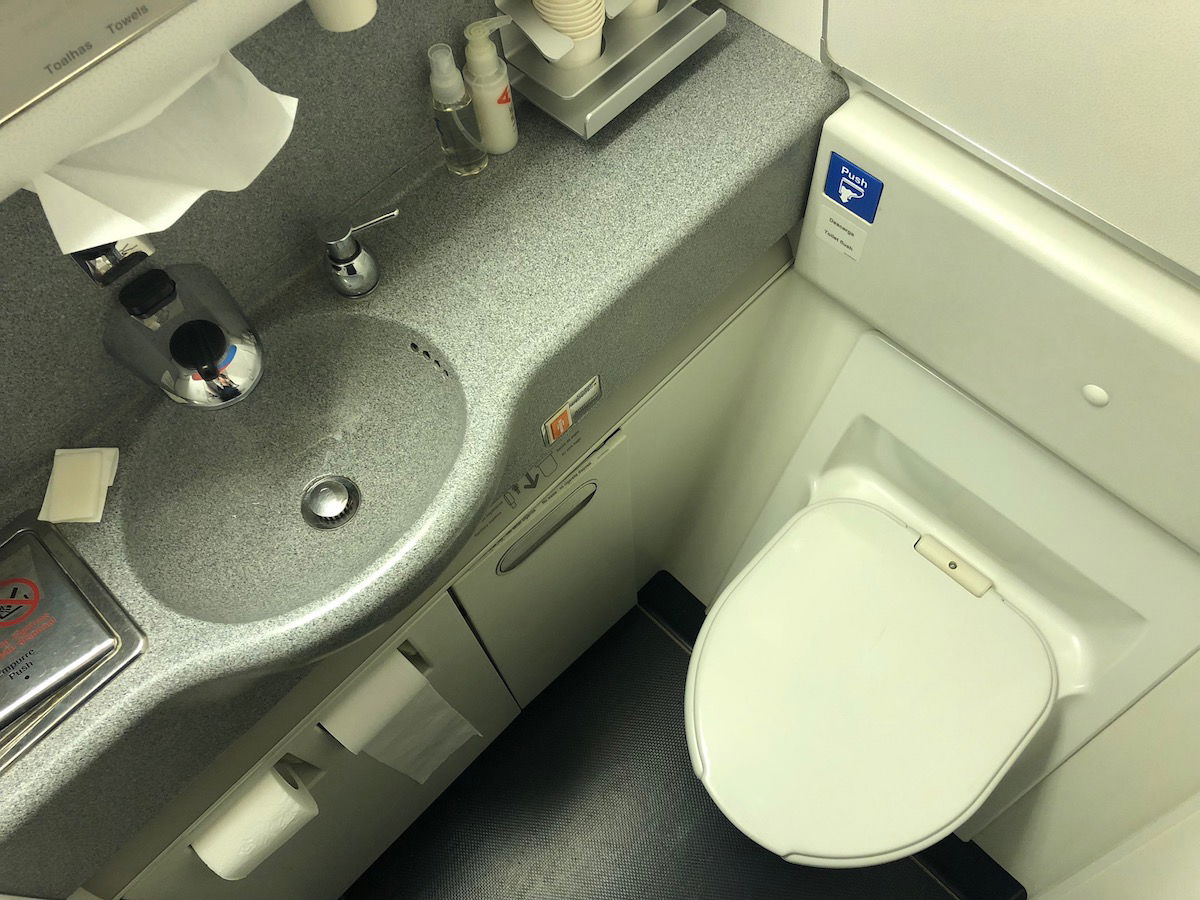 TAAG first class lavatory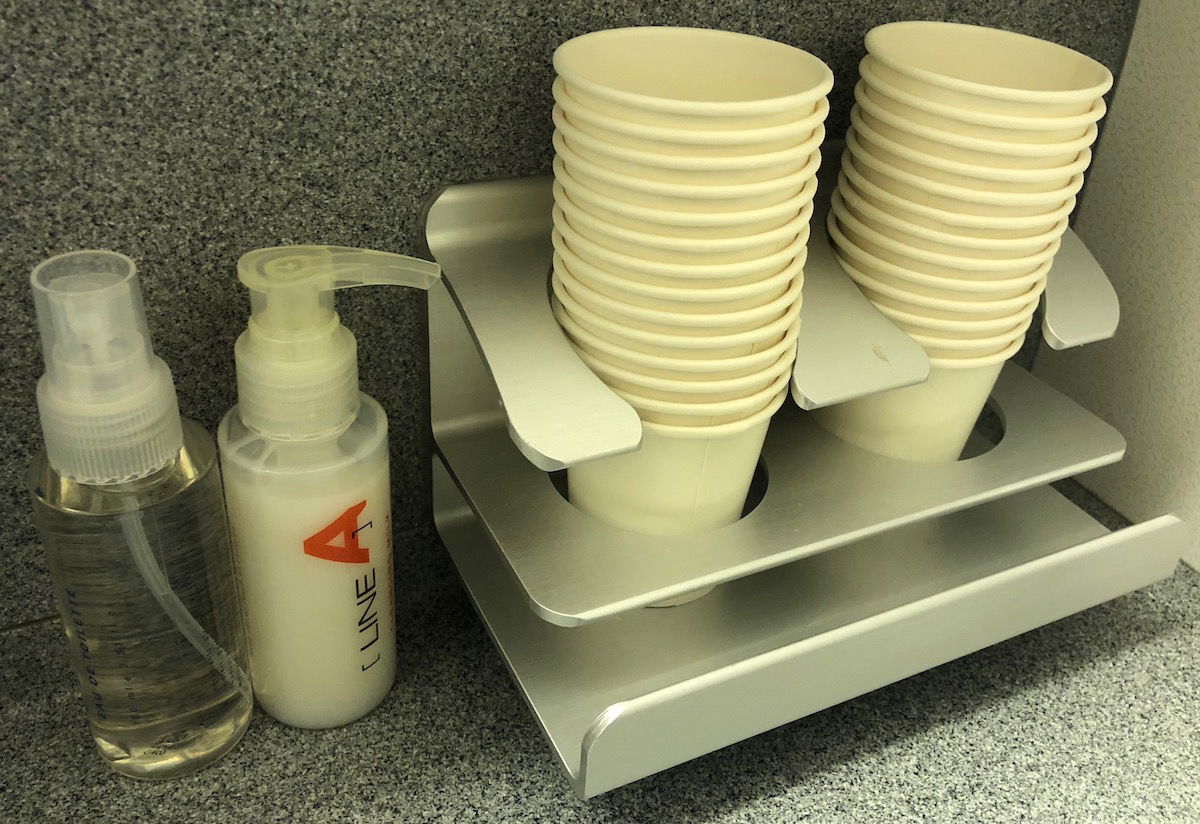 TAAG first class lavatory amenities
While visiting the bathroom I saw three flight attendants asleep in the jumpseats, including our beloved cabin manager.
At that point I reclined my seat with about six hours remaining inflight, hoping to get some shuteye. TAAG has the same awful bedding on this flight that they had on the previous flight, which is so pathetic. This is economy bedding, or at best the bedding you'd get in short-haul business class. To offer this in international first class on a redeye is downright unacceptable.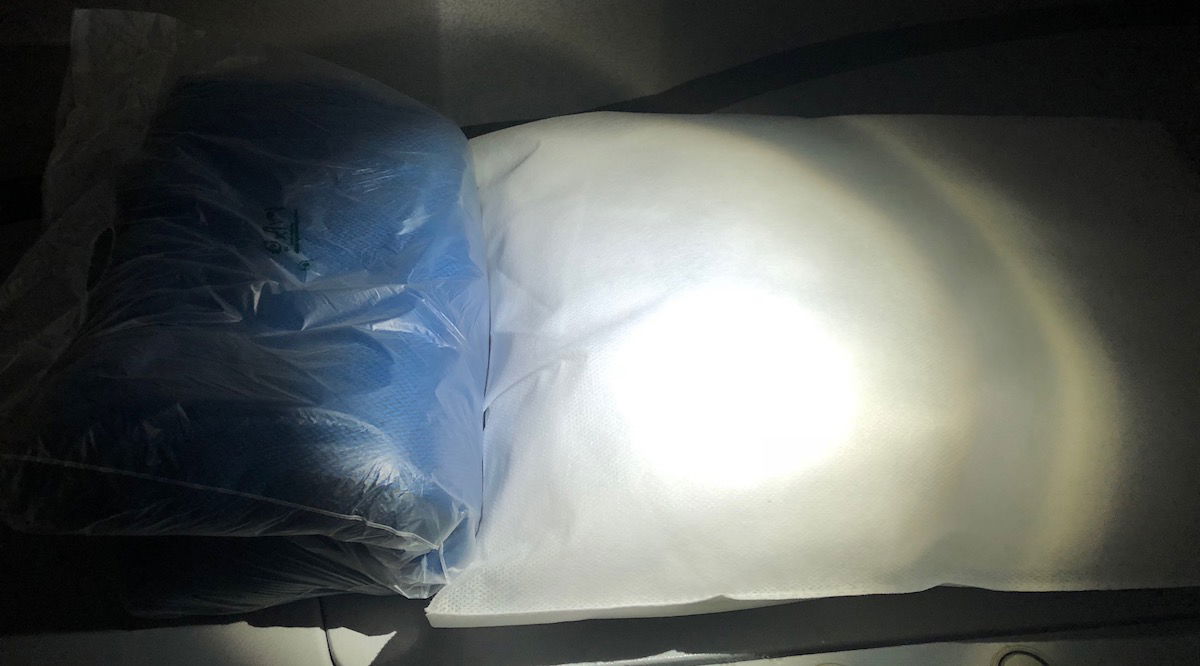 TAAG first class pillow & blanket
Not surprisingly the crew didn't ask if I wanted to be woken for breakfast, and for that matter I didn't really want to be woken anyway. I woke up 30 minutes before landing, and had absolutely no expectation of being served breakfast. I didn't ask for it, but rather just started to put my seat upright.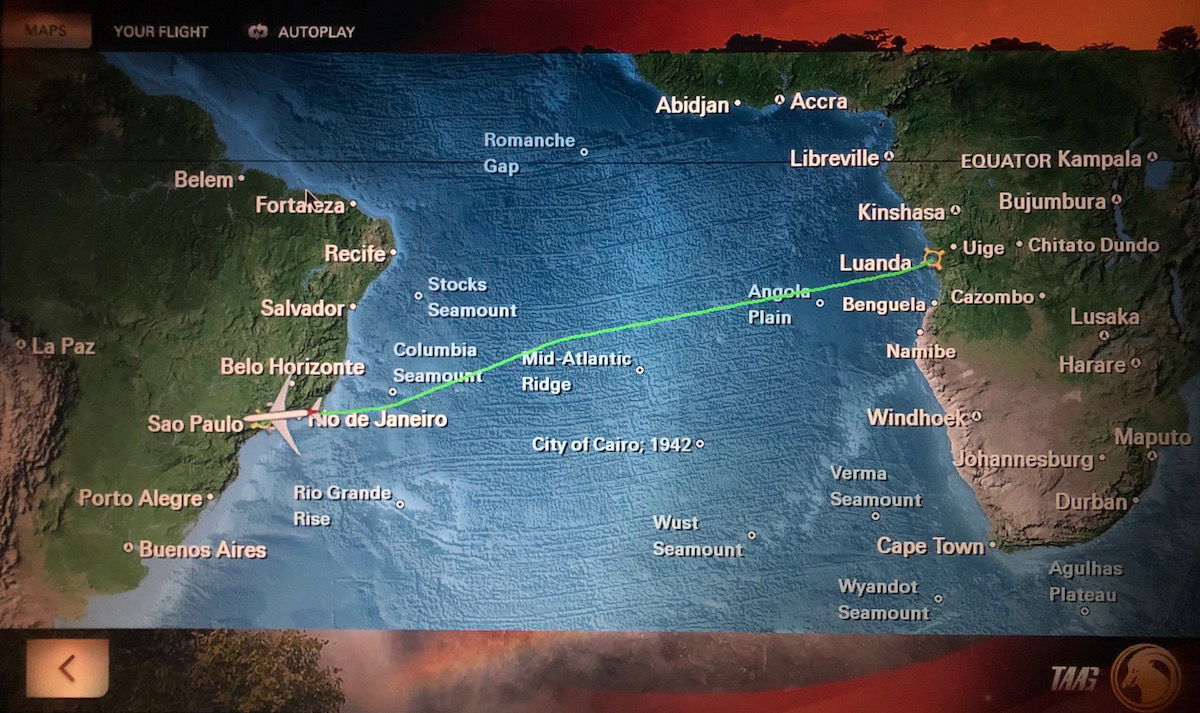 Airshow enroute to Sao Paulo
At this point the flight attendant lectured me — "why did you sleep so long? We only have 30 minutes, you need to eat fast. I give you 10 minutes."
The food was forcibly placed on my tray table, which is to say that the flight attendant didn't put any effort into placing it down gently, but rather seemed to intentionally just "drop" the dishes a couple of inches above the tray.
Breakfast consisted of an omelet, steak, potatoes, bacon, yogurt, and some bread.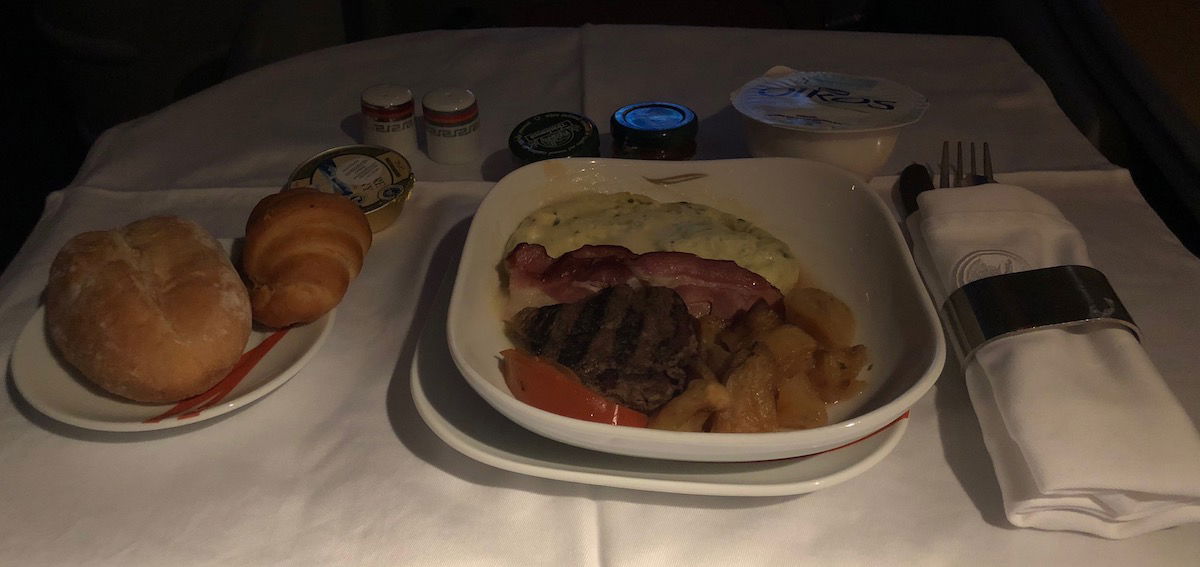 TAAG first class breakfast
I guess on one hand I have to appreciate that she served me a meal at the top of descent (most airlines wouldn't), on the other hand… wow.
We ended up having a smooth touchdown in Sao Paulo at 5:15AM, and then a five minute taxi to our remote stand. This time around there was a first & business class bus, so it left pretty quickly.
This was my best chance to snap a picture of the gorgeous TAAG 777 exterior. Unfortunately that was the only good part of the experience. Boy was I happy to be off that plane.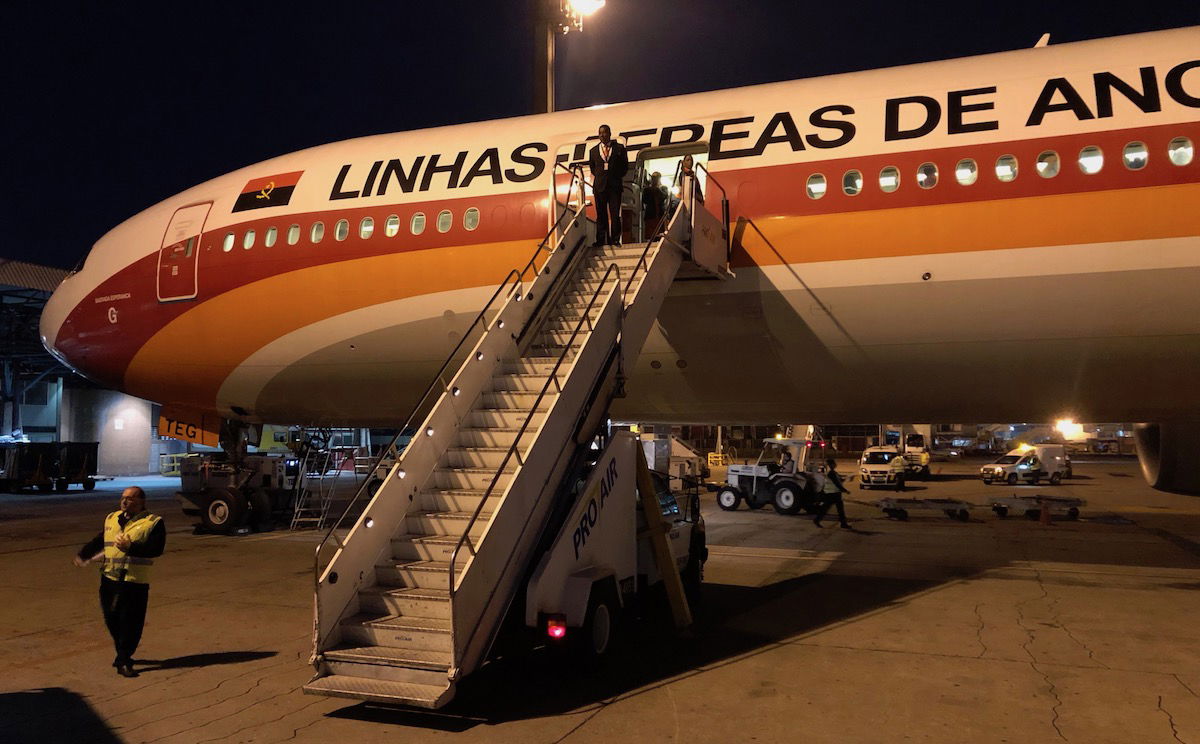 TAAG 777 upon arrival in Sao Paulo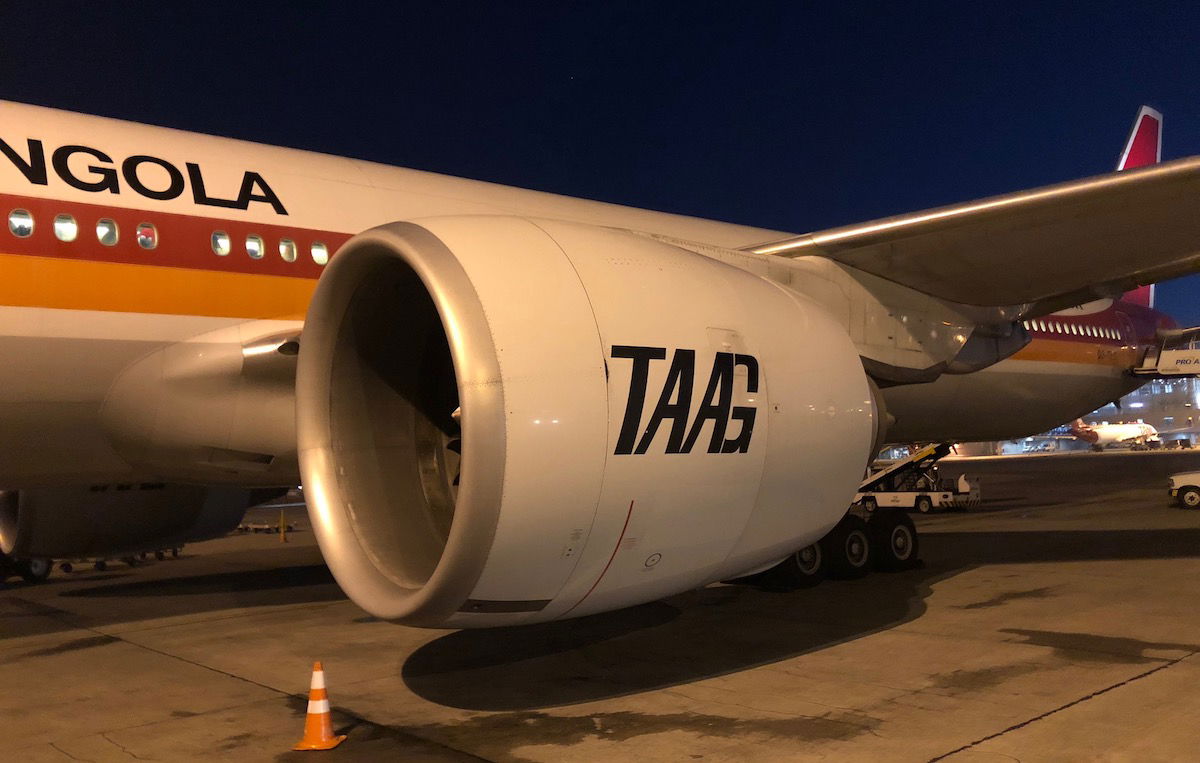 TAAG 777 upon arrival in Sao Paulo
TAAG first class bottom line
It's not often I say this, but what an awful flight. I really wanted to like TAAG. I found the 777 first class cabin to be extremely charming, and if it had been combined with some well intentioned service, I'd probably give them more credit than they deserve. However, I've never in my life had such a disinterested and downright aggressive crew. I felt uncomfortable on this flight.
I was almost scared to go to sleep. I'm also amused that the cabin manager is so security conscious when it comes to pictures, yet thinks it's acceptable to sleep in the jumpseat for nearly the entire flight.