For the last hotel stay of my round the world trip with dad, we spent a night at the Holiday Inn Express Sydney Airport (SYD). The 247-room hotel only opened in 2020, so it's one of the newest hotels by the airport.
While we would have loved to go into the city, we only arrived in Sydney at around 9:30PM, and we left to the airport the following morning at 4AM, so this was the most practical option to get at least some rest. Given our short stay, I apologize for not being able to review all the facilities, though I did my best.
Anyway, this ended up being a great property for our purposes — the hotel is modern, our limited interaction with staff were good, and I even managed to redeem some hotel free night certificates.
Booking the Holiday Inn Express Sydney Airport
When I knew we needed to spend a night near Sydney Airport, I first considered booking Rydges Sydney Airport, since it's the most convenient hotel, and is connected to the international terminal. However, the rate there was over 400 AUD (~$270) for the night, which seemed steep, so I looked at other options.
Fortunately IHG has both a Holiday Inn and Holiday Inn Express near the airport. I had two IHG free night awards that were expiring within a couple of months, so this seemed like a good opportunity to use them. I ended up deciding on the Holiday Inn Express, because it was closer to our arriving terminal, and also because it was a newer property.
For what it's worth, the Holiday Inn Express Sydney Airport was charging 200 AUD (~$135) per night, and I booked two rooms with free night awards. While not the highest value redemption ever, the cards have annual fees of under $100 and offer a free night award annually, so without another specific use in mind, this seemed worth it.

Holiday Inn Express Sydney Airport location
We had arrived at Terminal 2 on Virgin Australia from Perth, and were departing from Terminal 1 on Qantas to Los Angeles the following morning.
Getting from Terminal 2 to the Holiday Inn Express was easy, as it was just a 10-minute walk. I was easily able to navigate us using Google Maps — I wouldn't say it's the best setup in the world for walking, but if you're traveling light, the walk is very doable, though you'll have to cross a couple of streets.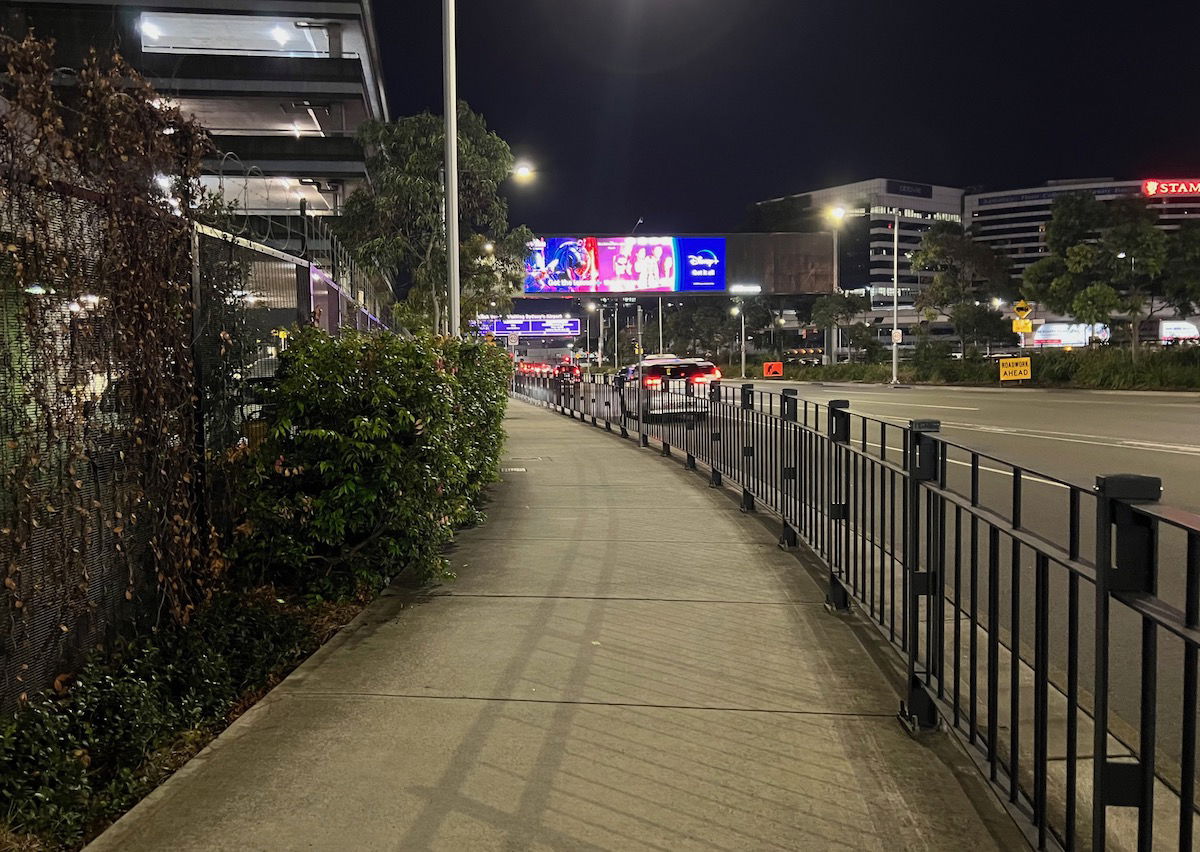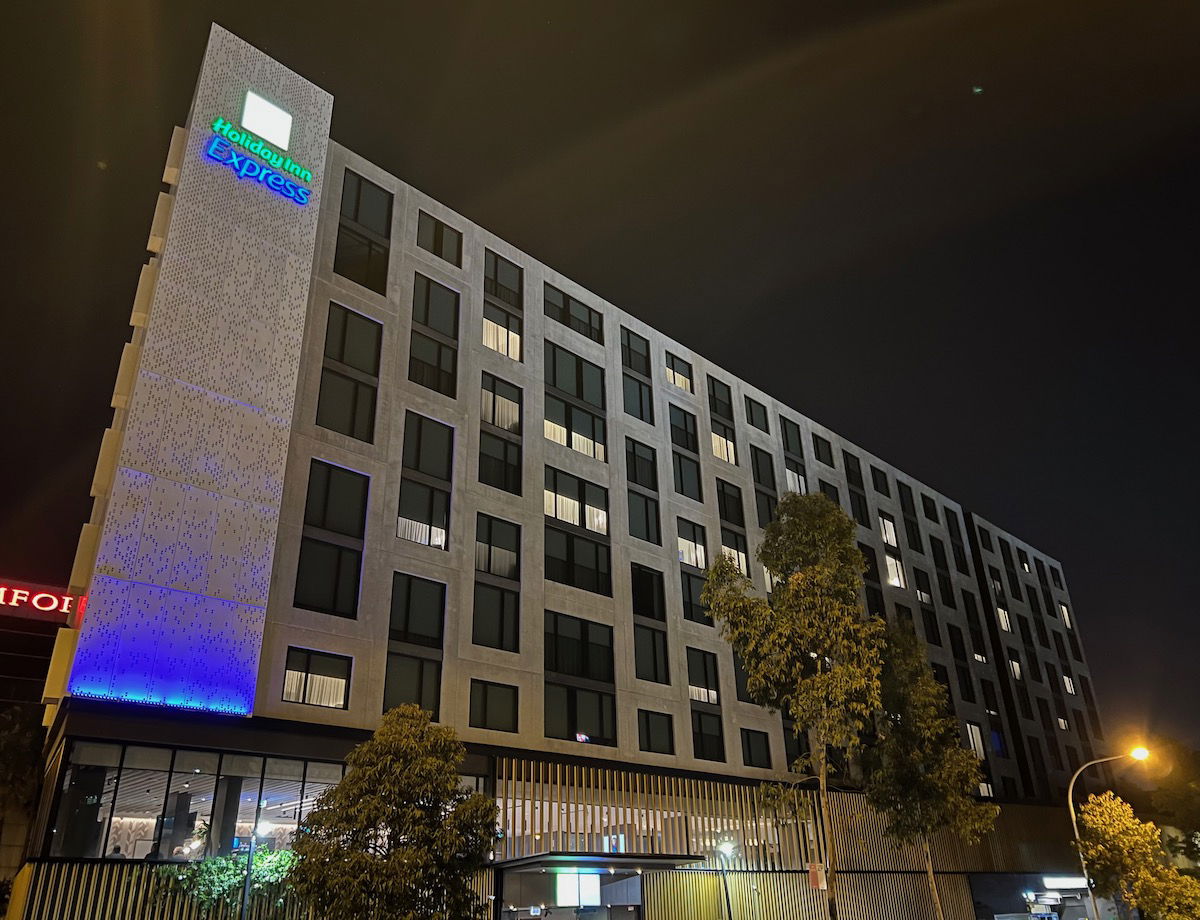 The Holiday Inn Express is significantly further from Terminal 1, so don't plan on walking there. The hotel offers a shuttle service through a third party for 10 AUD per person per direction. However, the first shuttle didn't leave as early as we needed to depart, and for that matter, an Uber will be roughly the same price if you're traveling with more than one person.
I've always found it interesting how in the United States it's pretty standard for airport hotels to offer complimentary shuttles, while outside the United States it's quite uncommon.
Holiday Inn Express Sydney Airport lobby & check-in
We entered the Holiday Inn Express Sydney Airport through the ground floor, while the lobby was one level above, on the first floor. The ground floor just had elevators and a bit of seating, plus some cute propellor art.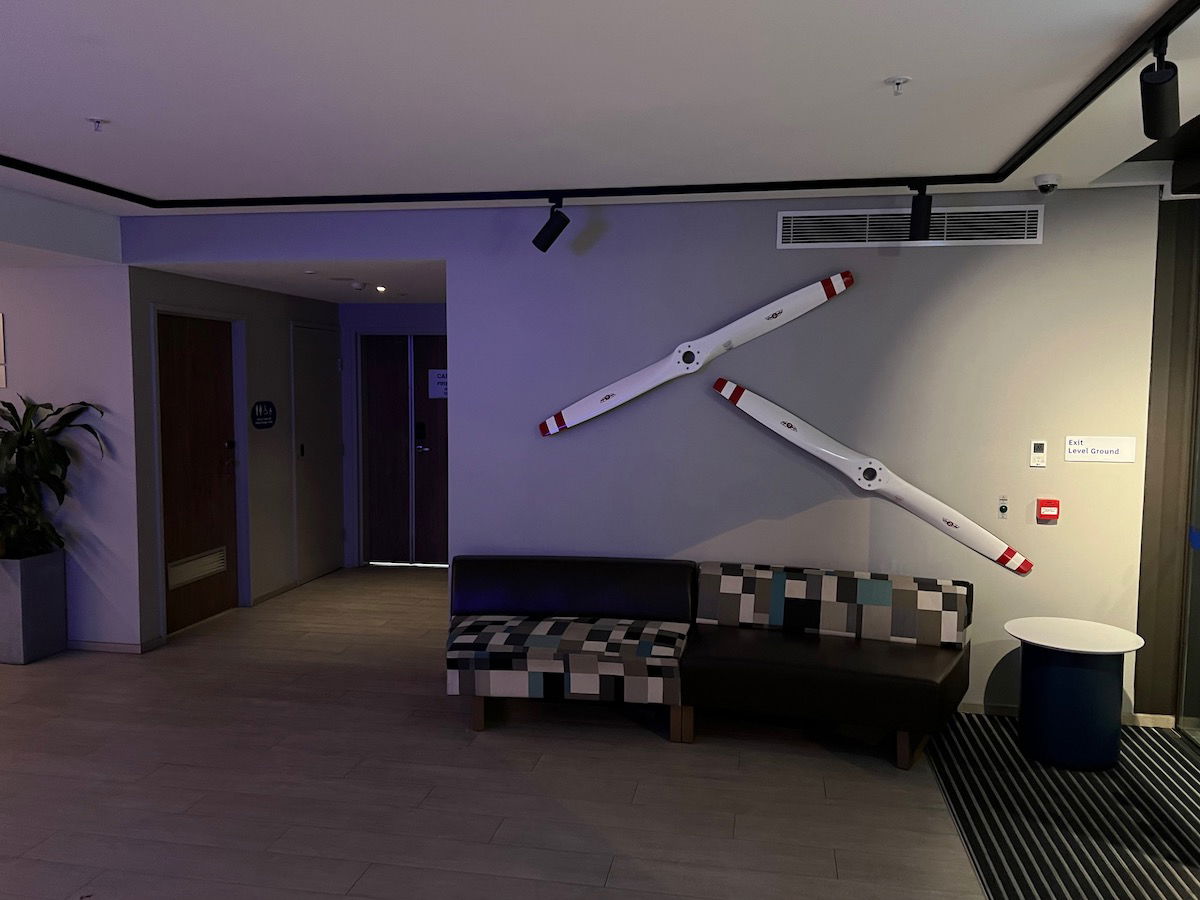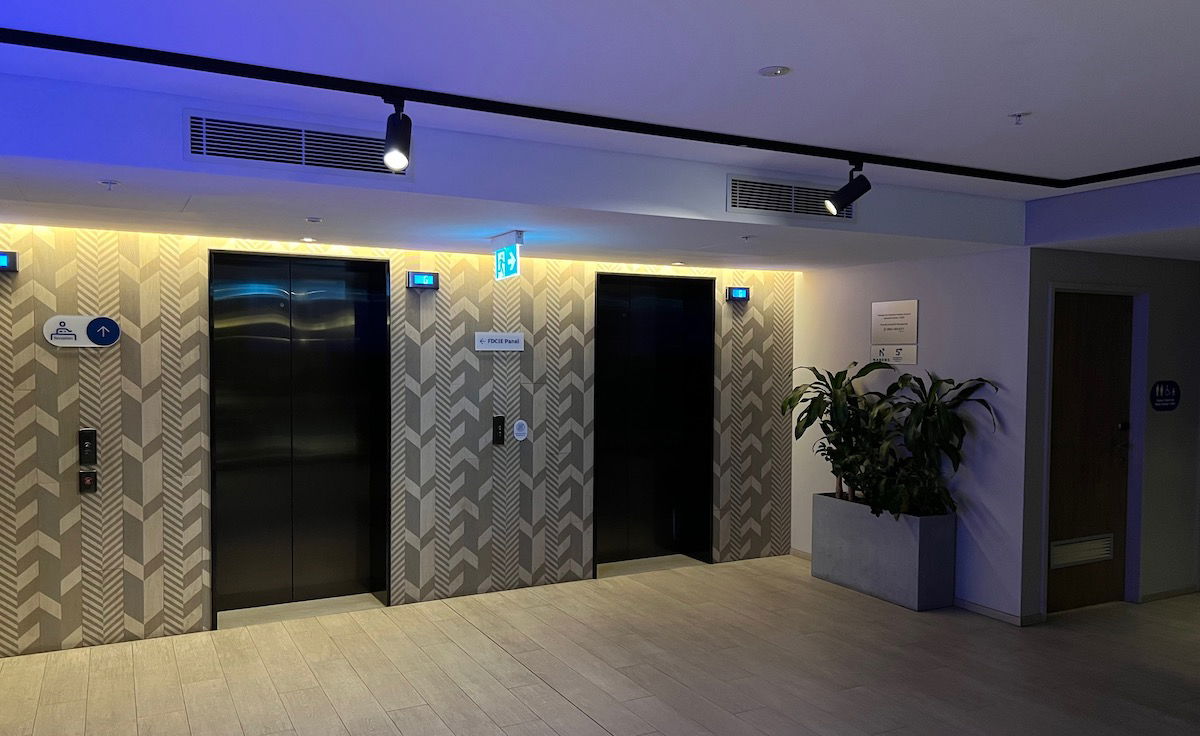 Upon exiting the elevator on the first floor, the reception desk was straight ahead, and there was also plenty of cozy lobby seating. The check-in process was efficient and friendly. I was thanked for being an IHG One Rewards Diamond member, and was informed that we had both been upgraded to king rooms on a high floor.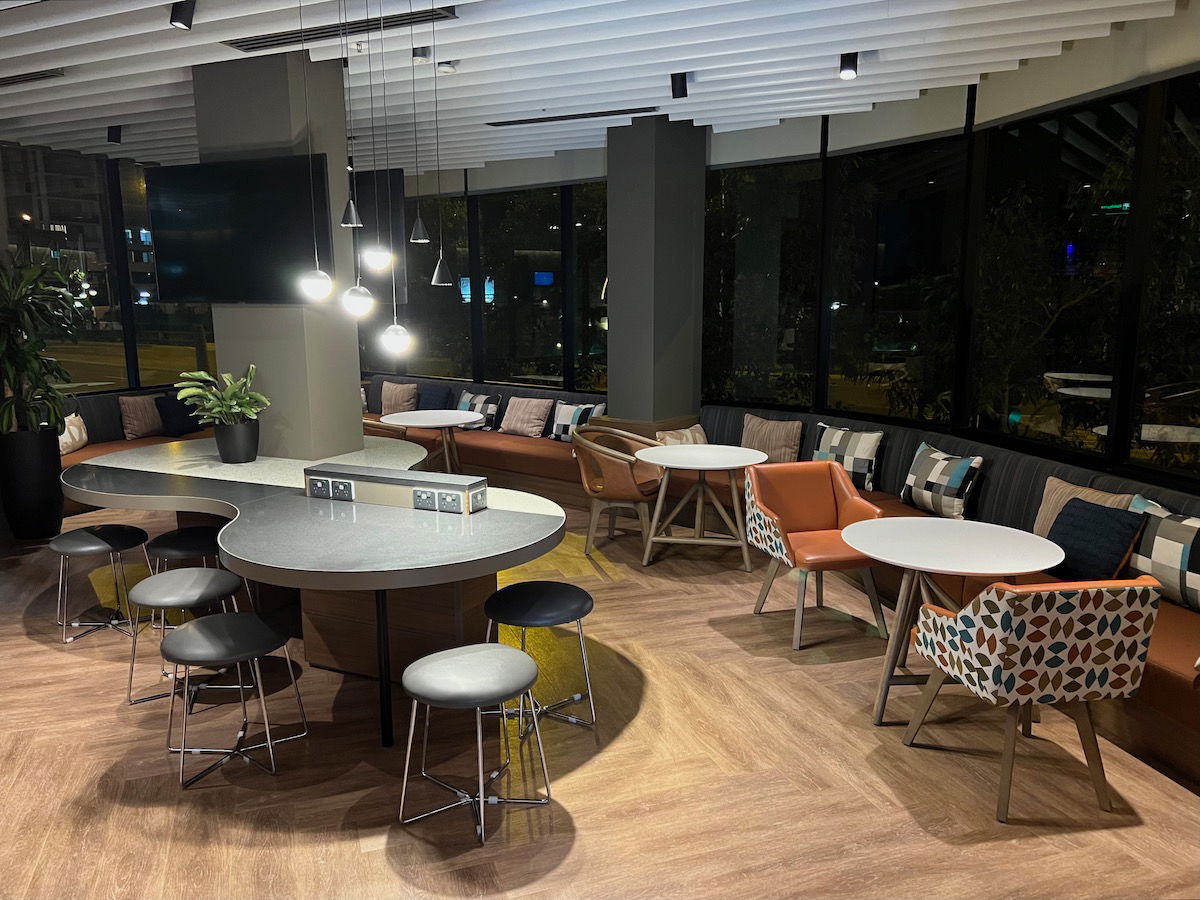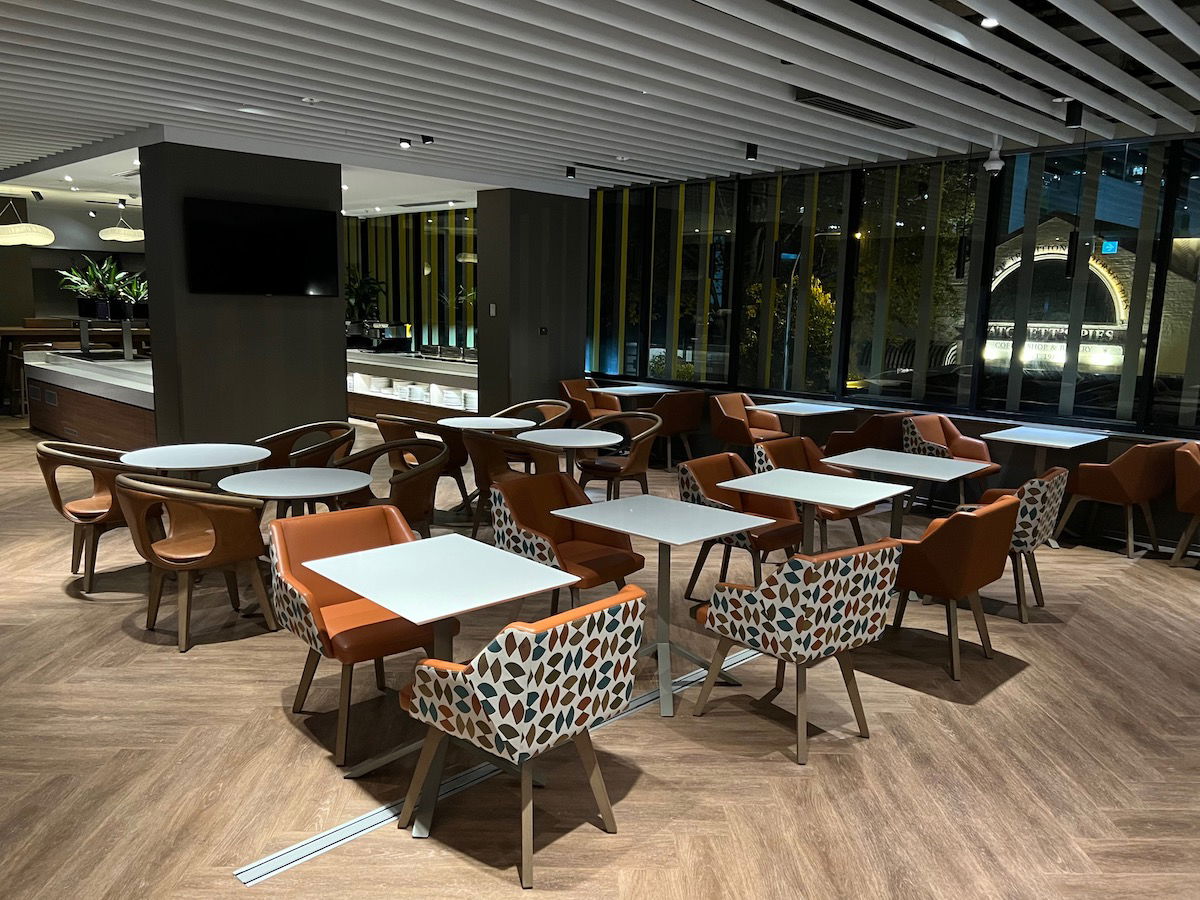 Holiday Inn Express Sydney Airport king room
With keys in hand, we headed up to the eighth floor, where our rooms were located. I was assigned room 828, located a ways down the hall and on the left.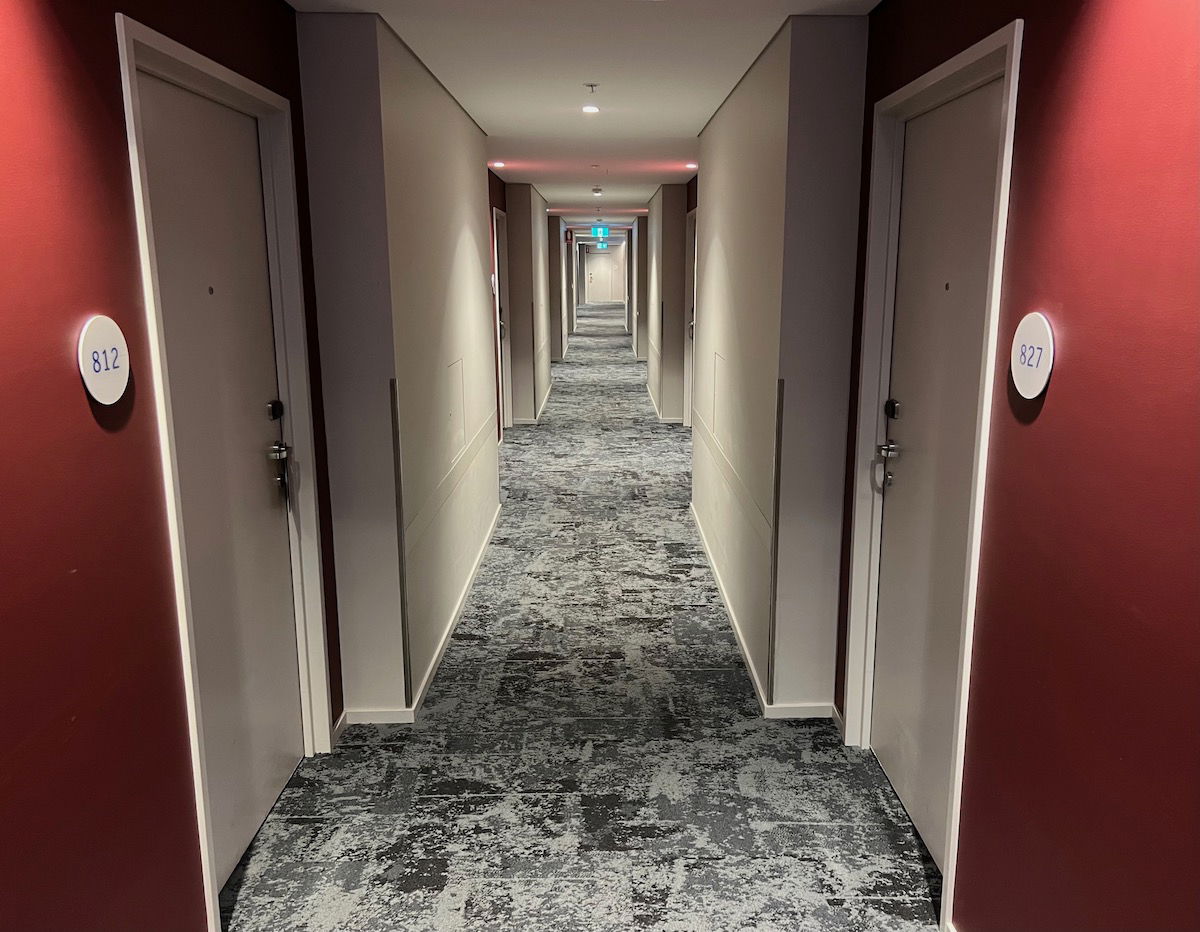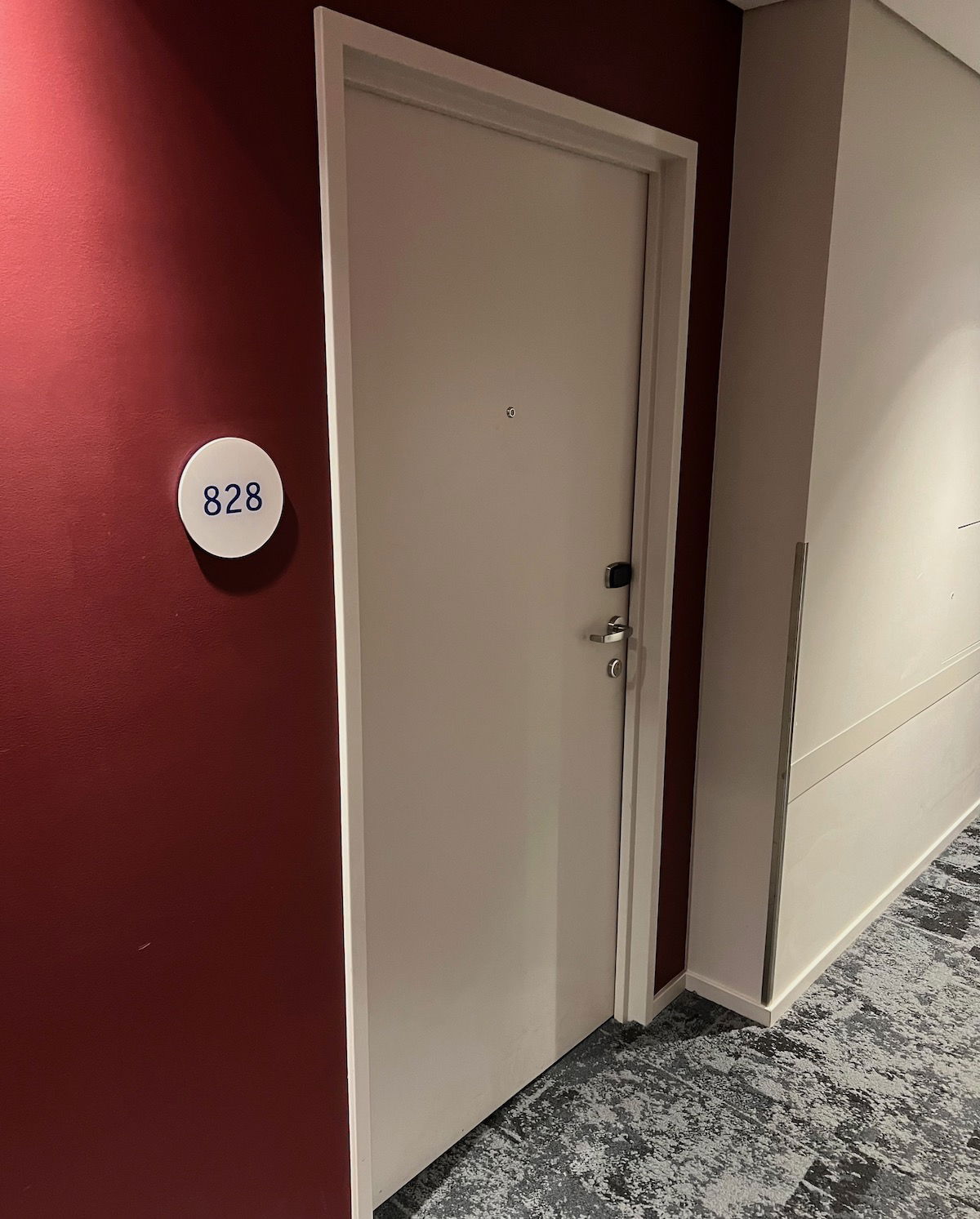 At 21 square meters (~226 square feet), rooms here are compact, but well appointed. The room featured an entryway with the bathroom to the right, and some exposed closet space and the minibar area to the left.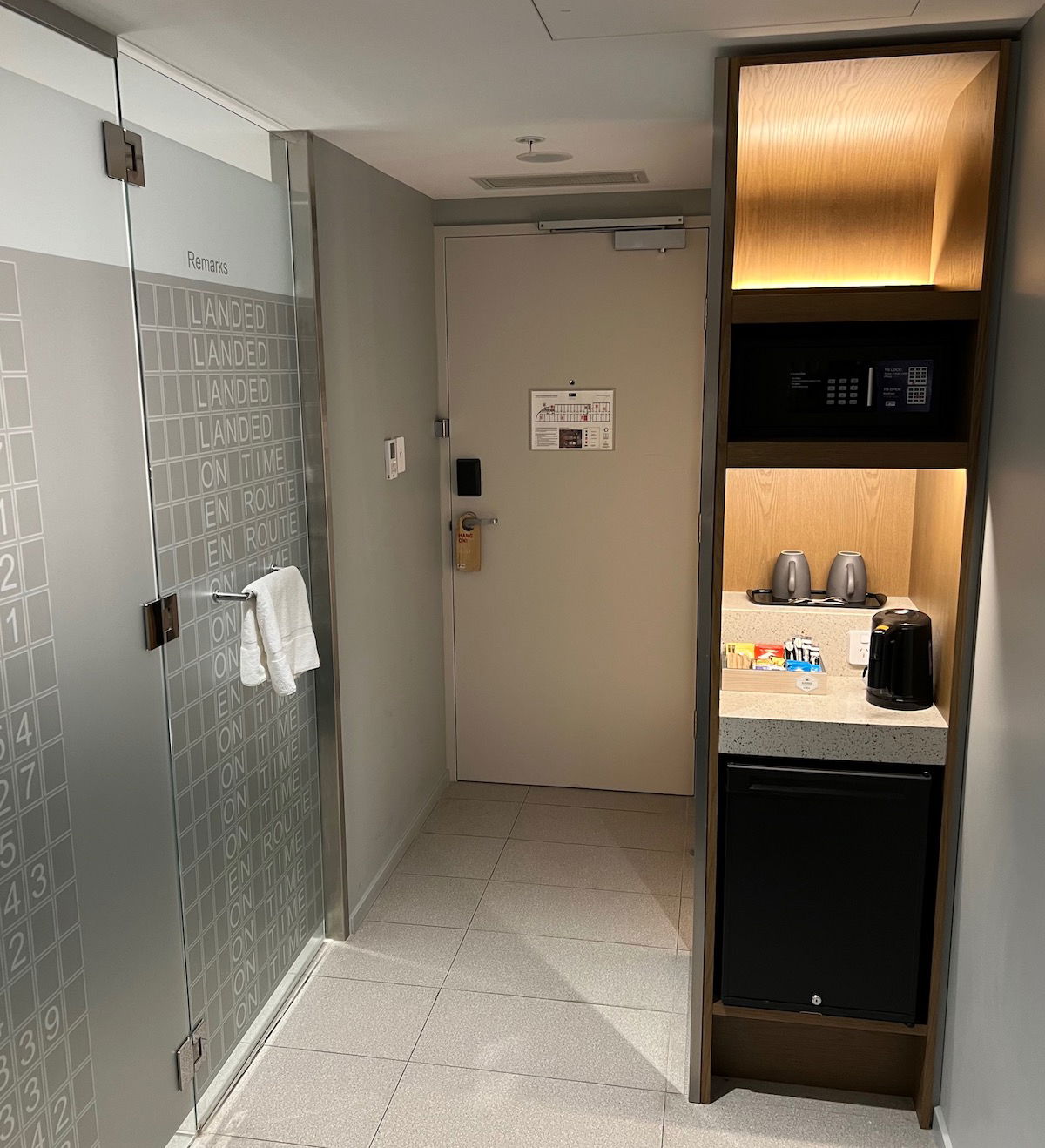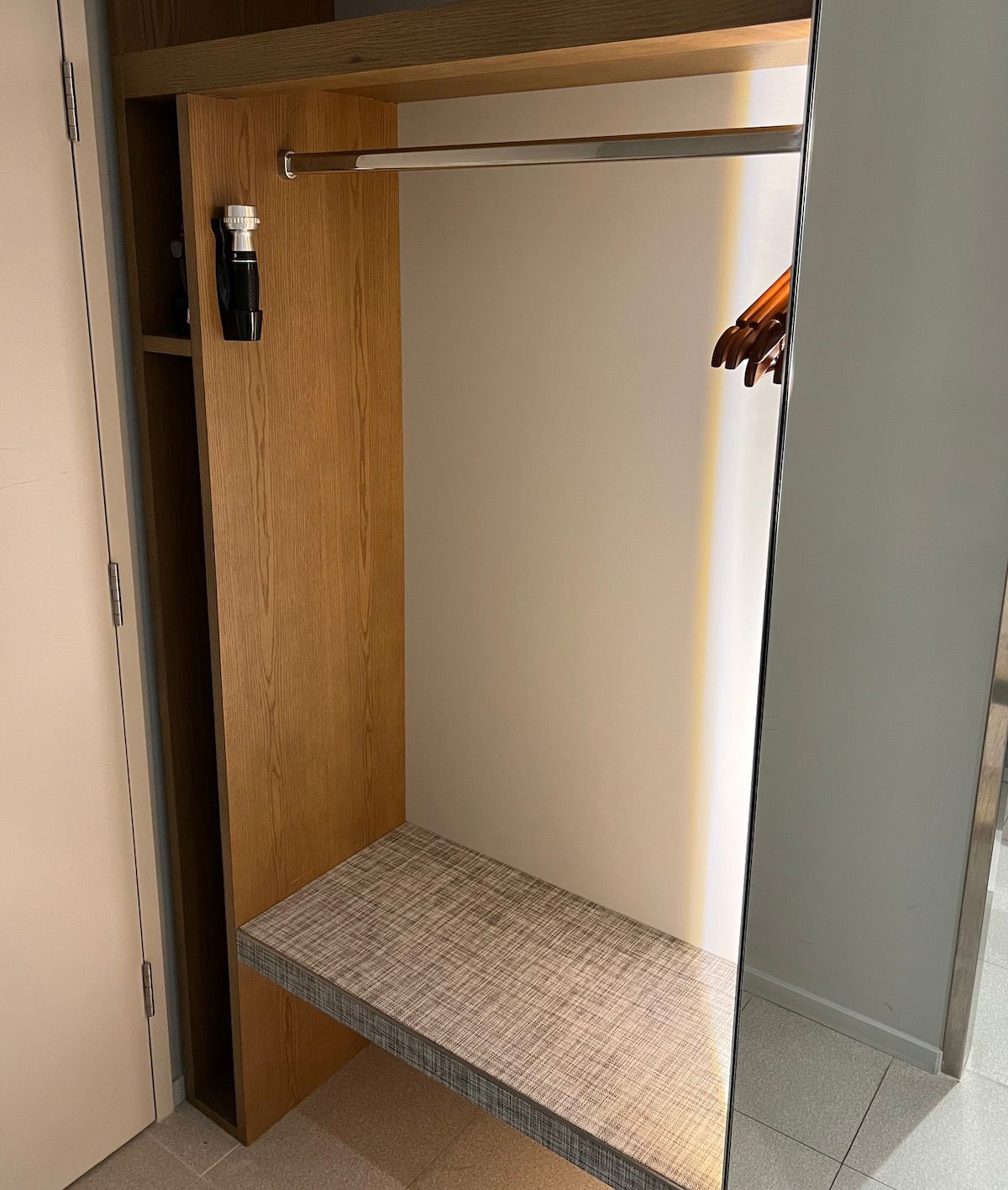 The main part of the room had a king size bed, a desk with a chair, a wall-mounted TV, and then a chair for lounging with an ottoman in the far corner. Given the size of the room, I think they did a good job making the most of these little rooms.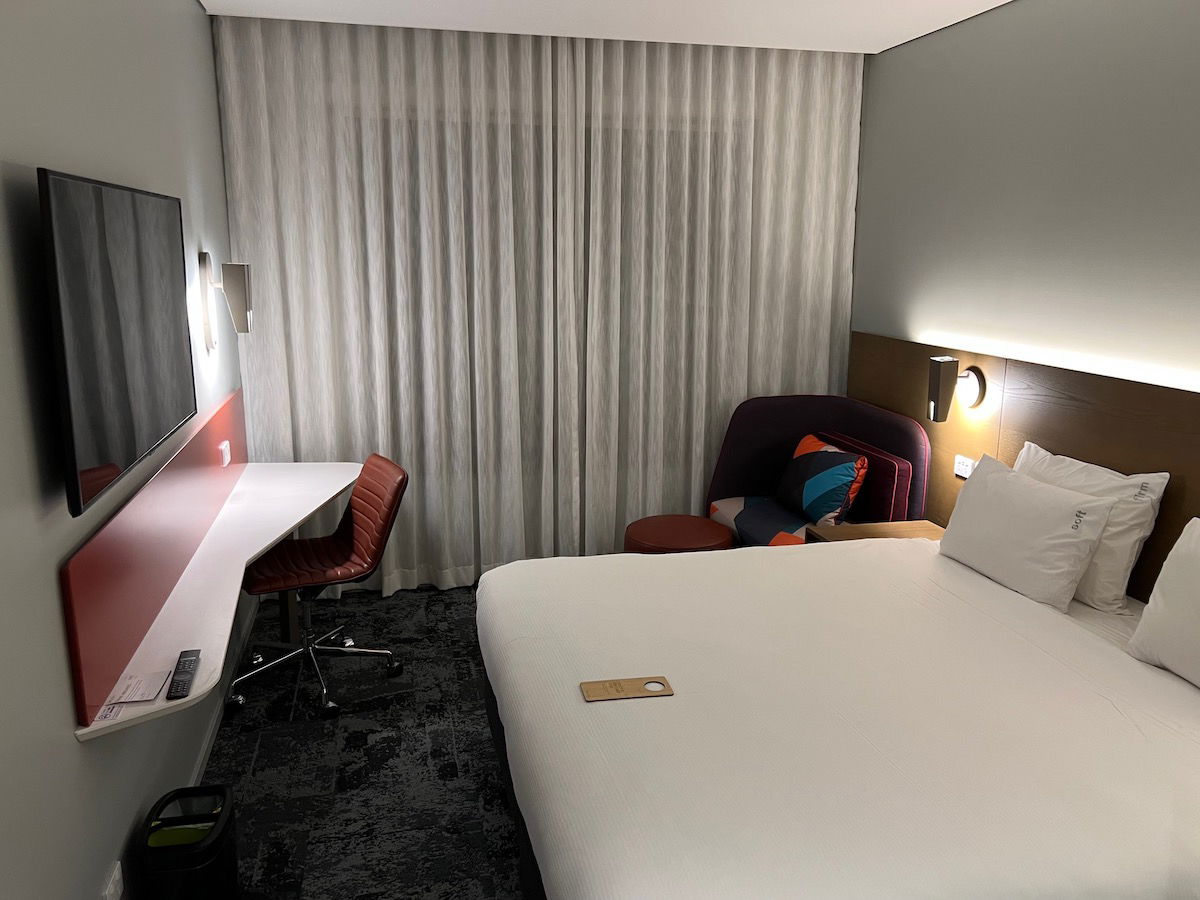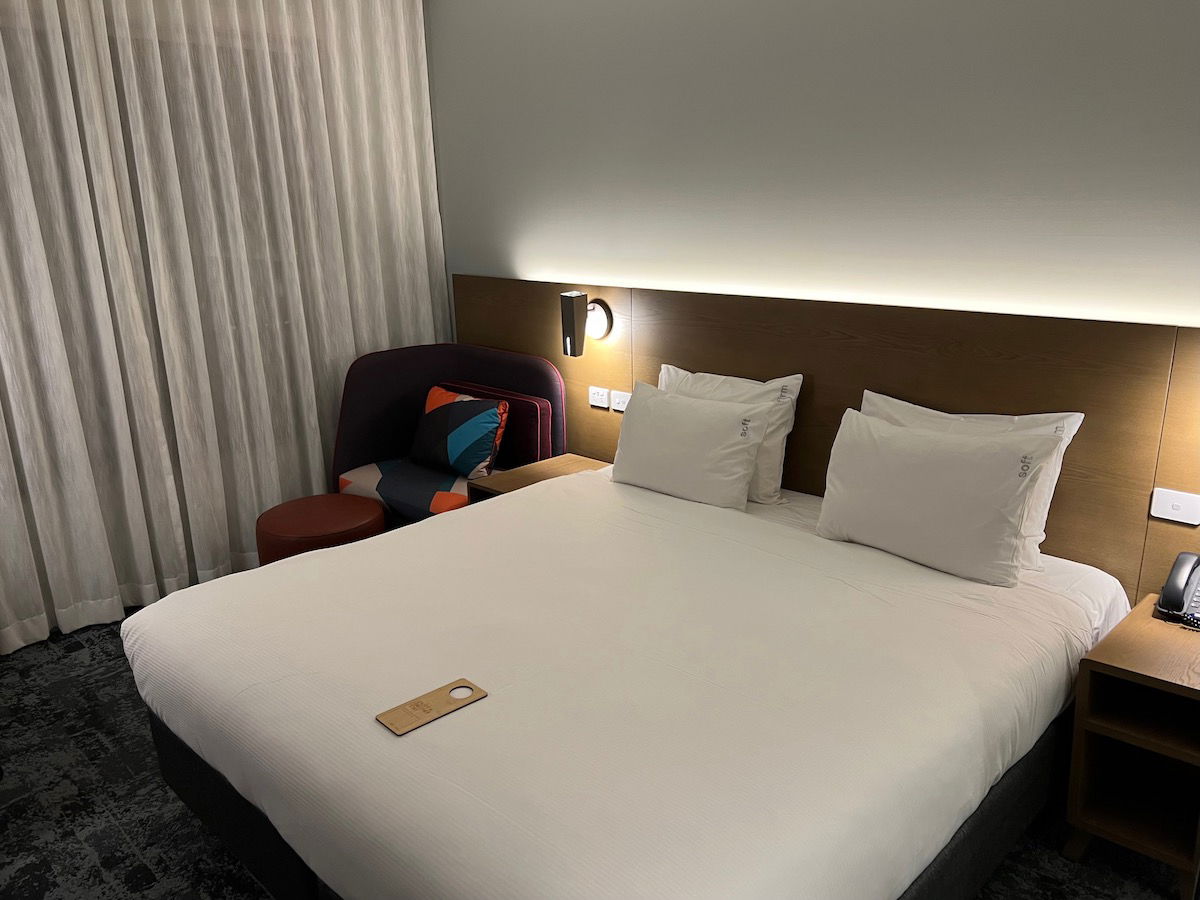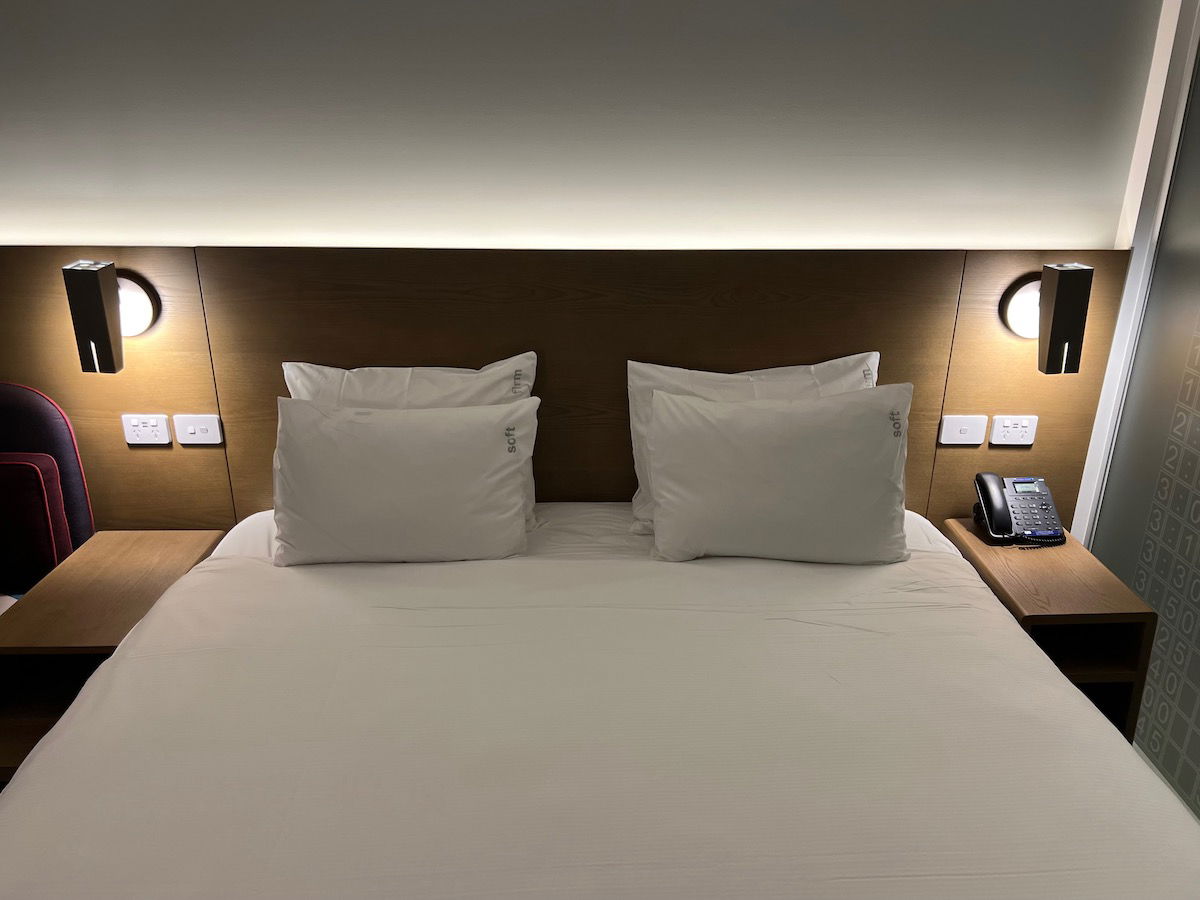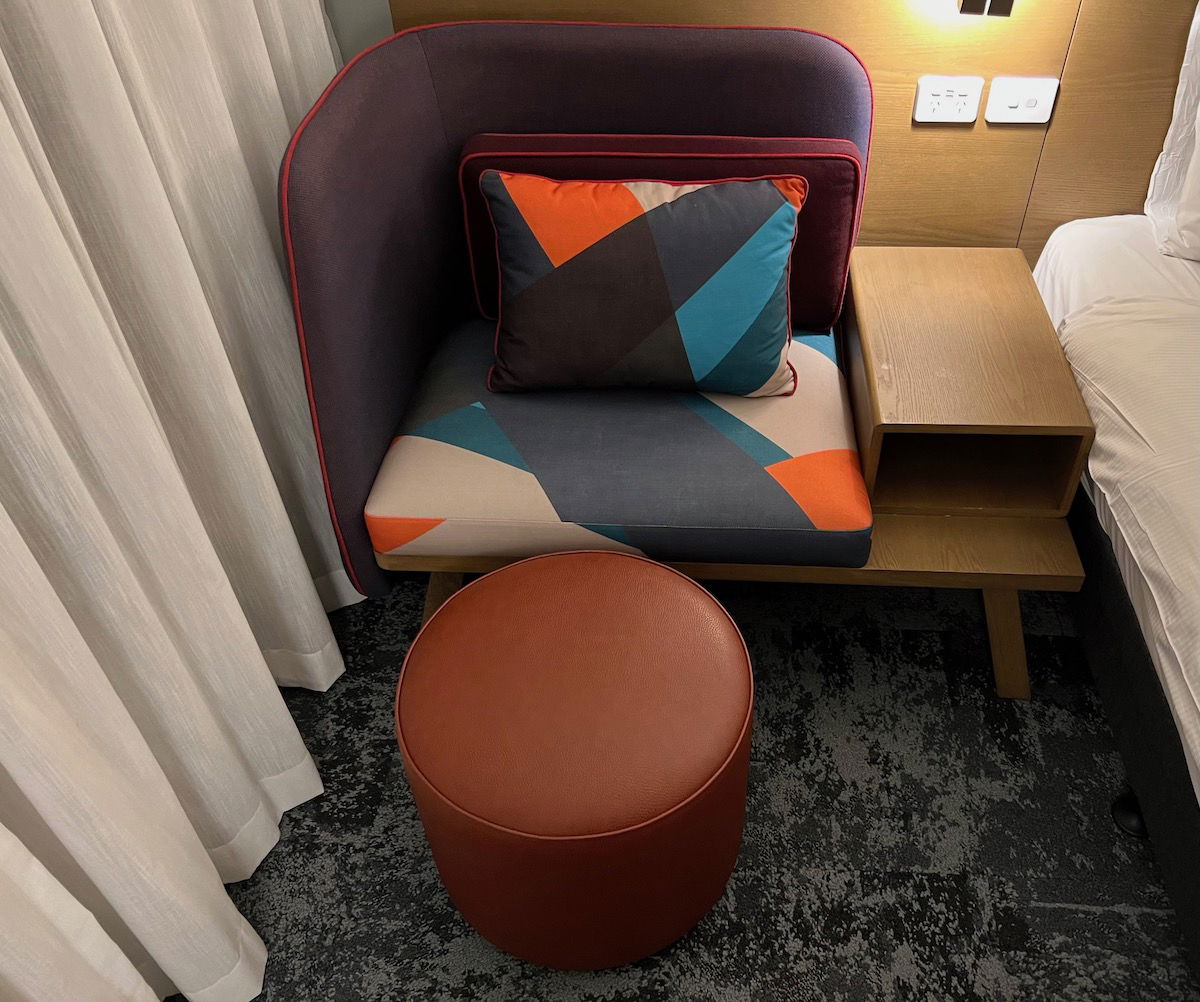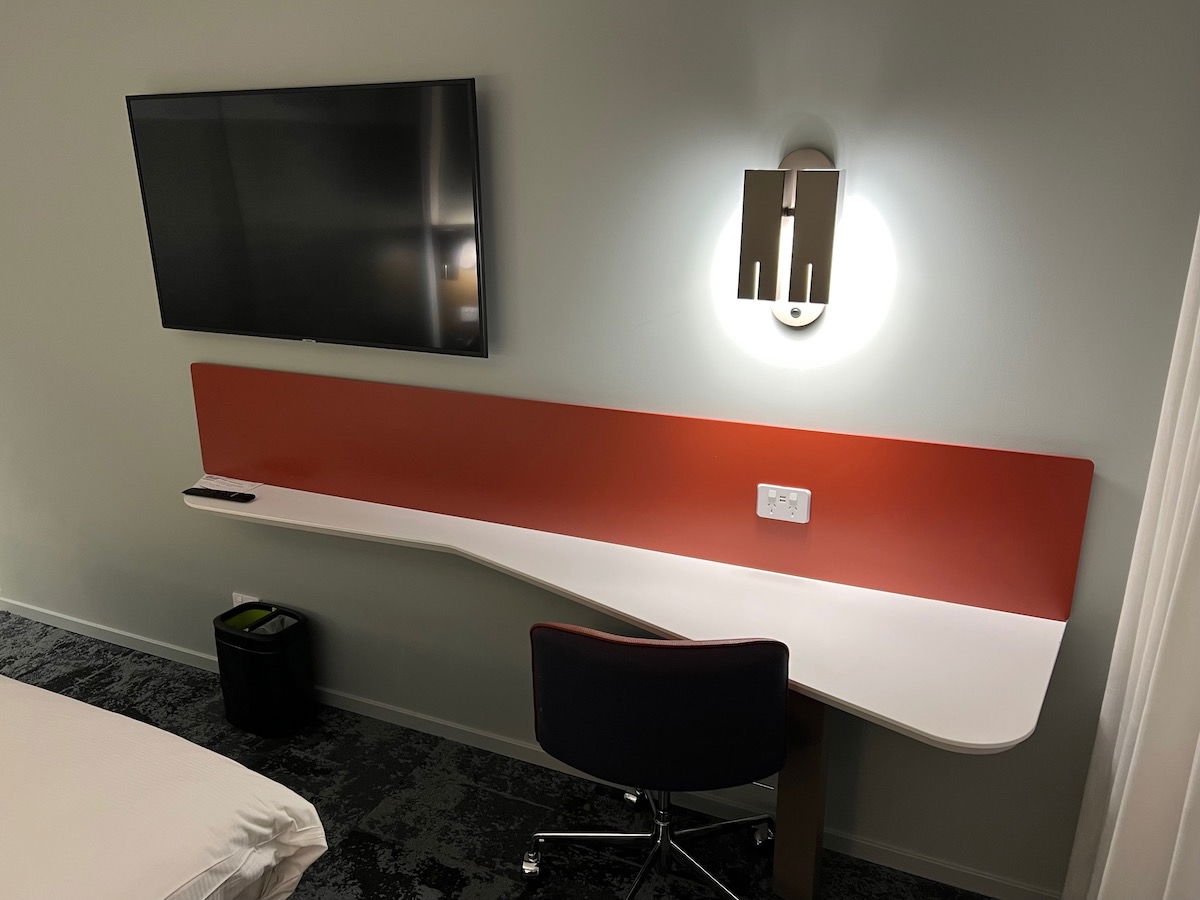 The room had views of some nearby buildings, so there wasn't much in the way of airport views.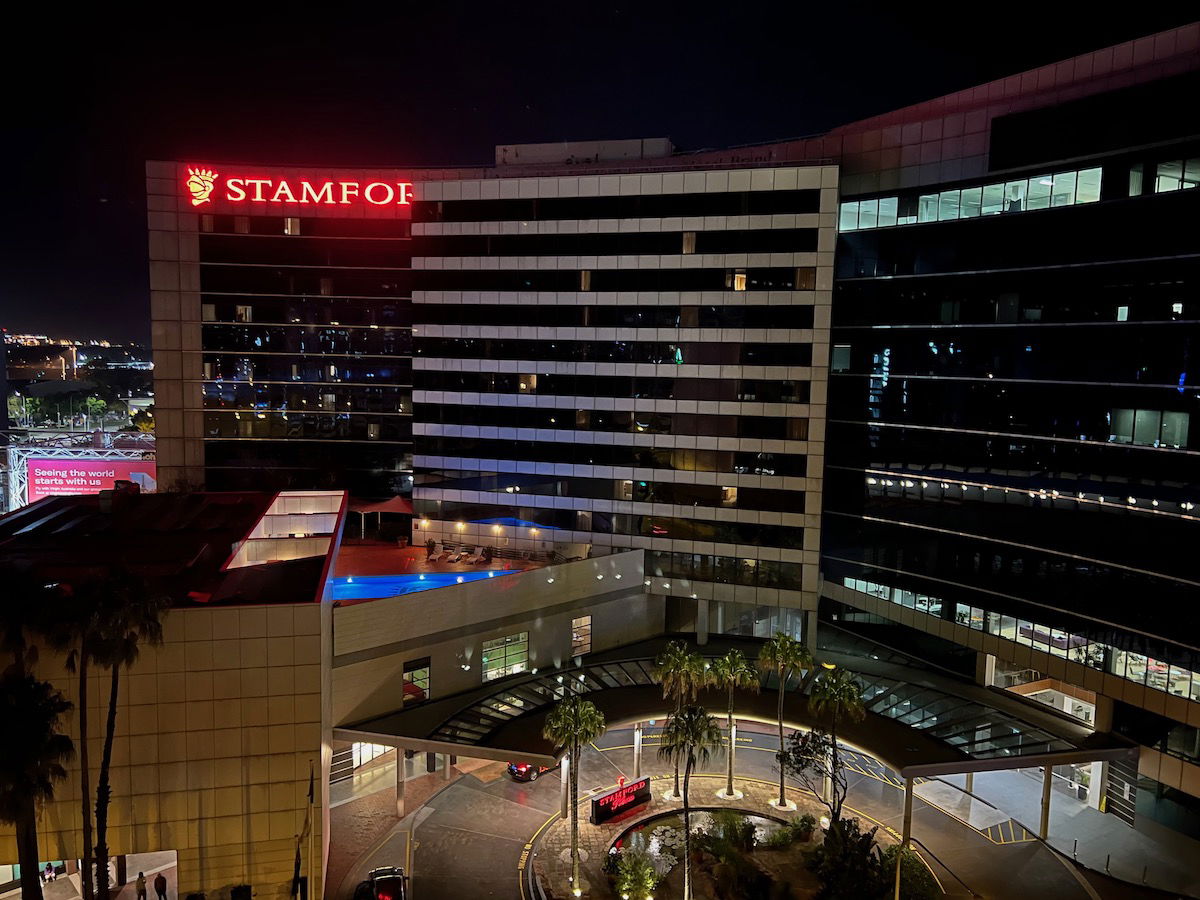 As an avgeek, I loved the aviation-themed touches, like the exterior of the bathroom area being made to look like an arrivals board.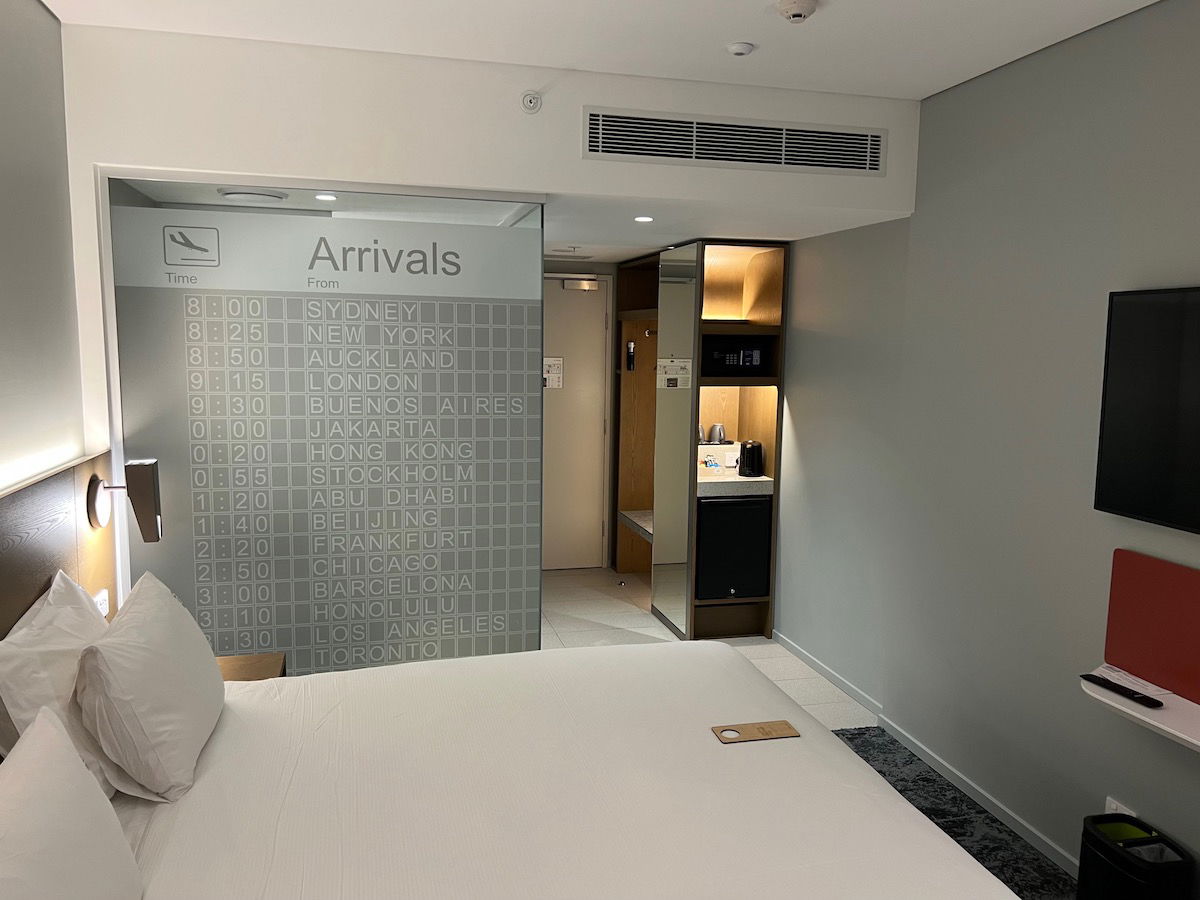 The bathroom had a sink, a toilet, and a walk-in shower. I don't think I've seen this before at another hotel, but the bathroom had one door that could swing — you could either use it to separate the bathroom from the bedroom, or to separate the walk-in shower from the rest of the bathroom.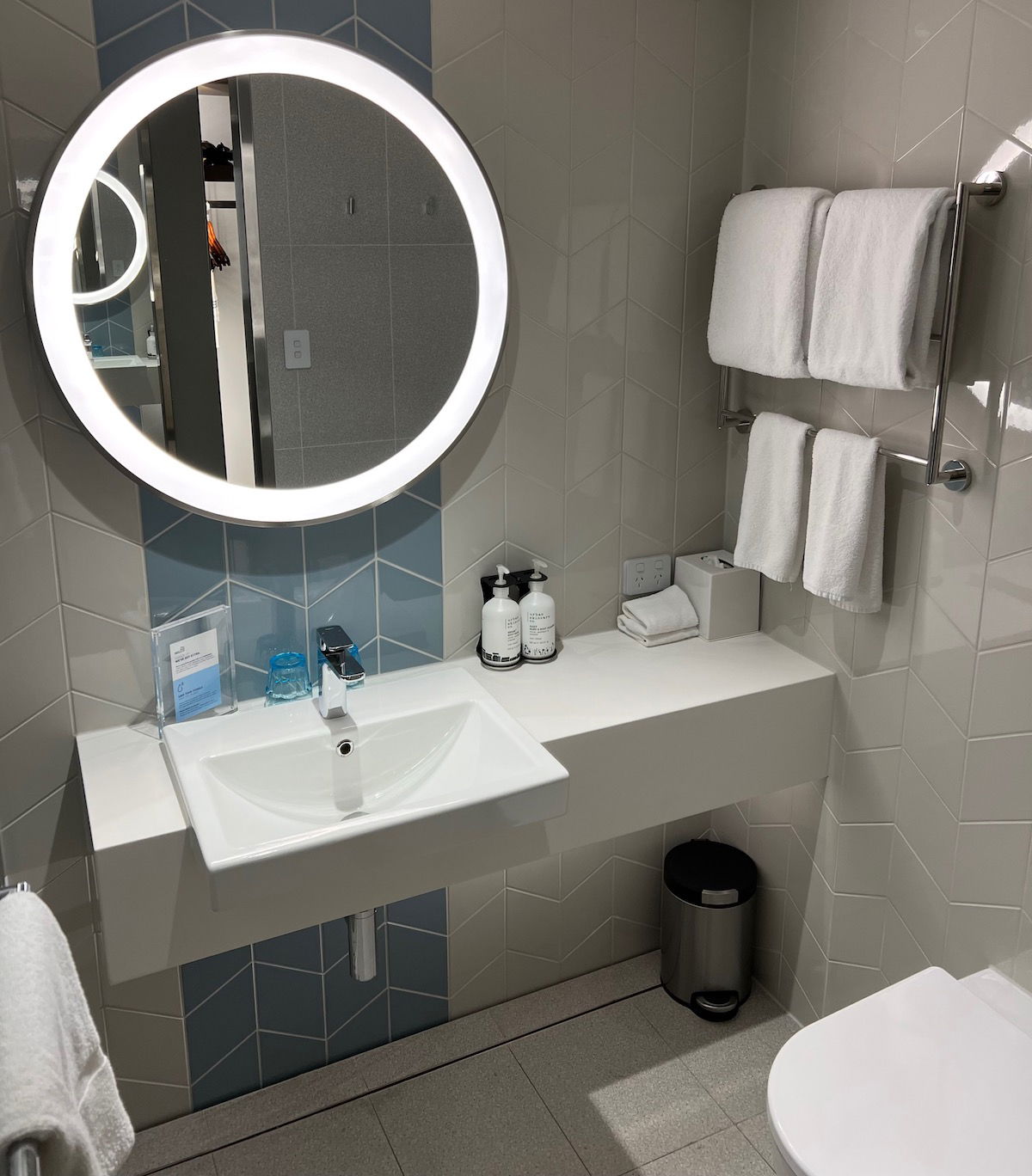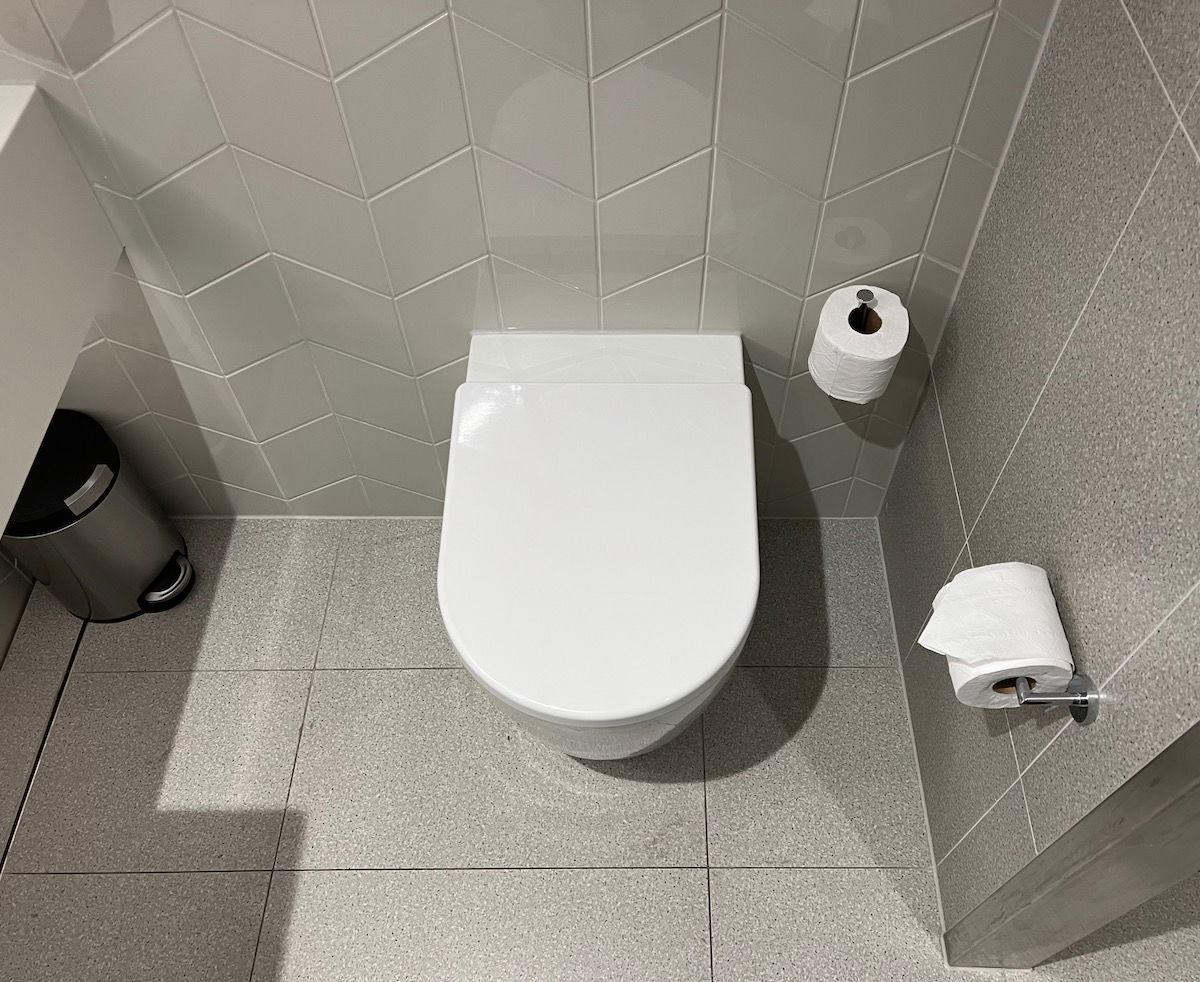 The shower had excellent water pressure and temperature control, and toiletries were in reusable bottles from Urban Skincare Co.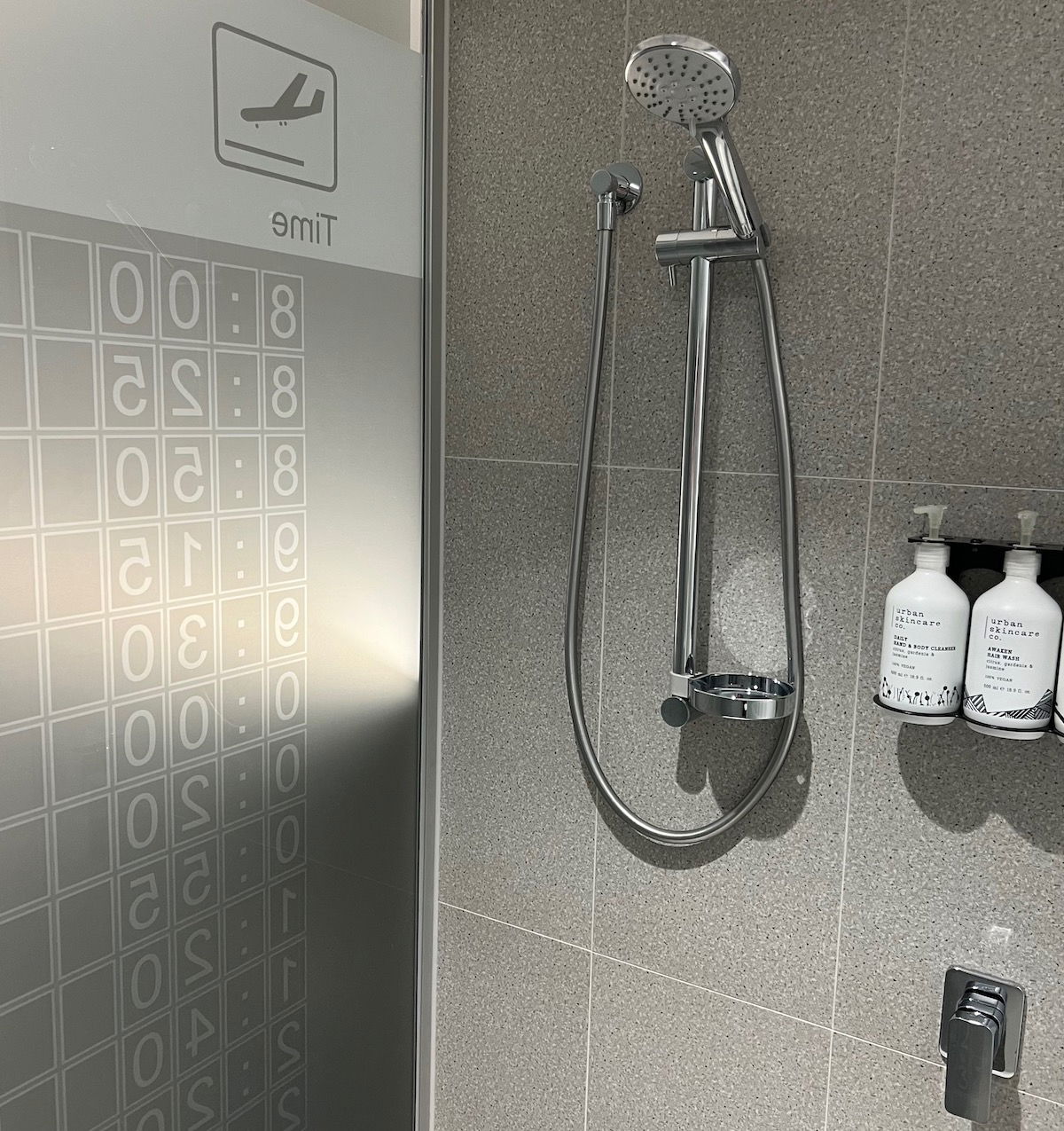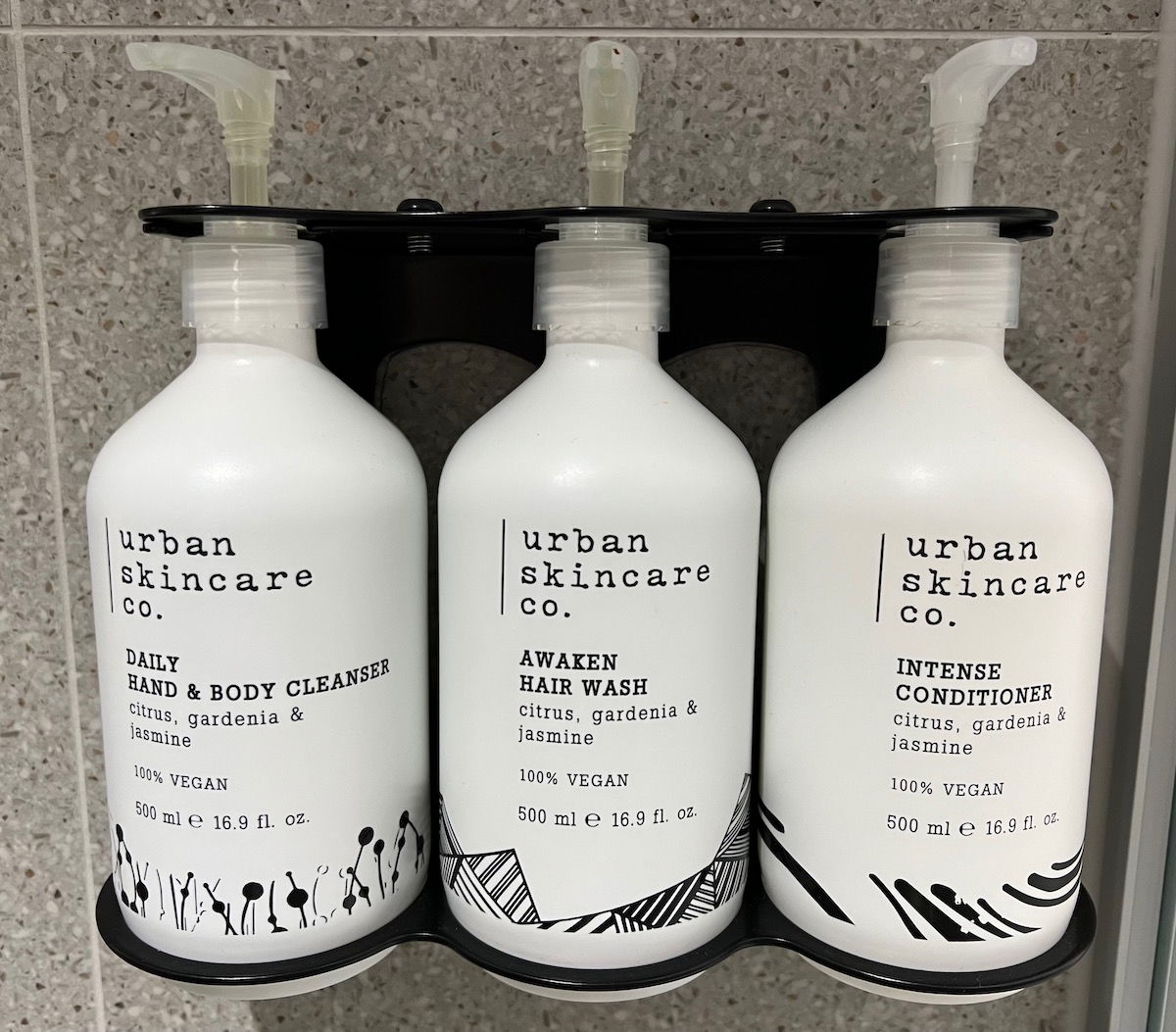 Back near the minibar area, the room had a kettle with instant coffee and tea, as well as an empty mini-fridge.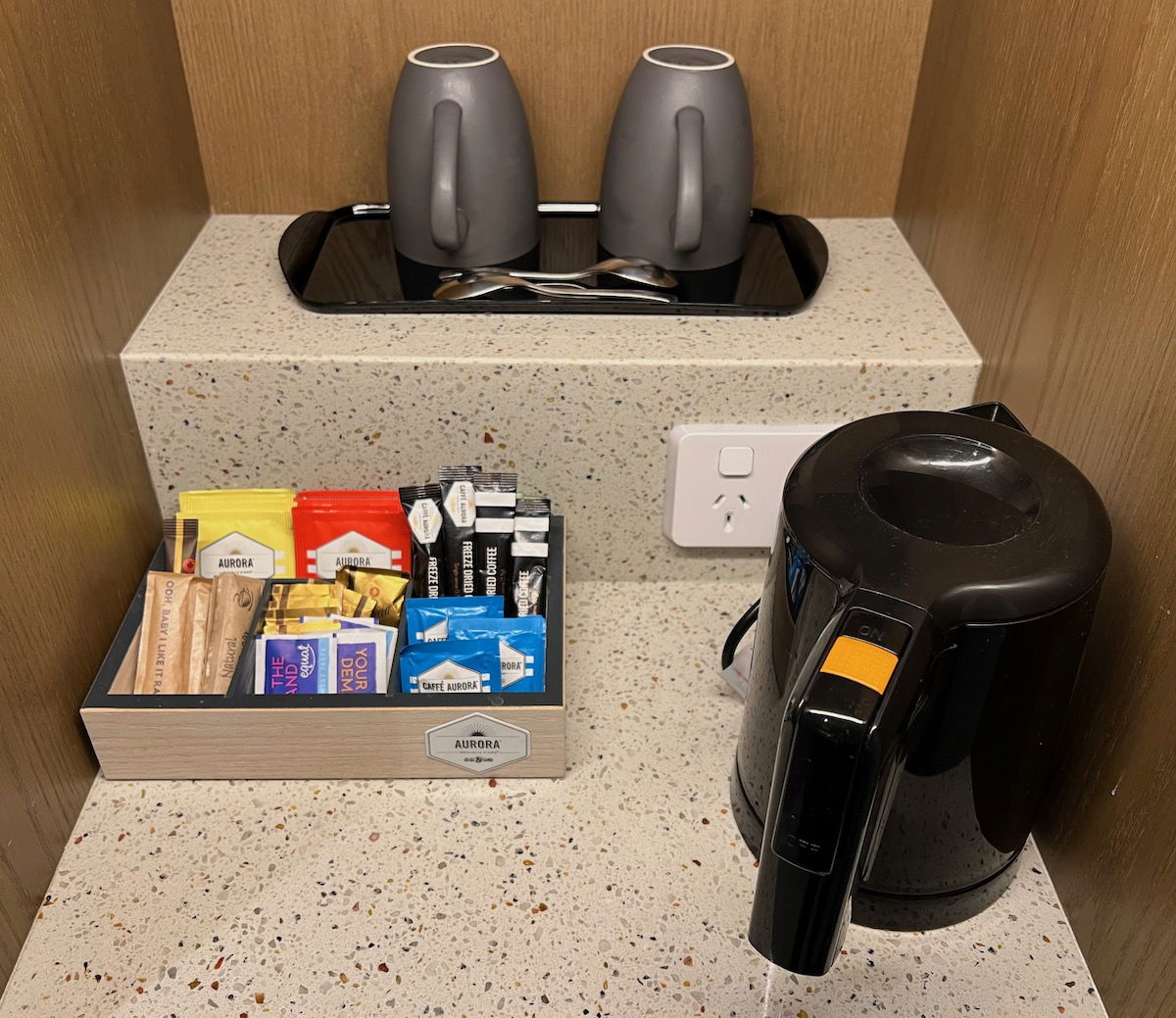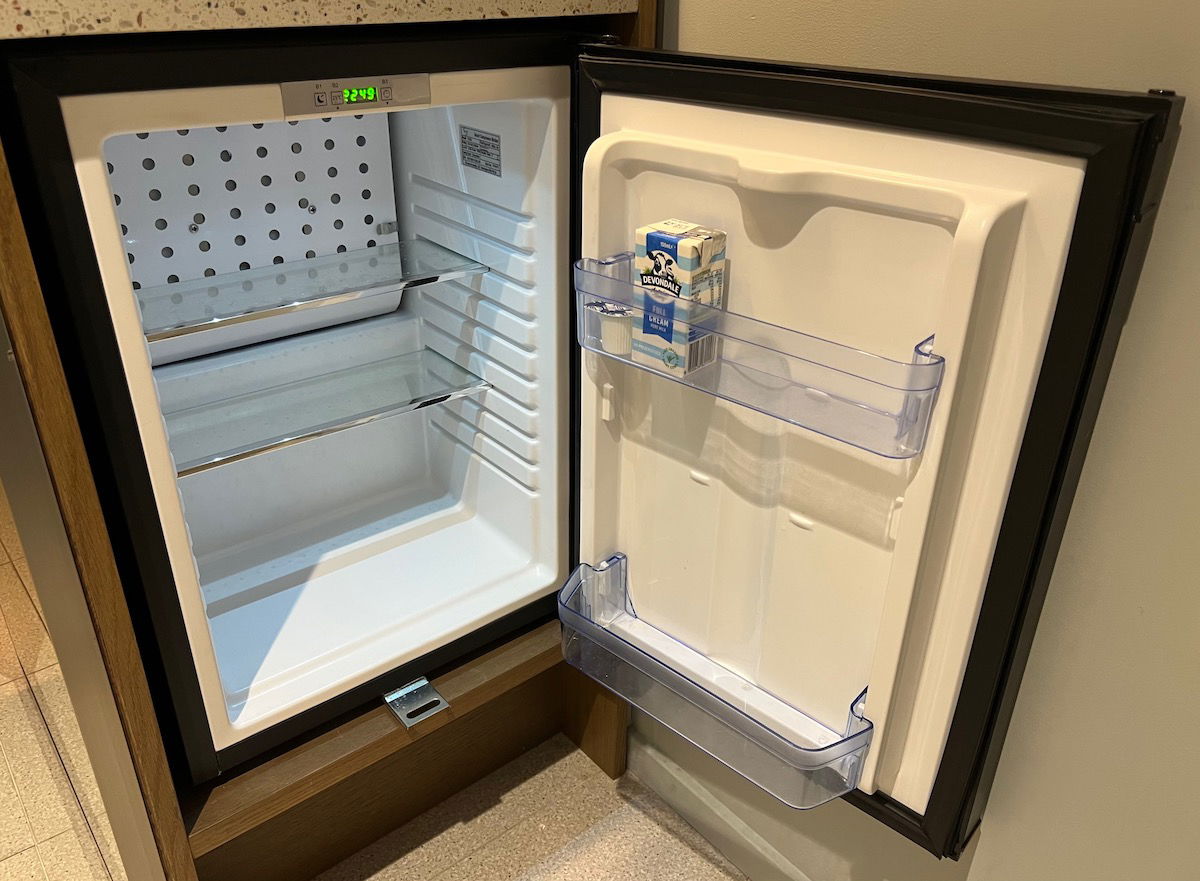 Honestly, I was very happy with this room — it was clean, modern, and used space efficiently. Wi-Fi in the room was fast and free as well.
Holiday Inn Express Sydney Airport gym & laundry
On the second floor, the Holiday Inn Express Sydney Airport has both a gym and guest laundry facility.
The gym is open 24/7, and features treadmills, an elliptical, two bikes, and some free weights.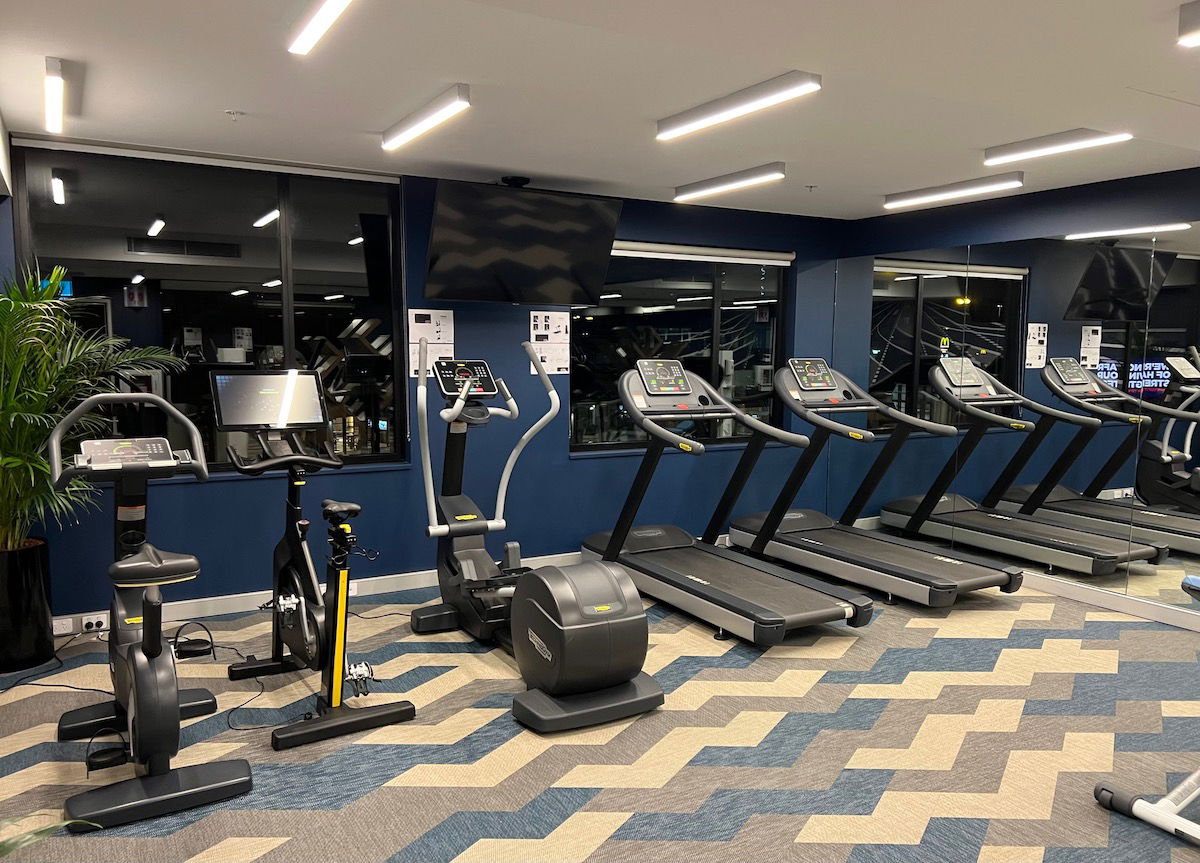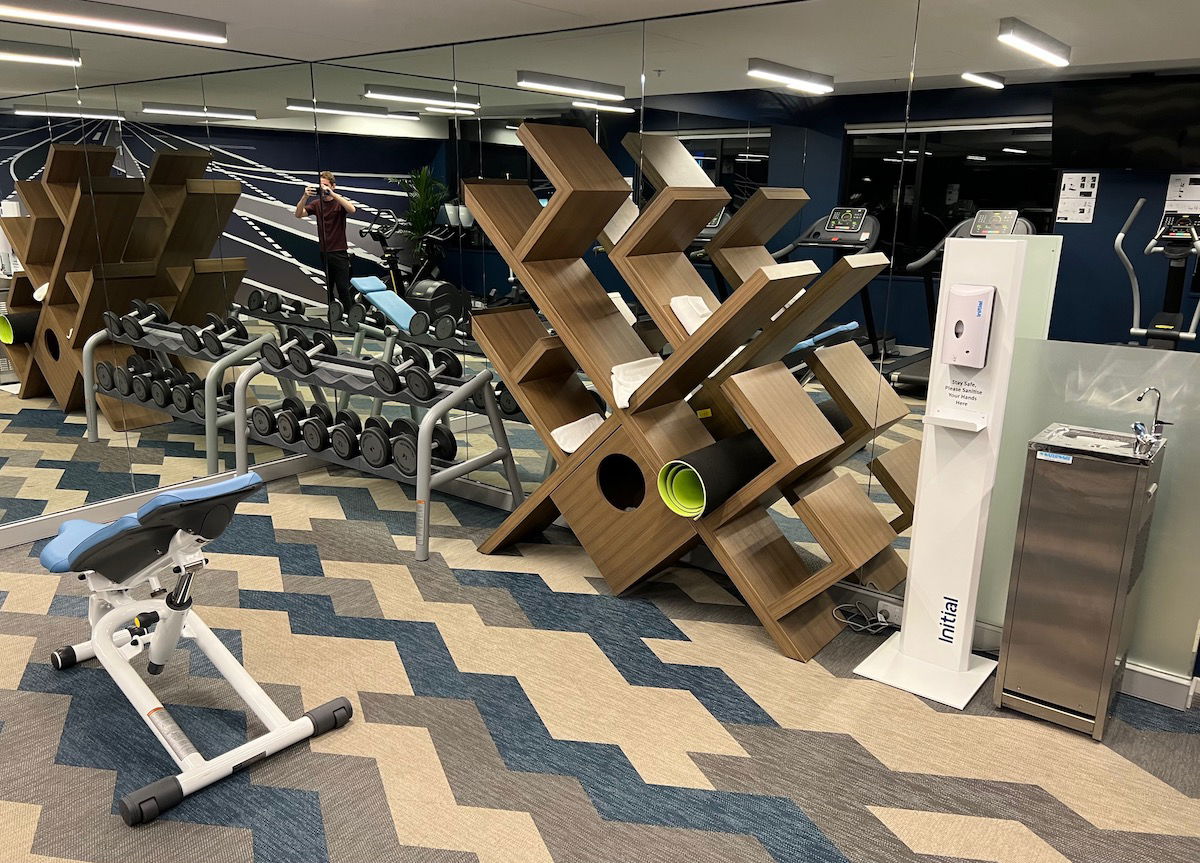 I also love how the hotel has guest laundry, which is a feature that sure comes in handy in some situations. I didn't need it this time, but I'm sure it's something that those on longer trips would get value out of.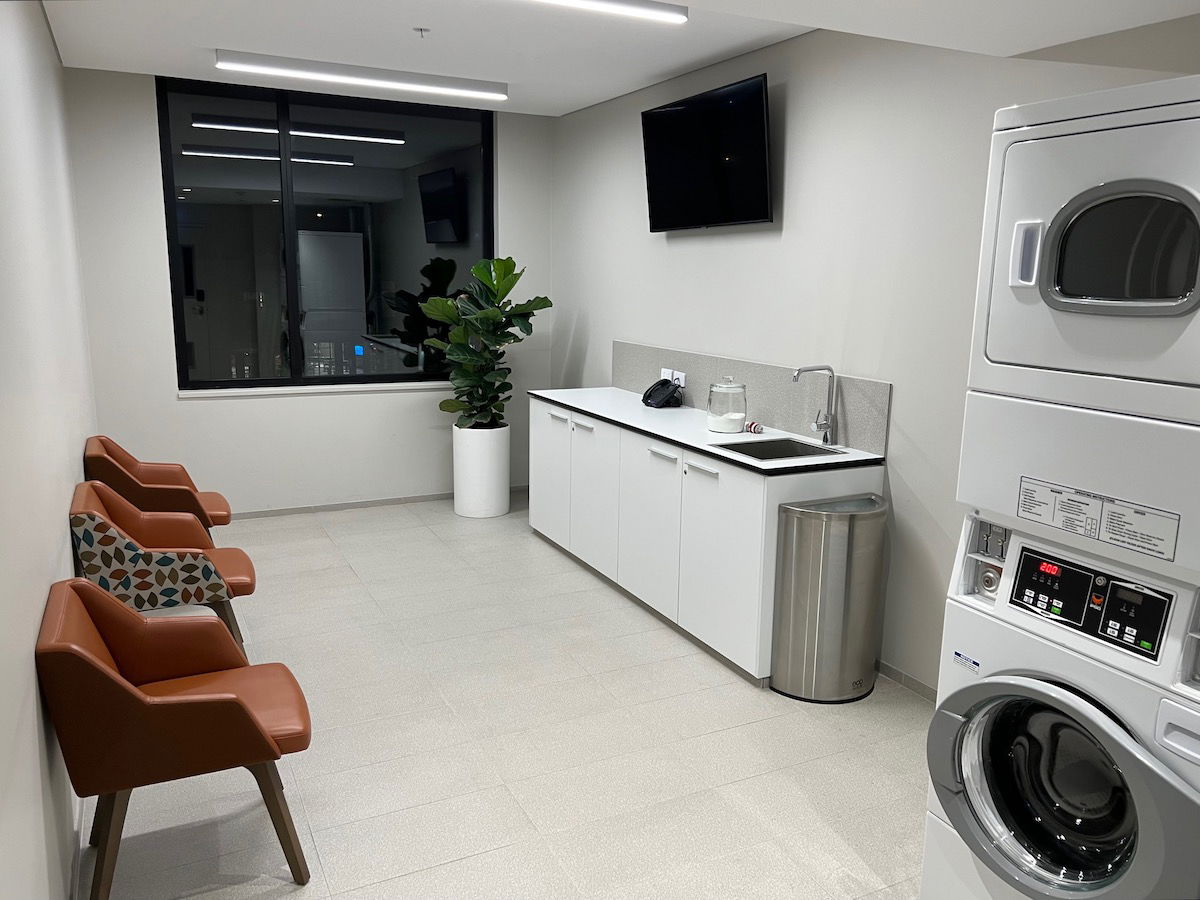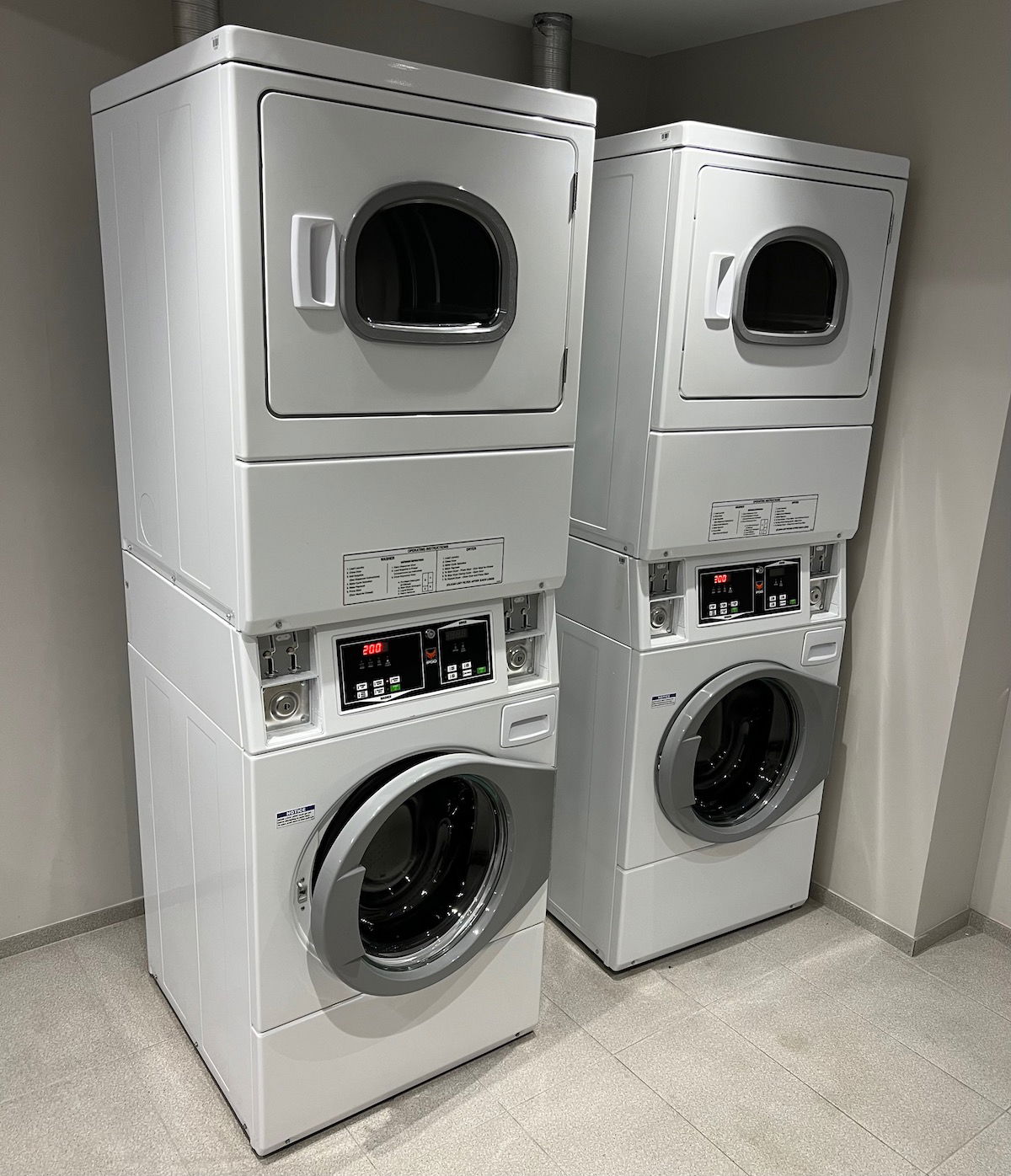 Holiday Inn Express Sydney Airport food & drinks
Since we were at the Holiday Inn Express Sydney Airport for around six hours, we didn't eat or drink anything here. However, as is standard for Holiday Inn Express properties, the hotel offers a complimentary breakfast in The Great Room, across from reception. Furthermore, the hotel has partnered with Menulog, a food delivery company, for lunch and dinner orders.
The hotel does sell a selection of drinks in the lobby, and many people seemed to be sitting around there to enjoy those when we arrived.
Bottom line
For our purposes, the Holiday Inn Express Sydney Airport was great. It was within walking distance of the domestic terminal, and the hotel was modern, clean, and functional. Best of all, I could use credit card free night awards for our stay. I wouldn't hesitate to stay here again in the future under similar circumstances (though hopefully I'd plan a longer stopover, so I could properly visit Sydney).
What do you make of the Holiday Inn Express Sydney Airport?