This is a good reminder to always keep your seatbelt fastened when seated.
Bali-bound Qatar Airways 777 diverts to Bangkok
A Qatar Airways Boeing 777-300ER has diverted to Bangkok (BKK) due to a severe turbulence incident. This happened on the May 10, 2023, service of Qatar Airways flight QR960, scheduled to operate from Doha (DOH) to Denpasar (DPS). The aircraft involved in the incident is a 12-year-old jet with the registration code A7-BAN.
Qatar Airways has confirmed that some people onboard sustained injuries, and will be receiving medical treatment in Bangkok. As of now the plane is on the ground in Thailand, and it remains to be seen what happens to the passengers onboard who don't need medical attention. The airline states that it will share more details about the incident as they become available.
It's not known at exactly what point in the flight the aircraft encountered severe turbulence, though the plane maintained a (more or less) straight path all the way to Bangkok, so it seems that was directly on the way. Presumably the turbulence happened over the Bay of Bengal, given the lack of diversion points there. The flight ended up spending just under six hours in the air.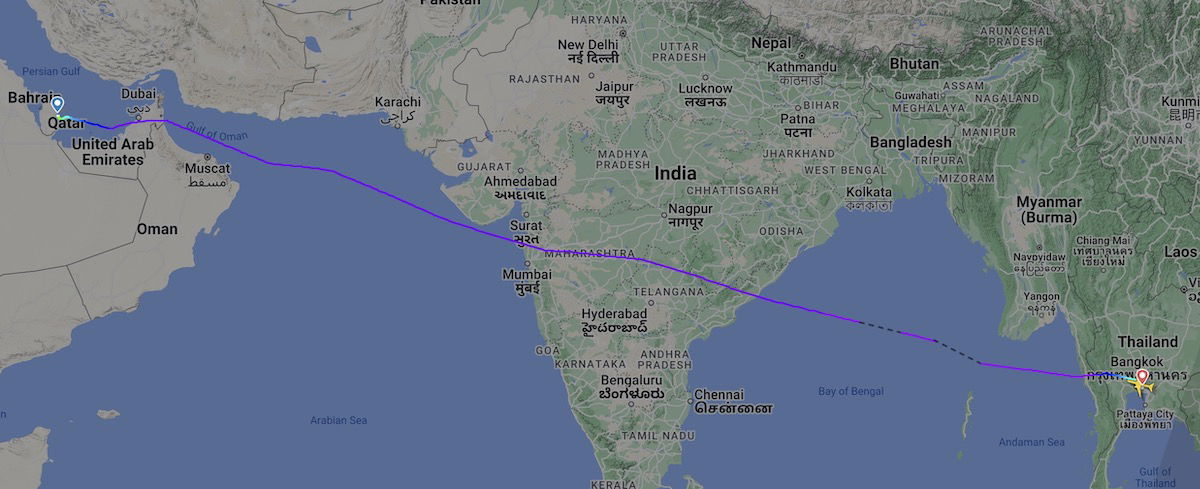 Looking at Flightradar24's altitude and speed graph for this particular flight, I'm not seeing a significant altitude change, though there is a pretty significant speed change, at around 9:45AM UTC. Of course it's possible that this is a glitch, and/or doesn't fully reflect the altitude, since the drop presumably just happened for a brief moment.

This is a good reminder to always wear your seatbelt
Aviation is an incredibly safe form of transportation, so we often forget the simplest way we can protect ourselves when flying, which is to wear our seatbelts. Often there's no advance warning of severe turbulence, which is why it's so important to have your seatbelt sign on even when the flight appears to be smooth.
In severe turbulence incidents, it's typically those who don't have their seatbelts on who sustain the worst injuries. If you're buckled in, your only real risk is another object becoming airborne and hitting you while seated. Meanwhile if you're not buckled in, you could become that object flying through the cabin.
You never know when severe turbulence could occur, and wearing your seatbelt on a plane isn't exactly uncomfortable or a huge inconvenience.
Bottom line
A Qatar Airways Boeing 777 headed to Bali had to divert to Bangkok due to injuries onboard from severe turbulence. Details are limited as of now, though I'm sure we'll get more details on the number of injuries, as well as some pictures and videos from inside the cabin, soon enough.
Always buckle up, as you never know when severe turbulence could occur!