In the interest of full disclosure, OMAAT earns a referral bonus for anyone that's approved through some of the below links. These are the best publicly available offers (terms apply) that we have found for each product or service. Opinions expressed here are the author's alone, not those of the bank, credit card issuer, airline, hotel chain, or product manufacturer/service provider, and have not been reviewed, approved or otherwise endorsed by any of these entities. Please check out
our advertiser policy
for further details about our partners, and thanks for your support!
The Platinum Card® from American Express and The Business Platinum Card® from American Express offer an amazing slew of airport lounge benefits. In addition to Delta Sky Club access and Priority Pass Select membership, American Express has gotten a ton of kudos for its trademark Centurion Lounges. These are hands-down some of the best credit cards for lounge access.
Perhaps one of their biggest unsung heroes, however, is their access to the boutique Escape Lounges. While they are currently few and far between, we're seeing more and more of these pop up, with locations in the following airports:
Hartford, CT (BDL)
Reno-Lake Tahoe (RNO)
Minneapolis-St. Paul (MSP)
Oakland, CA (OAK)
Greenville-Spartanburg, SC (GSP)
Ontario, CA (ONT) – opening "soon"
East Midlands, UK (EMA)
London Stansted, UK (STN)
Manchester, UK (MAN) – T1, T2, and T3
I've reviewed the MSP location in the past, but being based out of Hartford, I've spent countless hours hanging out in Bradley International's Escape Lounge. Like, trading-healthcare-tips-with-the-employees countless hours. And I figured it was high time for a review.
So if you work for ESPN, in the insurance industry, or for one of the plethora of universities in the area, this one's for you.
Access
Anyone with The Platinum Card® from American Express and The Business Platinum Card® from American Express can access the lounge at no charge, and can bring two additional guests for free. Non-cardholders can pre-reserve a spot for $40, or access it real-time for $45.
That said, Bradley isn't exactly a hub airport, so if you have to pay out of pocket for lounge access due to an extended airport stay, chances are you've had a pretty rough day already.
Location
BDL's Escape Lounge is located in Terminal A (really, the only terminal unless you were arriving on an inbound Norwegian flight in 2017), close to Gate 1. Technically, I think this area is called the East Concourse, but that's really just a fancy way of saying "turn right after security." The lounge is in close proximity to the Air Canada, Delta, JetBlue, Southwest, and Spirit gates – although nothing is really too far away from anything else at BDL.
Check-in is usually pretty straightforward – I've been asked to show my boarding pass and American Express card, but nothing more. The staff seem to fulfill a variety of roles, based on what's needed, so I've occasionally had to wait if the check-in agent was pouring a Blue Moon – but the wait has never been more than a minute.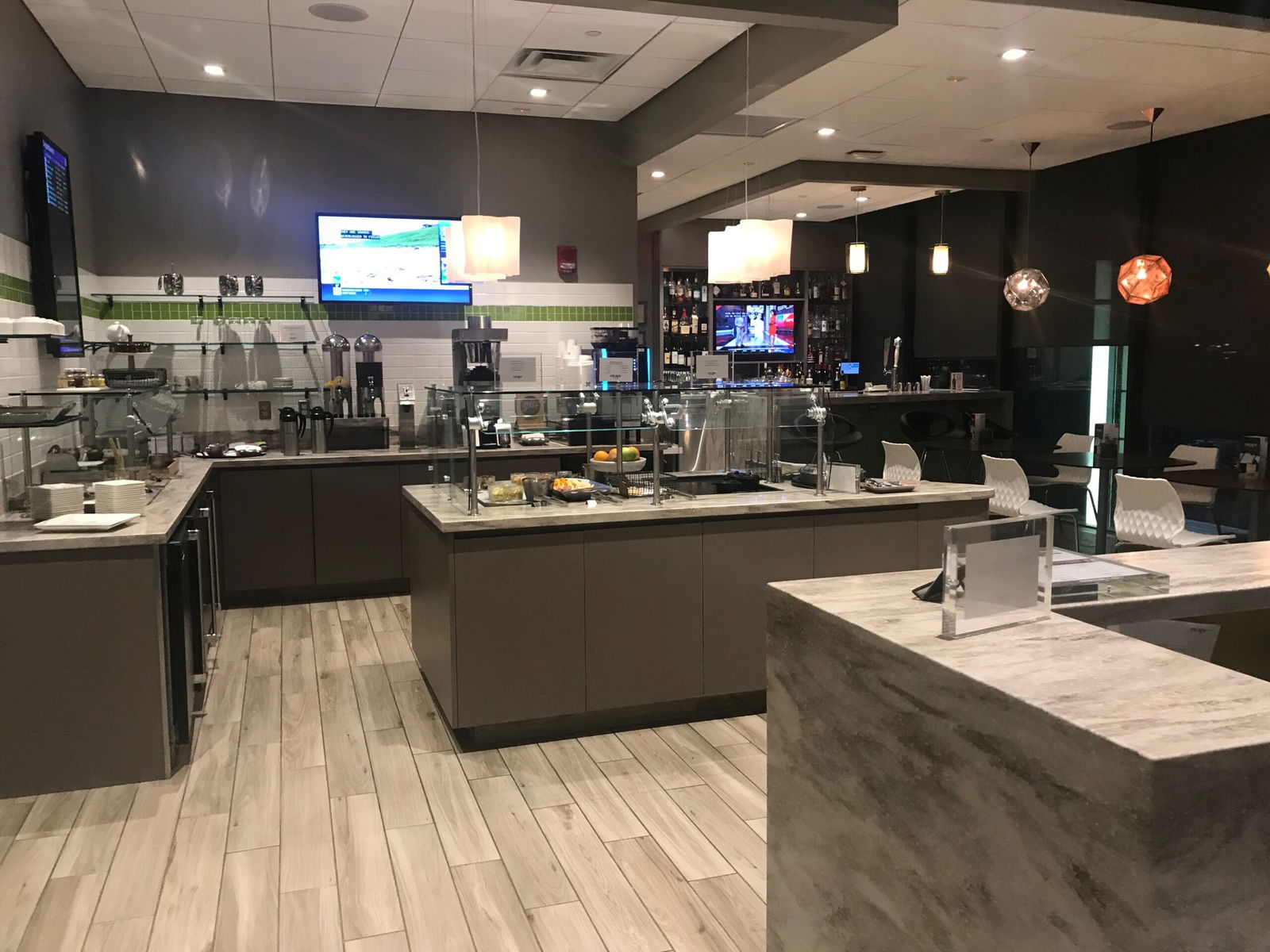 The lounge is technically open from 5 AM to 8 PM daily, although it's not uncommon for the staff to extend the hours when flights are delayed.
Setup
The entire lounge is about the size of your standard fare suburban Starbucks, with various forms of seating. It's not huge, but for an airport the size of BDL, it certainly does the trick. I've never had a problem finding a seat, even during peak hours.
There are some cozy (ish) secluded window seats: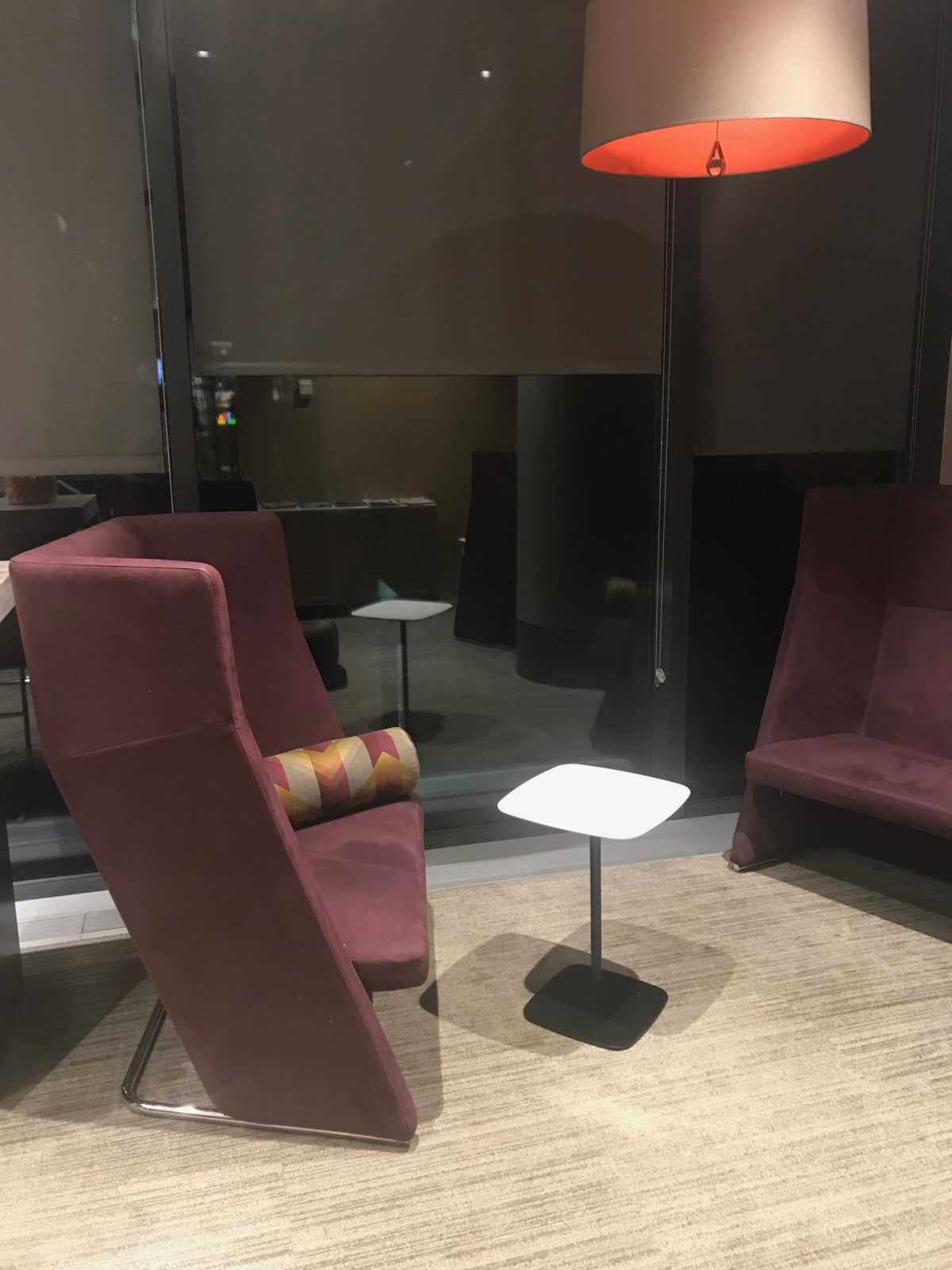 …as well as some more "traditional" dining tables, and tarmac-facing window seats: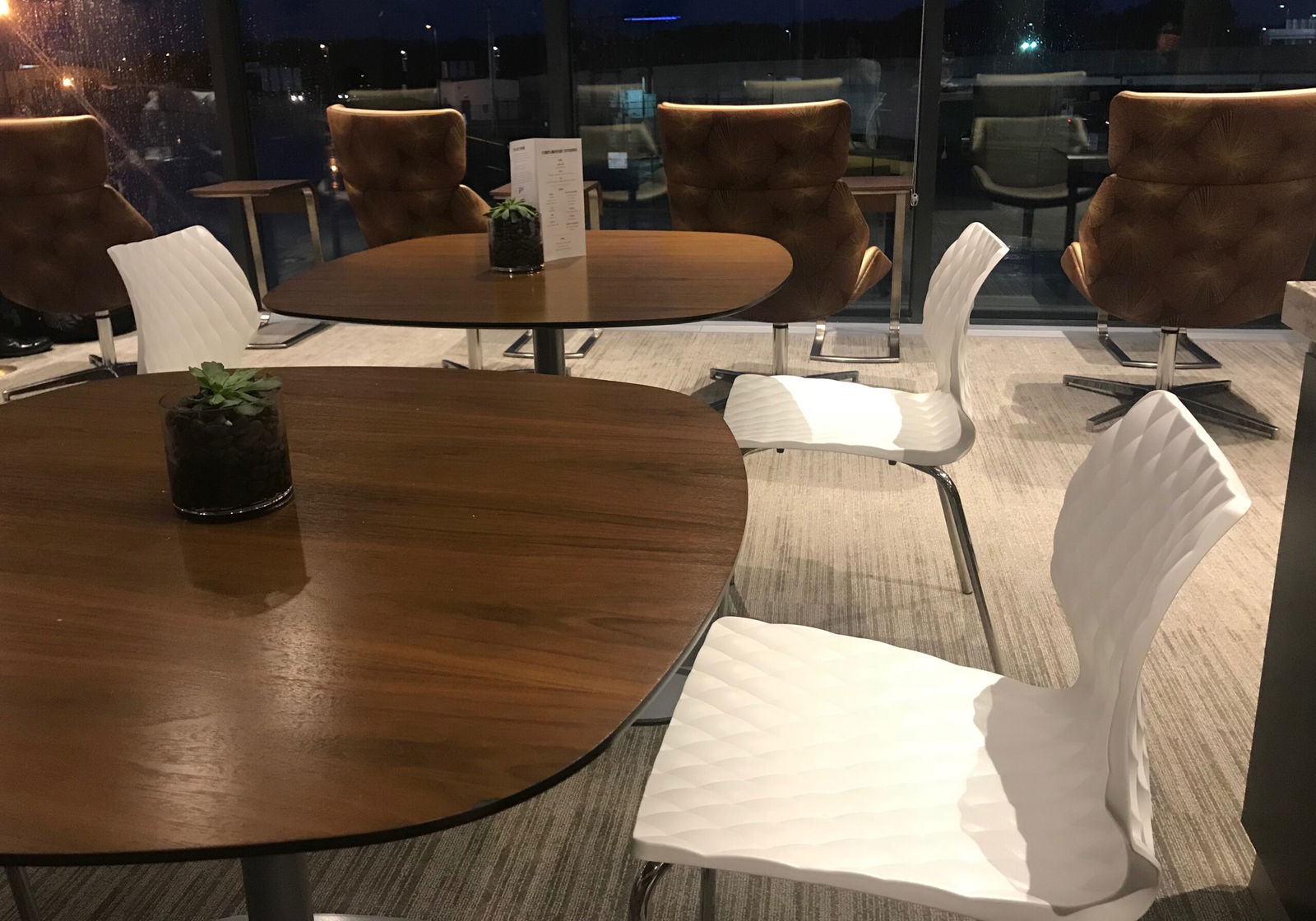 And if things get really crazy here (they probably won't), there's a long hightop toward the back: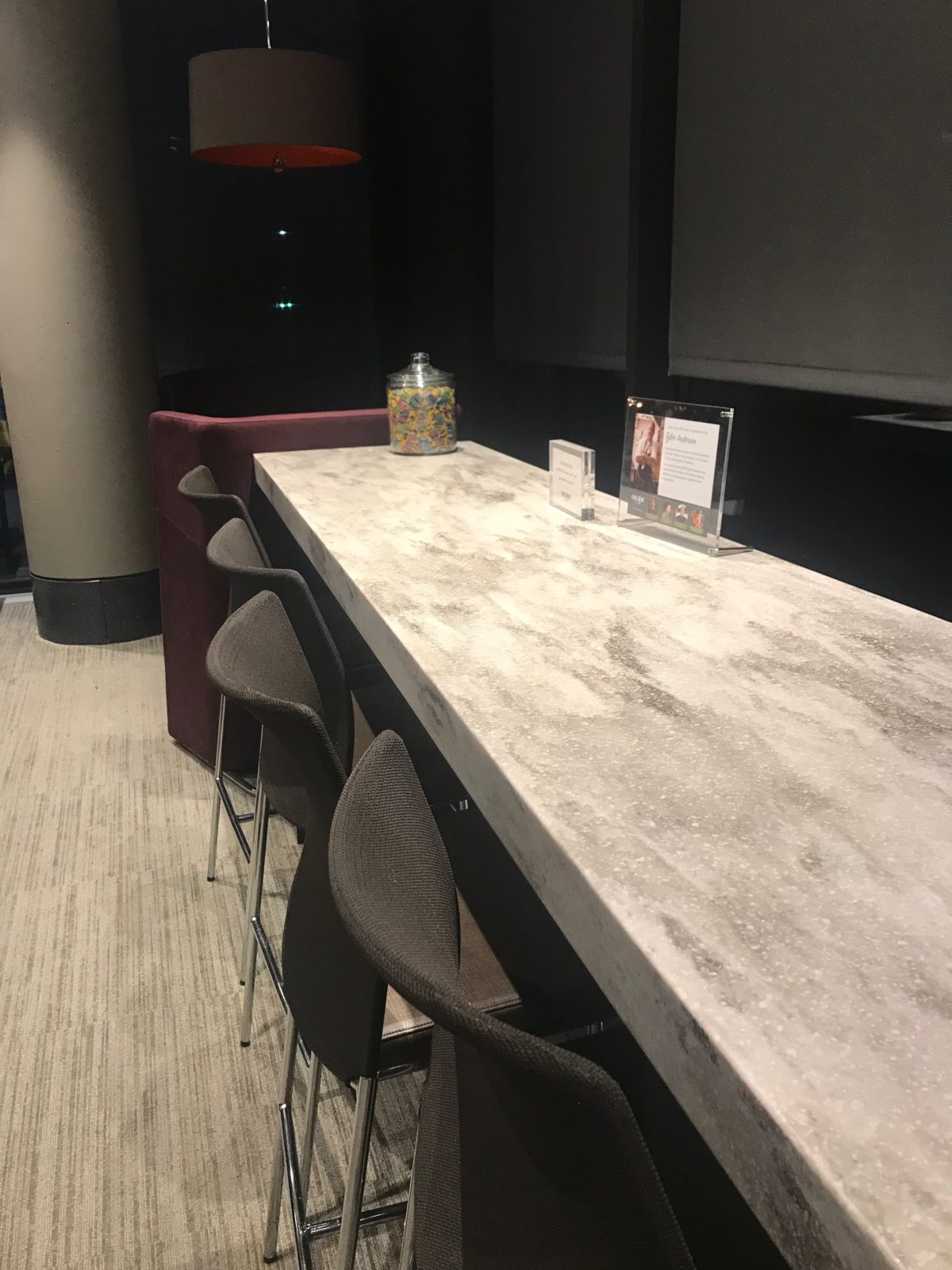 The tarmac views themselves leave something to be desired – if you spot a 747 at BDL, something has gone horribly wrong – but the positioning of the lounge isn't bad. And hey, you can keep track of the parking and rental car shuttles: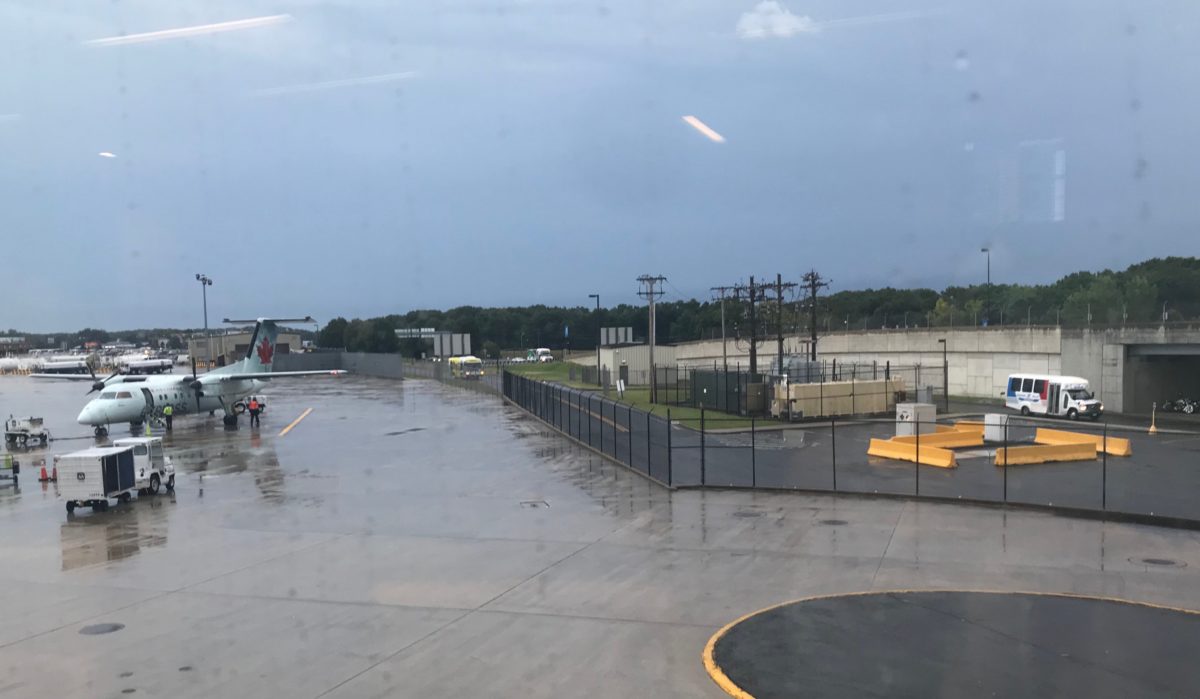 There are two restrooms here. They're certainly a step up from Starbucks, if we're continuing with that analogy: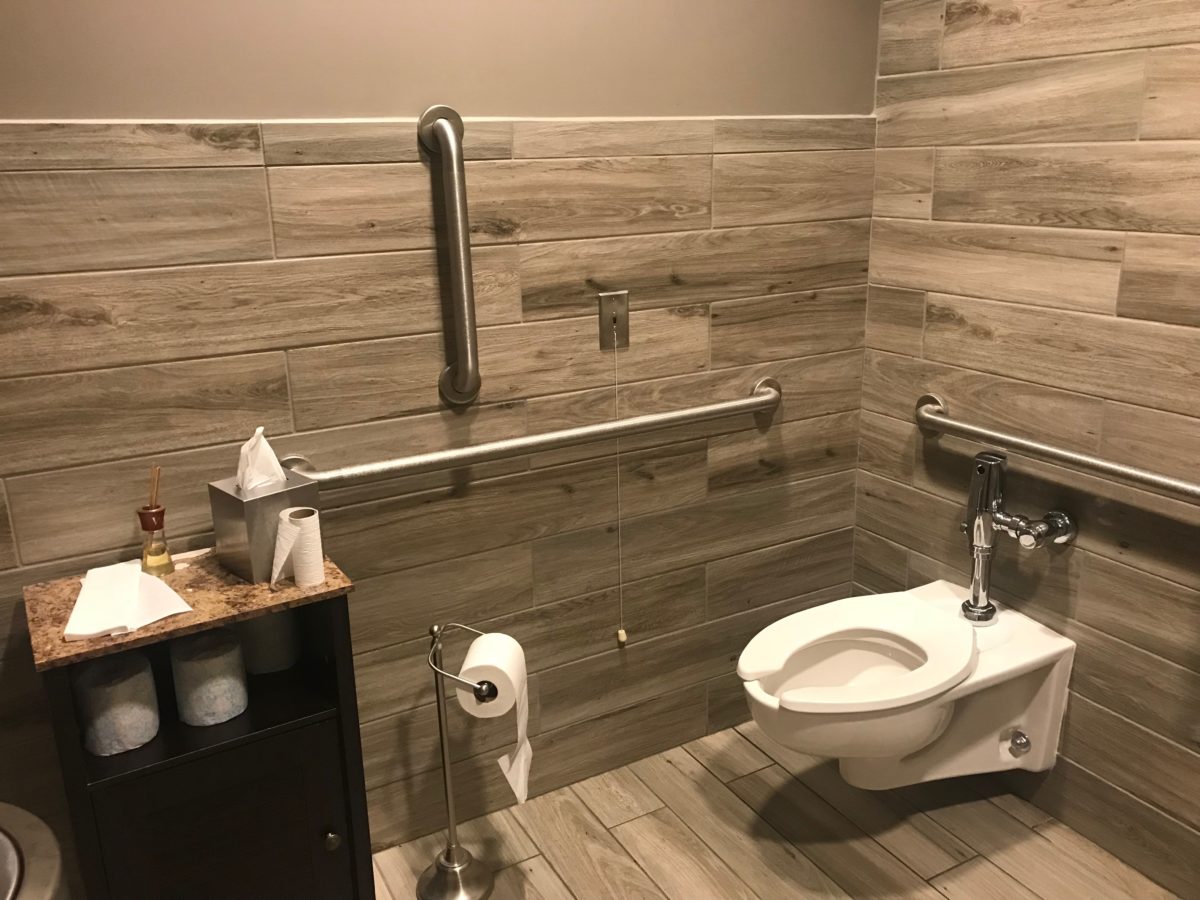 And unlike MSP's Escape Lounge, you don't have to leave to access them. The only downside is that they are both one-person shows, if you will, so there is sometimes a 1-2 person queue during peak times.
All in all, the setup of the lounge is totally serviceable, if lacking the aspirational spas and nap rooms, while the decor reminds me of an "after" shot in an episode of Flip or Flop. And for a publicly accessible lounge in a regional airport, that's more than okay.
Escape Lounge Food
In my opinion, this is where Escape Lounges really shine. Their rotating menu consists of various small dishes, served up in cast iron pots or mason jars: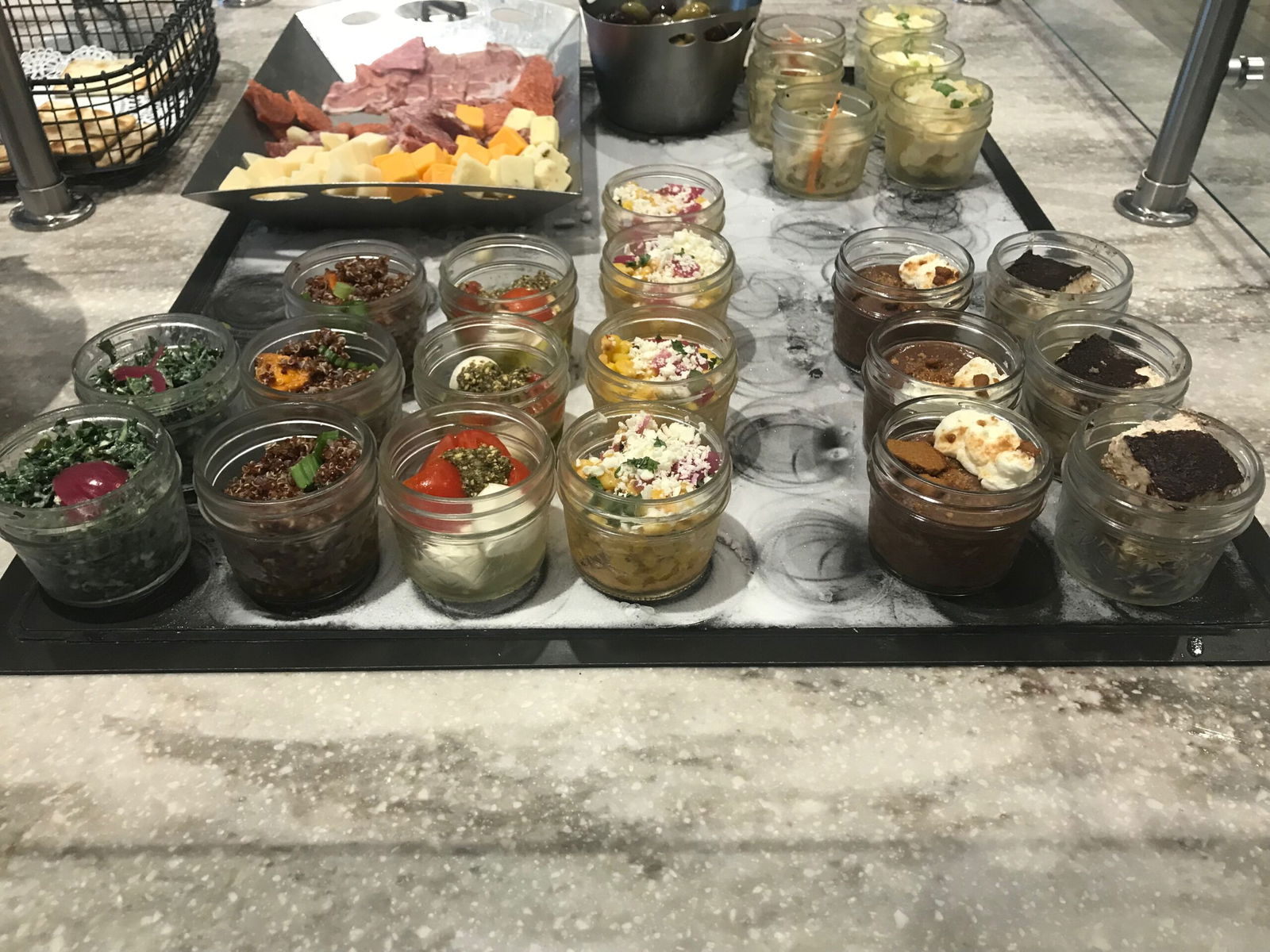 And mercifully, they actually include a range of options that are at least reasonably healthy.
But if you subscribe to the "calories don't count in a lounge" philosophy, don't worry – there is no shortage of mac and cheese and dessert. Below is a sample of hot dishes that I had during a relatively recent visit: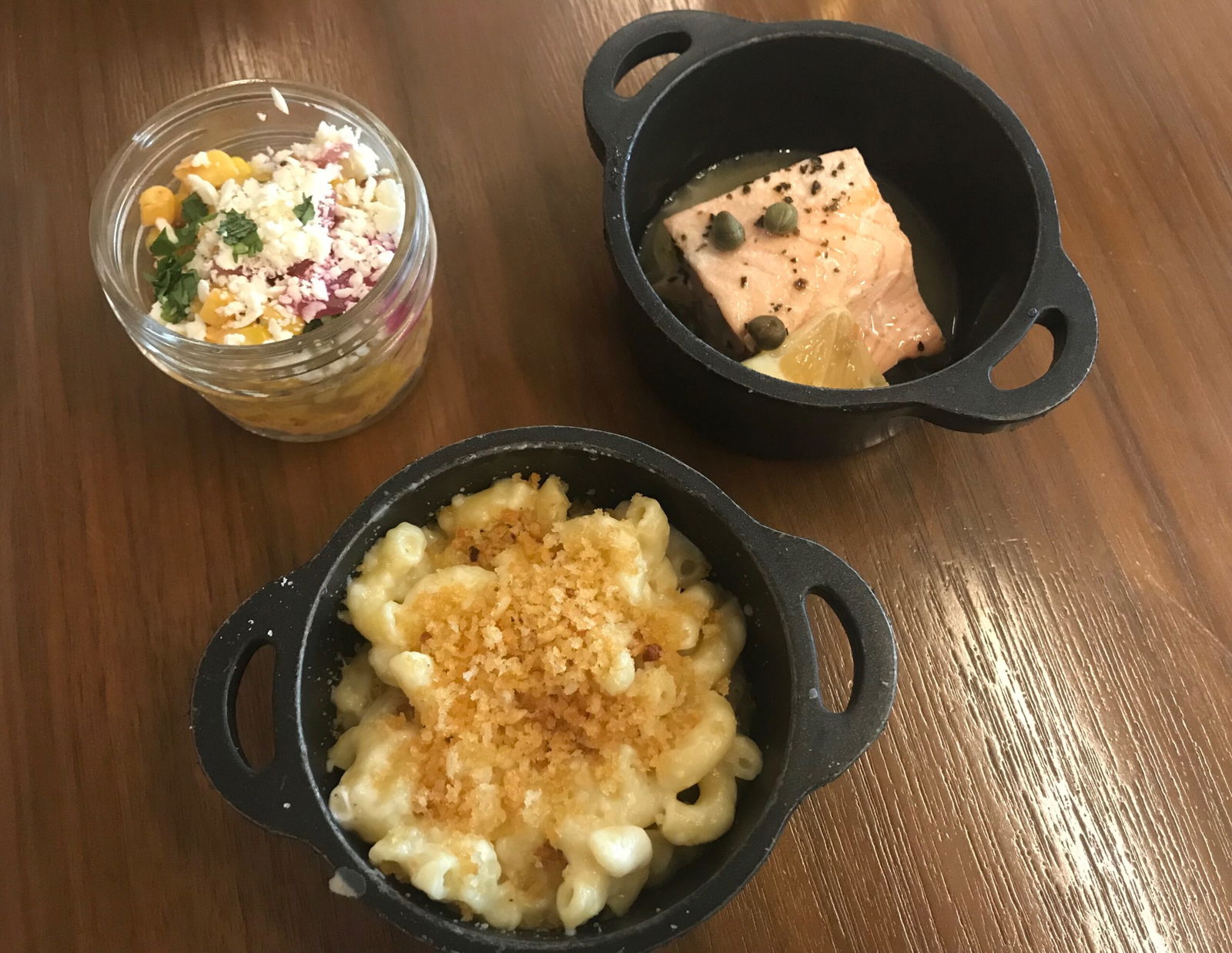 The chipotle street corn, salmon, and macaroni and cheese are all surprisingly good – and not just lounge-good – as are most meals that I've had here. I wouldn't hesitate to order any of the above items if I were paying out-of-pocket at a mid-tier tapas restaurant.
And if you find yourself experiencing cheese cube withdrawals (this is a domestic lounge, after all!) there's usually a plate available like this one: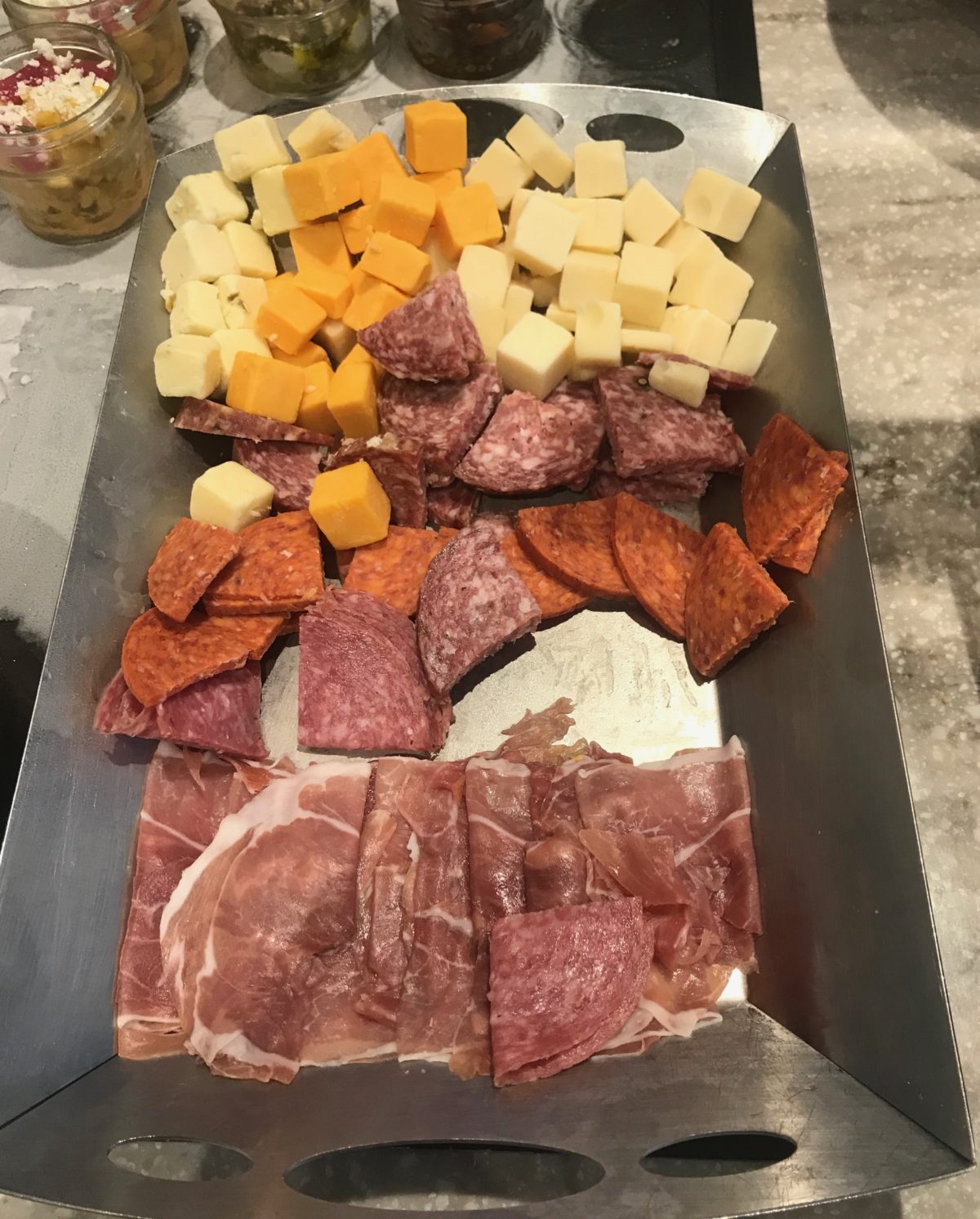 …and a sometimes-not-picked-over selection of breads: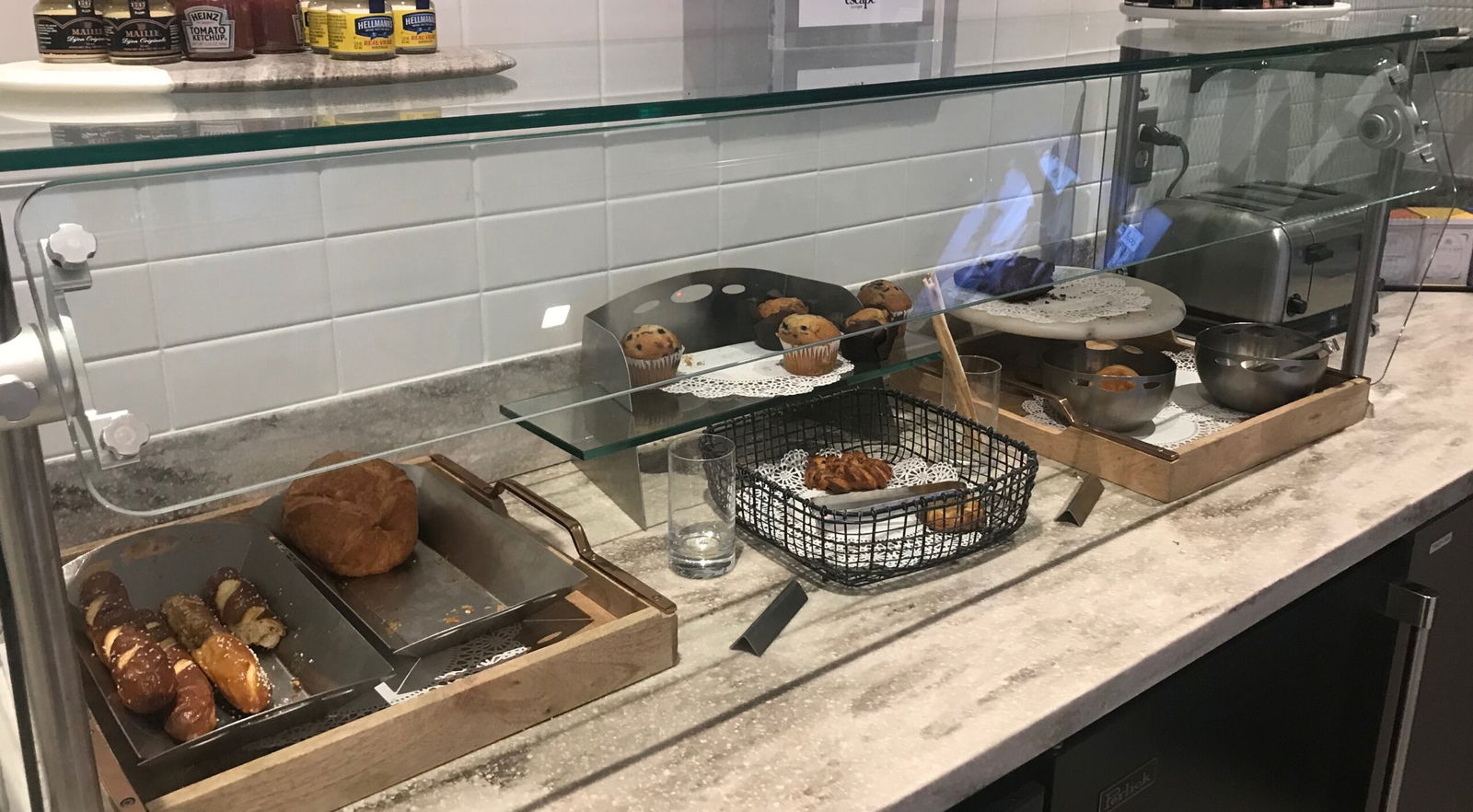 For those of you concerned with the most important part of the meal – dessert – they've got you covered, and not in a packaged food sort of way. In addition to the selection of rotating mason jar items, the lounge has a milk and cookie bar: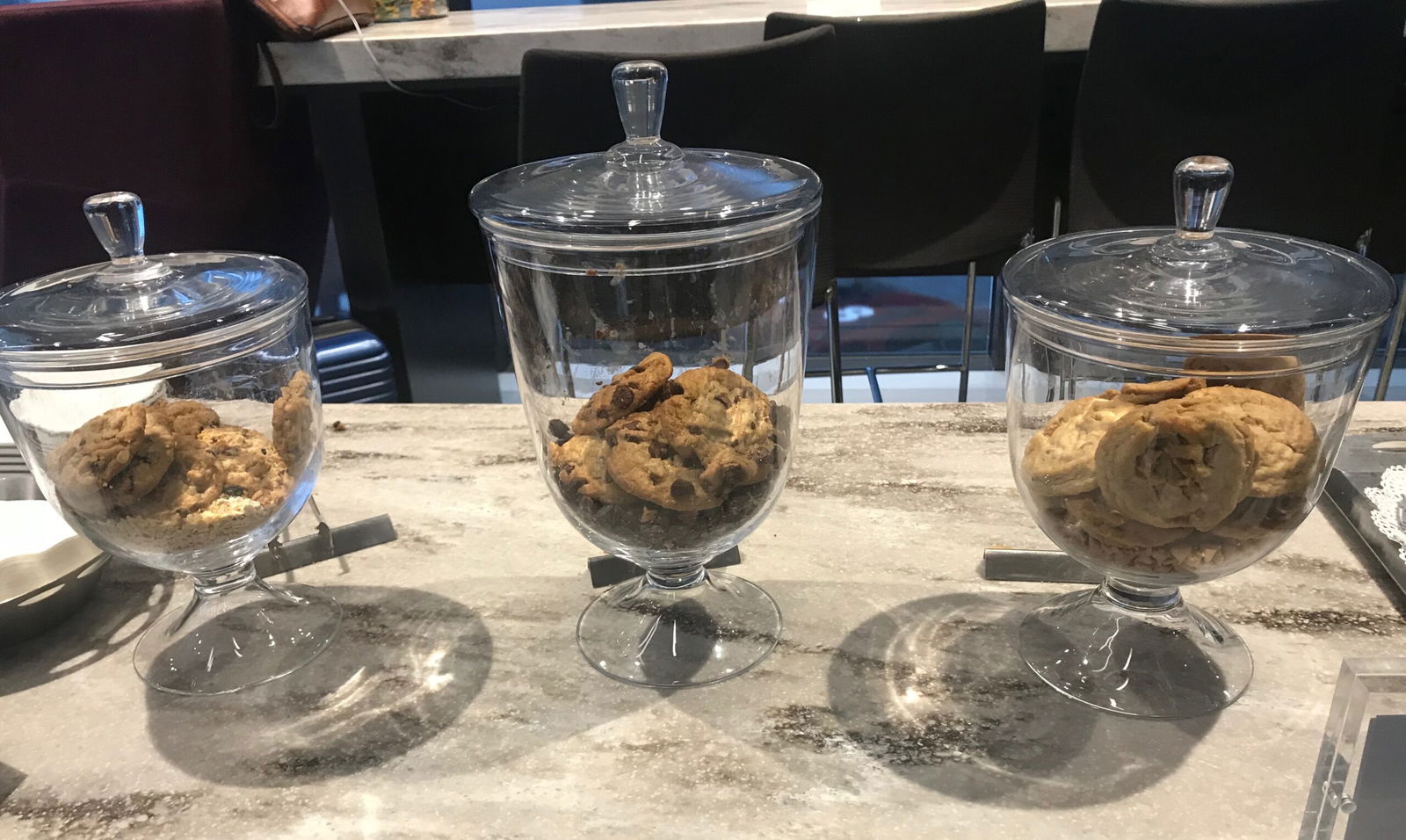 It's worth giving due credit here – the Escape Lounge addresses the serious issue of cookie diversity that is prevalent in airports worldwide. Obviously peanut butter is the best choice, with oatmeal raisin coming in at a close second.
And obviously I'm prepared for the controversy that comes with this statement 😉
(In all seriousness, heads up if you have a nut allergy – you may want to steer clear of this area depending on the severity.)
If your sweet tooth hasn't been sufficiently satiated, there's an omnipresent Starburst jar waiting for you, although it often seems to be disproportionally stocked with the orange and lemon flavors. But you can still get to the cherry ones with some digging.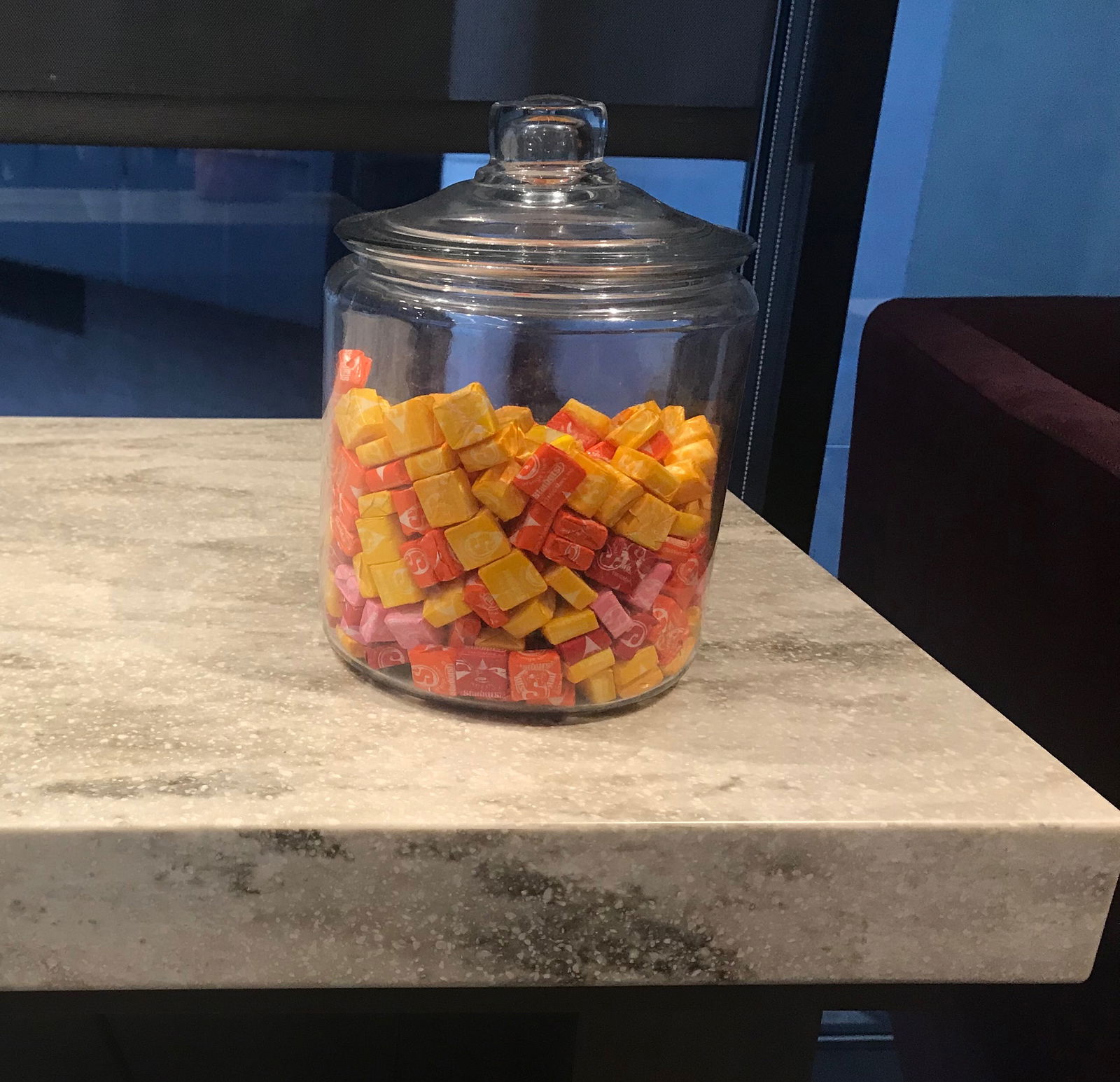 Not pictured is the adjacent jar of Jolly Ranchers. Cumulatively, there's probably enough sugar in here to trigger an FDA raid, but at least you won't go hungry.
Escape Lounge Drinks
The limited bar seating indicates that you won't exactly get a hopping bar scene – head over to nearby Two Roads for your best shot at striking up a conversation – but the free and premium drink menu should be enough to take the edge off of a stressful day. You can view a sample menu here – but you're probably no more likely to find Dogfish in the U.K. than you are to find Bitter in Hartford, so keep in mind that menus will vary by location.
Here is a premium (ish) wine and spirt menu: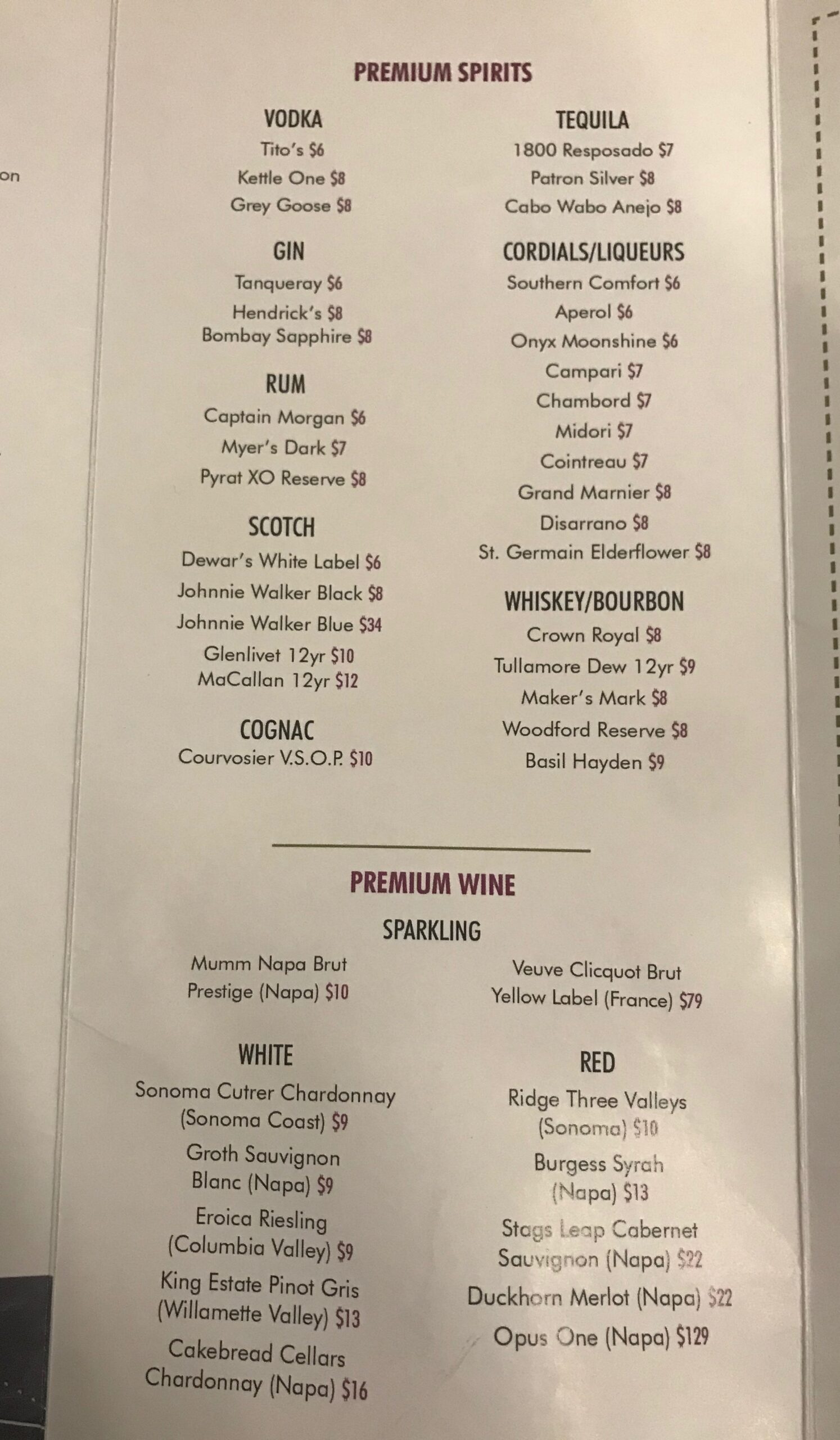 …and a premium beer and cocktail menu: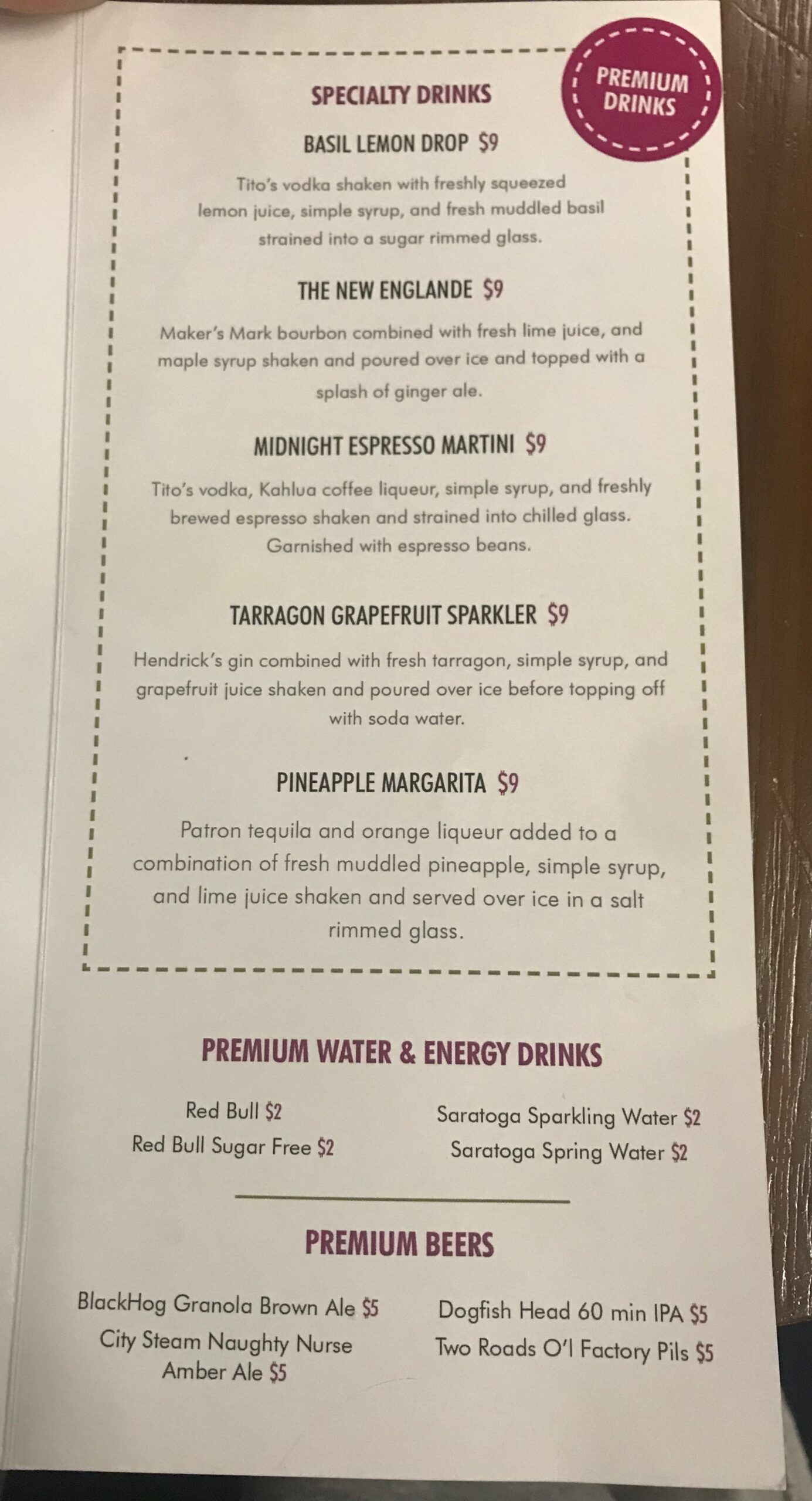 …as well as the complimentary offerings: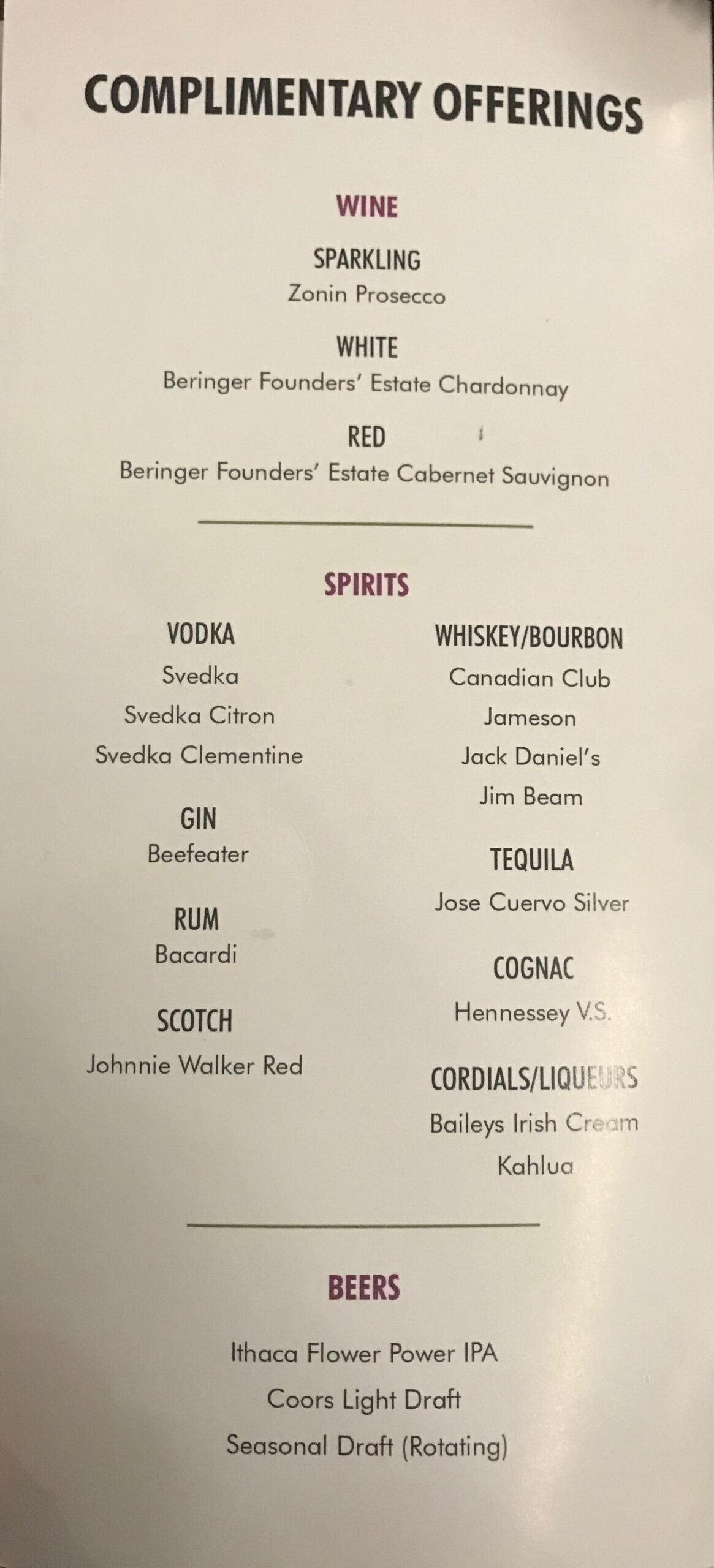 As far as non-alcoholic options go, there's a (mediocre) latte machine, as well as a soda fountain, but there isn't a whole lot else in the realm of self-serve beverages. So that's a slight miss.
I don't typically like to drink a lot pre-flight, especially when I've barely left home yet, but I did order a vodka soda for, you know, the sake of the blog: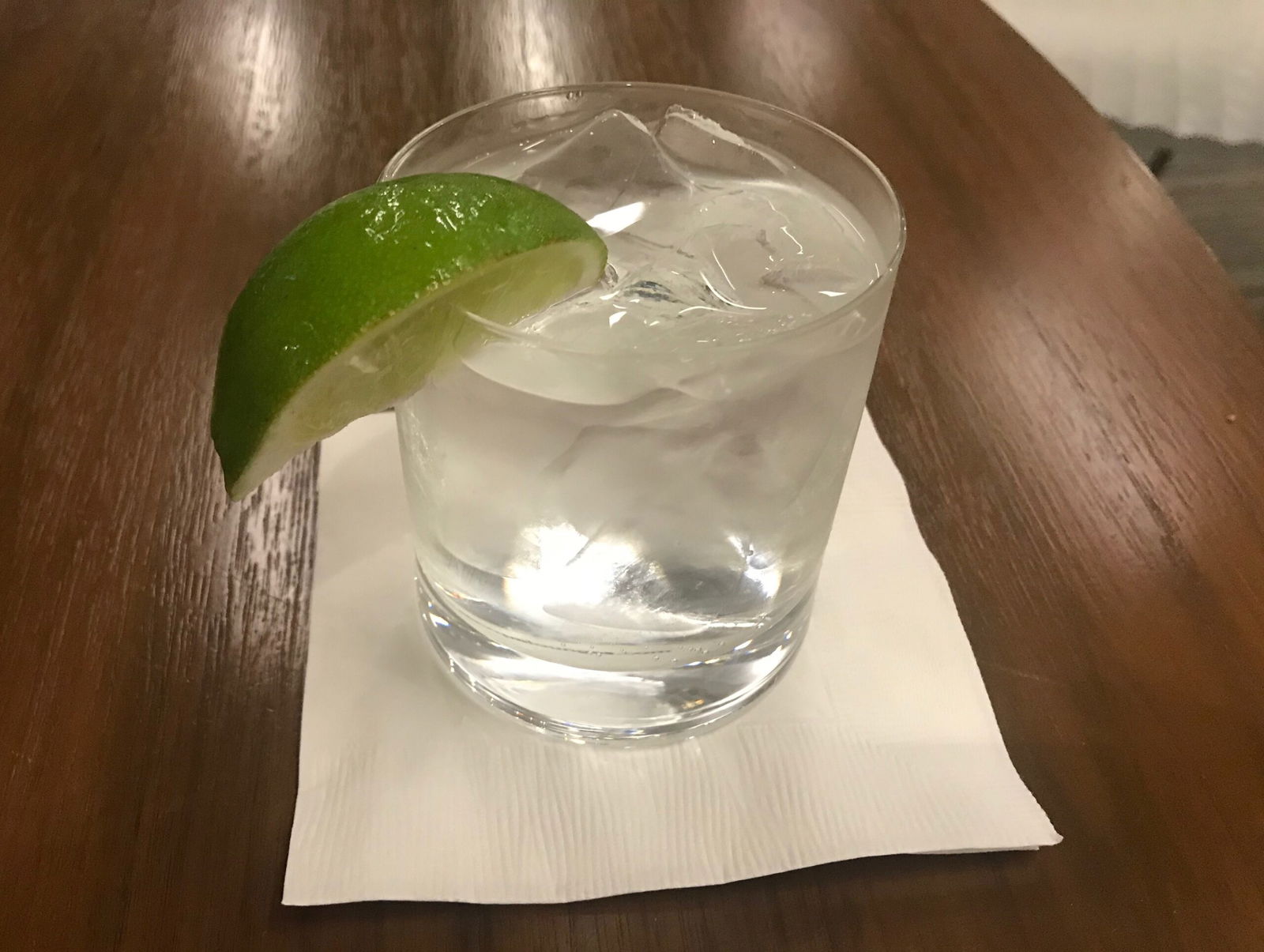 It actually tasted a little worse than it looks, but I think that's the fault of the Svedka more than that of the bartender.
Speaking of bartenders…
Escape Lounge Staff
The staff here are some of the best that I've encountered in domestic lounges. They're always really enthusiastic about the product and have no hesitations showing new visitors around. I've had staff go above and beyond on numerous occasions, from keeping the lounge open to existing guests for an hour past close after a delay, to letting me charge my phone on their only iPad charger.
Occasionally, I've had someone get a little overzealous – like, I really don't need Bailey's in my coffee at 6 AM on a Tuesday just because it's five o'clock somewhere – but for the most part, they've been delightful.
Escape Lounge WiFi
Honestly, there's not much to say here. It works, it's fast, the passwords are posted everywhere, and I've done everything from blogging to Netflix with no hassle.
Bottom line
I've said it before, and I'll say it again – you're not coming here for spa showers or VIP facials. But for a domestic lounge that anyone can access, at a reasonable price point, with a generous guest policy, this is about as good as it gets. The food is great, the Wi-Fi is totally functional, and the staff really go above and beyond.
As a matter of fact, the more I visit Sky Clubs, the more I find myself pining for those little cast iron pots and enthusiastic welcome greetings.
And I'll continue to feel that way even if they run out of cherry Starbursts.
Has anyone been to this Escape Lounge? What was your experience?