In the interest of full disclosure, One Mile At A Time earns a referral bonus for anyone that's approved through some of the below links. These are the best publicly available offers that we have found for each card. Opinions expressed here are the author's alone, not those of the bank, credit card issuer, airlines or hotel chain, and have not been reviewed, approved or otherwise endorsed by any of these entities. Please check out my advertiser policy for further details about our partners, including American Express, Capital One, Chase, and Citi, and thanks for your support!
Introduction: The World's Longest Flight, Via Ahmedabad
Review: Etihad First Class 787 Washington To Abu Dhabi
Review: Etihad VIP Room Abu Dhabi Airport
Review: Etihad Business Class A320 Abu Dhabi To Ahmedabad
Review: Hyatt Ahmedabad
Review: Plaza Premium Lounge Ahmedabad Airport
Review: Singapore Airlines Business Class A330 Ahmedabad To Singapore
Review: Crowne Plaza Changi Airport
Review: Singapore Airlines Business Class A350-900ULR Singapore To Newark
---
I got to Ahmedabad Airport at around 8:30PM for my 10:50PM flight to Singapore. The outside of the airport was packed with people waiting for arriving passengers, and at first I was confused about where I could enter the terminal. I asked several people who couldn't understand me, though after asking about the fifth person I was pointed in the right direction.
Ahmedabad Airport exterior
I had heard horrible things about the lounge in Ahmedabad, so I was confused when outside the terminal I saw a sign indicating the grand opening of the Plaza Premium Lounge. Sounds promising, eh?

Ahmedabad Airport exterior
I had to go through security to enter the terminal, and once inside found it to be pretty empty. I didn't take any pictures in the check-in hall given the number of people with machine guns, as I didn't want to raise any red flags.
While there was quite a queue at the Singapore Airlines check-in counter, there was no one in the business class line, so I was checked in within a minute. Both the station manager and assistant station manager were standing around there, and couldn't have been nicer.
They confirmed that the seat next to me had been blocked, but then again given how empty the cabin was, everyone had an empty seat next to them (still, you might as well market that and make people feel special).
I then headed towards immigration, where there was no wait at all. After that it was time for security. While there was no wait, it ended up taking about 15 minutes, as they had to put my bag through the x-ray four times.
They said there was "metal" in my bag, though I'm not sure what exactly they saw. After running it through four times and not finding anything, they let me through.
Once in the departures hall I followed the signage in the direction of gates 1-3, where the Plaza Premium Lounge is located.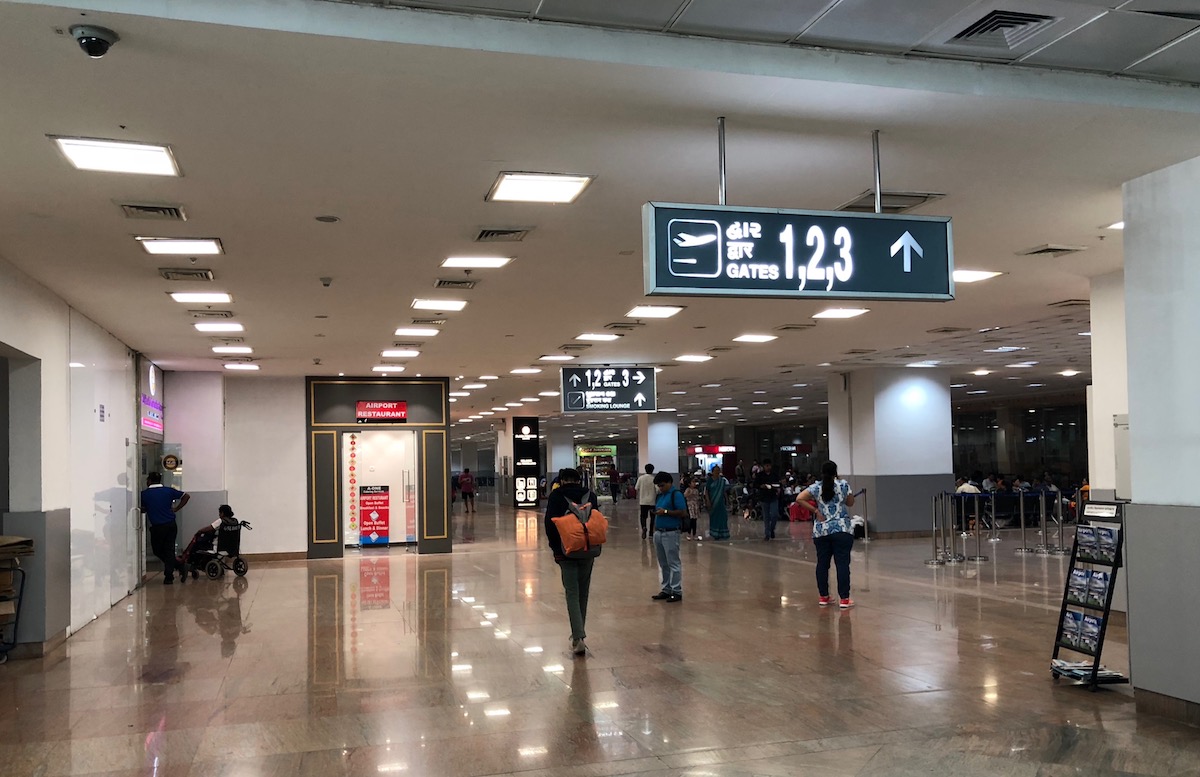 Ahmedabad Airport airside
It was explained to me by the station manager that the Plaza Premium Lounge had just opened a few days prior, and hadn't even had the grand opening party yet. This was clearly a point of great pride for the airport, since the previous lounge was so awful based on everything I've heard.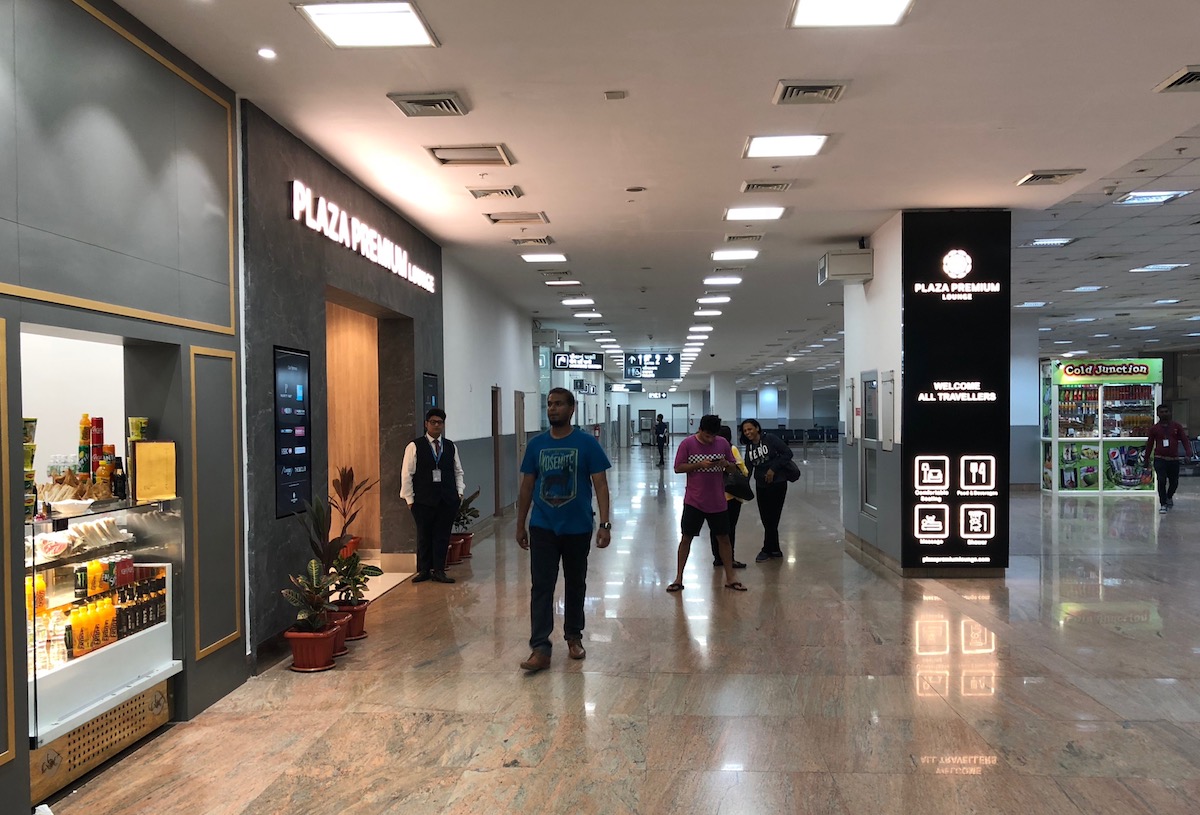 Ahmedabad Airport airside
The lounge is located in terminal 2, level 1, opposite gate 3. It's open to eligible premium passengers traveling on all airlines from the terminal. You can also buy access to the lounge starting at 25USD for a two hour visit. Lastly, the lounge is open to Priority Pass members.
As a reminder, the following are some of the most popular US credit cards that come with Priority Pass memberships (I've also listed the respective guesting privileges):
The lounge is allegedly 2,131 square feet with seating for 65 people, though to me it felt really small. That's probably just a function of most lounges being way bigger.
The lounge consisted of one main room. Inside the entrance were leather chairs arranged in rows, some chairs with ottomans, and some semi-private seats. There were also two communal tables.

Plaza Premium Lounge Ahmedabad seating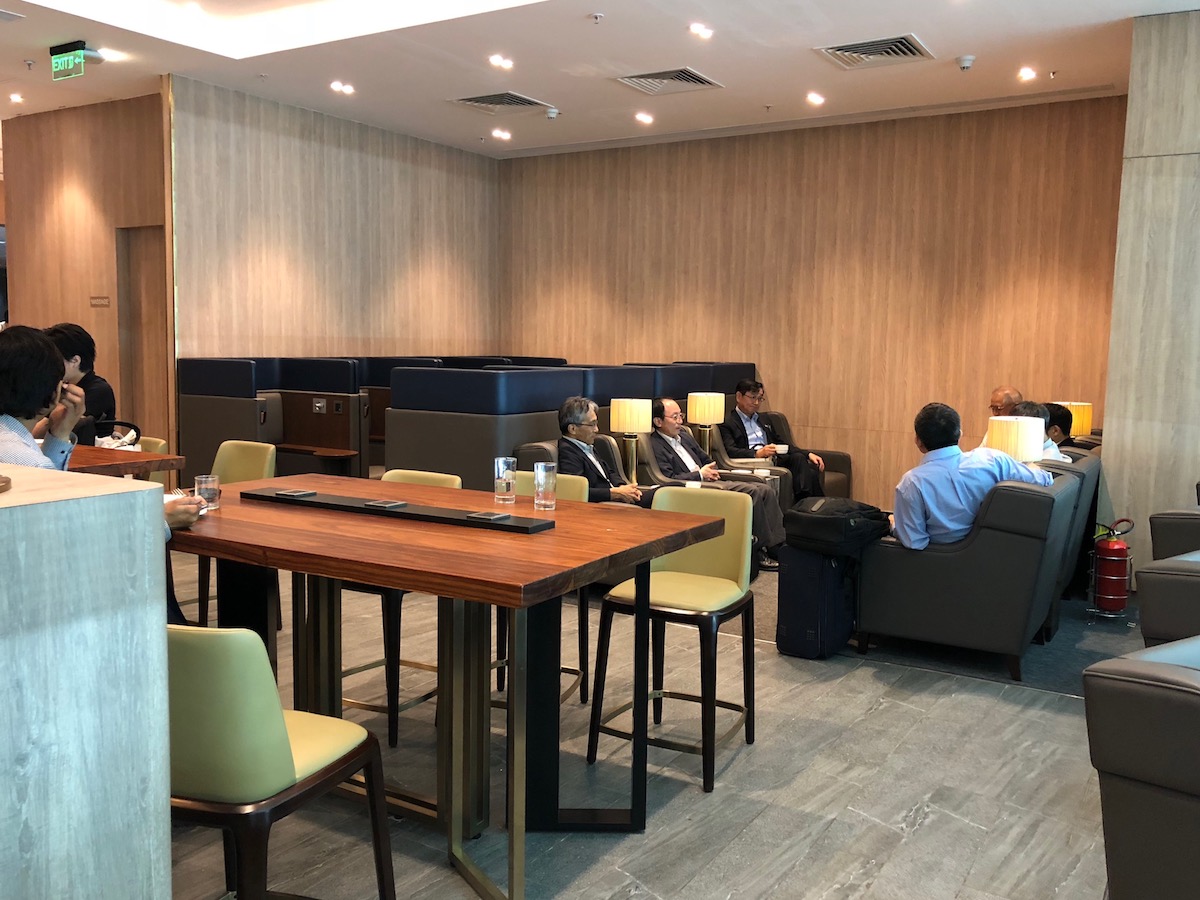 Plaza Premium Lounge Ahmedabad seating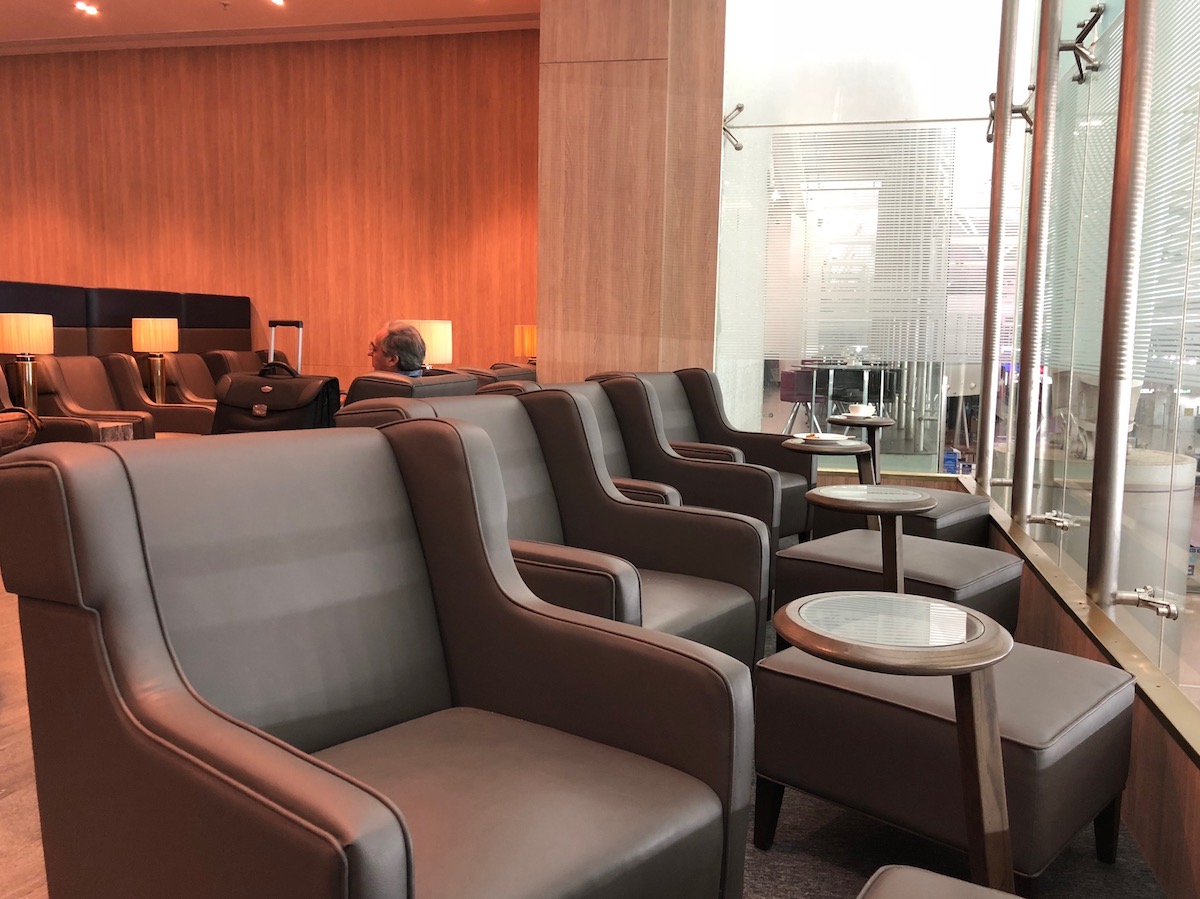 Plaza Premium Lounge Ahmedabad seating

Plaza Premium Lounge Ahmedabad seating
I love these semi-private seats, since they're nice even if you're in an otherwise crowded lounge, and they also have easy to access outlets.

Plaza Premium Lounge Ahmedabad seating
Then further into the lounge was the dining area, which consisted of a few cafe-style tables with booths, as well as some tables with seats along the center section.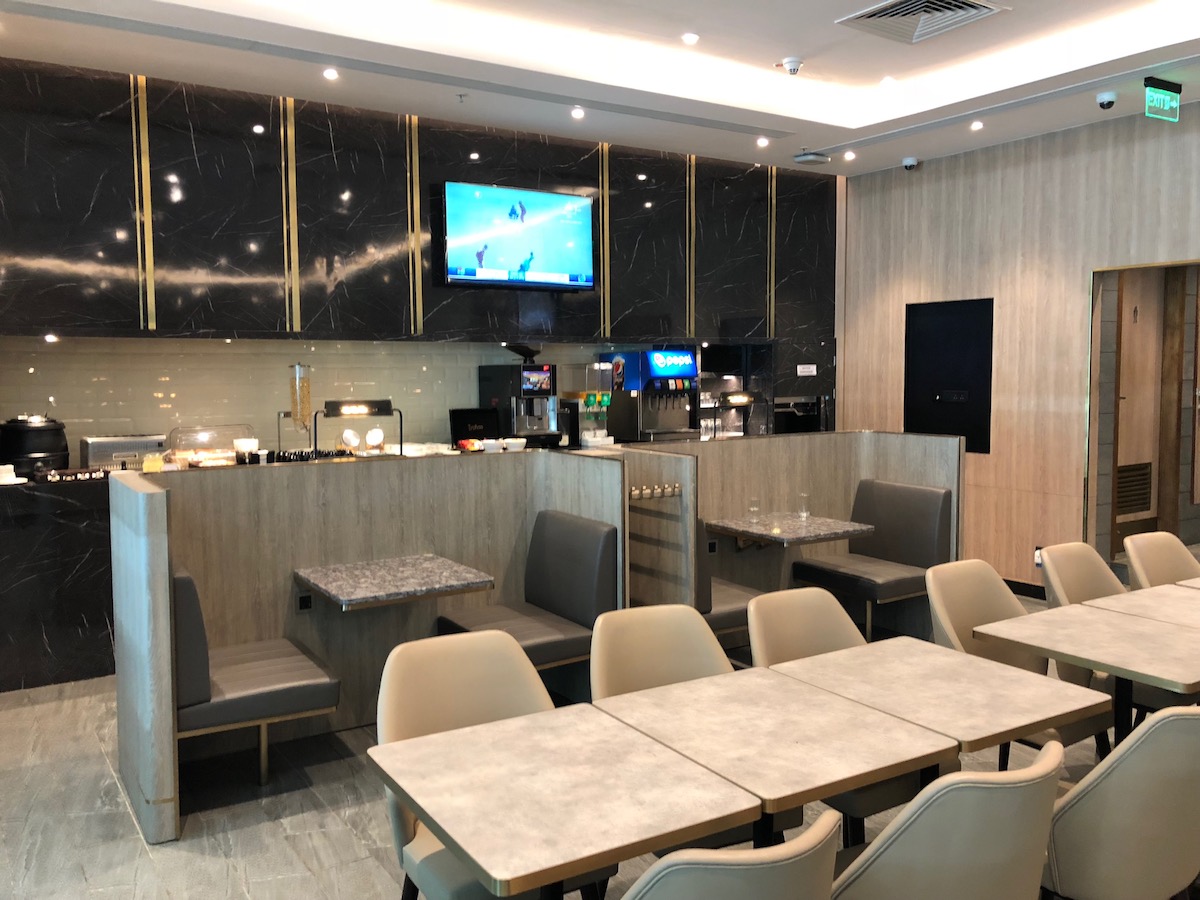 Plaza Premium Lounge Ahmedabad seating

Plaza Premium Lounge Ahmedabad seating
The lounge didn't have much in the way of views, as it just faced the interior check-in hall of the airport.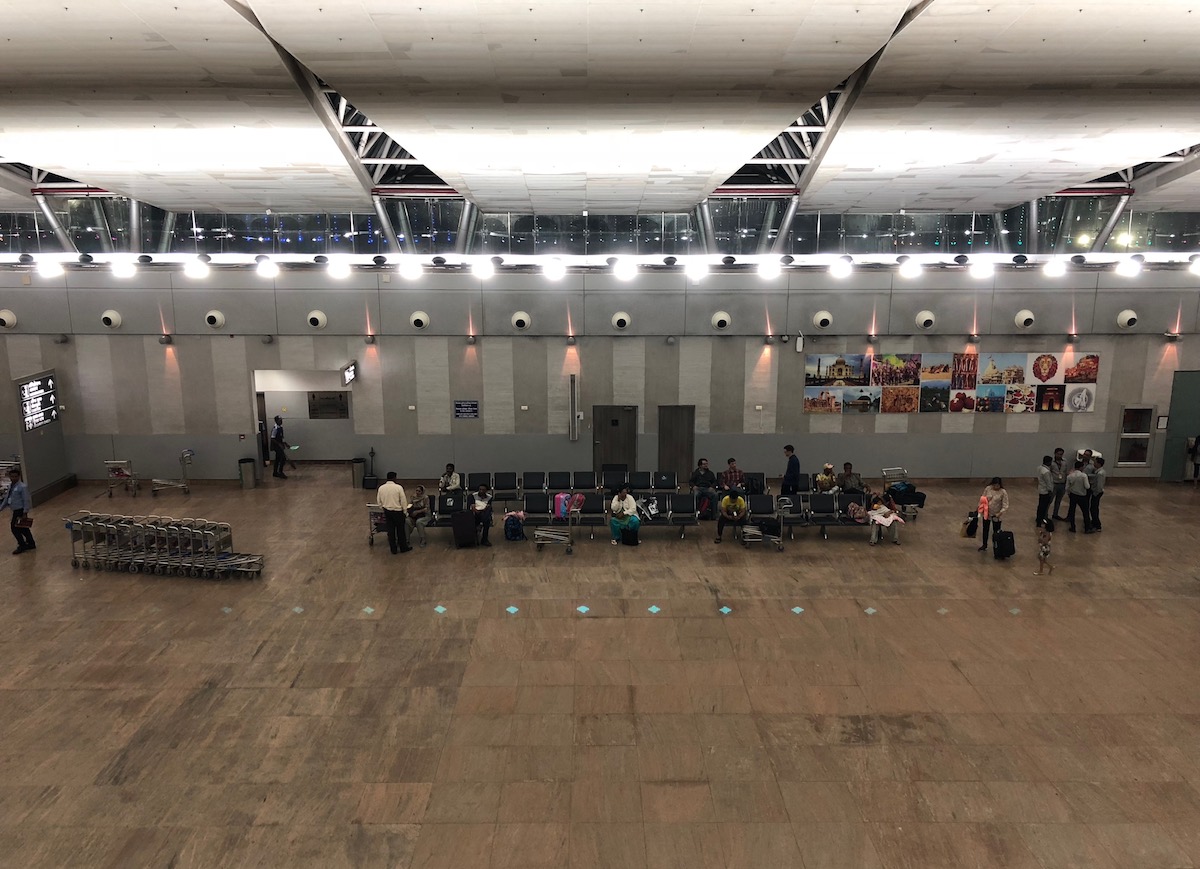 Plaza Premium Lounge Ahmedabad view
On the plus side, I'm a big fan of Air India's Maharaja, so it was cool to see him being carried around.

The Maharaja
Then along the far wall was the self serve buffet, which to drink had soft drinks, water, coffee, tea, and juice.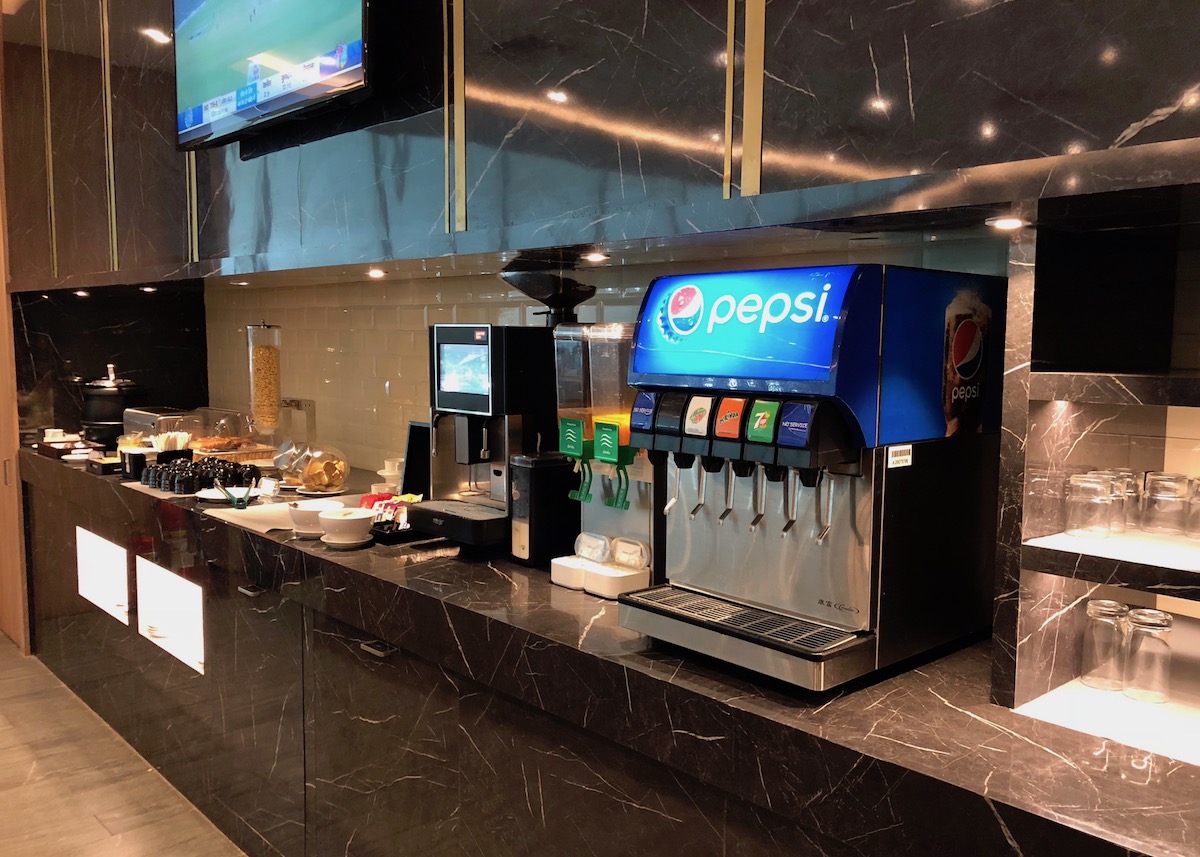 Plaza Premium Lounge Ahmedabad buffet

Plaza Premium Lounge Ahmedabad drinks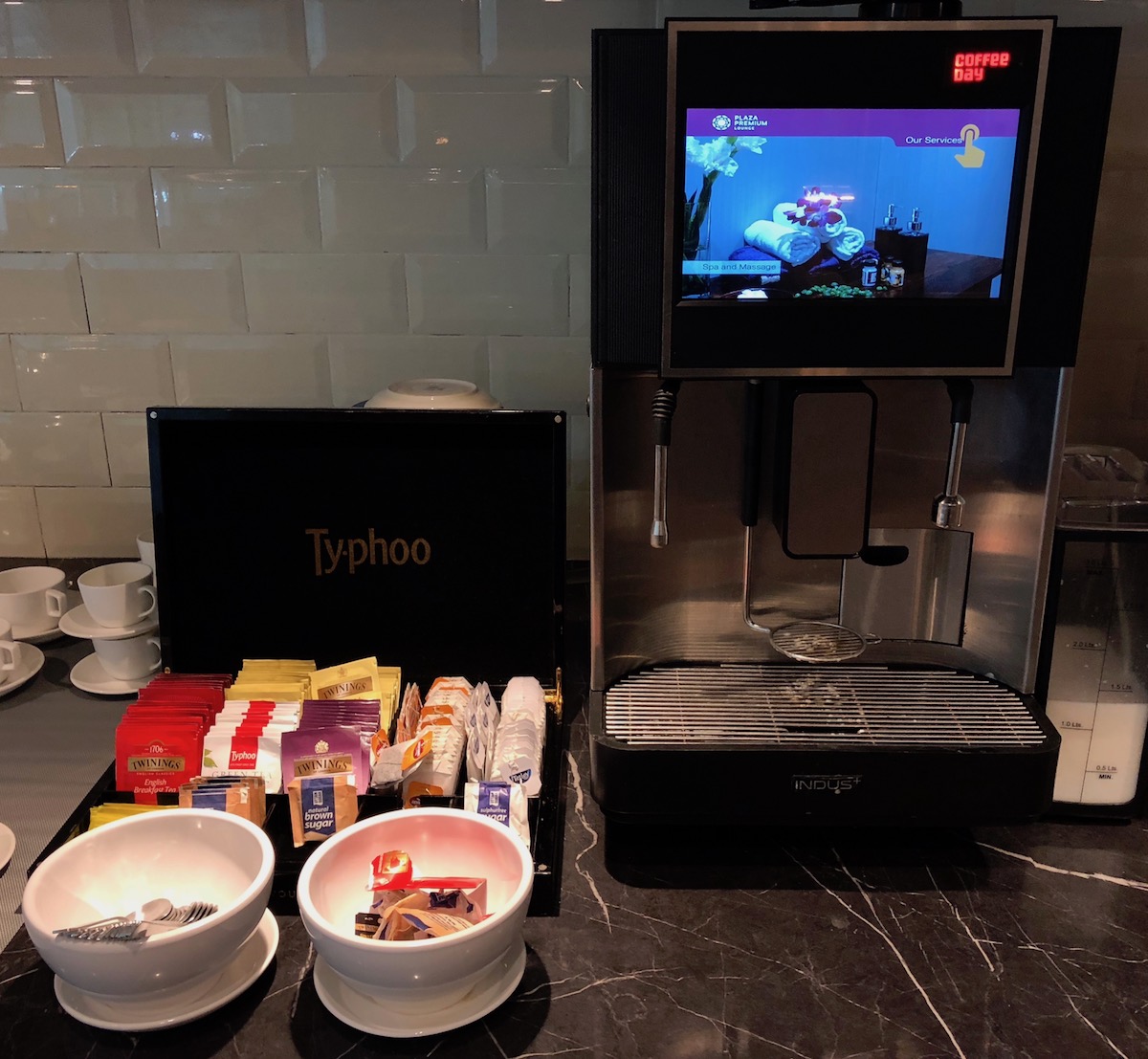 Plaza Premium Lounge Ahmedabad coffee & tea
To eat there was cereal, bread, pastries, cookies, and soup.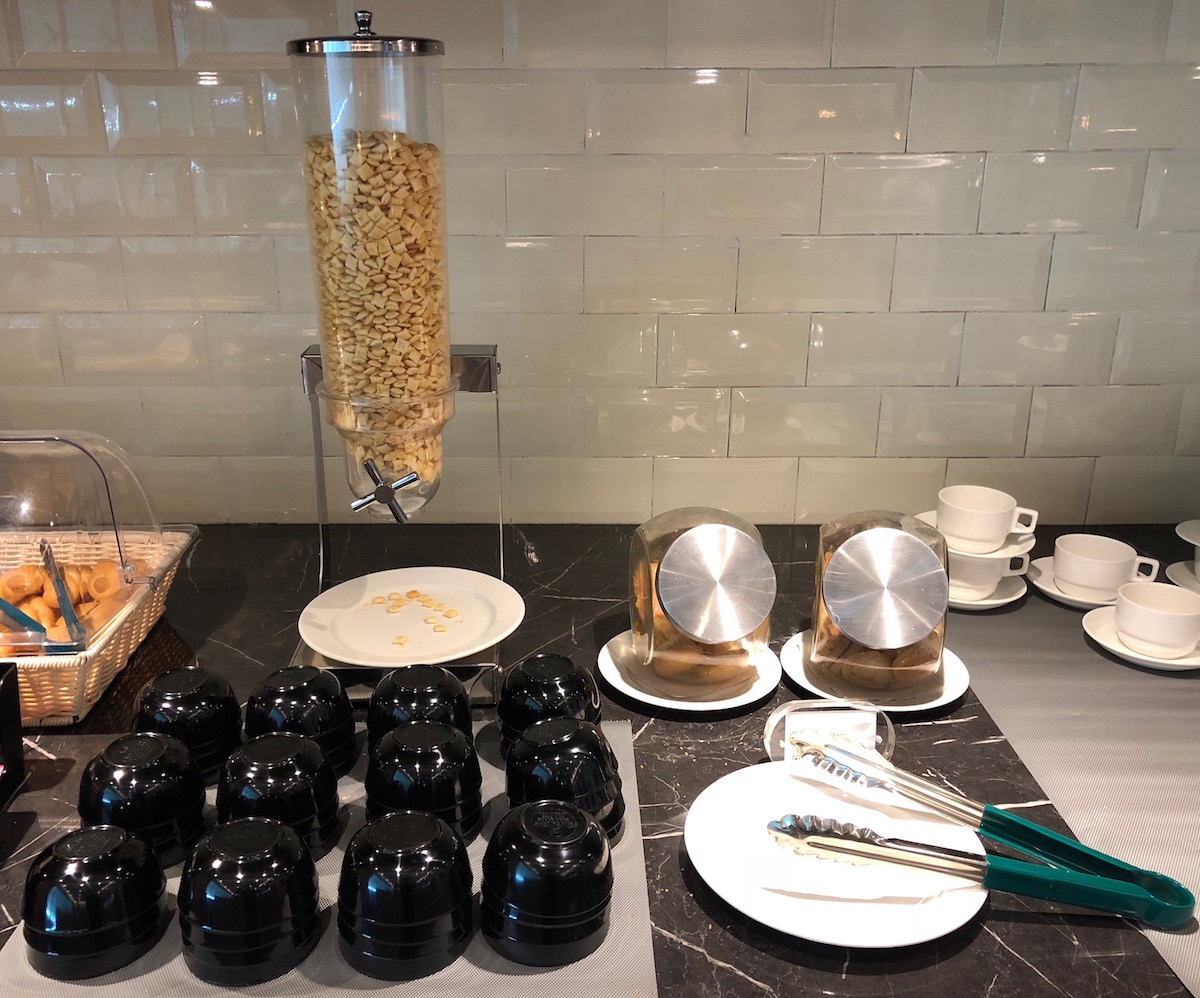 Plaza Premium Lounge Ahmedabad buffet

Plaza Premium Lounge Ahmedabad buffet
In addition to the very limited self serve food selection, there was an area along the other wall with a display case that had some food, including desserts, finger sandwiches, rice, chicken puffs, and egg rolls.

Plaza Premium Lounge Ahmedabad food selection

Plaza Premium Lounge Ahmedabad food selection
I ended up having an alright chicken puff (it was microwaved, so the center was really hot).

Plaza Premium Lounge Ahmedabad food
The lounge has two individual bathrooms, which were in awful condition. There was pee all over the floor (and walls), and there was no toilet paper or soap. C'mon, they should do better, especially for a brand new lounge.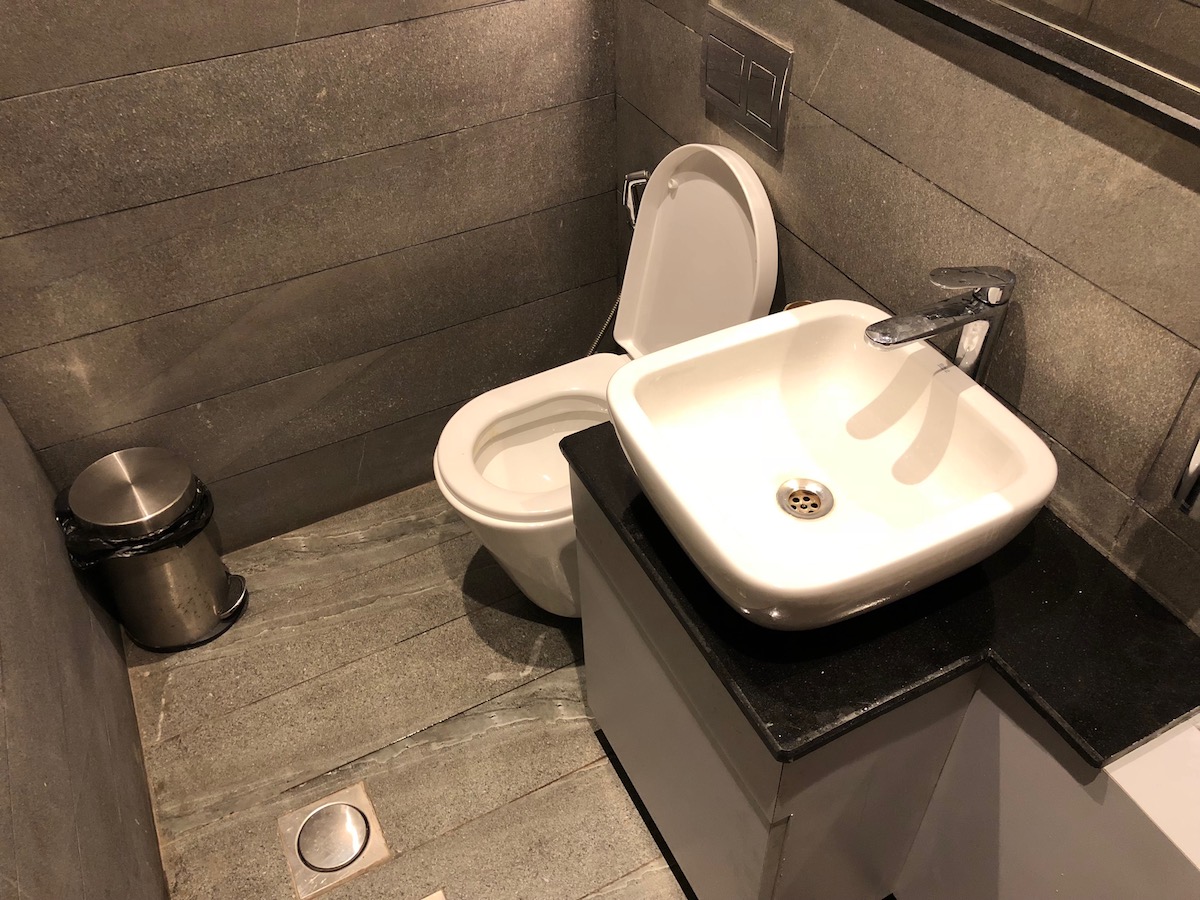 Plaza Premium Lounge Ahmedabad bathroom
The lounge also apparently has a shower, though it was locked. Based on how poorly the bathrooms were maintained, I'm not sure I'd want to shower here anyway…
Another annoyance with the lounge is how the wifi registration works. While the lounge is supposed to have free wifi, you need to receive a code by text in order to activate it, and that code never sent, so no matter how often I tried. So I ended up just tethering from my phone, which wasn't ideal.
My boarding pass indicated that boarding would start at 10:20PM (50 minutes before departure), but the inbound flight was late, and only arrived at 10PM.
So I ended up heading to the gate at around 10:30PM, and boarding started at 10:40PM.
Ahmedabad Airport Lounge bottom line
I've heard horrible things about the lounge at Ahmedabad Airport, so I guess the good news is that the new lounge is a significant improvement. I wouldn't call this lounge "awful" — and would say it's actually quite decent — aside from the poorly maintained bathrooms and the challenges with connecting to wifi.
The lounge is on the small side, but seems to be a huge improvement over the old lounge, which is closed in the meantime.
The good news is that Ahmedabad Airport is pretty easy to use (at least based on my experience) so I wouldn't feel it necessary to arrive at the airport too early. It's certainly much easier than Delhi or Mumbai. This lounge isn't a bad place to kill a bit of time, though.