In the interest of full disclosure, OMAAT earns a referral bonus for anyone that's approved through some of the below links. These are the best publicly available offers (terms apply) that we have found for each product or service. Opinions expressed here are the author's alone, not those of the bank, credit card issuer, airline, hotel chain, or product manufacturer/service provider, and have not been reviewed, approved or otherwise endorsed by any of these entities. Please check out
our advertiser policy
for further details about our partners, and thanks for your support!
In this post I wanted to take a closer look at Marriott Suite Night Awards, which are a Bonvoy elite benefit that members have conflicting feelings about.
What are Marriott Suite Night Awards?
Suite Night Awards (known as "SNAs") are a way for Marriott Bonvoy Platinum, Titanium, and Ambassador members, to confirm a suite upgrade up to five days before arrival. Each SNA is valid for one night of a stay.
While Platinum members and above receive unlimited suite upgrades subject to availability at check-in, this essentially lets members prioritize upgrades on the stays that matter most to them. In other words, you may not care about a suite upgrade on your one night stay at an airport hotel, while you may care a lot about a suite upgrade on your annual vacation with your spouse.
But there's a lot to understand about SNAs — how do you earn them, how do you redeem them, and what's the best strategy for deciding when to redeem them? I'll share my experience below.
Unfortunately don't get too excited, because Marriott's Suite Night Awards are nowhere near as useful as the Suite Upgrade Awards that World of Hyatt Globalist members receive, each of which is valid for a suite upgrade at the time of booking for a stay of up to seven nights.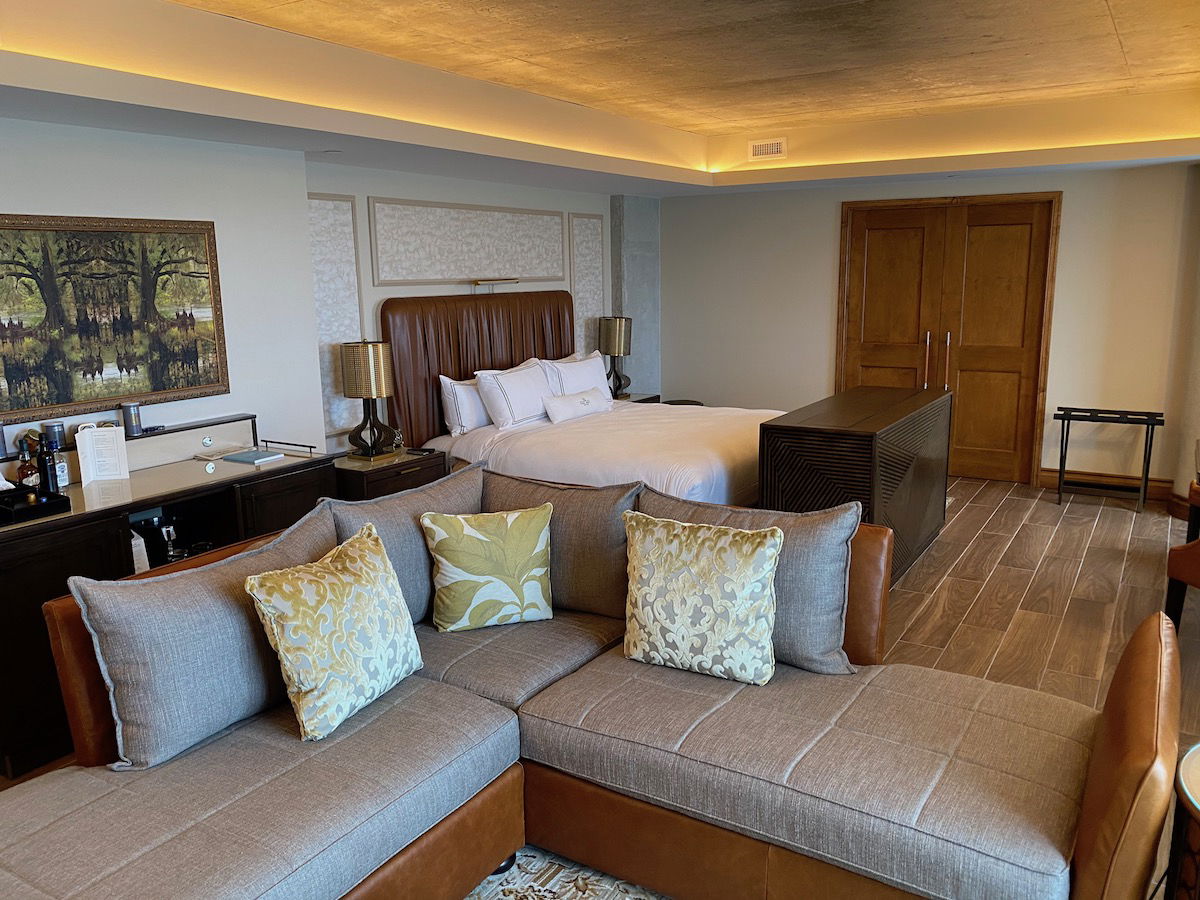 How to earn Marriott Suite Night Awards
Marriott elite members exclusively receive SNAs as part of the Bonvoy Choice Benefits program. These are offered in two tiers, at 50 elite nights and 75 elite nights:
When you pass 50 elite nights you can select five SNAs
When you pass 75 elite nights you can select a further five SNAs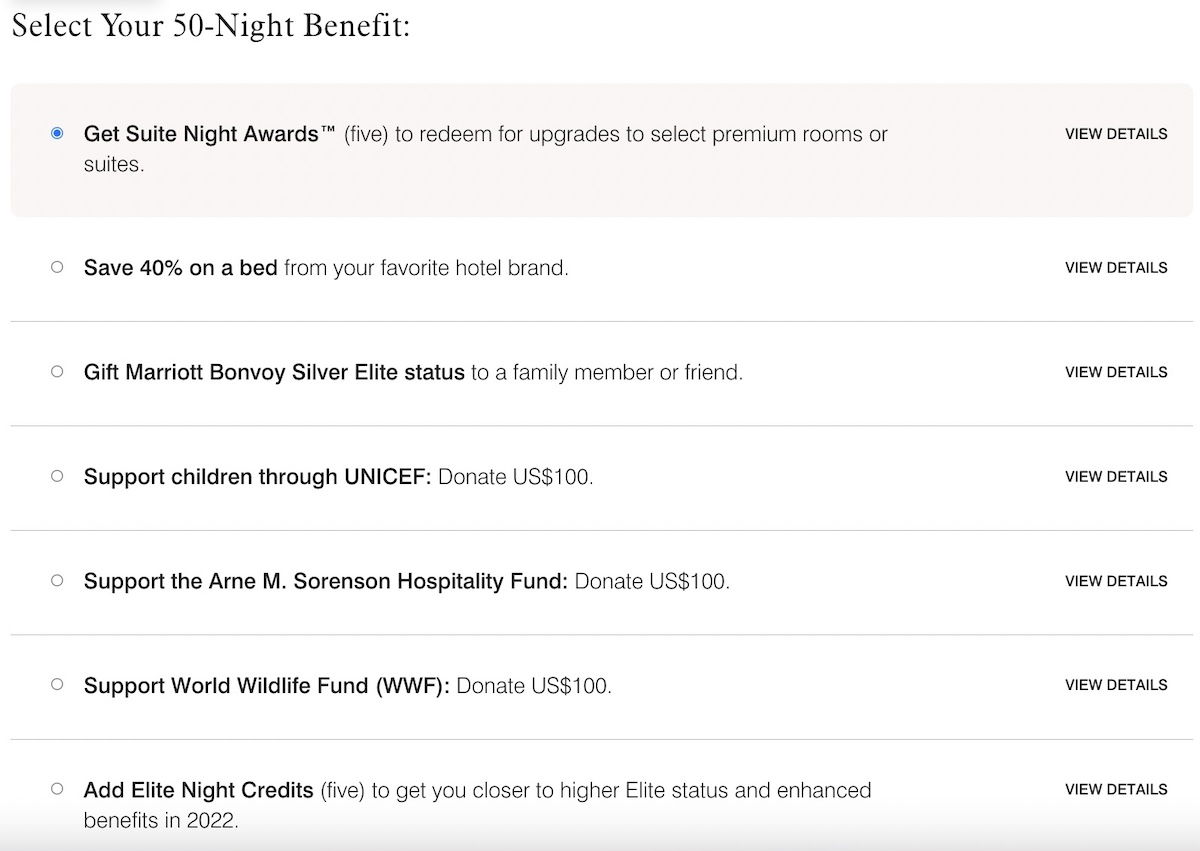 In other words, an elite member who earns 75 elite nights in a year can earn up to 10 SNAs. When you select SNAs as your Choice Benefits, they'll be valid through the end of the year after they were chosen.
In other words, if you selected them as your Choice Benefit in July 2022, they'd be valid through December 31, 2023 (and you have to stay by then, rather than just needing to book by then).
Note that these Choice Benefits are tied exclusively to how many qualifying elite nights you earn in a year, rather than your status: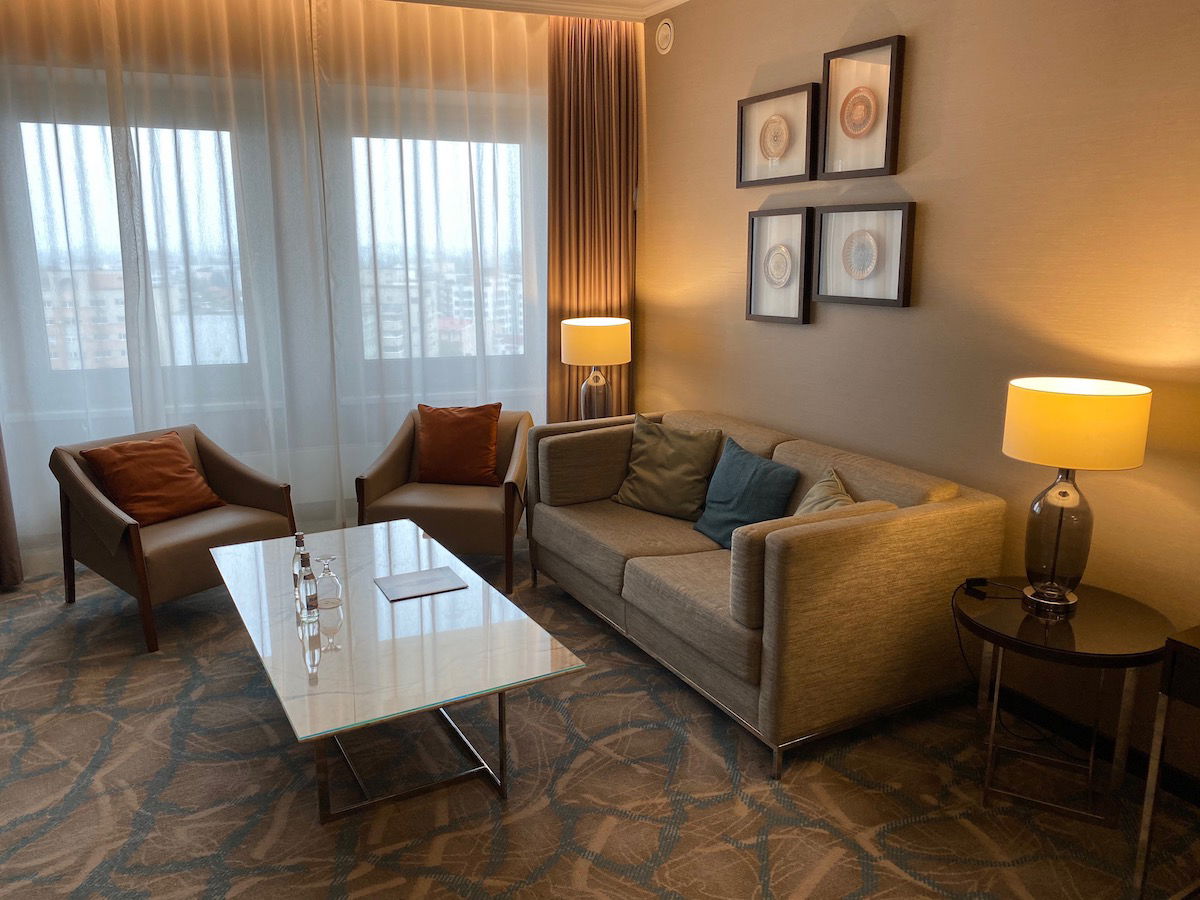 How to redeem Marriott Suite Night Awards
There are many nuances to understand when it comes to redeeming Marriott Suite Night Awards. Marriott Bonvoy can be a complicated program, and that's especially evident when it comes time to redeem SNAs.
Each Suite Night Award can be redeemed for an advance confirmable upgrade for select premium rooms and suites, with each SNA being valid for one night. Let's go through some of the most common questions about Suite Night Awards, which might be the easiest way to understand this.
What rates are eligible for Marriott SNAs?
Any stay that would be considered "eligible" for the purposes of earning Bonvoy elite credits would also be eligible for Suite Night Awards. These can be redeemed on all stays booked directly with Marriott, including paid stays, points stays, free night certificate stays, Cash & Points stays, Marriott STARS rates, etc.
Stays booked through third parties, and other non-qualifying rates, generally wouldn't be eligible for redeeming SNAs.
What hotels are eligible for Marriott SNAs?
Marriott Suite Night Awards can't be used for stays at the following brands:
Ritz-Carlton
Ritz-Carlton Reserve
Ritz-Carlton Destination Club
Ritz-Carlton Residences
EDITION
Protea Hotels
Aloft
Element
Design Hotels
Marriott Executive Apartments
ExecuStay
Marriott Vacation Club
Marriott Grand Residence Club
Vistana
Not just that, but SNAs also can't be redeemed at select other individual properties not belonging to the groups listed above. If you want to see if a particular hotel is eligible, you can either contact Marriott Bonvoy customer service, or you can just make a booking and see if you have the option of applying an SNA to a reservation.
Unfortunately I've been finding that an increasing number of properties not belonging to the above brands aren't eligible for SNAs, which sure is frustrating. Sometimes I'm not sure whether it's an IT glitch or intentional, but I haven't found a workaround.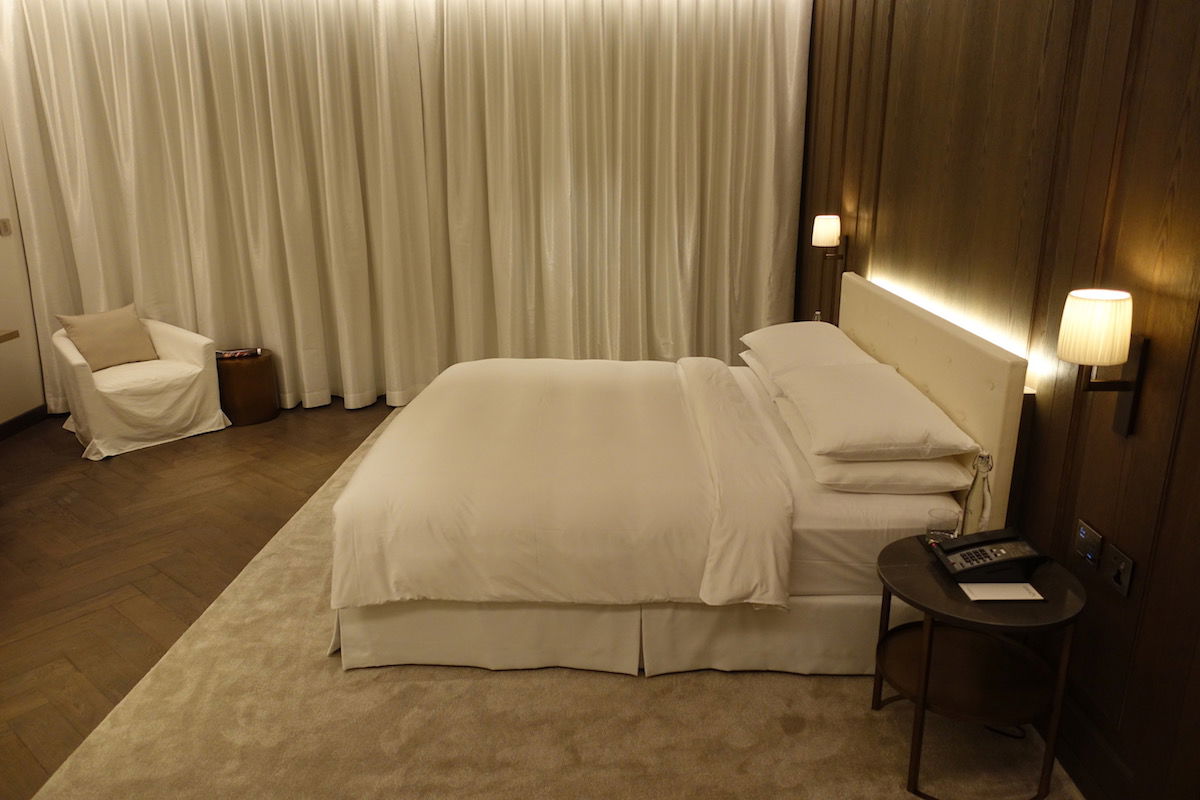 What rooms are eligible for Marriott SNAs?
It's up to individual hotels to designate which types of rooms are eligible for Suite Night Awards. According to the terms, this is supposed to include select premium rooms and standard suites, though you'll find that this varies:
At some hotels you'll find that only one or two room types are available with SNAs, while at others you'll find there are a dozen options
At some hotels rooms eligible for SNAs don't even include standard suites, but rather just premium rooms, while at other hotels you'll find some absolutely incredible suites available with SNAs, like two bedroom suites, and suites that are 10x the price of an entry-level room
There's a huge amount of variability here.
When there are multiple rooms that are eligible for SNAs, you can select how many room types you want to request an upgrade to, in order to increase your odds — you could ask to be eligible for an upgrade to one type of room, a couple of types of rooms, or all the room types.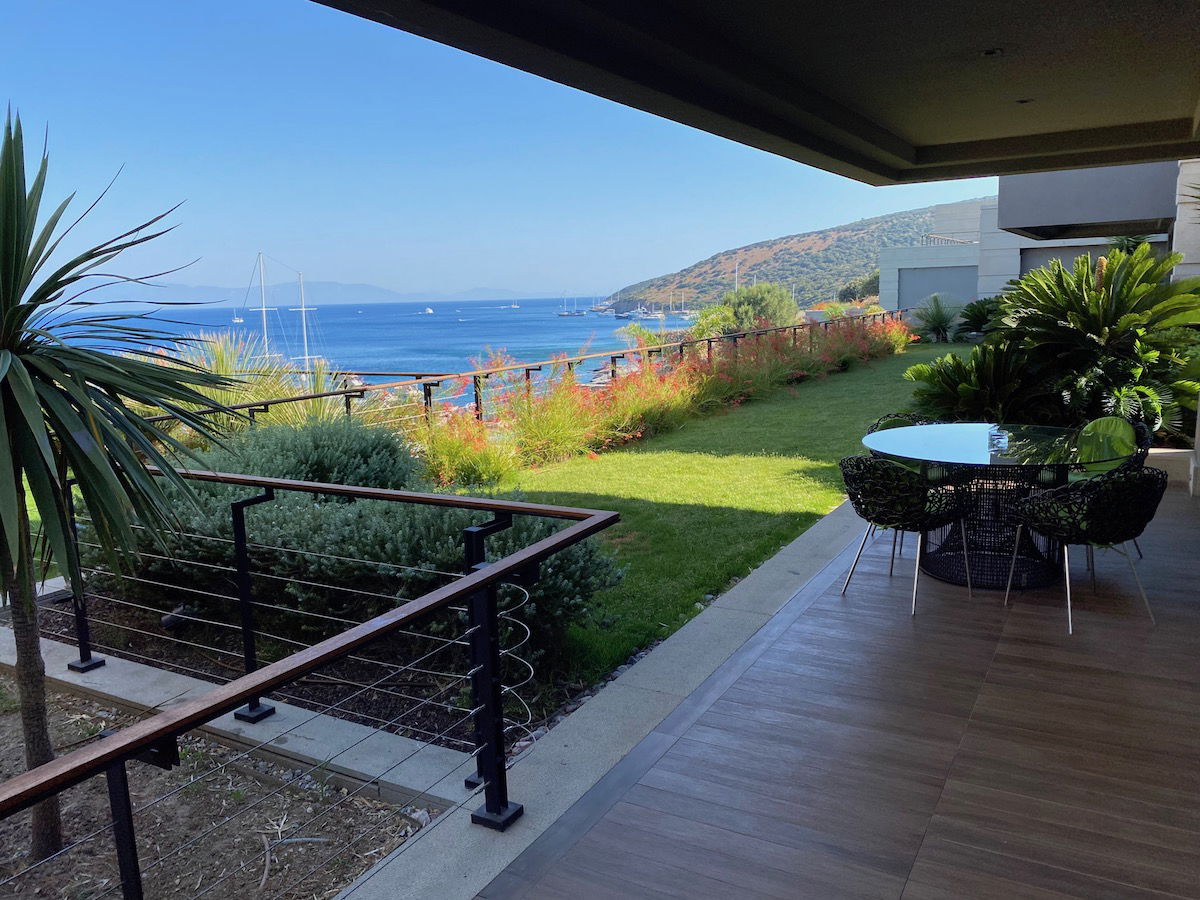 When can you request upgrades with Marriott SNAs?
You can request an upgrade with Suite Night Awards anytime between when you make your booking, and 2PM local hotel time the day before arrival. You can't apply SNAs within 24 hours of arrival at a hotel.
When do Marriott SNAs clear?
Marriott Suite Night Awards can clear as early as five days before arrival, and as late as 2PM local hotel time the day before arrival. I'll talk a bit more below about what clearing of upgrades is based on, but in my experience if they do clear, it's often at the five day mark, rather than at the one day mark.
If your upgrade clears, you should receive both an email and a push notification through the Marriott Bonvoy app (if you have that enabled).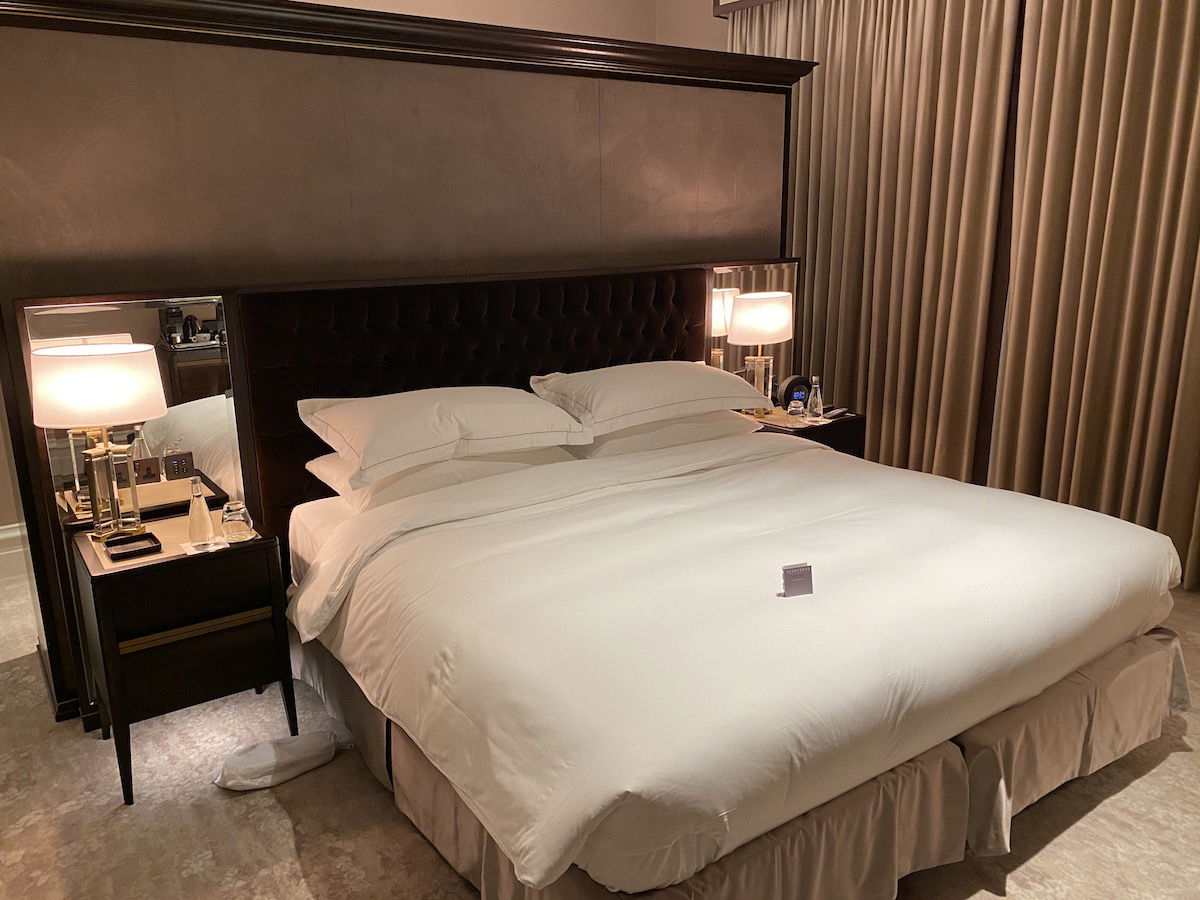 Can you cancel upgrade requests with Marriott SNAs?
You can cancel Marriott Suite Night Awards anytime when they haven't yet cleared, whether that's three months or three days before arrival. However, if your SNAs do clear, then you can only cancel the request if you cancel the reservation altogether, in which case the SNAs would be redeposited in your account.
You can't cancel your SNAs once they've cleared if you still intend to complete the hotel stay.
Can you redeem Marriott SNAs for part of a stay?
You need to use SNAs for your entire stay, and can't redeem for part of a stay. In other words, if you had five SNAs:
You could book five one night stays
You could book a two night stay and a three night stay
You could book a five night stay
However, you couldn't book a six night stay, and then apply SNAs to just five of those nights (though you could always make two separate reservations)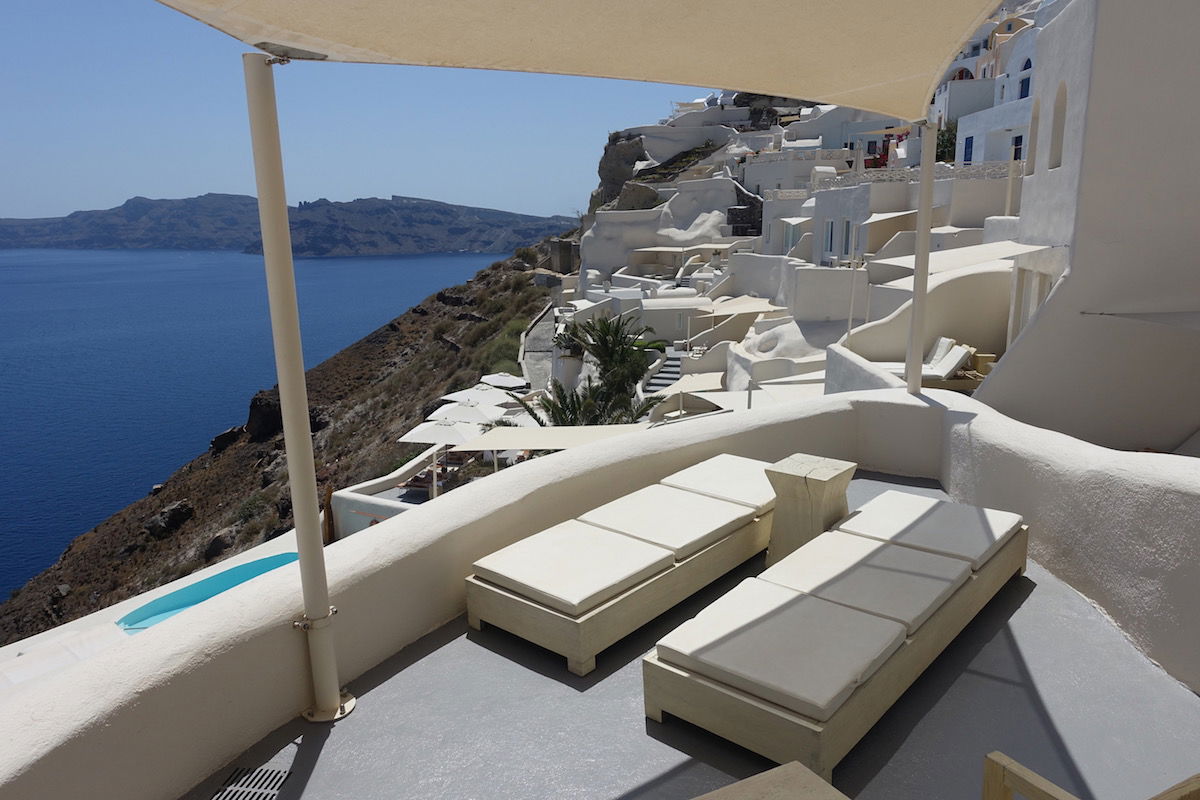 Are Marriott SNAs guaranteed to clear if a room is available?
Should you expect that if a room you requested an SNA for is available five days out, that your upgrade will clear at that point? No, not quite, unfortunately:
Suite Night Awards are cleared automatically based on an algorithm created by Marriott and the hotel; so while hotels can limit capacity for these upgrades, there's not much "active" gaming going on, and also not much human intervention
Suite Night Awards clearing are based on forecasted occupancy; if it looks like a hotel could sell that suite, it's unlikely it will become available at the five day mark
You will find some inconsistency here. In my experience, if there are several of a specific suite type available then it will also typically be available with an SNA five days out. Meanwhile, if there's not much inventory, it might not clear.
Can a hotel downgrade you if you use a Marriott SNA?
If your Marriott SNA clears, can the hotel still downgrade you at check-in? The answer is supposed to be no. Suite Night Awards offer confirmed upgrades, and this means that once the upgrade is confirmed, it can't be taken away.
Of course in some rare instances it's possible a hotel may try to downgrade you — maybe the suite is out of service, maybe someone extended a stay, maybe there was a tech glitch, or maybe the hotel staff are just not very competent. Hotels aren't supposed to do this, so I'd expect some compensation from the hotel if you do get downgraded.
How do you request an upgrade with Marriott SNAs?
After you confirm a reservation, there are two ways you can request an upgrade with an SNA:
You can phone up Marriott Bonvoy customer support
You can request an upgrade directly online
To do it online, go to the "My Trips" section of your Bonvoy account after booking, and log into your reservation. At the bottom of the reservation you should see an area that says "Use your Suite Night Awards."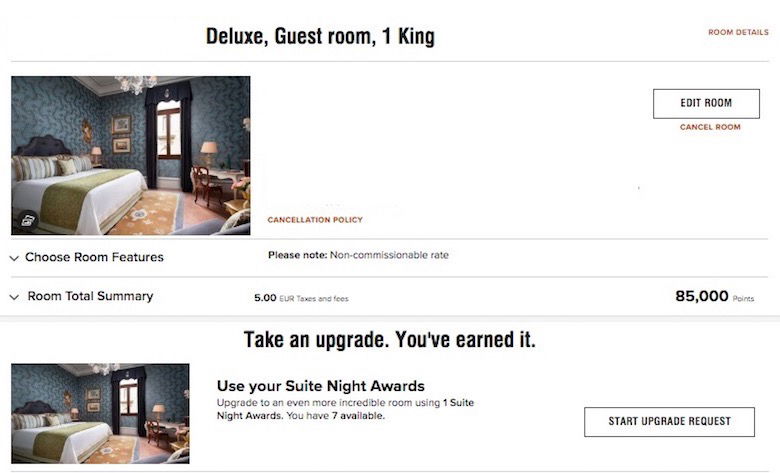 Click that, and then you'll see the options of which premium rooms you can select to request an upgrade to.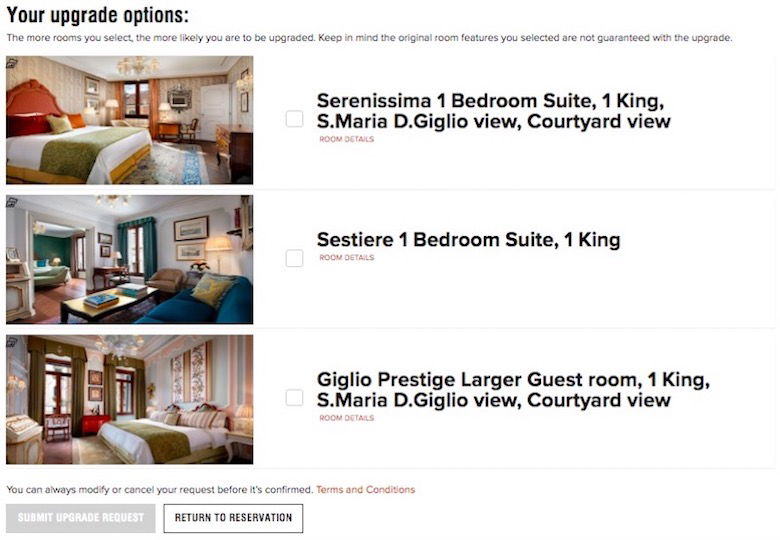 Note that you'll only see the option for this functionality if you have enough upgrades in your account for the entire stay. If you do request an upgrade, the SNAs will be pulled from your account immediately, so you can't apply them toward other reservations.
Obviously they would be returned to you if the upgrade doesn't clear, but this is a consideration, since members have a limited number of SNAs, and may want to try using them toward multiple stays.
My Marriott Suite Night Award strategy
Given that Bonvoy elite members earn Suite Night Awards to cover only a small percentage of their stays, what's the best strategy for deciding which stays to use these for? Here are my general considerations:
How much does the stay matter to me? I care a lot more about an upgrade if I'm traveling with Ford, if I'm at a resort where I plan on spending more time in the room, etc.
What are the odds of getting a complimentary upgrade at check-in? As any Bonvoy elite member can attest to, some hotels are great about suite upgrades at check-in, while others aren't. When deciding whether or not to apply an SNA, I ask myself what the odds are of getting an upgrade without using an SNA. This is based on my past experience at a property, how many suites the property has, and reading what others have said about the hotel online.
How good of a premium room is available with an SNA? At some hotels you'll only have larger guest rooms available with SNAs, while at other hotels you'll have premium suites that you'd likely never get a complimentary upgrade to. If I'm going to use an SNA, I'd ideally like it to be for a really great room.
It's important to approach all of this realistically, though. If you're traveling somewhere in peak season that's also frequented by lots of other Bonvoy elite members, you're probably not going to have your SNA clear. In other words, Maui over Christmas? It's almost certain you won't get a suite upgrade, regardless of whether or not you apply an SNA.
A real-life example of my approach to Marriott SNAs
This spring we traveled to Venice, and we split our time between two Marriott properties — the iconic Gritti Palace Venice (a Luxury Collection property), and the St. Regis Venice.
Now, let me note that I wouldn't expect to get much in the way of upgrades in summer, since the hotels are generally sold out. However, traveling off-peak definitely helped, as the hotels (and city) weren't that full.
In the case of Gritti Palace, below are the options that were available with SNAs.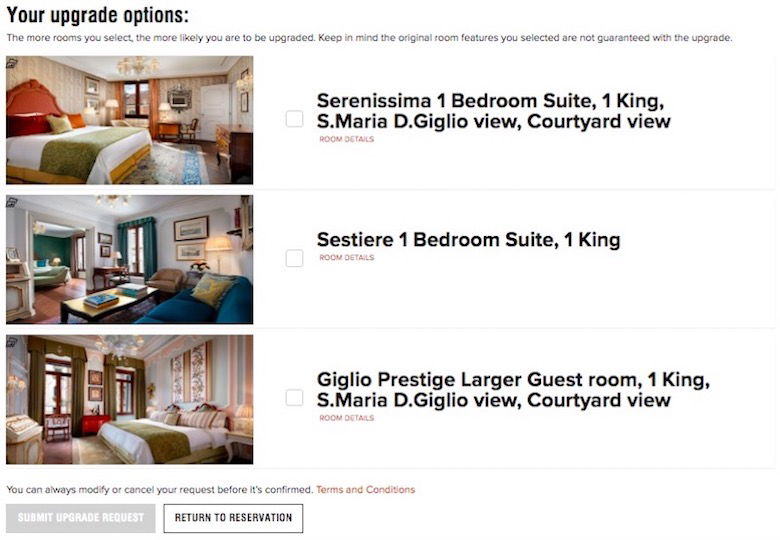 For context, below is how much the room I booked (with points) was selling for, and how much the three types of upgraded rooms were selling for.




What were my considerations?
The Giglio Prestige Larger Guest Room isn't even 20% more expensive than the base room, so in my opinion wasn't worth applying an SNA for, since my assumption is always that they will probably upgrade you to the lowest premium room type you request
Either of the "actual" suite upgrades would have been incredible, as they were ~3-5x the price of an entry level room
A week out I looked how many of each room type was still for sale, and saw that several Sestiere suites were still for sale, while no Serenissima suites were for sale
I ended up requesting an SNA for both of the suites, and ended up getting a confirmed upgrade to the Sestiere suite, which worked great for us
Then for the St. Regis Venice, below were my options for SNAs.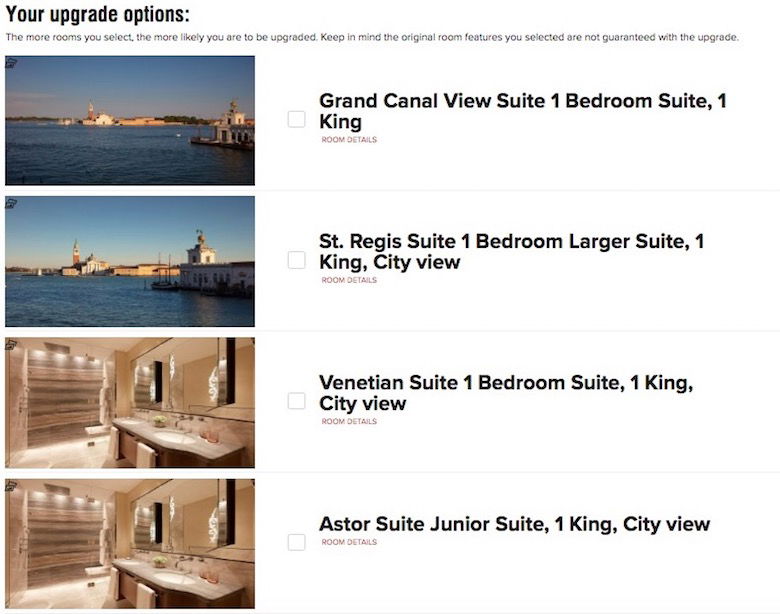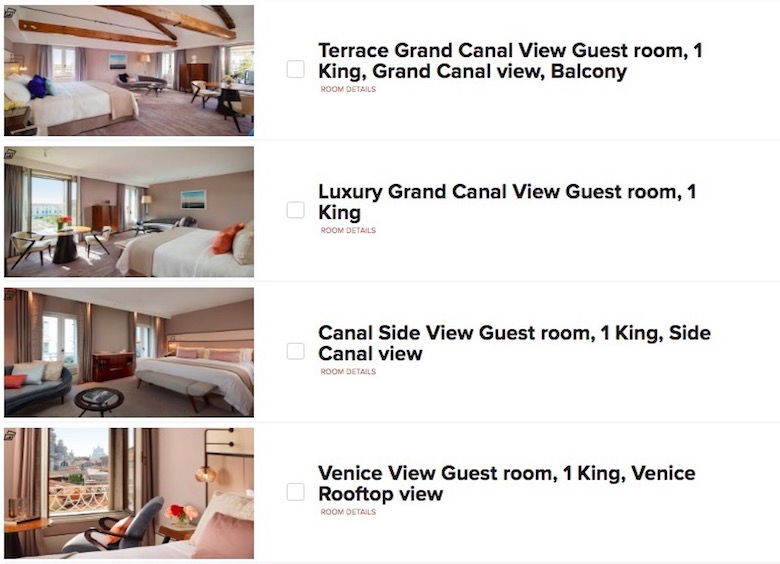 For context, below are how much each of these room types was selling for.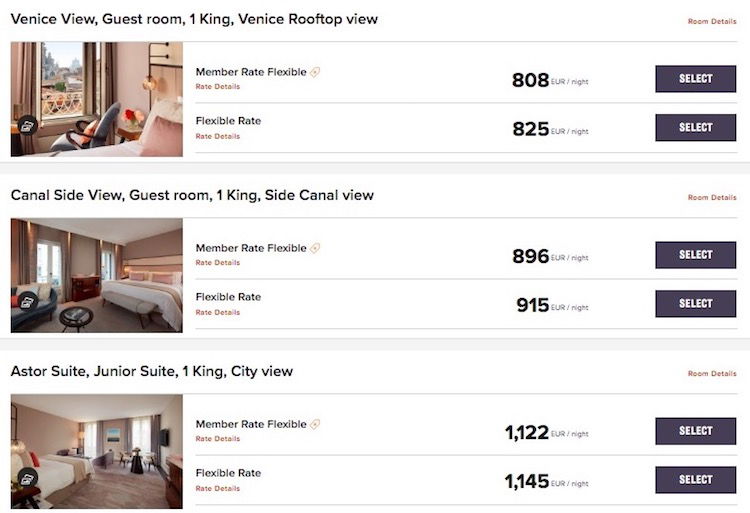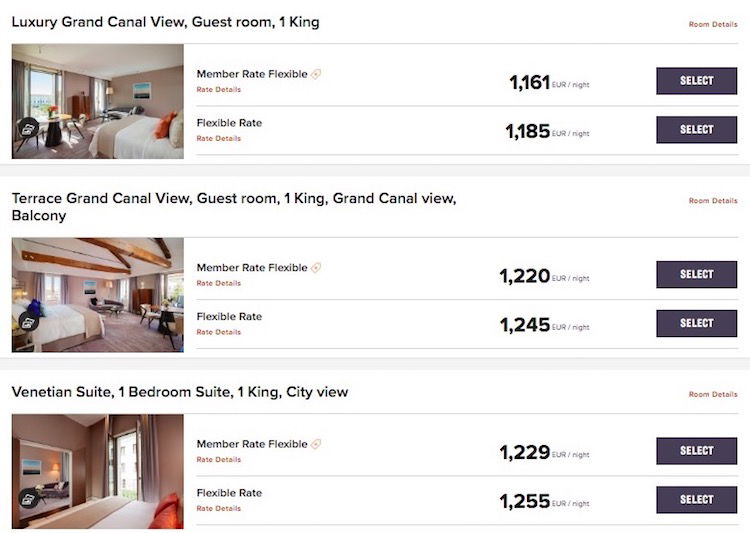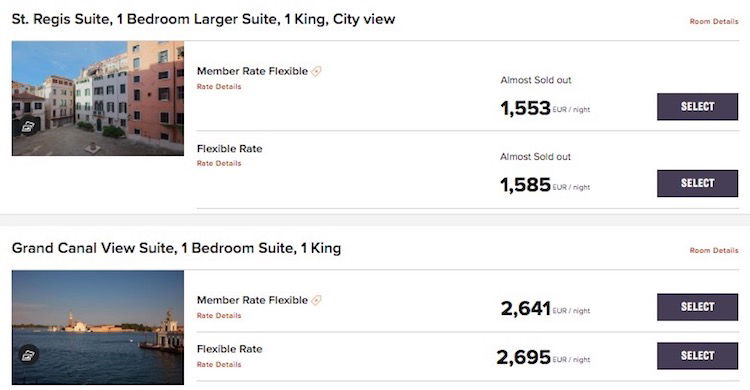 What were my considerations?
I think it goes without saying our eyes immediately go to the very bottom of the list, which are the best suites; it sure would be nice to get a suite with a full view of the canal
Unfortunately none of the Grand Canal View Suites were still for sale, though several St. Regis Suites showed as being for sale
I requested an upgrade for both suite types, and an upgrade to the St. Regis Suite ended up clearing five days out
Bottom line
Marriott elite nights members can earn up to 10 Suite Night Awards per year, each of which can be used to confirm a room upgrade at most five days out. This is a way to request upgrade priority on the stays that matter the most to you.
People have very different experiences with this, and I think it all comes down to managing expectations. While this perk isn't nearly as useful as Hyatt's program for suite upgrades, I've still gotten outsized value from this, and consistently select SNAs as my Choice Benefits.
What has your experience been with Marriott SNAs? Do you have any questions I haven't addressed?