To get back to Miami we flew SWISS business class. SWISS was one of the few European airlines offering service to Miami in August, and the airline even operated the route with its A340-300.
SWISS recently refurbished the interiors of all A340s, so I was looking forward to checking out that business class, especially as I've otherwise reviewed business class on SWISS' two other long haul aircraft, the 777-300ER and A330-300.
On top of that, on the way to Turkey I reviewed Lufthansa business class, where it was more or less business as usual in terms of service. I was looking forward to seeing how service compared on SWISS, another Lufthansa Group airline.
On our way back from Turkey we visited family in Germany. I'll save this for another post, but my mom has been in Germany for a couple of months now, and it was a priority for us to see her. We flew Lufthansa from Bodrum to Munich, so our return trip to the US originated in Germany as well.
Booking SWISS business class
I redeemed Avianca LifeMiles for our tickets in SWISS business class. A one-way business class ticket from Europe to the US cost just 63,000 LifeMiles, and it was easy to book the itinerary online. It's tough to beat that value, especially when you consider how inexpensively LifeMiles can be acquired when there's a promotion.
SWISS business class A340 review
I won't be reviewing the intra-Europe flight, since there's not much to say there. Upon landing in Zurich we headed straight to the E gates, where our flight to Miami would be departing from.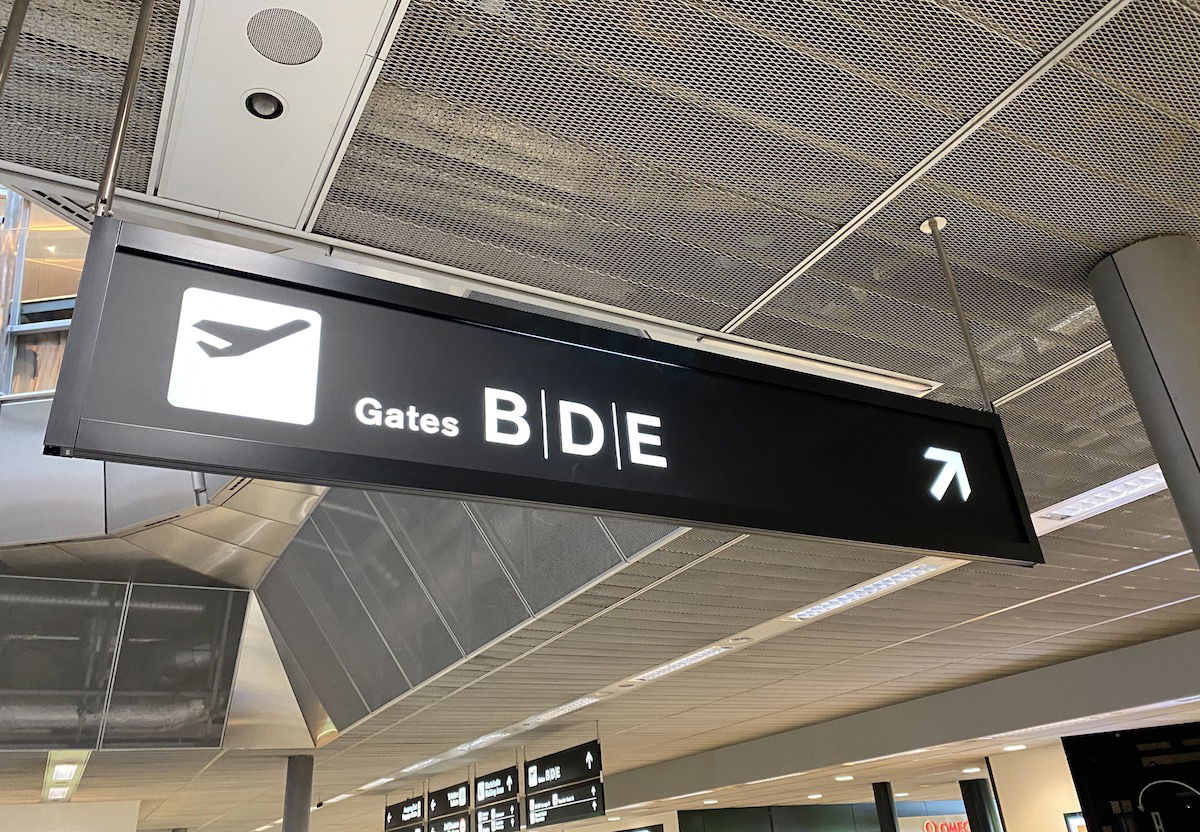 BDE gates in Zurich
Unlike the terminal we arrived in, the E gates were deserted, given how few long haul flights are being operated.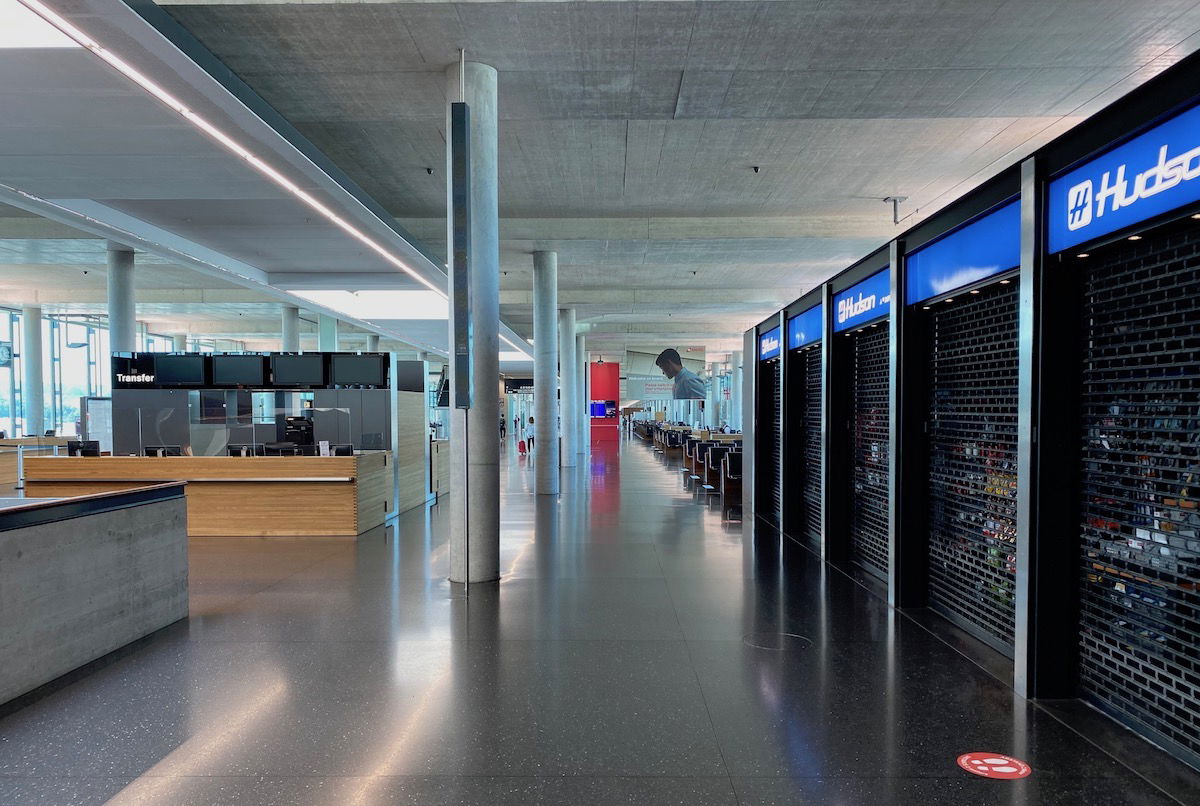 Zurich Airport terminal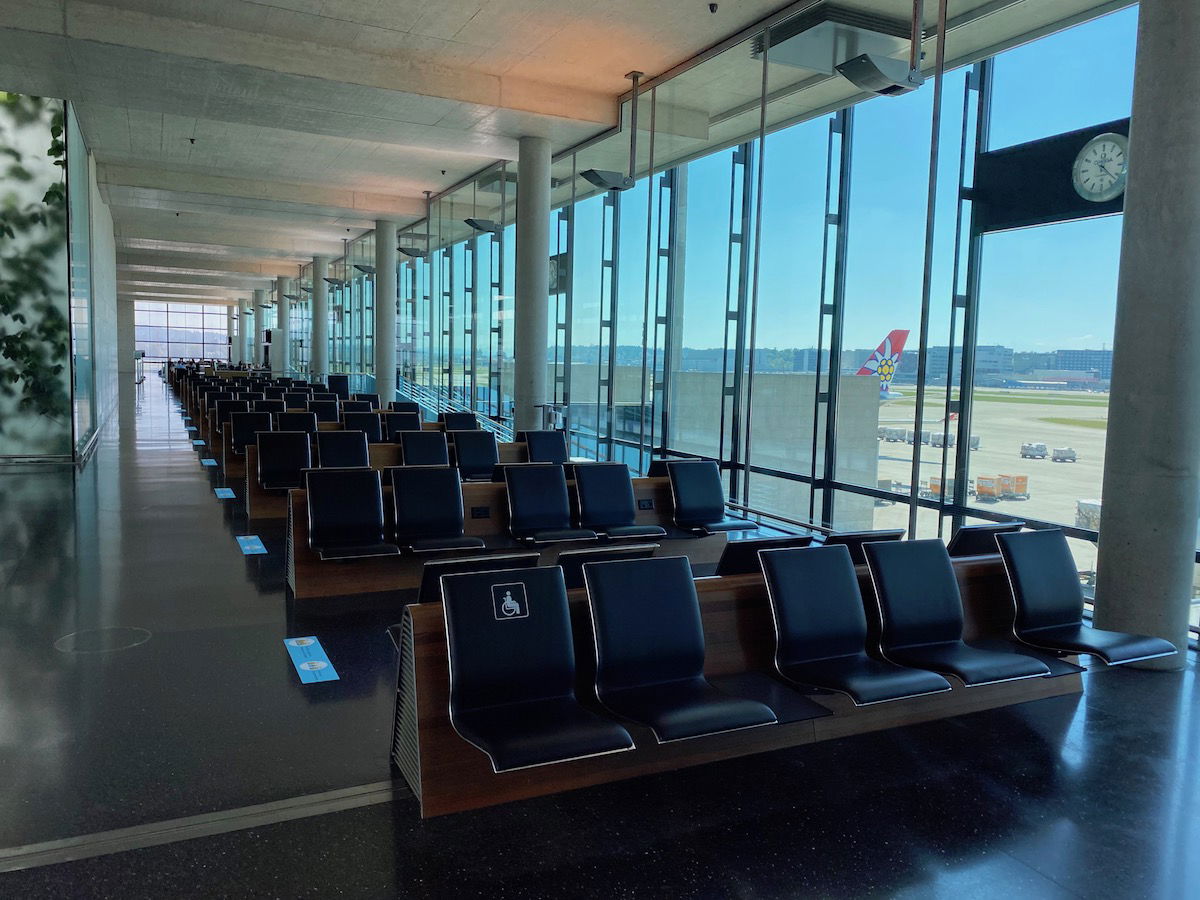 Zurich Airport terminal
The lounges in this terminal were closed, so we just had a seat in the gate area. That wasn't a big deal since we only had about an hour before our flight boarded. SWISS does have some lounges open, but they're in the Schengen area, and we didn't even consider that before changing terminals.
At the departure gate each passenger had to come to the podium to have their documents checked.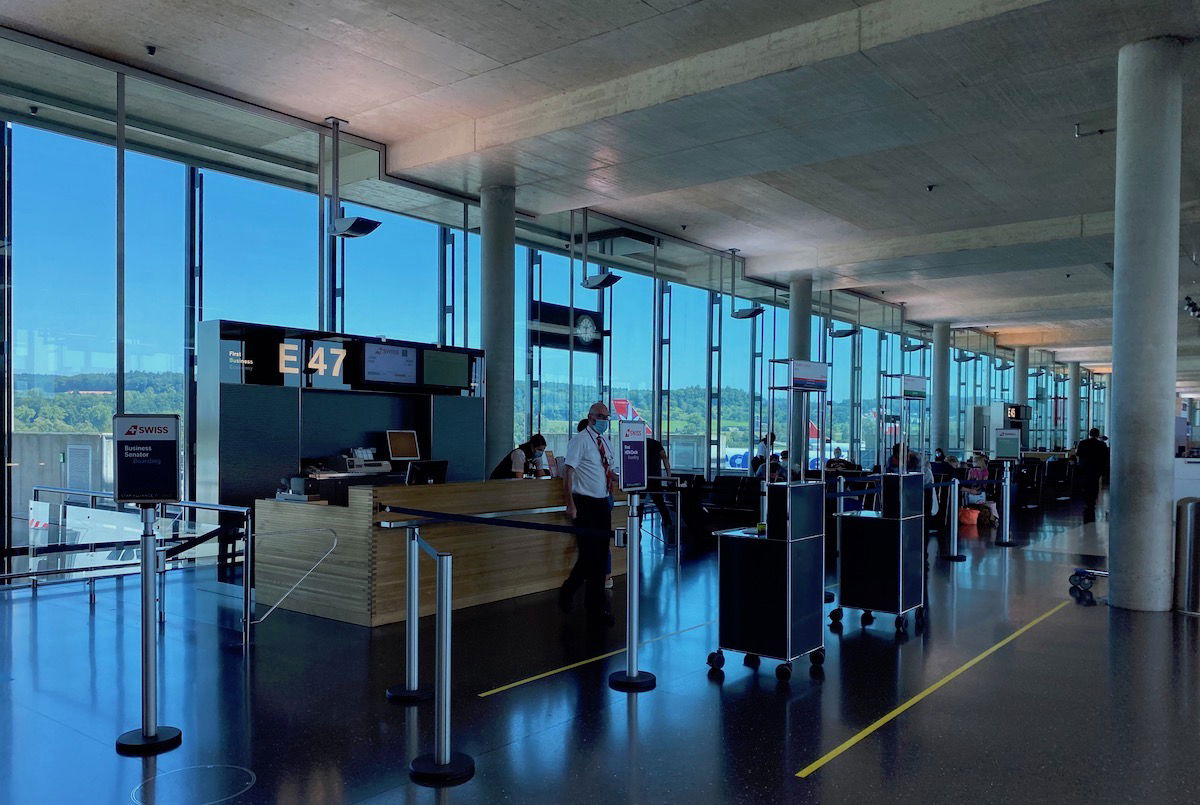 SWISS departure gate Zurich
As an avgeek there's something I loved about the four-engined A340, especially as these types of planes become rarer by the day.
SWISS A340
I also find it interesting that SWISS' entire A340 fleet is flying, while a majority of its A330 fleet is grounded.
The A340 has higher fuel burn but the same capacity, so is this a function of the A340's having higher cargo capacity (weight-wise), or are these planes just older and paid off, and as a result somehow cheaper to fly than park?
The gate area for the flight to Miami was empty — there were around two dozen people on the flight — so the boarding process was quite orderly. Boarding was scheduled to start at 12:35PM, but ended up starting at 12:50PM, presumably given how empty the plane was. First class was invited to board first, followed by business class.
SWISS 64
Zurich (ZRH) – Miami (MIA)
Saturday, August 8
Depart: 1:20PM
Arrive: 5:25PM
Duration: 10hr5min
Aircraft: Airbus A340-300
Seat: 12A (Business Class)
We boarded through the second set of doors, where we were greeted by a friendly and enthusiastic crew. All airlines take different approaches to employees wearing PPE, though in the case of SWISS, all flight attendants simply had surgical masks on.
SWISS' A340s are pretty premium heavy. First class has a total of eight seats, and surprisingly that was half full. It was a super chic and fancy-looking family with a bunch of cats (which on second thought makes them significantly less chic #TeamDog).
Then business class has a total of 47 seats — there's a mini cabin with nine seats, and then the main cabin (behind door two) has 38 seats.
The cabin was gorgeous, and one of the spiffiest A340-300 cabins out there, since these planes often have outdated interiors. For that matter, there aren't even that many A340s flying anymore, sadly…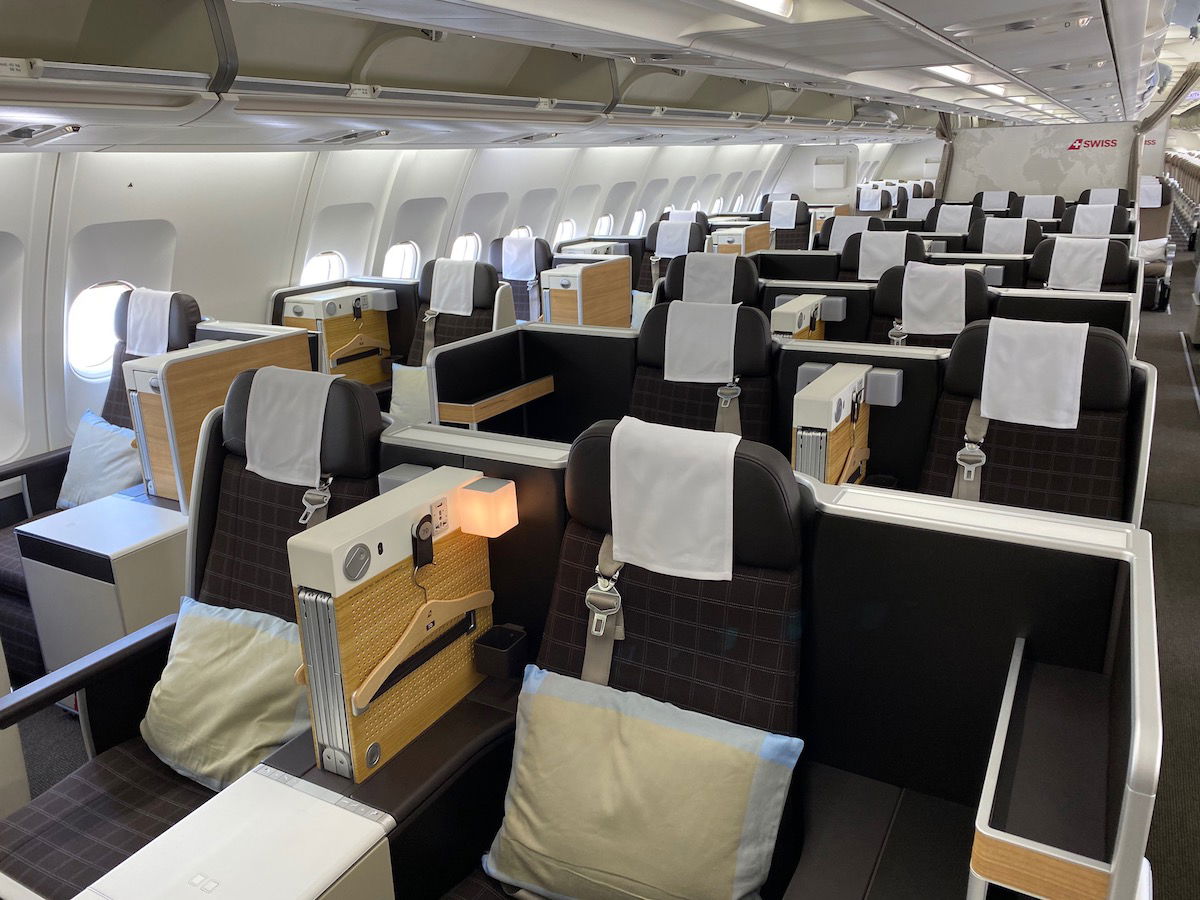 SWISS A340 business class cabin
I also quickly peeked into the economy cabin. There were only about a dozen passengers, so everyone not only enjoyed a flat bed, but also had plenty of room to distance.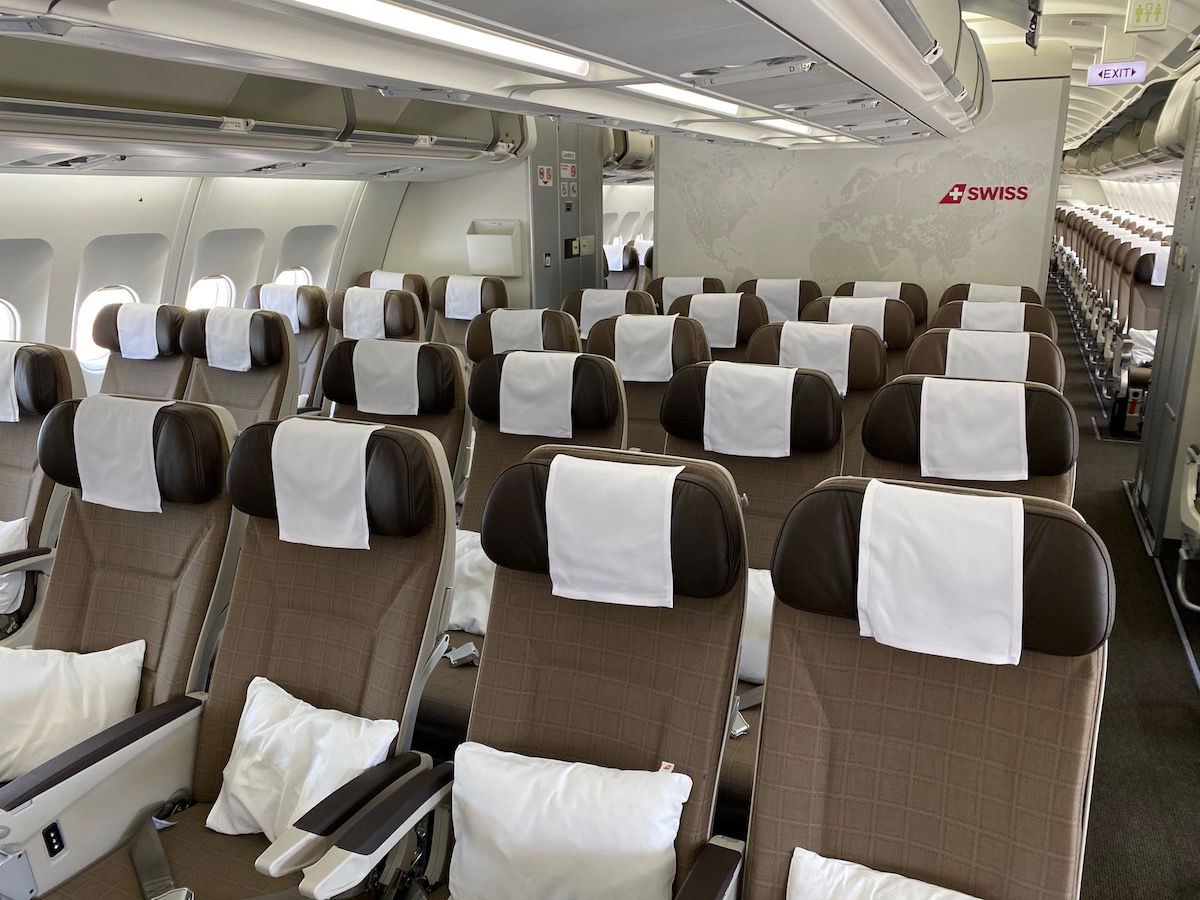 SWISS A340 economy cabin
With SWISS' staggered configuration, the seat patterns differ on the left and right side of the aircraft. On the left side of the aircraft, about half of the rows have pairs of seats — the window seats here are the only ones that don't feature direct aisle access.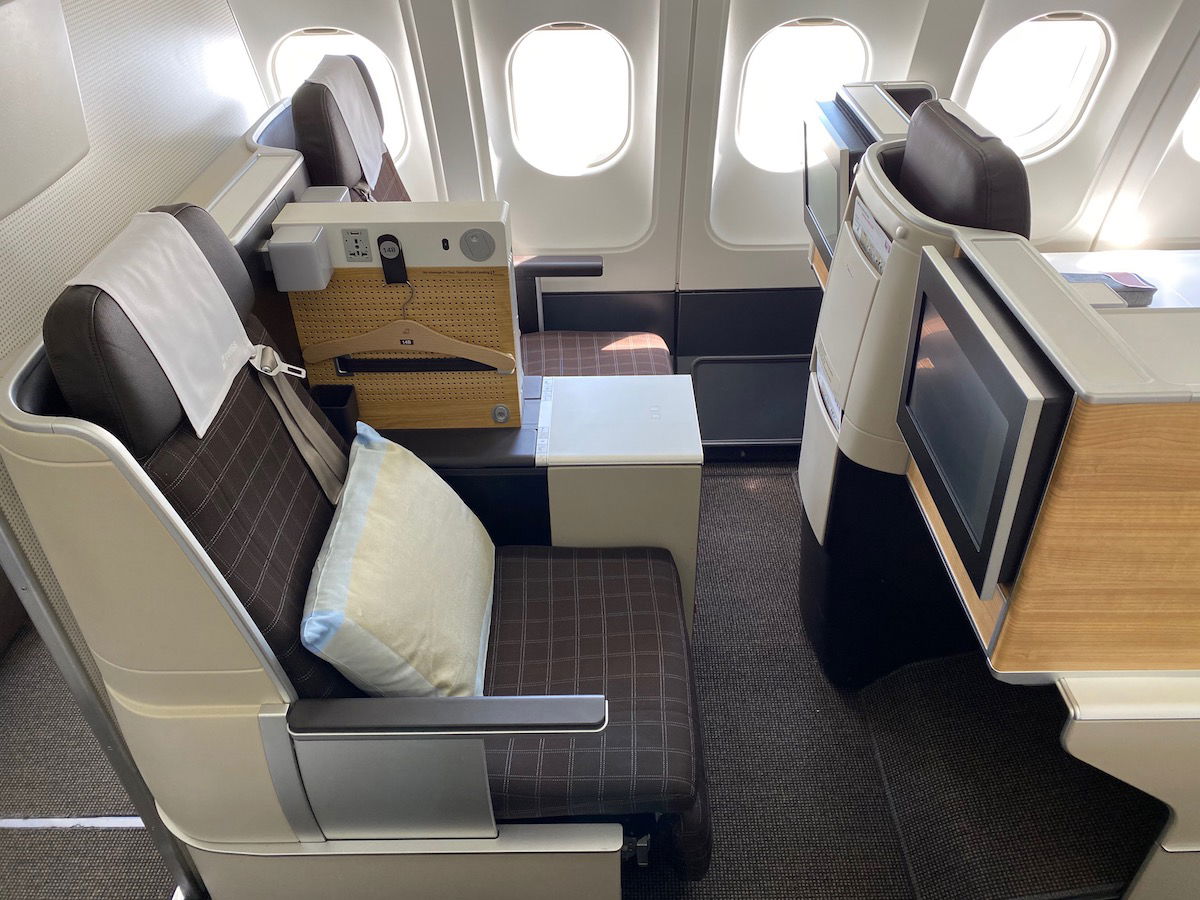 SWISS business class seats A340
Then in alternating rows are the "throne" seats, which are by far the most private and spacious in this configuration. You have to pay more to assign these in advance, though there's a trick to snagging these 48 hours out, so we took advantage of that. I was in seat 12A, while Ford was in seat 10A.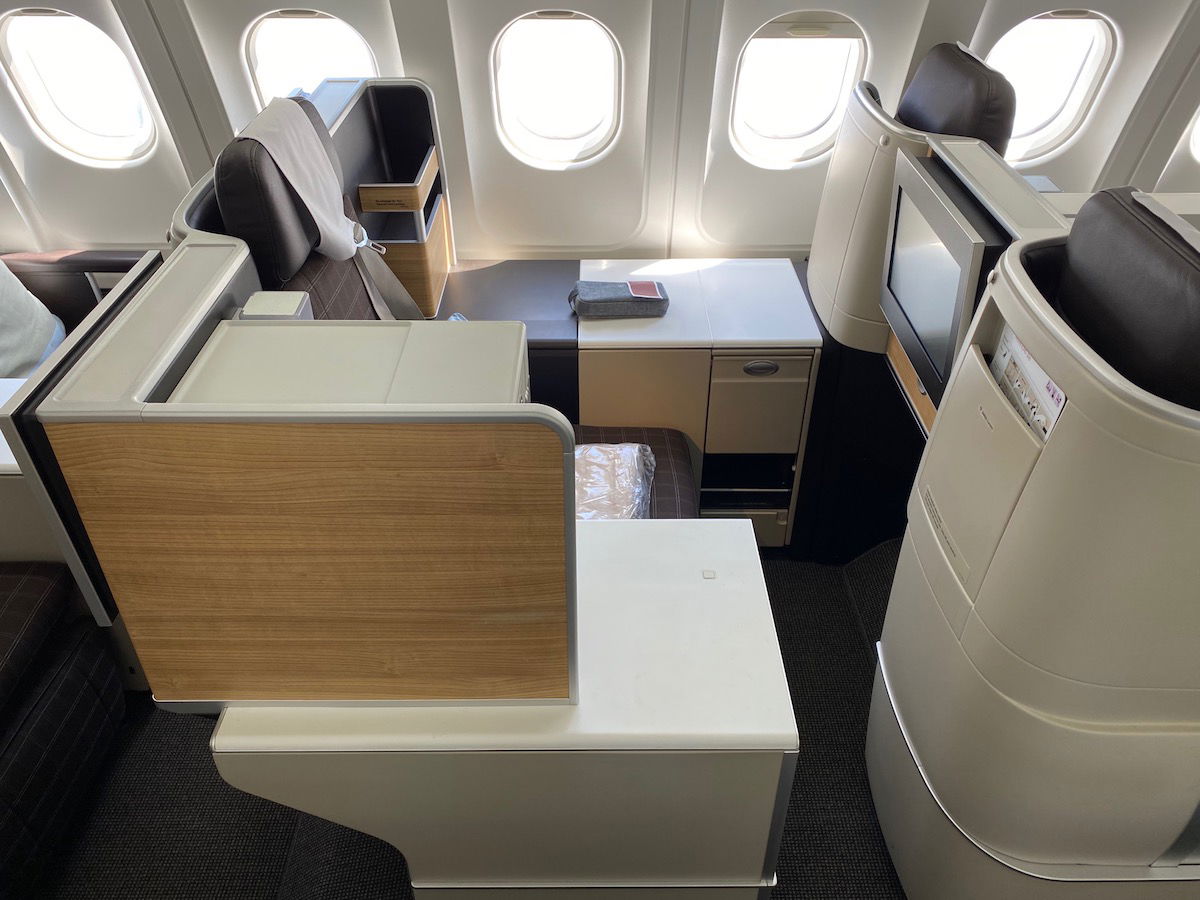 SWISS A340 business class "throne" seat
In the center section, seats alternate in every row, so that the footwell for one seat is either between or to the sides of the seats in front.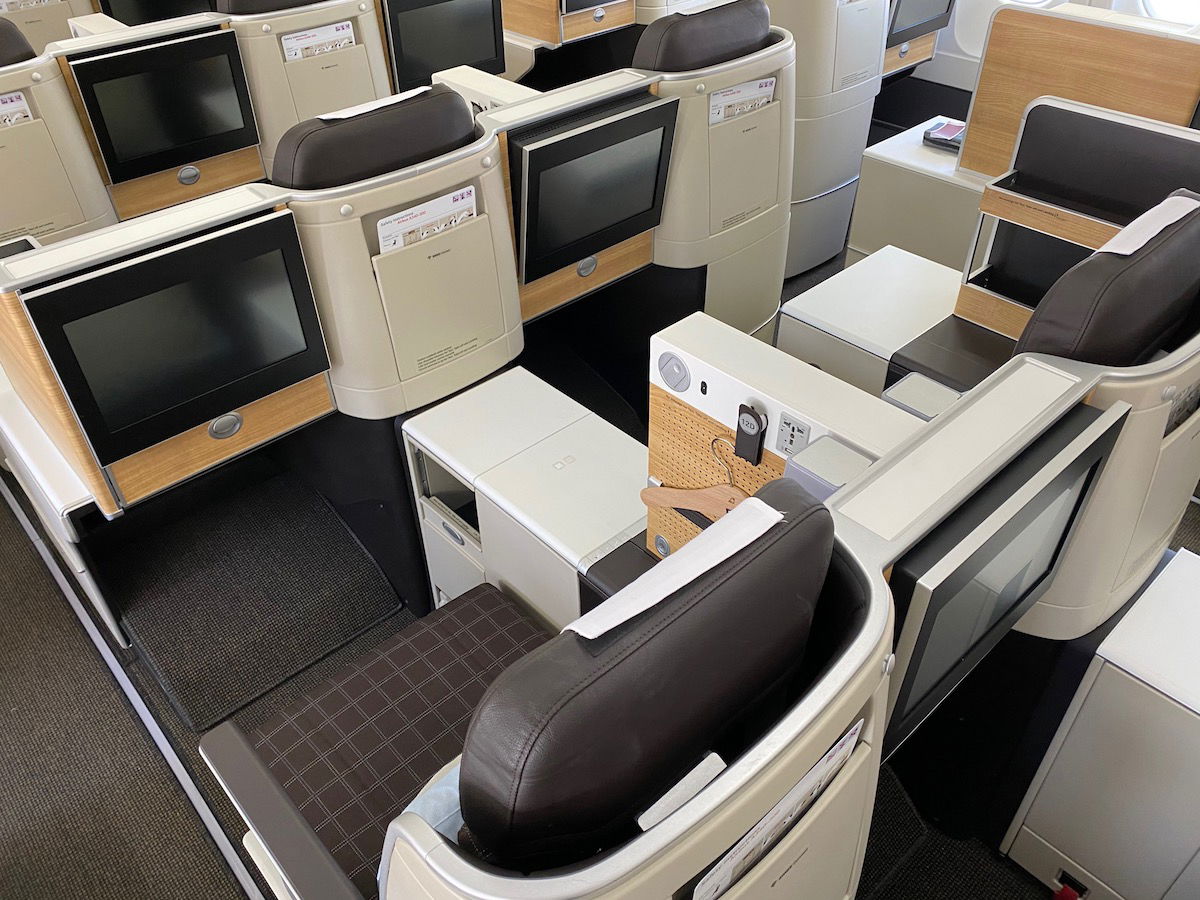 SWISS A340 business class seats
Then along the right side of the aircraft are alternating solo seats. There are no "throne" seats here, though the seats closer to the windows are definitely better than the ones that are closer to the aisle.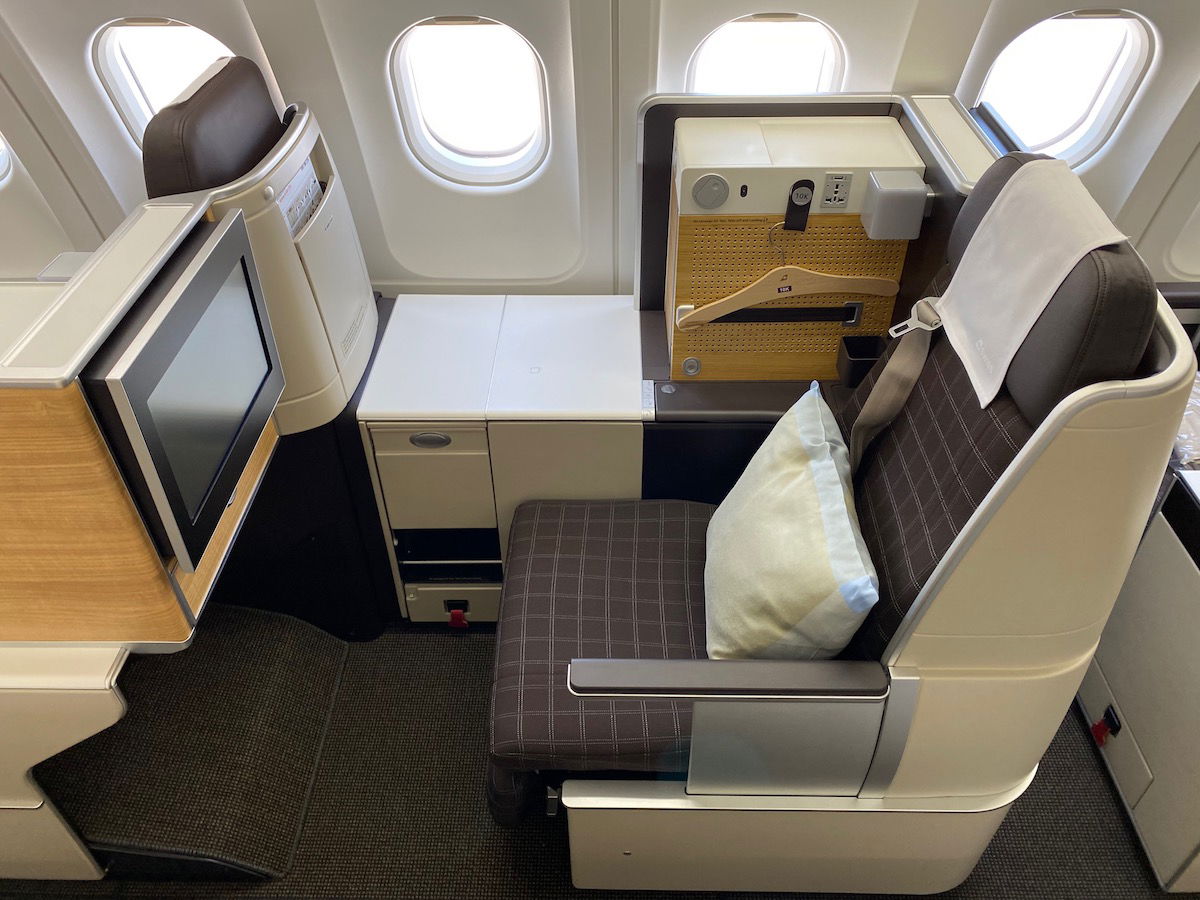 SWISS business class seats A340
Anyway, back to my throne seat, 12A — it's tough to beat the amount of privacy, storage, and personal space, that you get in this configuration.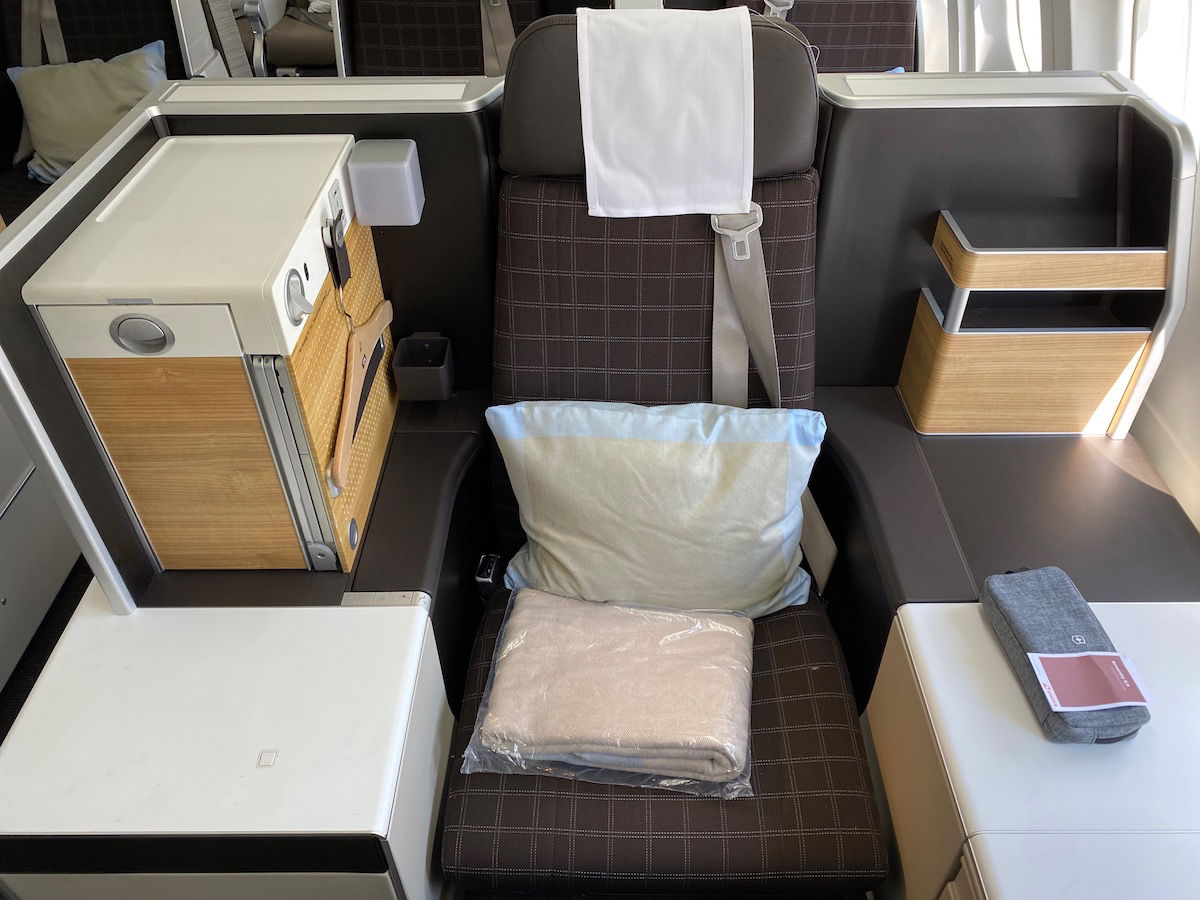 SWISS A340 business class "throne" seat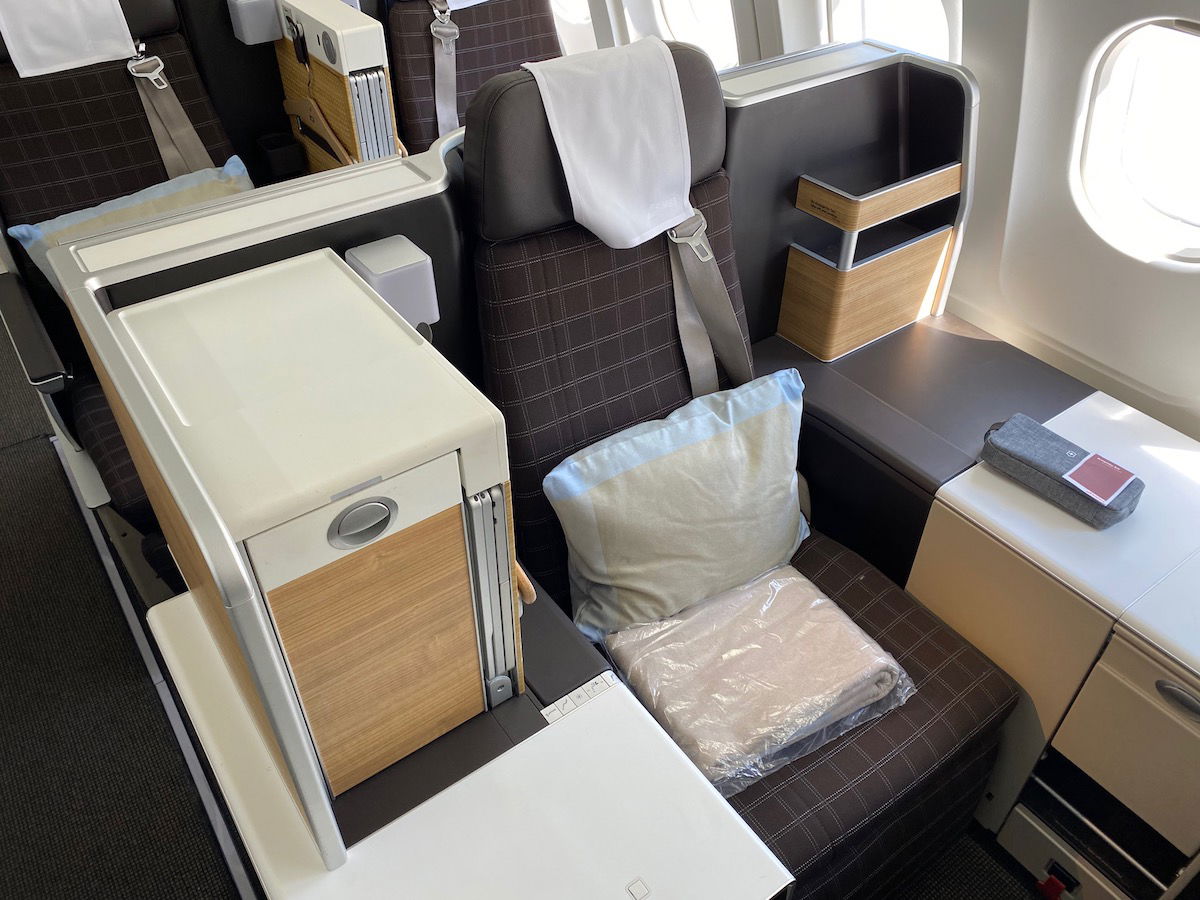 SWISS business class "throne" seat A340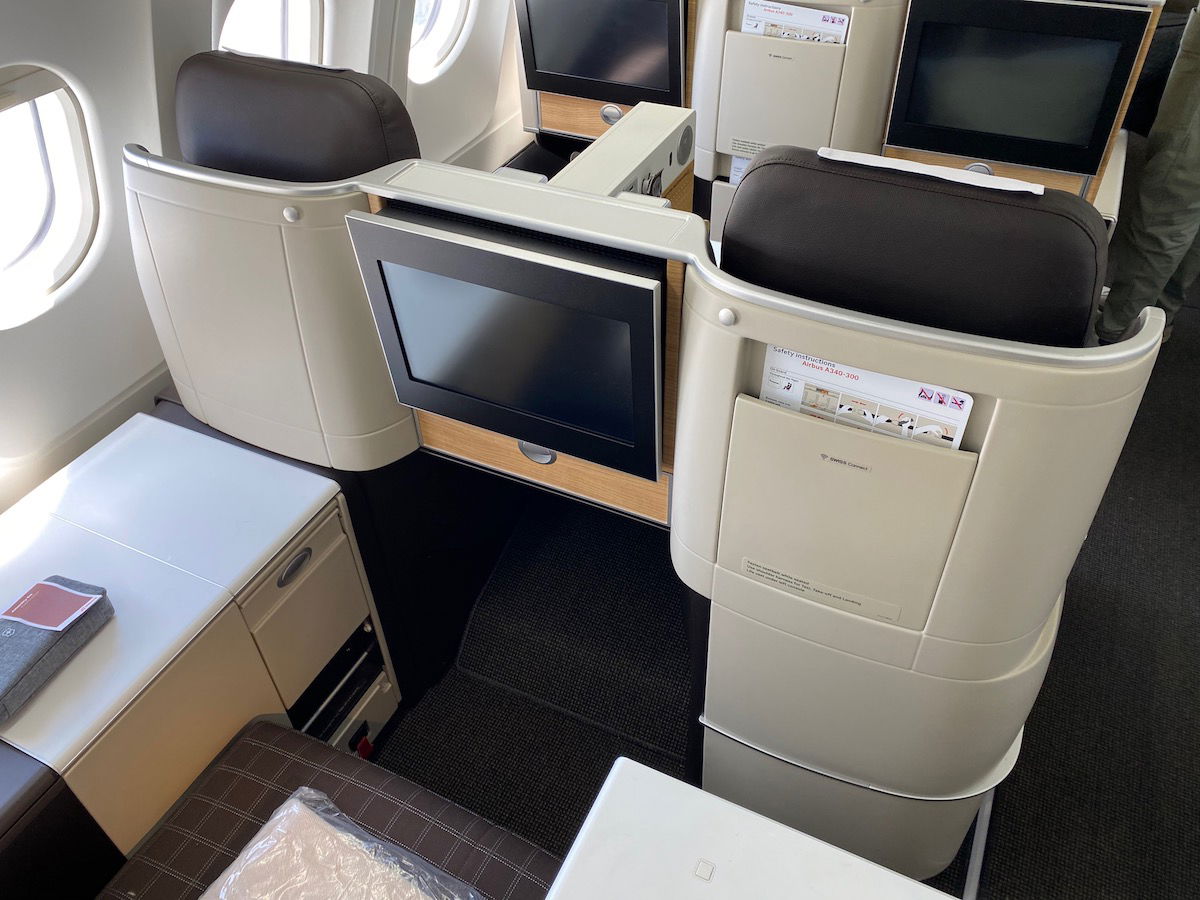 SWISS business class "throne" seat A340
In addition to storage underneath the seat and to the left, there was further storage to the right of the seat. This is also where the power outlet, reading light, and headphone jack were located.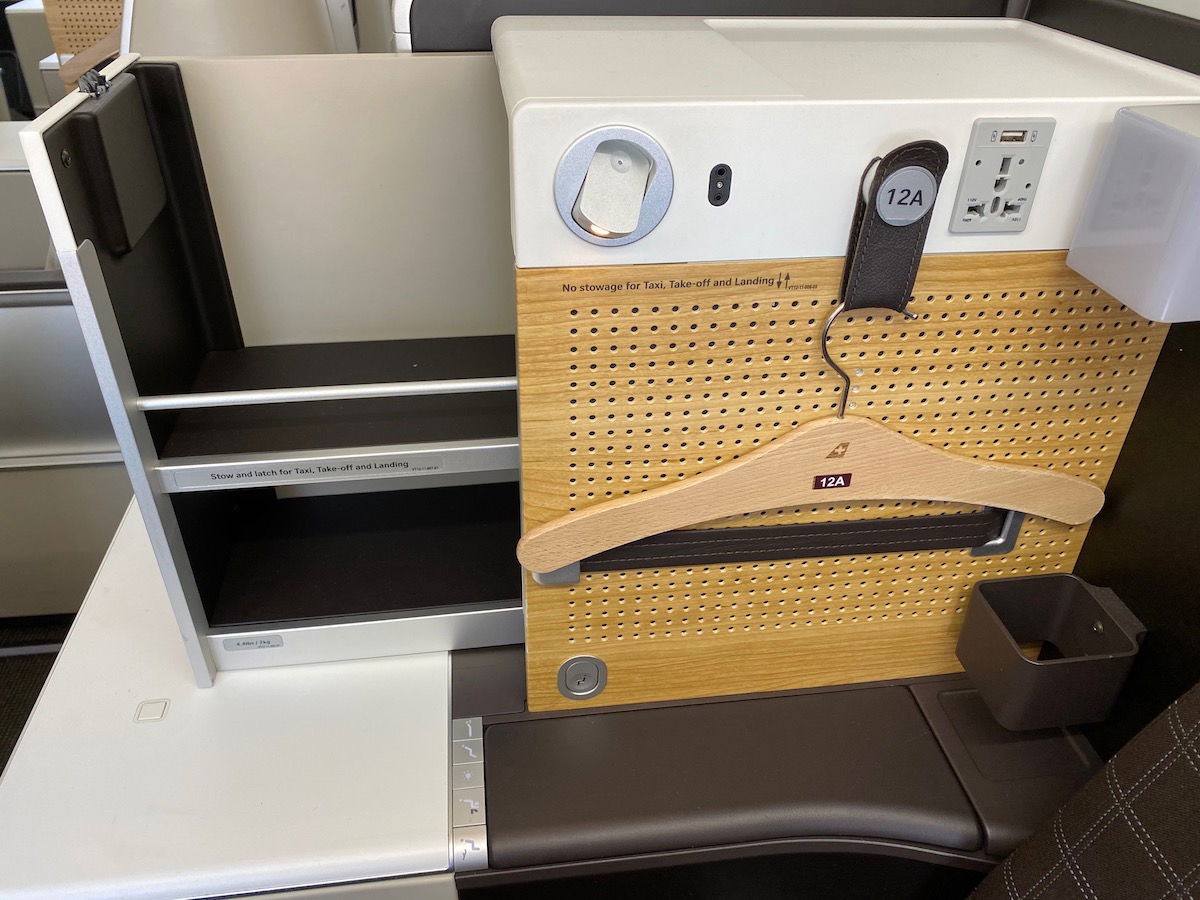 SWISS A340 business class seat storage
One thing I didn't like was that there were no individual air nozzles. This wasn't a surprise, but it's always still a disappointing discovery.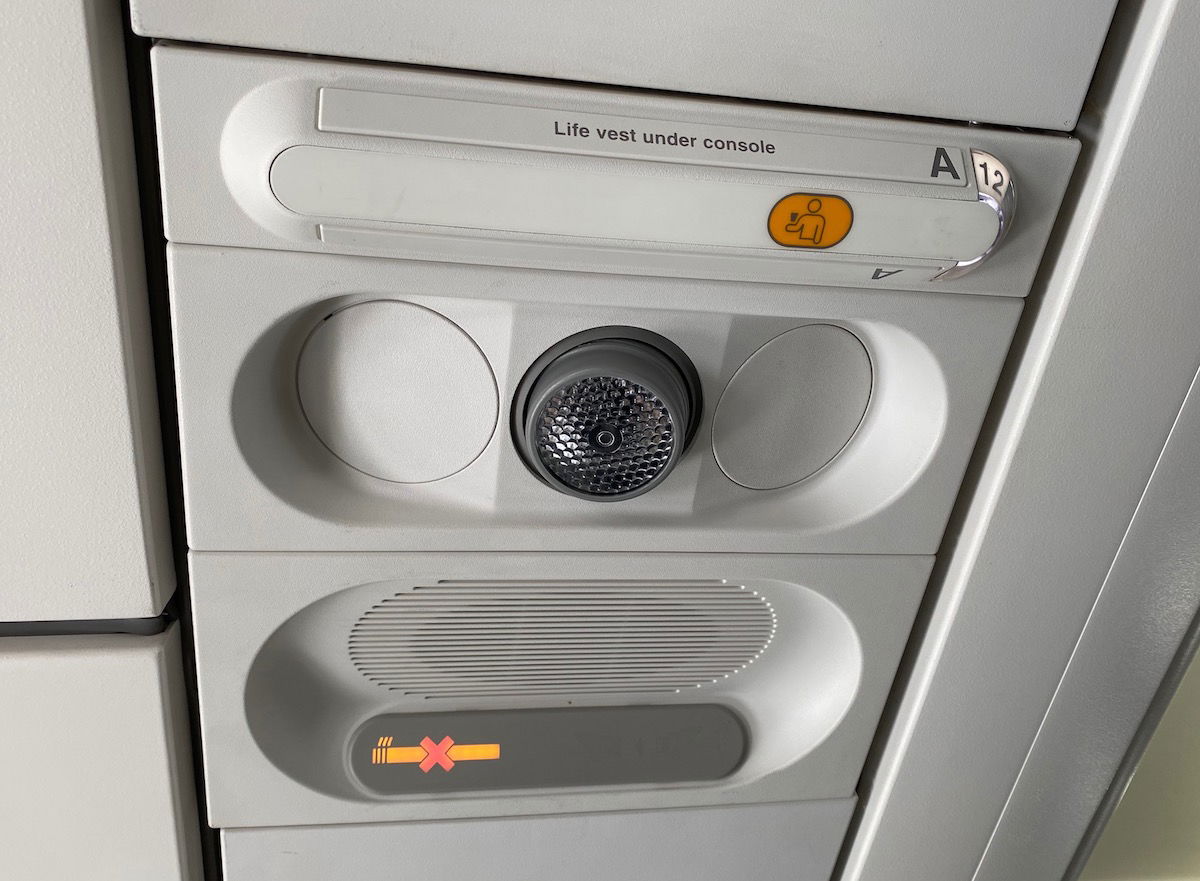 SWISS A340 business class overhead console
There were a total of seven passengers in business class, including us — there was one guy in the first throne seat in the cabin (I feel like he was also reviewing the flight, or something, because he was taking a lot of pictures), no one in any of the center seats, and then four people in window seats on the right side of the cabin.
It goes without saying that we felt extremely comfortable in terms of the distance we had from others. Aside from Ford, I was at least 10 feet from the next passenger.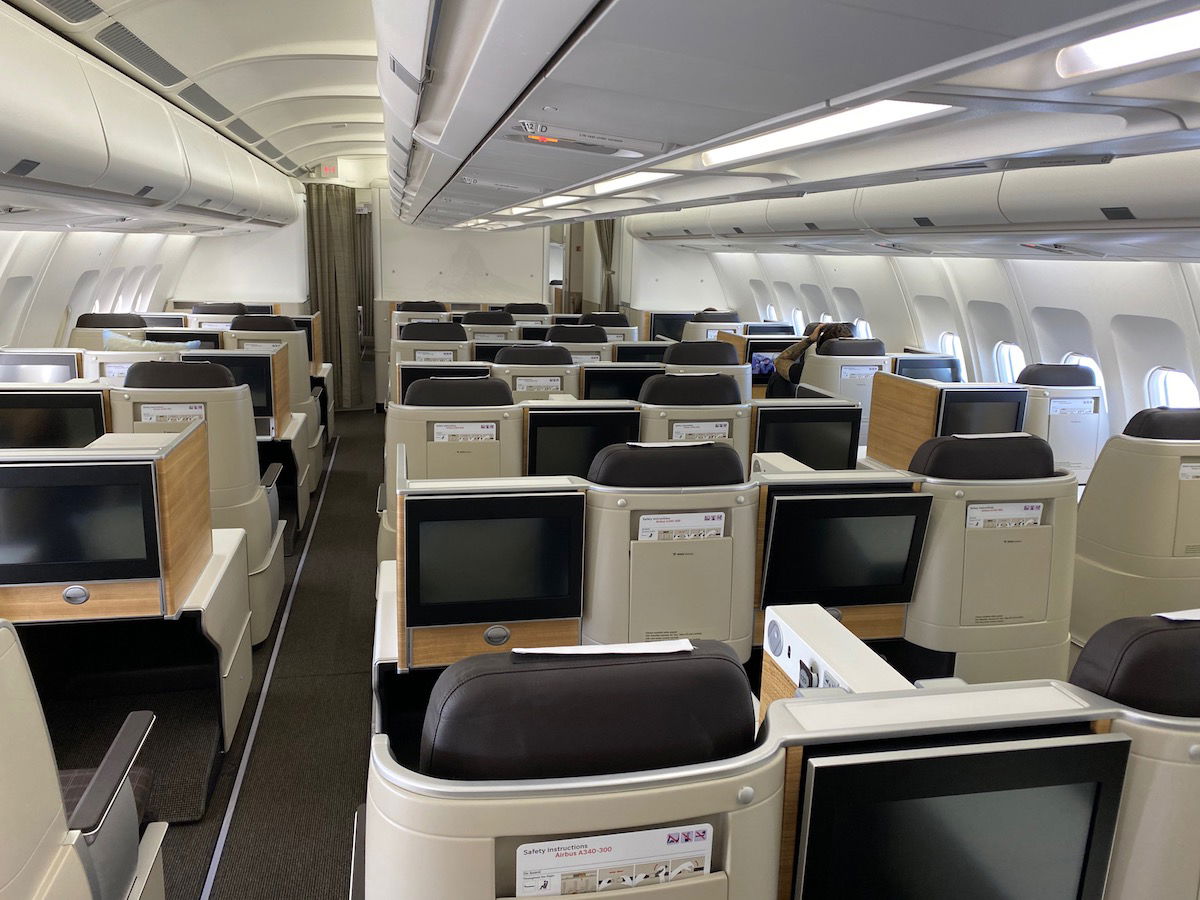 SWISS A340 business class cabin
On SWISS it's truly business as usual in terms of service — there were pillows and blankets at seats. The bedding is fine but not amazing, as the pillow is rather thin and the blanket a bit scratchy.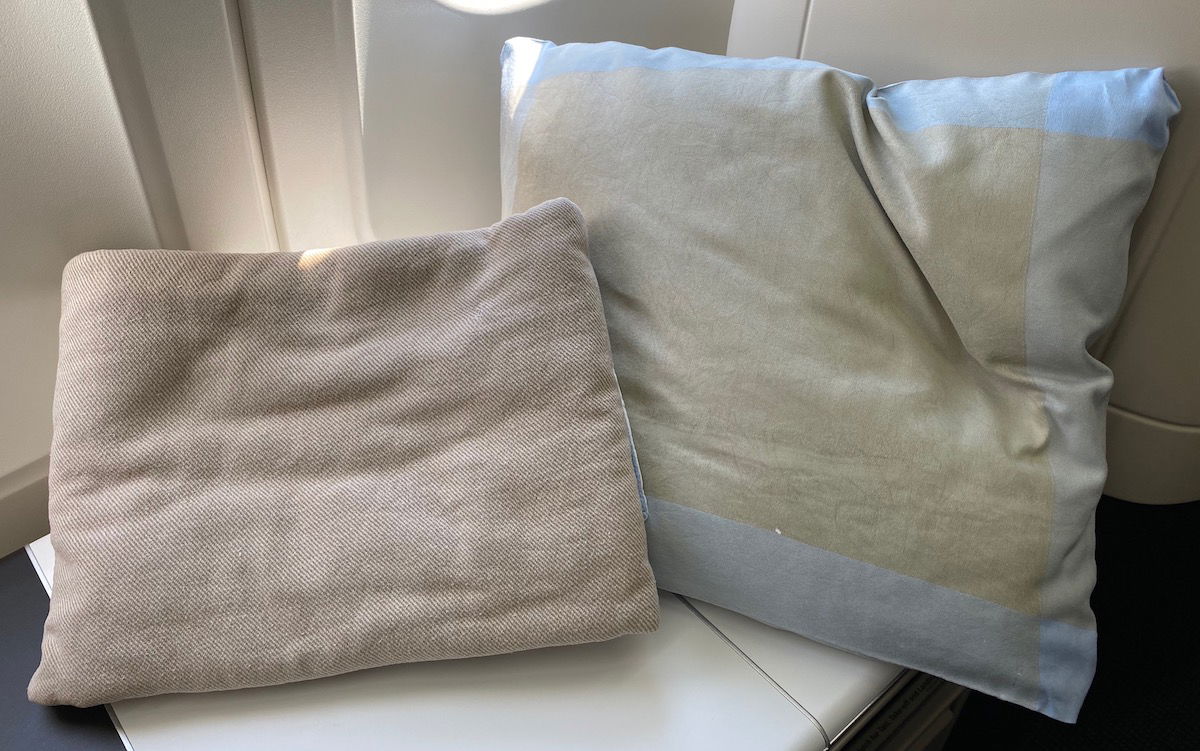 SWISS business class pillow & blanket
There was also an amenity kit waiting at my seat. I liked the bag it came in, but the contents were fairly basic, and included lip balm, a toothbrush and toothpaste, earplugs, eyeshades, and socks.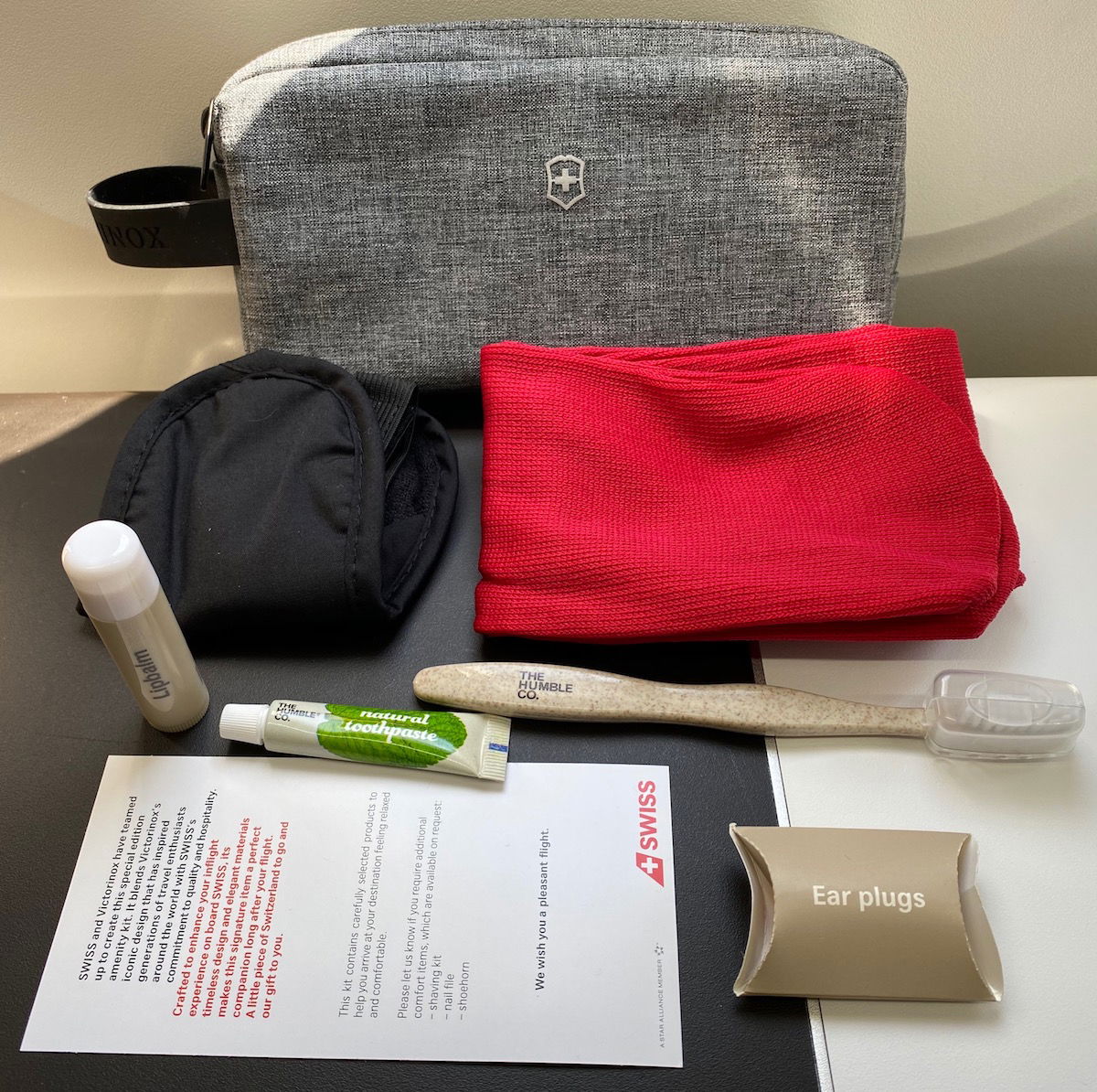 SWISS business class amenity kit
There was also a pair of headphones at my seat, with the SWISS logo.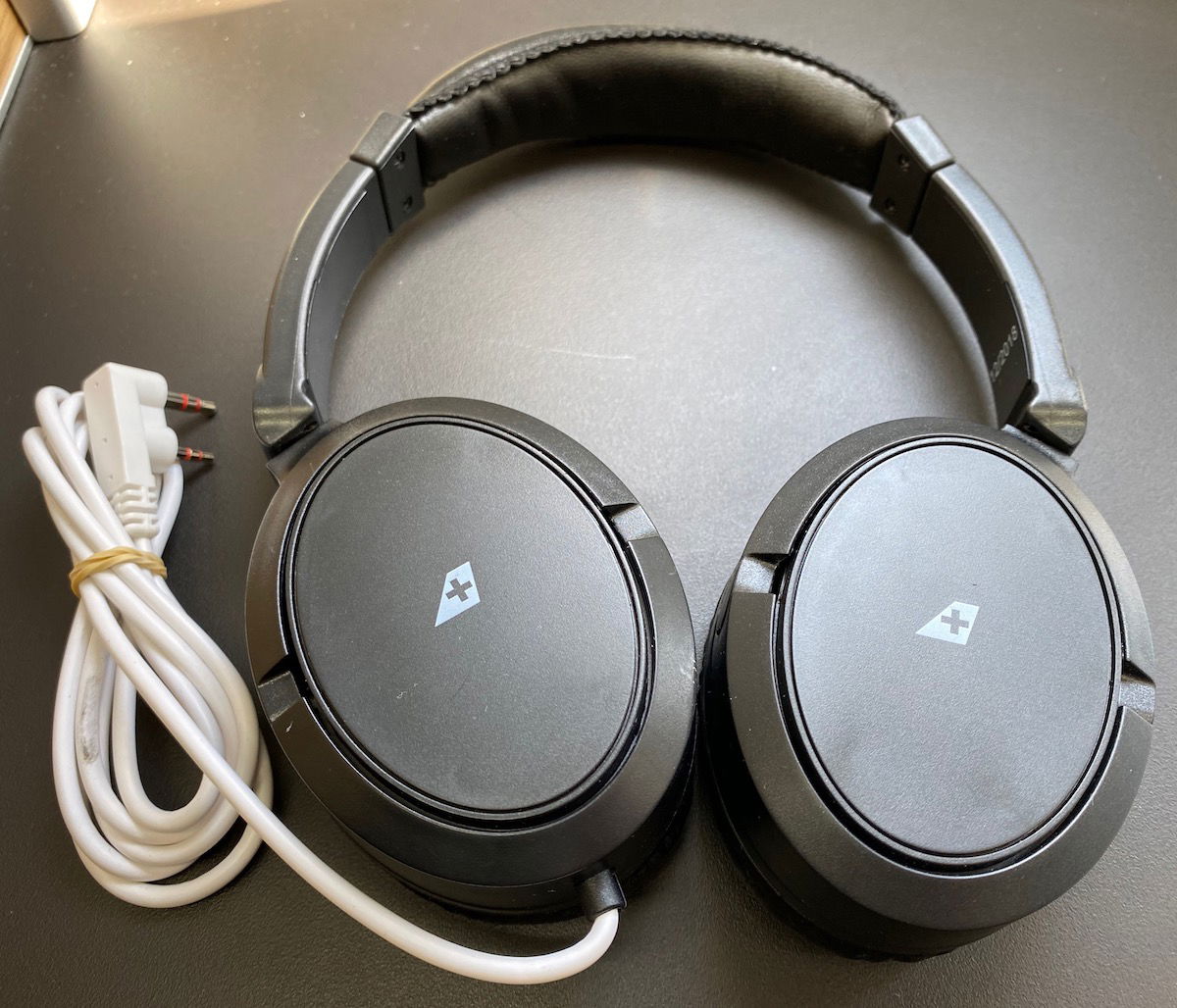 SWISS business class headphones
The flight attendant asked if we wanted any pre-departure drinks (which we weren't offered on Lufthansa). I just asked for some water, and was given a bottle, but there was also the choice of champagne or juice.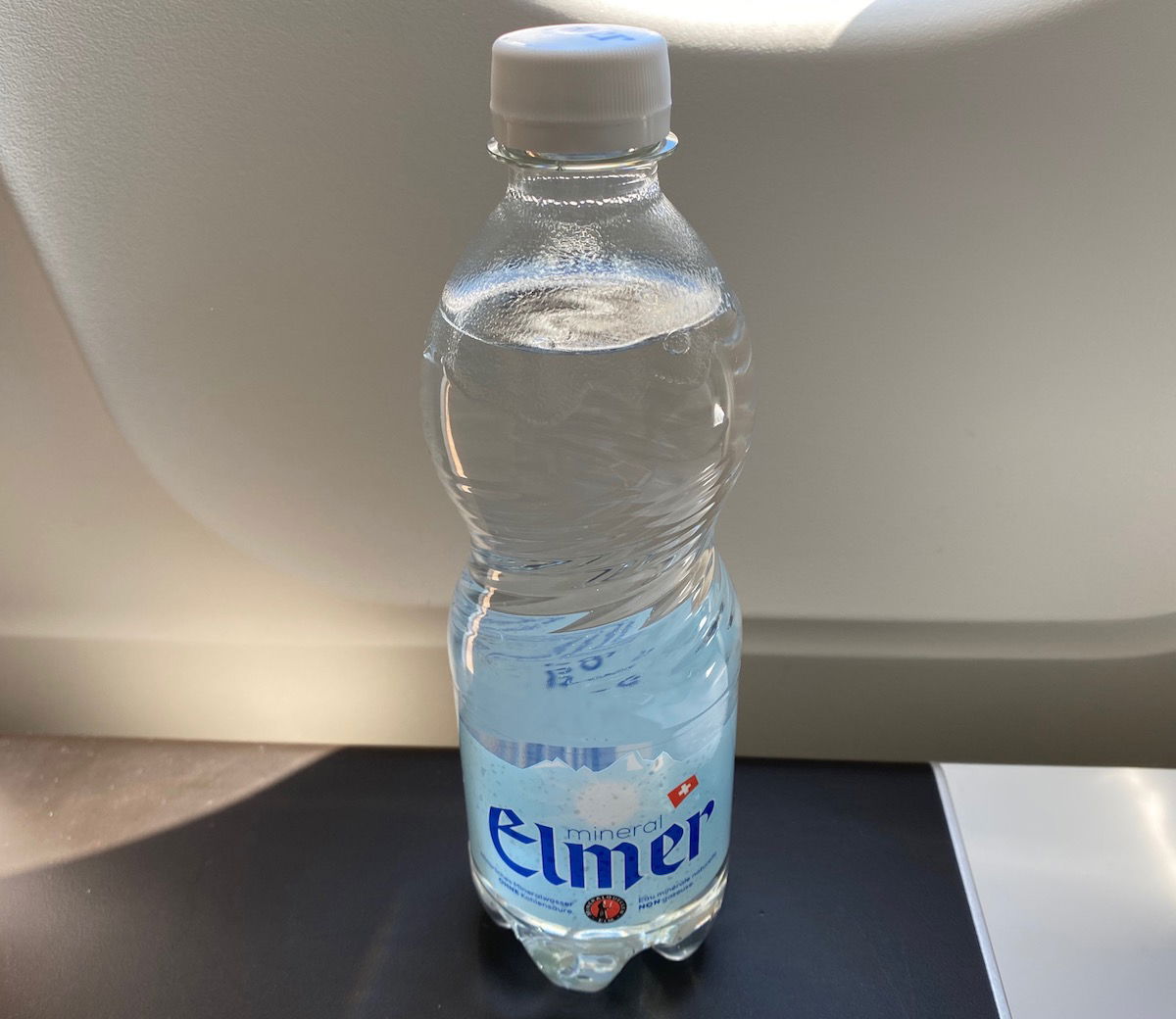 SWISS business class pre-departure drinks
I was also presented with a menu card for the flight.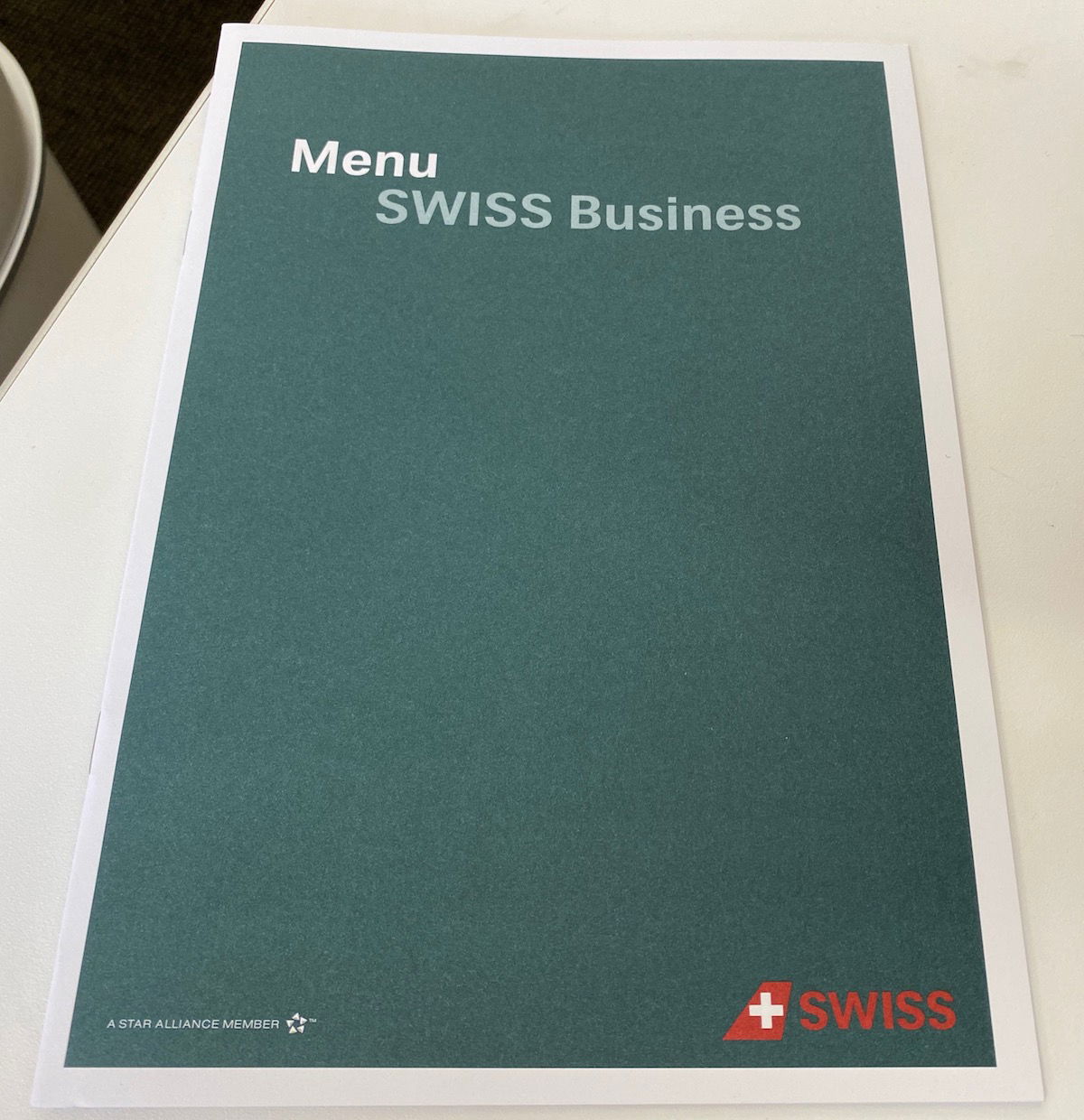 SWISS business class menu
At 1:10PM boarding was complete, and a few minutes after that the captain made his welcome aboard announcement. He informed us of our flight time of 10hr5min.
He said we would be a bit delayed because the flight was longer than usual, due to taking a southerly route — we'd overfly Bordeaux, the Azores, Bermuda, and then approach the Florida coast around Palm Beach. Overflying the Azores and Bermuda? Cool!
Meal orders were taken on the ground, and at 1:30PM we began our pushback, at which point the safety video was screened. There was no queue for takeoff, and by 1:40PM we started our takeoff roll on runway 16.
There's nothing quite like the A340-300 when it comes to a weak takeoff performance — the plane takes forever to speed up, and climbs very gradually. However, I have to say that this felt like one of the more "powerful" A340-300 takeoffs I've had, probably due to how empty the plane was.
We made a turn shortly after takeoff, which provided me with a great view of the airport. Unfortunately the plane's windows were very dirty, which made it tough to get good pictures.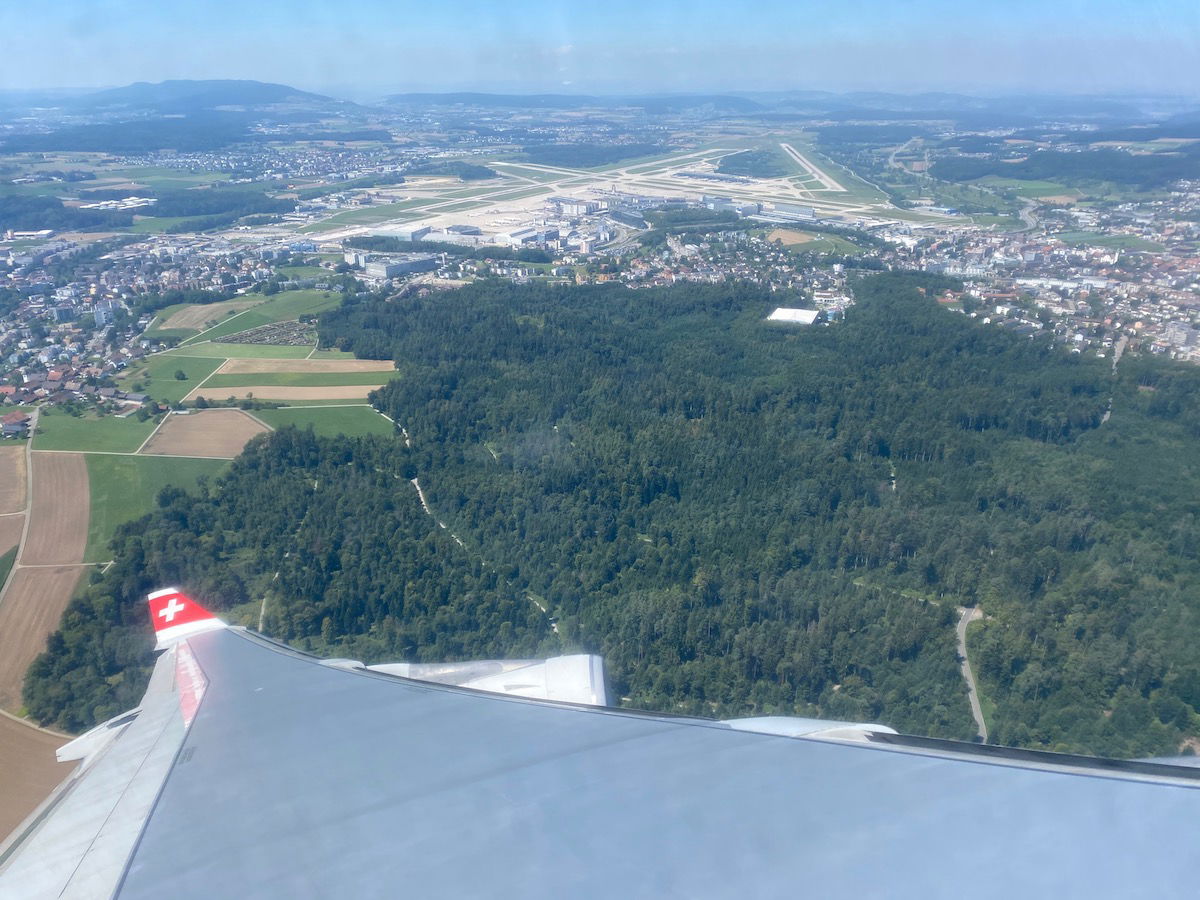 View after takeoff from Zurich
Much like on Lufthansa, service on SWISS is more or less as usual. Actually, it's better than usual in many ways, given how empty many flights are, leading to some very attentive service.
The lunch menu for the flight read as follows: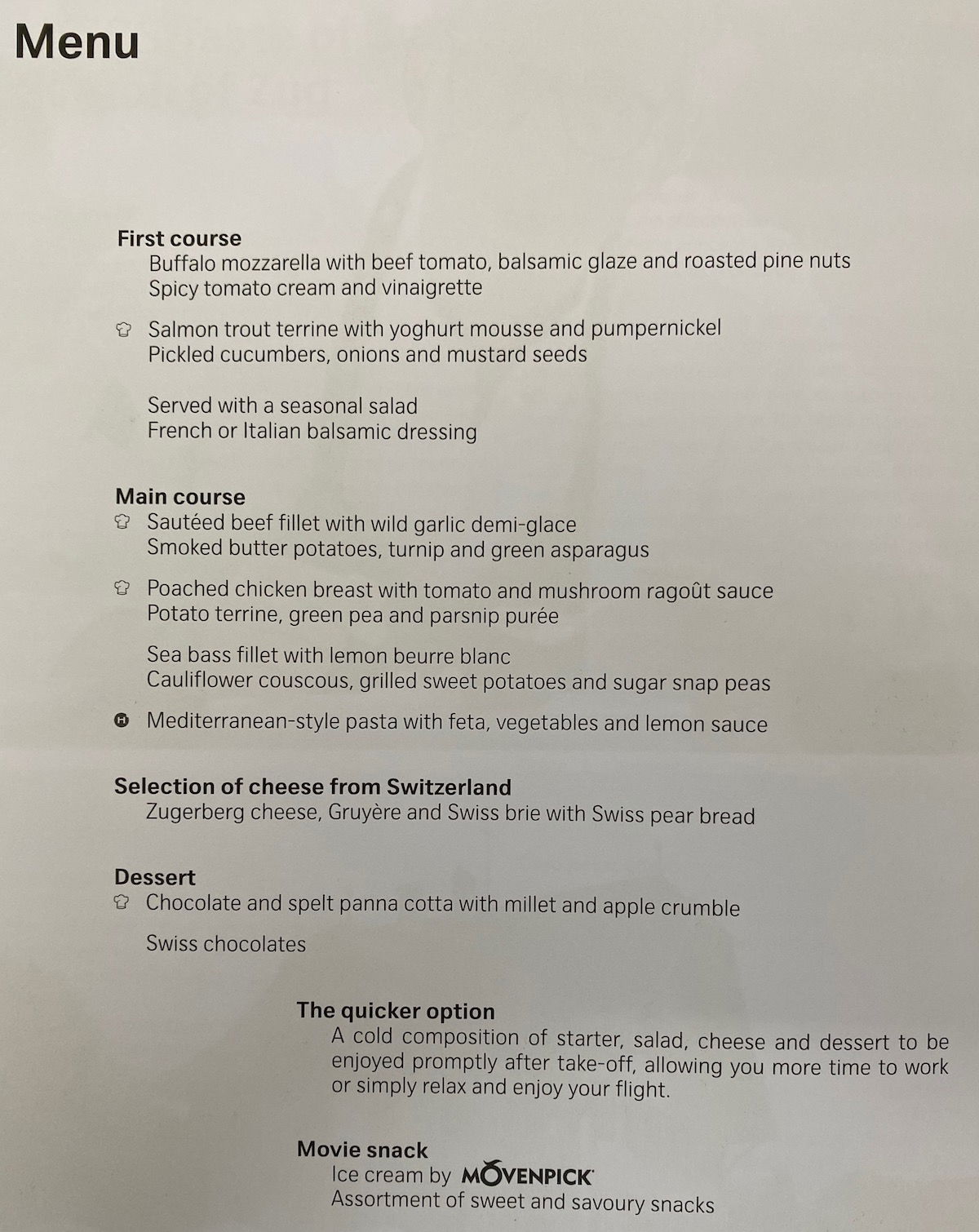 The drink list read as follows: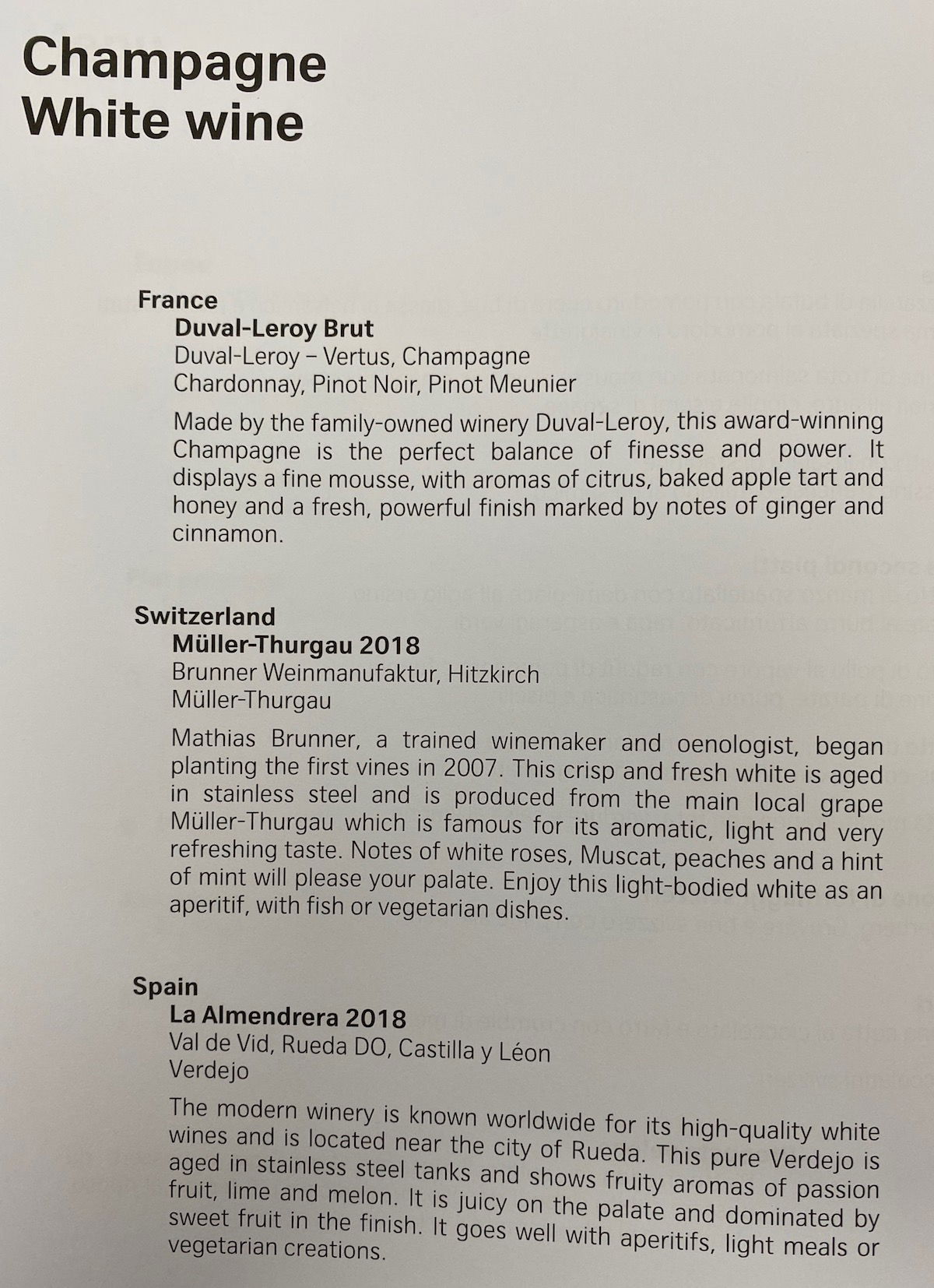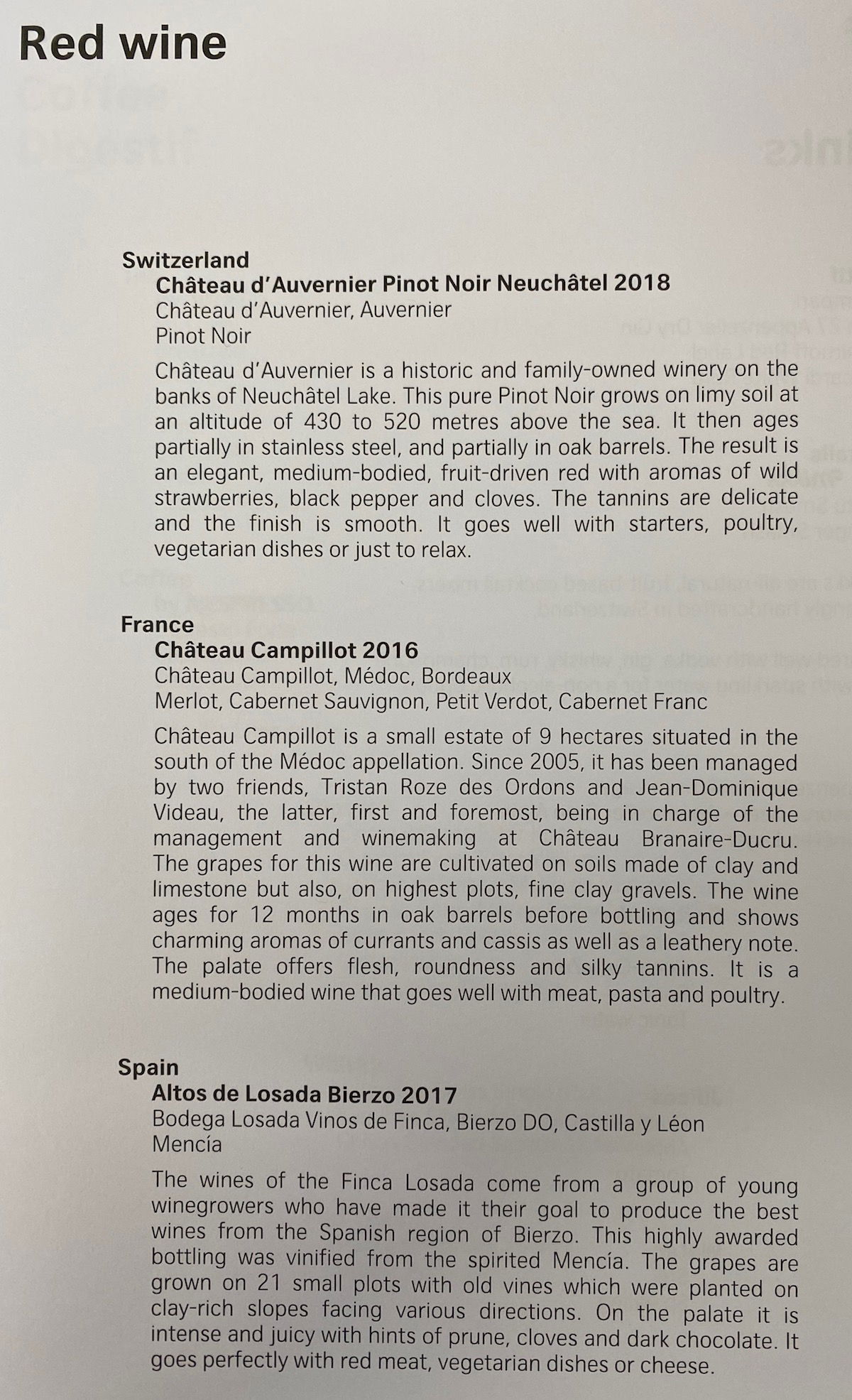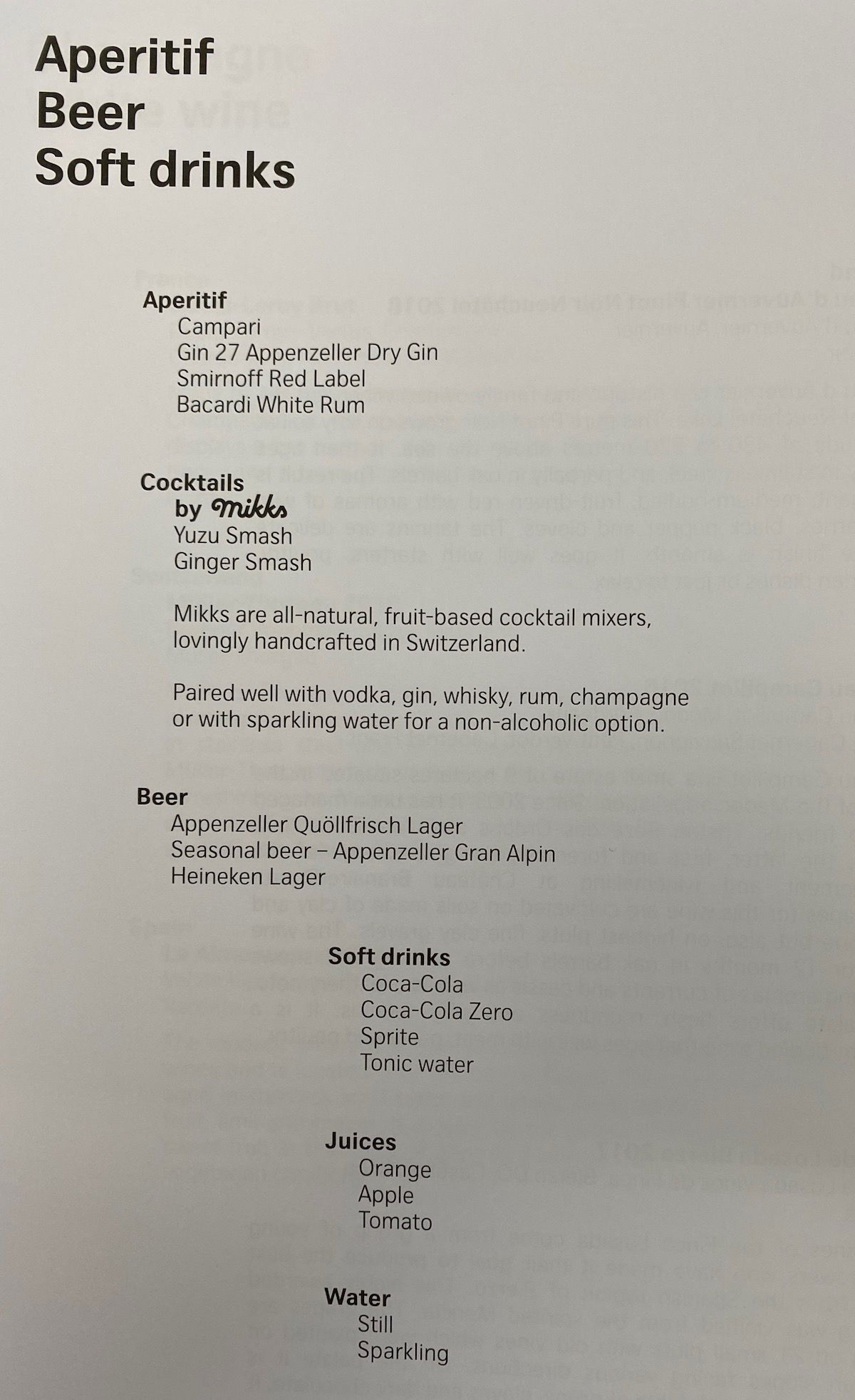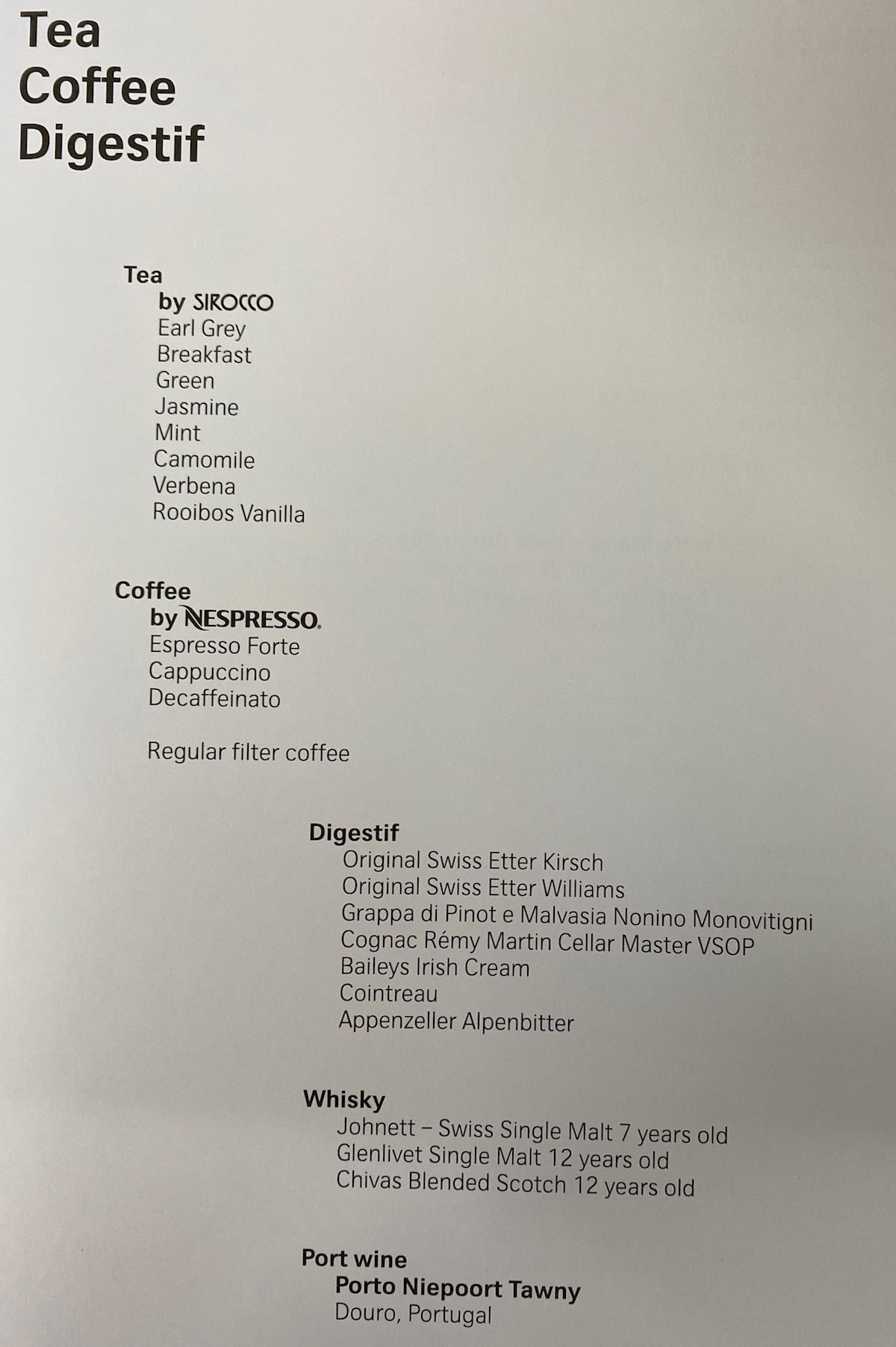 Service began with a cart being rolled down the aisle with drinks. After drinking alcohol almost daily for our entire trip, we decided it was time to take a break for a few weeks, so I just had a Diet Coke and a sparkling water. That was served with some mixed nuts in a ramekin. There was no warm towel service, which seemed to be the only change to SWISS' service protocol.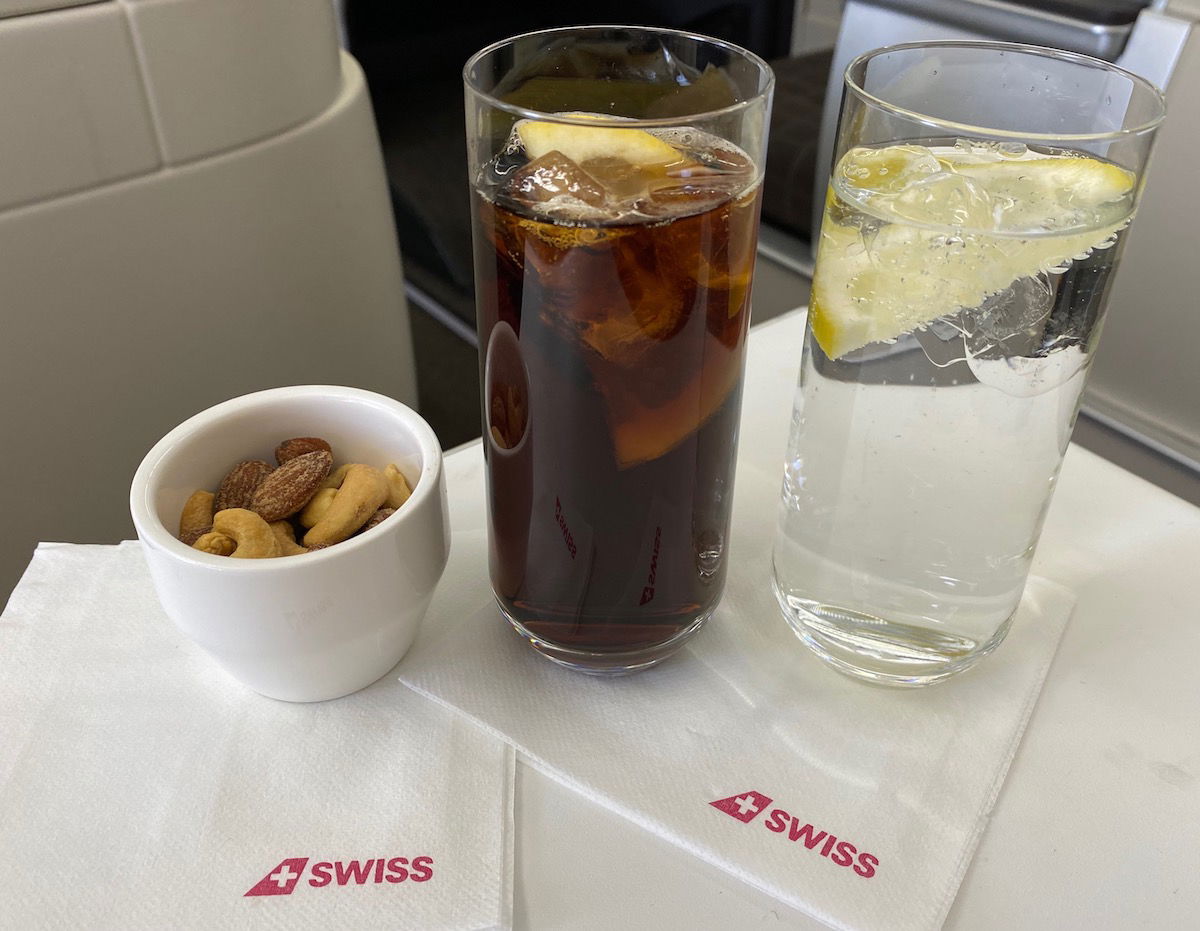 SWISS business class lunch — drinks and nuts
About 15 minutes later, carts were rolled down the aisle with the appetizer, salad, and cheese. There was a choice of two appetizers, and I selected the spicy tomato buffalo mozzarella with beef tomato, balsamic glaze, and roasted pine nuts, with spicy tomato cream and vinaigrette. That was served with a rather bland salad, and a selection of cheese.
Bread was even offered out of the breadbasket (Lufthansa modified service to get rid of the breadbasket), and I selected a pretzel roll.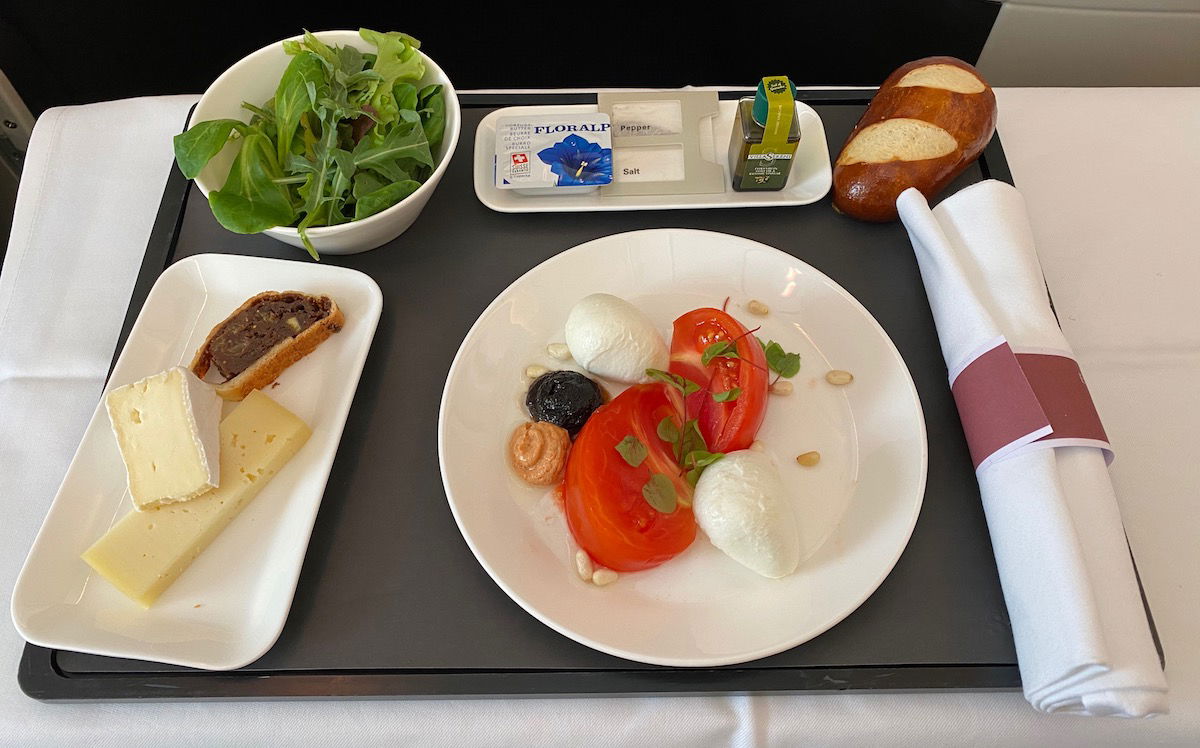 SWISS business class lunch — appetizer, salad, and cheese
There were four main course choices, and I chose the sea bass fillet with lemon beurre blanc, cauliflower couscous, grilled sweet potatoes, and sugar snap peas. The dish was quite good, though for the most part I just tasted the sauce, given how overpowering it was.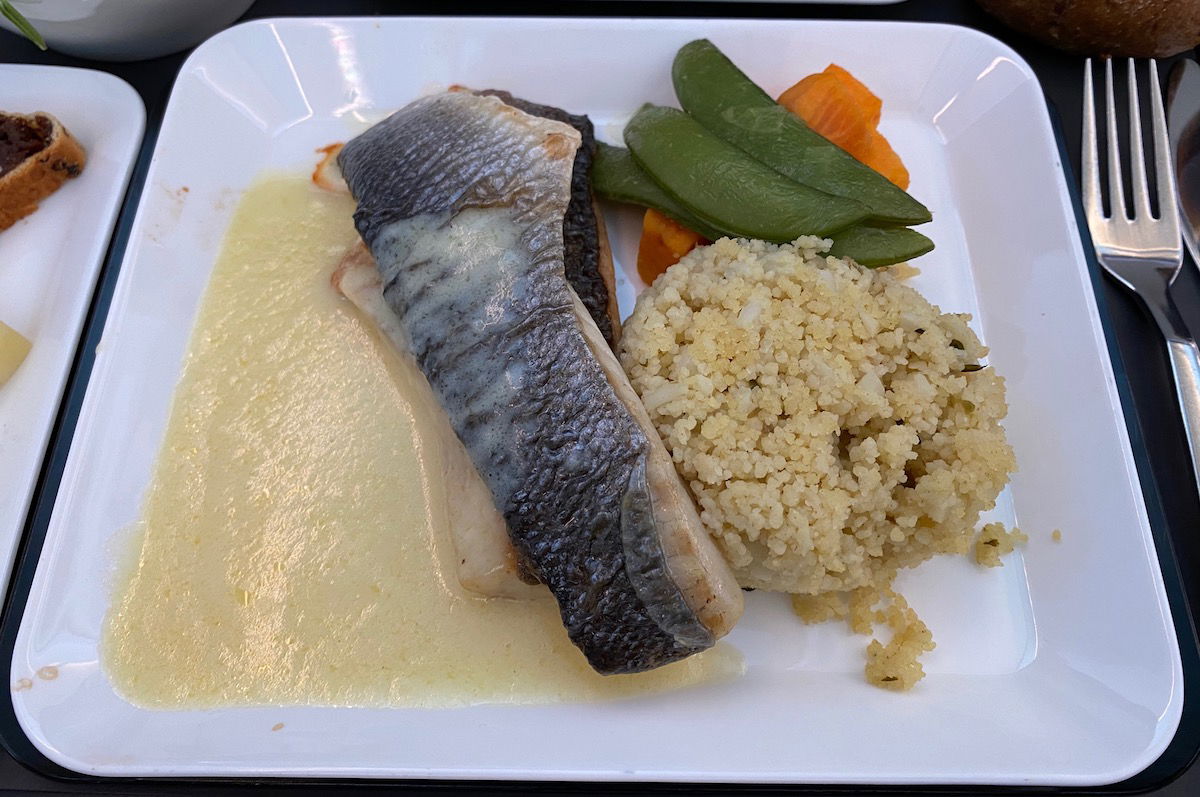 SWISS business class lunch — main course
For dessert there was a chocolate and spelt panna cotta with millet and apple crumble, which was delicious. I had a cappuccino to go along with it.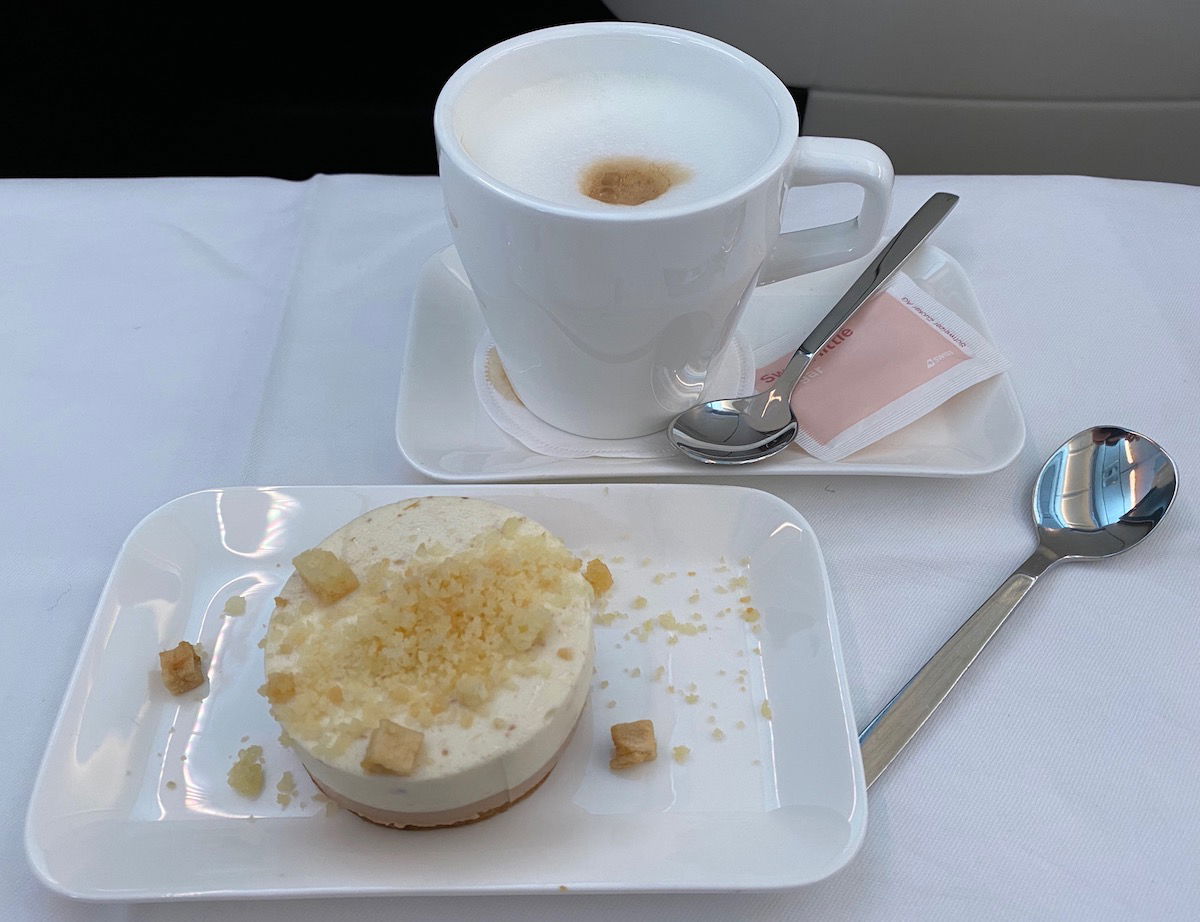 SWISS business class lunch — dessert
Lastly I was offered a chocolate.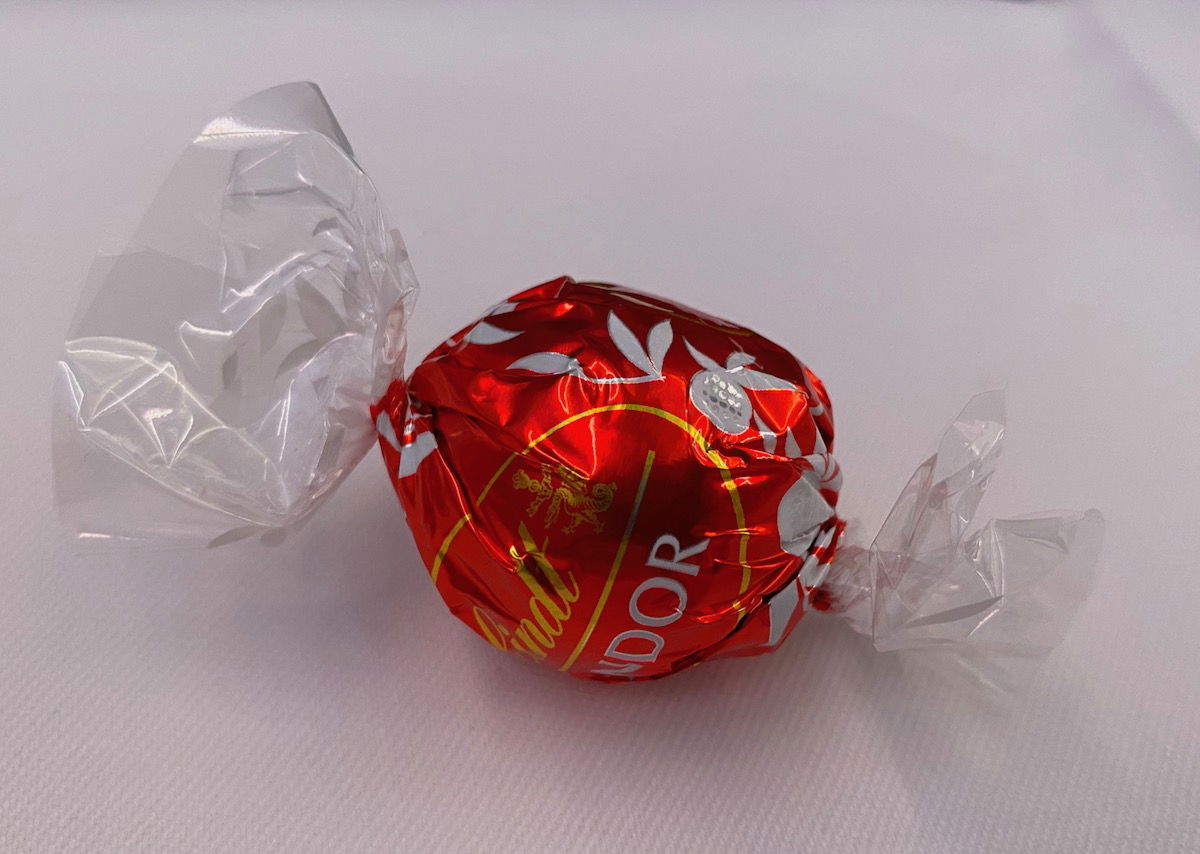 SWISS business class lunch — chocolate
The meal service was done at a leisurely pace, which is great for a daytime flight. There were about eight hours left in the flight after the meal.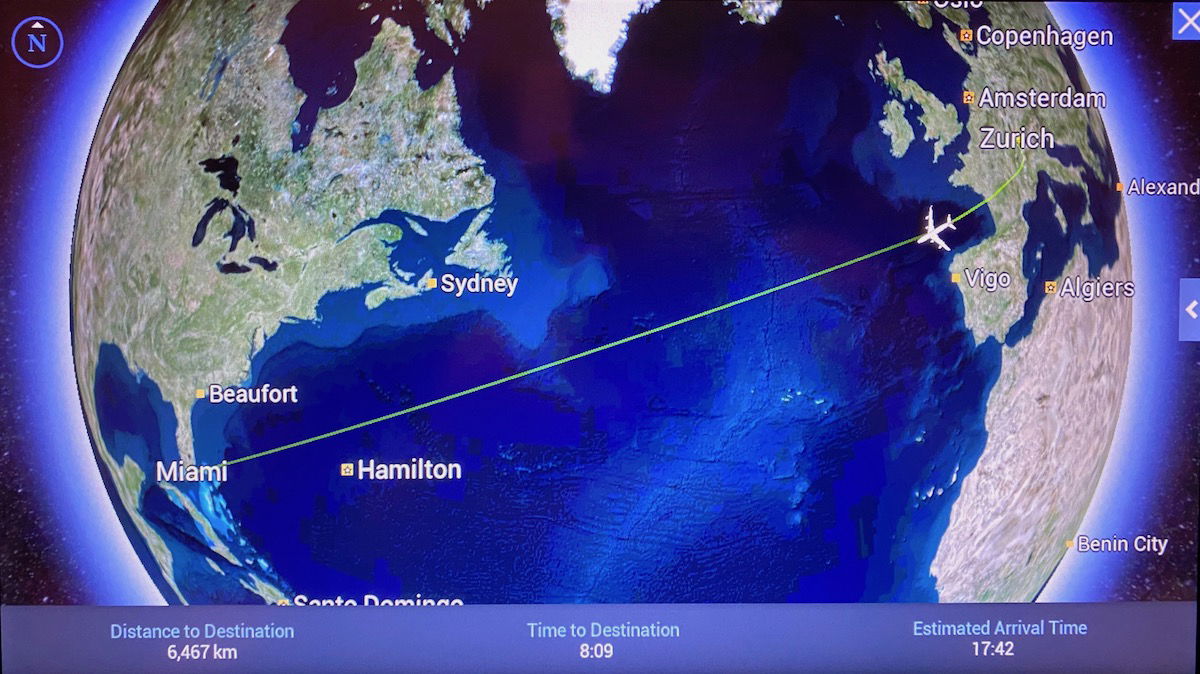 Airshow enroute to Miami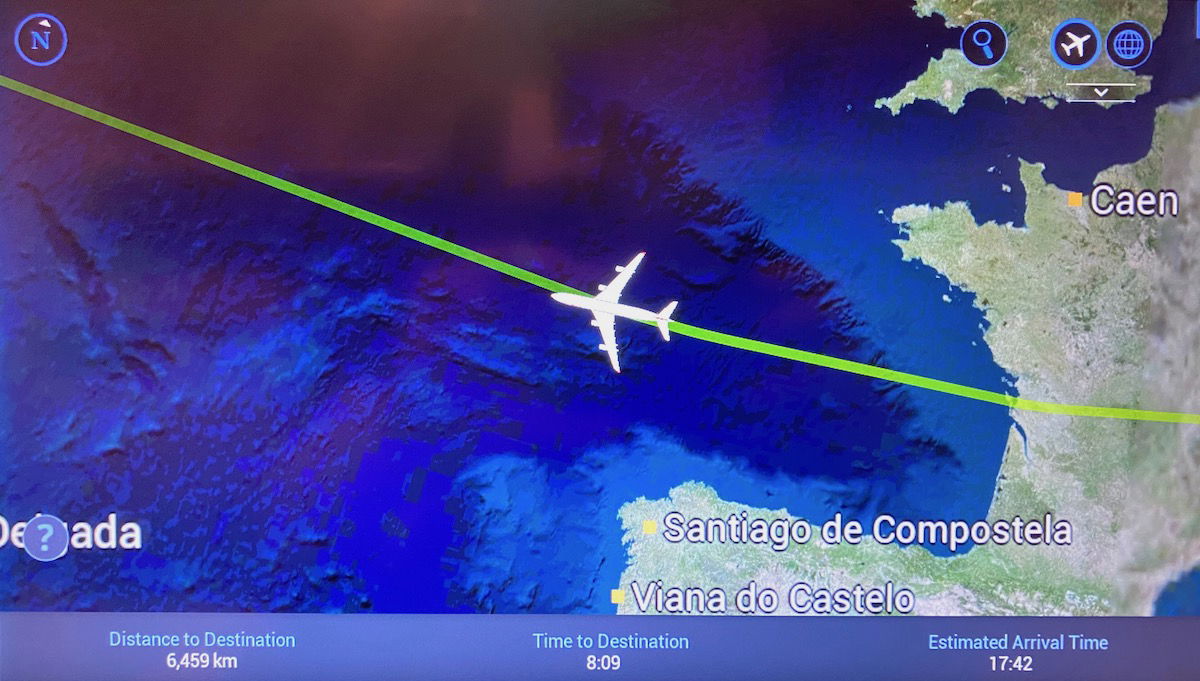 Airshow enroute to Miami
The crew couldn't have been lovelier — there were two enthusiastic young ladies working the cabin, and then the cabin manager was also very involved in the service, and even remembered everyone's name.
One funny thing was that I was speaking to the cabin manager and one flight attendant in German, and the other flight attendant in English (that's because I typically just reply to people in the language they speak to me in). At one point both the cabin manager and flight attendant were rolling a trolley down the aisle by me, and a flight attendant asked if I needed anything else in English.
When she did that, the cabin manager said (in German) "Mr. Schlappig speaks German, why are you speaking to him in English?" She had a confused look on her face, and I had some explaining to do.
After the meal I checked out the mini business class cabin in the front, which was empty.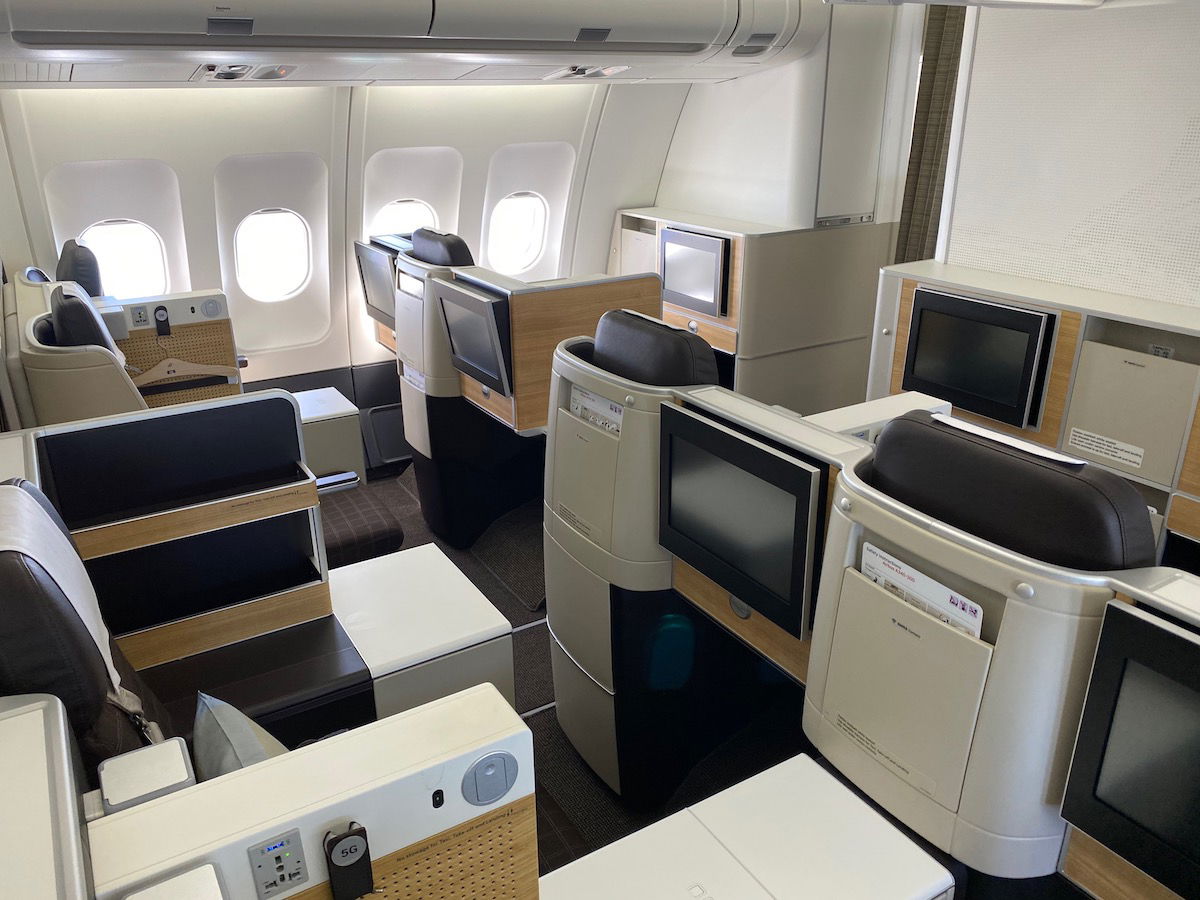 SWISS business class mini-cabin A340
I also checked out the lavatories, as there were two between the business class cabins. Both were well maintained.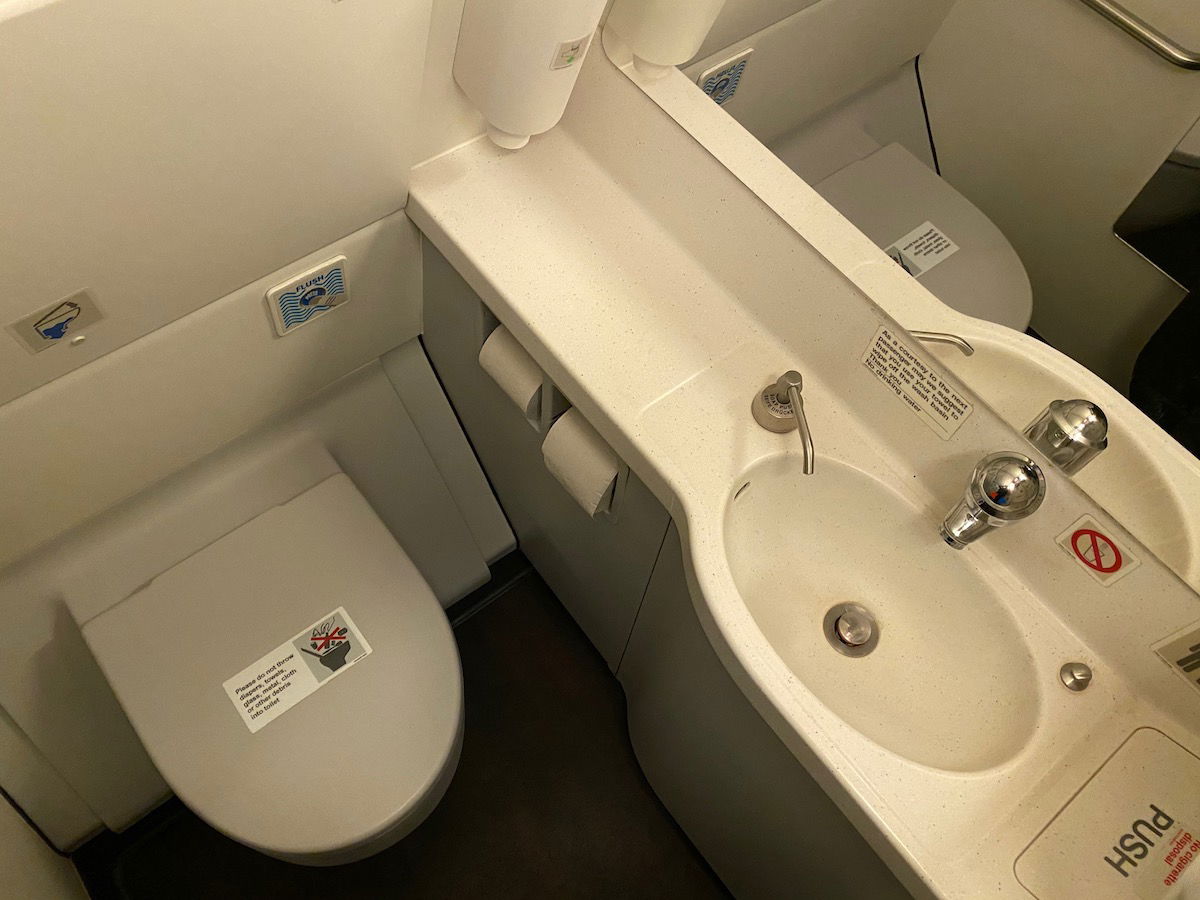 SWISS business class lavatory
SWISS has Wi-Fi on A340s, though pricing sure is steep, as follows (one USD is roughly one CHF):
20MB of data costs 9 CHF
50MB of data costs 19 CHF
120MB of data costs 39 CHF
220 MB of data costs 59 CHF
I didn't end up using Wi-Fi, though from previous flights I knew the speeds were fairly decent. When I flew SWISS first class a while back I consumed about 50MB of data in 15 minutes, so I figured there was no point in buying Wi-Fi this time around.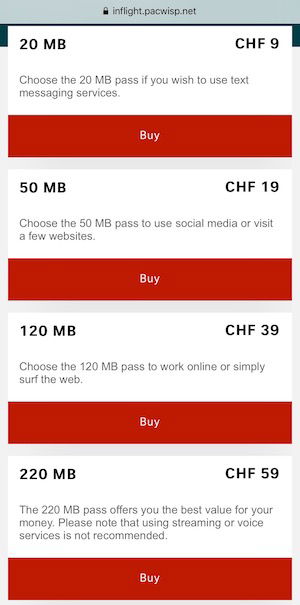 SWISS business class Wi-Fi
SWISS has a solid entertainment selection, with dozens of movies and TV shows. I had brought my own entertainment on my iPad that kept me occupied, and I also spent some time organizing and editing pictures from the trip.
With about 6hr30min remaining we were passing the Azores (we had a great trip there a few years ago).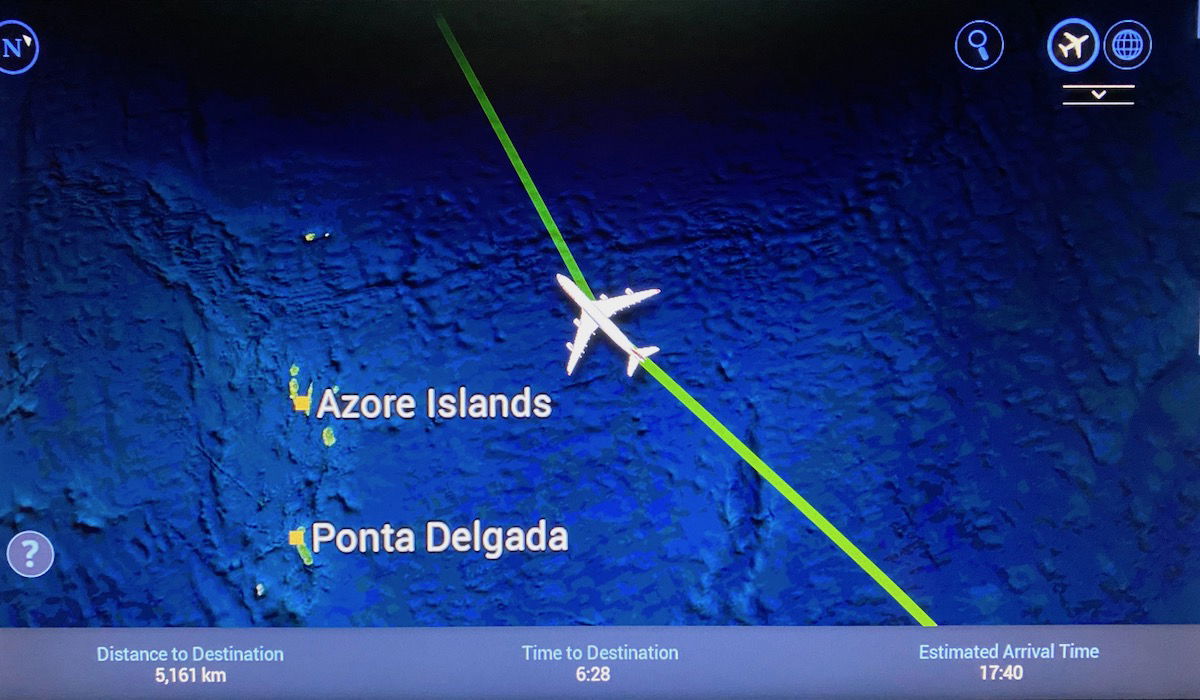 Airshow enroute to Miami
At that point the crew came through the cabin with Mövenpick ice cream, with the choice of either chocolate or strawberry.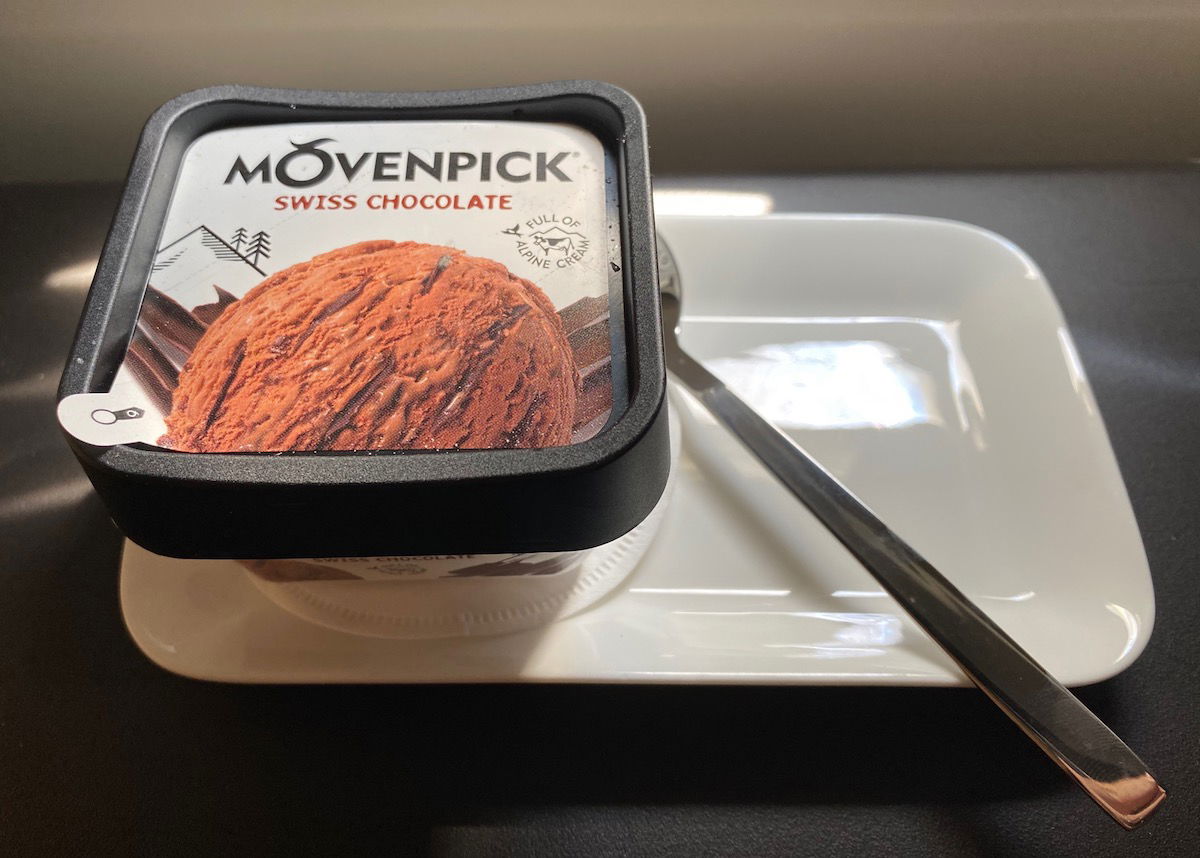 SWISS business class ice cream snack
I also ordered an espresso at this point.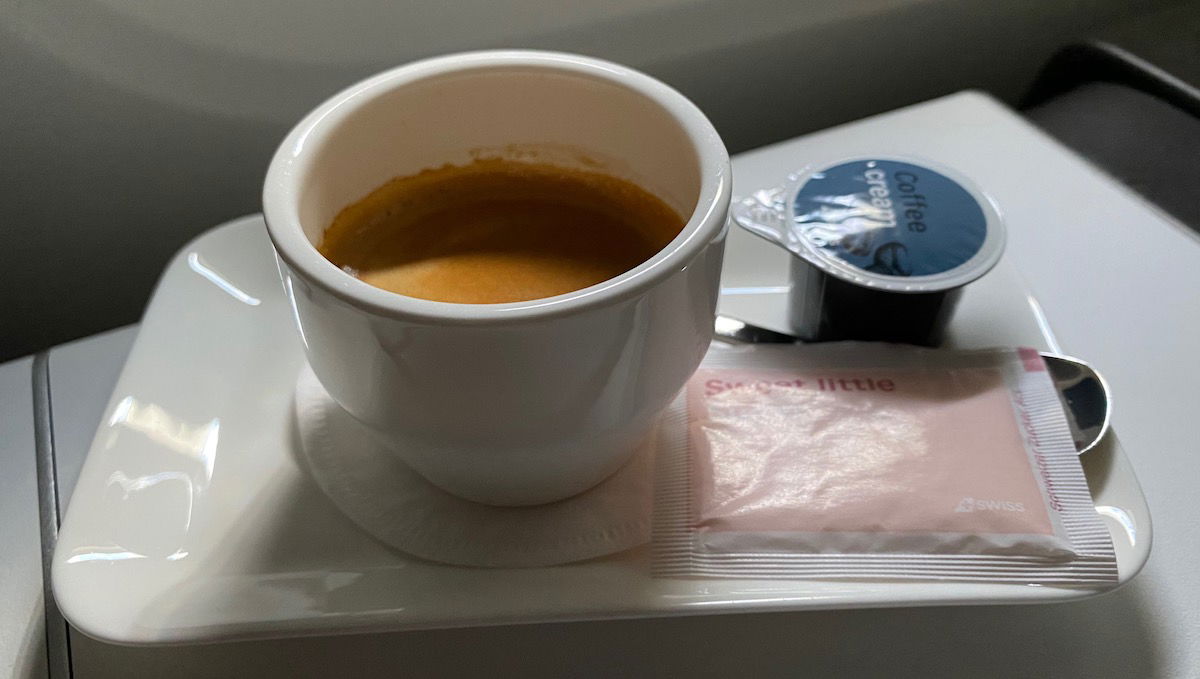 SWISS business class espresso
Several hours later we were near Bermuda, our next stop on this transatlantic island-passing adventure. 😉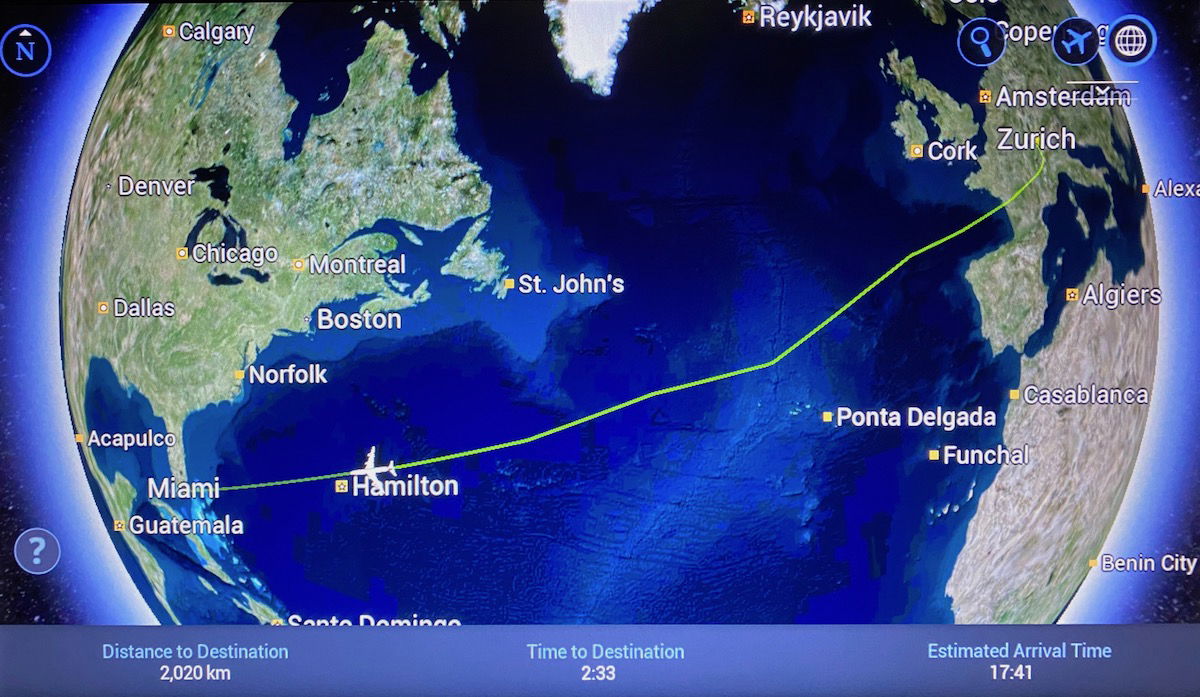 Airshow enroute to Miami
Finally about 90 minutes before landing the pre-arrival meal was served. The menu for that read as follows: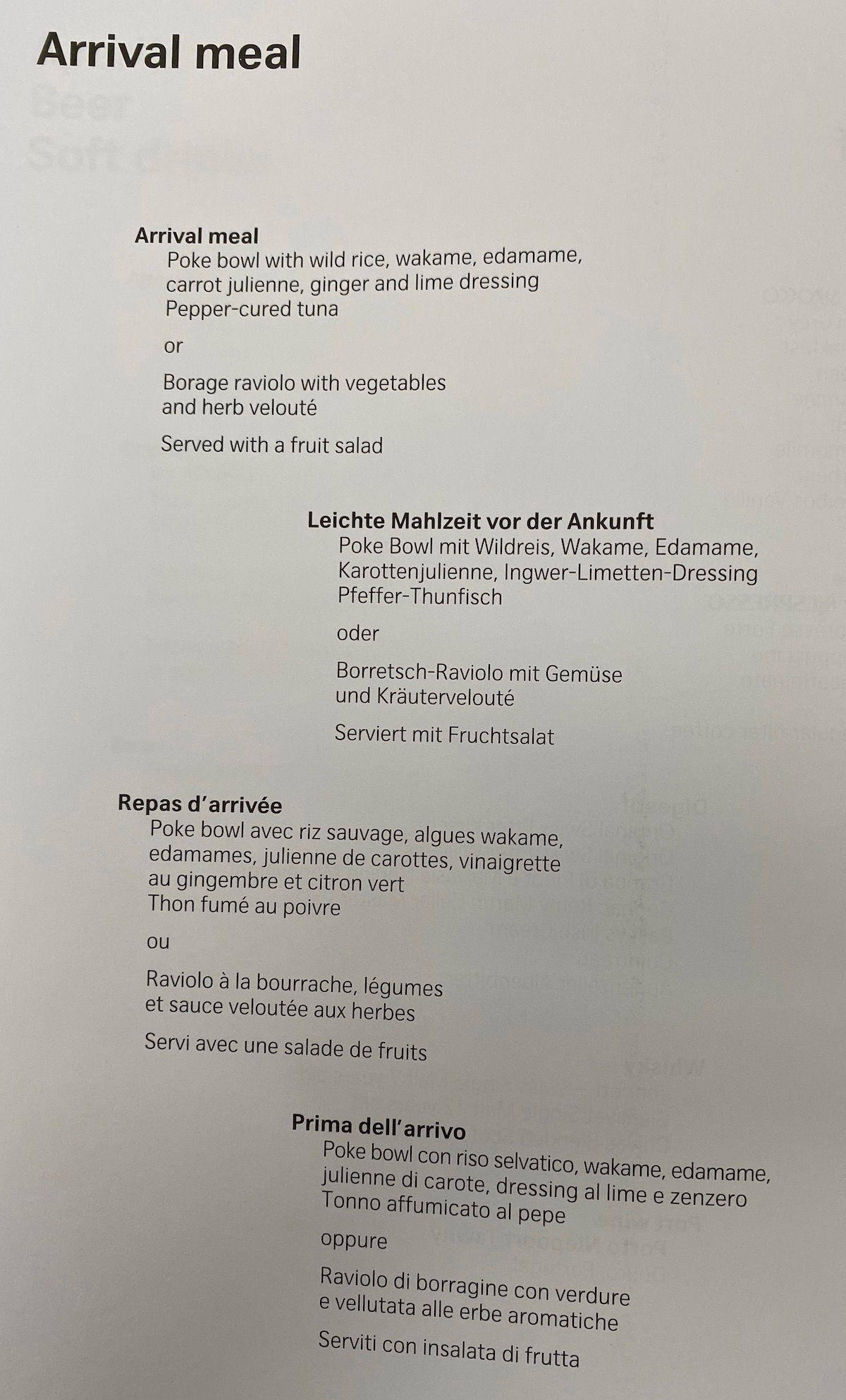 I ordered the poke bowl with pepper-cured tuna, wild rice, wakame, edamame, carrot julienne, ginger, and lime dressing. It was served with a fruit salad and a bread roll. The dish was quite good, though not your traditional poke bowl.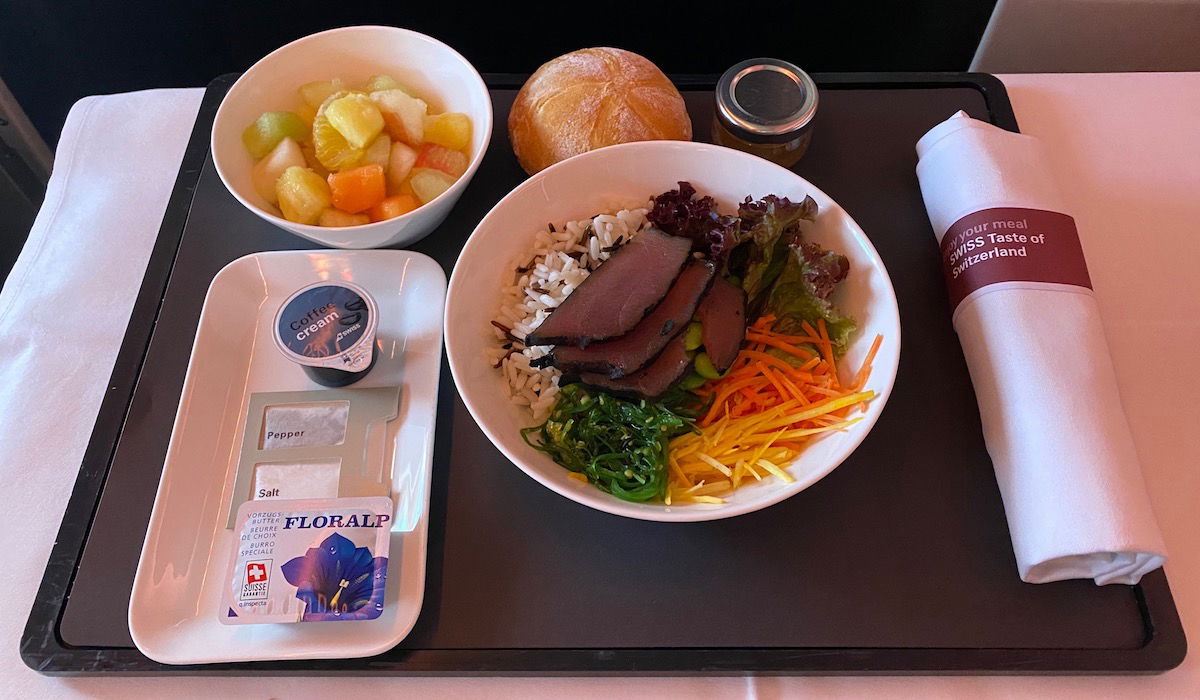 SWISS business class pre-landing meal
After the meal I ordered a coffee, since sitting in darkness for 10 hours on a daytime flight can be exhausting. 😉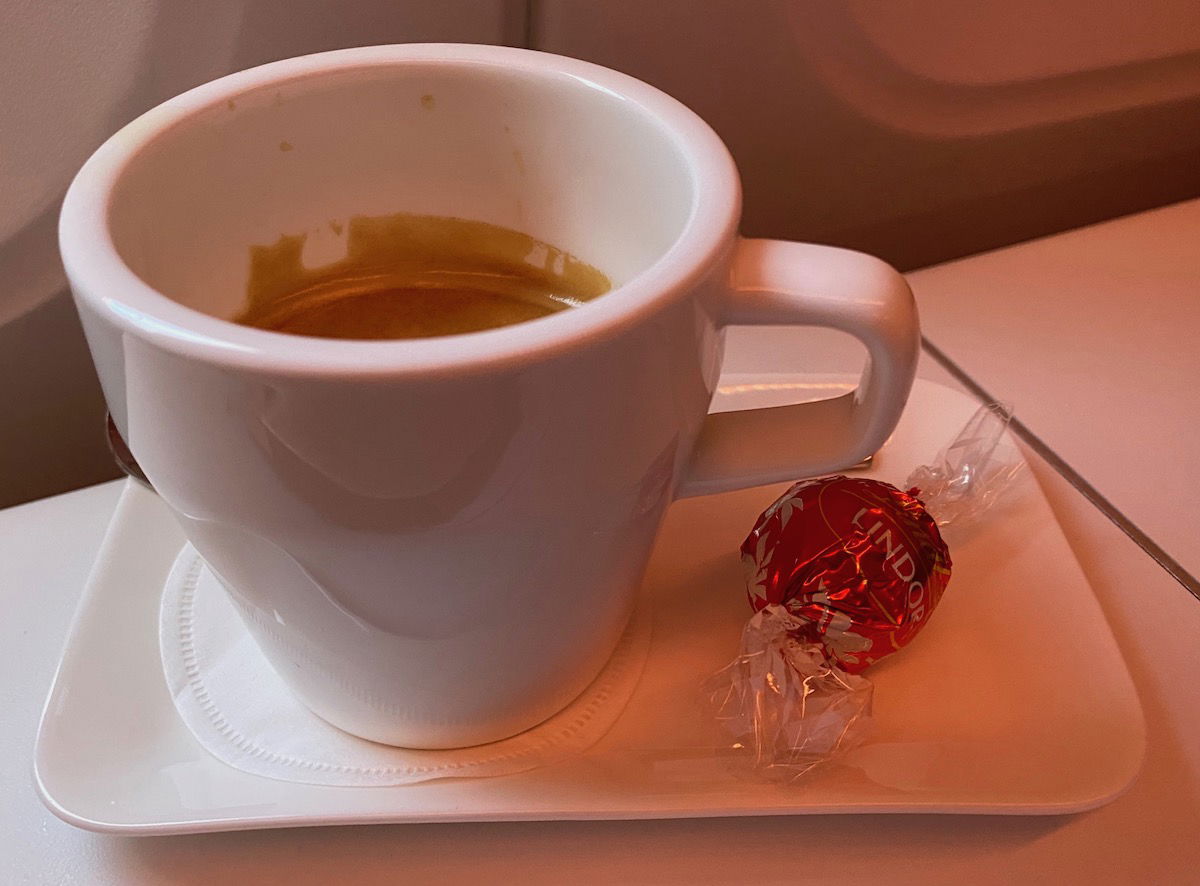 SWISS business class coffee
I swear I was smiling…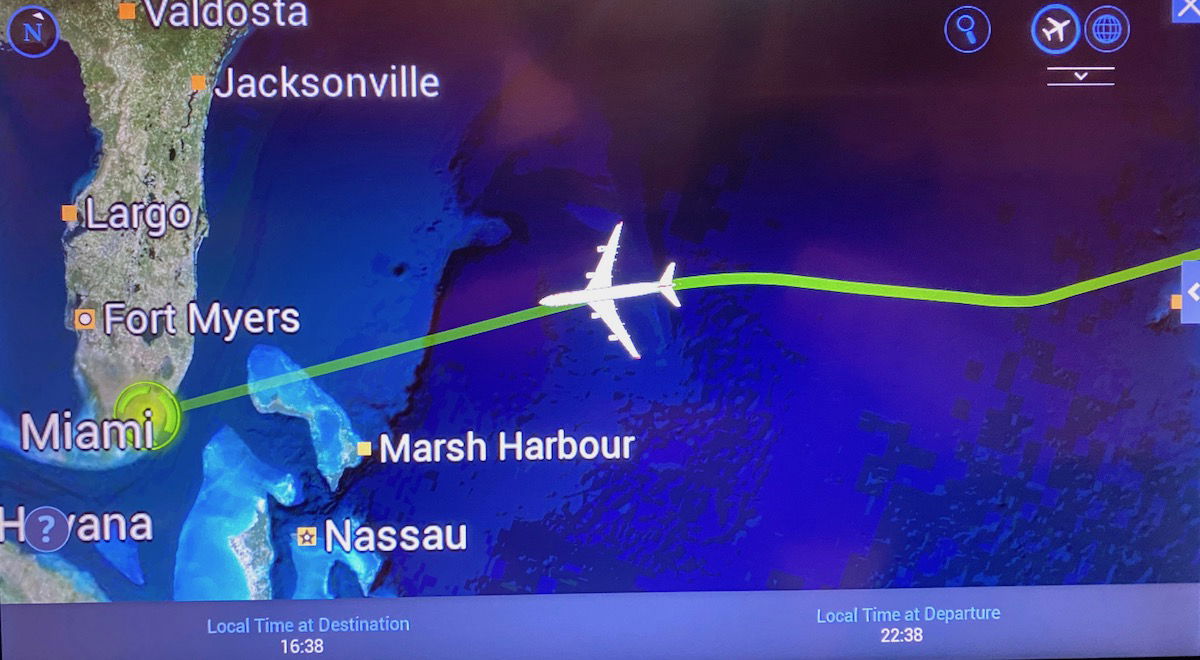 Airshow approaching Miami
At around 5:10PM local time, the captain announced we'd be landing in about 30 minutes, and would be descending shortly. We reached the Florida coast a bit south of Palm Beach. We flew inland, and then turned around and landed into the east at Miami Airport.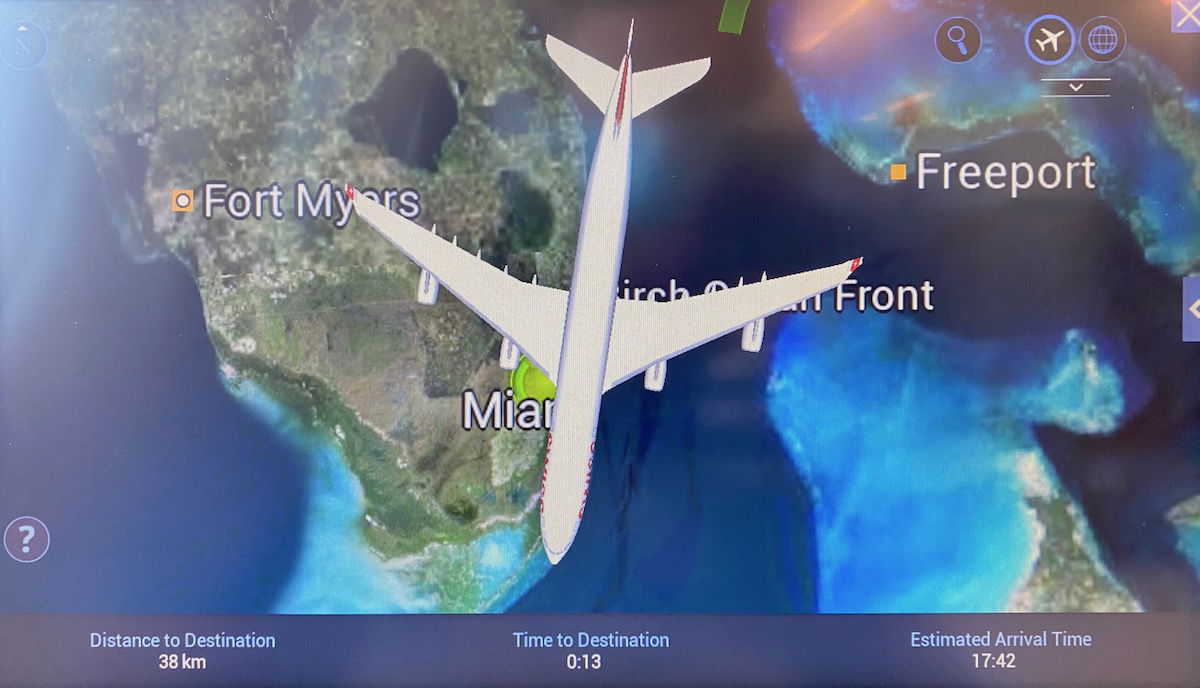 Big airplane!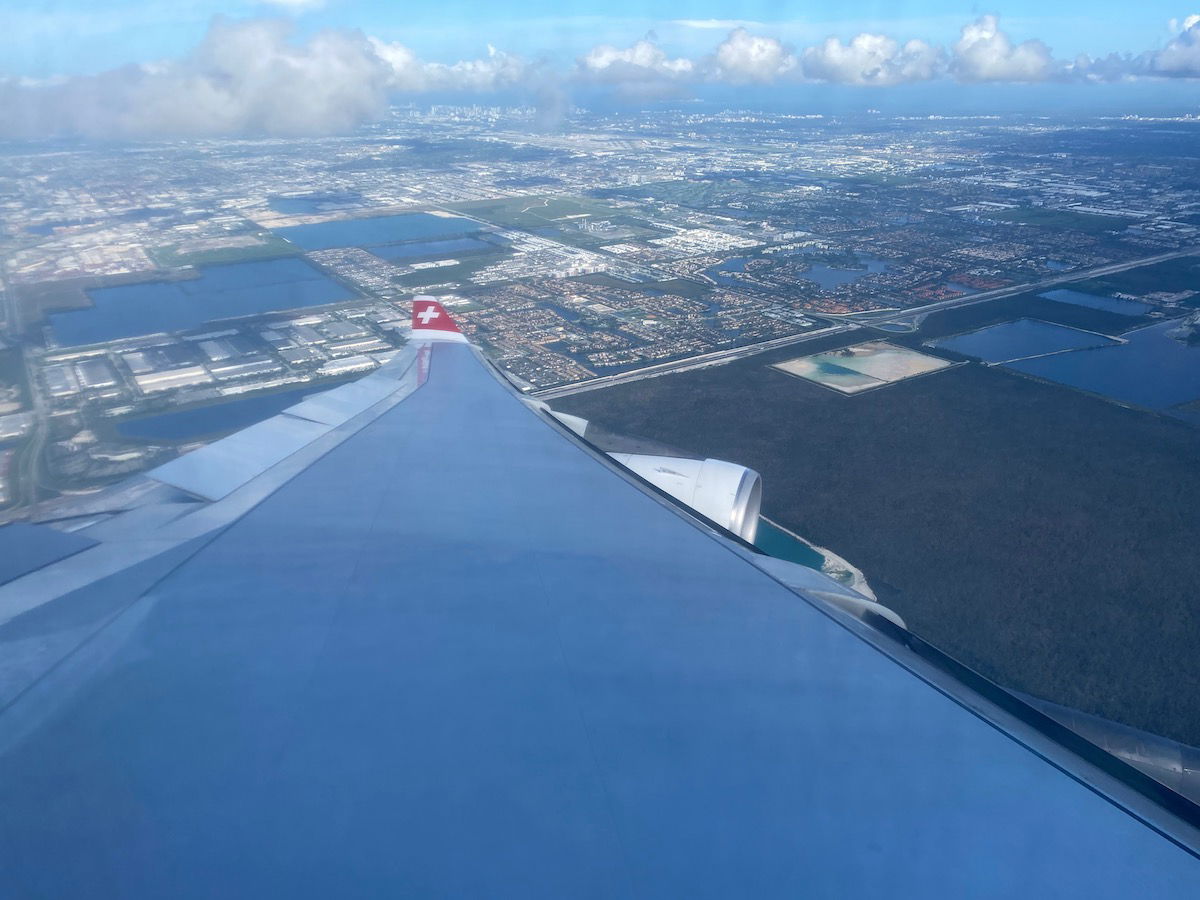 View approaching Miami
We touched down at 5:40PM, and from there had a minute-long taxi to our arrival gate. The crew couldn't even finish the landing announcement before we got to the gate.
While Lufthansa had made announcements telling people to stay seated until they're specifically told to get up, there was no such announcement on SWISS. Not that there was necessarily a need for that, given that there were around two dozen people on an A340.
I'll write a separate post about the process of going through immigration nowadays in the US when arriving from a country technically on the "travel ban" list.
Swiss business class bottom line
Our flight in SWISS business class was phenomenal. SWISS' new business class product is great, especially for an A340. The crew was friendly and food was good, and Lufthansa and SWISS are among the only airlines offering "regular" service during the pandemic (for better or worse). I didn't really feel like anything was different than usual, other than everyone wearing a mask.
Beyond that, though, many transatlantic flights are outrageously empty at the moment, which helps with making someone feel comfortable in an age where space is the ultimate luxury. Just about everyone on the plane could have 10+ feet of space between them and the next passenger, so it's hard to argue with that.
Obviously it won't always be like that, and for that matter it isn't even always like that right now (though it does seem to be the case for most transatlantic flights).
What's your take on the service SWISS is offering in business class right now?