Hello from Abu Dhabi! I just flew Etihad Airways' Airbus A350-1000 business class on the 13hr25min from Chicago (I booked this using 70,000 American AAdvantage miles — what a deal!). This was my first time on Etihad's newest jet, my first time experiencing Etihad's new Armani / Casa amenities, and also my first time flying Etihad since the start of the pandemic.
Etihad has undergone some major changes in recent years (for better and worse), so I was curious to see how Etihad's hard and soft product stacks up. Well, I'm happy to report that the experience was phenomenal, and this ranks as one of the top business class products in the world, in my opinion. I feel like Etihad has its groove back, though in a slightly more sustainable way than in 2015.
While I'll have a full trip report soon, in this post I wanted to share some initial thoughts on the Etihad business class experience.
Etihad's A350 business class seats are top notch
Etihad's Airbus A350s have customized Collins Aerospace Super Diamond seats with doors. These are seats that were first rolled out on British Airways' A350s, and this is among the best business class products out there.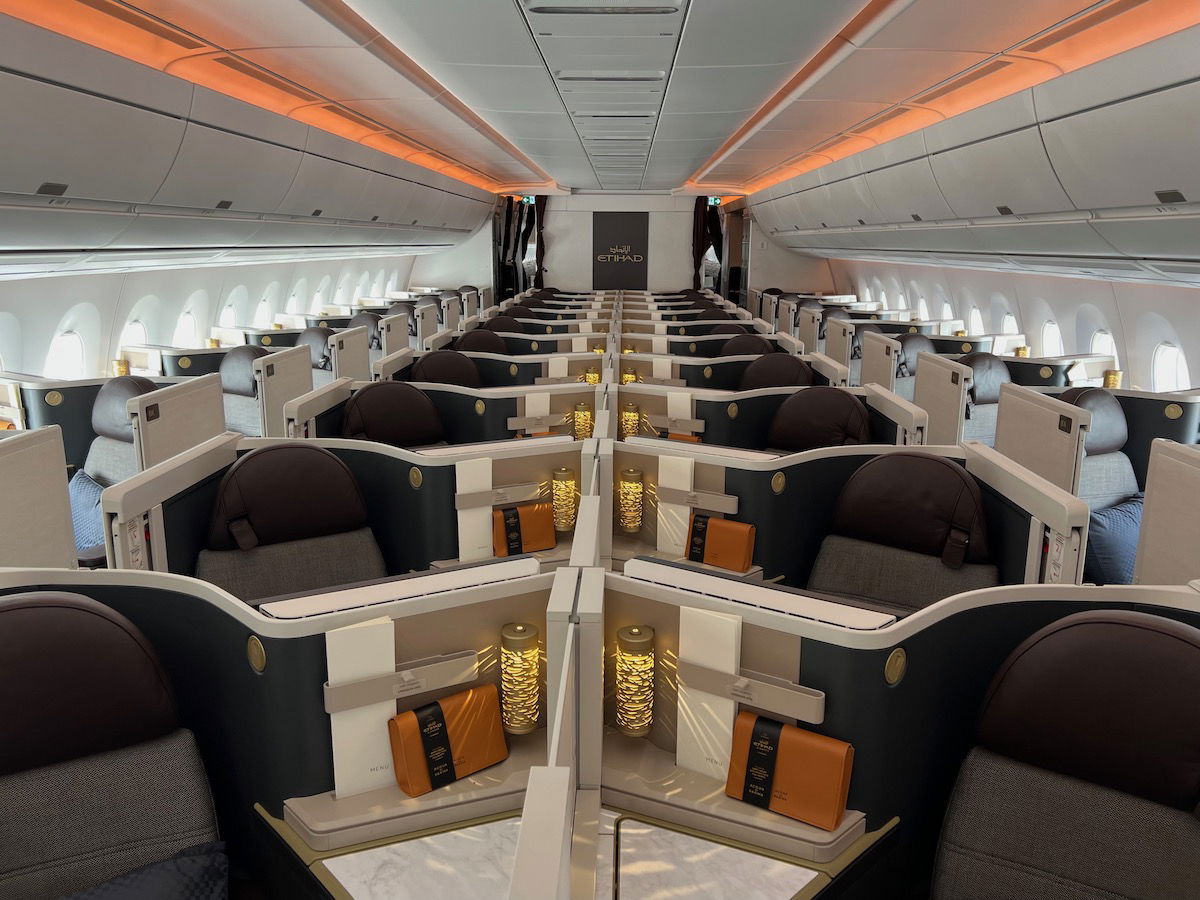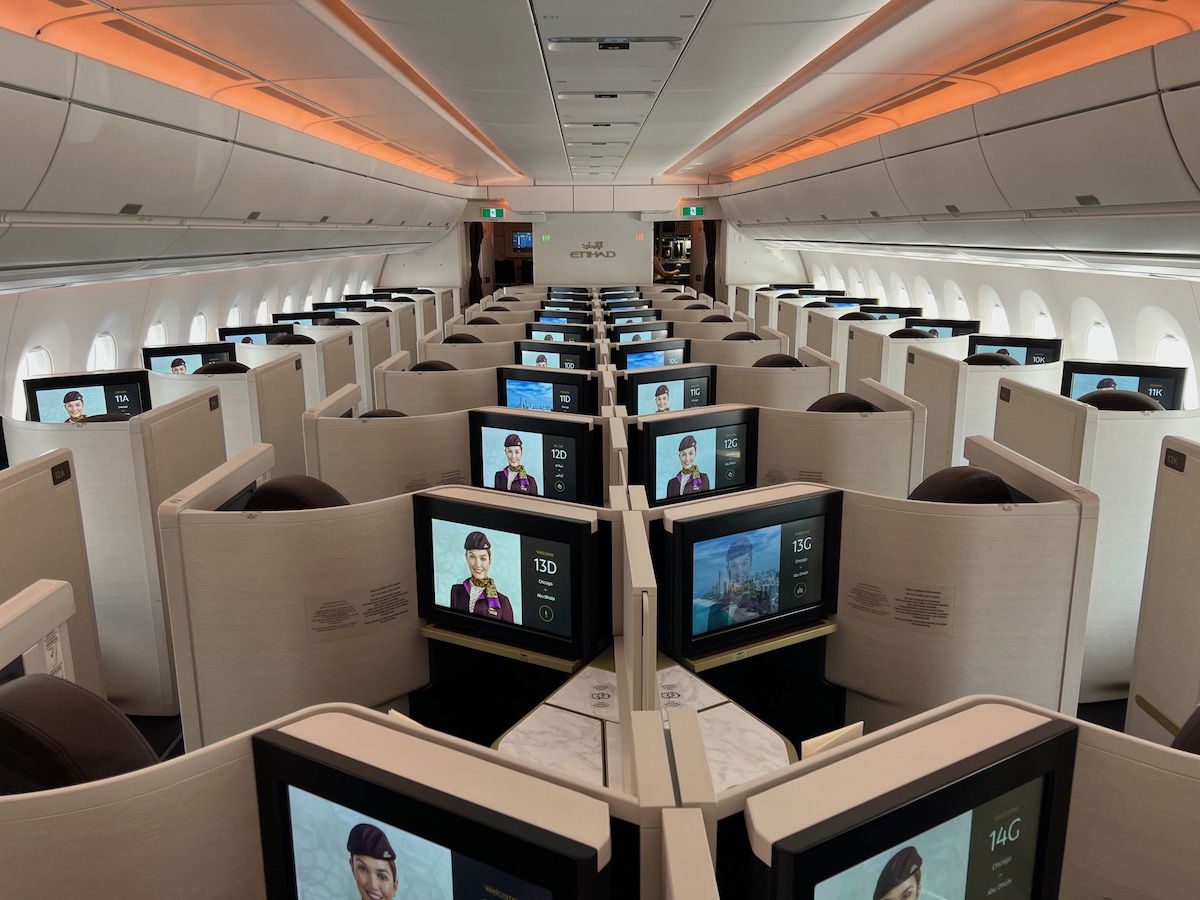 I think most OMAAT readers have probably flown in a Super Diamond seat (whether with or without a door), so know what these seats are like.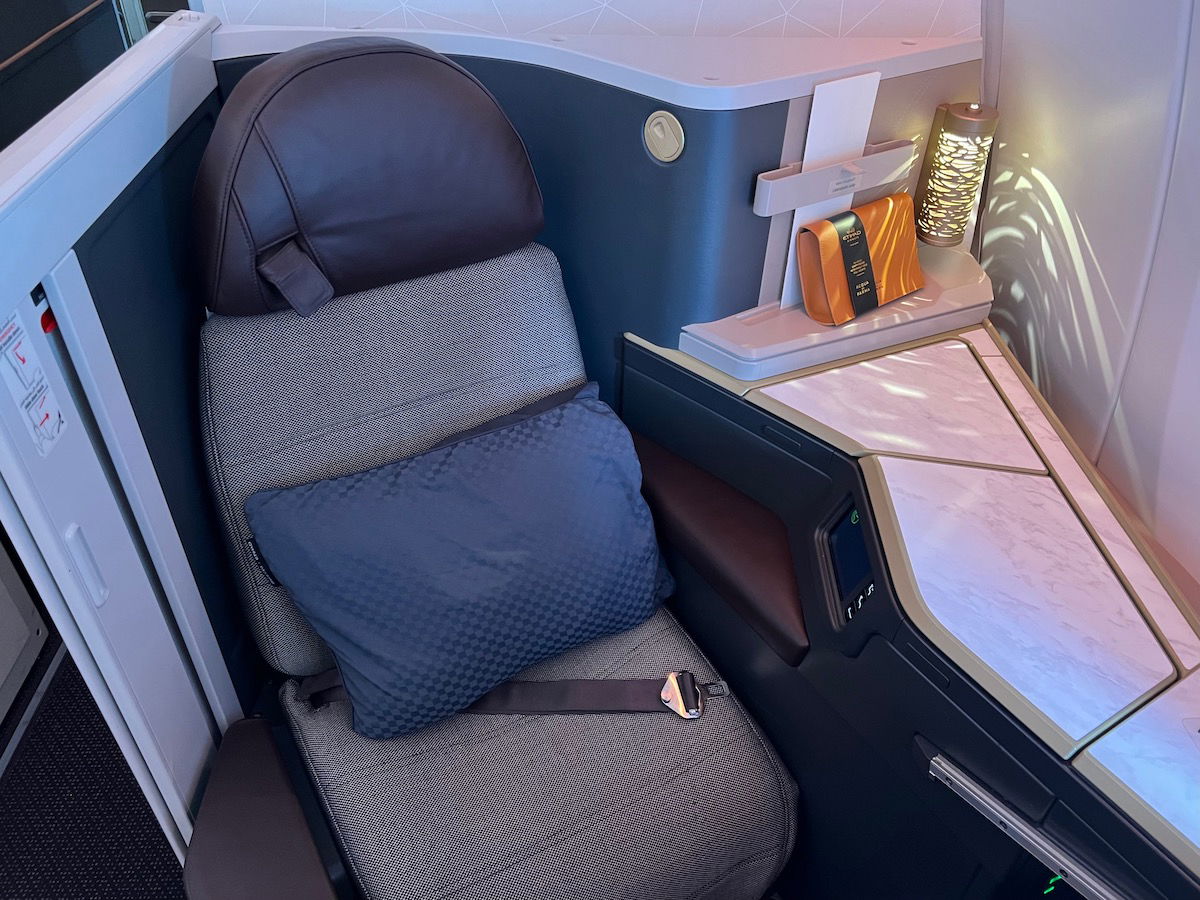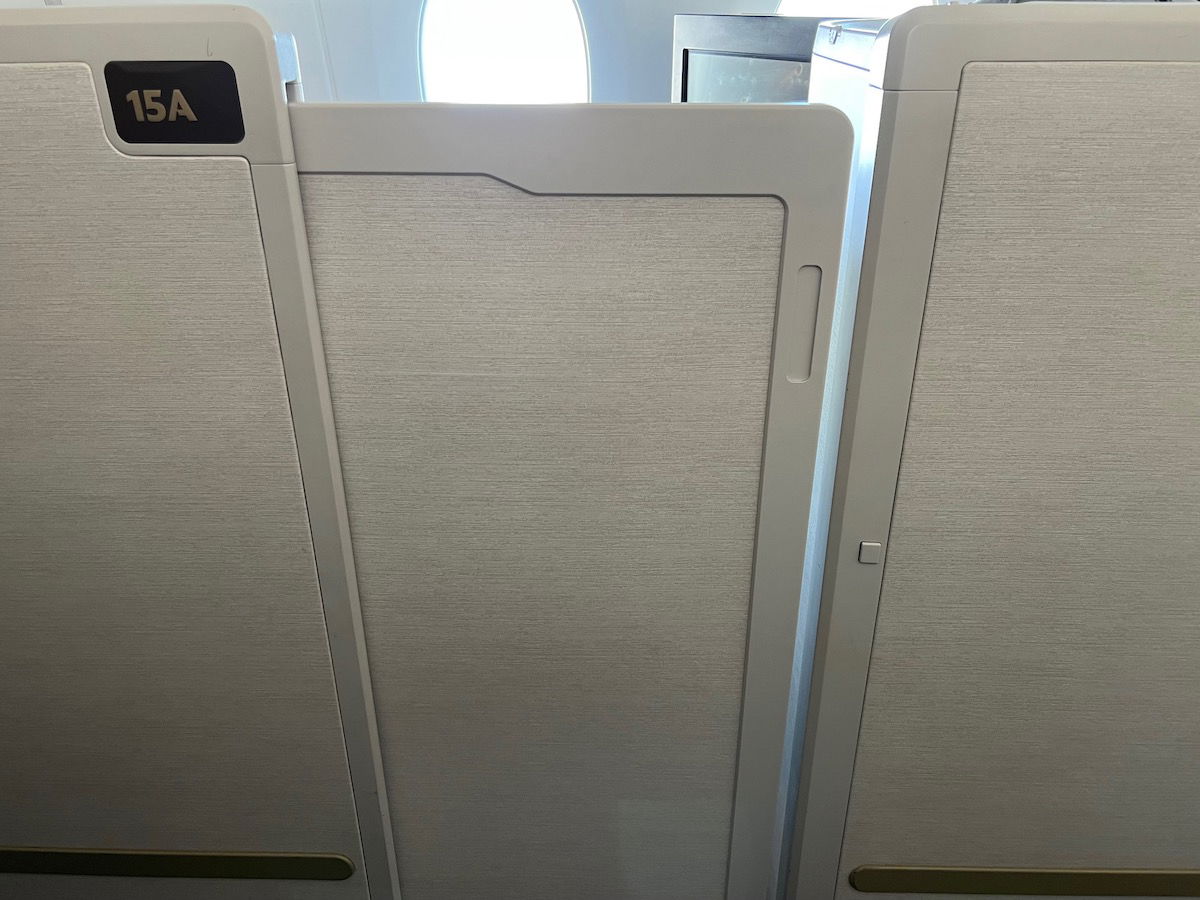 But what impressed me was the tech, which was phenomenal. The seats had all the latest features, including USB-A, USB-C, AC, and wireless charging, as well as bluetooth audio.
Etihad's cabin finishes are also gorgeous — I love the colors, and I like how there are no overhead bins in the center section of the cabin, which create such a spacious feeling (and the side bins are more than large enough for everyone's carry-on bags).
While we can debate whether this constitutes hard or soft product, Etihad's entertainment and Wi-Fi on the A350 are also excellent. There's a huge selection of movies and TV shows, as well as live TV. On top of that, thanks to a recent positive change, Wi-Fi was available for the entire flight for just $20, with no data caps, and speeds were respectable.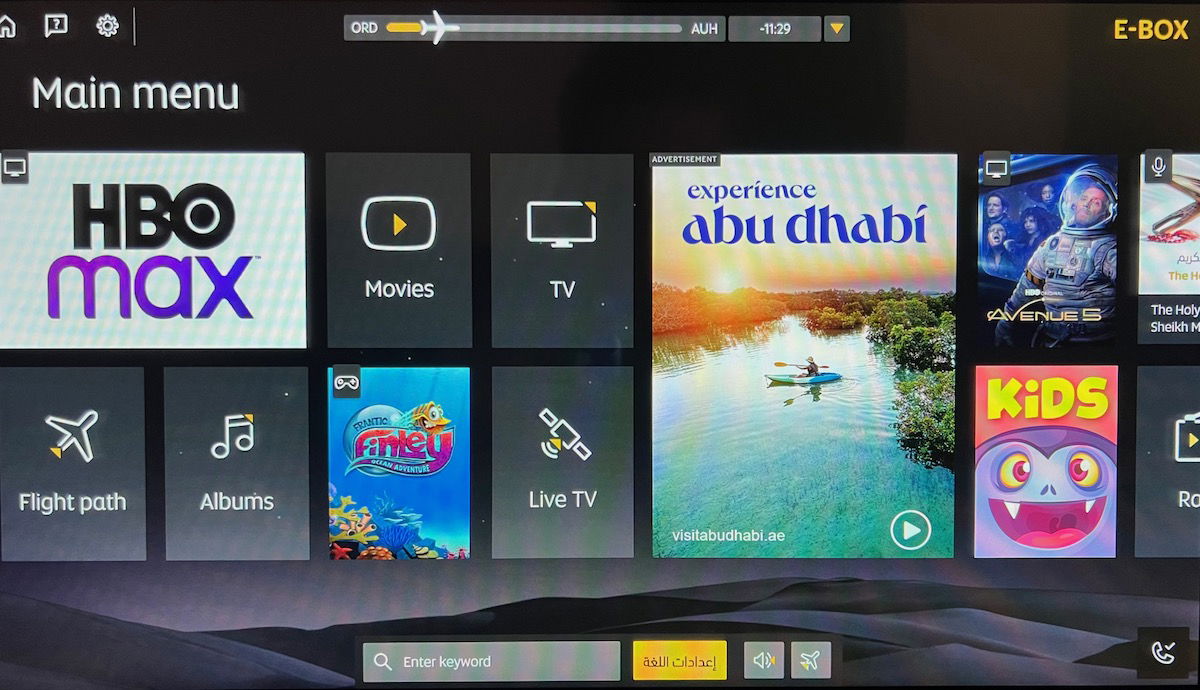 The only thing about the hard product that I didn't like was the lavatory situation. There were two lavatories at the front of the cabin, and that just doesn't seem like enough bathrooms for a 44 seat cabin. There was often a wait to use the bathroom, more than there should be. For example, Qatar Airways' 777s have 42 business class seats, and have four lavatories.
Etihad's business class soft product is excellent
While Etihad has done some (justified) cost cutting over the years, I think the airline has now reached a pretty good balance. Etihad offers Armani / Casa amenities on its A350s, and I thought they were luxurious and functional. The bedding is from Armani / Casa, and is plush and cozy. Unfortunately the new Armani / Casa mattress pad hasn't yet been rolled out, but that should be coming later this year.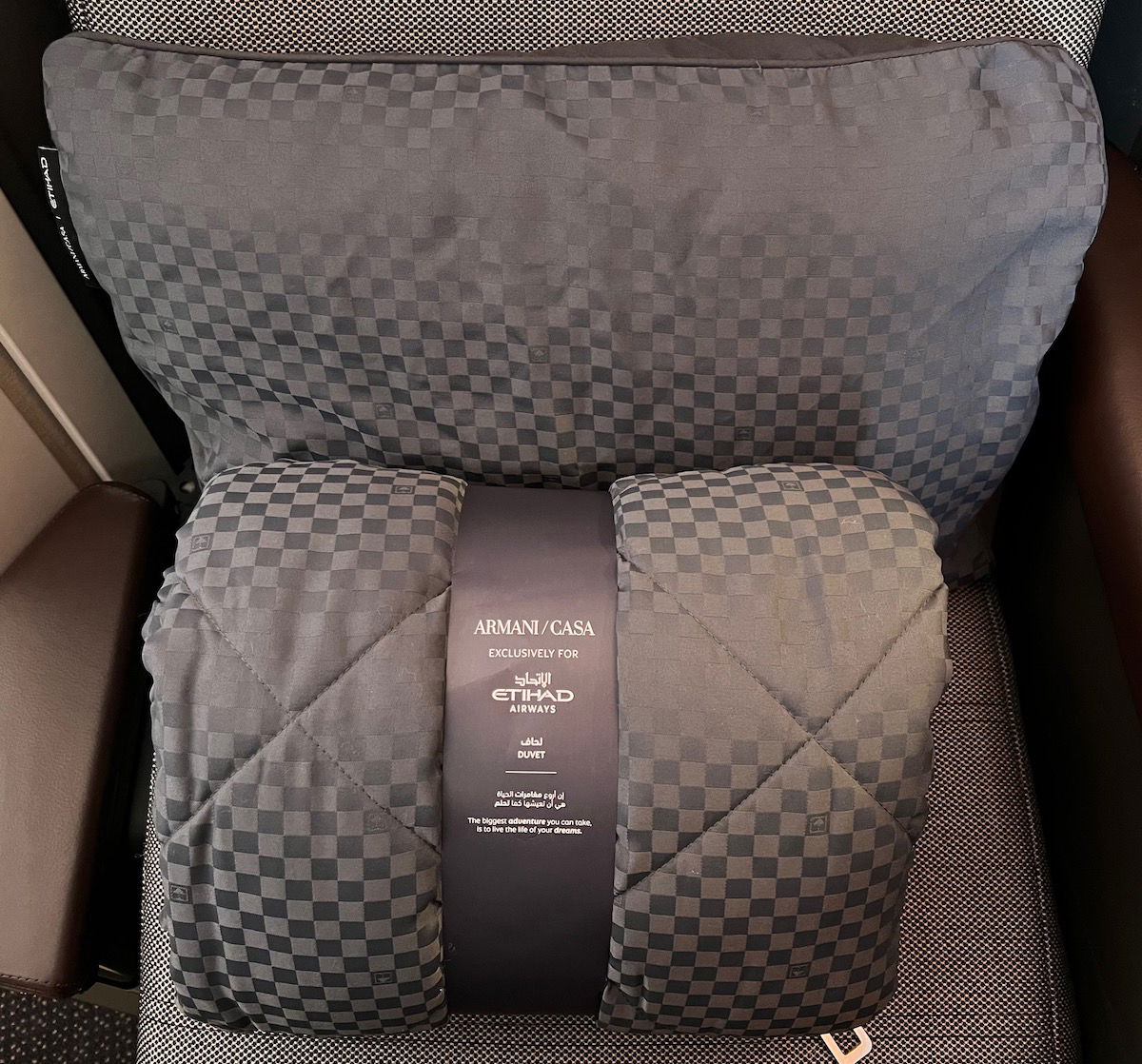 As far as amenities go, Etihad still has an Acqua di Parma amenity kit. I quite like the pouch, but it's not particularly well stocked.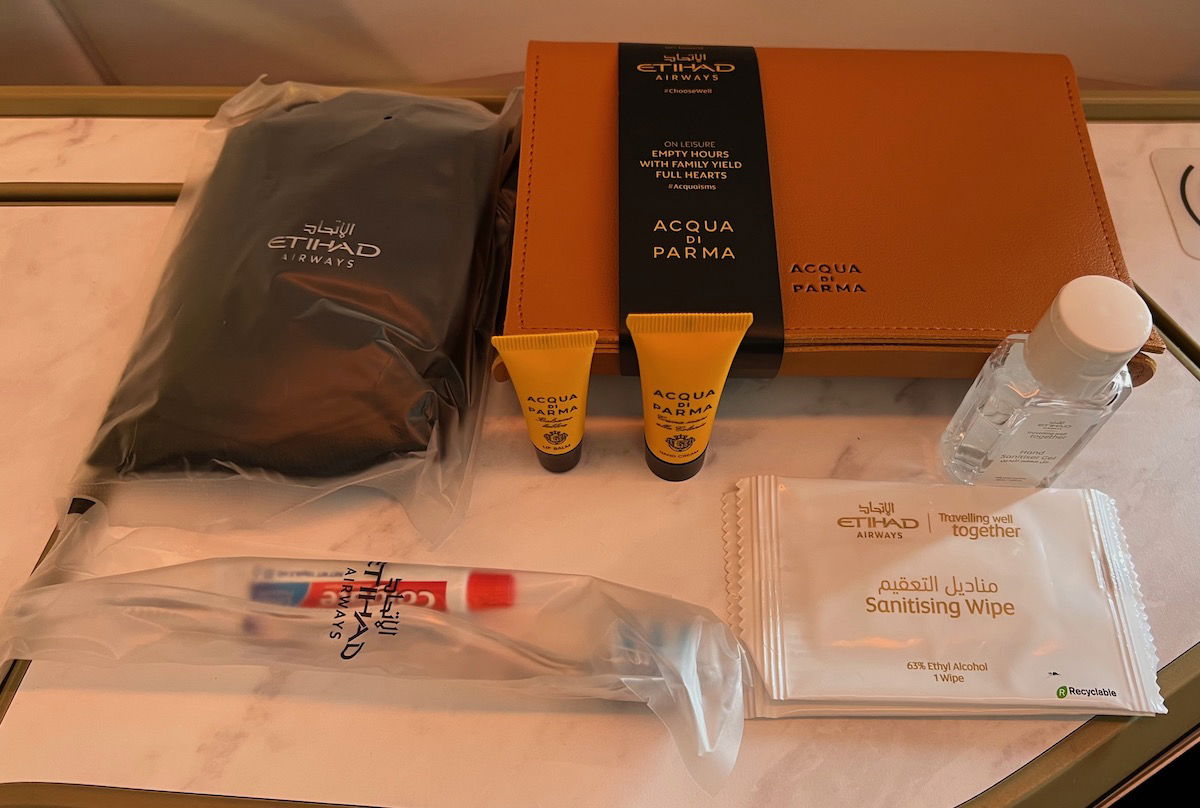 Etihad offers dine on demand in business class, and I found the food to be exceptionally good. There were a huge variety of options served on beautiful Armani / Casa tableware, and the crew didn't seem to run out of anything.
After takeoff I enjoyed a glass of sauvignon blanc and some mixed nuts. I appreciate that wine is poured from the bottle at your seat.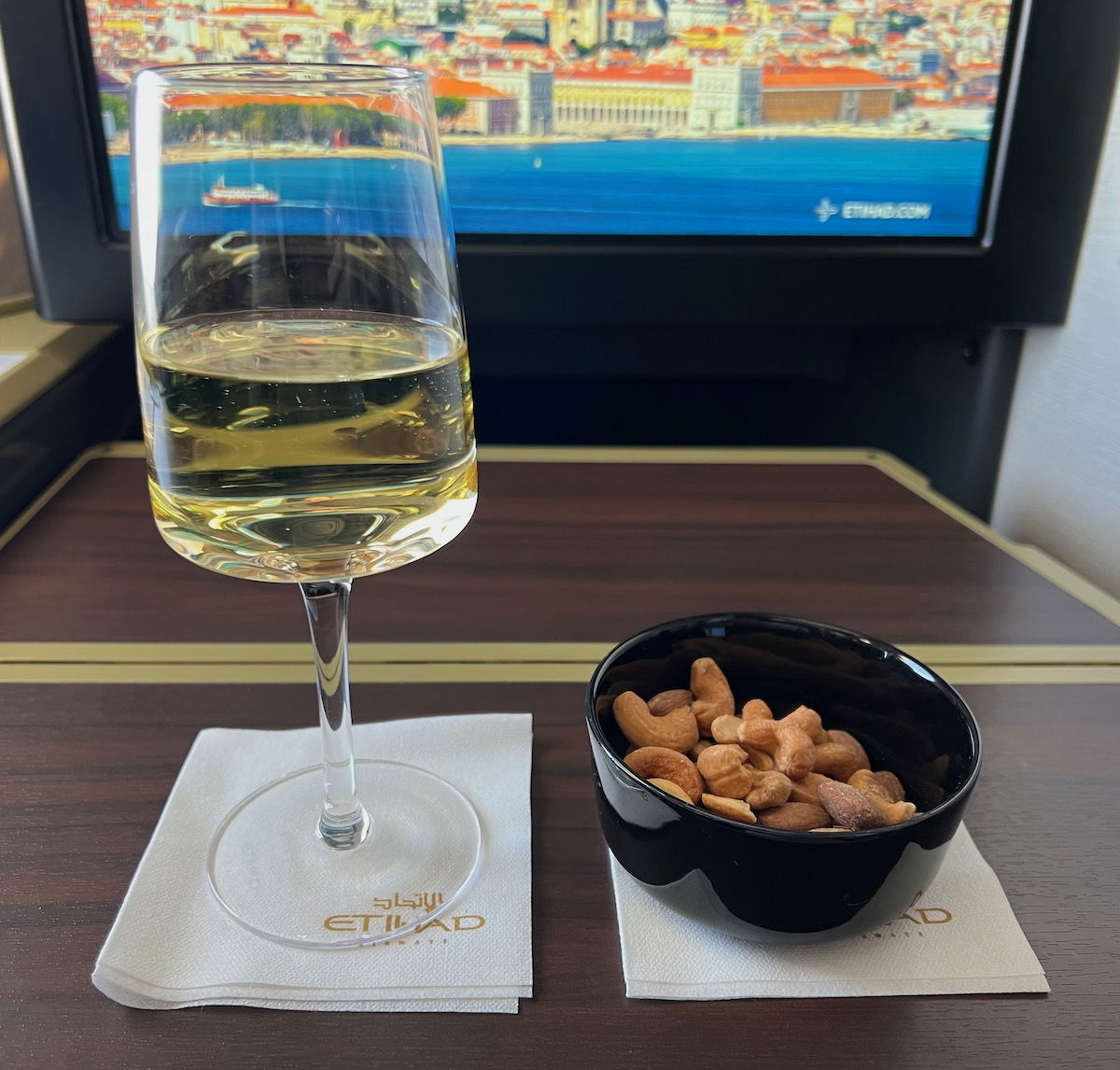 For a starter, I selected a delicious tuna tataki dish, which was among the best tuna dishes I've had on a plane. That was served with some bread and a side salad.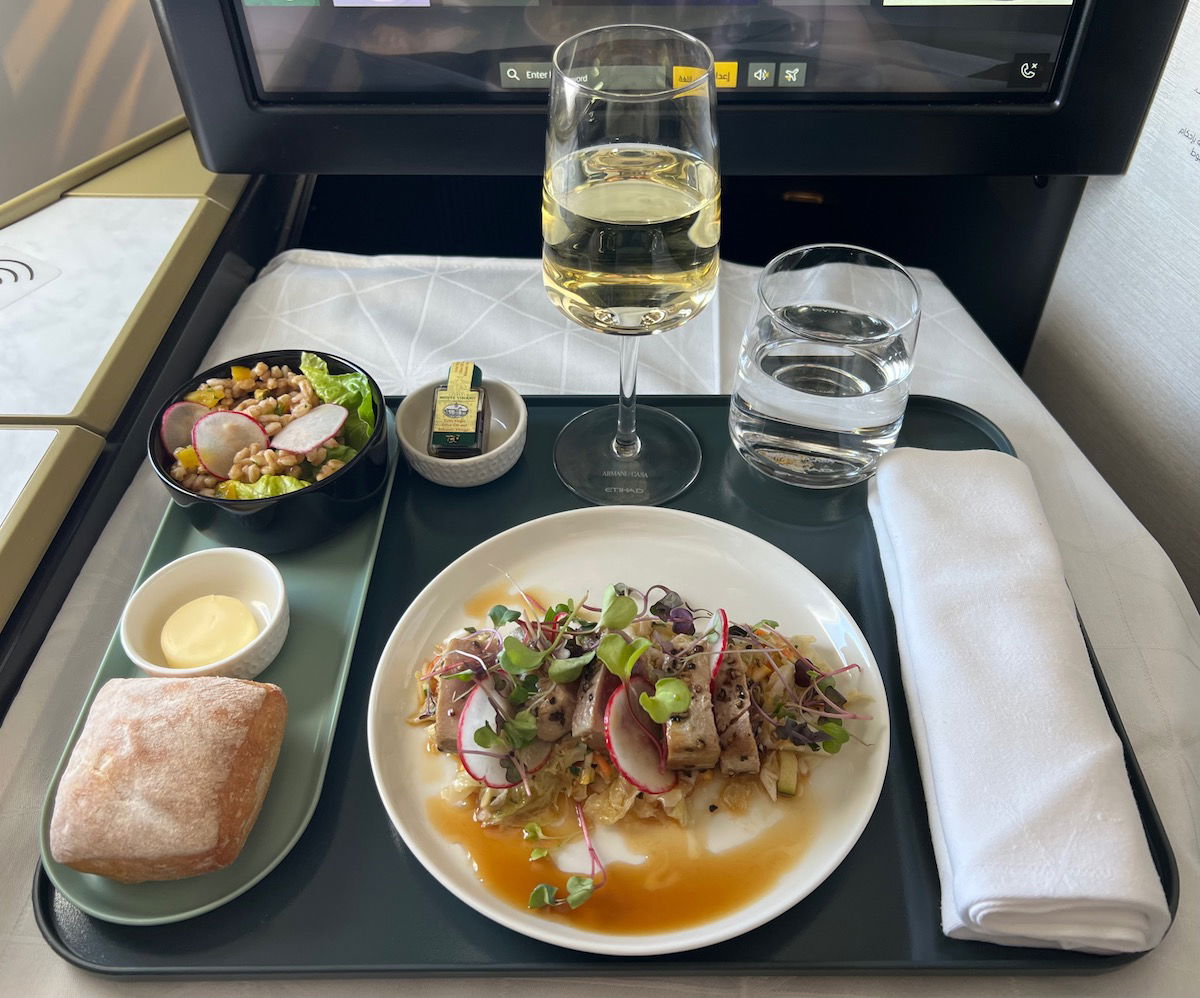 Then for my main course, I selected the vegetable kofta, which I also enjoyed (I love Indian vegetarian food!).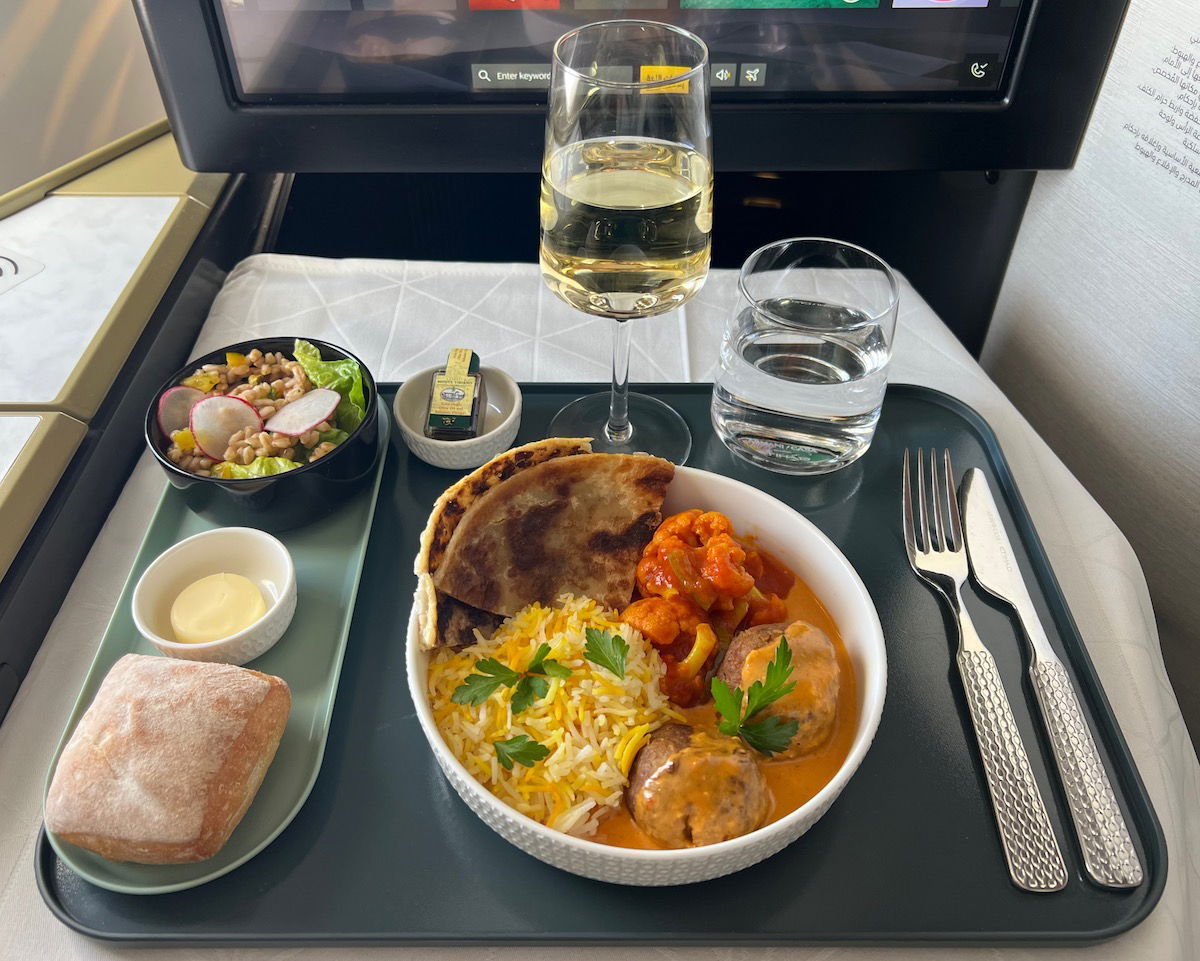 For dessert I had a decadent chocolate fondant.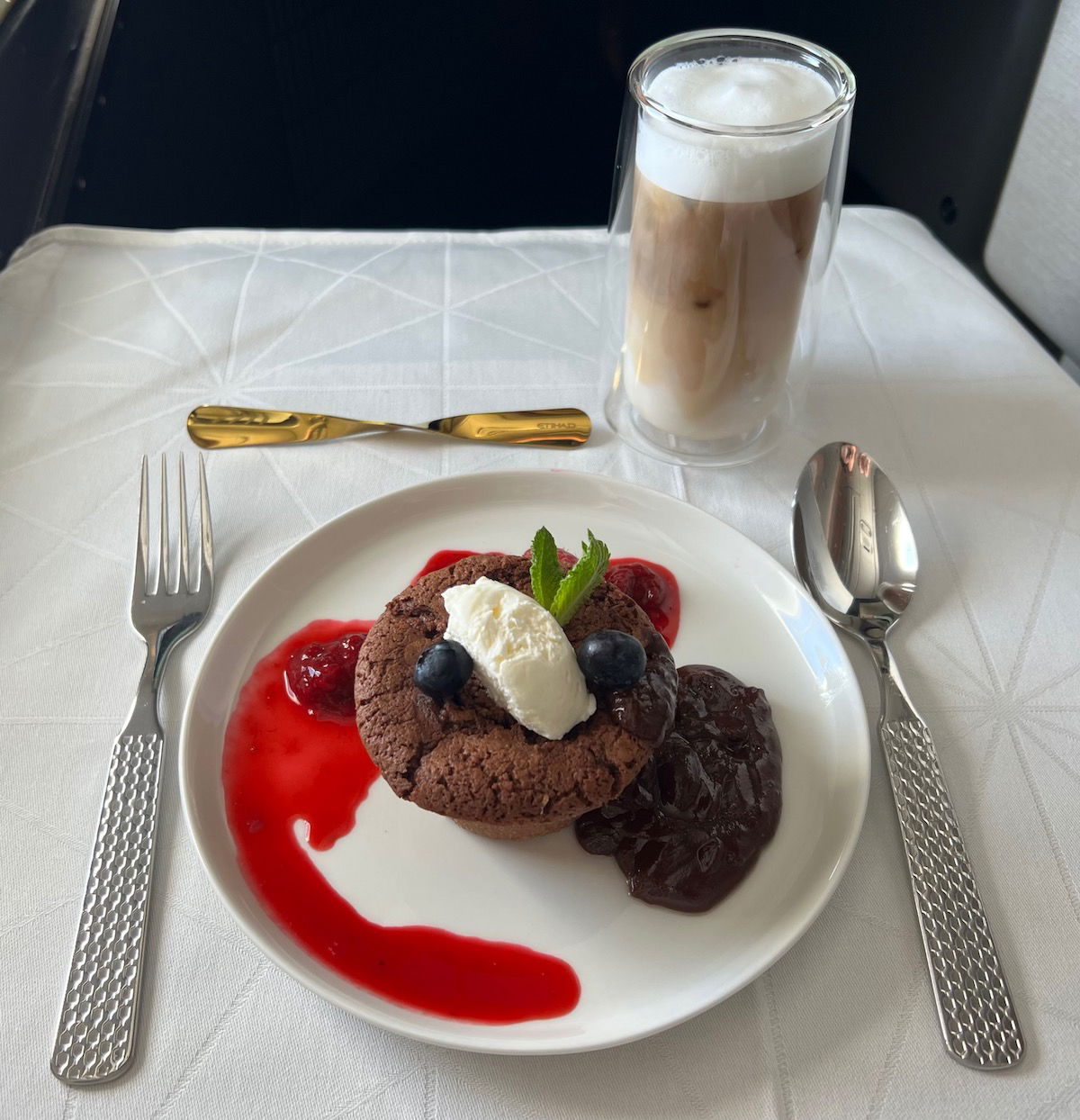 Then prior to landing, I had an açaí bowl with fruit and a croissant, which was a nice alternative to the typical airplane omelet or fruit plate.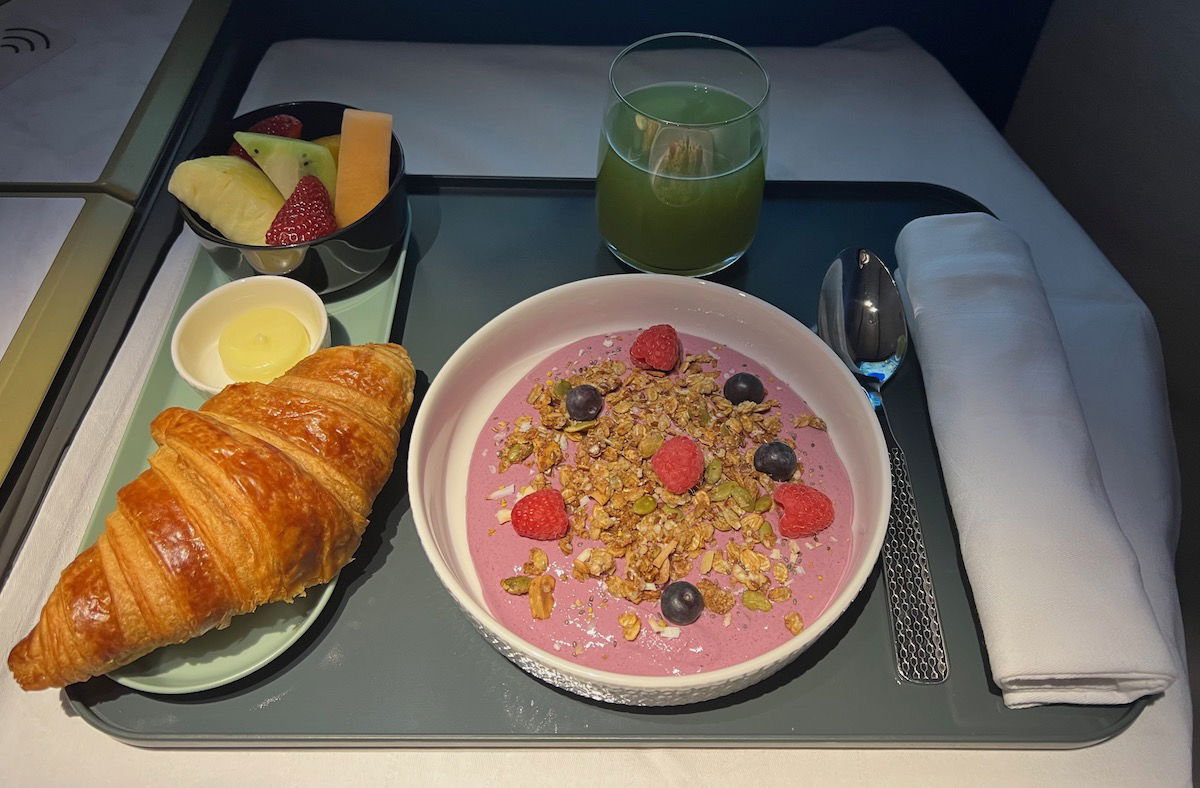 Perhaps what I liked even more than the food was the non-alcoholic drink selection, including amazing cappuccinos and iced lattes. Yum, yum, yum.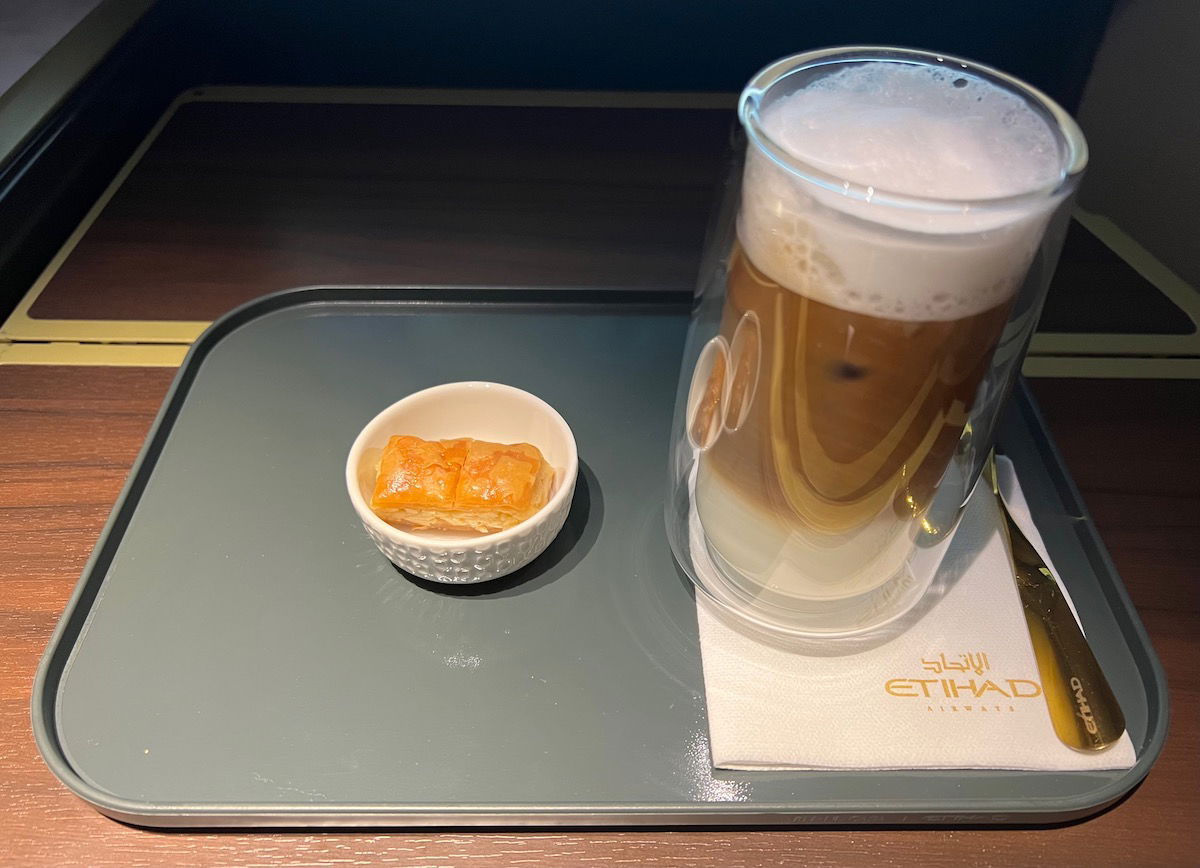 The only part of the soft product that could have been better would be pajamas and/or slippers. Pajamas are of course nice, but on some level I consider them to be a gimmick, as I know they're a costly investment for airlines. Personally I do value having slippers on a flight of this length, and wish Etihad would bring those back. I don't like putting on my shoes every time I want to go to the bathroom, so being able to use disposable slippers is useful.
Amazing service also makes all the difference
Service on Middle Eastern carriers can be a mixed bag — sometimes it's exceptional, and sometimes it's just okay. On this flight I lucked out with an amazing crew, overseen by cabin manager Nicolas from France. The crew couldn't have been more attentive or detail oriented, which is always a treat.
This is one of the world's top business class products
It's probably time I do a ranking of business class products, but without a doubt, Etihad's A350 business class ranks in my top five business class products globally, given the excellent hard and soft product.
I think the question many people probably have is how Etihad's new business class compares to Qatar Airways' business class, which is otherwise often regarded as being among the best in the world. To be honest, both products are excellent, and I'd probably fly whichever product had a better routing for my itinerary, including factoring in connections. I'll do a more detailed comparison of the two products after publishing my full review.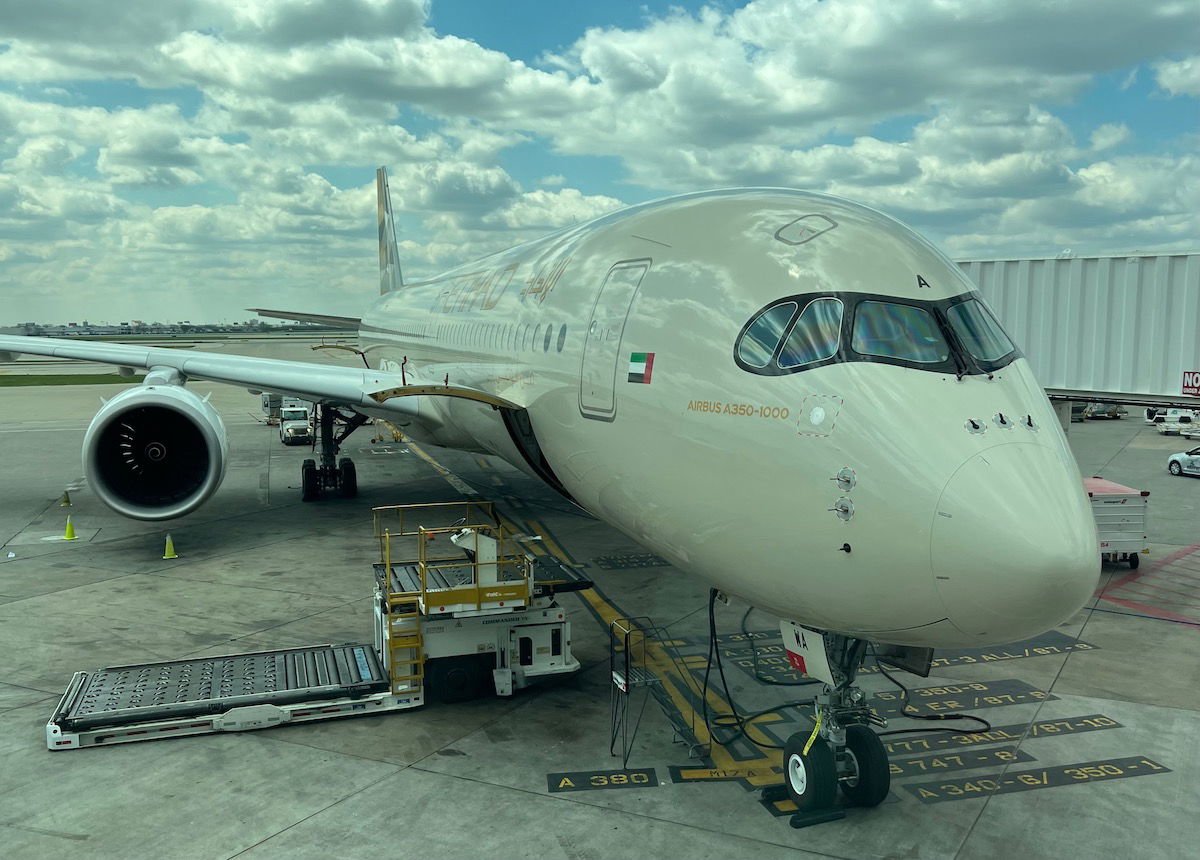 Bottom line
I'm so happy I finally had the chance to fly Etihad's A350 business class, and also experience the new Armani / Casa soft product. My love affair with Etihad was put on pause several years back when the airline seemed to do endless cost cutting, though I'm thrilled to see a positive turnaround.
Etihad's A350 offers a lovely passenger experience, in terms of both hard and soft product. From the seats, to the entertainment and Wi-Fi, to the food and drinks, to the amenities, my flight couldn't have been much better. I'd fly Etihad's A350 again in a heartbeat.
If you've flown Etihad's A350 business class, what was your experience like?