Hello from Abu Dhabi! My dad and I are off on a quick round the world trip (he doesn't know where we're going), and we kicked that off by flying Etihad's Boeing 787-9 first class from Washington to Abu Dhabi. I recently flew Etihad's Airbus A350-1000 business class, and was incredibly impressed.
I was curious to give Etihad a try in first class once again, especially to see how the soft product is. Etihad has gone through quite a transformation over the past several years, and is also bringing back the Airbus A380 in the coming months.
Before I share my thoughts, I think it's important to emphasize that first class doesn't really seem like a future priority for Etihad. The carrier only offers first class on a handful of Boeing 787s, plus one Boeing 777 that was meant to be retired. While Etihad is investing heavily in refreshing its business class product, first class doesn't seem to have a big future at the airline, as no future delivery planes are expected to have first class.
With that in mind, let me share some thoughts on the experience, and then soon I'll have a full trip report.
Etihad's 787 first class seats are comfortable
Etihad has eight first class seats on the Boeing 787, spread across two rows in a 1-2-1 configuration. Seats alternate between being forward and rear facing, and the cabin is nicely appointed without being overly spacious or cutting edge. I assigned us the two center seats in the second row, which are rear facing.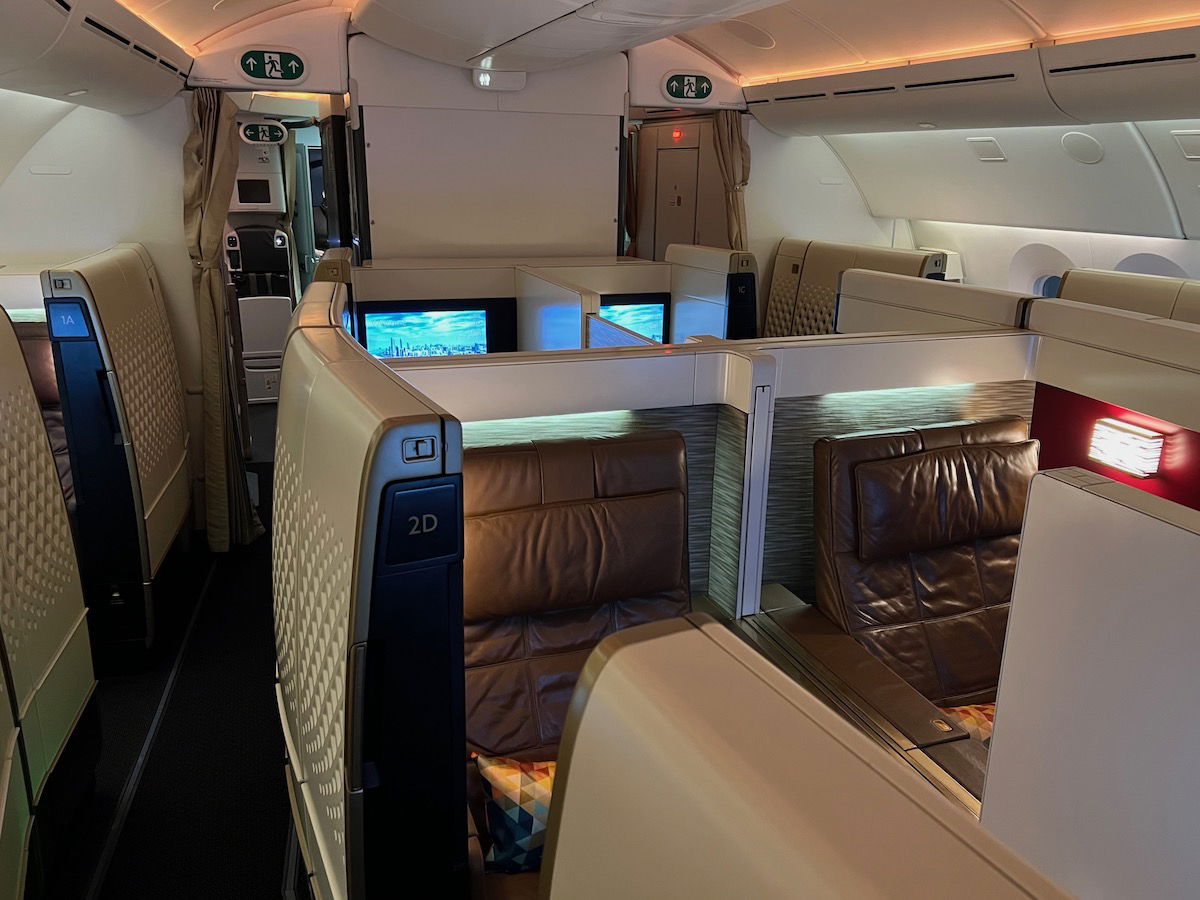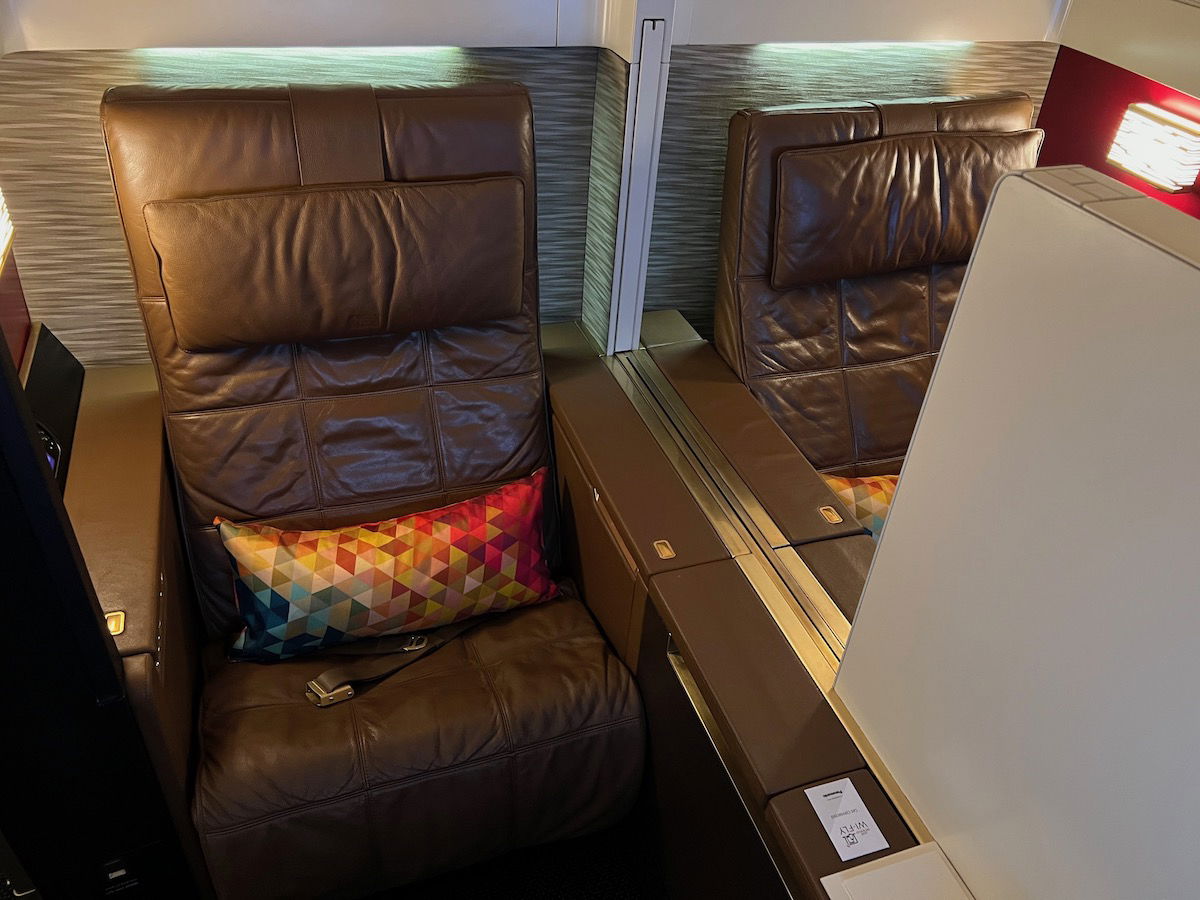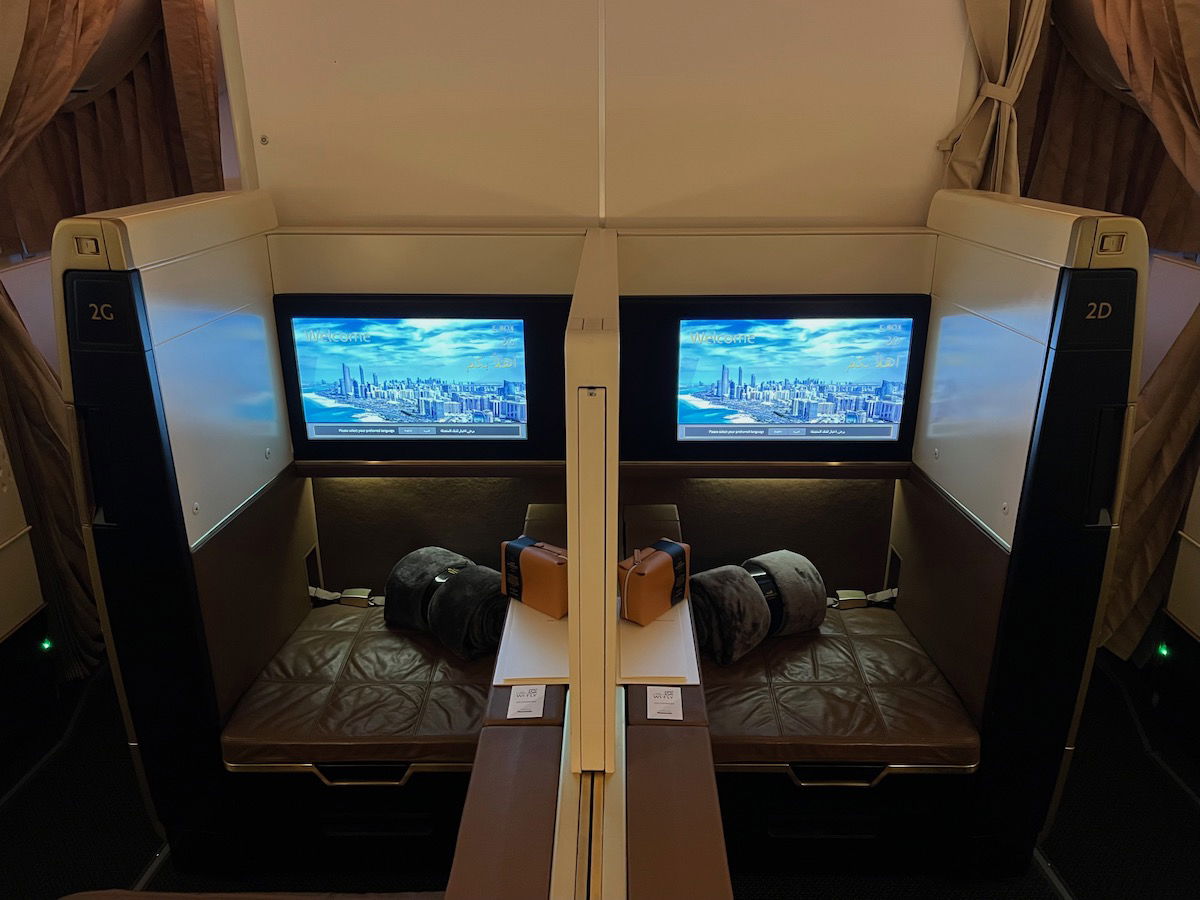 In particular, I have to say that I slept really well, which is something I usually struggle to do on planes. I slept for nearly half of the 13 hour flight, which must be some sort of a new record for me.
As much as business class seats have improved over the years, it's still so much easier to sleep in first class, where you don't have to squeeze your feet into some footwell, and also don't have as many people near you making noises, turning lights on and off, etc.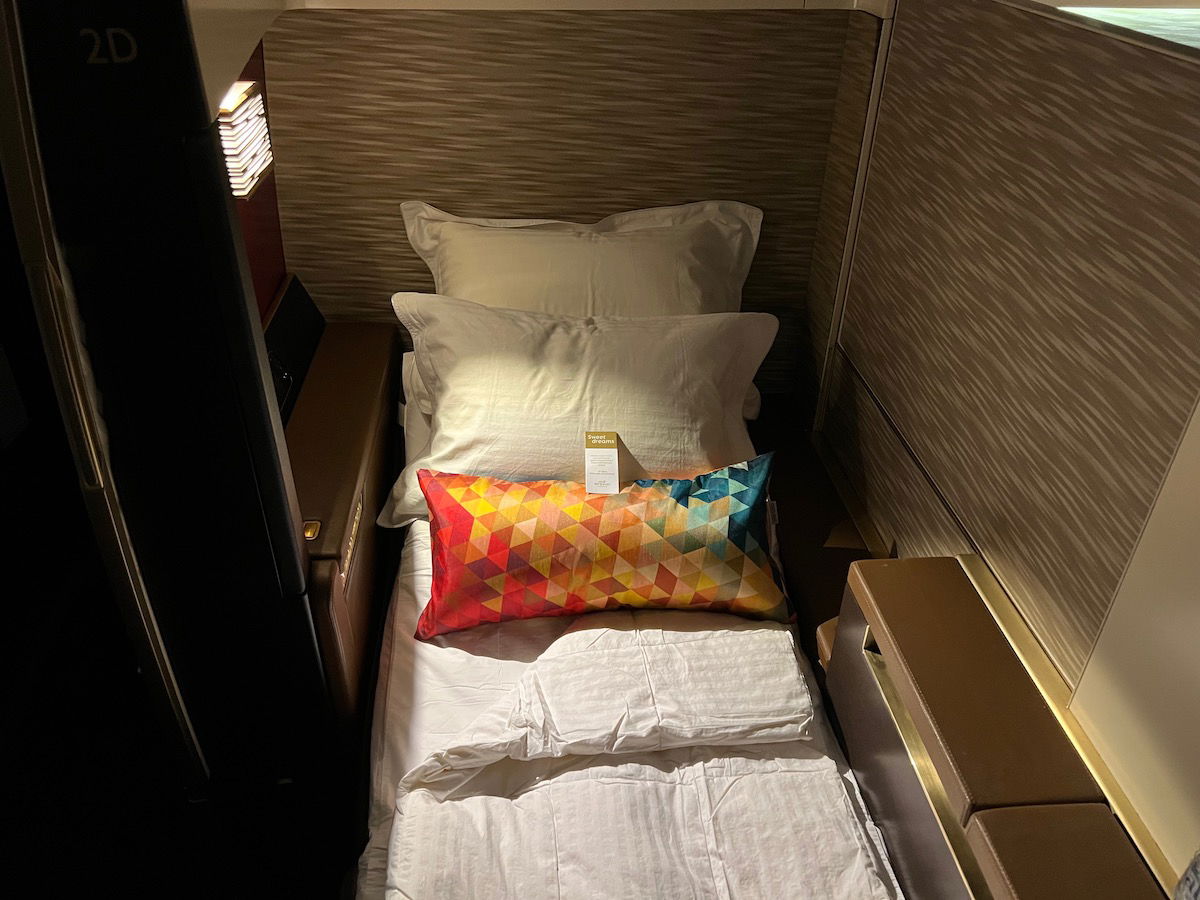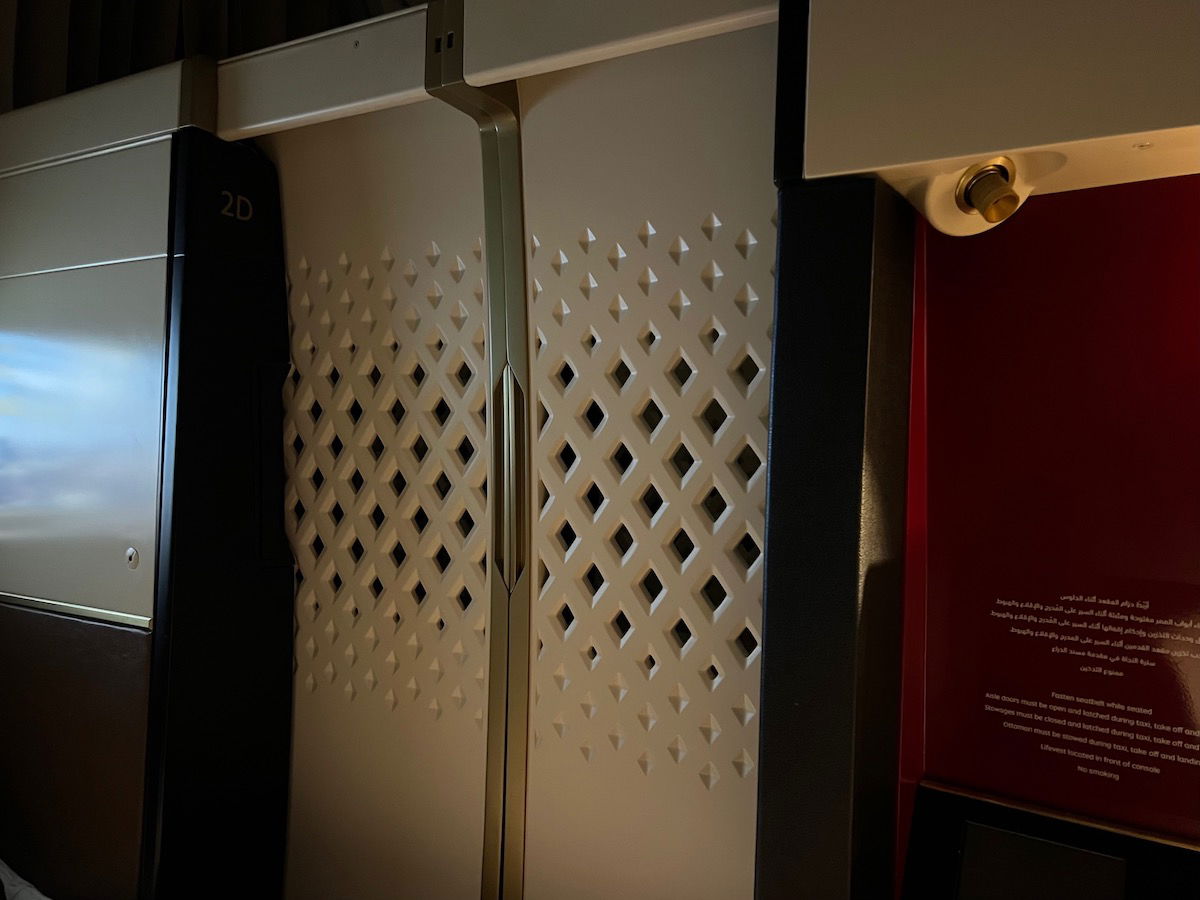 Etihad's Boeing 787 entertainment selection is also extensive, with a huge variety of movies, TV shows, and even live TV. Etihad also offers unlimited free Wi-Fi in first class, with no data caps.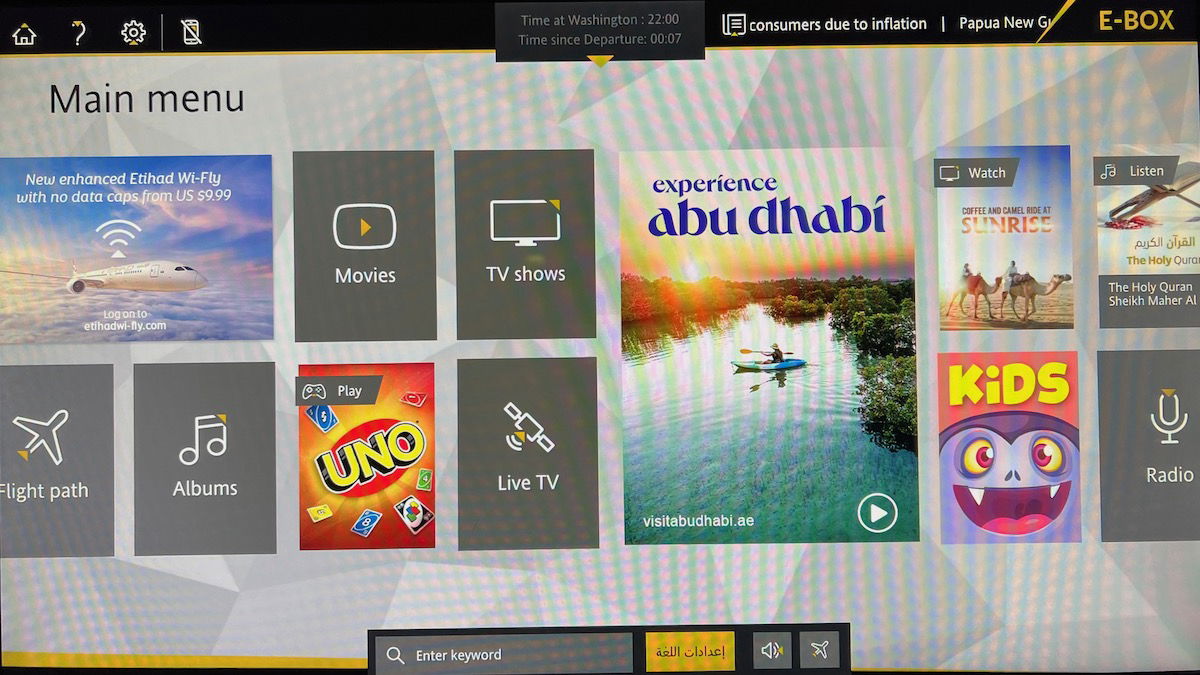 Lastly, the bathroom setup is excellent. There are two first class bathrooms at the front of the cabin, both of which are huge. Lavatories were my one complaint about the Etihad A350, as there were just two small lavatories for 42 business class passengers. Suffice it to say that eight passengers sharing two bathrooms is a much better ratio. 😉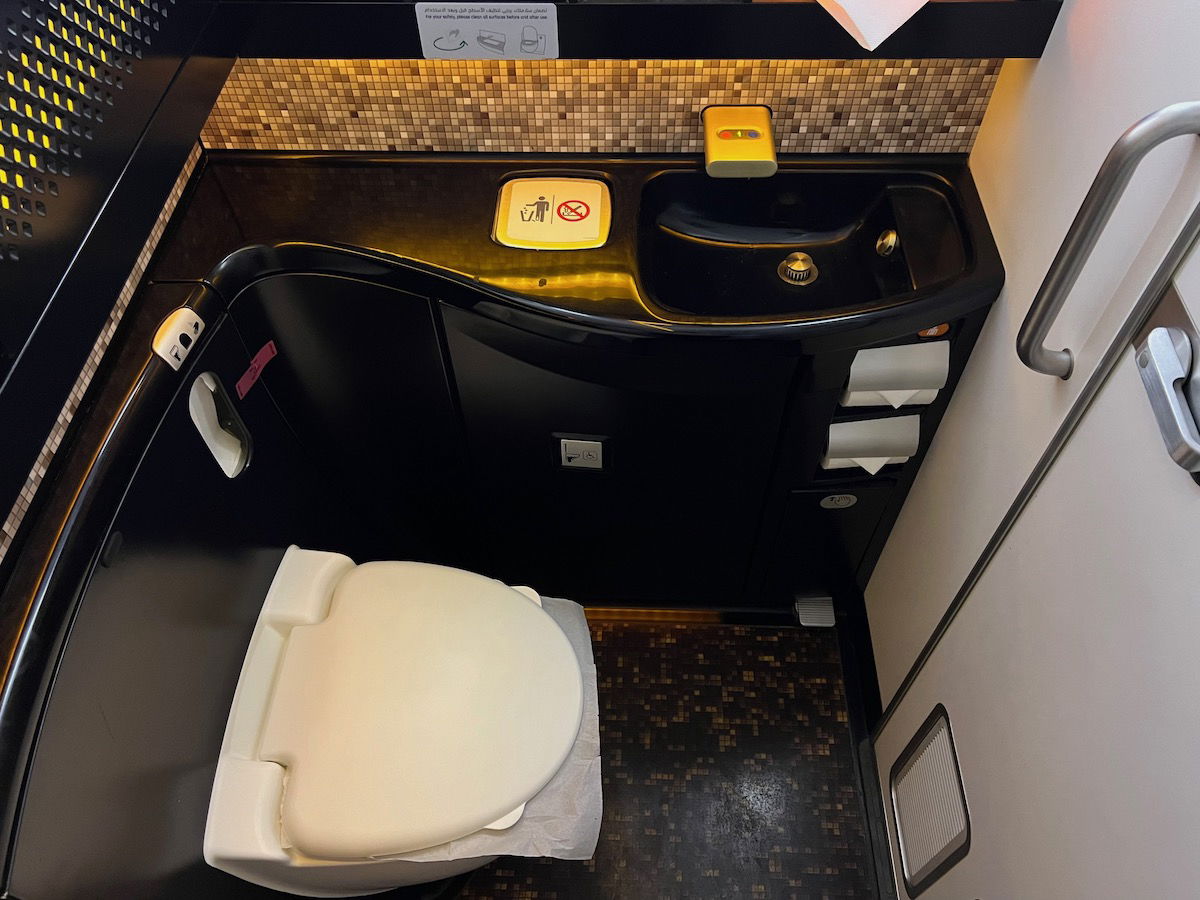 My Etihad first class crew was exceptional
I was curious to see how Etihad's first class service would be, given that the airline has made significant changes over the years, and no longer has an inflight chef in first class. Well, I'm happy to report that the service in first class was phenomenal.
There were two ladies working the cabin (one from Romania and one from Colombia), and they couldn't have been kinder or more professional. The same is true of the cabin manager.
The crew's attention to detail was spectacular. For example, when I visited the bathroom after waking up (which doesn't require walking past the galley, so I didn't see the flight attendant), I returned to my seat two minutes later to find that my bed had once again been perfectly made.
Despite the full cabin (and some very, very interesting fellow passengers, which I'll talk about in a separate post), they exceeded my expectations. Maybe I've just been lucky, but if my two recent Etihad flights are any indication of the new service level at the airline, then Etihad really is in a groove.
Etihad's first class soft product is good and unchanged
What was the soft product like on this flight? Well, Etihad recently rolled out a collaboration with Armani / Casa, so I was expecting that this would be available on this flight, as it was on my recent business class flight. As it turns out, that collaboration is only for business class, and not for first class.
To my surprise, the first class soft product was the same as years ago. The amenity kit was a collaboration with Acqua Di Parma, and the pajamas were from Emirati brand A Friend Of Mine.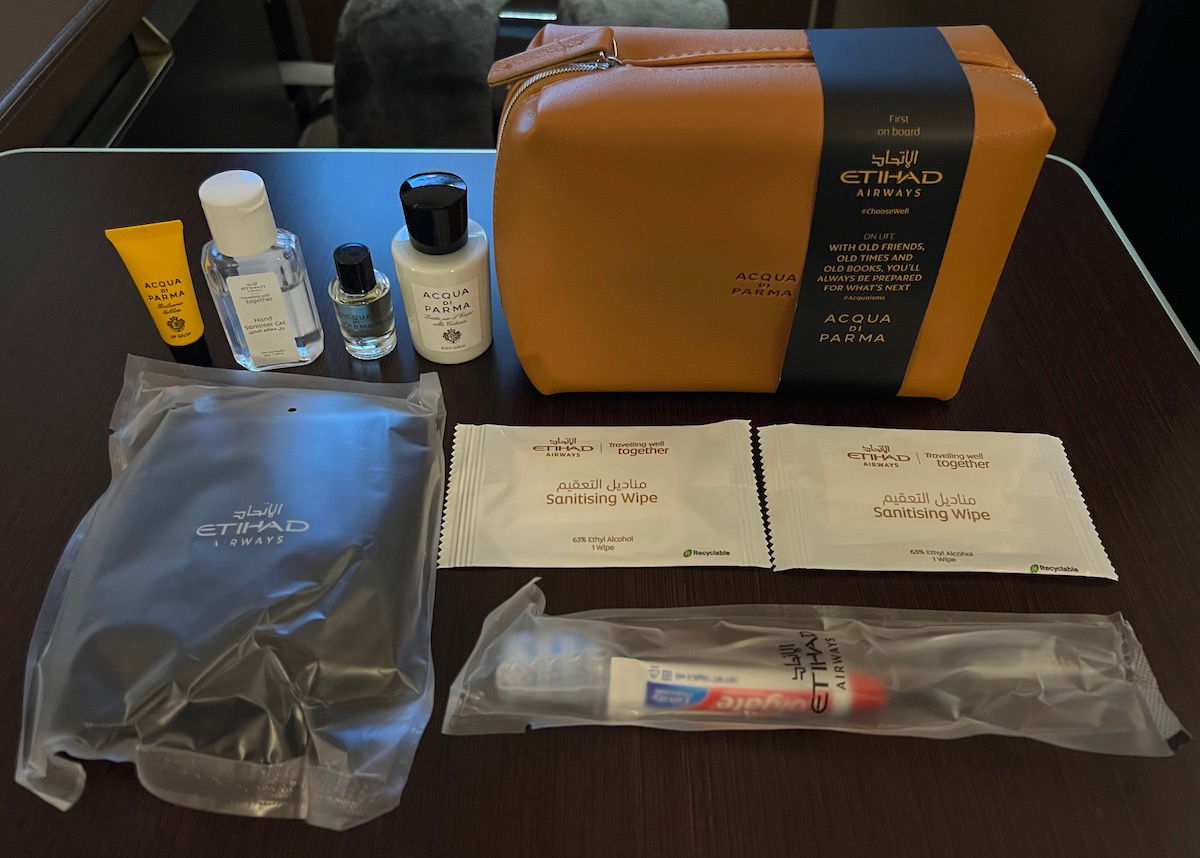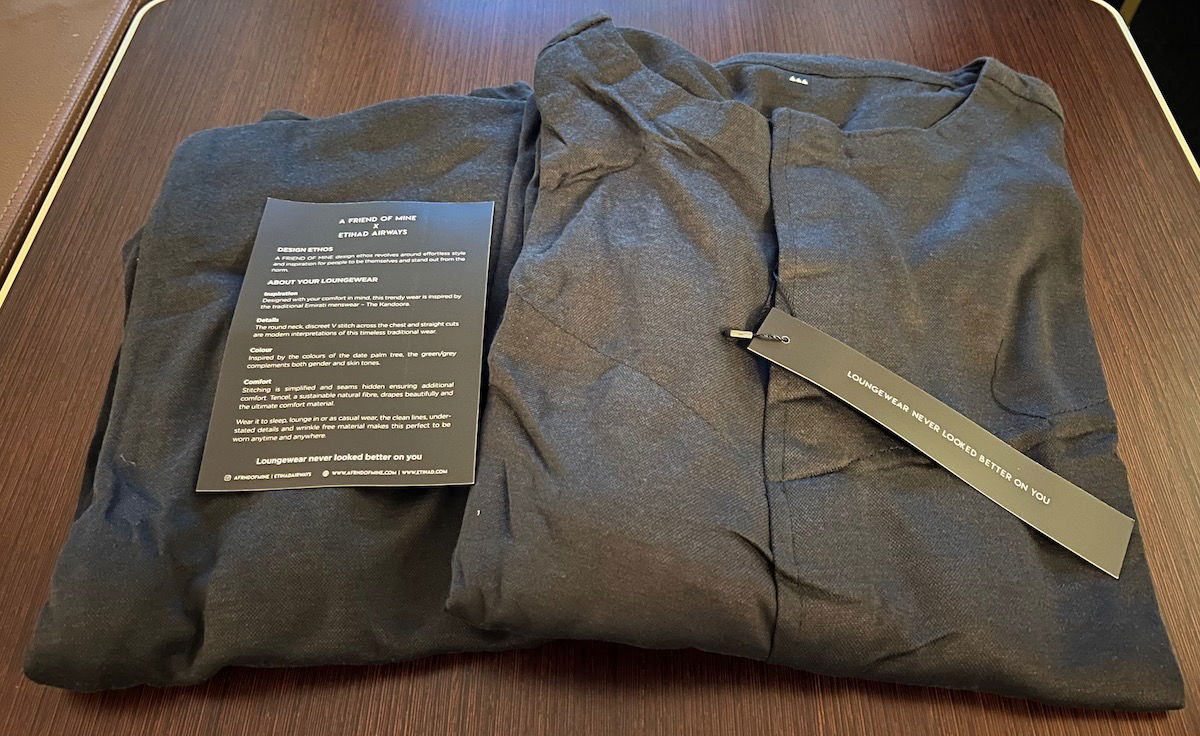 Etihad has a dine on demand concept in first class, and I had dinner after takeoff. To start, I had a glass of champagne. At the moment Etihad serves 2002 Duval-Leroy Femme de Champagne Grand Cru Millesime, which was delicious (and pricey). This was served with some nuts, olives, and wasabi peas.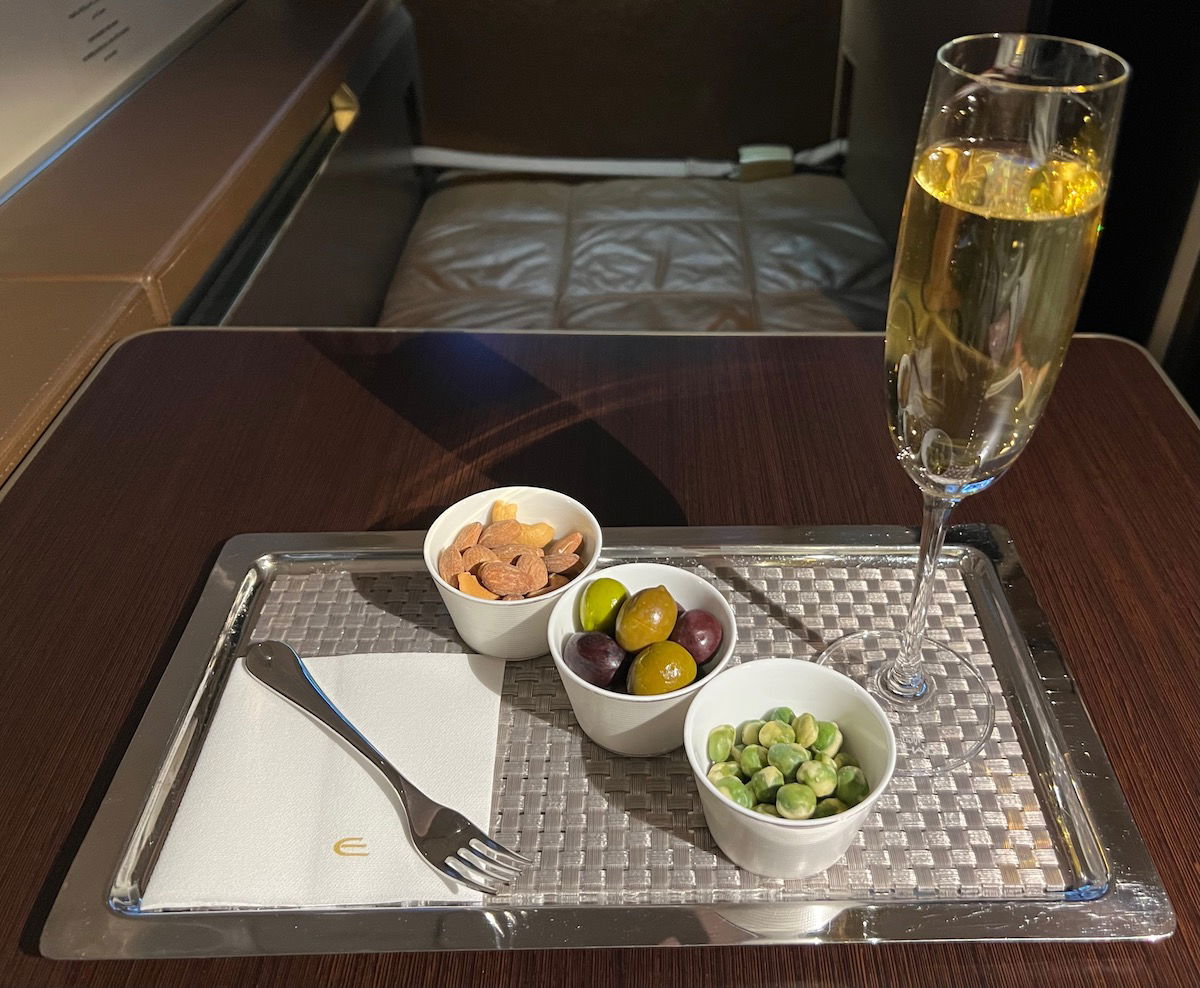 My meal started with some caviar, served with traditional garnishes.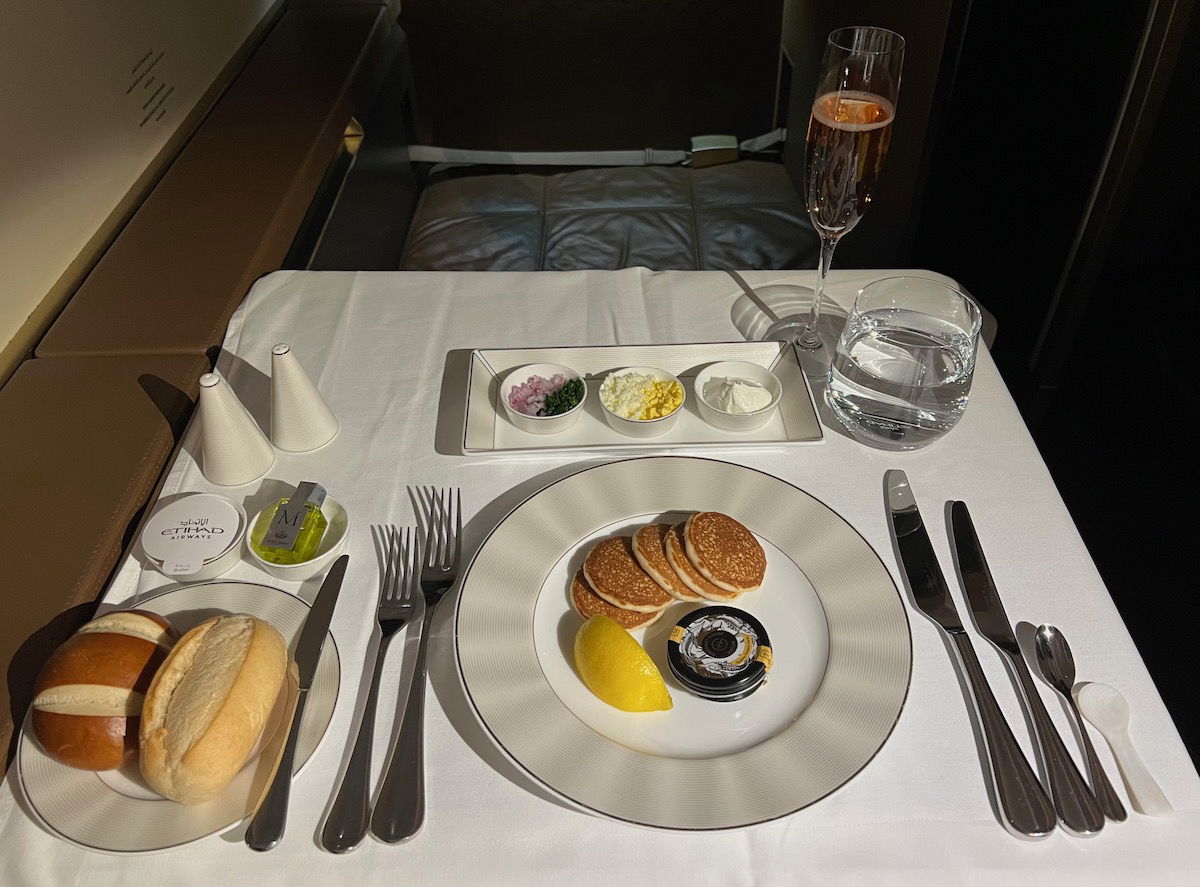 That was followed by an Arabic mezze.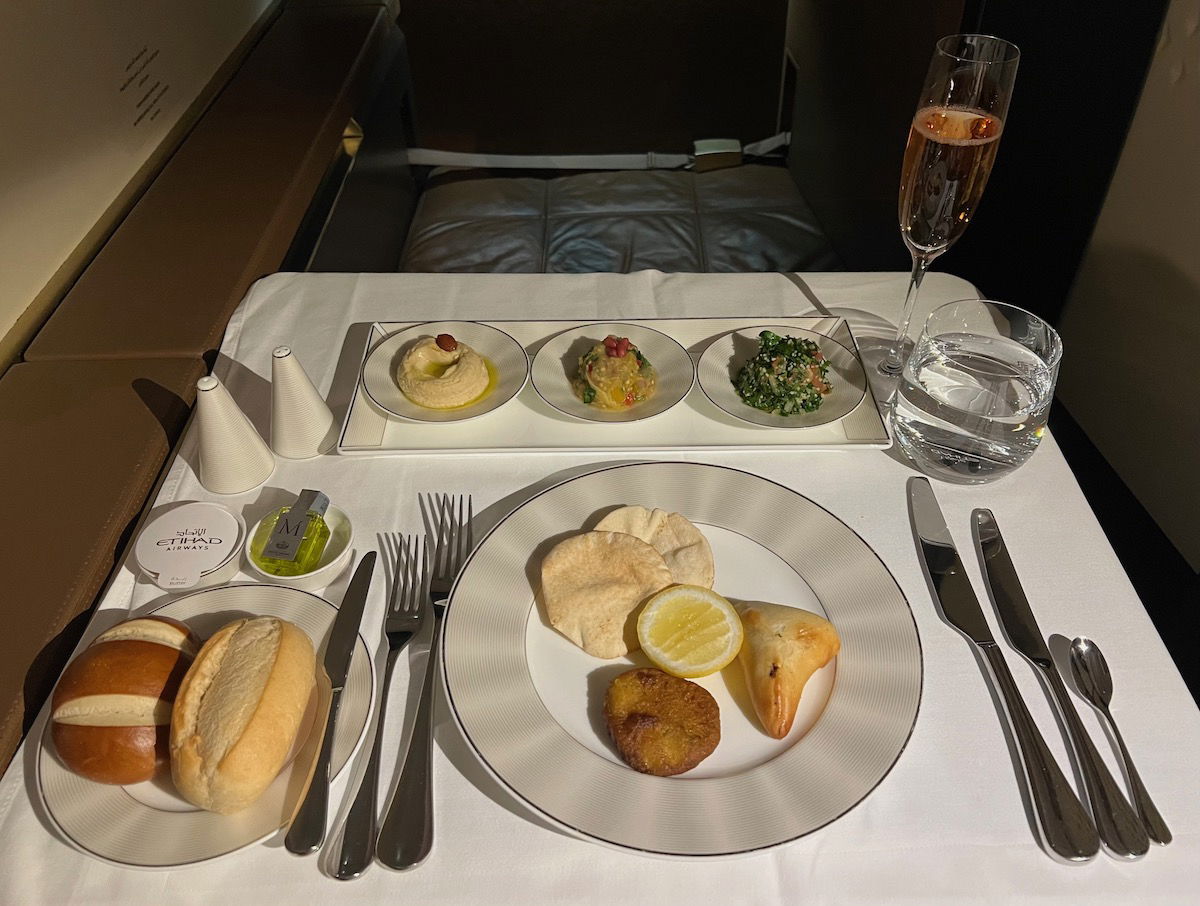 Etihad still has a "lounge and grill" concept, whereby you can mix and match proteins and sides as you'd like. I appreciate the ability to customize. I had mahi mahi with kale and a delicious potato side.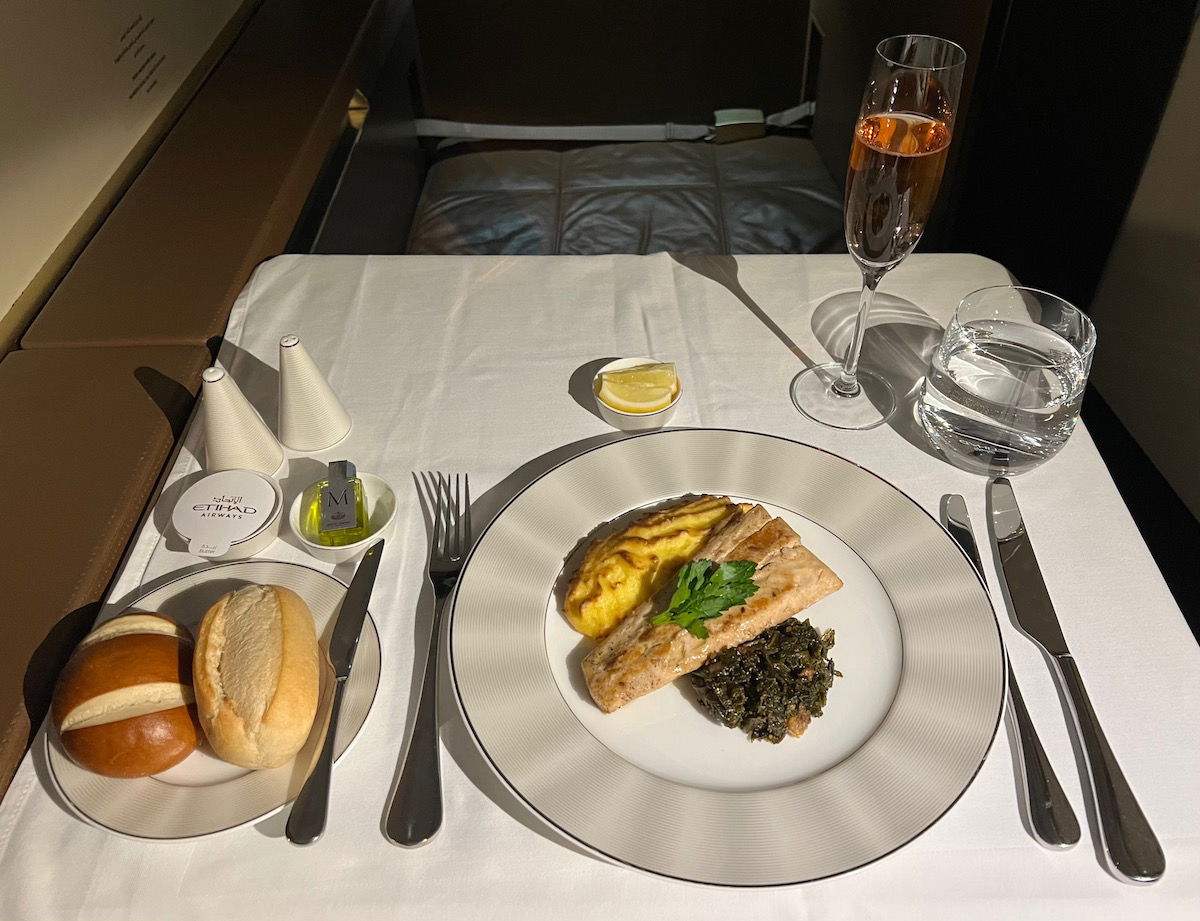 Lastly, I had some lemon cheesecake for dessert.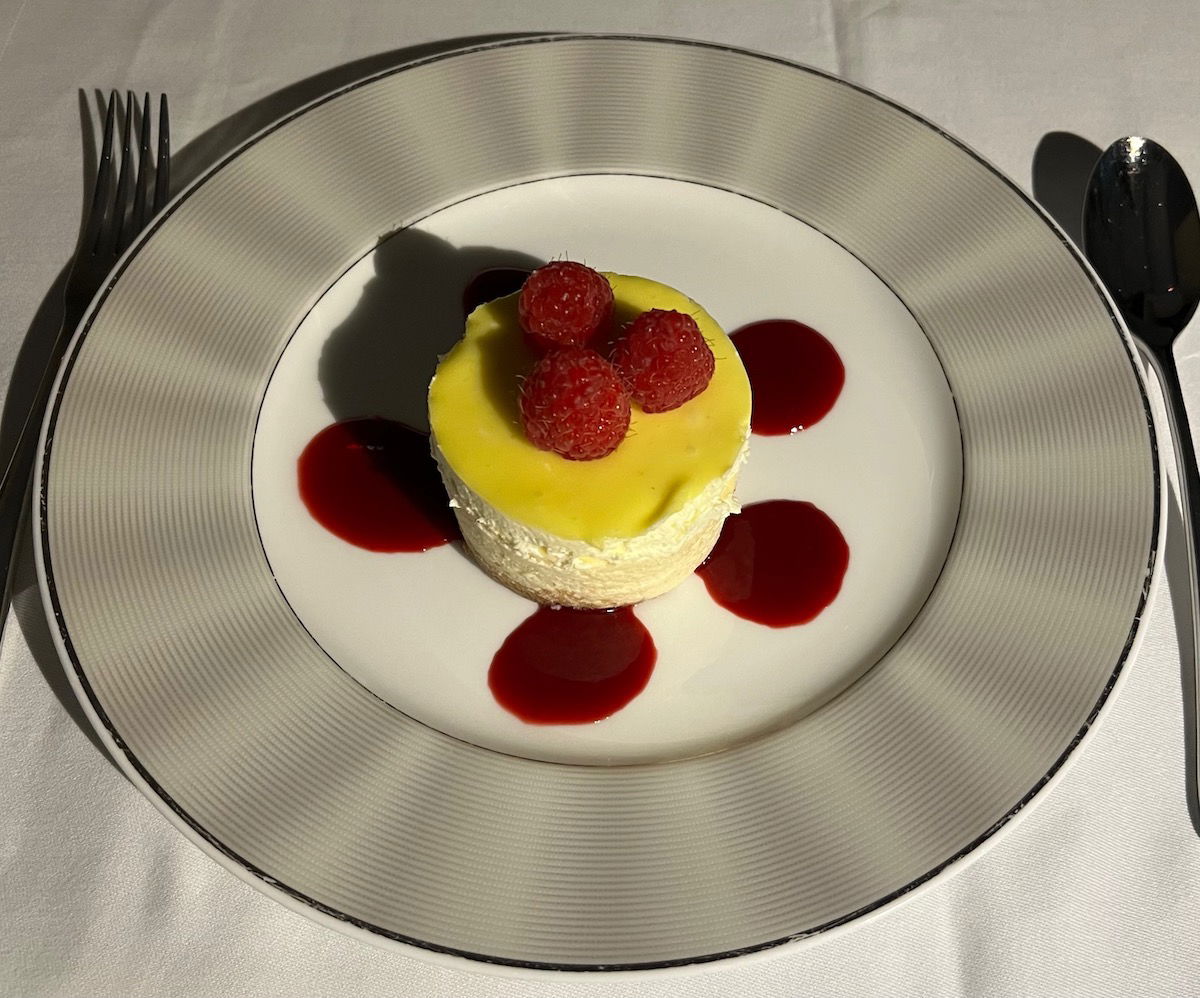 Etihad first class is great but unmemorable
Let me of course acknowledge that I'm incredibly lucky to often be able to fly in first class (thanks primarily to miles & points). Nonetheless, I try to be objective in comparing first class experiences, since they're not all created equal.
So, what do I make of the Etihad first class experience? It's funny, because when I walked off the plane, I said "wow, that was an excellent flight." And it absolutely was. The service couldn't have been better, I was comfortable, I slept well, and I enjoyed the food.
However, in the scheme of the top first class products, I would say that Etihad's first class isn't particularly memorable. That's true in terms of both hard and soft product (though as mentioned, service was top notch):
There are much more spacious first class products out there, and that includes Etihad's A380 first class, which is making a comeback soon; there's simply no comparison between the two hard products
There are more impressive first class soft products out there; just to compare this to Etihad's biggest competitor, Emirates' soft product is a bit more extravagant, from the unlimited caviar, to the much more impressive Arabic mezze, just to give a couple of examples
Bottom line
I had an excellent flight in Etihad's Boeing 787 first class. The seats were comfortable, the entertainment and Wi-Fi were great, the crew couldn't have been friendlier, and the food was good.
While it was a great experience, it wasn't as over-the-top as some of the other first class experiences out there. For example, it goes without saying that the seats weren't as impressive as you'd find in Etihad's A380 first class, which is returning soon.
The only thing that really surprised me about the experience is that the new Armani / Casa amenities weren't available in first class, as these are allegedly exclusively for business class. That seems a bit odd to me.
What do you make of Etihad's 787 first class?