In late 2022, Etihad Airways announced that its Airbus A380s would be making a comeback. This is something that many of us were excited about, given what a joy it is to fly the A380! The plane will be reentering service shortly, so let's take a look at everything you need to know about this development.
Etihad A380s will fly between Abu Dhabi & London
Etihad Airways has plans to put at least four Airbus A380s back into service. At least as of now, the intent is for the planes to fly exclusively between Abu Dhabi (AUH) and London (LHR). The first flight to be operated by the Airbus A380 will be EY11 on July 25, 2023, so it's taking off in a matter of hours.
Then as of August 1 we should see a second daily A380 frequency, and by November 1 we should see a third daily A380 frequency. It remains to be seen if we'll see a fourth daily frequency with the A380, or if Etihad is simply keeping one spare A380 around (which is rather costly, but also important for operational reliability).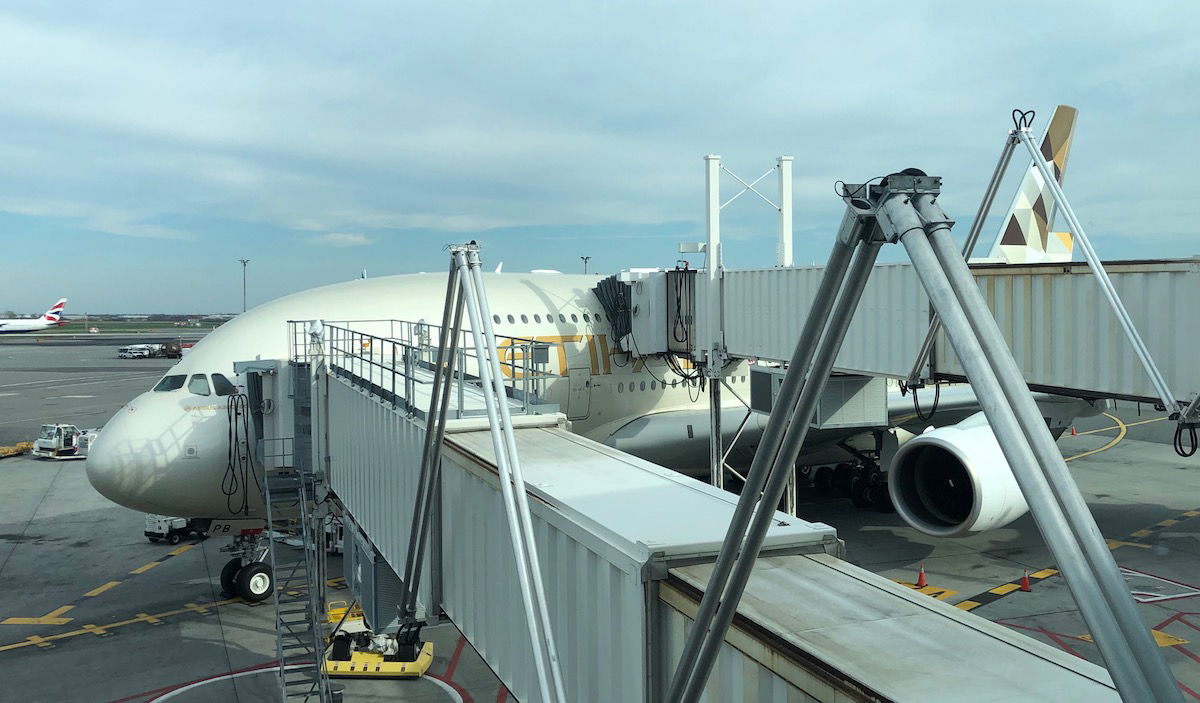 At the start of the pandemic, Etihad Airways grounded its 10 Airbus A380s. The airline made it pretty clear from early on that the planes likely wouldn't reenter service. That's not just because of the impact of the pandemic, but rather Etihad was already trying to radically alter its business plan pre-pandemic, and shrink into more of a boutique and sustainable airline. In the meantime, Etihad has returned to profitability, and even plans to grow in the coming years.
Etihad claims the decision to bring back the A380 is being made due to a surge in demand for air travel across the carrier's network, and due to customer feedback. It's of course great to see four A380s return to service, though there's no indication that the other six A380s will return, so the airline will have a much smaller A380 fleet than before.
The basics of Etihad's Airbus A380s
Etihad's Airbus A380s are some pretty special jets, and when they were in service they offered quite a halo effect for Etihad. Etihad's A380s are configured with a total of 485 seats.
With the A380s returning to the skies, this means Etihad is reintroducing The Residence, which is a private three room suite located at the front of the first class cabin. This is the most exclusive product available in commercial aviation. However, Etihad is planning something completely different for this than pre-pandemic.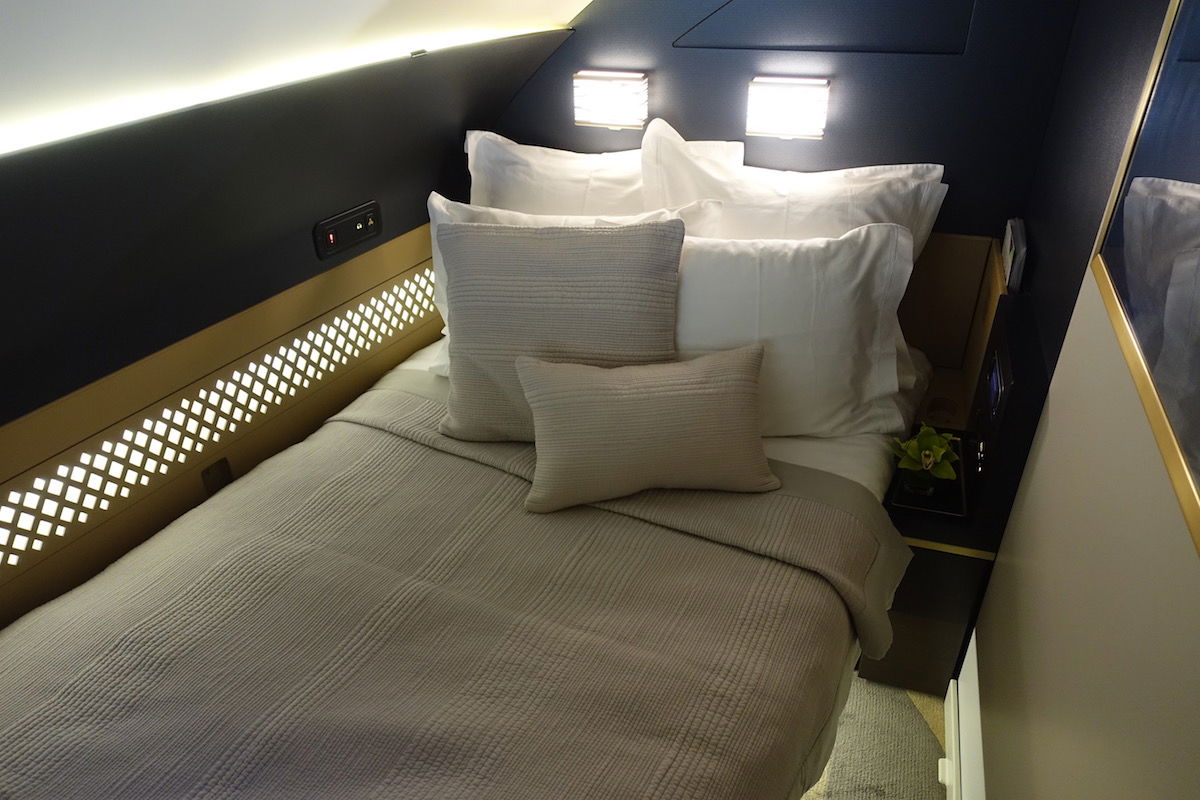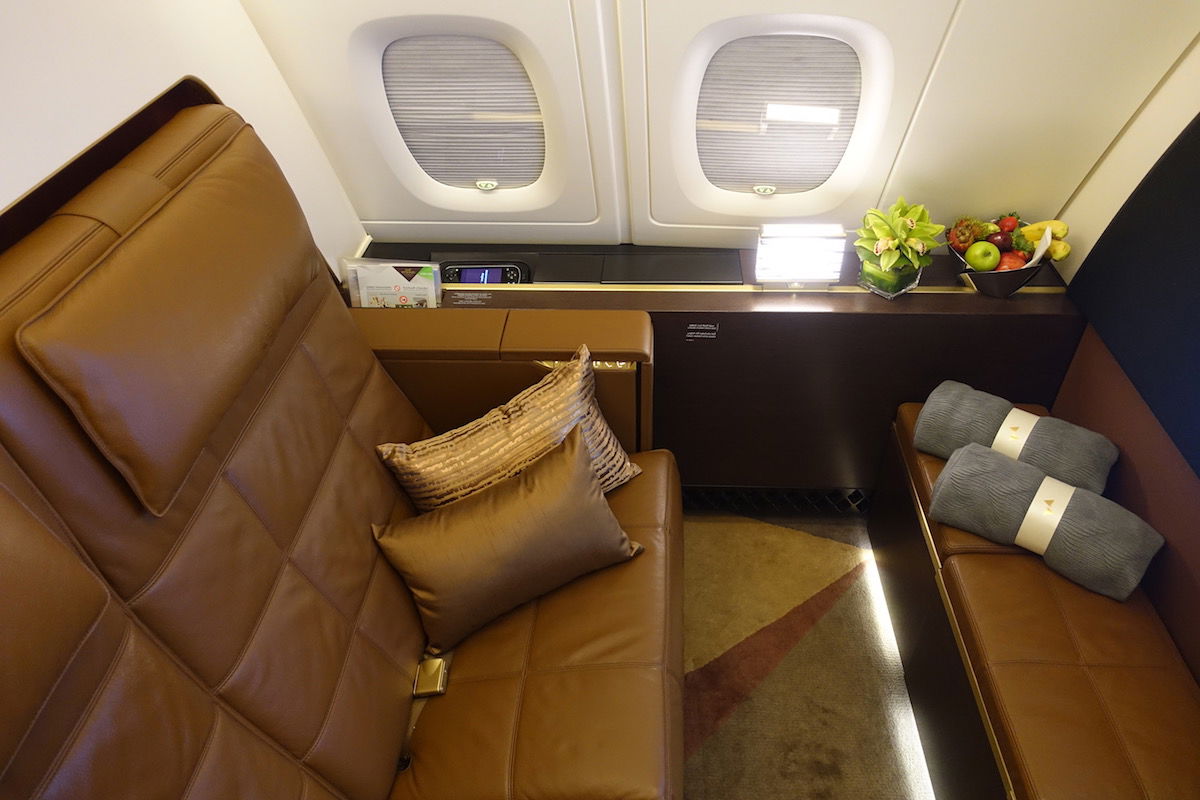 Rather than making this a fully separate product with butler service, the airline is now selling upgrades to this for first class passengers. The cost seems to be ~$2,500 one-way, and anecdotally, it appears that a ticket needs to be booked directly through Etihad to be eligible for the upgrade offer.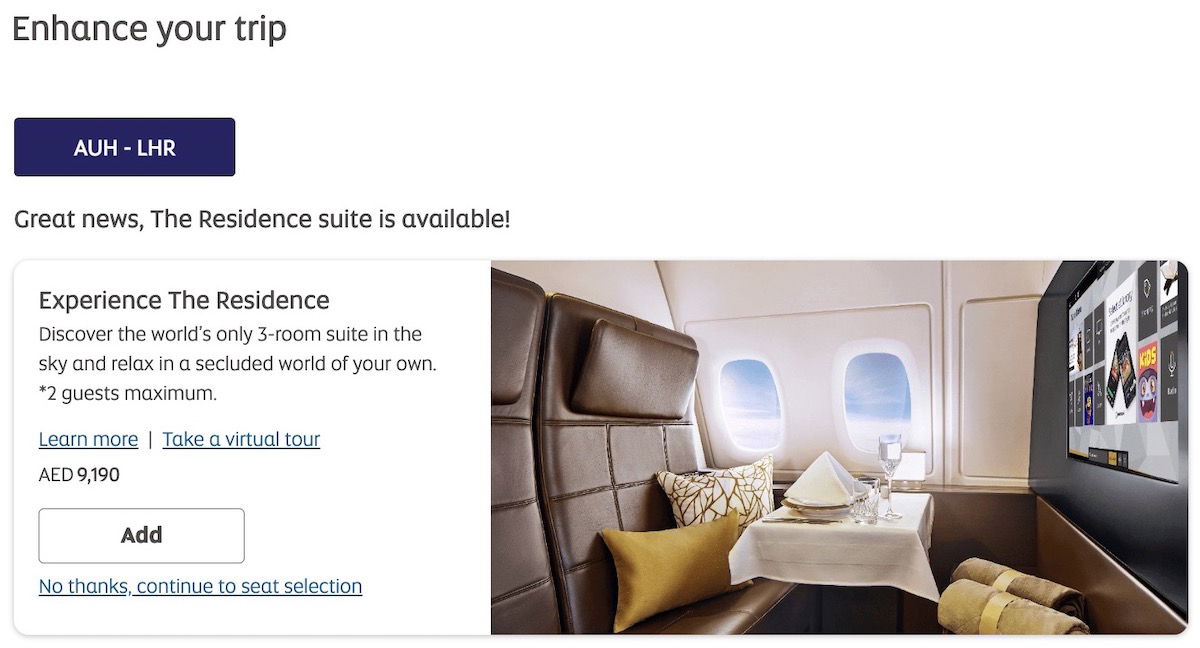 The return of the A380 means we'll see the reintroduction of the Etihad First Class Apartments, as there are nine of those on the plane. This is one of the most impressive first class hard products out there, as there's just a single aisle in the center of the cabin, and one suite on each side. This is a much better first class product than you'll find on Etihad's 787s.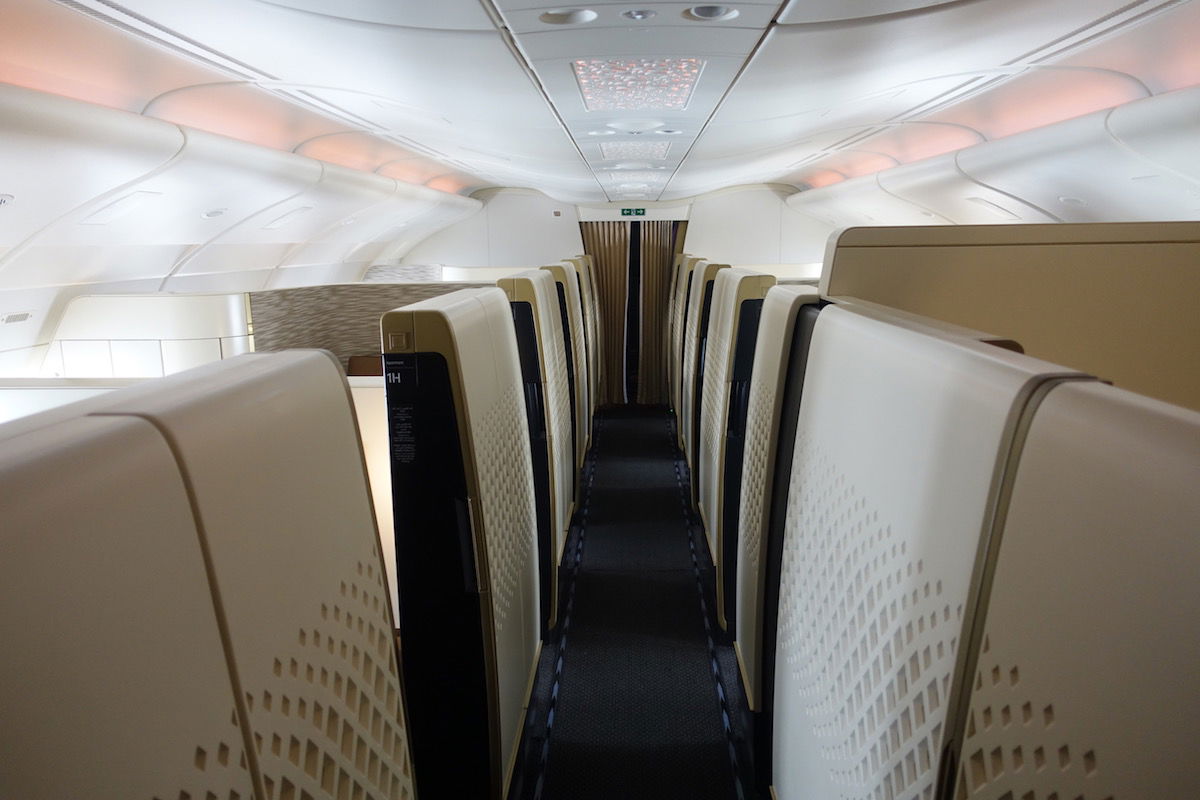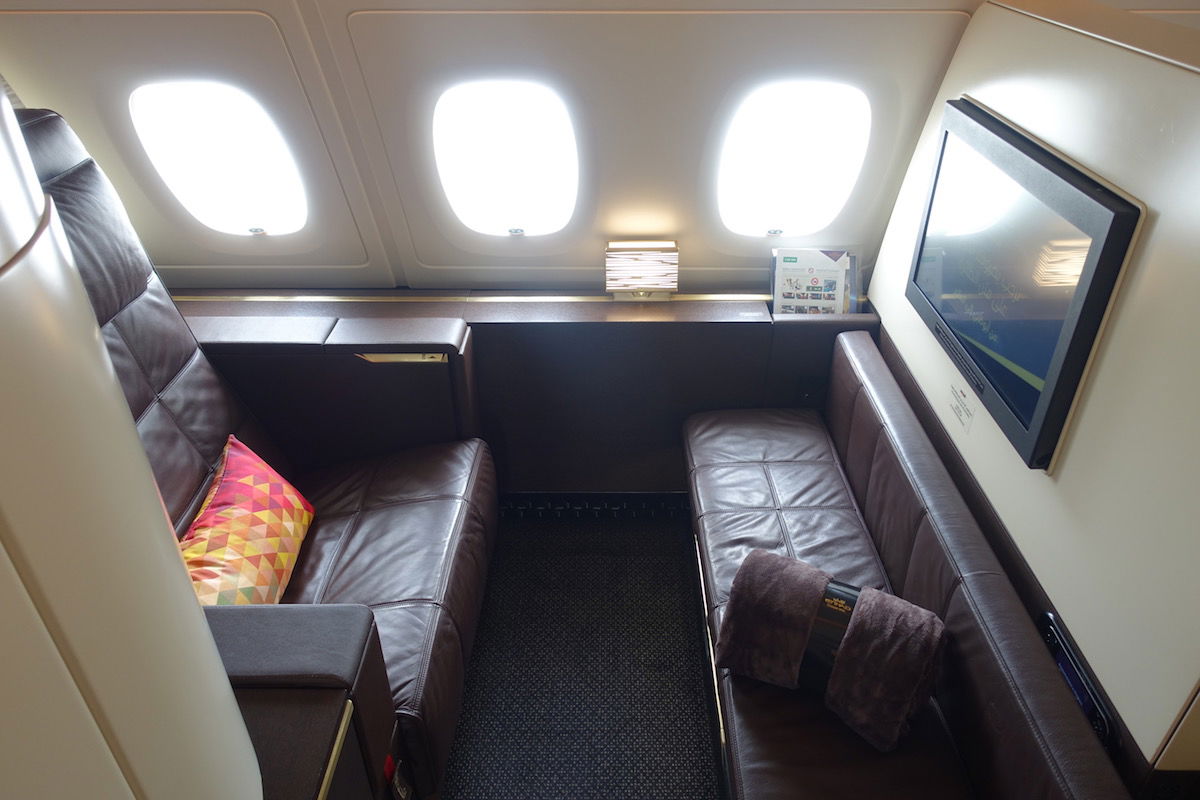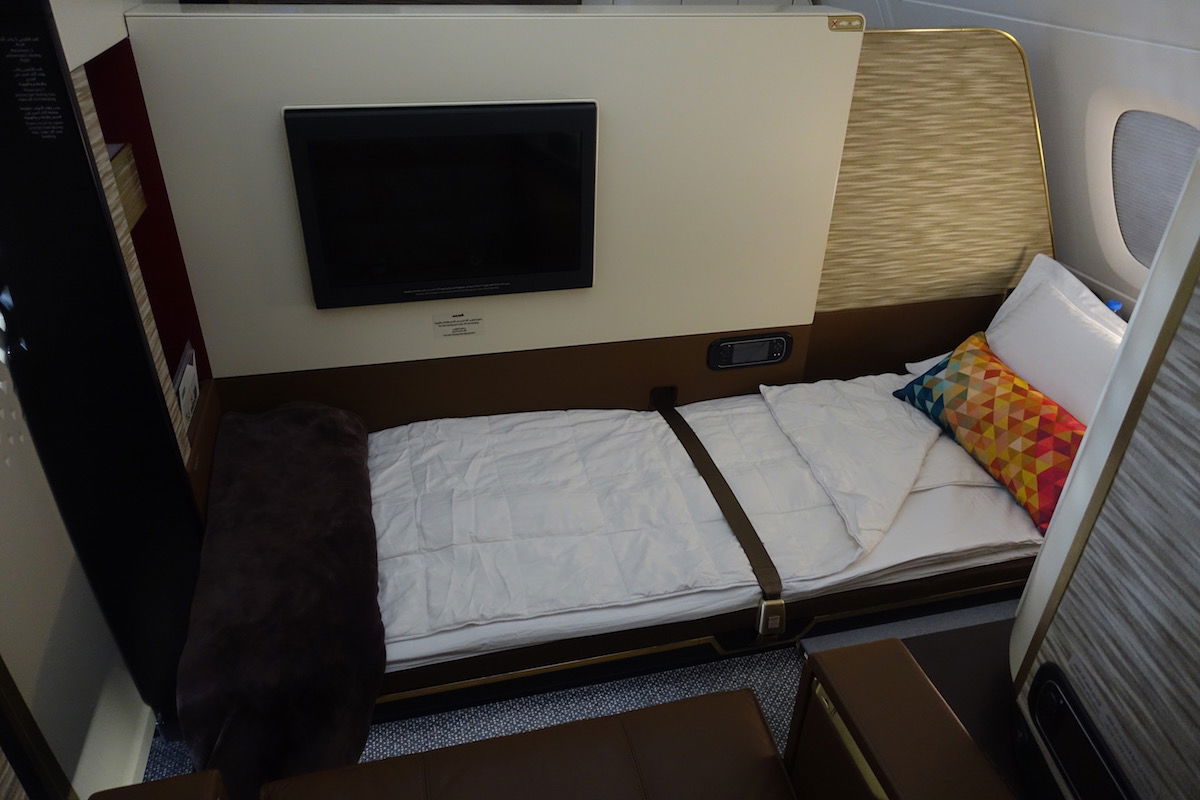 There are then 70 business class seats, which are the Etihad Business Studios, the same product you'll find on the 787. This is a solid business class product, but not as good as Etihad's new A350 business class.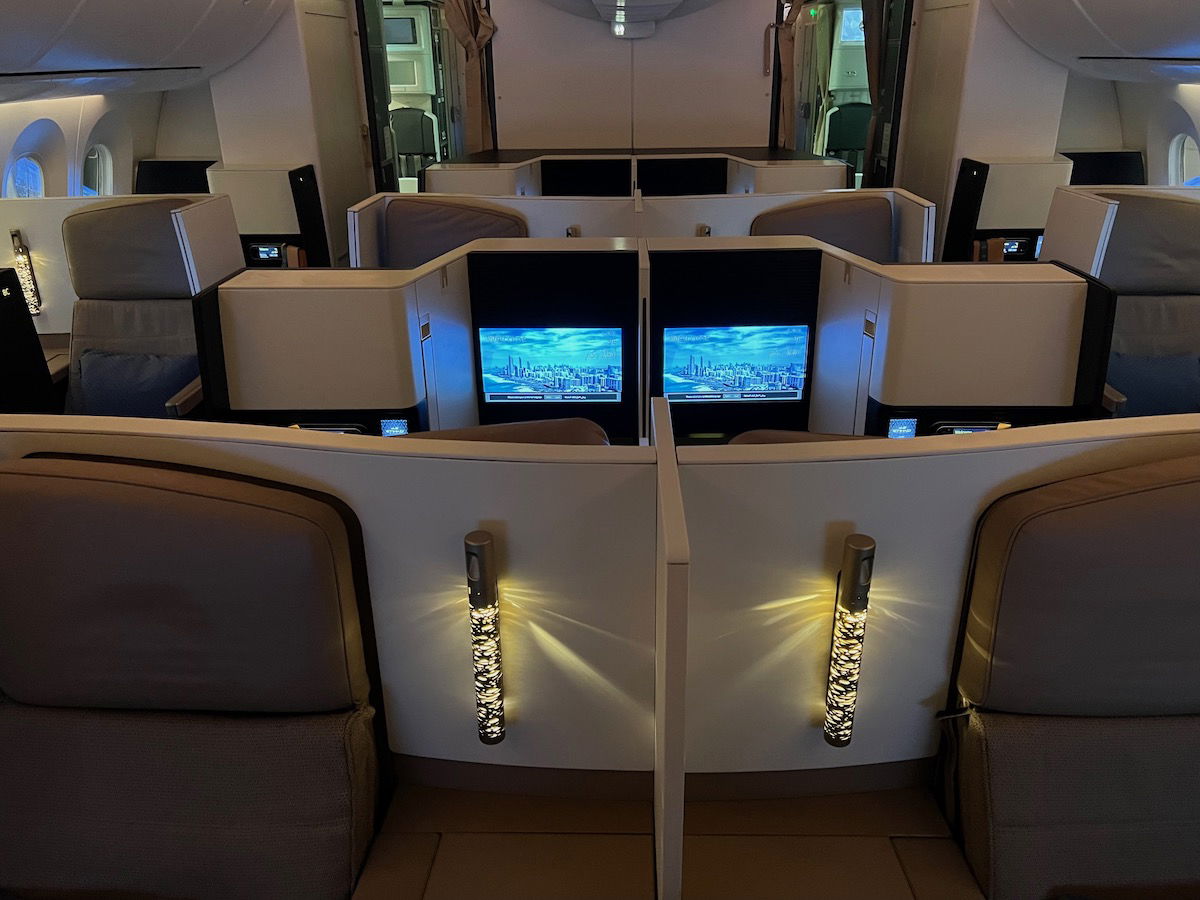 Lastly, there are 405 economy class seats, including 80 with extra legroom. This takes up the entire lower deck, as seats are in a 3-4-3 configuration.
Keep in mind that Etihad Airways is a partner with both Air Canada Aeroplan and American AAdvantage, so it should be possible to redeem miles for these flights, including in First Class Apartments. Unfortunately both Air Canada and American are showing little/no Etihad award availability online at the moment, but there should be more access by phone.
You can also book directly through Etihad Guest, though redemption rates are considerably higher than through partner programs.
My take on the Etihad A380 comeback
I couldn't be happier to see Etihad bring back the Airbus A380, as it's such a beautiful plane, and Etihad's configuration on these jets is especially nice.
It's interesting how this time around Etihad is bringing back these planes as a dedicated subfleet that will fly exclusively on one route, between Abu Dhabi and London. That seems smart, since the single biggest selling point of the A380 is being able to offer high capacity to slot restricted airports.
It's also kind of fun how The Residence can now be reserved as an upgrade from a first class booking. Admittedly $2,500 is a lot to spend (especially beyond a first class seat), and there won't be any major service differentiation, but this is still a much more affordable option for trying The Residence than before.
While I'm excited to see Etihad bring back the A380, I also can't help but feel a bit surprised. First the airline was in huge growth mode, then it shrunk massively, and now it's growing slowly, in a more sustainable way.
With Etihad having many Airbus A350s and Boeing 787s on order, I'm a bit surprised to see a small subfleet of A380s brought back. There are economies of scale to aircraft fleets, and the math seem challenging for making a fleet of just four A380s profitable, especially if one aircraft will be used as a backup. Suffice it to say that this is a far cry from Emirates' fleet of 100+ Airbus A380s.
One challenge that Etihad will face with selling first class is how small the carrier's first class network is. So it's one thing if you're traveling exclusively between Abu Dhabi and London, but for those connecting from beyond there, it will be tough to steal traffic from Emirates, which offers first class throughout a vast majority of its fleet.
I'd also be fascinated to know who was behind this decision. Previous Etihad CEO Tony Douglas left the airline in September 2022, and is now leading Riyadh Airlines. New Etihad CEO Antonoaldo Neves started at the airline in October 2022. Just weeks later, the return of the A380 was announced. Was this decision made prior to Neves joining the airline, or was this all put into motion in the first few weeks he was there?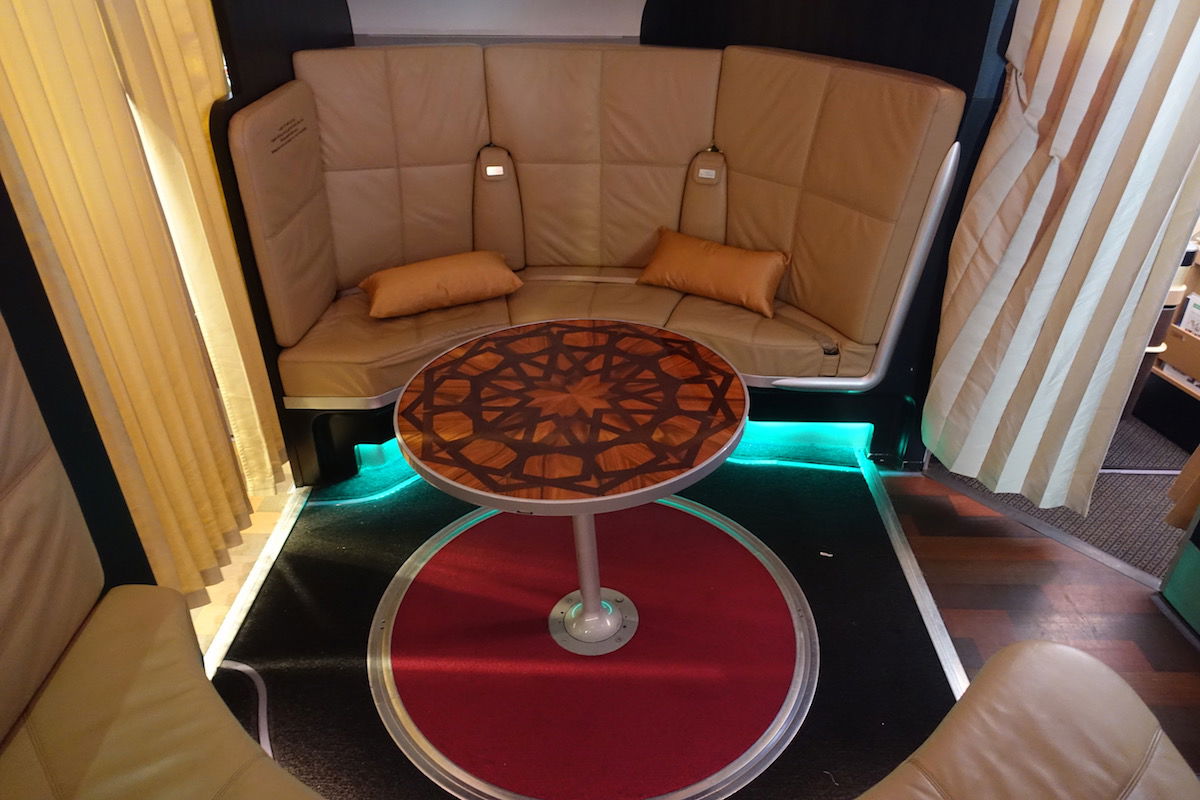 Bottom line
The Etihad Airbus A380 will be making a comeback shortly. The airline is bringing back four Airbus A380s, and they'll fly exclusively between Abu Dhabi and London. Expect one daily frequency as of July 2023, and three daily frequencies as of November 2023. I can't wait to fly the Etihad A380 once again!
What do you make of Etihad bringing back the A380?