Qatar Airways has today officially unveiled its new Boeing 787-9 business class product, as the new aircraft type for the airline will be entering service shortly. Qatar Airways will be installing an all new business class on this plane, different than the popular Qsuites product. This
Qatar Airways' new 787-9 business class seat
Qatar Airways is installing Adient Ascent business class seats with doors on its Boeing 787-9 fleet.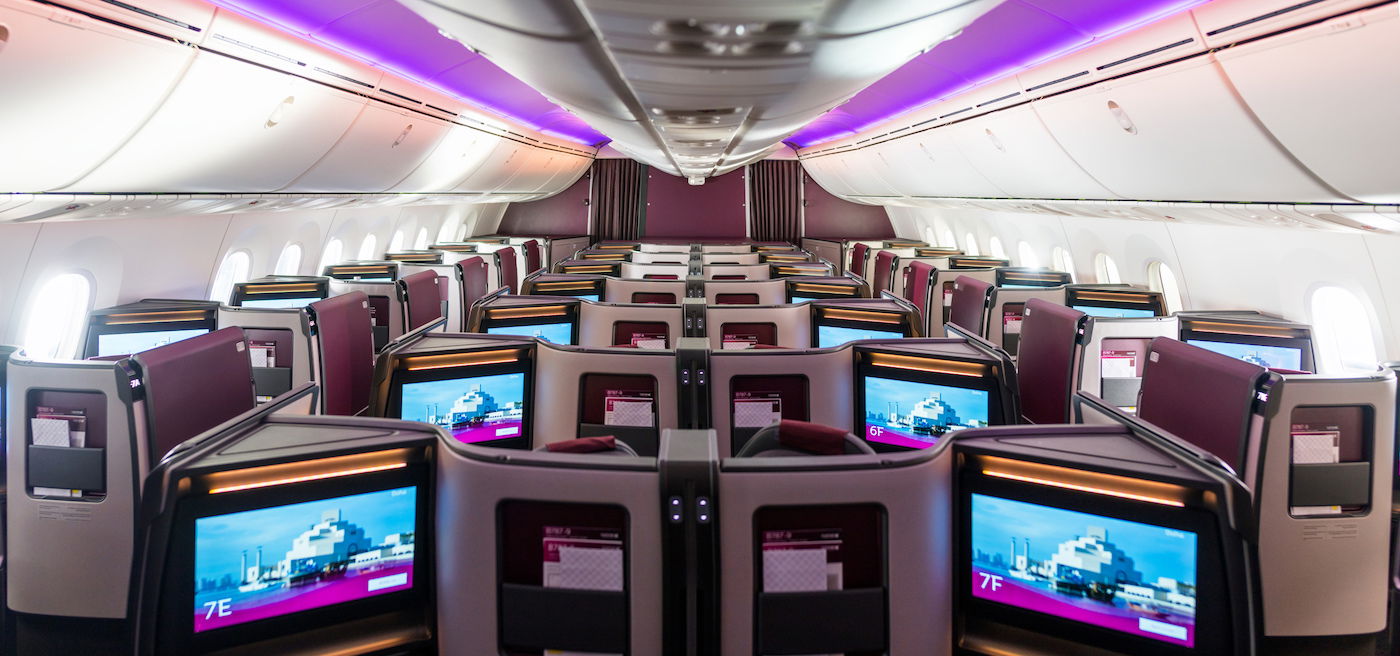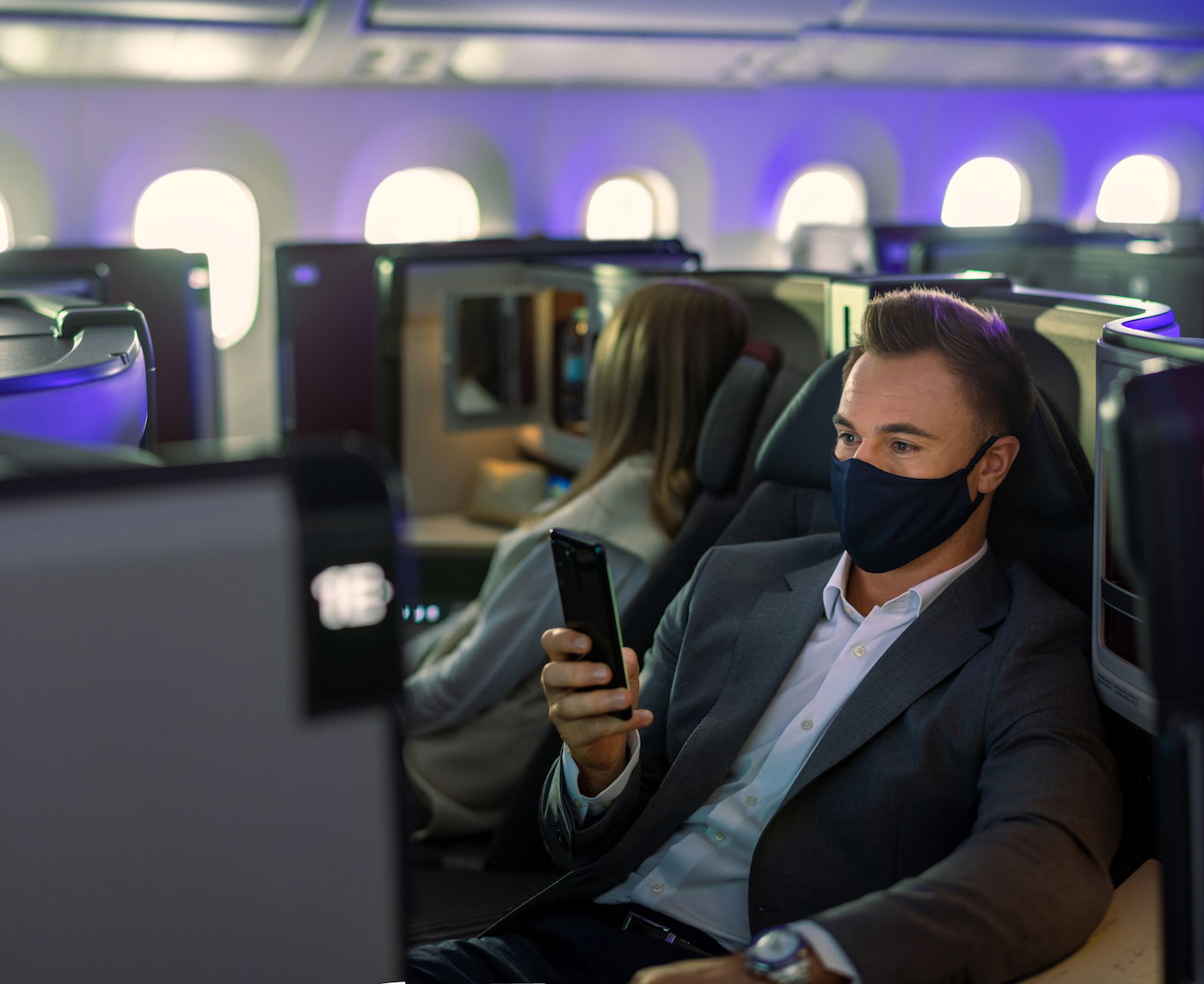 All around this should be a really solid business class product. Seats are in a 1-2-1 configuration, each seat features a door, seats can turn into 79″ flat beds, and center seats convert into double beds.
As Qatar Airways CEO Akbar Al-Baker describes these new seats:
In-line with our commitment to offering our passengers an unparalleled travel experience, we are pleased to introduce this much-anticipated Business Class Suite on Qatar Airways' newest wide-body aircraft, the Boeing 787-9 which will debut onto a number of key routes within our network.

The new Business Class Suite sets yet another industry standard with a uniquely private experience for premium passengers travelling with us, which is becoming increasingly valuable during this pandemic, while showcasing Qatar Airways' 5-star standards of excellence and Qatari hospitality that are quintessential on all of our flights.

Our passengers deserve the best and I am confident that they will appreciate the larger Dreamliner variant for its unmatched comfort in the sky. Passengers can rest assured that its responsible impact on the environment fully aligns with our ambition to achieve the highest levels of sustainability.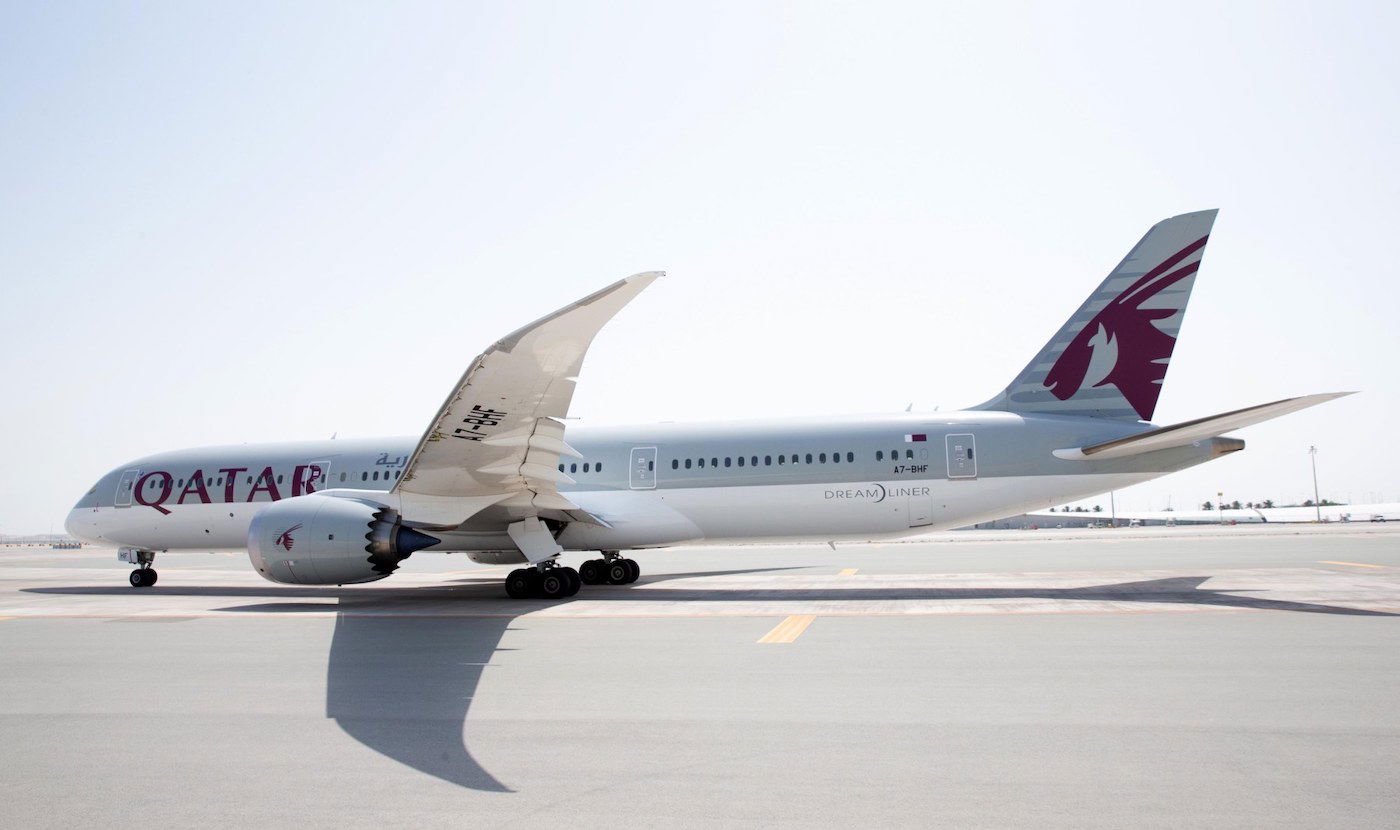 What is the Adient Ascent business class seat?
We've known about the Adient Ascent product for quite a while, though the seat was only finally certified for use earlier this year (which would also explain why there has been such a delay with getting these seats into service).
Many of us first heard about these seats over two years ago, as Hawaiian Airlines announced plans to install them on 787-9s. Furthermore, American Airlines is allegedly considering the Adient Ascent product as its new business class seat.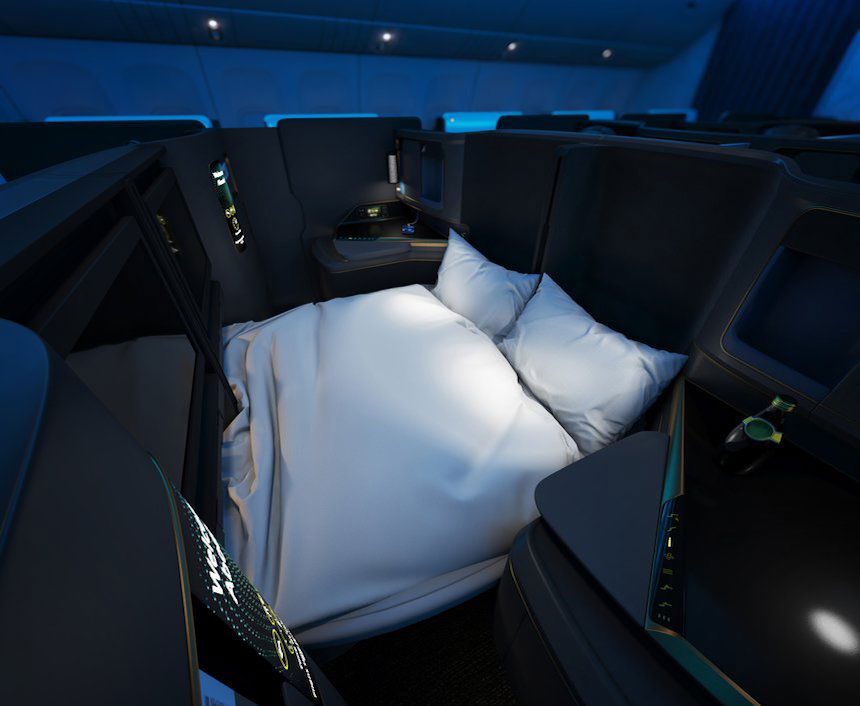 Rendering of Hawaiian Airlines' Adient Ascent seat, with a double bed
This seating product is unique for one simple reason — it's so highly customizable, so it can be radically different for every airline. Here's a video showing the various options for these types of seats:
Most business class products can be customized somewhat, but have a general pattern. After all, what differentiates seat types from one another are the space saving techniques that seat manufacturers use to make the cabin efficient.
In the case of the Adient Ascent seat, it's customizable unlike any other product out there:
The product could come in a staggered configuration, with the potential to turn center seats into double beds
The product could come in a hybrid reverse herringbone and herringbone configuration, with reverse herringbone seats along the windows, and herringbone seats in the center; this is similar to Virgin Atlantic's new A350 Upper Class, though those seats are the Safran Cirrus NG variety
Below is a screenshot from the video that shows just how customizable the product is.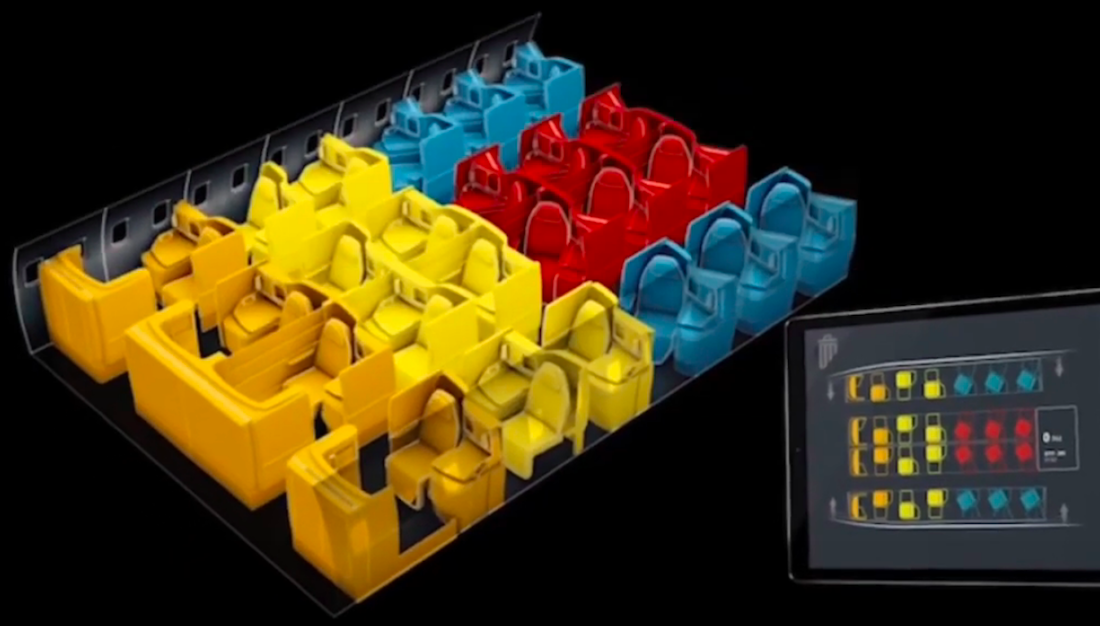 Adient Ascent seats are highly customizable
Below is a screenshot showing the hybrid reverse herringbone and herringbone configuration, which seems to be what Qatar Airways is planning.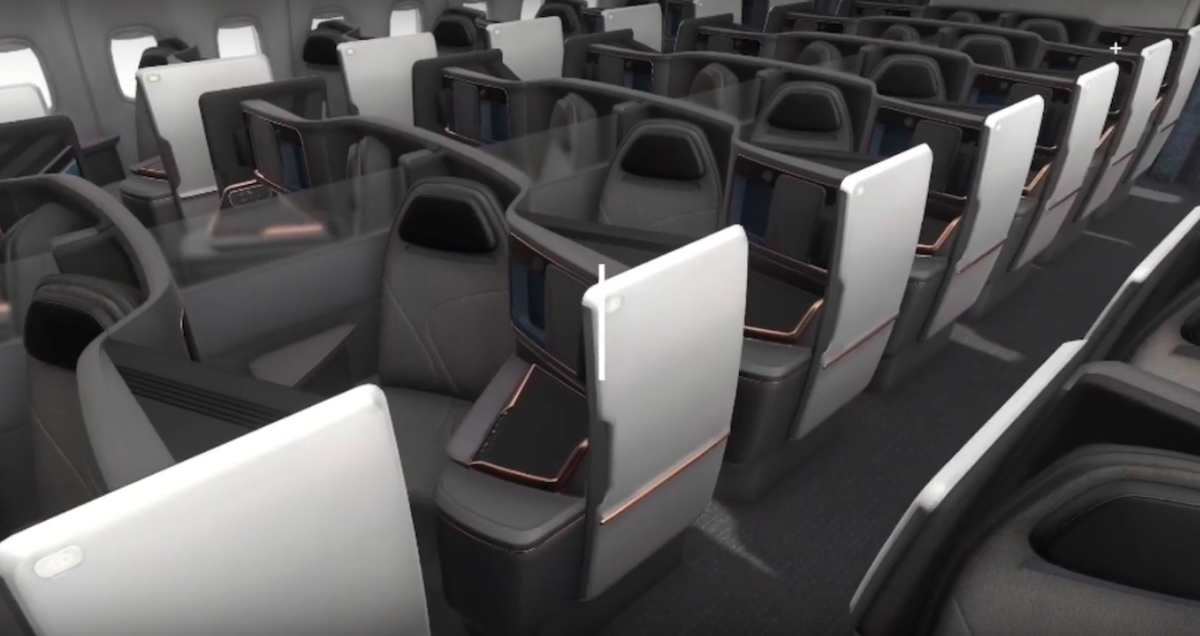 Potential Adient Ascent configuration
Why isn't Qatar Airways installing Qsuites on 787-9s?
Why is Qatar Airways introducing a new business class product, rather than installing Qsuites, on Boeing 787-9s? The reason is because the fuselage of the 787 is a bit narrower than of the A350 and 777, and allegedly the 787 cabin isn't wide enough to have four Qsuites per row. The 787 cabin is only a few inches narrower than the A350 cabin, which is why this might come as a surprise to some.
On top of that, Qatar Airways was hoping to reduce the weight of the seats, and I guess this product will help the airline accomplish this.
My take on Qatar Airways' Adient Ascent seats
Qatar Airways' current Qsuites business class is exceptional, arguably the best business class product out there. I don't think many of us are necessarily expecting the new product to be better.
That being said, based on what I've seen so far about the Adient Ascent product, I'm impressed. This seems to me like an upgrade over any other business class product out there, perhaps with the exception of All Nippon Airways' new business class.
This product has most of the benefits of reverse herringbone seats, the ability to have doors is awesome, and the herringbone seats in the center section allow for double beds, which many people will appreciate.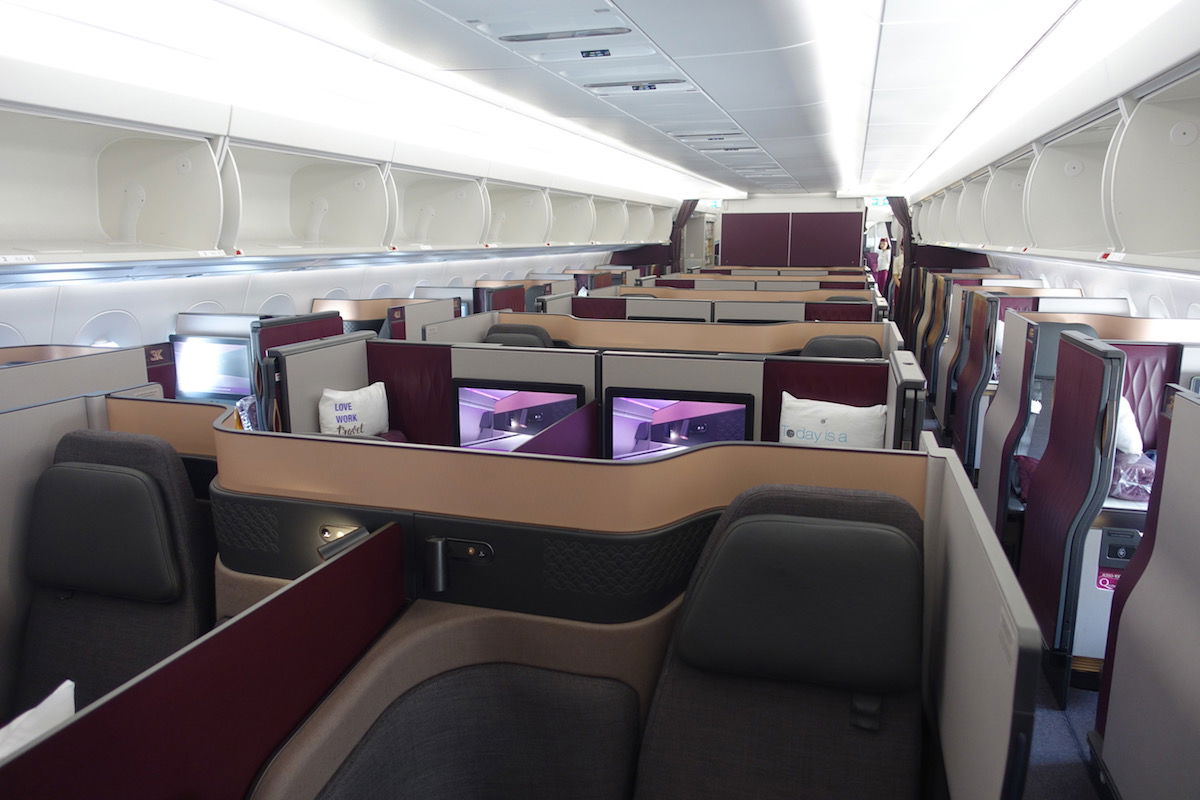 Qatar Airways' current Qsuites business class
Bottom line
While there aren't many pictures yet, Qatar Airways has now officially confirmed that its new 787-9 business class product will be the Adient Ascent seat. No airlines are offering this product yet, so I can't speak firsthand to the quality of the seat. However, by all accounts this seems to be an excellent product based on what we know, in terms of privacy, the ability to have a double bed, etc.
I can't wait to fly Qatar Airways' Boeing 787-9s, and see how these business class seats compare to Qsuites.
What do you make of Qatar Airways' new business class seat?