---
In November of 2011 I stayed at the Park Hyatt Dubai and had a phenomenal stay. Not only was the hotel a great value on points, but I loved how it was just minutes from Dubai, yet felt like it was in the middle of nowhere.
We had a one night stopover in Dubai, so we really struggled with where to stay. I wanted to stay somewhere cheap, while the friend that I was traveling with is a travel agent, and really wanted to check out the Park Hyatt as he has sent quite a few clients there. As a result, despite the rate of about $300USD, we decided to stay there.
Not only would it allow him to experience the Park Hyatt, but he also had a Diamond suite upgrade expiring in February that he wanted to burn, so that we could confirm an upgrade into a suite. He booked the room himself with Virtuoso benefits, so the perks with that were free breakfast, a room upgrade, and a $100 hotel credit (though only the latter was really useful, given that he's a Diamond member as well). Usually airport transfers are also included for those that book a suite, though in this case our transfers were already taken care of by Emirates, so that wasn't needed.
This review will be pretty brief given that we literally got to the hotel at 2AM and left again around 11AM. I highly recommend checking out the previous review, as it's much more thorough with lots more pictures.
Anyway, we arrived at the hotel via Emirates chauffeur shortly before 2AM, as it was an easy 10 minute ride from the airport.
Once there we were welcomed by a bellman and escorted to check-in, where we my friend was addressed by name immediately (the reservation was in his name and I suspect we were the last check-in of the night).
The agent explained that he had used a Diamond suite upgrade to confirm into a Park Suite, and that since we booked through Virtuoso we'd receive a further upgrade to a Park Terrace Suite. This was actually a really interesting discovery to me. I didn't realize that Diamond suite upgrades and Virtuoso upgrades were "stackable," meaning you're first confirmed into the base suite when using the Diamond upgrade, and then day of arrival can be upgraded to an even higher category suite based on availability.
In retrospect the same thing happened to be at the Park Hyatt Abu Dhabi, where I used a suite upgrade to confirm into a Park Suite, and then got a further upgrade to a Park Terrace Suite on account of the Virtuoso booking.
Anyway, the agent escorted us to our Park Terrace Suite, which was located on the far end of the hotel, room 2405. I'm convinced this hotel was built to maximize walking distances between the lobby and rooms, because even though the hotel isn't that big, it's quite a haul between the lobby and the rooms. This is probably in part because the main walkways at the hotel are indoors, and the hotel is built around the pool, so you rarely walk the "direct" distance to the rooms.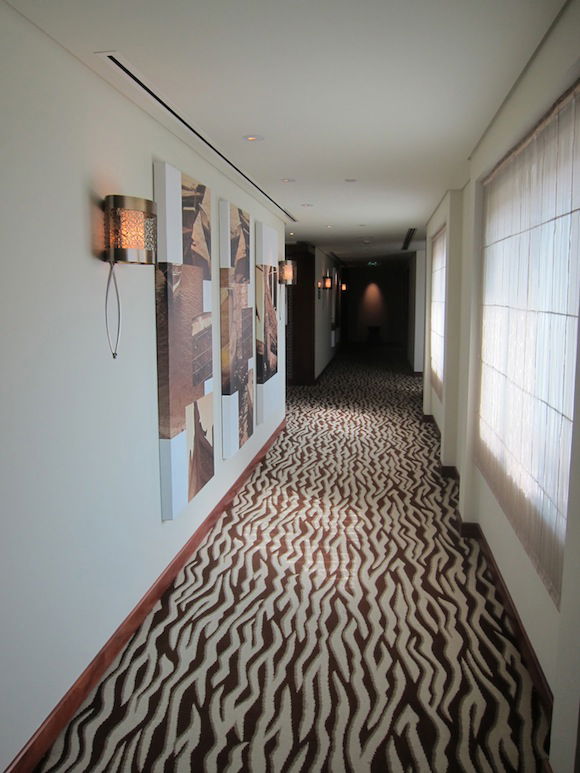 Hallway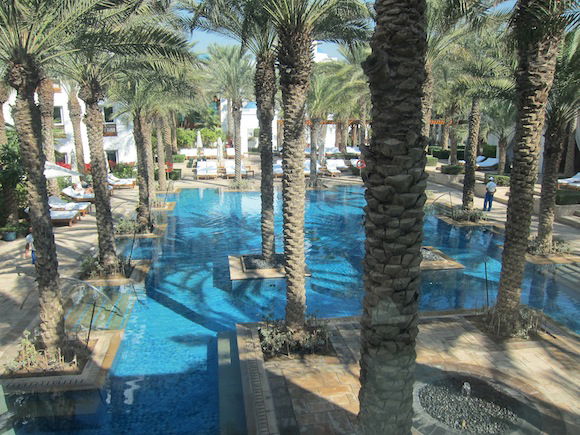 Pool
The room's entrance was located past an initial entry door shared with another room, I suspect so they could potentially be turned into a two bedroom suite.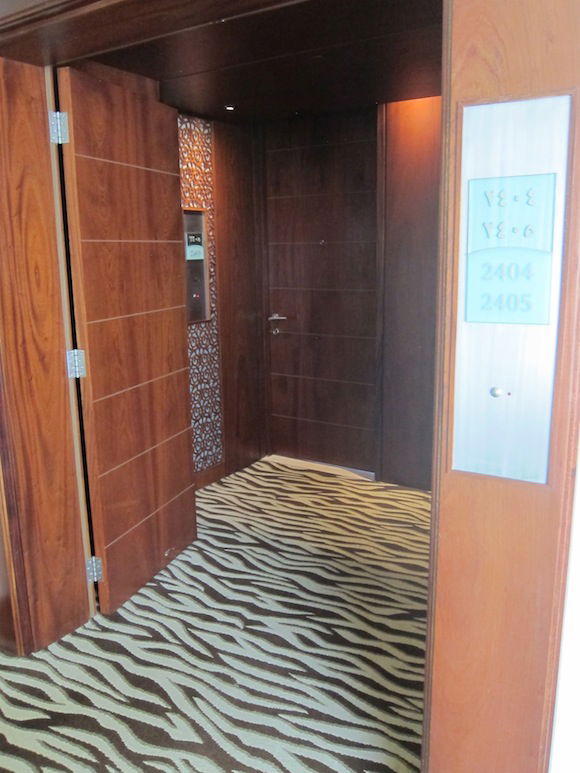 Room 2405
The room featured an arched entryway and guest bathroom right by the entrance.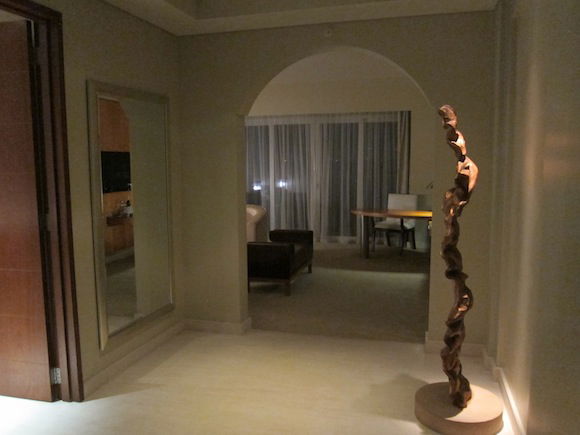 Entrance
Past the entryway was the living room, which featured a couch and two chairs facing a flat screen TV, as well as a desk.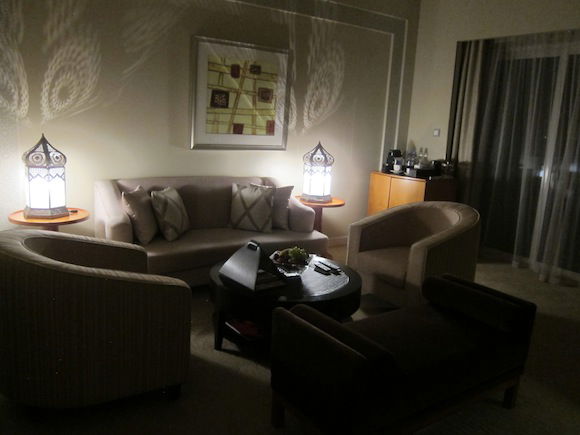 Living room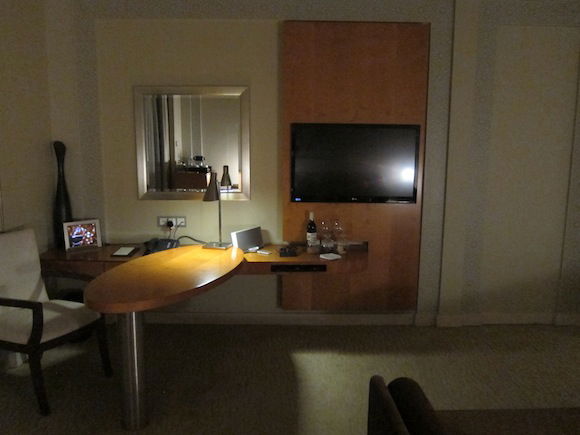 Desk/TV
On the desk by the TV was the welcome amenity, consisting of a bottle of Shiraz, plate of dates, and three bowls consisting of nuts, cookies, and packaged candy.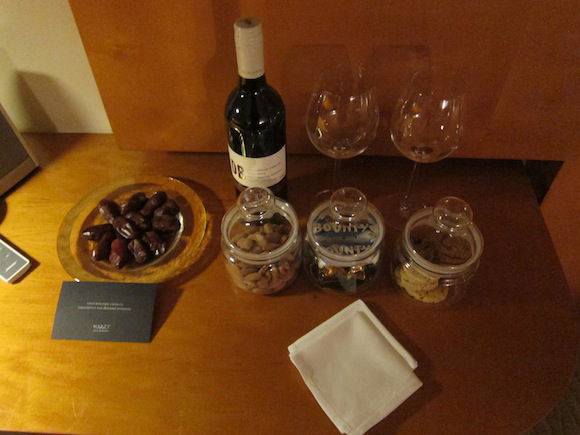 Diamond welcome amenity
By the living room was an awesome balcony with a table and chairs. The weather in Dubai at 2AM was probably the nicest I've ever experienced there, with temperatures in the low 60s, so I sat outside in the middle of the night to catch up on email a bit. Wifi is included for suite bookings, or for that matter is included as a Diamond member anyway.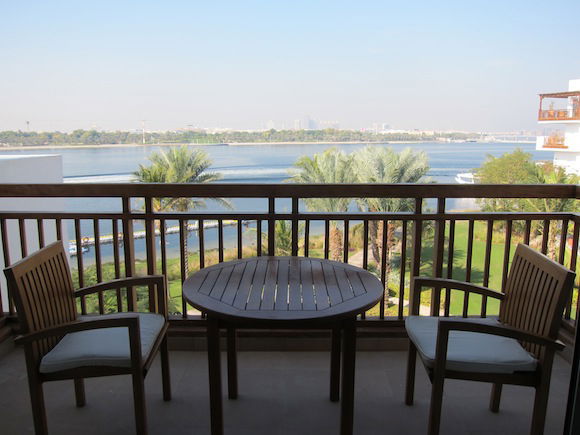 Balcony
A hallway led to the bathroom and bedroom. The bedroom featured a king bed, chair with ottoman, and flat screen TV.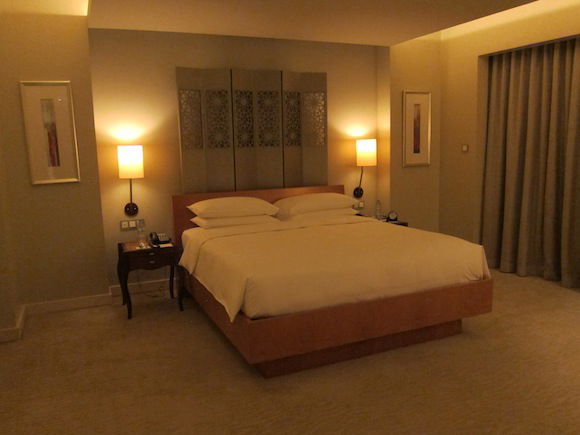 Bedroom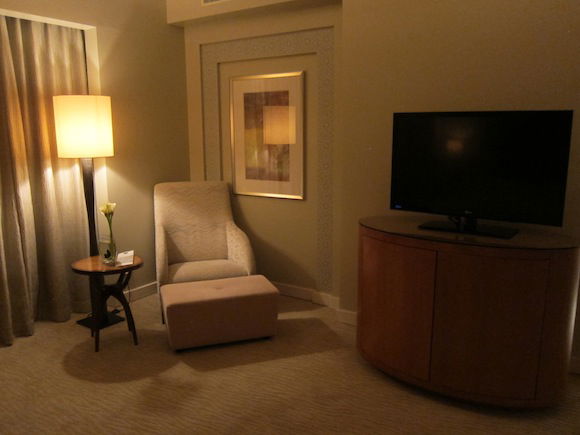 TV and chair with ottoman
Then between the living room and bedroom was the bathroom, which featured double sinks, a tub, a walk-in shower, and a toilet/bidet.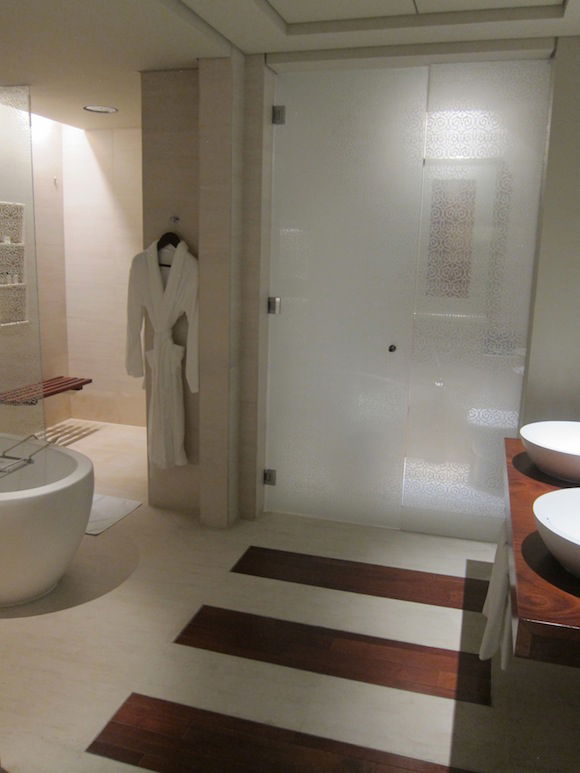 Bathroom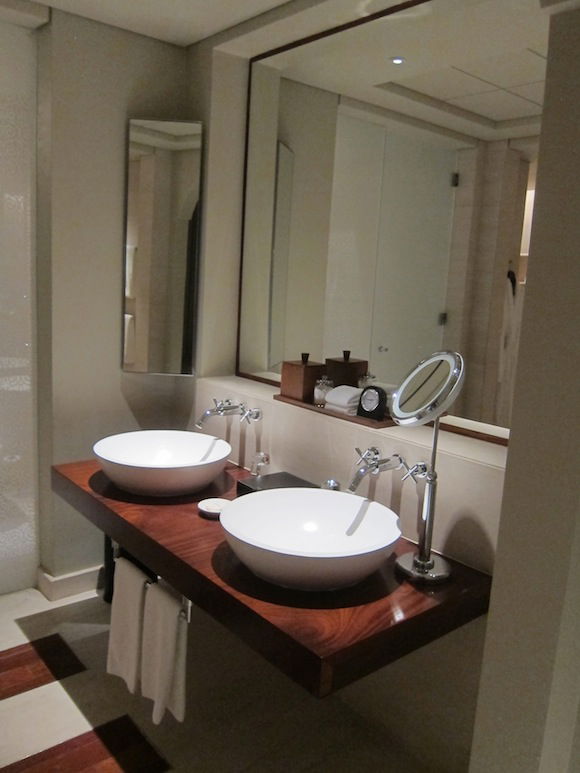 Double sinks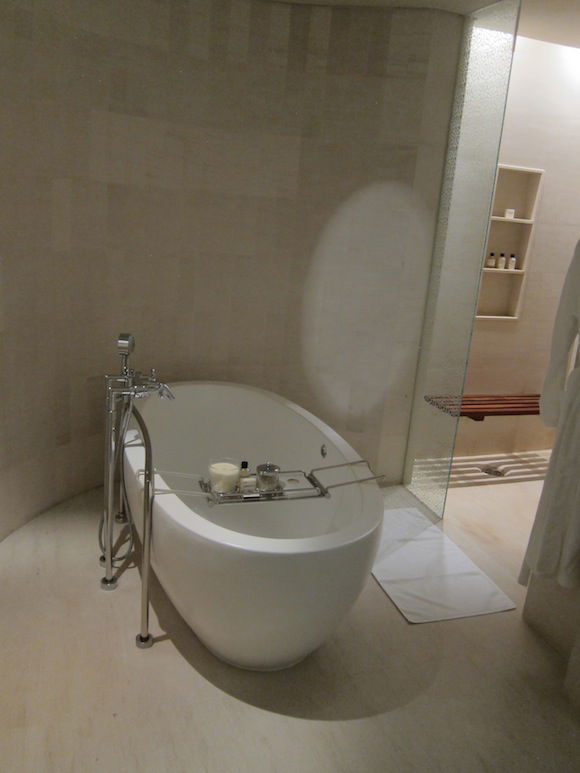 Tub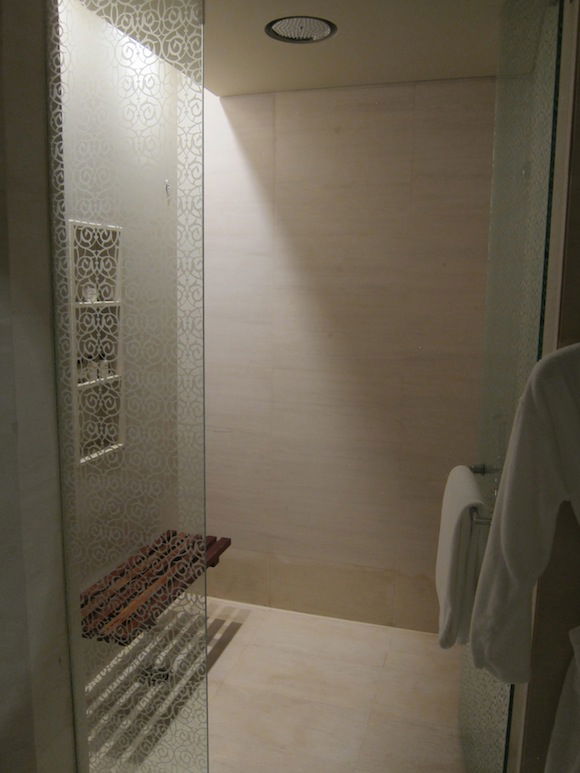 Shower
The toiletries were Le Labo Bergamote 22 branded.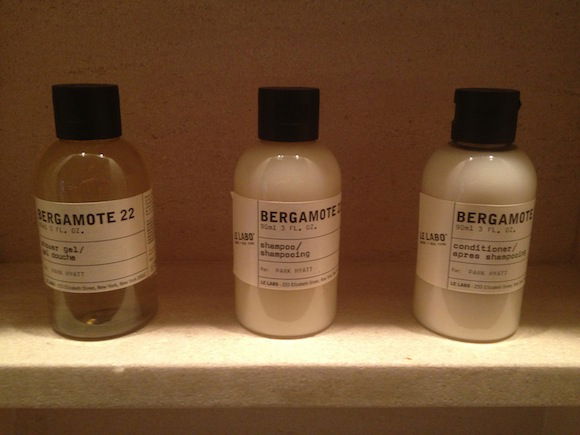 Toiletries
While the bathroom was nicely laid out and water pressure was excellent all around, I was a bit frustrated by the fact that there wasn't a door between the bedroom and bathroom. This is one of my biggest pet peeves about hotels, especially for suites with large bathrooms. You'd think they could add a door, in case multiple people are traveling and one would like to sleep while the other would like to bathe/shower.
Anyway, on the whole the suite was beautiful. It wasn't as over-the-top amazing as the Park Terrace Suite at the Park Hyatt Abu Dhabi, but it was still a very nice suite.
I stayed up till about 6AM catching up on life via my computer and getting over my drunkenness from the previous flight, and then slept for a few hours. At 10:30AM we went to breakfast at Cafe Arabesque, which serves breakfast daily from 6:30AM till 11:00AM.

Cafe Arabesque entrance
We asked to be seated on the terrace given what a nice morning it was, and once seated were promptly offered drinks.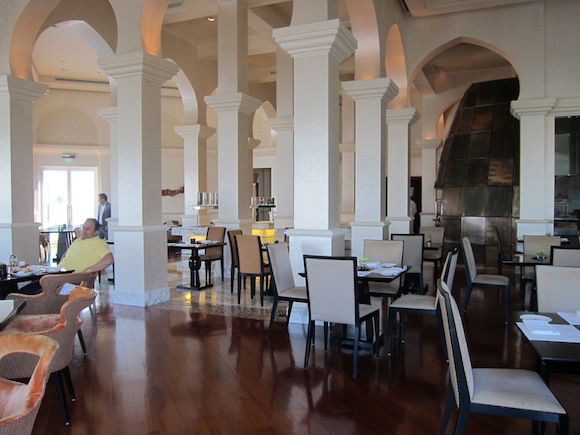 Cafe Arabesque seating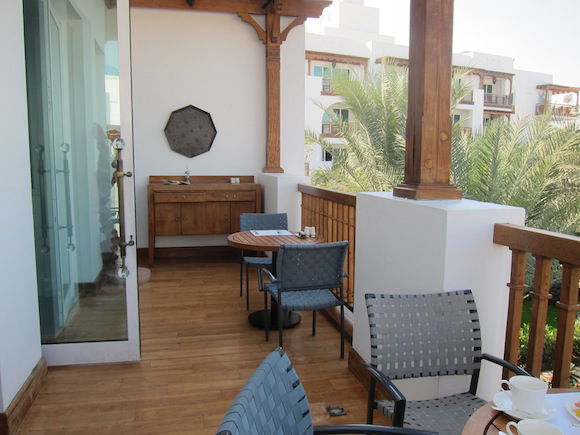 Cafe Arabesque terrace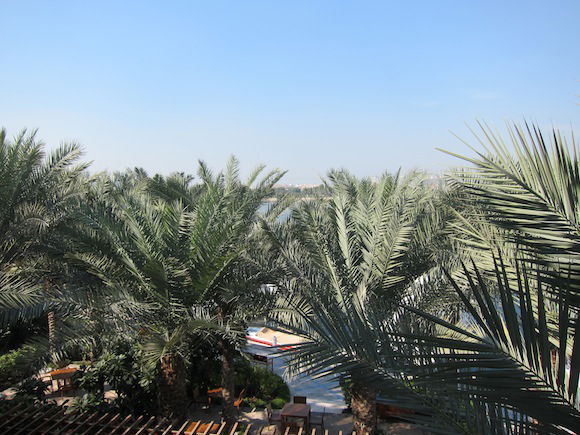 View from Cafe Arabesque
The restaurant boasts a moderately sized buffet (at least compared to the St. Regis Abu Dhabi or Le Meridien Bangkok), and then you can also order an entree off the menu. The buffet has a good mix of eastern and western options.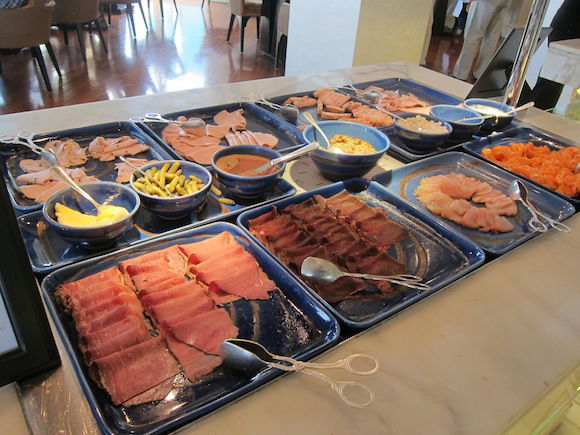 Buffet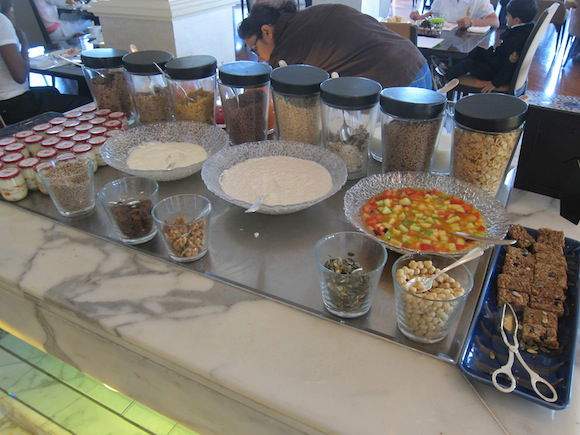 Buffet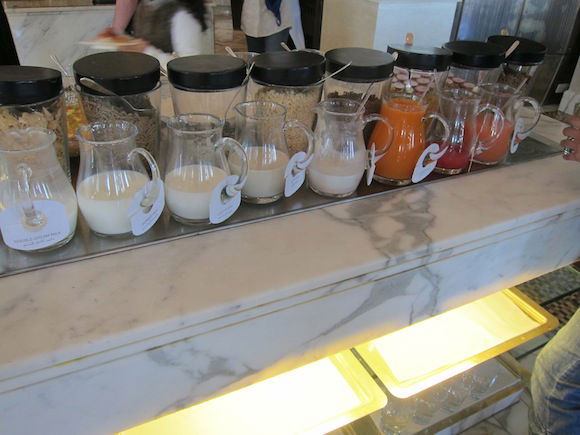 Buffet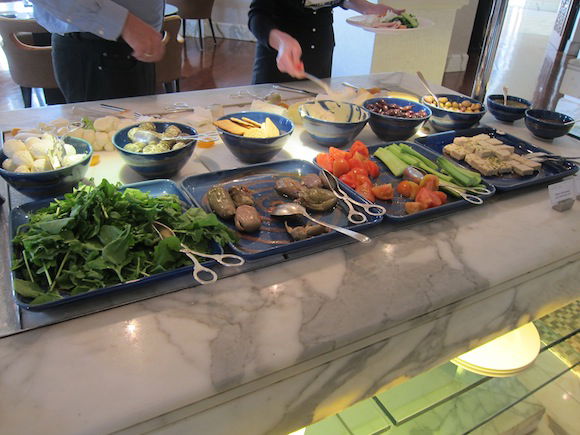 Buffet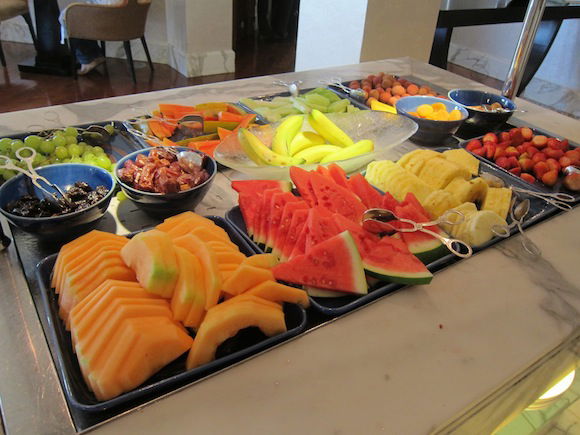 Buffet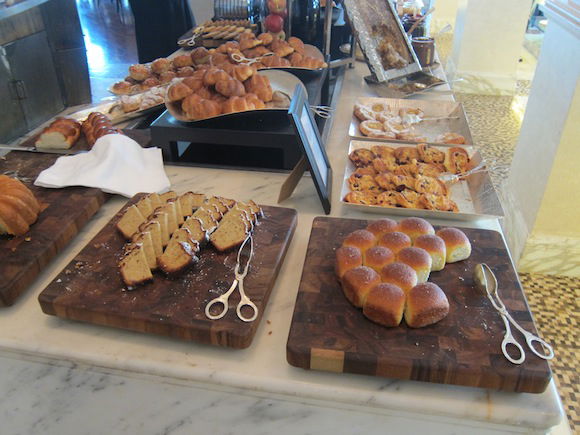 Buffet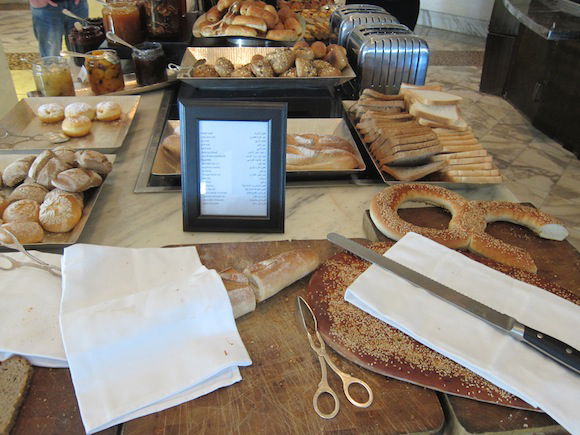 Buffet
The breakfast menu read as follows: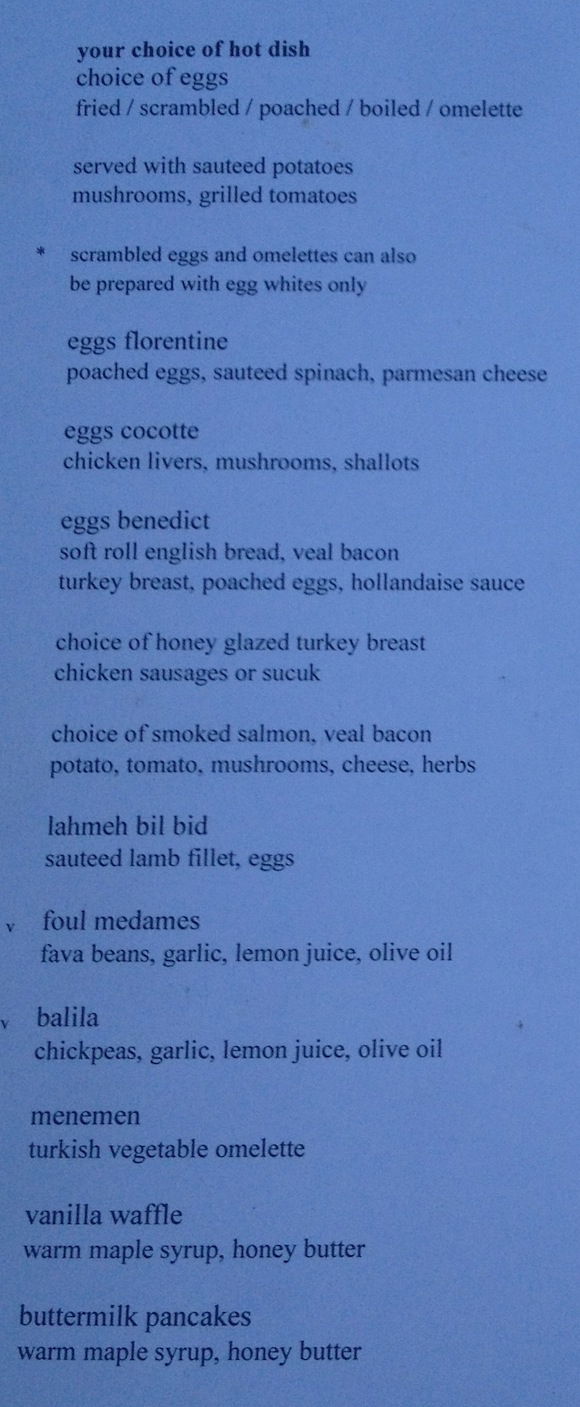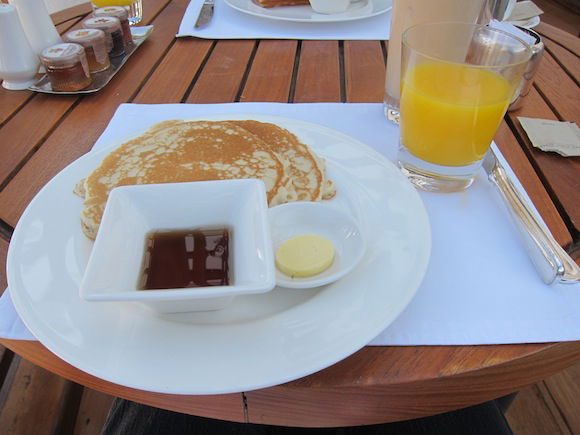 Buttermilk pancakes
After breakfast it was time to head back to the airport for our flight to London, as we had arranged our Emirates chauffeur for noon. On the way out it occurred to us that we still had a $100 hotel credit to spend. It's not like we had a chance to spend it previously, since we weren't hungry and everything was closed for most of our stay. But so that we didn't feel like we were "wasting" the credit we decided we had to spend the money, and we had about 10 minutes to do so. After (not so) careful consideration we found Pistache, the hotel's pastry shop. They sold outrageously expensive boxes of truffles, so we purchased two of them which cost nearly $100 on the nose. Unfortunately it took a bit longer than 10 minutes, as the truffles weren't pre-packaged, and efficient isn't a word I'd use to describe the lovely lady tasked with assembling the boxes.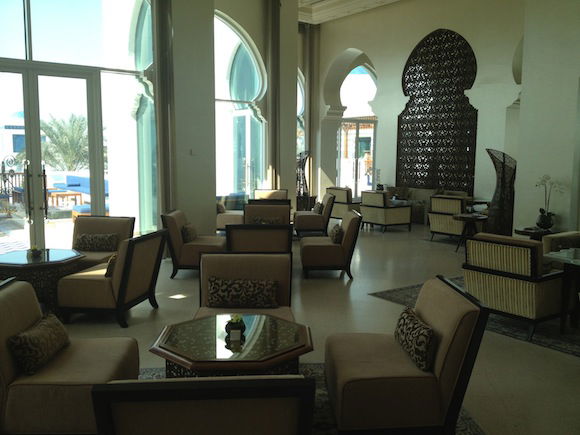 The Lounge at Pistache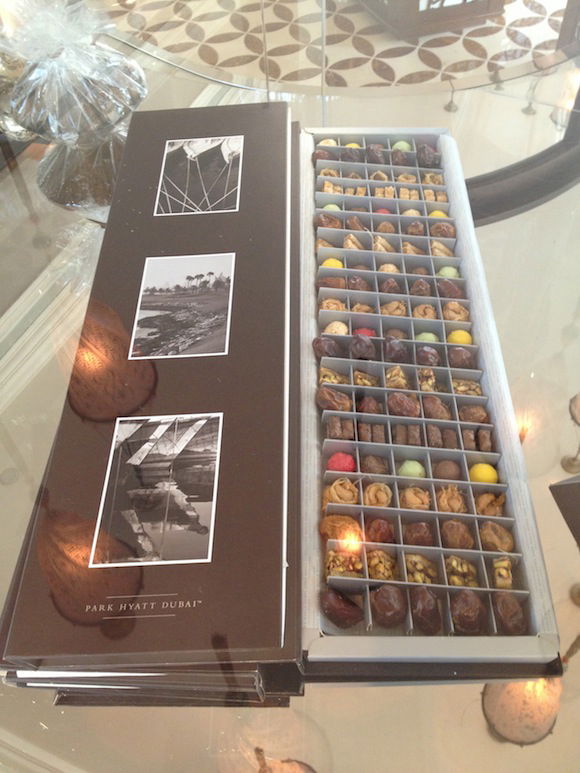 World's biggest box of truffles?
So while our stay obviously wasn't long enough to really enjoy the property, this is an awesome hotel and I'd return in a heartbeat. This hotel just feels so removed from the rest of the Dubai despite being only minutes from the action, so it's definitely where I'd stay when I return to Dubai. That being said I'd probably redeem points for a stay instead, since the hotel is pretty pricey.