---
Up front I should say that I shared a brief recap of my layover in this post.
After bidding farewell to the crew after an incredibly relaxing flight I deplaned, only to be met by an agent at the jet bridge that was there to escort Suites Class passengers through security. I thought it was excessive since I've never seen much of a queue at the Hong Kong transit security checkpoint early in the morning, though in this case there must have been a 45 minute wait.
Fortunately the escort walked me to the very front of the queue. The issue is that while the escort guided me, he kind of just kept walking without looking back, so it was my job to follow close behind him.
So to some people it wasn't apparent I was being escorted, and apparently some thought I was cutting the line.
I get to the front of the security queue and there's a British guy who had already been complaining for the 15 seconds I was near him. "I thought this airport was supposed to be efficient, what the hell is this?"
So anyway, I'm directed to cut him in line, and this guy loses it — "and who the hell do you think you are?" Now there are a few douchebag responses you could dish back, though I wasn't looking to be an ass, so I simply signaled that I was following the escort. He then continued with "well why are you so special that you get escorted through?" Oy, this is awkward.
I made it to the Silver Kris Lounge in no time, which is located just past the transit security checkpoint. There I was welcomed by the friendly agent, who informed me that boarding would be announced in the lounge.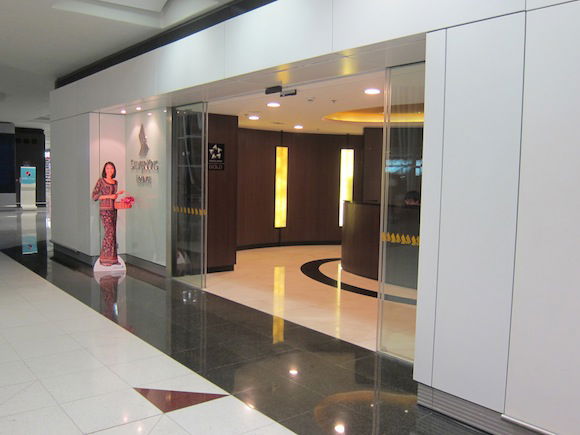 Silver Kris Lounge exterior
The lounge was massive, almost excessively so given that Singapore doesn't have that many flights out of Hong Kong. Near the entrance were a bunch of computer stations, which led to the main seating area. I was curious to check out the rest of the lounge, given that Hong Kong is known for some of the best airport lounges in the world.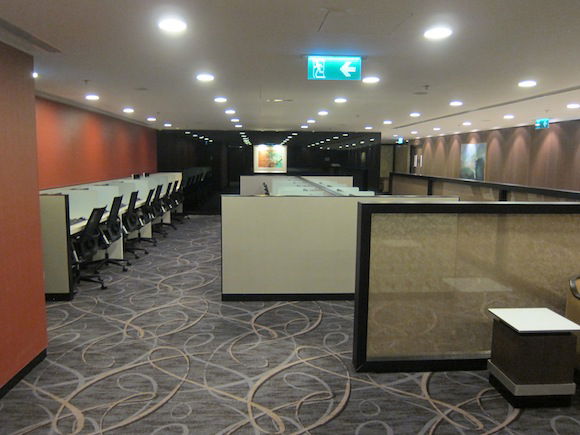 Computer stations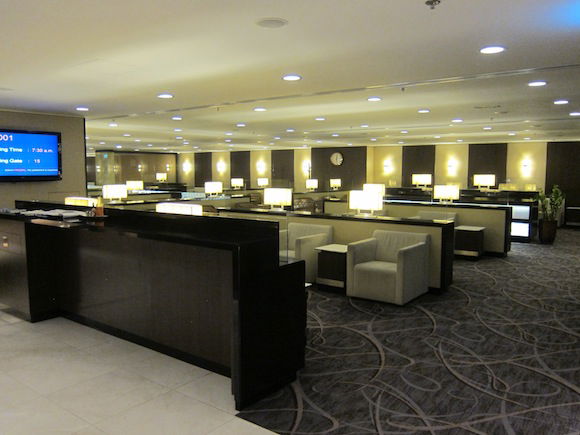 Seating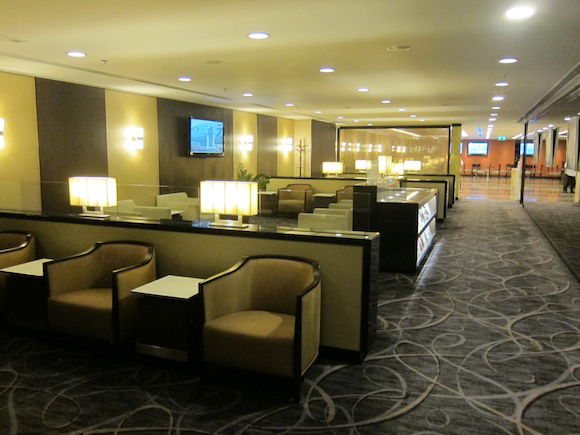 Seating
There were a couple of food serving areas. There was one near the entrance with a smaller selection, including juice, cereal, sandwiches, etc.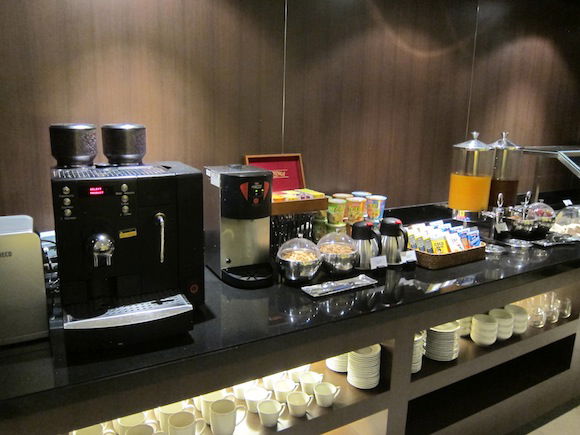 Buffet area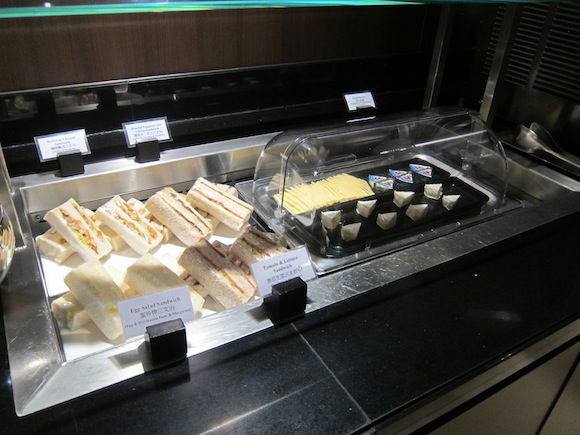 Buffet area
Then in the back corner of the lounge was a dining area with a bunch of tables and a much larger buffet.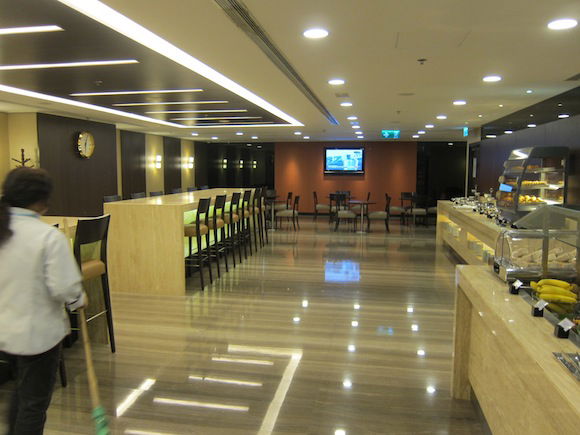 Dining area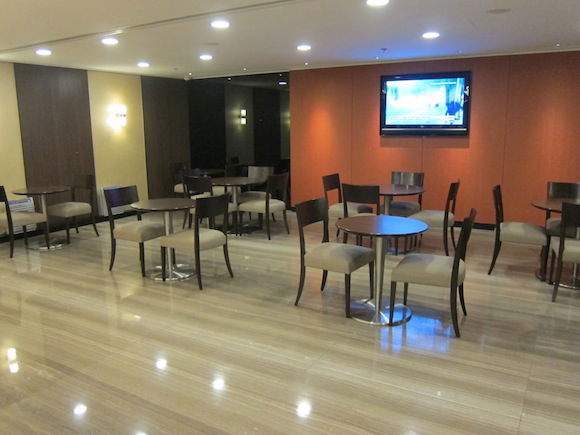 Dining area
The buffet was huge and featured all kinds of breakfast items, including hot dishes, pastries, sandwiches, salad, etc.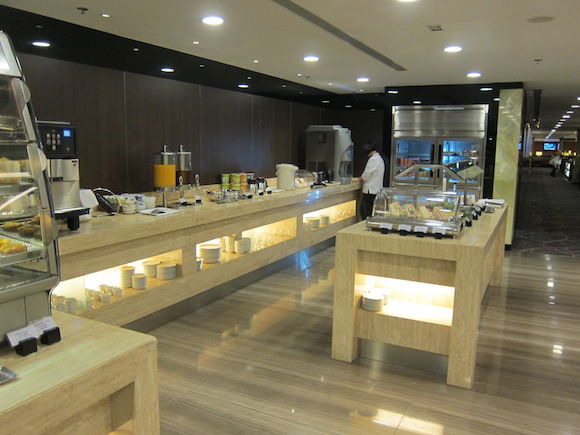 Buffet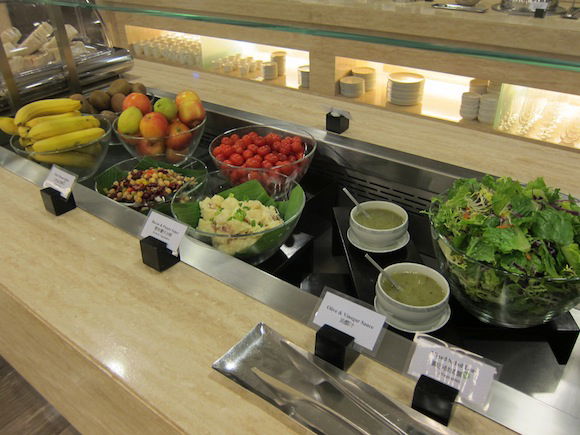 Buffet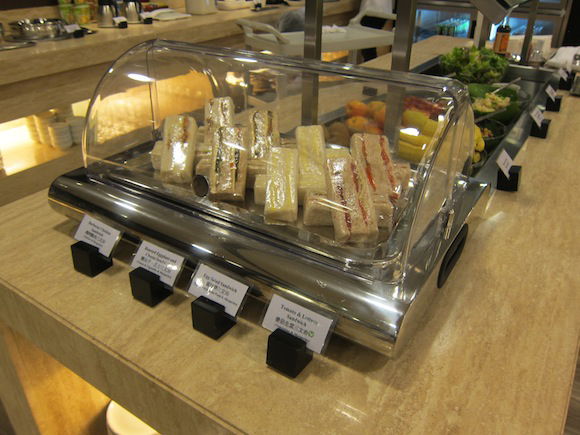 Buffet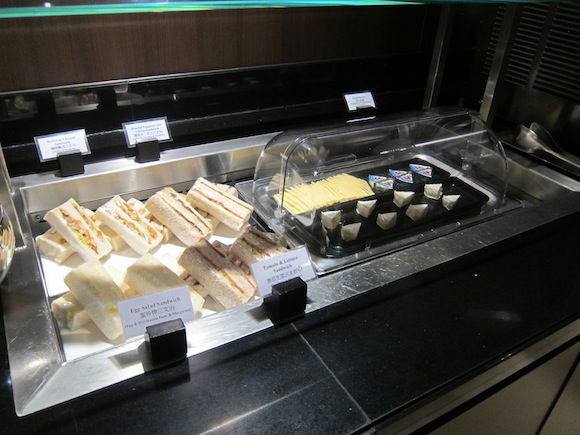 Buffet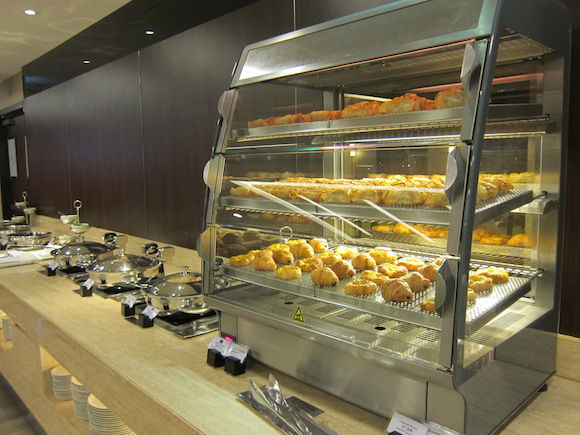 Buffet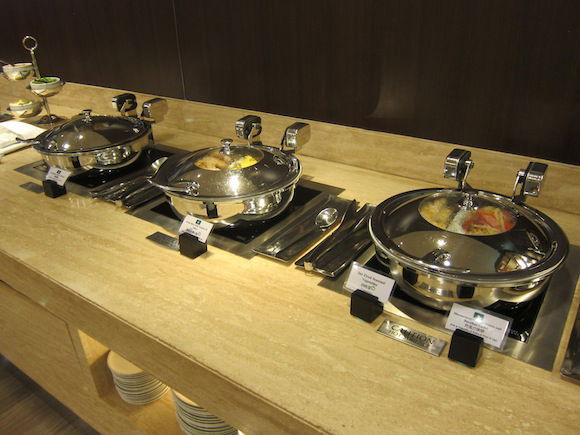 Buffet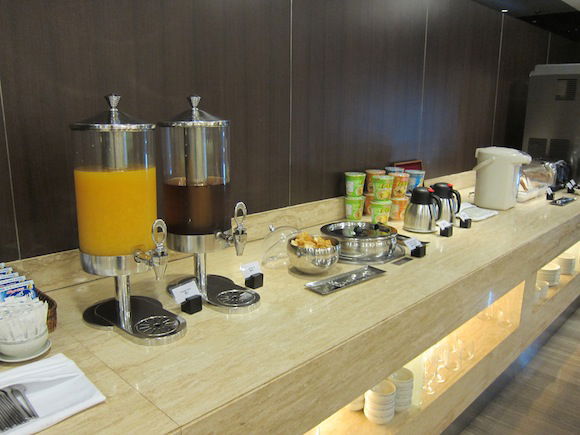 Buffet
So while the lounge is modern and almost overly spacious, there are two things that make me mildly dislike it. First of all, it has no windows, which is frustrating since my favorite thing about most Hong Kong lounges is how great the views of the tarmac are. But more importantly this huge lounge doesn't have toilets or showers. What the…?
Since I still had about 90 minutes to go till my connection I decided to see if I could find a way to get a shower. I asked the Singapore lounge attendant about any lounges nearby with showers, and he informed me there was a Priority Pass lounge near gate one.
So I went there, and after they registered me I asked about getting a shower room. "Ohhhh, long queue for shower, at least 3-4 hours." I did a double take as I looked at the lounge and it was more or less deserted, so I asked him if there was somewhere else I could shower. He said there was a Priority Pass lounge near gate 35 that had available showers, and I should go there.
At this point I was crunching numbers in my head. There was a little over an hour till departure, so I figured I could swing it if I hurried.
Hong Kong is one of the most visually stunning airports in the world, in my opinion, though can also be a real pain to haul through (there is a train system, though it only runs one-way).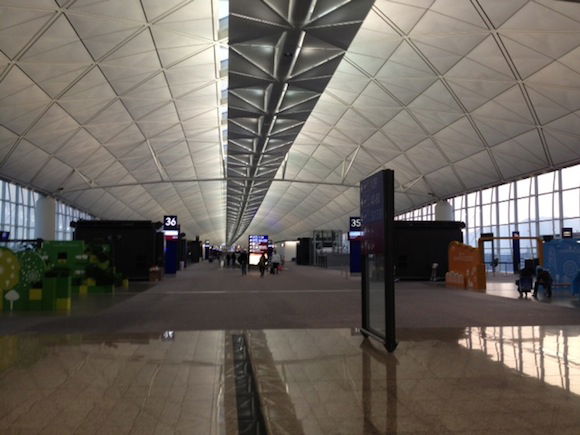 Terminal
The long walk was made a bit more enjoyable by the beautiful sunrise views.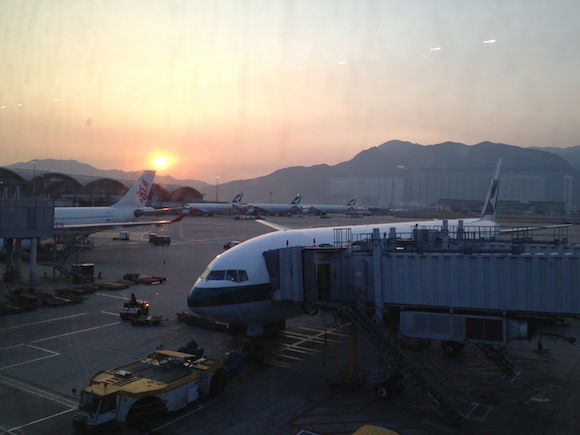 Tarmac view with sunrise
So after walking at a fast pace for 15 minutes I made it to the lounge with showers. Unfortunately these weren't the shower rooms I'm used to at airports with sinks and toilets (let alone bath tubs and rubber duckies), but rather tiny individual shower rooms with communal sinks and toilets, and this warning sign in the shower: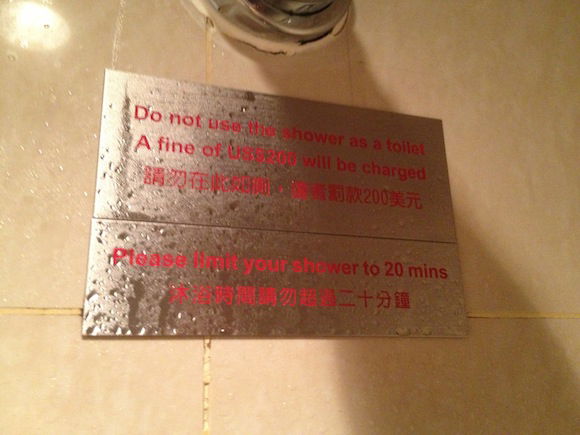 Shower sign
Anyway, the problem with tiny showers rooms isn't the lack of amenities, but rather how hot they get when water is running, meaning you're sweating by the time you get dressed.
So after the shower I was sweatier than when I got in, and with 20 minutes to go till departure I hauled back to gate 15, where my flight was just boarding.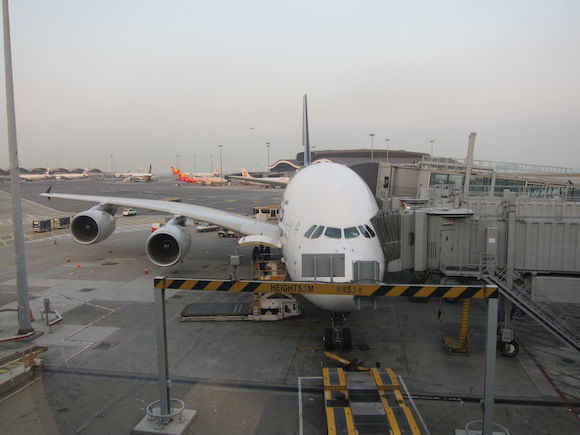 Singapore A380 bound for Singapore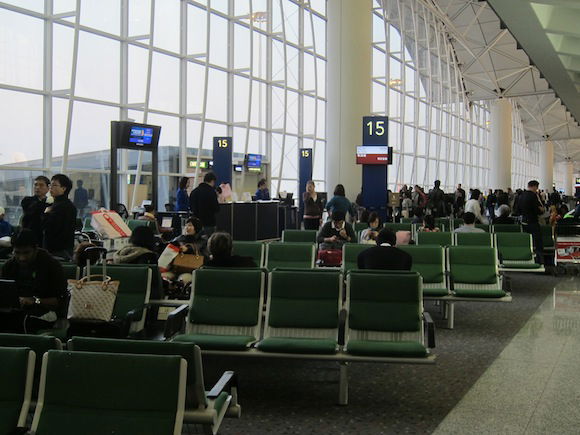 Gate 15
I was excited for the quick three hour hop to Singapore, especially given that the lovely Janesis would be working the flight!