---
Singapore Airlines 1
Hong Kong (HKG) – Singapore (SIN)
Thursday, January 17
Depart: 8:00AM
Arrive: 12:00PM
Duration: 4hr
Aircraft: Airbus 380
Seat: 3A (Suites Class)
Much like on my previous flight I was welcomed aboard by name before the crew even saw my boarding pass. The leading stewardess walked me to my seat and engaged in small talk, asking me how my flight from San Francisco was and how long I was staying in Singapore for.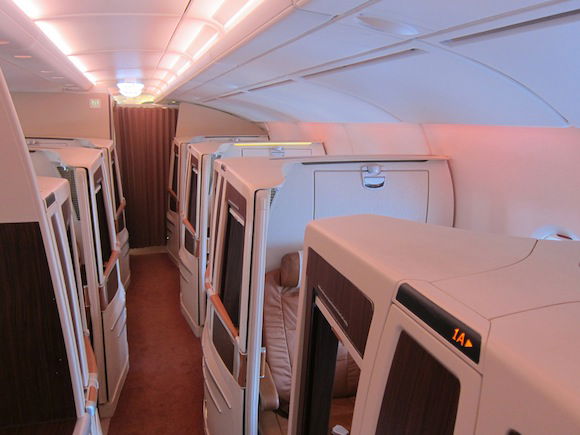 Suites Class cabin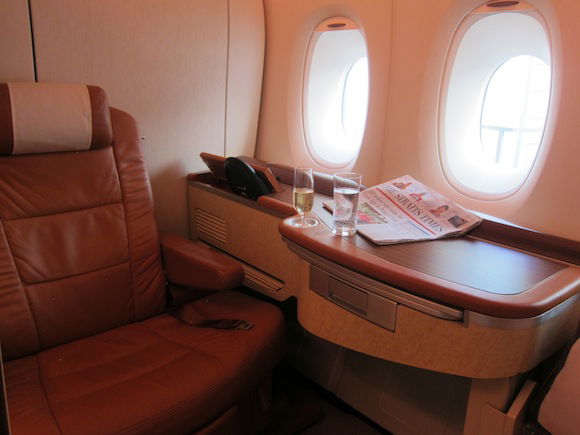 Suites Class cabin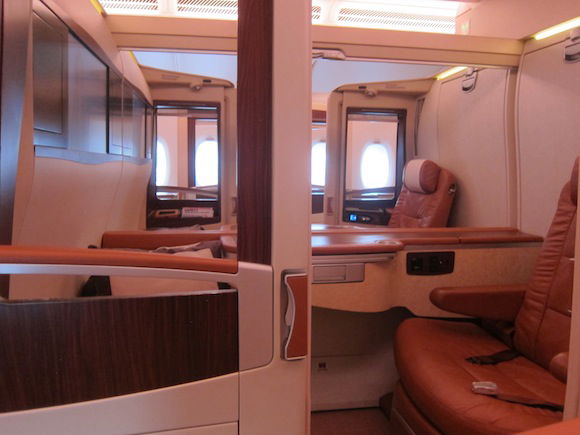 Suites Class cabin
Once settled in she offered me a pre-departure beverage. I ordered both a glass of Krug and water, both of which were promptly served. I was also offered newspapers and magazines, as well as eyeshades, socks, and the menu for the flight.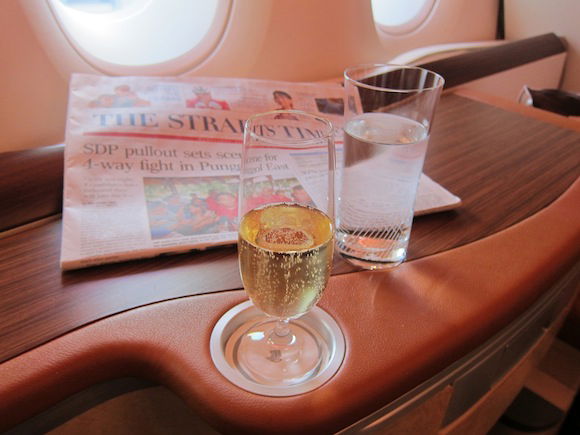 Krug, water, and The Straits
Within moments the leading stewardess returned to introduce the leading steward and in-flight service manager, and informed me of our flight time of 3hr20min.
The passengers in Suites Class on this segment were exactly the same as on the flight from San Francisco. There were four of us, and I had rows three and four all to myself.
As departure time approached the captain made his welcome aboard announcement, and shortly thereafter we began our long taxi to runway 7R, which must have taken close t0 20 minutes. Fortunately it's Hong Kong and I love the variety of planes, so you could taxi me around for hours for all I care.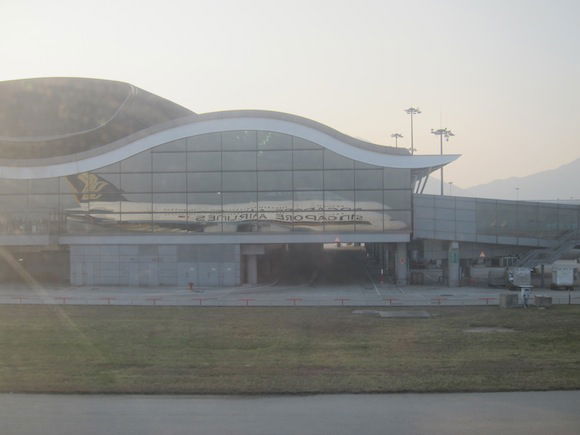 Taxiing to the runway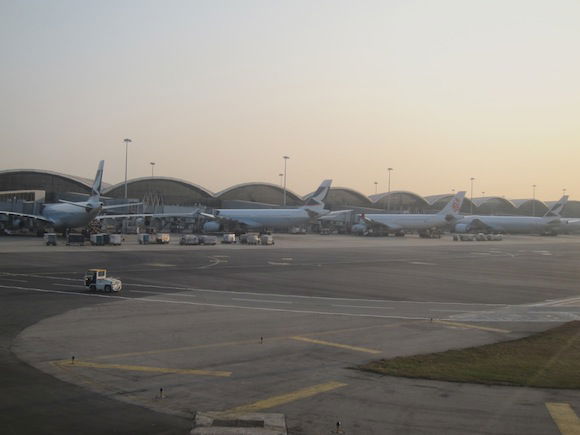 Taxiing to the runway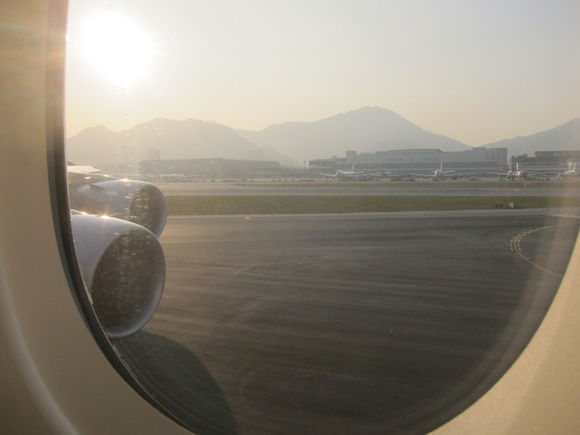 Taxiing to the runway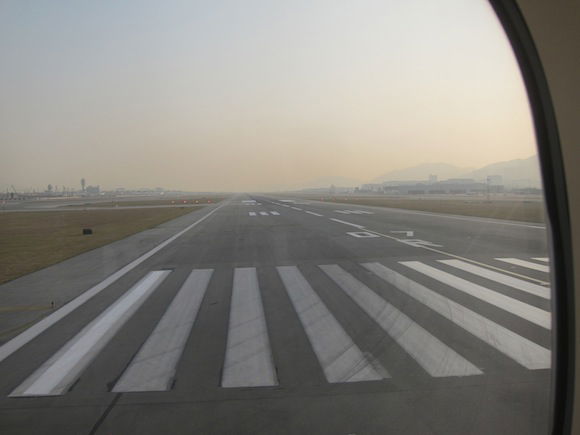 Taxiing to the runway
Eventually we were cleared for takeoff and had a quick takeoff roll. Our climb out was smooth, and within 10 minutes the seatbelt sign was turned off.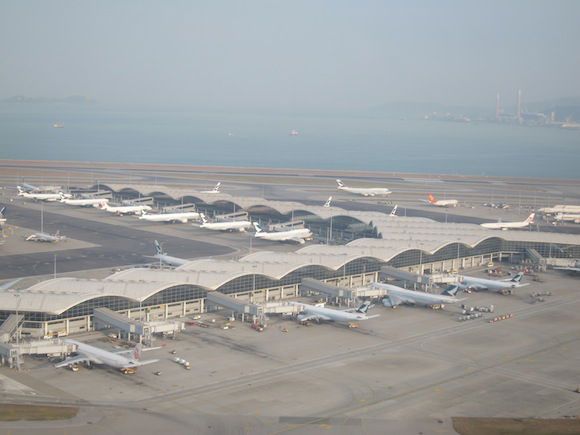 Views on climb out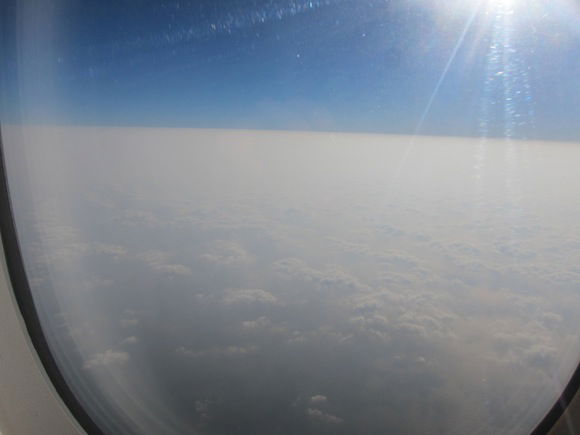 Views on climb out
At this point the breakfast service began. The menu read as follows (the wine list was exactly the same as on the previous segment):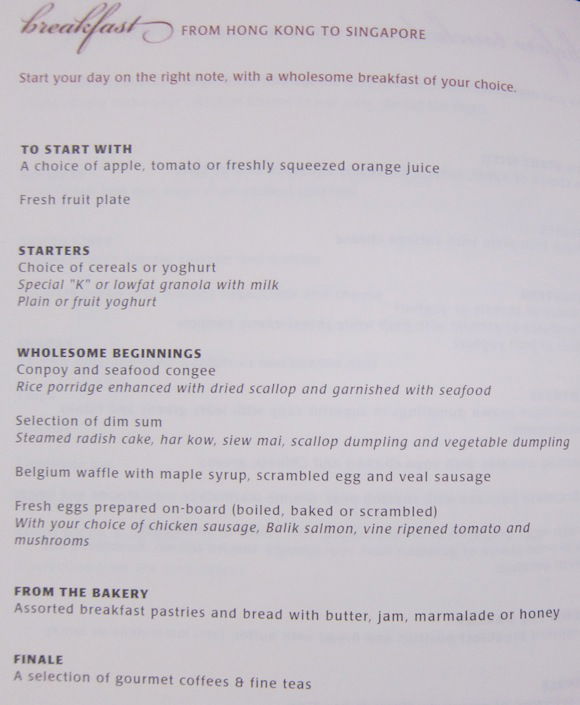 I ordered an apple juice and English breakfast tea to drink, and started with a fruit plate.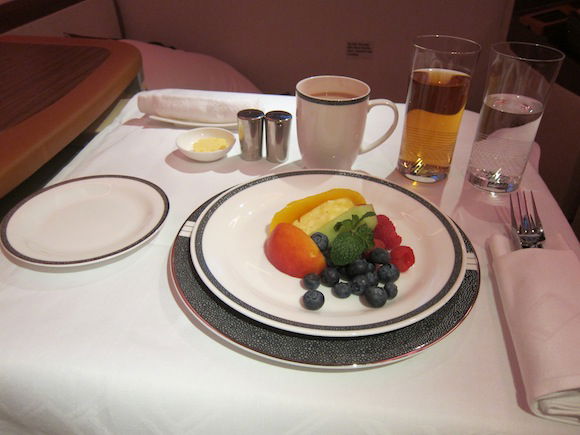 Fresh fruit plate
Next I ordered a bowl of granola.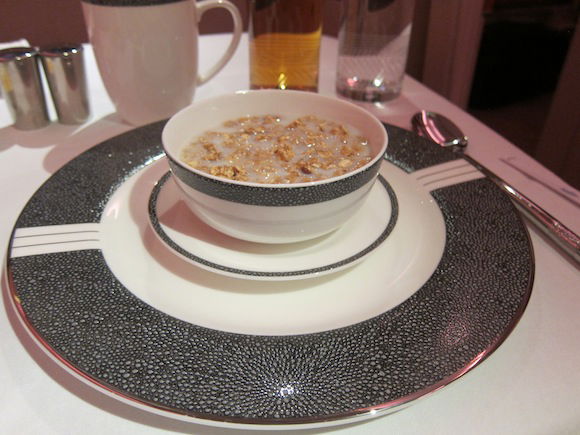 Granola
And finally for the main course a Belgium waffle and scrambled eggs.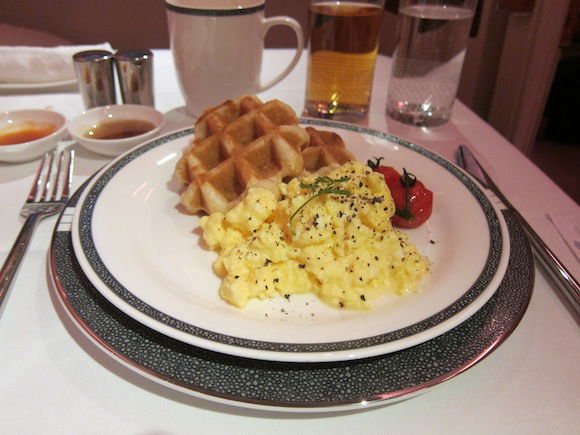 Belgium waffle with scrambled eggs
My favorite flight attendant in the world (the same one I flew with from Singapore to Tokyo and Moscow to Singapore), Janesis, was also working this flight, though unfortunately she was the leading stewardess in economy on this segment. After breakfast I had the chance to talk to her briefly, though obviously she was busy managing the economy cabin, so I didn't want to get in the way (though we did have lunch at Changi Airport upon landing). She also made me this amazing card, which was completely handmade: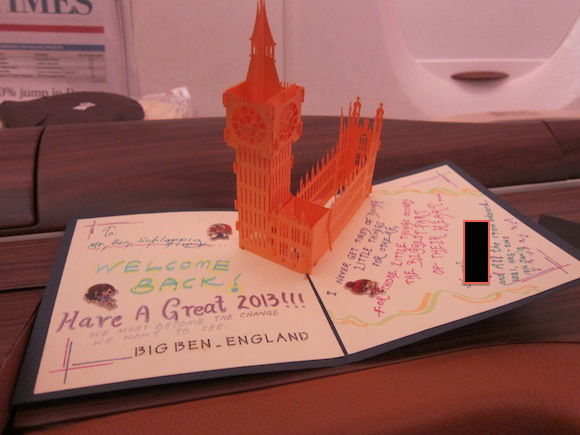 Gift from the amazing Janesis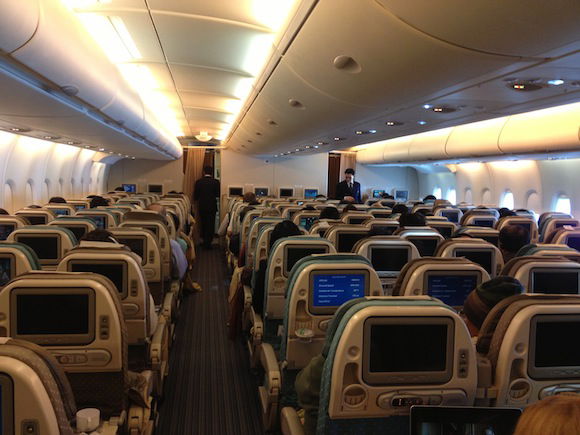 Economy cabin
I then toured the business class cabin, which takes up two cabins on the upper deck.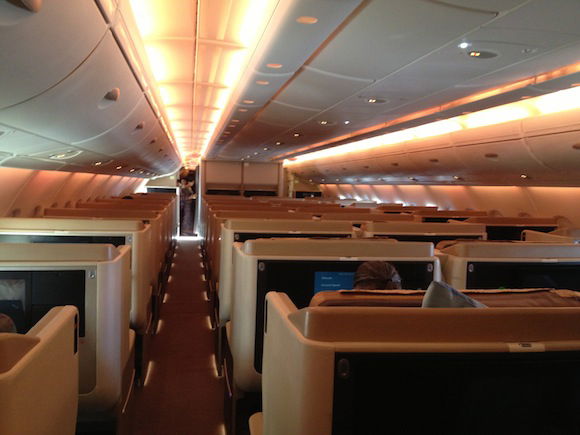 Business class
It later occurred to me that a couple of FlyerTalkers I know were on the flight as well, so I spent much of the rest of the flight talking to them.
45 minutes before landing I returned to my seat and was offered some mixed nuts.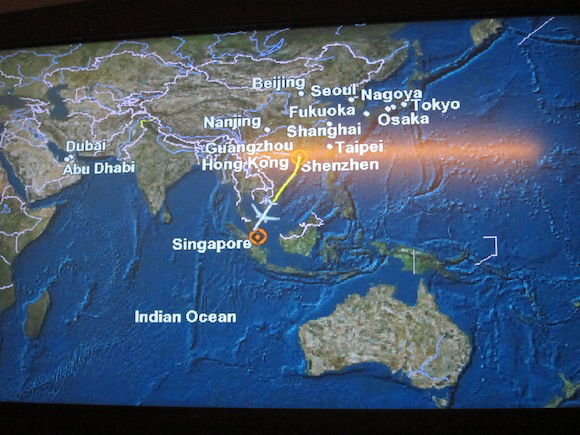 Airshow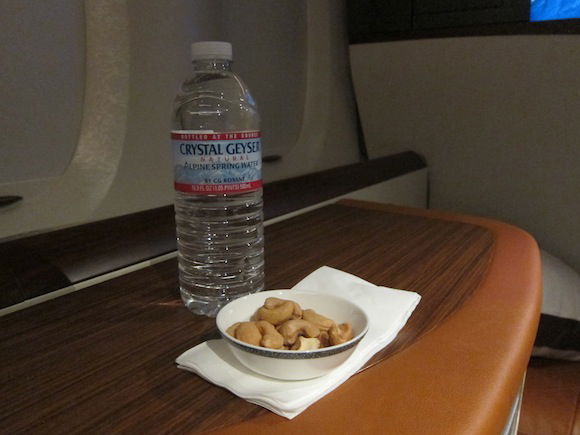 Mixed nuts
About 30 minutes out we began our descent. It was a clear day and the views were nice on approach, so I was glued to the window for the rest of the flight.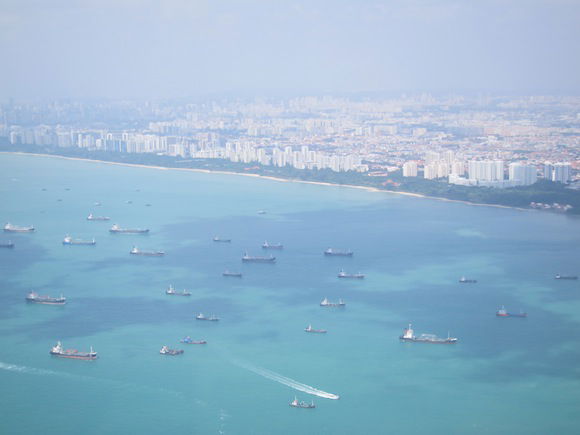 On approach into Singapore

On approach into Singapore
Our touch down in Singapore was smooth, though we had a long taxi to our gate at terminal three.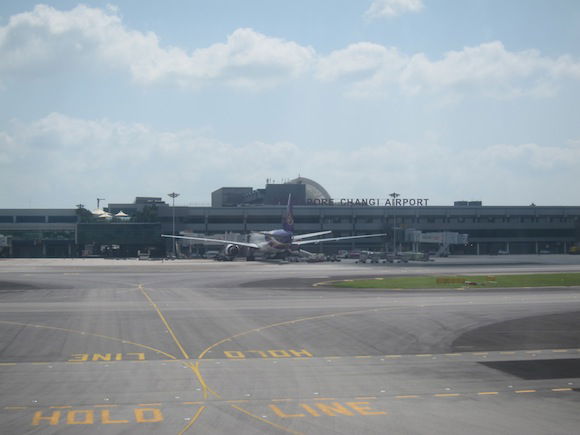 Taxiing in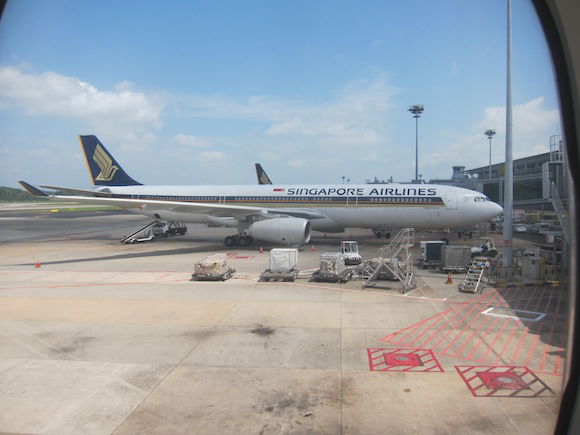 Terminal three gates
Upon deplaning I bid farewell to the crew and proceeded into the terminal. I was meeting Janesis for lunch after the flight, so hung out in the terminal for about 30 minutes, at which point we had lunch at a Thai restaurant.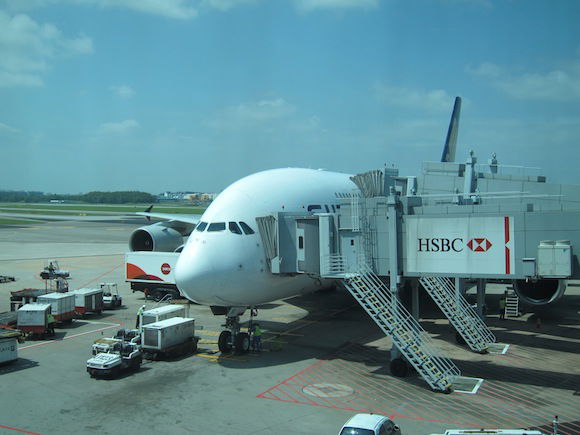 A380 that took me all the way from San Francisco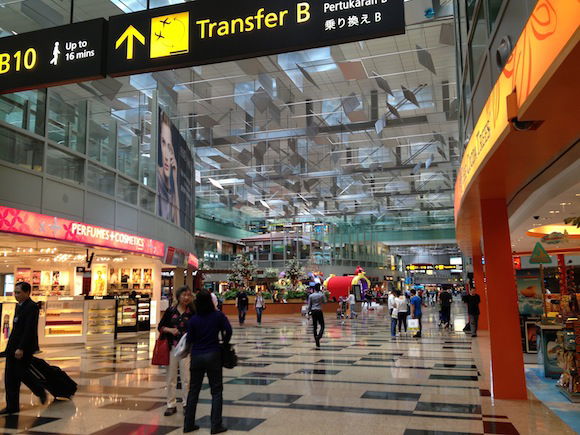 Terminal three
On the whole this was another good flight on Singapore. The crew working Suites Class on this sector wasn't quite as good as the one on the previous sector. They were good, but just didn't have a "superstar" factor like the crew out of San Francisco or the flights I've had with Janesis.
Singapore Suites is a really, really impressive product, especially if you can snag the double bed. While I think the meal service on SQ1 is lackluster given that it's a supper service and two breakfast services, I still love the flight times, given the late night departure out of San Francisco and reasonable arrival time in Singapore, allowing you to go straight to a hotel and check-in (vs. SQ11 from Los Angeles, which arrives after 3AM).