---
Our overnight in London was pretty quick. We got out of the airport at around 9PM and wanted to be back at the airport by 11AM the next day, as I wanted to experience the Concorde Room (little did I know…). That wasn't enough time to justify going into London, so I was content with staying at one of the Heathrow Airport hotels. Along with New York, London has to be one of the worst major airports in the world in terms of the quality of their airport hotels, but for a quick overnight it's a convenient way to earn points at a reasonable cost.
However, without telling me, my friend had different plans. He had stayed at Coworth Park a couple of years back and thoroughly enjoyed it. Coworth Park is an English countryside mansion and Dorchester Collection property, and only about a 20 minute drive from Heathrow Airport. So it's great in terms of being far enough from Heathrow so that you don't feel like you're at the airport, and close enough so that it's not a total pain to get to.
One slight catch, that my friend conveniently forgot to mention before our stay — it's £220 per night, and this was for a quick overnight. To quote Sweet Brown, ain't nobody got time money for that! On the plus side he booked it through Virtuoso, so it came with a room upgrade, breakfast for two, and a £70 food and beverage credit.
Oh, and one other slight catch — it was the middle of friggin' winter, there was a snow storm the day we arrived, and the temperatures were below freezing. Not a time of year I'd necessarily like to stay in a converted horse stable. 😉
Anyway, the drive from Heathrow took about 20 minutes, and we arrived at Coworth Park at around 9:30PM. The long driveway leading up to the hotel was actually kind of nice given it was lined with snow on both sides, and it has been a while since I've seen real snow. The driveway has speed limit signs indicating the speed limit is 9.5MPH, which I thought was pretty funny.
The lobby is located in the main building, where we were welcomed by the bellman.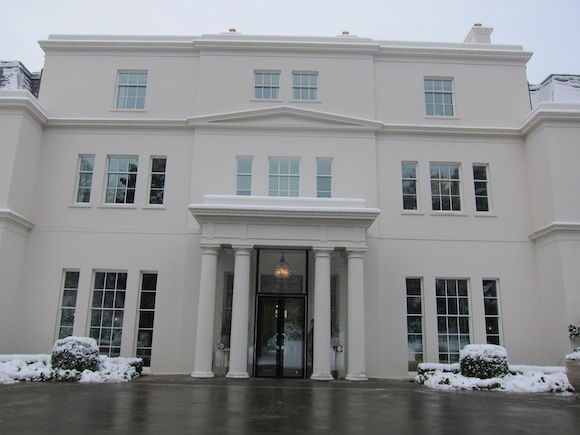 Lobby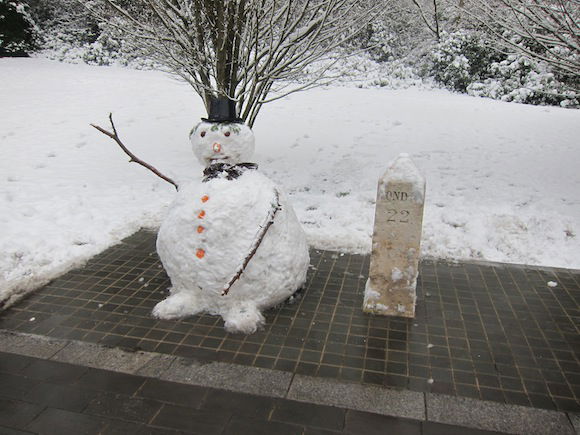 Snowman outside the lobby
The lobby was quaint with two reception desks. The associate was nice enough and informed us that we had been "upgraded" already, and offered us a further buy up. This hotel has "stable" rooms and "mansion" rooms. The stable rooms are accessed from outside, while the mansion rooms are in the main building. They wouldn't budge on any further complimentary upgrade, and we weren't about to pay even more for our one night stay.
Here's the thing — I can fully appreciate a hotel not wanting to upgrade too far for free, but in this case we were staying at the hotel for just 14 hours, it was below freezing outside (and they'd be walking us to our room), and hotel occupancy seemed to be as close to zero as humanly possible, given that no one goes to a countryside estate in the peak of winter. There's also something that leaves a bad taste in my mouth about one of the first questions out of the associate's mouth being whether we wanted to buy up to a higher category room.
Maybe my perception is off, but generally I associate smaller, non-major chain hotels with being more lenient on upgrades. That's to say that if your occupancy is next to zero and you have someone staying for a one night stay where they're booking a rate that comes with an upgrade based on availability, maybe it makes sense to give them a further upgrade so they can experience a premium room, and explain that the upgrade is being offered on a one-time basis due to low occupancy.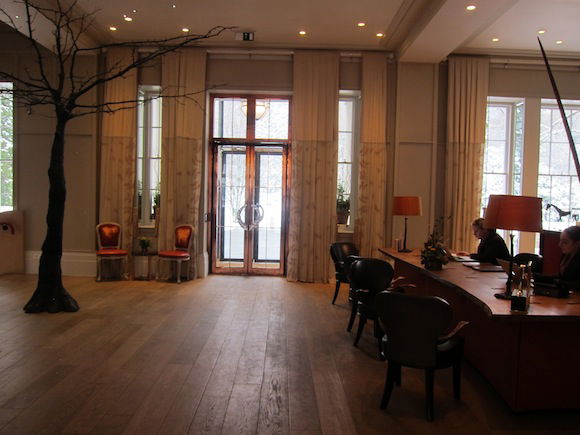 Lobby
Anyway, we weren't about to pay for a further upgrade, so we were driven to our room in a golf cart in below freezing temperatures. I'm a Floridian at heart, and I'm pretty sure I was muttering "I hate you for booking this" to my friend the entire drive. 😉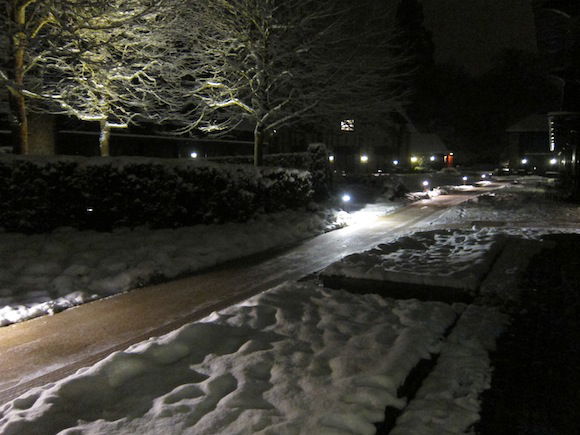 Drive to our room
We were in stable 77. On the ground floor is an entryway where you have to swipe your key, and then up the stairs is the entryway to two rooms. Our room was on the left.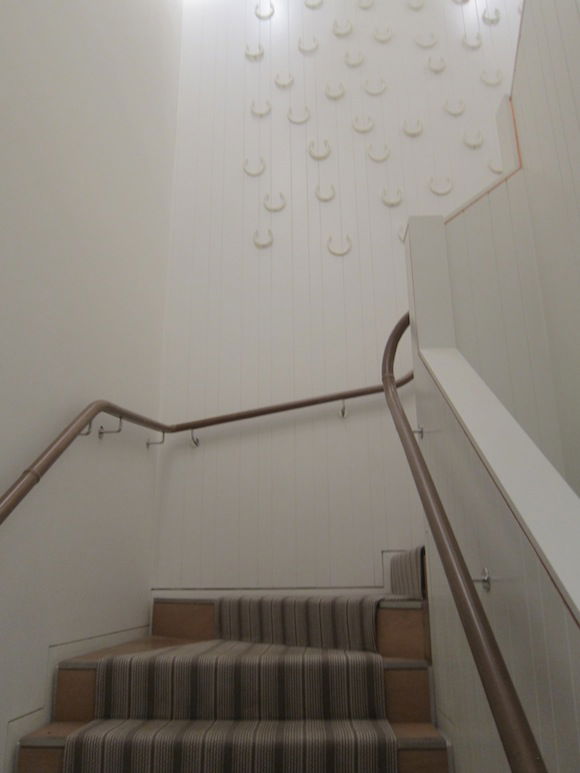 Stairs to our room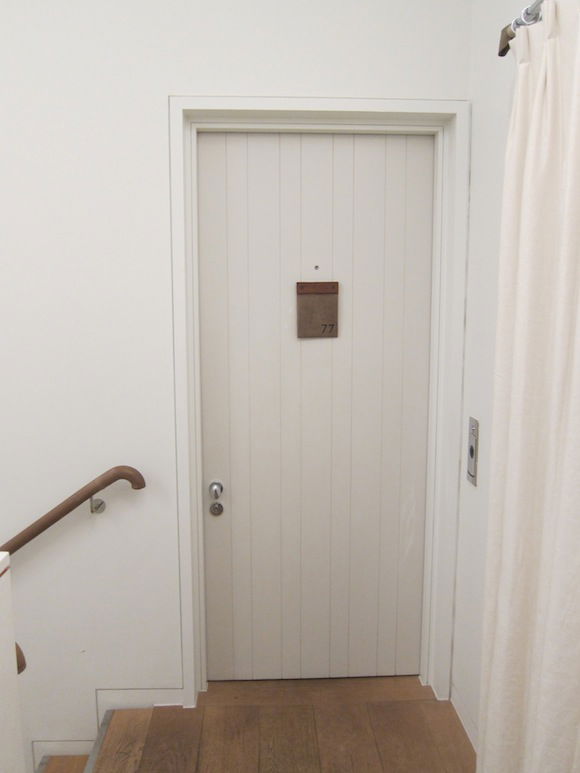 Stable 77
Anyway, the room itself was beautifully decorated. It was a bit on the small side but featured a king bed with a great mattress, a desk, and two chairs.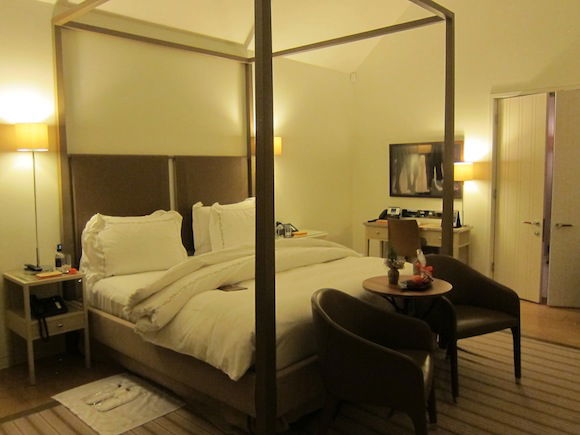 Our room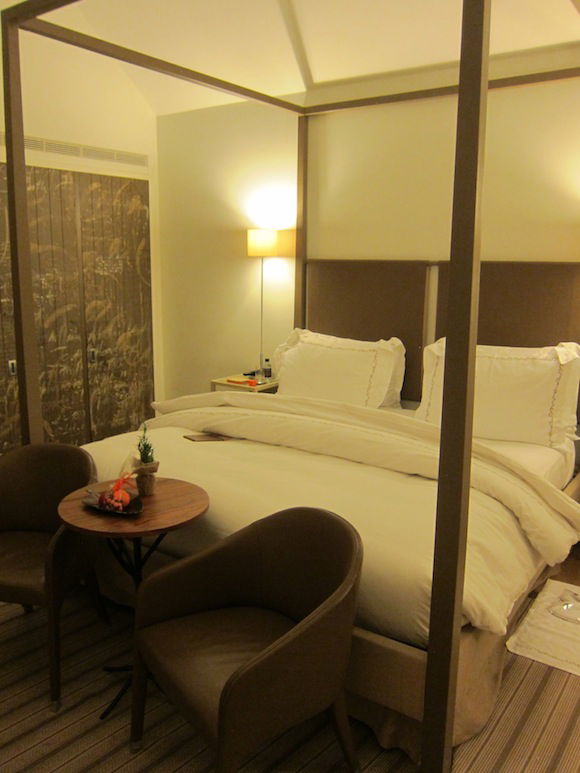 Our room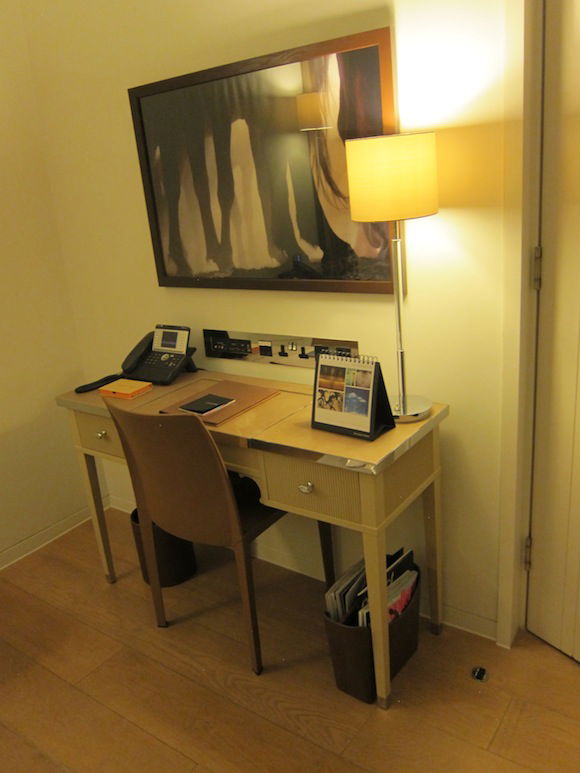 Our room
The bathroom was probably half the size of the rest of the room, with a sink, toilet, walk-in shower, and beautiful soaking tub.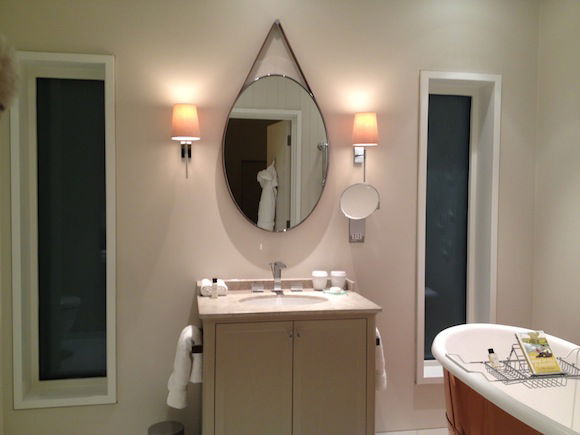 Sink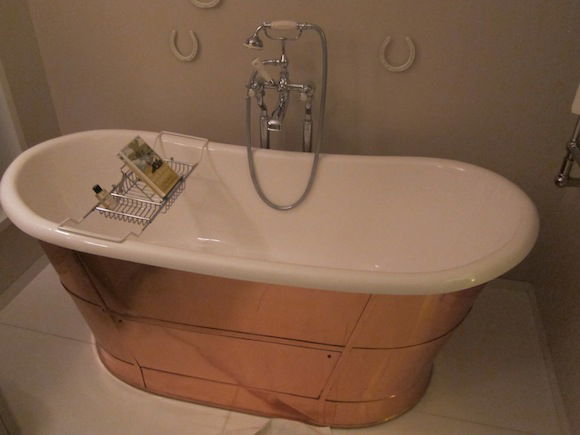 Bathtub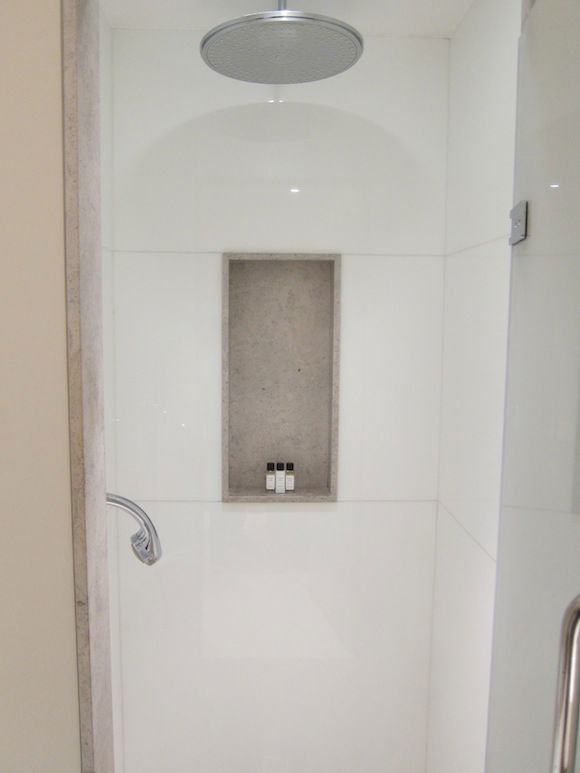 Shower
All the toiletries were Mitchell and Peach branded.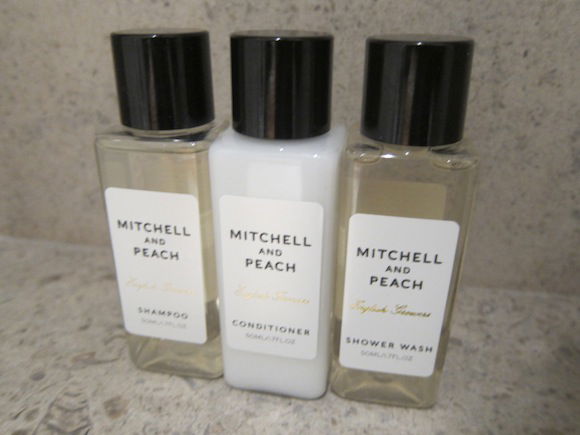 Toiletries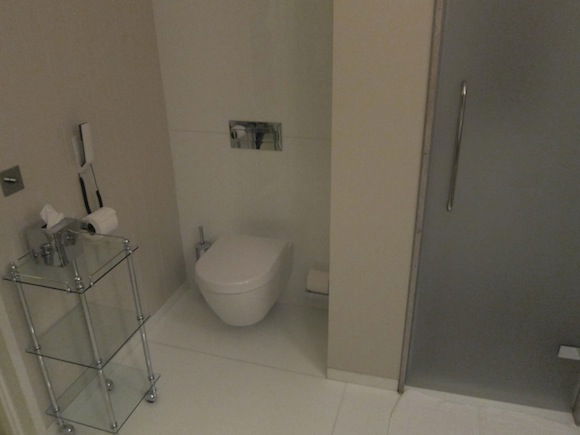 Toilet
Now, here's what I'm confused about. I believe we were told we were upgraded to a Stable Deluxe Room, though after looking at the hotel's website it looks a whole lot more like a Stable Superior Room to me.
Here's the picture they have of their Stable Superior Room (their entry level room):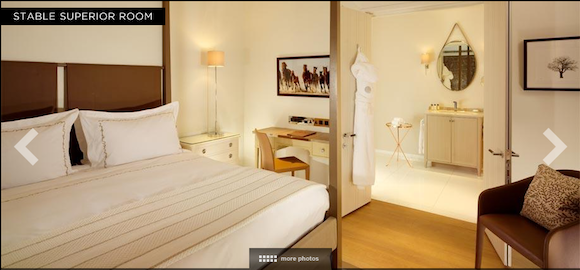 And unless I'm missing something, that's exactly what we got. You guys tell me whether it looks like a Superior or Deluxe room…
We had the £70 food and beverage credit to spend and knew we wouldn't be able to spend it the following morning, so decided to go to The Barn for drinks and a late night snack. The restaurant itself is well maintained and beautifully decorated. We had the restaurant to ourselves, and you can't beat being served by a handful of staff.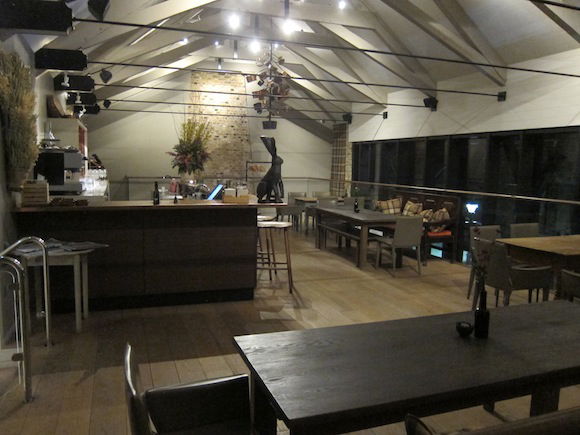 The Barn
I wasn't really hungry though ordered fish & chips while my friend ordered a burger. I quickly realized my stomach couldn't handle any more fried food, so I simply stuck to my Diet Coke.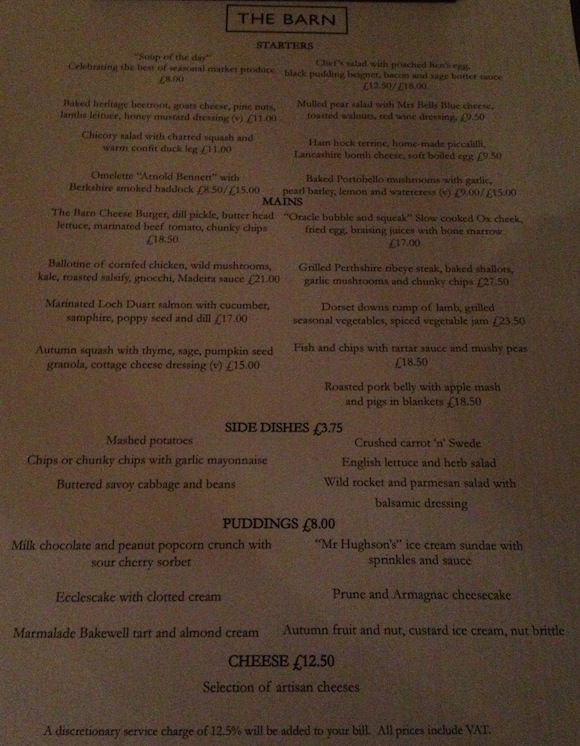 Menu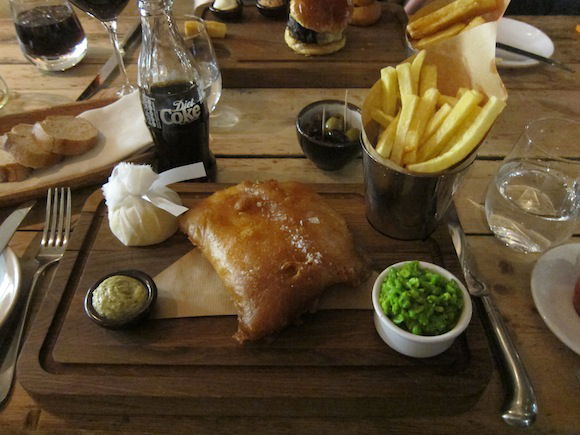 Fish & chips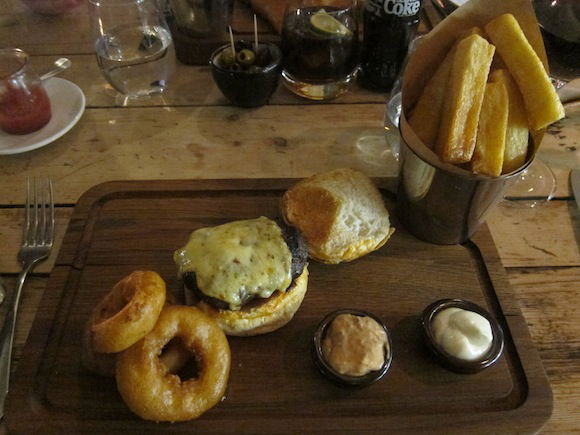 Burger
Wifi at the hotel is free, so after spending a bit of time catching up on work I got a decent night of sleep. At around 9AM the next morning I awoke to a winter wonderland of sorts. This was the view from our room: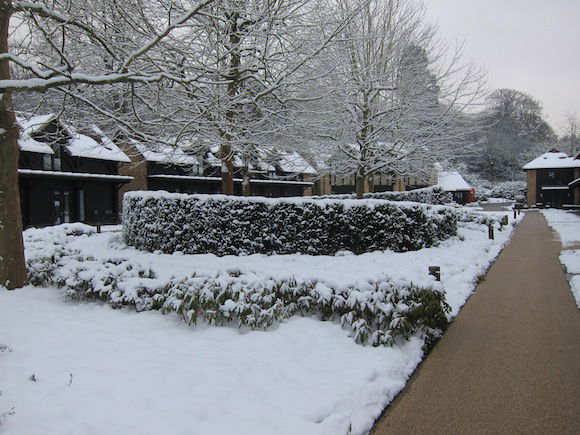 View from our room
While I hate being outside when it's cold, I love looking at snow. So I quite enjoyed the views during our stay and could have probably sat there for a day looking out the window without moving.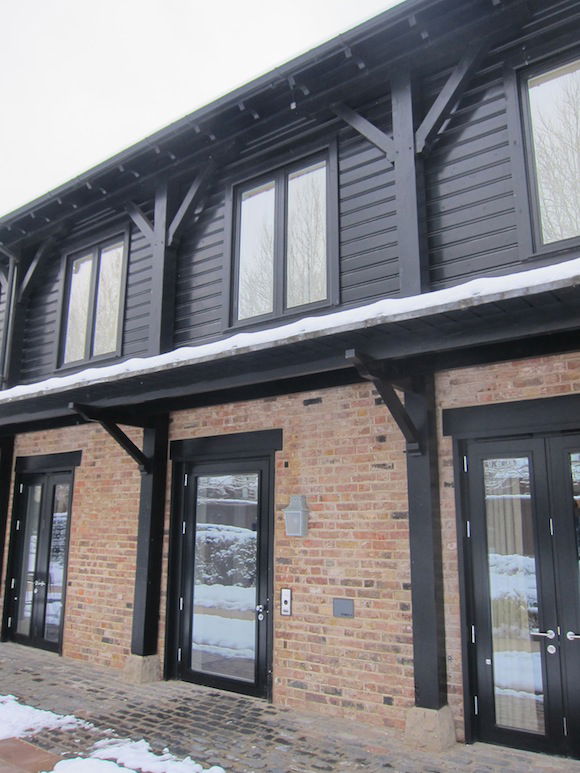 Our stable exterior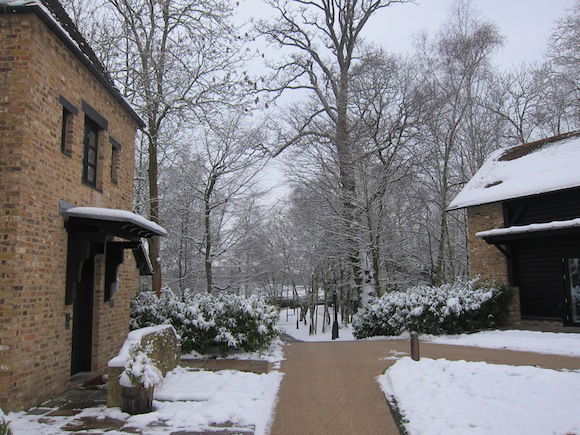 Hotel grounds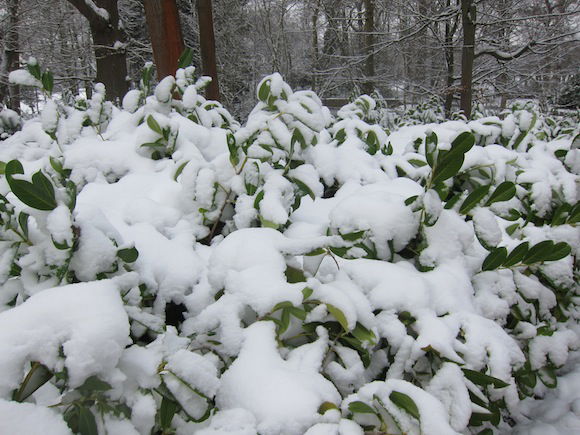 Hotel grounds
Breakfast was served in the hotel's main restaurant, Restaurant Coworth Park (a name as creative as my food descriptions — I know!).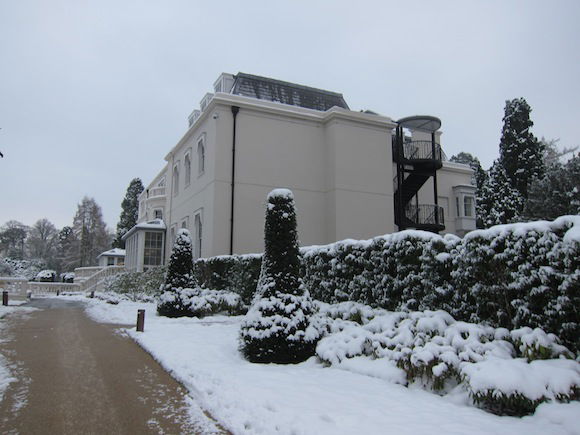 Main building
Again, the restaurant was beautifully furnished, and we were the only ones there.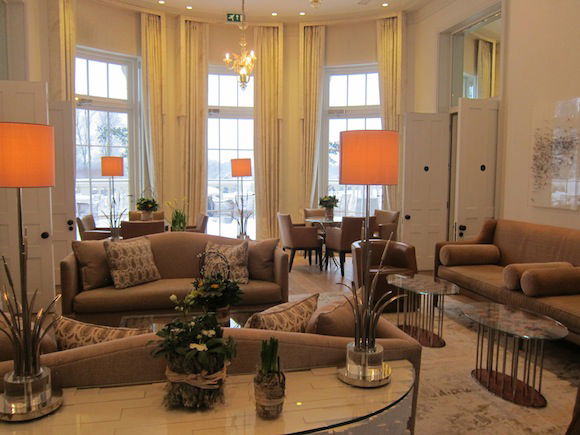 Restaurant Coworth Park Bar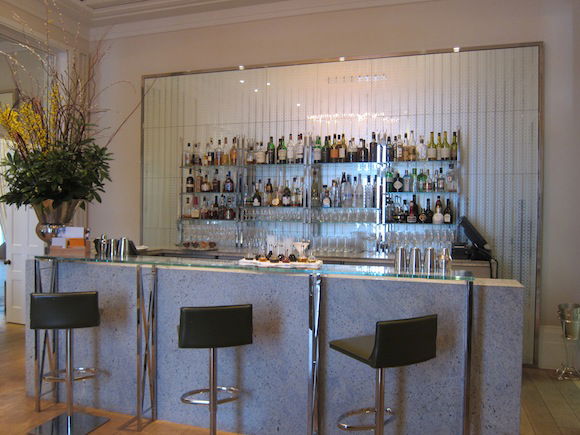 Restaurant Coworth Park Bar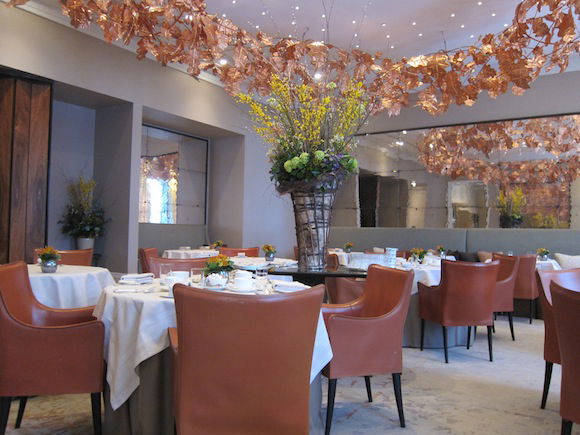 Restaurant Coworth Park
The breakfast menu read as follows: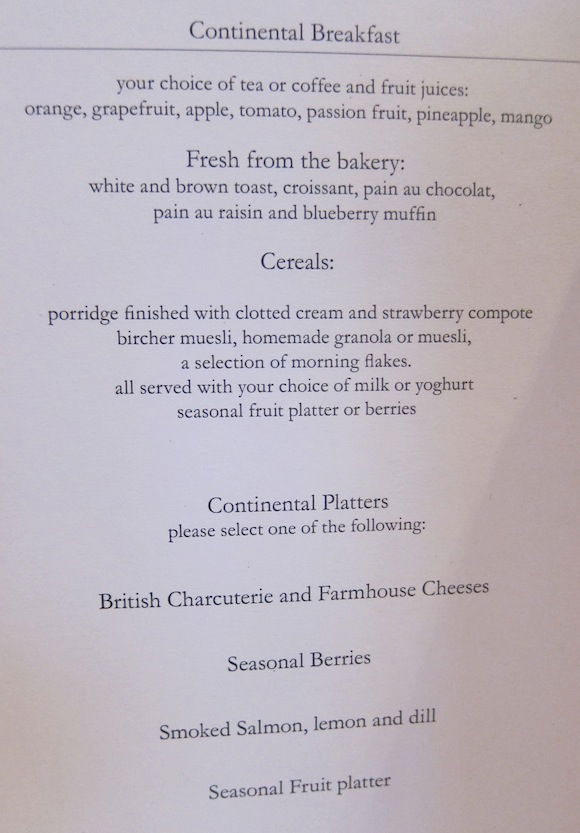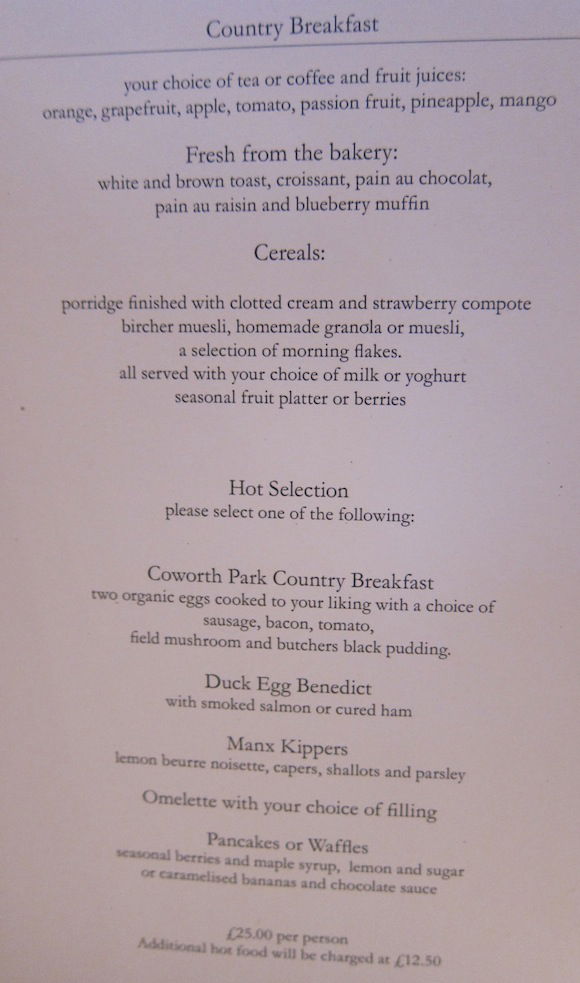 We had the choice between the continental and country breakfast given that we booked through Virtuoso, and went with the latter. I have to say the service was spectacular, as every time we were both served something it was done by two waiters so that we were served at exactly the same time.
Service began with some breakfast tea and pastries, which tasted fresh. More than anything else I loved the view, which could have been straight off a postcard.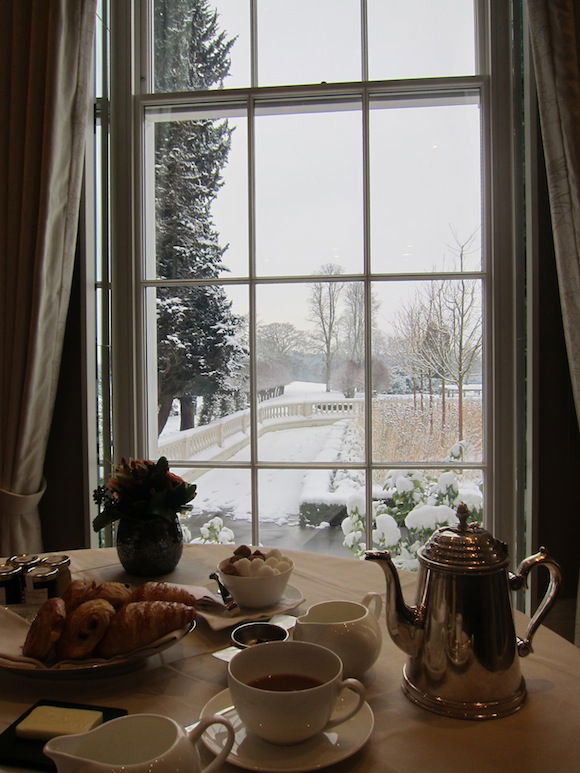 Breakfast with a view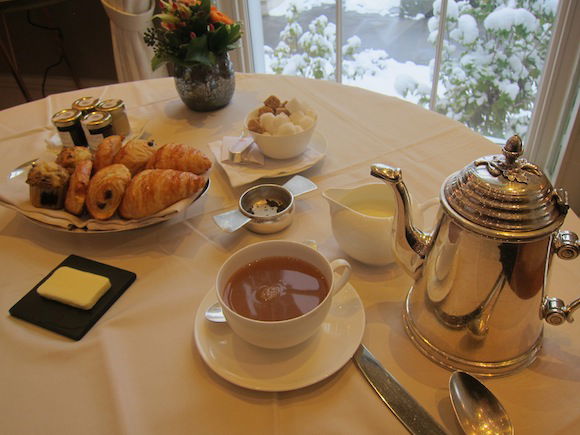 Tea and pastries
I then ordered some homemade granola, with the milk being poured in an indescribably precise way.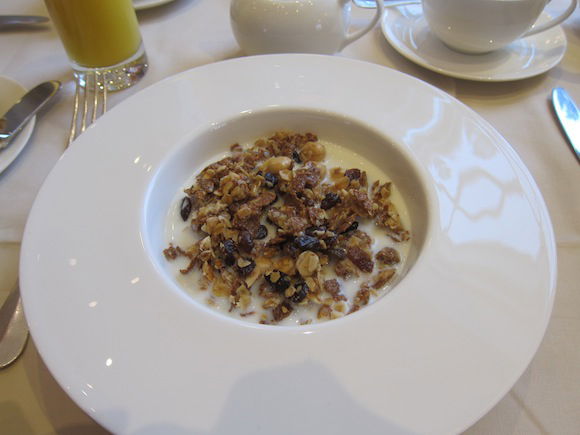 Homemade granola
Then for the main course I had the waffles, while my friend had the pancakes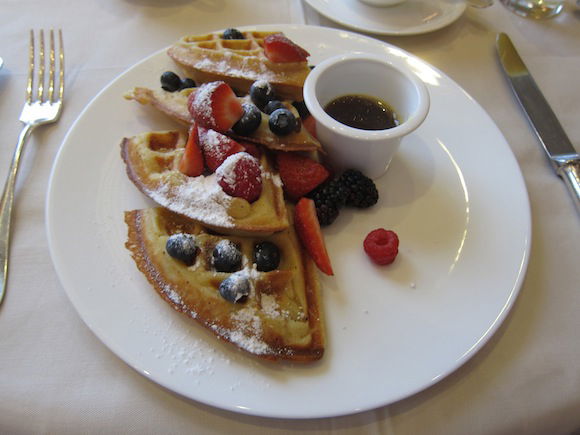 Waffles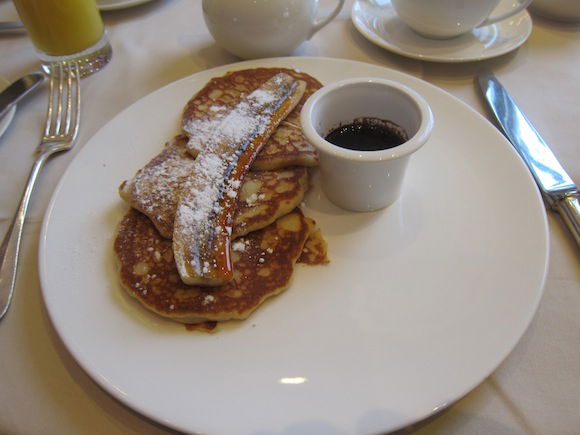 Pancakes
After breakfast it was time to pack our bags and head back to the airport. We went to the front desk to ask about getting a taxi to the airport, and they offered to book one for us. They did, and asked whether we wanted to pay cash or charge it to the room. Obviously we preferred to charge it to the room, though asked whether there was a price difference. We were told it would be £45 if we paid cash or £65 if we charged it to the room. Seriously, a £20 premium for charging it to the room?! The nearly 50% premium was sleazy enough, though it was made sleazier by the fact that they didn't disclose it until we specifically asked.
Anyway, on the whole I thought this was physically a beautiful property and I can imagine it being a nice "country" escape for those that live in London looking for a weekend getaway. For an airport overnight I certainly can't afford/justify paying so much for a stay. I'd either stay at the airport or go into the city, because I don't want to be so close to London yet so far from the action. And while it's physically a beautiful property, I'm not sure what I'd actually do there, especially in winter. Lastly, I was a bit put off by the front desk, as they seemed a bit too sleazy/greedy for my liking, but maybe I'm off base there.
But if you have the money and you're looking for a weekend "country" getaway from London, this place is probably tough to beat.