---
Update: See this post for a full, updated review of the recently renovated Concorde Room.
Up front I should say that I shared many of my feelings of the Concorde Room in a post entitled "The British Airways Concorde Room… a bloody disaster!" So if you've read that post, parts of this installment may seem familiar.
The drive to Heathrow terminal five took about 20 minutes, and we were dropped off at the entrance closest to first class check-in.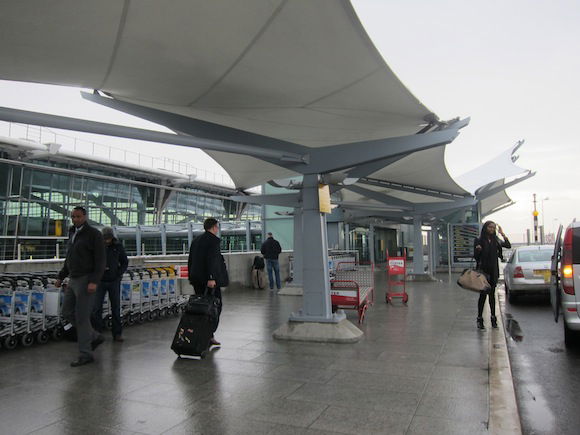 Terminal exterior

Terminal five entrance
The terminal five check-in area is impressive with high ceilings and lots of natural light.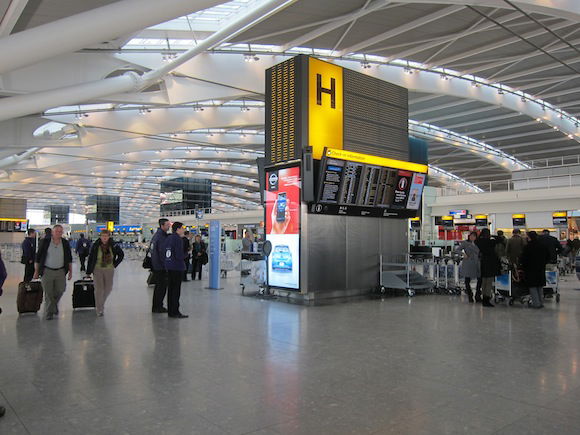 Terminal five check-in area
To the very right of the terminal we saw the first class check-in area, which was partitioned off from the rest of the terminal.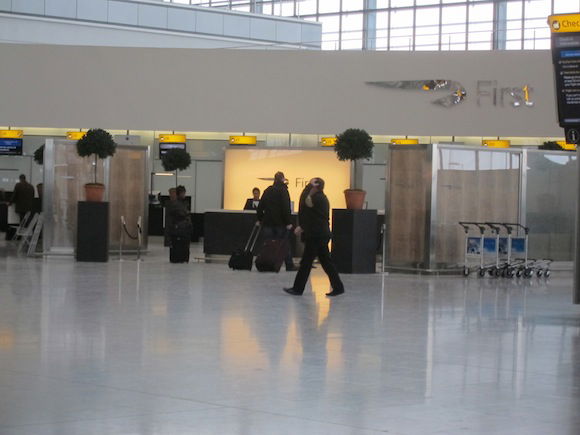 First class check-in area

At the entrance an agent asked us whether we were in first class and directed us to one of the open counters.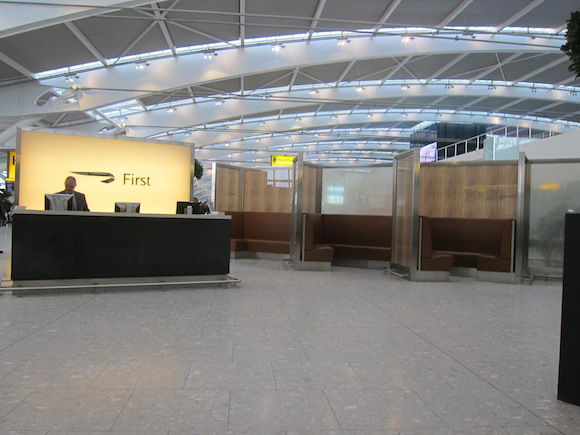 First class check-in area
The check-in counters are nothing fancy — nothing like Thai in Bangkok where you're seated and offered a drink while they process your check-in — though perfectly functional. While I had carried on my rollaboard for the entire trip I decided to proactively check it to avoid having my bag eventually gate checked, given that this is Heathrow after all. The agent was friendly and confirmed that our flight would be operated by a 747 with the new first class, which I was happy to hear.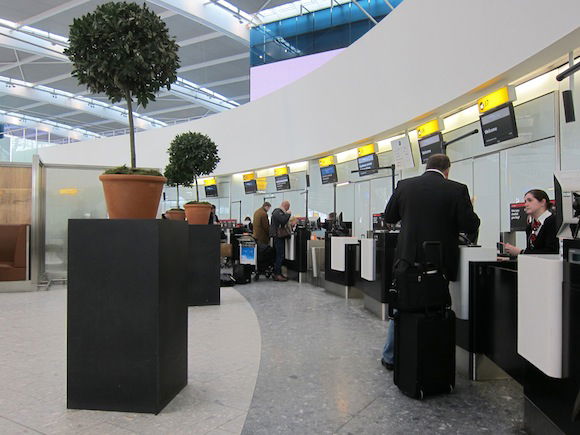 Check-in counters
We headed towards the security checkpoint, and I found the below sign pretty funny. The "how busy is security" indicator might be a lot more useful if they indicated what the scale was.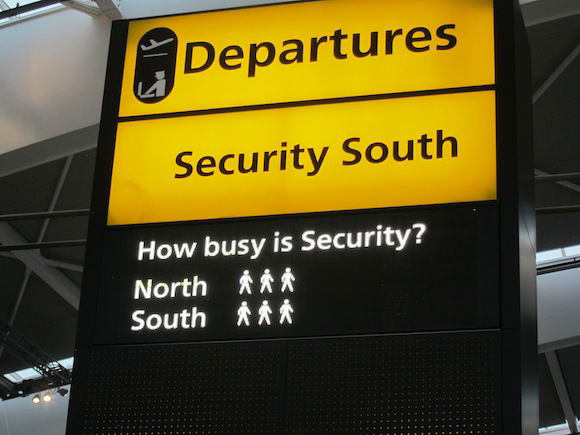 How busy is security?
The premium security queue was short and we were through in a matter of minutes. The door to the Concorde Room is just past the security checkpoint on the right, so I snapped a picture of it with my phone. I was immediately approached by one of the security officers — "let me see that photo and then delete it immediately." I responded with "sorry, to clarify, I was taking a picture of the lounge entrance and not the security checkpoint. Here's the picture." I showed her the picture and she said "delete that right now." I said "is photography not allowed at the airport or why?" She responded with "it's a security policy but has nothing to do with security." Huh? I deleted it and she said "you better not restore that photo." Alrighty then…
I figured things would only get better from there, though it didn't get any better as the Concorde Room agent didn't even say a word and simply handed back our boarding passes after scanning them.
I had heard great things about the Concorde Room, so was excited to see what it was like. After all, it's only available to British Airways first class passengers, while other OneWorld first class lounges are available to OneWorld Emerald members and partner airline first class passengers. My point of comparison was the Galleries First lounge, which is more or less for partner first class passengers and OneWorld Emerald members.
The lounge was smaller than I expected and also quite crowded. There were lots of seating areas, though nothing as stylish as the Lufthansa First Class Terminal in Frankfurt or anything.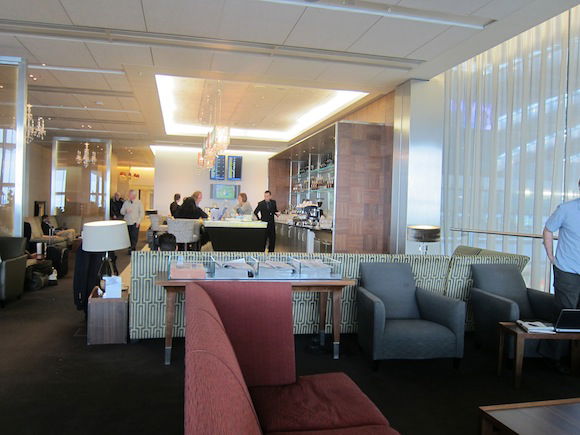 Concorde Room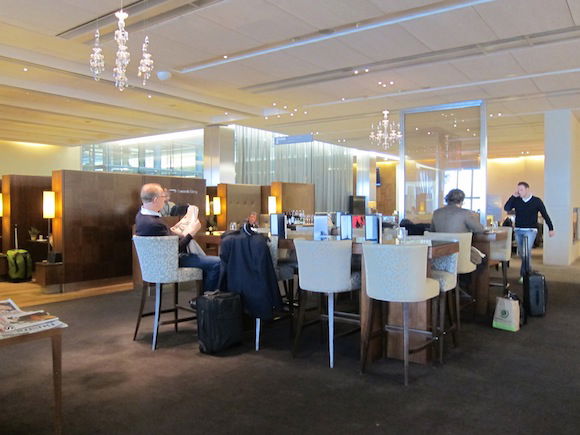 Concorde Room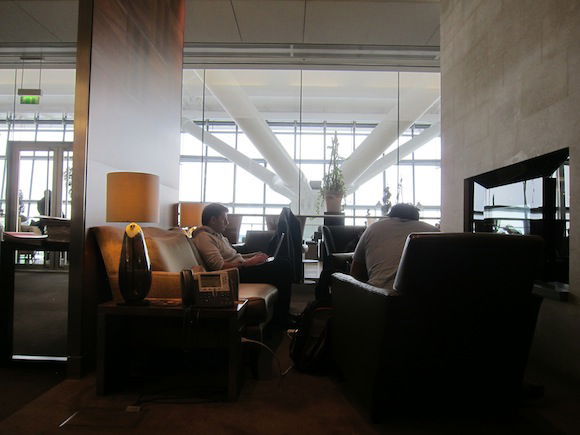 Concorde Room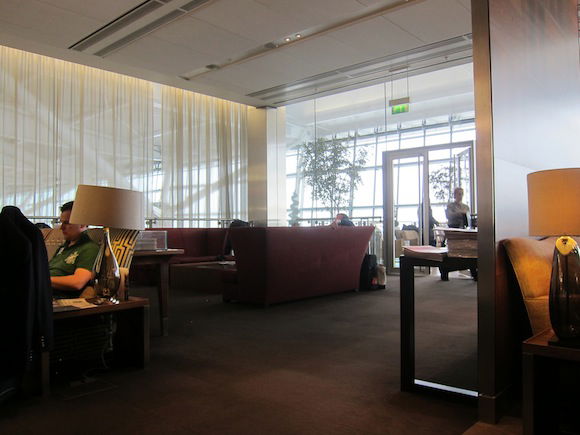 Concorde Room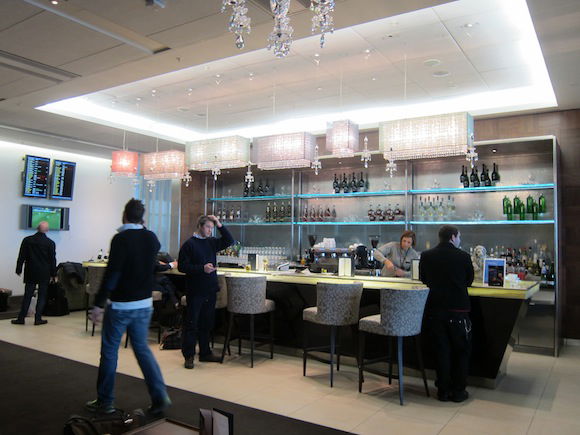 Concorde Room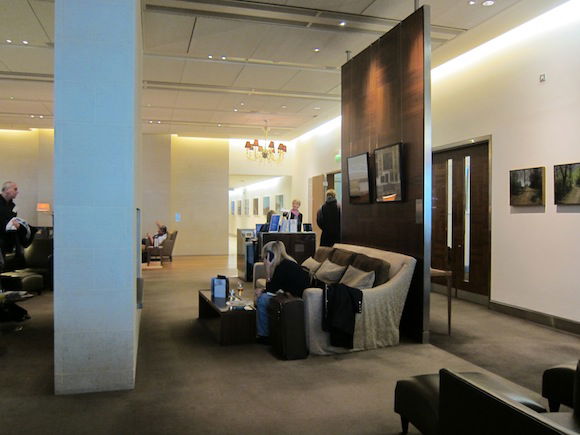 Concorde Room
There's also a terrace portion of the lounge, which is open air with the rest of the terminal. I actually found it a much more comfortable place to sit thanks to the natural light and high ceilings.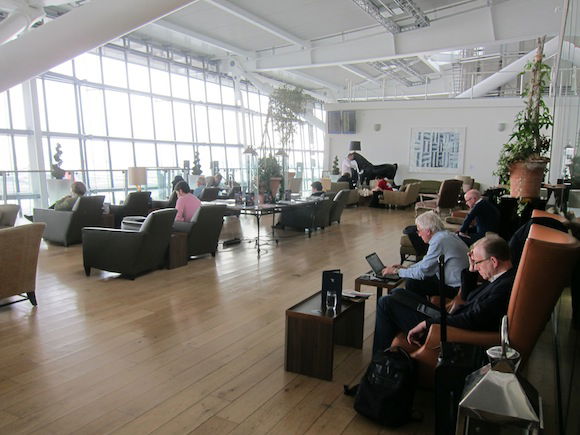 Concorde Room terrace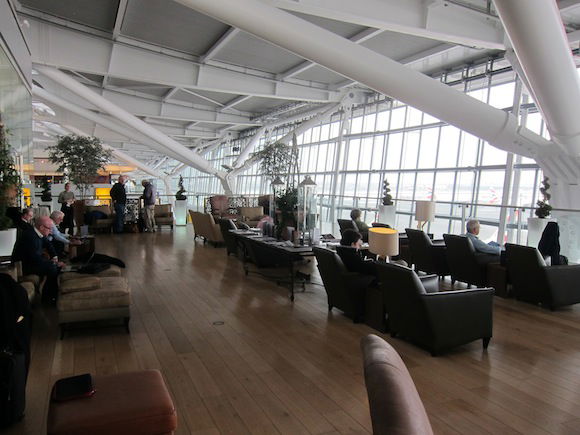 Concorde Room terrace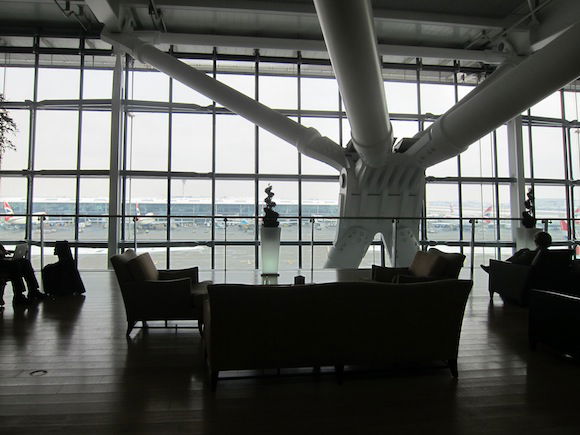 Concorde Room terrace
I had heard great things about the service in the Concorde Room, though I didn't find that to be the case. Not once was I approached by one of the wait staff and offered a drink or anything to eat, contrary to Lufthansa and Thai's lounges, where you're asked just about every few minutes.
The disappointment continued with the rest of the lounge. The bathrooms were spacious, though industrial looking and not very clean.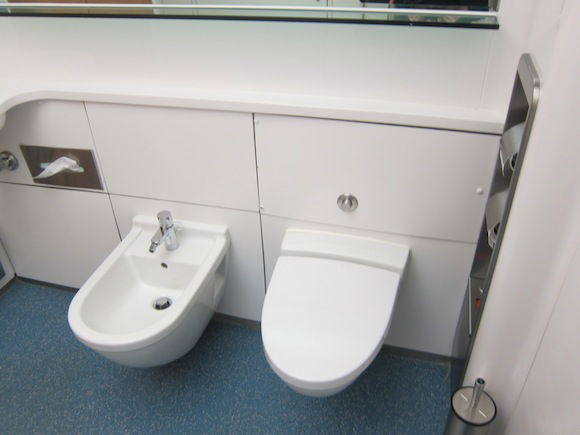 Bathroom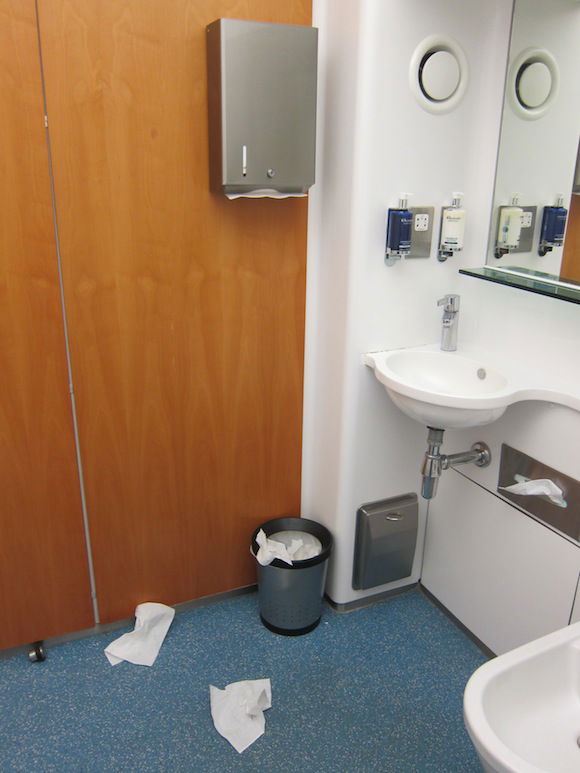 Bathroom
The Concorde Room also has a few Cabanas which can be reserved in advance. I didn't reserve one since we were just at the airport for a couple of hours, though I did have a look at one. The Cabana featured a chair with ottoman, TV, and bathroom. Nothing impressive or anywhere I'd want to kill much time.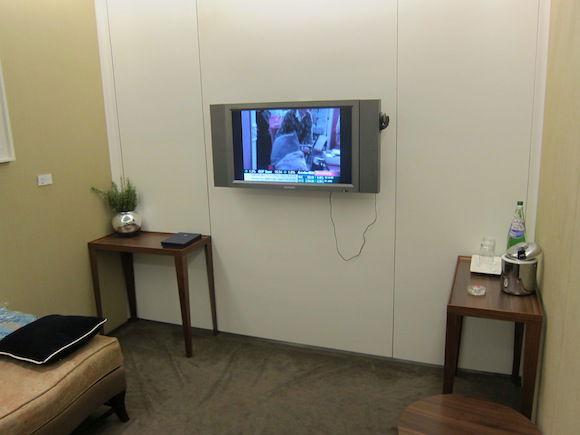 Cabana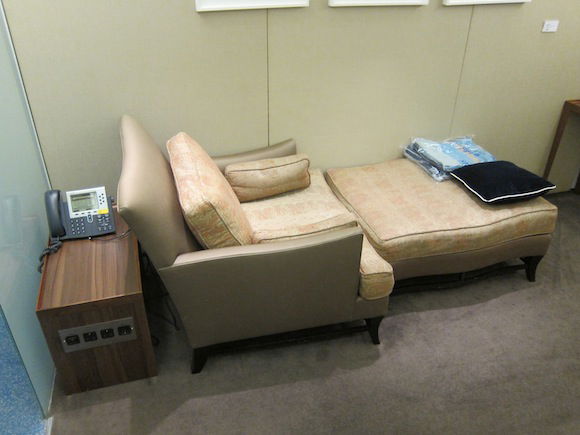 Cabana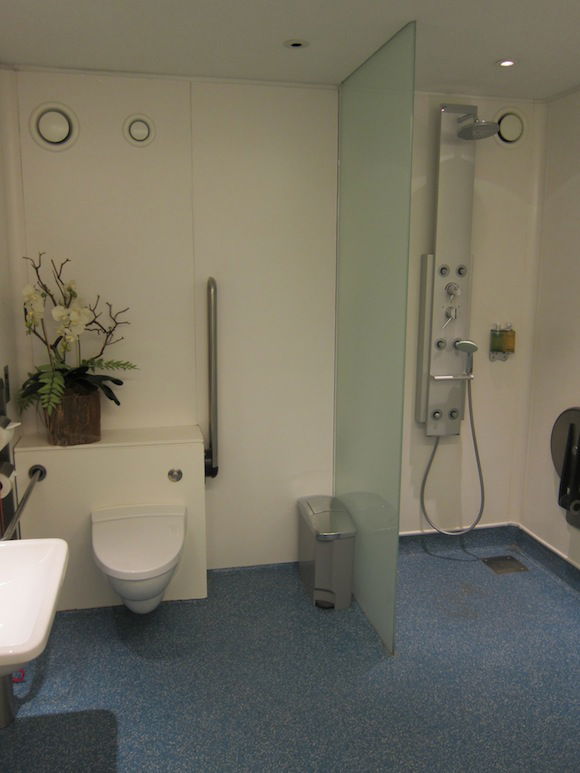 Cabana
At around noon we decided to go to the Concorde Dining area to eat.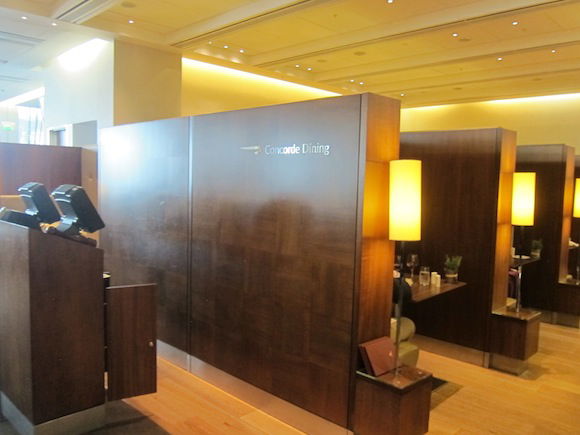 Concorde Dining
We walked up to the counter and I said "hello," and the waitress walked away and huffed, having clearly heard what I said. She returned and simply said "two?"
She brought us to our seats without saying a word, and after 30 seconds came back and said "ready?"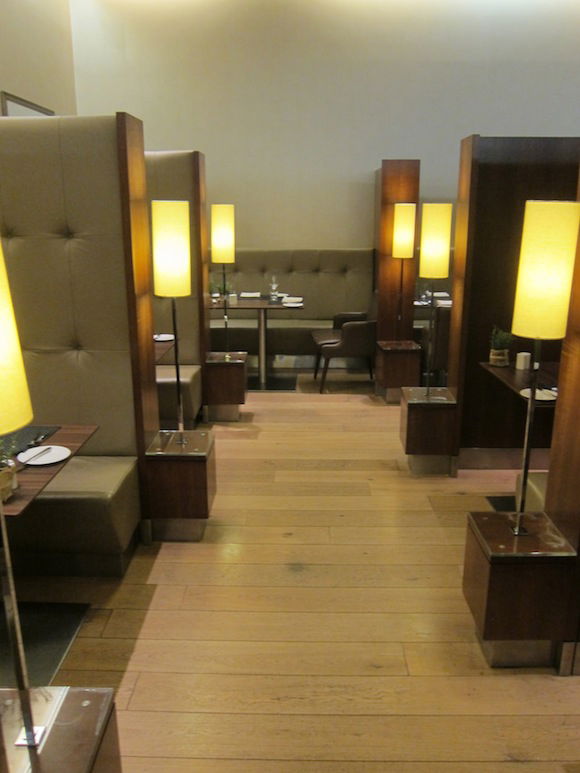 Concorde Dining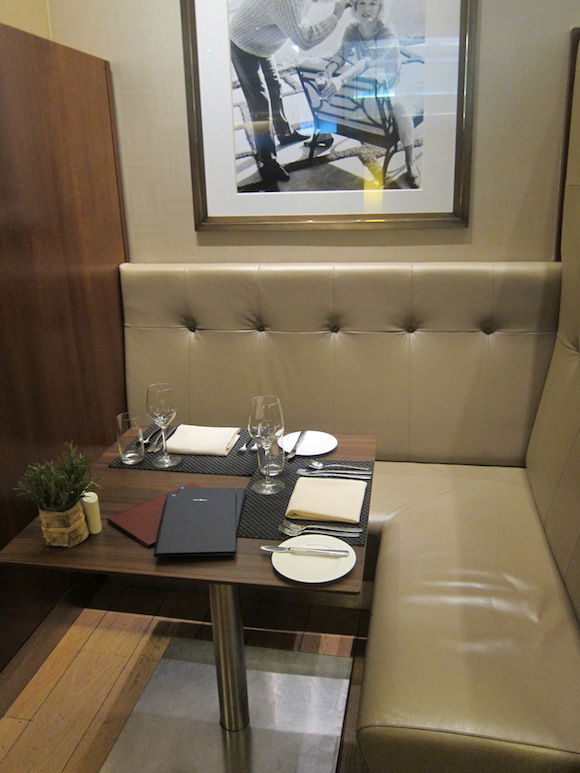 Our table
We asked for some more time so we could look over the menu, which read as follows: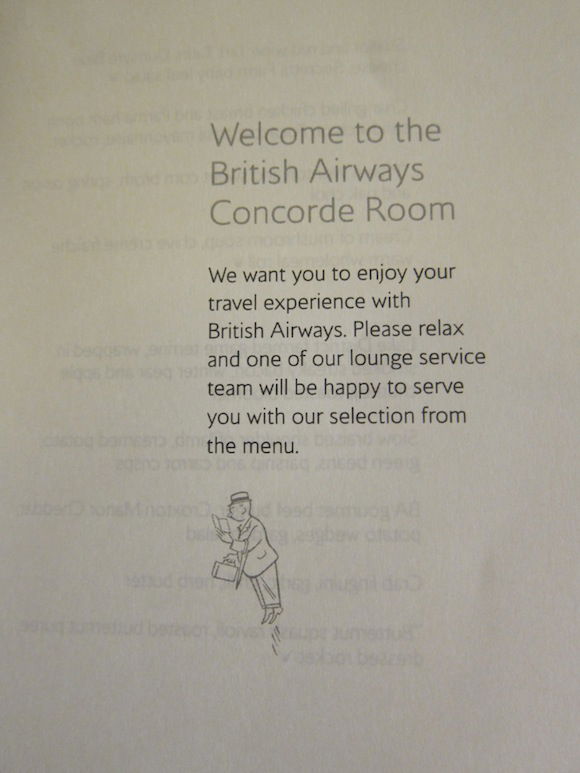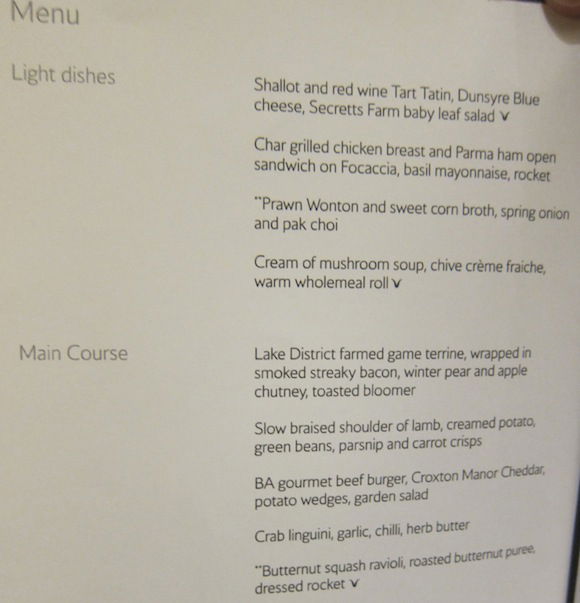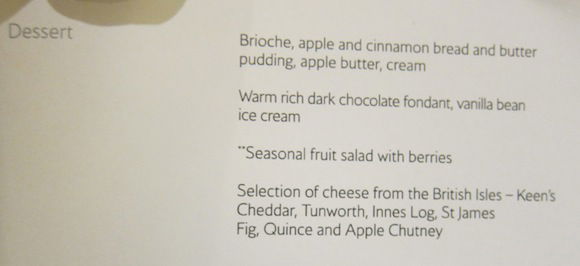 The wine list read as follows: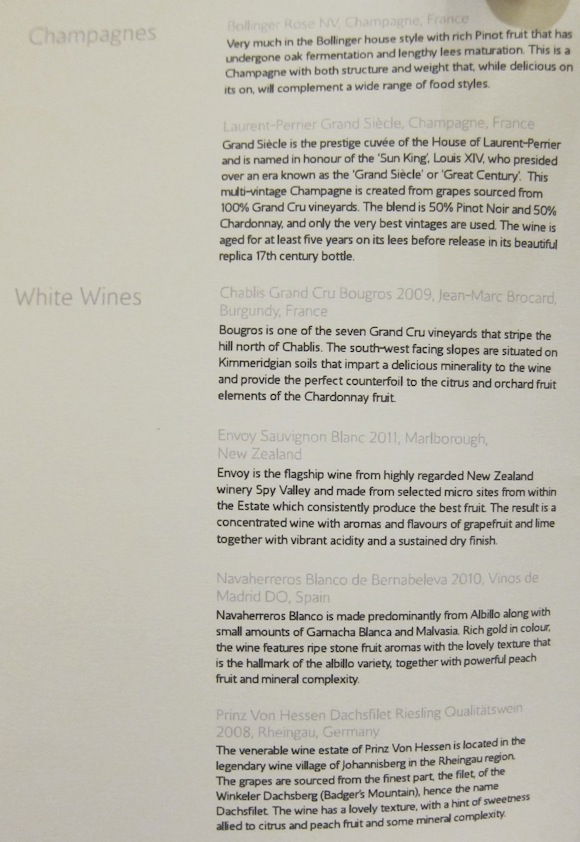 I ordered an open faced chicken sandwich, one of only four things on the "light bites" menu. She looked at me like I was from another planet and said "we're out." So I instead just ordered a wonton soup. My friend ordered the burger though asked for it medium rare, to which the waitress responded they could only do it well done due to health code, but assured him "it's more like medium though."
Then our food was served. I was first served my wonton soup, which was pretty bland.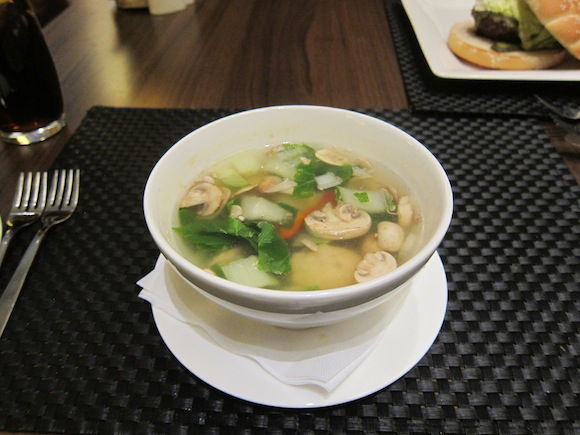 Prawn Wonton and sweet corn broth, spring onion and pak choi
My friend had ordered a burger, and as she brought the plate I could have swore she said "f@ck, f@ck, f@ck." Excuse me?!?
As it turned out they had placed the silverware too close together, so she was asking my friend to move his fork a little bit. Still, I can think of better ways to do that than "fork, fork, fork."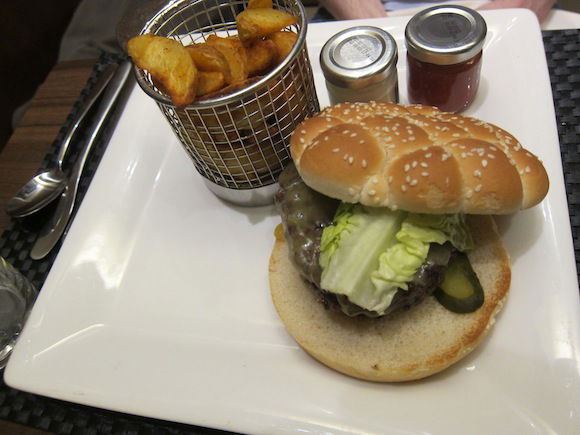 BA gourmet beef burger
His burger was far too well done for his liking, unfortunately.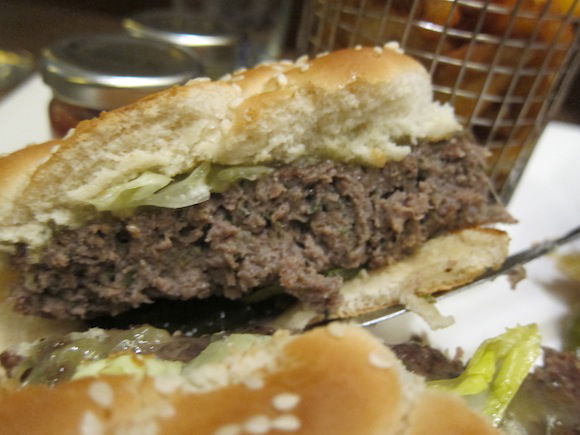 Well done indeed!
Then we ordered dessert. I ordered the warm chocolate fondant with vanilla bean ice cream, while my friend ordered the bread pudding.
The ice cream was already completely melted by the time the chocolate fondant arrived… if it even was ice cream to begin with.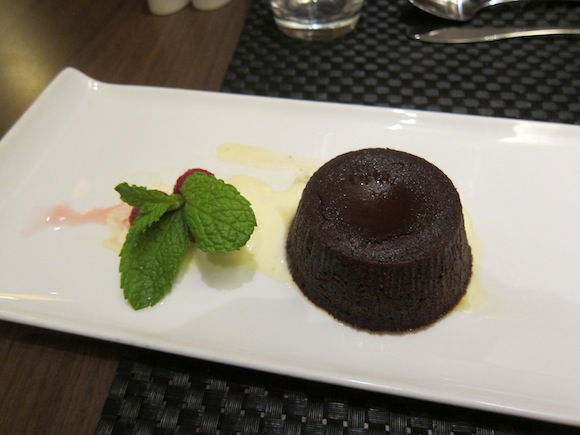 Warm rich dark chocolate fondant, vanilla bean ice cream (or not)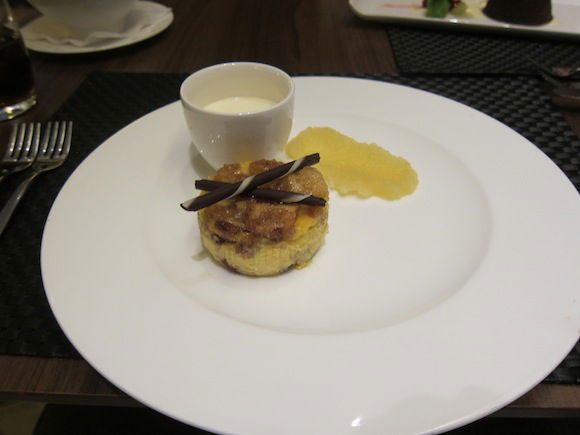 Brioche, apple and cinnamon bread and butter pudding, apple cream, butter
Then it was time for the spa appointment I had made for 1:20PM. I got there at 1:15PM and was told that my treatment would be running about 15 minutes late.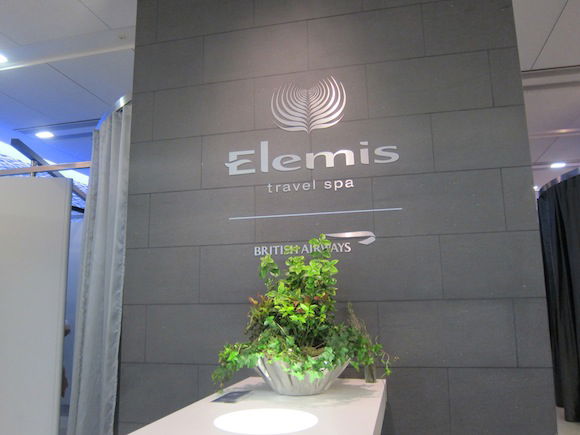 Elemis Spa entrance
The spa offers three types of treatments, though when we made our appointment only the scalp and shoulder massage was available.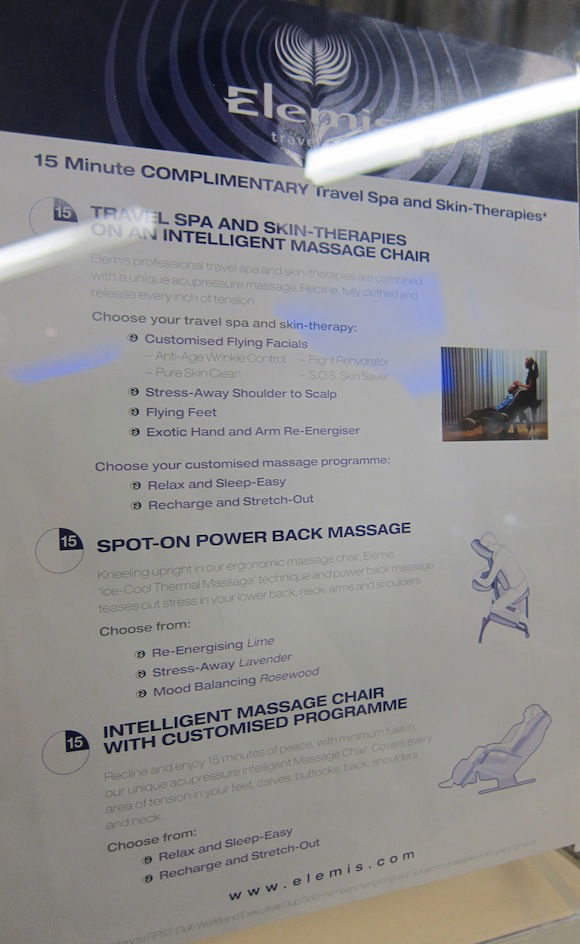 Spa menu
I sat in the waiting area for about 15 minutes until it was time for my appointment, and I got to witness several people finishing their treatments and being pitched Elemis products.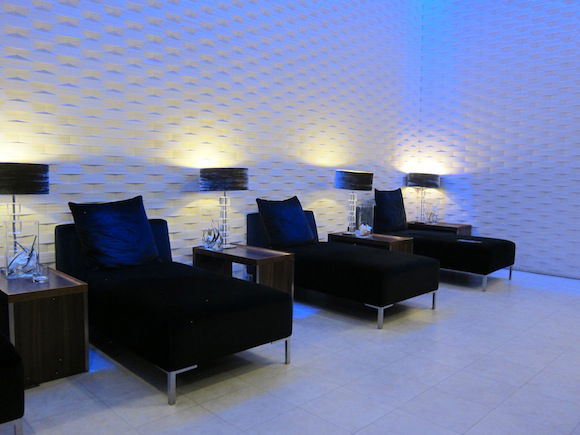 Elemis Spa waiting area
Eventually it was my turn and the therapist directed me to the massage chair, which he turned on right away. The chair itself was awesome, though then he proceeded to just lightly push on my left and right shoulders for about 10 minutes. A toddler could have given as skilled of a massage.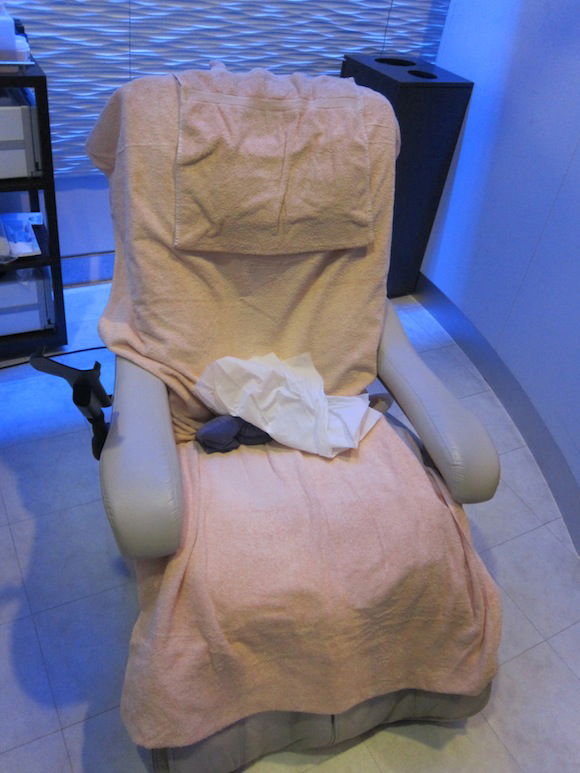 Spa chair
The Elemis Spa is located just outside the Concorde Room, and I made three separate trips in and out. By the third time I figured I wouldn't need to show my boarding pass again since it was the same lady each time. I asked if she wanted to see it, and she said "yeah, I have no way of remembering who walked in and out." Great attention to detail!
As we were getting ready to leave the lounge we noticed that our flight had posted a 30 minute delay, so we headed back out to the terrace portion of the Concorde Room to hang out for a few minutes. I opened up my laptop not aware of my surroundings, and then saw a guy walk up to the lady seated across from me and ask her for a picture. I couldn't tell who it was because he was blocking her from my sight, but as soon as he moved I saw who it was — the one and only Susan Boyle (aka SuBo!).
I'm not gonna lie, I was really star struck, and wasn't sure whether to just pretend she wasn't there, tell her I thought she was awesome, ask her for an autograph/picture, or what. So I simply moved on.
After catching my breath for a moment, we headed to the "B" satellite, where our flight was departing from. It's quite a haul to get there, as it requires taking the escalator to the lower level and then a train under the tarmac to the other satellite.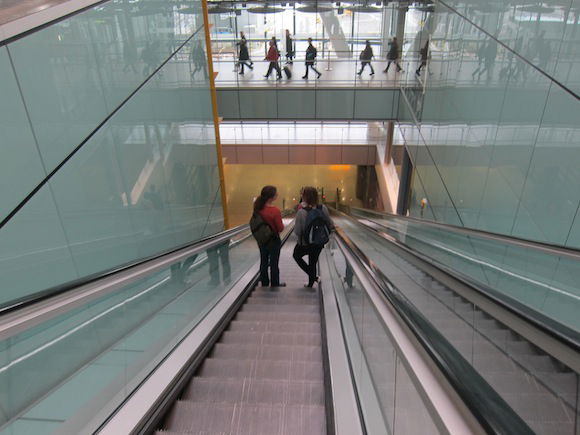 Escalator to train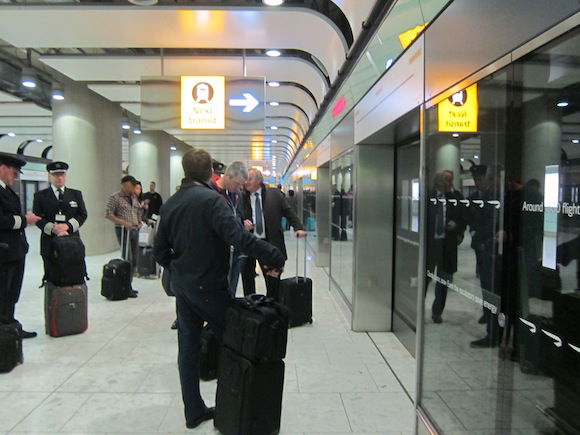 Waiting for train
The gate area was pretty busy and boarding was underway, so we went to the "Fast Track" lane, where the agent scanned our boarding passes and gasped, followed by a loud sigh. "Tssssssh, I'm sorry, I'm afraid there's a slight flood in the first class cabin so I'm going to have to ask you to have a seat over there and I'll call you as soon as I have the authority to do so."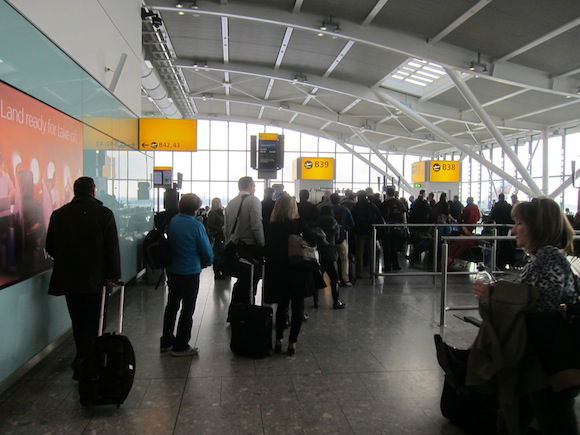 Our departure gate
Flooding in the cabin? What the…?
Mind you, the area they had us sit was also where they did the "secondary" screening, which roughly translated to every minority passenger being pulled over for a "random" additional screening.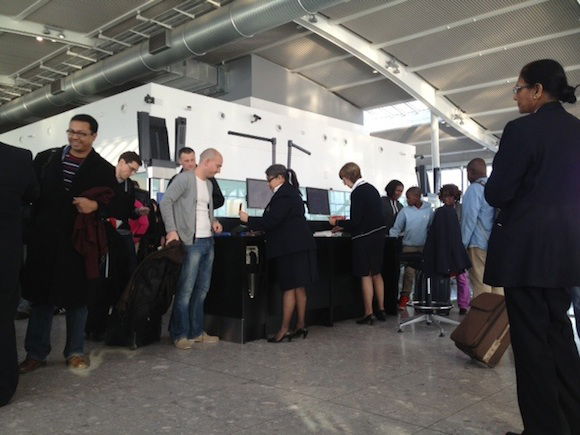 Sitting in the secondary area
After about 15 minutes the agent was apparently given the "authority" to continue boarding, so on we went. I was picturing some water-sucking vacuum to be at work in the first class cabin, though it was completely dry, as apparently there was just a small problem with the lav.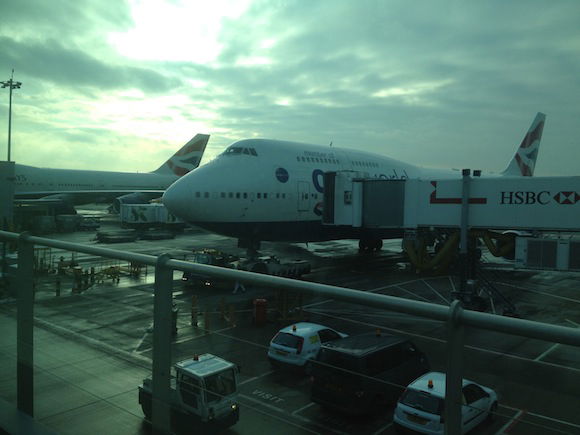 Our 747 to Seattle in the distance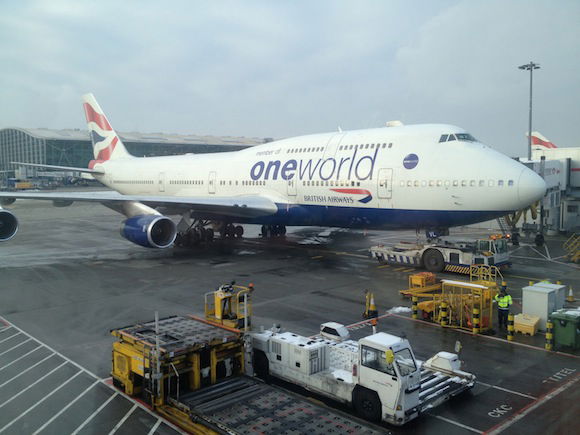 OneWorld 747 parked next to us
Anyway, on the whole the Concorde Room was extremely disappointing, and not even on my list of the top ten lounges out there. The lounge itself and food were nothing special, though more than anything else I was put off by the rude and indifferent service from just about anyone in the lounge. It would be one thing if they were at least inviting or friendly, but that wasn't the case…
I'm hoping my experience was a one off and not actually reflective of the lounge.