---
Update: This lounge is now closed, and you can see this post for more information.
I had flown in from Seattle earlier in the day, and arrived at the Singapore Airlines check-in counter right as it opened at 7:20PM, about 3.5 hours before departure.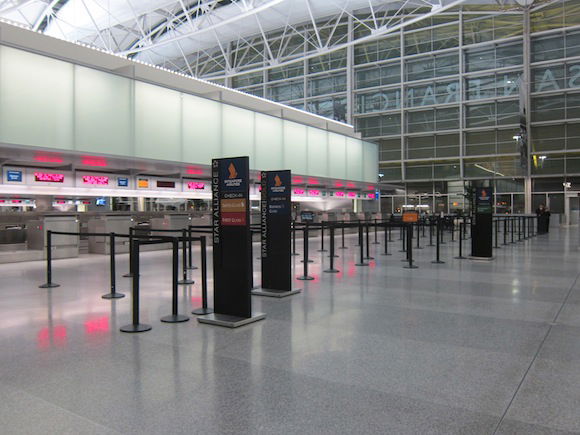 Check-in
There was an older couple in the Suites Class check-in line in front of me with luggage that was probably more expensive than a revenue Suites Class ticket. Within a few minutes it was my turn, and the friendly agent printed my boarding pass in no time. The cabin seemed to be wide open and I requested to have my seat changed from 2A to 3A, given that a friend that recently flew Suites on Singapore noted that row three has three windows per suite, while the other rows have two windows per suite.
The agent asked out of curiosity why I wanted to switch from 2A to 3A. I explained it to him, and he said "wow, you really know your stuff." Not really, I just know people that know their stuff!
On the way to the security checkpoint I passed a massive replica of the Singapore Airlines Airbus 380, along with a poster advertising that it's the first A380 flying to Asia out of San Francisco.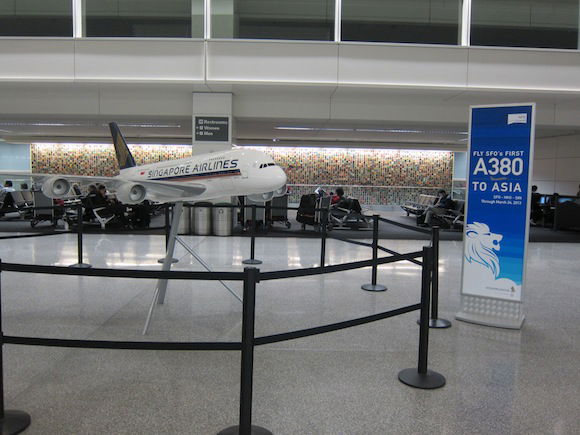 Awesome A380 model
I'm hoping that if I'm really, really good this year, I might get one of those massive replicas for Christmas. It would only take up about half my apartment.
Fortunately the security lines were short, and the priority security line was completely empty. The agent did a double take at my boarding pass when she saw it said "suites," and said "damn, is that like a hotel room in the sky or something?"
Once through security I headed to the Silver Kris Lounge, which had just opened for the evening.

Corridor to lounge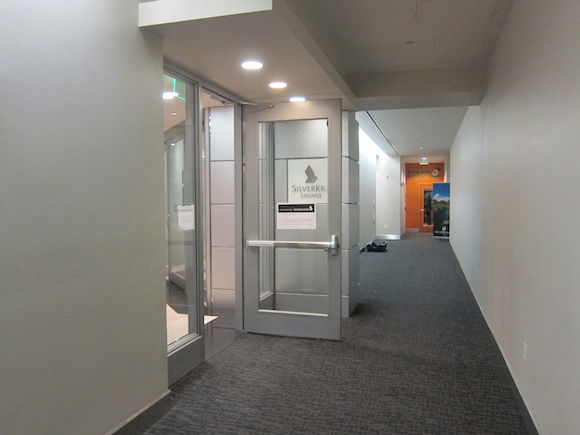 Lounge entrance
Singapore renovated the Silver Kris Lounge a couple of years ago, and in the process got rid of the first class section, meaning it's a shared lounge for Star Gold members as well as premium cabin passengers.
The lounge was about as dull as "Two and a Half Men" since Charlie Sheen left.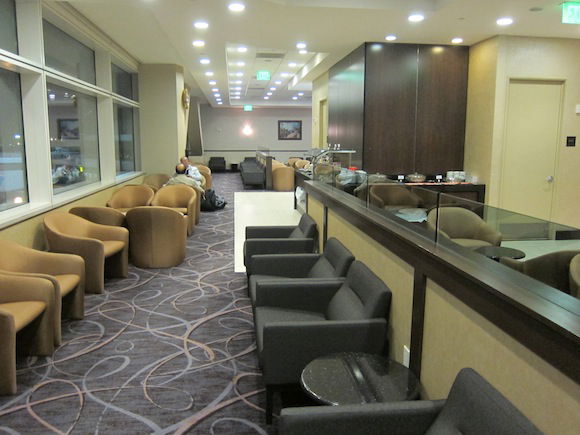 Lounge seating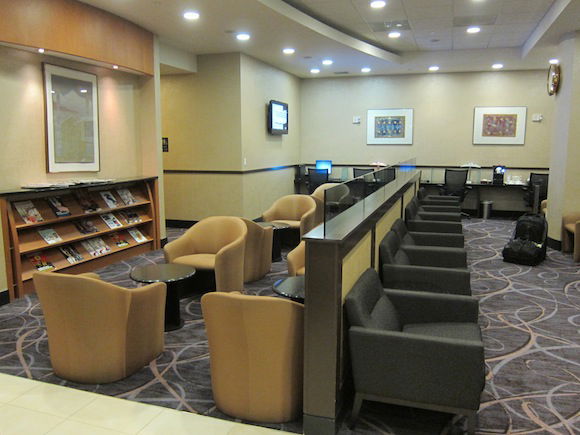 Lounge seating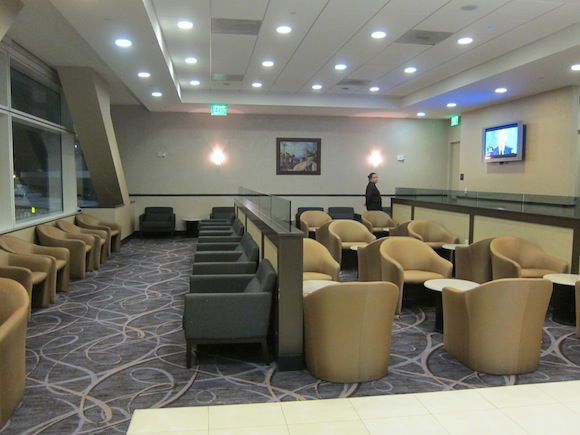 Lounge seating
The food spread was decent, with finger sandwiches, fruit, yogurt, meats, minestrone soup, cereal, pastries, noodles, and more.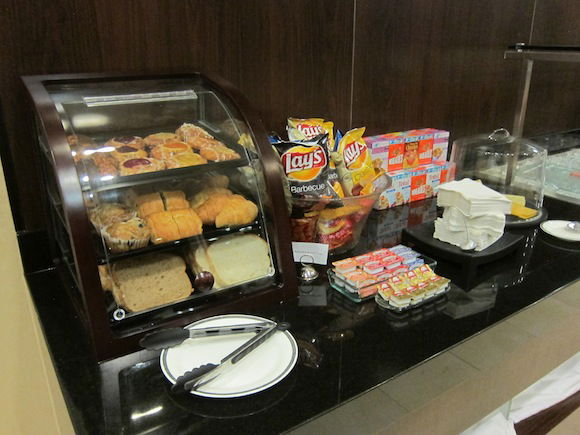 Buffet spread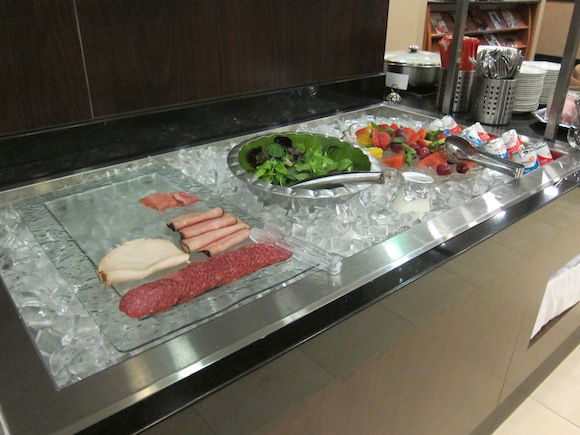 Buffet spread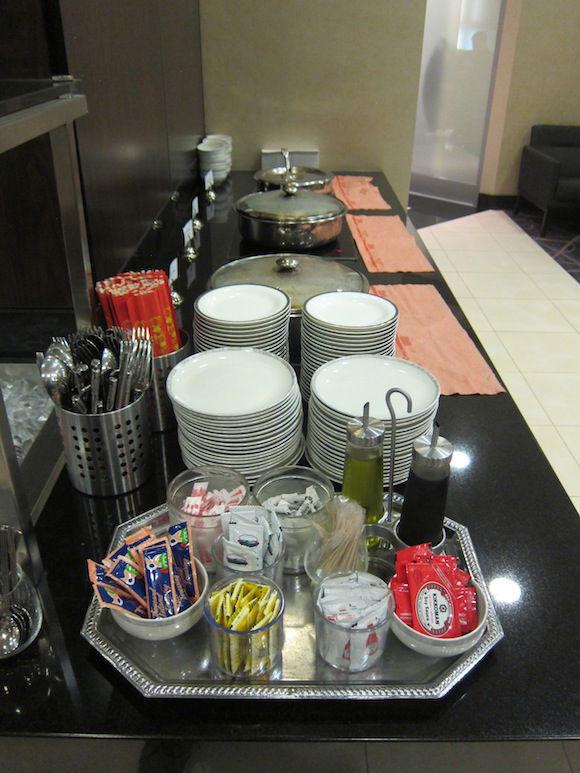 Buffet spread
There was also a self-serve bar with liquor, beer, wine, soft drinks, and a Nespresso machine.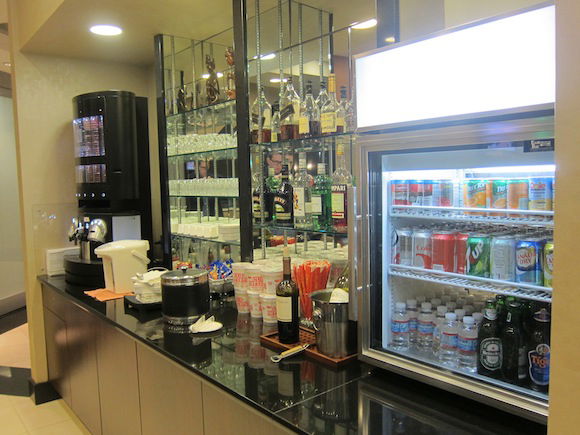 Bar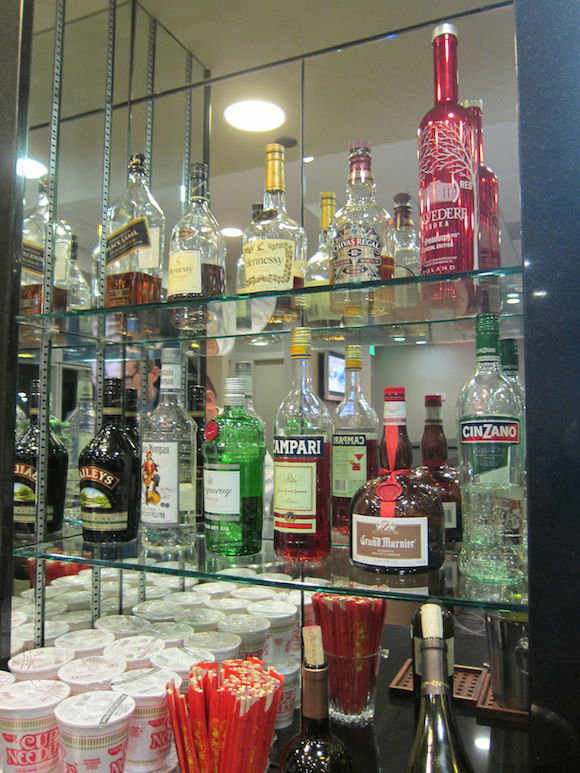 Bar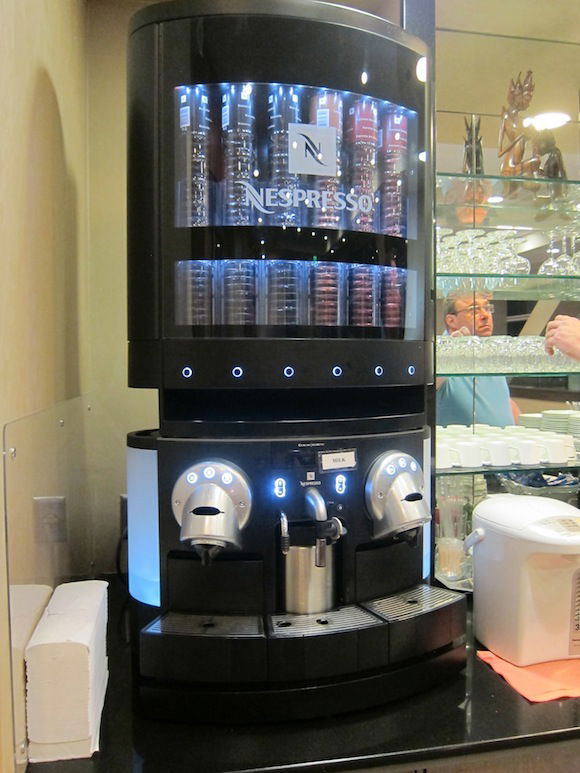 Nespresso machine
The Wi-Fi was reasonably fast so I spent about two hours getting caught up on some work before requesting a shower.
The lounge has two shower rooms, which are spacious though basic. They both have shampoo and soap dispensers, though I couldn't care less about the stuff as long as I'm fresh before a 15-hour flight.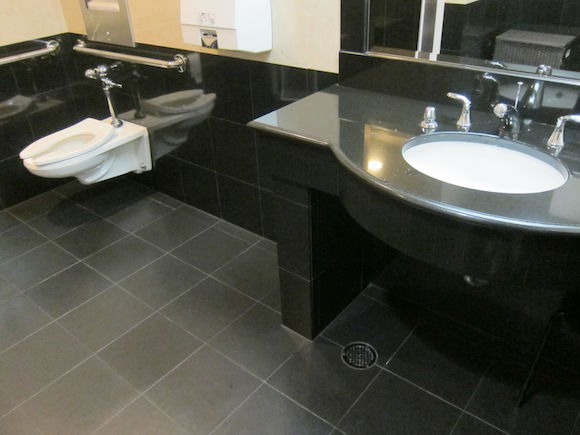 Shower room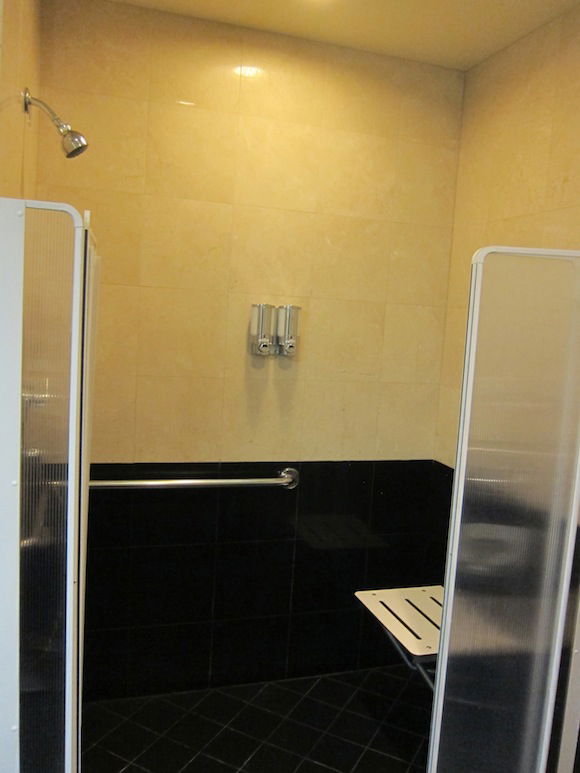 Shower room
By the time I freshened up we had about an hour till departure, so I decided to head out to the gate area.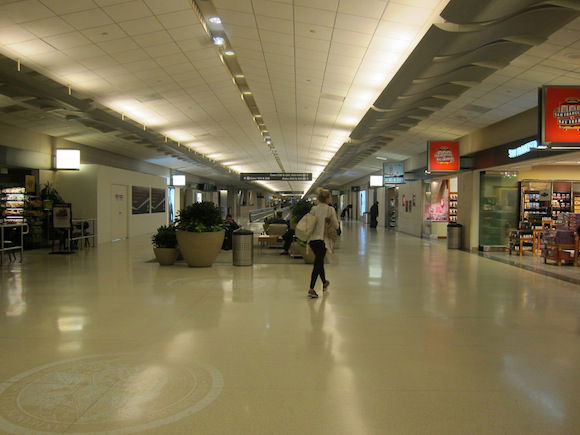 International terminal
For what it's worth if you're in Suites Class you can also use the United Global First Lounge. It's probably United's nicest lounge (which I realize isn't saying much), and much nicer than the Silver Kris Lounge. You can find a previous review of the lounge here.
The thought of using the lounge didn't cross my mind till it was almost time for boarding, though at least I was productive in the Silver Kris Lounge.
The flight was leaving from gate 101, where boarding is done through two levels.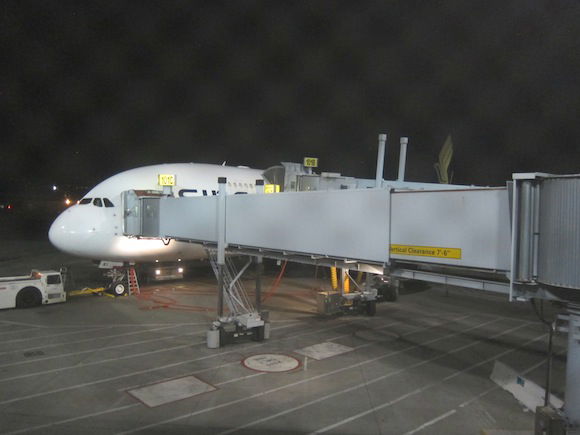 The beast!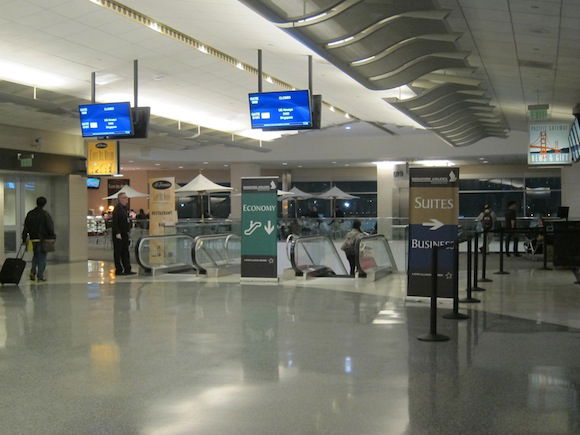 Departure gate
Down the escalators is the jet bridge for coach passengers, while on the upper level of the concourse is the jet bridge for business/first class passengers.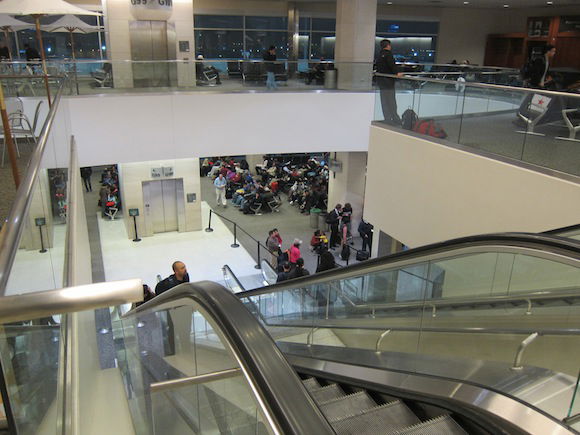 At around 10:20PM boarding began, starting with suites and business class passengers. I could hardly contain my excitement, and was the first to board.