---
As I mentioned in the intro, I had booked the Park Hyatt for 18,000 Hyatt Gold Passport points per night for my three night stay.
As I pulled up to the Park Hyatt I was immediately impressed, since it has a very secluded and understated feel to it, unlike most of the other overly-glitzy hotels in Dubai. At the door my bags were taken by one of the bellman, who directed me towards check-in.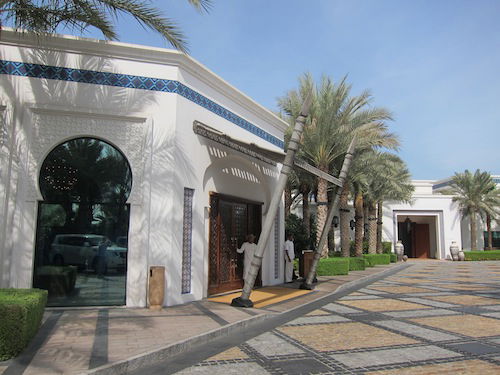 Exterior
Once in the lobby I proceeded to check-in, which was efficient. The front desk agent had the bellman escort me to my room, given that it can be a fairly long and complicated walk to get to the rooms due to the design of the hotel. The bellman was from Kenya (as were most of them). One of the most interesting things about the UAE is that almost all of the "workers" are foreigners, so I loved interacting with them, finding out where they're from, how they like Dubai, etc.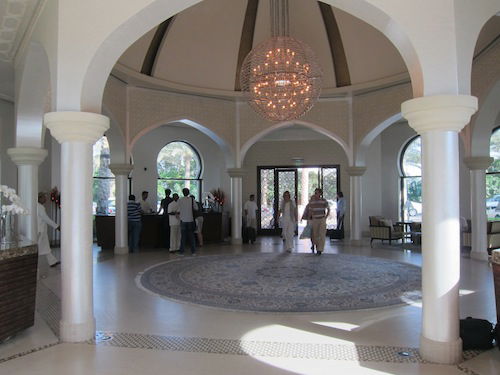 Lobby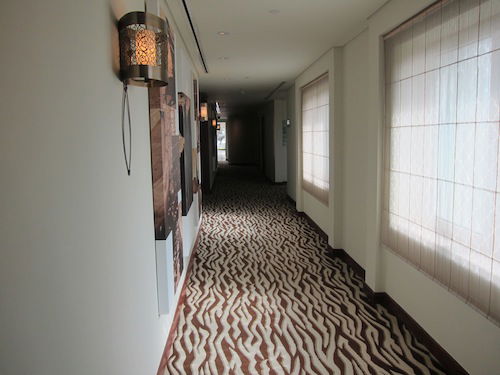 Hallway
I was assigned room 2305, a Park Deluxe King, which is a one category upgrade. The hotel was sold out, so I was very pleased with the upgrade.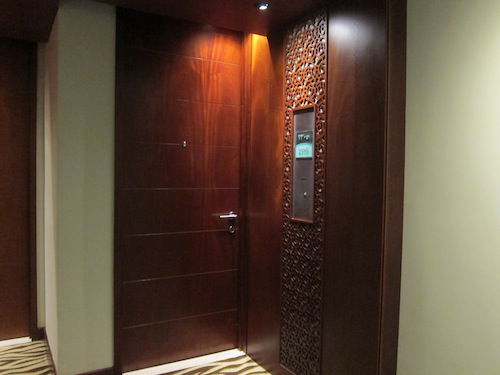 Room entrance
The room was the perfect size given that I was traveling alone, featuring a king bed, desk with chair, and two chairs with a table.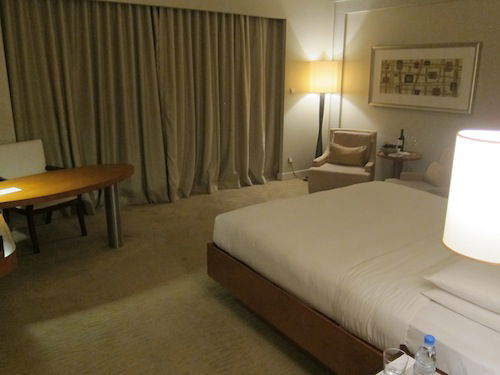 Park Deluxe King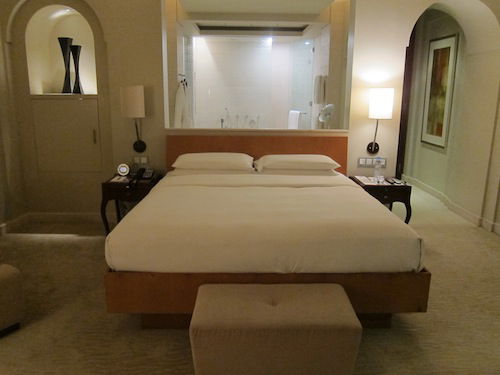 Park Deluxe King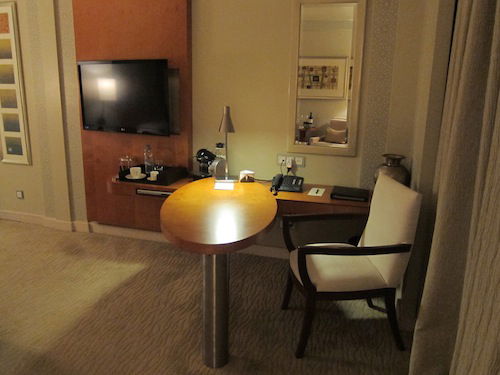 Desk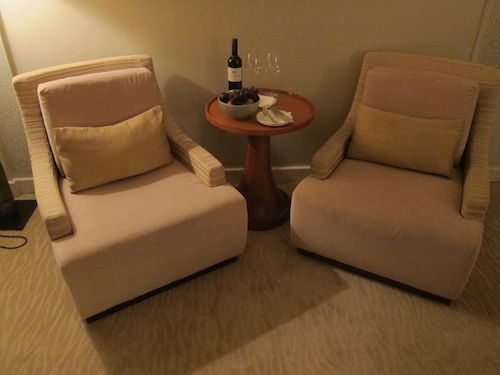 Sitting area

On the table was my Diamond welcome amenity, consisting of a bottle of wine, fruit, and some nuts.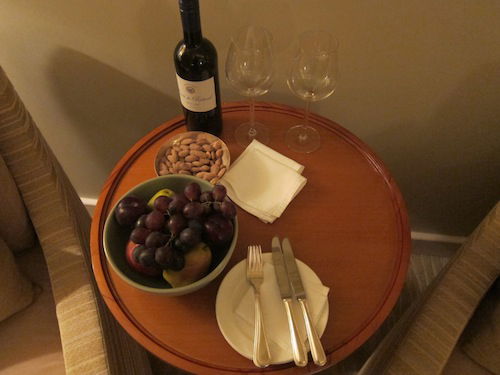 Diamond welcome amenity
My room had a large balcony with a table overlooking Dubai Creek.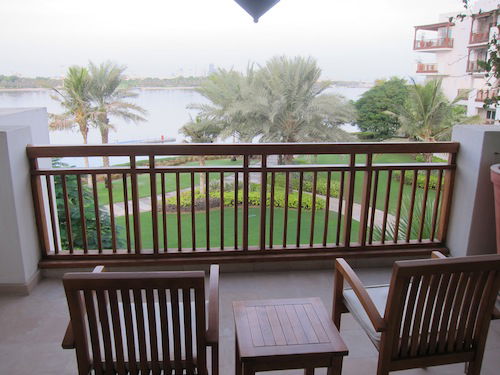 Balcony
As is the case with many of the Park Hyatts I've stayed at (I'm not sure if it's a coincidence or by design), the bathroom was right behind the bedroom and "open," making it a bit more spacious. It featured double sinks, a tub, large shower, and toilet. All the bath amenities were Blaise Mautin branded.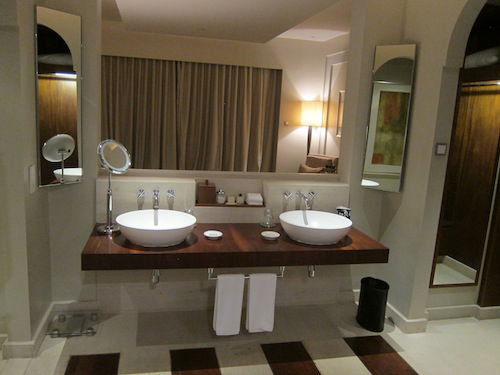 Bathroom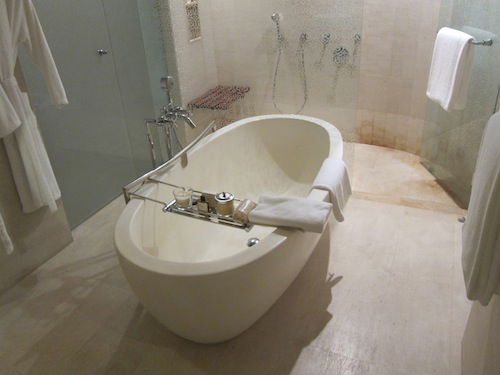 Tub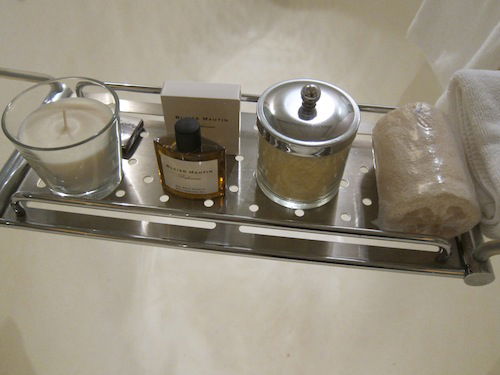 Bath amenities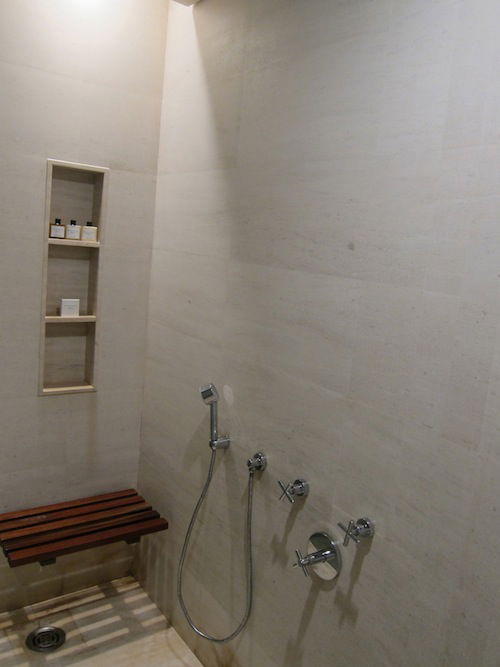 Shower
The room also featured a small closet to the side of the bathroom.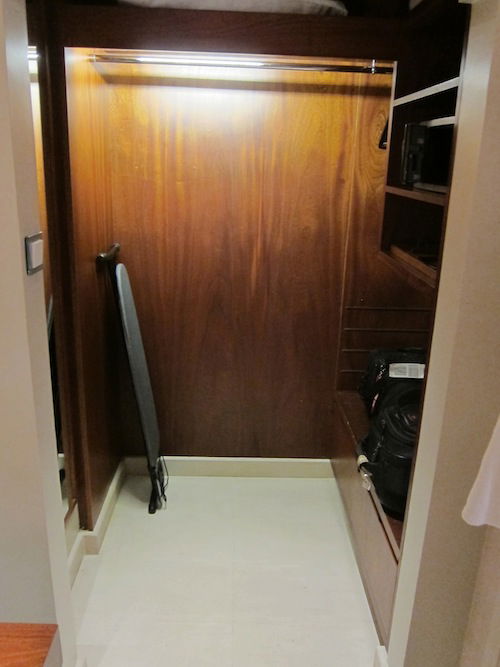 Closet
One of the cool things about the Park Hyatt is that it's not right in the center of Dubai, which is good, since it really is a retreat. The Park Hyatt is located in the Dubai Creek Golf & Yacht Club complex, so you really feel like you're relaxing at a resort in the middle of nowhere, as opposed to it only being a five minute drive from the center of the city. I don't think there are many hotels in Dubai that can deliver that experience.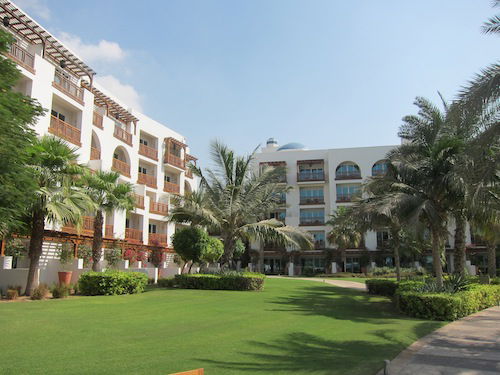 Hotel exterior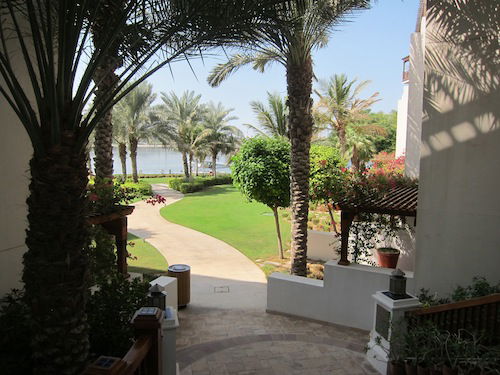 Walking towards Dubai Creek
The hotel also has a really nice pool. It's not necessarily all that great for swimming due to its design, though it's great for lounging by. I had a cold so never actually went for a swim, unfortunately.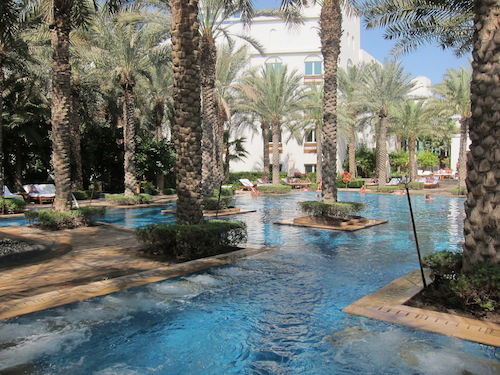 Pool
As a Gold Passport Diamond member I was entitled to complimentary daily breakfast at Cafe Arabesque, which serves breakfast daily from 6:30AM till 11:00AM.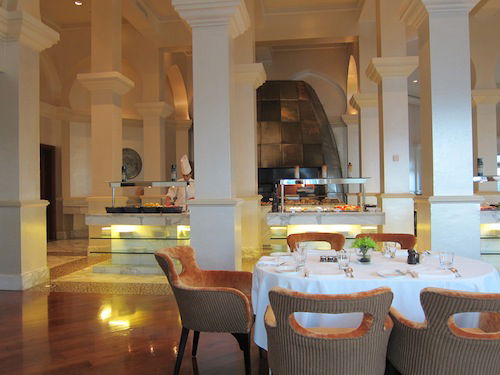 Cafe Arabesque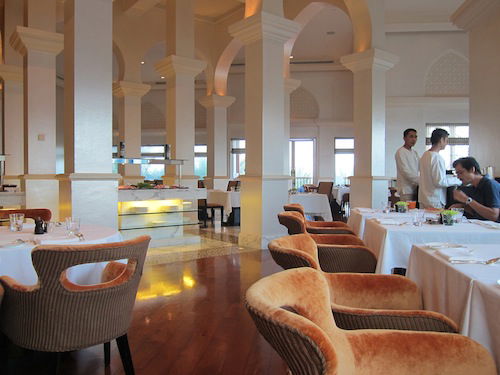 Cafe Arabesque
The restaurant features both an a la carte menu and buffet, so I could always enjoy the buffet (which is continental) and pick a hot option off the menu.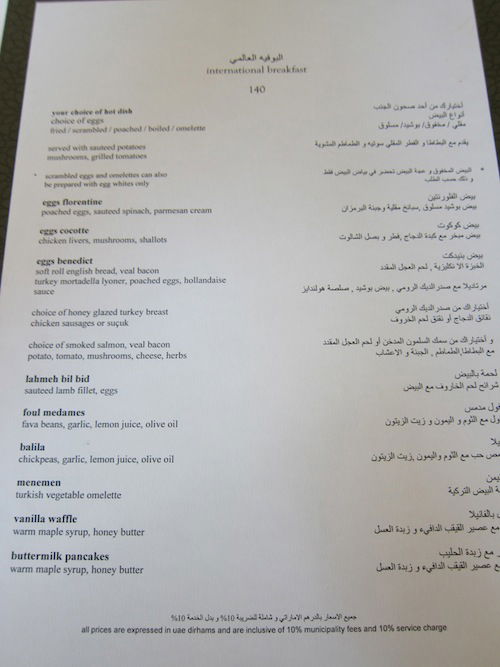 Menu
The buffet features every type of bread/pastry, fruit, cereal, cheese, and meat imaginable.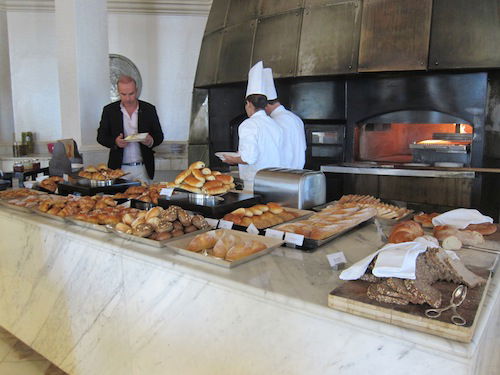 Buffet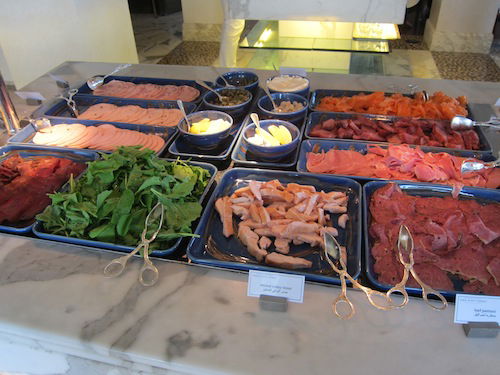 Buffet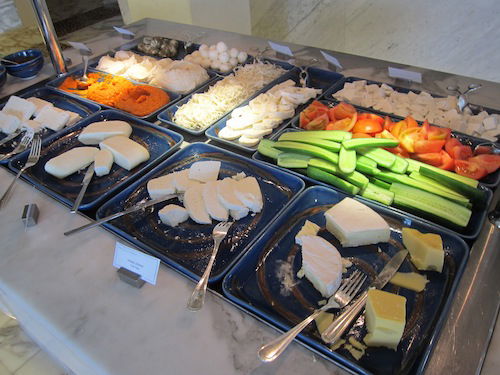 Buffet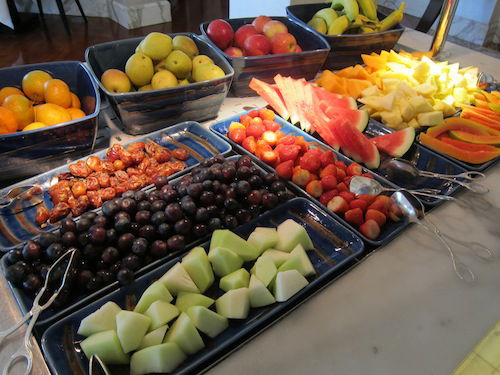 Buffet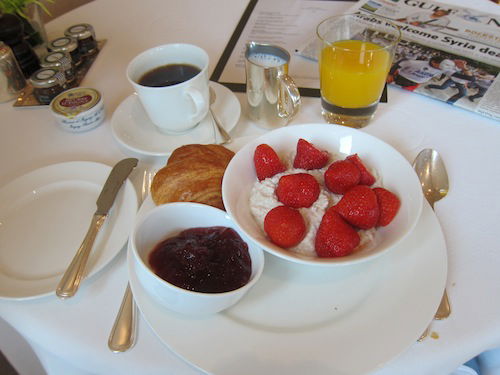 Breakfast, day one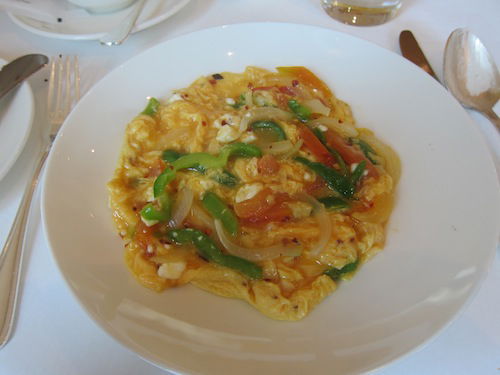 Breakfast, day two — Turkish vegetable omelet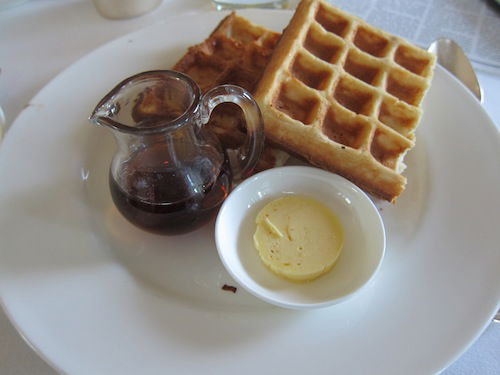 Breakfast, day three — vanilla waffles
One other thing worth mentioning is that the concierge was very helpful and always went above and beyond to help me get reservations. Beyond that, it's also worth noting that the hotel has a fleet of Lexus sedans for hire. The first day I avoided taking them since I figured they'd be insanely expensive, though I quickly found out they really weren't. A 15-20 minute ride cost about $10USD, which is a great bargain for an English speaking driver in a Lexus. Furthermore, you can charge that cost to the room, which is helpful too.
Anyway, my stay at the Park Hyatt was fantastic, and I highly recommend this hotel.