---
Up front I should say that I shared a brief recap of my check-in and lounge experience in this post.
We (my friend that would be doing the return portion of the trip with me had arrived earlier in the day from San Francisco on SQ1) took a taxi to the airport and arrived shortly after 7PM, about two hours ahead of our scheduled departure.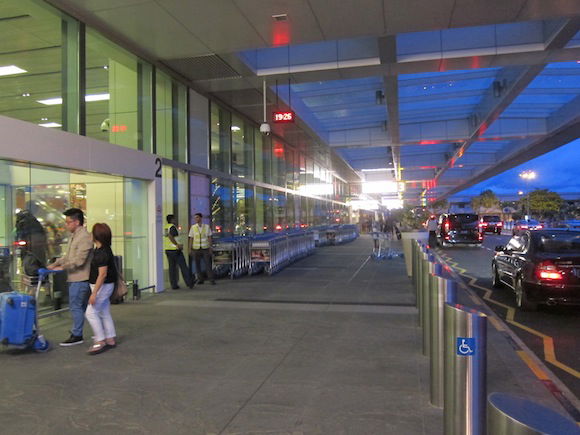 Terminal exterior
Cathay Pacific flies out of terminal one in Singapore, and we easily found their check-in counter.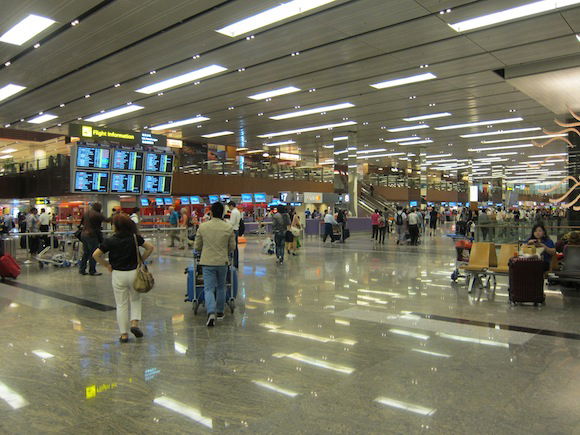 Terminal one check-in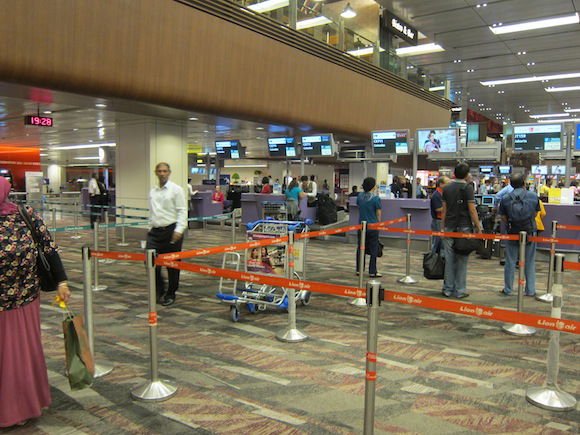 Cathay Pacific check-in
There was no queue for business class, and we were promptly helped by the agent, who asked us where we were headed. We explained we were going to Colombo (though keep in mind we were turning straight around back to Singapore), and then the conversation went something like this:
Agent: "Do you have a visa for Sri Lanka?"
Me: "No, I'm just a transit passenger."
Agent: "Where are you continuing to?"
Me: "Singapore on CX710."
Agent: "But… but… we're in Singapore. You mean you're flying right back?"
Me: "Yes, I'm just flying there and right back."
Agent: "So you're flying Singapore to Colombo to Singapore to Colombo to Singapore?"
Me: "No, just from Singapore to Colombo and then back to Singapore."
At this point she asks for our itinerary, which I present to her.
The agents at Cathay Pacific in Singapore seem to have the same table system as Macaroni Grill, as she started scribbling down some notes on her paper "tablecloth." She wrote down the flight number, which was surrounded by such insightful notes as "17+2=19," "always smile," and "change seats." I'm sure she's actually a theoretical physicist and there was much more to her scribbling than meets the eye.
Oddly (given how many flights they have to Singapore) Cathay Pacific uses a contract lounge, the Skyview Lounge just past immigration in terminal one up an escalator.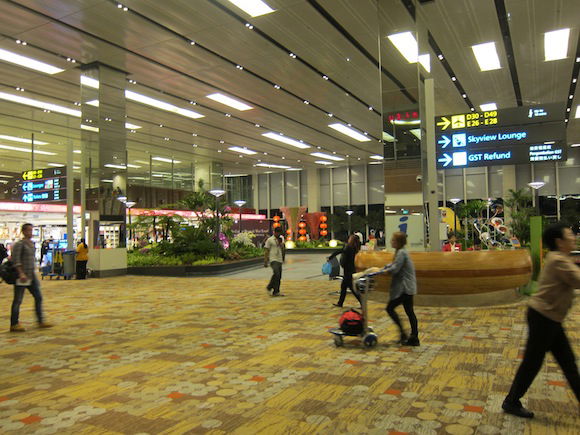 Terminal one airside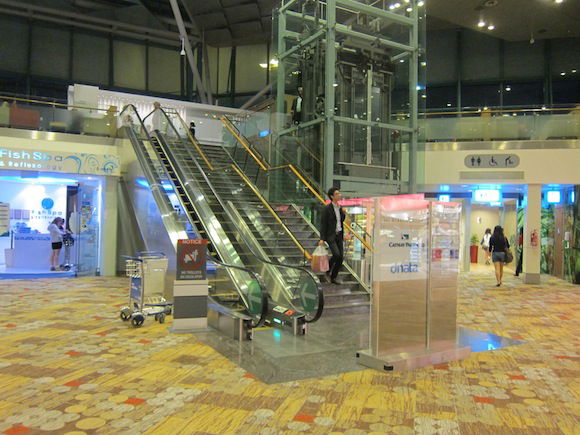 Escalator to lounge
Even though it's a contract lounge Cathay Pacific does have a dedicated agent, so she "processed" our check-in.
The lounge itself was extremely crowded, or so I thought. It featured several partitioned off seating areas with a few workstations as well.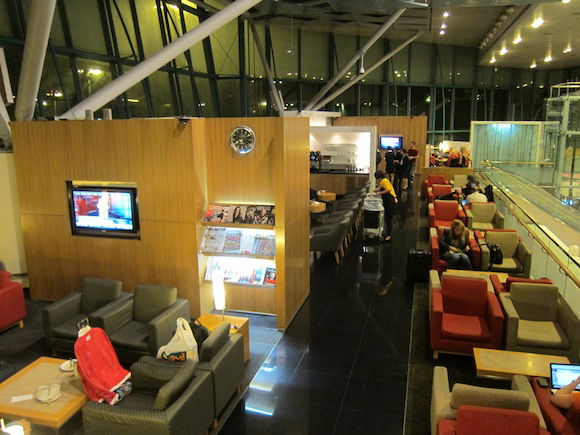 Skyview lounge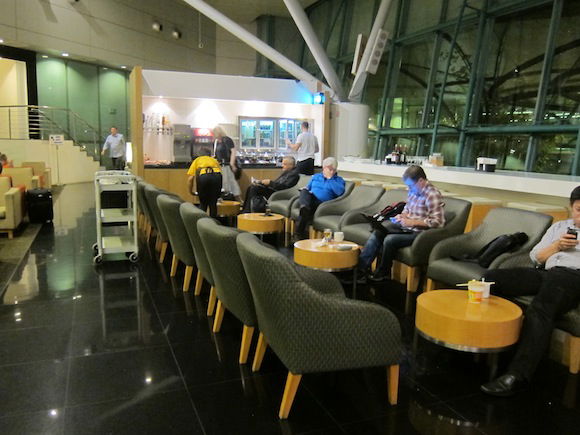 Skyview lounge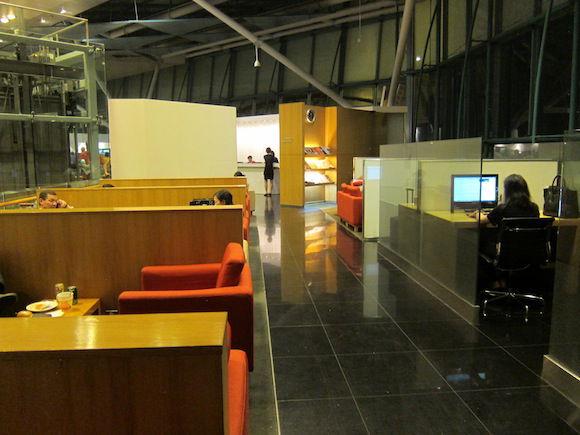 Skyview lounge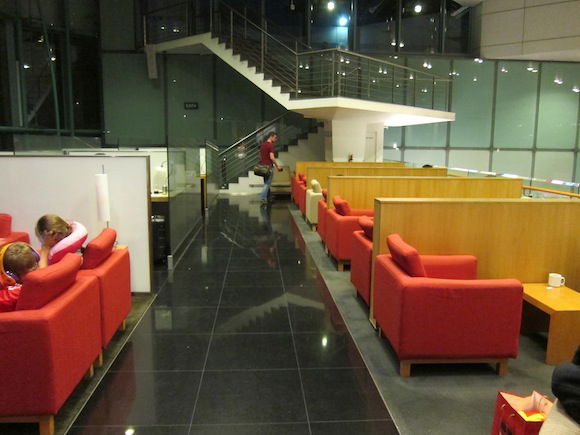 Skyview lounge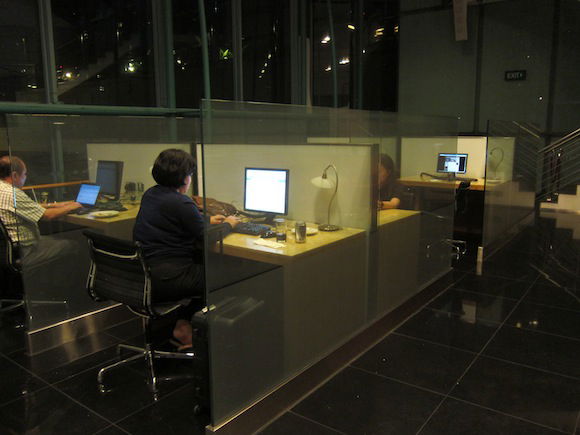 Skyview lounge
The food spread was what you'd expect from a contract lounge in Asia. It featured some packaged candy and wrapped finger sandwiches, as well as a handful of hot dishes including pasta, spring rolls, etc.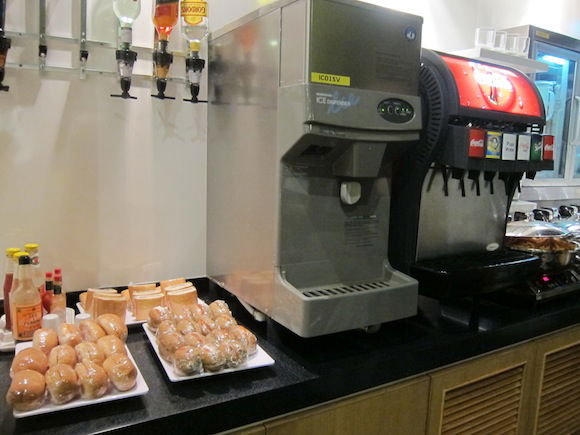 Spread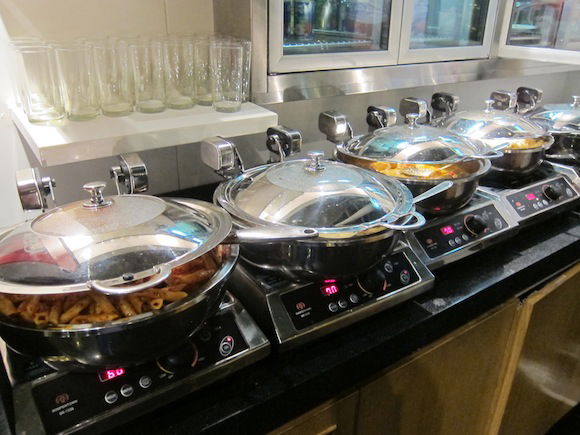 Spread
Later on I discovered that a good two thirds of the lounge was actually up a staircase and in a room with no windows. The only way to know this is to walk to the very end of the lounge where there's a small sign indicating that there's more seating up upstairs. Go figure we sat in the crowded main level seating area the whole time, and only discovered this empty section about five minutes before it was time to leave.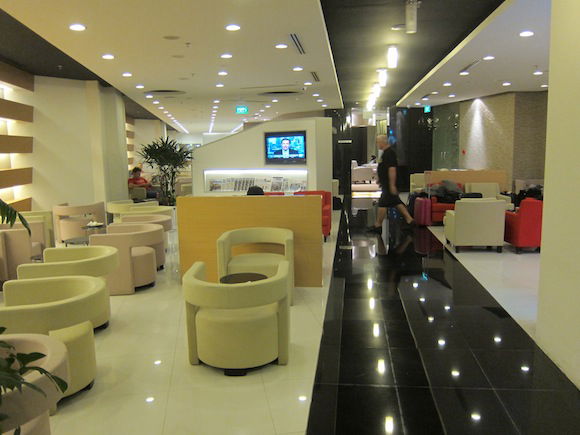 Other part of the lounge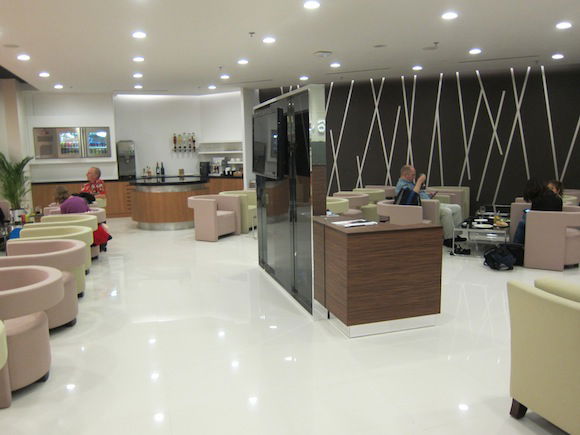 Other part of the lounge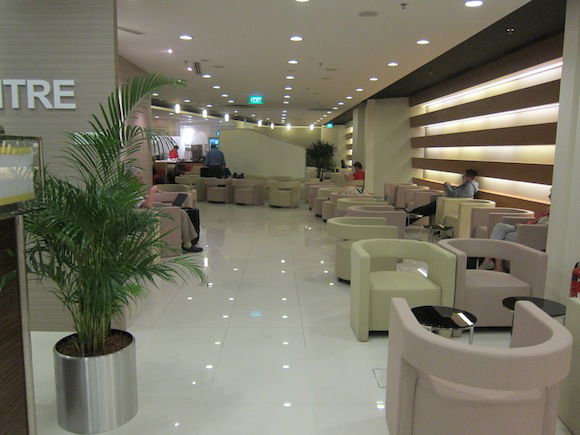 Other part of the lounge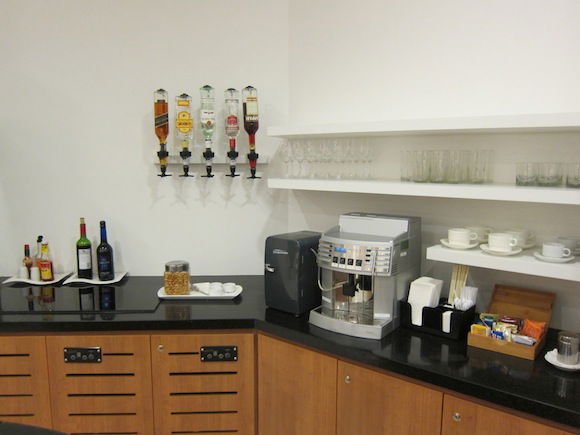 Classy dispensers
Anyway, about halfway through our stay in the lounge we wanted to request the boarding passes for our return flight, given that Cathay Pacific doesn't have a transfer desk in Colombo.
I tried to dumb down things as much as possible, so handed the Cathay Pacific agent my boarding pass and said "excuse me, I have a connection on CX710 out of Colombo tonight, would you be able to check me in for that and print my boarding pass?"
She typed in her computer for a second and said "CX710? That flight is to Singapore, are you sure about the flight number?"
I explained we were doing a direct turn and that there was no transfer desk in Colombo, so she picked up the phone to explain the situation. "He said there's no desk in Colombo, and I don't know what that means."
She kept typing and then managed to check us in, though couldn't print the boarding pass. She thought it was the printer, so got on her hands and knees and started banging against it as hard as she could, thinking that would do the trick.
No such luck, unfortunately. At this point we had 20 minutes till departure, and Cathay Pacific closes their gates 10 minutes before departure (and this isn't factoring in that security is at each individual gate). She ran with us to the transfer desk, where she (in utter confusion) tried to explain to the agent what was going on. With about 10 minutes till departure time our boarding passes printed.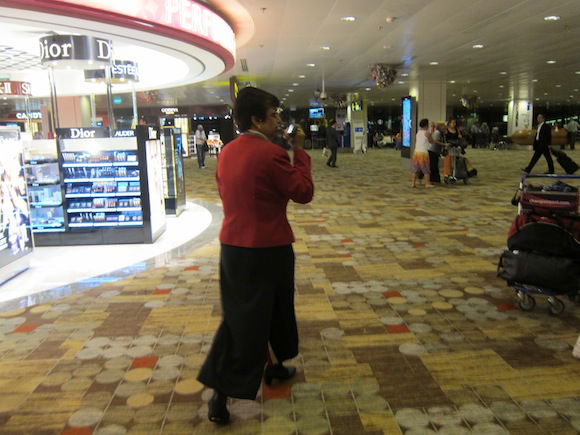 To the transfer desk!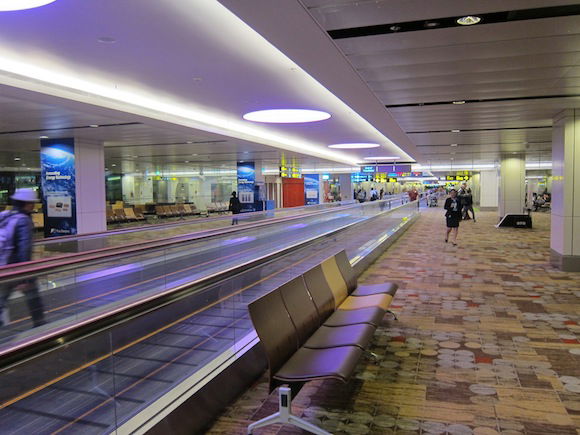 To the gate!
She ran us to the gate, and we made it aboard with our return boarding passes with no time to spare.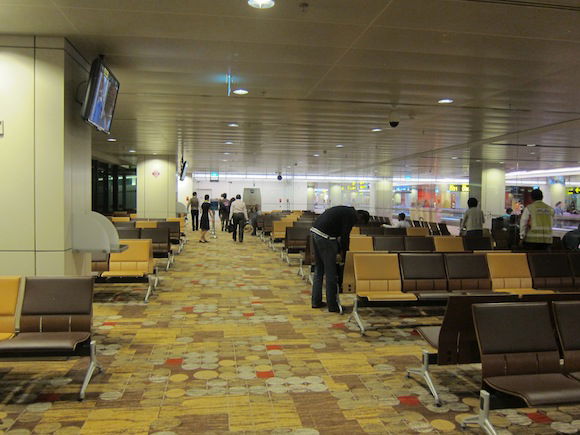 Departure gate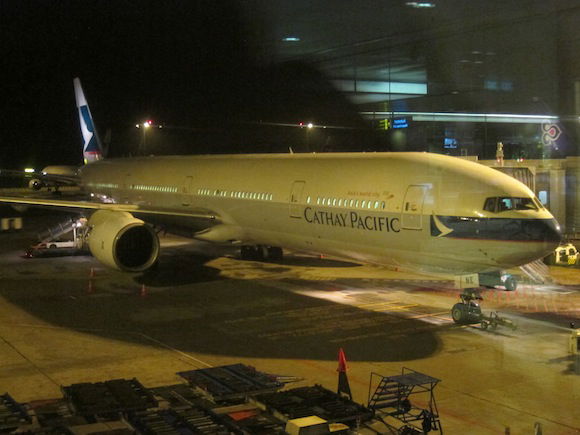 Our plane to Colombo