---
Cathay Pacific 711
Singapore (SIN) – Colombo (CMB)
Friday, January 18
Depart: 9:00PM
Arrive: 10:15PM
Duration: 3hr45min
Aircraft: Boeing 777-300
Seat: 15C (Business Class)
Compared to the amazing condition that Cathay's longhaul 777s are in, it's always a bit depressing to see their regional configuration.
Business class consisted of seven rows in a 2-3-2 configuration, so there were a total of 45 seats upfront (there are only three seats in the first row). We were seated in 15A & 15C, about mid-cabin on the left side.
The seats are a bit more comfortable than domestic first class seats in the US and a bit less comfortable than old business class recliner seats. They have 40-odd inches of pitch, with a legrest and reasonable recline, all of which is manually controlled. There was also a small pillow and blanket at each seat.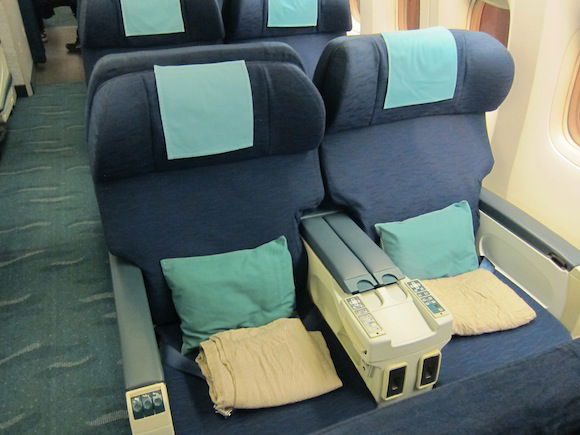 Our seats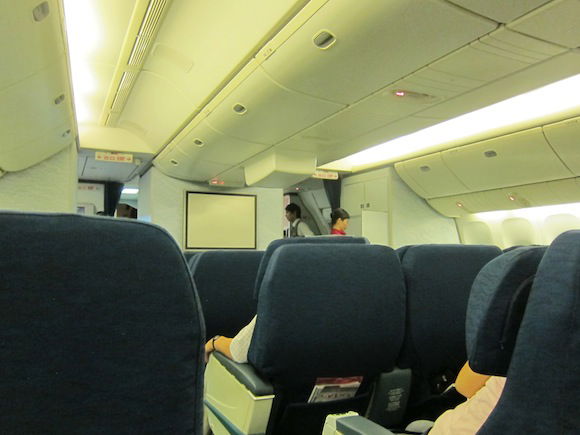 View from our seats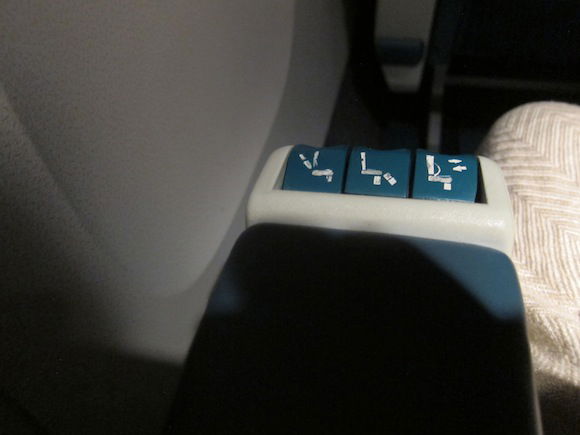 Seat controls
Once settled in we were offered pre-departure beverages from a tray. I had a glass of champagne, which wasn't very good. It's funny because I always assumed the difference between "good" champagne and "meh" champagne was little more than the prestige/name, but after drinking nothing but Dom and Krug on planes for years I found this stuff damn near vile. 😀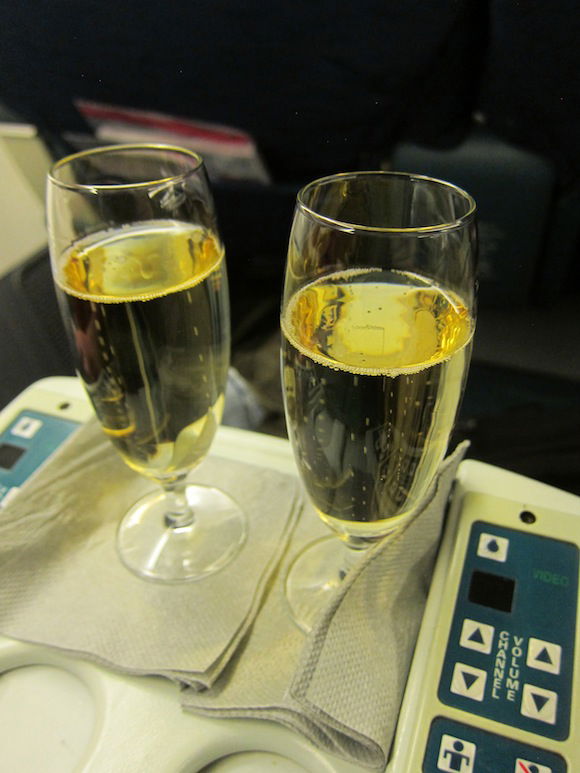 Pre-departure champagne
We were also offered hot towels and the menu for tonight's flight.
Shortly before departure the captain came on the PA to advise us of our flight time of 3hr21min, which would put is into Colombo on-time. He also added his welcome from the first officer, who was female (I mention that because it's the first time I've had a female pilot on an Asian airline).
As the cabin door closed the business class cabin was at most a third full, and coach was probably even less full than that.
To space out a bit I decided to move forward a row, as my friend wanted to sleep (after flying in from San Francisco the same day), while I wasn't tired yet.
The in-flight service manager, Alice, made her welcome aboard announcement and played the safety video as we began to push back.
Our taxi to the runway was fairly quick, and we encountered a bit of chop on the climb out.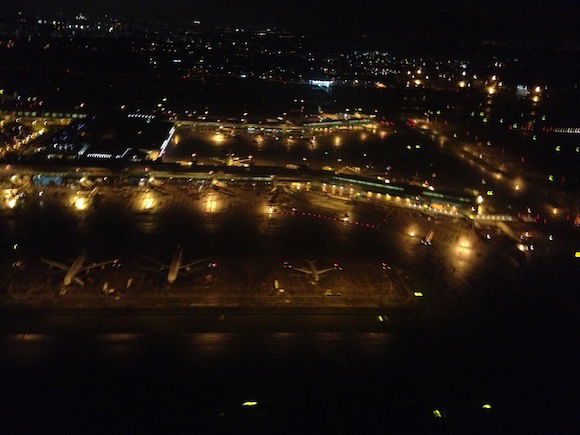 View after takeoff
After takeoff I played around with the entertainment system for a bit, though there was nothing on demand (rather it was looping videos), so I decided to entertain myself with resizing and editing pictures for the rest of the flight.
About 30 minutes after takeoff supper service began. The menu read as follows: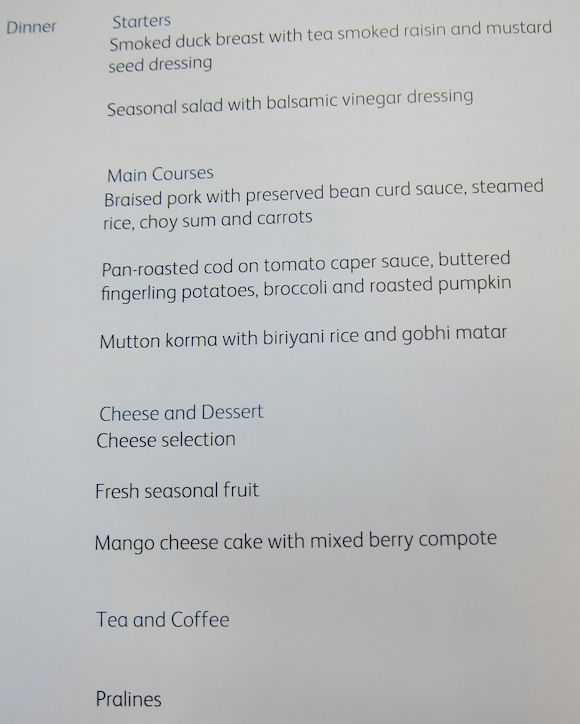 And the drink/wine list read as follows: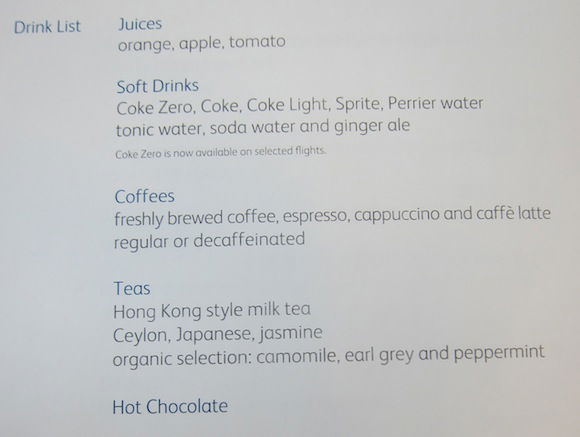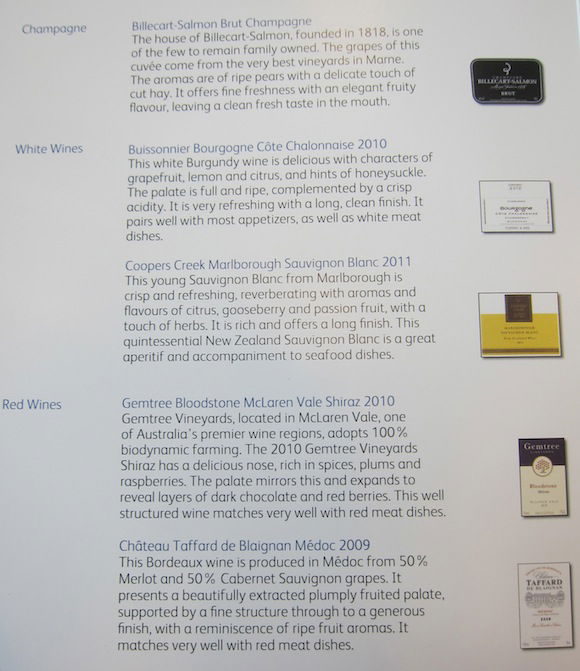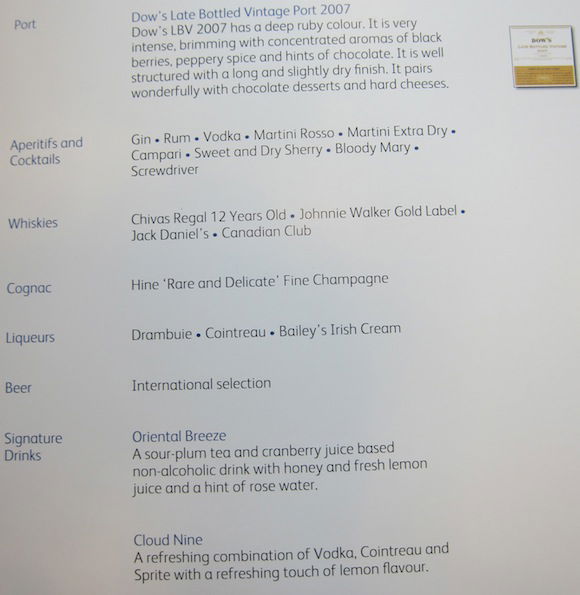 The flight attendants came around the cabin with a cart offering drinks. I ordered a Diet Coke, which was served with a ramekin of almonds.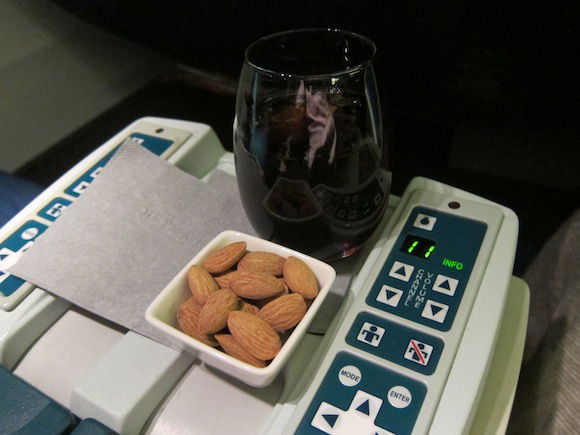 Diet Coke and almonds
That was followed by the appetizer, again off a cart, which consisted of a salad and smoked duck breast. They also had a bread basket on the cart, and I selected a couple pieces of garlic bread.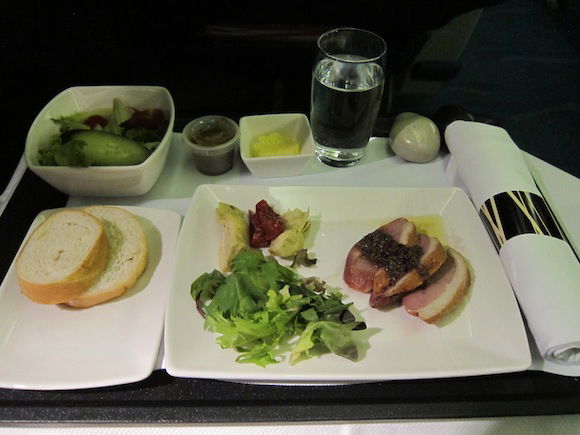 Smoked duck breast with tea smoked raisin and mustard dressing
For the main course I ordered the pan-roasted cod, which was served with broccoli and fingerling potatoes. It was moist and tasty.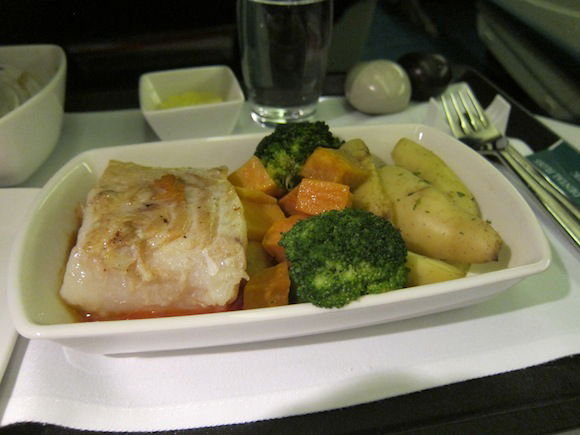 Pan-roasted cod on tomato caper sauce, buttered fingerling potatoes, broccoli and roasted pumpkin
For dessert I had the mango cheesecake with mixed berry compote, which was excellent as well.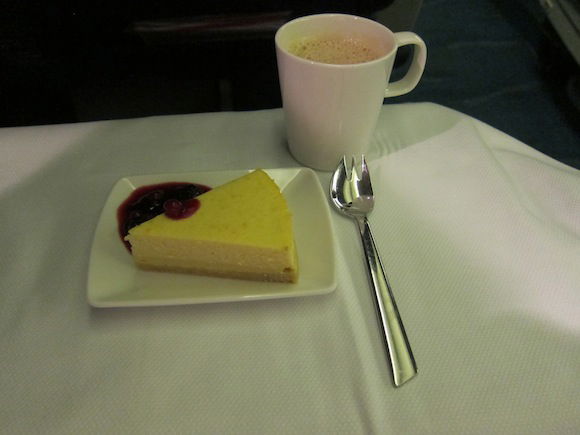 Mango cheesecake with mixed berry compote
After dinner I ordered some Hong Kong milk tea, which is probably my favorite drink on Cathay Pacific. Along with it I was offered some pralines out of a box as well as a bottle of water.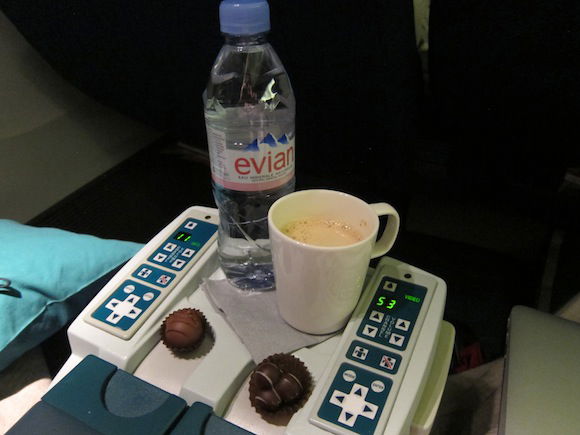 Hong Kong milk tea and pralines
Overall this was a really impressive meal service for such a late night departure, in my opinion. After the meal we had about 90 minutes to go to Colombo, and I managed to stay awake and work on my trip report most of the way, thanks in no small part to the generous refills of Hong Kong milk tea from the crew.
The crew on the whole was extremely friendly. They were a bit more junior than other Cathay Pacific crews I've had, and all Hong Kong based. They were attentive and always smiling, so on par with what I've experienced on their longhaul routes.
In the middle of the flight I took a quick look at the coach cabin, which has over 350 seats.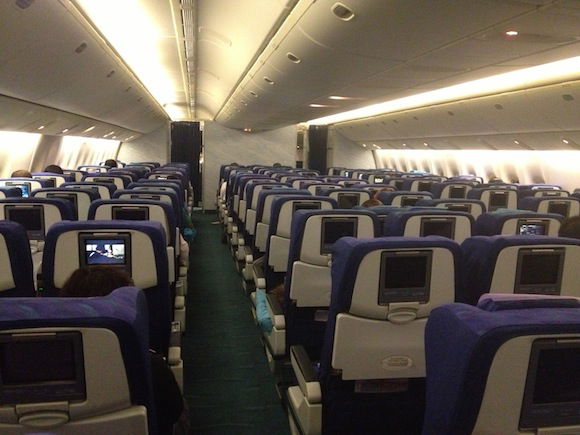 Economy cabin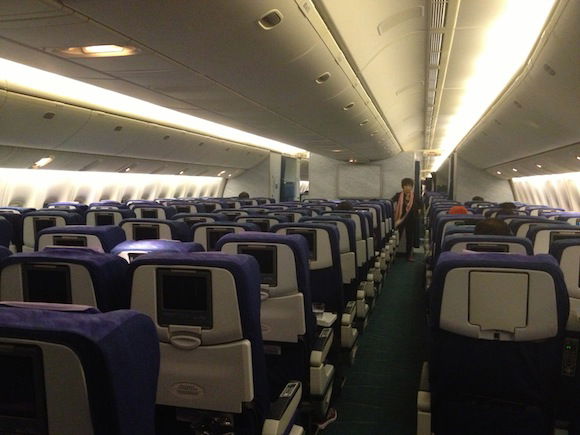 Economy cabin
About 30 minutes prior to landing we began our descent, and shortly thereafter the seatbelt sign was turned on. We encountered quite a bit of chop on the descent into Colombo, and had a rather rough touch down, followed by a quick taxi to the gate.
We bid farewell to the crew, and found ourselves in what I consider to be one of the most charming airports…