---
Cathay Pacific 710
Colombo (CMB) – Singapore (SIN)
Saturday, January 19
Depart: 12:40AM
Arrive: 7:00AM
Duration: 3hr50min
Aircraft: Boeing 777-300
Seat: 15C (Business Class)
Upon boarding we were once again welcomed by a cheery crew, interestingly enough a different one than we had on the outbound. I kind of figured the crew was doing a direct turn as well, though that wasn't the case.
We had the same seats as on the outbound, and the cabin was about equally full as well, with about a third of the seats taken.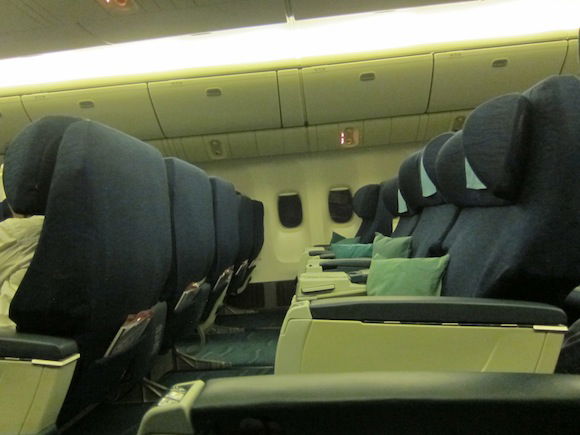 Empty row in business class
Pre-departure drinks, hot towels, and the menus for tonight's flight were offered.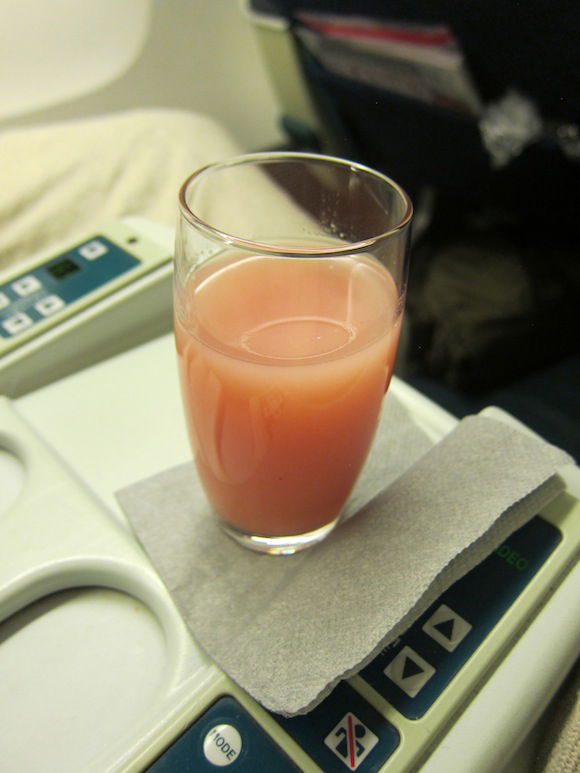 Pre-departure drink
At departure time the captain added his welcome aboard, though I swear on my life it was Stewie from Family Guy. The similarities in his accent and enunciation were uncanny. He advised us of our flight time of 3hr32min, again expecting an on-time arrival.
Our taxi to the runway took about 10 minutes, and then we were airborne. The seabtelt sign was only on for about 10 minutes, after which the crew began their service.
The supper menu read as follows: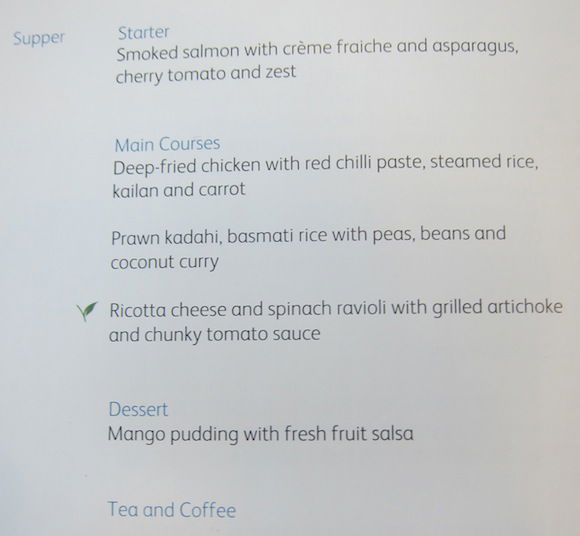 And the drink/wine list read as follows: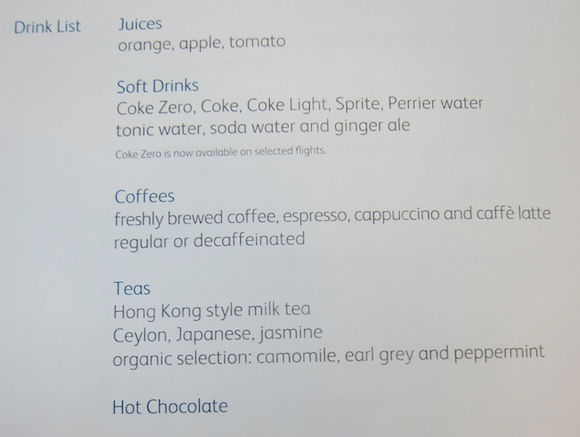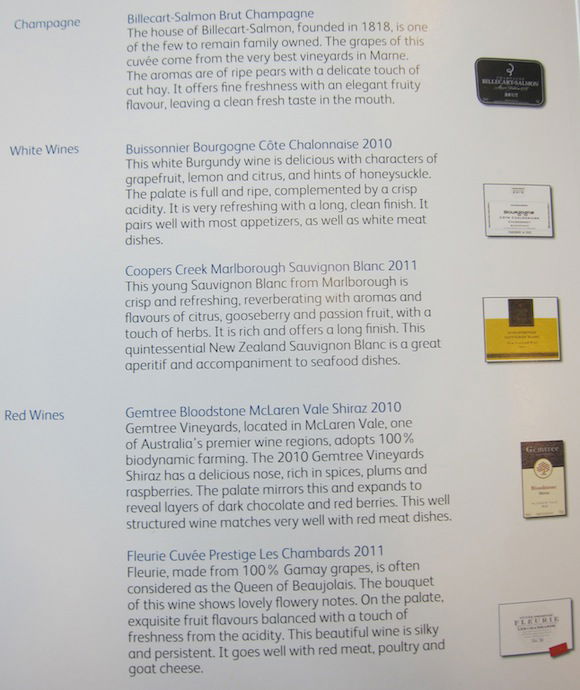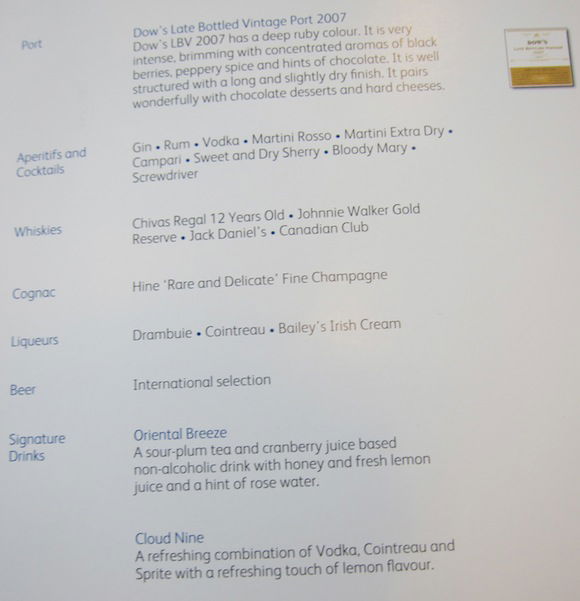 The supper service on this flight was a bit watered down compared to the outbound, given that it departed in the middle of the night. There was no salad or pralines, though it still looked great for a flight departing so late.
On this flight almost everyone opted to sleep, so all service was done by tray instead of cart.
Service began with drinks and nuts.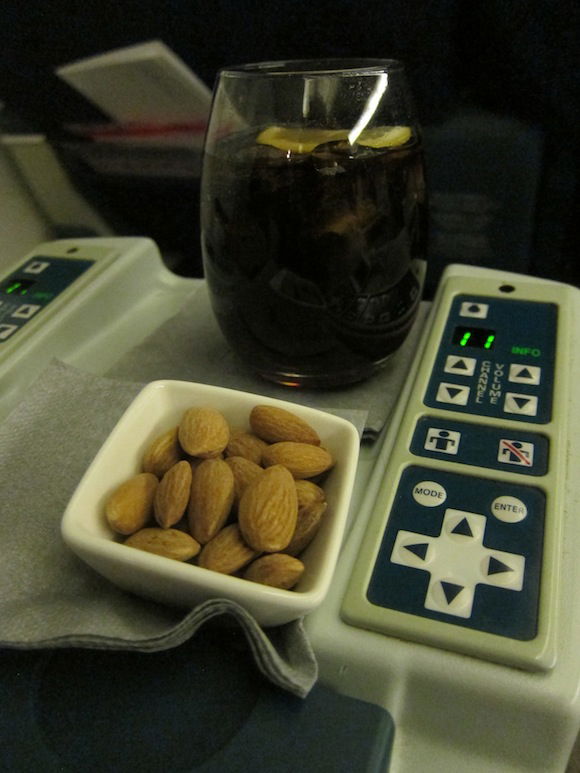 Diet Coke with lemon and almonds
Next the salmon starter and dessert were served on a single tray, along with bread from the breadbasket.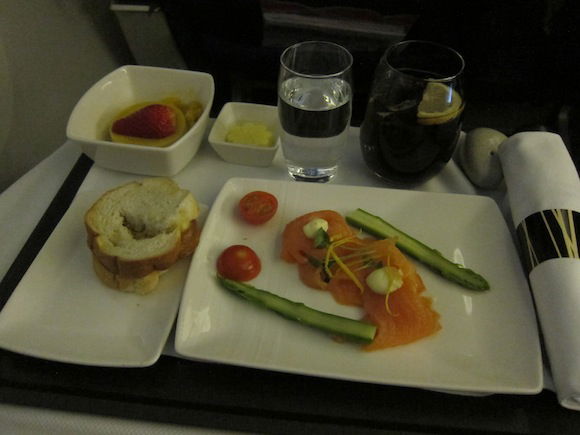 Smoked salmon with creme fraiche and asparagus, cherry tomato and zest
And then the main course was served, and I ordered the ricotta cheese and spinach ravioli. I wasn't really hungry for the main course, so only had a few bites.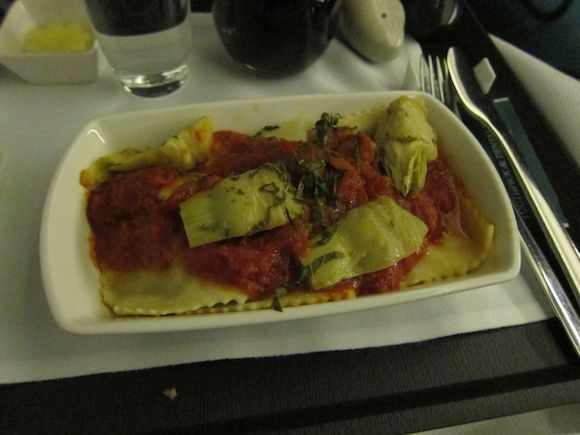 Ricotta cheese and spinach ravioli with grilled artichoke and chunky tomato sauce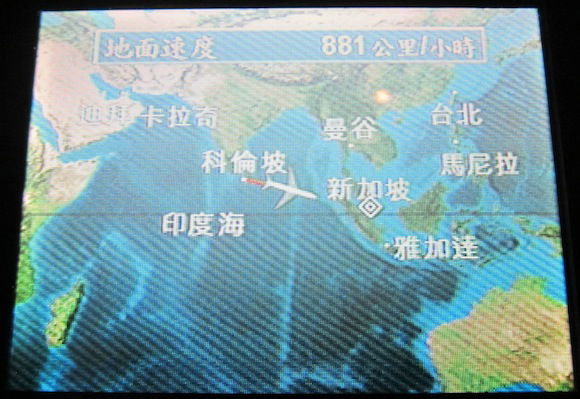 Airshow during supper
I managed to get a bit of sleep on this flight thanks to all the extra blankets and pillows on the empty seats, allowing me to build a fortress of sorts.
I woke up as we were initiating our descent into Singapore, where the weather was horrible. It was quite turbulent on the descent and visibility was virtually non-existent, though we safely touched down a few minutes ahead of schedule and taxied to our gate at terminal one.
We bid farewell to the crew and hopped in a taxi to the Shangri-La to catch a few hours of shuteye before our Emirates flight to Dubai later in the evening.
Doing a Colombo "turn" is entirely painless, and I wouldn't hesitate to do it again. Now, if I were originating in Hong Kong (and doing Hong Kong to Singapore to Colombo to Singapore to Hong Kong), well, that sounds like torture, and I'd definitely split up the journey.
While Cathay Pacific's regional product might not be much, the food and service were both excellent given the flights, so they really exceeded my expectations.