Hello from sunny Florida! My dad and I just returned from his surprise birthday trip, and other than the jetlag have had a great weekend at home. I can't wait to start writing the trip reports and sharing more of the fun stories with you guys.
Thank you so much for following along on our journey, it has been a blast!
---
Featured Stories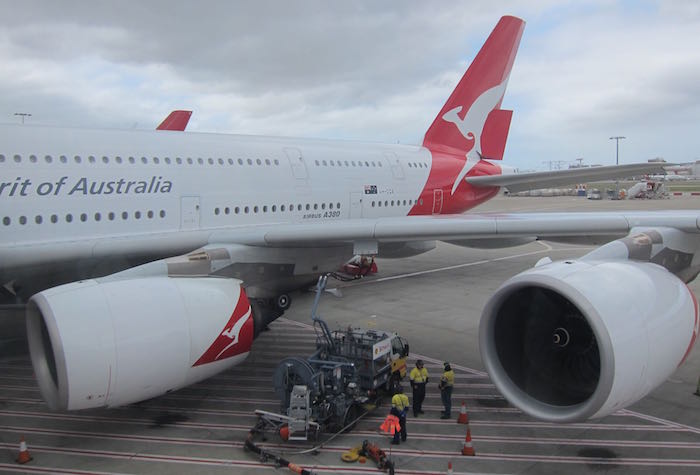 As the last "major" leg of my around the world trip with my dad we flew first class from Sydney to Los Angeles on the Qantas A380. This is probably one of the toughest awards out there, and I built much of the trip around being able to get this segment.
So how good is Qantas first class? Is award space so tough to find simply because of the US to Australia market, because Qantas is the best in the market, or is the product really that damn good?
It has been years since I've flown Qantas first class, so I was keen to give them another shot.
---
How does your significant other feel about miles and points? Are you involved in this hobby together, or does one person handle the bulk of the details?
Beyond that, how have you found ways to work together and determine your travel goals?
---

Lately I've been most impressed by some random mid-range hotels, like the W Doha, W Guangzhou, and even Le Meridien Cairo Airport. There haven't been too many luxury hotels that have really left me speechless lately… of my stays this year, the Park Hyatt New York is the closest to fitting that bill.
Well, the Park Hyatt Sydney left me speechless beyond words. This is truly a phenomenal hotel in every aspect.
---

TIPS: Earning Miles & Promos
7% Cashback On Hyatt Stays With TopCashBack
50% Off Silvercar Rentals Through December 31, 2014
10% Discount On Hyatt E-Gift Cards
Free Points For Joining IHG Rewards Club
British Airways Business Class Fare Sale!
Buy Up To US Airways Status For 2015
Alaska's Awesome MVP Gold 75K Mileage Bonus
Is Buying Hilton HHonors Points A Good Deal?
Does Your Partner Support Your Points Addiction?
Reminder: Register For Small Business Saturday
Should You Credit American Flights To Alaska?
Have You Won $200 And National Emerald Elite Status?
Up To 35% Off Starwood Hotels
TRICKS: Redeeming Miles
Air France FlyingBlue February/March Promo Awards — Up To 50% Off
How To Book Awards From Multiple Accounts
Lack Of American Saver Award Availability Is A Glitch
Winter IHG PointsBreaks Now Live
British Airways Ate My Award Seats!
Will Ultimate Rewards Transfers To Korean Air Return?
When Complicated Awards Go Awry
Has American Stopped Releasing International Saver Award Space?
TRAVEL With Lucky
How Not To Get Secondary Screening At Immigration
What To Do On A Longhaul Flight?
Censored: The Picture Dad Doesn't Want You To See
Park Hyatt Sydney — Wow, Wow, Wow!
REVIEWS & Trip Reports
Qantas Business Class Los Angeles To New York
Qantas A380 First Class Sydney To Los Angeles
NEWS & Updates
India Electronic Visas Now Available
#Awesomeness: Passengers Push Frozen Plane
British Airways Gold Guest List Requirements Increased
US Airways Chairman's Preferred 2014 Segment Requirements Lowered
Alaska Airlines Adds E175s To SkyWest Fleet
Alaska Flyers Earn More Miles…Unless It's Delta
Happy Thanksgiving And A Giveaway
How To Be A Douche: Arrest Uber Drivers
Is Hyatt's App Showing Award Reimbursement Rates?
Hotel Pulitzer Leaving Starwood April 1, 2015
Park Hyatt Auckland, New Zealand Opening In 2017
Airberlin Inflight Wifi Coming Fleetwide
Explosion At Hyatt Regency London – The Churchill
---
I'm in Florida for a few more days before heading up to Virginia for FTU DC. Hope to see many of you there, and hope everyone had a Happy Thanksgiving!